I never thought I was a lucky bastard, yet it seems that I really am. After I rubbed shoulders with Tom Hanks at the premiere of "Inferno" in Florence, now I have the damn luck to see Richard Gere in person, again in Florence… Pretty Women all over the world, eat your hearts out! J
You'll definitely say it is simple luck, if I tell you that I bought the ticket for this trip in January. I am a victim of the sales periods, what can I do?… I told myself: whatever, if I cannot go, at least I will not lose too much money. So I had no idea what luck was waiting for me ten months later. Or I might suspect Ioana, my ex-colleague, a Florence citizen, that she synchronizes the great stars from Hollywood with my visits in Florence hihi. She was the one to tell me about Tom Hanks and now, knowing I was coming to Florence, she sent me a link about Richard Gere who was going to be given the keys of Florence, during the very days when… Mrs. Mladin had already opened the gates of the city…
I read there that I was supposed to send an e-mail if I wanted to take part in the event and, if I sent it before the maximum number accepted was completed, it was all right, if not, ciao and arrivederci!
I looked at the date of the article… A day had already passed. I wrote a nice and short e-mail in English, telling them I am a Romanian journalist on a short vacation and that I would very much like to get in there. Waiting for the answer, I put into the suitcase a pair of trousers, some light flat shoes, a T-shirt and a key-pendant. Yeah, right, I have a key, not that of Florence, but mine is cooler, because it has the keyhole too.J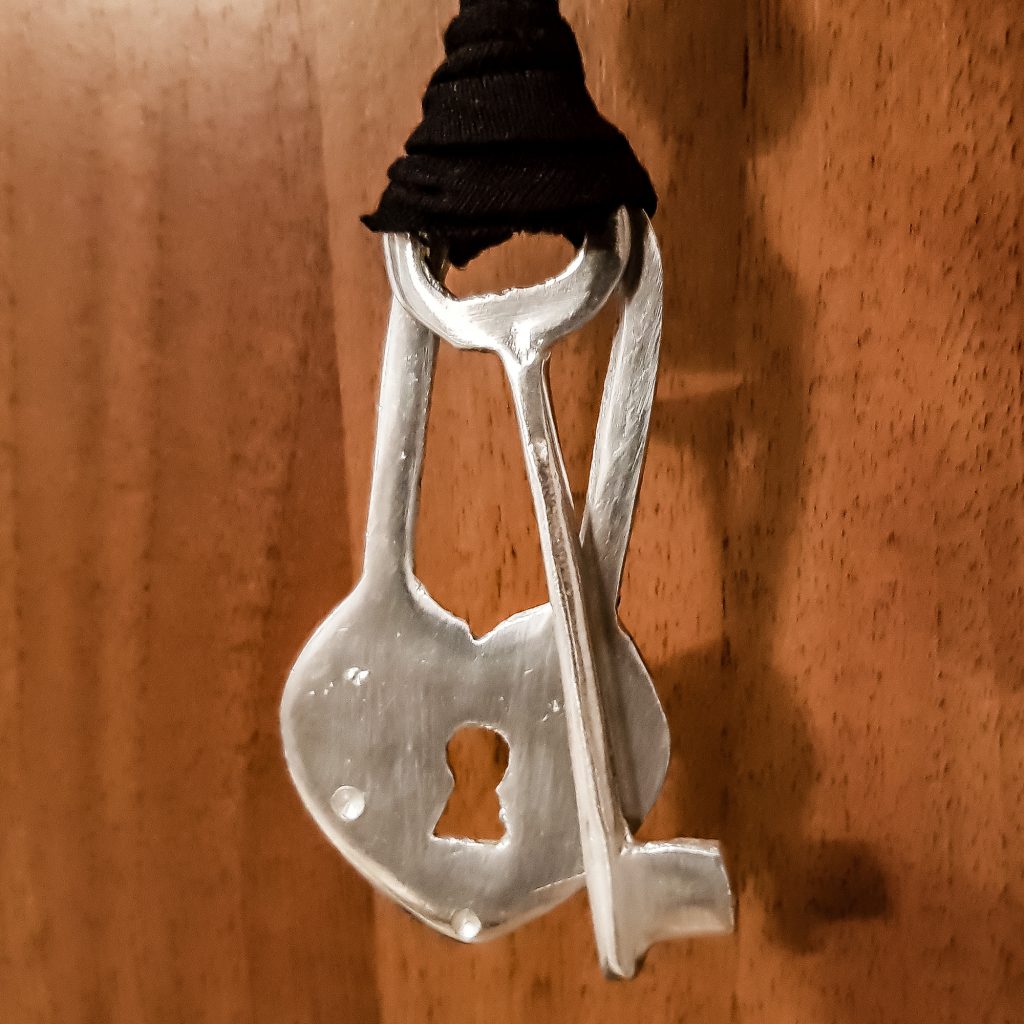 Doubting I will be able to get in, makes me leave at home any kind of a smart-elegant jacket – they are too heavy and I want room in my luggage for what I'll buy there… So, let us go to Florence! For the seventh time during the last few years…
I hardly finished my first walk around the city, when, what do you know, I get an e-mail from the Italians. They tell me that, if I bring the press ID card, I can go in. What?!? I cannot believe it!!!! Can it really be that simple? I ask if I can bring the camera too. Yes, take it with you, you desperate woman J, they seem to say.
I become euphoric, although I do not have any confirmation I am on the "list" – as I should have, I understand. I just have an OK.
Immediately after, I panic. My God! I have to go buy a smart-elegant jacket. I did not want to take it from home, now I have to pay for it. Mladin, that's the only chance! I go to some shops, the popular ones… I am not going to pay a fortune just to be another girl in a mass of hysterical women (that's how I imagine it will be…). I finally find a black, simple jacket, that has a reasonable price, I buy it, but I don't stop here…
I go to see the place, the famous hall where the event is taking place. It is Salone dei Cinquecento, from Palazzo Vecchio. Normally, you need a ticket to get in. I only go to the door. The hall looks spectacular! That's it, now I know the way. It takes me… one minute to get here from my hotel.
I am so important… At least that's how I feel. I am going to the Palace!!!
RICHARD GERE 2019 EVENT
ALL I COULD DO FOR RICHARD GERE, WAS TO PUT ON SOME GLOSS…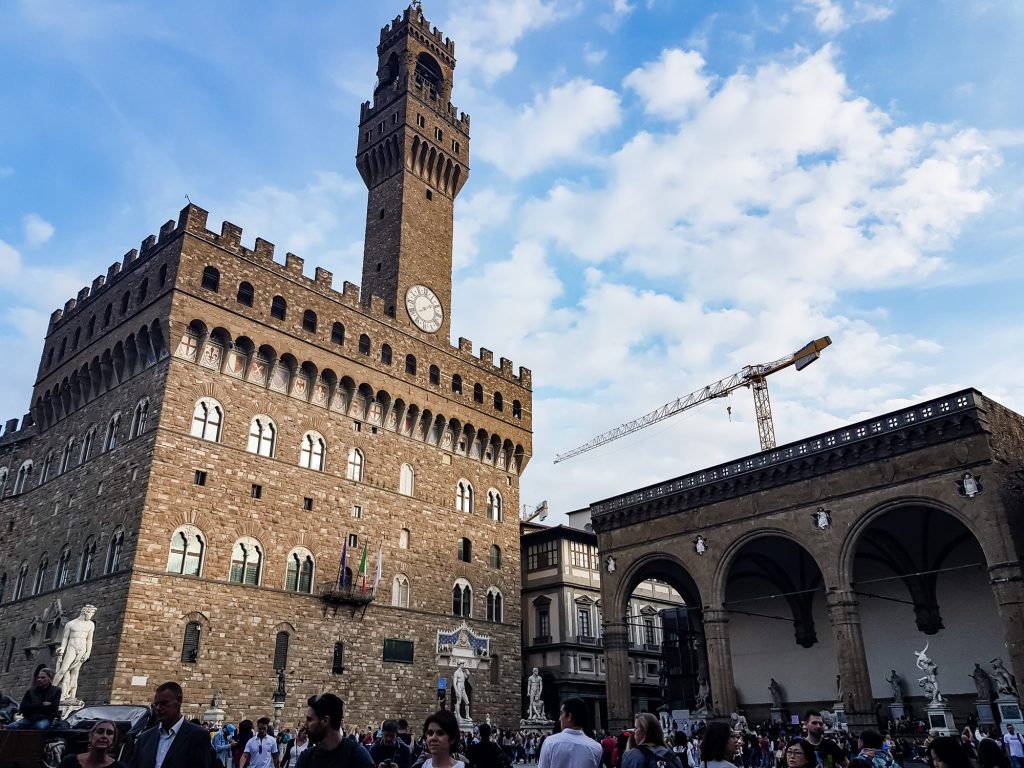 "Come at 16:30" – the e-mail said. What do you know? I got dressed from 15:30, I took out my expired make-up kit and, after studying it and being amazed I have such quality things, I decided to wear… some gloss J. It was too complicated to use the other things…
At 16:01, I am already at the Palace, with the camera, the phone and the press ID card and I am asking the policemen at the entrance if I can go to the hall. They show me a line and ask me to stay there. "Even with the press ID?", I ask insinuating…
I find out that yes, that is the place where I have to wait. At 16:30, we will be all checked on the lists. Hmmm… I am nervous. And I have doubts. If I am from the press, I am not on the lists, that's for sure. And then, how am I going to get in?
The people in the line are relaxed Italians. There are young girls, who show no stress, who wear jeans and sports shoes, some old women, some well-dressed, other wearing very casual clothes. The tourists who visit Palazzo Vecchio look at us, the people in the line, with curiosity. I am expecting someone to ask me: "Sorry, what are they selling here?" J
The time passes very slow. People gossip a bit, look in their mobile phones… I am reluctant to open the Facebook, because I am afraid my battery will run out and the phone is the best alternative to the camera.
Some new policemen come, but this does not change the waiting process.
A few minutes after 16:30, people start taking out their ID cards. The Italian women next to me give mine a bizarre look, as they realize I am not one of them.
Two women check the names. I get in front and I show them the press ID, and I also have on hand the e-mail that told me I could come. The lady says: "I am not sure if the press can go in now, but you can go upstairs and ask".
I go up the stairs in Palazzo Vecchio and to my surprise there is no one I can ask if I can go in or not, so… I go in! I am inside the hall!!! With the press card, with my camera, but… no gloss, as I have eaten all of it during the time I have been waiting in line. So, I am myself again, 100% J
SALONE DEI CINQUECENTO
FROM INFERNO TO PRETTY WOMAN…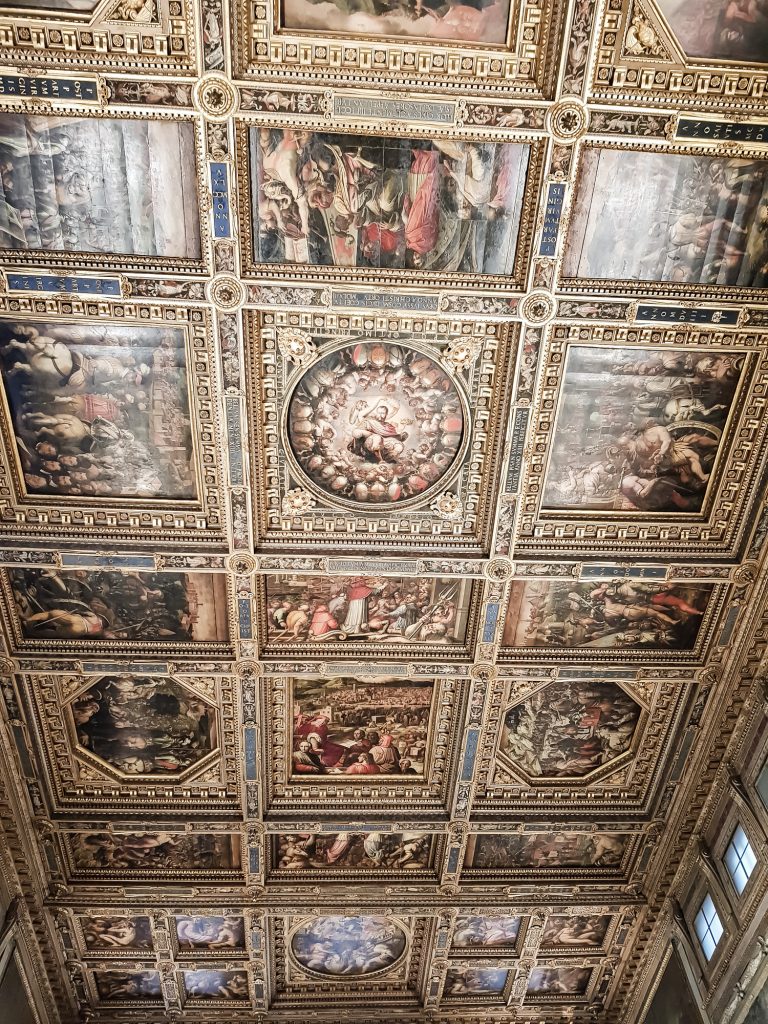 As I go among the first inside the hall, I start looking at the ceiling, at the lateral walls, then I choose a very good place that is still free, at the end of a row. They are playing "Pretty Woman". Nice idea.
Three seats in front of me, there's a barrier, a sign that the first rows are for the people invited. Could they be for the press? Should I tell them I am from the press and go directly there? I prefer to keep silent and sit in my place. What if they take me out of there? Now, at least I have a good place in the 7th row, on the aisle. I didn't have such luck at concerts…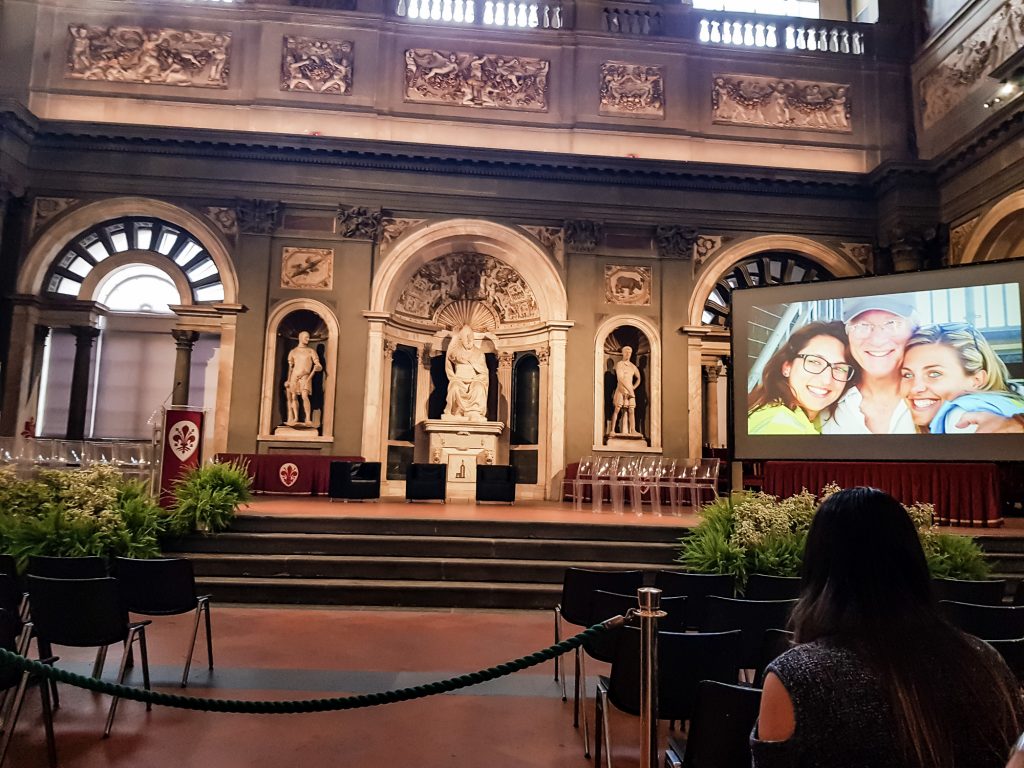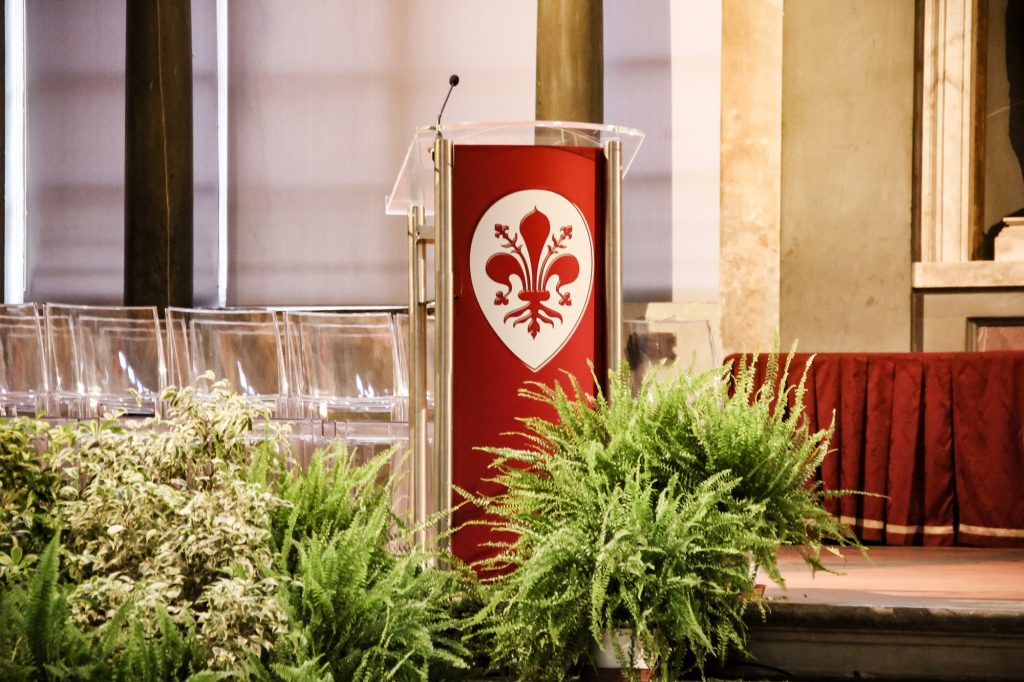 As far as they have announced, the event begins at 17:30. There are some 40 more minutes. Pretty Woman is played again. This is clearly the stamp on Gere's forehead… Even if on the screen in front of us there are images with him from different movies, some from charity activities and some portraits and personal photos as far as I can understand. I don't know much about his private life. Only what I have just read: that he has a 36 years old wife and that he is a father again, at 70 years old. That is something!
All the people who come inside the hall, take their places and they start taking pictures, just like me. And selfies. Just like me… A very elegant lady films with a gopro. Pretty Woman is played once again. I am amused. Is this the only song of the evening?
It's a few minutes past 5. Some people go on stage and place there the earpieces for translation. I think the people who will sit on stage are very special, because there are also some sits for the special guests in the first rows. (Special guests who have not come yet…)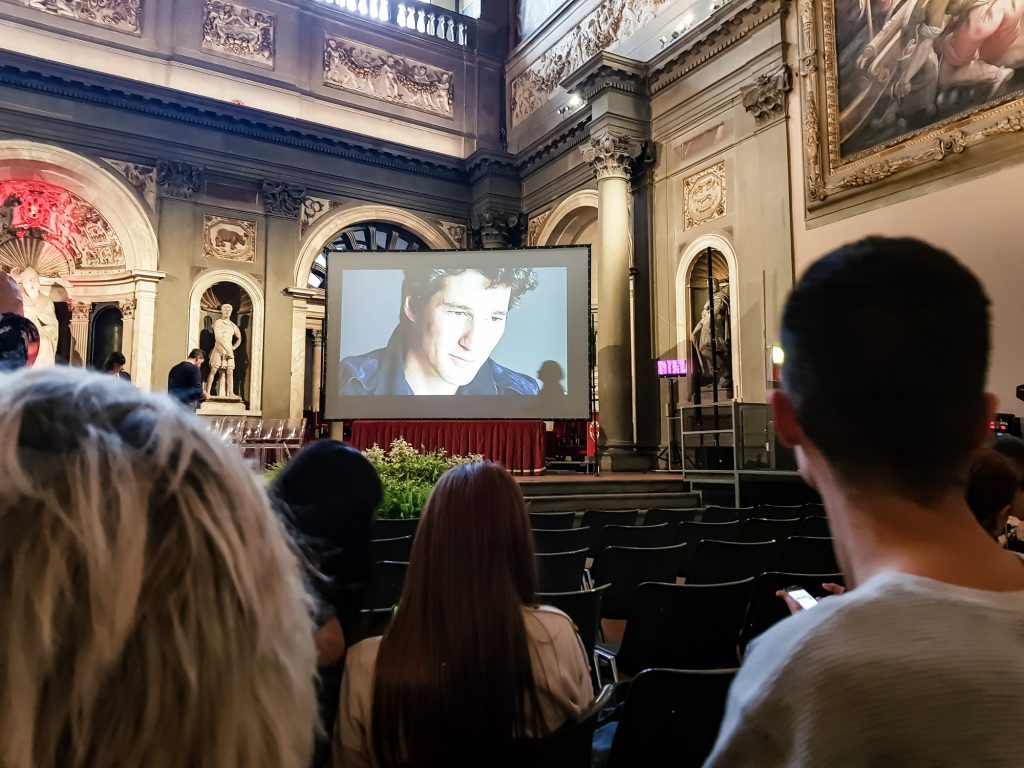 At 17:20, the front rows are still empty. I am bored, so I start counting them… There are 15 rows times 24 seats per row. They could have put there even more seats!
Pretty Woman is played once again. Really?!?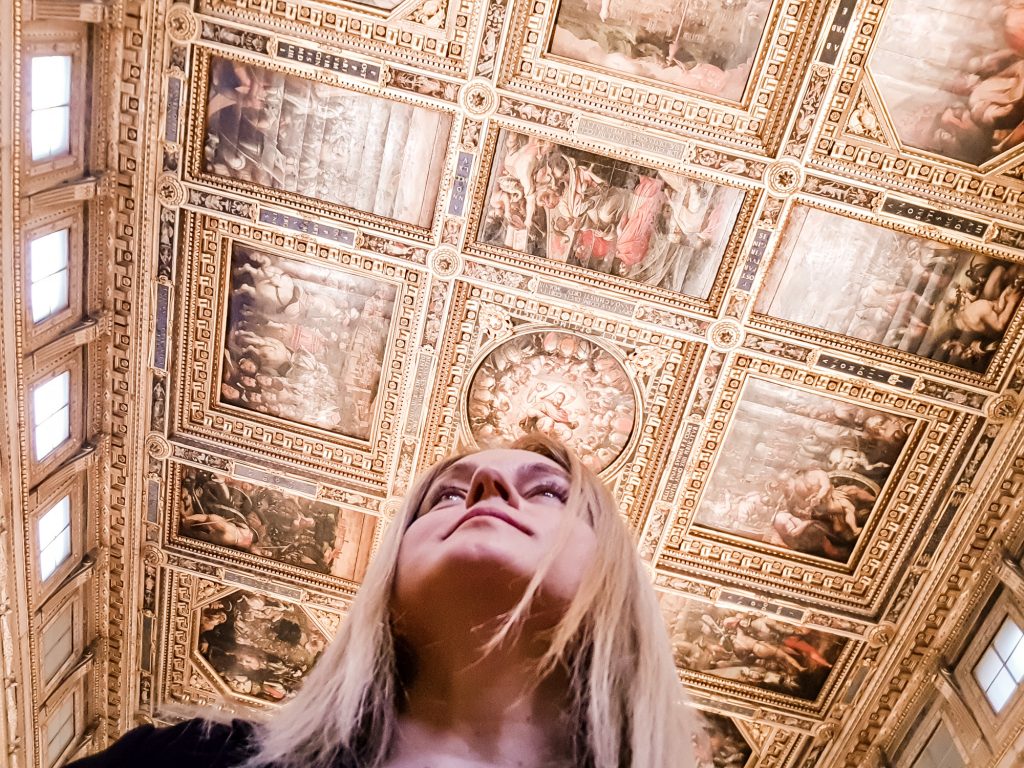 I start studying the place again. I admire the pictures on the walls and the ceiling, piece by piece. I only hope that the actress Ana Ularu will not fall on my head! (For those of you who saw "Inferno", this is the hall where, from the ceiling, falls down the enemy of Tom Hanks – the other famous friend of mine…)
And once again Roy Orbison sings Pretty Woman. Really, man, that is too much! I look at the sound guys. Isn't that like the Chinese water torture already???
I look at my watch and after a short counting, I come to the conclusion I must have heard the song some 20 times!!! This how they make you hate a hit J.
I find it strange that many people greet each other as if they are old acquaintances or even friends. A woman comes, she kisses someone sitting next to me. Some other people come in and they hug the ones who are already inside. It's like in the village bingo hall. Old women greeting and hugging each other, as they have not seen one another from the Sunday mass…
The cameramen and the photographers begin to come, one by one. They are sent to the side, behind a railing.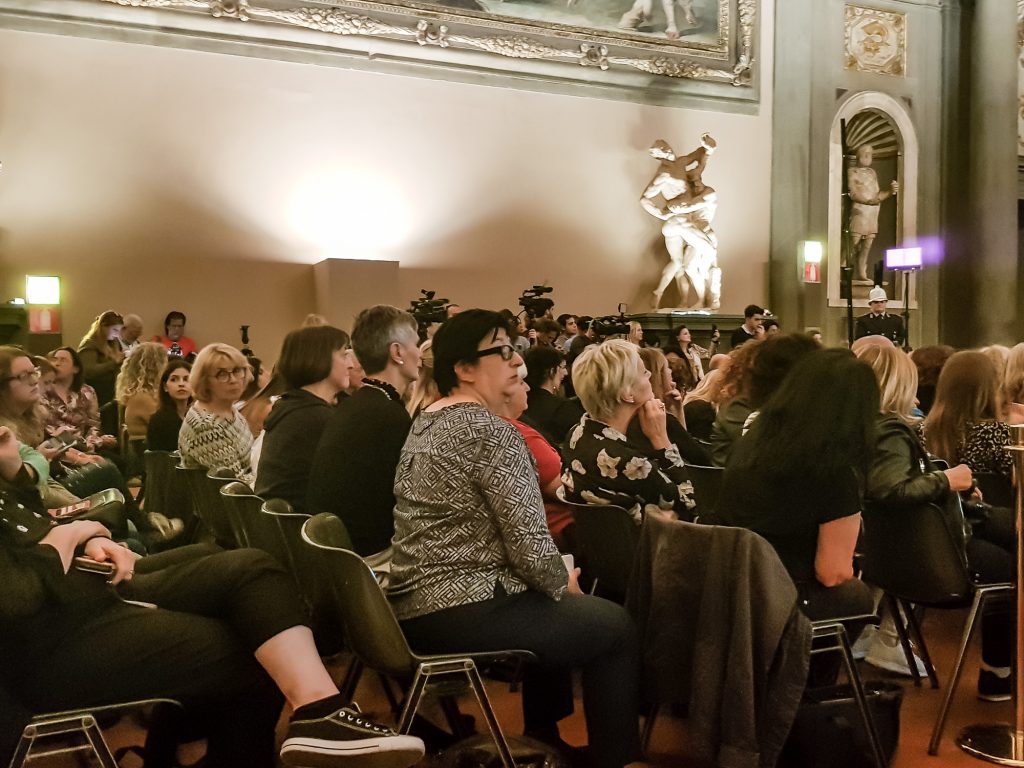 So that is it… I now see where the place for the press is. I should be there too. I look at them, then I look at my place, then I look at them again and once more at my place and I definitely choose to stay where I am ;). The seat is perfect. Great view to Mr. Gere's spot.
I stand up to stretch my bones. But I don't move an inch, as the hunt for good seats has already started!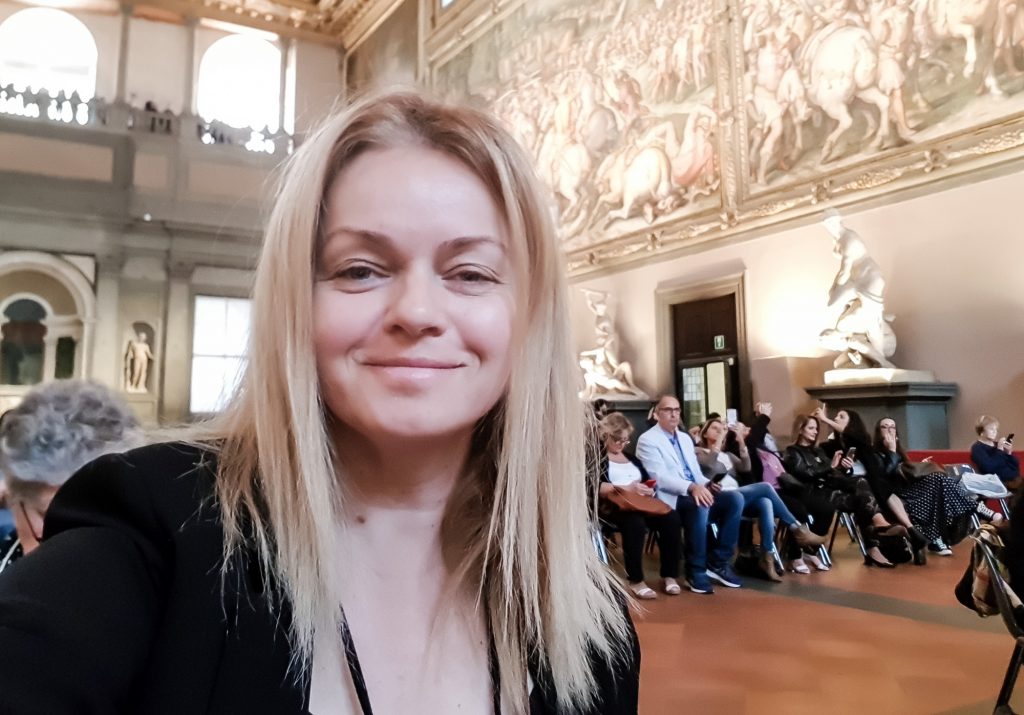 35 photos of Richard Gere are shown on the screen. What can I do, I am bored! Lucky me that someone else discovered the Theory of Relativity before this moment…
It is already past 17:30 and no Richard Gere anywhere close. And no special guests either. The seats are still empty.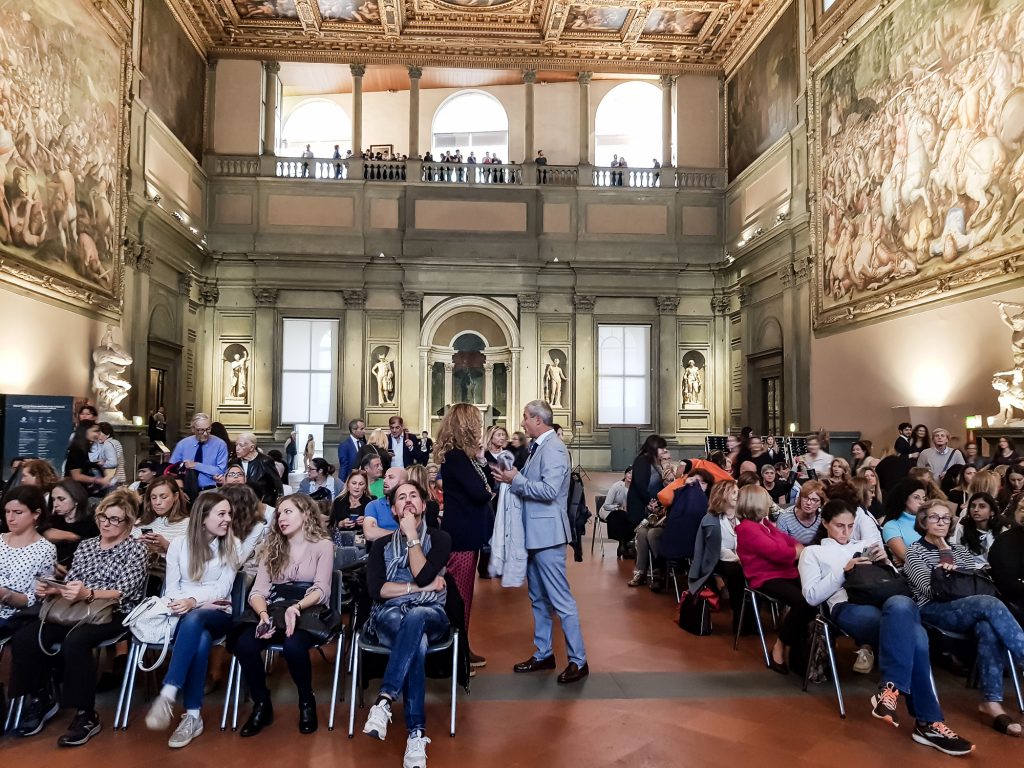 The people visiting the museum stop at the balcony to see what happens in the hall downstairs. Nothing yet… So they continue their visit for which they have paid.
A young lady next to me constantly presses her boobs… ?!? She must feel there's something wrong with them hihi.
Some ladies from the staff show people to their places. It is necessary, as at 17:45, a miracle happens and a huge group of people enter the room. Maybe they let free entrance as there are still empty seats.
Another miracle is that, after they have played it some 30 times, Roy Orbison is finally silent!!! The music is off. It is only the overall noise…
Some trumpet men come on stage. The special guests go on stage too. I have no idea who they are.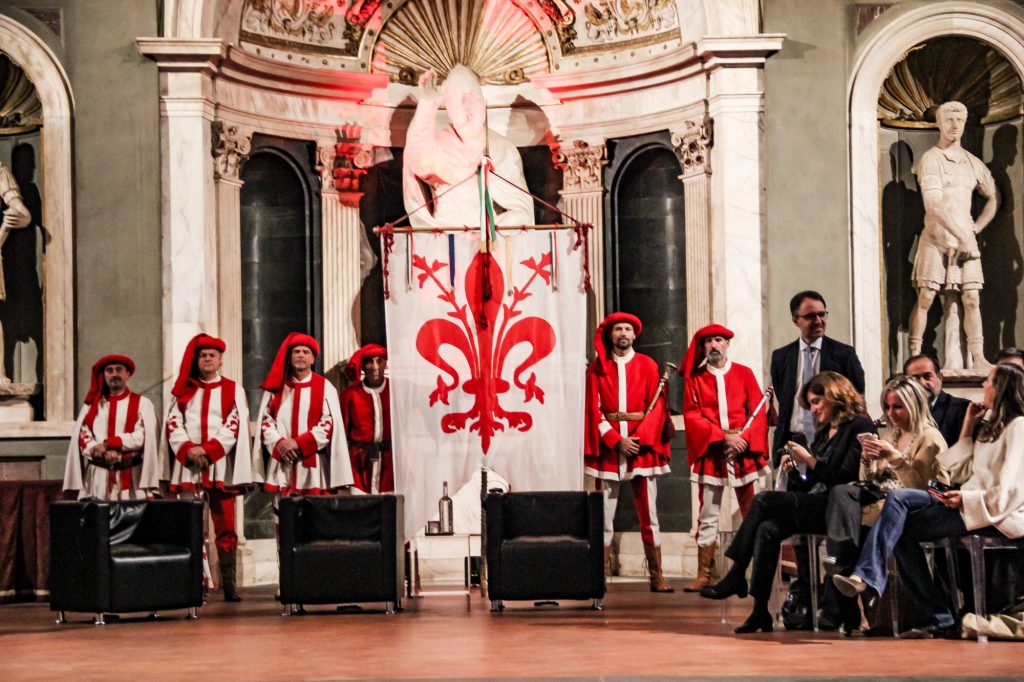 RICHARD GERE APPEARANCE
"There he is!" we hear someone saying and in an instant we are all on out feet with the phones in our hands. False alarm! It was just a white haired man coming inside… At ease! We sit down. I have a few dilemmas about the way I will take pictures and film. After the experience with Tom Hanks, I would not like to go through it again, especially with the very intimate light these people have on stage. You can almost see nothing there…
I decide to leave the camera and film with the phone, so that I am inside the picture too. Am I stupid not to appear in my own phone production? J. I rehearse once and that is it. I am ready, with my thumb on the rec button. The only thing missing is Richard Gere… And it is already 18:30.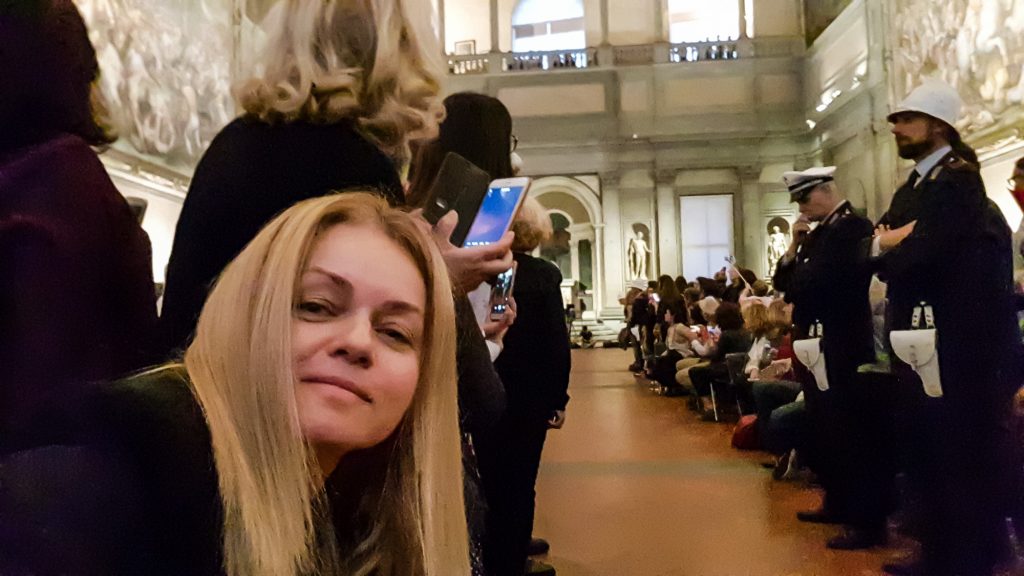 I have made the plan. What you see here has nothing to do with what happened when Richard Gere came. There was a huge wave of enthusiasm, no line was respected, everybody was jamming and elbowing his way through, not to speak about the wave of journalists. They were all over him with expensive, professional cameras and with so many light, it seemed everything was burning around him L. So… HUGE disappointment for me who was thinking I could see something nice on the phone!!!
The megastar goes forward… the people shout: "Richard! Richard!"… and he goes close… and some more flashes, stepping on each other's feet, tens of phones in the air… and my heart is beating so fast that you'd think I am having a private dinner with him, not that I am lost somewhere in the crowd J.
I am filming. When he gets close to me, out of common sense, I stop looking on the screen of the phone and look at him. I want to see him with my own eyes, God damn it! He comes close to me and… he puts his hand on my shoulder, as a sign of salute. What??? Yes, just like that! And I can't find anything sillier to say than… "Hi!" Hahahaha. What? Just "hi"? Well, yes, "Hi" and that is all.
So that I don't look stupid to you, I could say I really said "Hai" (Romanian for "Come!", same pronunciation as "Hi"), as an invitation to have an "aperitivo" in Florence. But no, that is not what I said.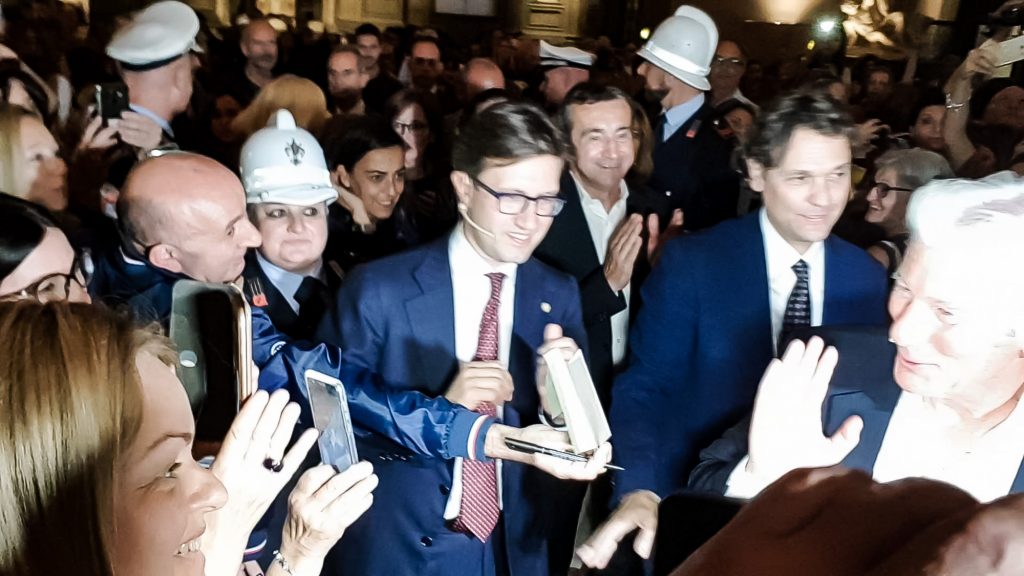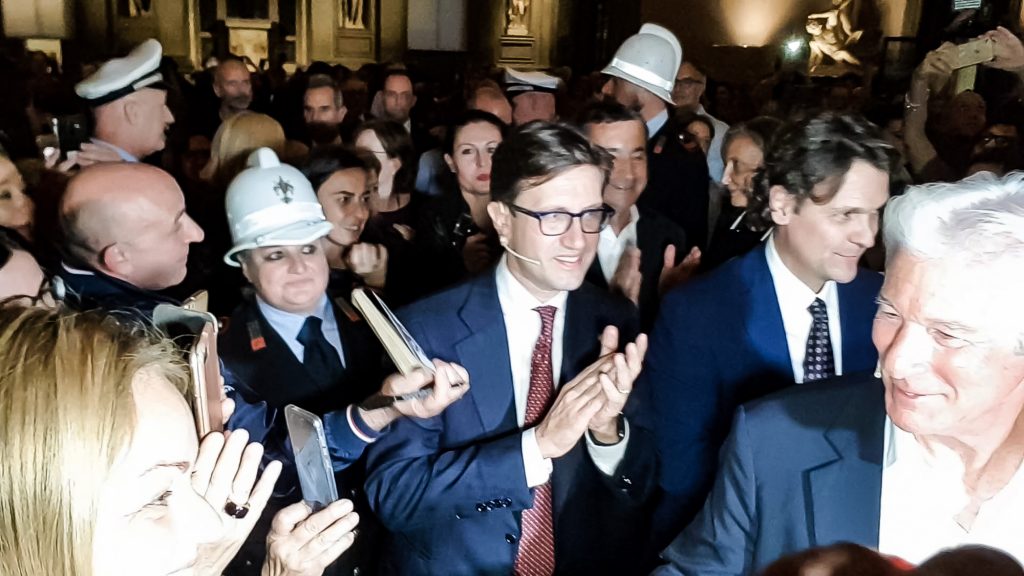 After saying "hello" in his own way, he looked at what I was doing with one hand in the air, somewhere far from my body… I was holding the phone filming like crazy… I had nothing useful in that film, so that the muscular effort would have been useful at least. "Many crazy people on this planet", he must have thought…
He passes through the crowd, he greets the people on stage and he sits in the middle armchair.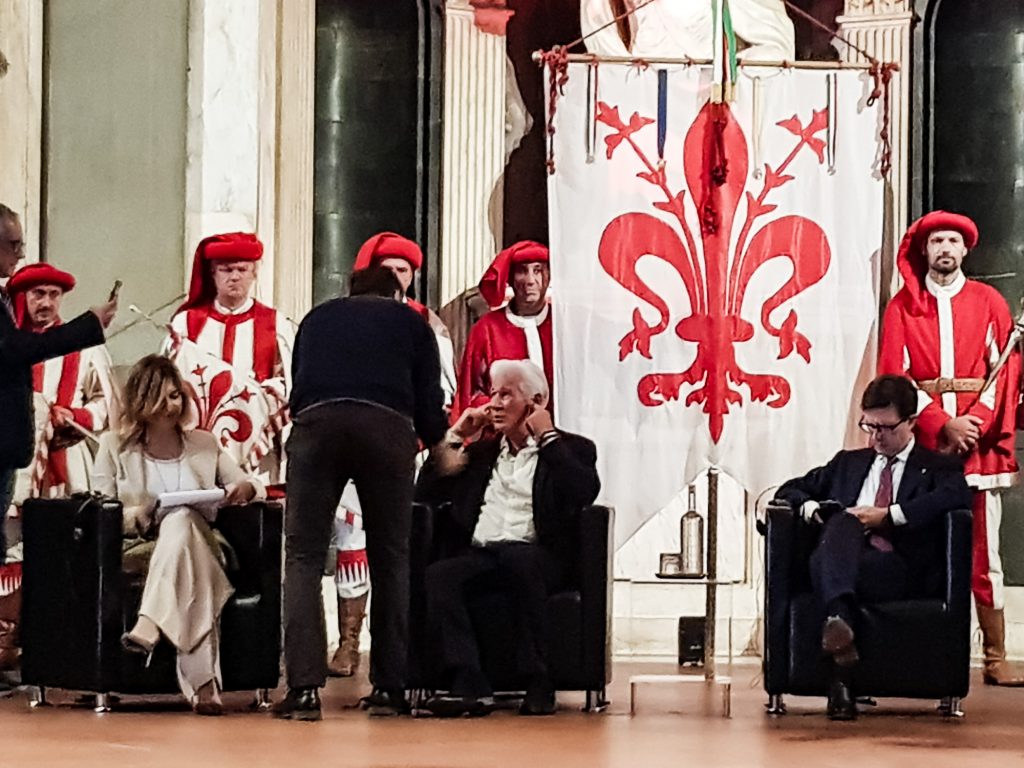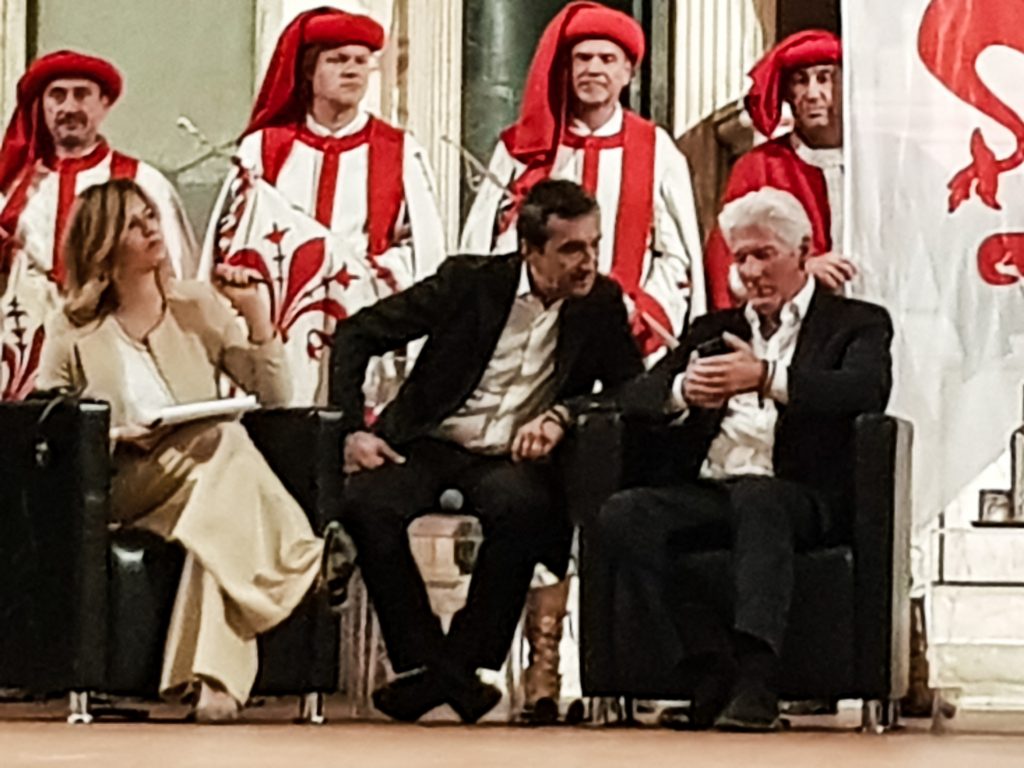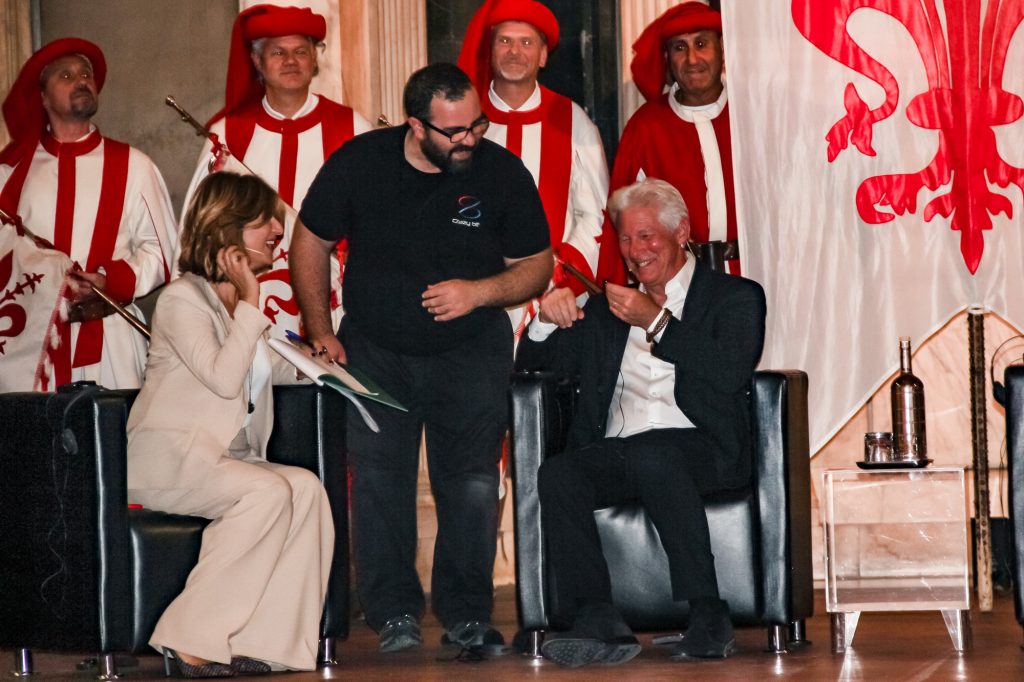 After some minutes of talks with the sound people about the translation, after looking on the phone screen and some more talking to the people next to him, the ceremony starts.
The event has a political and social air I choose to ignore. I like the stories however…
They speak a lot about the way he personally took food to some refugees on the sea. He tells us how he took his son there and those people felt important because Richard Gere introduced his son to each and every one of them. Nice!
During the speech of the Mayor, Richard Gere plays the role of the host and pours water both in his glass and in that of the Mayor.
What the hell are you doing??? – I feel like shouting when I see a camera filming right in my face. I realize I have to shut up and look in front of me. That was all that was missing, to see myself on TV…
And things don't stop here. Another cameraman comes and puts some lights in our faces and we all sit there in complete order, not to make a fool out of ourselves. If I wanted to be in the public, I have to obey, there's no other way…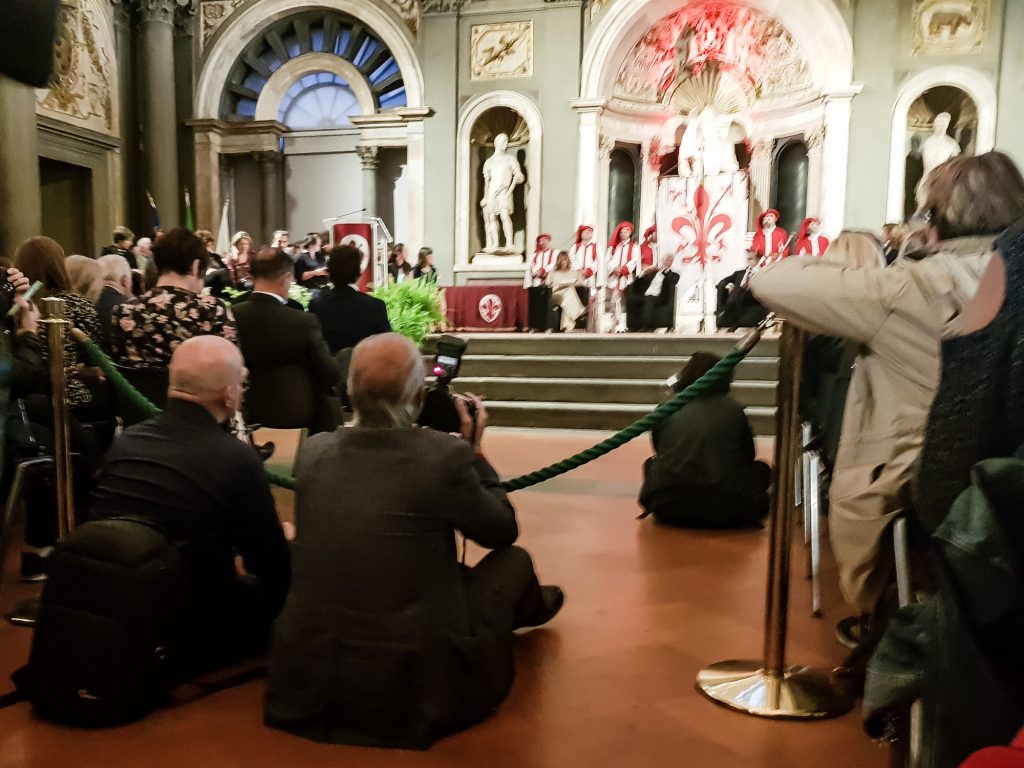 On stage they keep talking.
The people in the audience have already started to post their photos on social media or to send them to their friends… This is a sign that the speeches of the Italians are too long. (I try to understand what they are saying.) Some people start leaving. They saw him, they took photos of him, there's nothing more they want.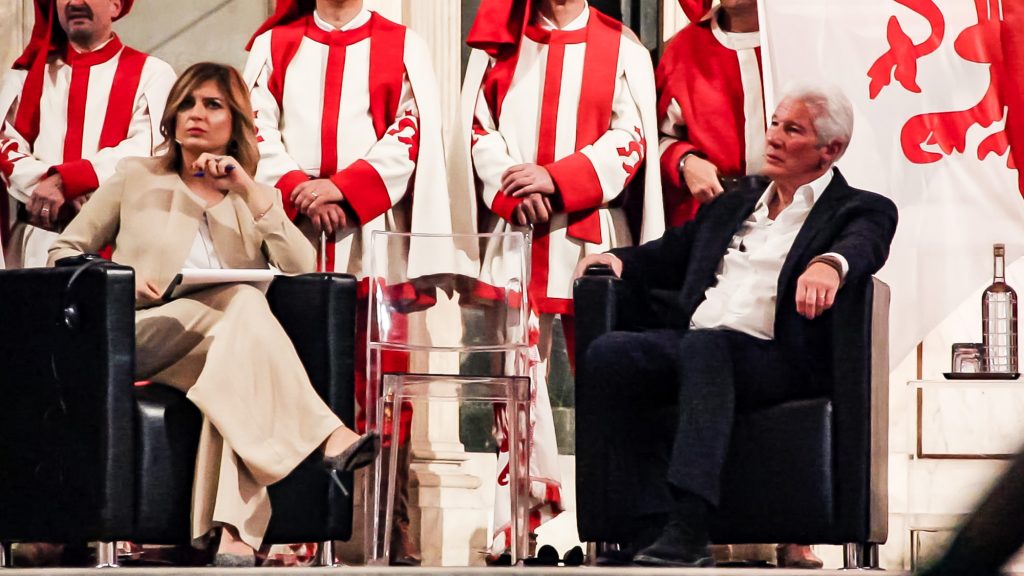 What I liked from what "uncle" Richard said was: "As I don't care about politics, I don't care about religion. But I care about my teachers!" and he spoke about Dalai Lama. And he pleaded a lot for helping people who help other people to survive, not stand in their way. No matter if we speak about people jumping from burning houses or about refugees on boats.
My ass is in pain from all the sitting on that chair J. I look at my watch. There have been some two hours and a half already. The Italian woman next to me asks me to take a photo of Richard Gere with her phone, as I am on aisle and I have a better view.
Then I listen to what he says about Florence (Tom Hanks was asked about Florence too by the journalists).
He has come here a very long time ago, with his girlfriend at the time, he says. The most romantic time. Then he came back here for some shooting for movies. Then he tells us he sent his parents across Europe in the Orient Express and they came to Florence too for a one day trip.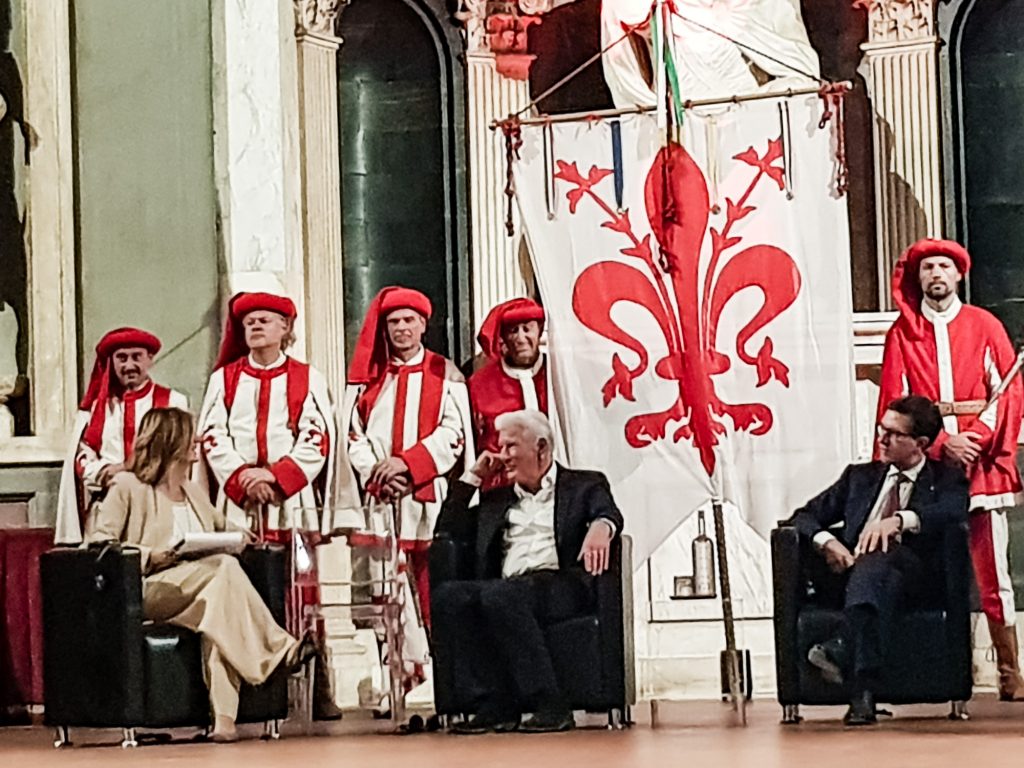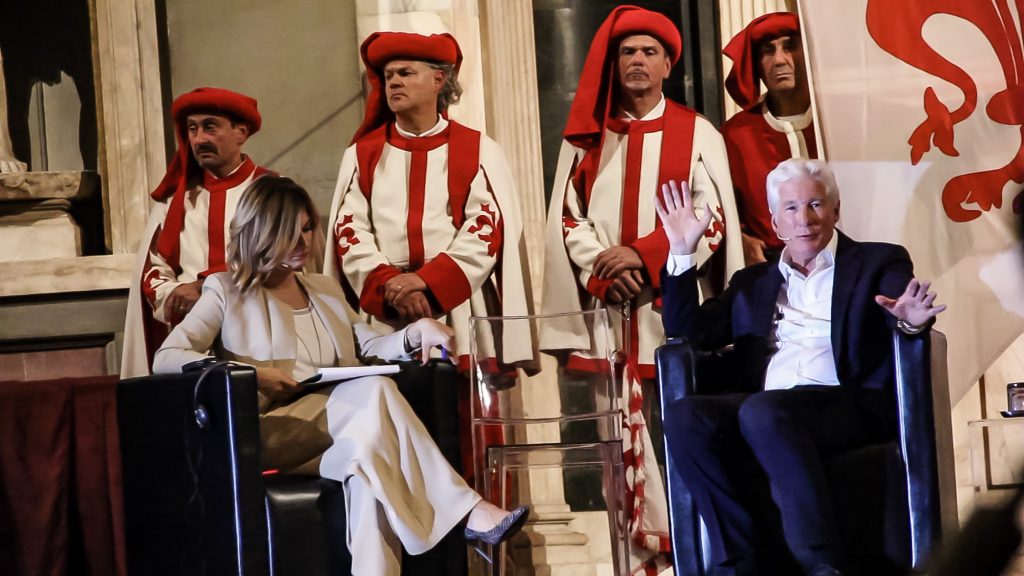 During the current trip, Richard Gere went into the Uffizi Galleries, when there were no tourists, as the museum is closed on Mondays. He seemed very happy about this visit.
RICHARD GERE RECEIVES THE KEY TO THE CITY OF FLORENCE
…AND SURPRISES, SURPRISES!
That's it! Here comes the solemn moment when he will receive, from the Mayor, the keys of the city.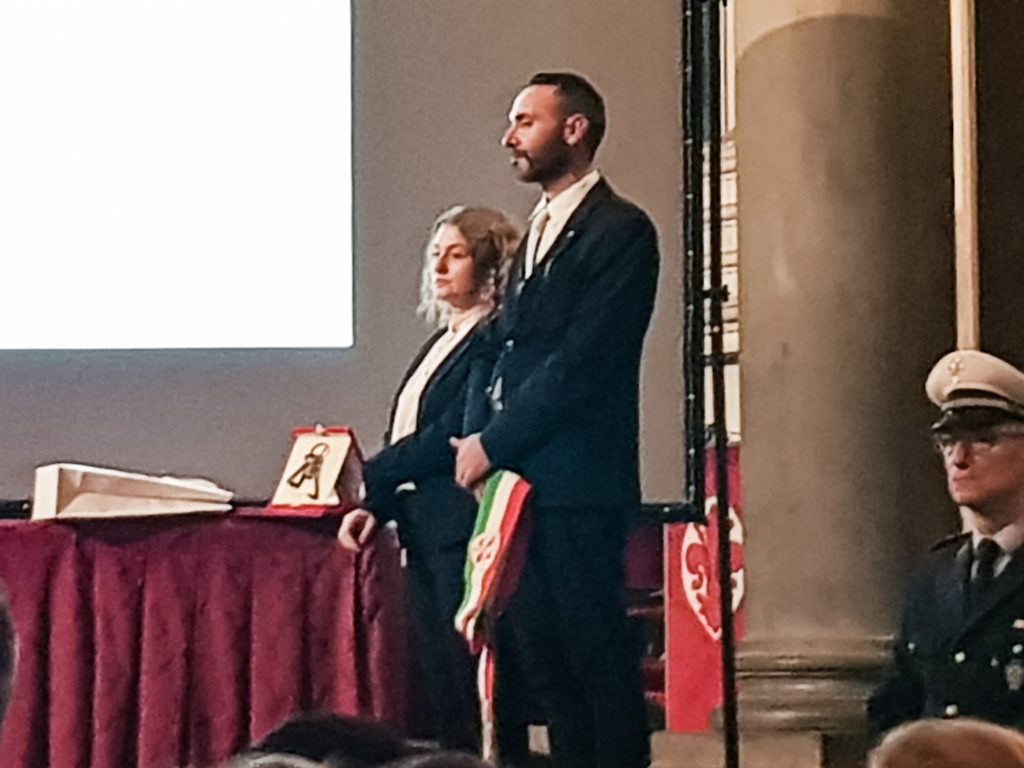 The trumpet men start trumpeting, the Mayor is decorated with the ribbon and Richard gets his keys. I have no idea why there are more than one, but who cares?
"For him and for his foundation", the Mayor says and this way I find out that he has a foundation. I will search about this…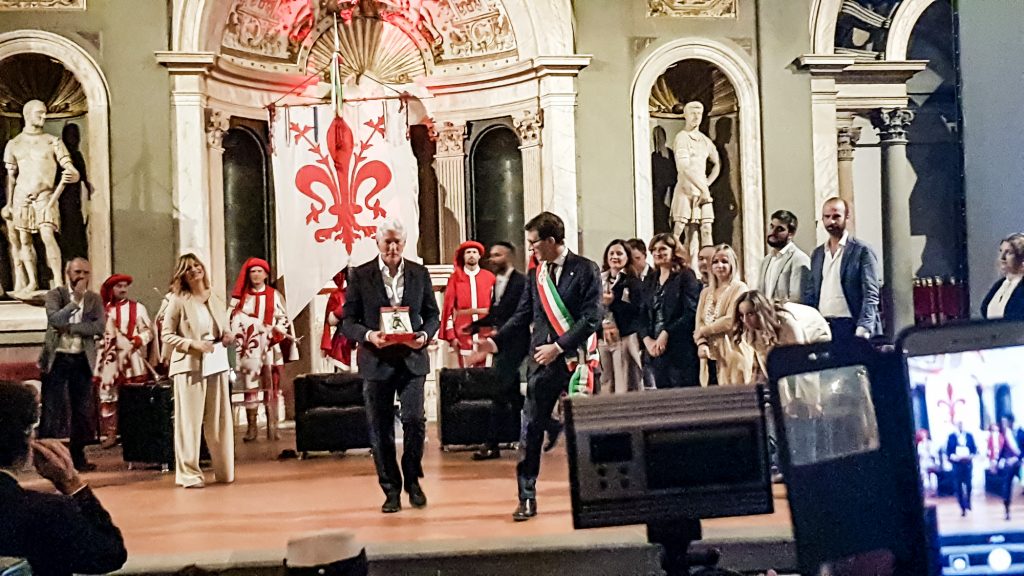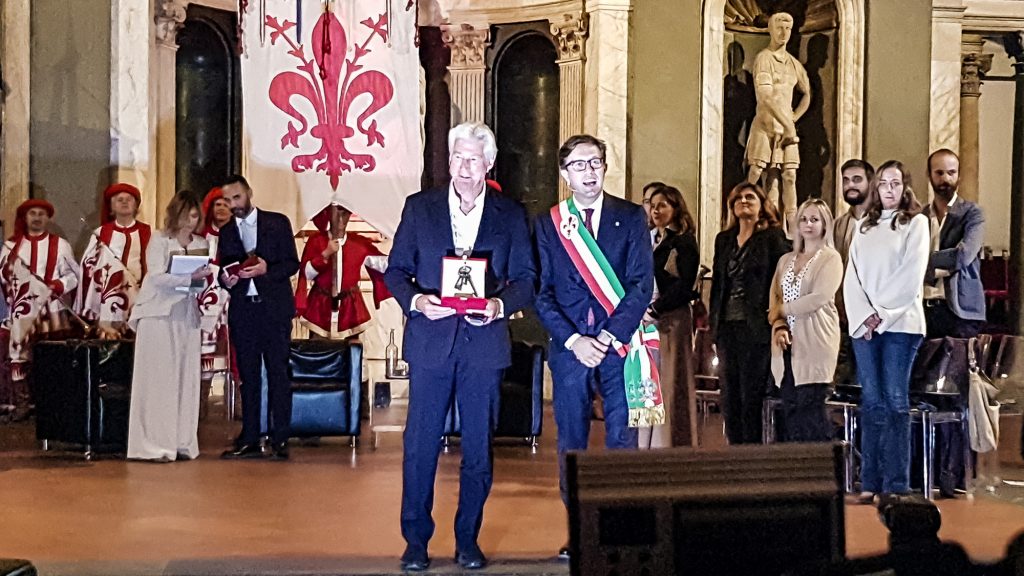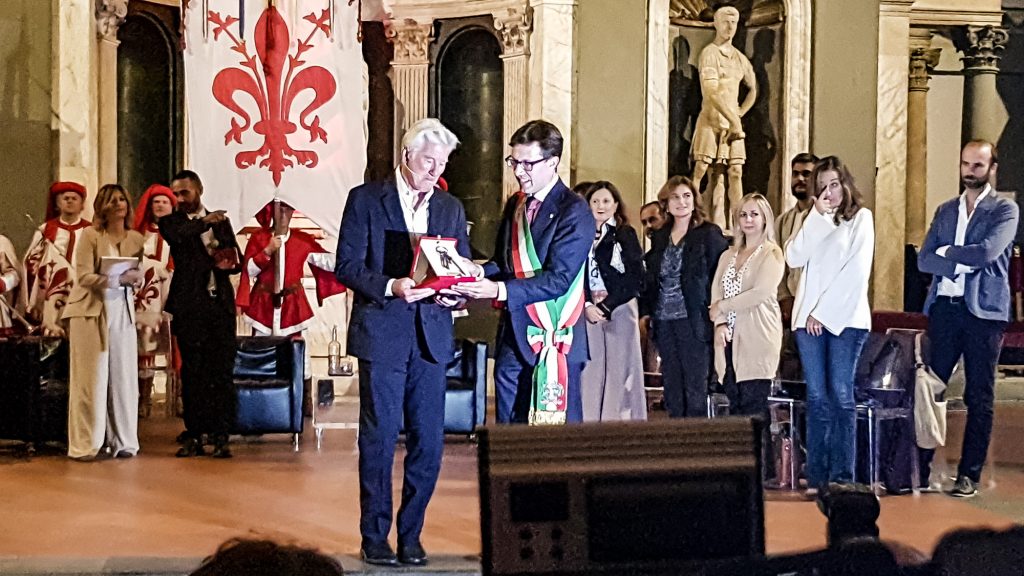 Lots of flashes. The people are desperate to take pictures. We all go in front! I film. So do some other people around, on, under me… On a strategic moment I can even have a detail of the keys he received.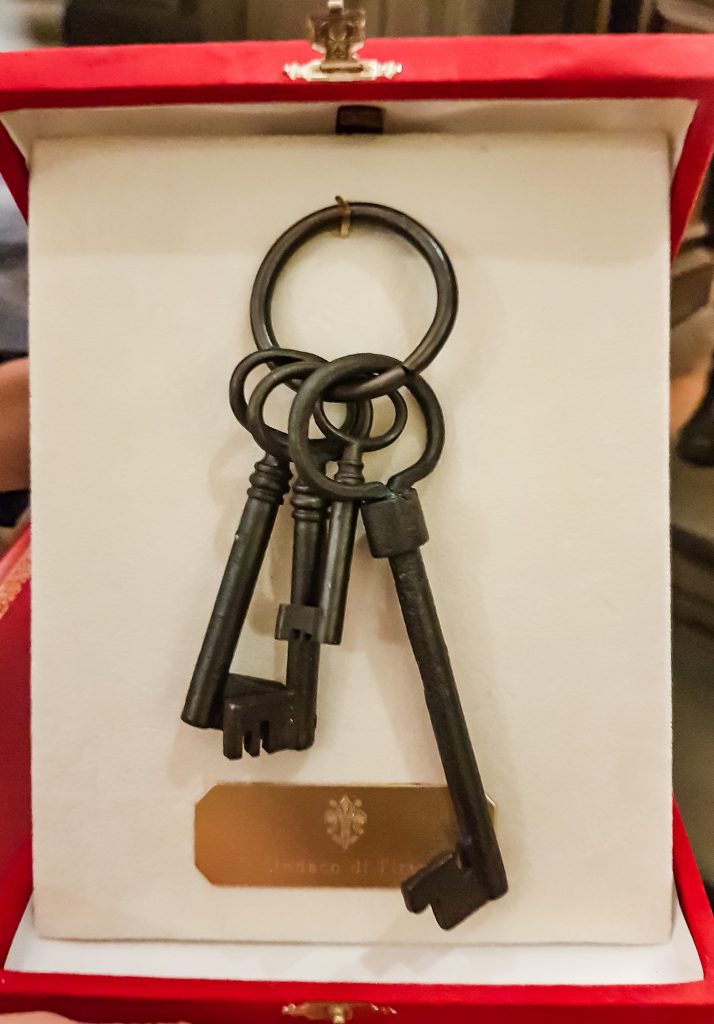 And then… the Surprises Surprises moment: the Mayor tells Richard Gere that they have a surprise gift for him. Everybody laughs. I don't understand what it is, but I think it was a bus pass J. So that the man can come and travel for free around the city in the busses or the trams. Then I find out it was a one year pass for all the ballet and opera shows. Well, I was close enough! Sort of…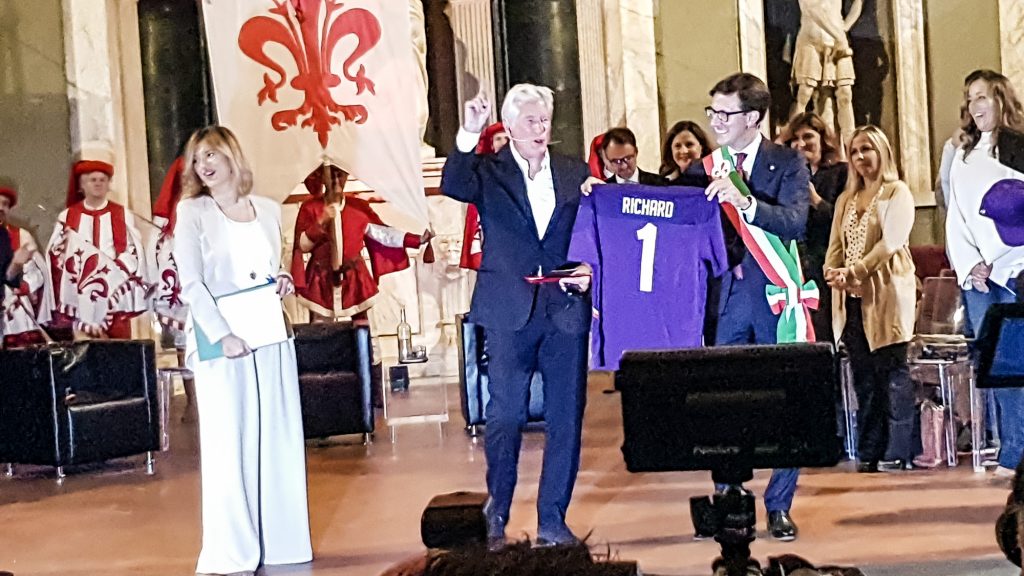 The second surprise is a T-shirt of Fiorentina football team with his name on it. "Numero uno!!!", Gere shouts amused. This is a sensation:
And that is all. Photos, crowding, the disappointment that he does not leave the same way he came in, but he is taken out from the back, lots of comments, laughs and stories on the way out. I lose myself in the crowd and I get to a room close to the place where he is. Other journalists do that too… But we are caught and invited to leave. The journalists more than myself, as I seem inoffensive and I see that nobody cares about me. However I leave the room, because otherwise I would be left alone there and they would probably take me out with the carabinieri or something…
The hall is empty now. There are just a few journalists left who write and sent their reports. I take a few more photos and, after I make sure Richard is not coming back, I leave. The palace is already closed. A lady is at the entrance, waiting to lock up after all the people left inside leave.
PICTURES OF RICHARD GERE?…
Outside, I am laughing at the experience I had… I sit down in the statues lodge of Palazzo Vecchio and I look on the camera and the phone to see what I have. A total disaster! Just a few photos and film are worth saving. However I will never wash the jacket! J
Definitely, I have to improve my methods of filming and taking pictures in such situations. God knows I may come back to Florence and Ioana might tell me Brad Pitt is here, I meet him face to face and the photos I take are so poor… (I already think about an invention. Only Da Vinci and myself keep inventing J, since I am in a place where people commemorate 500 years since his death).
I send messages to my friends telling them that I met Richard Gere! Following the principle "I can't believe what I can't see", they start looking on the Internet for news about the event. And they look and they keep looking… And there she is… DANA MLADIN NEXT TO RICHARD GERE!!!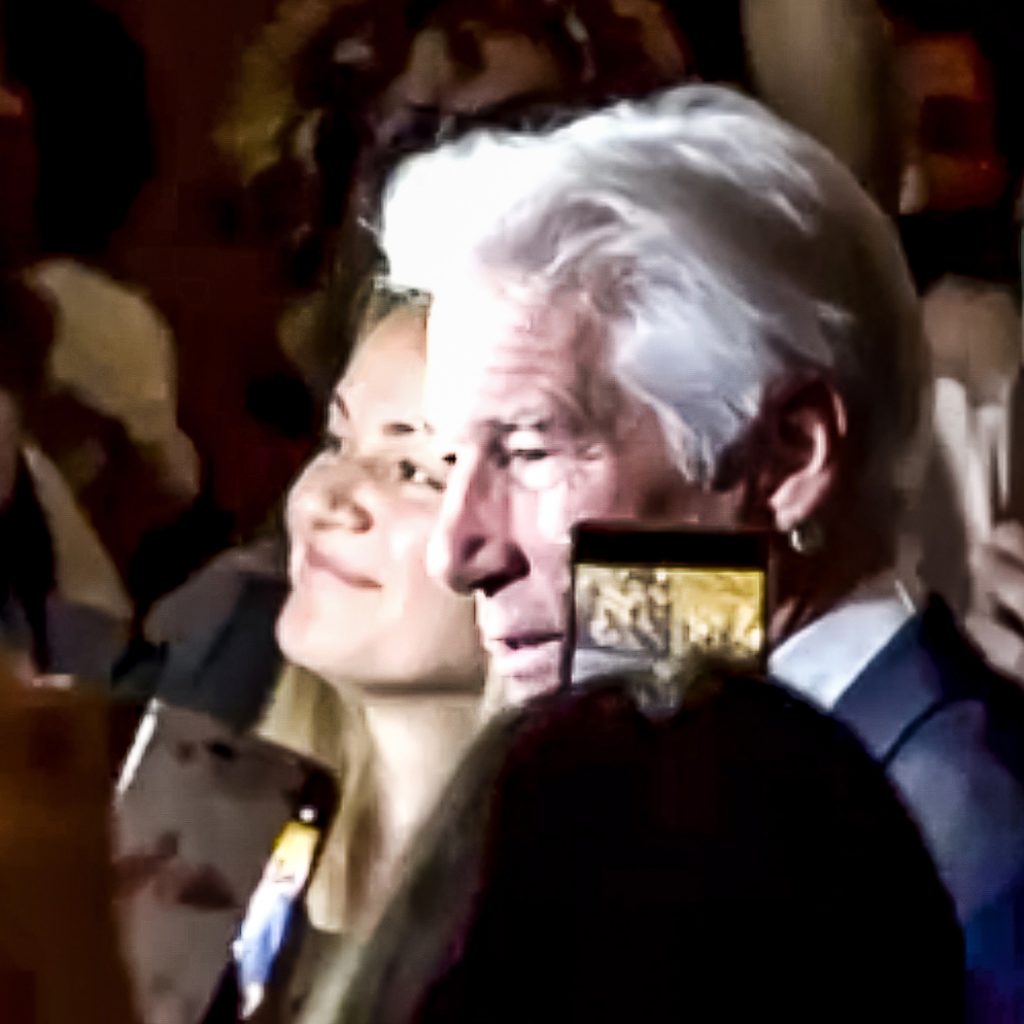 You'd say that we are together, holding hands, right? Hihihi. We had both grown: he, as gorgeous as ever, he'd grown older, me, I'd grown a bigger ass J))
The pure truth is that the man was passing by like a star, to go nicely and gloriously on stage. And I was trying to do what I could not do with Tom Hanks: catch a photo of myself and the star. The happy smile was about to fade after seeing that I was only partly in the photo. How long can my arm be, seriously now? Here is the right angle…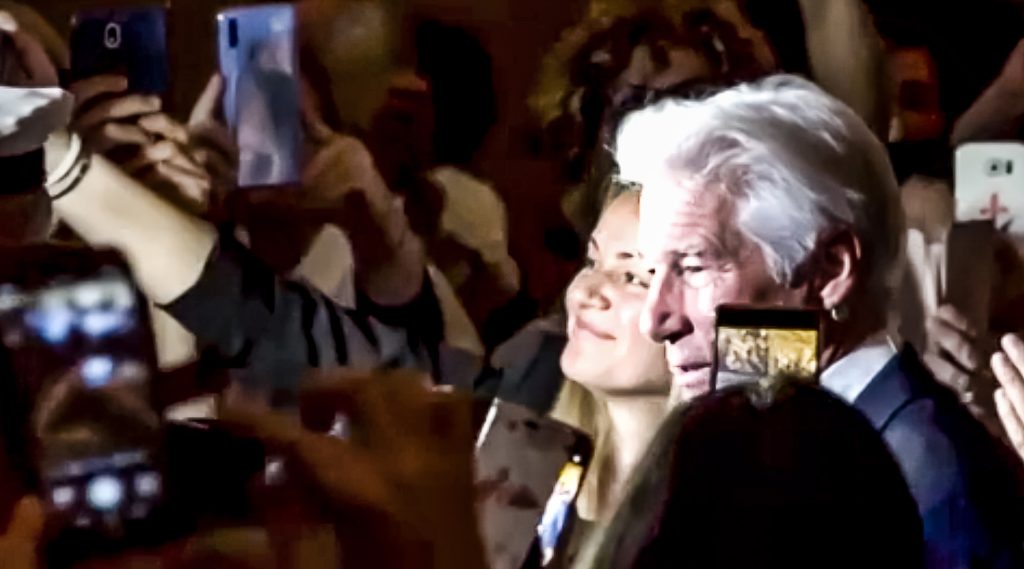 And that was the story… With a Mr. Perfect and a lot of girls around. And some keys of the city. And some unseen keys to our Cinderella hearts J.
P.S. The next day, I took shelter from the heavy rain in Florence, in the lodge next to Palazzo Vecchio. I left my umbrella at the base of the stairs, 2 meters from me, I went up, to the last step and I started writing the story above, still under the impression of each and every detail. When I wanted to leave, I noticed someone had taken my umbrella!!! So, please, if you see Richard Gere anywhere, tell him I lost my umbrella because of him. He owes me one J…