I found my letter for Father Frost! It is about 38-39 years old, if I judge by the way I wrote and by what I wanted…
After St. Nicholas, who used to only bring sweets and socks, I had high hopes for Father Frost. So I used to write to him. So that he did not have any excuse…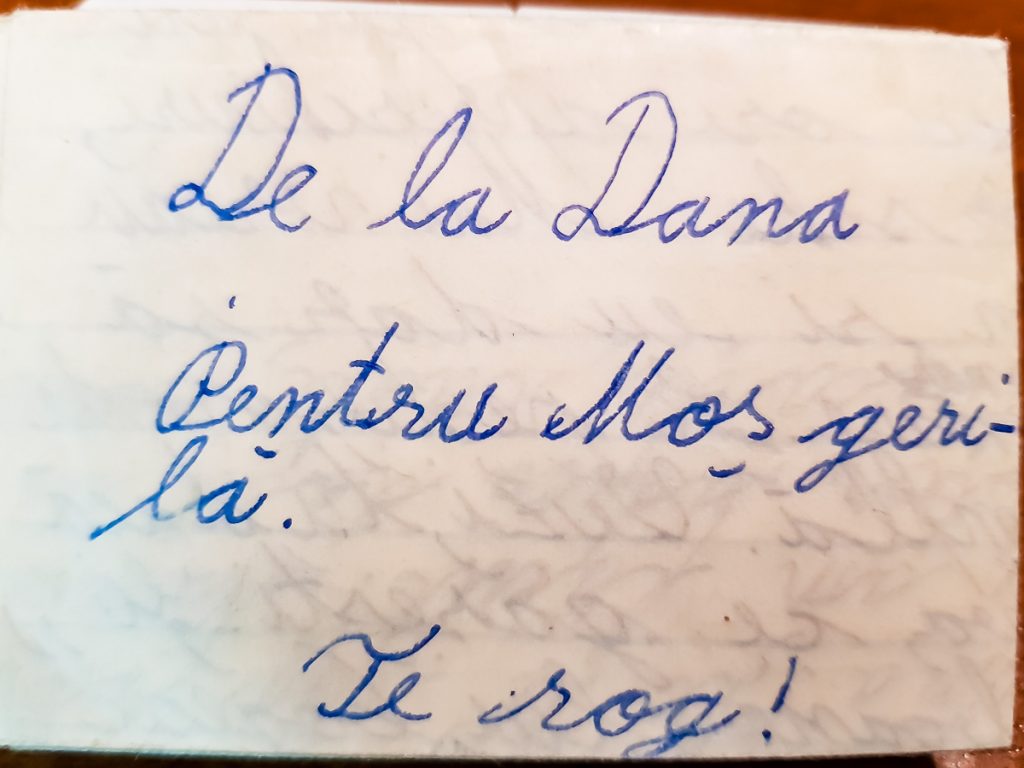 In short, my obsessions were:
fluffy monkey – meaning stuffed animals…
winter boots – I thought it was a great things to have those huge boots
a Chinese pencil box – but with a mirror, because I had one without a mirror…
"Extra" ink – high quality, I swear
a Cogeac's candy J. I mean, some kind of Chupa chups we have today. It was a "luxurious" merchandise because the ordinary lollipops were flat and tasteless, not in the form of a… planet.
chewing gum
Well, guys, after seeing this letter, suddenly certain obsessions in my life become crystal clear hihi.
CHEWING GUM
"Gumela" was the chewing gum of our childhood. It was gum with a sort of a sweet taste, which, once put it in the mouth, crumbled down. If you had the patience and the dexterity, you could have managed to gather and chew all the crumbs of gum lost in your mouth, in a kind of a chewing gum, which you then threw away, because it had no taste.
When I got, as a child, 2 packages of Spearmint gum from some foreigners who came to see the music group I belonged to, I had the feeling that I was given the best gift ever!!! It was "from abroad", and you could never dream about something like that.
Over time, I have remained passionate about good quality chewing gum, which I never stop buying from anywhere. Or get it as a gift. (You see, I am easy when it comes to gifts hihi. A picture next to a mailbox, a chewing gum and you make me happy!)
SOFT TOYS
I don't remember to have had stuffed animals. The real, soft ones… For a lot of years my favorite toy was an Aradeanca doll (at the time, the best dolls were made in the Aradeanca factory in Arad. I wonder if it still exists). I also had other rubber or plastic toys and some games, and that was it.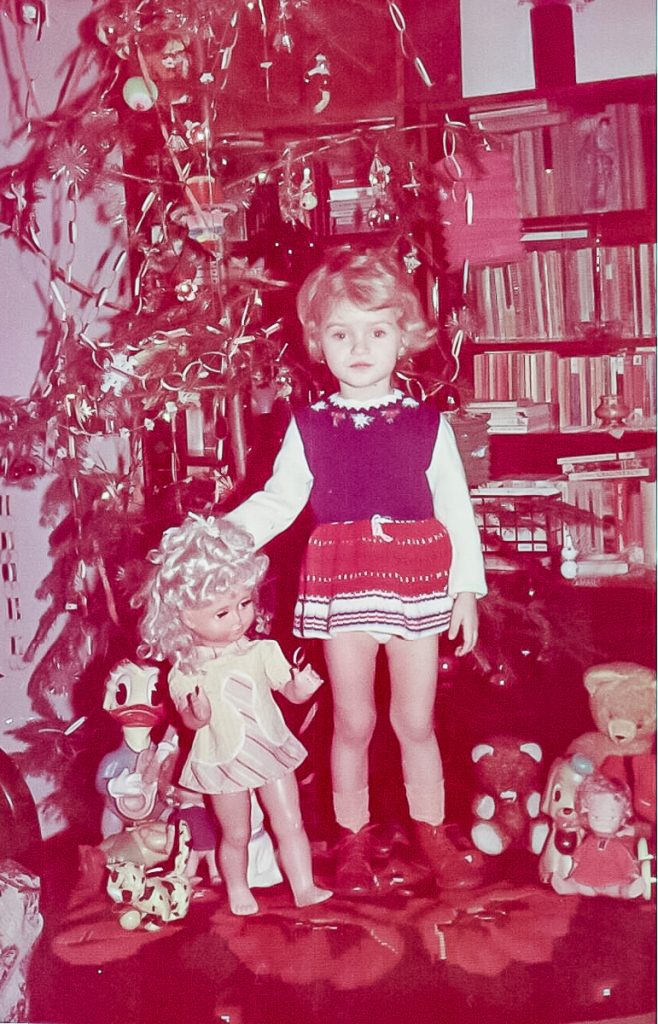 After the Revolution (1989), I started buying soft toys brought from abroad (although I was over 18 years old already), just to satisfy my childhood longings. I bought tens of them. And I got tens of them as presents. And then, in time, I have given them away.
I only kept a few that remind me of very dear things or those that I brought as souvenirs from different countries. I have a polar bear from Greenland, an Arab girl from the Emirates, a sumo fighter from Osaka, a panda from Macao, the mascots of the London Olympic Games or different animals from Toronto, Cape Town or the Maldives.
They are in my parents' house and I am still enjoying them like a kid. No, I am not playing with them and I am not sleeping with them ☺. I just dust them every now and then. But, if you ever see me in a toys store, don't be puzzled by the fact that I "hug and cuddle" all the fluffy animals.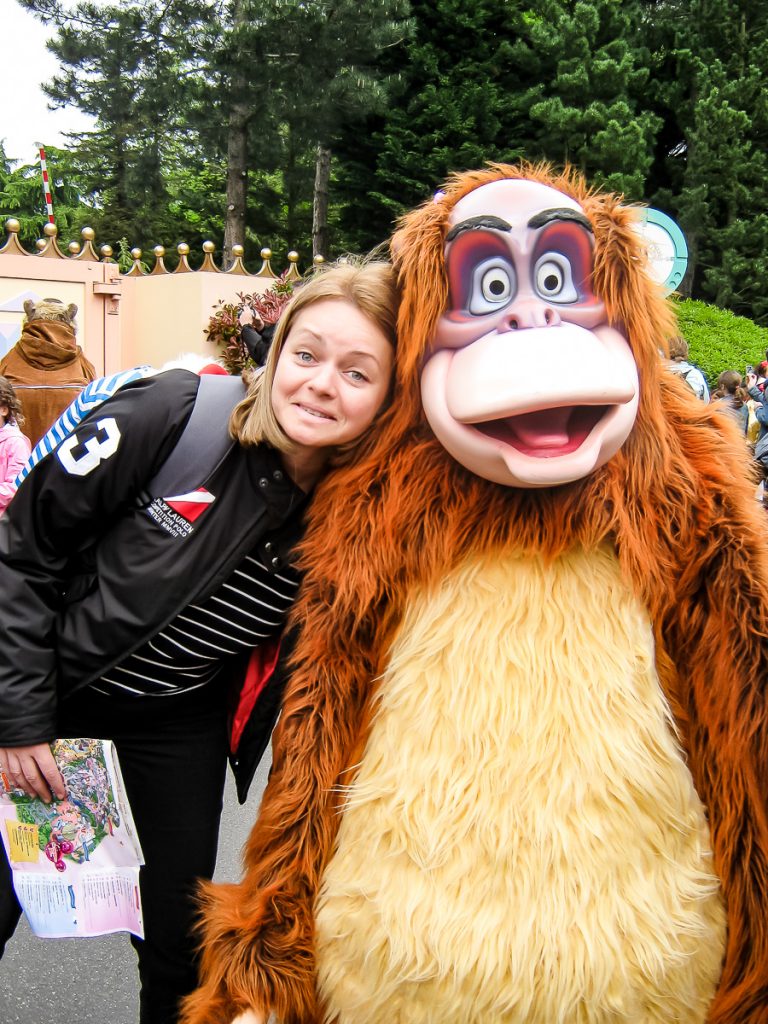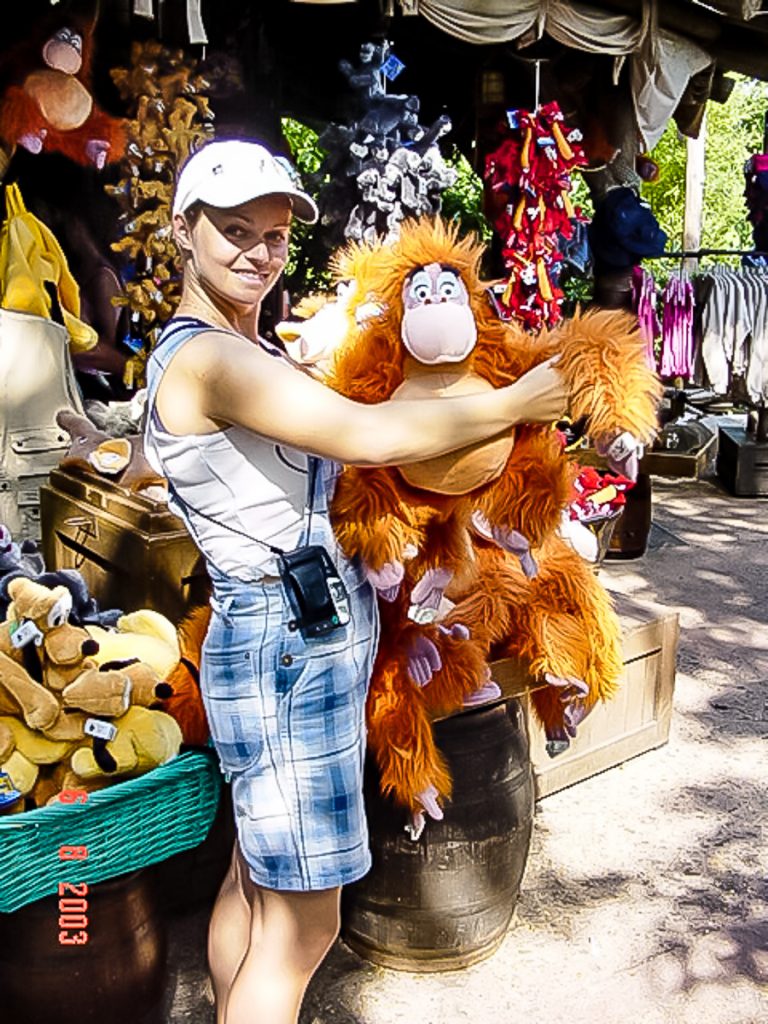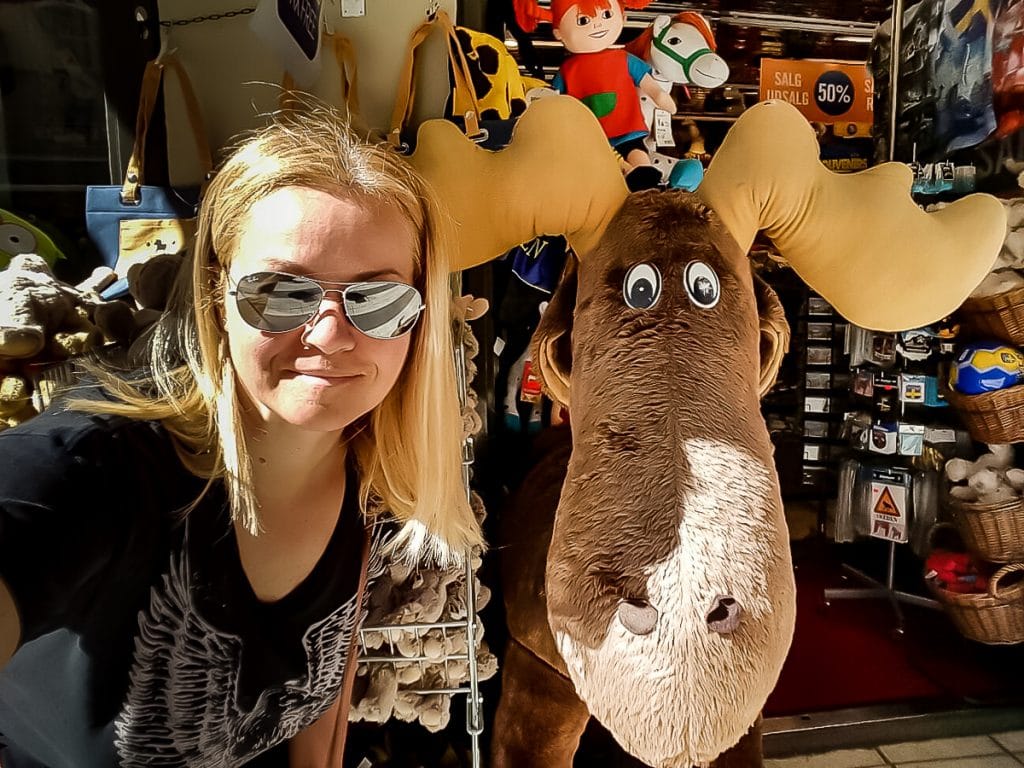 THE HARRODS BEARS
The famous Harrods shop in London is addictive. For each person according to his or her possibilities… Every December, I buy their traditional Christmas bear. Since my first visit to London, in 2007, until now I have never missed one.
That made me interested in finding out their history. The first Harrods Christmas bear was sold in 1986. It had such a success that these people started making a special one every year.
The collectors – I understand that the Japanese are the most passionate ones – started asking for details about the bears, their names and their stories… Ooops! No such thing! So the people from Harrods realized, in 2003, that they have to name their bears. Both the ones to be made in future, and those already made.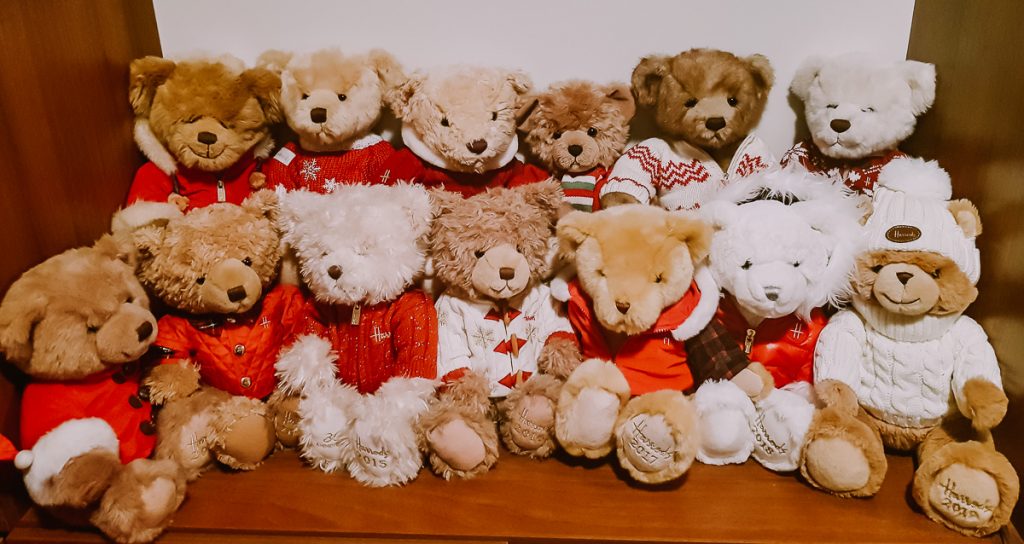 They are my Harrods bears…
From the left to the right (upper line and the lower line):
2007 – BENJAMIN
2008 – OSCAR
2009 – MAXWELL
2010 – ARCHIE
2011 – FREDDIE
2012 – WOLSELEY
2013 – SEBASTIAN
2014 – JASPER
2015 – BENEDICT
2016 – HUGH
2017 – BERTIE
2018 – OLIVER
2019 – JOSHUA
UPDATE: And this is NICHOLAS, the bear of the pandemic year 2020: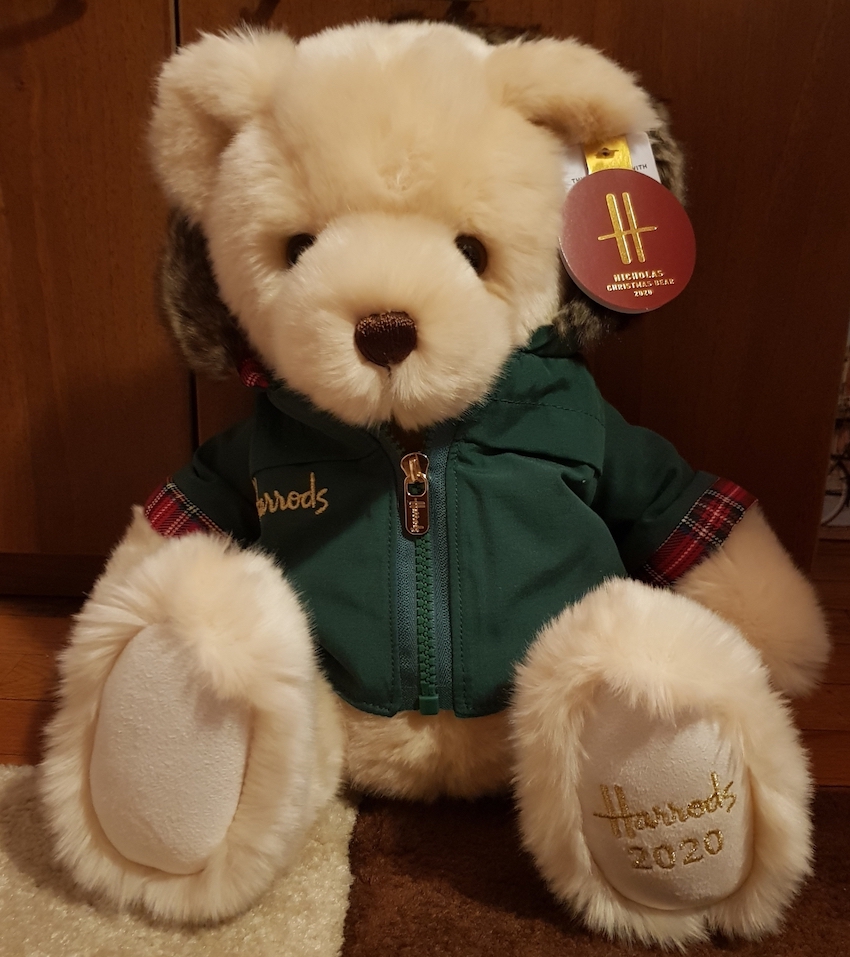 SANTA'S PRESENTS
All right, now, that I have psychoanalyzed myself ☺, let us go back to Santa Claus… Excuse me, to Father Frost. When I was a child, I had no idea who Father Christmas-Santa Claus was…
We had St. Nicholas, then Father Frost and, in my family, there was another sort of a Santa, St. Vasil! He would come on January 1st, when my father was celebrating his name day. As far as I remember, this was the richest Santa.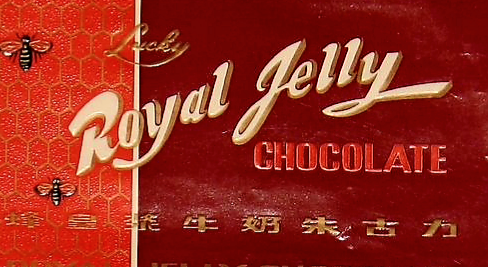 The Chinese chocolate in the picture was the queen of the presents. As well as the Cuban candies, about which I found out later that my parents bought from the "black market", as they had a "dealer" – a nice, helping lady in a sweets shop. Our mouths were watering when we got green bananas, but they would immediately find a spot on the kitchen counter, so that they ripe up. And we would get clothes and books. I think that the socks were the theme of the holidays, as they were present in any Santa's sack…
We would eat the sweets in the Christmas tree, hung there with the help of some tortured office clips. But we would leave the colored shiny paper there so that the feng-shui of the Christmas tree was not destroyed. Then we would have a photo shooting ☺. The same tree decorations accompanied me throughout my childhood and even through my youth.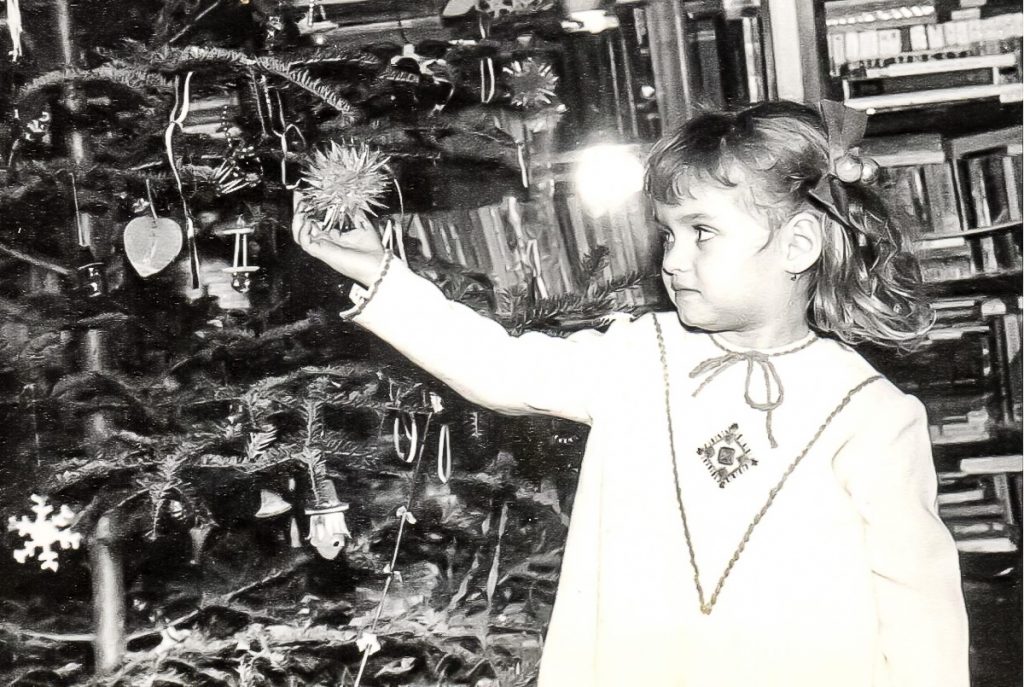 And then, we would run out, in the snow! Because we used to have snow on Christmas. Lots of it.
I would write to Santa every year. I always have some wishes and hope is the last to die, right?
I have no idea if he has an email address or if he uses whatsapp. Maybe he wants me to call him on facetime, I'd like to follow him on Instagram and like his Facebook account. I am looking for info. There's still time.
A MERRY CHRISTMAS TO ALL!