I am definitely part of the "majority". Part of those who, during the March-May isolation period tried to find remedies for boredom. (This, after cleaning, teleworking, watching Netflix, gardening, cooking and I don't know what else…)
One of my ways to have fun was not to lose my practice in… sending postcards. A childhood custom, kept even now: from wherever I go, I send postcards to family, friends and anyone else who wants to discover in the mailbox something other than invoices and letters from the fiscal authorities J.
As these months I have already missed two vacations from which I could have sent postcards, I decided to travel… from my studio! So I went in a hurry to the neighborhood Post Office to buy lots of postcards.
But, what do you know, they only had two models in stock – those with two old houses. Not the huge Parliament House, not the Athenaeum or some showing the Village Museum. No. So, after buying both, I switched to Plan B: I went to the box in which I stored hundreds of postcards I and my family have brought from all over the world.
On this occasion I realized how much money I had spent on postcards… Some are funny, some are even beautiful, bought when I had a black and white film camera or, during the recent years, from places where I knew my phone would never catch the perfect angles of the postcards.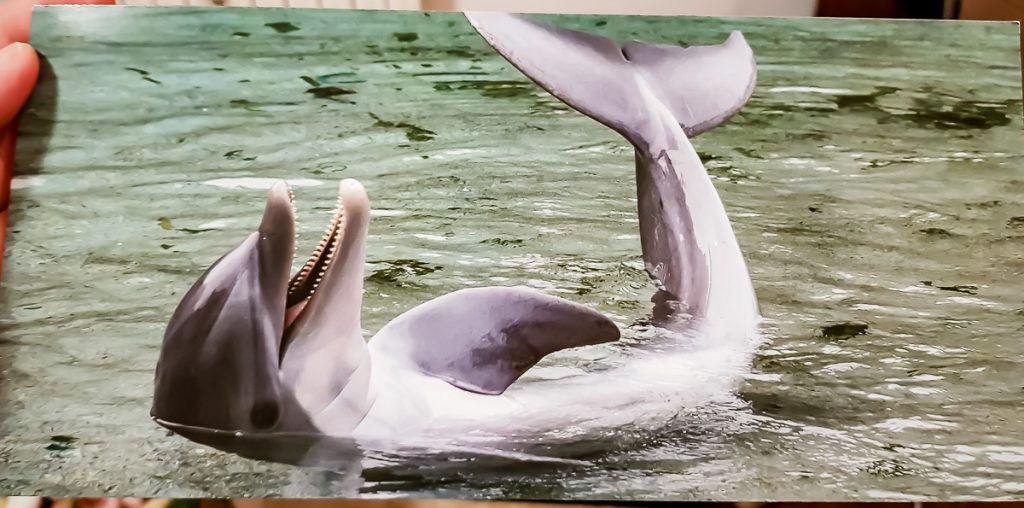 Ok, so I took lots of postcards from the Personal Archives J and started writing.
I wrote and sent some to friends abroad, to friends from other cities in the country, but the greatest fun was to send postcards from Bucharest to… Bucharest. (0,39 euros for a stamp. And internationally, 1,75 euros. I had no idea what the prices were anymore.)
POSTCARDS
I started with my mother, who is only a few kilometers away from me, but to whose house I didn't go that often, as a safety measure.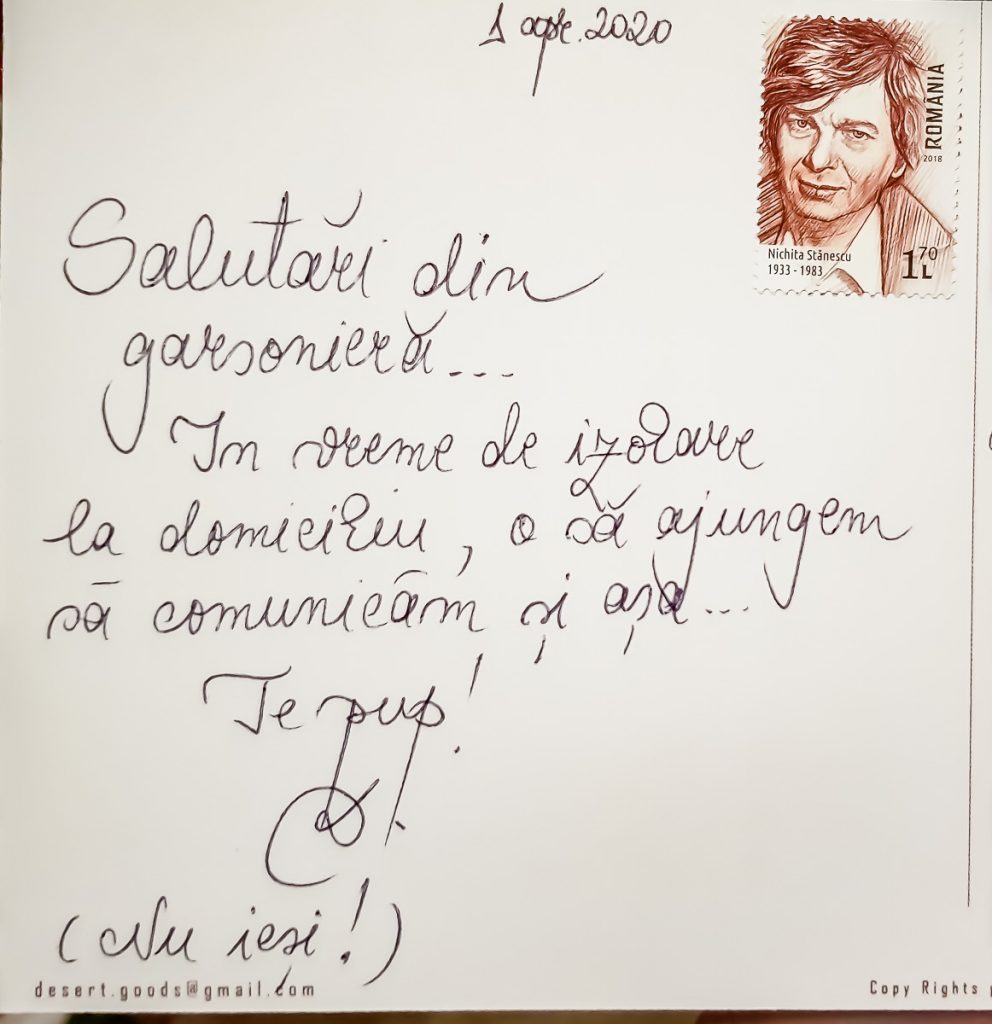 On postcard: April 1, 2020. Greetings from my studio. During the stay home period, we will get to communicate like this too… Kisses! Stay home!
Note the friendly ending… That's because my mother, like a lot of other retired people, kept going out.
Of course, out of the hundreds of postcards I bought, I chose many with cities from around the world. From Paris to New York, from St. Petersburg to Tokyo. And I sent them.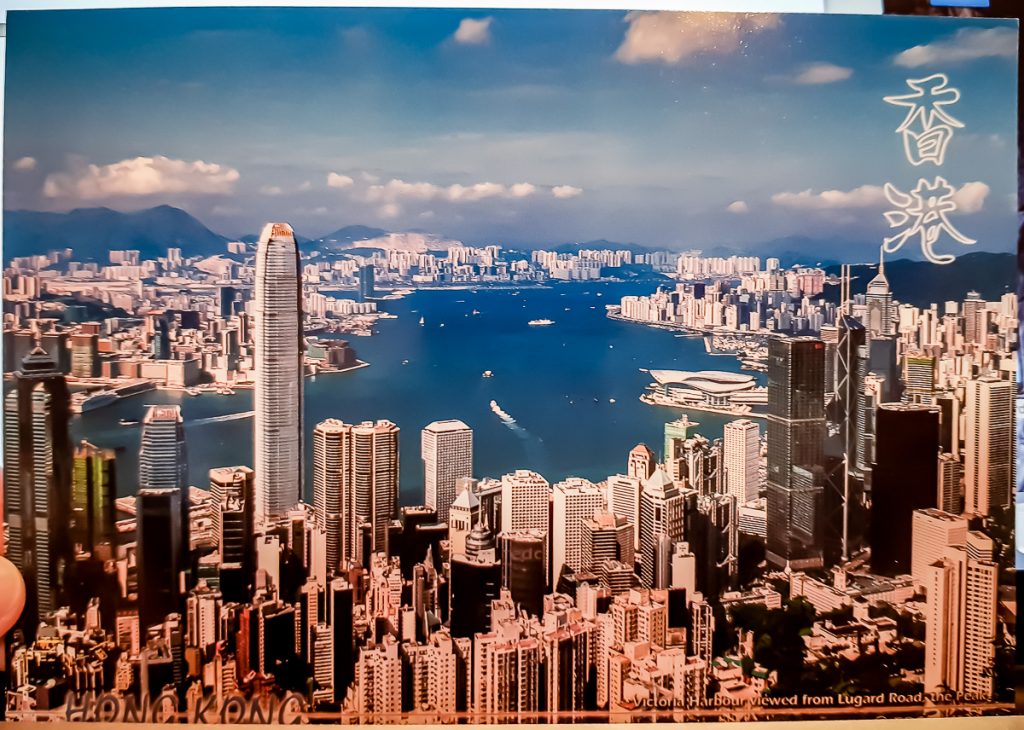 To some, I sent postcards with their own favorite destination, to turn the knife inside their wounds; to others, with cities where we went together, to make them nostalgic; to some I sent cards even with their place of origin, where they could not go due to the state of emergency; and to others, with countries where they should have spent their vacation during this period… Sadistic, right? J)).
To those who were on the barricades, I sent a sign that we are here and we are thinking about them!
On postcard: April 6, 2020 – from pandemic times. Greeting from Greenland! (the one from my own house. I open the freezer and I think I am in Greenland…) Man, what isolation does to a person! J
I also sent funny postcards, suitable in one way or another to certain friends. With animals, with cartoons, and even with chocolate…
I also had… inspirational postcards. Well, if you don't have access to anything, at least you might enjoy what you see J: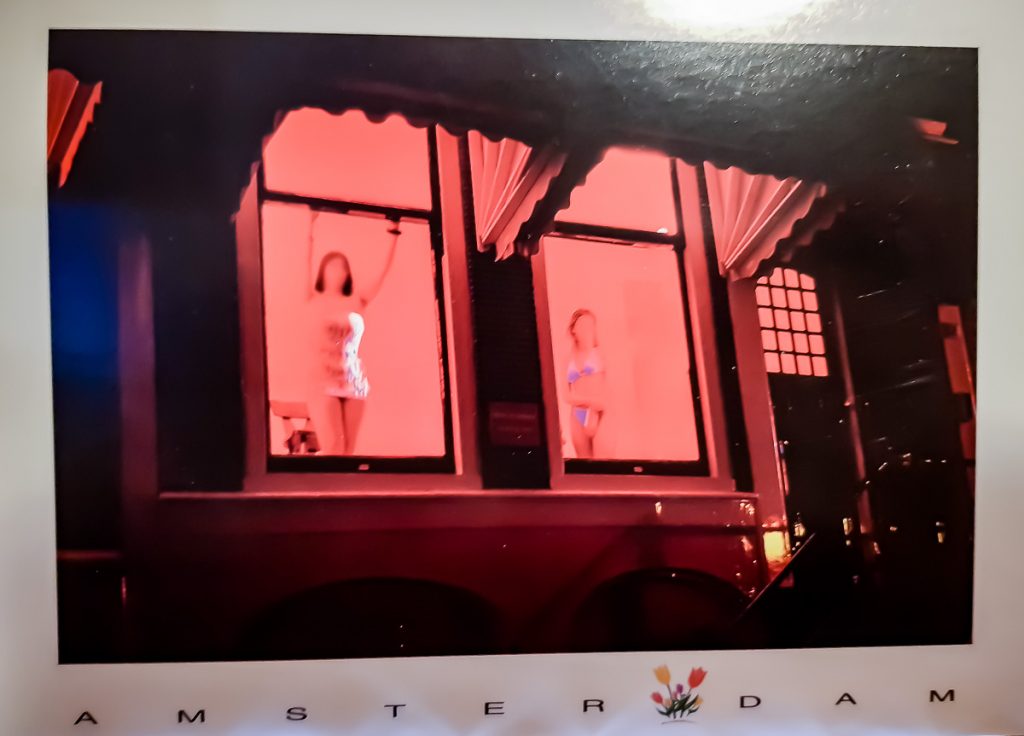 Well, I kept sending postcards, several times – I started in March and finished in May… Basically, that was my walk in the neighborhood. I had a goal: to get to the Post Office. And so I used to walk for almost an hour.
I don't even want to think about what the postal persons could have thought when, in addition to the people who came to take their pension money or some online orders, a madwoman appeared asking for 10 stamps at a time!…
I don't know if all the postcards have reached the recipients. I really have doubts. What I know for sure is that one of them, sent from Bucharest to Bucharest, at a distance of 12 kilometers, took… hold on!… 28 days to get to its recipient! Ain't that great???