Eyes peeled and ears perked – that's how I spent my five days in the Faroe. Maybe it is a professional thing (I am a journalist, after all), but I enjoyed everything I saw and learned.
ANIMALS AND BIRDS OF THE FAROE ISLANDS
I have not seen or heard of any wild animals on the islands. No foxes, no snakes, no wolves or anything. I don't think they even have ticks here J)).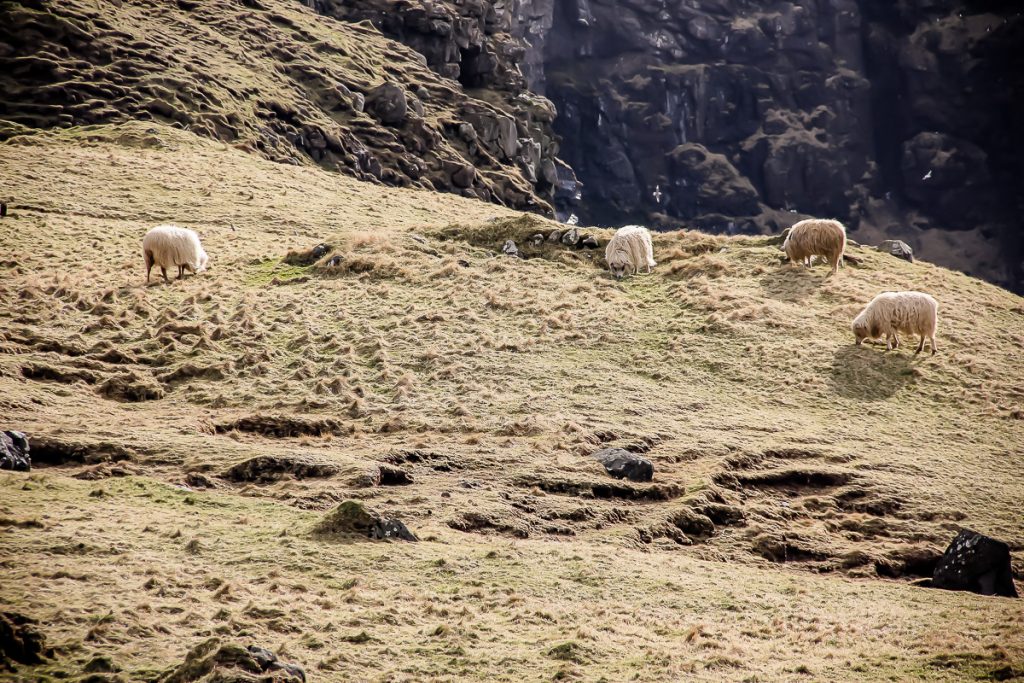 Instead, you didn't forget, did you? There are about 80,000 sheep on the Islands. When you have insomnia, at least you have enough to count…
The number of sheep is exceeded only by the number of birds. There are about 110 species of birds. Many people think that the national bird of the Faroe Islands is the puffin, but I'm trying to be all smart and I say that it is certainly not, as I went to Iceland, where the puffin is the star.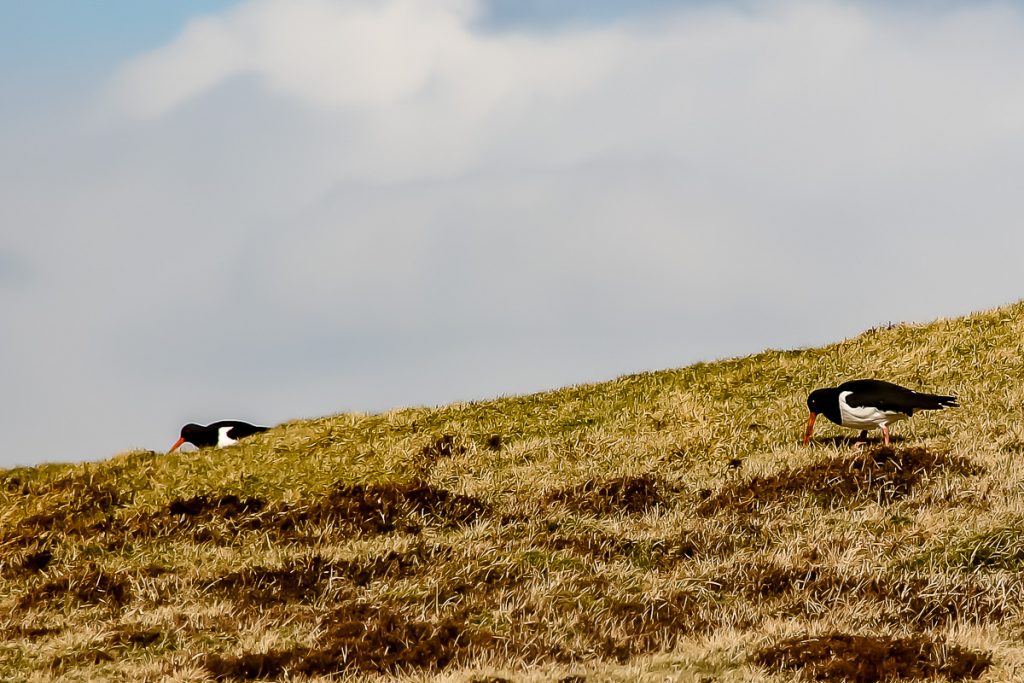 Here, the national bird is haematopus (oystercatcher in English, tjaldur in Faroese and… I have no idea how to call it in Romanian…). I took photos of it in several places, as it flew free, with its orange beak.
I also came across some pigeons, seagulls and even crows. But back to the animals.
They have cows. 1,000 dairy cows, which are enough, I understand. Half of them are Danish and half, Norwegian. They also had local cows, but they were smaller and didn't give much milk, so they slowly gave them up.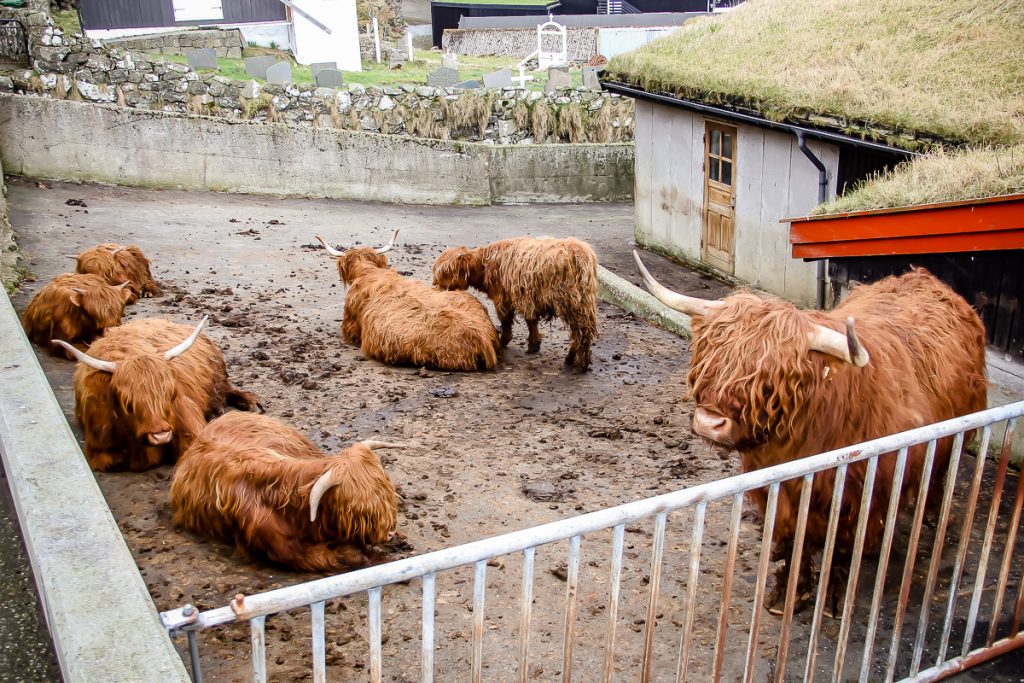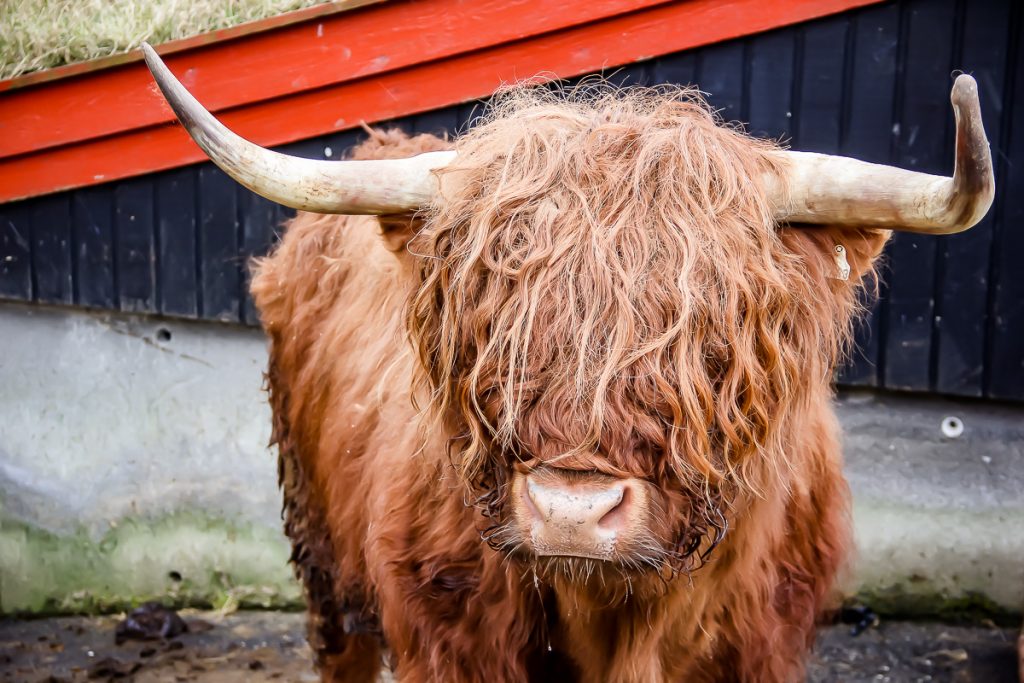 In a village I came across these beauties! If they were stuffed, I would have bought them right away!J
The Scottish Highland calls this cow muuu. It is a Scottish breed of cattle, which takes well the weather conditions.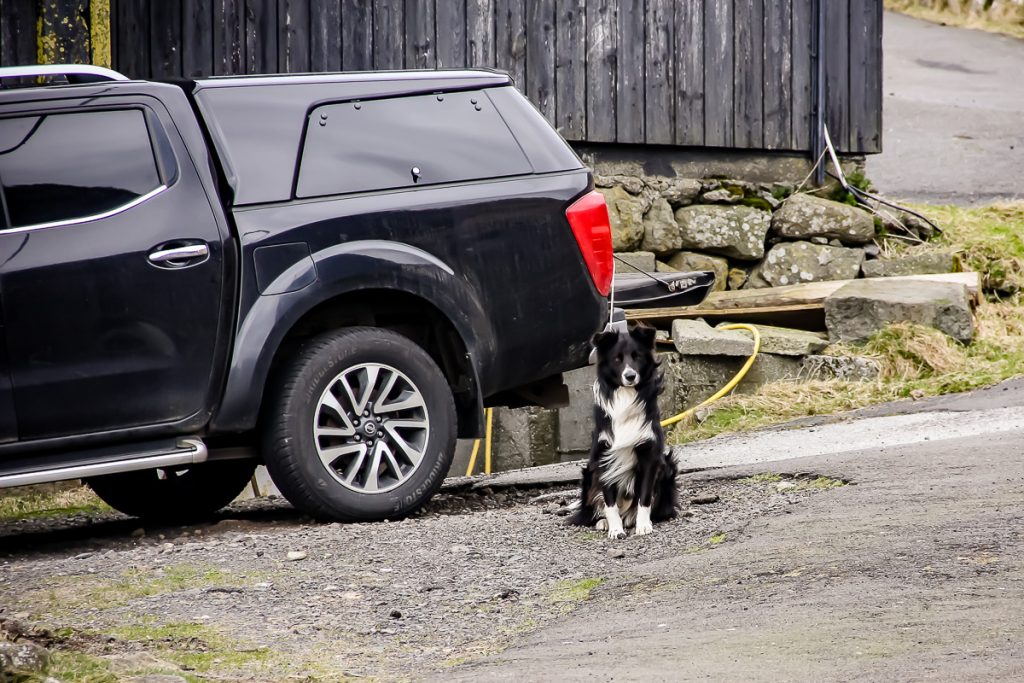 At home, the Faroese also have dogs and cats. I say "at home" because I haven't seen any community dogs or stray cats on the streets.
There are some 500 horses in the Faroe Island. A Ferrari, right?…
Most of these horses are brought from Iceland, other horses from Norway and a small percentage are Faroese horses.
I haven't seen any in my travels. But what do you think my first question was when I heard about horses: "Do you eat horses?" Hihihi. What could I do, I ate horse meat in Iceland, so I was entitled to ask.
No, in the Faroe Islands, the horse is not food. But the whale is…
By the way, what do the Faroese really eat?
WHAT TO EAT IN THE FAROE ISLANDS
Lamb!!! Everywhere I went to eat, they had lamb.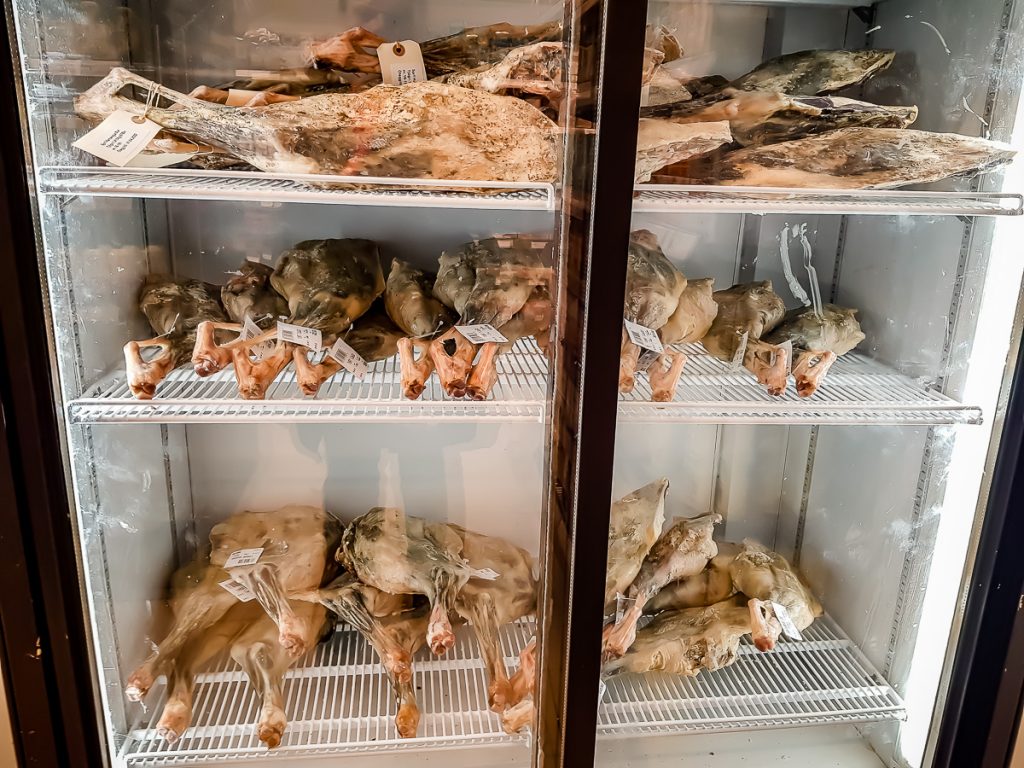 In the supermarkets I saw large pieces of lamb in the refrigerators. And at souvenirs the lamb seems to be on top as well, only you can't eat it.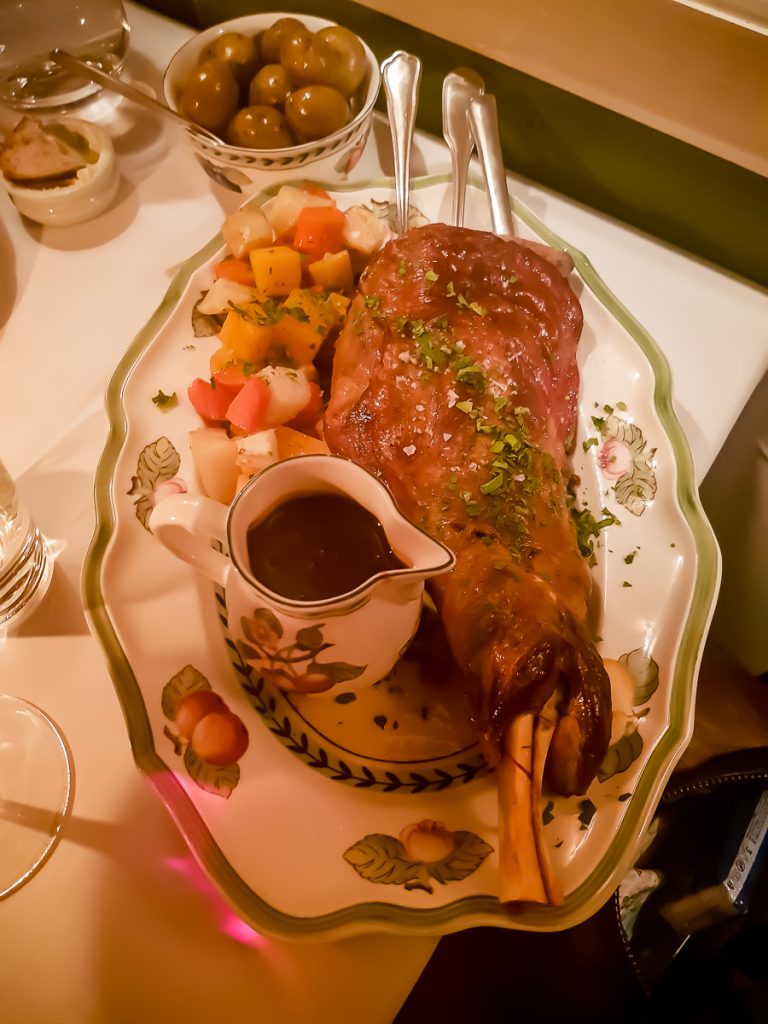 I am not a fan of lamb, but I always try local food when I go somewhere. So I ordered a specialty that my restaurant neighbors craved for when the waiter brought it: "shoulder of lamb", the menu says. It was good, no doubt!
With all the sheep they have on the Islands, I was surprised to find out that they still import sheep meat. From Iceland and New Zealand. Why? Because they eat a lot of mutton and lamb, I was told. Ok!
I will immediately get to the whale, but let me tell you something: if you are a fan of fast food, choose another country. No sign of McDonald's, KFC or I don't know what other fast food where usually there is a queue.
There are only two international fast food chains in the Faroe Islands, each with a single location, that's all.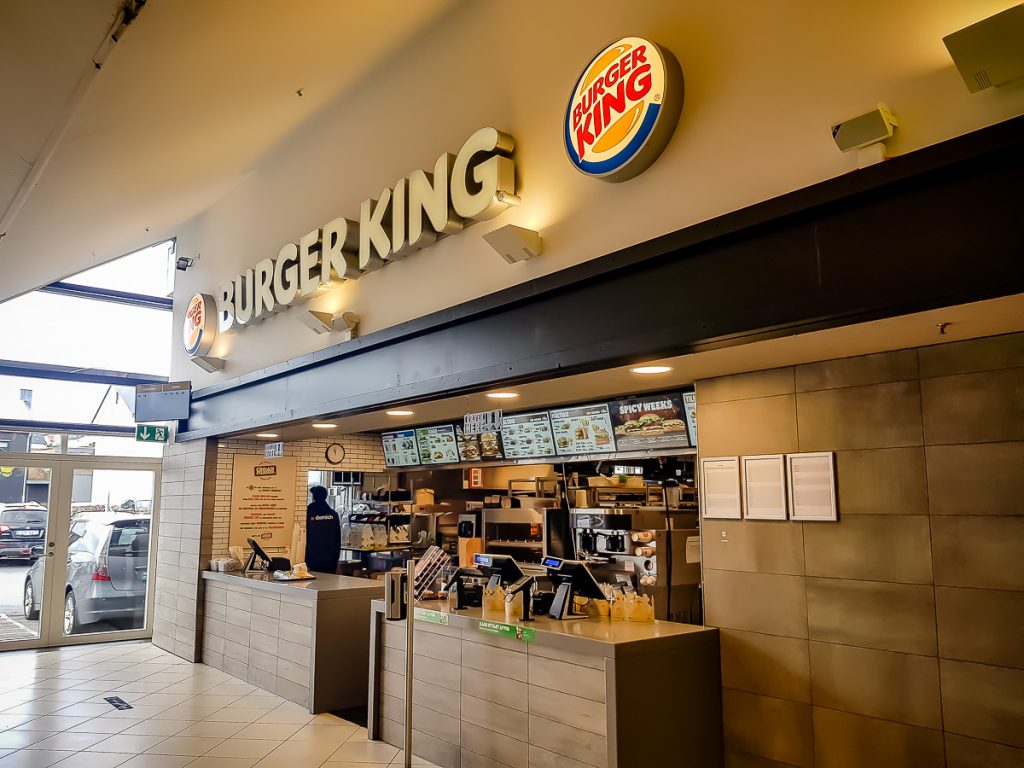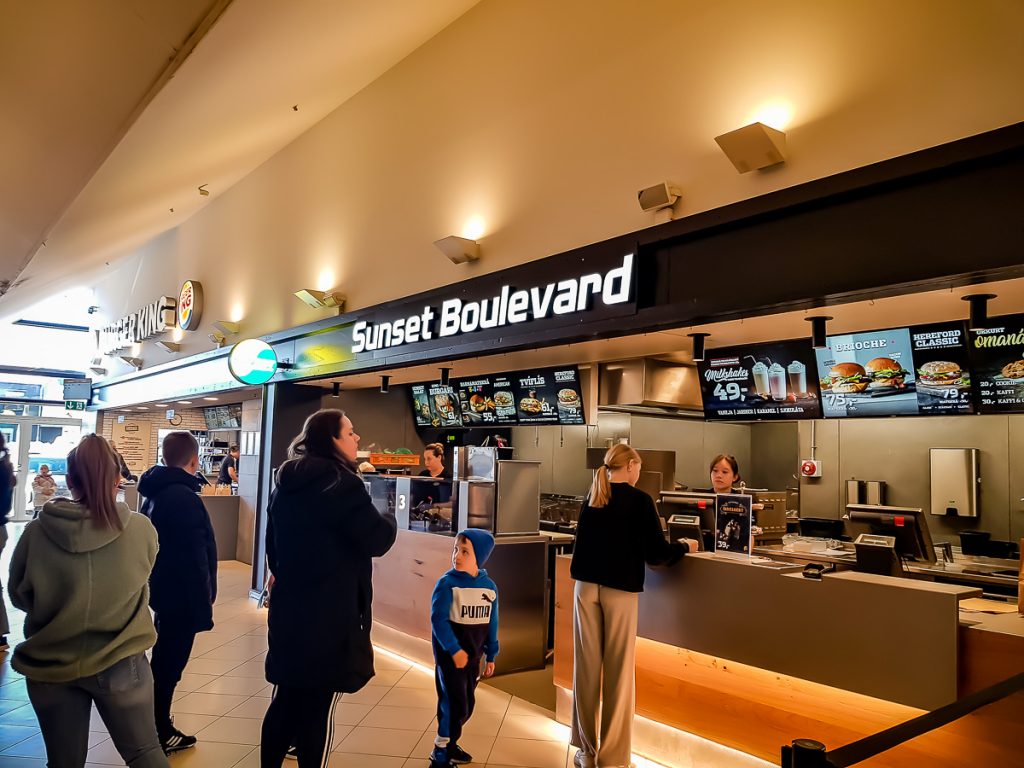 In the capital there is a small mall and there I came across Burger King and Sunset Boulevard. I haven't heard of the latter yet, but I've read that it's a Danish chain that has 42 restaurants in Denmark, one in the Faroe Islands and one in Greenland.
Ah, now, that I remembered, speaking about Greenland: I also wanted to go to the only 2 Michelin star restaurant in the Faroe Islands, located on the Streymoy Island, but they closed it, leaving for Greenland, to open one there, right in the town where I was 6 years ago! Bad timing, I could say…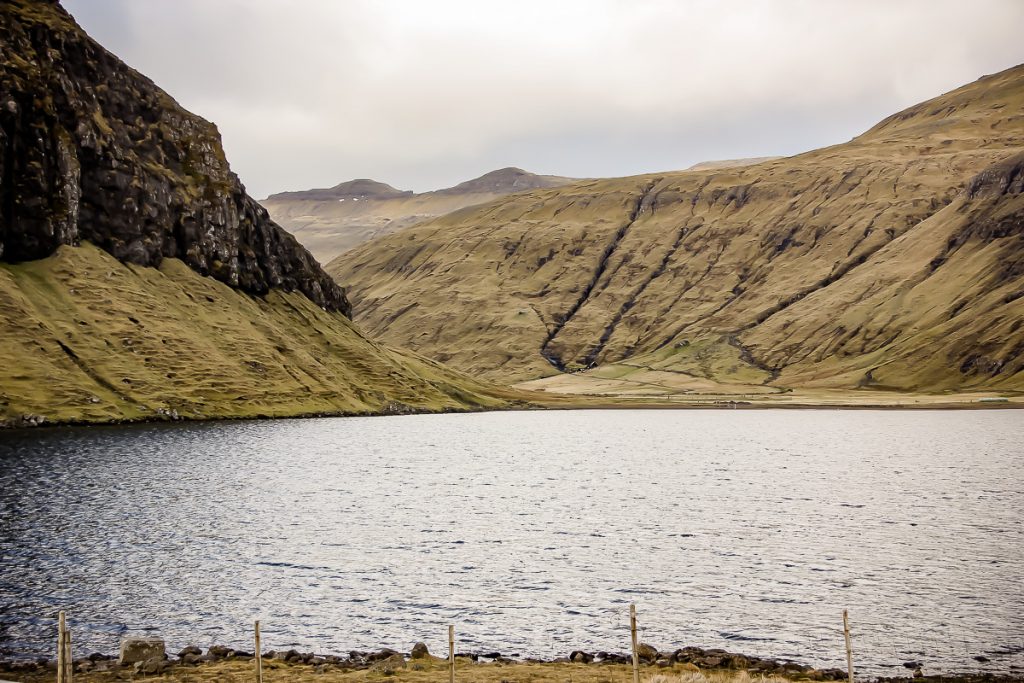 Koks is the name of the Faroese restaurant, and when I stopped the car, I saw it across the water, somewhere hidden in the mountains. You don't see it, do you? Then let me zoom a little bit: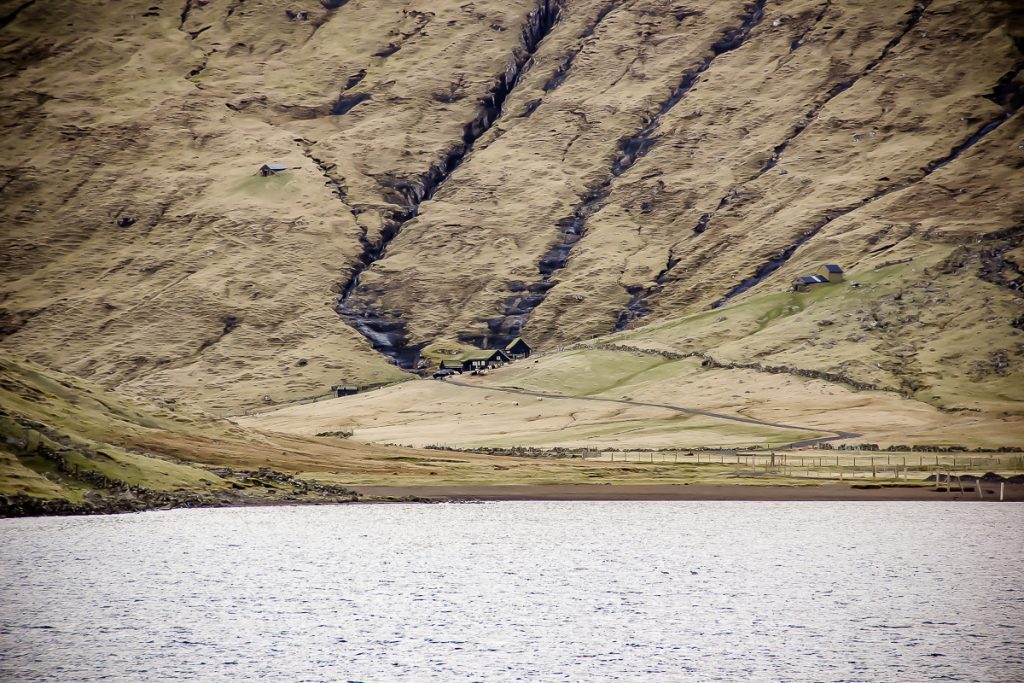 In a typical Faroese house – painted black and with a grassy roof, the restaurant is a cool place. I say that "it is" because it is temporarily closed in 2022-2023. Then it will reopen. I don't know if it will be in the same cool location. But they would be fools to move it.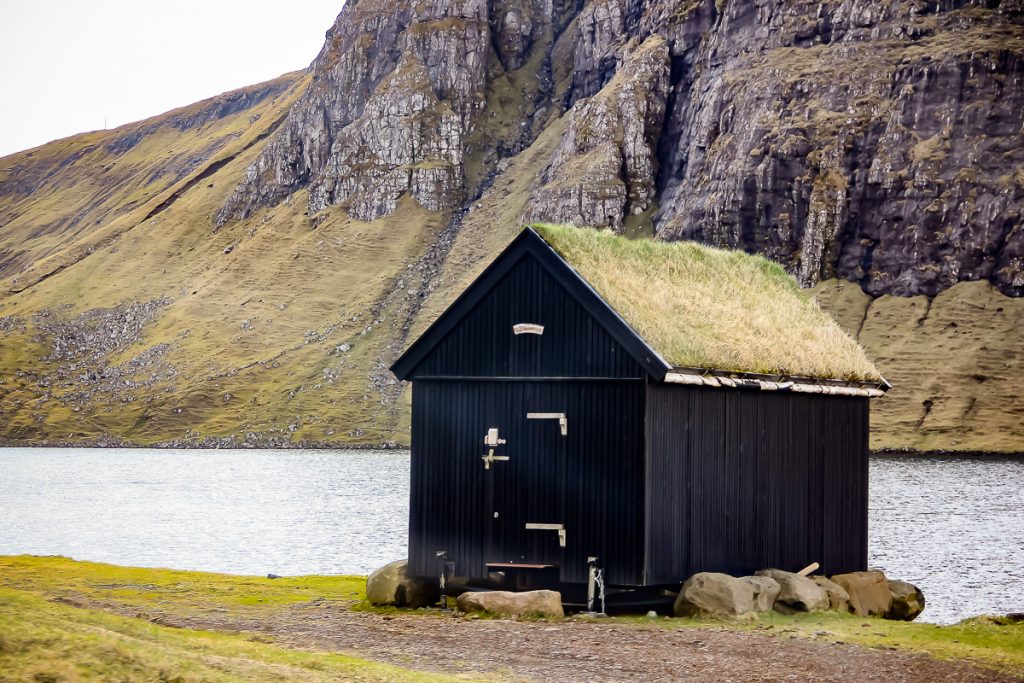 You don't get to the restaurant easily. You come in your car to the area, you park next to this house which is a kind of valet house and from here you are taken to the restaurant in a 4×4, otherwise you can't get there.
How cool! And how sorry am I because I didn't find it open!
No worries, I have good alternatives, even if without stars.
Fish, for example. As they have plenty of fish… A lot of salmon. And a lot of code. I ate both, not to miss anything.
Anyway, you can find it anywhere, at anytime. And you can fish for personal use.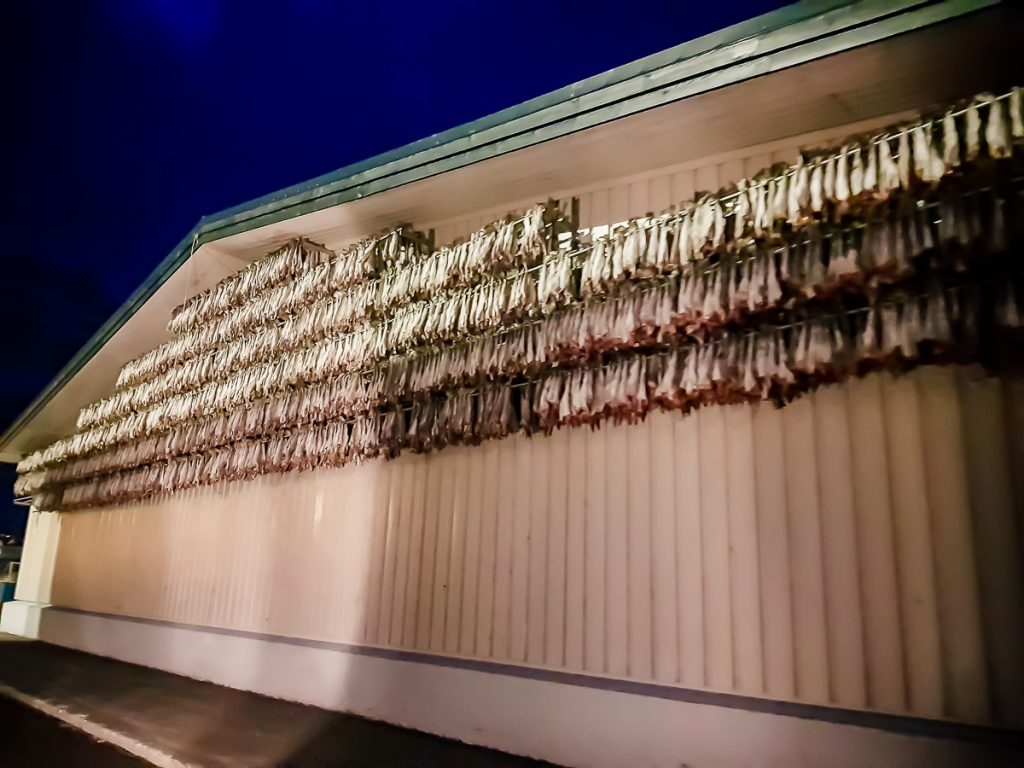 Just as in other northern countries I've been to, these people let the fish dry. They leave it outside in winter-spring, but not in summer, because the birds come and are happy to eat it J.
In stores you can find a lot of dried fish, which is very healthy. A regular food on Faroese tables. I bought it from here and from other countries and… I gave it as a gift. It smells too much to tempt me.
Even if they have so much fish, the fish market is expensive. They sell a lot and very well abroad. Fish accounts for, believe it or not, 98% of the Faroe Islands' exports!!! Cool, right??
So, if you want fish at a good price, you get it either from private person or from the market stalls, not from the stores.
Speaking about fish, while traveling around, I saw a factory that takes everything that is not eaten from the salmon and makes fertilizer out of it. It is then spread in the area. The grass grows very green in these places. Sheep grazing here… imagine, are 2-3 kilograms fatter than sheep from other areas! Not to mention that they certainly taste like salmon J)).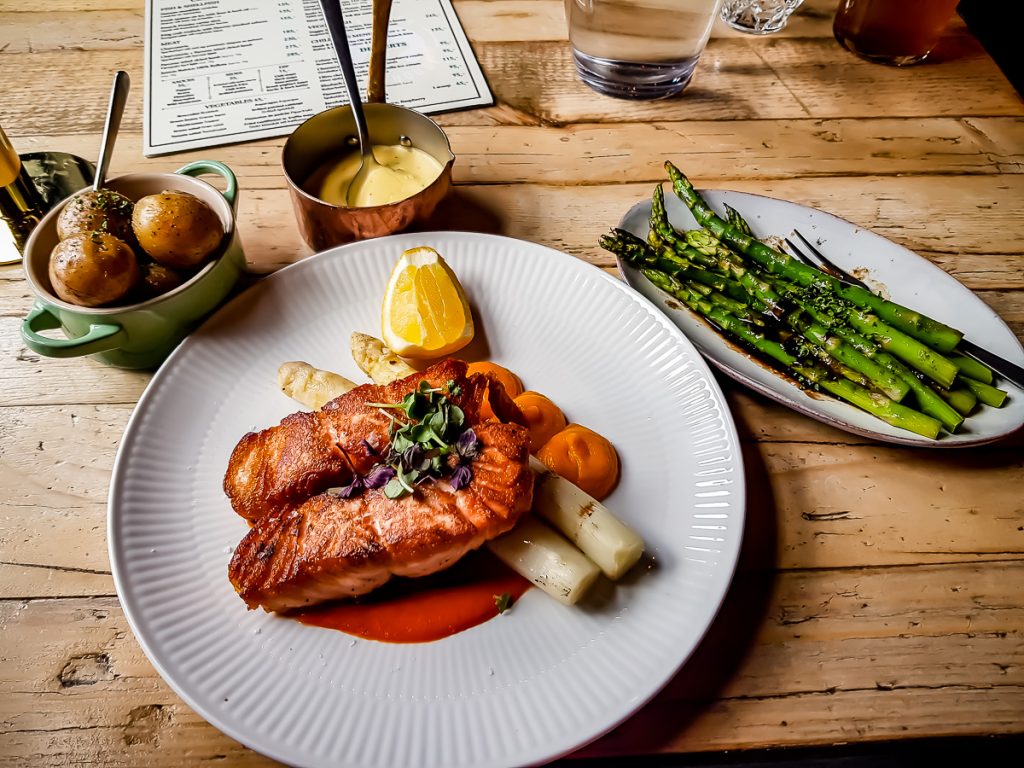 Next to any meat I ate, I received boiled potatoes and carrots in the first place. They are the most common vegetables here because the soil is good for them. For the rest, long live the imports!
Only 7% of the land in the Faroe Islands is cultivated. That's it! And mostly with potatoes and carrots.
"So you eat whales here?" I asked the guide. "Sure!" – he answers me, as I would have answered about the pork meat at home. That's all I needed: I started looking for restaurants where they serve whale. Out of sheer curiosity. I've eaten whale twice before (once in Iceland and once in Greenland) and I haven't been excited about it. I want to see, maybe it's tastier here…
It's just that all my attempts to find a restaurant serving whale have failed. I also ask the receptionist to find out and… nothing, for two days.
"I have good news and bad news!" – he tells me on the third day. I say, let's start as usual, with the bad one.
"There is no whale restaurant in town. But the good news is that we have whale meat in our family". Hihihi, how about that…
And, as the world is so small, especially in the Faroe Islands, I find out that the receptionist's grandfather is my guide! And this is how we get to stop on another island, during a tour, we meet some relatives/friends (I didn't ask any questions), and they put a bag full of raw whale meat in our arms.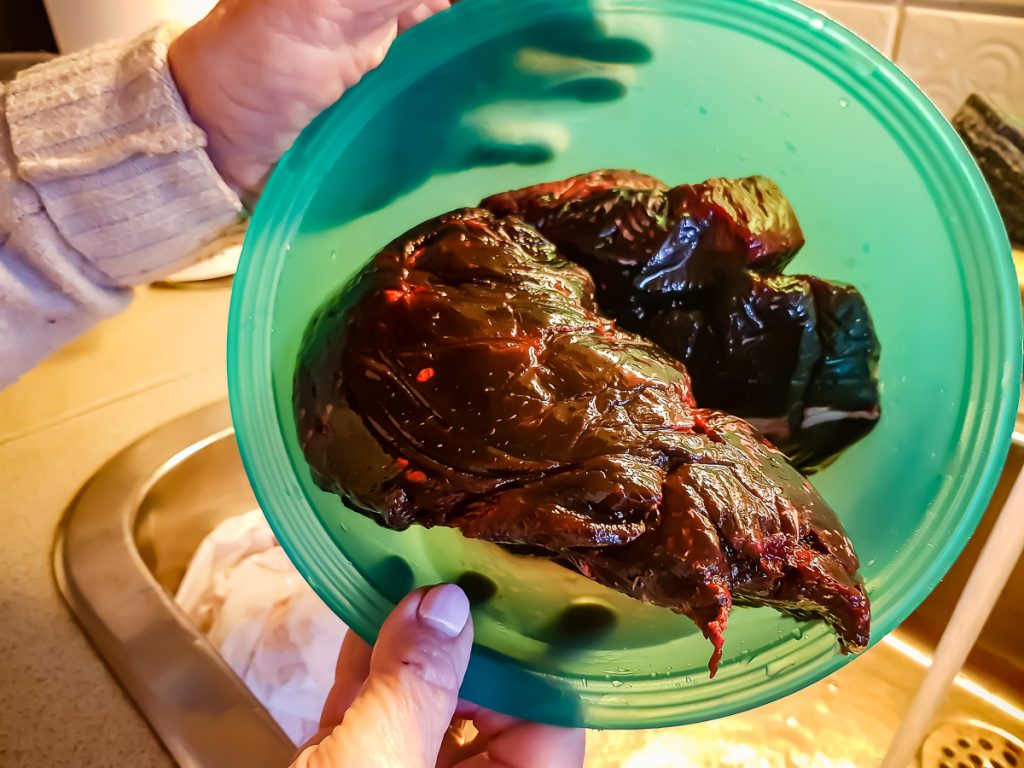 The guide's wife, a very kind woman, ready to satisfy this craziness of mine, invites me one evening to dinner, at their place, and she will be cooking the whale meat. Super cool!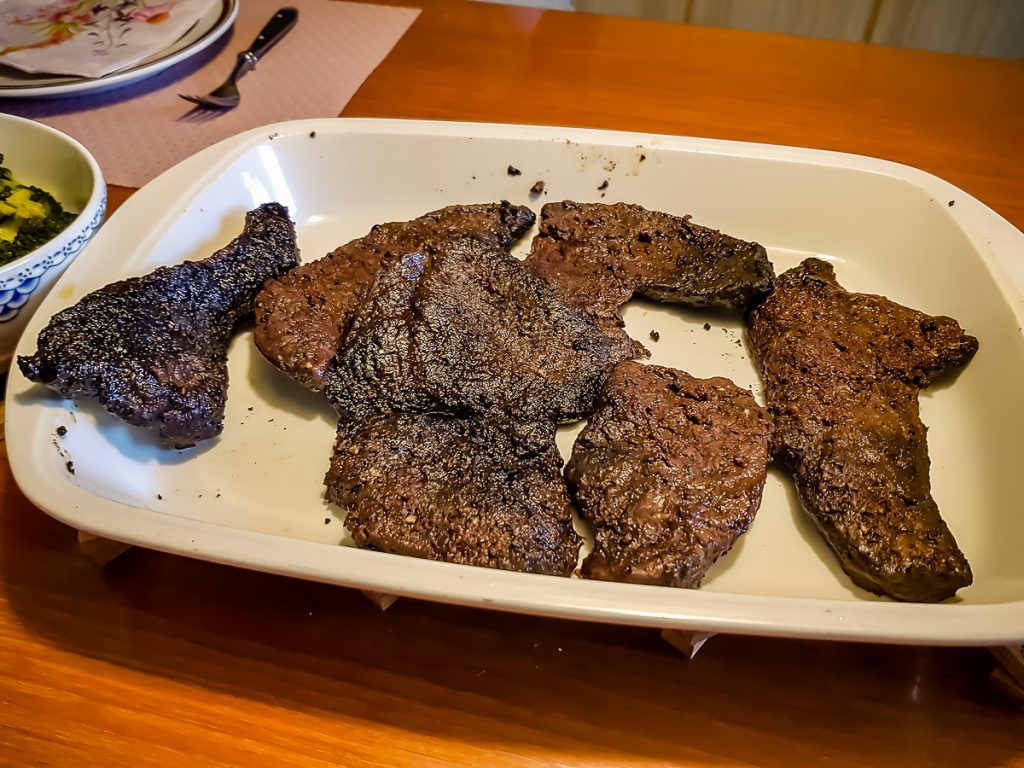 I liked it this time. The truth is that she cooked it very well, making a good sauce that went perfectly with the steak.
Thanks for the meal!
And yes, the first impression I had when I ate the whale elsewhere is still valid today: it's a kind of beef with a liver consistency.
I ask them during dinner about the whale-killing scandal, what I had read online.
Like any other nation, the Faroese have the right – regulated by laws – to use the natural resources at their disposal. Much of what they consume is not imported, but caught and hunted locally. The whaling is done according to some well-developed laws.
I read some recent data: the pilot whales population in the eastern part of the North Atlantic is 380,000, of which 100,000 are in the Faroe Islands. In the last 20 years, the average number of whales hunted annually by the Faroese is 600.
I'm so curious when and how they hunt them!
"All year round" – Sámal, the guide, answers me. But it is proven that, for the past 450 years, most whales have been hunt in August.
They don't go whale-hunting like I would imagine. They are waiting for them… When a school of whales approaches the shore, the people are notified and everyone leaves everything behind: they leave work, home, church, wherever they are, to hunt.
They drive the whales into bays, where they are beached and killed.
After a school of whales is hunt, the catch is split after very clear, law regulated rule, so that nobody leaves upset…
A whale is divided for free between the hunters who participated in its capture and the community where it was hunted. These people do what they want with it. For example, they can give it to… me, to eat it hihi.
It is not sold, that's why you rarely find whale meat in stores. In the capital, there is in only one supermarket. In fact, what I found, I definitely bought: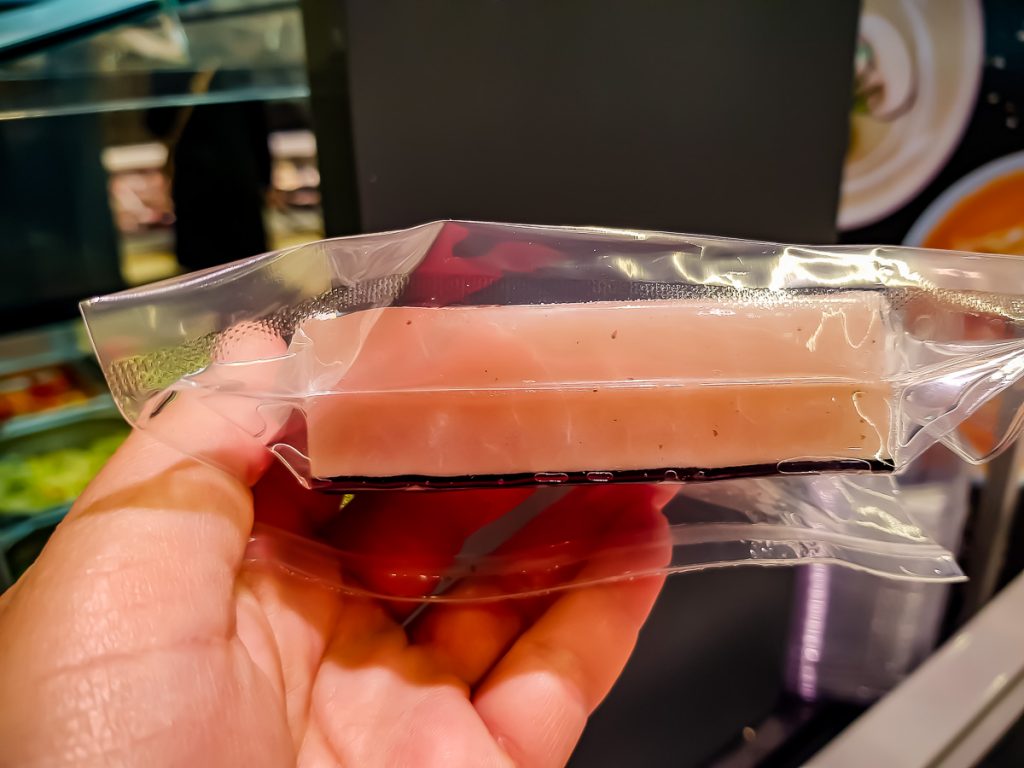 Whale fat – blubber, sold in small pieces. And some sort of fillet, I guess. Hard as stone.
I didn't like them, to be perfectly honest. But I really wanted to taste them. That's after the seller warned me not to eat the blubber like the pork fat, because it's not ok. It should be cut into very thin slices and eaten with boiled, cold potatoes. Or with bread, I fill it in and he doesn't say "no", even though they eat it with boiled potatoes.
But seal??…
No way! First of all, I understand that if they hunt any seals, the United States has threatened to stop importing fish from them. That's it, bye-bye!
But, above all, there is a legend, one of the most important in their folklore!
THE SEAL WOMAN OF MIKLADALUR. KÓPAKONAN.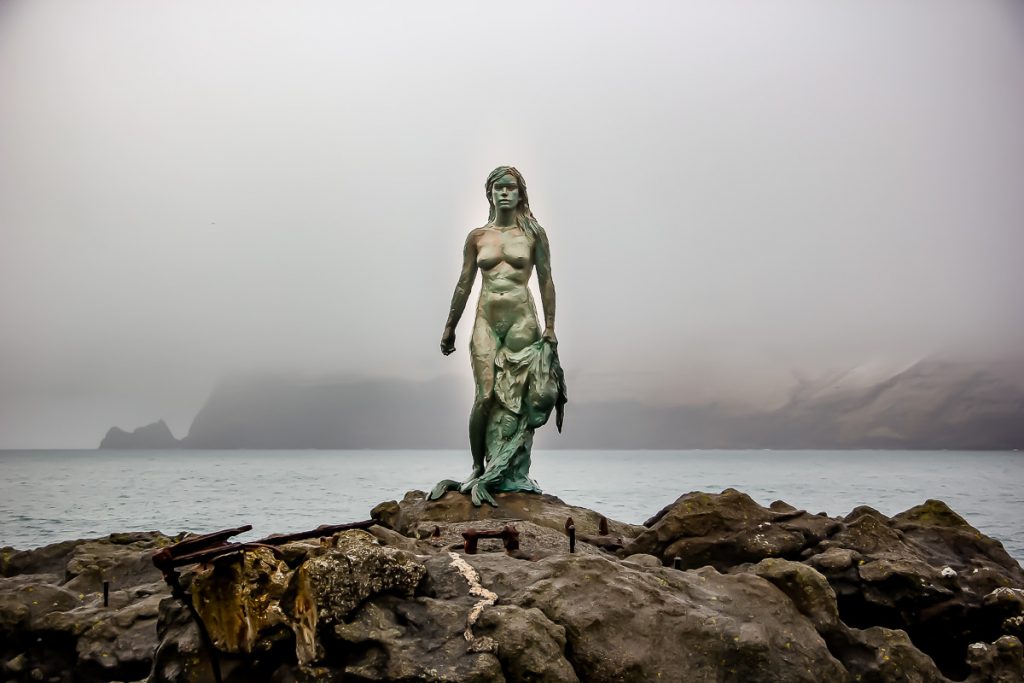 In the village of Mikladalur, on the Island of Kalsoy, there is a large statue of a seal woman – "selkie" = the Faroese, Icelandic, Scottish and Irish version of the mermaid.
Seal women could come out of the sea, "stripping" their sealskin and becoming human beings.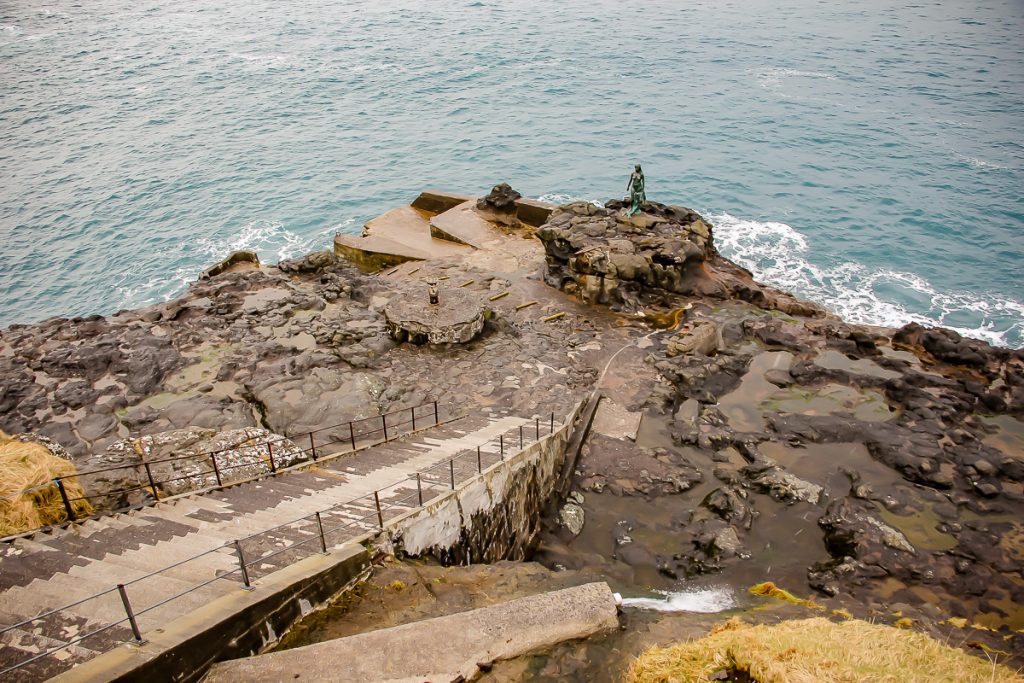 Legend has it that once a year, before Twelfth Night (also known as Epiphany Eve), the seal women came to the shores of the village of Mikladalur and took off their seal "clothes", becoming women. They danced and played all night on the shore and in the cave near the village.
A young fisherman from the island fell in love with one of them and stole the skin of this seal woman, locking it in a chest. She could not return to the sea and she had no choice, she had to stay with the man. He took her as his wife, had children and lived as a family until, one day, while fishing at sea, the man forgot the key to the chest at home. His misfortune…
The woman found the key, discovered the skin, put it on and… she left for the sea. There, she met a male seal, her mate who had been waiting for her for years to return.
After a while, the villagers started hunting the seals that were coming near the shore. In short, they killed the male seal and the babies he had with the woman in the story. Then they divided their prey and ate it, and so did the fisherman in the story, gosh…
The seal woman cursed all the inhabitants to die falling from the high cliffs or drowning in the sea – which, in the end, actually happened. Terrible.
So clearly these people don't hunt seals!
Oh, I also have a cool piece of information that I could not verify, but I will do it next time: the children on the island apparently have bigger skin between their fingers. Because their ancestors are seals…
Sorry, I have to hurry, we lose the ferry, the only way to get off Kalsoy Island. But I'll be back with stories and great pictures!
TRANSPORT IN THE FAROE ISLANDS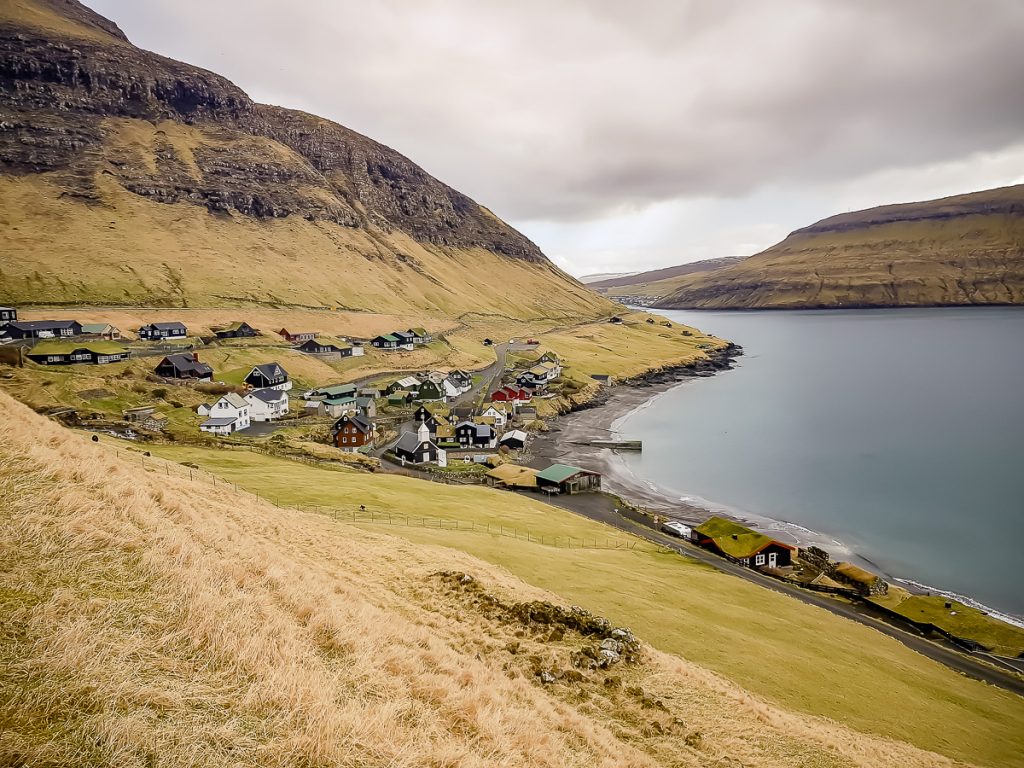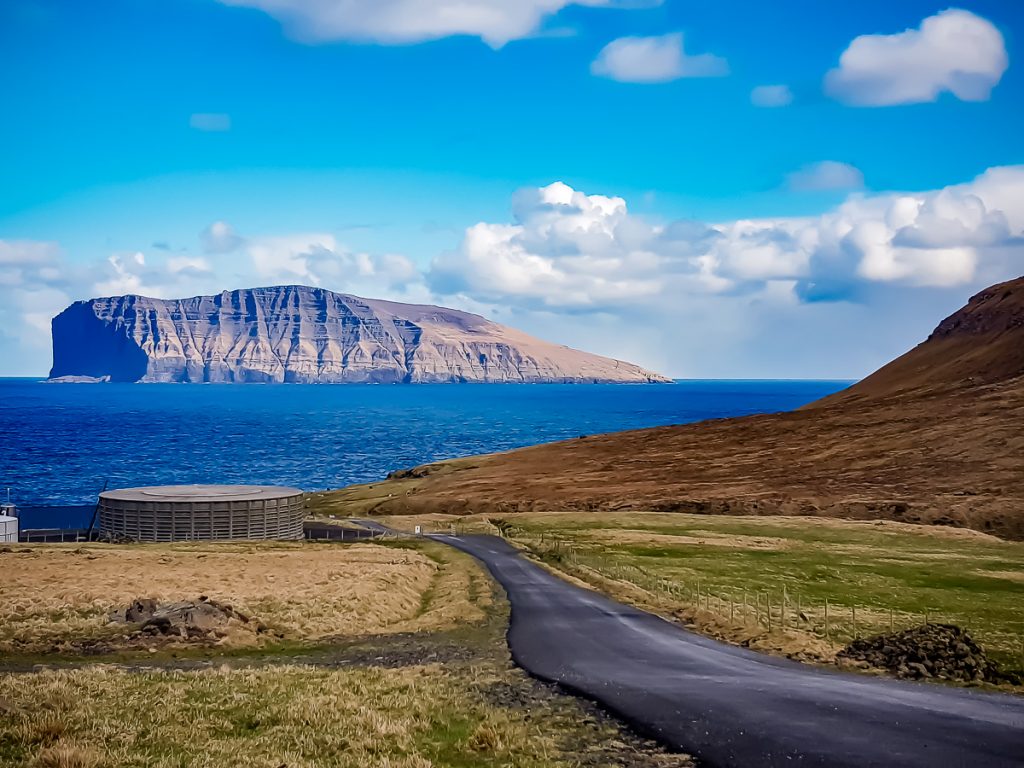 You can travel by car on most of the islands, and it takes a very short time! Not to mention the scenery: you can drive for miles on the coast and you get a super view.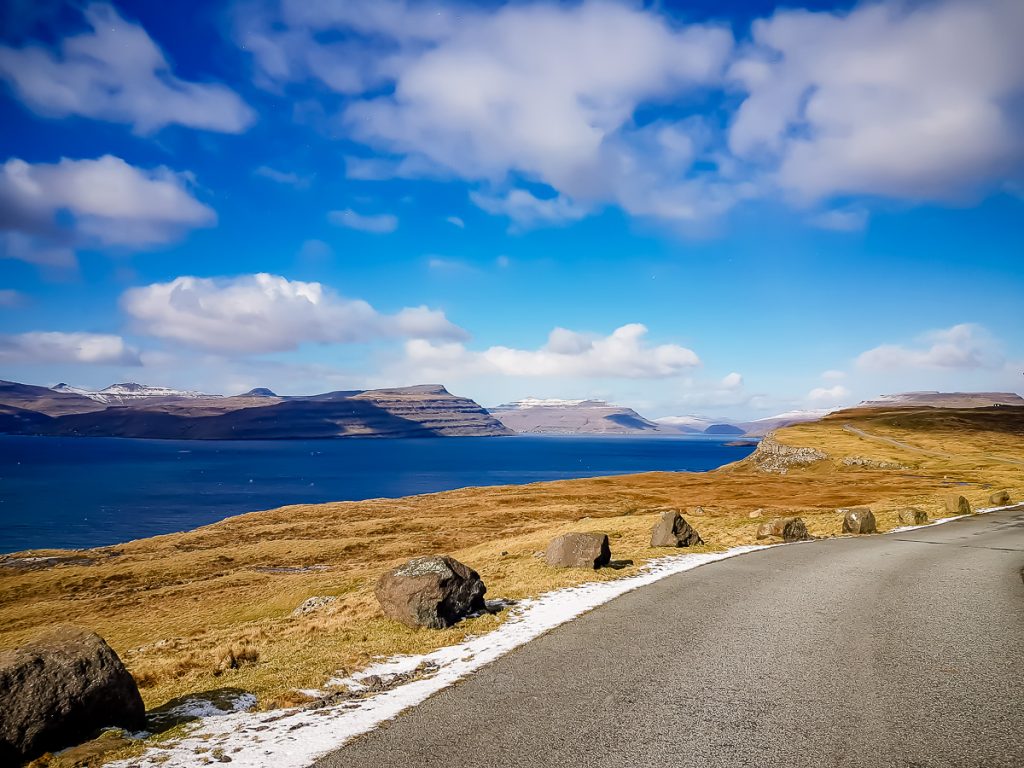 To the farthest points (except for two islands) you can arrive in an hour, an hour and a half. Because the infrastructure is great!
They have very good roads, they have an excellent network of tunnels – 20 in number, most dug in the mountains and 3 tunnels under the sea, for which you have to pay a fee.
To give you an idea, the longest tunnel is 11 km long and the shortest, 500 meters.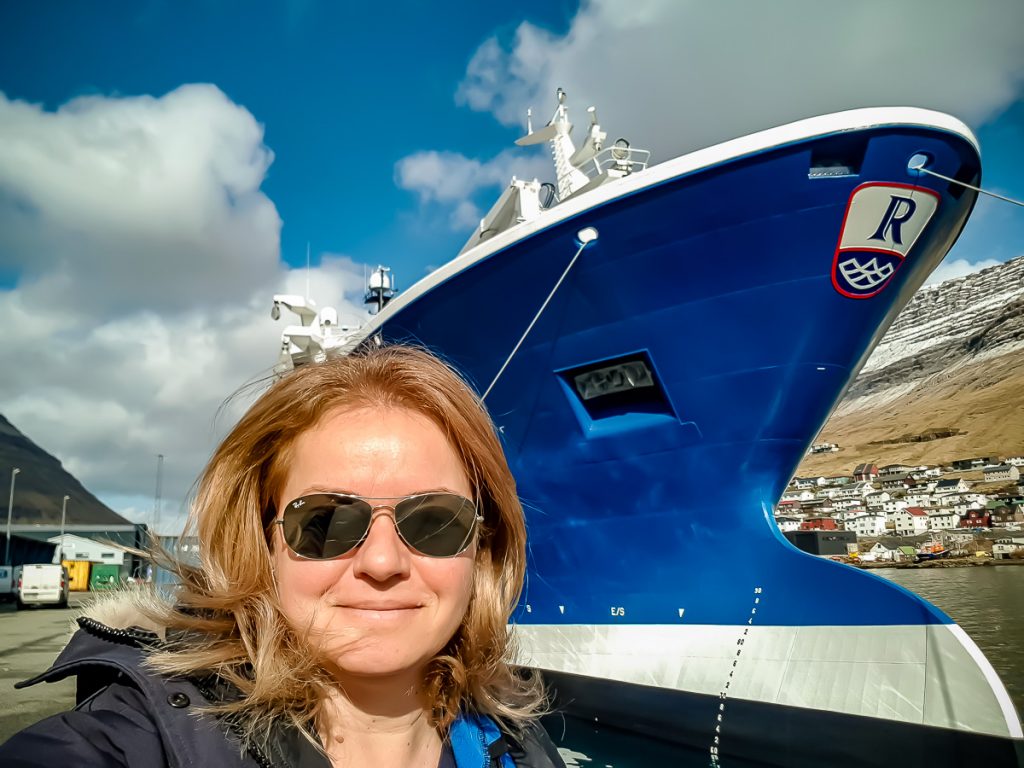 To two of the islands, located in the southern part of the archipelago, the access is possible only by water – from the capital it takes 30 minutes by ferry to get to one and 2 hours to get to the other.
But, what do you know, towards one of them there's already an underwater tunnel built, which will open in 2023. So access will be much faster.
I was impressed by a story: 12 people live on an island without road access. The simplest solution would have been to move the 12 from there to more populated islands. It's just that the Faroese decided otherwise: they voted for road access to the island, so a tunnel was dug in the mountains, despite the very high costs. Their policy is not to relocate people, but to create access roads so that other people can populate the place. Impressive, right?
I only realize when I am told about this: I have not crossed any bridges. At all. And that's because the Faroe Islands only have 2 bridges! That's it, two!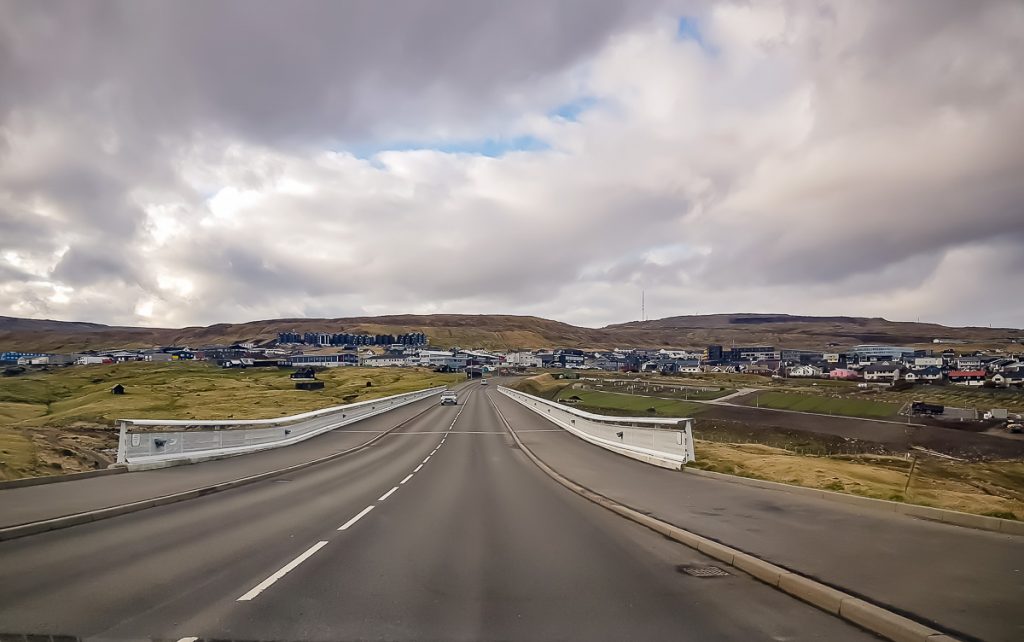 One is in the capital, it crosses a small river. Of course I couldn't miss it. I passed it by car very slowly, precisely because it is something unique here…
The second bridge seems super cool to me: it is the "bridge over the Atlantic", as presented to me by the guide.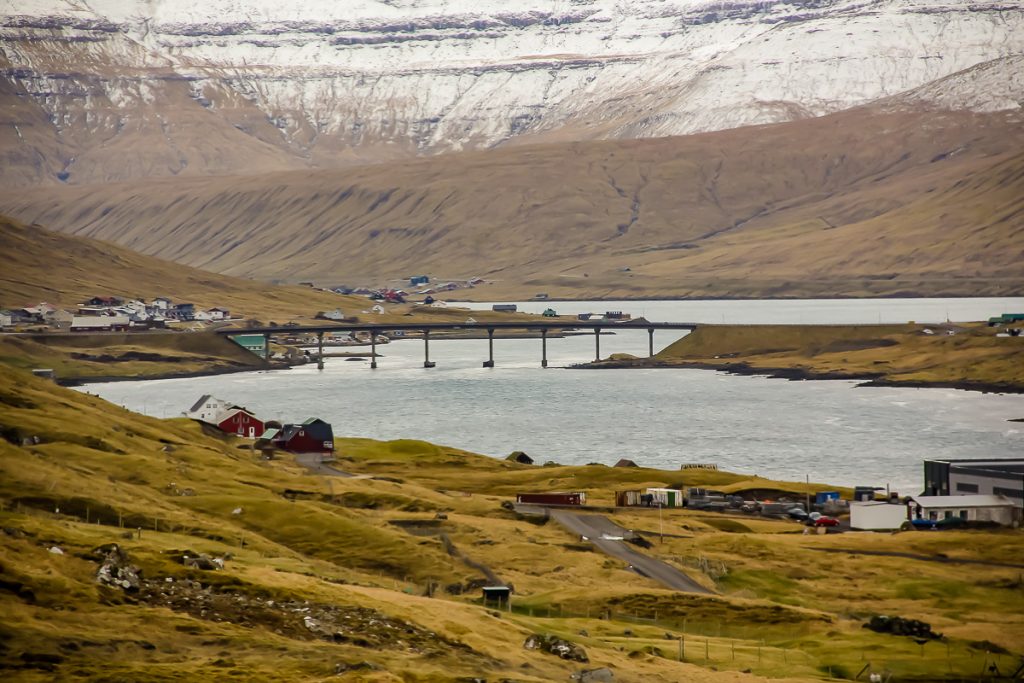 Indeed, it's a bridge that crosses… a part of the Atlantic, connecting two islands. Man, I want a Diploma certifying that I crossed the Atlantic Ocean by car hihi.
As we stop to refuel, I find out that there are only two gas companies in the Faroe Islands, both of which have similar prices. The competitive system doesn't seem to be flourishing here, and that's what I discovered not only at gas stations.
Speaking continuously, we leave the pump without the guide paying, which he realizes after a few tens of kilometers. He looks for the gas station number, calls to announce about his mistake and assures them that he will pay as soon as possible, even though they are not on our way at all.
"It's not a problem", says the man on the other end of the line, "you can pay the next time you come to us." How about that?…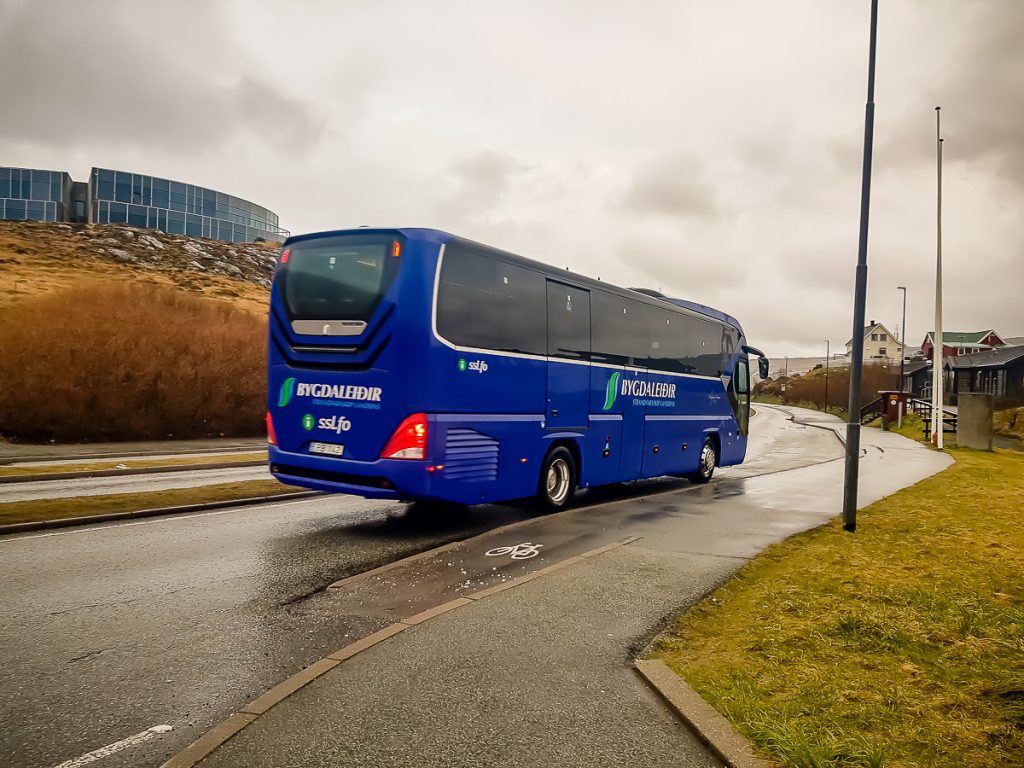 If you don't have a car, if you don't rent a car, you can go between islands by bus. Super civilized buses.
And in the cities, public transportation is free. For everyone, whether you are a local or a tourist. It is free, no fee, nothing. You realize that I was amazed when I found out about this and I started using their public transportation with great enthusiasm. I even took a but to the end of the line – on a hilltop.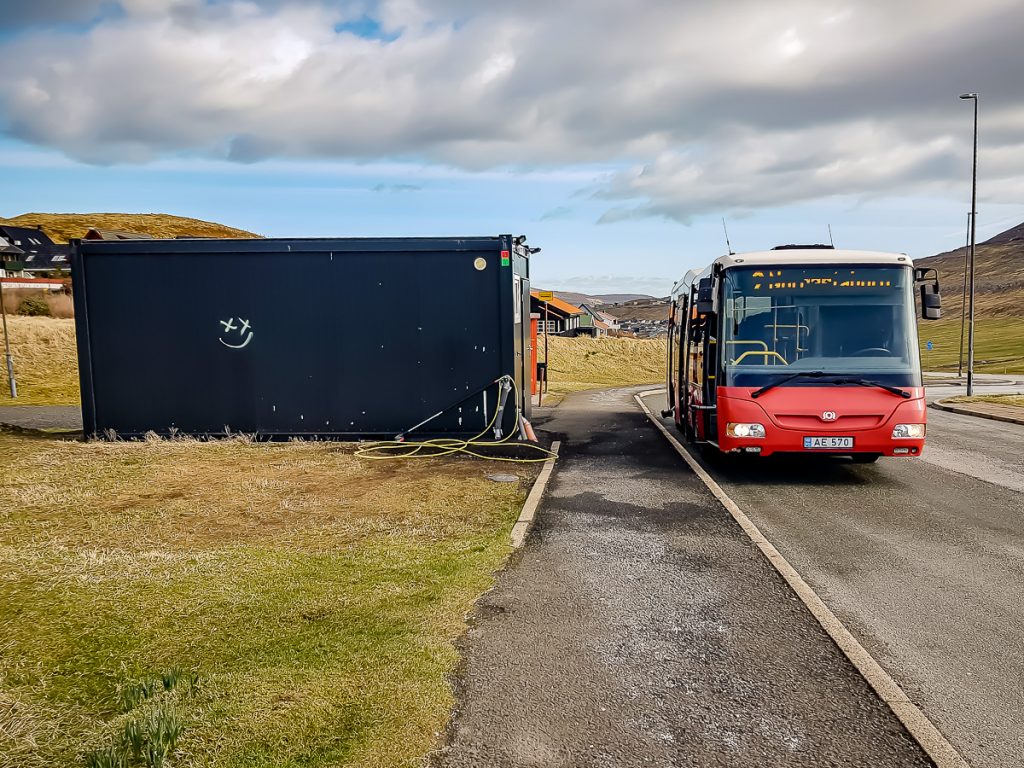 I told the driver that I was just taking a tour around, he replied in an enviable English that I was doing very well, but that I just had to wait for about 10 minutes for him to wash his bus. He took a hose and washed the outside of the bus, moped it inside, then wiped it dry and we were ready to go back to town.
Very friendly the public transport drivers. I have to tell you about something: I was in a hurry to get to a station when the driver of the bus going in the opposite direction stops, opens the window and asks me where I wanted to go. "To the center", I answer, thinking I was in the wrong direction. He tells me to come up, because he was the one who would come to pick me up from the station I was going to, as he was now approaching the end of the line. So there was no point in sitting in the cold waiting for him, when I could sit down inside the bus, where it was warm. Speechless!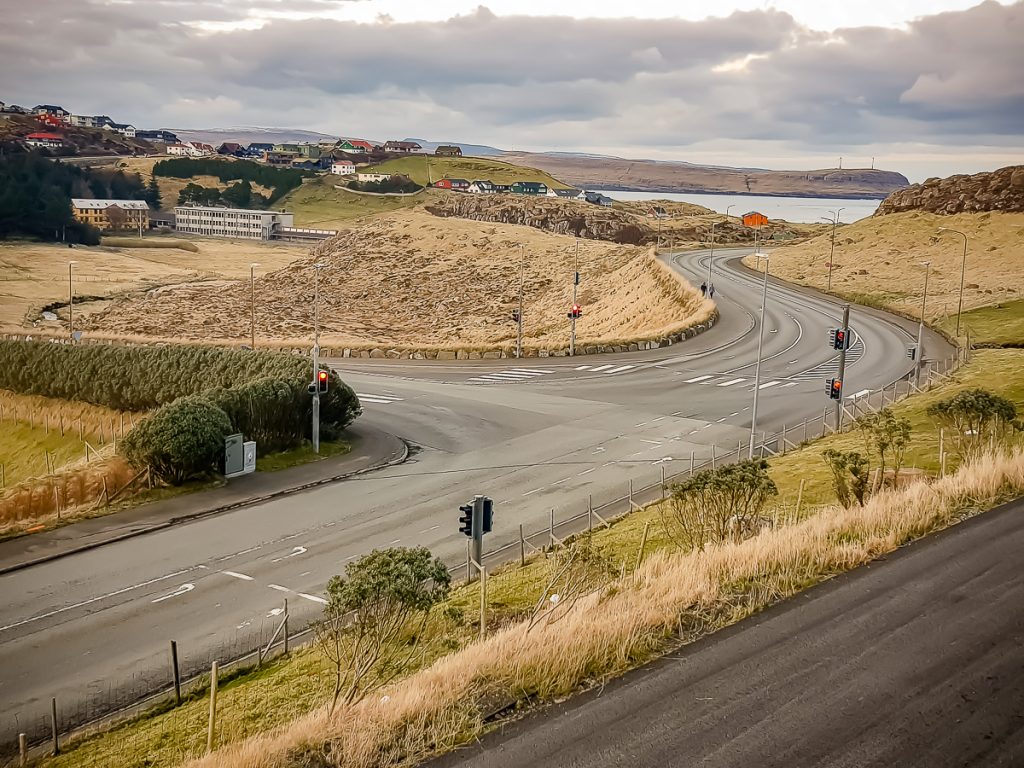 There are almost no traffic lights in the Faroe Islands! I had read that there are 3 intersections with traffic lights all over the territory, another site said 5. I saw more than 3, but certainly not more than 5…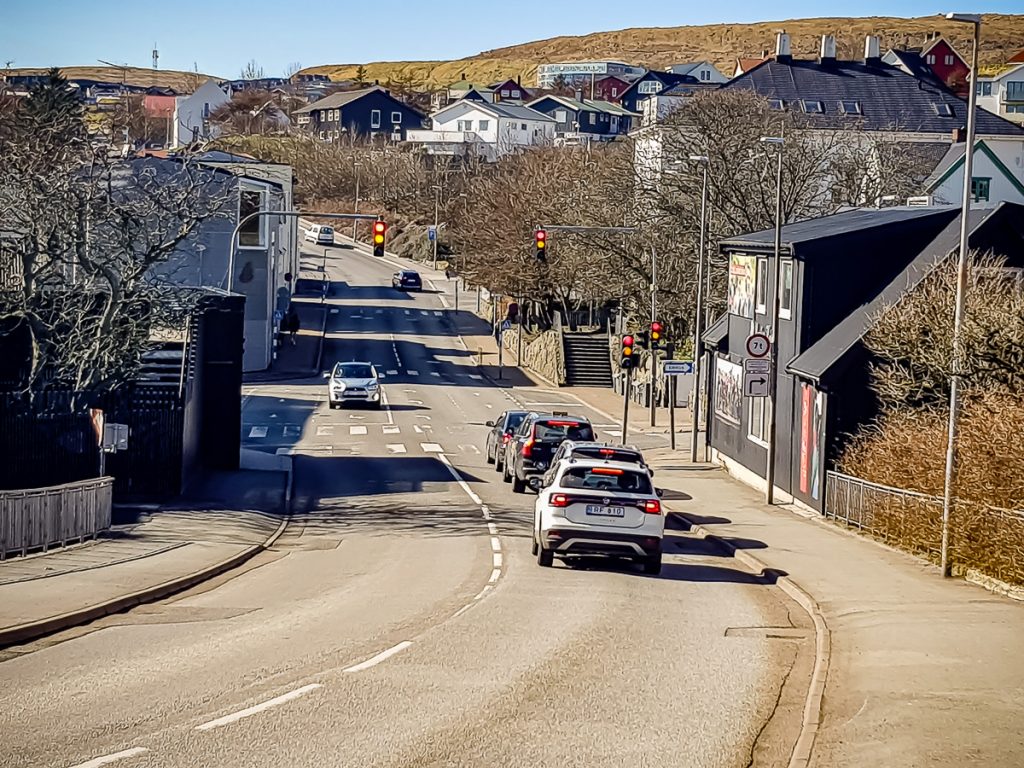 In the capital I came across two intersections with traffic lights, that's all. And on another island I saw a traffic light at an intersection where there was a school.
In addition to road and sea, there is also domestic air transportation: they have helicopters which locals use to travel between islands, at very low prices (between 11.5 euros and 49 euros). If you went shopping, to see a doctor or visit the relatives and you go back home, the helicopter is a good solution (but be careful, you are not allowed with the market cart inside the helicopter…). The price is so low because it is supported by the government, to facilitate access for those living on remote islands. Not to mention that people over the age of 67 and children aged 7-12 pay half the ticket, and those aged 2-6 do not pay at all, but they have a guaranteed place.
However, if you are a tourist and want a helicopter tour, this fad costs you 200 euros.
I looked everywhere to see bikes and scooters. Scooters I have not seen, bicycles, very rarely. I understand that in the mountains you come across some mountain bikers, but you don't see many cyclists on the roads, because they are not safe on the coastal roads, the tunnels are not suitable for such a thing so on so on.
WHAT TO BUY IN FAROE ISLANDS
Man, where can I buy some souvenirs, because I don't see any shops with such things anywhere, as in other countries.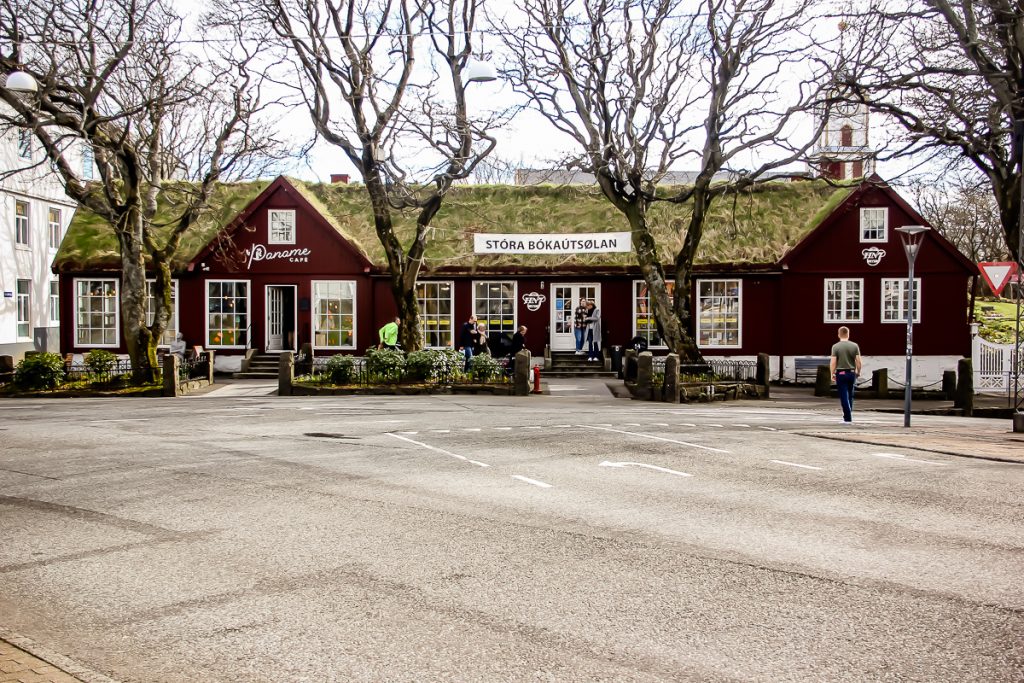 "Go to the bookstores", I am told. And, indeed, in the two bookstores I discovered, I could find magnets and some other objects. At the Tourist Office I found something too.
Very expensive, though. A magnet costs 6 euros, bro! And yet I take some…
And the souvenirs – a mug, a hat, a sheep-shaped kitchen cutting-board, a napkin, a wooden bird or others – start at 20 euros and keep going up.
The prices are the same everywhere, I don't see any difference between stores. Just when I leave, I find souvenirs in the small duty free at the airport, a little lower in price compared to the city. I get some little things from here too, it's a shame not to use the opportunity J.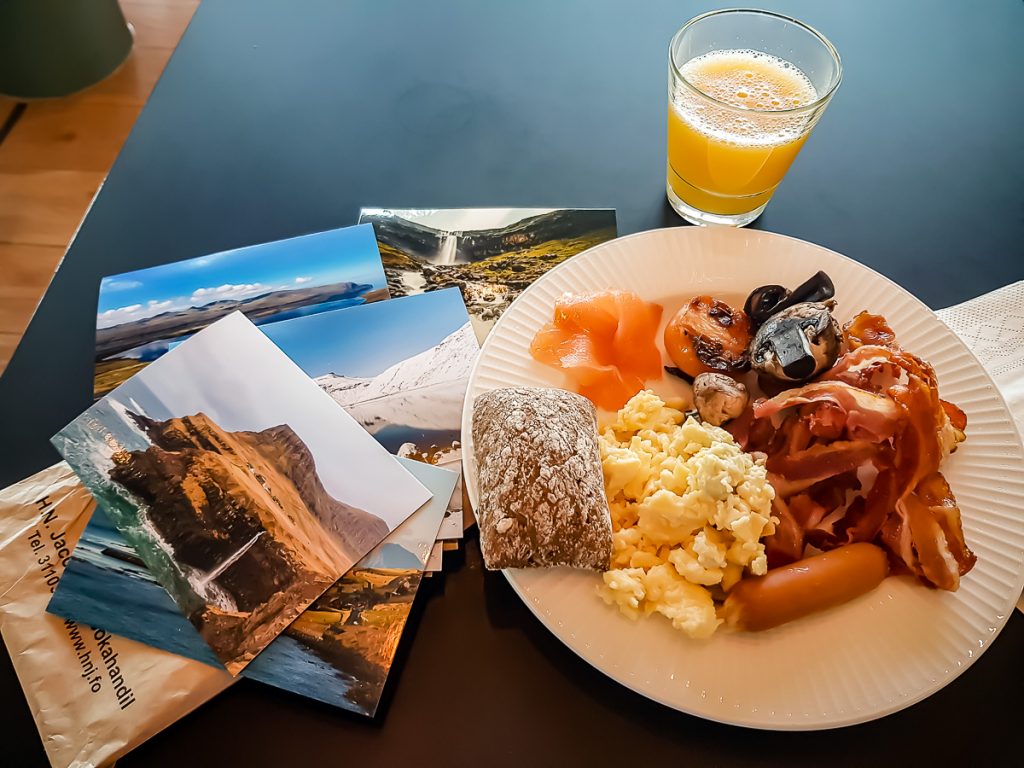 As usual, from wherever I go, I send a lot of postcards (I know, this breakfast is not healthy at all hihi).
I had already taken two beautiful postcards from downtown, but, taking advantage of the fact that I had the Post Office close to my hotel, I went to buy 11 postcards and 13 stamps to send to everyone.
I thought that the ceiling was falling on my head when I paid for the 11 postcards and 13 stamps an incredible amount of… 61 euros!!!!! God forbid! I couldn't even give them back, because I had paid with the card and by the time I made the conversion to see the drama… the postcards were already gone.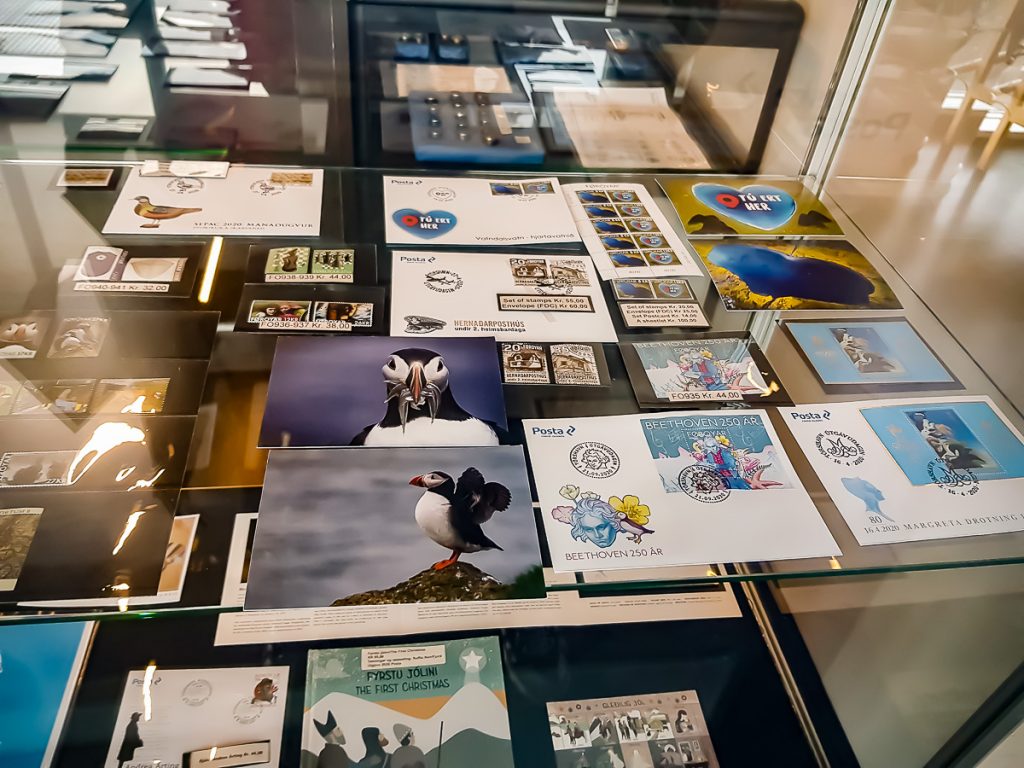 I was going to find out some great information, related to philately: if fish represents 98% of the Faroe Islands' exports, the stamps are on the 2nd place! I would never have guessed!
Wait, now I understand: so they export stamps, therefore the ones they still have for sale domestically become terribly expensive J.
SHOPPING IN THE FAROE ISLANDS
FYI: most stores close at 6 p.m. Just a few supermarkets and pharmacies remain open until later (22, 23).
I had read before I arrived to these lands about "SMS" – a mall that existed in the capital of the Faroe Islands.
If I hadn't looked for it in the city… I didn't know where it was hiding, in a place where you can't really hide.
Even when a gentleman showed me the direction, telling me "it's right after that building", I still didn't understand which it was. I couldn't see any domes, I couldn't see multiple floors, large windows, huge parking, and so on and so forth.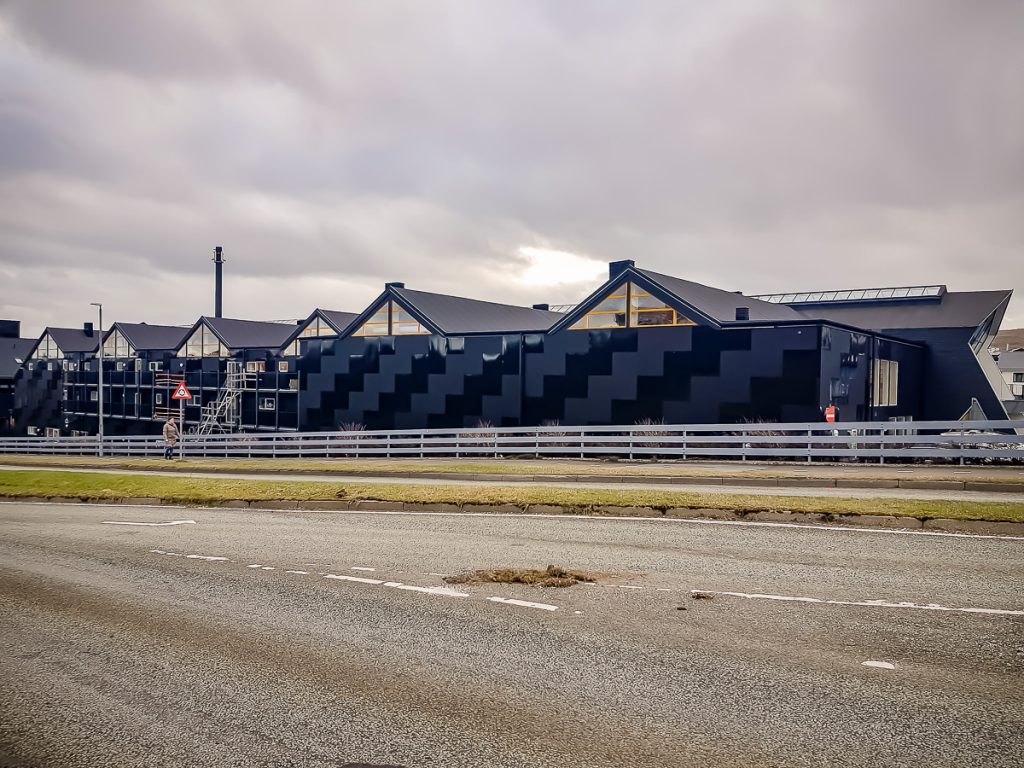 Imagine, the SMS mall looks like a set of identical houses. It has a ground floor and sort of an entresol and the parking is like the one in front of my block of flats, but definitely enough for the clients who come here.
You can count the shops on your fingers – a few selling clothes/shoes, a pharmacy, a home appliance store, a bookstore, a store selling glasses, one with household items, another with ointments, one with watches, 2 fast food restaurants and a cafe. And that is all.
In the basement there is, I understand, the most important supermarket in town (the only one where I found the whale products).
I like to walk through supermarkets abroad and discover products that I can't find at home.
From what I see, it seems that the stores have the same prices for products, according to the non-competitive principle that I saw in souvenirs too.
I walk among the shelves and take notes:
Bread 600 grams = 5.25 euros
Bread = 3 euros
Baguette = 2.65 euros
Coca Cola 1.5 liters = 4 euros
Pepsi 0.5 l = 2.54 euros
Tuborg beer 33 cl = 1.40 euros
Water 0.5 l = a bit over 2 euros. I also found a cheap one, of 1.2 euros.
Lemons – 3 pieces = 2 euros
Bananas – 4 pieces = 1.5 euros
Red or green apples – 8 pcs = ~ 3 euros
Oranges – 4 pcs = ~ 3 euros
Cherry tomatoes Italy – 500 grams = 8 euros
It is full of fruit and I understand that it is not expensive for them. They are brought from Denmark.
And I see something else, rhubarb – a lot of rhubarb products: juices, cakes, sweets.
You can't find alcohol in stores. At all!
You only find very, very low-alcohol or 0% alcoholic beverages. It is forbidden to sell them in supermarkets and I have not seen any small shops, like in Romania.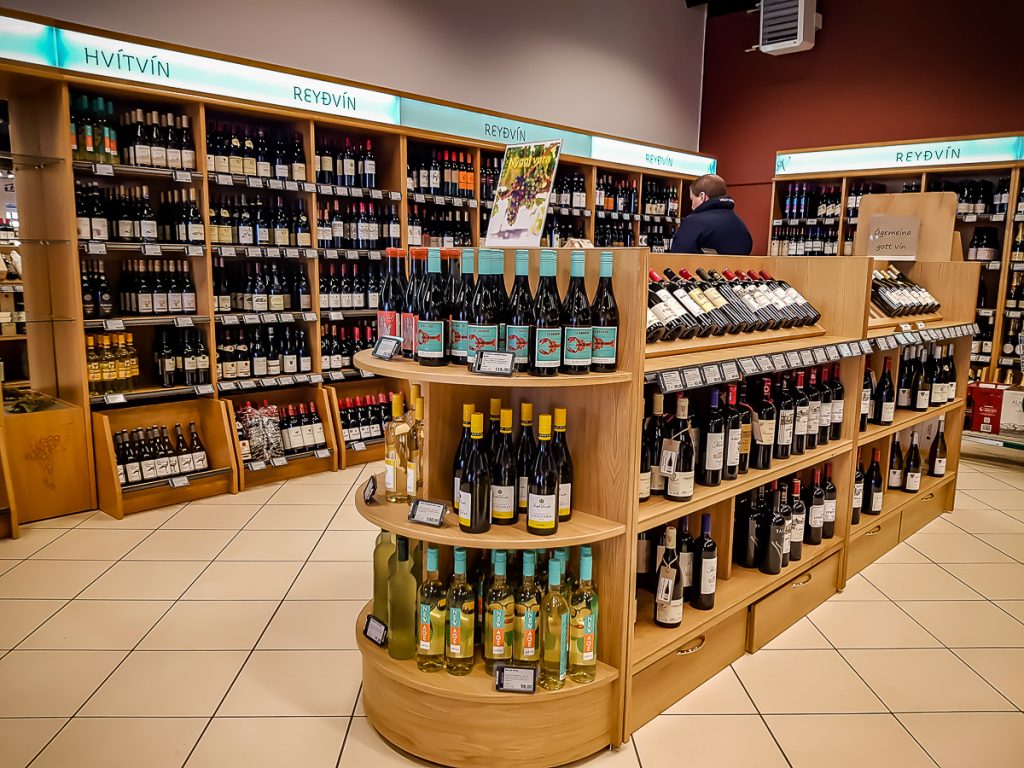 If you want alcohol, go to the only store on the island that has the right to sell alcohol. And that does not sell at any time, but only in the afternoon, to avoid the situation in which the Faroese start drinking in the morning and are no longer good for anything during the day…
Seriously, it's no joke! In some larger towns you have a store, a single store that can sell alcohol. From there you can buy beer, wine or other alcoholic beverages.
Now I understand what was the desperate buying at the airport, in the duty free shop, where those who got off the plane filled their bags with drinks!
Speaking of drinking, I think I made you dizzy with so much information hihi.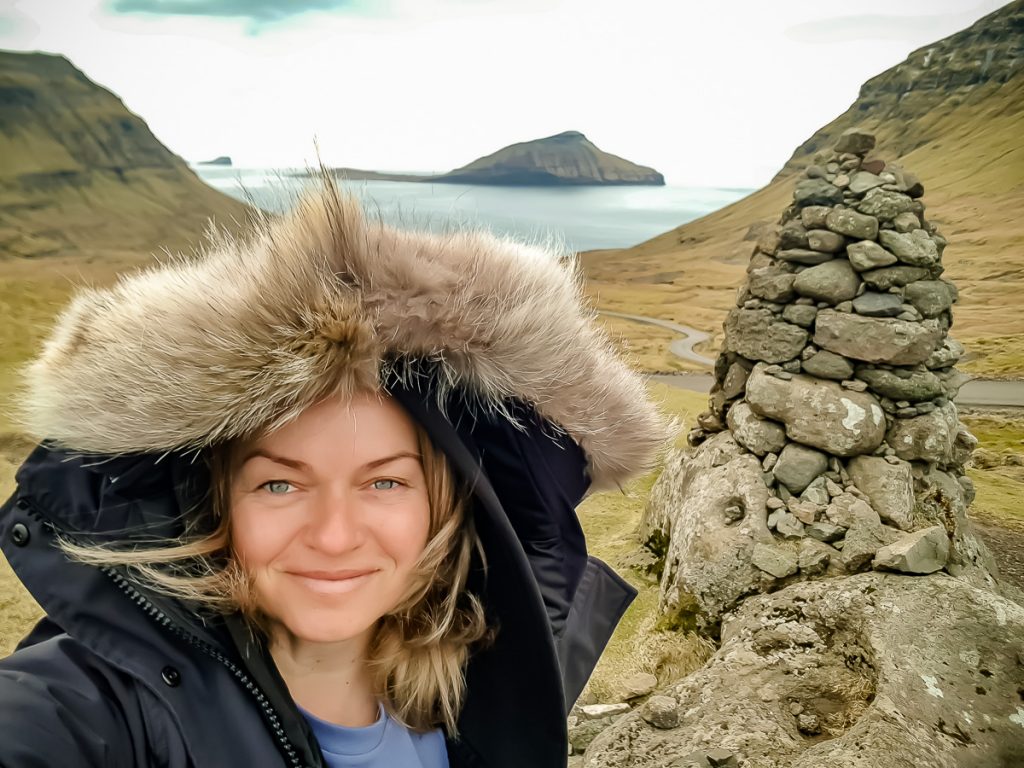 I spent 5 full days on the Faroe Islands and I never got tired of finding out new things. And, of course, of seeing a lot of places!
I tried to get to most of the places I had read about or learned from the few sources I had.
I can't wait to show them to you and write about what should not be missed in the Faroe Islands.
You can read the first part with what I found out about Faroe Islands here. And the adventures at the beginning of this holiday, here.
Thank you, Sámal Bláhamar, for being my guide and telling me so much!