I had no idea this place existed. And, when I found out about it, it was never "on my way". So far…
It is 130 km from London, in the Cotswolds region. If you have a car, you can get there in about one hour and a half. If not, in 3 and a half hours by bus, or, a bit more complicated, by train + taxi.
I started towards Bibury from a place close by, in the car of my friend Mira who lives in the area, so we would arrive in half an hour. Well, we arrived, but with mishaps, because it was snowing like in fairy tales on that December day, so the covered road was not exactly user-friendly for a rear traction car…
And the waze was so nice, and it took us on the most picturesque country roads, with ups and downs, with trees bent by the fresh snow, with tracks big enough for a car, on which we prayed that nothing would come from the opposite direction.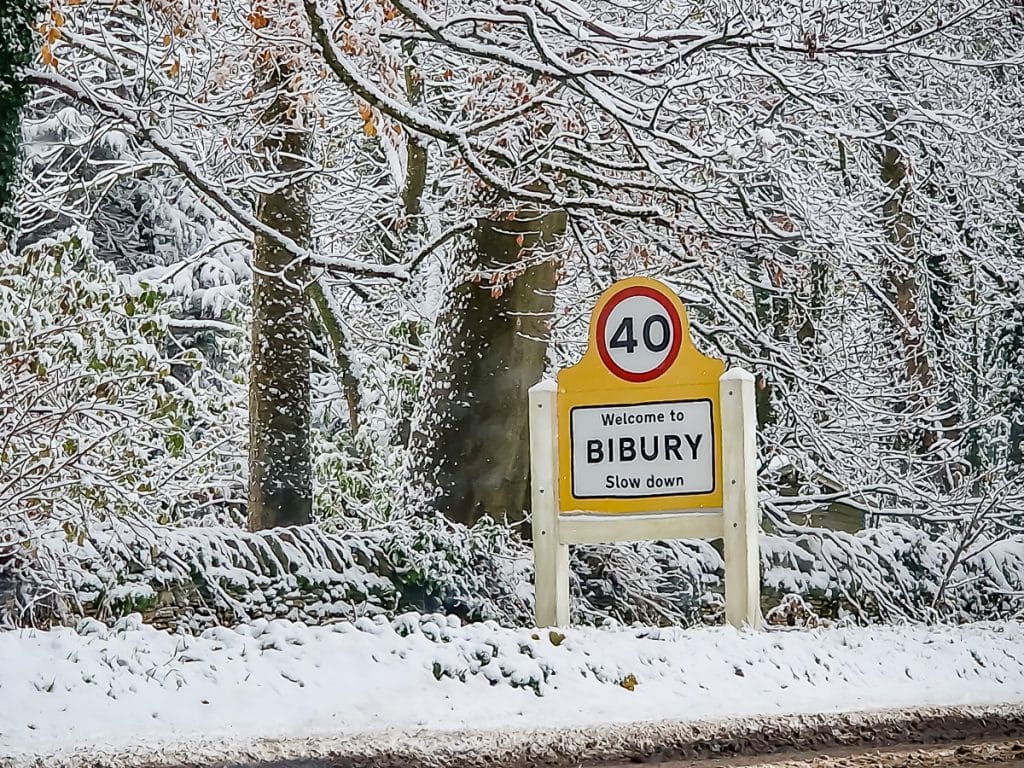 I've seen pictures of Bibury on the internet in spring, summer and autumn – it looks wonderful. But I really think that this rich December snow made it become the village from the most beautiful fairy tale! That's how I felt when I arrived, like in a fairy tale.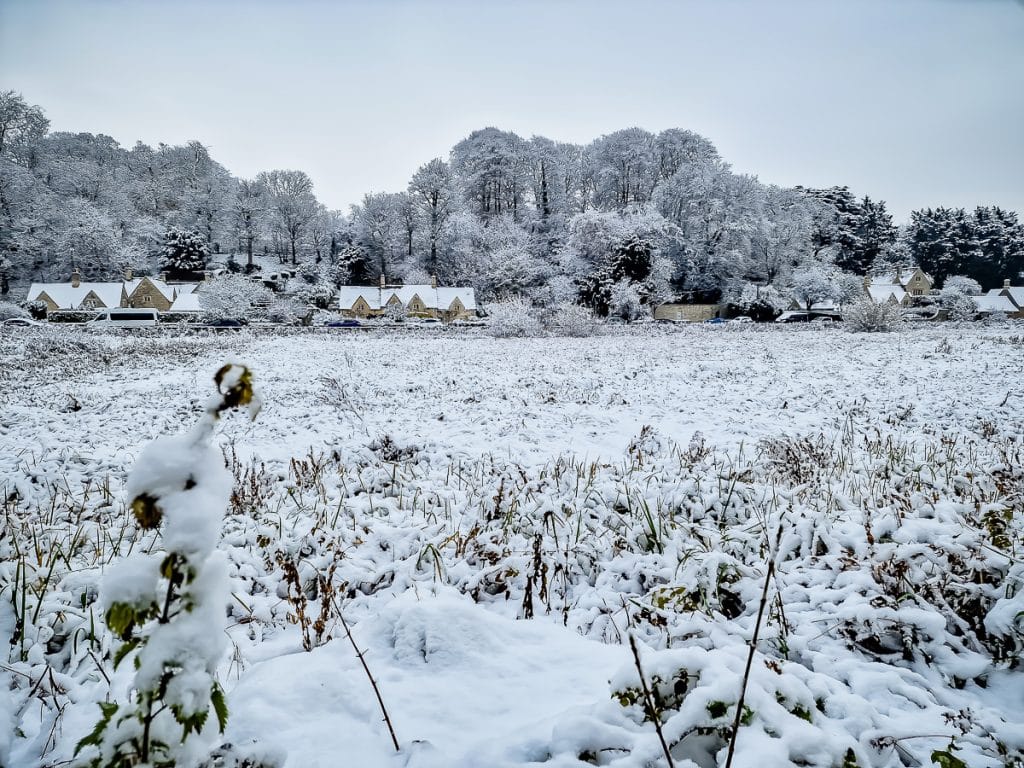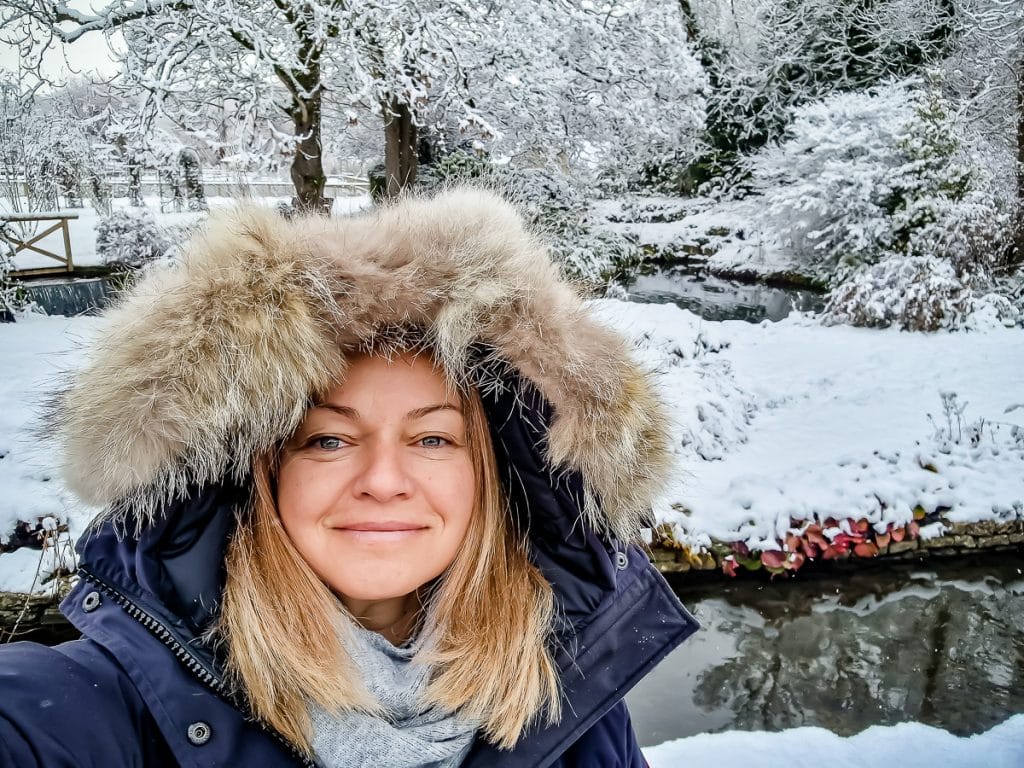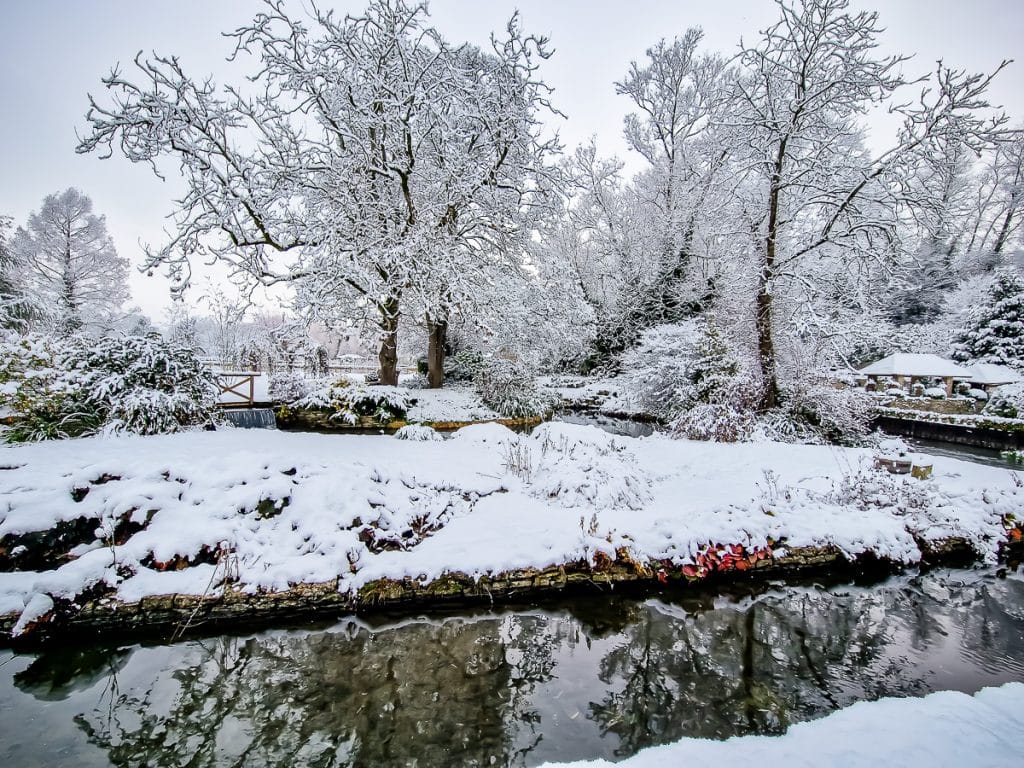 Very few people, very much snow and still untraveled paths!
It is the place about which I will write less and show more…
A BIBURY TOUR
The first thing I found out? Bibury is "the most beautiful village in England" – that's how William Morris – a 19th century writer, a translator, a plastic artist, architect, textile designer and some other things too – described it…
But he was not the only person who said this, there were others too, human beings or entities, societies J.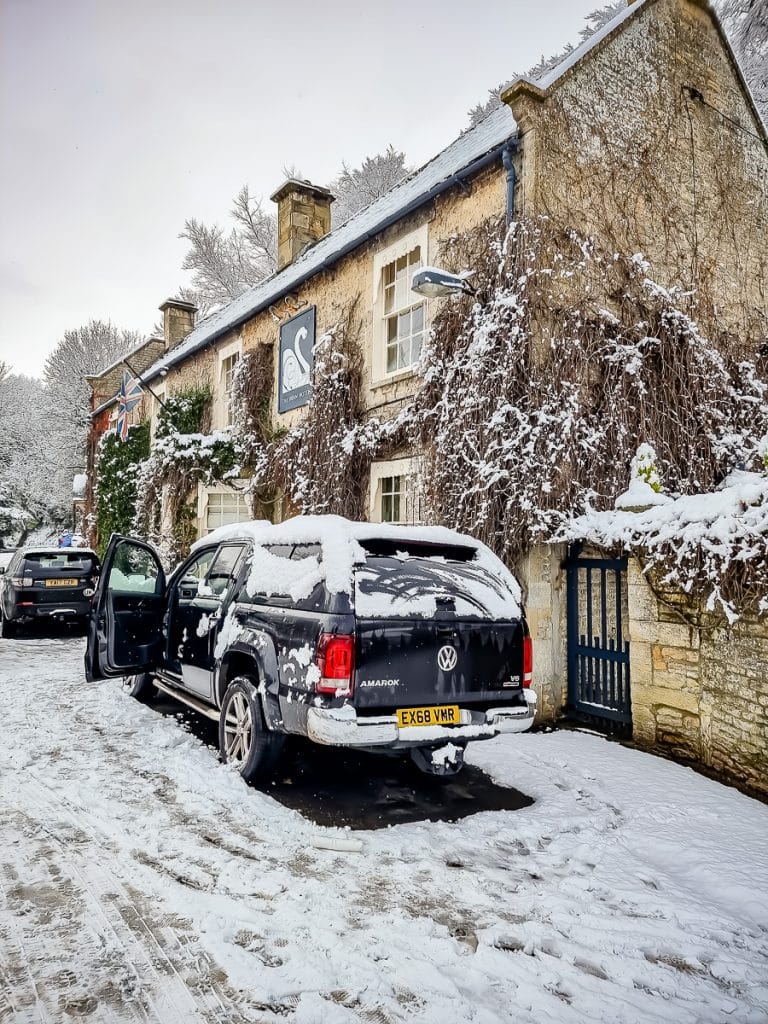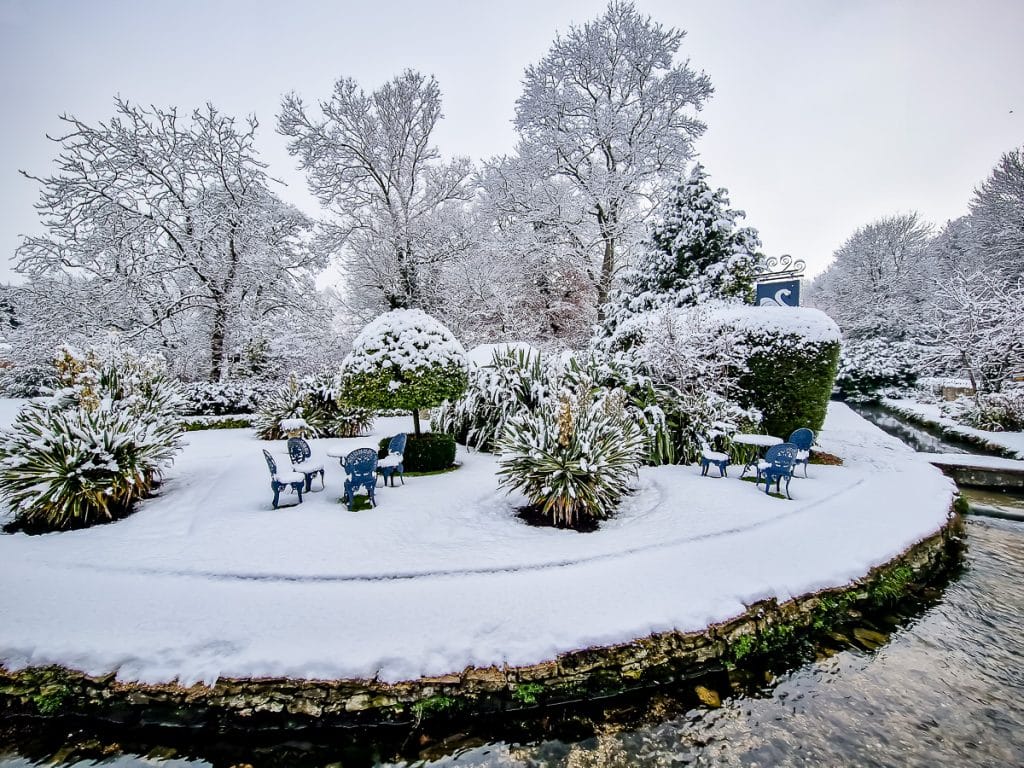 The only hotel in the village – the Swan Hotel – is a former inn, with a garden across the river, where they have great parties, I understand.
It's a small, 4-star hotel. Wait! How much does a room cost?
I went online and found a double with difficulty for 140 euros per night, in February. I can also find it for almost 300 euros per night – I went on searching until April and then I decided I had enough…
If you want to stay in Bibury and the hotel price is high, there are alternatives: b&b, guest houses, cottages. I have no idea if I photographed something like this or private houses, but I was taking pictures left and right as such wonderful houses came my way.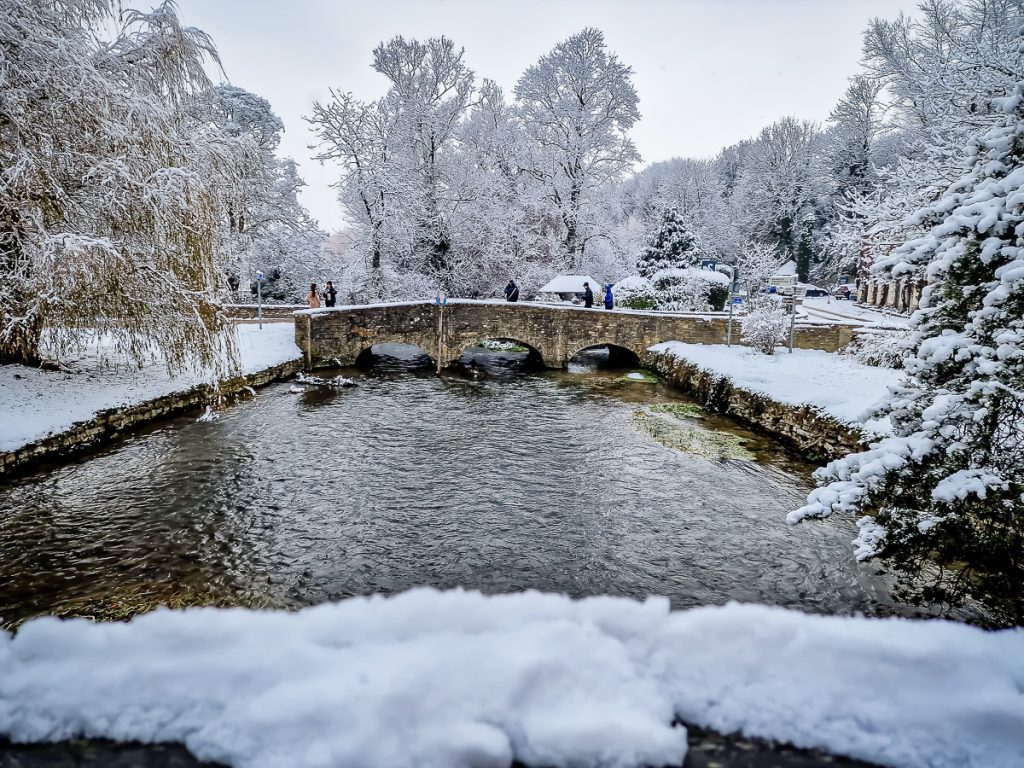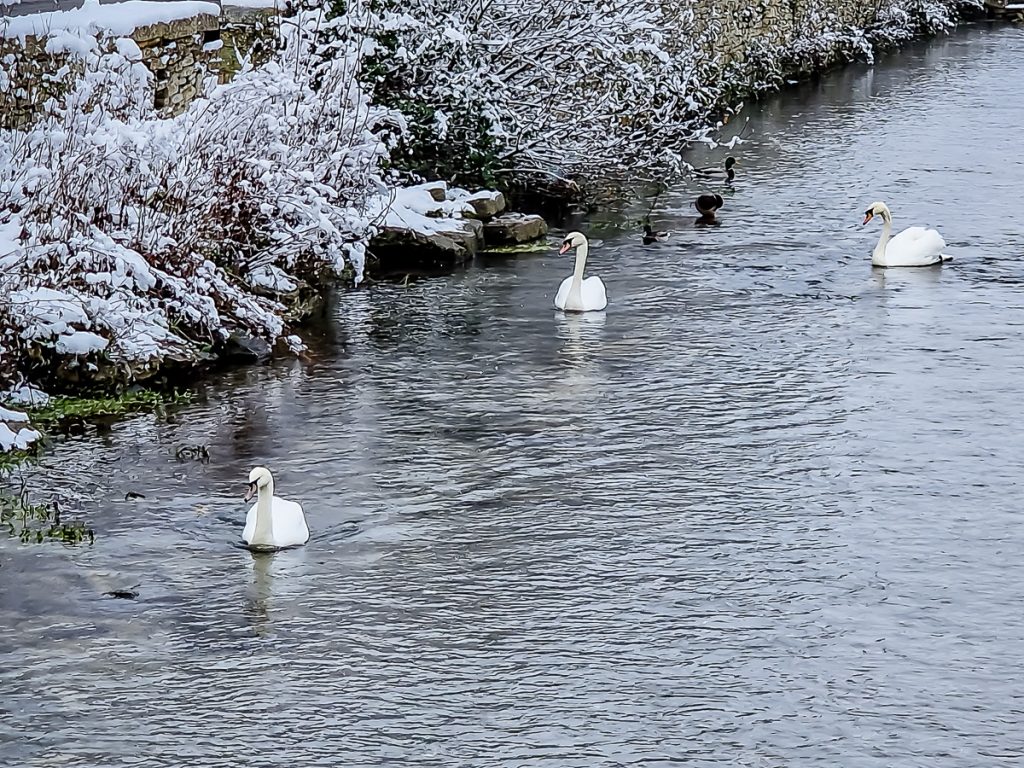 On the Coln river, swans and ducks are looking for food, with movements that only lack music, to make the picture perfect!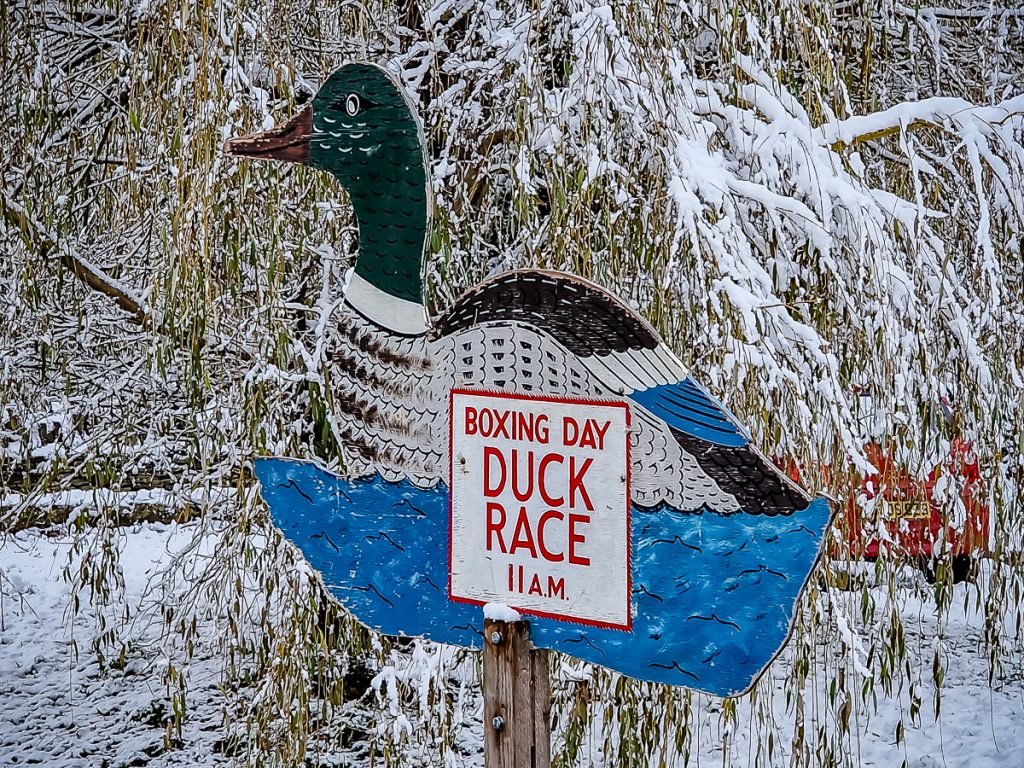 We have the "picture", but we also have… the sign. Duck Race – oh, so they have interesting contests here! Unfortunately, I can't catch the race, because I can't stay here until December 26 (now it's December 11), but it's not a bad idea to encourage the ducks on the lakes in Bucharest in a competition…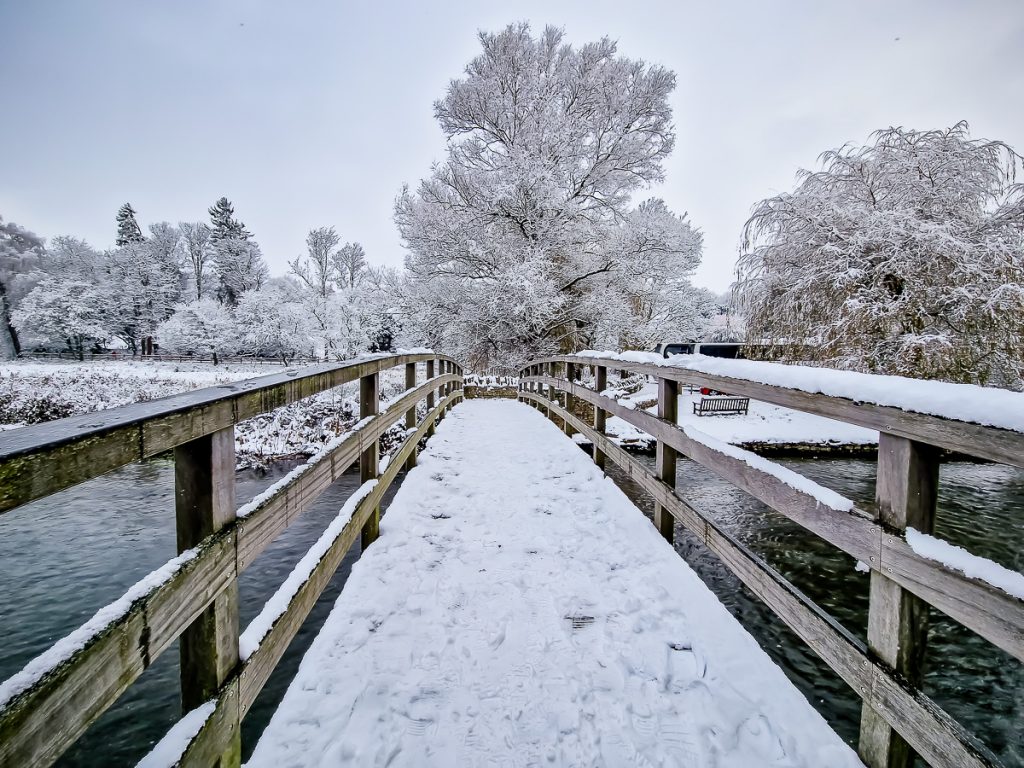 Among the few people, many Japanese. The large presence of Japanese tourists in Bibury, in any season, would be due to Emperor Hirohito (1901-1989), who stayed here during his European tour, in the first half of the 20th century, when he was only a Prince.
He apparently described his visit here as one of the happiest moments of his life. And that's how Bibury became a magnet for the Japanese.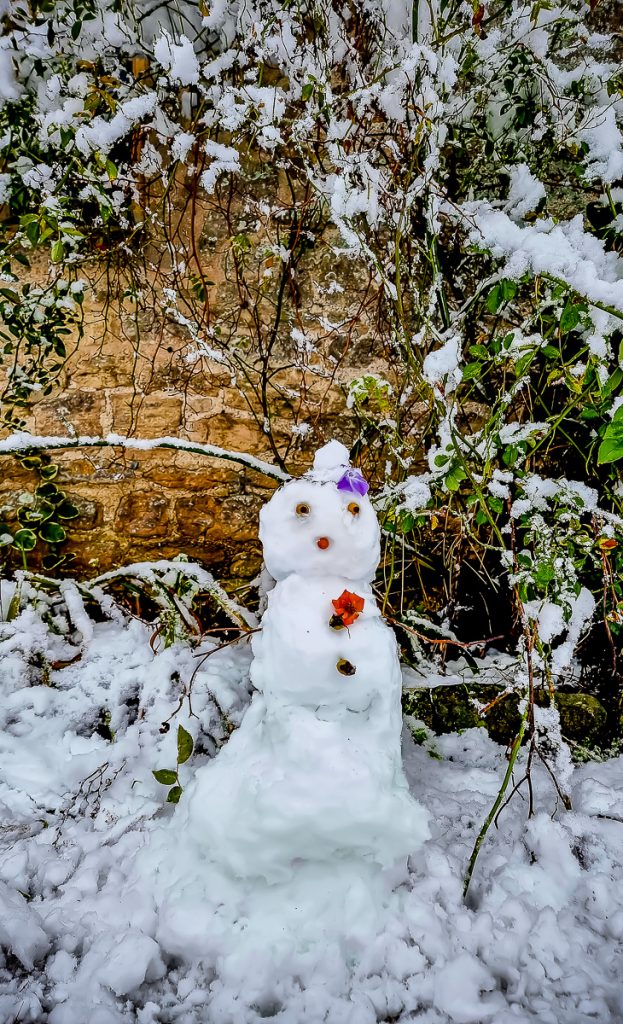 I met some Japanese who took advantage of the weather and made the first snowman in the village, took a selfie with it, then abandoned it in front of a house in a row that became famous.
ARLINGTON ROW
The "star" of the place is Arlington Row, an alley with houses dating from the 17th century.
The road to them is itself a delight!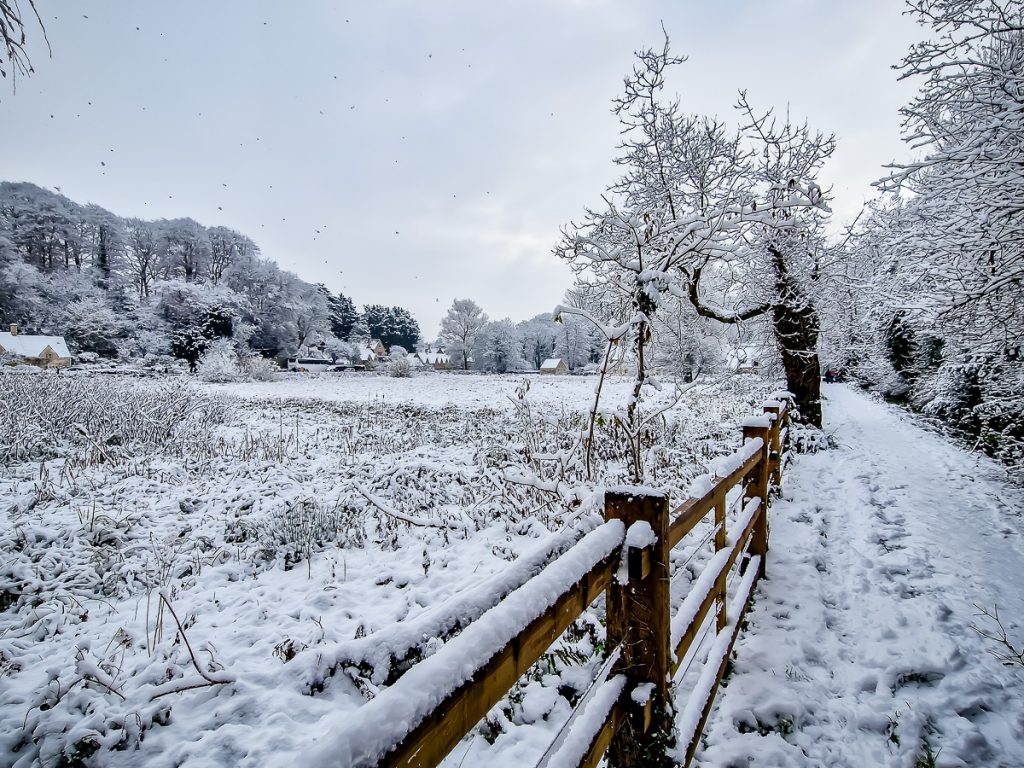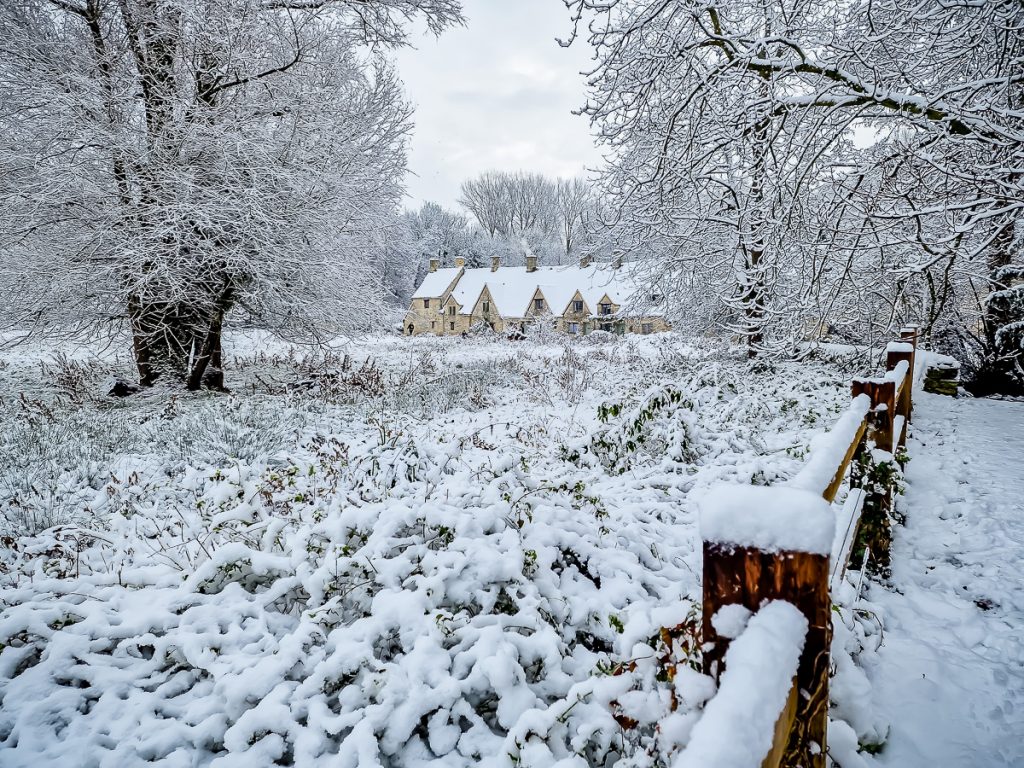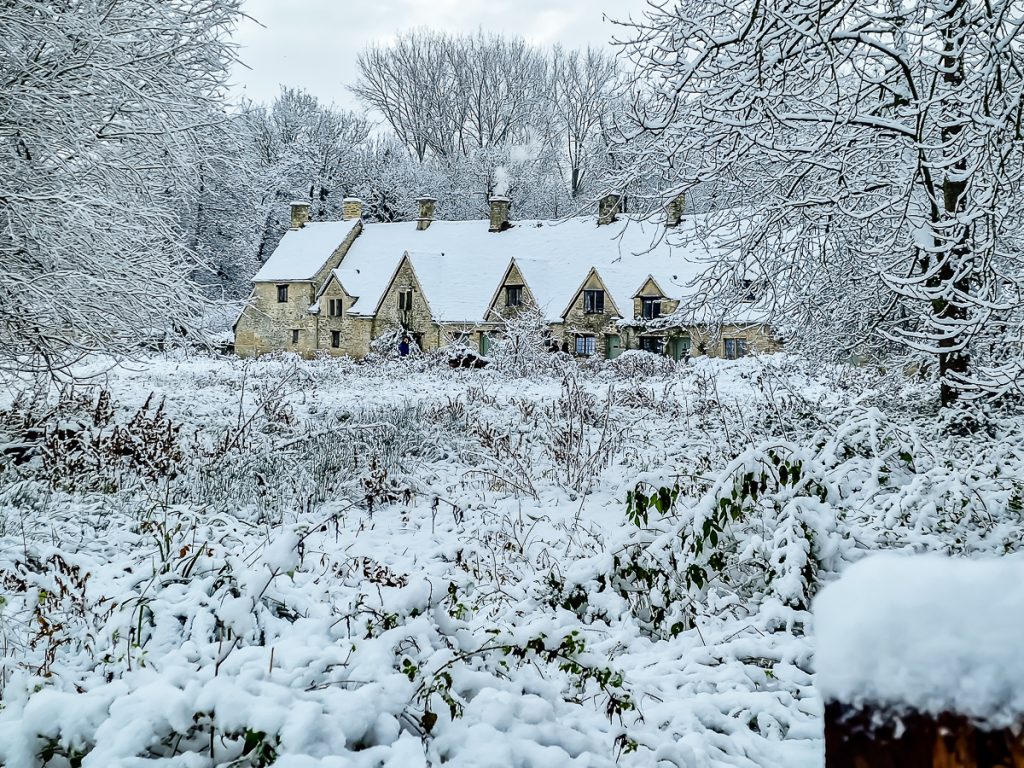 Here, they say, there are the most photographed and most beautiful cottages in England!
British passports issued between 2010 and 2015 have the very image of Arlington Row on one of the pages, a sign it is a national pride.
Initially, more precisely in 1380, a monastic wool store was built here. In the 17th century, the building was transformed into a row of weavers' cottages.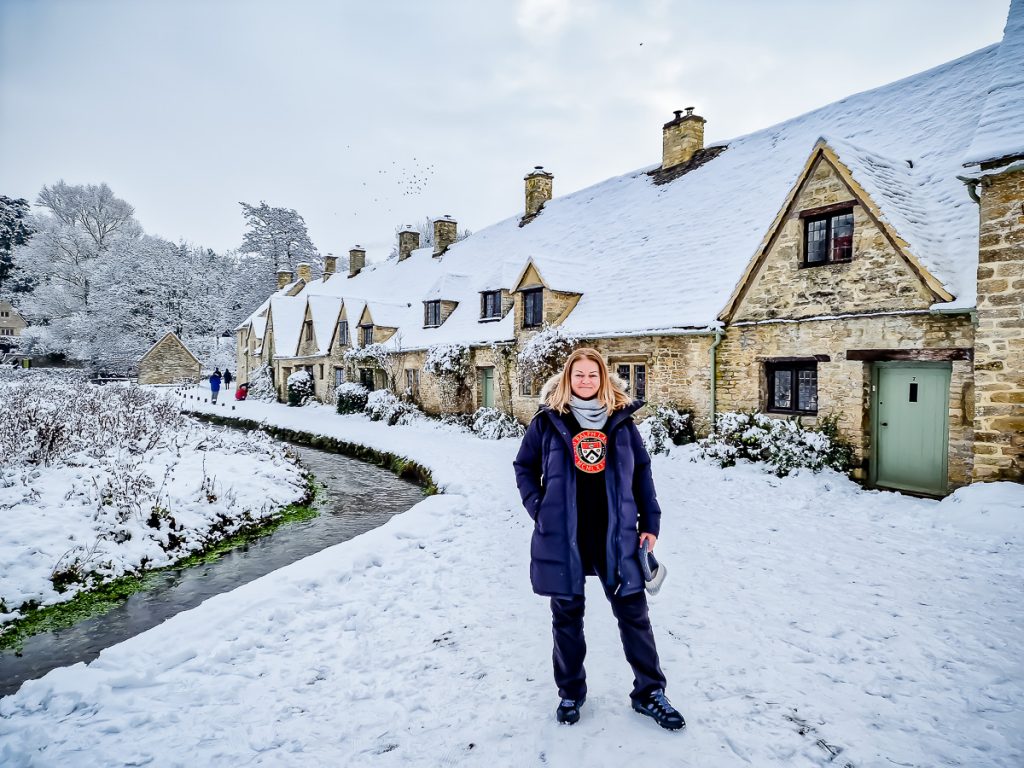 Today, these houses are owned by the National Trust (a governmental body for protected places), which rents these properties to private individuals. With the exception of one small house – the one at no. 9 – which can be rented as a holiday cottage.
Being a mega-tourist alley, probably invaded by waves of curious people in the summer, you are reminded that people live in the houses on Arlington Row, that's why it's not nice to knock on their doors or stare through their windows…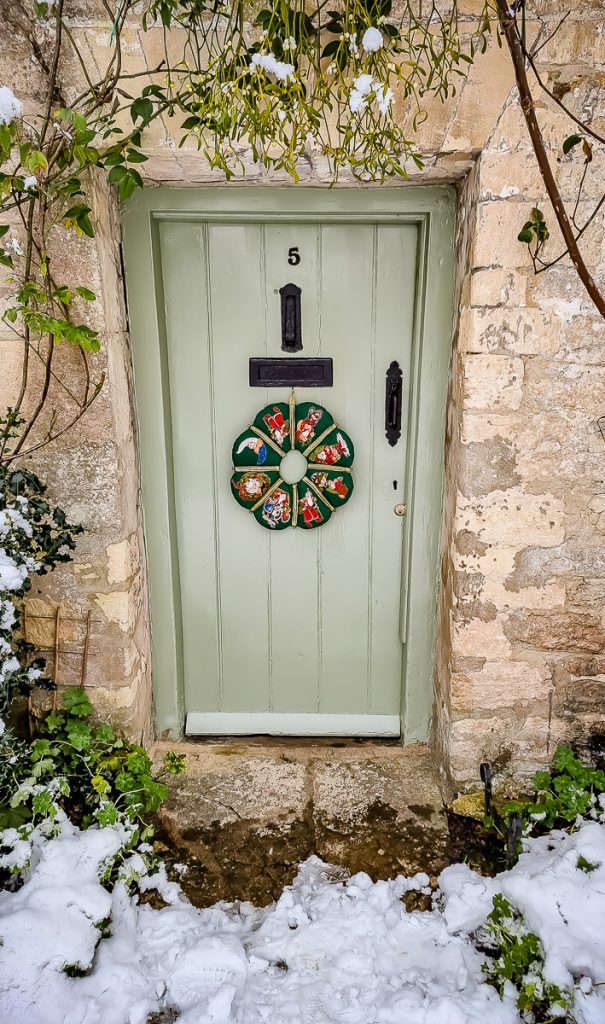 I didn't stare, but I couldn't help noticing the small entrance door, as if some Lilliputians lived in these houses.
Bibury also appeared in films, including "Stardust", with Michelle Pfeiffer, Robert de Niro, Claire Danes, Sienna Miller and Ricky Gervais.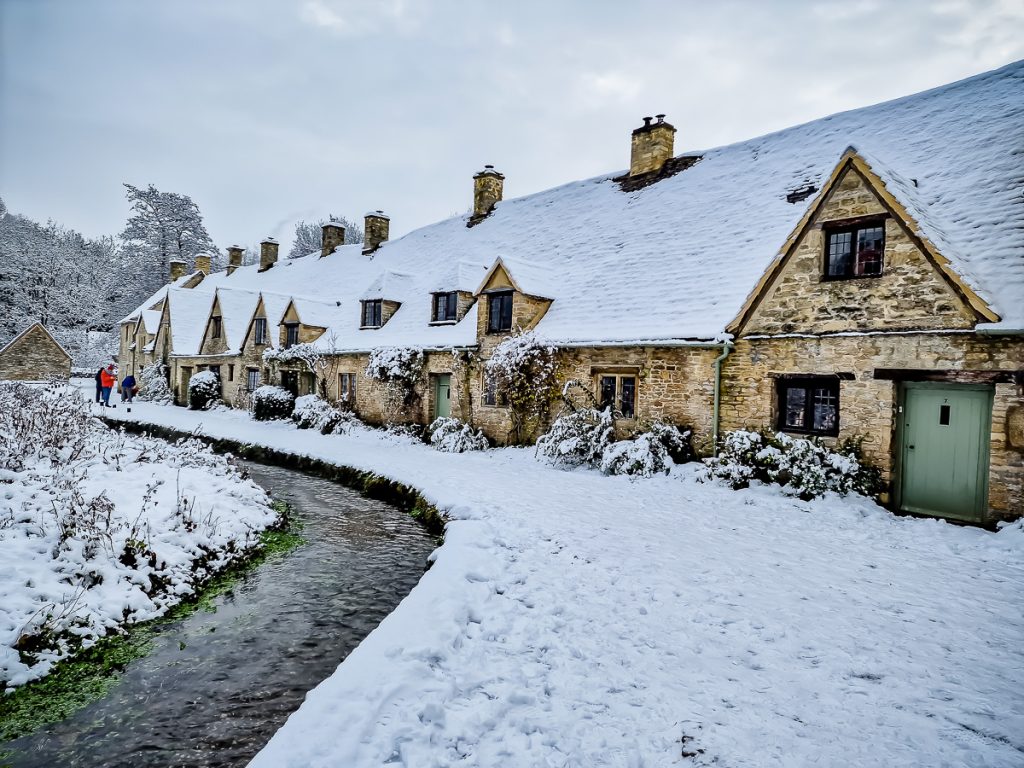 I read that Henry Ford, the founder of the Ford Company (1863-1947), was so in love with Arlington Row that he tried to buy the entire row of houses, dismantle them brick by brick and transport them to America. It didn't work out, to the satisfaction of the locals and probably the British in general.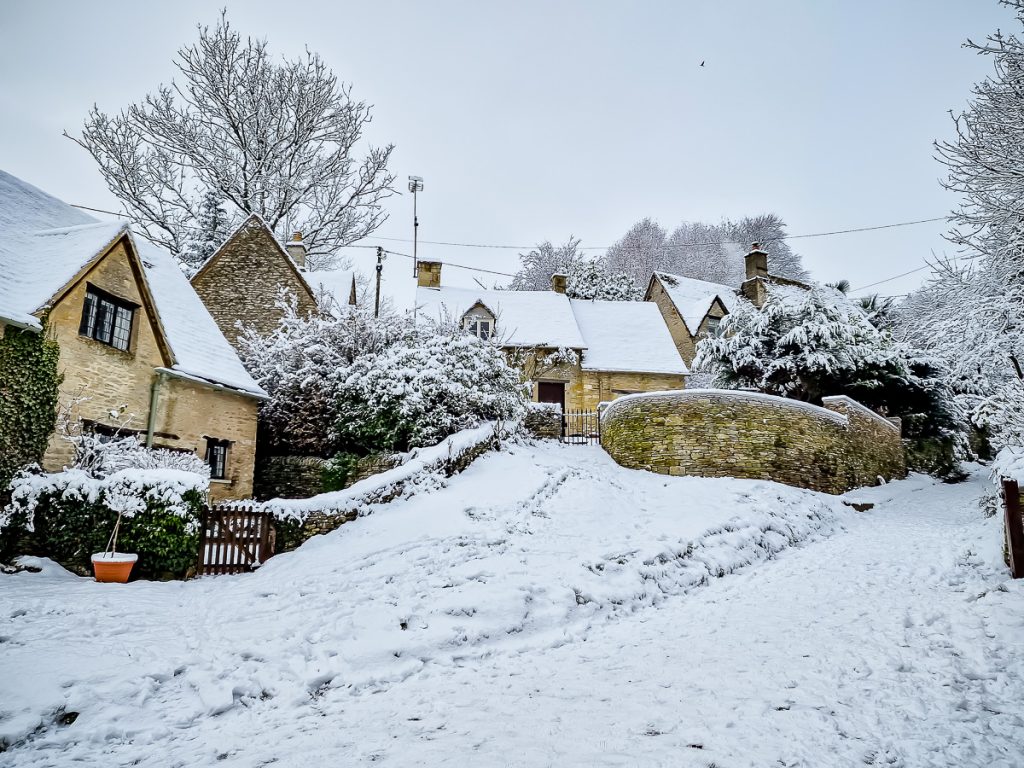 I don't stop getting excited at every corner of this fairytale place. I wonder what the inhabitants behind the windows say when they see some desperate people with phones and cameras pointed at their houses…
Starting in the direction of the village church, I notice the stone fences of the houses. I really like this kind of fence, I've always liked it, in every place on the planet I'd seen it.
Here I understand that it is the well-known, special stone, the Cotswold stone.
Damn, I could have had one or two bags with me, to take some stones home J.
ST MARY'S CHURCH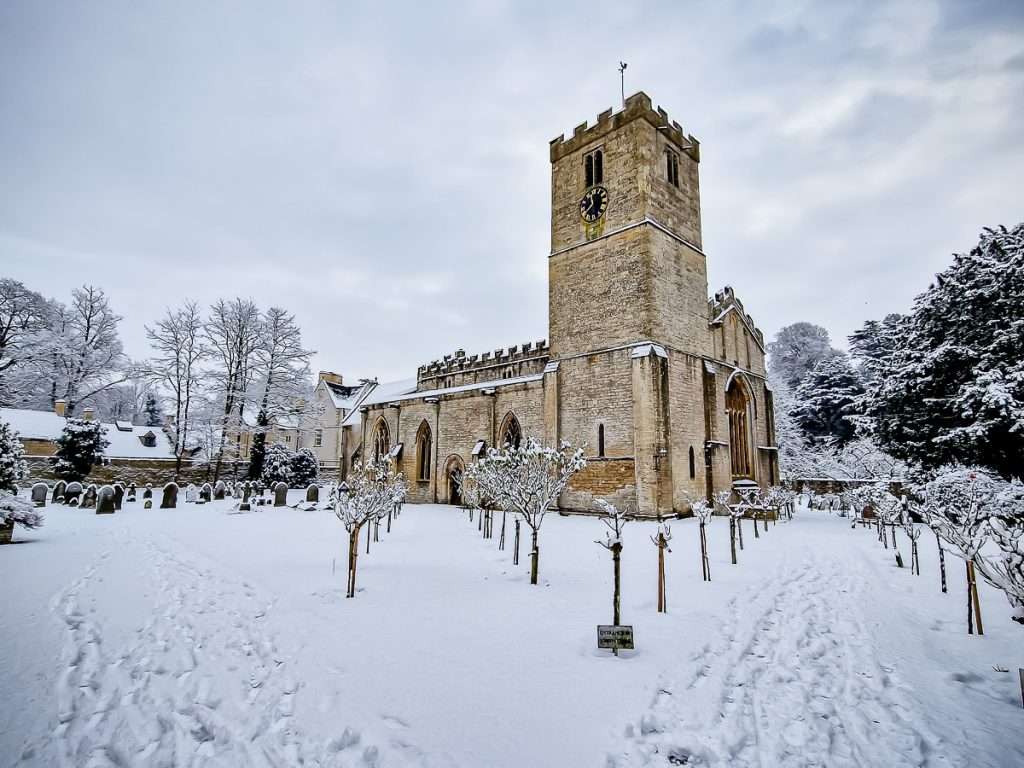 The place where not only the silence, but also the snow is deep, seems completely abandoned. In the churchyard of Bibury you could hear your thoughts…
We look at the old tombstones, then we go to the church, just like that.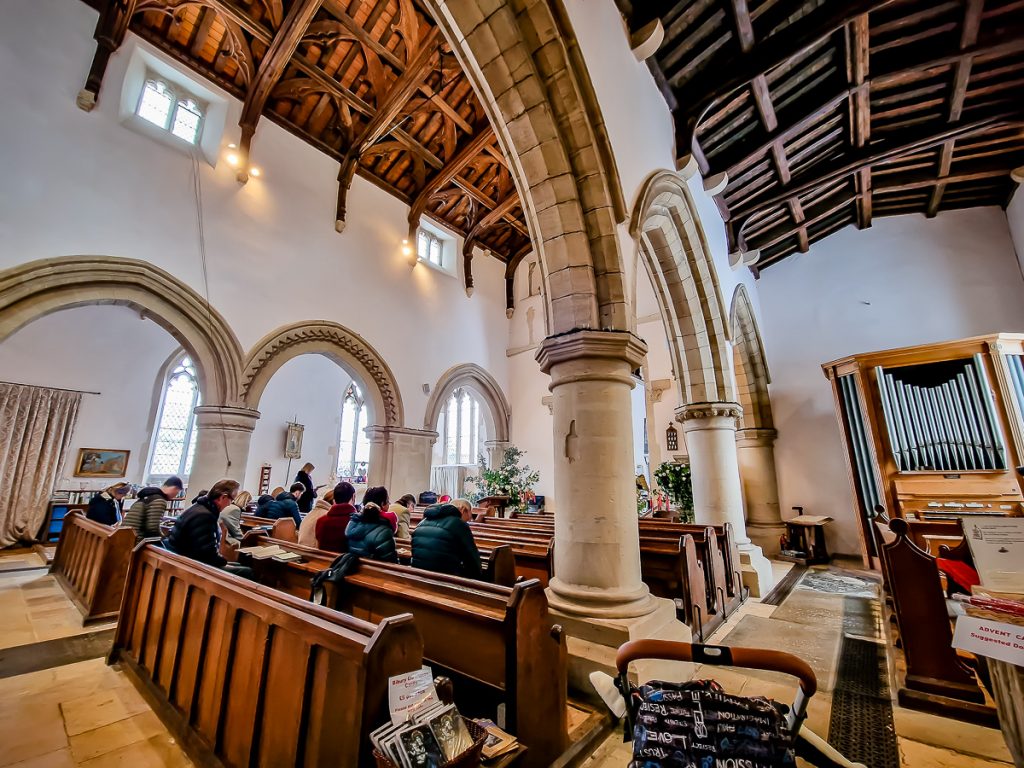 What do you know, it's open! Inside the church, there is actually a service and several people participate actively, sometimes singing softly, sometimes saying prayers.
You don't really feel like bothering them, but I, tip-toe around the church without attracting attention, so I can see what's around.
There are still Christmas trees and arrangements, I also see a table full of different objects – you can take something you like or you need around the house and leave some money in return. As much as you want.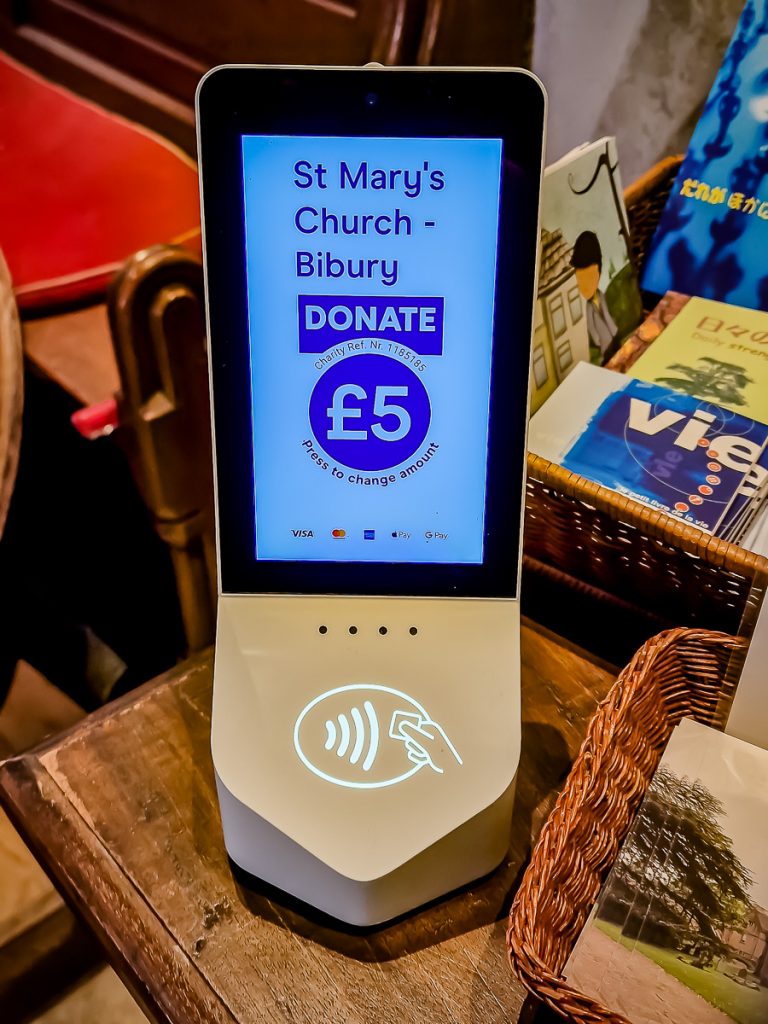 Speaking of leaving money, I see for the first time a very modern system of donating money in the church. Not a metal box, not a wooden chest, not a slot in the wall, but simply a device that helps you donate from your card. Cool, right?
WHERE TO EAT IN BIBURY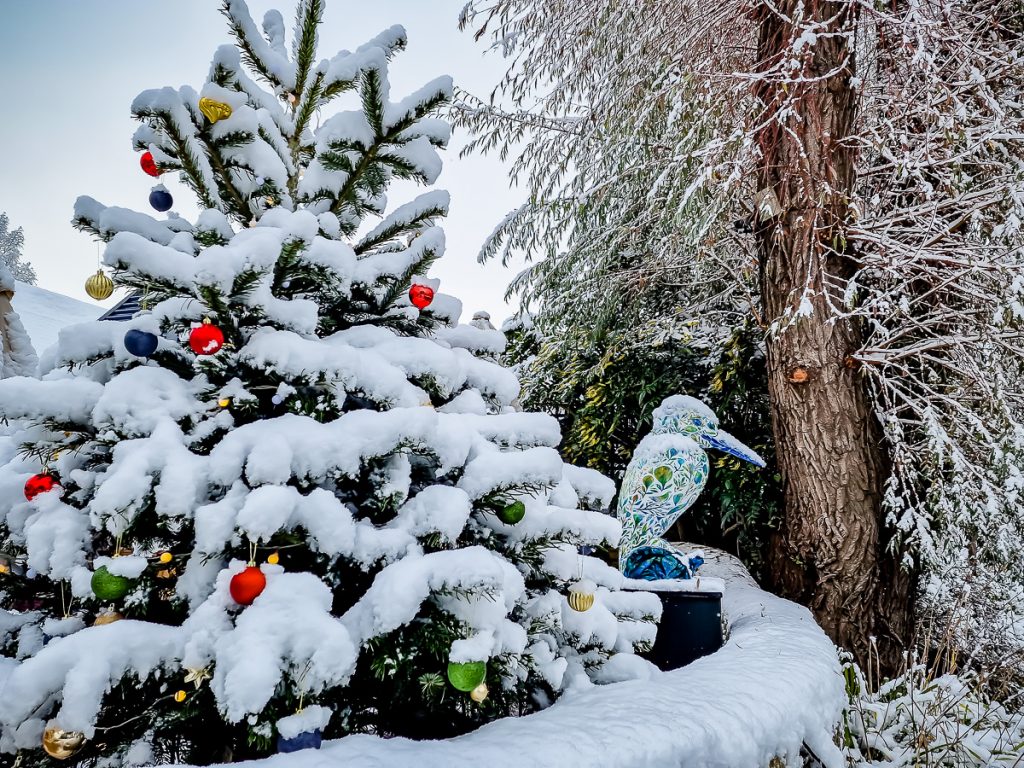 I found the best tree ever. Can you say it's not beautiful, with that frozen bird standing guard?
Behind it, a small shop with local products and souvenirs, plus a terrace where a few wanderers eat out in the cold, warmed only by some sheep furs. I don't know if they eat the trout they caught themselves, as I read at the entrance: "trout farm, catch your own".
I went to the store, I bought (of course!) several souvenirs, but also a lavender chocolate, to protect me from getting moths in my stomach…
Walking slowly through the village, we came across a small and charming brasserie, only it was closed… So we went to the only restaurant we've seen since we slid here.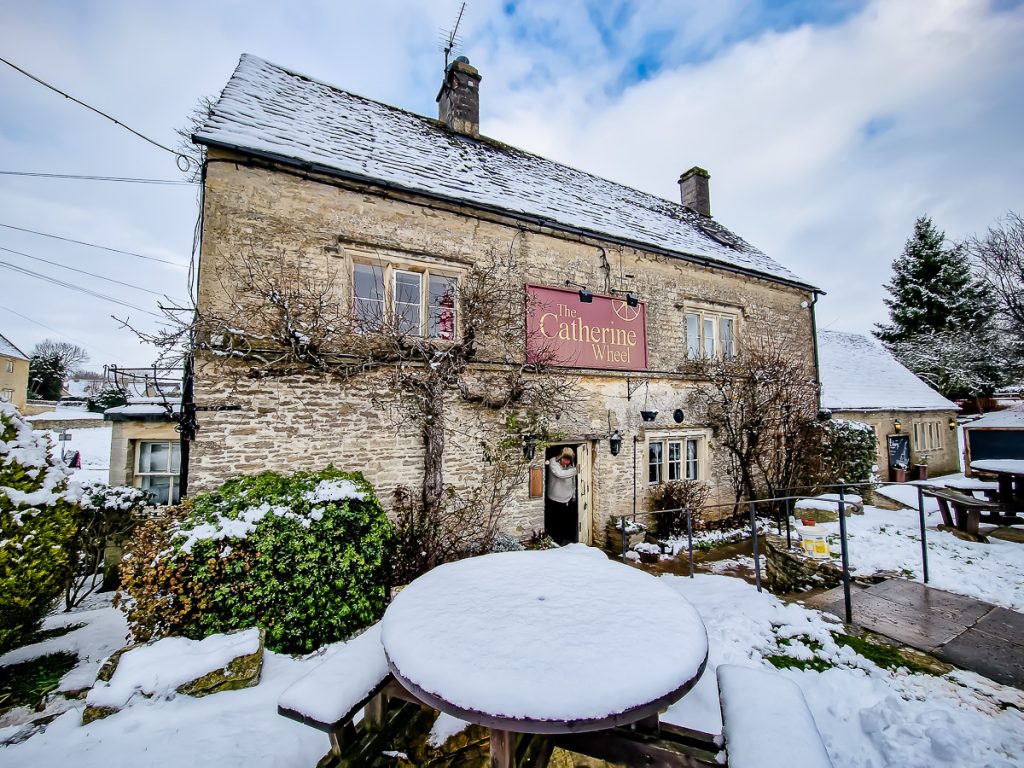 Do you know how I felt at The Catherine Wheel? Just like in the movies: a restaurant for locals, with many Englishmen gathered around the bar, standing, having cold beers and talking loudly. Cool atmosphere, great fun!
Only us were sitting at the table, but we had come to eat, we had an excuse.
We took the local fresh produce, including a local trout.
We made friends with the local dog, who "courted" us hoping we would give him some food (although he seemed well fed). We did give him something.
I wrote some postcards and we left.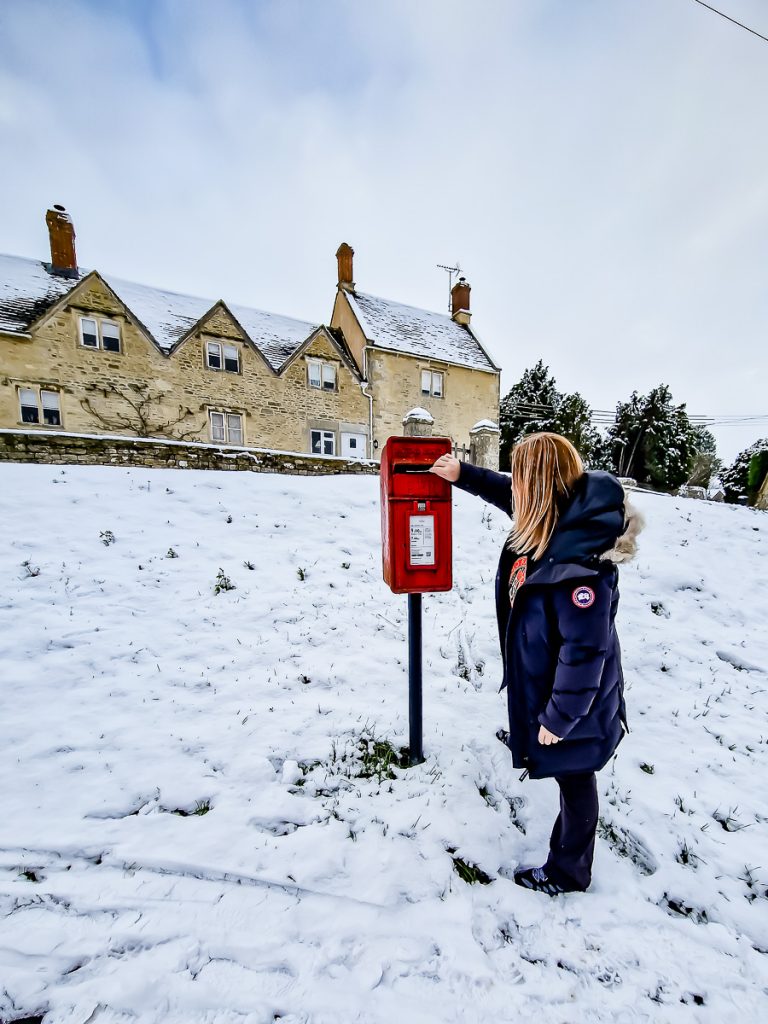 We took our rear traction car and tried, at least on the way back, to take the main roads, so as not to spoil the beauty of the day. Although, if I come to think of it, being snowed in, we would have been candidates for a happy ending of the Snow White Bibury Fairy Tale, because some Prince would have come after us, on a White Horse. With 4×4 traction…