I am, definitely, a city driver. My city, I mean. I was never desperate to drive for a long way. I am stressed, I have the feeling that I do not control the car, I am afraid of the animals that could jump in front of me, especially since my first reflex would be to press the brakes. I know, it's wrong. A good friend of mine told me this… and he hit a deer J)
Abroad, I didn't even plan to go by car or rent a car there. I would have been terribly stressed by the unknown roads and I would not have enjoyed the vacation at all.
I preferred the train. I like the train! It relaxes me. I traveled all my childhood by train all over Romania, and later, in Europe.
ICELAND
After dozens of vacations, only in 2014 I got the courage to rent a car. How did I get to this?
Well, there are no trains in Iceland J. And the domestic planes wouldn't take me everywhere I wanted to go. In addition, I received valuable information: these people have only one national road. No complications. A road that you take and keep on it and… there you are, you went all around the country.
Okay, I thought, I'm renting a car. Automatic, so as not to have to change gears while looking for the roads on the map. Because I didn't have a GPS at the time.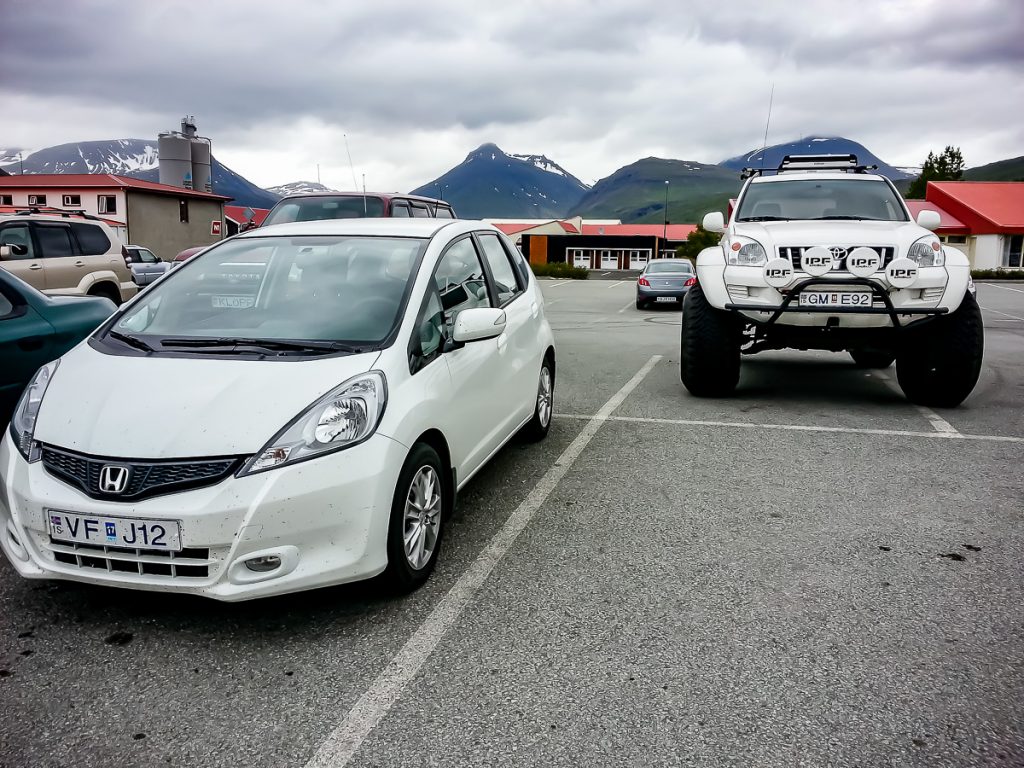 This one on the left is the car they gave me. A small Honda that looked like a surprise from the Kinder egg next to the nearby tank! It can't be seen from the picture, but believe me, standing next to that giant Toyota, I could barely reach the mirror.
I think that, in order to get behind the wheel, you have to be the famous Nadia Comaneci doing a Tsukahara…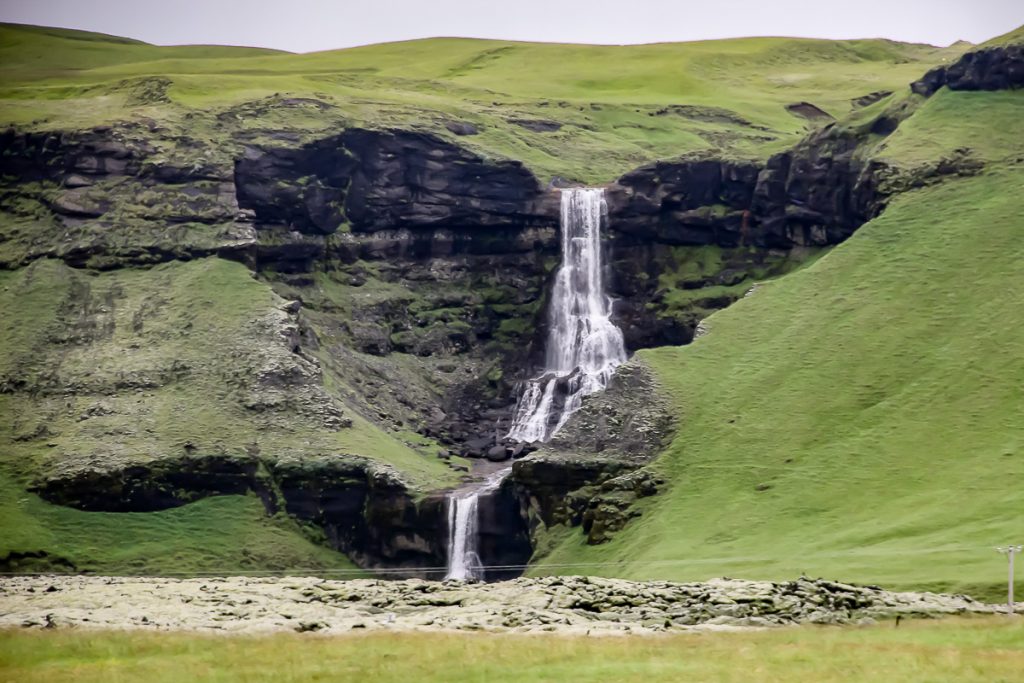 The road through Iceland is a poem!
From the road you see such beautiful places, some of them strange enough! Many times I had the impression that I was on another planet. (I will tell you more when I write about Iceland, because there are a lot to tell and show!)
Looking like some hobo on the rails for some famous mountains that I had been told about – in the photo above, on the left – or marveling at the landscapes, I traveled through Iceland as if it were just mine!
I stopped dozens of times in the middle of the road, took out the camera and took pictures because, for miles, no car got in my way! (Although there were tourists at the tourist attractions. Well… lots of phenomena happen here…)
However, a sheep cut me off. Or a ram, whatever. A clean, white, fat animal.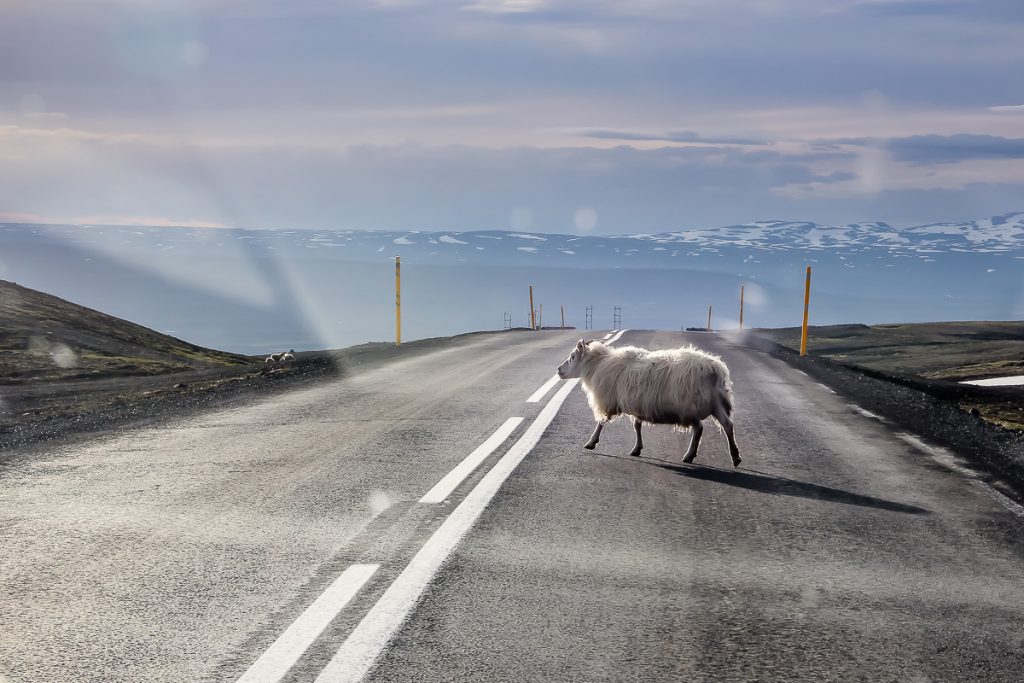 It was walking slowly on a mountain ridge and it couldn't care less about me.
I remembered a strict rule of theirs: you are not allowed to stress sheep that graze freely. So what if they also walk around freely, confusing traffic? You just have to let them be, not disturb them, shoo them or anything like this.
I stopped the car, put my head out the window and, in a friendly tone, just said: "Bro, did you buy your own road here?" It stepped aside, which leads me to believe that the intelligence of the sheep is utterly underestimated…
Okay, now let's get back to our sheep. This trip through Iceland, with just one national road, with no one on the road, gave me the courage to rent more cars during my holidays.
ALSACE
Because I wanted to get to many picturesque villages I had read about, I decided to rent a car in Alsace. That's after I checked everything that could be checked travelling by train…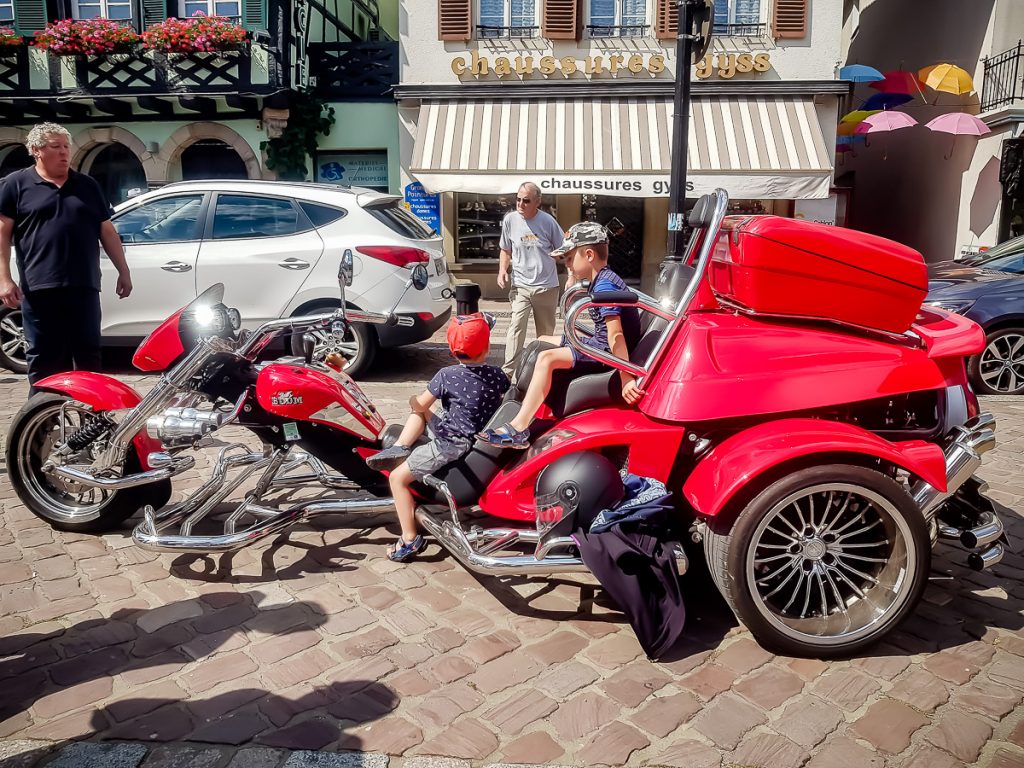 … and after I wondered what it would be like to drive around in something like that – I don't even know how to call it. I would have been the sensation of the summer!
Any way. I asked for a small car in Strasbourg. Automatic. To stay calm, to be able to drive it easily, to park it anywhere etc.
But what do you know: the man from the rental company comes and brings me a Kia Sportage that was brand new.
Well, what were you thinking, uncle?
As much as I dreamt about this car at home, wanting to buy one, I rejected it here, because it seemed too big for my level of stress!
For a split second I really wanted to tell the man to stick it in his… anyway, to bring me a small one.
I didn't. And I did not regret it, because I felt very good on the road and I filled the trunk with all the stupid things in the world!
However, in order to take revenge on me for the bad thoughts from our first meeting, Kia also offered me a surprise…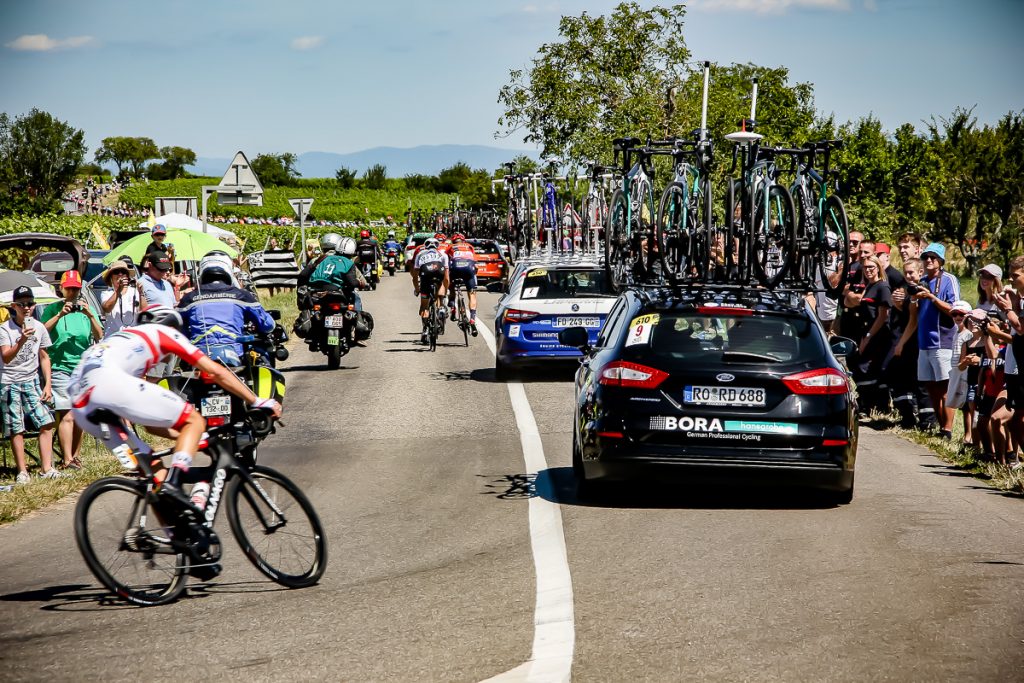 Thanks to an absolutely random synchronization, thanks to good luck, I was driving through Mittelbergheim (in France, ok?), when I saw a lot of people going in one direction. There might be a fair at the outskirts of the village, I thought.
The flags of some and the dialogue of others made me understand: they were going to see the cyclists from the Tour de France pass by! Wow, sooo cool! I want it too! So I parked the car and took my shorts out of the trunk to change, as it was extremely hot outside!
I got to the back seat of the car, taking advantage of the smoky windows, so that no one would see me take off my clothes.
Left only in my panties, I tried to pull on my shorts as soon as possible. Everything was good and beautiful, BUT… damn, I can't get out of the car anymore. The doors are locked! Me holding the key in my hand!
I contort to reach the front doors, but nothing! Closed. I take the key and press the buttons, nothing. The car is all locked and safe! F…k! What I do now? Should I call their 911? "Madame, you see, I was in my underwear, in the back of the car and I got stuck. Au secours!"
I jumped over the seats, I moved in front, I tried my luck with the remote control, but in vain, I started the engine, I stopped the engine and I succeeded, in the end!!! I have no idea what I did.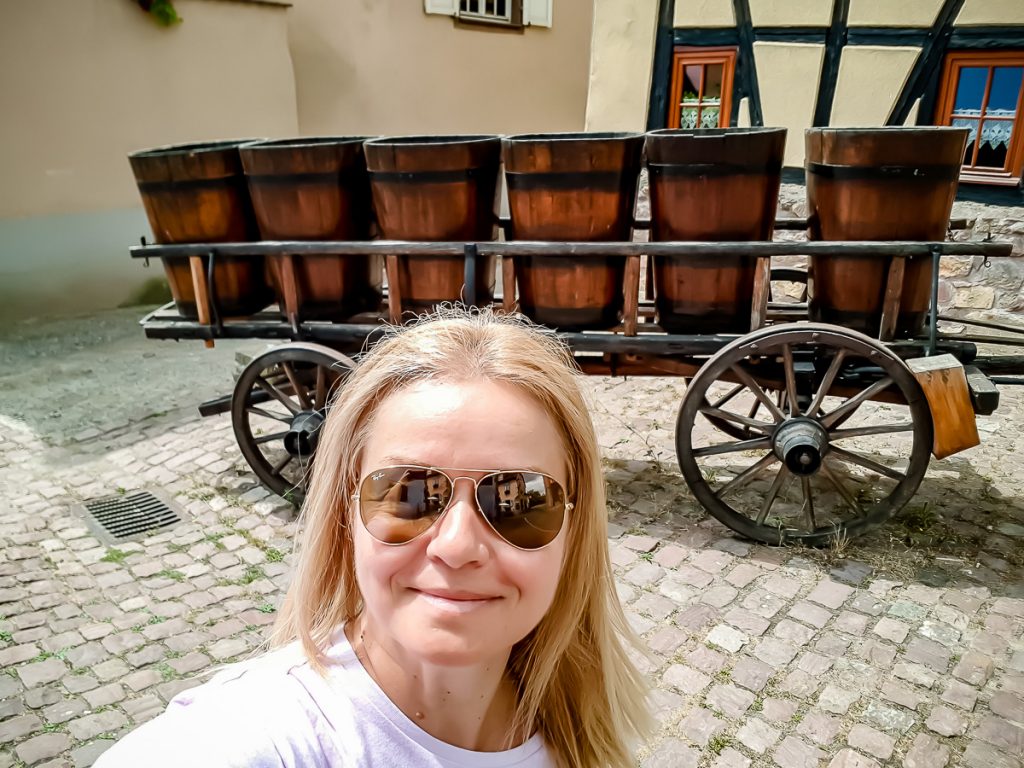 This picture with the barrels, taken later in Alsace, in the wonderful village of Eguisheim, reminded me of the Tuscan wines and me… passing by them.
TUSCANY
What could be more beautiful than traveling through the hills of Tuscany by car, seeing the beautiful villages there and tasting Chianti wines, as there's plenty of them here!
Wait, something is not right here: driving a car and wine tasting don't go together. Shit, I didn't take that into account.
When you go on holiday alone and drive a car, you can say good-bye to your wine. (What good-bye, I didn't even say hello to any wine).
I stopped in Gaiole in Chianti, Vertine, Radda in Chianti, Greve in Chianti, Castellina in Chianti, then in Montalcino, Pienza, Montepulciano, Cortona.
I visited some wineries like I would have visited museums, I took pictures in the shops with dozens of types of wine, I learned one or two things about wine from specialists and… that was it.
It was strange: I usually don't drink, but there, my God, how I wanted to taste those wines!
Well, I consoled myself with driving a car to my liking.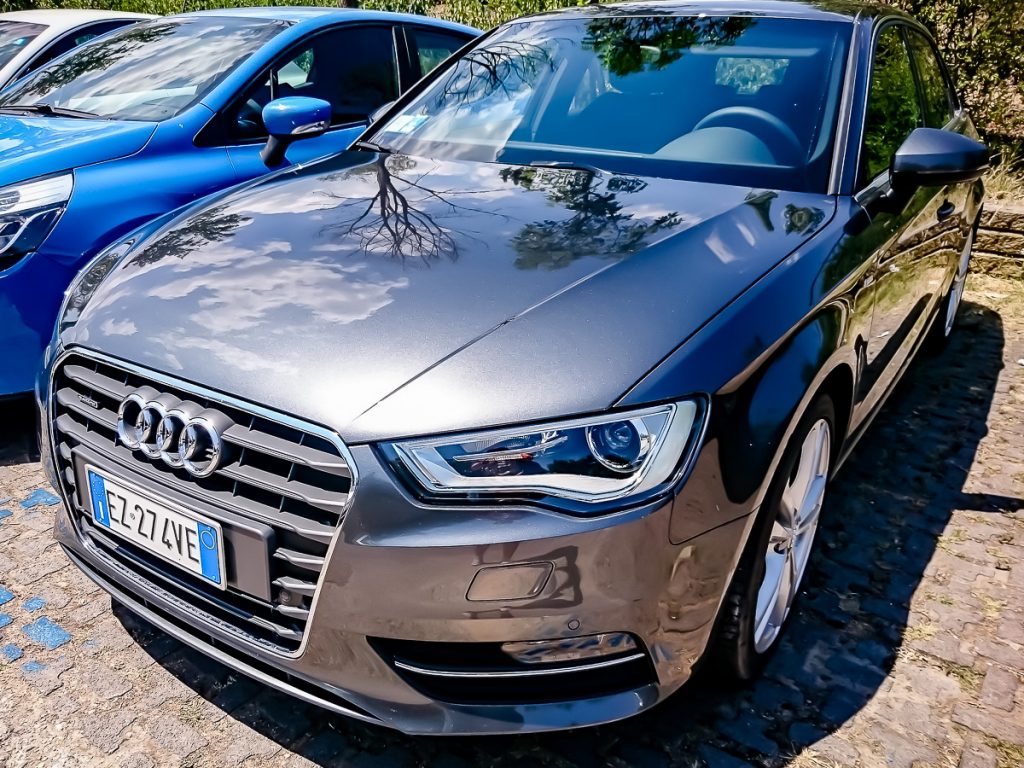 I had requested an automatic Fiat 500. It seemed like a "must" in Italy hihi. (I like it a lot!)
They gave me an Audi A3 because they didn't have a Fiat. At the same price. Well, thanks a million, what can I say. Because I like it. Next time I'll take it with a driver too, so I can taste some wine…
THE FRENCH RIVIERA AND PROVENCE
Of all the trips during which I rented a car, the most terrible one was the vacation on the Cote d'Azur and Provence! No, the vacation wasn't terrible, I was unimaginably stupid J).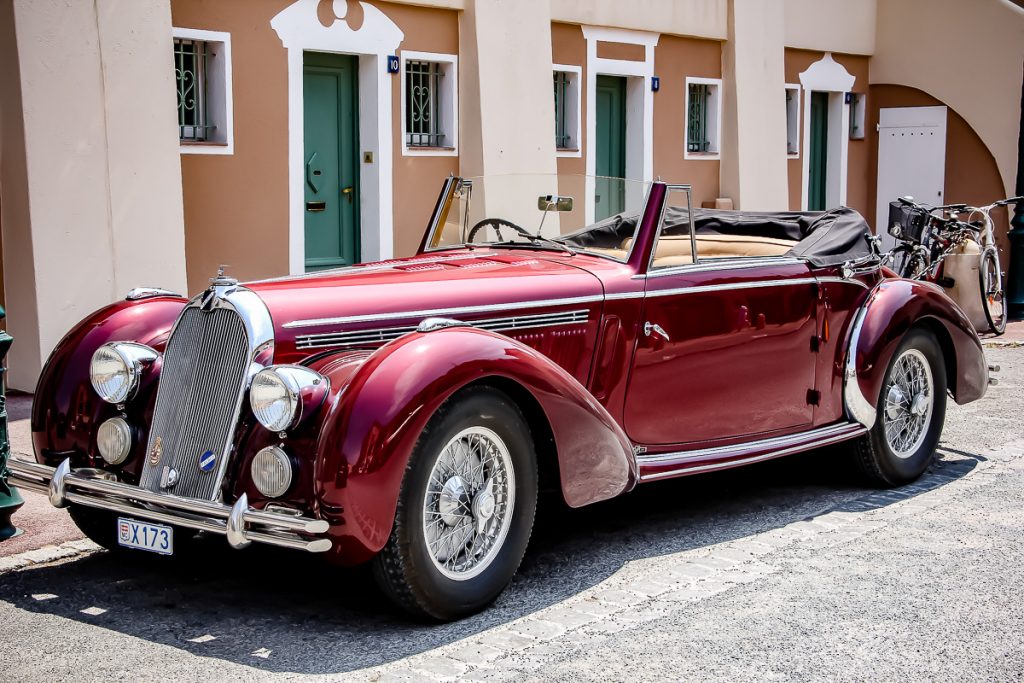 Oh, no, that's not the car I rented, but I couldn't help… I had to show it to you.
It's the kind of car in which a man could impress anyone! Even a mermaid!
Unfortunately, the owner was not around, as I was very curious to see his face. And his age. And the bank account J).
My car was this: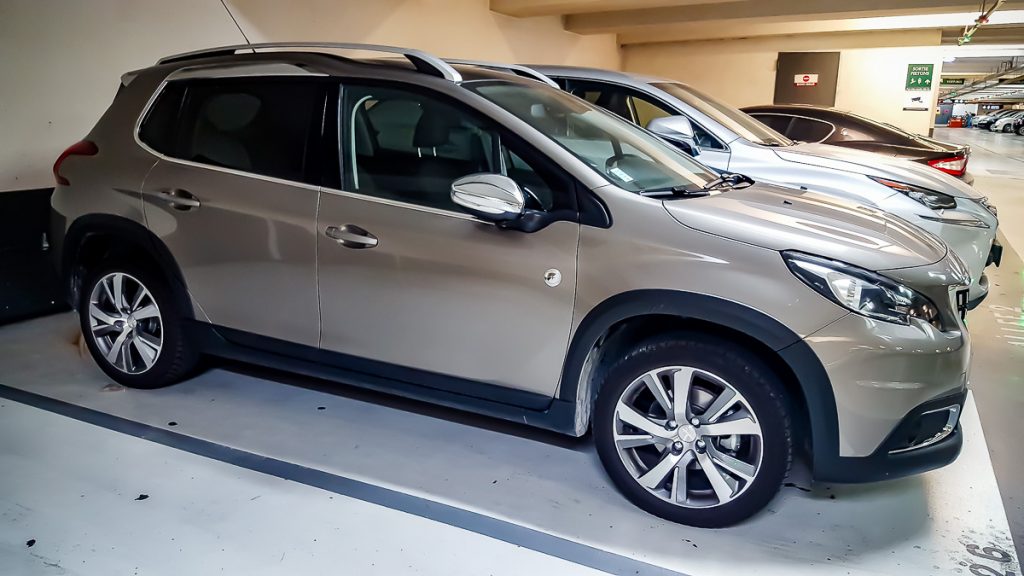 A very new 2008 Peugeot, a squeaky car, that was my friend for 2 weeks. I was less of a friend for it…
I drove around the coast, I traveled from Nice to Provence and back, via Saint Tropez, BUT I was terribly stressed. Each trip was like an exam to be passed! I was so focused not to make any mistake on the streets that the gps told me about, not to lose any traffic signs, not to miss any exit, that, when I arrived at my destination, every muscle I had was in pain!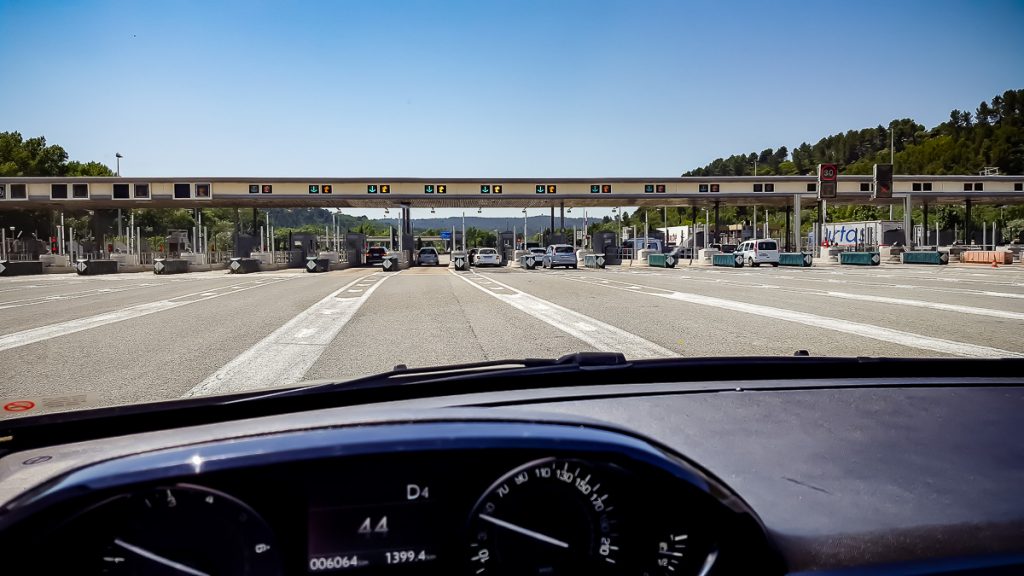 Not to mention how stressed I was at pay-points for the highway sections. Either cash or a card, no matter if you threw the coins in a kind of funnel or put them in the coin machine, you'd think I was taking a driving exam and that was an eliminatory test…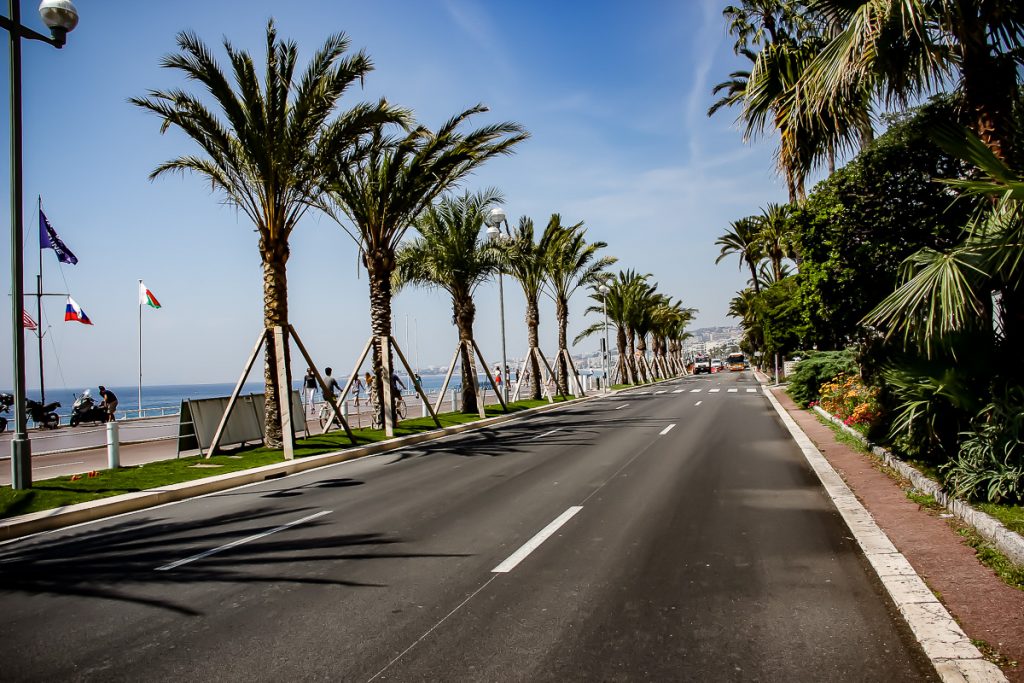 However, no one assaulted me in traffic, no one hurried me in intersections where I was trying to find the right exit, I did not meet anyone to cut my way. And no speedsters. (Large fines will also play a role in this, I guess…)
Once, in Aix en Provence, I saw some pedestrians gesturing and shouting desperately. To me!
I was driving on an one way street. The other way!!! Such an unimportant thing hihi. And they, benevolent, were trying to get me on the right track.
I felt like leaving the car in the middle of the road, no matter where. I would have gone in any of the above vehicles, just to forget about the stress of driving.
You will say that I am crazy, but one day I abandoned the car in the parking lot, paying 60 euros for that! Moreover, I booked a guided tour that day, just to relax and enjoy what I see in Provence.
But the greatest thing (read "stupid", please) is just coming…
NICE
I was returning to Nice, where I had a hotel reservation, after the first day of driving around, through the beautiful cities on the Cote d'Azur and its surroundings. I was looking for a parking lot where I could leave the car overnight.
The Parking sign appears in the distance. That's good! And how simple. I drive quietly in that direction. And I drive, and I drive, on a rather narrow road, in my opinion.
I see some pedestrians turning their heads after me. I think something must be wrong. But I move on. Not much, because, just a few tens of meters farther, I see that I was driving on the bike path! J)) My Goodness! How can this be?!?!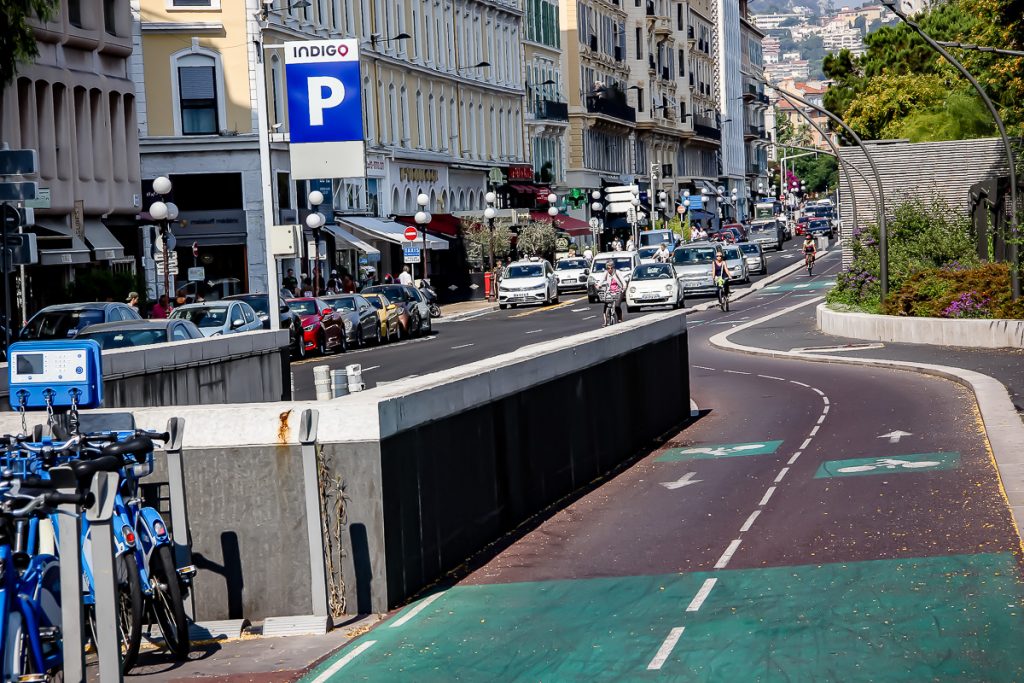 How did I understand this? Well, the road narrowed and, in front of me, the asphalt was growing! Which told me that the parking lot entrance was somewhere else. And the drawings with cyclists I saw on the asphalt in front of the car looked somehow suspicious to me hihihi.
Man, you should have seen me, in reverse on the bike path, to the amazement of the pedestrians. (I don't even want to think about what they said…)
CONCLUSION
Seriously, I'm really stressed when driving outside. (Maybe because I only drove alone.)
Otherwise, I swear I am a very good driver. I can drive even with my eyes closed: