Crazy traveler that I am, I have been to London 25 times, 14 times to Paris, 13 times to Rome, 7 times to Madrid and as many times to Florence (and the list goes on), and that has helped me to notice how, over the years, the world has been filled with tourists.
Whether it is thanks to the emergence of new routes or thanks to low cost airlines, whether it is from the opening of borders or simply because the desire of people to see the world, it is certain that cities where I used to walk freely many years ago, have become places where you can no longer throw a needle!
I don't know about you, but I, as a tourist, have always dreamed of seeing famous places all over the world without a big world, without having to wait in infernal queues at all the tourist objectives.
There you go, my wish came true… The pandemic suddenly emptied all these wonderful places.
LA VIE EN (MASQUE) ROSE…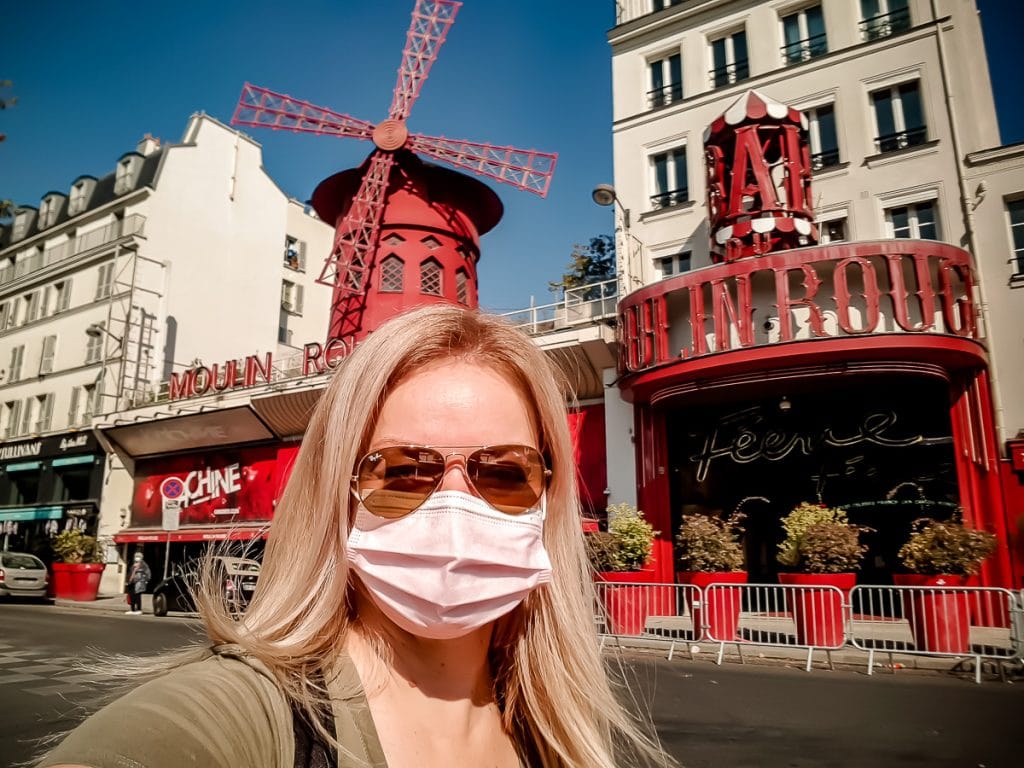 After 4 canceled vacations this year, I decided to simply escape to one of the very few destinations where you can get freely, without having to have a test done, without quarantine, without God knows what other measures. Only wearing a mask. PARIS!
It's shocking… I swear! I went through very contradictory feelings during all the 3 days and a few hours that I spent there. On the one hand, I wanted to shout joyfully because I was walking through a famous city without waves of tourists; on the other hand, I was frightened by the lack of tourists.
PARIS DURING THE PANDEMIC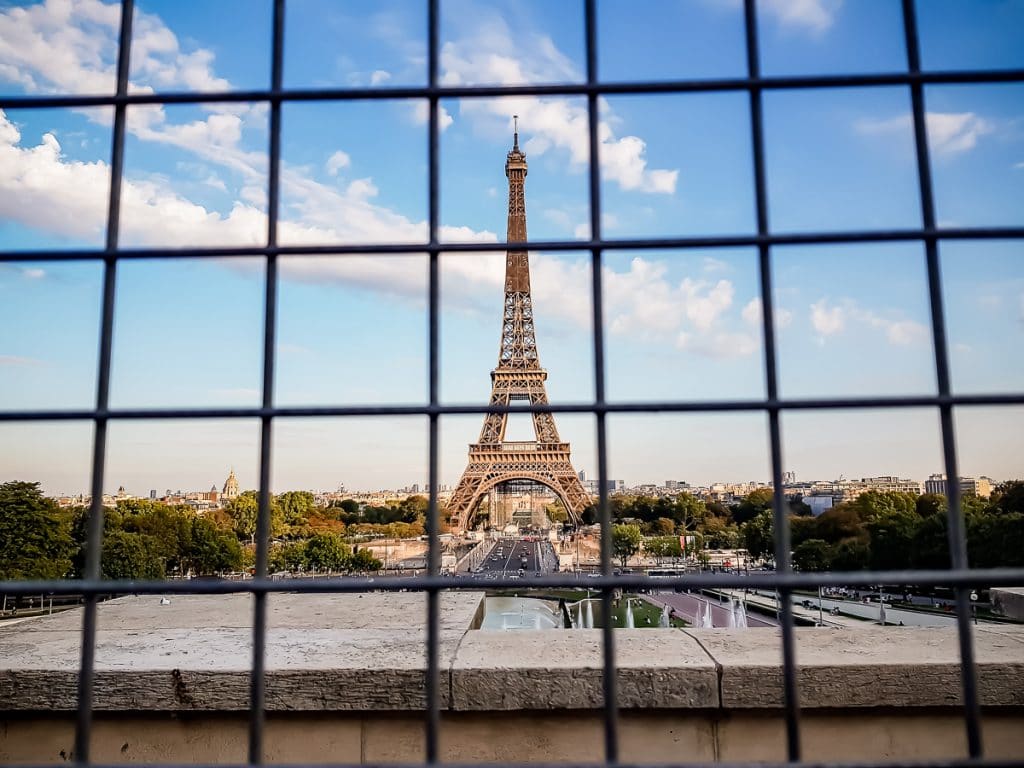 I have a reference for comparison, after the many visits I made to Paris as a tourist. So I quickly notice the differences between now and… the past. On top of that, the last time I was here was on New Year's Eve, so only 9 months ago. And the time before that, in the summer of 2019.
First of all, now, to enter France is no longer like a piece of… cheese, even if it's Camembert. There is a document that you fill in while still in the plane, with all the information about you, where you can be found, who can find you quickly, things like these…
In the city, I come across a world with masks. Both inside and also in the streets. Everyone, but absolutely everyone has a mask that they wear by the book. I haven't even seen anyone with a mask on his chin or on his arm. Well, there are some fines involved…
In the subway, I hear repeatedly that, if they catch you without a mask or wearing it incorrectly, you have to take 135 euros out of your pocket.
Unaccustomed to wear the mask for so many hours, I pay to get rid of it. No, I don't pay fines, but I stop from time to time at one of the terraces, to drink something. A mouthful of air costs…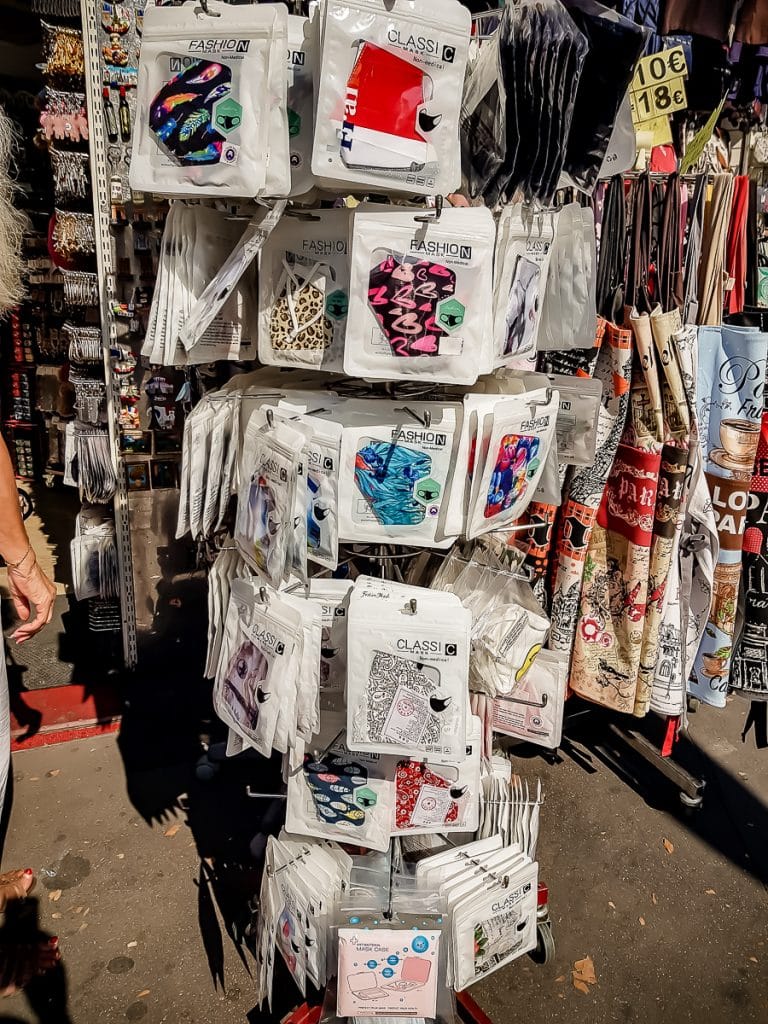 I was sure I would see an explosion of masks for sale on every street corner. I thought that people who usually sell Eiffel Tower key chains, bottles of water or umbrellas, will now have dozens of mask models on their rug. No way! No "black market" masks.
Instead, I saw some in a few stores. In supermarkets and small souvenir shops or in neighborhood shops, but also in the shops of some designers. Or even in the Disney store.
I also came across some Chinese merchandise, but I'm already the Queen of Made in China masks J, so I said "no, thanks".
And, since I'm still in the "merchandise" chapter, you should know that I haven't seen anything cheaper in Paris. No pandemic offer. Prices froze to the level I knew. From magnets to whatever you may want.
At any entrance, whether it is a shop, a tourist attraction, a post office or a restaurant, there is disinfectant. Moreover, there are shops where one of the employees greets you at the entrance and gives you the disinfectant himself. (If he had given me a small palm massage, I would have bought the whole store J)
There is also disinfectant in public transportation stops. And at the entrance of the parks.
As I walked (quite a lot), I disinfected my hands very often…
And the hotel I stayed in took security measures. Upon arrival, in addition to shower gel and shampoo, I also received a bottle of disinfectant. And on the door of my room a cardboard informs me that I can enter without fear, because they cleaned and disinfected the room "according to the hygiene rules in force, related to COVID-19".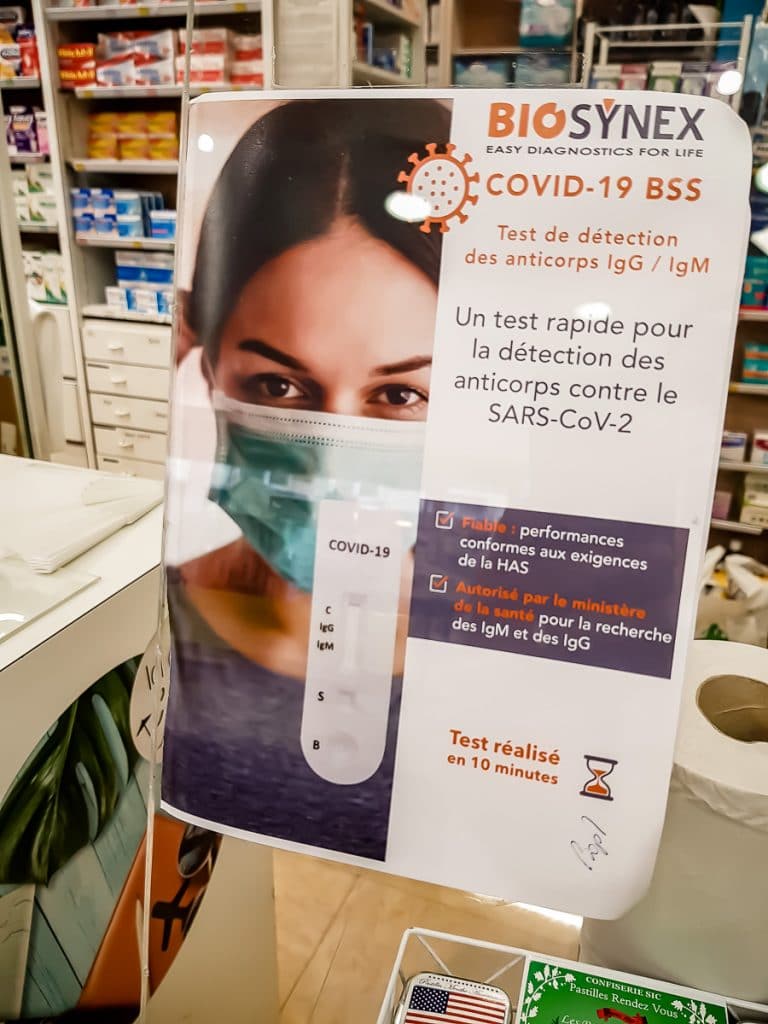 Since you are in this COVID soup, you can take 20 euros out of your pocket and, in a pharmacy on your way, you can do a fast test to see if you have antibodies, so that you can fully enjoy the holidays. Or not…
I don't take the test. Who knows what they may discover??
At the entrance to the subway, the wave of masked passengers comes towards me. Without exception, everyone wears a mask.
I'm ready too. Even with gloves! But I avoid touching the door, the chair, the bars, so I don't use them. I would be the only one doing so.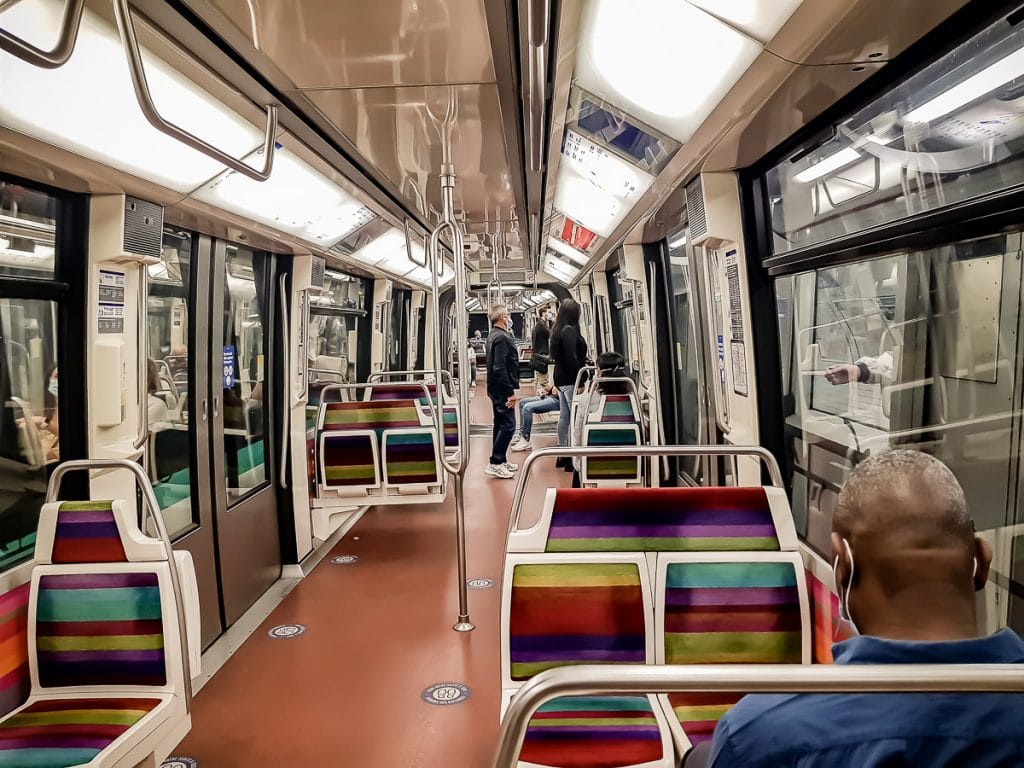 The hustle and bustle of tourists is missing from the subway. Their joy is missing too. And the shopping bags are missing… It's so weird! I am in the middle of some French workers, silent, full of worries, who go to work. No group of Chinese tourists, no noisy Americans, no Russians who brag about what they bought, piling between them all the bags with the new acquisitions. Not even an accordionist (a Romanian one…) who plays his instrument inside the subway to make some honest money.
Thieves? Not even one! Well, they have lost the "object" of their work: "the tourist" is missing. So it is in vain that we are constantly warned to pay attention to goods because it is possible to have some pickpockets in the subway. Stop the message.
I take out the subway map to look at a route. Oops, they understood I am not a local. Is it me or they really look at me like I am some strange creature? It doesn't matter. It only matters that I am again in my most desired situation: that of TOURIST! Yey!!! Let me make the most of it!
CHAMPS-ÉLYSÉES DURING THE PANDEMIC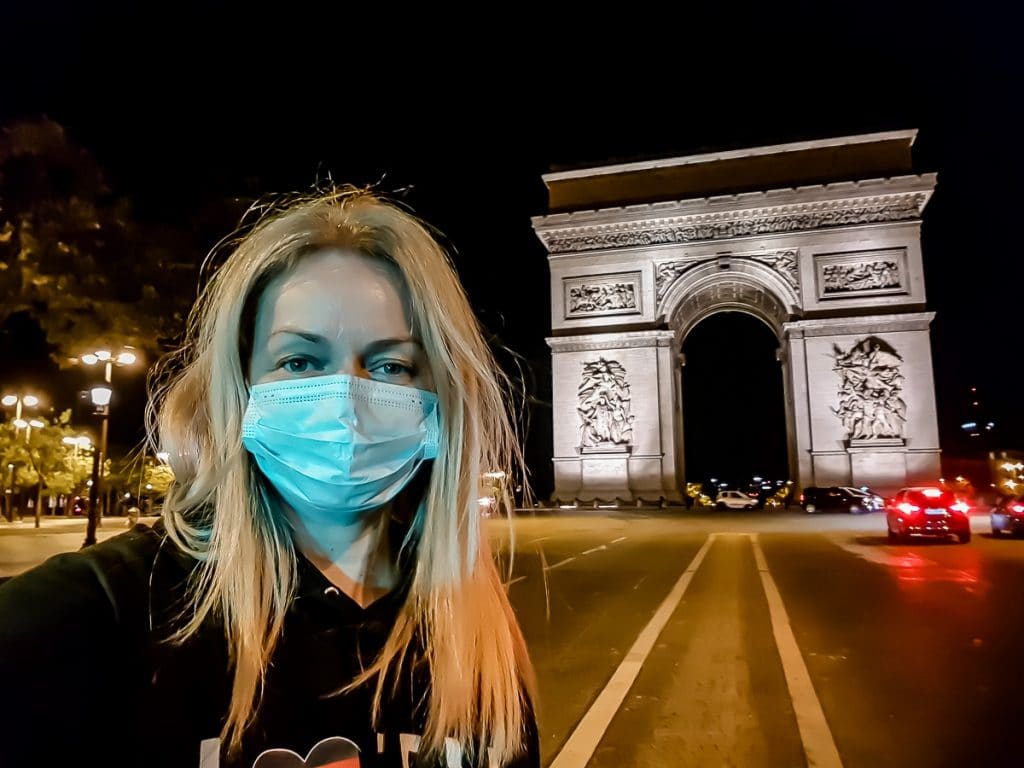 Like 9 months ago, I arrived in Paris at night.
Now, in the fall of 2020, you don't have to wait on the Champs-Élysées to take a "clean" picture of the Arc de Triomphe. You can do as many as you want, quietly, in the middle of the street.
Well, where is the usual crowd?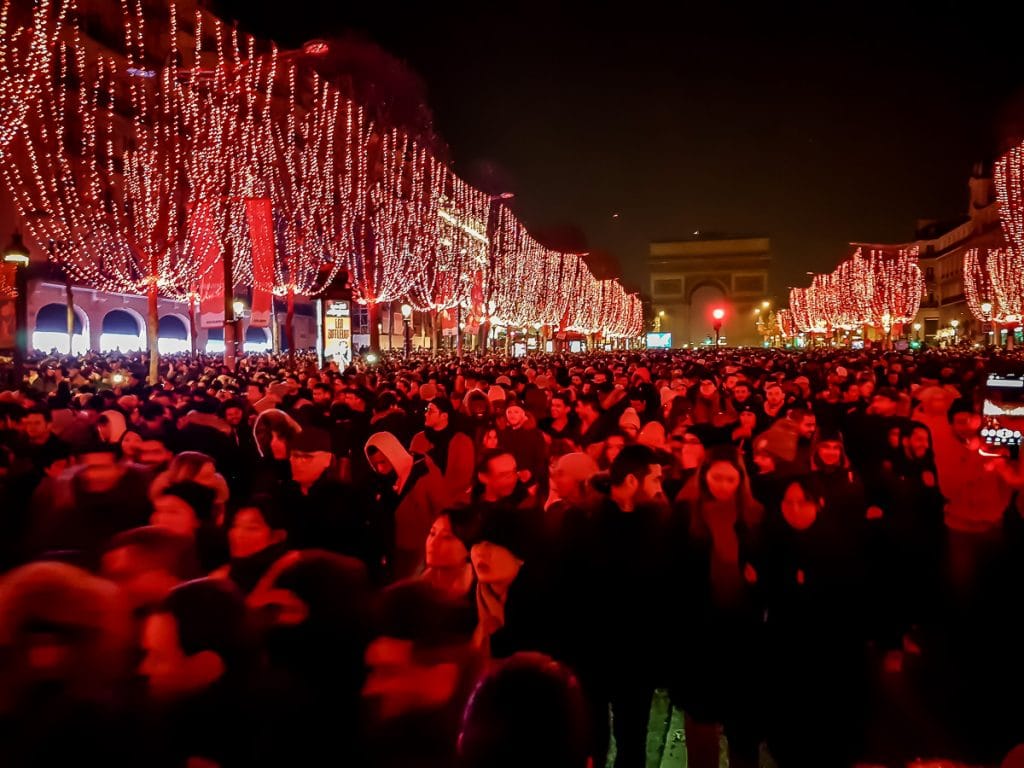 Every time I came on the Champs-Élysées, whether it was in the morning or in the evening, I couldn't help but notice the effects of the pandemic.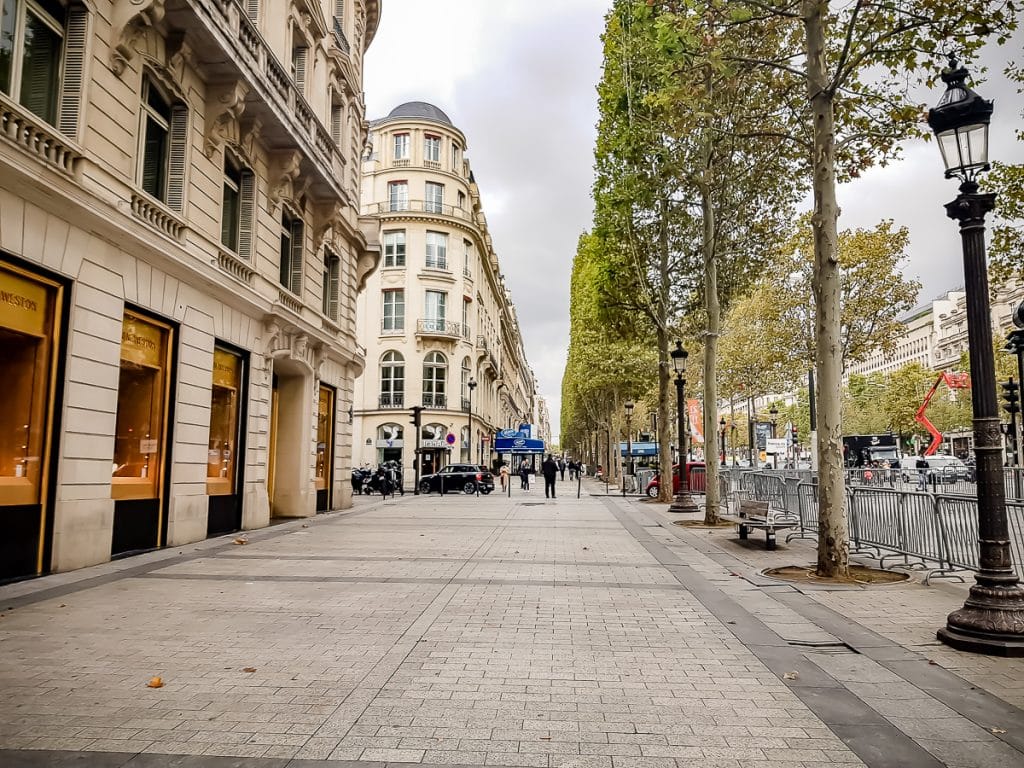 There are fewer, a lot fewer people on the boulevard. And people are in a hurry, they look preoccupied, they are not people in a holiday mood…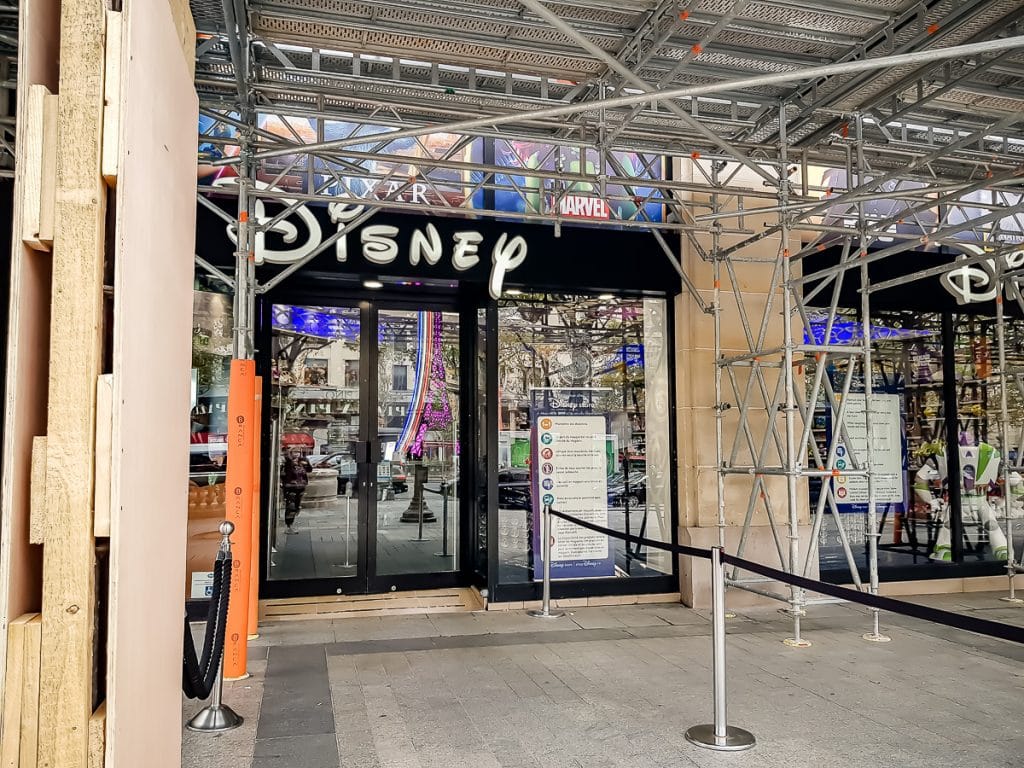 No queue at the Disney store! What?!
I went in and found 2-3 families with children. And I think that, if I looked more at the products, I could have found some offers left over from Easter J.
The famous Ladurée (with the famous macaroons) where, during recent years, I have never managed to take a seat for a snobbish breakfast, is now deserted.
…but I didn't go in today either, choosing a frugal breakfast.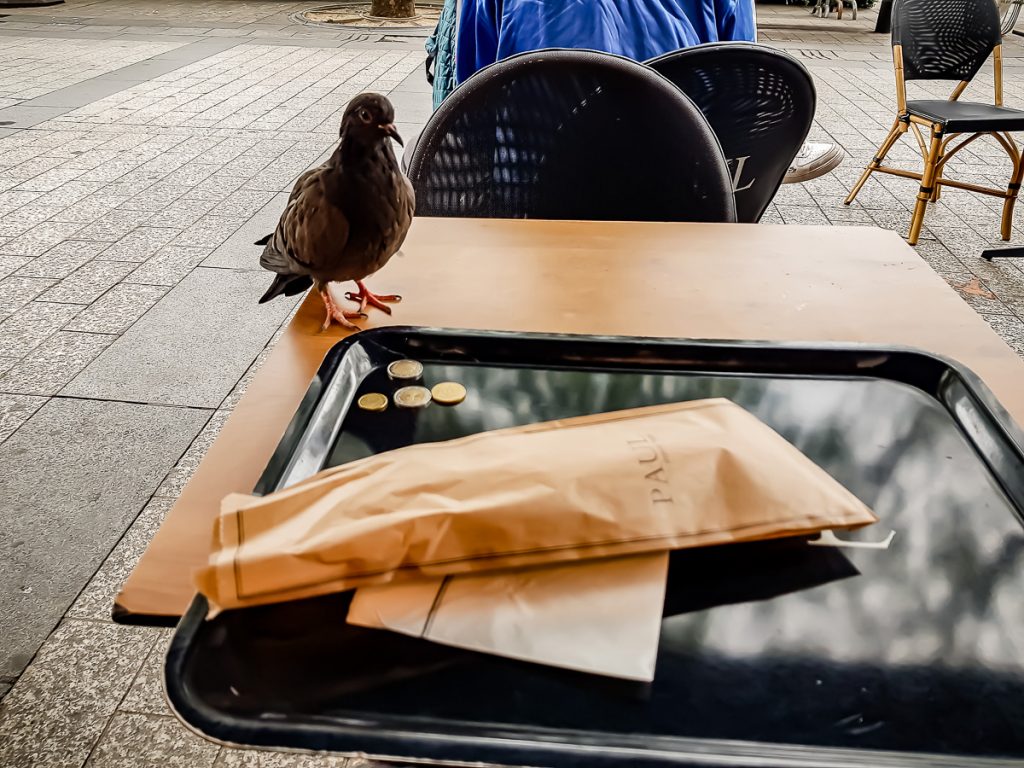 You, dear pigeon, haven't you heard of social distancing??
Okay, so be it, we can share breakfast, then go away, because I've heard of bird flu too…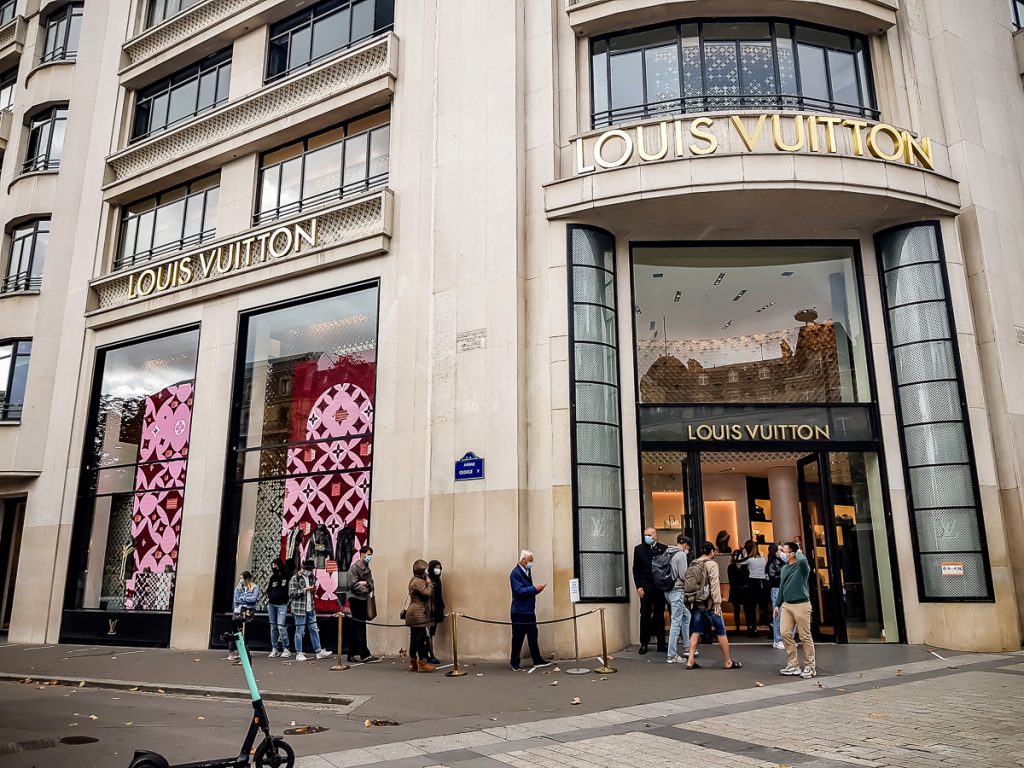 The pandemic can also be seen on the corner, at Louis Vuitton. If you've ever been here, you couldn't miss the shocking long queue, 90% of it being Asians who were patiently waiting to go in, to buy whatever their heart desired (as they could afford it).
This street corner that has always caught the attention of passers-by is now depressed. This is their peak time (as I have seen even worse).
And this is what it looked like in better times: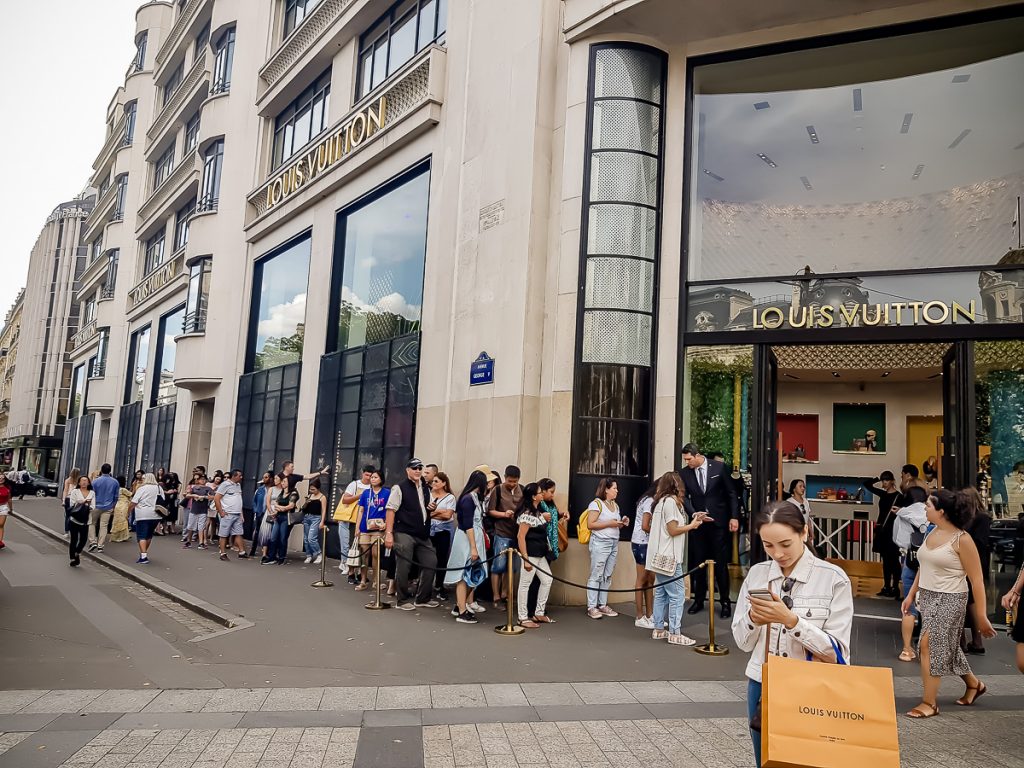 ARCH OF TRIUMPH DURING THE PANDEMIC
Since I'm on the Champs-Élysées, let's go up the Arc de Triomphe, I told myself. That was never among the priorities.
I could sing in this tunnel, considering I'm the only one crossing it… Or I could go sledding!
This is the access passage to the Arch.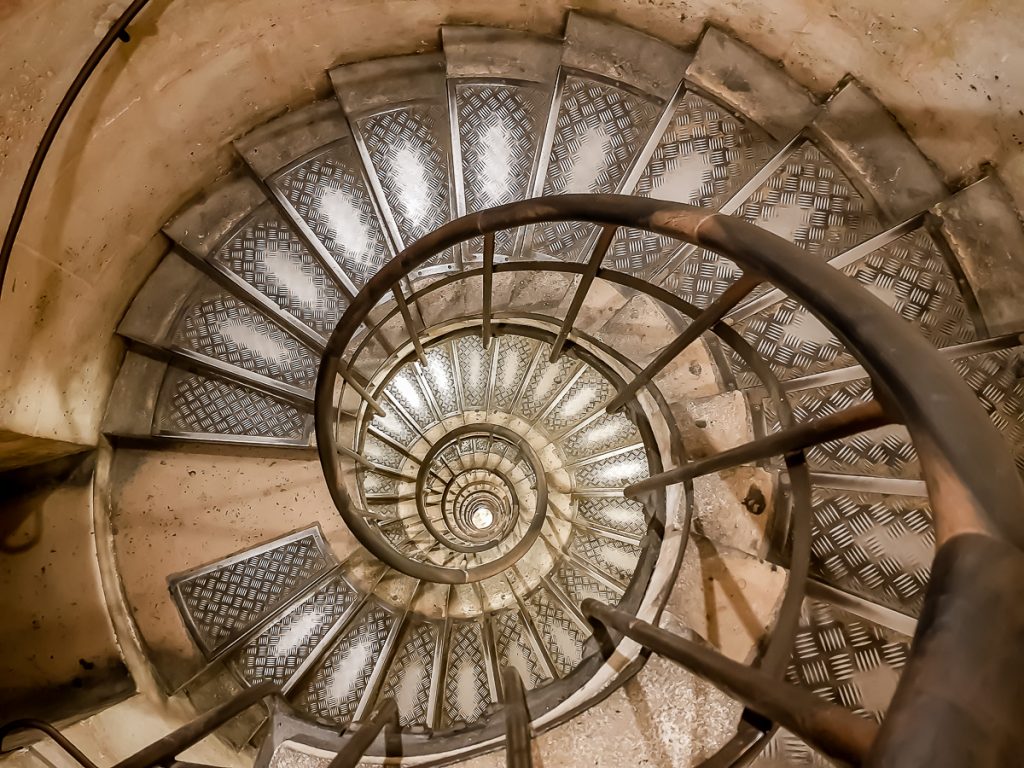 I'm like a snail climbing this snail-like ladder… Wearing a mask, this is a horror-climb!
Luckily no one catches me from behind, so that I feel bad that I have to stop from time to time to catch my breath…
I feel the need to take off the mask as soon as I get outside, up on the Arch, to take two mouthfuls of cold air… "Mask on, please!" – I hear immediately. Ooops, he caught me. He is the place supervisor who, for the time being, only supervises me and two other Spanish tourists.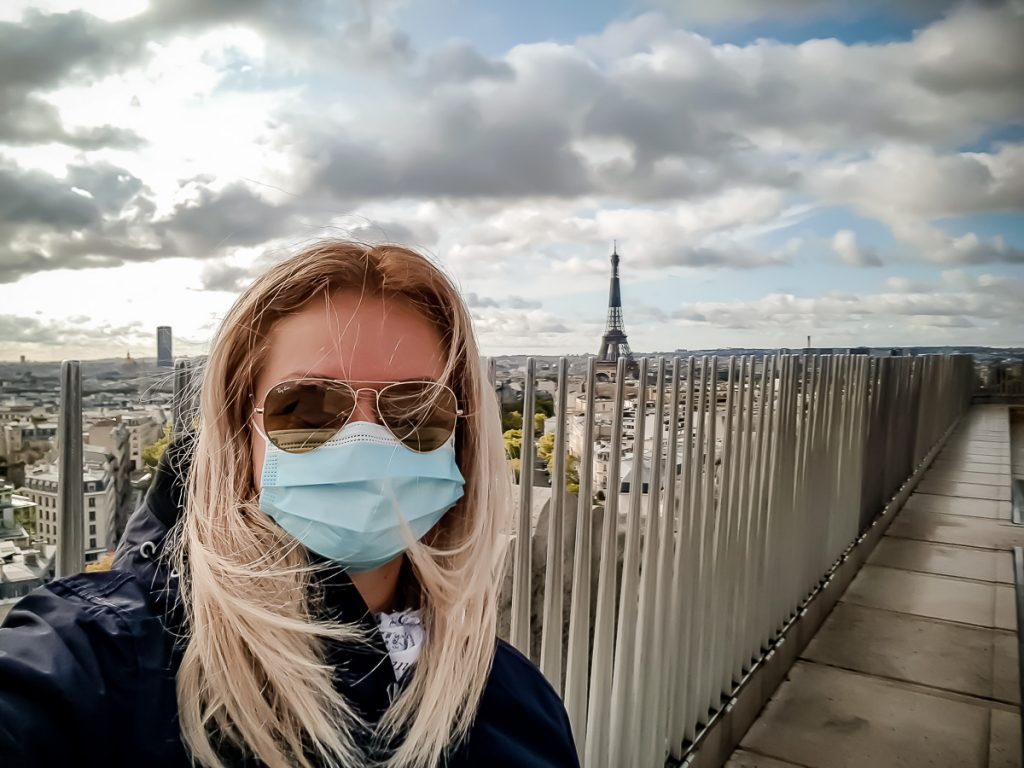 There are 284 steps, the man tells me, after I befriend him. I counted 274, but I cannot guarantee for the accuracy of my figure, in all that dizziness of climbing.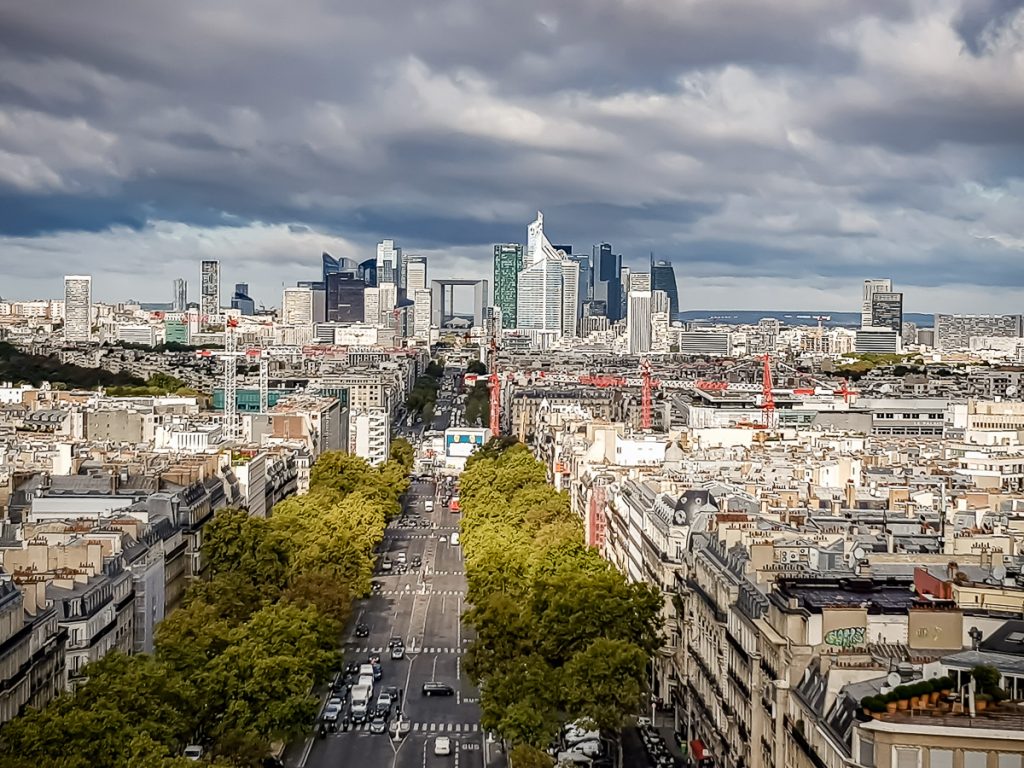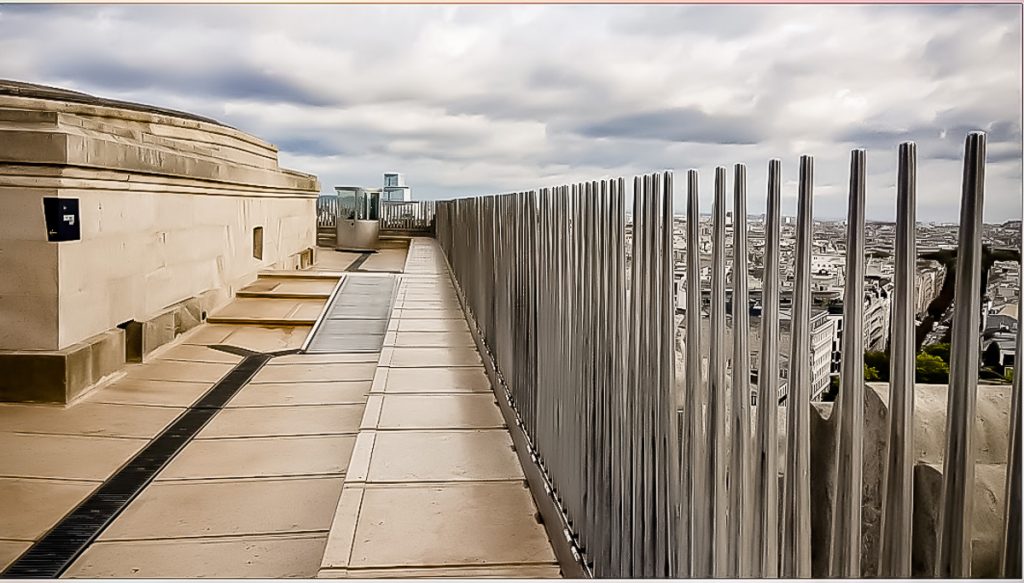 I photograph the city from all sides, but I can't help but photograph the place on the Arch where, normally, it is full of tourists taking pictures of themselves and staring at Paris from above. Now – no one is here…
A terrible wind starts blowing, man… And it's not just here, I can feel it down too, under the Arch.
WALKING THROUGH PARIS
I walked aimlessly, for tens of kilometers, going through places that were familiar to me, but also getting lost on unknown streets.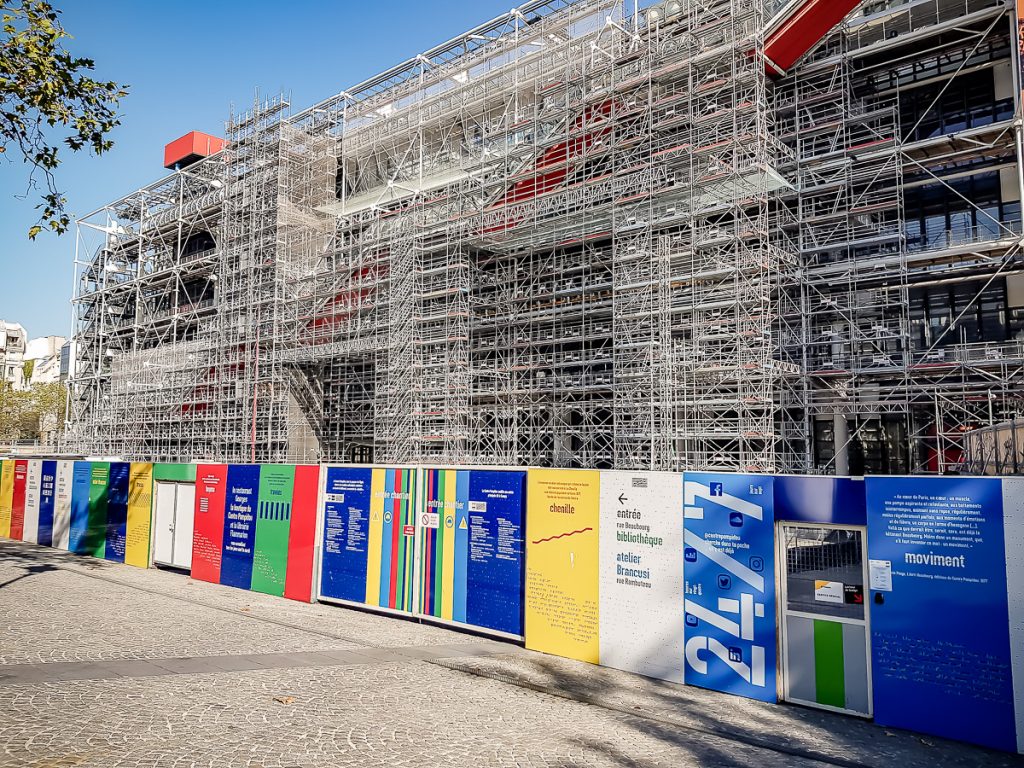 The Centre Pompidou for Modern and Contemporary Art seems to be taking advantage of this period to "heal" its wounds. Gone are the tourists who used to sit here, on the asphalt, talking, eating a sandwich or watching a street show.
Hôtel de Ville in the heart of the city, always a place full of ideas like an ice rink – during winter – or a sand volleyball court – in summer, now mourns its loneliness…
I hear the trotting of horses and I get startled. It's the mounted police, but only the horses can be heard on the boulevard, as if the cars have evaporated for the time being. But I can see the long string of bicycles for rent. Or rather, for parking…
And the Seine also imposed the social distancing for the couples in love…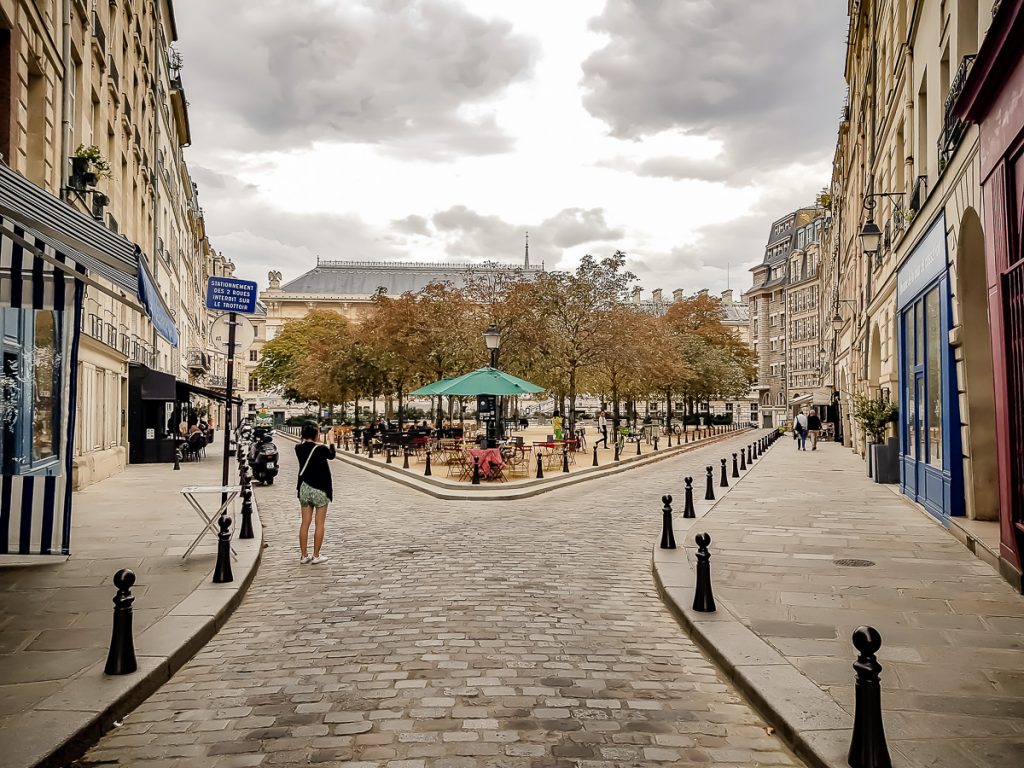 Wait! Is it right what I see??? An Asian woman takes pictures at the end of the Ile de la Cité! She's the first (and the last) Asian I see these days in Paris. The rest are a few Spanish tourists, a couple who speak the language of Arabela and Rumburak and some French people.
The first day is over. The evening comes with a delicious beef steak, on the rich style, and with an image of the Eiffel Tower perfect for a postcard.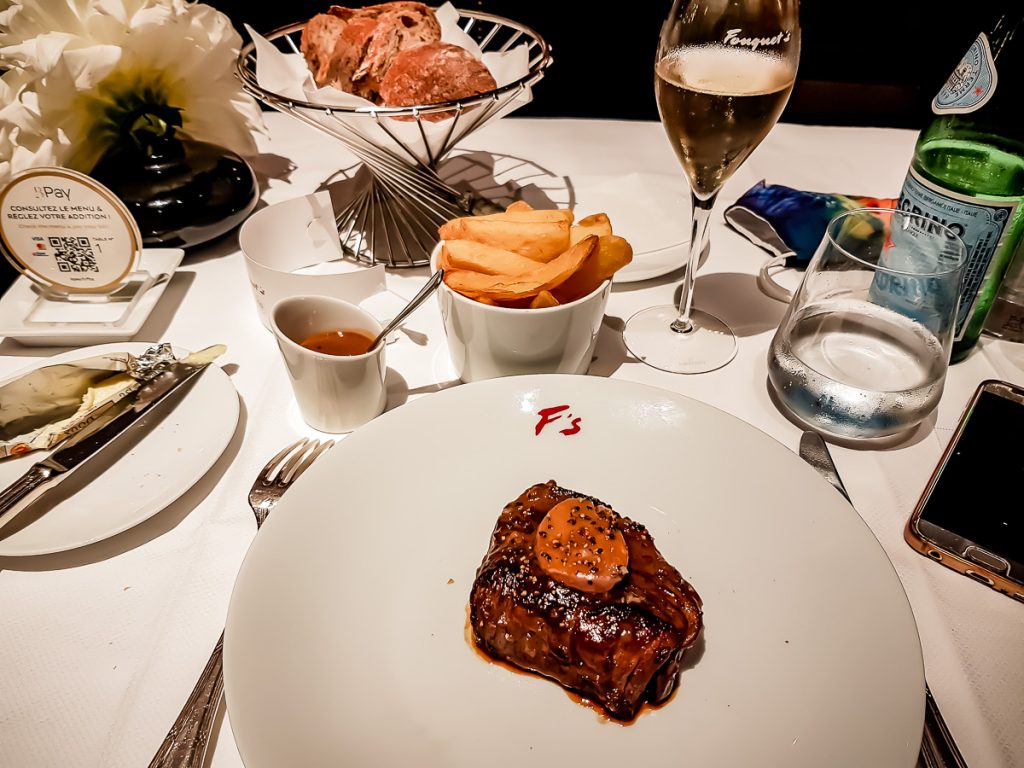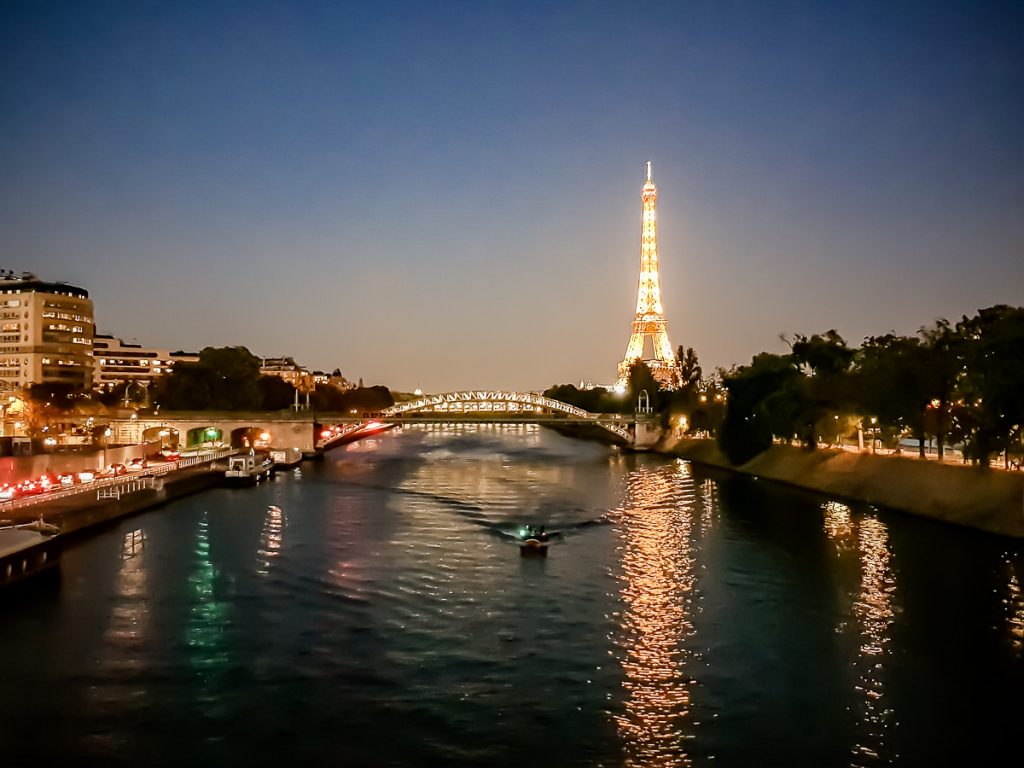 MONTMARTRE DURING THE PANDEMIC
I take advantage of a sunny day and go to a place where, every time, I walk a lot: to Montmartre.
Once out of the subway, I go to the Wall of Love, the wall on which there are over 1,500 declarations of love in all languages ​​(in total, here are 311 "I love you", written in 280 languages!). Let me see: can you find it in your language?…
I had to wait for a while last summer, so I could take a picture without people there. Now, the place is deserted.
Two homeless people seem bothered by me, the only being disturbing their peace in the wall area. I take pictures and let them enjoy the emptiness here…
I eat an omelet with ham, some delicious French baguette and then I take it to the Sacré Coeur.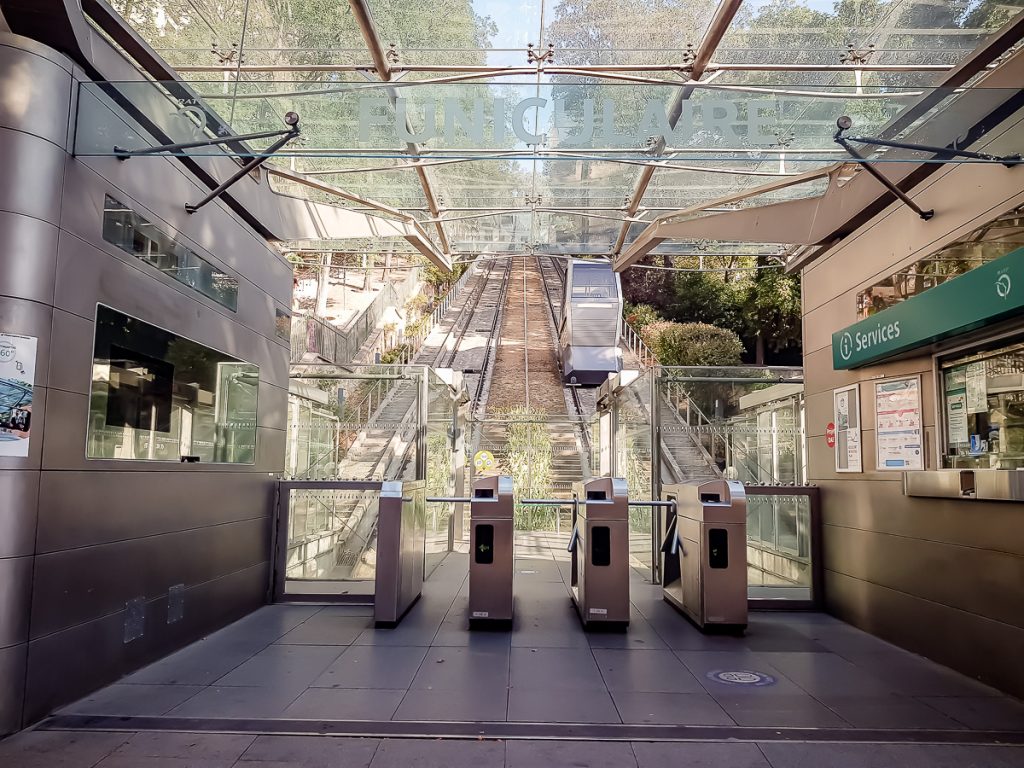 I wouldn't have climbed the stairs up the hill, no way. I went to the funicular, although, in the first instance, I thought it was closed.
The fact that I had the whole cabin just for me was sensational! It was as if I was on a private visit.
What amused me was the announcement that drew my attention to the existence of thieves. They said I should be careful.
I don't know how to describe the feeling I have, once I reach the stairs of the Sacré Coeur. It is as if, during Ceausescu's time, they brought meat in the "Alimentara" market and the whole planet fled there! J
Or that France and China are playing a match in the World Cup Final.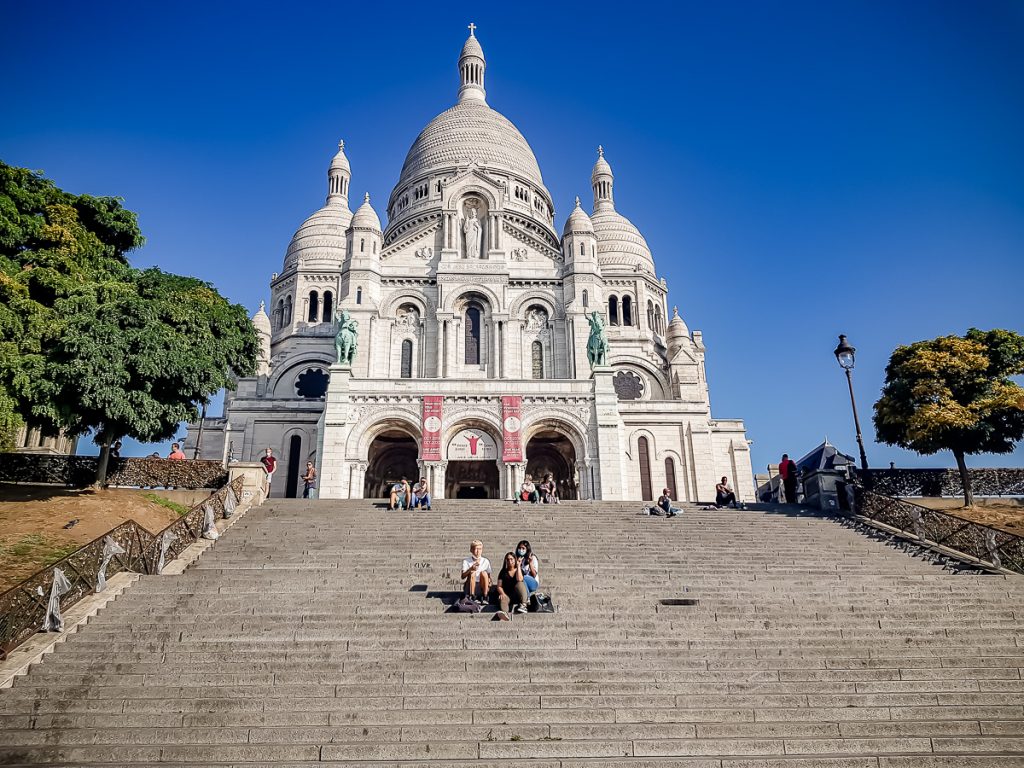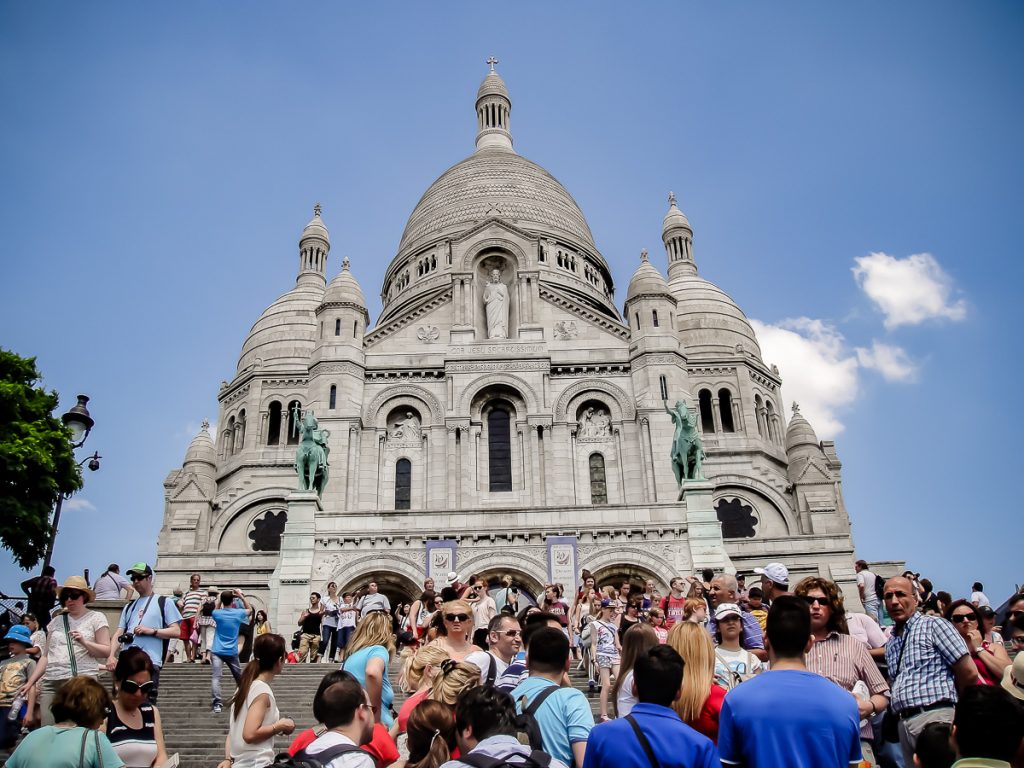 There are so few people and so much peace here!!! A delight!
I remember summers when I could barely take a picture without a lot of people behind me: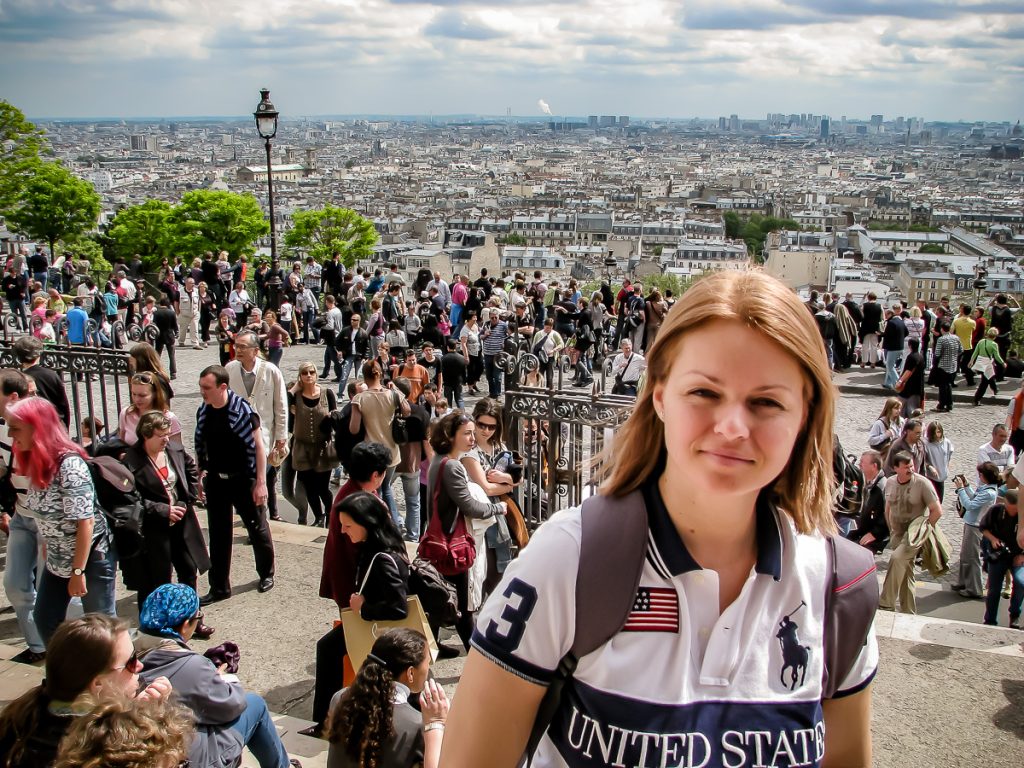 (Note: pictures like this are not good at all, as they remind you of times when you were much younger and slimmer…)
Now there are no tourists, no singers, no photos. I'm not even beginning to talk about beggars!
I've been here so many times, but only now, when I'm not trying to cut a path among the people, when I'm not waiting in line to enter the church, I have time to see some details:
The streets leading to the famous square with painters (during the recent years full of terraces too) are almost deserted. I don't even know if the few people I meet are locals, French people who take advantage of the lack of tourists or lost travelers, just like me.
I enter the first souvenir shop I see open, after a long series of shops that are closed. There is no one in it. Neither is the sales person, who appears from across the street, a sign that I am something unexpected for him…
I buy a 10 Euros souvenir. He cannot give me the change for 20, because… he has no cash.
I ask him if any tourists come during this period.
He puts his hand up making the sign of "zero" with his fingers and he strengthens this with words, pressed: ZE-RO!
He tells me that it is terrible and that he is more tired now, when he does nothing, than during the periods when tourists were all over the place.
Now, no Chinese can be seen anywhere – he continues, and no other tourist either, for that matter. Except for me, of course… But I am absolutely negligible for his needs.
While filming the empty square, a painter greets me and he asks me if I want him to draw my portrait. Then another one… A few steps further, yet another asks the same. Oh, what a sad picture, really!
These people put their little creations on some pedestals, hoping that today will be a better day than the many bad days they've had so far. And they literally clings to each and every person who seems foreign to the place, to offer a portrait.
I take the deserted street, once suffocating, and I stop at a souvenir shop.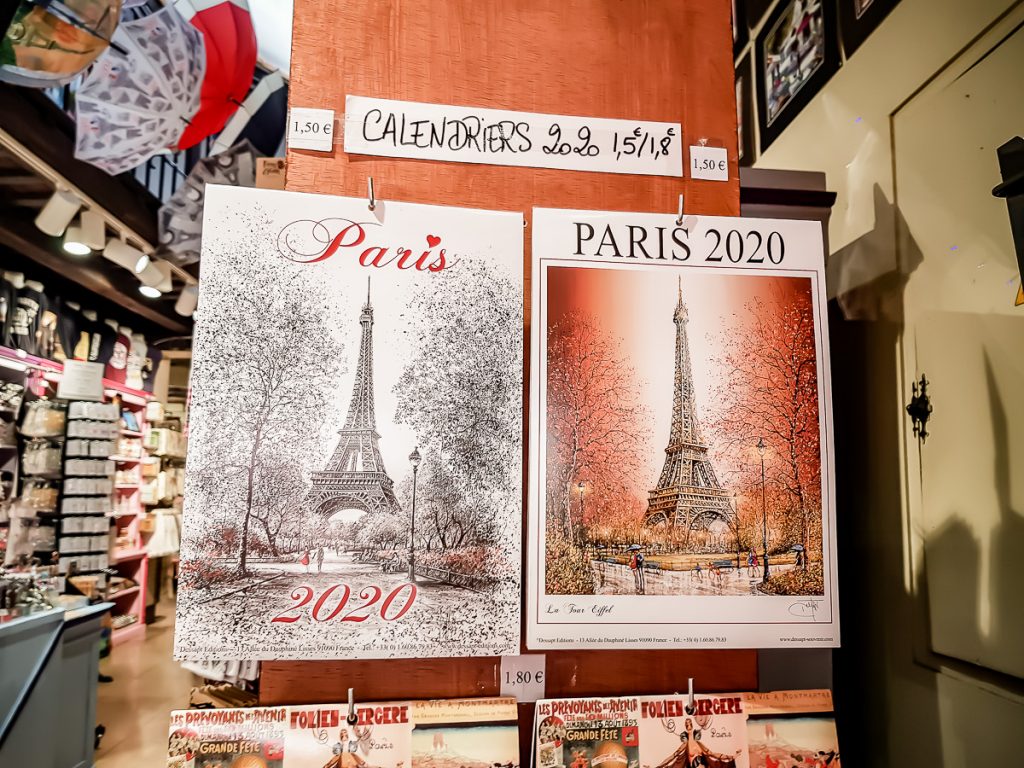 The calendars for 2020, unsold at the right time, due to the pandemic, are now at a very small price – between 1.5 and 1.8 euros!
They've almost expired since they have been lying here. (The truth is that since July you can find in the tourist cities calendars for the next year. You can never find calendars for the current year, in the middle of the autumn.)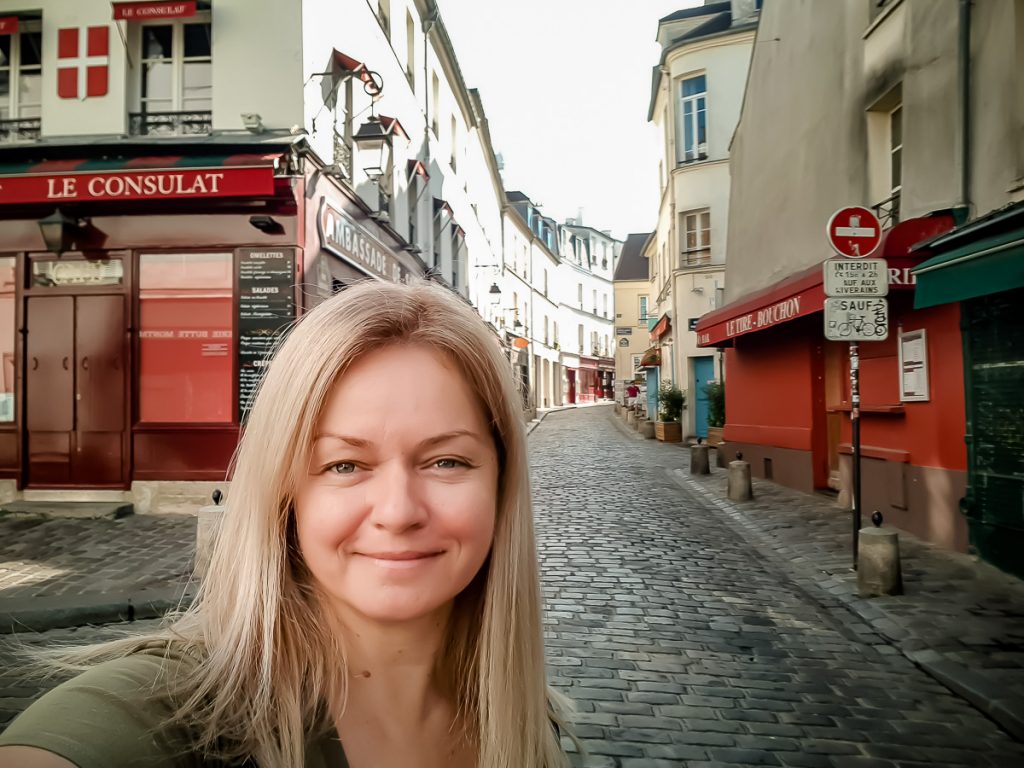 Okay, okay, you can call me "The monster that ate the tourists." That's what I look like!
Now, really, when have you ever seen this street in Montmartre empty of any beings (cats seem to have evaporated too)?!? I have many pictures here, in the crowd. That's why this one really needs to be framed!
In my defense, I have to tell you that I have met some people too. It's true, I felt like I was in another dimension – the perfect thing for this desolate Paris. People in clothes from the '50s (I think) walk in the streets, buy items from a bazaar and talk to each other.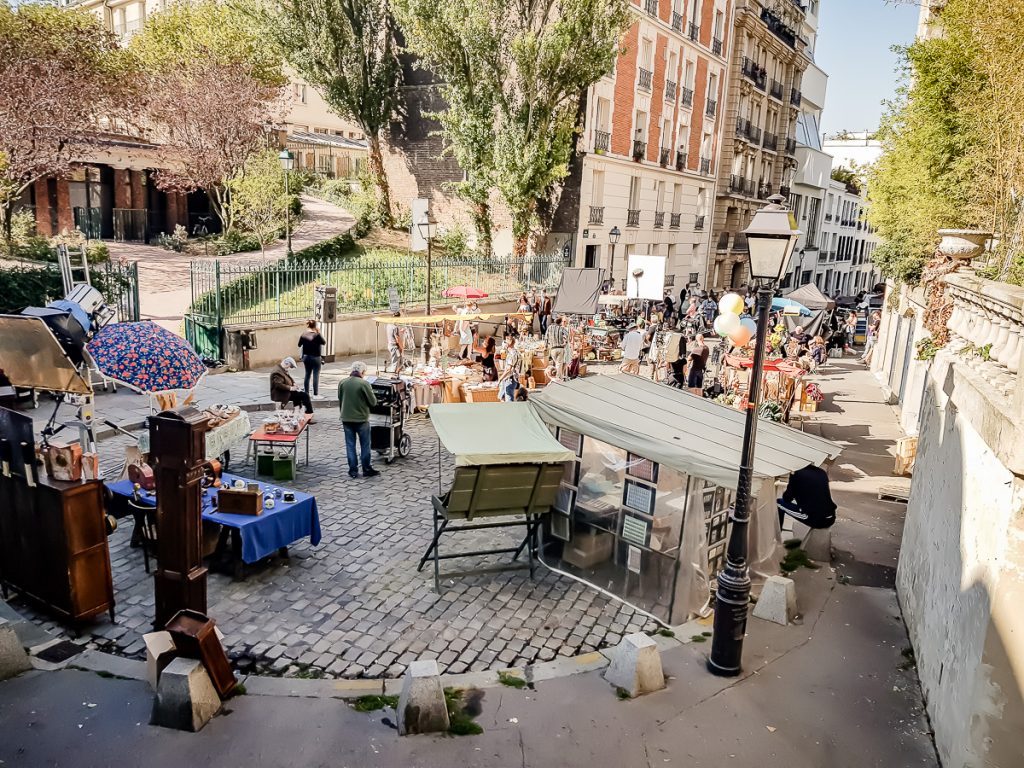 This is being filmed. A French film, I'd say, considering that all the indications shouted by the team are in French. I sit there and I look, along with the locals.
EIFFEL TOWER DURING THE PANDEMIC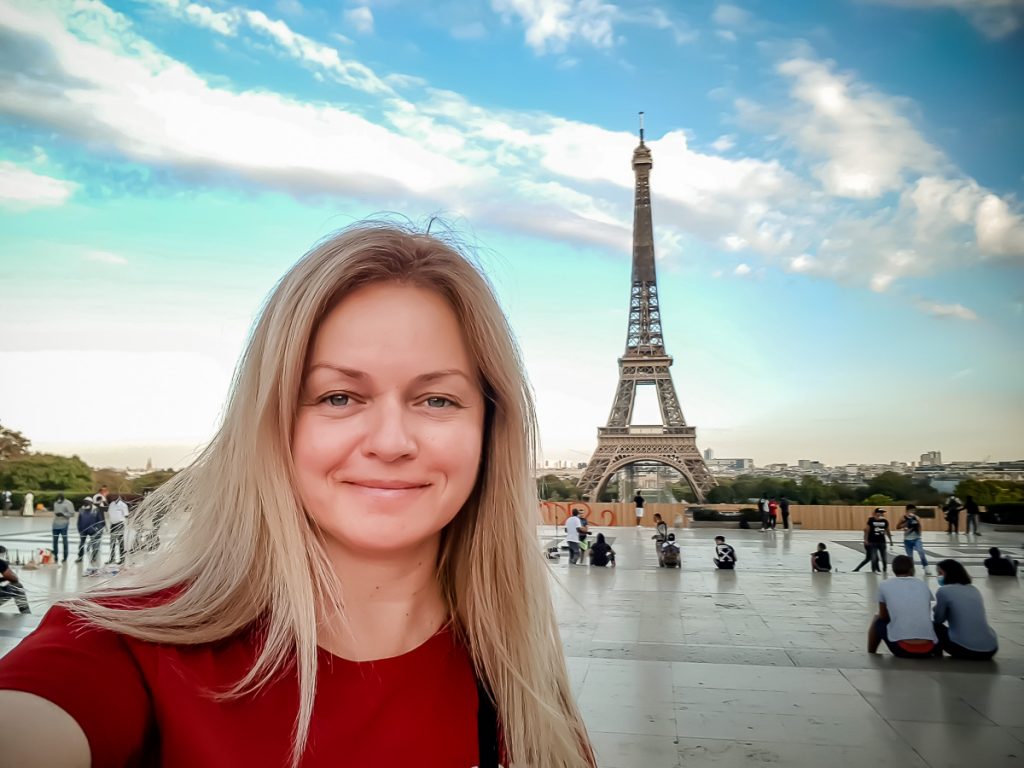 If it's Paris, it has to be the Eiffel Tower!!! I can't help but greet it, as I always do. (I will tell you in a not very distant future about my obsession with taking pictures in this place…)
Here, at Trocadero, where you have one of the most beautiful views of the Eiffel Tower, I quickly take off my mask, taking advantage of the amazing reality of autumn 2020: very few people!
Last summer, you could hardly take a clean selfie…
EIFFEL TOWER OPENING TIMES
The pandemic reduced the schedule of visits. That's something that I noticed from day one. Whether it's a visit to a tourist attraction or a visit to a restaurant, it's not like it used to be.
The Champs-Élysées was once crowded with people who entered the shops that stayed open until 10 at night. Now, at 7, 8 PM, that's it, they are locking the door.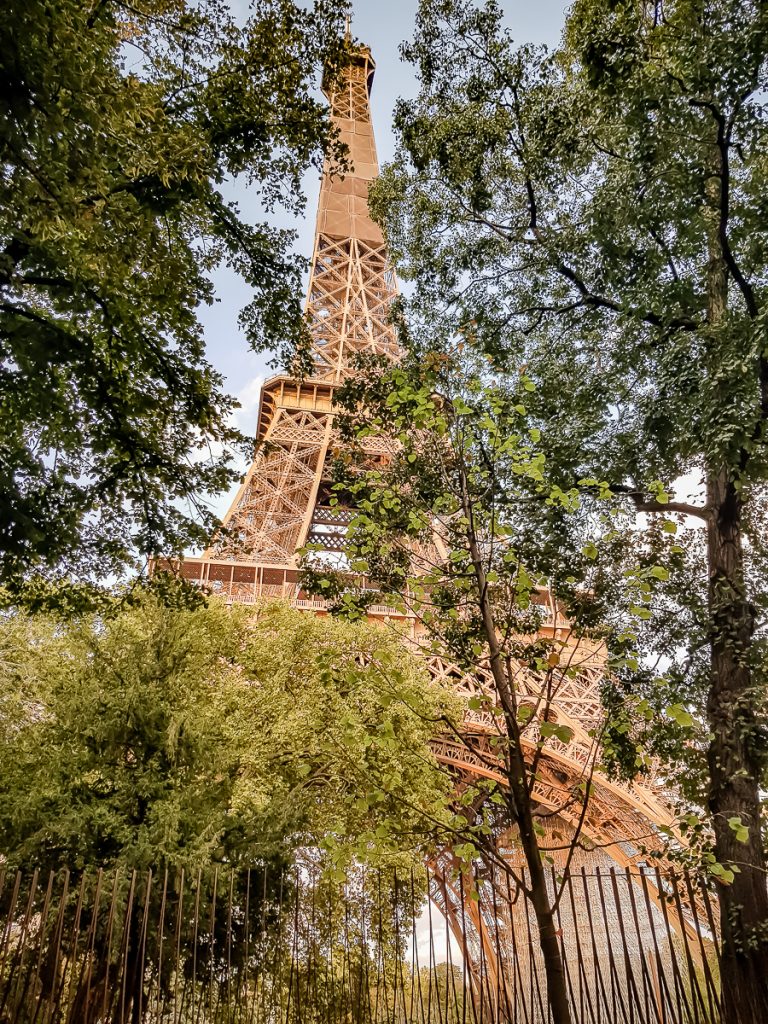 I went to the Eiffel Tower close to the sunset hour, to have wonderful views from above. I knew it was open until 23.45, and, in summer, even until 00.45!
Surprise: it closes at 5.30 pm!!! Yes, right, at 5:30 it's the last entrance. So… I go back.
But the next day I go there in the morning, taking advantage of the beautiful weather.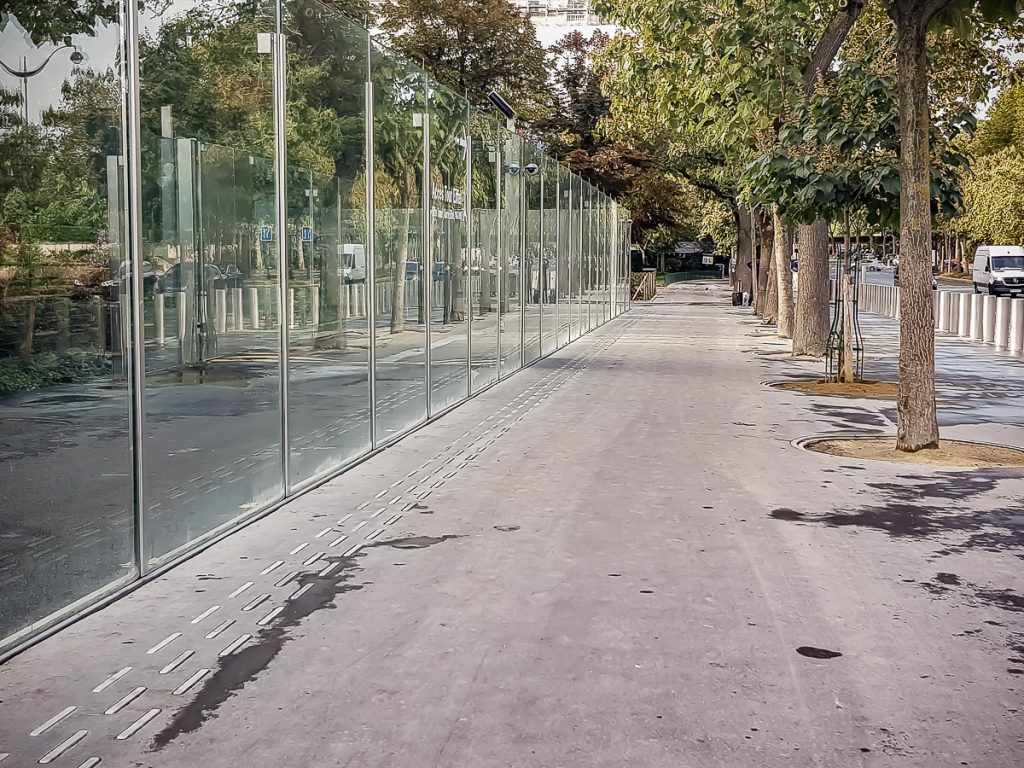 The Maghreb people who sell various souvenirs placed on blankets right on the sidewalk in front of the Eiffel Tower, are completely missing! Well, it's too early, I tell myself, looking at my watch. It's 10 o'clock, so it's not "too early", but "too… tourists-less!".
From 10.00 the access is allowed, a little after ten I also arrive there, having in front of me only a family and a couple!!! This is something I have never seen before – and believe me, I've been up the Eiffel Tower about 7-8 times for sure!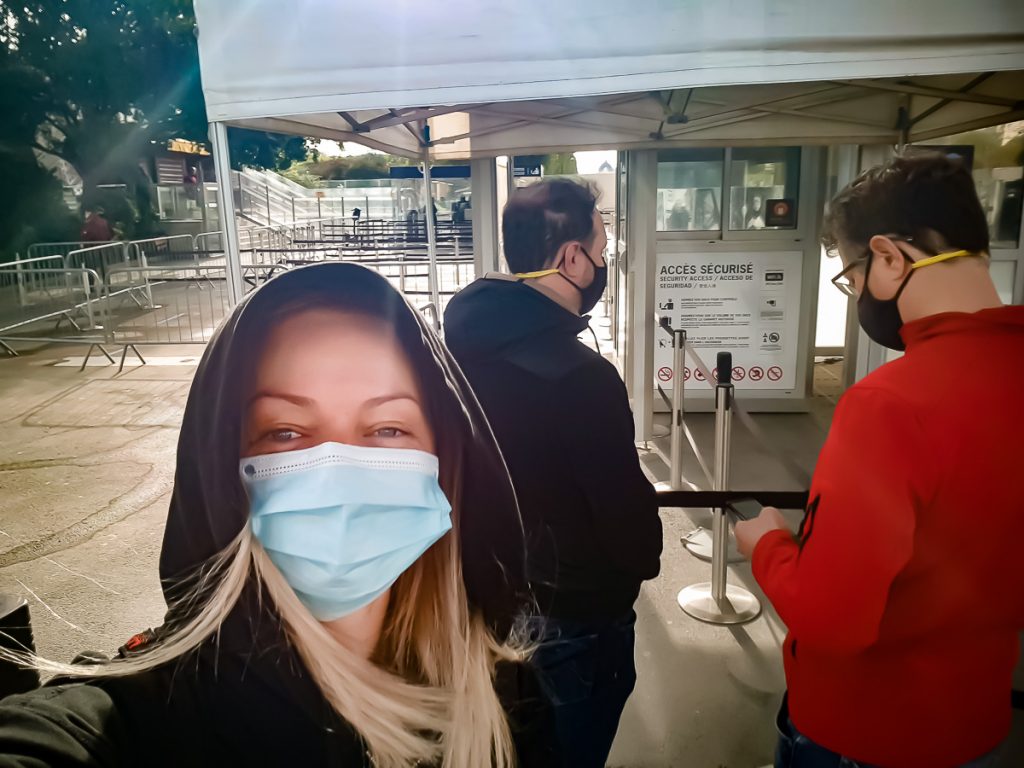 After the first check-up point, I reach under the Tower and I wait for us to be allowed to go further. I am the third person to go up the Eiffel Tower today. Do I deserve the bronze medal or what? J))
A few more people gather behind me and I finally feel that tourism is flourishing… Even if some people are French.
About 10-15 people gathered here. Well, look how many used to gather here during the times without COVID: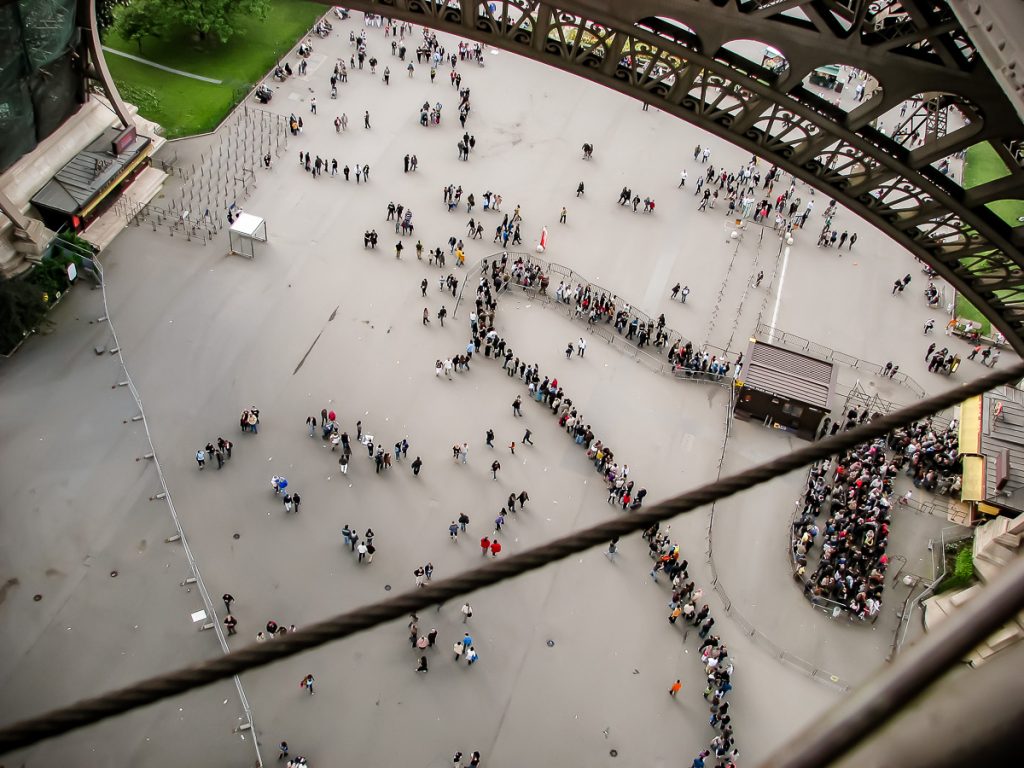 (and I could not fit the entire queue in the picture!)
We pay quickly (25.90 euros to the top) and go to the elevator, after a new check-up.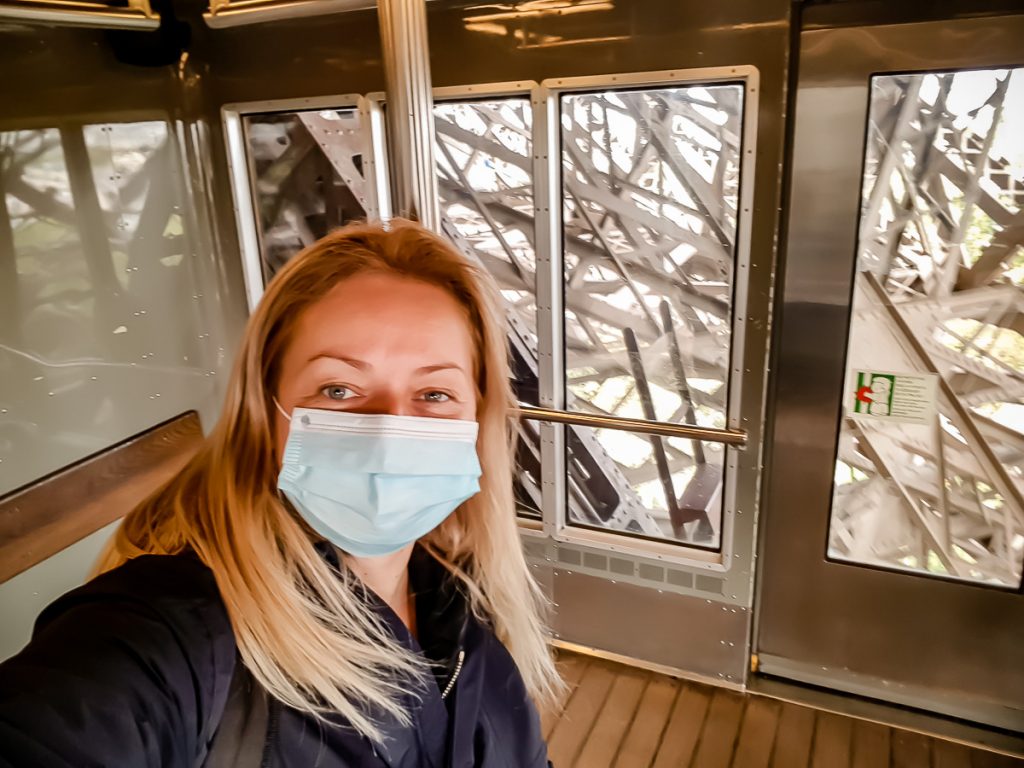 "Normally we are like sardines here" – says a lady, in French. Now you have plenty of room, you don't have to fight with anyone for a window spot. I would have enough space to even do a pole dance here hihi.
We get off the first elevator and (some of us), we go towards the queue for the second one, which takes us to the top.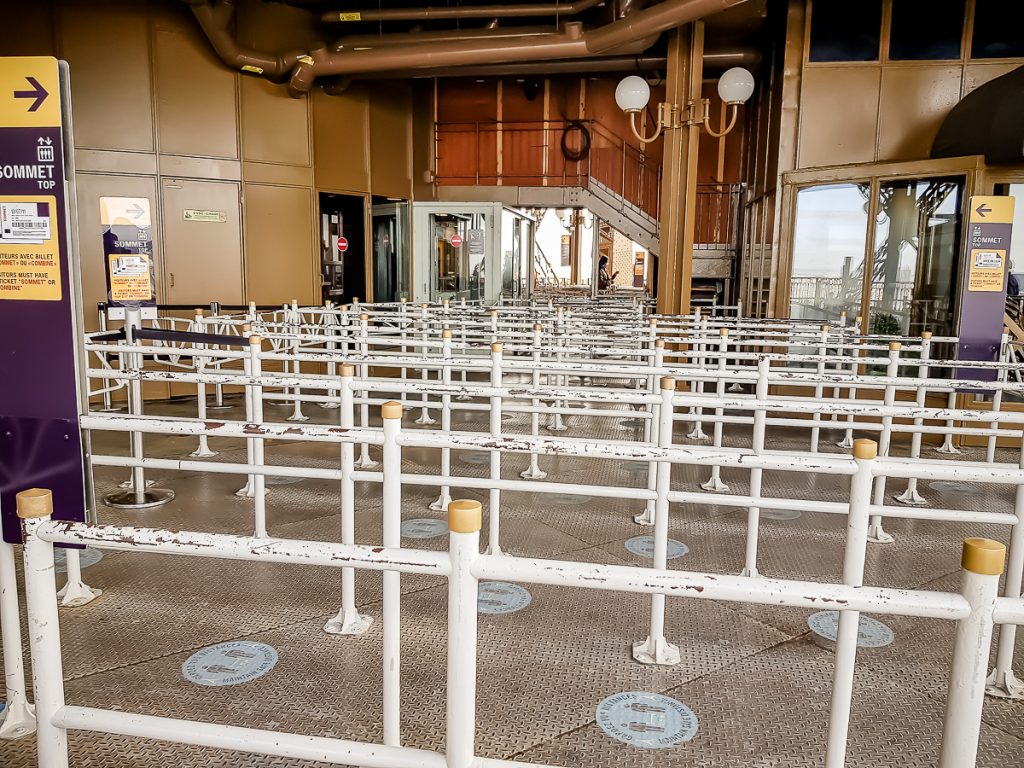 What queue??? These corridors that normally organize dozens of tourists are completely empty!
Dude, this is a disturbing situation: you don't know whether to go like crazy through this zigzag or just simply go around it? What a dilemma…
The view from the top of the Eiffel Tower is wonderful, just like on any other day with a friendly sky.
I try to see in the distance the hotel where I am staying. Oh, wait, I forgot: this time I didn't take my room at the Ritz J.
I take a lot of pictures, a lot of selfies and I film – soon the film of a Paris during the pandemic.
Like never before, I admire Gustave Eiffel and Thomas Edison through the window without any "step aside!"… In Eiffel's office. I also notice a lady in the distance. They say she's his daughter. All 3 of them are made of the wax. All 3 in high… quality.
I feel like I'd never leave this place, the top. It's a wonderful feeling given by the lack of tourists. But I'm leaving, as I've got enough wind in my hair already.
On the 2nd floor, the same luxury: a lot of free space, no rush, no noise, no impossibility to take pictures without someone always spoiling your photo.
The very few tourists here seem to be the last specimens of an endangered species…
Some employees, the "phototeam", keep going around the floor, realizing bitterly that none of us, a handful of people, will use their services today.
The bar with various products looks frozen. They don't seem to be selling anything. I buy a fresh orange juice. I feel good about supporting the business J.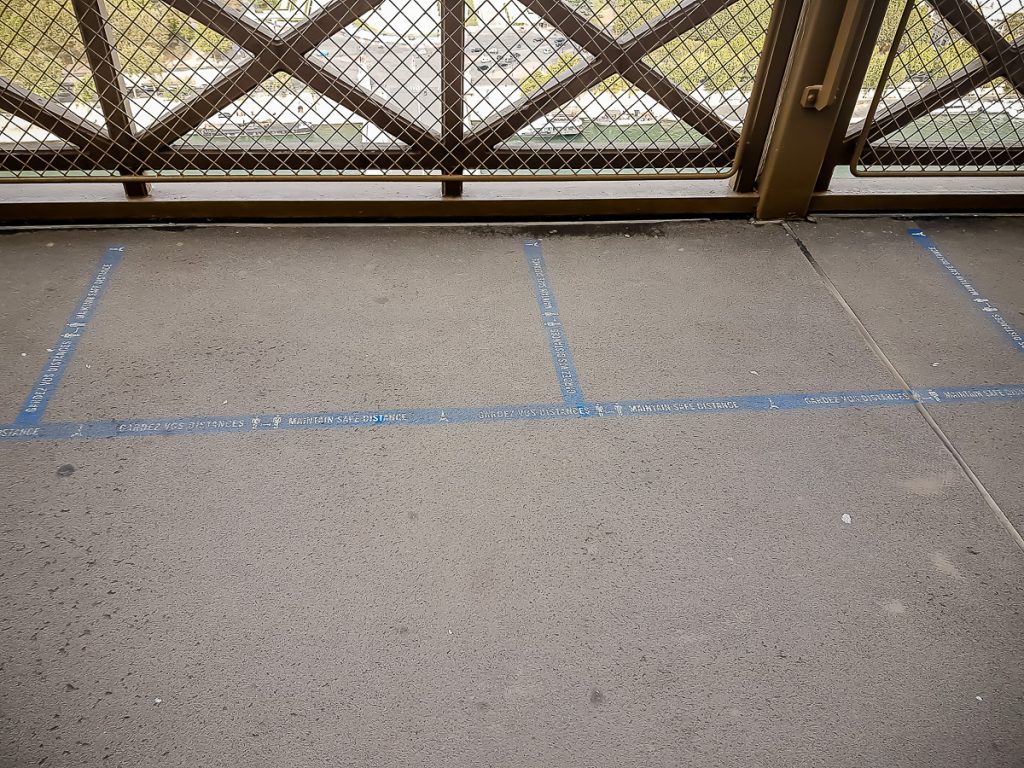 I notice that there is a delimitation of space, so that we keep a safe distance between us. Between "us"? Which "us"? Maybe between me and myself…
You'll say I'm crazy, but I started running around, from one end to the other J)). Seriously! I simply felt like it, when I saw so much free space!
I could do a workout here. And, when you ask me what I did today, I could answer arrogantly: "I did some Tour laps."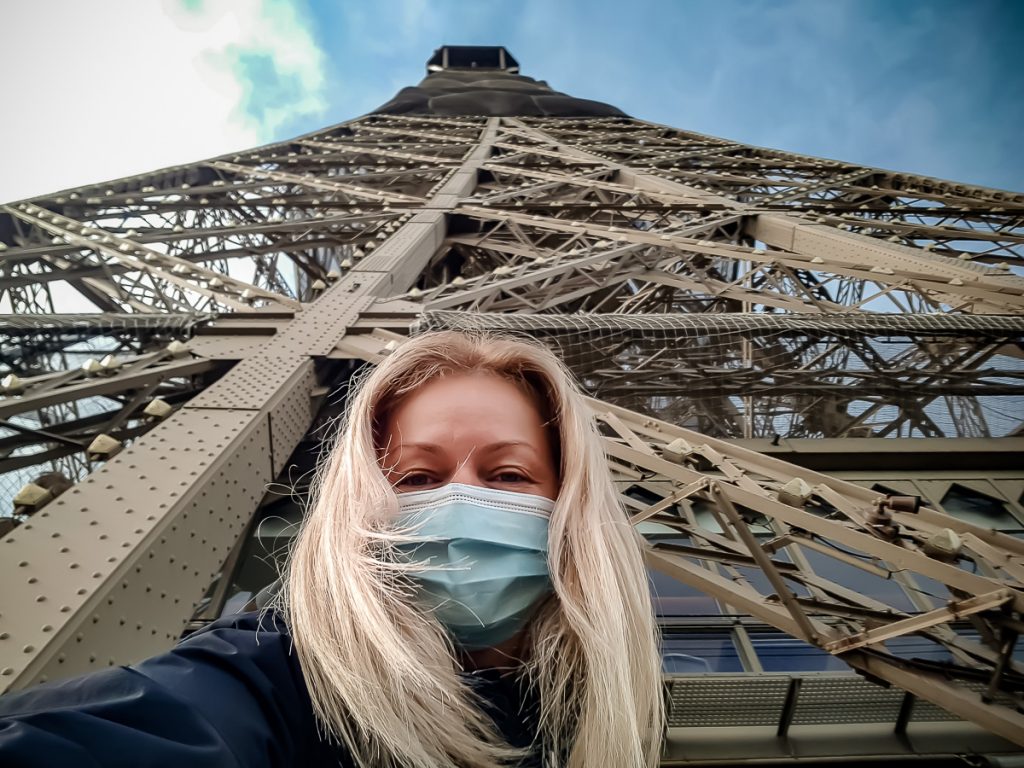 Ok, I am alone here, but I'm putting my mask back on, to respect the regulations.
I go down to the 1st floor, buy a souvenir from the store and then I go towards the exit. The park exit.
Three Black people with lots of Eiffel Tower key-chains are trying to get us to buy one. We are about five lost tourists. They have no chance with us.
Several vendors appeared on the sidewalk, displaying their goods on rags made in such a way that they could be immediately gathered, if the police arrive…
Anyway, I think they are a little bit too optimistic today, judging by the number of people I saw in the Eiffel Tower.
LOUVRE MUSEUM DURING THE PANDEMIC
"With or without a mask, at the Louvre Museum". This is my show, without an audience, because I'm almost alone in the square with the Pyramid.
Here, no matter if the museum was open or closed, the area was buzzing with tourists who were more than happy to be on vacation.
Now, the pandemic has organized our travels, but also our stay: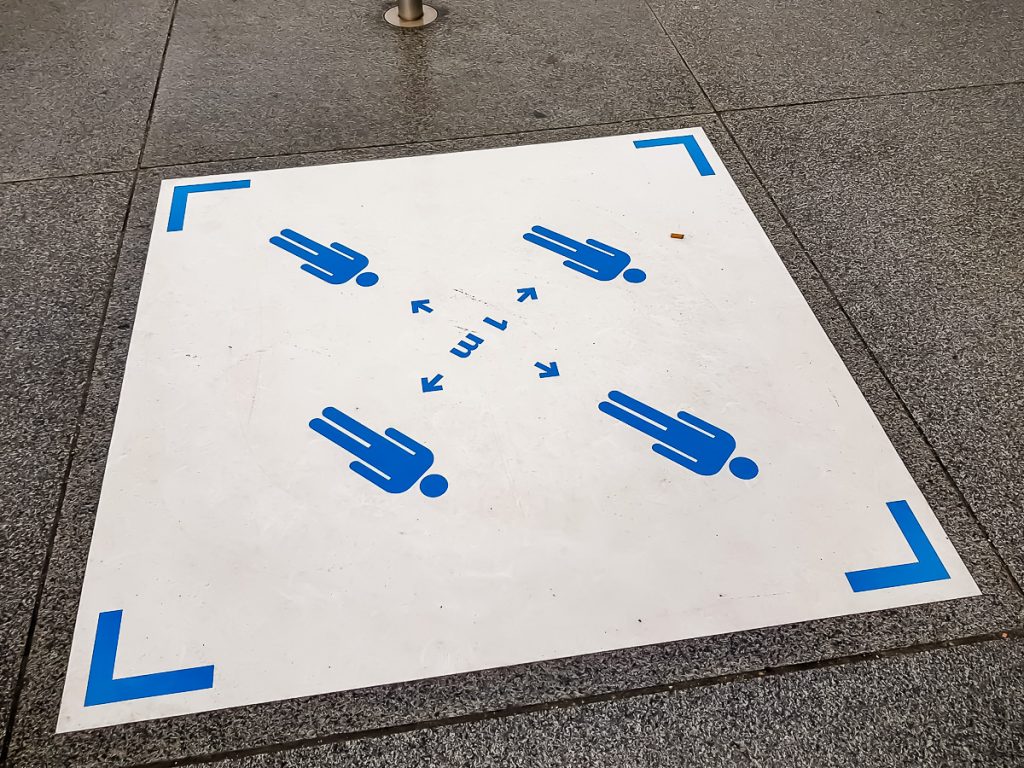 No longer than one year ago I was here, on a rainy day just like this one, but in a completely different "setting":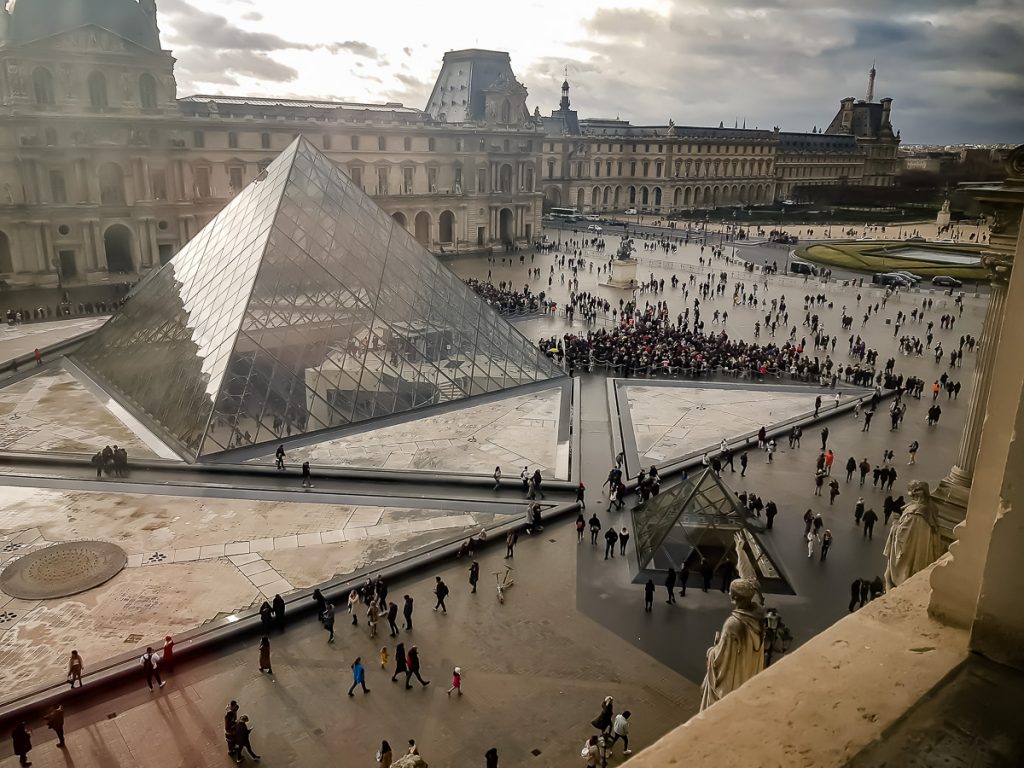 NOTRE DAME DE PARIS DURING THE PANDEMIC
After the terrible fire at Notre Dame Cathedral, I immediately wanted to get to see it, to see the "wounds", to sympathize with it, to encourage it. I ended up doing this in the summer of 2019, and then on New Year's Eve 2020. Now I have another reason to get to it: the pandemic. To see how abandoned it is…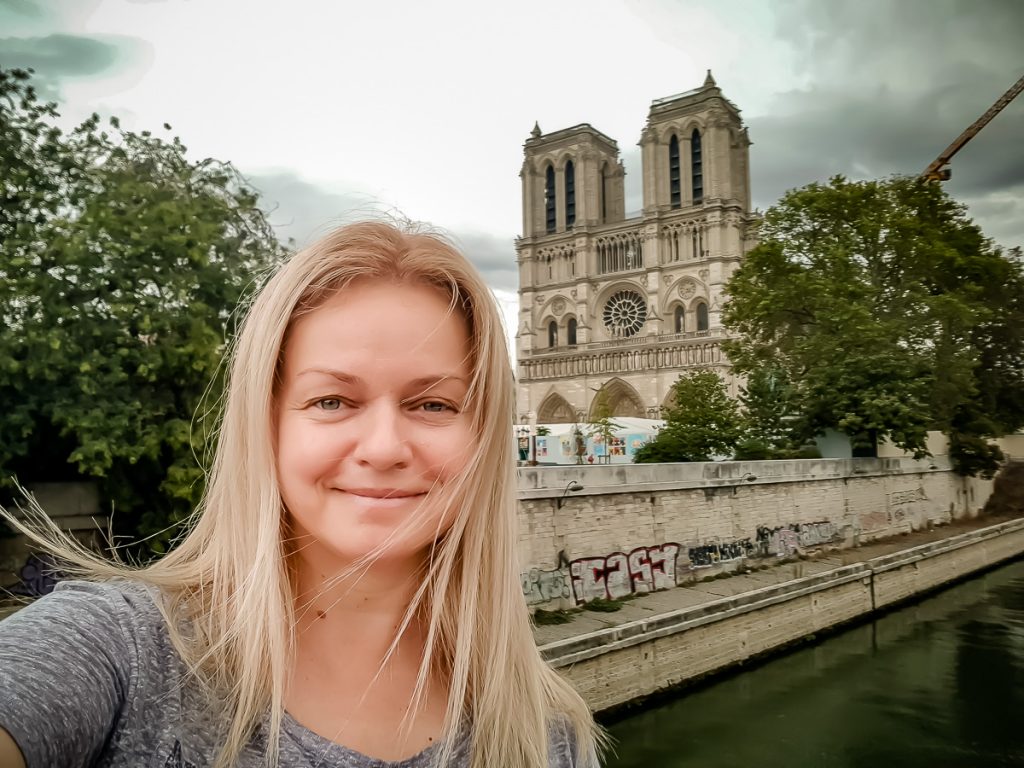 The bridge over the Seine, always full of people eager to take a good picture of Notre Dame, is now empty.
In front of the Cathedral I have a pleasant surprise: the fences that blocked access from the street no longer exist, so you can sit in there on a bench, you can walk, you can take as many pictures as you want, because no one bothers you.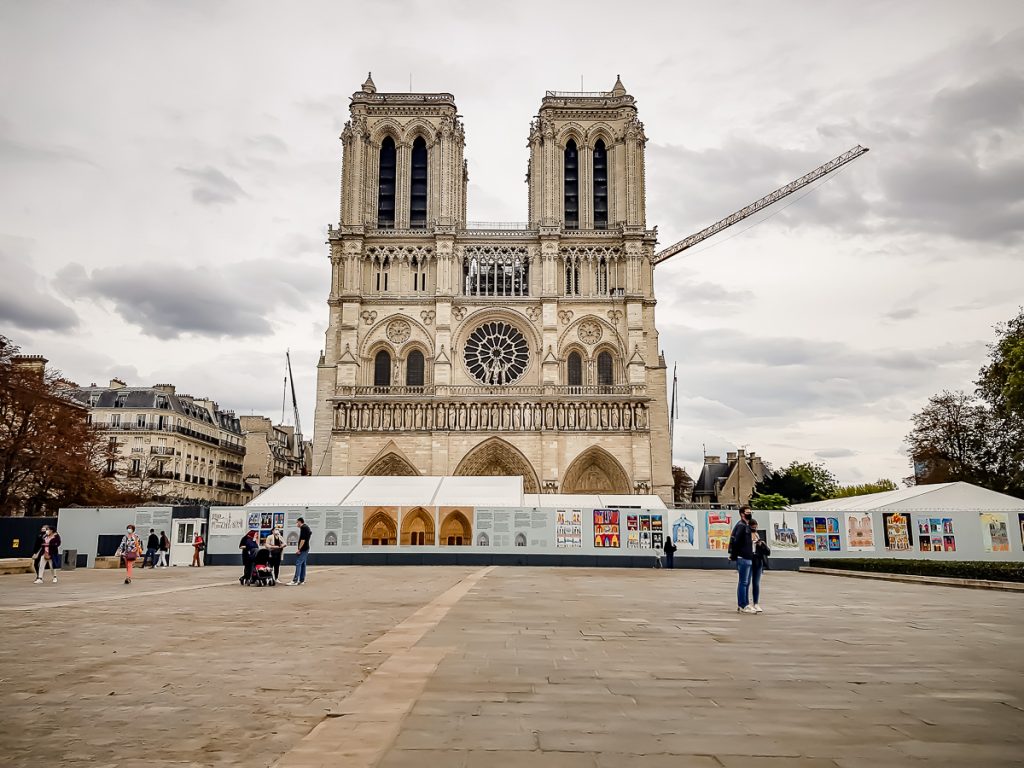 A few people stopped here. But most of them are only passing by, a sign that they have something to do, they are not on vacation.
On the nearby streets, full of restaurants, ice cream parlors and souvenir shops, I can't find anything of the… tourist glory of the past.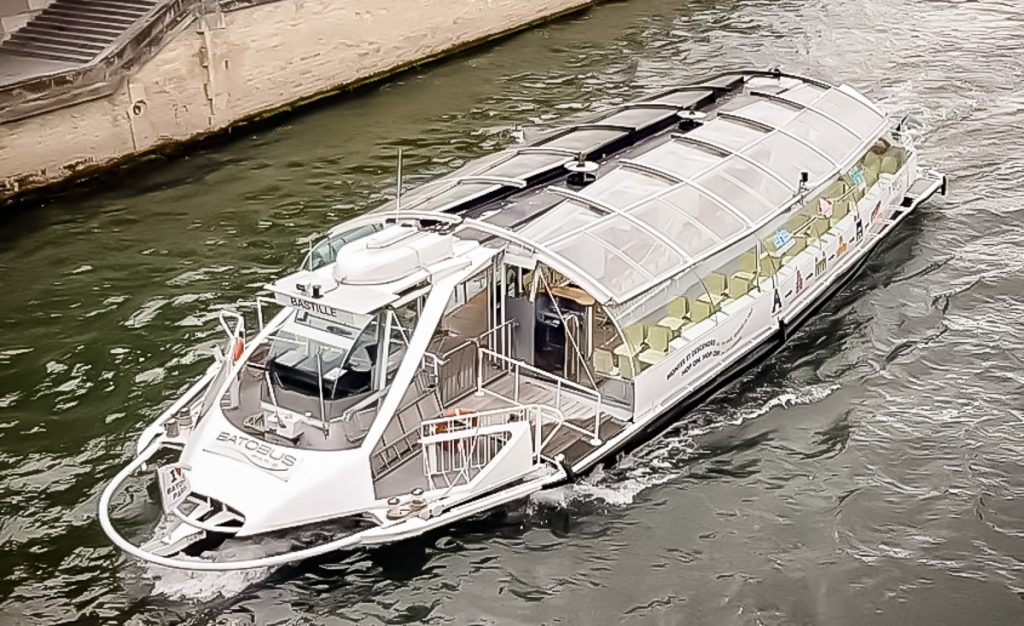 An empty boat passes on the Seine. I think the man takes the boat out from time to time so that the battery doesn't die J.
The memory of the crowded holidays is definitely alive for each of us, no matter where we have traveled. I keep comparing in my mind the "pandemic" moment (see above) with the "before the pandemic" moments (see below)…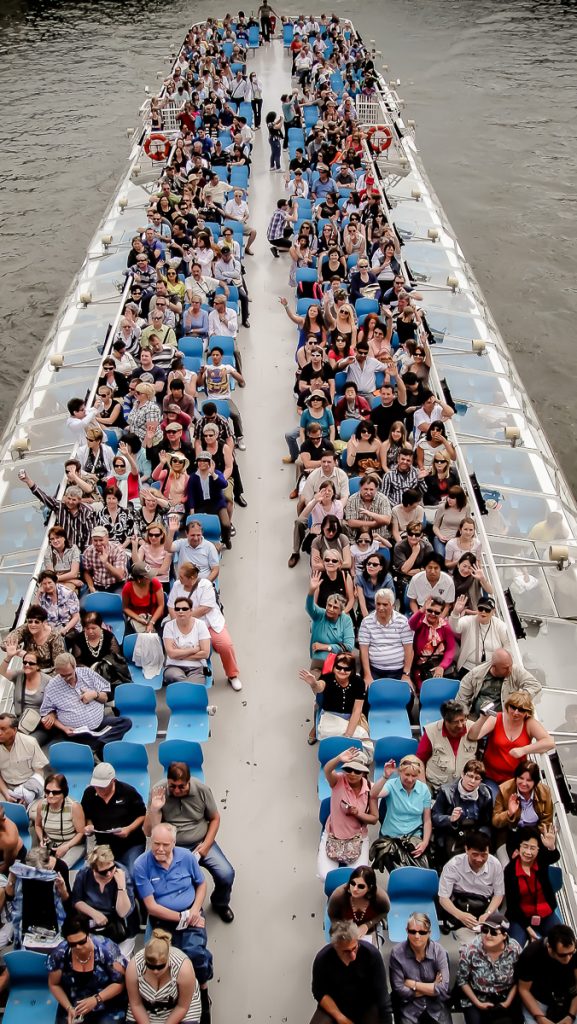 But what do you know, I discover a Parisian agglomeration during the pandemic! I find it at lunch time and during dinner, when the terraces and restaurants are filled by the French.
Well, what are you doing, guys? You wear a mask non-stop during the day, even out, in the street, and in the evening you sit so close to one another at the tables?
In none of the places where I stopped to eat did I see empty table to keep the people at a safe distance. I mean: here you are allowed to sit, here you are not allowed to sit, this one is free, on this one there's the "prohibited" tape. The tables were one next to the other and you could sit anywhere. And wherever I sat, it was crowded. Hm…
And, since I've been talking about food and I'm here, I can't leave Paris without a trip to the island of Saint Louis, behind the Notre Dame Cathedral, to get the famous Berthillon ice cream – considered the best in Paris! Ever since I found out about it, I have always come here, to their main shop/confectionery.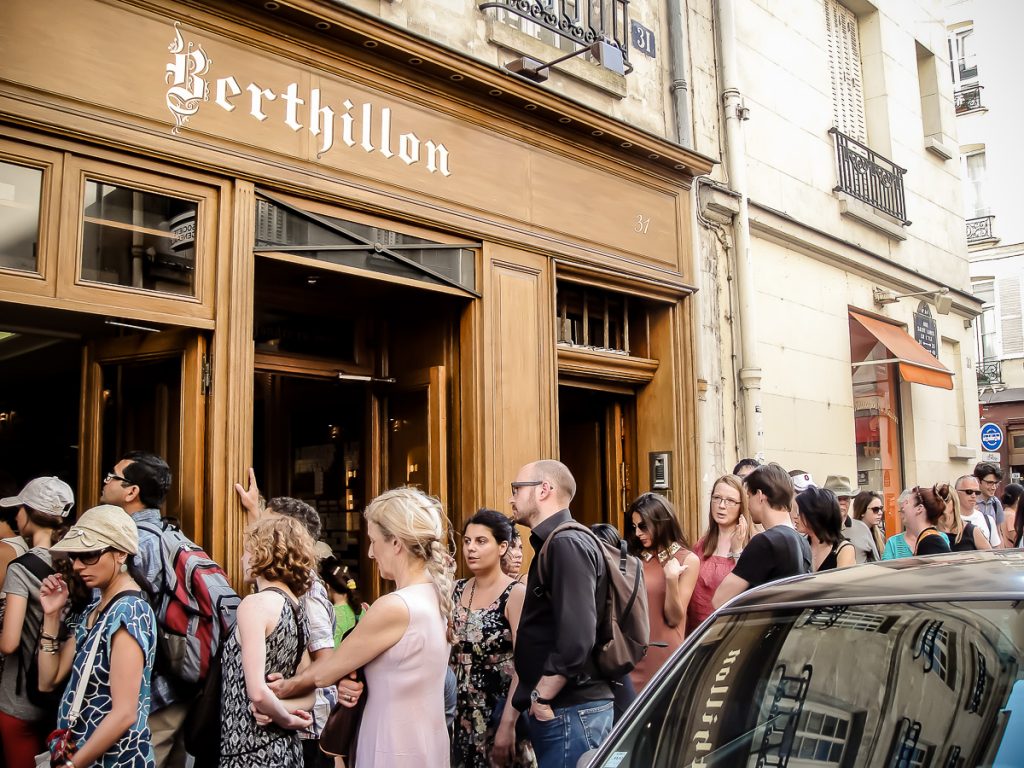 The queue in the photo is from another time… it's the queue for takeaway! You couldn't even see the sellers, let alone the types of ice cream J.
As for serving at the table, you couldn't even think about finding a place (I was lucky a few times because I was alone and they could put me somewhere, in a corner…)
Now, during the pandemic, it looks something like this: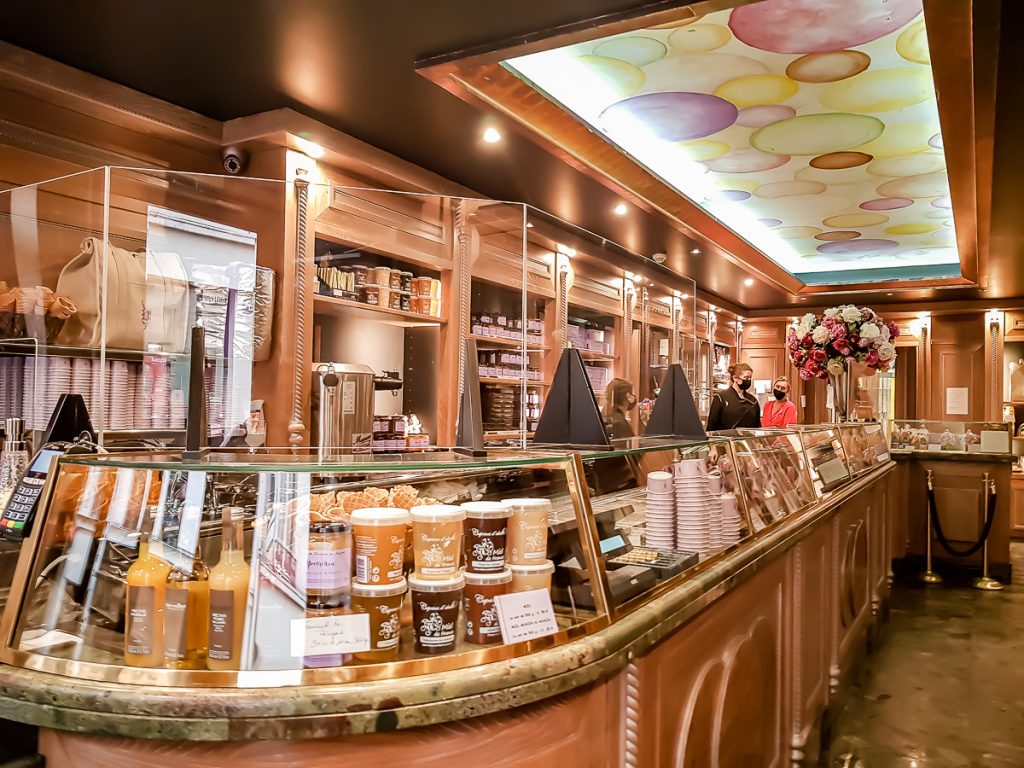 Three saleswomen greeted me at once, as if the savior of the business had come.
I told them that I had already bought from next door, from the confectionery, where I chose the table, as they were all empty.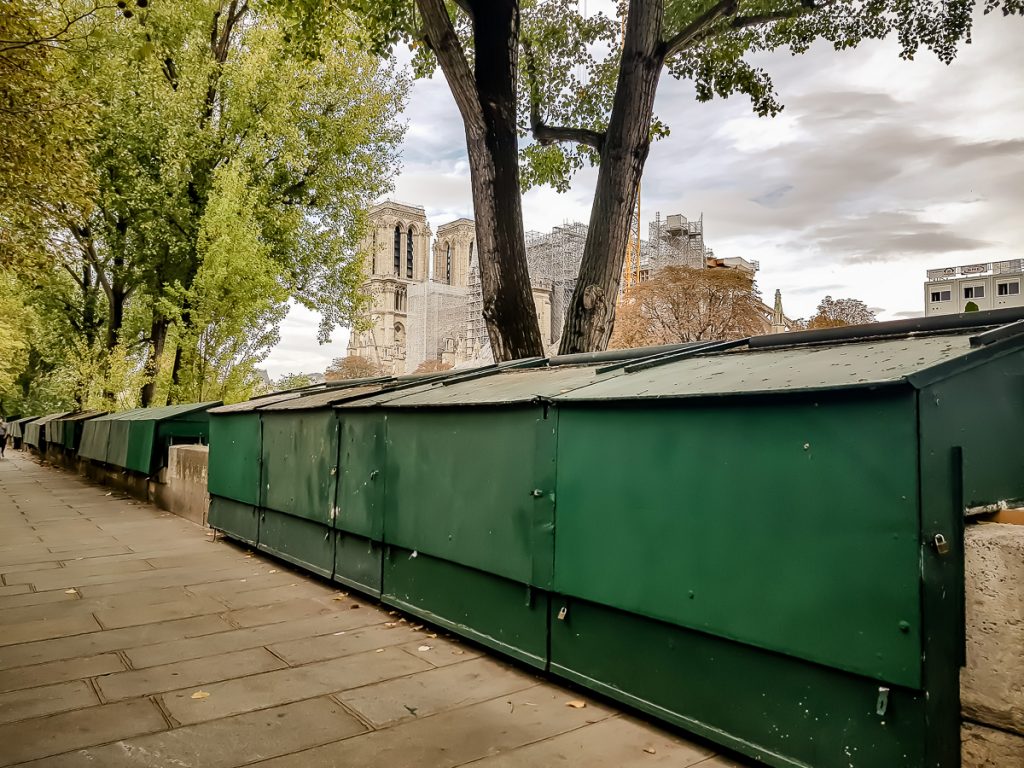 I return to the banks of the Seine, where you can get depressed, seeing the locked, abandoned, all the green boxes of booksellers.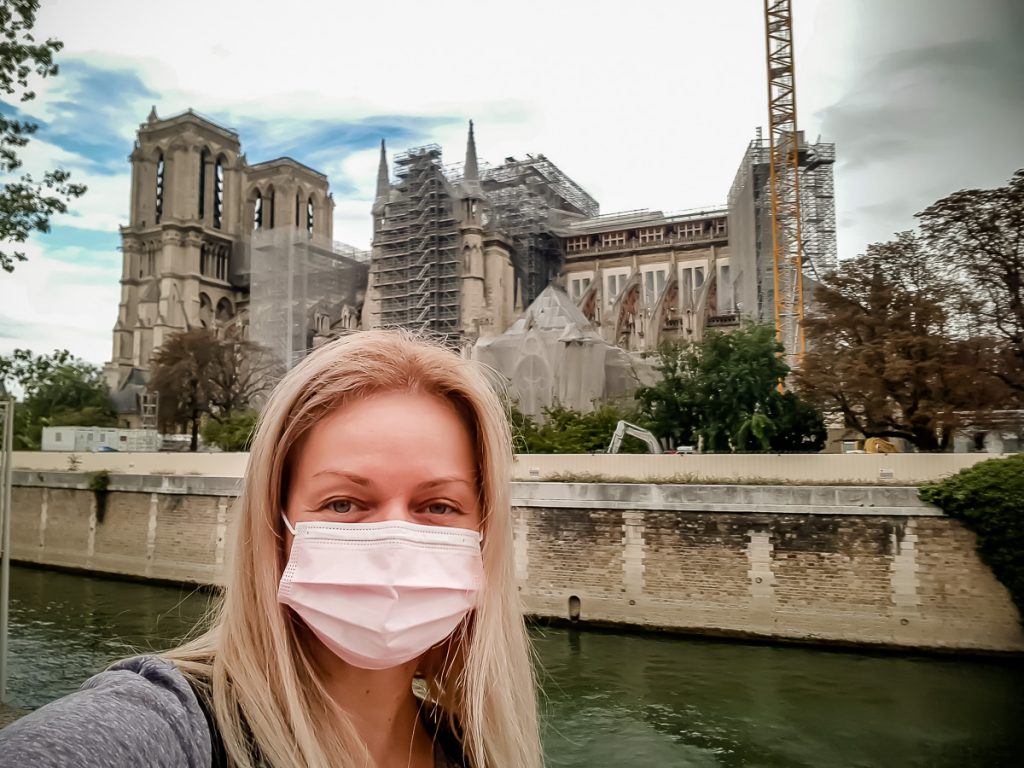 I check the stage of the work they do at Notre Dame, I remember… la vie en masque rose, so as not to pay any fine and that's it, I run to the airport.
THE PANDEMIC AIRPORT
I don't even know if you have to get to the airport earlier than usual these days. I give myself a safety margin, because they might want to disinfect us or something, and it might take time.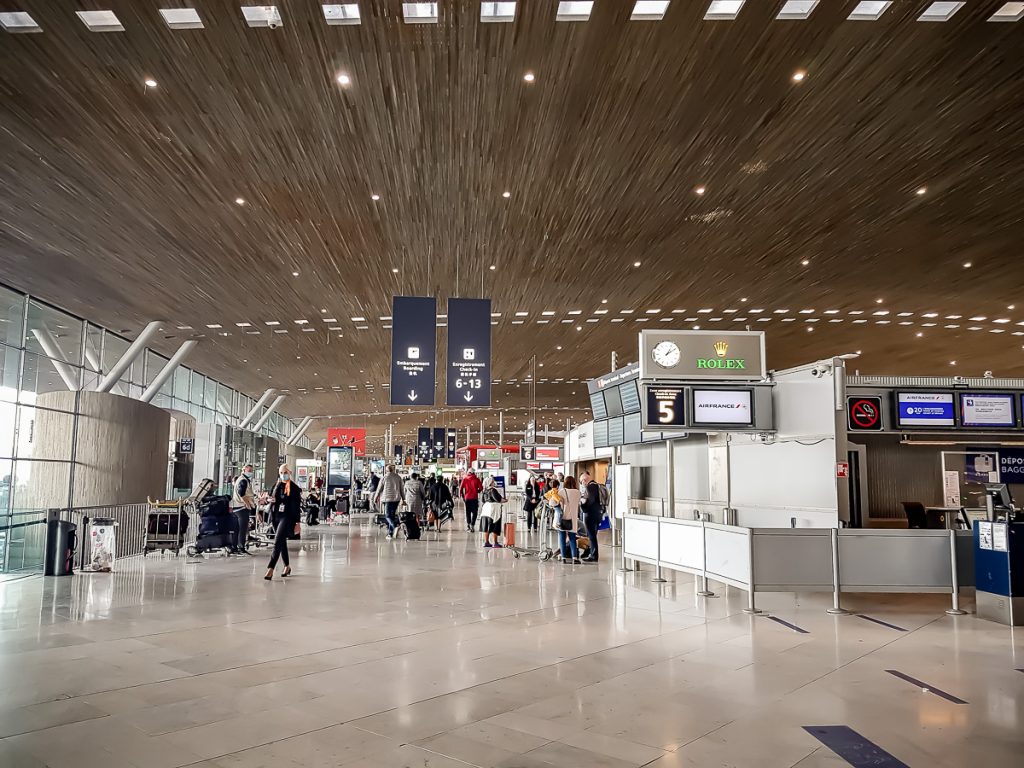 It didn't take any time. I arrived two and a half hours before the flight. The airport is relaxed, not like I used to know it. I check in immediately, drop off my luggage without a queue and then I wander around in the duty-free area.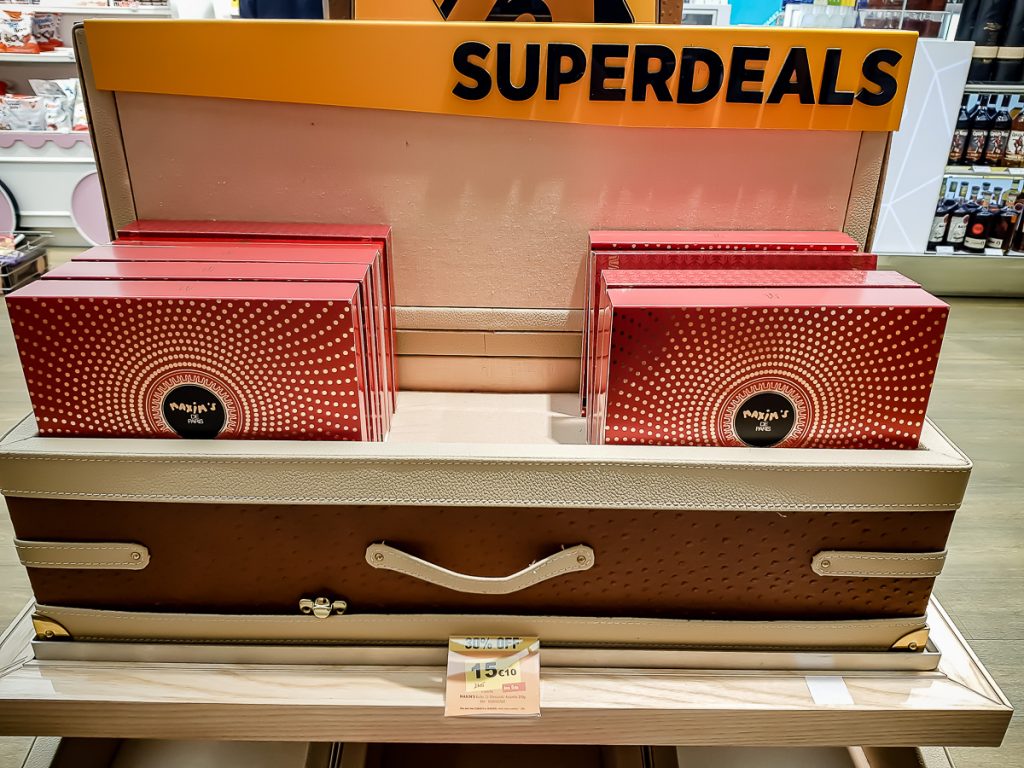 Maxim's, a famous brand, has discount chocolate boxes. Wow, cool!
I look at the expiration date and I understand why: they expire in October this year. I guess they had them since before the pandemic, but who could have bought until now?…
People are embarking for Doha. Qatar Airways distributes shield visors to all its passengers, I guess, seeing in the queue many people with airline branded shield visors.
For Air France they don't give us anything. They take something. The temperature, before we enter the corridor leading to the aircraft.
I see our pilot getting ready. He wears a mask. So it's mandatory for them too. Could they be fined 135 euros too? J
The flight attendants distribute surgical masks to those who have cloth masks or some other crazy things.
I'm amazed: the plane is full. Very full! We are all close to one another. Well how come? And where is the social distance???
A cabin attendant informs us that some of the seats have been double-booked. Hihihi, I haven't heard that since I was a kid and travelled by train in compartments. How can you sell twice a seat on a flight? And what we do? Are we to sit on the stairs?…
Two business class travelers stretch their legs and wrap themselves in blankets. Some interesting gypsies, with spectacular earrings, comment on the situation we are in. Some noisy young Spanish people make me wonder why they are going to Romania, coming from France. Is this some sort of COVID escape?
People with laptops ignore everything that happens around, all the fuss about "put your luggage up, where could put it, it's full everywhere, let me pass, what seat do you have"…
We take off. Three hours one close to another. Just like on the flight I came on, I pay attention to any cough, and any sneeze. We are all wearing masks, but what do you know, dinner is brought and… all the masks are taken off. Wonderful, what can I say? I don't know what others think, but I'm considering the option of not breathing until we land.
I was in Paris for 3 days, during a pandemic, and now I'm about to count the 14 days, before I can calm down. And that's just because of the plane. In Paris I felt safe.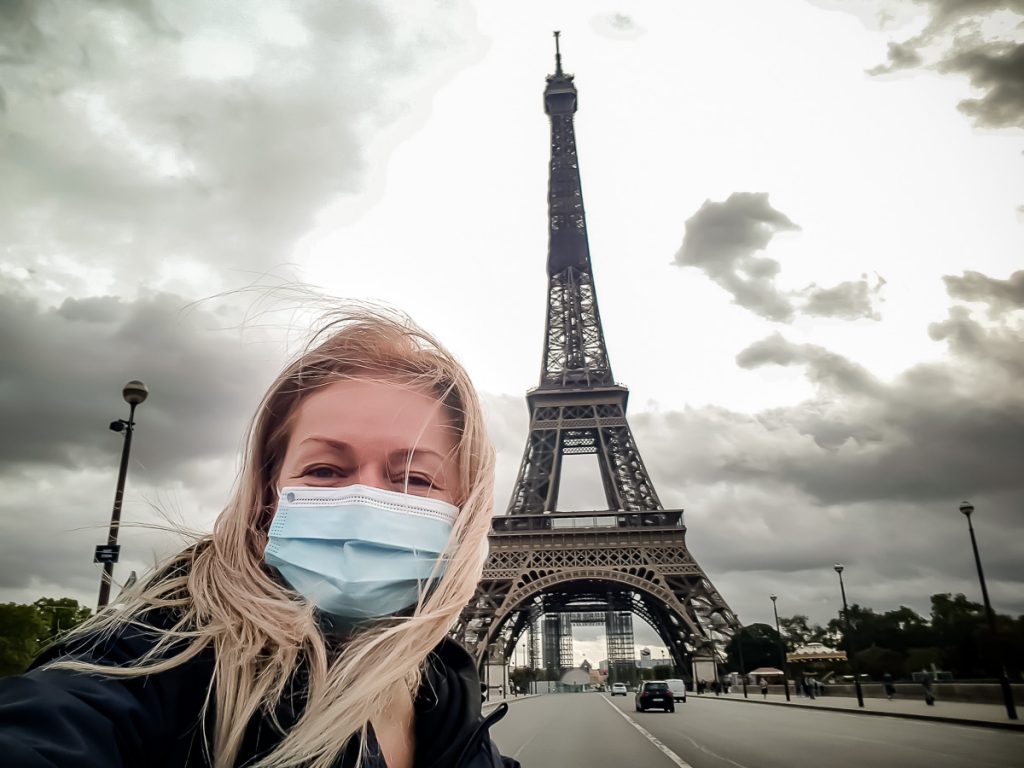 Now it's the ideal time to travel, to visit, now it's the ideal time to get lost in the streets. This is, indeed, a luxury vacation, on the cheap side!
Update: Romania has just imposed a 14-day quarantine for those returning from France. God! This is quite a shitty situation… But it's good that I avoided this. It was so close!