I want to be a tourist. Wherever I may go. If I can't go outside the country, then inside the country, if I can't visit the big cities, then I go to the small towns. So anywhere!
But this "anywhere" is not always prepared to greet tourists…
I had to go from work to the town of Roman. No, not Rome (I wish!), but RomaN , from Neamt County.
And, as I finished my work early, I decided to take a walk around town.
That is it. That was the trip through Roman!
???
Yes, it was just like that, it finished in the blink of an eye. Why?
Well, let's take them one at a time: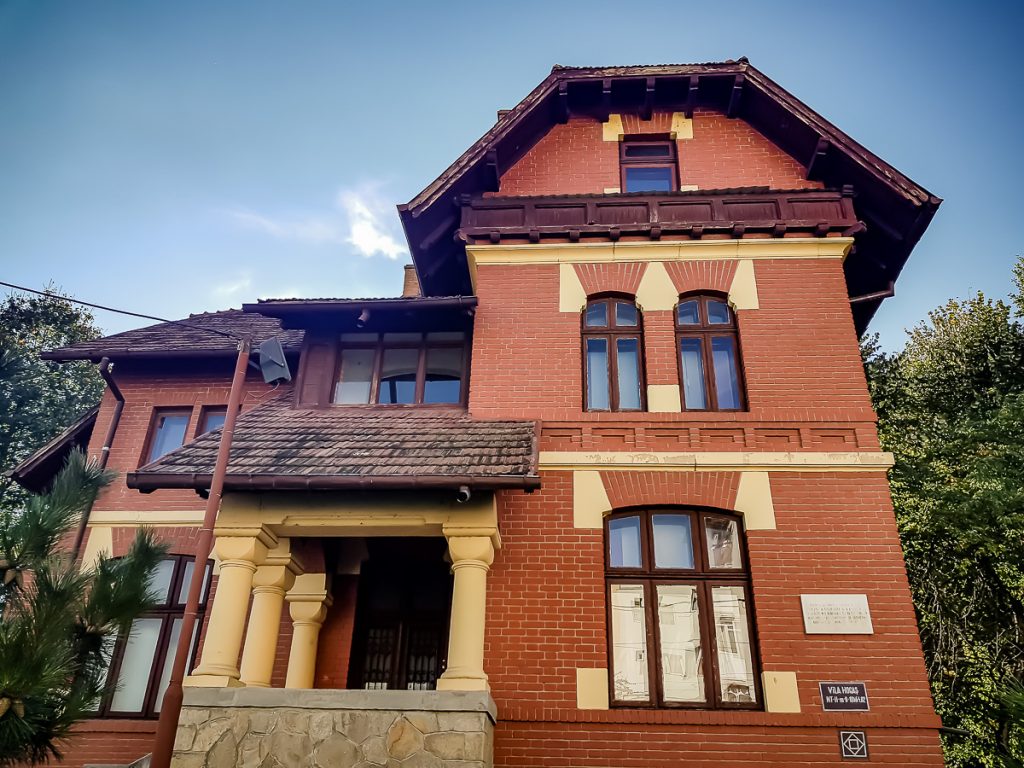 The Calistrat Hogas House (historical monument) – CLOSED.
It was temporarily closed, not because I got there after the program. You can't even enter the yard, to read what is written on the board put on the house. The letters are erased by the weather, so they cannot be deciphered from beyond the fence.
I googled it: when it is open, in this villa where Mr. Hogas also lived for some years, you can visit the ethnographic museum, you can see an exhibition of old icons, old books, plus there are fairs where you can buy things, so it's beautiful, I'd say.
Romanian Art Museum – CLOSED!
On the bright side: the entrance ticket would have cost me almost 4 euros J. That's what it says on the door, together with the visiting hours, and I am still inside the interval!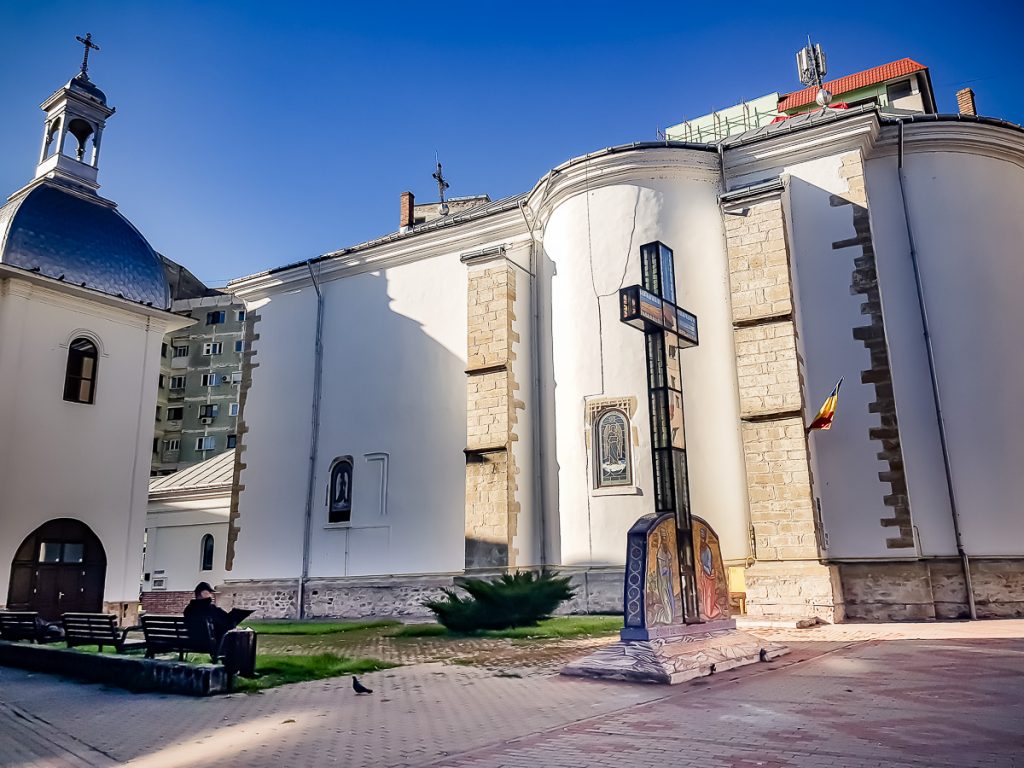 The Sfintii Voievozi Church – CLOSED too!
I insist on going further…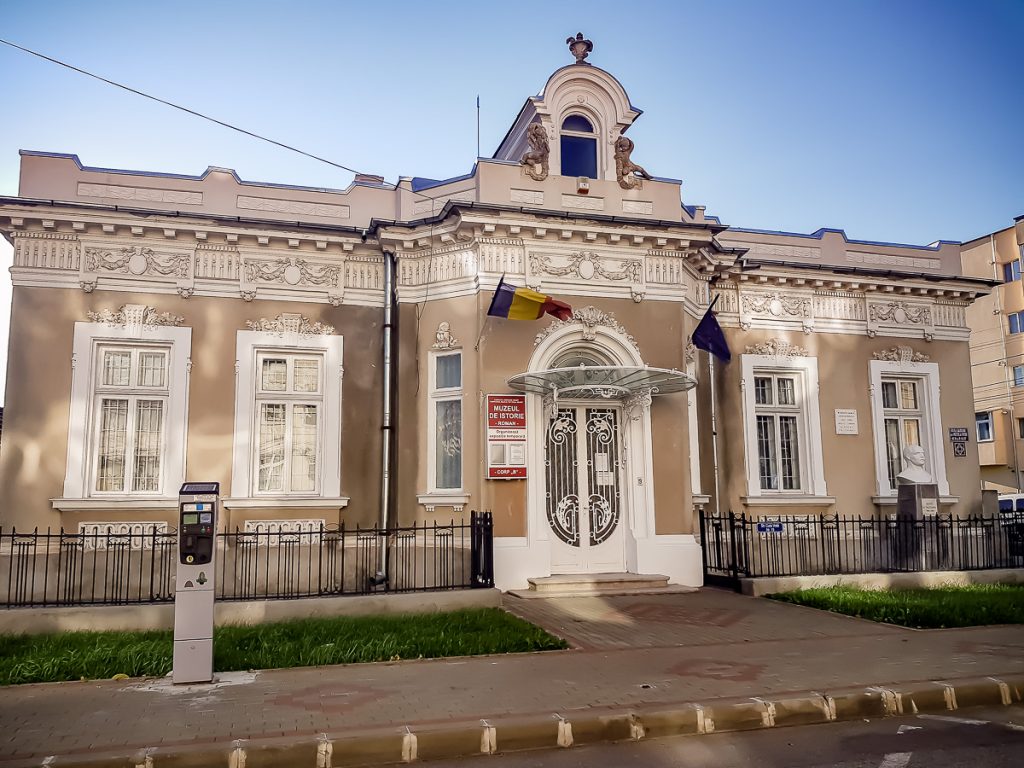 The Roman History Museum – also CLOSED!
Come on, this time I clearly got here too late, I tell myself.
What do you know? I did not! It's just that a note on the door clearly says: "Exhibition space under rehabilitation".
Ok, I take advantage of the fact that the center of Roman can be easily covered walking and I go on, hoping to find something open.
I walk around the area like crazy, with my phone open on the maps, trying to find a house I had read about when I arrived in the city: the Sergiu Celibidache House.
The famous conductor and composer, also known by people abroad, not only by those here, inside the country, was born in Roman, and his house I am looking for.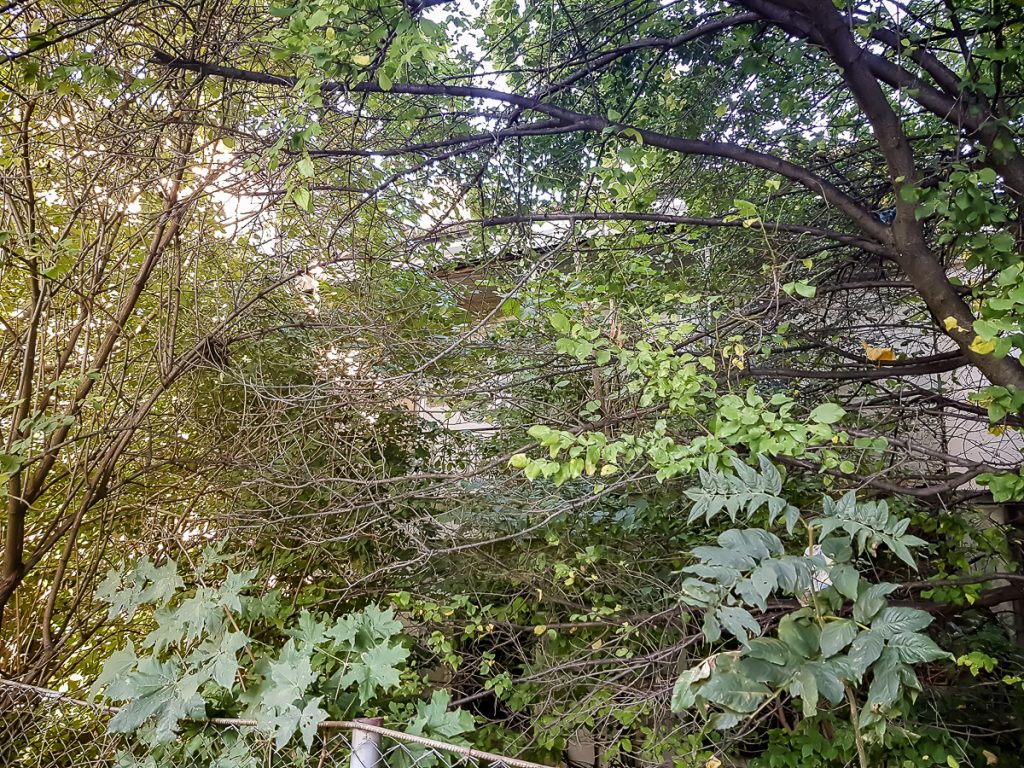 Three times I went around the same streets in the vicinity of the conductor's statue, looking for the house. Then I finally saw it, almost completely hidden among trees, bushes and weeds!!!
What??? Is that it???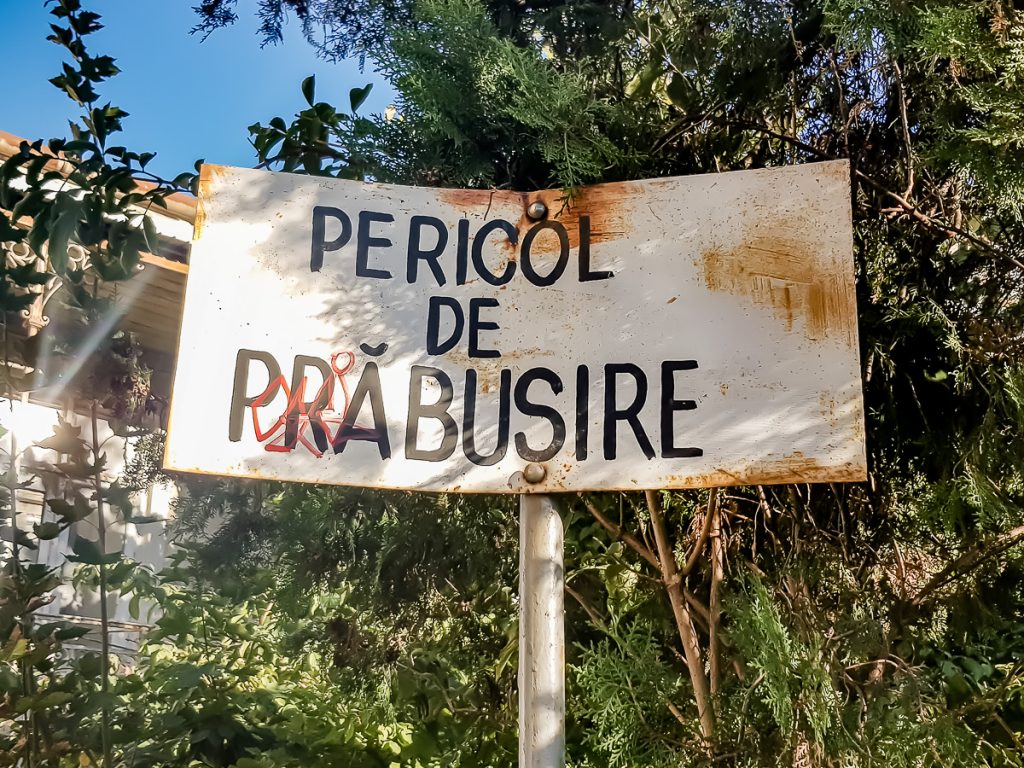 Yes, this is.
A rusty plaque warns me to stay away… I stay away and only then do I see something more of the house: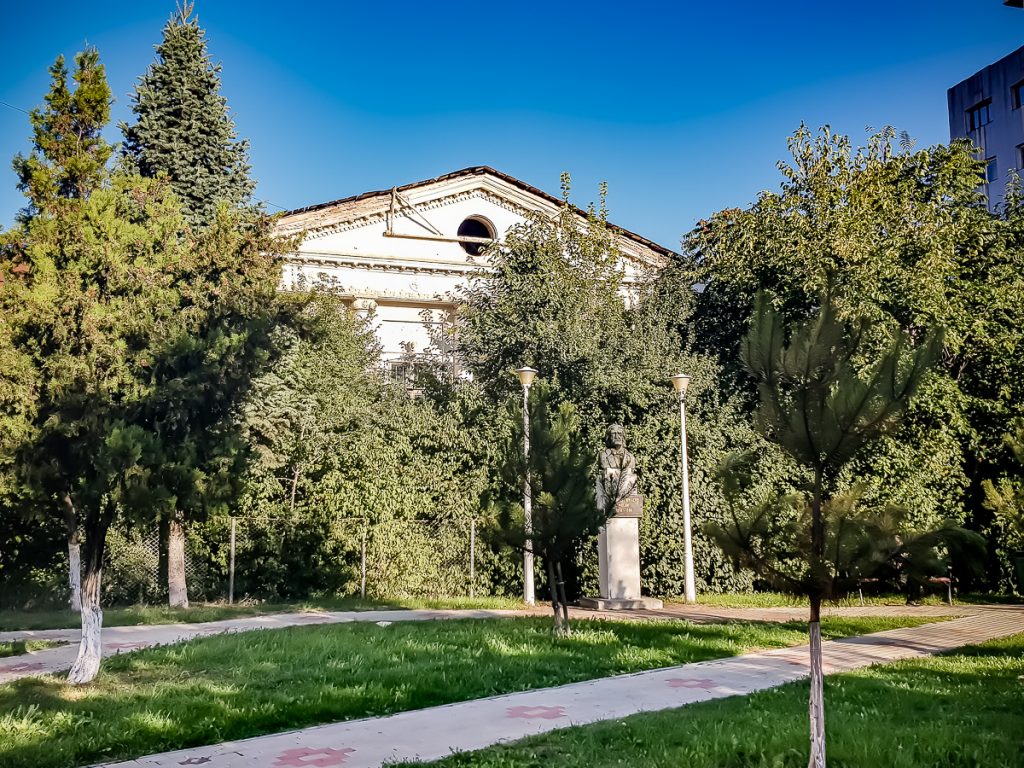 Oh, what a desolate image!!! (And when I think that it can be multiplied hundreds of times just to get the real image of all the abandoned buildings. And I am speaking about those which are considered cultural heritage, historical monuments, I do not add here the ordinary houses… That it would be a disaster!)
I leave with a bitter taste, trying to find other heritage houses, memorials etc., which are still standing and which are open.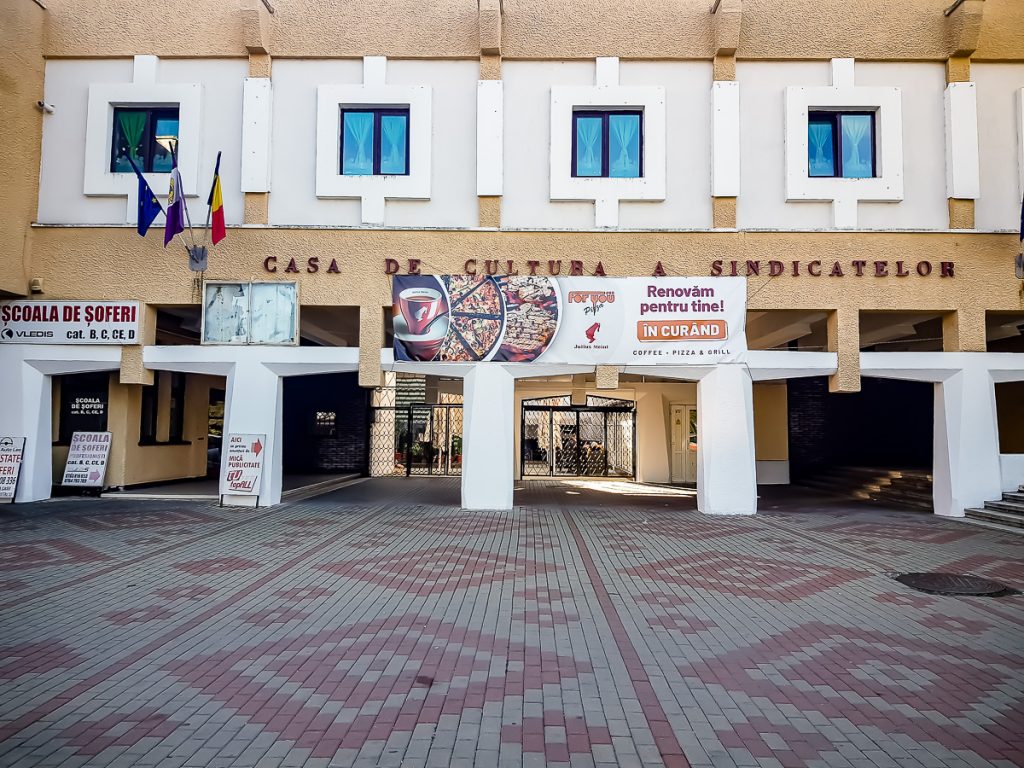 Not even the House of Culture of the Trade Unions is open J.
(God, I didn't even know there was such a thing!)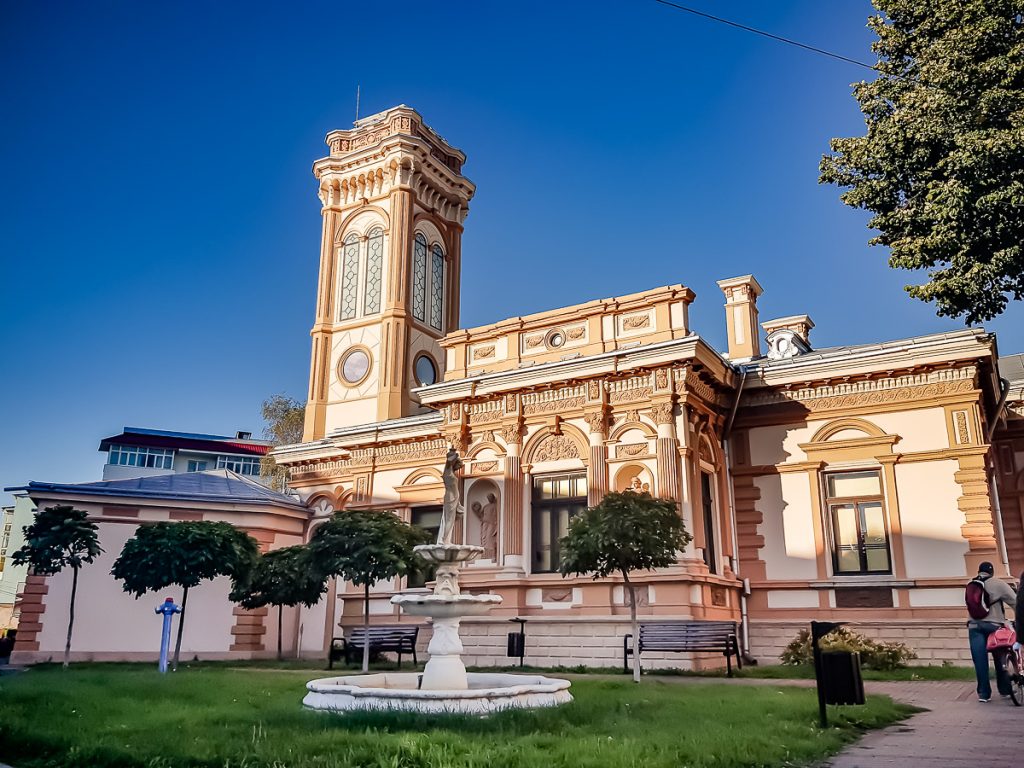 I'd say it would be worth going inside the Municipal Library, to see the interior, but unfortunately I found out about it only after I was no longer in the area.
I read that this beautiful building, built at the end of the 19th century, now included in the "collection" of historical monuments and which has been for many years in an advanced state of degradation, was saved by the citizens. Very cool!
Its tower, which takes you to the Florentine style, has made the building unique in the area of ​​Moldova.
ZOO PARK IN ROMAN??
And, if all the museums and memorial houses I mentioned are closed (some very carefully locked up!), I could say that I visited the Zoo of the city. One in the open, without fences, with free entry and which has an impressive collection of… 2 stray cats J ))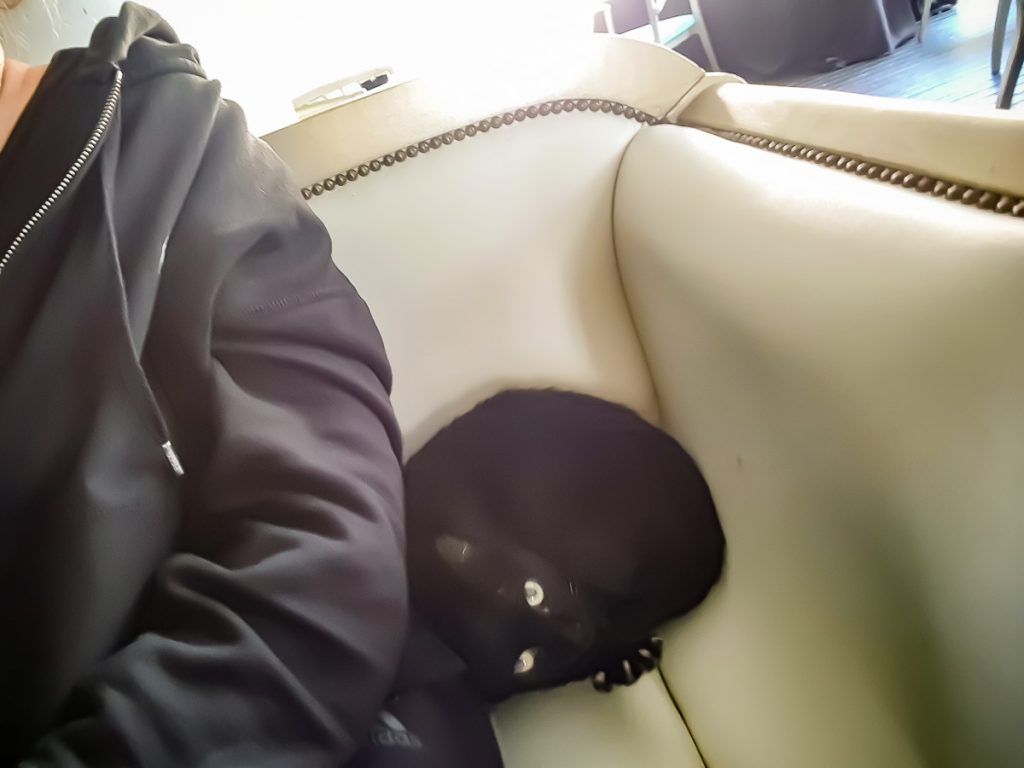 The first specimen – the black cat – simply climbed into my lap when I was sitting at the table. Even after I put it down, to eat, the cat did not give up, but nestled next to me, more eager to get affection than any food…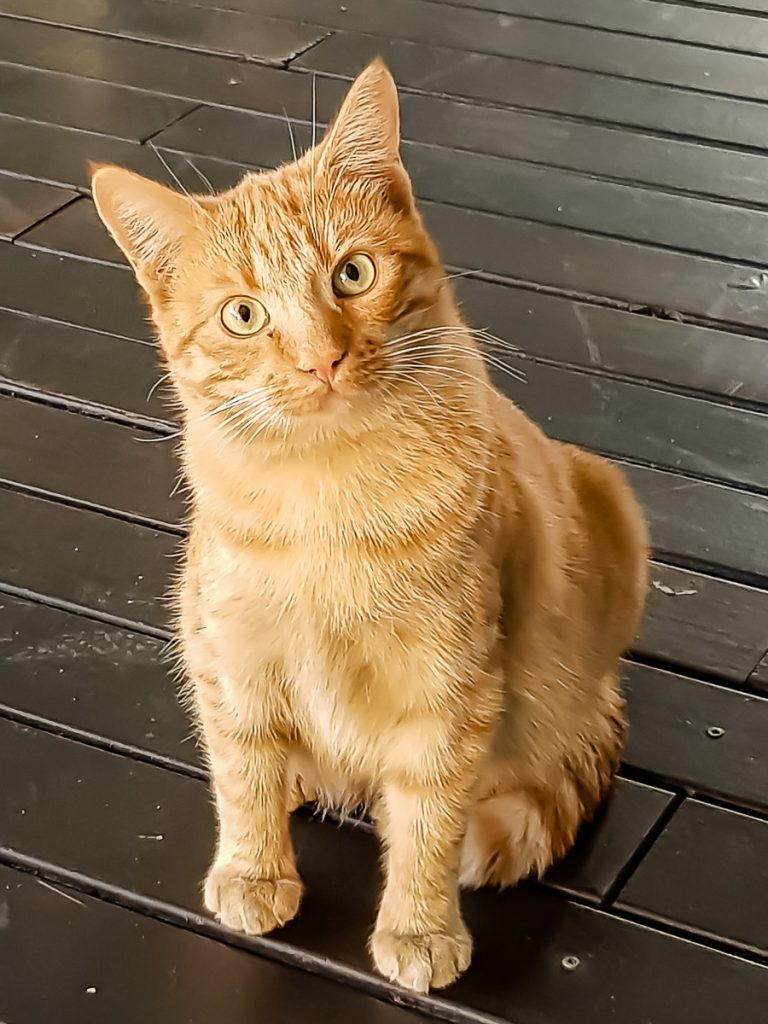 The second one – a local Garfield from Roman – sat quietly for the photo shoot, looking at me like a calf at the new gate… (What could it be thinking about?)
After checking the "zoo without borders" chapter, I went to a very beautiful and quiet place, full of sun, which makes you feel even more intense this day, October 14th.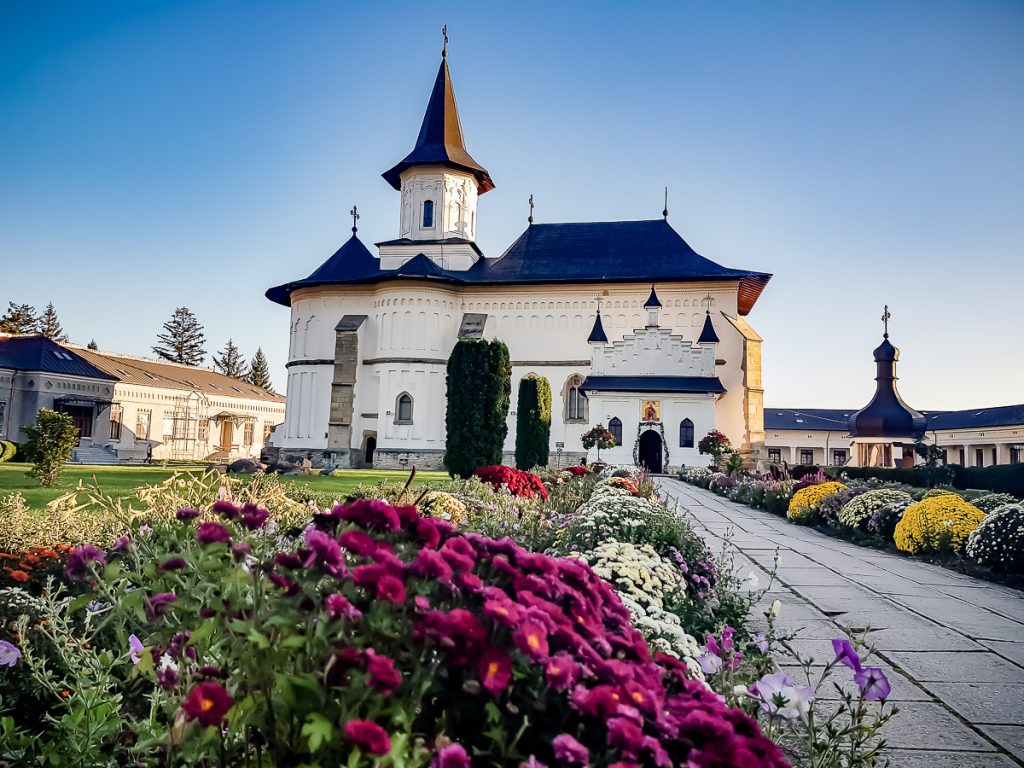 I entered the Pious Parascheva Cathedral, which dates from the 16th century! And I was especially glad that I visited it on a special day, when in Iasi is already a scandal due to the current conditions of (non) access to the relics.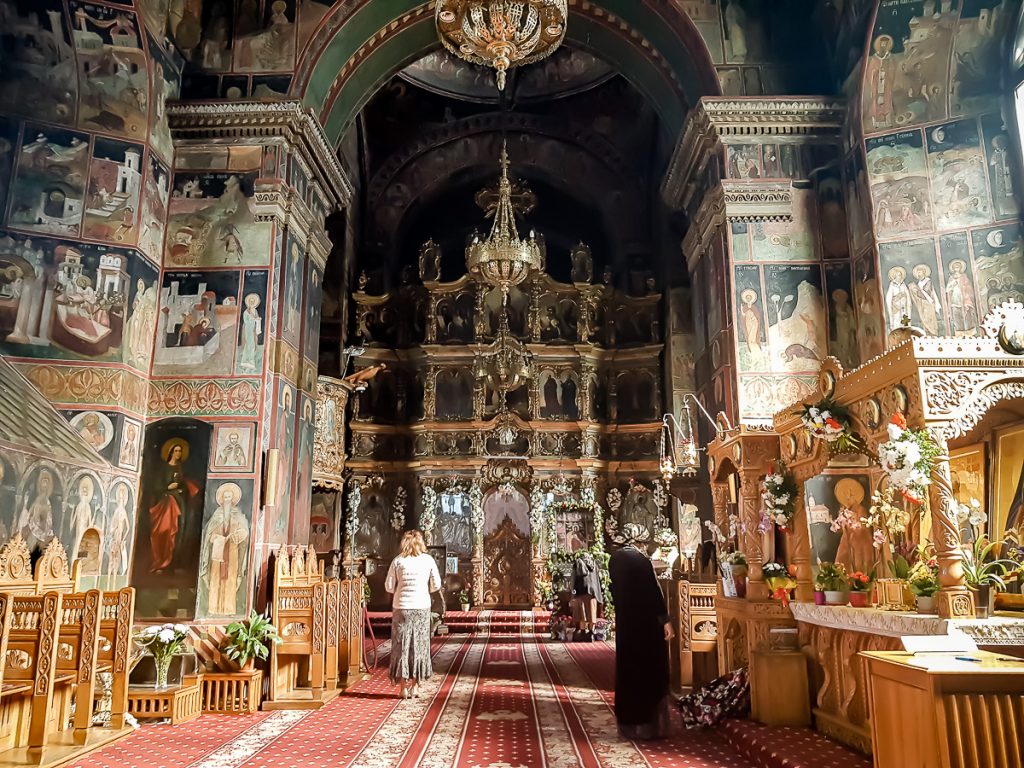 Very few people are inside. Some, brave (unconscious?) people kissed the icons.
I lit a few candles, then left, thinking about going to eat in the best rated restaurant in town. According to Trip Advisor, let 's see… this is… a confectionery J.
Well, now, if I cannot have a Moldavian stew, I might have an… Indian cake. I also go for some cream cookies. And some salted cheese pies too, to balance the sugar a bit.
A good opportunity to find out from the internet about the local personalities – people born here or who have lived here for a while.
I found names like Miron Costin, Cezar Petrescu, Otilia Cazimir, Garabet Ibraileanu (writers) and some theater people, scientists, not to mention the two above – Calistrat Hogas and Sergiu Celibidache.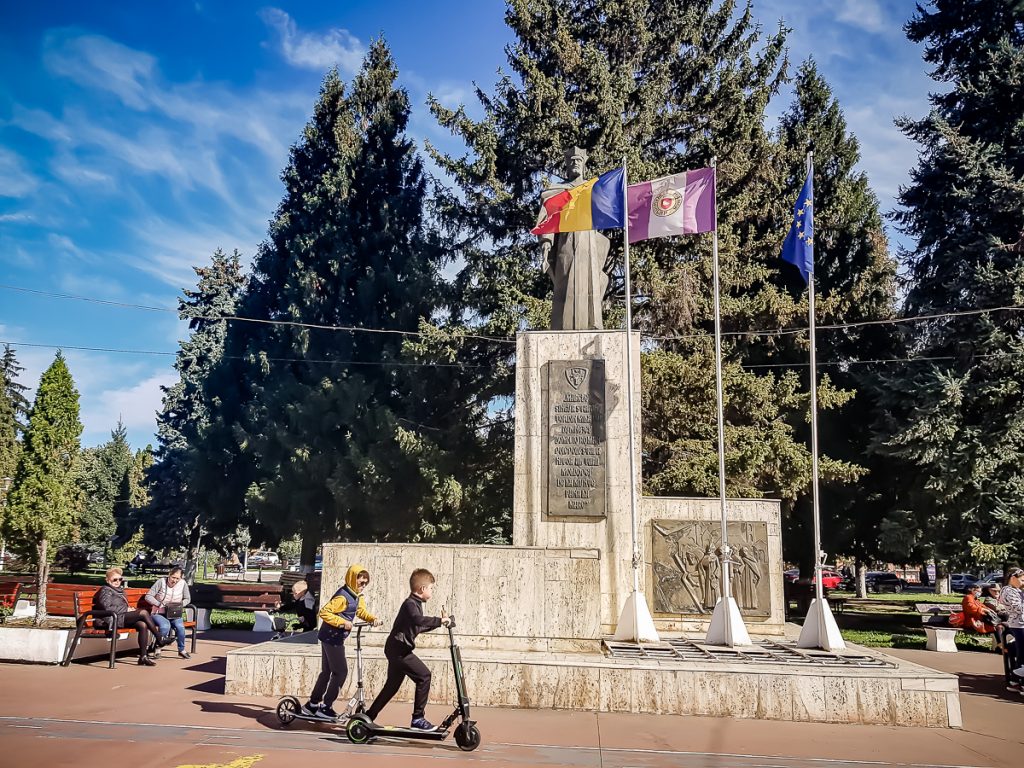 Without Google, I also know someone famous, born here: the tv star Andreea Marin.
I triggered her nostalgia when I sent her a little "flavor" from the city center.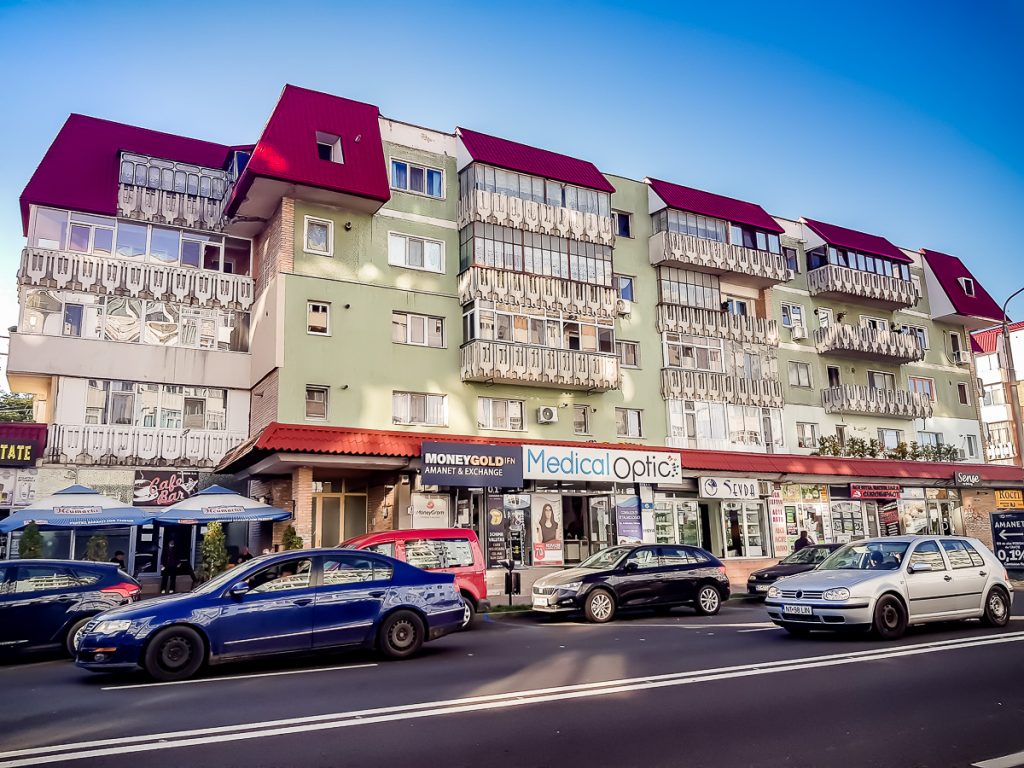 That is it, the shortest city break I've ever had is over.
I am leaving, analyzing the architecture of the city center. I do not leave this place knowing more – because I was not given the opportunity – but I learned something new: do you know what are the inhabitants of Roman called? I have to admit, I did not know! They are called… "Romashcani". Cool, right?
If I think about it, they just could not have been called "Romans", as some other people came some 2000 years before and took the right to this name J.
I go further through Moldova, maybe in a different city I'll get more luck…