I gathered up my courage (and the mask too) and… I ran to the airport! Because I had that tingling feeling in my feet with so much staying at home. My last trip abroad was on New Year's Eve. Holy Mother of God! I even forgot where my passport is!
Then came all the canceled vacations. One after another. March, May, August… After which the next episode "let's see where in God's name we can go without quarantine and other things like that". And so I came up with a short list. A very short one! Some Germany, a bit of France, Spain. These were pretty much the countries I watched almost every day on the Ministry of Foreign Affairs website, to see if they don't change their minds about us.
Taking advantage of the good prices for the flight and accommodation, I bought the ticket today for the day after tomorrow! As never before (and the prices and accommodation were available as never before as well).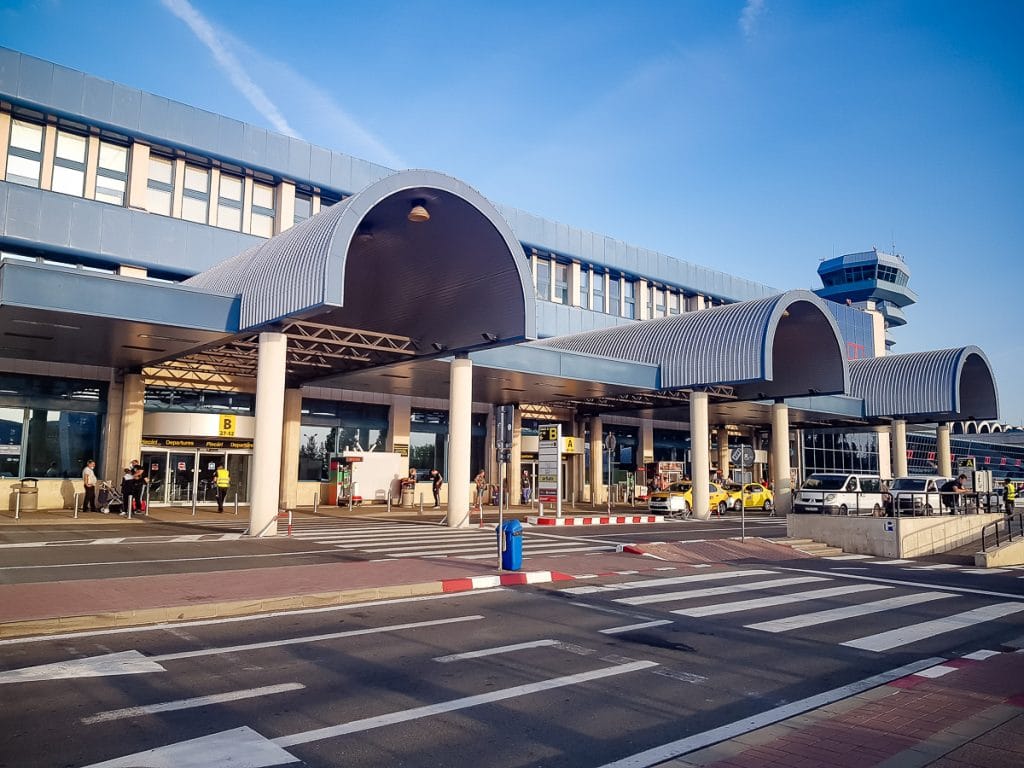 I went to the airport this year during the emergency period – you can read the thriller here…
Today is not like it was at the time, but it's not like during the good times either. It seems that I have got to pretty much one night flight, in the off-season, when only a few passengers really have to travel.
The silence is the first thing I notice, after the thermal scanning gate you pass through now in order to enter the airport. Thank God, it didn't beep when I passed through. So far, so good.
A lady tells us nicely and clearly through the speakers that we have to keep 1.5 meters between us and wear the mask on our mouth and nose, as instructed.
A lot of check-in counters are closed. It's not a very pleasant image. It seems to curb your enthusiasm, your optimism.
I zigzag among the ropes, a labyrinth built to better organize the flow. Well, in this case, I could get on a board and slalom around, because it's just me in this whole area…
Automatic gates have appeared, where you use the boarding pass and you can pass. This is a good thing. (Well, not for people who have been replaced by machines…)
The customs officers who check your luggage are in that time of the day when they could take a nap, considering that I am the only traveler within a radius of 6 lanes.
They all have masks, gloves, some even protection visors. And, compared to the periods without this pandemics, I see them disinfecting their hands more often. (Note: I'm in the area where I'm not allowed to take pictures)
I ask them if it's always as deserted as now. "It's crowded early in the morning", they tell me. That is until 7 in the morning, when there are many flights, many low cost flights.
The kind voice from the megaphones reminds us all of the distance and how to wear the mask correctly: to cover both the mouth and the nose.
"Take your mask off!" – I hear all of a sudden. What??? Well how come?? Oh, wait, right! It's practically the only situation in which you are clearly asked to take off your mask: at the passport control desk.
The gentleman here takes my passport, but he also wants to see my face. To see if it's really me. Yes, yes, it's me, although for some time now I no longer look like the one in the picture J.
"A bit risky for you", I tell him, thinking that all the people take off their masks right in front of him. "What can I do?", he answers smiling.
In the duty free area, the few travelers buy things. Or at least, they test the perfumes.
I walk around to see what's new. Everyone wears a mask, that's the only novelty…
Some French people are noisily looking for some souvenirs for friends.
I look at the Romanian products. I am always curious what Romanian goods attract foreigners here, at the airport.
Besides the old Vladut's Story collection – which makes Dracula a nice character for children (or so I guess, otherwise I can't understand why we don't sell products with "Dracula"), I see a novelty: Decebal! Oh, so we started promoting Scorilo's son as well.
Decebal mugs, key-chains, Decebal magnets, even diaries with his image.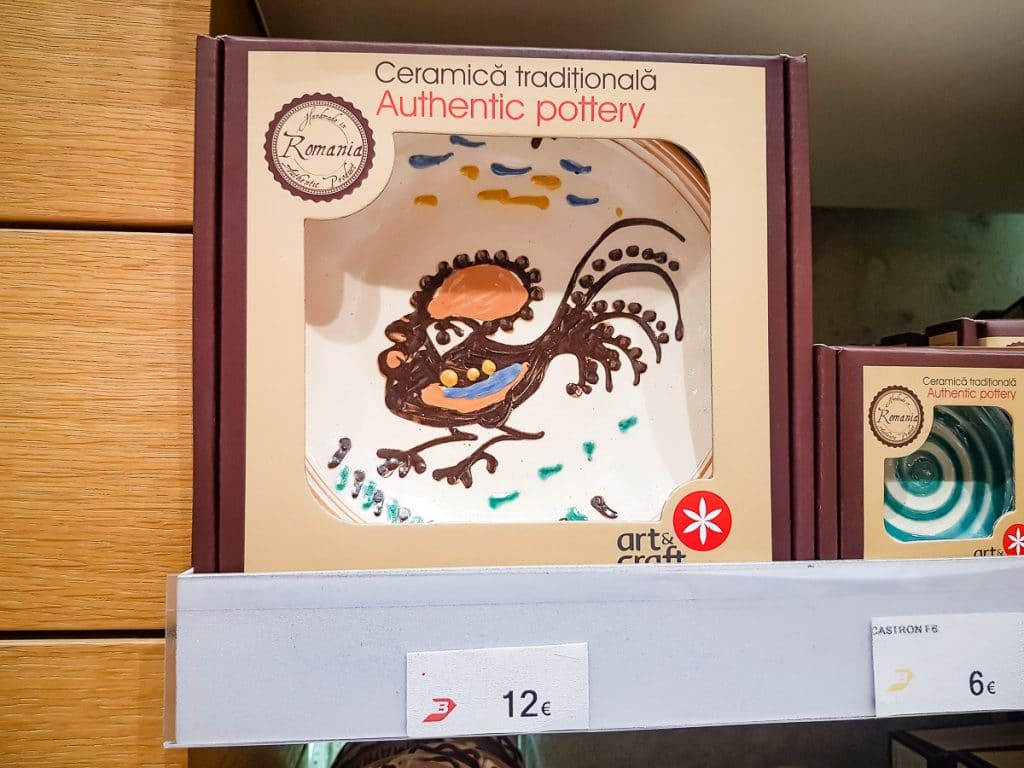 I also see some Horezu vessels. 12 euros a small plate with a rooster painted on it. Oh, so here are the authentic ones. (For those who haven't read about the disappointment I had in Horezu, you can do it here)
A gentleman who works in the store keeps following me. I think I look suspicious to him, as I look too much and I don't buy anything. Even more, I also take pictures…
I ask him, in order to satisfy my curiosity, to tell me what the best-selling Romanian products are here, in the duty free shop, to see what the taste of the foreign traveler is. Or maybe of the Romanian one who buys a gift for someone abroad.
From the food area, at the top is the box with stuffed nuts! Really? Cool!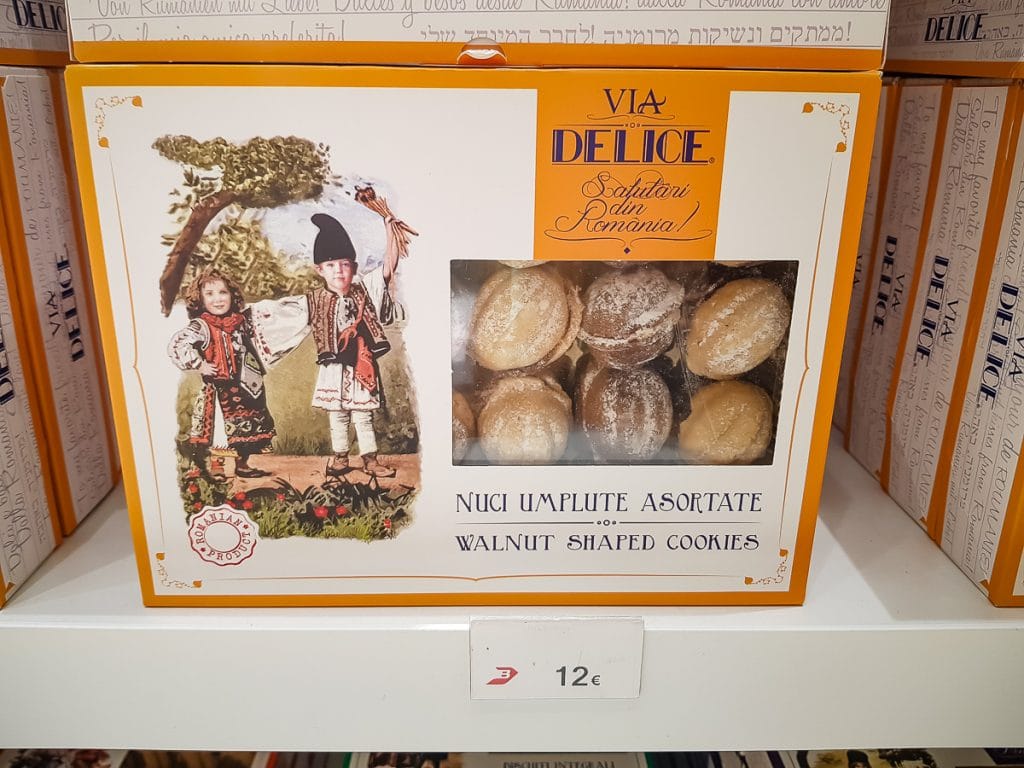 Half a kilo costs 12 euros.
Then there's the green walnut jam from Râureni.
But, the nice gentleman tells me, it depends on who we are talking about: Asians and Arabs prefer honey products. While Europeans prefer sausages.
In the non-food area, they sell handmade wooden products because they make really good gifts. But they are also expensive. 24 euros for a wooden little fountain, for example.
And some personalized products are also sold – a Dracula or Romania t-shirt, a mug with I don't know what on it, things like these…
Some people are arguing. This is something bizarre in an almost empty airport. I see around the corner the boarding area for London. Wizz Air. A lot of people! If I ask them, I am pretty sure there isn't anyone going on vacation. (Let's not forget that in Great Britain you are quarantined for 14 days if you come from Romania). Everyone seems to be going home, to their home in England. They carry luggage, and they have children with them and they don't look carefree.
The female voice that keeps telling us to wear the mask covering both the nose and the mouth has already become our friend, as it accompanies us all the time…
The truth is, I don't see people without a mask. Except a few people nibbling on something, at the very few open bars.
The wait is long. Especially when you wear a mask… So, apart from the flight, during which you are obliged to wear the mask, the previous hours must also be added. Basically, from the moment you walk inside the airport terminal.
After about 2 hours, I find a solution to breathe without a mask: I go to the toilet! Well, not that I could really breathe some clean air there…
Boarding the plane has changed too: the flight attendants stop all the passengers who have cloth masks and give them some surgical ones. Just when I had prepared the last purchase from the Chinese, made of cloth, but with a filter and, moreover, with a windshield! J
I was so careful to take masks with me of I don't know how many types, gloves and so on, but I dropped my phone on the plane. Well, let's see who can disinfect it for me. Because I have the sanitary alcohol in my big luggage, otherwise I could not pass customs with it.
The presentation of the safety measures that the flight attendants make before take-off also includes the recommendation that, before putting on your oxygen mask, in case of a depressurization, you should not forget to take off your COVID mask…
The advantage of these times is that you no longer sit side by side. There are some people sitting together behind me, but they must be a family. I see a row of empty chairs and, after take-off, I move there. I take off my shoes. God knows if my feet smell, I can't feel it as I am wearing a mask hihi. And so are those around me, so I don't have to worry.
A gentleman is coughing! At his own risk, what can I say… I can imagine all of us going and locking him up in the toilet until the landing.
I've never paid so much attention to sneezing and coughing as I do now. I hope everyone who does this has allergies. I hope they are allergic to the clouds, the stewardesses (considering that there is no ragweed here…)
We are landing. We have to fill in a mandatory form, a form that will help them find us even in a rabbit hole!
Then, despite my fear of flying, I remain staring outside the porthole, because it's 11 o'clock sharp and every hour, for five minutes, in all its splendor, the Eiffel Tour "blinks"!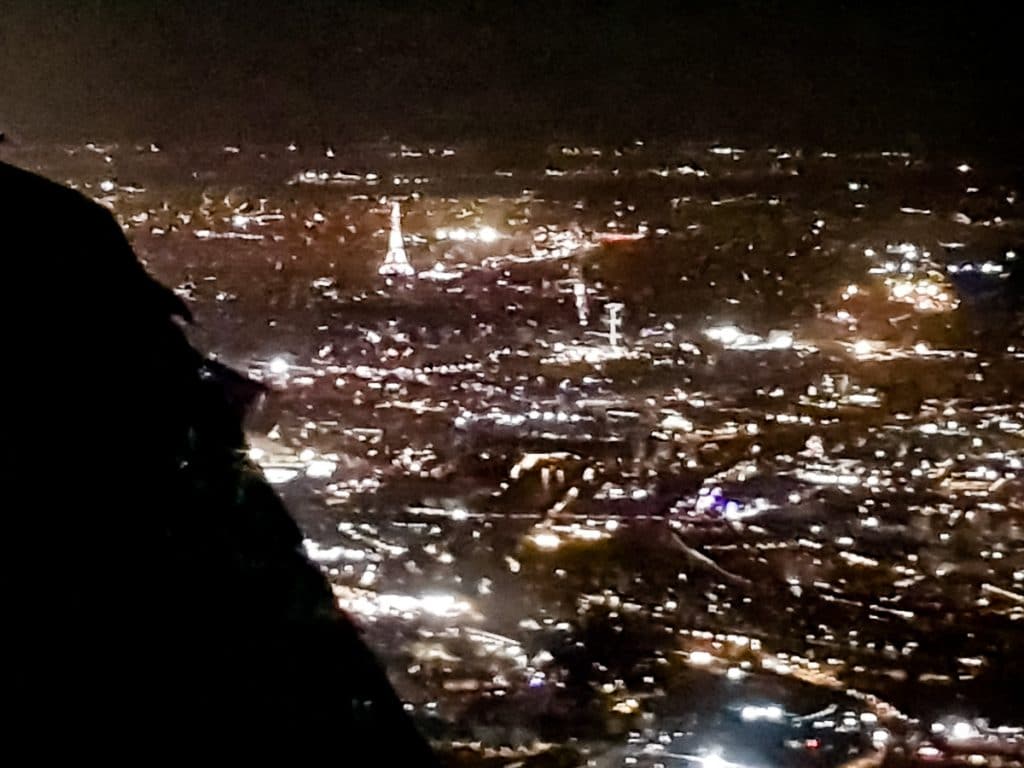 Welcome to Paris!!!
Welcome back, actually. For the 14th time…