Where does the despair of a person who comes out of the house after COVID lead?
Well… to Paris hihi.
Oh, don't think that it has become an obsession (since I was there last September, and the last New Year's Eve, and during the summer of 2019…). But, what do you know, at the beginning of 2021, France is the only European destination where there are no restrictions either upon entering the country or at the return to Romania.
So I don't even think about it: at 7 o'clock in the evening I buy a ticket for… the next morning!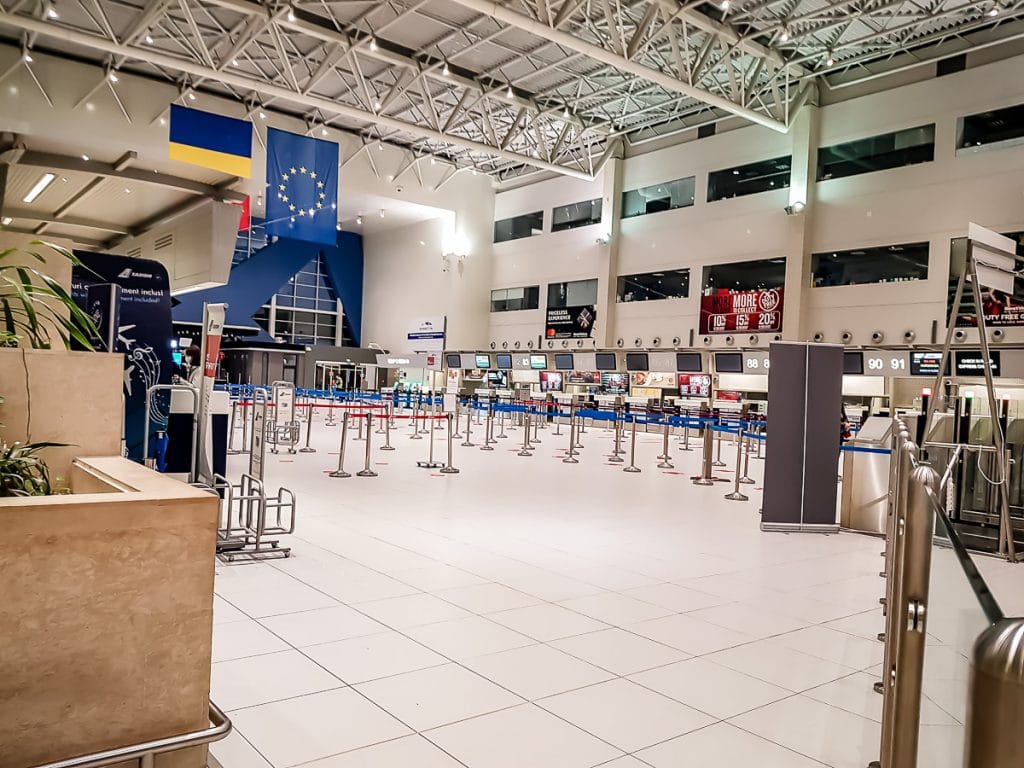 This is Otopeni at 7:30 a.m. Such a pleasure to travel!
In the plane we have to fill in a form. I think how proud I will be to check the "Yes, I had a covid" space! But… there's no question about that. Not if I came into contact with anyone, not even if I sneeze, at least. Too bad. I could have had the opportunity to brag about it J. It's just an identification and localization form. Ok – locate me in Paris, on the right side!
Paradoxically, it is a more lively Paris than I saw in September. But with all the museums, restaurants and bars closed.
"What the hell are you going to do there all day?" – friends ask me.
"I'll walk!"
God, I miss walking around so much! Even with the cold weather that they announced.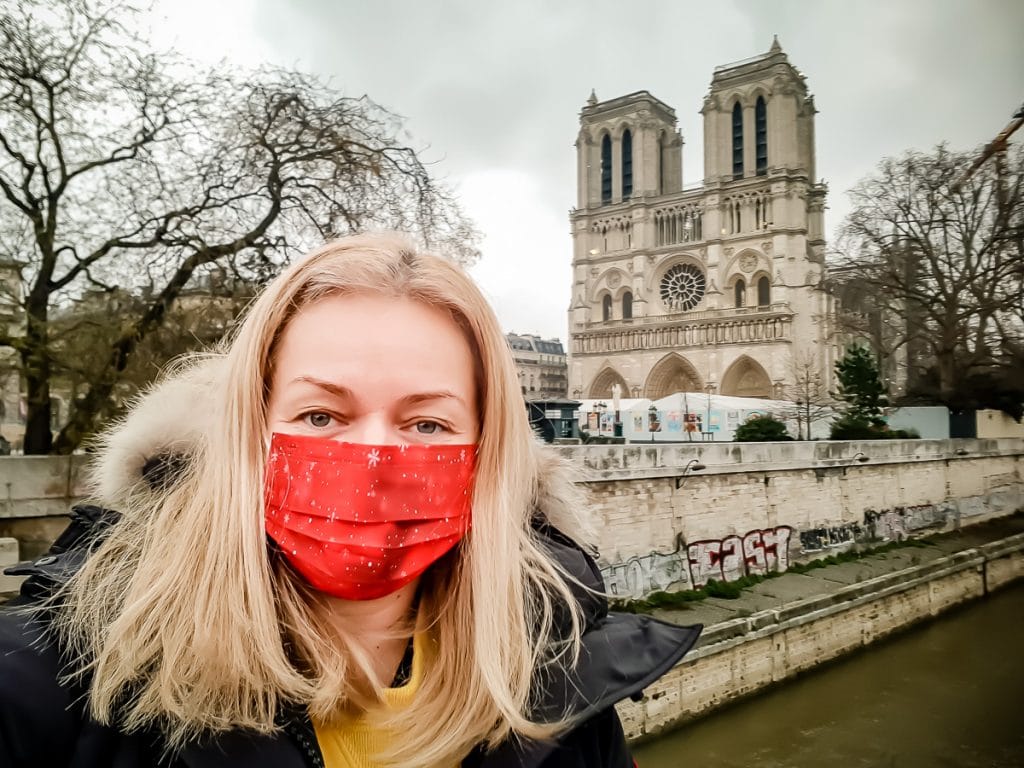 I walk the streets, slowly, as I still feel the fatigue that COVID left me with…
And, my friend, do I walk…
You cannot imagine the enormous joy I feel going through each known neighborhood, but also through the new places. It is a state of FREEDOM difficult to describe in words! Well, it is a limited freedom, because, from 8 pm, you are no longer allowed out in the streets. If the police catch you, you'll get a fine. At the first "offence", 135 euros, then the amount increases, after which they put you in jail…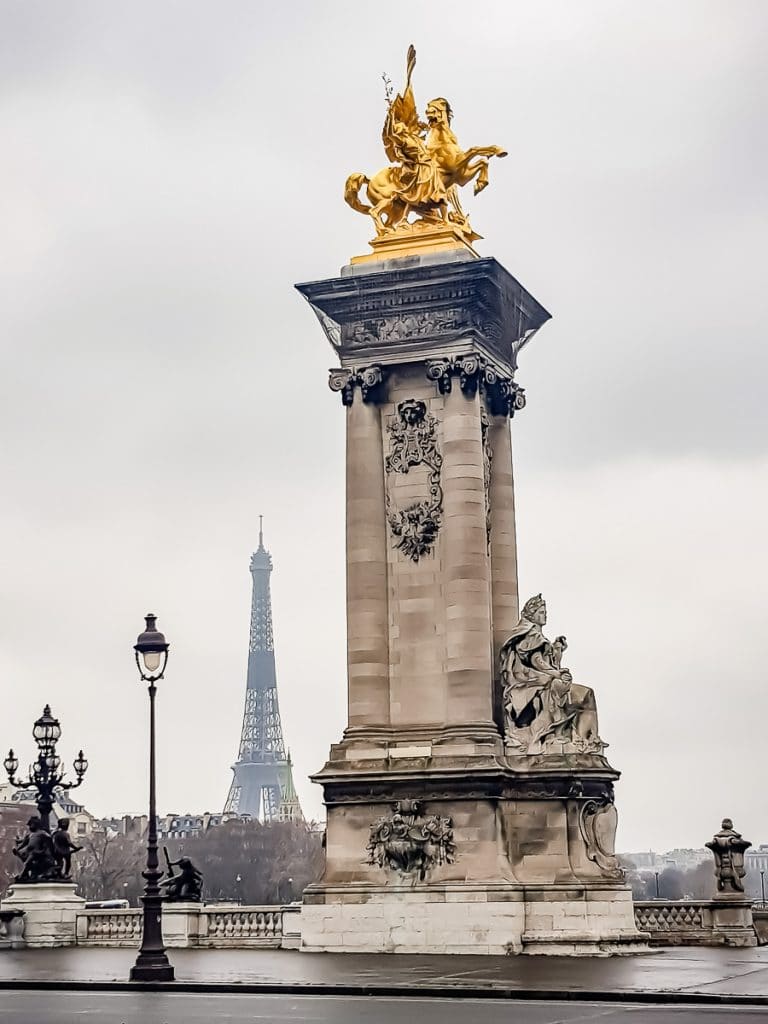 In my eyes, Paris is divided into two sides now, since the restrictions: the touristic Paris, empty, and the Paris of the French, very much alive.
A Paris that at certain hours comes to life due to the infectious joy of the students who go or come from school. Something that seems we have been lacking for an entire eternity…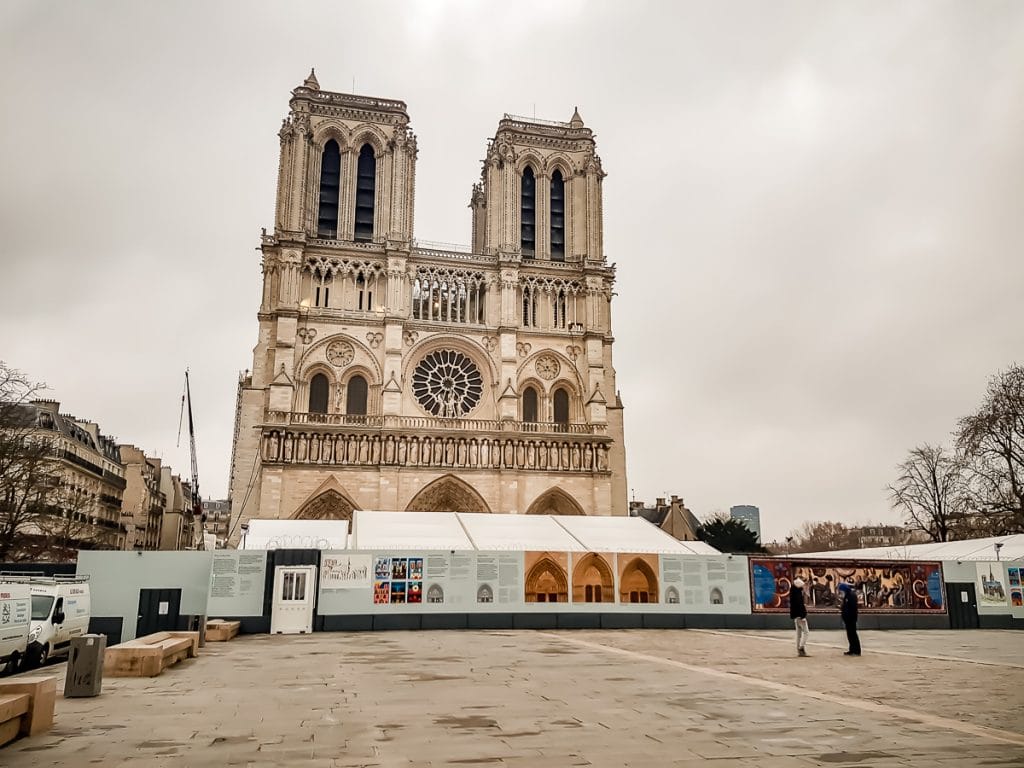 At the tourist attractions, it is deserted.
On the streets and in shops – it's much more lively! This gives me a very good feeling.
I go up to Montmartre, although it is very cold. And I discover with great enthusiasm the populated streets!
In the past I used to hate the crowds and the noise, but now these give Paris its life. I feel like greeting every passer-by…
More souvenir shops are open! Yessss! Let us go in, I say!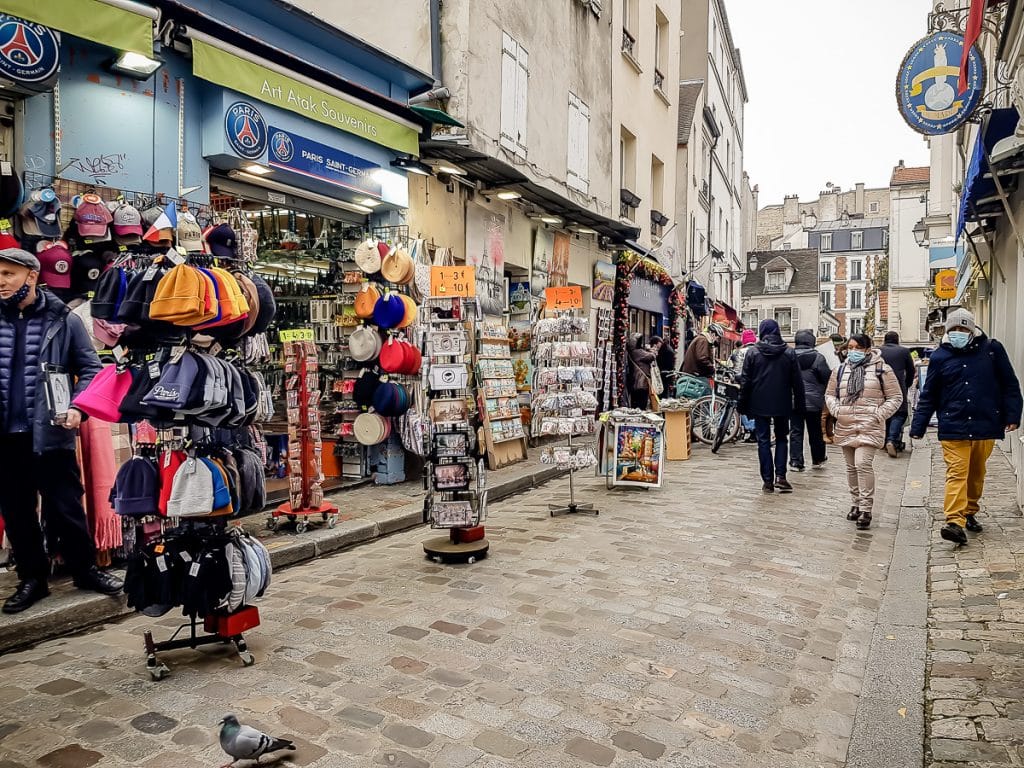 As I have become much more curious since the pandemic, I talk to the first seller, taking advantage of the fact that he has no other clients. I want to know how the situation has changed during recent months.
It hasn't changed, he tells me resignedly… It's all the same crap. And he continues: "every year, on December 31st and January 1st, we used to sell very well, much better even than during the summer! We had our top sales! Now we have sold merely… 1% compared to what we used to sell on the same days of the previous years".
My God!!! And we are talking about boutiques in mega-touristic areas!!!
I buy something from him and go on through the neighborhood.
A little old man plays the accordion in the rhythm of "La vie en rose". I look around me and everyone smiles as they pass through the area. His music is like a vitamin!
I give him one Euro. I haven't had such satisfaction offering someone a penny in a very long time!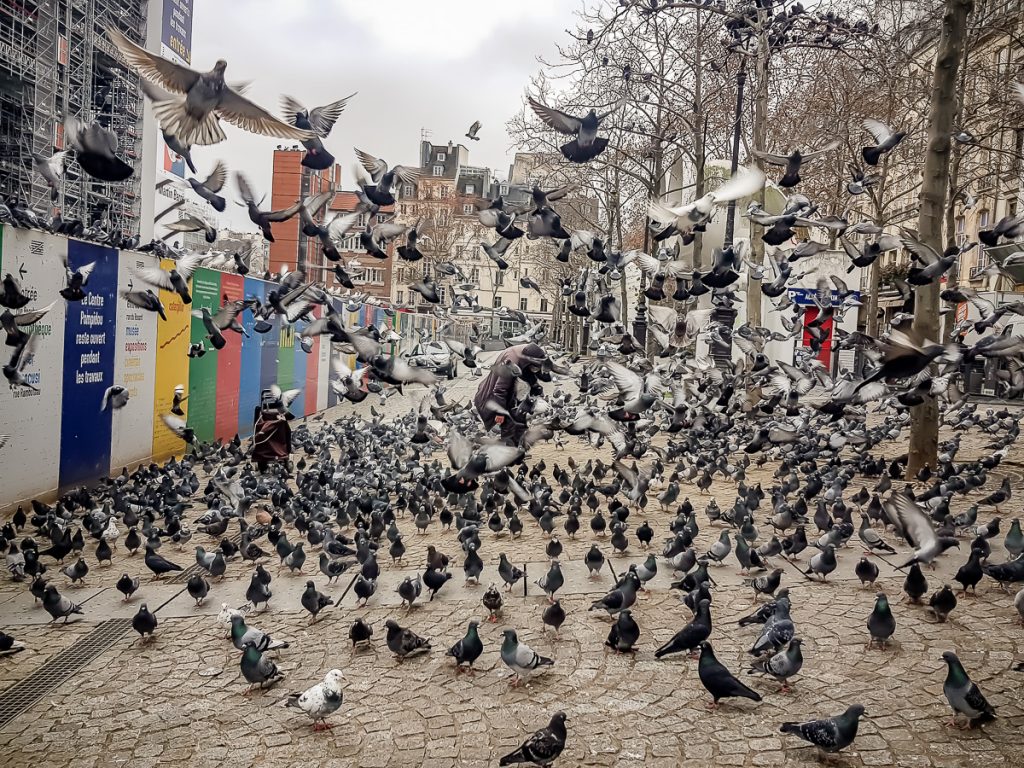 At the George Pompidou Center for Modern Art, I come across another old man, who seems to be the master of all the pigeons in Paris!
The center is closed, as is the Brancusi Workshop. And like are all museums, by the way.
But I feel so proud when I see, at Pompidou as big as life, how these people chose to promote the exhibition of the painter Matisse: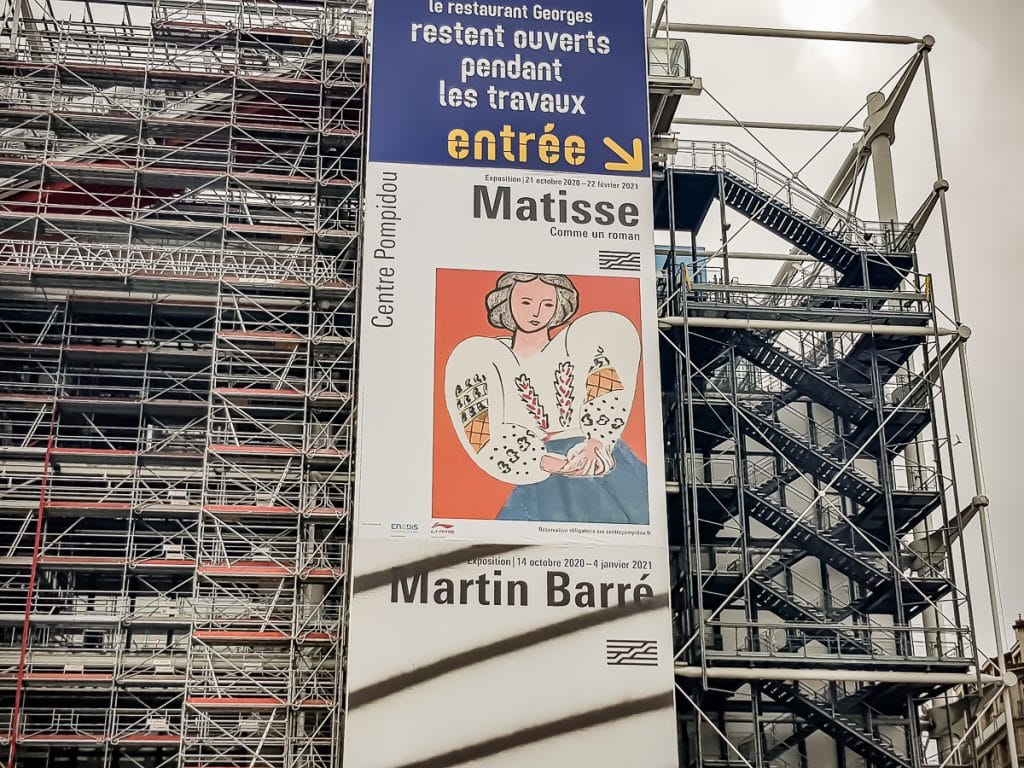 La blouse roumaine – the Romanian blouse…
I saw the original painting a few years ago and I was just as proud then, especially noticing the visitors who stopped in front of it.
Speaking of posters, banners, billboards: I see a poster for a concert. Wow! A concert?! Are there any concerts???
Yes! It is the poster for the show "Carmen", for June 2022…
Museums are closed, but churches are open, so I get in everything that is on my way. Even if I did it I don't know how many times before J.
What I like most is that I, who missed Christmas because of COVID, live it now, in January, when in Paris it is still very much present…
The famous neighboring shops Lafayette and Printemps compete, as they do every year, with their animated shop windows… I stand like a child and I marvel in front of each one.
Even the luxurious fashion houses are not left behind for the holidays: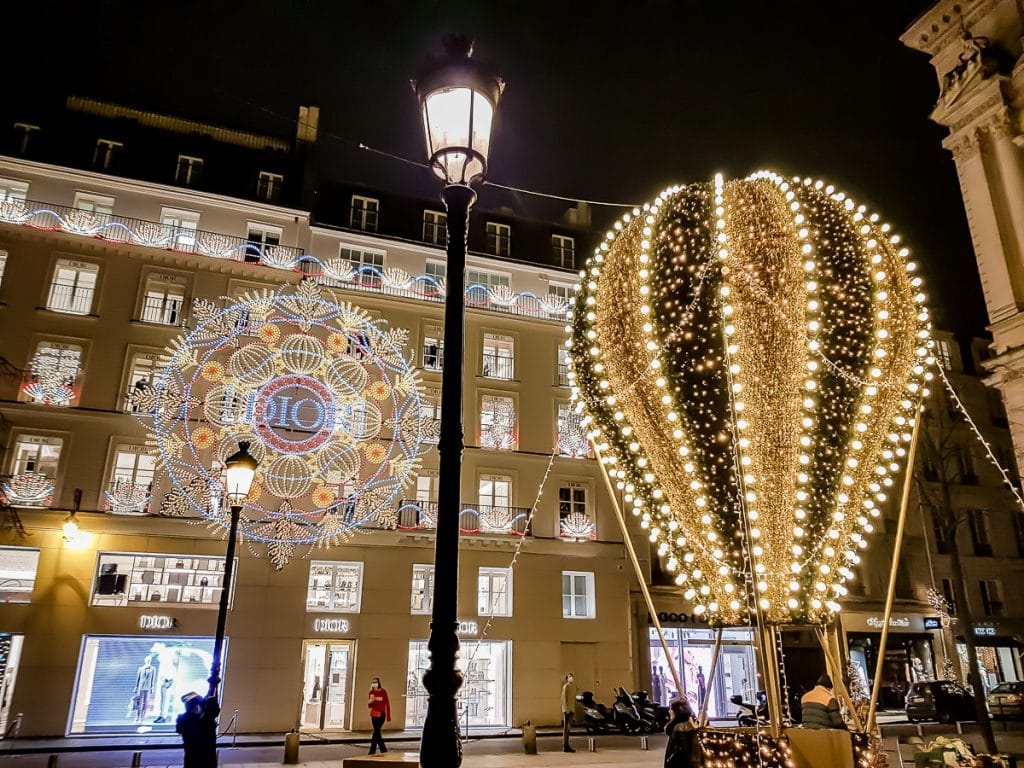 I didn't go to Dior, or Chanel, or Louis Vuitton, or to anyone else, because I forgot my card with the million Euros. Where?? In my dreams…
Instead, I went into the stores for the social category I belong to. You know how they say… stretch your leg according to the coverlet…
However, there are restrictions, you cannot enter freely. I saw in the door of many stores a poster with the maximum number of customers. At H&M I had a shock: 322 customers admitted! Wow, how big is the store?
In other shops, 199. Not 200, but 199.
Plus, in some of them you were greeted by some gentlemen at the entrance, with a bottle of disinfectant prepared for the attack. Mandatory condition for your access inside.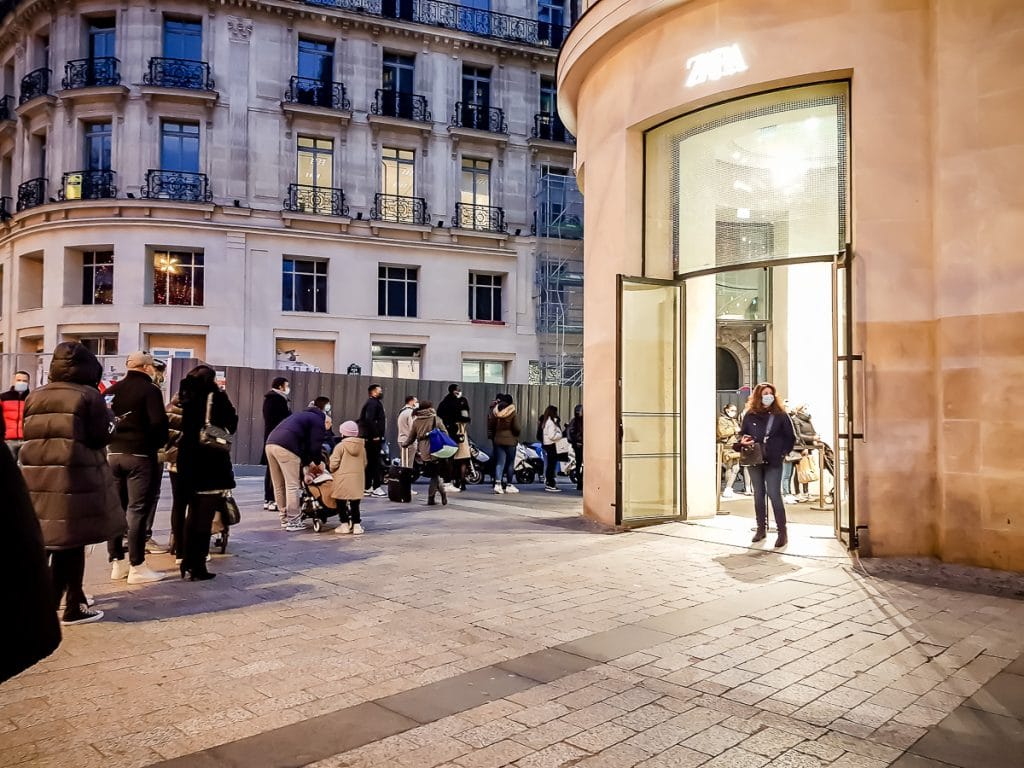 This is the queue at Zara. High demand, as you can see. I've seen similar queues at Apple and Louis Vuitton.
I take a walk, go up to the terrace of the Lafayette Galleries, in the past full of people who would come here to take pictures with the Eiffel Tower (I will do it too) and I don't forget the clock… 8 o'clock, the clock is ticking. I have to run to the hotel, not to get caught by the police…
What is difficult in these times with restrictions, until you reach 8 o'clock in the evening, is that you can't stop anywhere to drink something, to rest your legs, to warm up… Once you start the morning from the hotel, so you keep walking until you can't anymore! (I had the idea to sit down and try things on in the shops, but I found it harder to get all those clothes off than to walk around Paris all day.)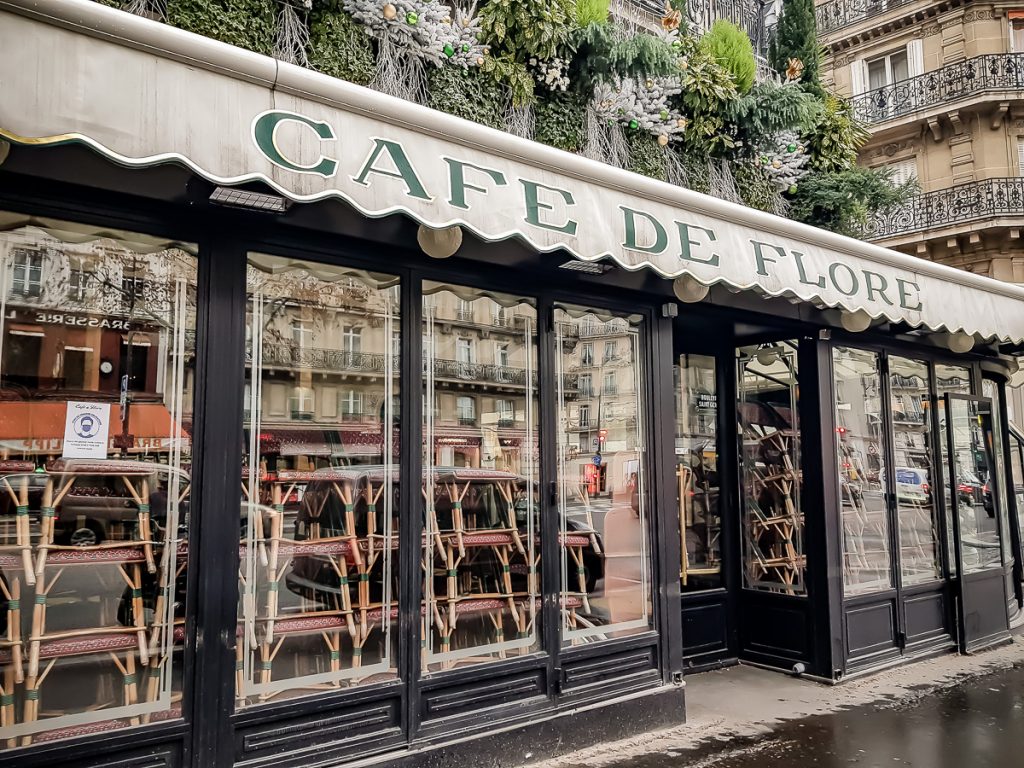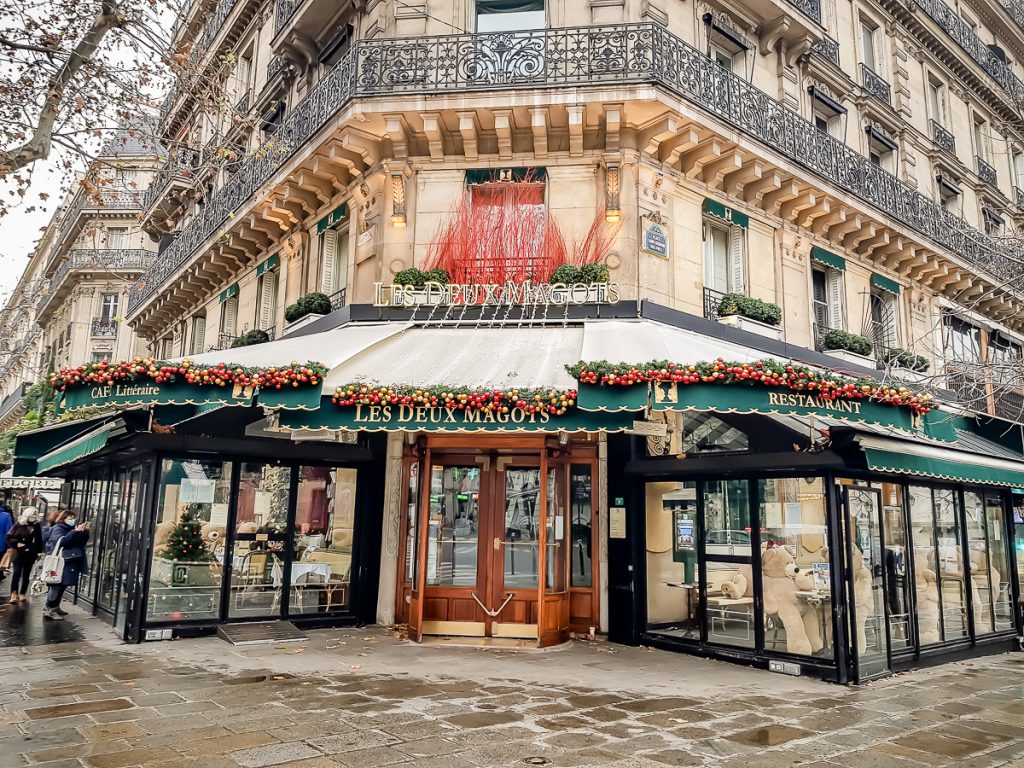 The famous cafes of Saint Germain des Près – Café de Flore and Les Deux Magots – frequented by so many celebrities over time, are also closed.
Either with the chairs turned upside down on the tables or with… a happier solution, to somehow reduce the bitterness of these days: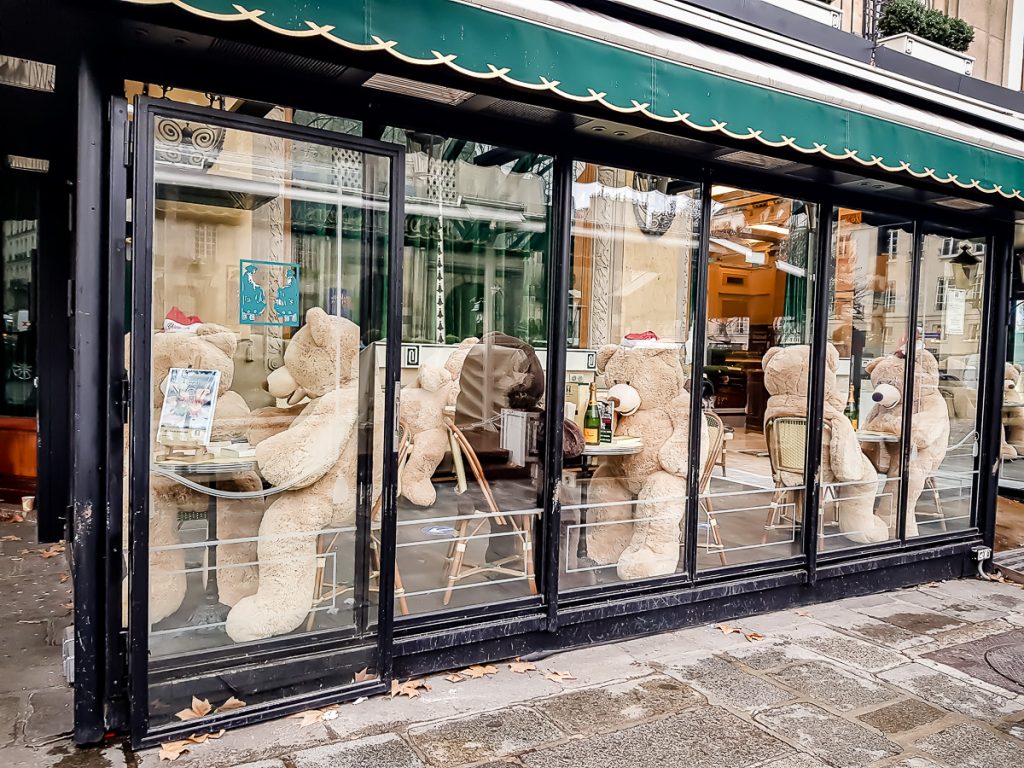 These bears hibernate perfectly here! In luxury and opulence.
I sincerely envy them, while my hands freeze on the phone I use for taking pictures.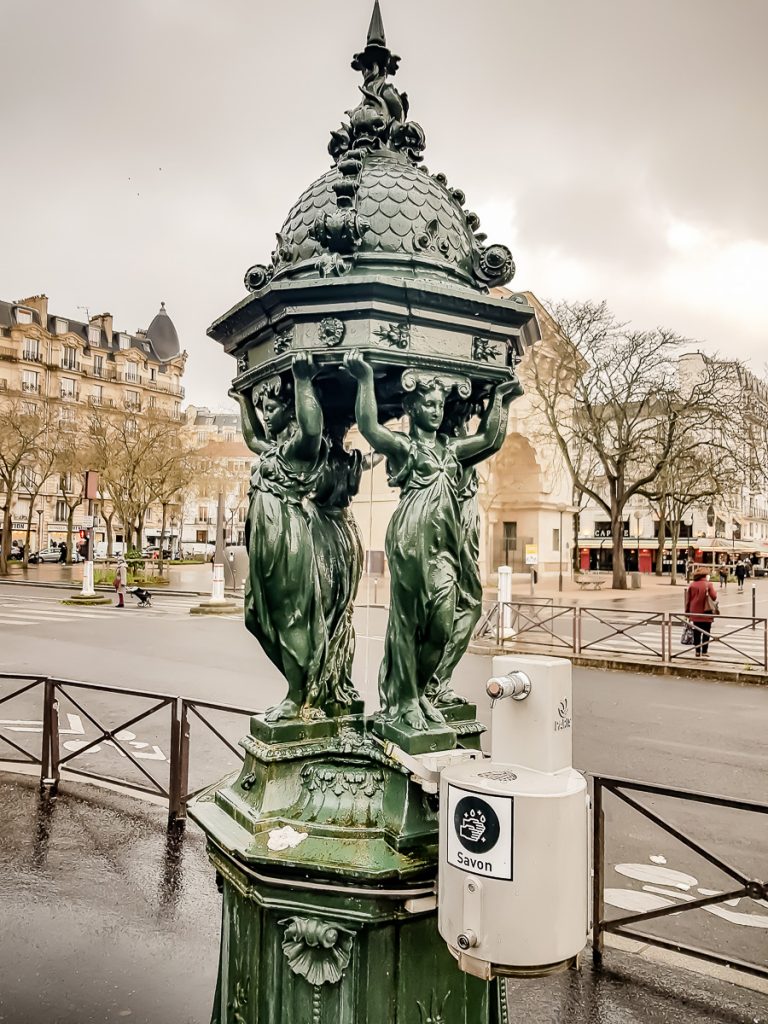 If I don't have a place to sit and have a coffee, a snack, I am satisfied with a hot chocolate to go and the cold water from my favorites – the street wells. The beautifully crafted wells that now, in some places in Paris, have attached a soap dispenser!!! From a totally different story…
Well, from the "COVID" story, what the hell can we do.
With the mask and without the hood, without the mask and with the hood on, without any mask or hood, any number of combinations… If I don't take 100 selfies, I'm not sure I have the picture with the Eiffel Tower J)).
WHERE TO EAT IN THE PANDEMIC PARIS?
I was thinking I was going to go to the supermarket and I get some bread and baloney (in Romanian "parizer"). "Parizer" comes from "Pariz"? J))
Despite the fact that the restaurants are closed, you can find food everywhere, which for me was a surprise! Many sell at the door. Others even sell inside, but you take your package and you have to go and eat wherever you can. (Not to mention deliveries. The food deliveryman came to my neighbors at the hotel every night.)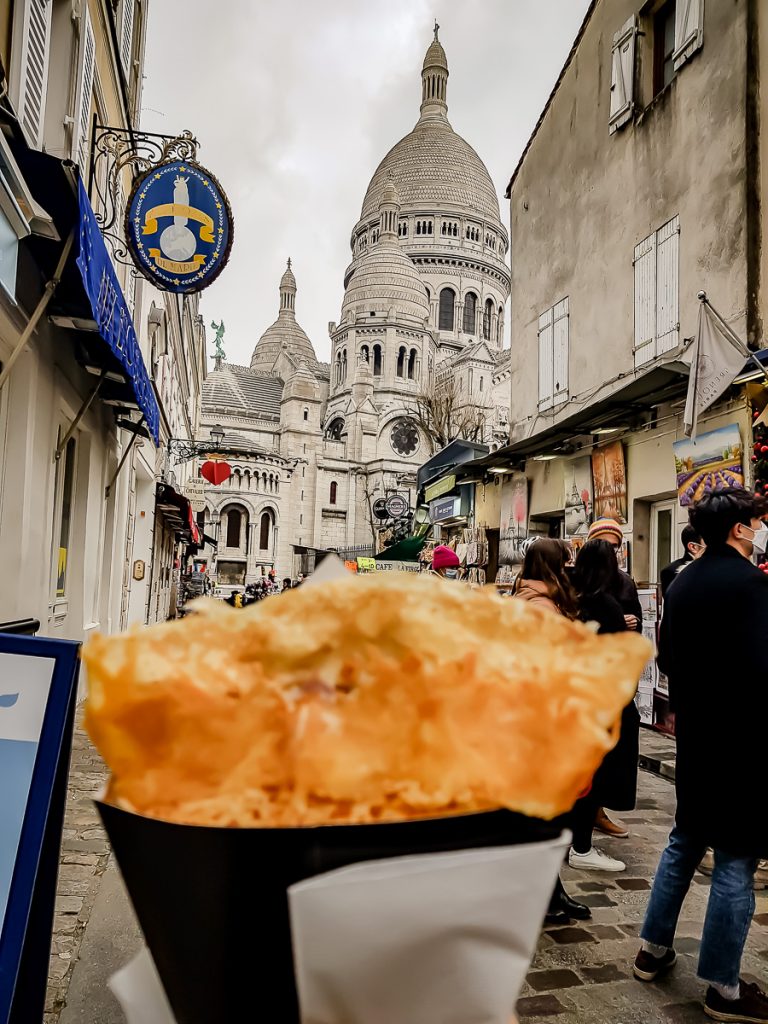 I started with a "crêpe" with ham and cheese. Delicious! Eaten from the cornet, in the outside cold, on the go, being careful not to wear it, because I'm wearing my expensive jacket…
Then I came across a restaurant that sells real food. Pasta with various ingredients, lasagna and even seafood, only these I have no idea how to eat on the go.
Many bars are open, with offers for the cold outside, from hot wine to coffee and hot chocolate. And the traditional onion soup!
And for those who think winter is like summer, a whole list of beers. Cold, obviously.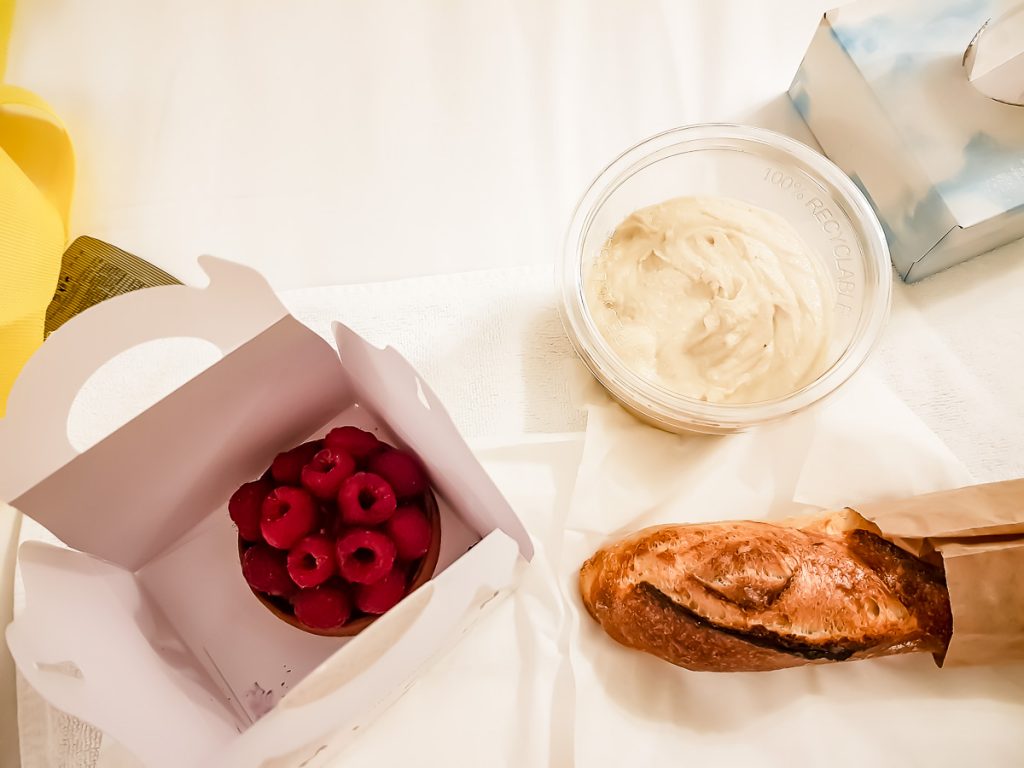 That was my dinner one night. Taken in a hurry, just before 8 o'clock, from a famous store. I wanted a luxury dinner hihi. Humus with a sensational French baguette and a raspberry tart. Nice, in bed, on the towel from the hotel, in the warmth of the room.
But the cold did not scare anyone.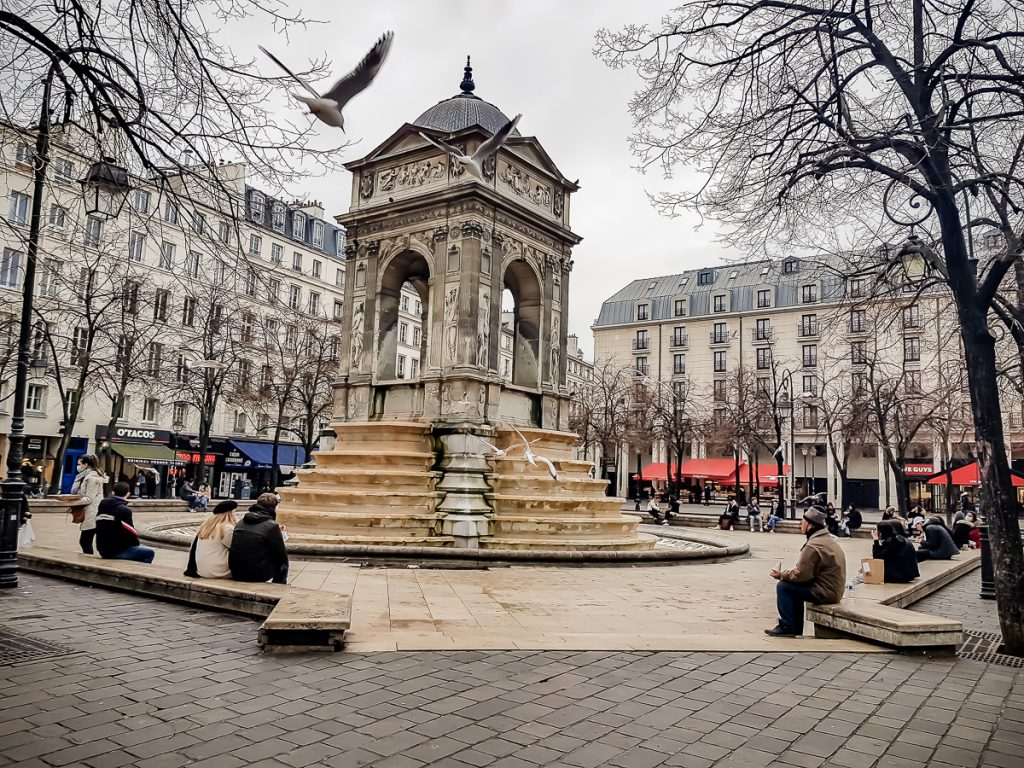 During the day, at noon, the benches in the parks, the bases of the statues and fountains in the squares, the steps of the churches are filled with people with bags. Everyone buys wherever they want and then they start eating.
And me too, like sheep… I'm just fed up with frugal snacks. I dream of a real lunch! I'm hungry for hot food, to fill my heart! (Well, and other parts of my body too, but I ignore those J)
I stop at the first restaurant on my way, I see the offer of the day – "tournedos façon Rossini, pommes Dauphine" and I order. 16 euros.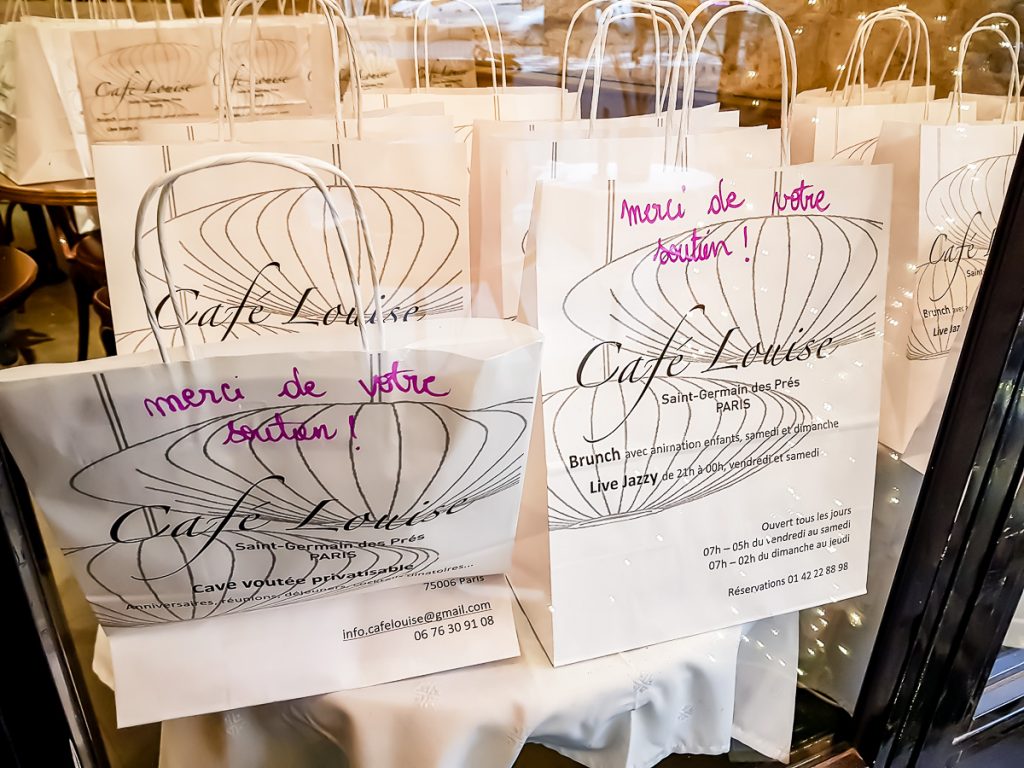 Waiting for it to be prepared, I see some bags ready for delivery and I realize the shit everyone in the hospitality industry is in (and I think about us too).
I like how they wrote beautifully with the marker "Thank you for your support!"… Because it is clear, without these orders, they would have to close!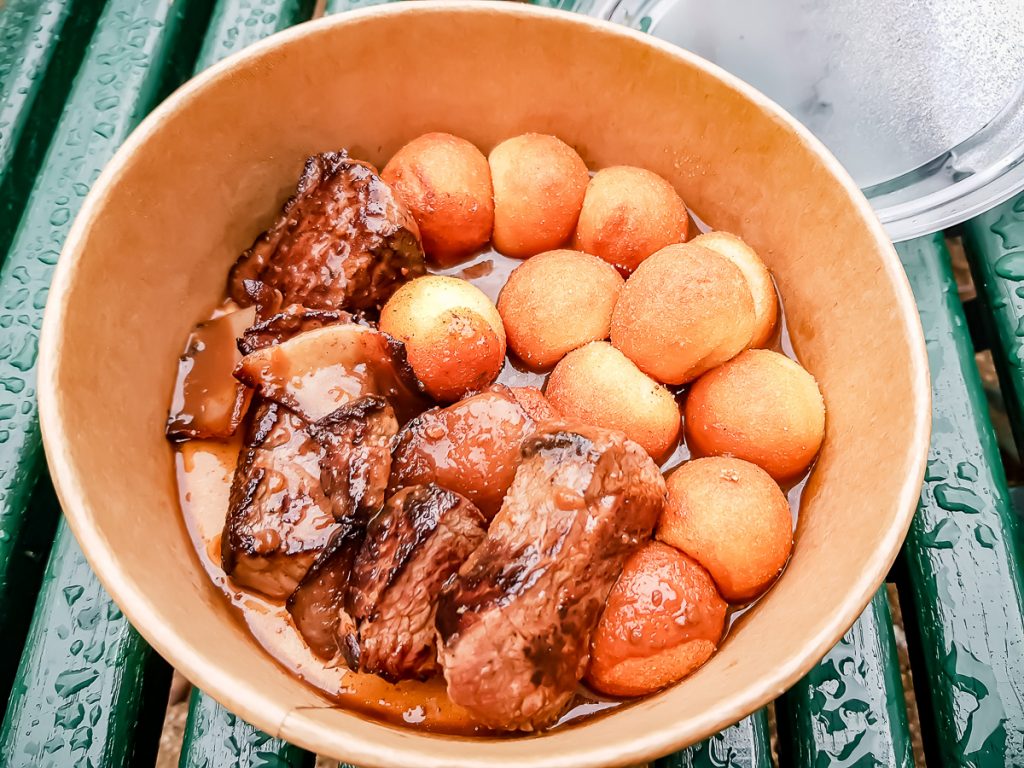 God, you can't imagine how good this lunch was!!! It will be in the top of the best Parisian lunches of my life! My mouth waters even now, when I look at the picture (what you see on the bench is the rain from the sky, so that you know…)
Tender beef – I asked the cook to cut it into pieces, so that I wouldn't have to bother to cut it in the street – brown sauce with mushrooms and bacon and those potatoes that truly melt in your mouth!
And I found the perfect place for this lunch.
Next to a sculpture by Picasso – a tribute to the poet Guillaume Apollinaire.
I couldn't have found a more honorable neighborhood!
FRENCH DESSERTS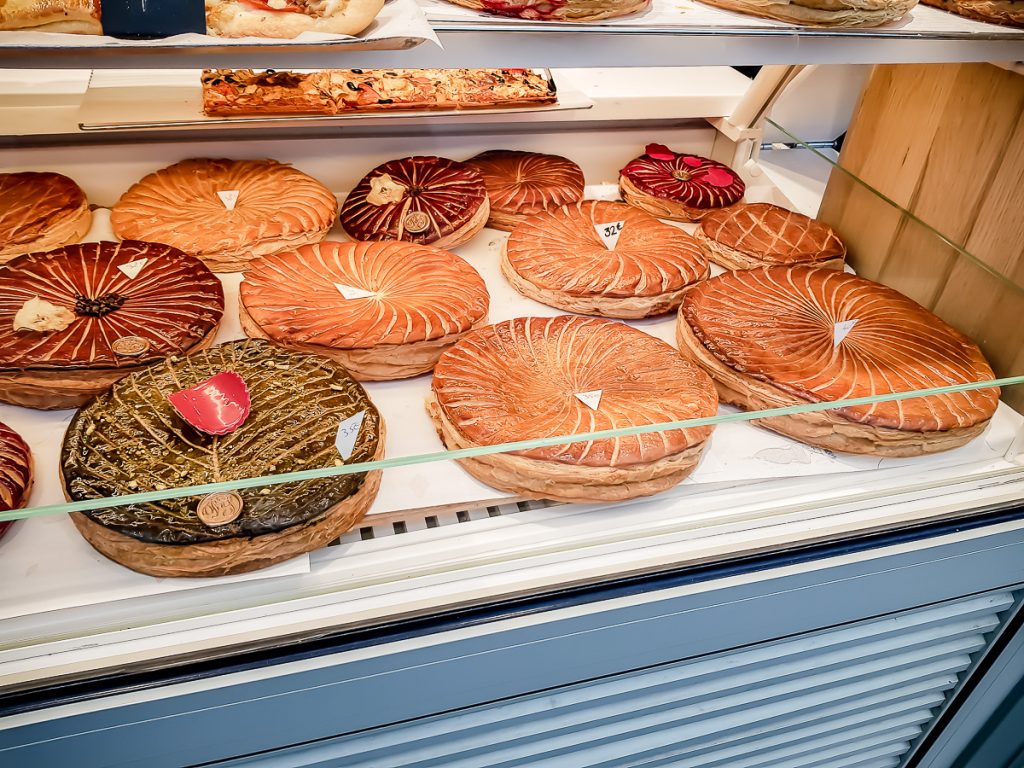 I was there at the time of this "Galette des Rois", the time of the Epiphany in Romania – when people flock to bakeries, pastry shops, confectioners to buy something like that, and then to eat it at home, with the family.
Chocolate stores attract me like a magnet, so I go inside all of them…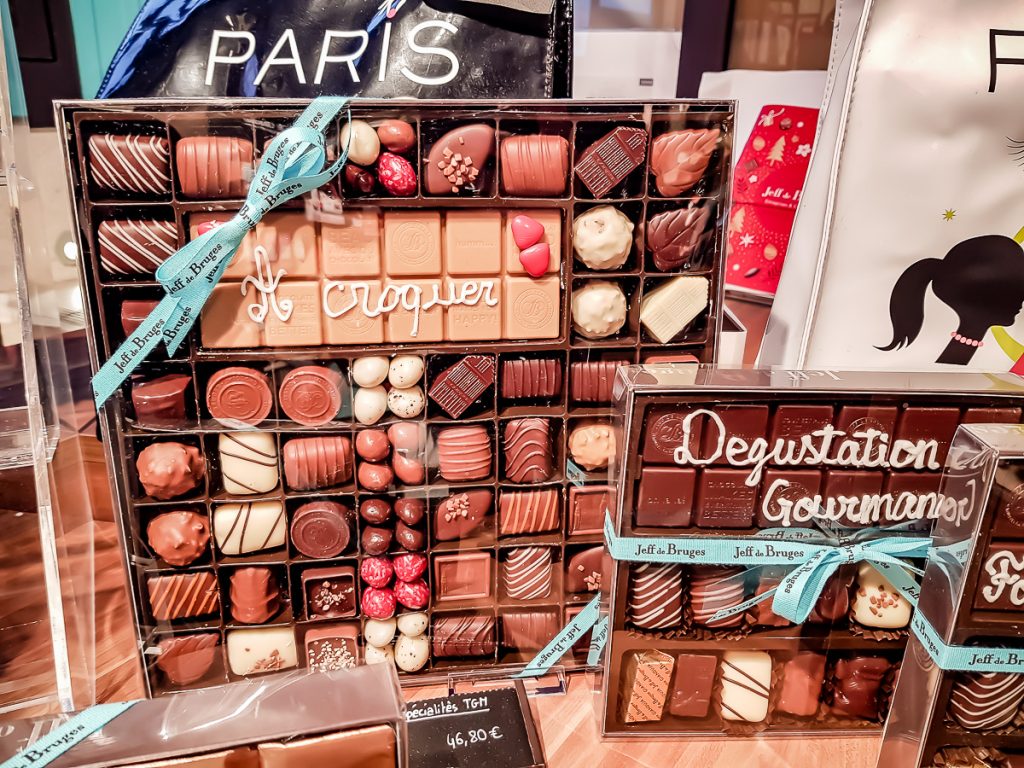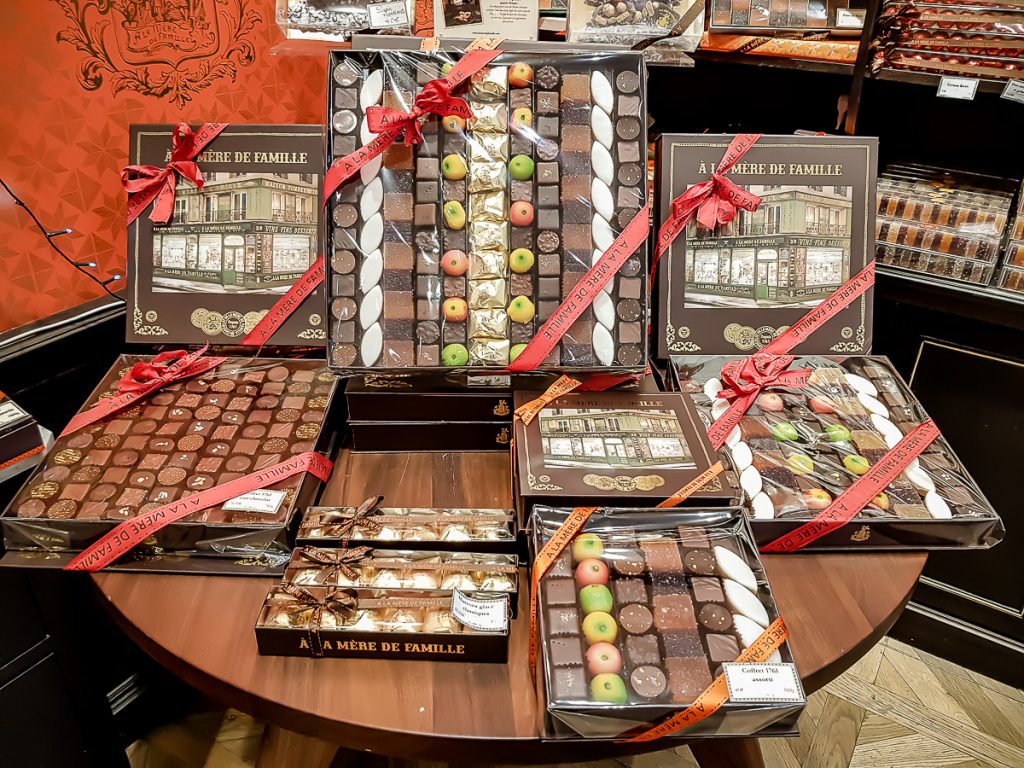 I craved and I bought a few bags of candy from each one of the shops, but some big boxes kept me there for a few minutes…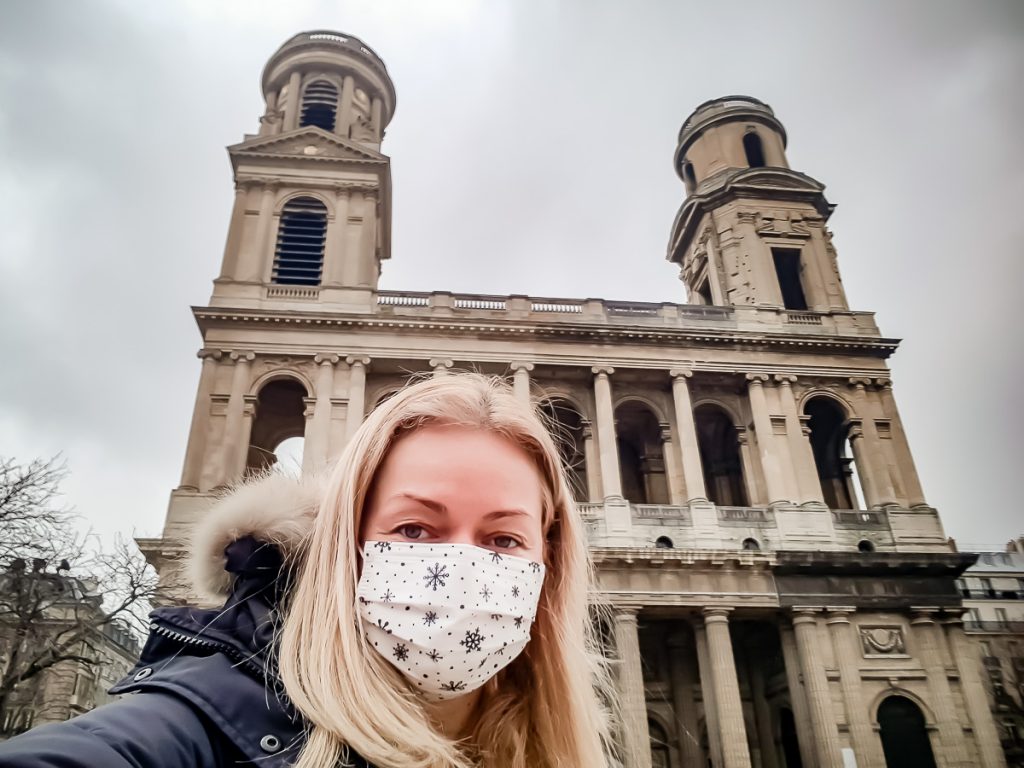 I combined the useful with the… tasting, so after a visit to the church of Saint Sulpice, I went to see the store of the famous confectioner Pierre Hermé, the coolest confectioner in France and one of the most appreciated in the whole world!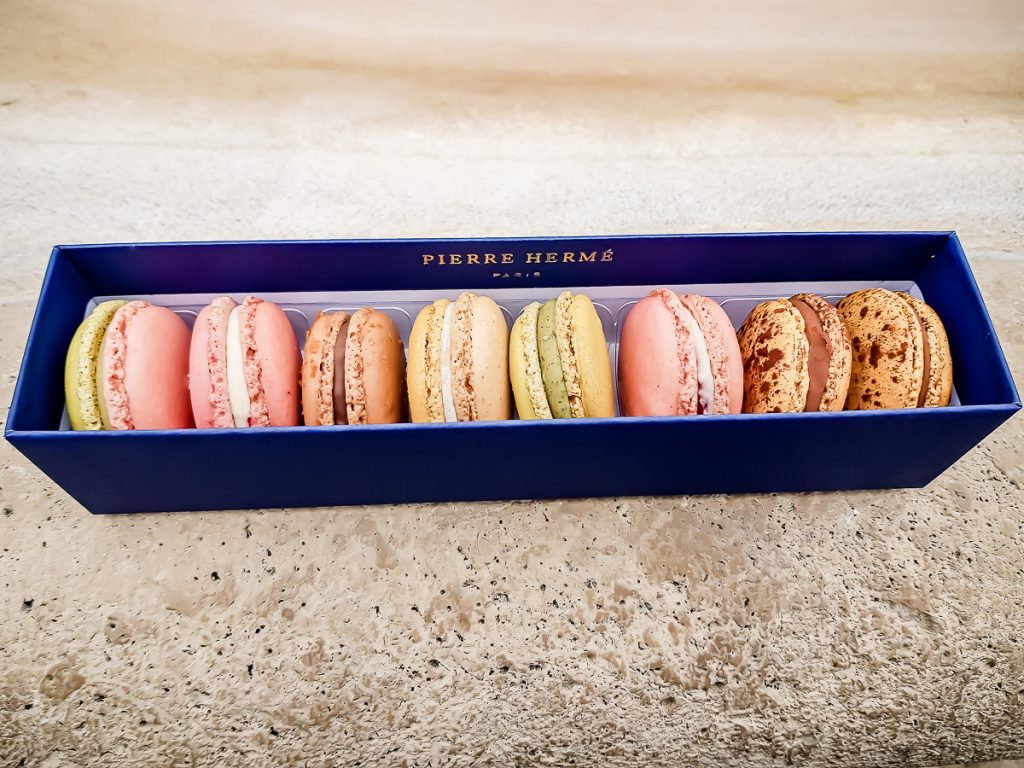 And that's how I got into trouble… This box of macaroons cost me more than the beef lunch! But no, I couldn't back down. In addition, I really wanted to taste Pierre Hermé's products.
Good, what can I say. I ate everything in the square with the church, on the monument-fountain in the center.
I want to make a complaint!
Take a look here: 7 at a table??? Well, what about following the rules in a restaurant???
No, really, that's discrimination! I will complain about the Human Rights, because Bears have more rights!
As a sign of revolt, I also commit an illegality, but during the last night…
I look at my watch, I see it's a little past 8, so the time when I'm no longer allowed out in the street, and I start walking in the hotel area.
I'm really curious if it's deserted, if the police are out, if any noise can be heard.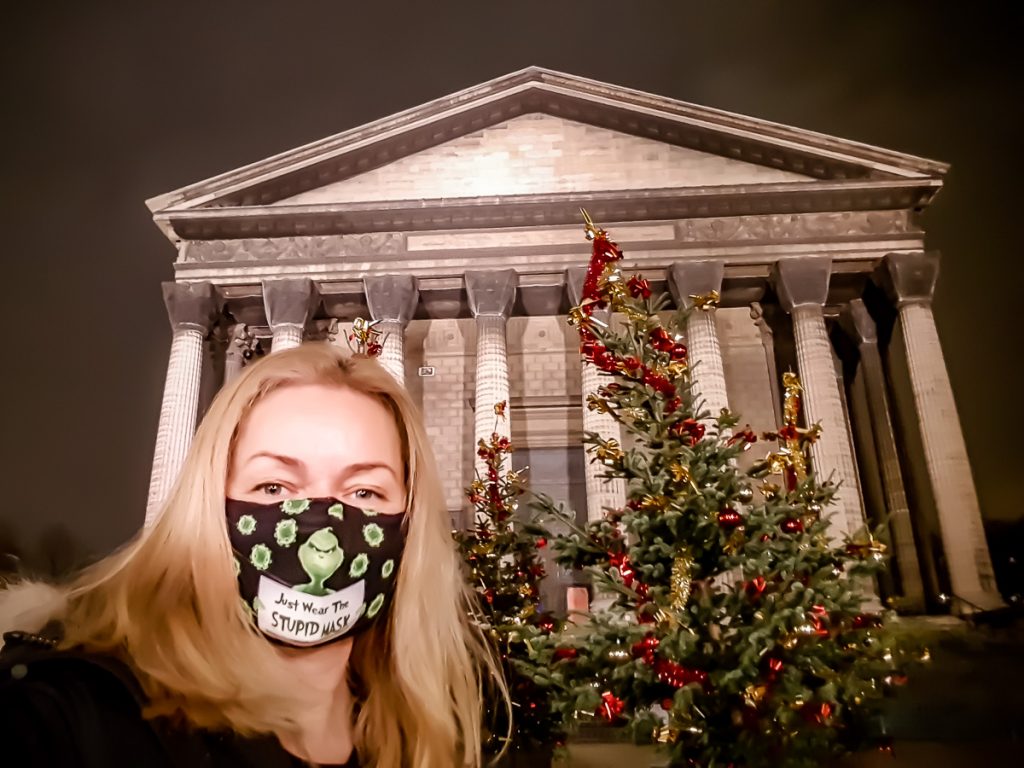 Well, there are a few people out. Very few. Probably with a document justifying their presence out in the street at this time.
I quickly take a selfie, while there are still Christmas trees around and I go back to the hotel.
In the silence of the street, some voices are heard. I turn my head. Ooops! Three gendarmes!
I start moving faster, but elegantly, so as not to look suspicious and to be stopped and left without 135 Euros. Ugh! Strong sensations at the end of my mini-holiday during the pandemic…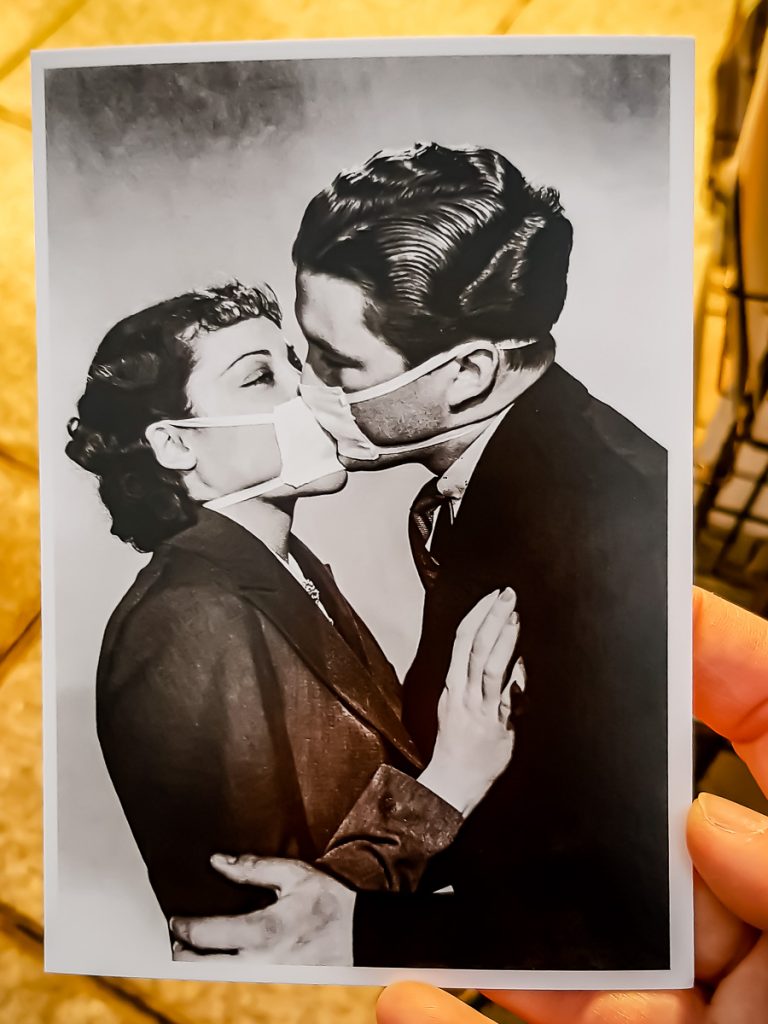 A pandemic that also brought news among the vintage postcards J. Just to keep up with fashion, right?
I thought this was nice!
On departure, at the airport, I notice the measures taken by the airport employees, who wear anti-COVID overalls.
Wait a minute!!! I realize that they are not local employees, but TRAVELERS!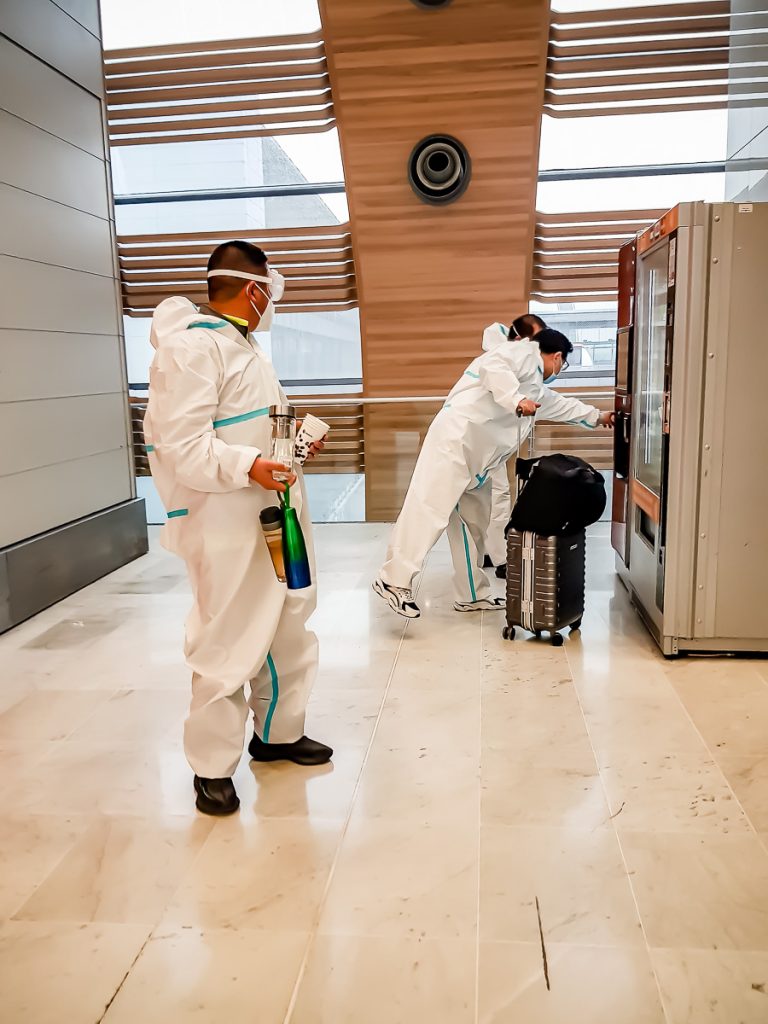 Asians camouflaged from head to toe, wearing masks and visors, quietly go on shopping, peeing and other things you can do before boarding.
Do you remember? We looked curiously at the Asians wearing masks at a time when we were talking about pollution or colds. Now we look at them in a strange way as they wear overalls at a time when we are talking about COVID. Hmmm, that should make us think. I think we should not look at them in a strange way anymore, as who knows what else will happen on the planet? J)).
Au revoir, Paris! It's good that I left, because I managed by the skin of my teeth to avoid the obligation to enter quarantine for 14 days on my return from France. This was announced just 2 days after I returned!…