I caught Milan just before Easter. I felt the air of celebration in the pulse of the city, but also in the shops full of specific products.
From the spectacular chocolate eggs, for the wallets full of money, to the eggs wrapped in colored papers, which will catch your eye without emptying your pocket completely, I admired them all. Or, to be perfectly honest, my mouth watered for all of them J.
I saw hundreds of big chocolate eggs, with all kinds of surprises, with all kinds of characters, for all tastes and all kinds of fans.
Do you think I resisted? I bought two!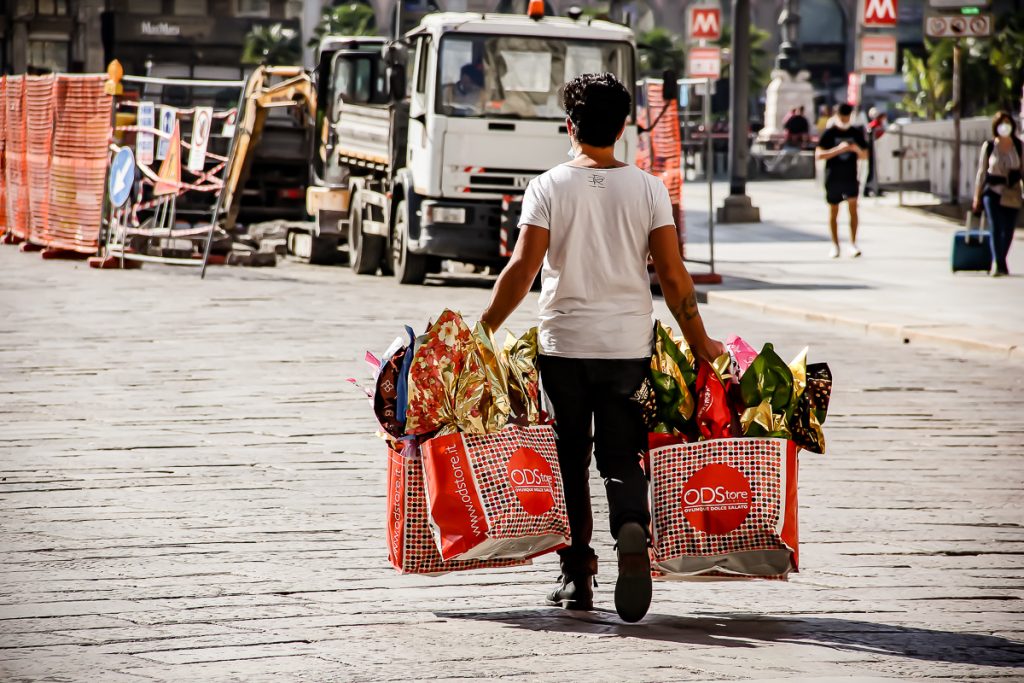 I saw many people carefully choosing the right egg for the right recipient and I was happy to be part of this fever.
MILAN DURING THE PANDEMIC
I was in Milan only once, many years ago. Just for one day. So I saw only 3 things: the Dome, the opera house Scala from the outside and, to my great luck, Leonardo Da Vinci's Last Supper – which later became increasingly difficult to visit.
Now I was not lucky enough to find any of the tourist attractions open, because I arrived in a red zone, where the museums, theaters, the Dome, the restaurants and many shops are closed.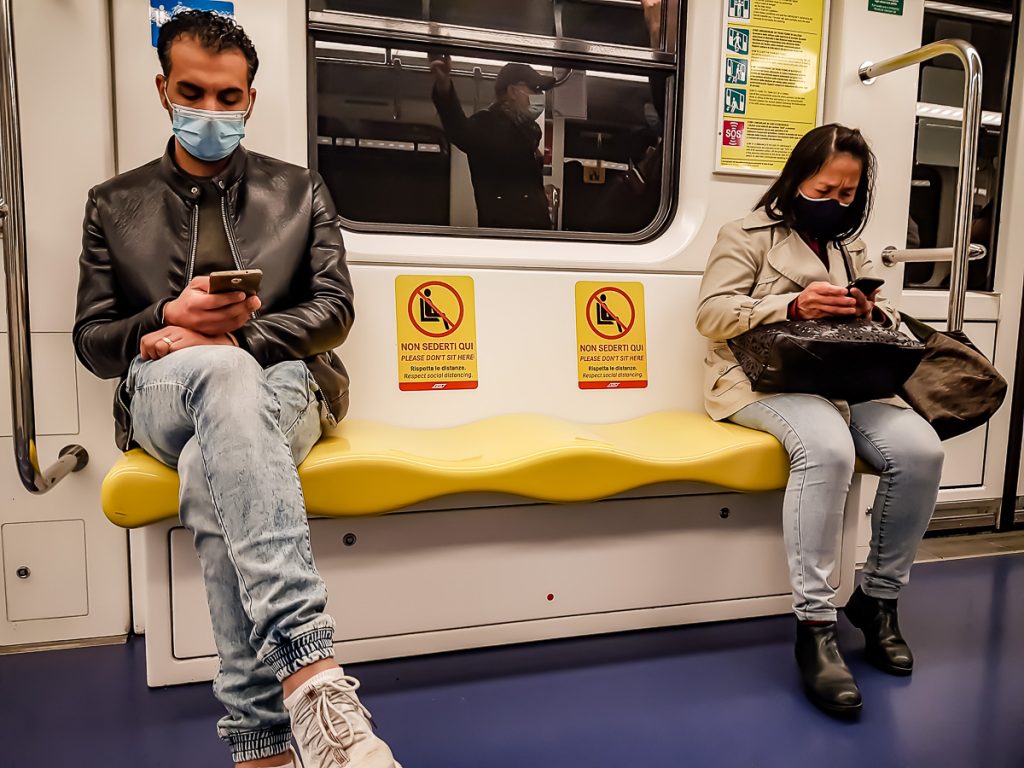 You feel the pandemic at every step and, willingly or unwillingly, you respect the social distance and all the other rules, so as not to risk these people throwing you out of the country… (Man, how I would have sat on one of these forbidden chairs in the metro!)
Coming from Venice, where "emptiness" seemed to me the defining word, I came across a really lively city! Not like in the good old days, when it had thousands of tourists, but still populated.
The street noise is… Italian. Missing, as in other places I visited in the midst of the pandemic, dialogues in other languages, the holiday crowd, the noise generated by people from all over the world.
But the city is alive! It's true, I spent my time in the Dome Square. Basically, this is where I started and this is where I ended every day. No matter how deserted it is in other parts, at least here, in the middle of the city, there is some hustle and bustle.
PIAZZA DEL DUOMO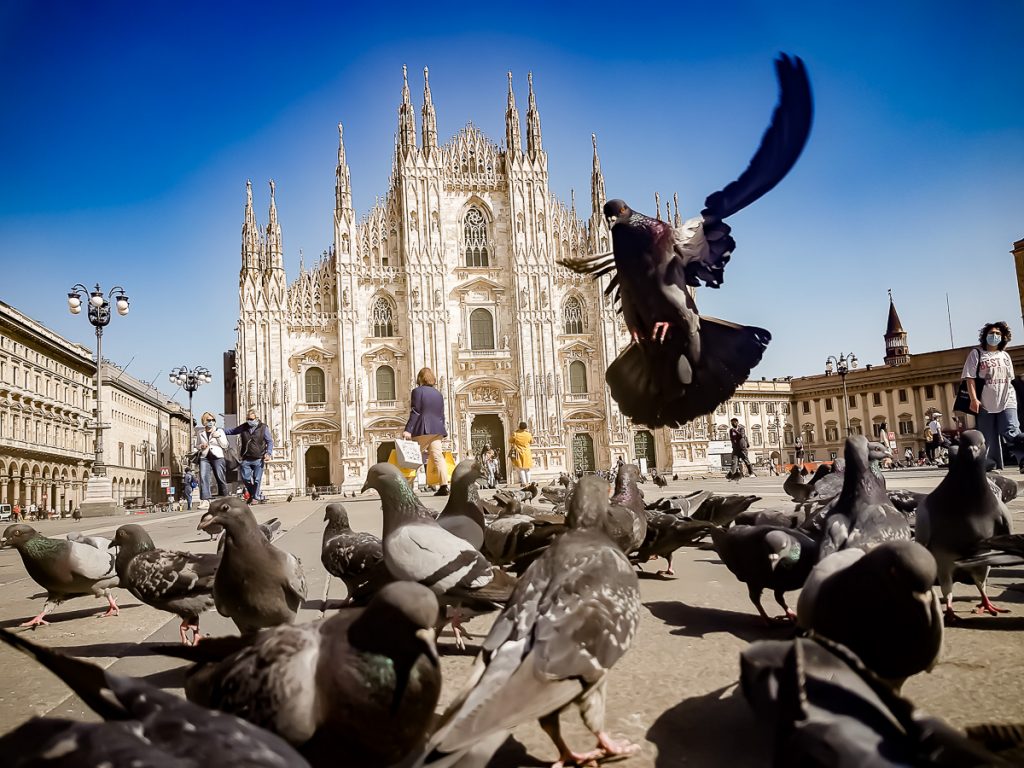 No tourists group. No fuss of any Chinese taking photos. No guide to raise the flag to be located by his clients.
Instead, many parents with children, for whom this square is the perfect playground, given that the pigeons are as many as I remember from normal times.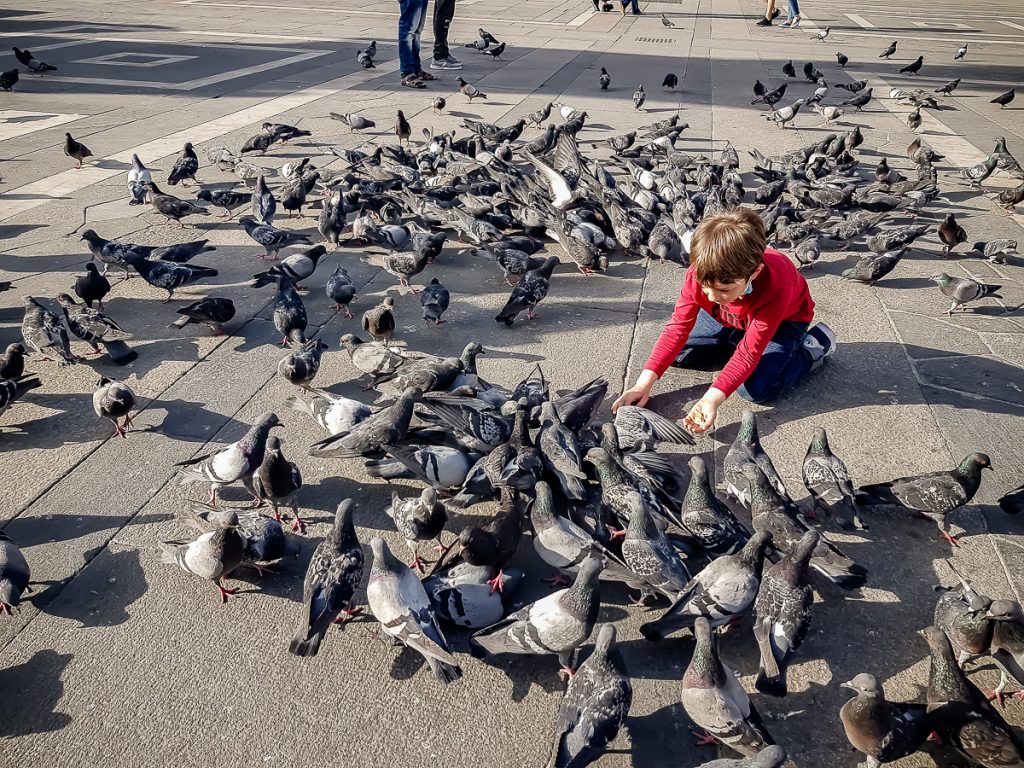 In addition to children, young girls dressed in modern clothes play the mannequins in front of their own phones, to get great pictures for Instagram.
By the way, the capital of fashion has not changed during the pandemic: I met several models on my way. Catwalk models, certainly, judging by how they looked and how they were dressed. I admired their clothes, their accessories and shoes, but I can't say the same about… their legs, which were so thin… Man, they were so very thin, thinner than my hands!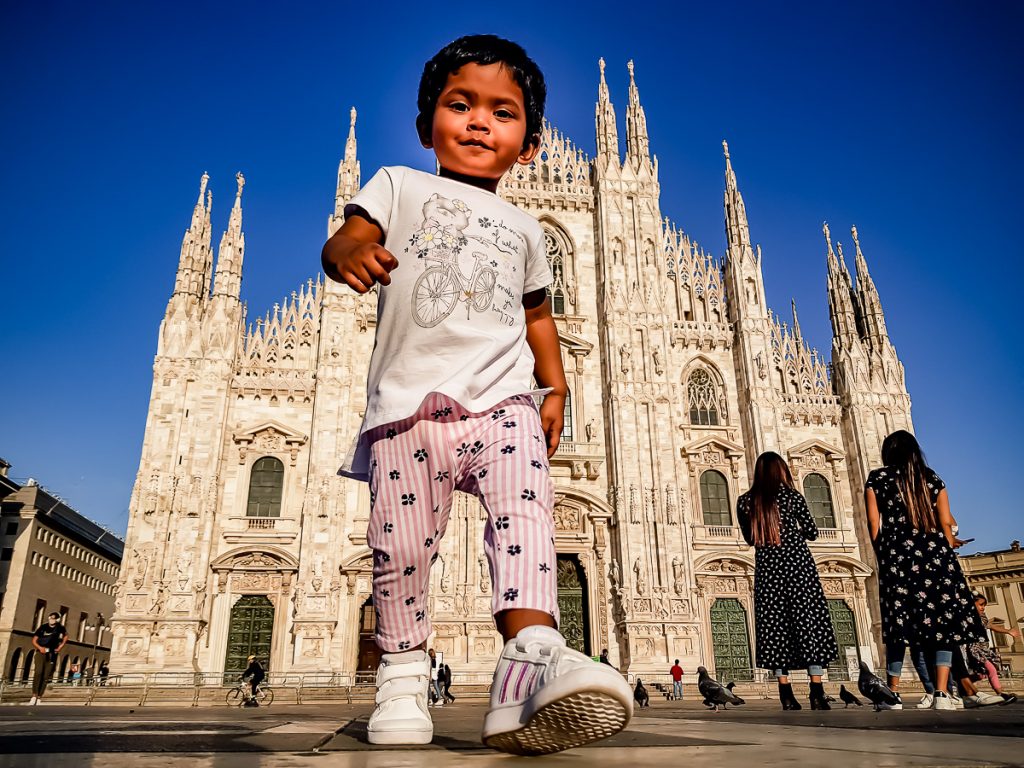 Even the children from the Dome Square pose like the models when they see a camera J.
I had a lot of fun: every time I was getting ready to take pictures, I would see this child coming towards me, with a big smile. His parents kept trying to apologize, to get take him away, but what could they do, he was attracted to my camera like a magnet.
However, I was annoyed by some Asians who clung to you to offer you photographer services. Ok, I understand, they were trying to earn an honest living from the few people who didn't seem local. What got me angry was the fact that they deliberately ruined a lot of material, getting in front of me while I was filming.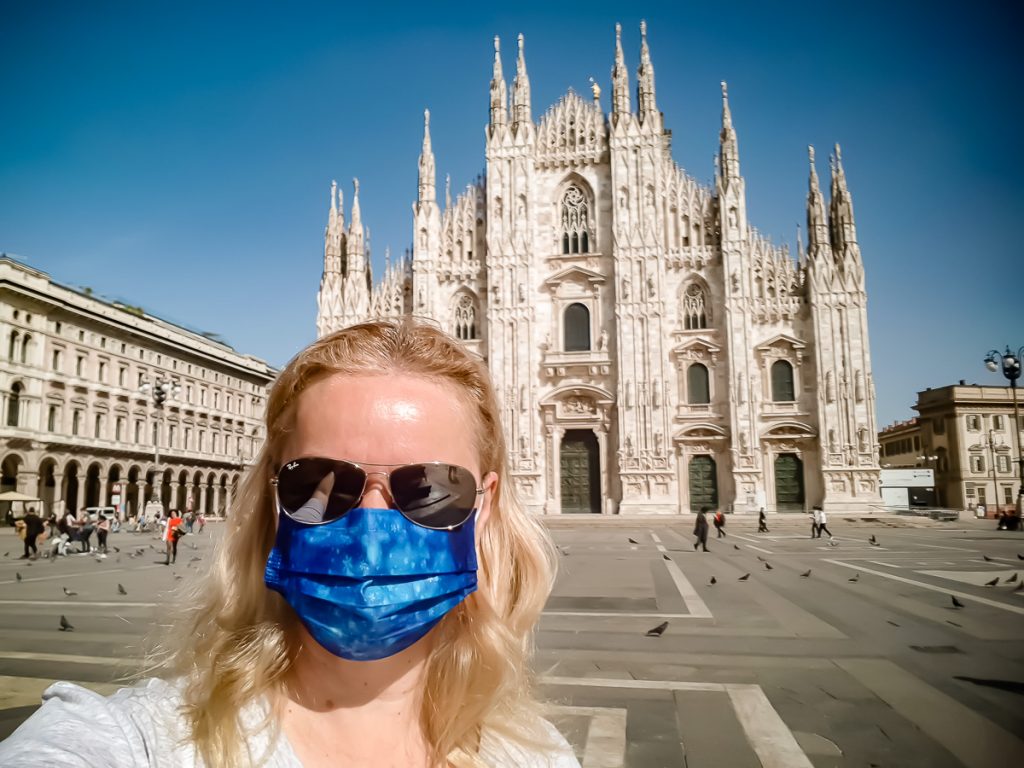 Many people with a different skin color (black, that is – my note for you J) try to sell you various things. One of them invaded my space when I was taking my 300th selfie, trying to sell me some grains to attract the pigeons. I refused.
But the next day, what do you know… I took a bag full of leftover bread from lunch. I repeated the thing in Venice, only this time I had clients for the crumbs. God, and they were a lot!!!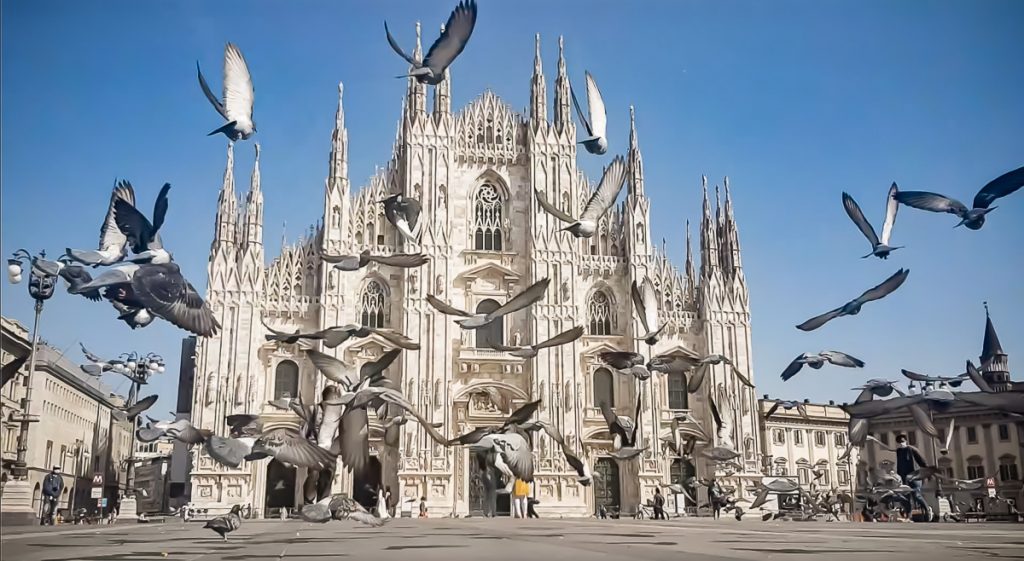 The statue in the middle of the Dome Square is the perfect place to rest your back or legs – as the case may be… There is shade here, so the places are precious. I sit among couriers who have abandoned their deliveries for a few minutes, a family with screaming children, chasing pigeons, and a drunk man eating from a McDonald's bag.
"Ok, go home!" – I hear suddenly. It's the police, who make us all stand up from there, explaining that we're not allowed to sit at the base of the statue. This is something that repeats itself after some minutes, because people keep coming.
It is full of carabinieri, army and policemen on horses. But I don't feel any stress, no one came to ask me where I come from and where I'm going, why I pose or if I want peace in the world.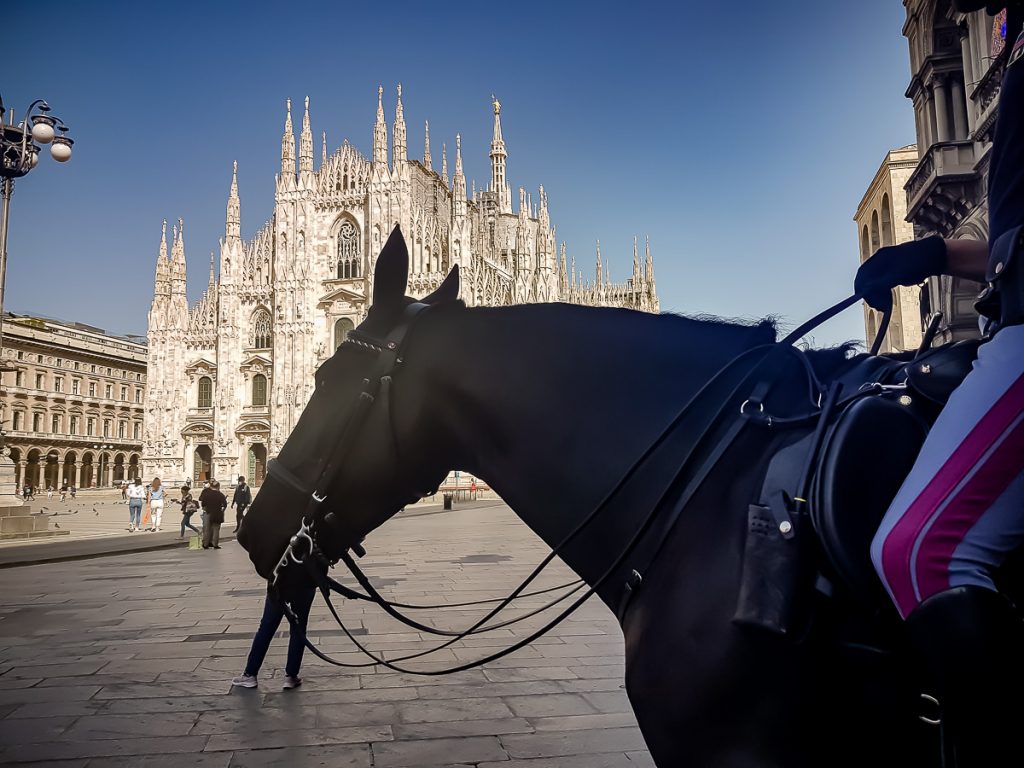 I even took pictures and filmed next to the "authorities", when a policeman's horse was eating a man hihi.
And I also practiced a bit of pigeon training, what could I do, if no one rushed me anywhere.
You have no idea how important some bread crumbs can be J.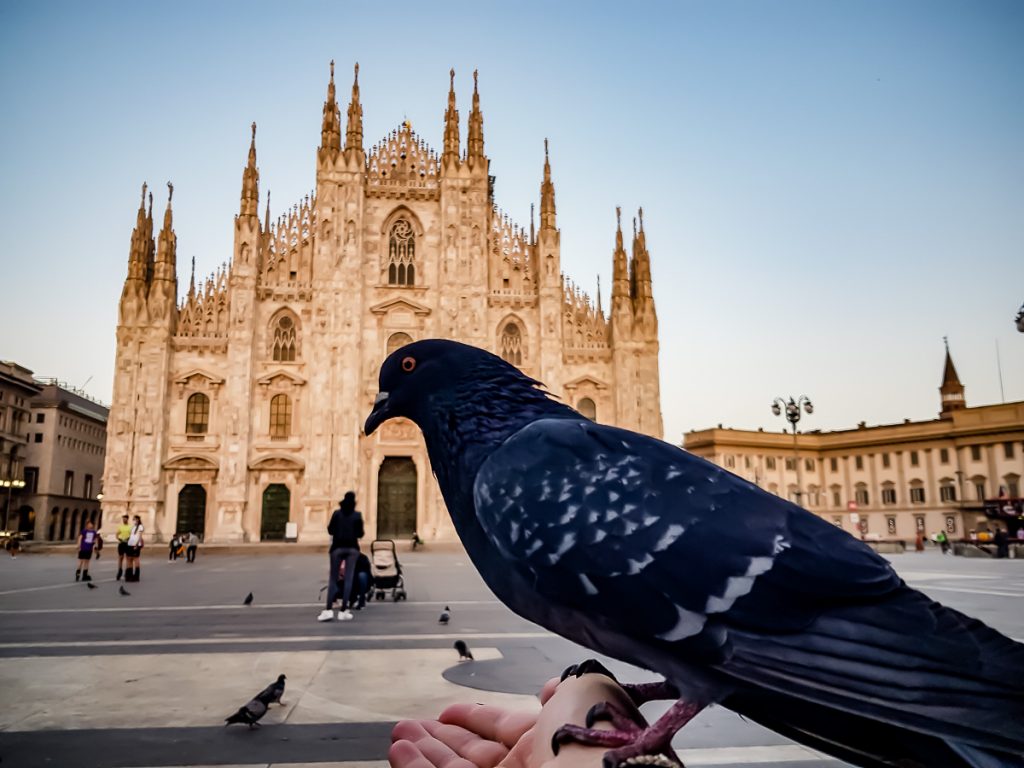 GALLERIA VITTORIO EMANUELE II
Luxury and opulence, that's what I remember from my only visit here. Impressive glass and metal arcades, shops with famous names and prices matching the names, impressive architecture and… a lot of people.
I enter the oldest mall in Italy – as I see the Gallery is considered to be.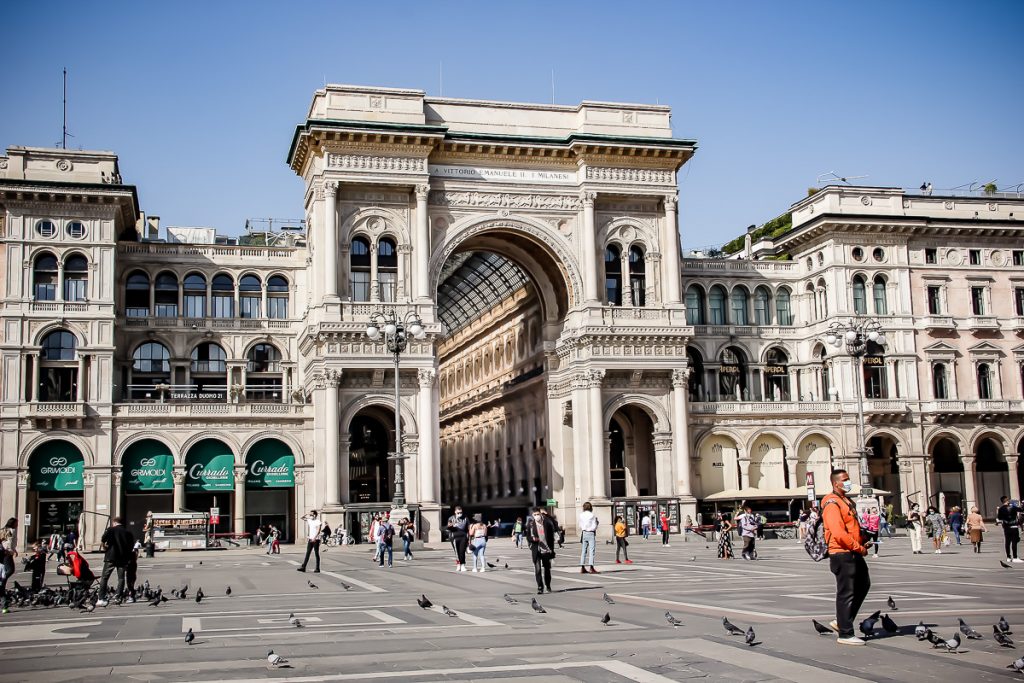 The lots of people have disappeared into thin air.
Among the people, all in a hurry, who cross the Gallery going where they need to be, me, I am analyzing every corner, every mosaic, every statue from above, every window.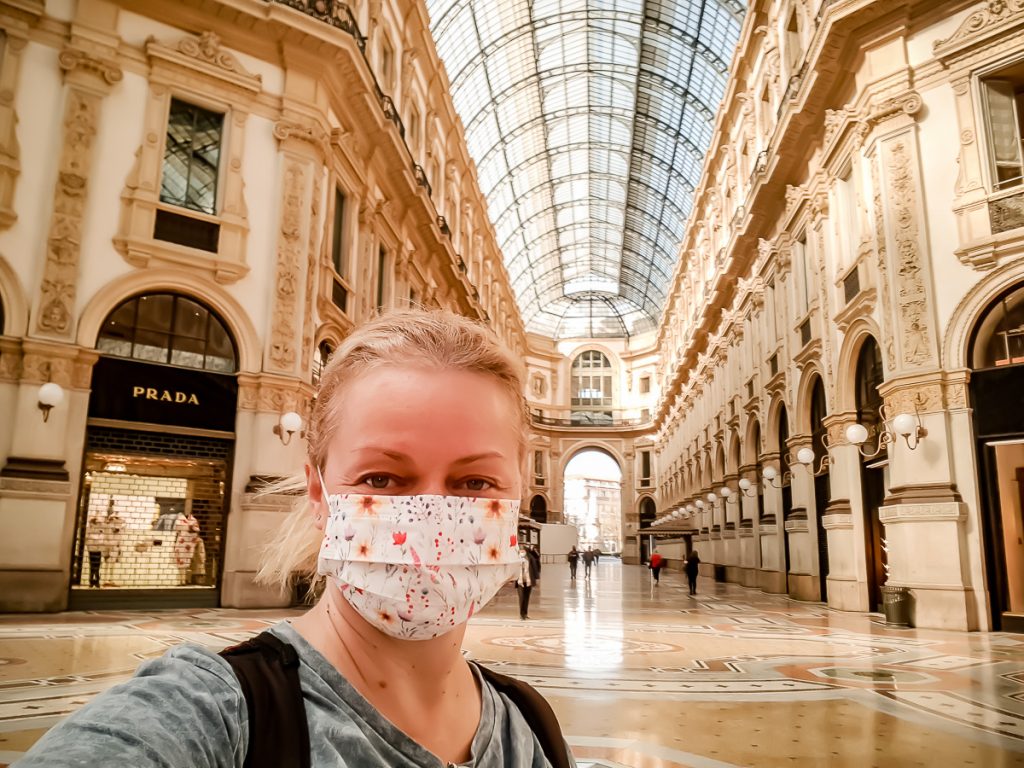 Luxury stores seem to be crying for the Chinese who used to queue here.
The two open restaurants only deliver and, in the absence of customers, they close so early that I did not get any dinner…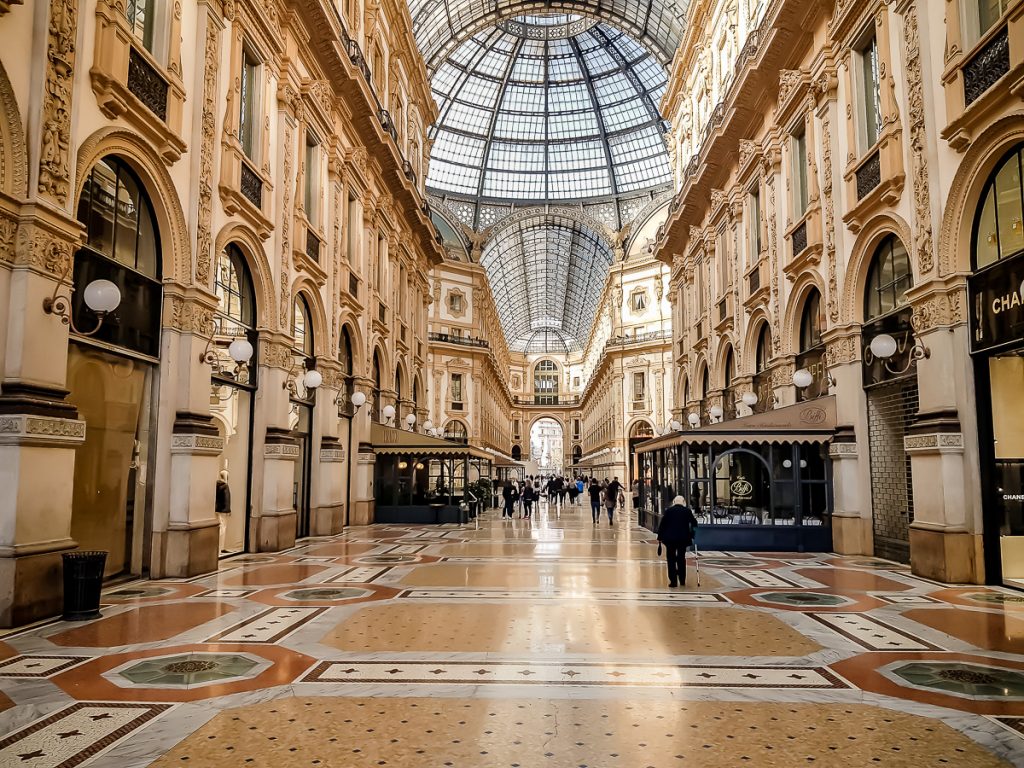 In these times of pandemic, I can quietly take pictures without having to slip through the cohorts of tourists.
But there are also disadvantages of the fact that there are no tourists, whom you could follow in the crowd and you could find out things along the way: I read about the coats of arms on the floor, under the dome of the Gallery, but I have no idea that one of them has a particular popularity. I only find out about this later.
Beyond the coat of arms of the House of Savoy and the coats of arms of Rome, Florence and Milan, the coat of arms of Turin has a bull on it.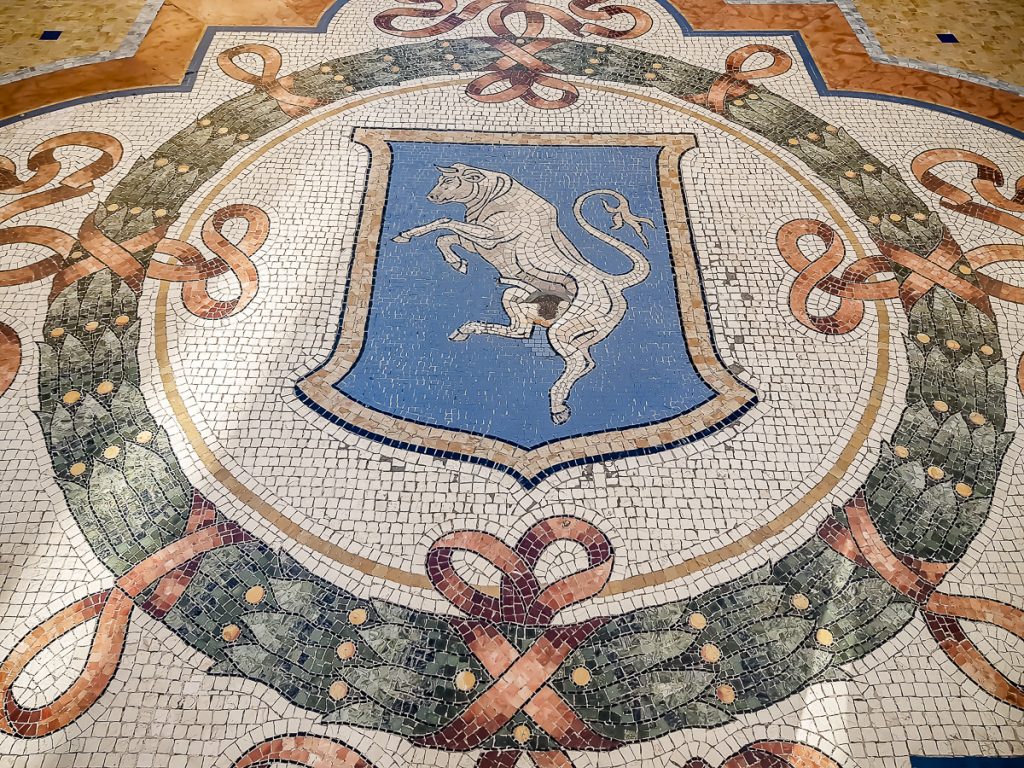 It is said that if you put your heel on… the bull's balls and you manage to turn three times around, you will be lucky in life! (Notice how "worn out" that place is!)
But, since there are no tourists, this time the bull is the lucky one J)).
LA SCALA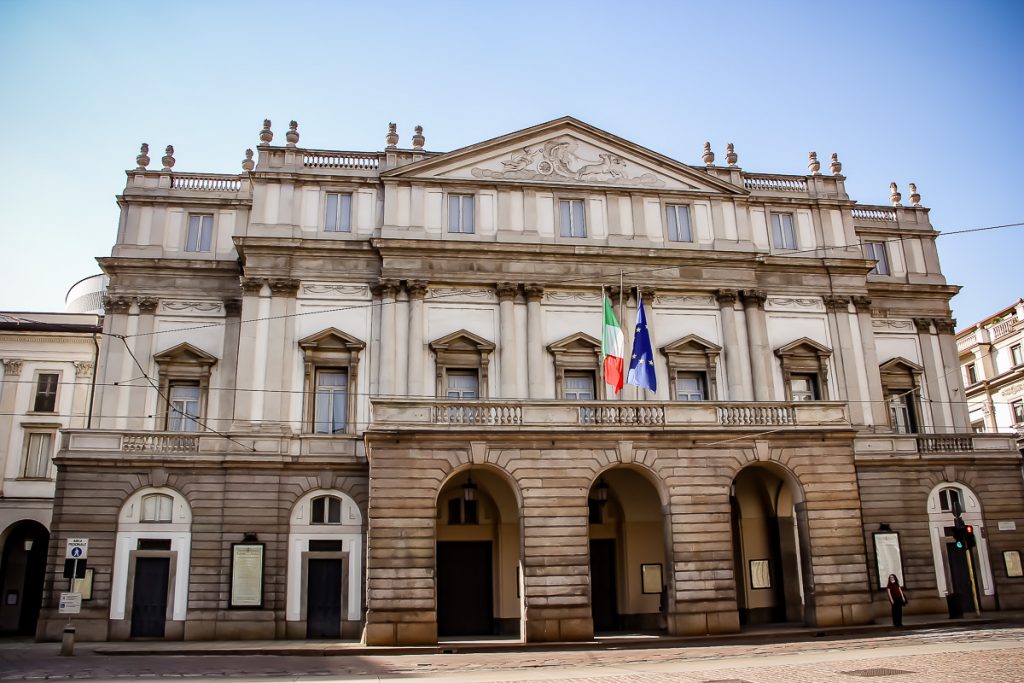 It's closed, as you probably guessed. There's no queuing at the box office, there are no elegant people coming to the show. The posters on the walls of the building do not talk about the grand premieres, but about the people and institutions that help the theater to survive during these terrible times.
I took out my short list of tourist attractions and I started, trying to see them in the only day I still have available. I'm really curious what the famous places, always full of visitors, look like in pandemic times.
SFORZESCO CASTLE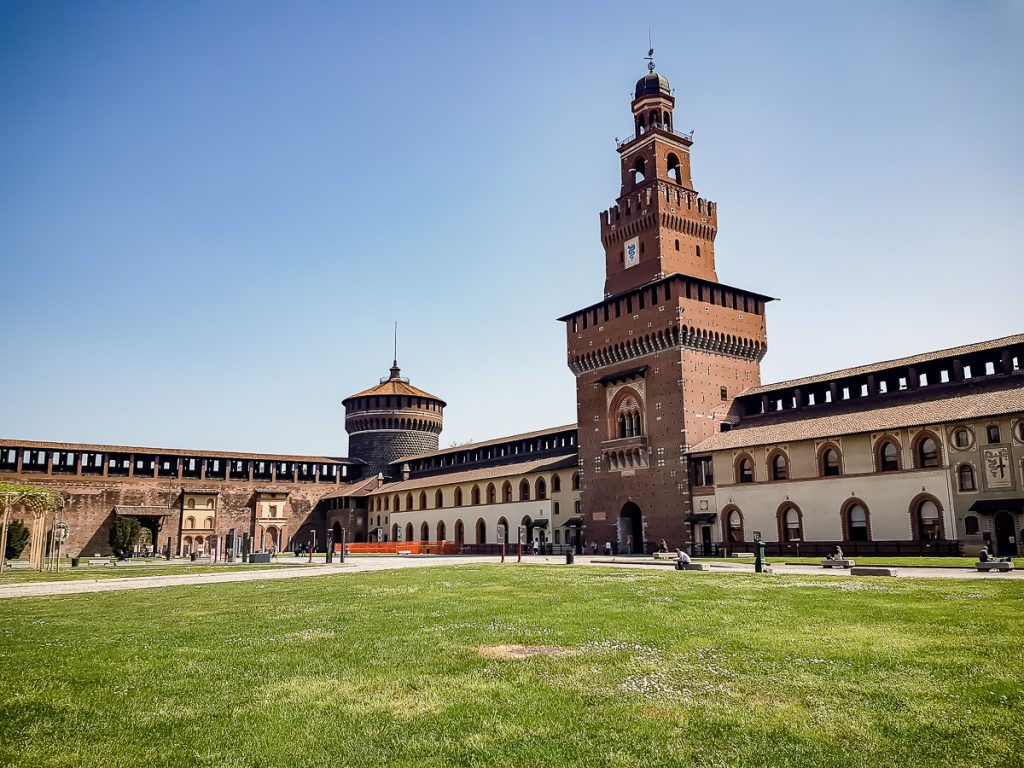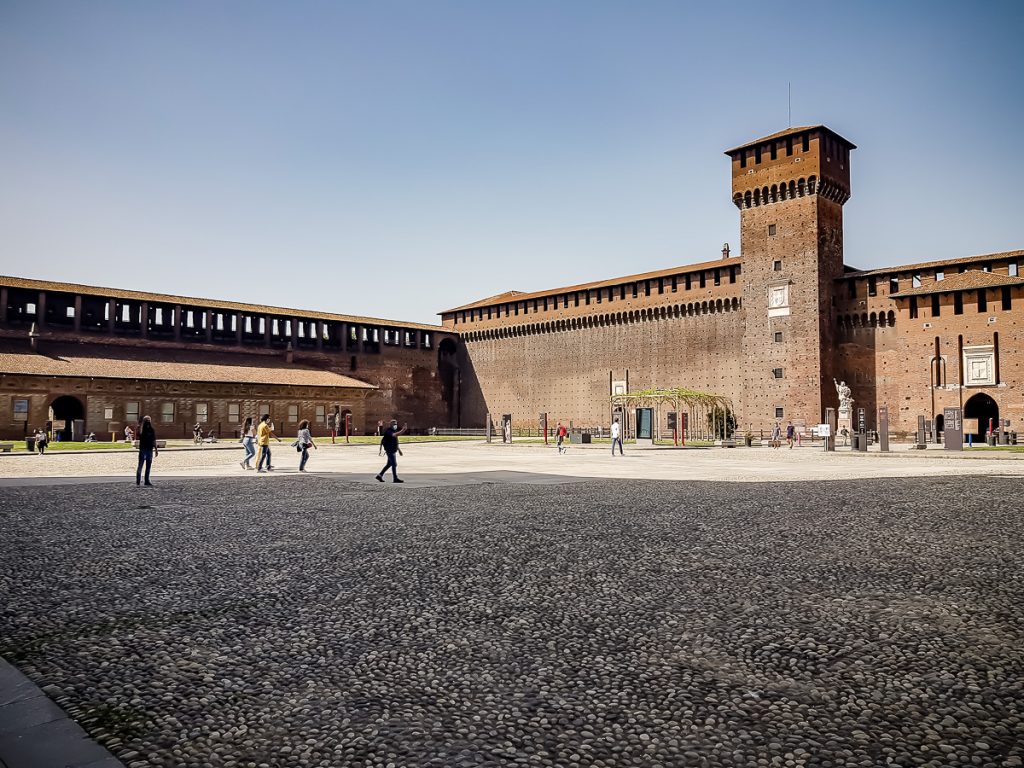 No queues, no crowds, just people transiting or sitting on the benches in the yard, in an extremely pleasant weather, which invites you to read, dream or… analyze the passers-by.
There is nothing open, so I take a tour, go out through all 4 gates of the castle, then explore the secondary courtyards, where from time to time, a child with a scooter enters, shouting at the parents left behind.
The only place you have access to is… the toilet. Of course, I take advantage. It's the toilet at the Castle, after all! J
In some courtyards I could sit quietly for a picnic, as I am the only one there, but two steps away is Sempione Park, and it has more to offer. For your buttocks, that is…
SANTA MARIA DELLE GRAZIE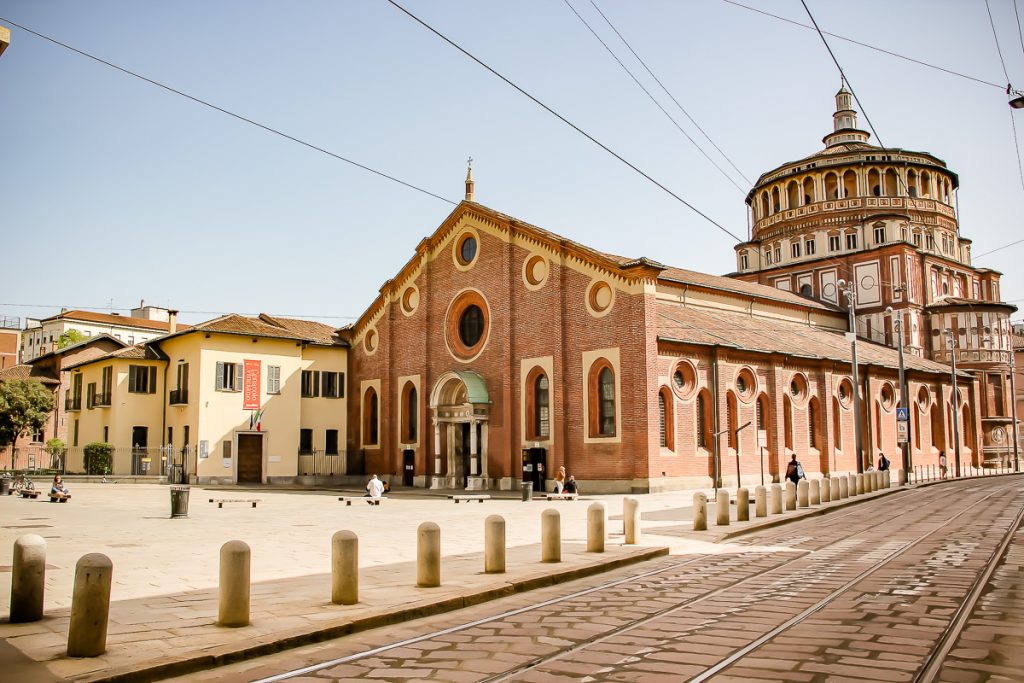 Here, on the wall of the former dining hall of the church, is the famous Last Supper of Leonardo da Vinci. Well, how lucky I would have been to find this place open, and be envied by everyone that I saw a masterpiece that is getting harder and harder to see?!
It's closed, don't worry…
And in the door of the church there is an announcement that says it is also closed.
The empty square deserves to be photographed, because the normal times will come, when I will fight here for access inside. And it would be good not to forget this image.
I sit on a bench and sunbathe a little, while talking on whatsapp with friends. But wait! Something catches my eye. A citizen just bypasses the "Closed" sign and enters the church. Might he be an employee? But… what if he is not? I go after him, like a monkey, and I go in too!
It's not forbidden, I mean it's forbidden, I mean it's not… I've seen the "pattern" before: practically, the church is closed, but if you just come in to pray, to light a candle, it's ok. Which I did. No candle, because they told me that today this is not allowed.
The church is ready for the service, I don't linger long, because some people who seem to be locals are already looking at me strangely.
When I go out, I put a few euros in a box for a few bags of olive branches – very often seen in people's hands, these days before Easter.
BASILICA OF SANT'AMBROGIO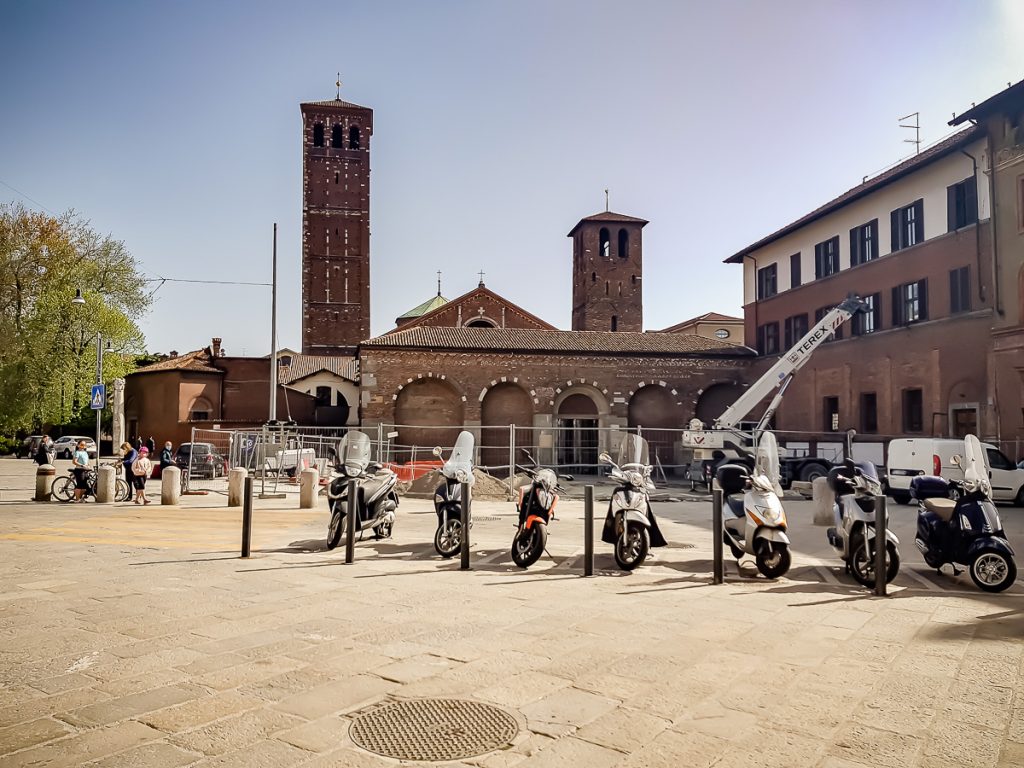 One of the oldest churches in Milan (founded in 379!) is getting ready to receive the parishioners too.
The lack of tourists gives it a special aura and I stay inside it a lot, to see everything there is to see. And to think about everything I have to think about…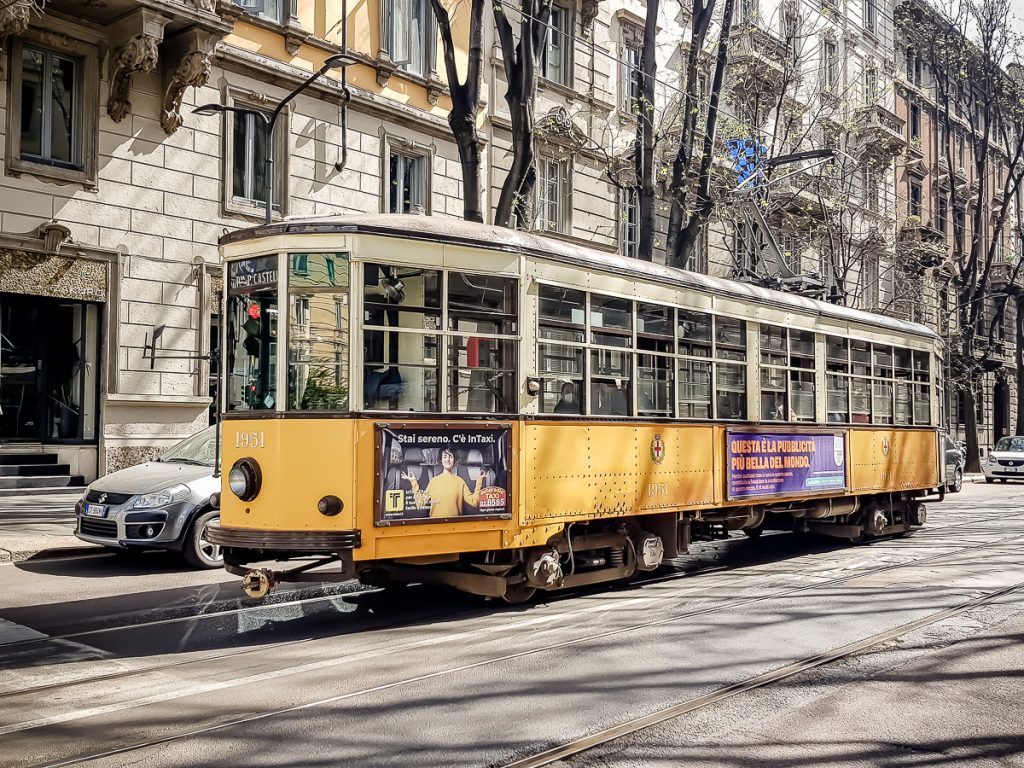 Then I return to the city center, to the horns, the noisy Italians, deliverers, police and the iconic yellow tram. Which I buy. In the form of a magnet.
SHOPPING IN MILAN. THE  PANDEMIC MILAN…
If there's one thing that annoys me about this pandemic, is that it took the pleasure of spending money on nonsense little things J.
Well, how can I get home empty-handed? Such a thing has never been seen before! I'll be put on the Wall of Shame…
As in other cities in the red zone, in Milan everything is closed, except for the "essential stores" – that is those with goods that people really need. Therefore, I try to quench my thirst for shopping by hunting for such stores.
I have a choice between buying: phones, panties, glasses, socks, make-up or chocolate eggs. I've already checked the latter.
Sportswear stores are also open, products like this being included in the "essential merchandise" category.
I see with surprise that it is open at Gap. I enter and I am struck from the first moment by the tape that blocks access to certain districts.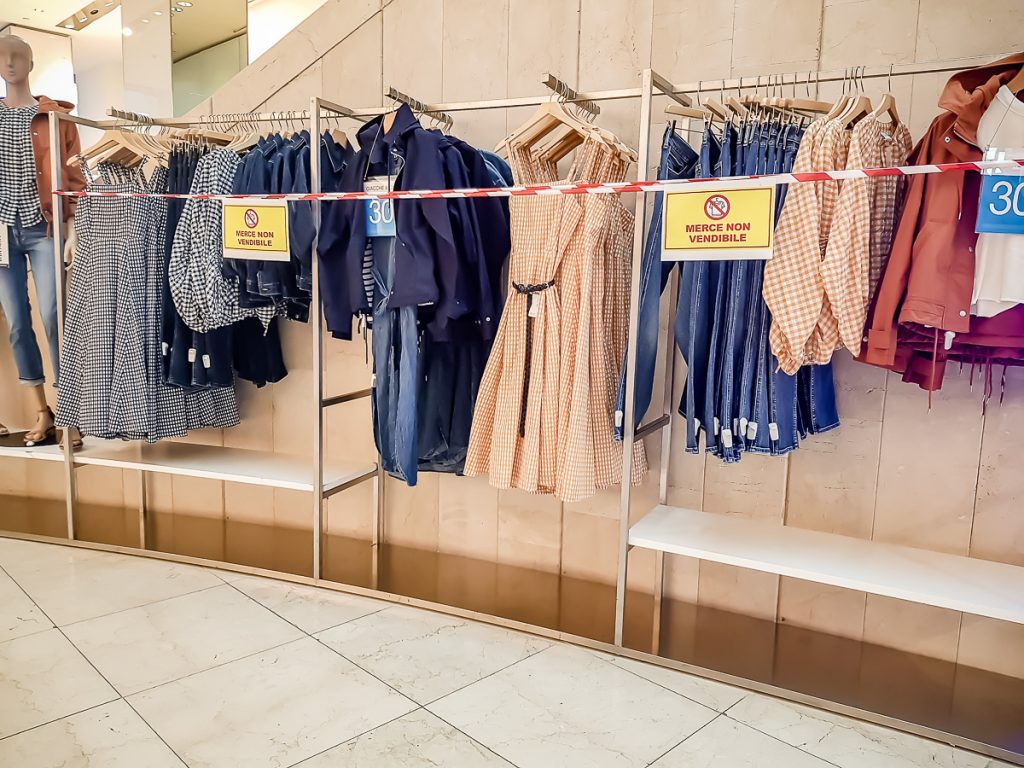 "Merce non vendibile" is written in areas with tape, while in other parts of the store access is allowed. After a short analysis, I think I got the idea, but to be sure, I ask the seller.
The areas in the store where access is allowed are those with children's clothes and those with sports items (tracksuits and sweatshirts, in their case) – considered essential goods. Unlike dresses, shirts, jeans, sweaters, jackets etc, considered non-essential and therefore prohibited.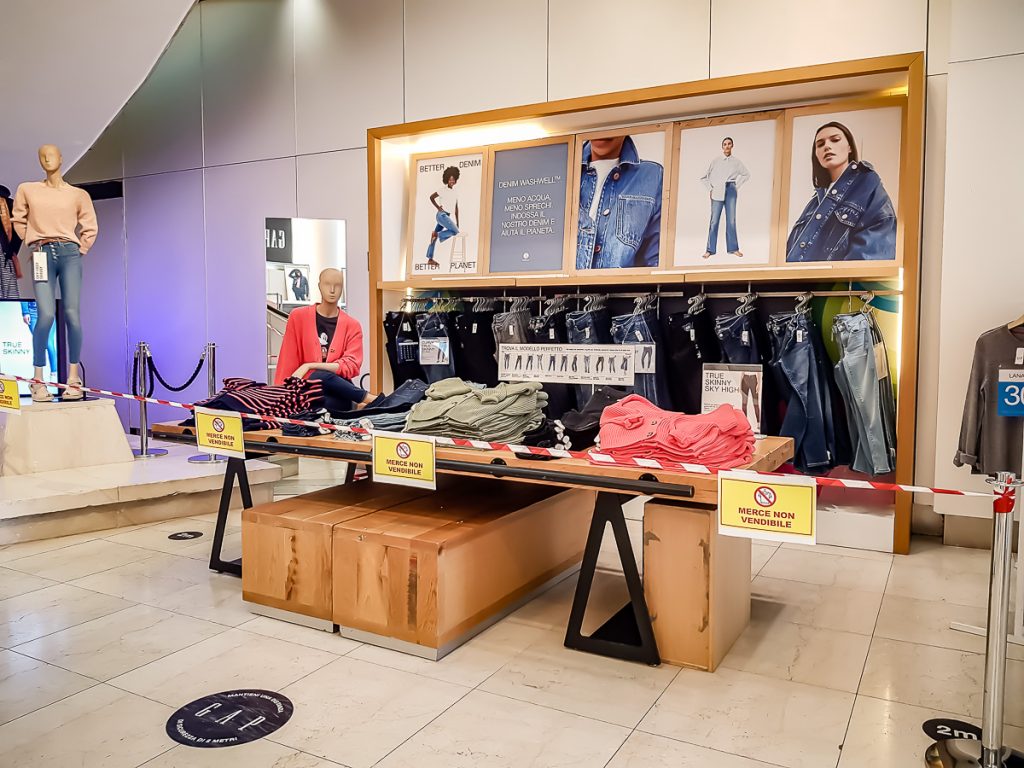 It's very bizarre, but look, both they and others have found a solution to keep the stores open and sell, from time to time.
I cling to the stalls of souvenirs and take a few things with Milan, dusty as they lie for a long time without customers.
I ask an Italian saleswoman to whom in God's name she sells the magnets, the Milan mugs, the flags, the Italy kitchen rags, the ashtrays or postcards to.
"To you" – she answers amused when she sees that I keep filling the basket. But I don't save her business…
She tells me what others have told me: that they haven't seen a tourist in a year!
However, she is still open, because she manages to sell balloons and small toys to Italian children who come with their parents to the nearby park.
WHAT TO EAT IN MILAN DURING THE PANDEMIC
I had high hopes for restaurants. In vain. Everything is closed.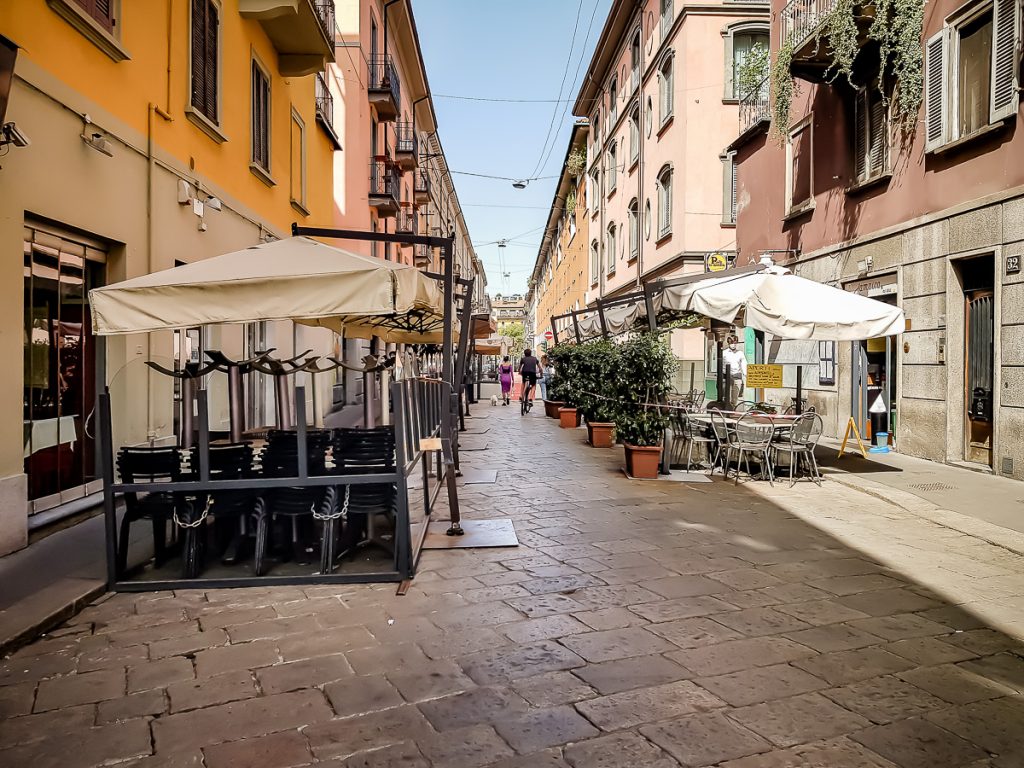 The areas known to be frequented by people for lunch and dinner are now deserted.
But I don't give up, I intend to take something to go and eat somewhere in the street. It's just that… I'll be damned if I find restaurants on my way!
Ok… well, if that's the case, let me get something to nibble on from the supermarket. It's just… I can't find any supermarket, man!
Well, what do you think, that I'm giving up? No way: I take out my phone and look for supermarkets on Google maps J. And so, guided, I take to the streets of the neighborhoods to find a shop&go at least.
Then I widen the search area and go to the terraces near the tourist attractions.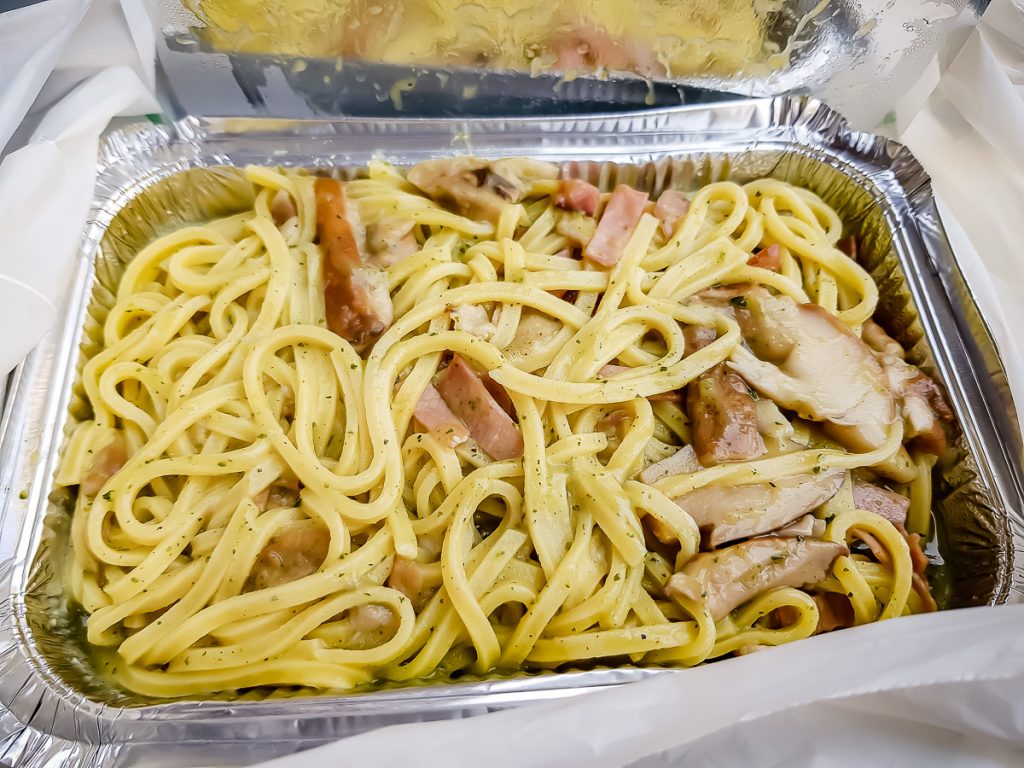 At the first restaurant that delivers, I don't stop to think and order some pasta with porcini and ham. I'm starving!
I also find a perfect place for my lunch, where it seems that I don't disturb anyone: The Brera Art Gallery – the main art gallery in Milan J.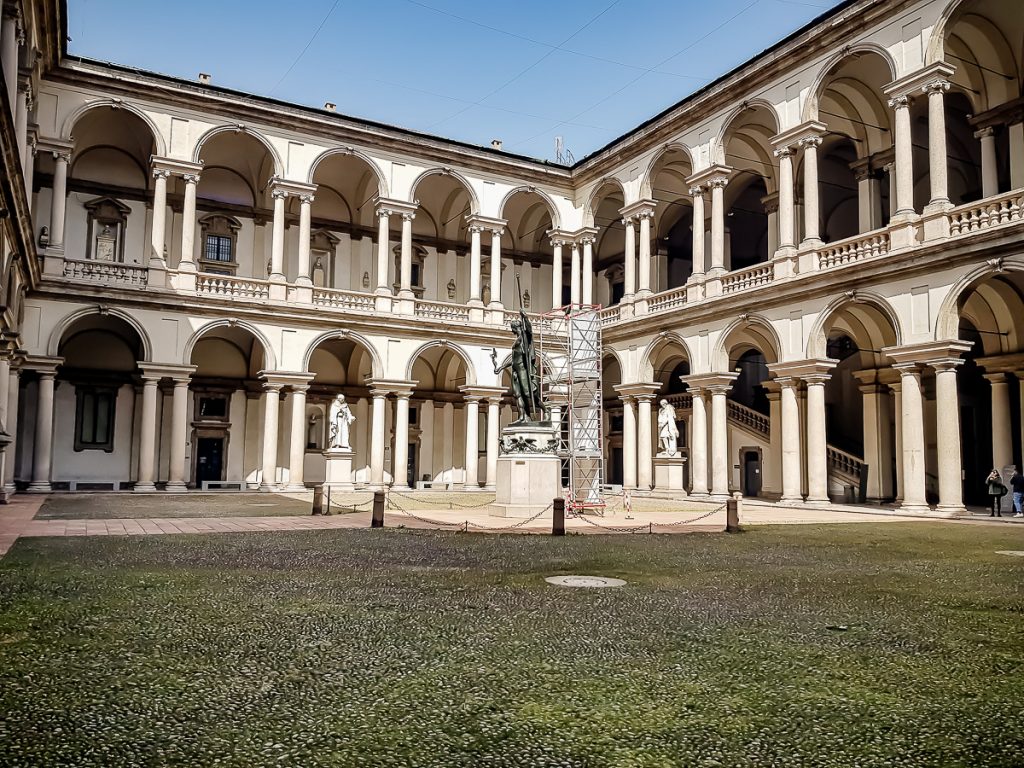 If it's still closed, at least take advantage of the yard and the peace, to tame my hunger.
That would be the day… After two bites, I give it up. I do not like them.
I pack them nicely and offer them to a beggar on the street corner, who really enjoys the huge portion of food. (I hope he's not as pretentious about pasta as I am…)
I tell myself with optimism that I will eventually eat at the hotel, being a 4 star hotel.
"The cook has left" – the receptionist informs me bluntly.
What do you mean?? He left, that is, he simply got off? Is he coming back?
"No, he's not coming back", I get the answer. It doesn't make sense to stay and cook for 2 poor people who are staying in the hotel these days. (One of the poor souls is me)
And here's how I get to the last solution – already desperate: order some food in the room, from the Osteria recommended by the receptionist.
I can't complain, the food was fairly good. Okay, judging by how hungry I was, they could have brought me stones, and I would still have eaten them…
Two nights in a row I ordered from them.
And before the (late, not last) dinner, I did my night patrol in the Dome Square. I analyzed every stained glass window, every tower, every gate.
The pigeons went to their homes, so only I, the deliverers and a few strays are still here. Well, if I look behind me, I also see the police, the carabinieri and the army J. Tourists? No way.
The place is unreal. But I understand that after Easter, things will relax. So what I saw, photographed and filmed, will become history…