It seems to me it is the ultimate luxury to visit famous cities now, during a pandemic! You feel like they are there just for you…
After a 2020 with missed vacations one after another, you'd say I escaped, I am so desperate not to miss any opportunity to travel.
I saw Paris during the pandemic, in two different periods. You can read about it here and here.
I saw Istanbul during the pandemic, but also Rome during the pandemic. They all are unimaginable!
And now, somehow, I have reached Venice.
VENICE DURING THE PANDEMIC
God, I was so curious about how this place looks now, after I have already visited it five times over the years!
At the airport, very strict controls, questions, checks. You pass some, and find others.
A dog quickly smells my suitcase and goes to another "client". I wish I could see what he would have done if I had some burgers, ribs or some old sheep cheese in my suitcase hihi.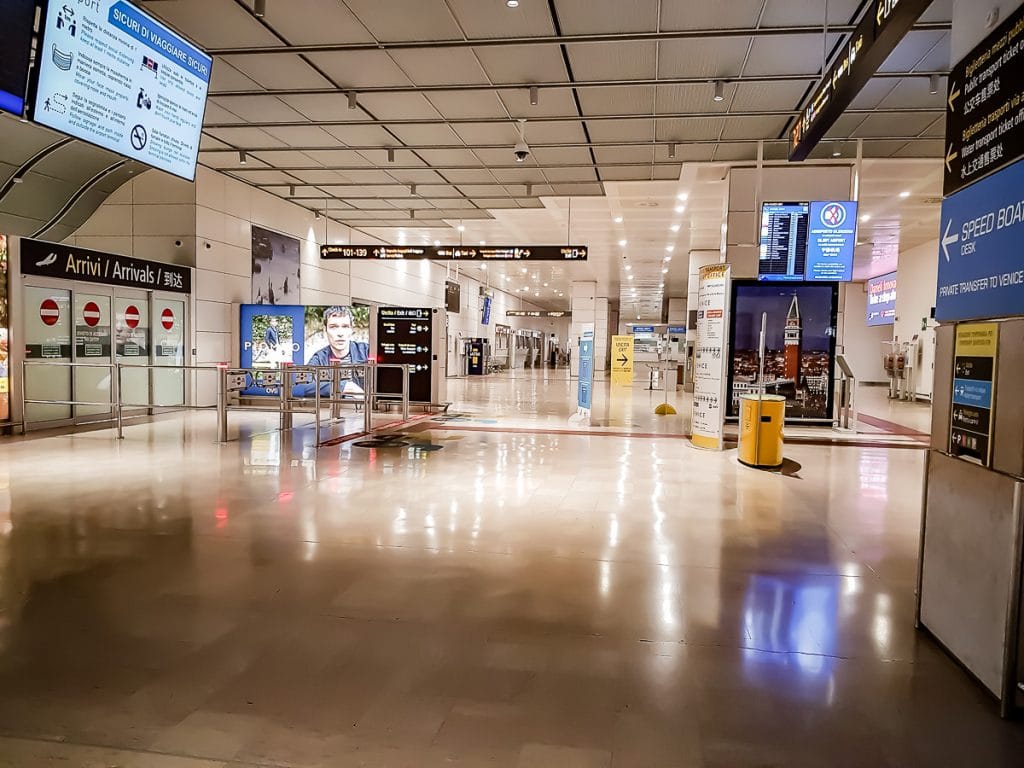 I leave a deserted airport, with all the shops and cafes closed, and I finally take a breath of Italian air…
I discover outside the few people who have come to wait for their relatives/friends. This is a sign that access inside is strictly forbidden.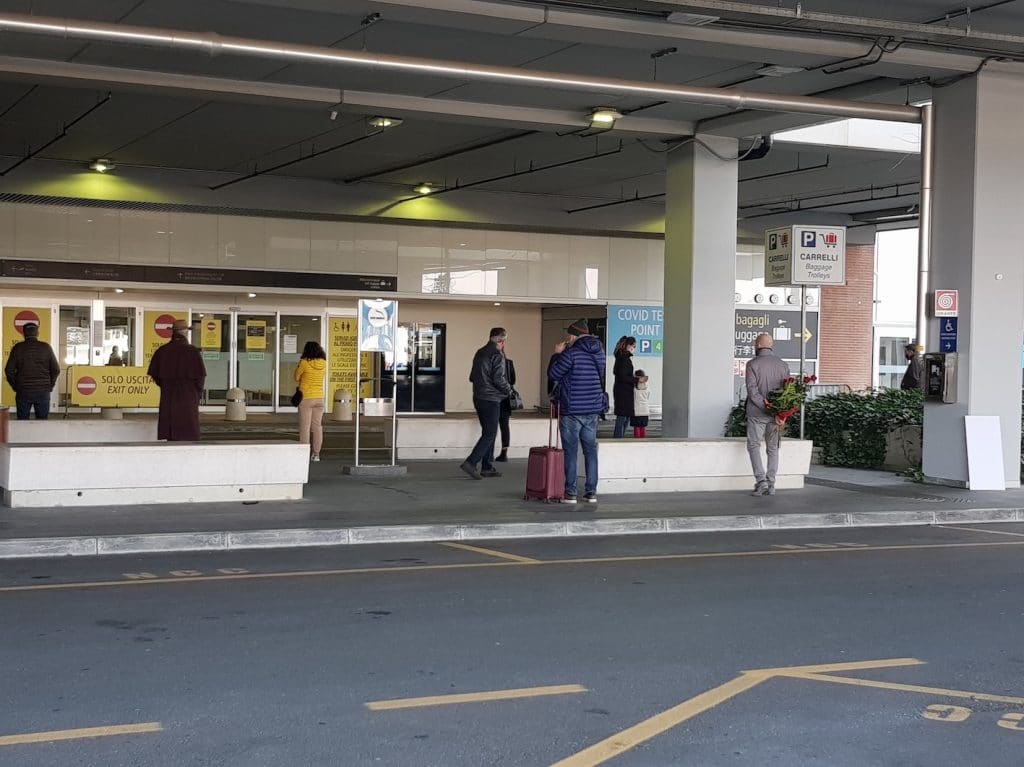 (I like the gentleman hiding a bouquet of flowers behind his back. I would like to see for whom he bought it and what reaction he will get, but I risk losing the bus.)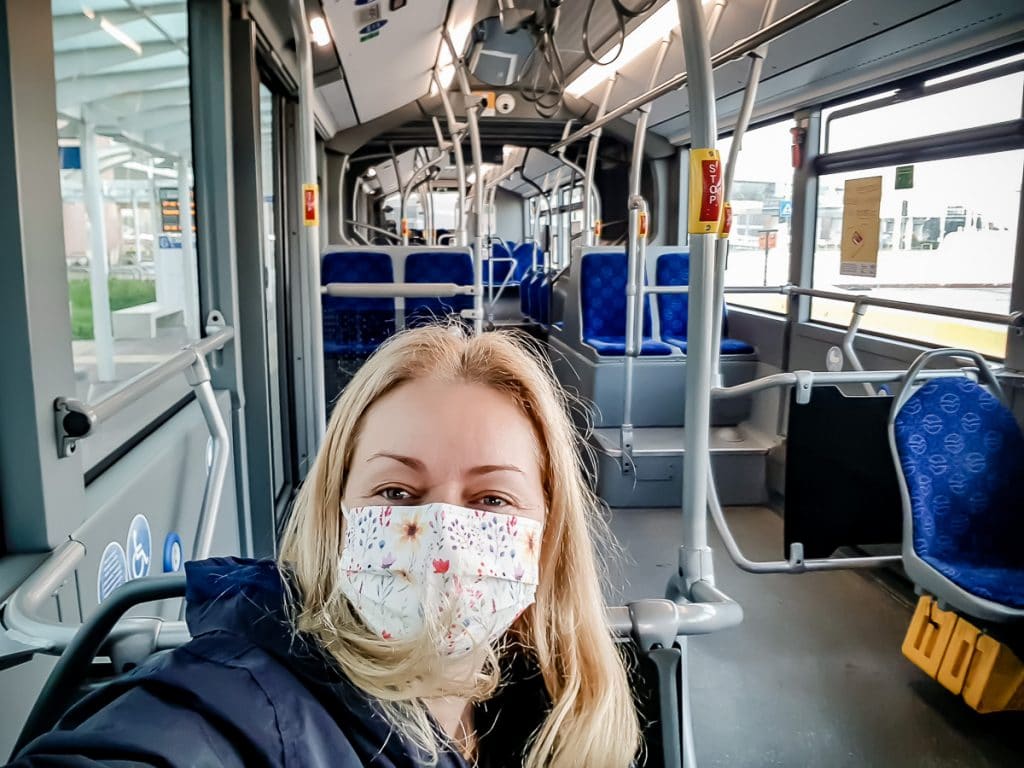 I'm the only passenger on the bus. I could sing something, not to get bored, but I am afraid Mr. Driver will kick me off the bus…
However, from the next stops, locals get on the bus, people who, judging by the time, go to work. If I didn't have the suitcase next to me, I could pass like one of them without any problems.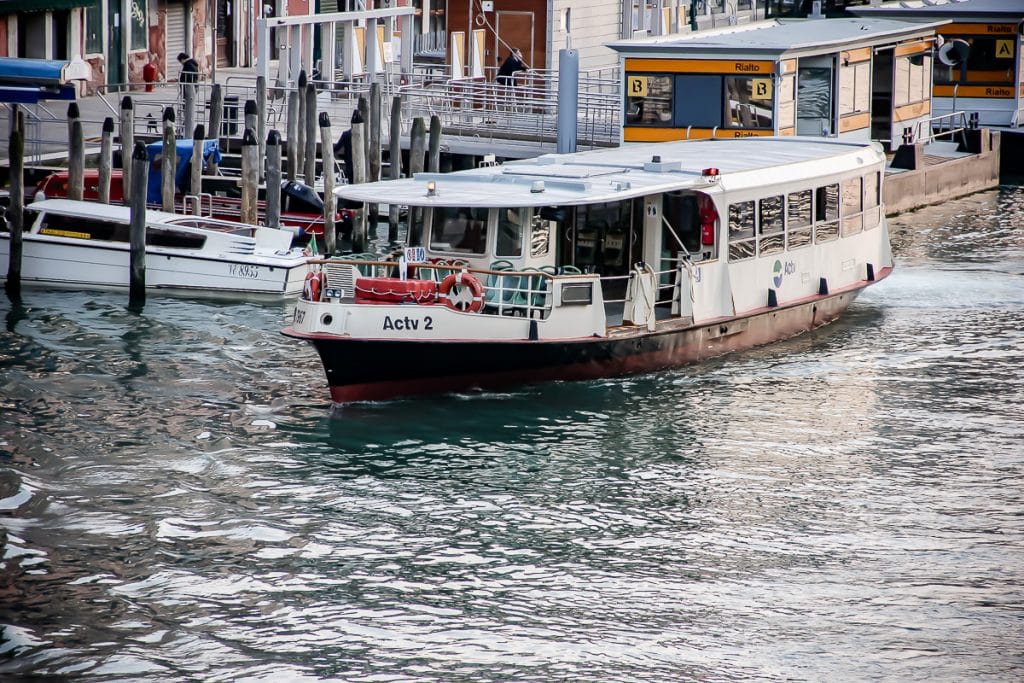 On the vaporetto, there's a huge crowd! I feel like during the good old days, when we, the tourists, were invading, eager to move from one place to another, on the Grand Canal.
Now, however, the vaporetto is full of locals! And I'm the only person with the suitcase.
I get out of the way for an uncle with some goods to be able to get off, I slip past people with shopping trollers and I sit next to two postmen who hold the carts full of correspondence.
The dialogues between some travelers make me understand that many of them know each other and I wonder where in God's name are they during the good times, when the boat is full of tourists? Do the take another one? Are they lost among tourists? But what do those who carry goods do? They are no longer allowed to get on and they take another route? This is a dilemma…
MEMORIES OF VENICE
I knew a Venice that was full of hustle and bustle, crowded, with narrow streets buzzing with people, with boats on which, tourists from all over the world used to sit together, in a crowd, with gondoliers slipping talentedly one by the other, on the narrow canals, singing to the tourists who could afford to spend some more.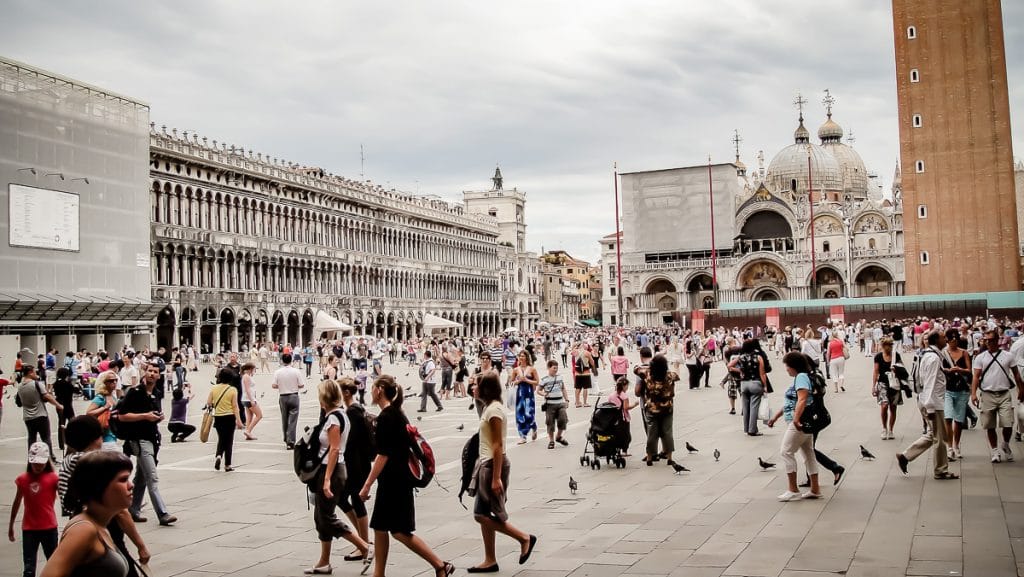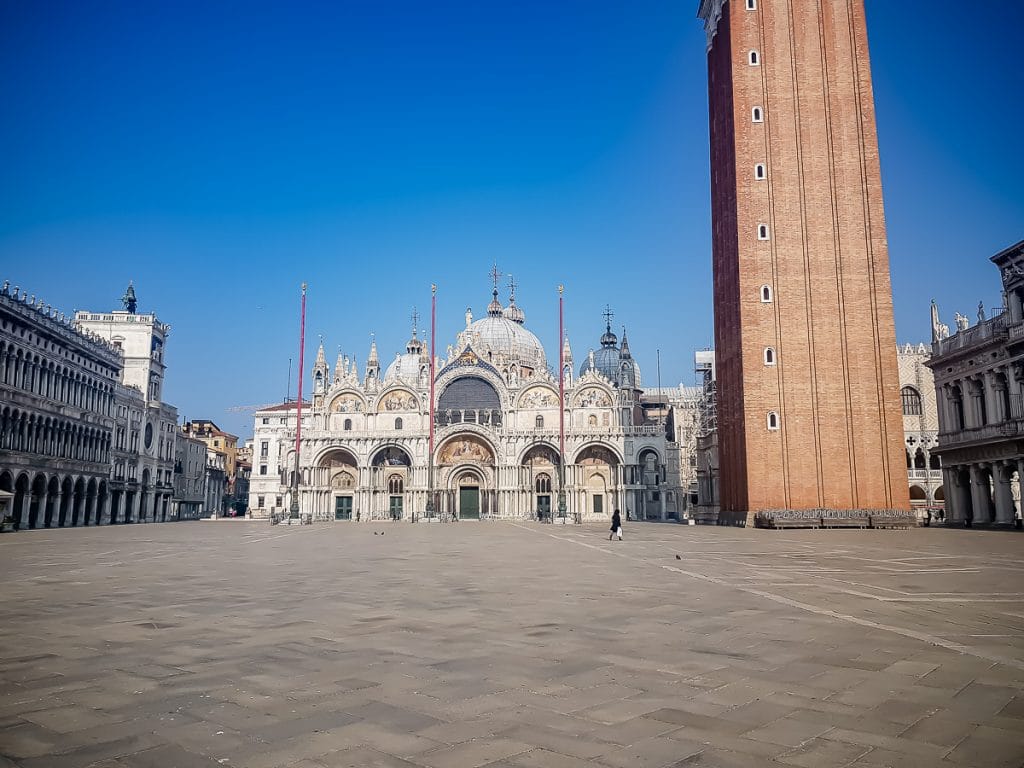 Even if I imagined that I would be surprised by the new Venice – the pandemic one, the reality is shocking!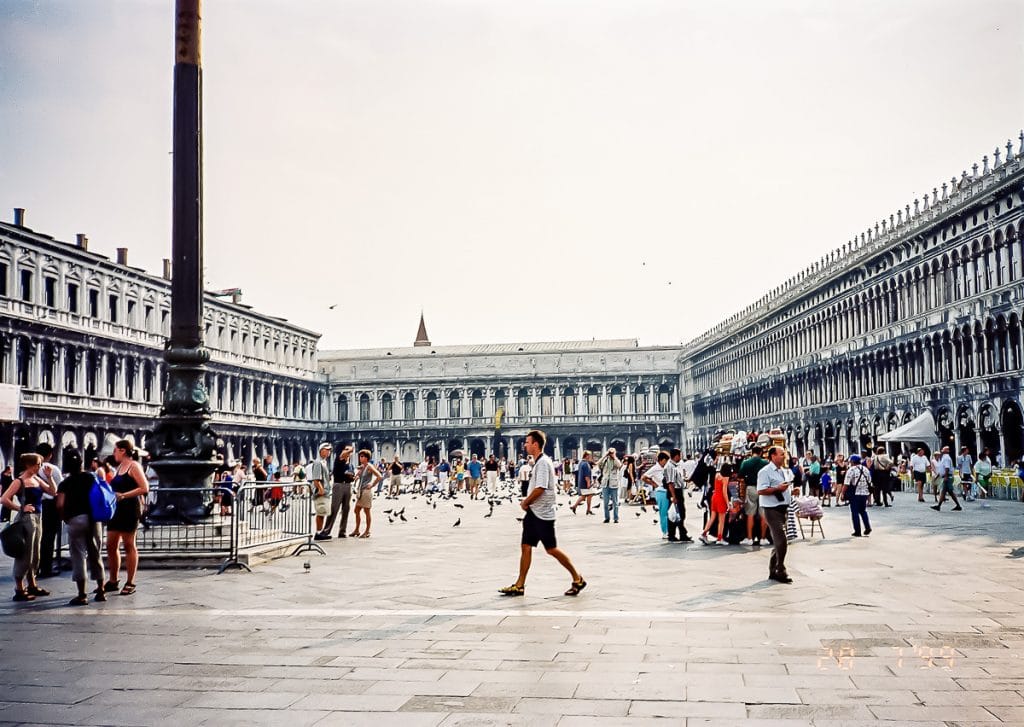 You know that saying, "It looks like after the war!" That's how I feel here. Okay, everything is still standing, thank God, but this fact that you are alone in the big Piazza San Marco, really makes you feel a bit like after the war…
And, what's shocking: no pigeons! Man, how can this be??? This market was full of them!!! I have some flashbacks from the times when I was "overwhelmed" by the pigeons here!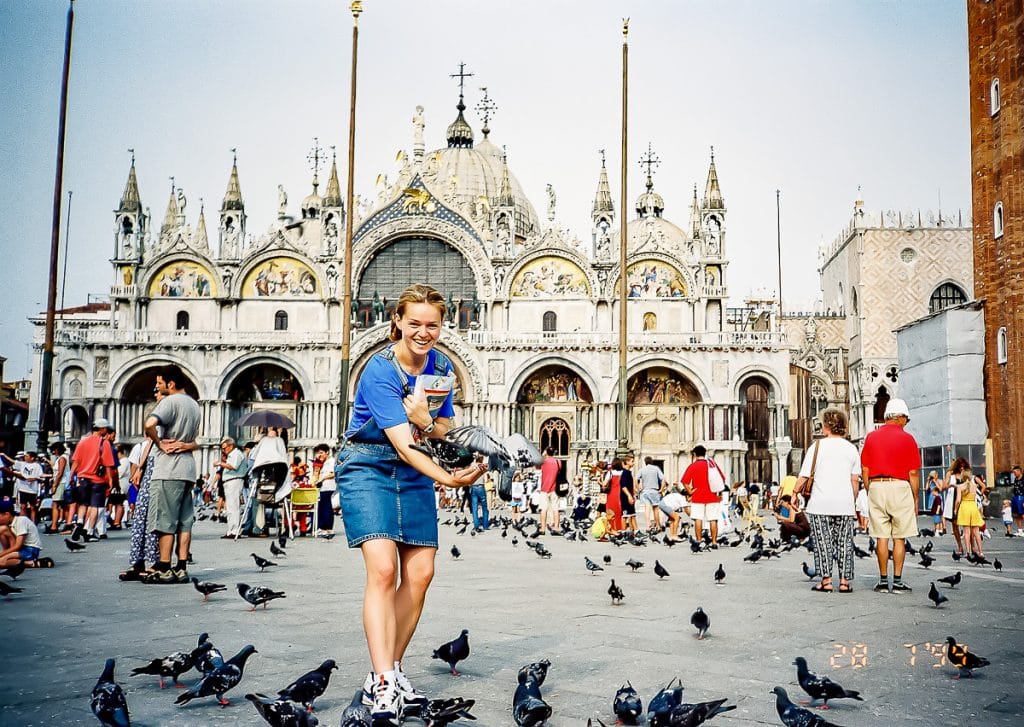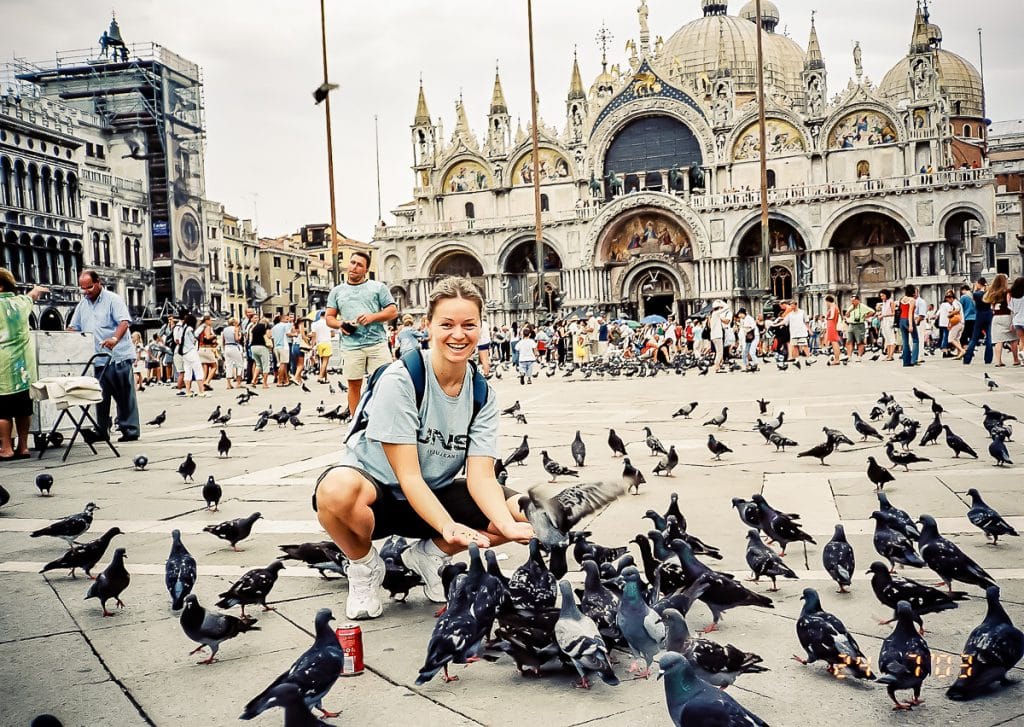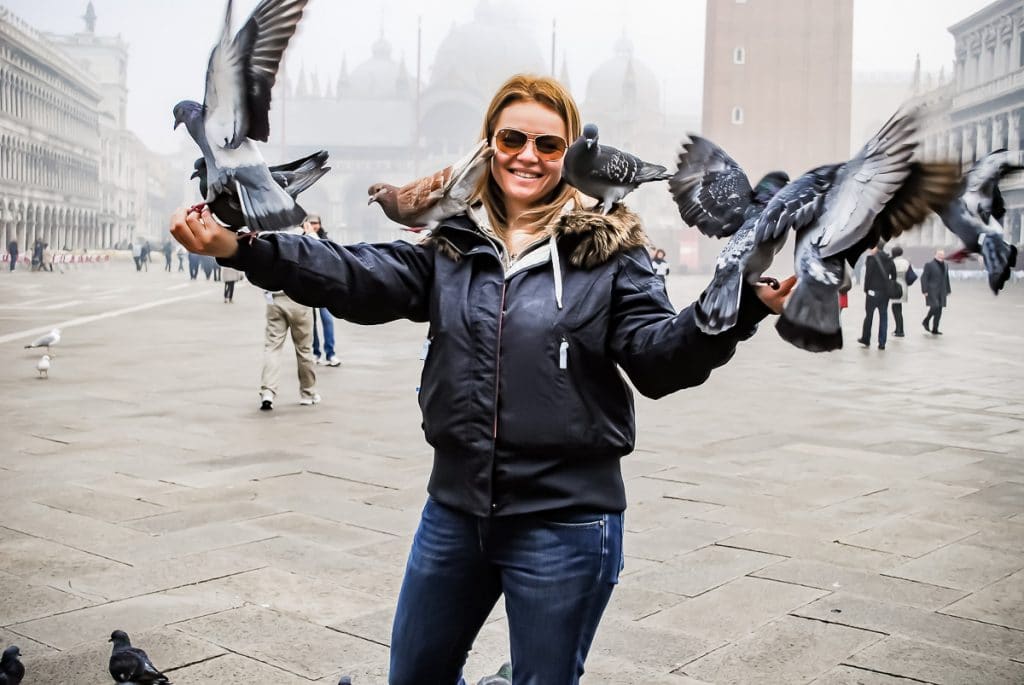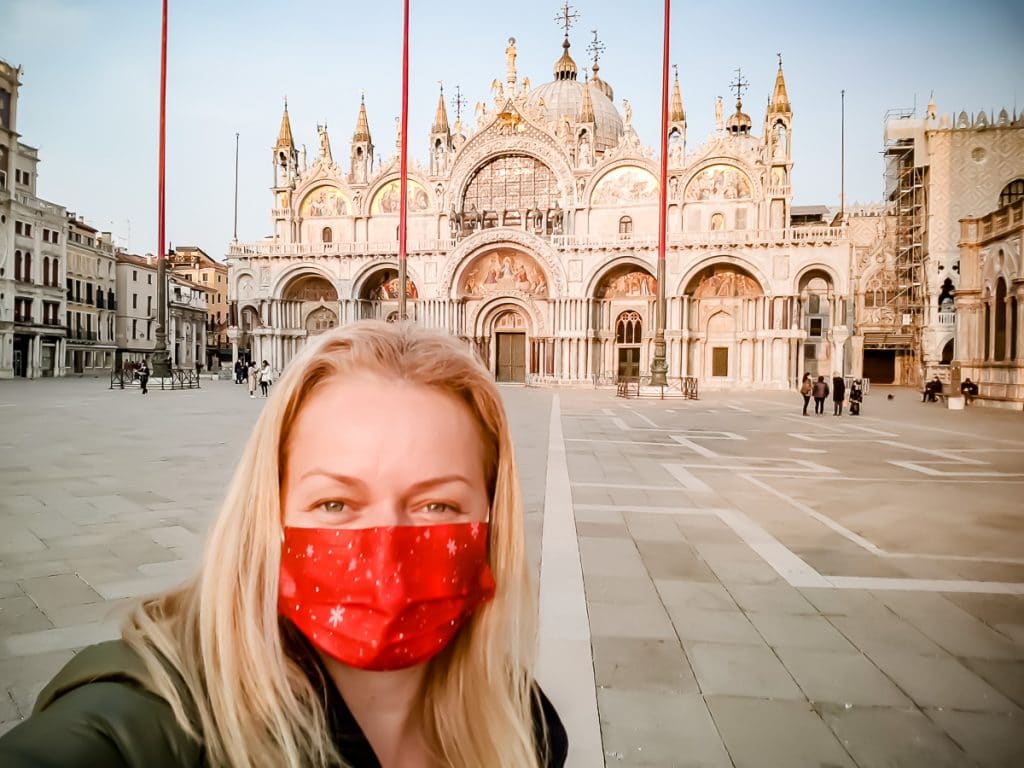 I remember some years ago when you went to San Marco with leftover bread, then years when you could buy food for pigeons from street vendors, then years when… it was forbidden to feed pigeons.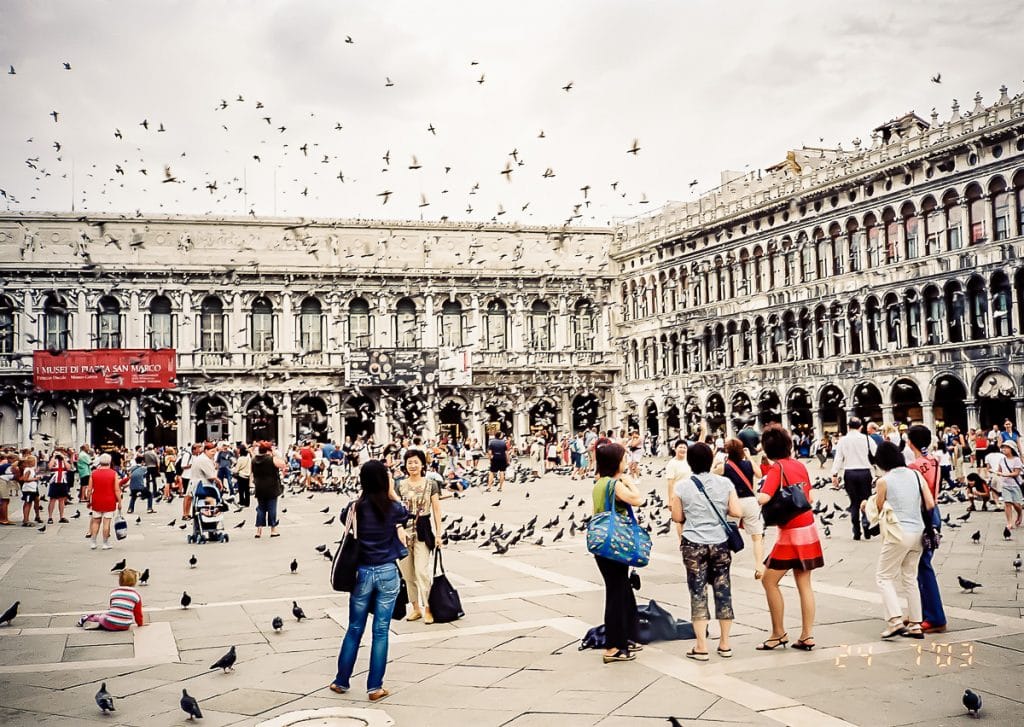 This year, hoping to find at least pigeons, if not people, I put in a bag the bread left from dinner and I came to San Marco, optimistic that I will take the "picture with pigeons – 2021".
No way.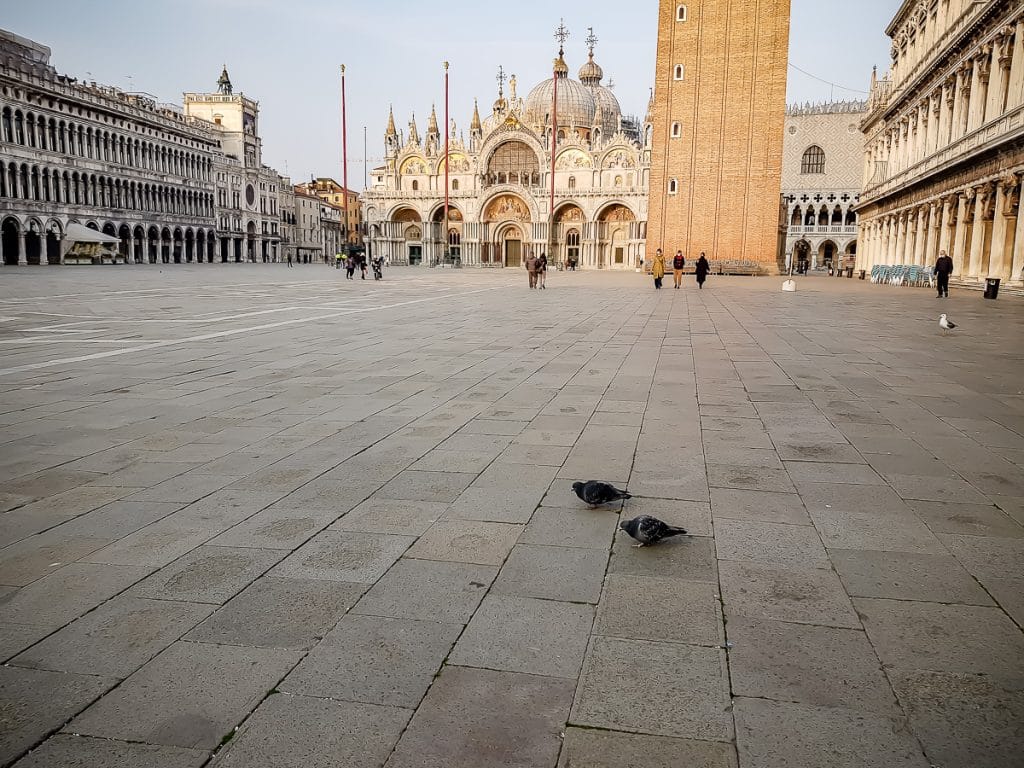 I found just TWO pigeons!
Bro, where did the rest of them migrate?
I immediately took pictures of these two, since they have become "rare birds", seriously! The police and army crews are more frequent, really!
I take advantage of the fact that there are no policemen around the corner at the Doge's Palace and I take off my mask, to breathe a little.
A few Italians are running on the water's edge. No masks, as they are allowed to. I could do the same as them, right? To get rid of the mask. But I would actually be caught immediately, after 100 meters of running with my tongue out…
I stay without a mask for a while, for some selfies.
At the Bridge of Sighs, I almost feel like sighing for some tourists!
I am the only living being who takes pictures, with/without a mask, every day when I take this way.
The rare passers-by who cross the bridge look at me as if I were teleported from other times. The normal ones…
I take the arrogance to take a picture of myself even further from the railing where, in the good old days, you could barely sneak in to take a picture. I'm doing this in order to prove that the rush in the past is now just a memory.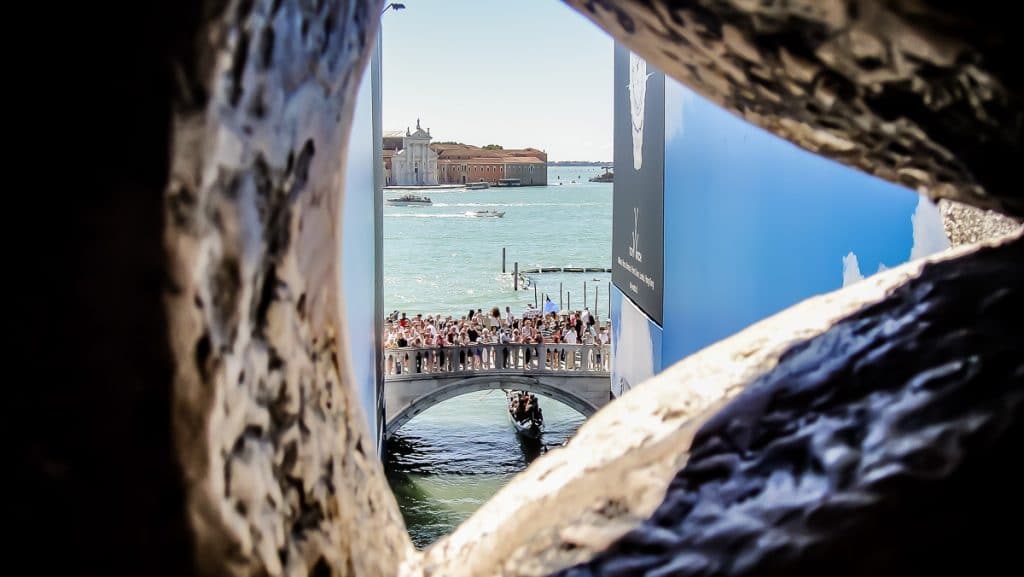 This is what this bridge looked like in times without a pandemic, seen right from the Bridge of Sighs. Full of people!
THE SMALL CANALS OF VENICE
I leave the Bridge of Sighs and the bridge that cries for tourists and take the narrow streets between the buildings. Every bridge I cross makes me notice the small canals of Venice, with green water mirroring undisturbed the palaces or the abandoned houses.
No, I haven't seen dolphins J.
Seriously, it wouldn't have seemed strange to me, judging by how clean and unspoiled by any boat the water is!
From time to time, on some canals, Italians with boats loaded with goods, unload the "catch" of the day on the shore.
THE STREETS OF VENICE
On the narrow streets, the same feeling of desolation and abandonment.
Rarely any passer-by.
I hear someone speaking Romanian and I am surprised. I look up – on a building under renovation, the workers speak Romanian. I feel like greeting them, but I'm afraid not to scare them…
I came across workers in several places, because everything seems to be under construction. Renovated buildings, restored palaces, street interventions, repaired bridges – that's the noise of nowadays, that of the construction site.
Everything is closed. I came to a Venice that is a "red zone", which means that neither restaurants, nor cafes, neither shops, nor museums are open.
Here and there a few pubs sell sandwiches, coffee and other small things, to take-away. And, very rarely, you can find a restaurant that sells or delivers.
The supermarkets are open and, to my great satisfaction, the "gelaterie" are also open! (If I think about it, ice cream was my lifeline during this trip, when I could hardly find food.)
In my walks, I come across an open store, lost among dozens of other closed stores.
SHOPPING IN VENICE. PANDEMIC VENICE…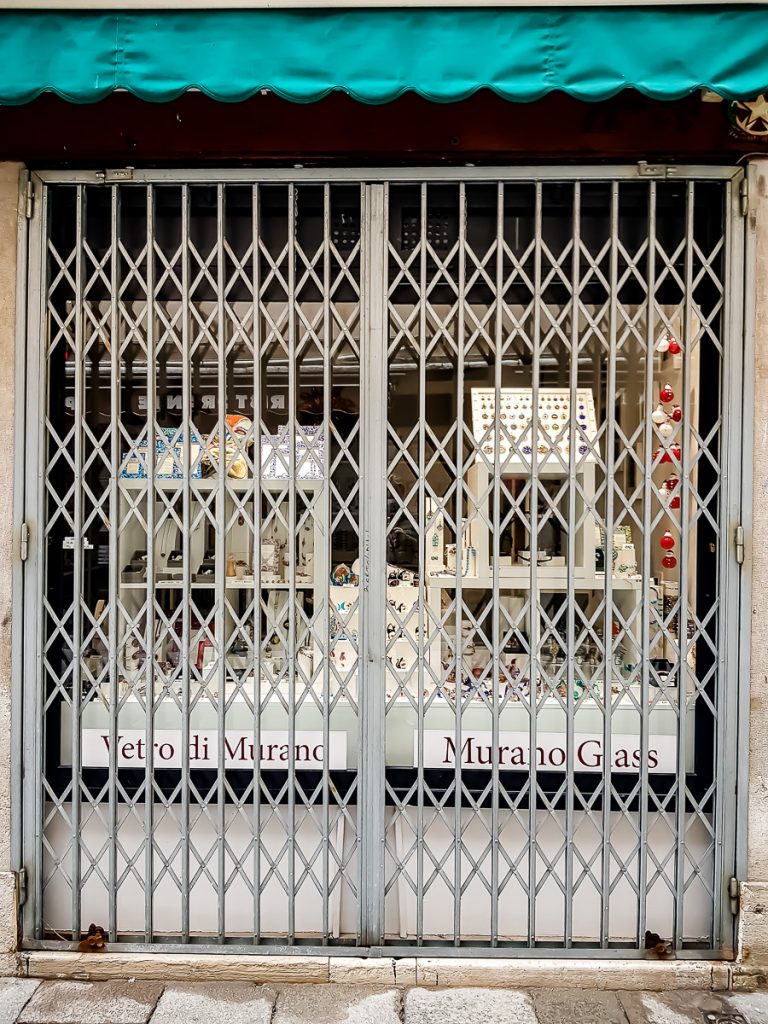 I quickly make a "census" of the types of stores that are open, because they seem an oasis of hope…
I find out that "essential stores" are open, so the ones with products that people really need every day.
Eyewear stores – open. And the household ones, with wires, strings, keys, things you need for various repairs. A few shops with children's clothes. Cosmetics stores. Shops with a lot of Easter chocolate, in all the possible forms, that suddenly increase your blood sugar!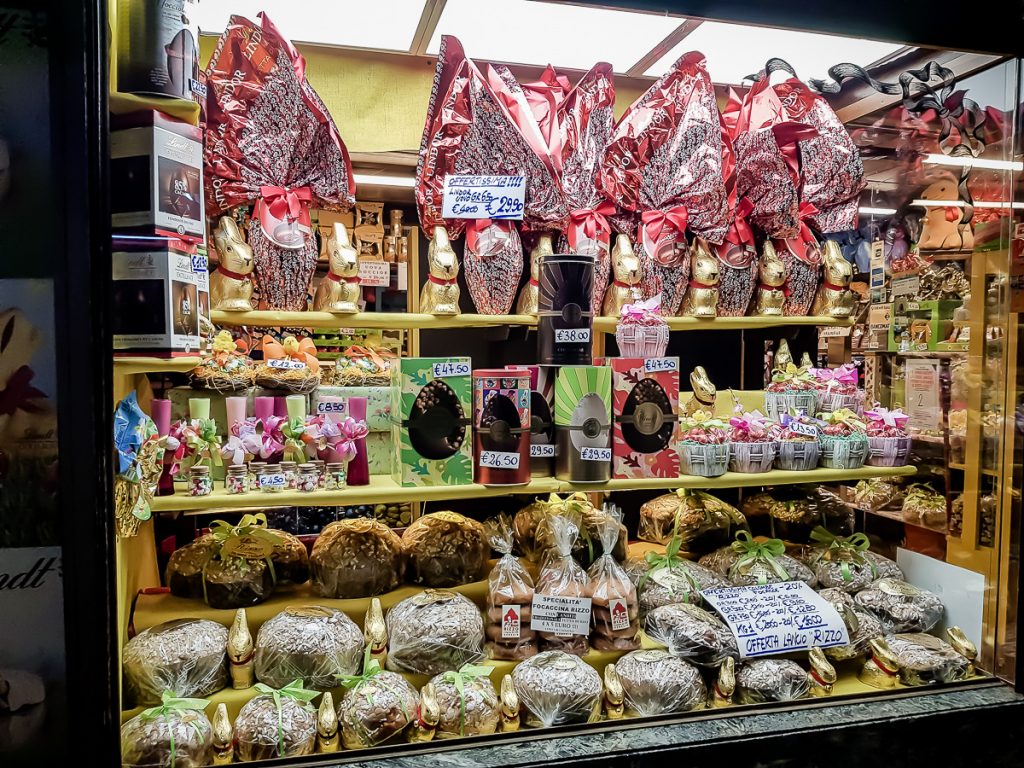 Oh, and you can definitely buy panties, you know! All underwear stores are open. So are the ones with socks. And those which sell essential accessories.
Okay, I calmed down. In case of anything, panties and phone cases I can buy without any problems…
I notice with surprise that several sportswear stores are open. Then I understand that they are also part of the category of "essential" stores, that's why they have the right to be open. The truth is that I have seen so many Italians running, that it is clear that for them these are stores they often need.
I find it difficult to move around in shops where I see areas covered with foil or tape that prohibit access to certain areas.
I find out that what is covered is considered "non-essential merchandise", so it cannot be sold. You can buy certain stationery, but you can't buy other pieces of stationery, you can buy certain toys, but you can't buy other toys. It's clear, isn't it?…
Shit, and how prepared I was to spend my money on nonsense, in souvenir shops. What do you know, they are also closed. I manage to find some fridge magnets, some masks (Venetian, not antivirus…) in small tobacco shops.
Speaking of the mask, I asked a policeman what the fine is for not wearing a mask.
400 euros – he answered me. I thought I didn't hear right.
Then he added that if you pay it in 24 hours, you take "only" 280 euros out of your pocket.
Now, seriously, no one is absurd, you know. I took off my mask in many places to take a selfie. Nobody said anything. And believe me, there were plenty of people who could have, because the known places are full of police and army.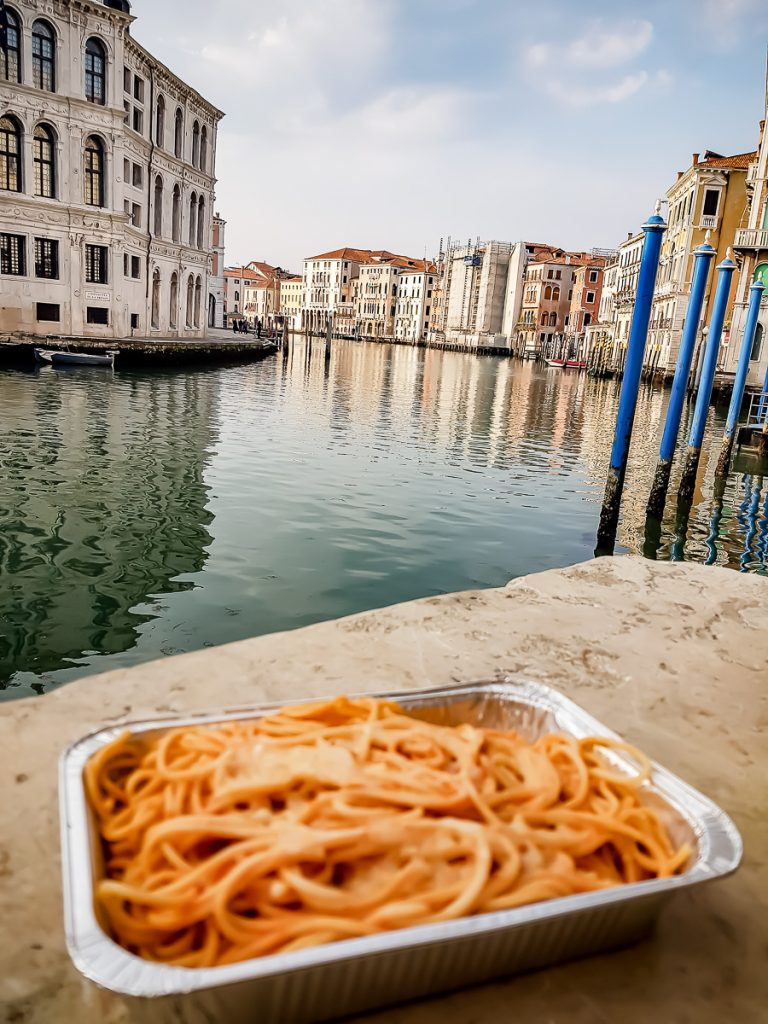 Instead, the army approached me on the Rialto Bridge, where I had found a perfect place, "overlooking" the canal, for lunch.
Just when I was eating some bad pasta taken from a restaurant, there came the army. The men elegantly explained to me that I'm not allowed to eat there, so I quickly put a fork of pasta in my mouth and gathered my things, because nothing is a joke with these people…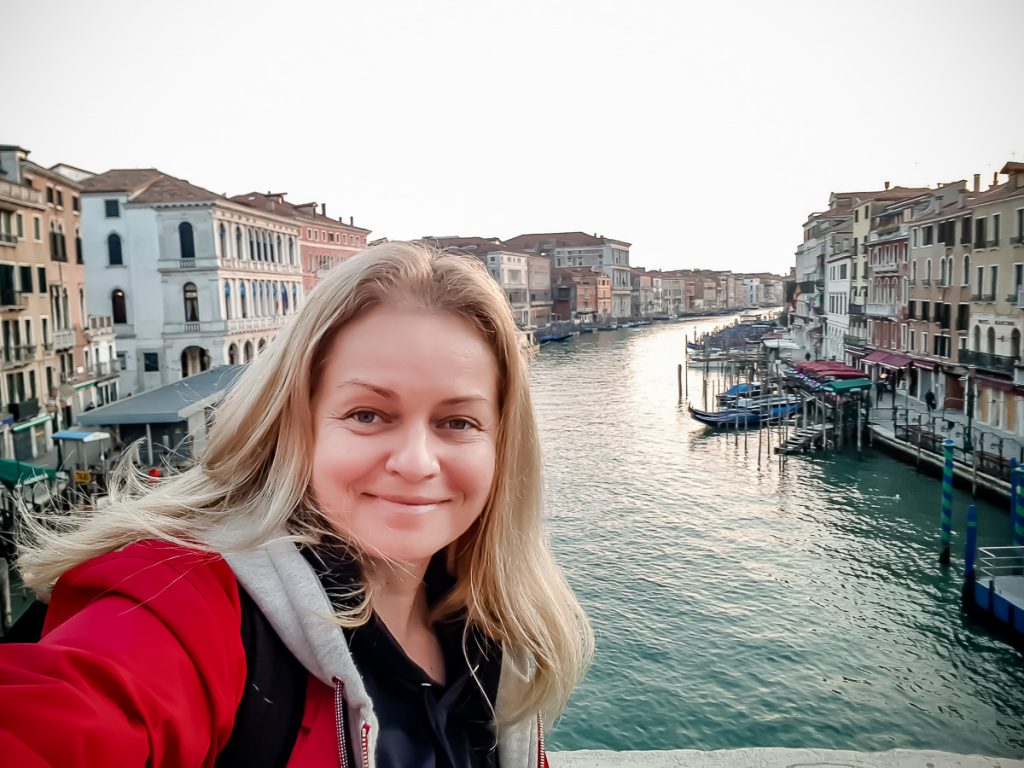 I stayed to admire (on an empty stomach) the unrecognizable Canal Grande.
It's so quiet!!! Only the vaporetto disturbed it, from time to time.
On the famous Rialto Bridge, with shops that were once barely visible to the people who went up and down continuously, now it's just me, the soldiers who spoiled my lunch and about 2-3 other young Italians, who take pictures.
Otherwise, there are just a few passers-by from one shore to another, seeing their daily lives.
CANAL GRANDE
I never got tired of admiring the palaces on this canal, reading or at least trying to find out who built them and when, imagining the life inside them, remembering the movies I saw shot in them (the first one that comes to mind is "The Tourist", with Johnny Depp and Angelina Jolie).
Now, every time I passed by here in the vaporetto, it was as if I had taken a private trip on the canal: perfect view on both left and right, silence, no interference, plenty of time to enjoy the view.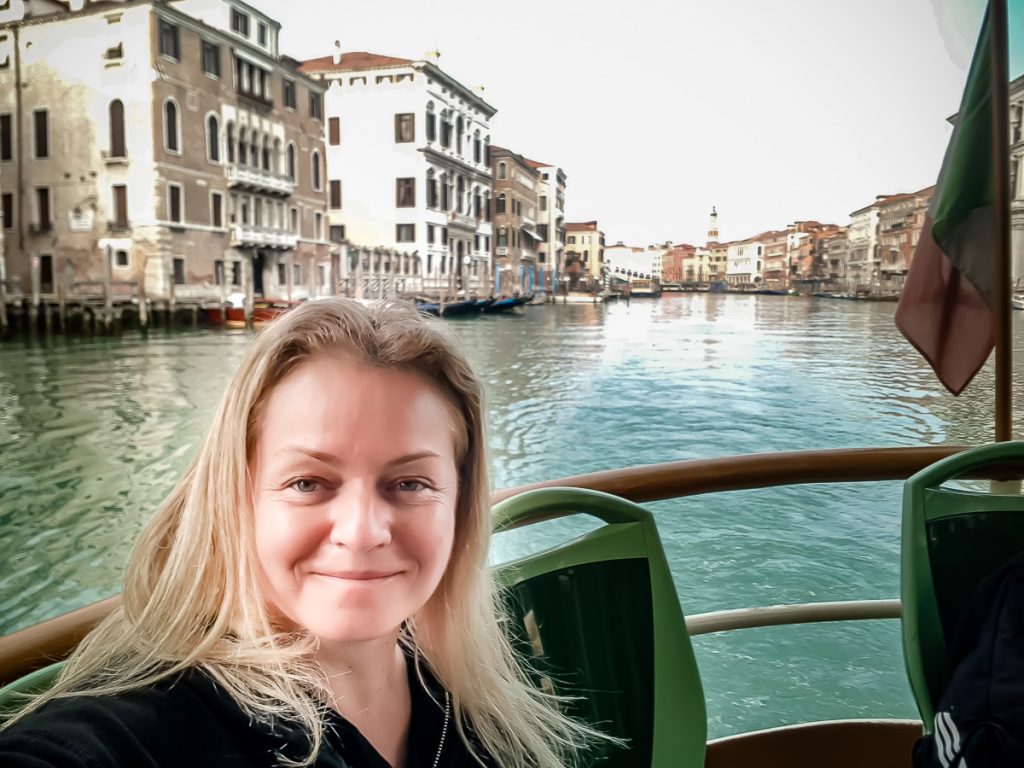 I even allow myself the luxury of taking off my mask, as there is no one in the back seats, outside.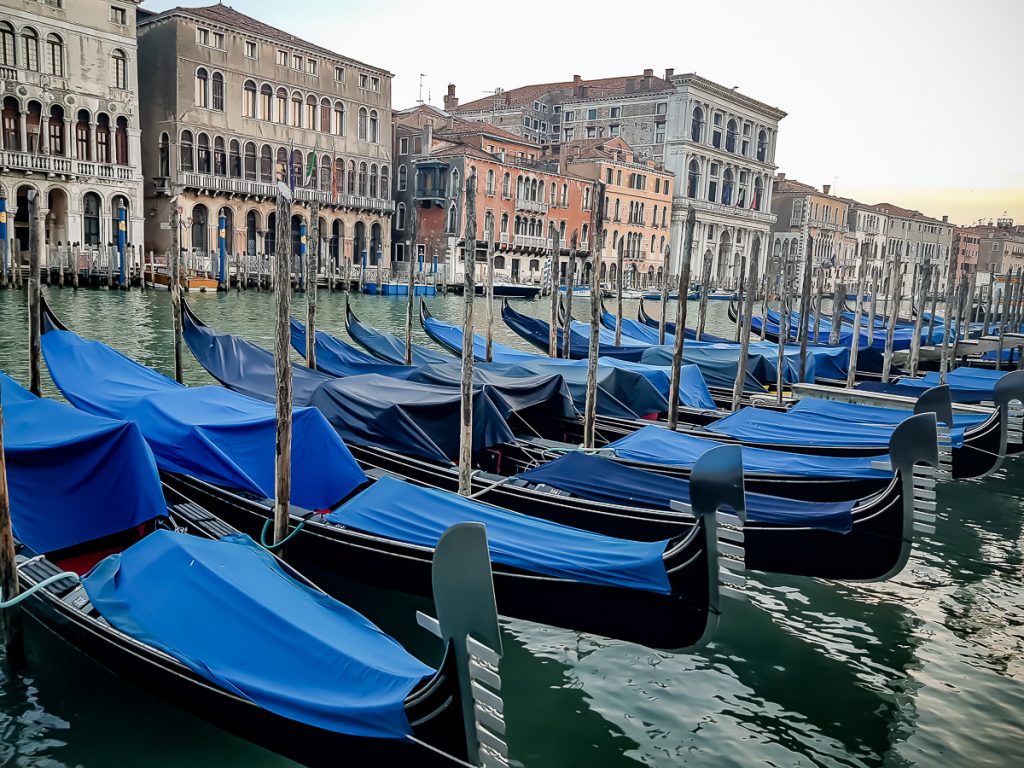 No sign of a gondola on the water. I mean, they are there, but not going anywhere… They're all pulled ashore and they all seem to hibernate, with their covers on.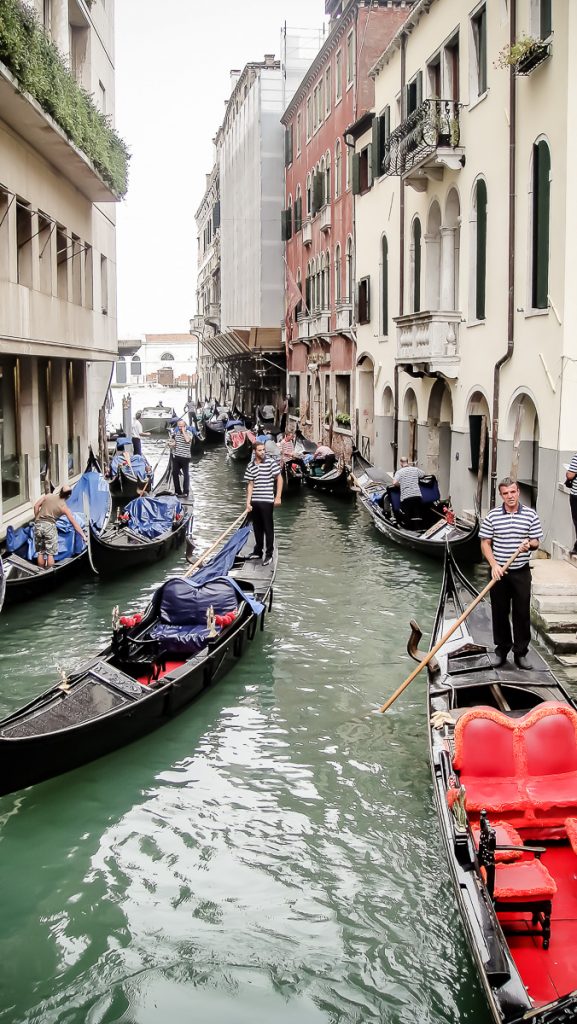 Don't even think about such an image now! Gondola rides are not allowed in this situation. Vaporetto rumbles from time to time, stopping at stations for the Venetians, you rarely see a water taxi, a rescue boat or boats/gondolas carrying goods. And that's it.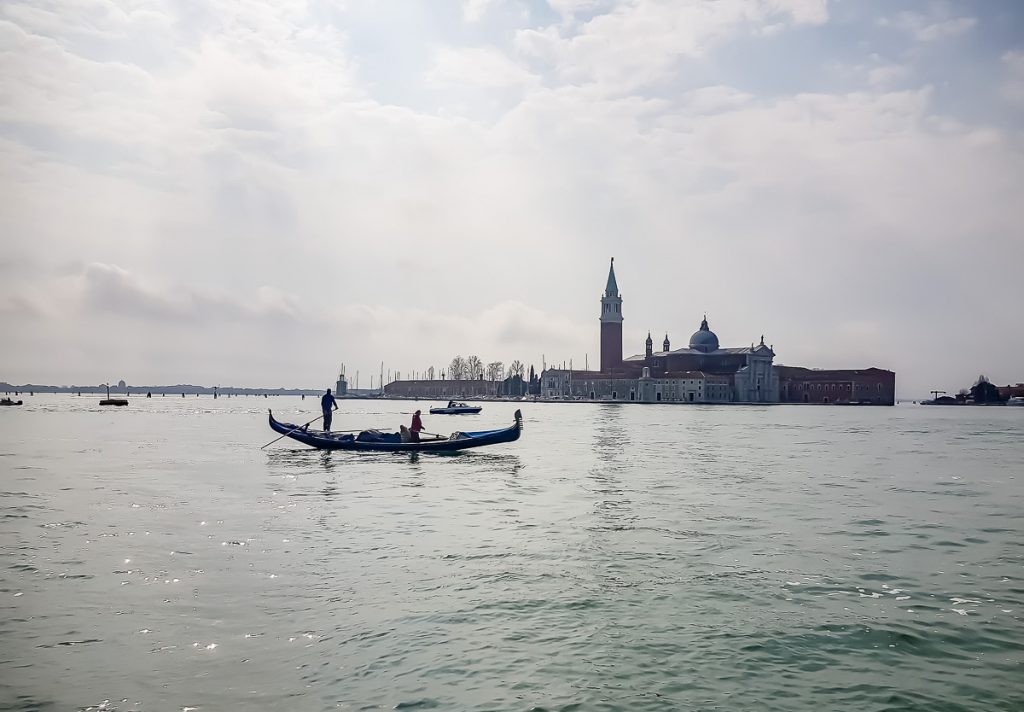 What the hell are the gondoliers doing? I think they have been starving for a year now, without tourists.
"No way", a salesman tells me. "Well, the gondoliers are rich! Some even have palaces like this!" – he shows me a building on the edge of the canal. And he reminds me that the price of a gondola ride was 80 euros in season.
The fact that this profession is inherited from father to son – he continues, also means that they have managed to gather some fortunes. Maybe only some people with large families, who have become gondoliers 2-3 years ago, might have some problems now, otherwise, no.
Ha, I wouldn't have thought about this…
AWAY FROM THE (SOMETIMES) UNLEASHED WORLD…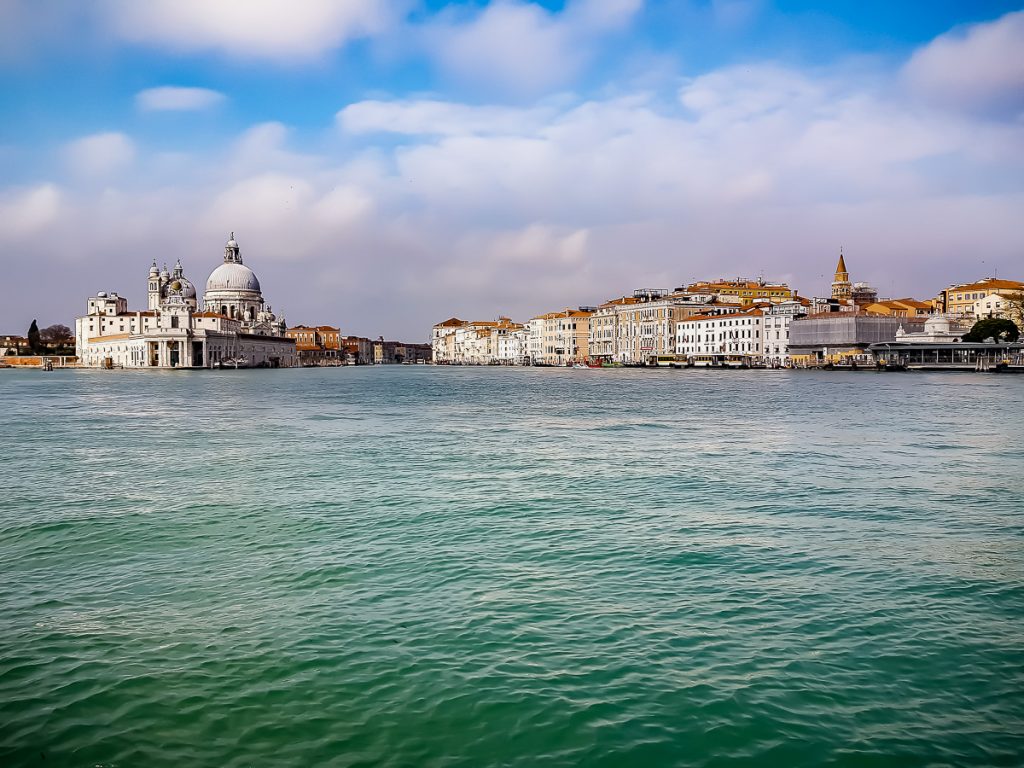 I wander a lot on the water, but I also walk tens of kilometers every day among old and picturesque buildings, through fountain squares, through labyrinths of streets that take me where I have never been before.
The farther I go from the deserted center, with almost everything closed, the more life and noise I get and this pleasantly surprises me!
I practically enter the neighborhoods of the Venetians, where there is no police/army, where it seems to me that there are more shops open, where children play in small squares between buildings, where many people walk their dogs. (I had no idea there could be so many dogs in the lagoon hihi)
From "Ciao, bella! How's your mom?" to "Give me a bunch of pumpkin flowers", I go through all the daily dialogues of the locals as a spectator.
I get lost among them, I buy half a kilo of strawberries from a grocery store (super good-looking and not at all tasty), I go to household shop and get a keychain, then I eat a tramezzino with ham and cheese, sitting on the sidewalk.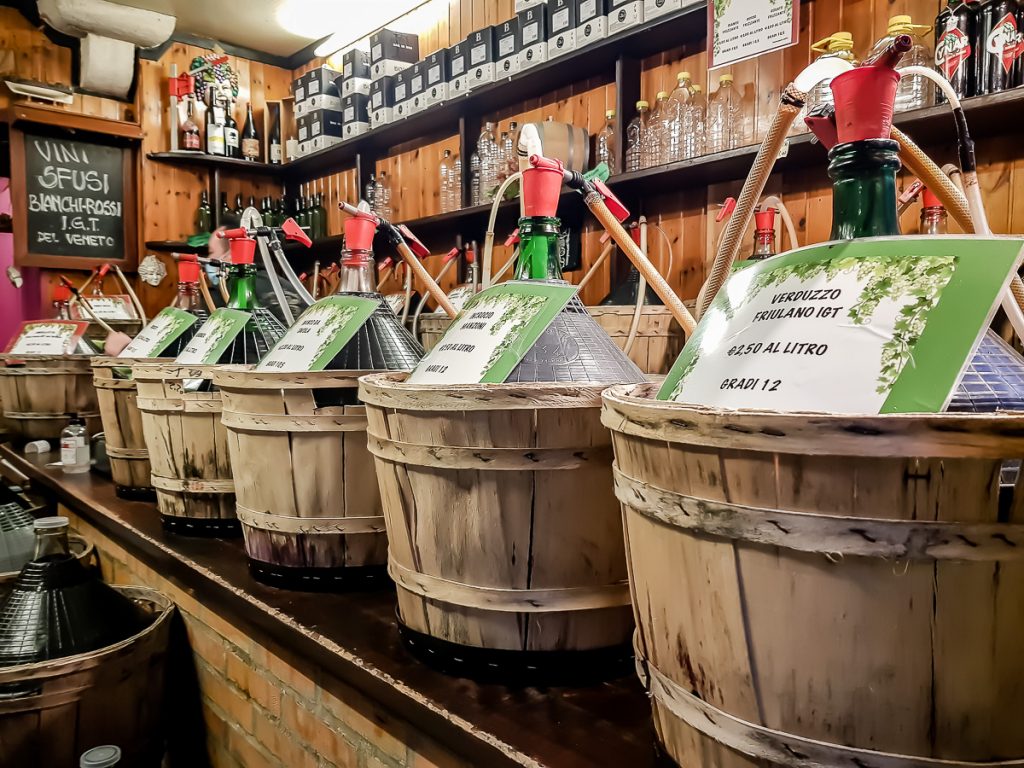 The wine shop is open too. Cheers, I'd say! Wineries are also considered essential stores.
I stop at the door of the store where the people of the neighborhood get their prosecco from the barrel.
Then I buy magnets from Tabacchi. Between two Italians who came for cigarettes and some noisy children who want chewing gum and whom the seller threatens that he will tell their moms, if they don't stop it.
Buying magnets, I already become suspect hihi. The seller tells me that he hasn't sold magnets in a year! He doesn't even know where he put the boxes with them.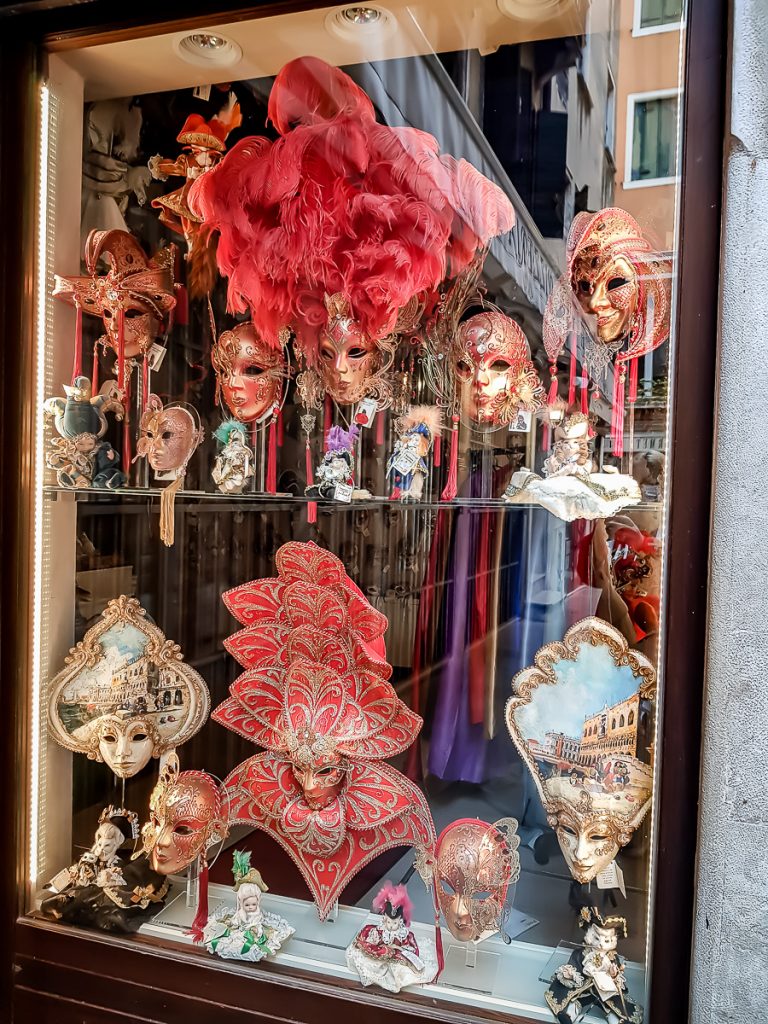 Many of the shops with Murano glass products, masks and other spectacular things have a note on the door so that, if you want something from them, you can call a number and they come.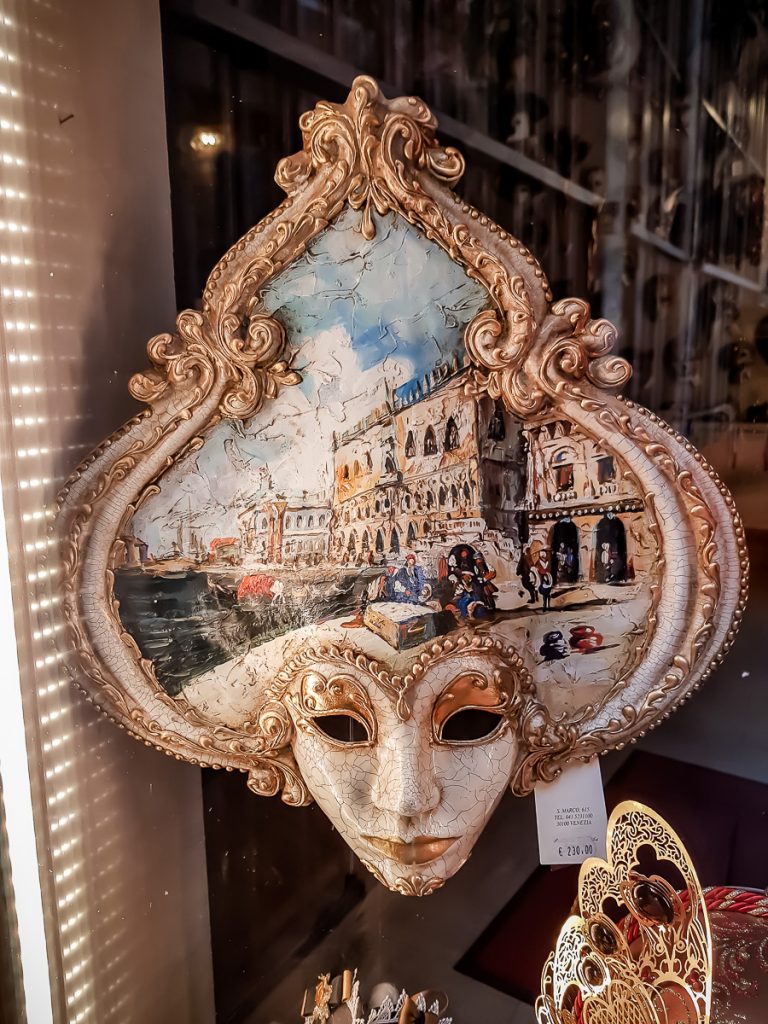 I had set my eyes on this, but I gave it up when I saw the price – 230 euros! In addition, I would have burdened with a worry: to buy a house where something like that would fit J.
PIAZZA SAN MARCO
I'm going back to San Marco. But do you think I can find the way back??
I walked around the streets so much, I think I walked my quota for a week, not for a day! I crossed bridges over small canals, I took it to the left, then to the right, wait, there is a sign for the train station, here is a beautiful church, let me drink some water from this fountain, then I got on a closed road… and so on.
"God damn you!" – I hear in Romanian. When I look, a beggar upset that she dropped her glass with some change, curses nervously. I feel sorry for her and I go back and give her 1 euro.
I ask her what in God's name is she doing here, where there is no tourist?! She tells me the local people still give her some money. She can't tell me how much she gets now compared to the good times and I understand why: she is a bit slow. But she tells me she takes the money to her mother and brother. Poor things, I think…
She begs in front of closed shops where people rarely pass.
Piazza San Marco is just as quiet at any time. And just as beautiful. When the bells ring, you can feel them to the core!
The police do their morning/noon/evening/night round and, if they didn't have yellow vests, I wouldn't even notice them, they are so discreet.
From time to time, a child's laughter breaks the silence. His parents have a lot of playground for the pleasure of the little one.
(I hadn't planned to take pictures in the morning, at noon, in the afternoon, in the evening and at night, but that's how it turned out. If I had made the plan from the beginning, at least I might have seemed smart and I could have taken the picture from the same angle…)
The luxurious cafes in Piazza San Marco have locks on the doors and the chairs are all piled up. It's a desolate image.
I once stayed at Caffè Florian, paying a lot for a hot chocolate, just to feel the vibe of San Marco Square, while listening to the orchestra.
The oldest Italian cafe – and I read it is the oldest in the world too – celebrated in December 2020… 300 years!!! And, in all these years, I understand it never closed his gates. Until now, when the pandemic turned everything upside down here too.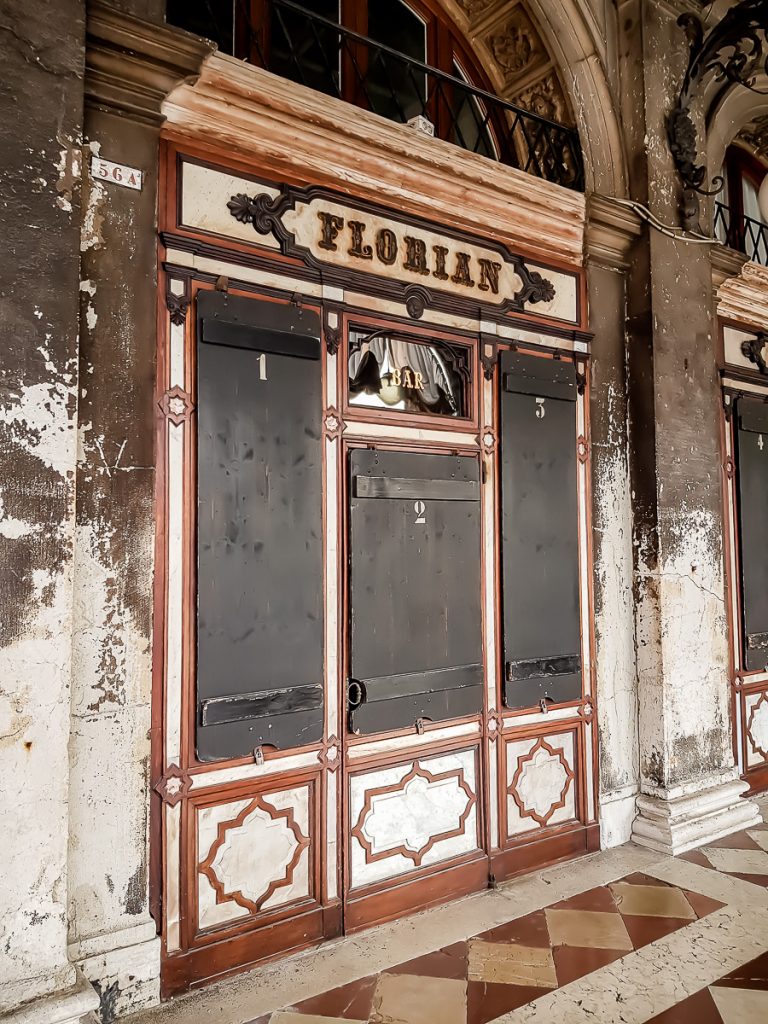 This is where Charles Dickens, Goethe, Nietzsche, Casanova, Charlie Chaplin and… the list goes on and on, used to come. Now I pass by, I walk in front of it and admire the name and the shutters…
And speaking of famous places, I remember Harry's Bar, Hemingway's favorite place. It's close to San Marco, on the banks of the Canal Grande, so I can't wait to see what it looks like during the pandemic.
Well… what can it look like, it is closed too…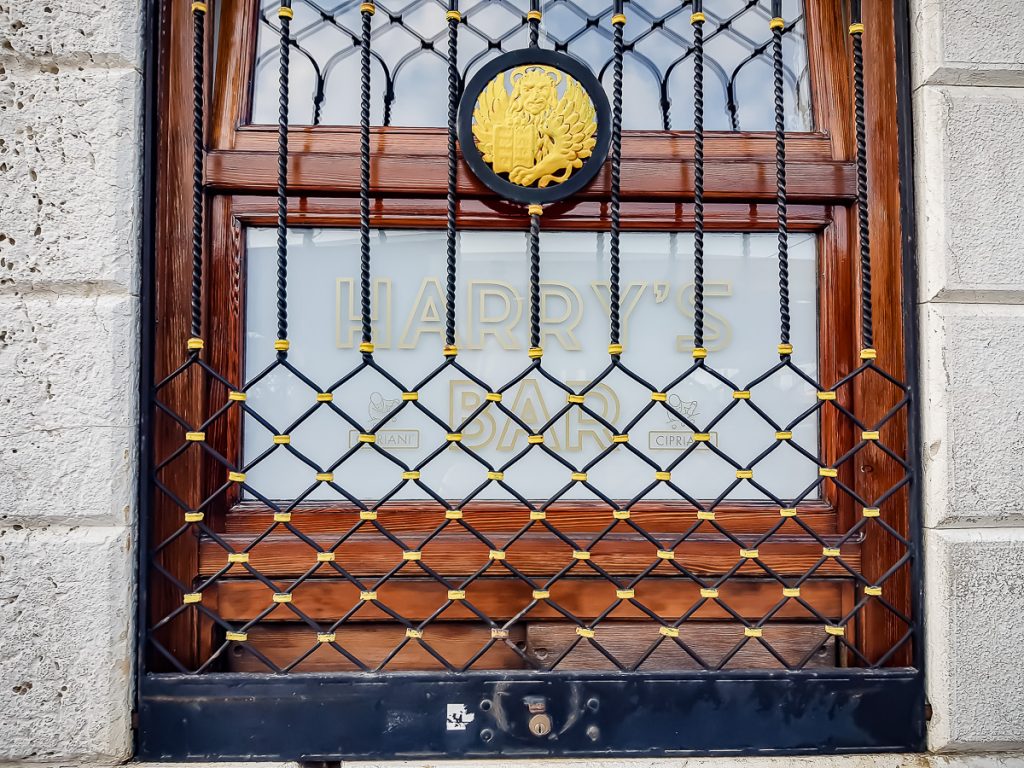 The Basilica of San Marco has a side door open. I'm told it's a mass. I ask them to let me in for two minutes.
I also pray in front of an icon, while some Italians listen to the priest's service, holding olive branches in their hands. I go out with an olive branch. Many people I meet on the streets have something like this in their hands. It's Good Friday here and that gives me a very pleasant mood.
I sit in the Square for a while and take some more selfies – the police in the area already know me J.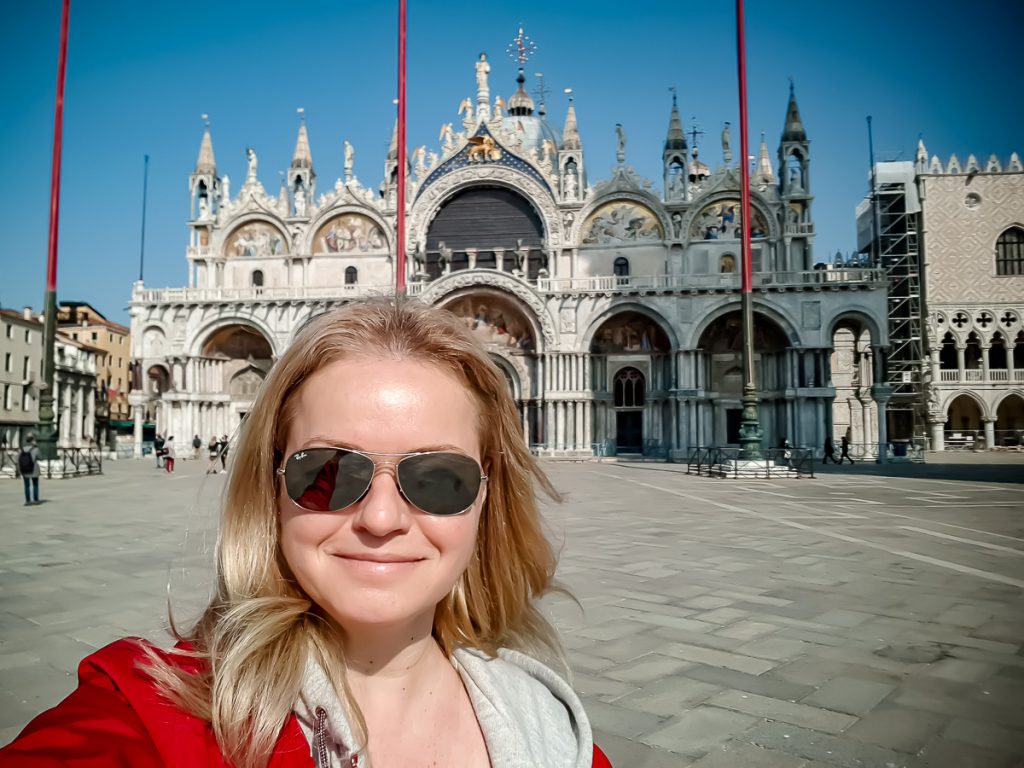 I realize that these days I have not seen a touristic town, but a town of the locals. And I wonder how they feel, the Venetians – are they happy that they got their place back or, on the contrary, they suffer because of the lack of tourists?
Listen to the silence of an always noisy city and look at the emptiness of a place always full of people: