So it really exists! It's not Photoshop, but 100% reality! It is the small harbor of Riomaggiore.
With colorful, picturesque houses, with narrow streets and steep steps between them.
I get off the train from La Spezia and go towards the "tunnel", which I read connects the train station to the city. (In other villages I found such a transit tunnel too)
It is a covered pedestrian tunnel, through which I walk a few hundred meters. It doesn't matter if you have suitcases, as you only have to go straight. The problem starts only after you get out of the tunnel J).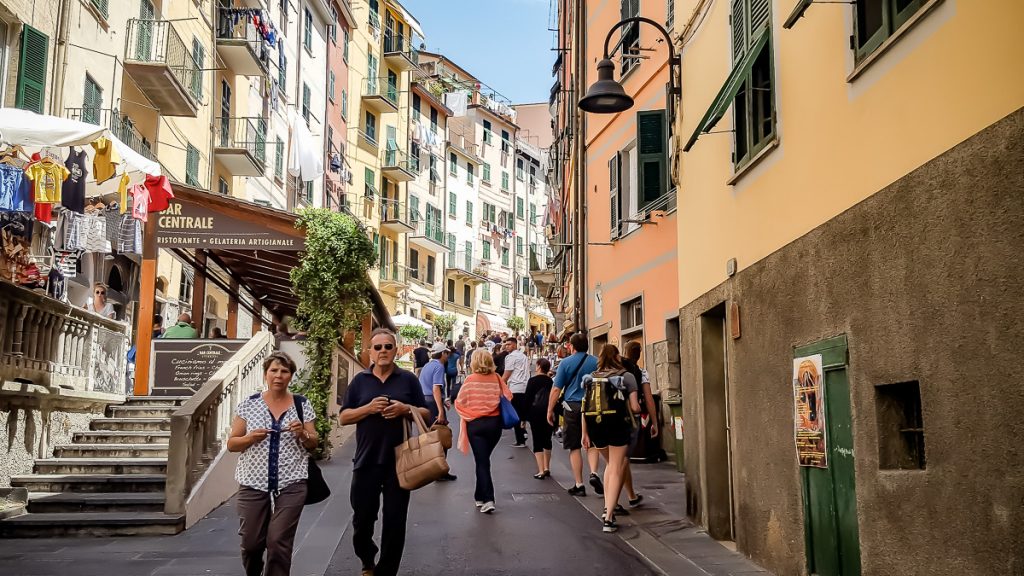 Oops… What do I see in front of my eyes? The main street of the city – via Colombo, which climbs, climbs and climbs! I think it has an inclination of 45 degrees, I feel my leg muscles suddenly stretch! And I have a suitcase of 22.5 kg and a backpack of about 12 kg!!!
"If it's hard for you, take a taxi," I remember the owner telling me on the phone when I made the reservation. Although the accommodation is a 10 minute walk away from here. Well, I would take a taxi, but where from?!? The street is as narrow as my arms spread out… And there's no car in sight. Or rather… there's one, a minibus carrying some kids to school. Should I take it? Well, that would be rather strange…
I HAVE MY WORK CUT OUT FOR ME…
I give up and push the suitcase up the hill. Because I cannot pull it, it pulls me back down the hill! I feel the compassionate look of those on the street. For me there is no return: I will be a laughing stock if I abandon the race… In addition, if I don't hold the suitcase well enough, it will go downhill and goodbye, I'll have to fish it from the sea!
I push and keep pushing, I'm all sweating, that you might think that they hired me to push wagons! The backpack is fighting me up this hill. And not only does the ascent never end, but at some point it also changes its inclination – for the worse! I rest a little on a straight part of the road, to catch my breath. I'm getting ready for the last assault…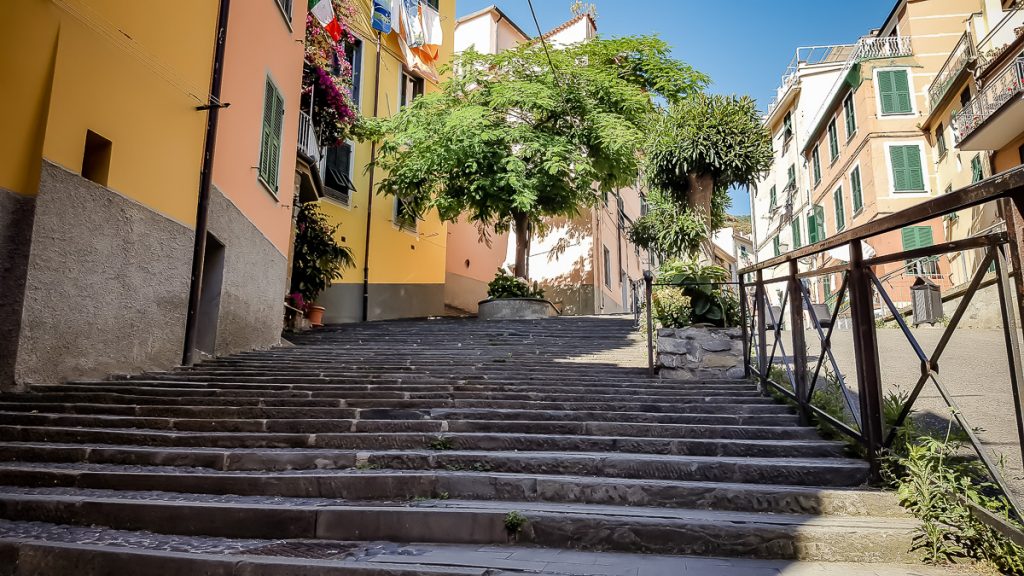 You can hear the water through the sewer where I stopped. Surprisingly, it's not any sewage or anything, it's a river!!! Rivus Maior – hence the name of the city. The river, in this part of the town, practically flows under the main street. And it can be heard through the sewers.
Ok, I caught my breath, so I start pushing the suitcase further up the steepest part of the main street.
I finally arrive, after 15 minutes, on a flat harborion of the road. I am close to a small church – Santa Maria Assunta, specific to Italian villages. Thank God! I take a look inside, then take out my phone to look up for where I'm going to live and find that it's right in front of me. Yes! (Note: All this way up takes about 4 minutes, without luggage.)
I check in, drink a bucket of water and then I go down to see the places.
Riomaggiore can be visually divided into 3 parts: the train station – from where the paths start to the next village (Manarola), the town center – with the main street on which you can restore your physical condition J and the harbor, the fishing district.
The main street, lively and full of shops and restaurants, descends to the sea among typical, colorful houses. (Which, by the way, you can admire while breathing normally going downhill J). These houses, which seem to be glued together, are called "case torri" (tower houses).
Before I go down to the harbor, I go to eat something as my stomach is making noises. According to the advice of the locals, I take it through the tunnel back to the train station and go up to a nearby terrace.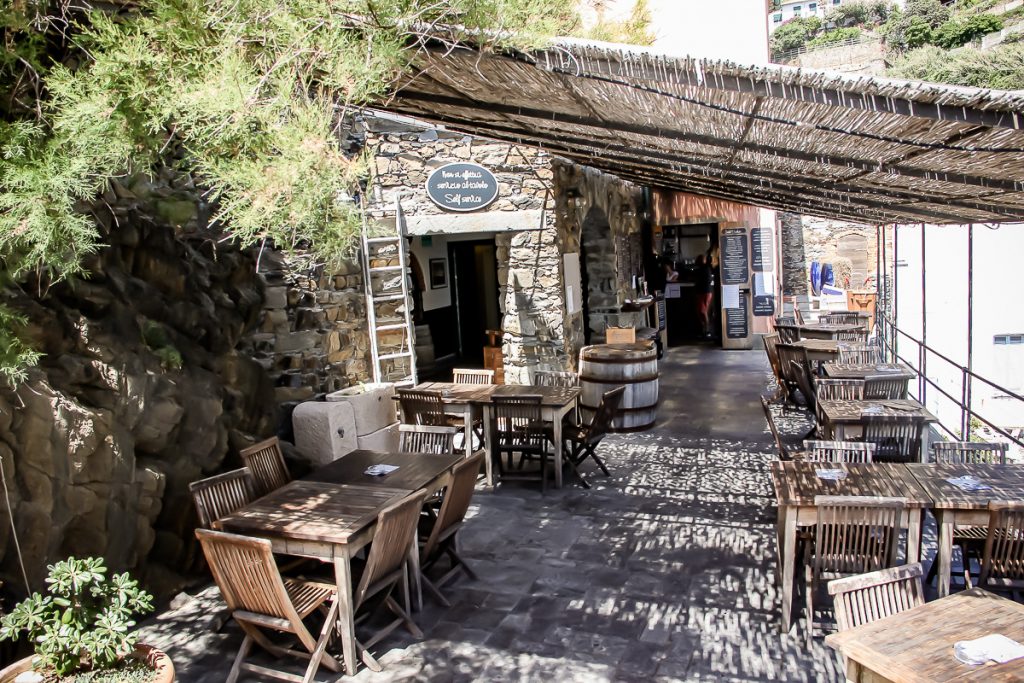 It's called A Piè de Mà and it is empty at the time I enter it. I sit on the edge of the cliff, I order something good and look what my eyes see:
The combination of good food + sensational view + vacation = Heaven on Earth, believe me! This is how I feel! And I'm glad to start this way the adventure in the 5 villages. You know how it is, the first impression matters…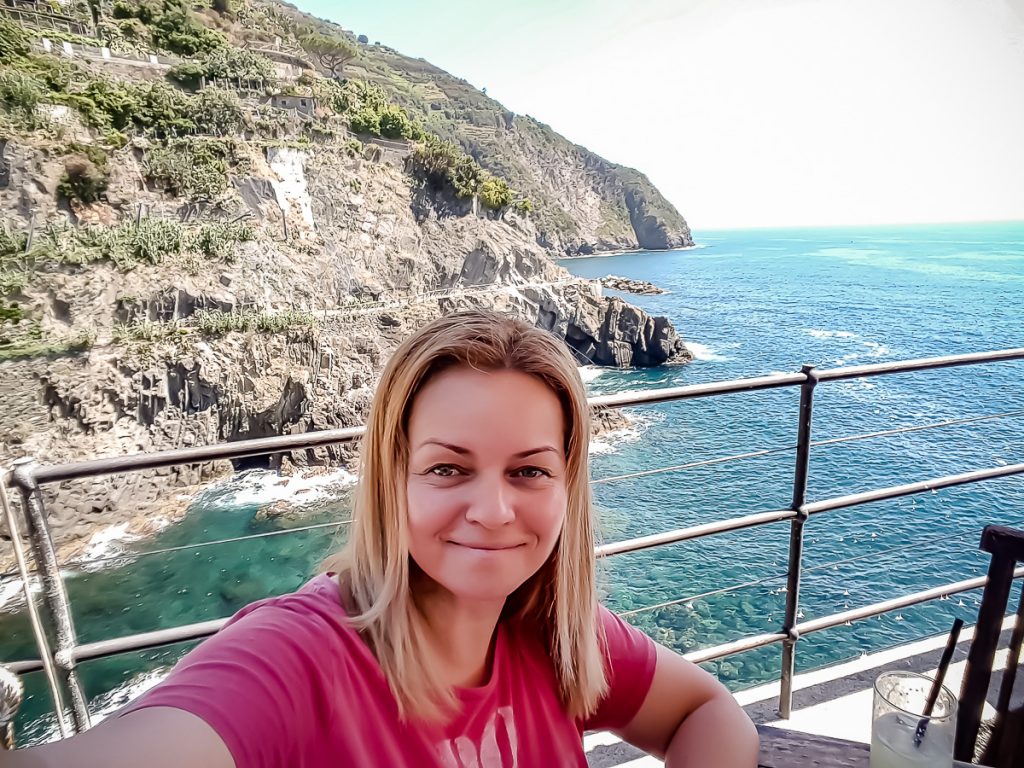 I take countless selfies and I do send them to everybody on whatsapp, to make them envy me J.
Envy me for the beautiful sea in front of me, for a place where you could sit quietly to write, to compose, to think about the immortality of the soul, or just sitting on your hands…
In the meantime, the terrace has become more populated. I pay and I start walking on all the paths that open before my eyes.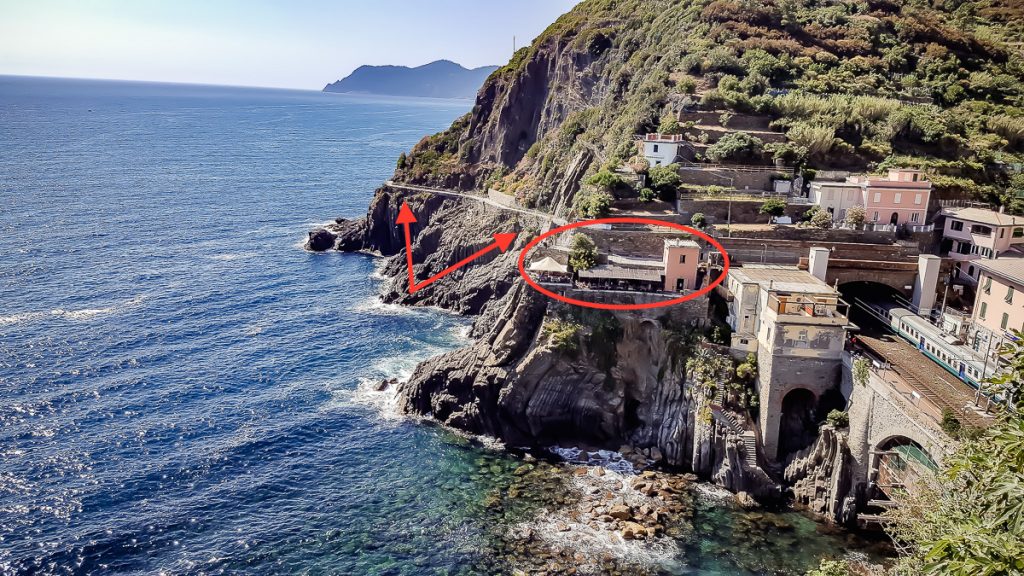 The terrace, seen across the street… Don't you think it is worth getting lost forever in a place like this?
But this image reveals not only this wonderful place (in the red oval), but also one of the most famous romantic paths in the world (indicated by the arrows).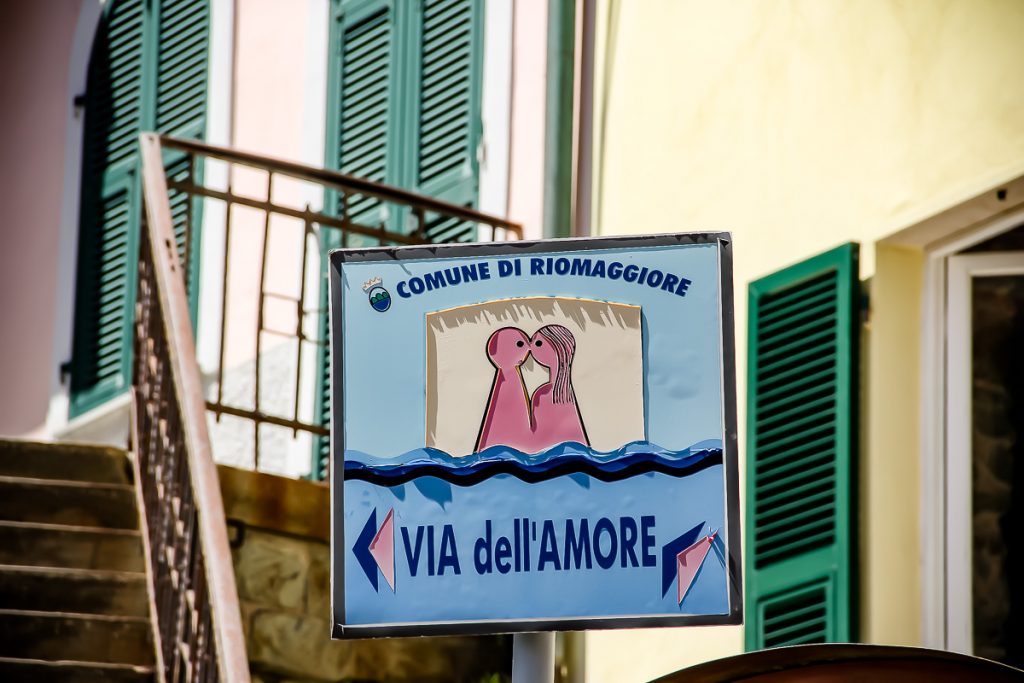 VIA DELL'AMORE
From Riomaggiore you can reach the neighboring village, Manarola, by train, by boat, but also on foot, on Via dell'Amore (Love's Trail).
Digged into the rock, above the sea, the famous romantic road goes 850 meters along the coast. A 20-25 minutes' walk takes you from Riomaggiore to Manarola. It is a beauty! BUT…
… UNFORTUNATELY, to the despair of couples in love, especially, Via dell'Amore is closed! Due to landslides and rock falls, it has been closed since 2012! And it will still be closed a few years from now, until the consolidation works are completed.
Many of the ones who want to enjoy Via dell'Amore and see that the access is forbidden and the gate is closed, put a padlock there, promising each other eternal love and then… let's drink a prosecco, get drunk and make love in the hotel J.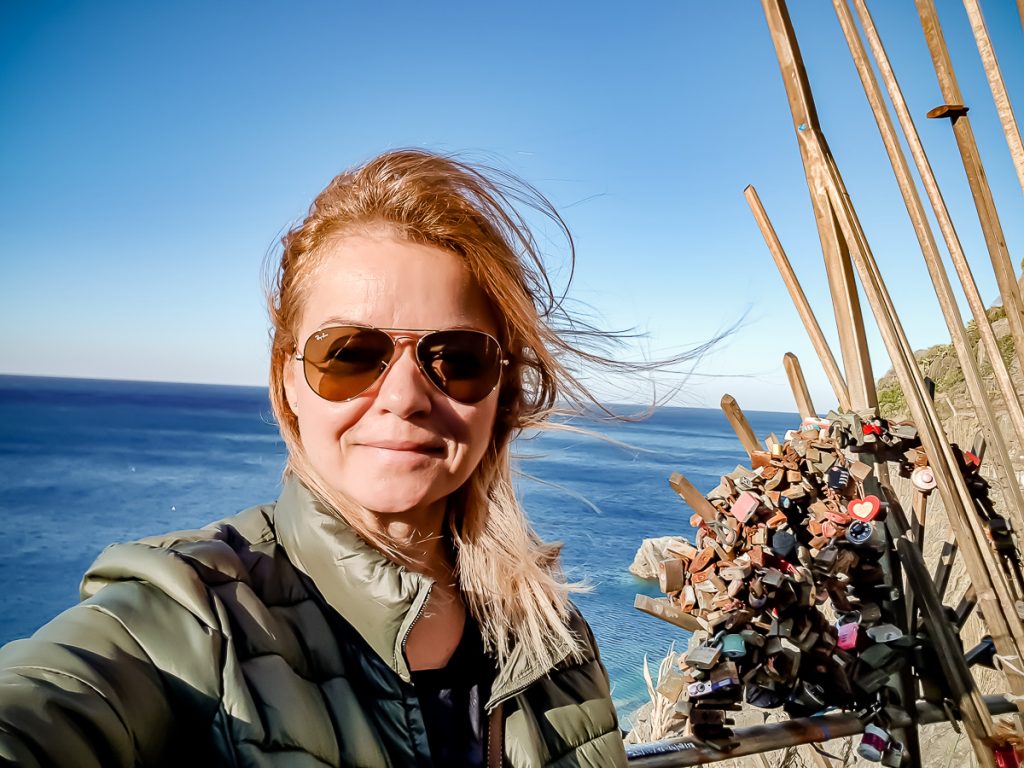 I wanted to be adventurous, to jump over the fence and look for my love, but I thought that, instead of falling in love with someone, I might fall… into the ravine and break my neck.
RIOMAGGIORE HARBOR
To get to the small harbor, go down the main street to its end, then take it through a tunnel, following the "Marina" sign. It's a tunnel in steps that keeps you going down until you get to the sea.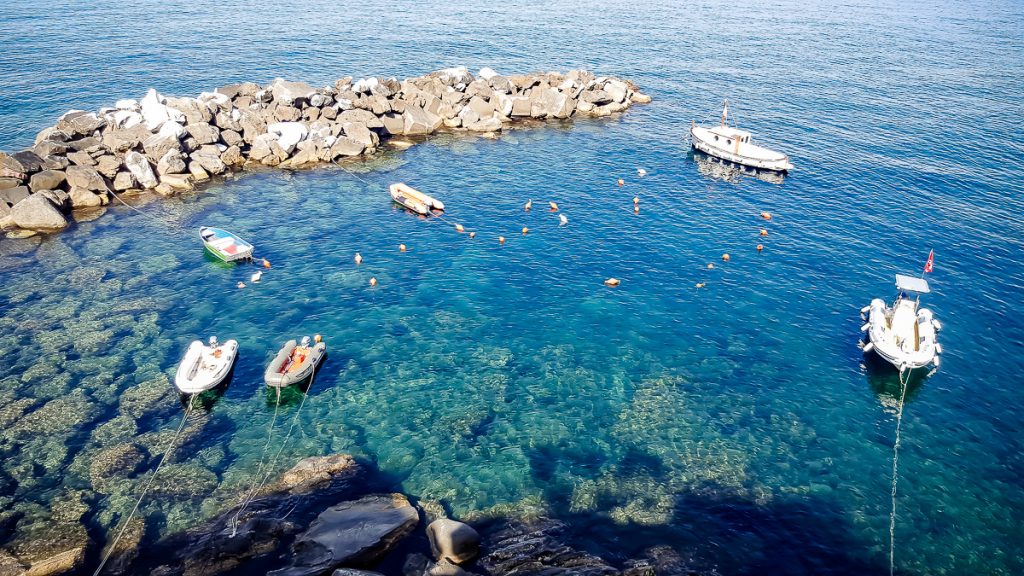 During summer, it is full of people here, people eager to take pictures with the famous image that appears at the first Internet search. During autumn, it is much quieter. Only the arrival of the boats breaks the quiet atmosphere, bringing tourists to the village for short visits.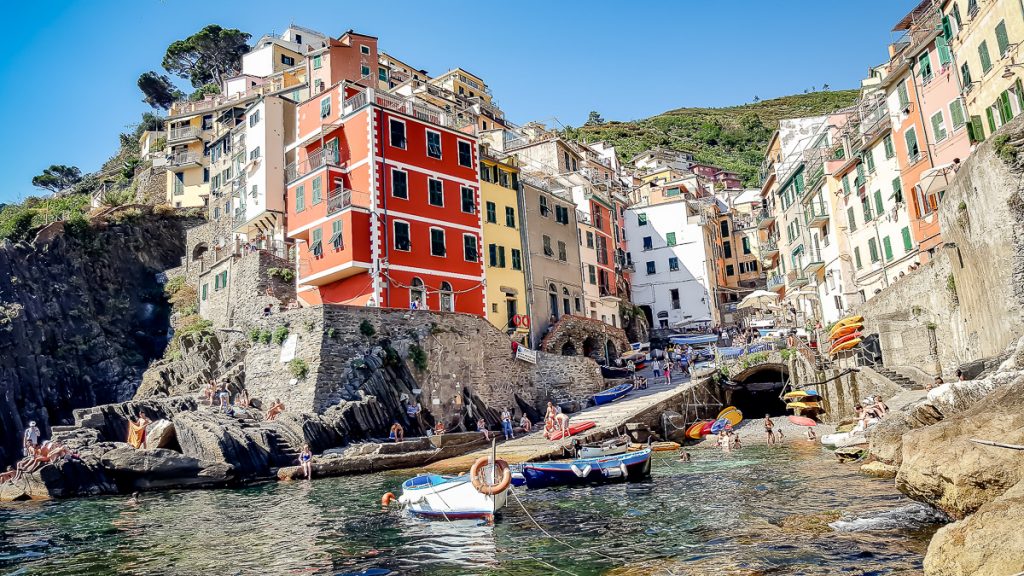 I took dozens of pictures here. From the rocks, near the water, from other rocks, from the sea, and even the other way around, from a terrace in the city. I could compete in the "most photos taken in the same place, by a person completely crazy" contest.
And, if I don't beat all the opponents in this category, I'm sure I'll win in the "selfie" category! I will put here just a sample:
Here, in the harbor, you can come for a walk, you can come for a swim, you can come to eat or drink at restaurants and bars, to buy some souvenirs or to buy a boat ticket. Or you can even fish!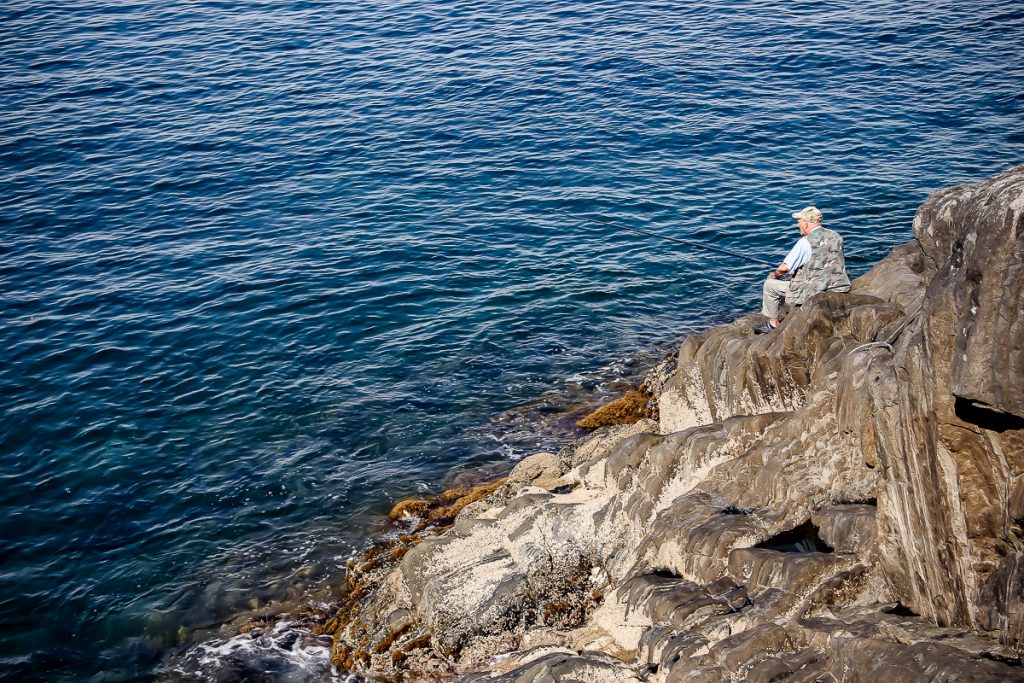 I go after the people with towels around the neck, to see where they go.
To the beach??? I had no idea there was a beach here!
RIOMAGGIORE BEACH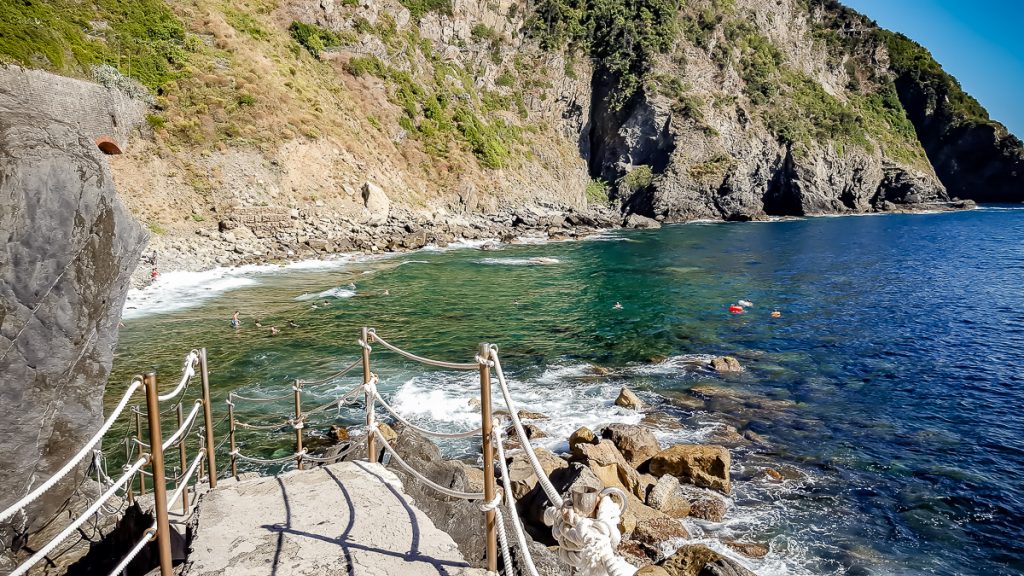 From the harbor, you go up the steps, then you go down the steps, and you go up, and you go down again, you hold on to the strings, you pass by rocks on an one-person path, so when you reach the beach, you see it in a different way than you'd normally do.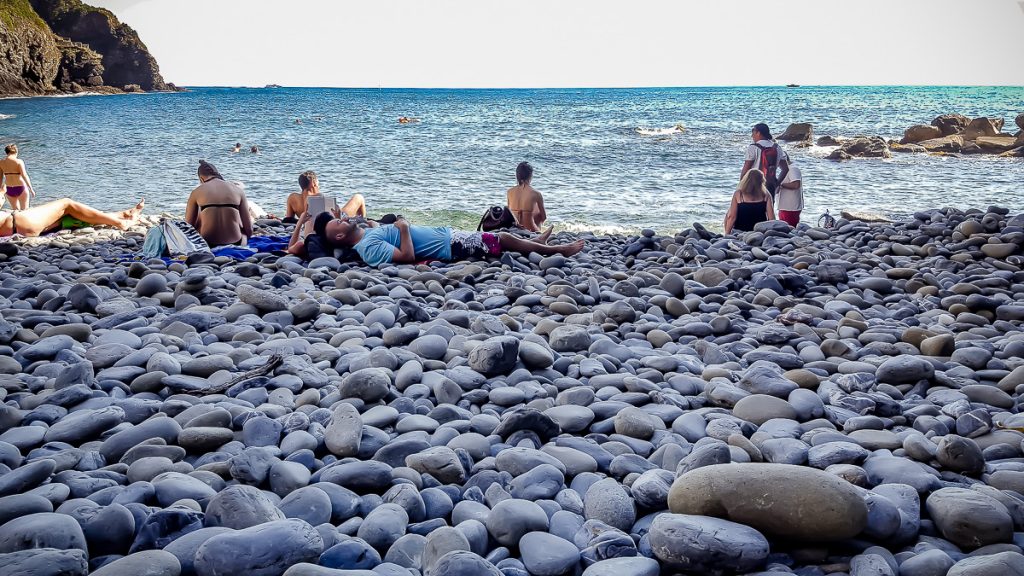 In a rocky bay, you come across the only beach in Riomaggiore. It is full of stones. The locals say that it is not difficult at all to sit in the sun on those stones, you just have to arrange them a little under you. Well, some of us got really used to feeling the finesse of the sand under our tushes, so those stones… kinda… give us headaches.
But as I see that no one has any problem, I adapt and I learn how to make my own beach bed from stones. Others find the stones a special use. They are certainly among those who were used to building sand castles…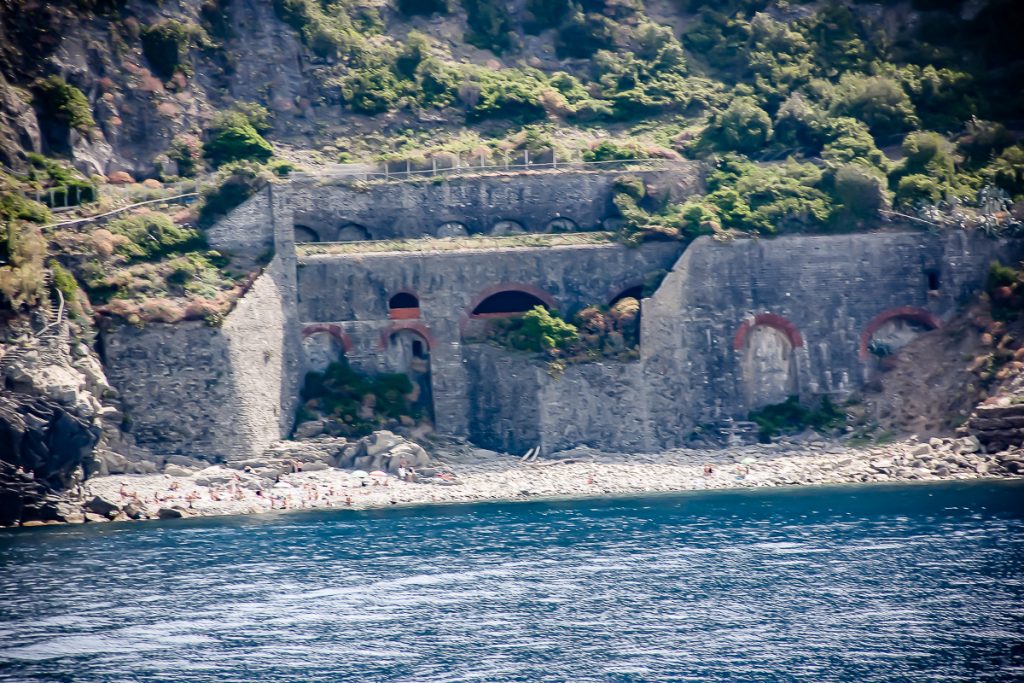 This is what the beach seen from the sea looks like. So that you understand that the place is quite small.
But people are very happy here. Both during summer and in autumn… A proof for that is that my fall visit host gave me 2 beach towels, telling me: "I hope you brought your swimsuit!". I hadn't brought it and I regretted not doing so, because people were swimming in the sea, even though it was the end of October!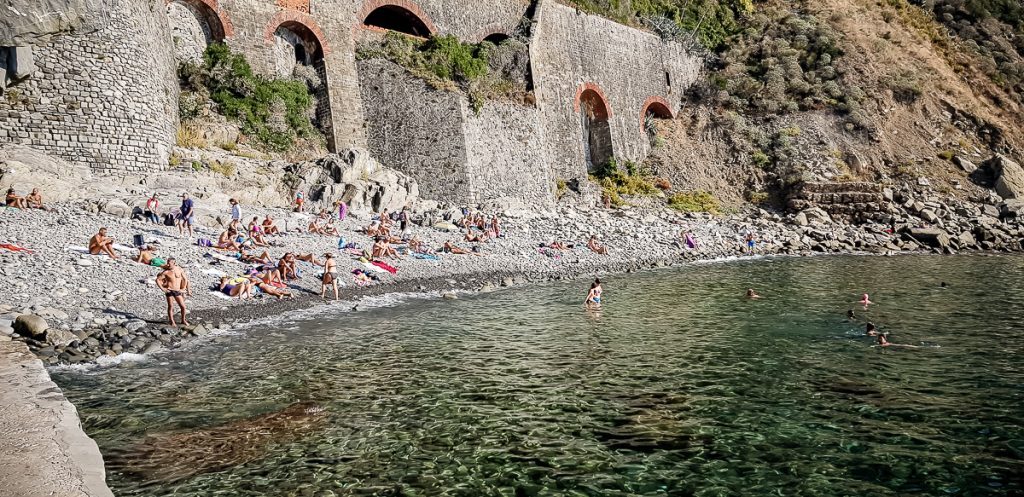 But, coming back to summer, I took my share of sun, I did some balancing on the stones to get to the water, I explored the bottom of the sea in that bay and I left in a good mood. And sunburned J.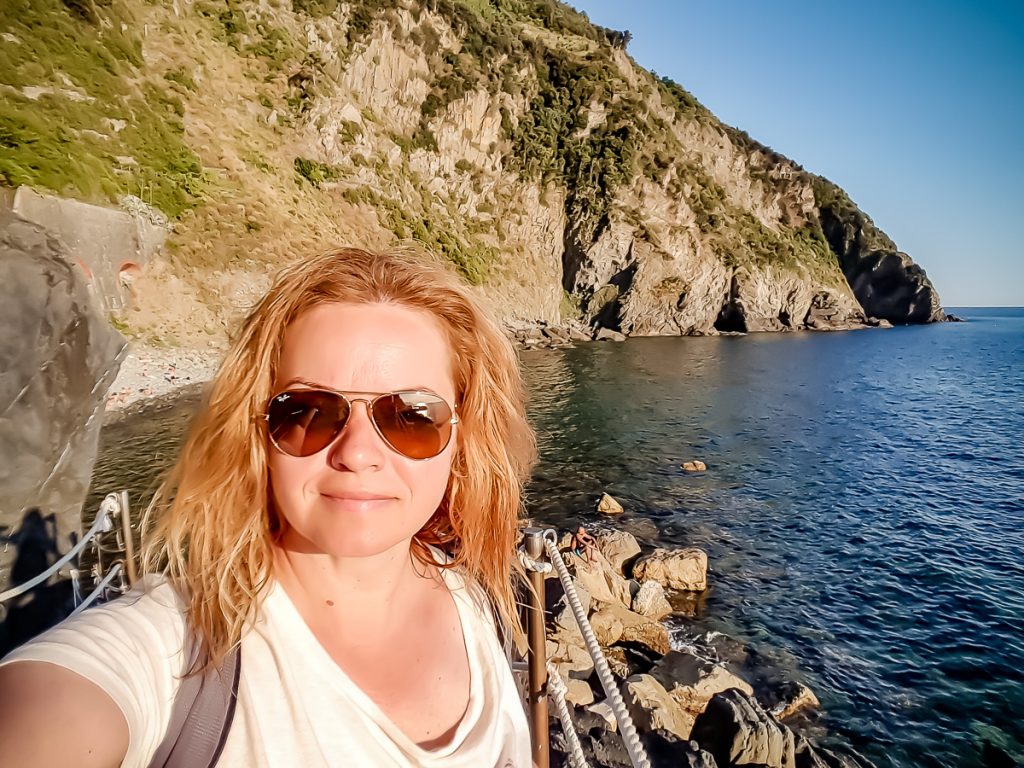 If you don't feel like arranging stones, you can go to the beach… on the rocks!
I saw a lot of people looking for a place on certain rocks and lying there for hours.
The last picture I called it: "Boys bathing" – a painting by Mladin J).
I noticed how "exploited" the rocks are. These people were born on them! You can see young people sunbathing or girls reading under an umbrella or fishermen or brave people diving into the sea from the rocks.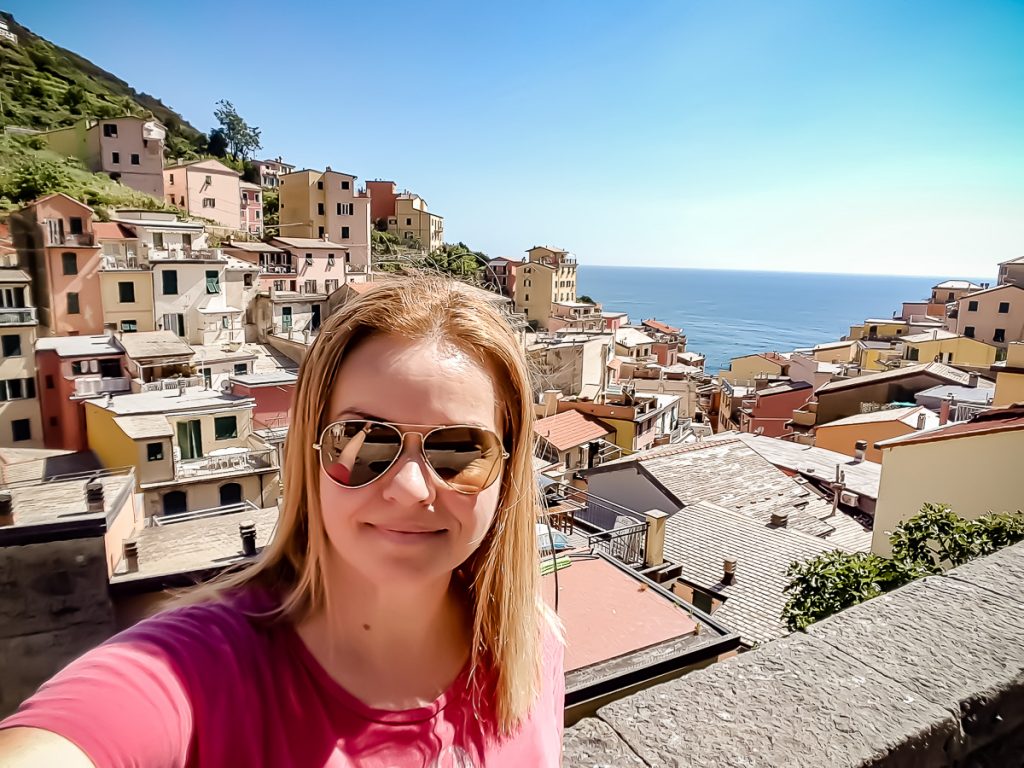 THE CITY ABOVE
I take advantage on the fact that "my summer home" is up on the hill, to explore the high places.
I come across a large church – San Giovanni Battista – built in 1340. A Catholic church. Open, with no one inside, a good opharborunity for a short meditation. At a temperature well below the outside one, so that your brain stays clear…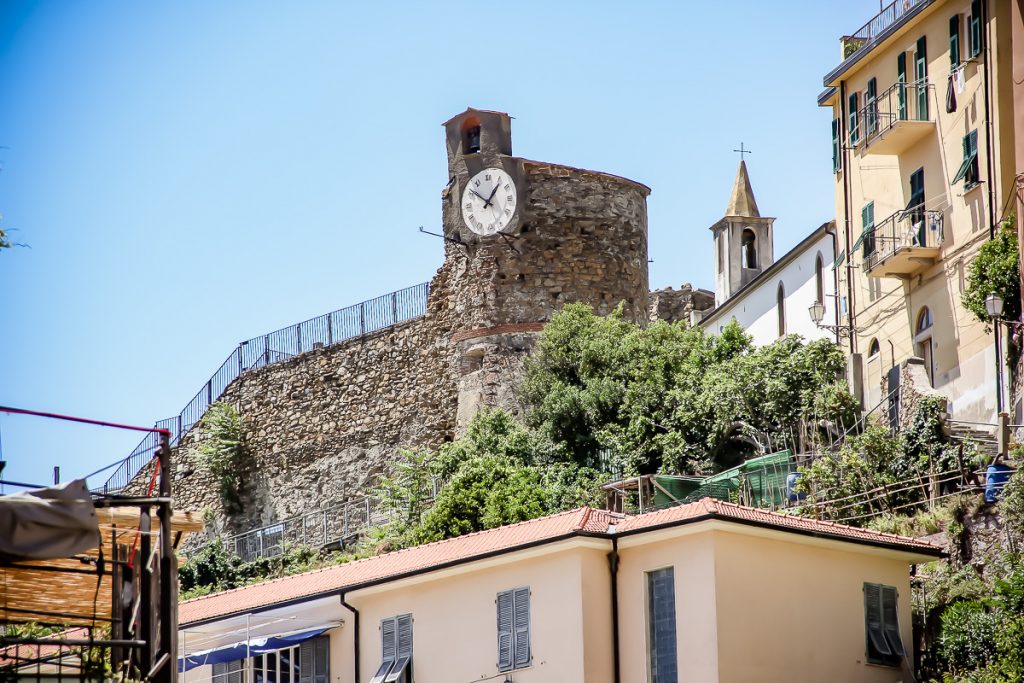 There is also the Riomaggiore Castle. In fact, some remaining walls from a former fortress and two towers. It was built by a marquis in 1260.
I take a random walk on the streets and I photograph, just like the Chinese, everything I see.
IN THE HEART OF RIOMAGGIORE
I go down among the people… Whether it's summer or autumn, I see that I keep wearing red hihi.
I enter, like any curious tourist, in almost all the shops on the main street. They also have an art gallery. But I am more drawn to souvenirs…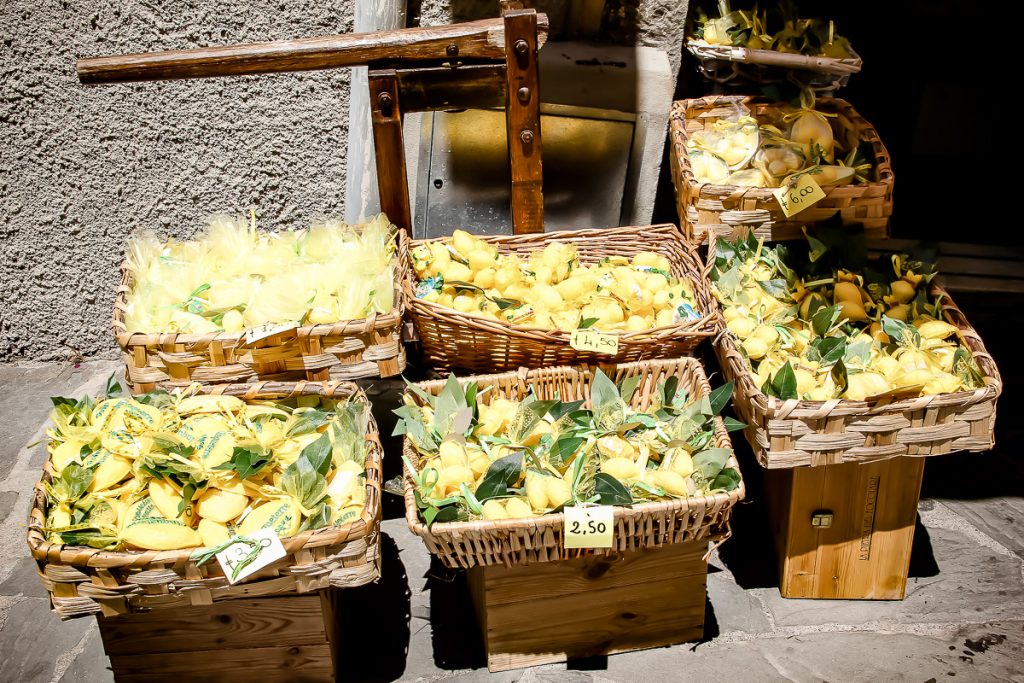 My nose is the first to be "drawn" by some goods: soaps in the shape of a lemon and with the same smell. I bought some, of course!
Magnets, snowballs, olive oil, various things for the kitchen, jars with local products, wines and a lot other things you can find here.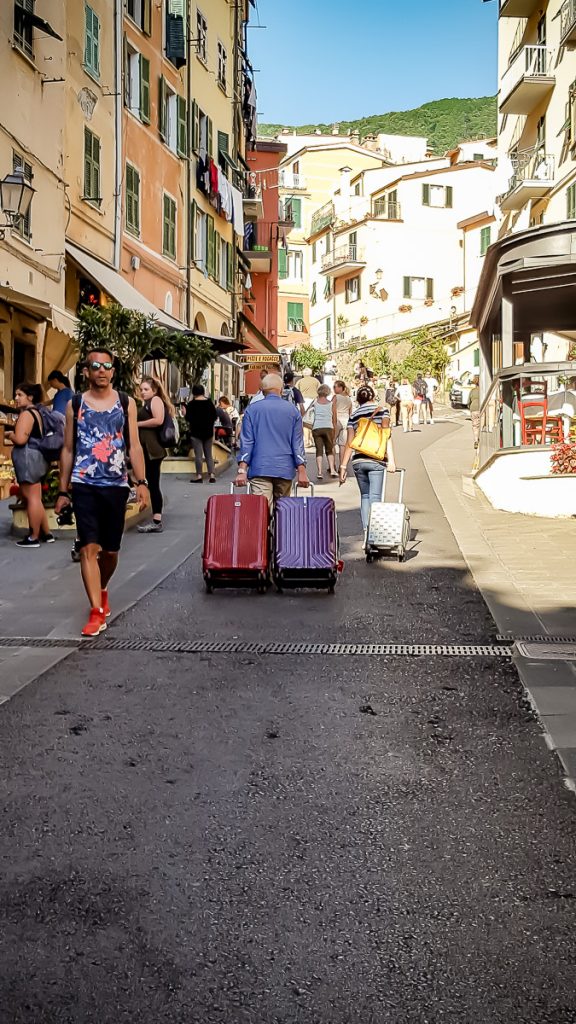 Well now, the wheel has turned: I look at others as they pull their luggage like true oxen… And, in case they live farther up the hill, I already feel sorry for them.
Speaking of climbing, to get to most homes, you have to climb, ma man, dozens of steps! There are some stairs between houses that make you feel like they're never ending! Not to mention the ones I wouldn't fit on with my suitcase.
I wonder how fit the locals are and how often they go shopping down the hill. Especially since I see a lot of old people around here. They are clearly better trained than someone like me, the city girl that moves her ass only in a car…
It starts to get dark. I pass a building (the Town Hall, I think), with a wall you can't ignore.
I hear someone singing. I go towards the sound, as I am curious by nature.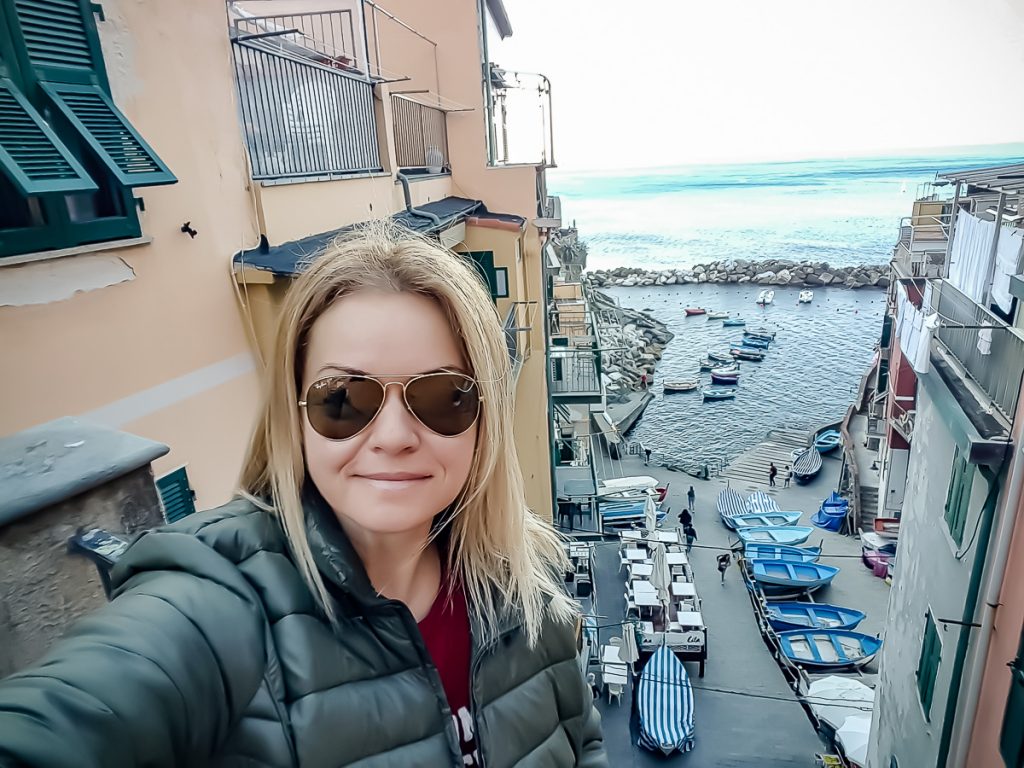 I come across a terrace facing the harbor, I take about 20 selfies here, then I see the artists who stop the tourists. There are two of them, on a balcony. They sing rock'n'roll. People applaud them frantically at the end of each song.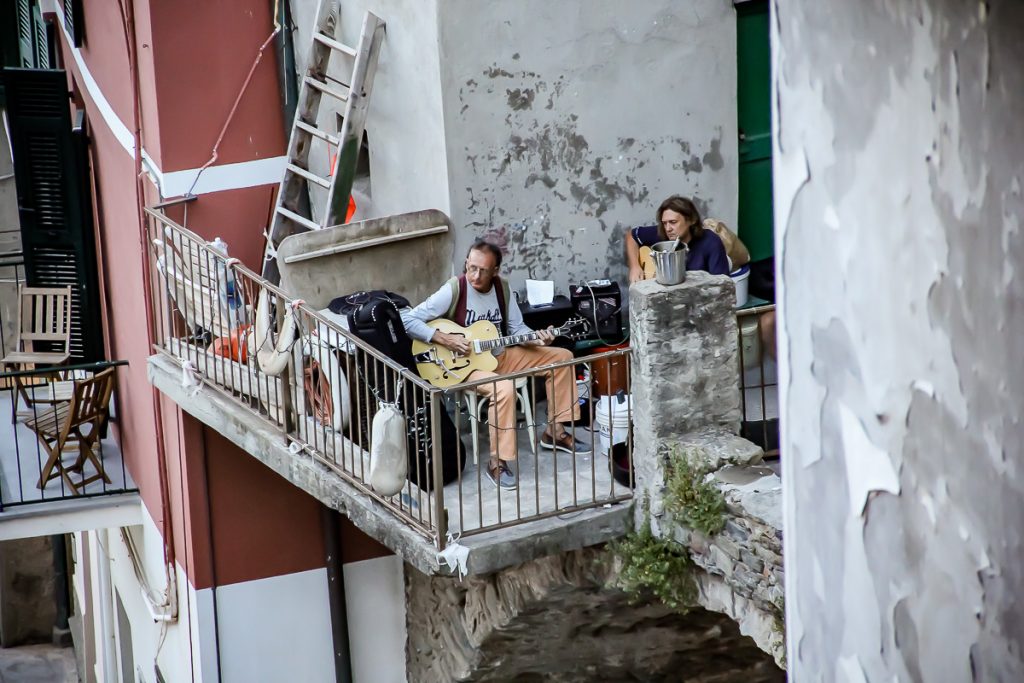 WHERE TO EAT IN RIOMAGGIORE
I have already shown you a wonderful place. A Piè de Mà. Close to the train station, up on the rock.
I also ate in the harbor, at one of the two restaurants there – Dau Cila.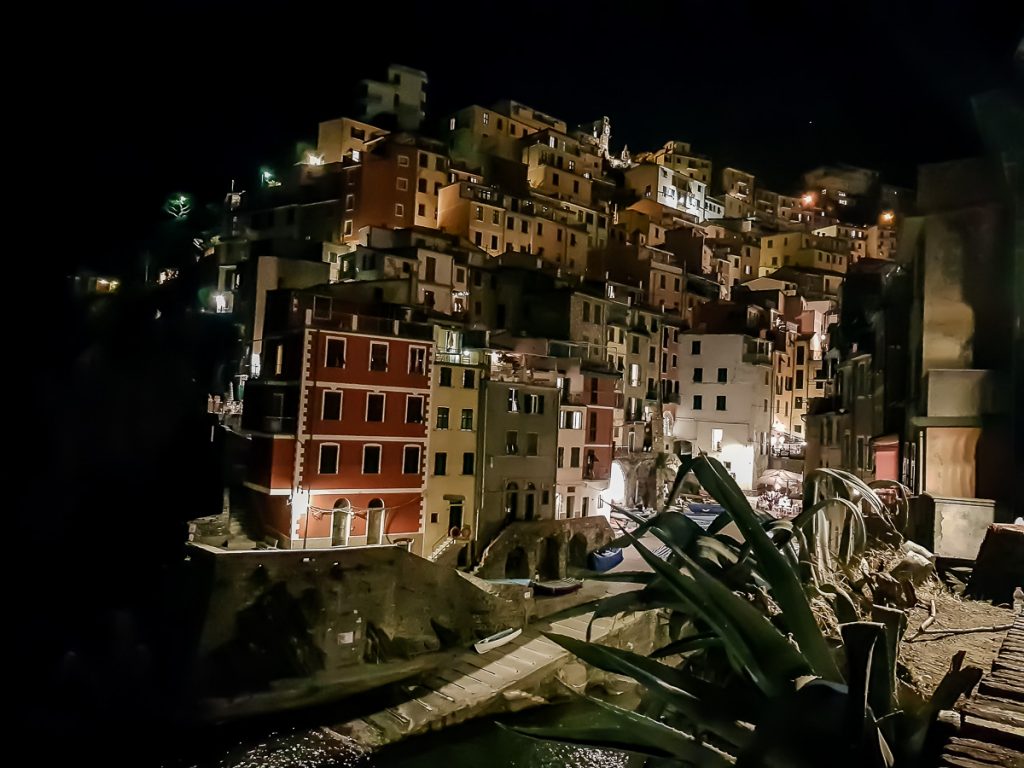 It's right down there, among the cactus leaves J.
I had dinner here one night.
I ate an excellent perch (and I'm not a fan of fish), with some delicious potatoes, olives and some other little things that brought great joy to my taste buds!
If I ate by the sea, I thought I could eat at the top of the village too, in another recommended place: Fuori Rotta. I understand the place is famous for appetizers. I, however, remained faithful to the pasta.
If you have accommodation in the lower part of the village, do some warm-up exercises before going up the hill to the restaurant…
I ate here both in summer and in autumn. In summer I needed some patience, because, as they don't have a lot of tables, you kind of have to wait, as there are many people who want to eat here.
In the fall I could choose any table… The place was almost empty.
I ate all I could, then I showed my talent in speaking Italian by asking for the check: "il conto, per favore!" (I should know at least this, with all the food I ate in Italy…), after which I went on an "offroad" among the houses of the locals. Because it's an adventure to go down the steep stairs, that seem like a trap for every step you take.
The Terminus point makes the whole descent worthwhile: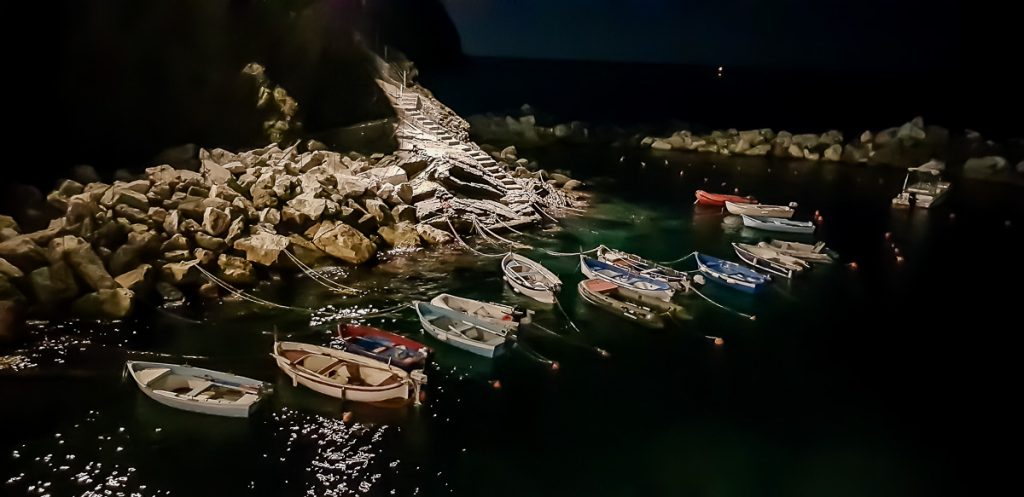 There are other restaurants that were recommended to me, but, as I traveled through all the villages, I really didn't have time to eat in each and every one of them.
Rio Bistrot – in the harbor, next to Dau Cila. La Lampara. La Grotta. Vertical Bar. Some are right on the main street.
Even if I didn't test them, instead, I tasted the seafood in a cone!
Il Pescato Cucinato – recommended by the locals, sells seafood in a cone. Mixed as you wish…
At Mamma Mia you can also find cones full of seafood and French fries.
For my street lunch, I chose calamari and shrimp. Too much of it…
And there is another place of the same kind, right around the corner: Tutti Fritti. I haven't gone to that one. Well, how much could anyone eat, really? J)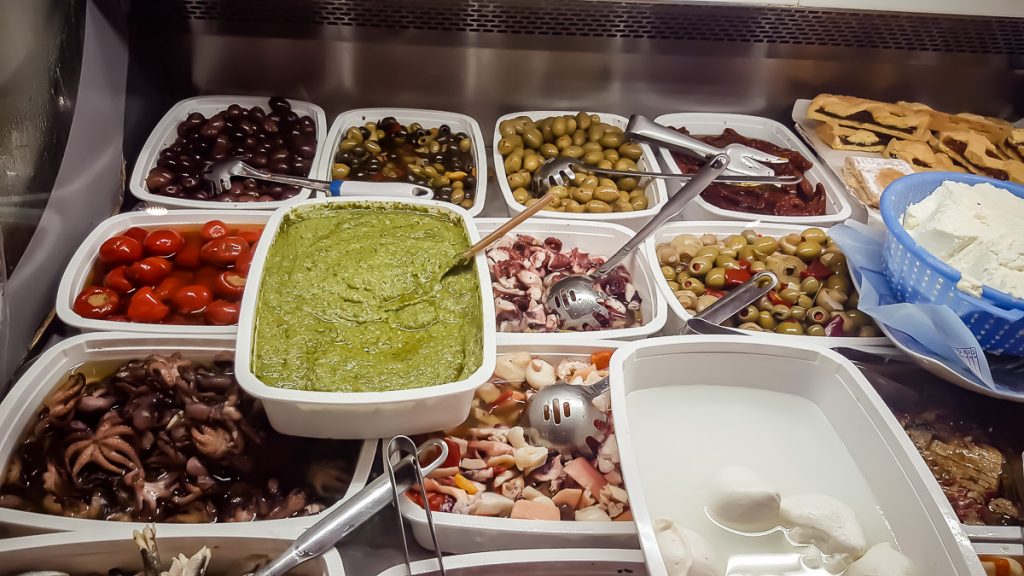 There is also a cheaper option – the supermarket. I went in to get some juice and I could have bought all the food bowls, especially the pesto sauce and the octopus. God, my mouth waters even now!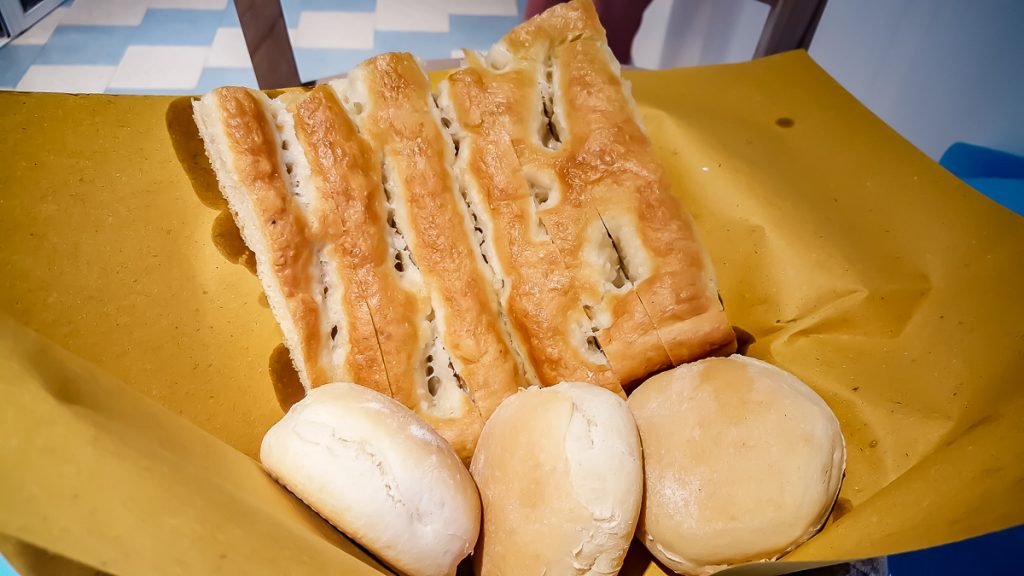 I found out a few years ago, during my travels in Italy, that this bread (on top of the buns), made with olive oil, is their authentic focaccia and it is incredibly good! And, soaked in the pesto sauce I mentioned above, it gives you a real food orgasm J)).
You can find focaccia of many kinds! We will see them in another village.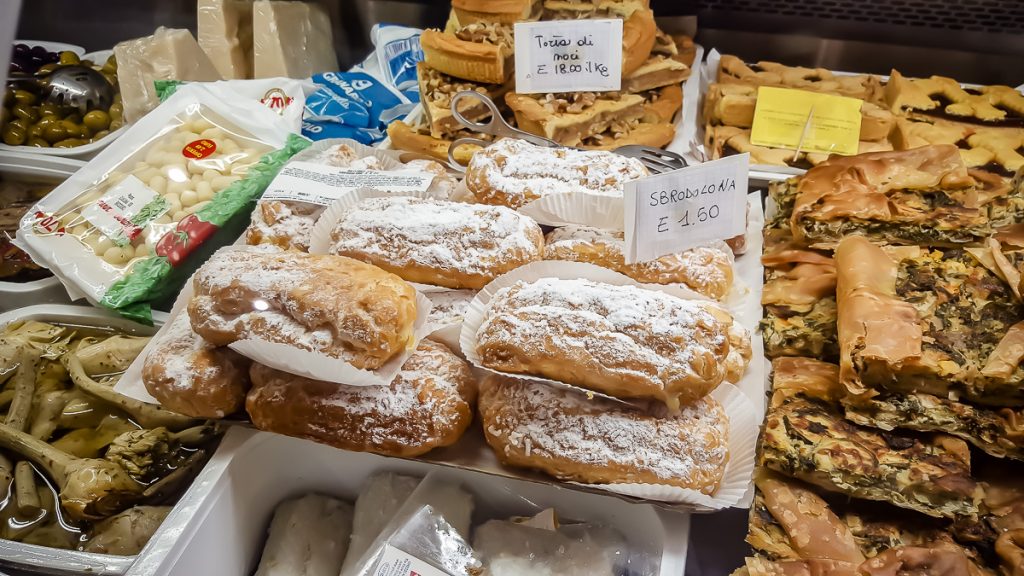 I left the store with something so good that I continued to buy it every day until I left. And on the second visit to the Cinque Terre I went there especially to get that again: Sbrodolona. 1.5 euros each. A cake/pastry with a deliciously sweet cream!
RIOMAGGIORE – ARRIVEDERCI!
That's how I met Riomaggiore. Once in the summer (when I stayed at Dai Baracca), once in the fall (when I stayed at Michielini). In the fall, while I was packing in Bucharest, I thought I was crazy to take my shorts too. But, what do you know, from madness to genius, there was just a… plane ride J).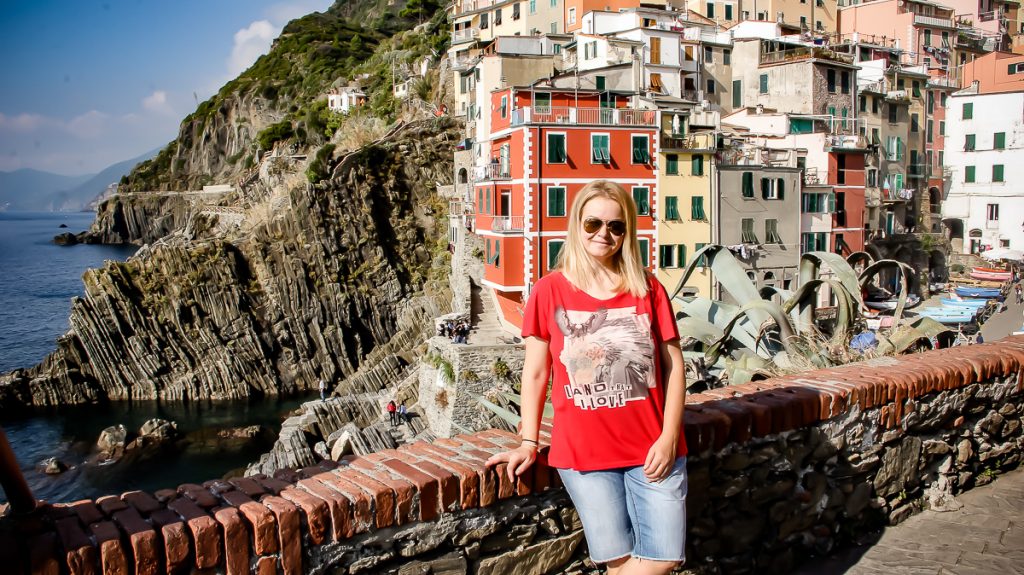 If you would like to see some images of what I told you about, you have 3 minutes of Riomaggiore, a mixture of summer and autumn:
In Riomaggiore, my reflexes as a journalist awoke when, one evening, a helicopter came to rescue a seriously injured tourist. You have the story here.
In a few days I invite you to get on the train together to the second village – Manarola. 4 euro for ticket, don't forget, as we don't want to be caught without one in Italy…