I was the producer of "Surprise Surprise" for 3 years. Perhaps the most intense years of my life, professionally.
The Spanish sent by Valeriu Lazarov to teach us every step along the way, called the reunions, the famous reunions that were the basis of the show, "REN" (probably short from the Spanish "reencuentro"?). So everything that meant reunion between mother and son, brothers, children and parents and so on, were referred to by us as "REN".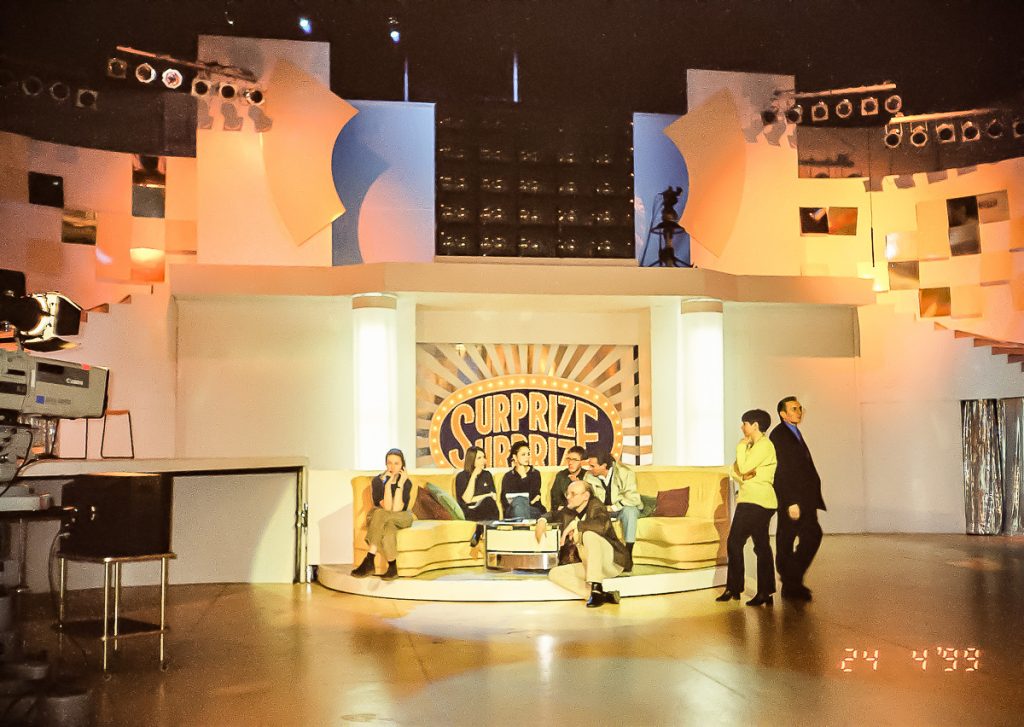 The most hunted were the "Ren"s between first degree relatives, living far from one another and who had not seen each other for many years! I remember now the absolutely spectacular reunions after 15, 20, 30 years, between parents and children, sisters, brother and sister, mother and son, which made even us, the team, cry live. (Maybe the stories from that period are worth putting on paper. And, especially, the backstage stories…)
Reunions between friends were not on the priority list. Not related by blood, they were considered, rightly so, less impressive and with a high risk of a weak reaction – the death of the ratings… But I can say that we were lucky to have a few some super strong, with very nice people and the right emotions.
Well, I made this long introduction so that you understand that I could have fit in very well there too J. A REN between two friends, 35 years later! And the distance – huge!
We did not cry, but the story of this friendship is unique.
Even more so, because my friend is not Romanian, but American and we have seen each other… only once in our lives!
CHILDREN'S CAMPS. AND FRIENDSHIPS FOR LIFE.
Our friendship began in the last millennium… in 1983, in a camp in Hamburg (Germany), at a time when we were both 11 years old.
It was a camp for children coming from all over the world, where no one spoke anything else but his mother tongue. (At the time, I could hardly utter a few words in German, just learned that year, in the fifth grade. And completely forgotten until this day…)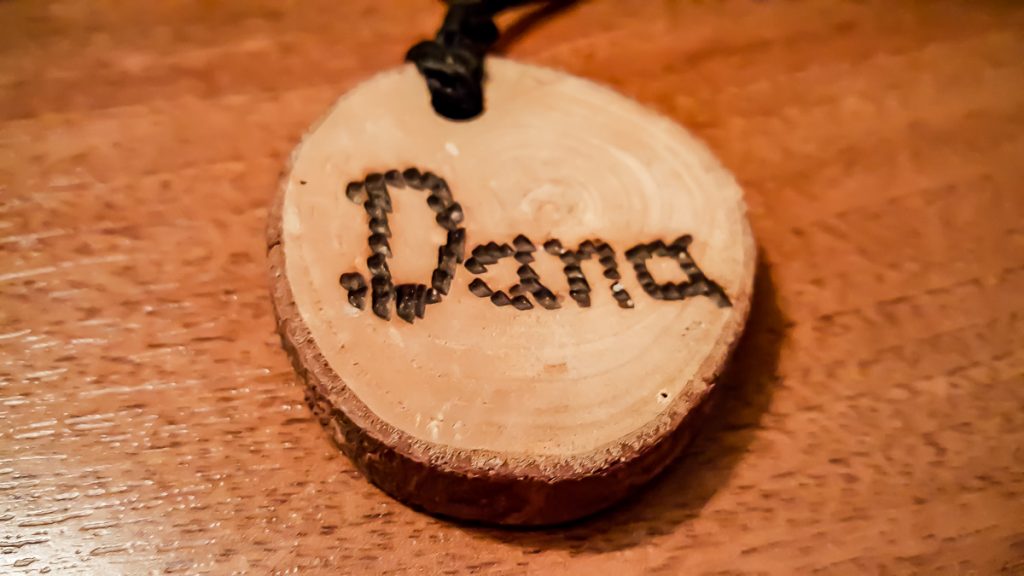 We understood each other through gestures and smiles. And, because we were many, we each had a piece of wood hanging around our necks on which our first name was written – the simplest and most effective solution then, to know each other quickly.
It was a camp where playing was the only thing on the agenda. We played all the crazy things I had never heard of in my life and I was amazed that they were invented. We dared to do a lot, from body-painting, to launching on our bellies on a long strip of wet plastic; we used to paint ocean fish and whales on cars and then we would travel in them through Hamburg or we were doing some kind of tourist orientation contest trying to find clues through the huge unknown city…
Here I planted my first tree. We were doing that too.
This was where I bought a Luke Skywalker figurine, as big as my finger. God, how precious it seemed to me! For a little blue Smurf I did not have any money left.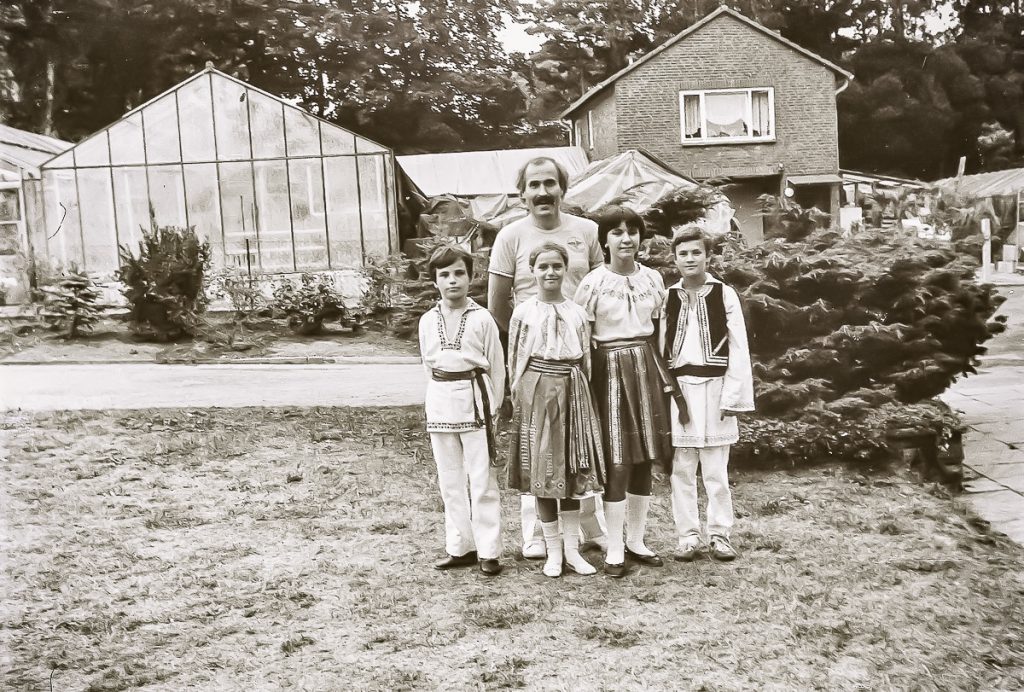 Here we also had a night of the national groups, each with its own customs, wearing the folk costumes beautifully arranged by our parents in the suitcases.
And speaking of groups, I was interested in the Swedish group, because my eyes were always on Martin, an insanely cute boy…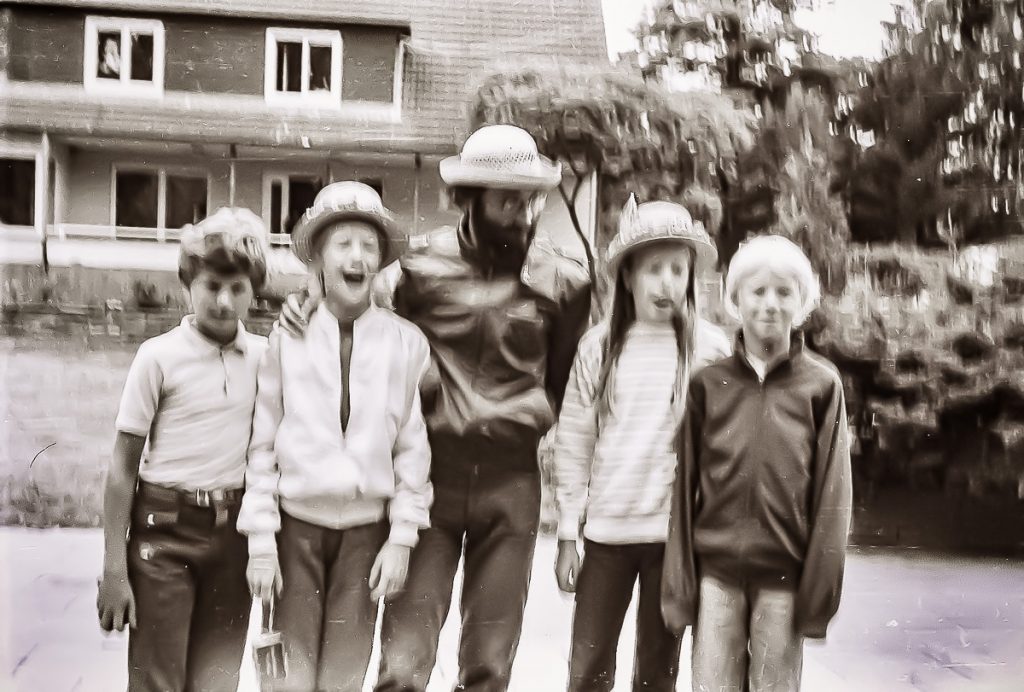 This is the wonderful picture of the Swedish group taken by me… And I had no eye problems at that time. I was just blinded by love hihi. And he didn't even know it. (Martin is the one on the left)
During this camp in 1983 I had the shock of my life when, at breakfast, we were given Nutella on bread. Chocolate on bread??? My God, our Romanian minds couldn't understand such a thing!
This was where I saw McDonald's for the first in my life. I do not remember if I ate there or I just got a flag, but you should know I still have that flag!!!
As you can see, I folded it carefully at the time, as a precious souvenir, to get him to Romania in a good state, and to be able to show it to all my acquaintances as a proof of "luxury and opulence" J))
What do you know, it was tangible proof of a world forbidden to us.
From that camp I brought in my cardboard suitcase that I carried for two days of travelling by train, badges, photos, pieces of paper with addresses and birthdays, souvenirs received from children in an endless exchange we all had, sheets with the songs we learned there, stickers, colorful flyers, postcards.
It was no small surprise to me when I discovered in my boxes with memories two packages from two… lollipops. Man, it seems unreal that some candy on a stick, as we did not have in Romania, were so impressive to me, that I kept the packaging!
JENNY FROM THE… USA
At the time, I didn't know much about "friendship". I had my good friends from the neighborhood and from my class in school. But I couldn't imagine that friendships could take root across the ocean.
And here I come to Jenny – that was the name inlaid in the wood piece she wore around her neck.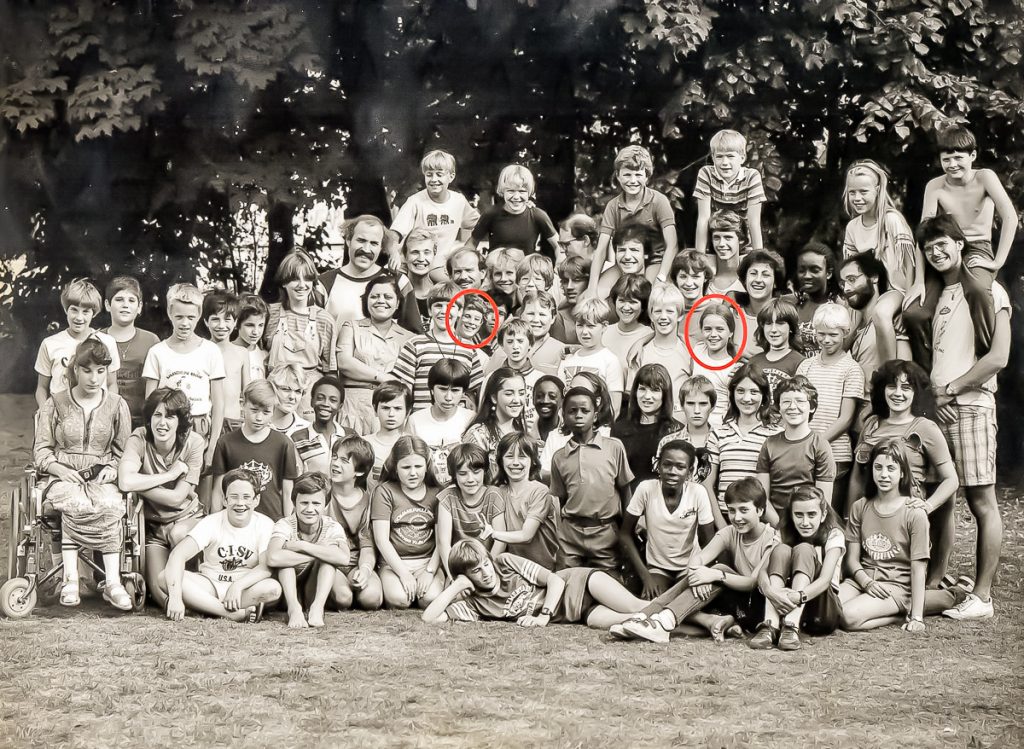 I was assigned in a room with Jenny from America and Karin from Sweden. I didn't know any other language at the time. In the evening, at bedtime, Jenny had taught us to say to each other "I love you!" It was a warm form of "good night." And we used to follow this ritual each and every evening.
I used to tell her from time to time "don't cry for your mother, Jenny!" when she missed her parents. I do not know how in God's name I had learned this line from an American movie, from the ones that Ceausescu allowed us to watch…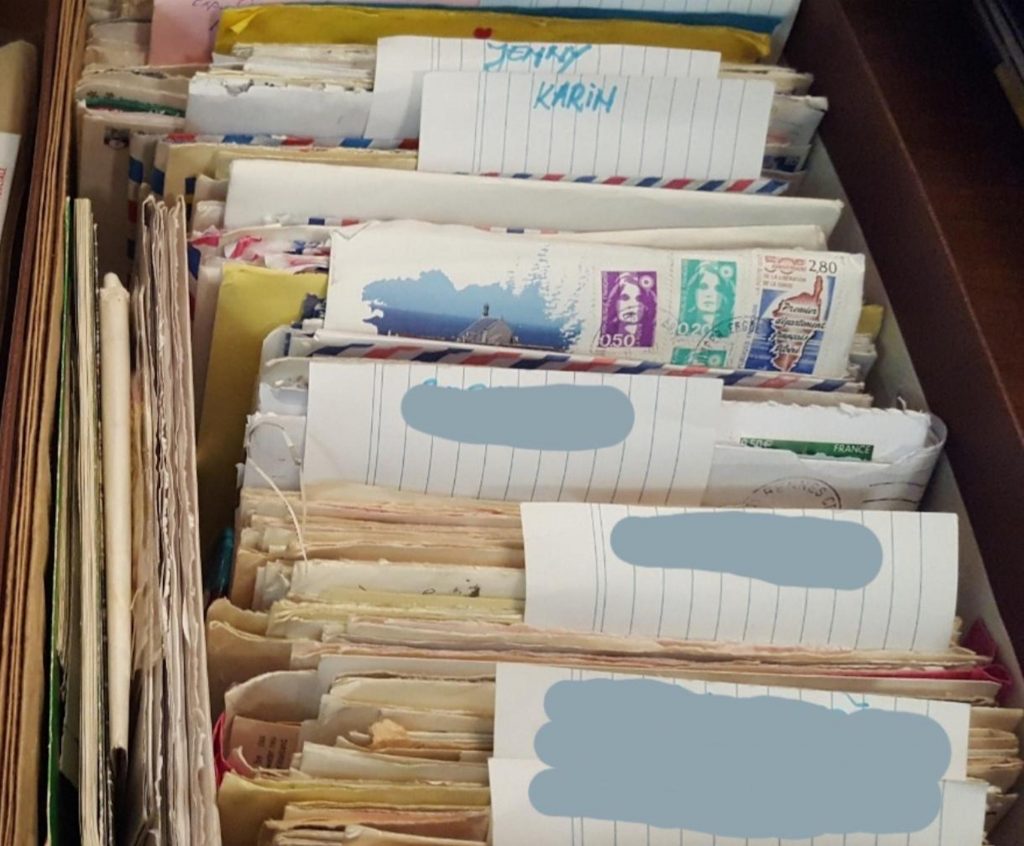 Years of letters from Romania to the US and vice versa followed. New Year's greeting cards. Postcards from the places each of us visited. And a package sent by her family immediately after the Revolution, a package that I never got… And more letters, especially around Christmas.
Then a break.
I found her on Facebook, one evening when I started searching, to prove the usefulness of my account and the advantage of the network.
Her father wrote to me in astonishment: Is it really you? Dana from Romania? Only you could call my daughter Jenny, as she was called as a child". Yes, it was me…
I found her, a married woman, with two children, with a harmonious life that I follow on Facebook. And with… a tour through Europe, with group, in a year. So we both became enthusiastic thinking of a possible meeting!
ALL ROADS LEAD TO ROME
I made plans for months on end, taking into account her route: all right, I'm coming to London, wait, I can't, I'm filming. Let me come to Paris. I can't get there either, I don't have a return flight to get to work on time. The last chance, which I clung to fiercely, was Rome!
Even if, in order to meet her, I had to travel out of the country for one day only!
Almost no one knew I left early in the morning, one day of May. Almost I didn't realize either J)).
But I couldn't miss the opportunity: I was going to see a childhood friend again, after exactly 35 years!
We met again near the Colosseum. She – coming from a tour with the group, me – after an almost sleepless night. Both tired, sweaty, untidy for such a moment…
We recognized each other immediately. We did not shed crocodile tears, but the joy was huge!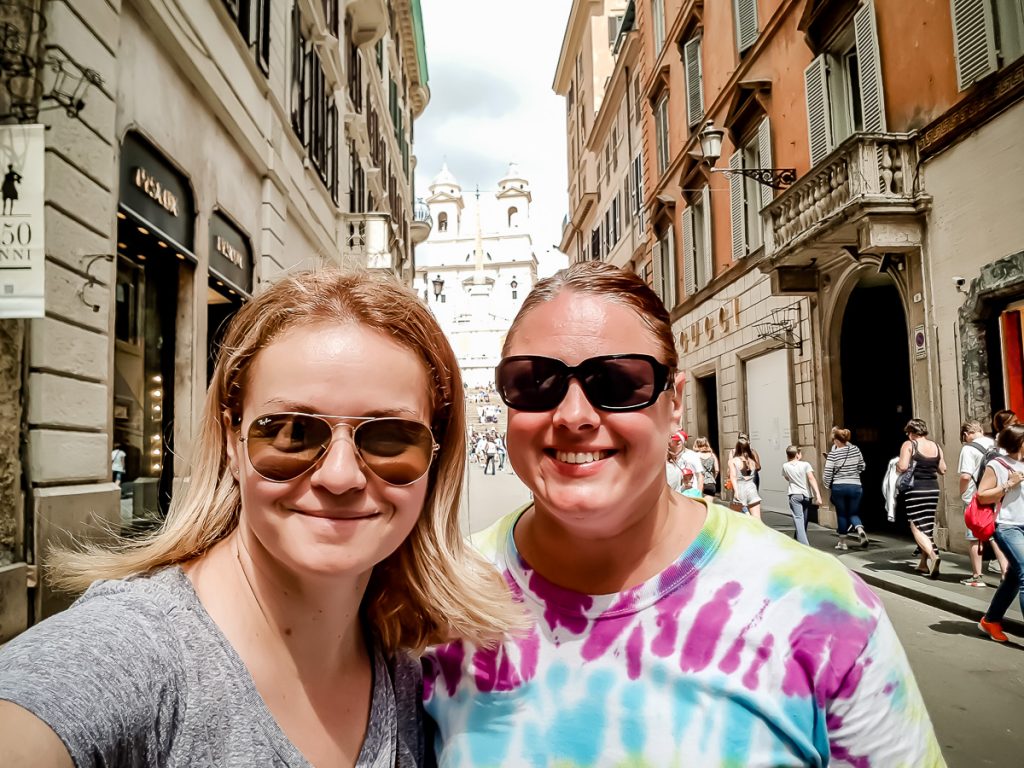 For 35 years, it has been more than an ocean between us. Literally. We realized that we had an ocean of stories to tell, in just a few hours!
A lunch for three (the two of us and her daughter), a walk through Rome with me as a guide, a long chat at the top of the hotel bed, then a dinner where she and her daughter, Sarah, reunited with the group they had come with. That was it. Short. But cool!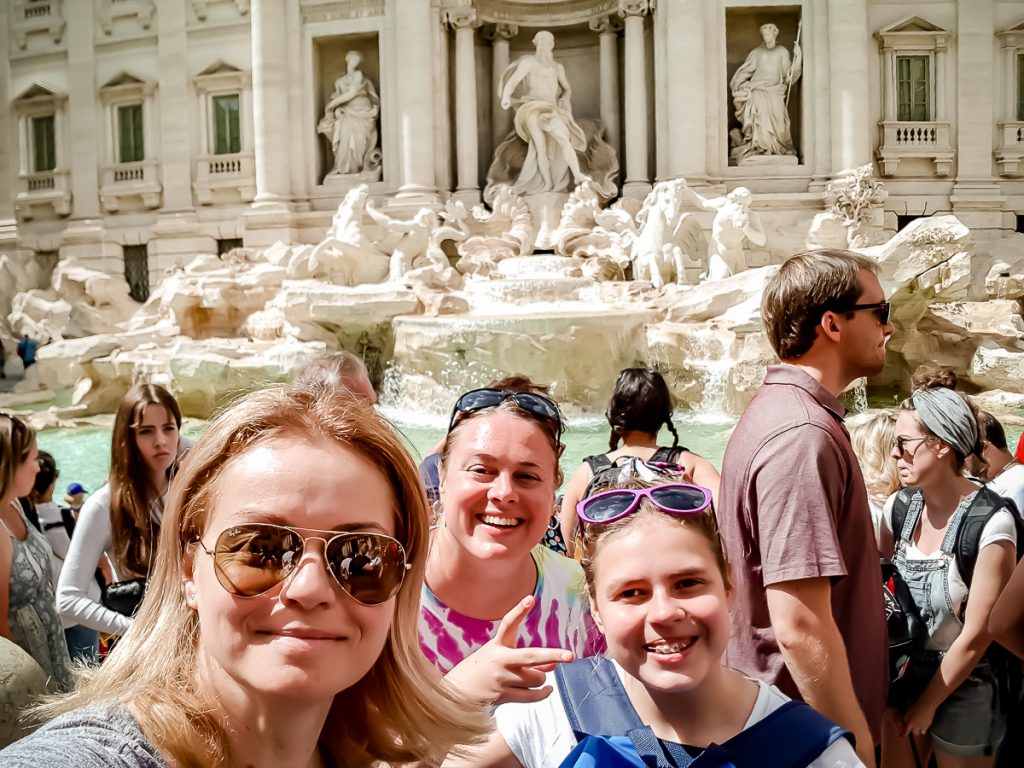 Before we left, they, for America, I, for Romania, we threw a few coins in the Trevi Fountain. May this be a sign that we will see each other before another 35 years pass…