What other country is still open? (That is, a country where you can go without a test or quarantine and from where you can return without having to stay closed in your home for 14 days )
I checked up all the official websites, I did calculations after calculations and I decided, from one day to the other, to run away with my family to Istanbul! Full of fear, but also full of enthusiasm.
"Is-tan-bul, Con-stan-tinopole", I hum the song and I think: "God, can you imagine how many pairs of Turkish jeans I will bring home?! J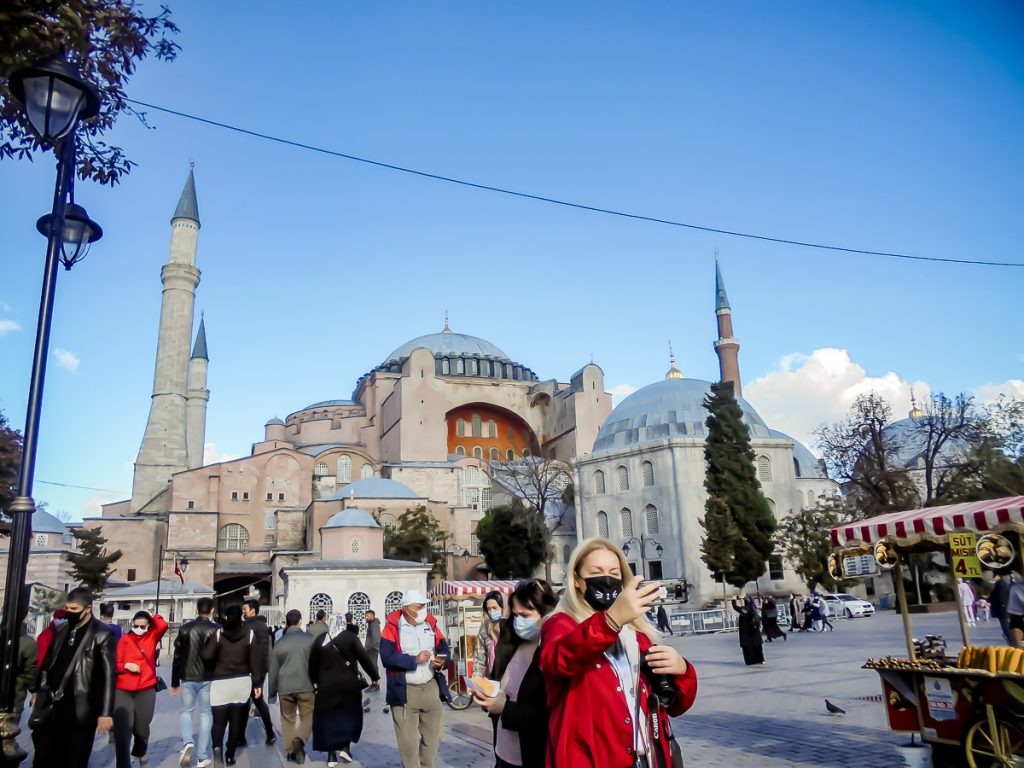 …but before the jeans, you should see how many selfies I'll take, judging by how "untraveled" I am this year.
I don't know Istanbul the way I know London or Paris, Rome or Florence, so don't expect me to be a proper guide. I've only been here twice before. Once in 2004, for a very short time, the second time in 2013, for another short stay.
Now, for nearly four days, I enjoyed a pandemic Istanbul, this being is one of the few, the very few destinations in Europe where, as a Romanian, you can travel without any restrictions. (By the time I left, only Turkey and Sweden were still on this list.)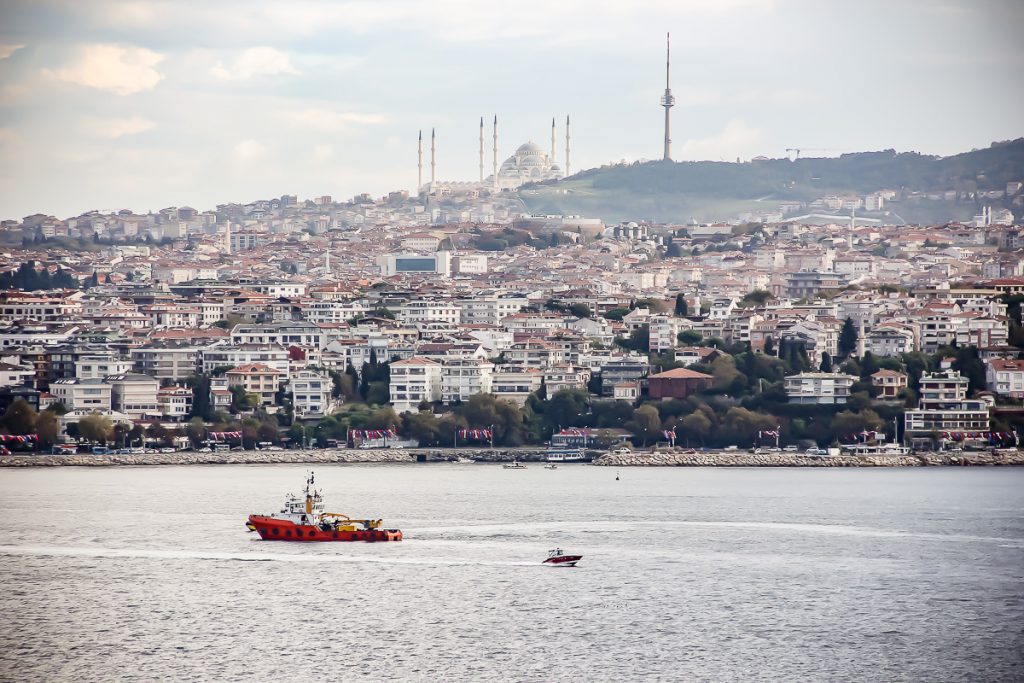 Divided by the Bosphorus Strait on two continents, which makes it unique, Istanbul is a city with a larger population than that of Romania! (I searched and found a figure of about 20 million of people!)
Going downtown, from the airport, I can see the urban agglomeration, hundreds of blocks very close each other on the hills.
Istanbul in a fascinating place, with a history that would take you some time to go through. Only when I say "Byzantium", "Constantinople", the capital of three empires, do I realize how much there is to know and how little I really know. I know about Istanbul less than those who watched the series "The Magnificent Suleyman"!
ISTANBUL DURING THE PANDEMIC
In one word? Crowded! Yes, even with this pandemic, it seems to me a bustling city, not one that is kept at home. It can't even compare to Paris in September.
In more words? Mosques, palaces, sun, strong spices smells, teas, sweets, colors, good food, seagulls, slick merchants and… Hagi.
Oh, and many flags. Very many! At the windows of houses, on hills, on ships, in shops… I also have one, right on the balcony of the hotel room.
The balcony is the only place with social distancing, otherwise, there's no chance for this… The streets are full of people, there are queues at the mosques, there are lots of people in the restaurants. (Okay, it is not like in normal times, as the souvenir shops are quite empty…)
"A lot of Russians, Ukrainians and Arabs" – a salesman tells me. "Very few Europeans."
Definitely, I can confirm the presence of Russians all over the place. The Turkish merchants try to attract us too speaking in Russian, which amused us at first, but after some time started to annoy us. We can no longer make fun of this and I keep saying, gritting my teeth: "We are not Russians!" Can't they mistake us for Japanese people? J))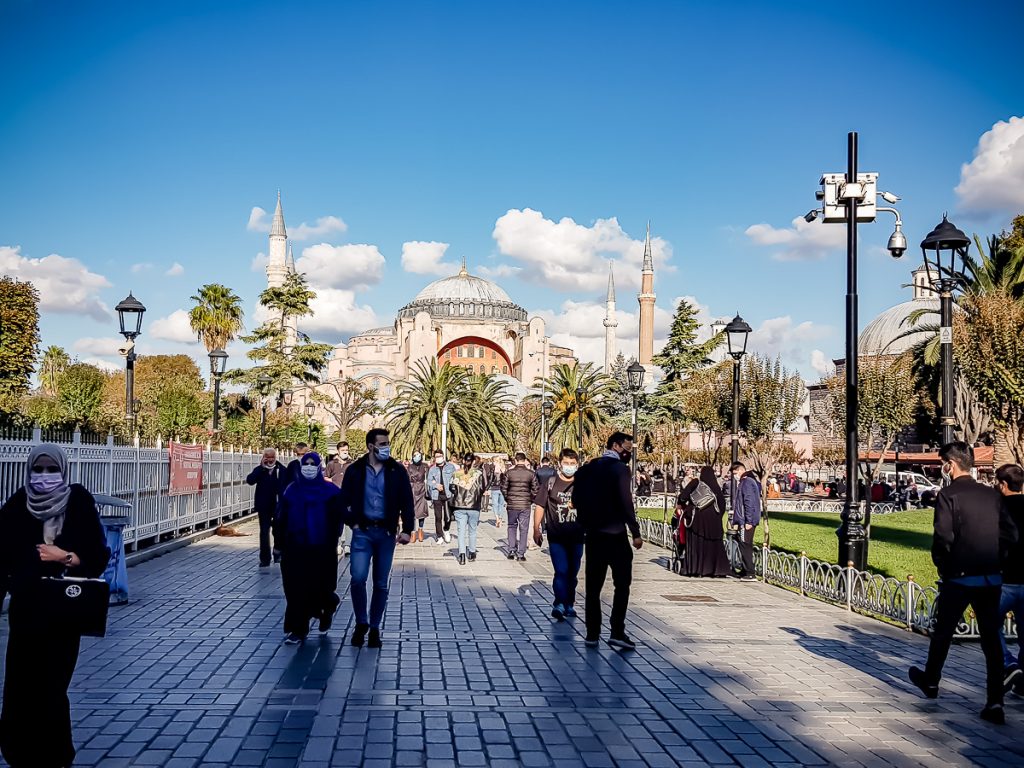 Speaking of nations, I have a dilemma: we met a lot of Turks wherever we went. Man, where are the handsome men from the Turkish soap operas??? Well, I saw in all the movies broadcast by the Romanian channels some terribly handsome actors, really! Where are they, as I have been looking everywhere for them…
I was optimistic that if I ran into a handsome Turk on the street, we would clearly become friends! As we have many words of Turkish origin in Romanian…
We'd meet at sunset, he would bring me a bouquet of tulips = lalele (I did not know that this word comes from Turkish!). We would go to a dinner for two, we'd start with some melted cheese = cascaval, then some broth = ciorbã, a ciulama (a dish with meat and a white sauce) or some sarmale (stuffed cabbages), followed by some halva. I would give rachiu (an alcoholic beverage) my first try, to get some courage, then I would have invited him on the divan (sofa), I would have prepared some sexy cearsaf (bed sheets) and the zambile (hyacinth) from the vase would enchant us with their scent, he would be removing his salvari (large trousers), I would take off the ilic (vest), he would take of the ciorapi (socks), me, the… etc. etc and we would make a great chef (party)!
And… this is it, here the telenovela stops, as on the subject I only have words like: "ageamiu, lichea, siret, tembel, zevzec" (a greenhorn, a villain, sly, sluggish, thick-headed) and I'll only make a duşman (enemy) of the man before I get to make him a friend…
WHAT TO VISIT IN ISTANBUL
I stayed in the very center of the city, in the Sultanahmet neighborhood, in the Fatih district. In that area you are just two steps away from Hagia Sophia, the Blue Mosque and the Topkapi Palace, to name just 3 of the most important tourist attractions.
So it was a piece of cake for me to be an interested and enthusiastic tourist. But, to my surprise, I also had disappointments. I get there immediately.
HAGIA SOPHIA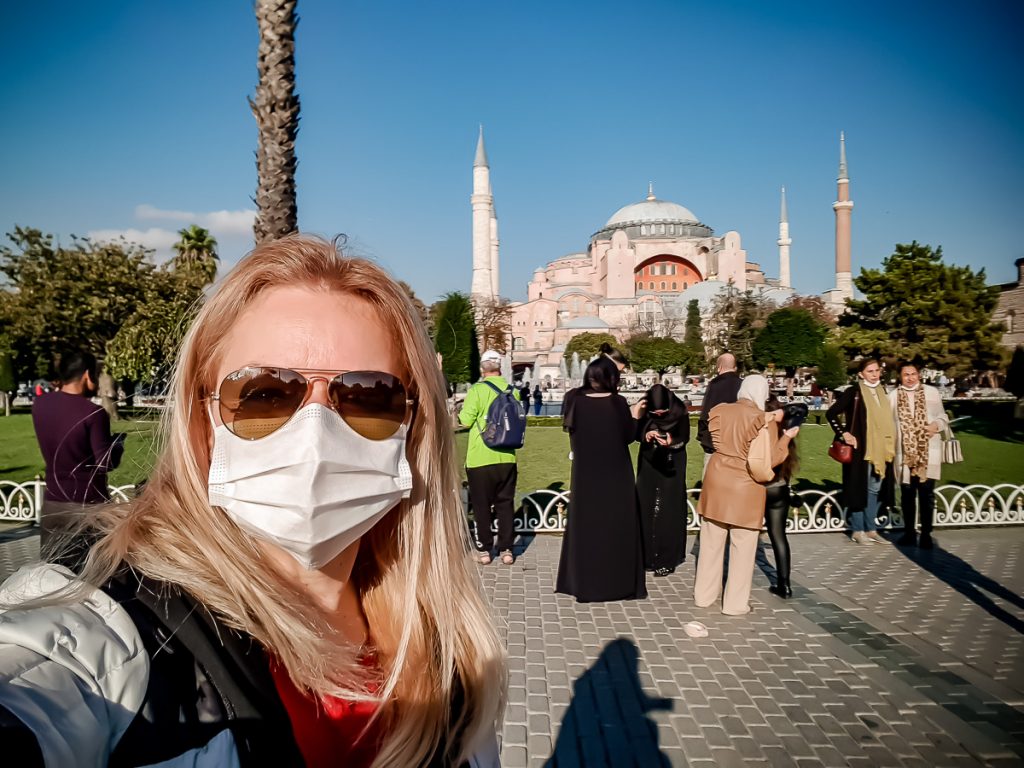 I visited it as a museum a few years ago, today I can see it as a mosque...
Hagia Sophia is near the Topkapi Palace and has been here since the 6th century! For almost a millennium it has been the largest church in the world! When the Ottomans conquered Constantinople in 1453, they turned it into a mosque, modifying it and covering all its Christian paintings with Islamic symbols. In 1934, Atatürk, the first president of Turkey, decided to turn it into a museum open to the public. That's how I saw it. Marveling at the murals of saints discovered behind the plaster or the Christian mosaics upstairs.
This year I saw on the news that it was decided to return Hagia Sophia to its mosque status, but I did not think things would happen so fast!
First change: free entry J. Before, you had to pay for the ticket.
Then… You have to take off your shoes at the door. You put your shoes nicely in the rack in the hallway and you enter Hagia Sophia, stepping not on the marble, as before, but on the thick carpet placed over it, the carpet on which you want to lie down immediately to rest your bones.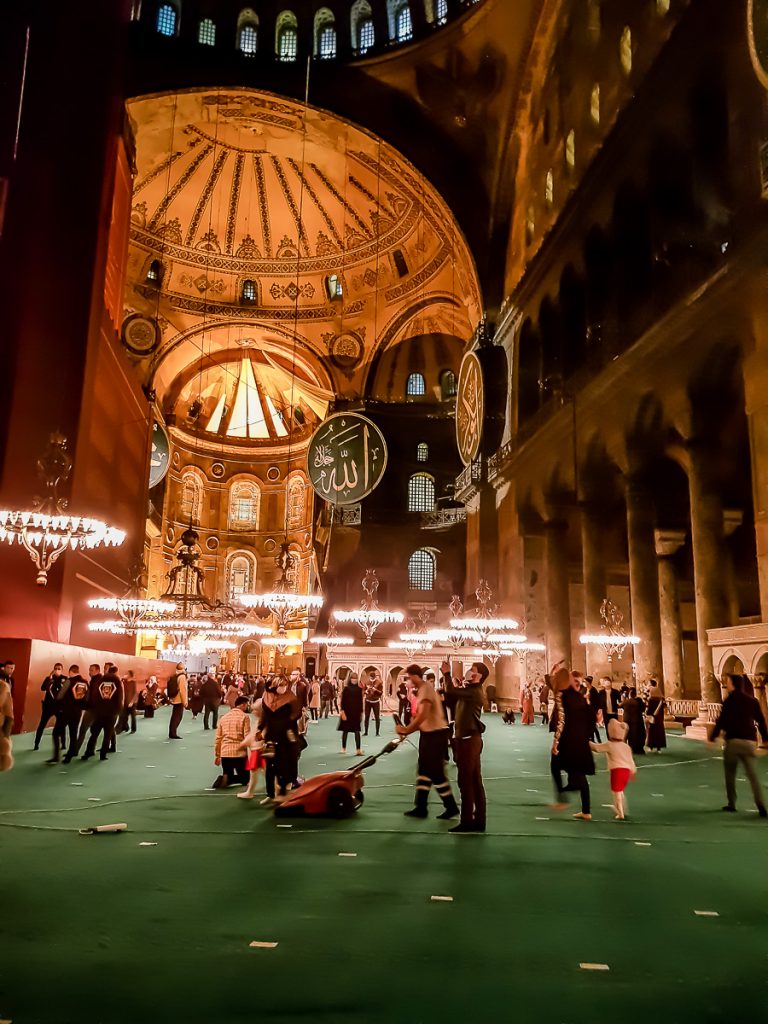 Everyone wears masks. And we, the women, have to cover our heads. Each of us with what we have. If you don't have anything, you cannot go in…
An uncle disturbs the silence of the mosque with a vacuum cleaner he handles with talent. It's the time of the evening cleaning, as it seems.
I look up, I look left and right, wanting to find what I knew from last time: the Christian paintings that could be seen under the wall paint. Pieces of saints, of the Mother of God, of Jesus.
No sign of them! And you don't even have access to the first floor, because there I knew for sure that there are some more visible.
My God… I leave a bit upset. And of course, I look in my archives for photos from 2013, when I got to see Hagia Sophia as a museum. The photos taken somewhat from the same angles, seven years ones from the others, help me to solve the enigma:
Look where the Mother of God is, up and in the back! And look how she is covered now with some white scarves!!! I had not noticed these scarves during my present visit!
I found even clearer pictures:
Phew, it is good that they found this solution with the scarves and they have not covered them completely!
Probably the same thing happened upstairs. I do not know…
Towards the exit, I became upset once again: I have not found the "column of desires". It was a stone column in which there was a hole. They say that if you can rotate 360 degrees your hand with the thumb stuck in that hole in the wall, then your wish is fulfilled.
It was huge fun to try the complete the rotation without breaking your finger hihi.
I managed to do it in 2013, after many mathematics calculations, after a physics, anatomy and aerodynamics analysis made while I waited in line, because it was always a queue there J.
There I found out about the legend according to which Sultan Bayezid entered riding a horse inside Hagia Sophia, stumbled and, falling, he leaned on this wall, right here. This was a legend that I could not find anywhere else. But it is nice, isn't it?…
Okay, back to 2020. So now I couldn't find the place. So, no wishes this year. So… I left.
At the exit, I remembered the enthusiasm of the Turks with "Hagi, Hagi". Beyond their appreciation for what the famous football player and coach Hagi did while he had a contract here, their admiration was also due to his name. As in Hagia Sophia = Saint Sophia. Cool, right?
THE BLUE MOSQUE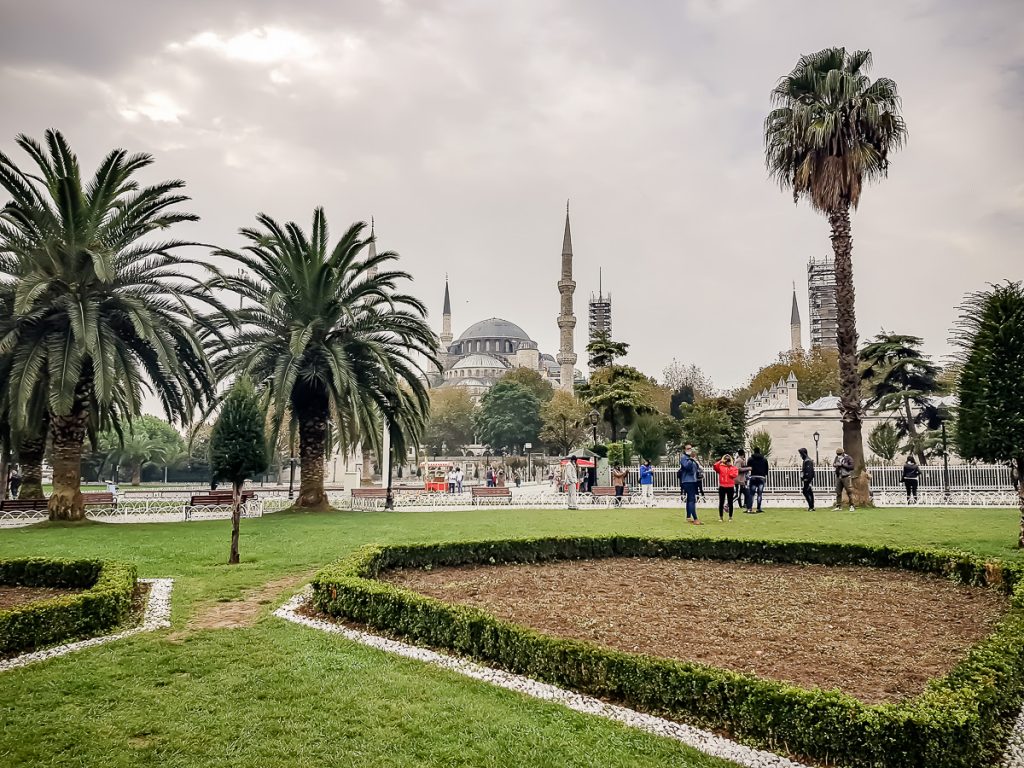 A stone's throw from Hagia Sophia is the Blue Mosque, built over 1,000 years away from the first. Sultanahmet Mosque is its real name, as it had been built for the sultan Ahmed I, in the 17th century. But it is known as the "blue mosque" because of the ceramic tiles inside, over 20,000 of them! (And I was complaining that I have to buy tiles for 2 sqm of bathroom…)
The two mosques are connected by gardens where, if you have plenty of time, you can sit and read, nibble something or you can feed the doves. Or you can listen to the way they synchronize the two calls to prayer made by the Muslim priests from Hagia Sophia and the Blue Mosque. I have no idea what they say, but the way they combine is fascinating! It's like a dialogue.
There are some well-established hours when you can enter the Blue Mosque as a tourist and they are displayed at the entrance, depending on the prayer hours. Admission is free, the same as in Hagia Sophia.
Next, as before, you have to take the shoes off, but this time you put your shoes in a bag that you carry with you inside. A bit risky for the general smell of the Mosque, I would say J.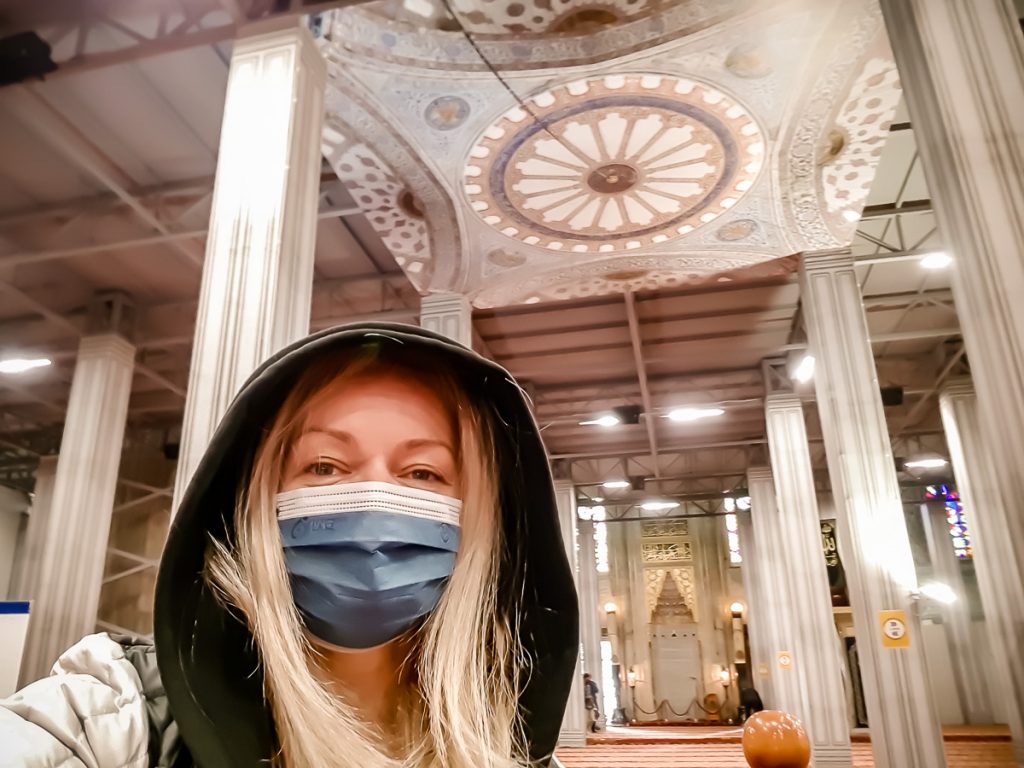 I don't know how it happened, but here too there was an uncle with a vacuum cleaner. How did we catch them all working?? Because to Hagia Sophia we went in the evening, and here we came in the morning.
At the Blue Mosque I have another disappointment: its beauty cannot be seen because it is being renovated or something. Thus, all the columns are covered and the original ceiling is practically hidden from view, with a false ceiling below it. You cannot see the blue that made this place famous. No blue anywhere… Oh, yes, there is some on my mask… My mask is bluer than anything you can see here J)).
In 2013, when I entered here, there were dozens of people sitting in a position of prayer. The light that penetrated through the stained glass gave the space a special atmosphere. I understand that there are over 200!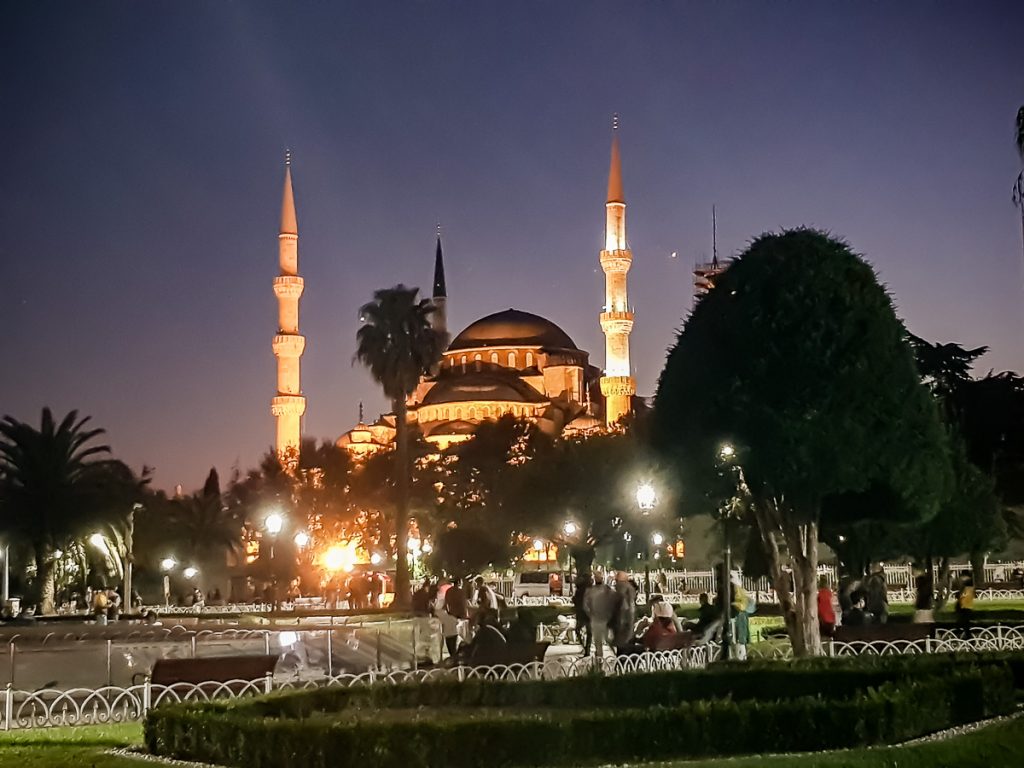 The visit ended quickly, unfortunately. We walked around until evening. And with the dark, the sensation of hunger came too…
WHAT TO EAT IN ISTANBUL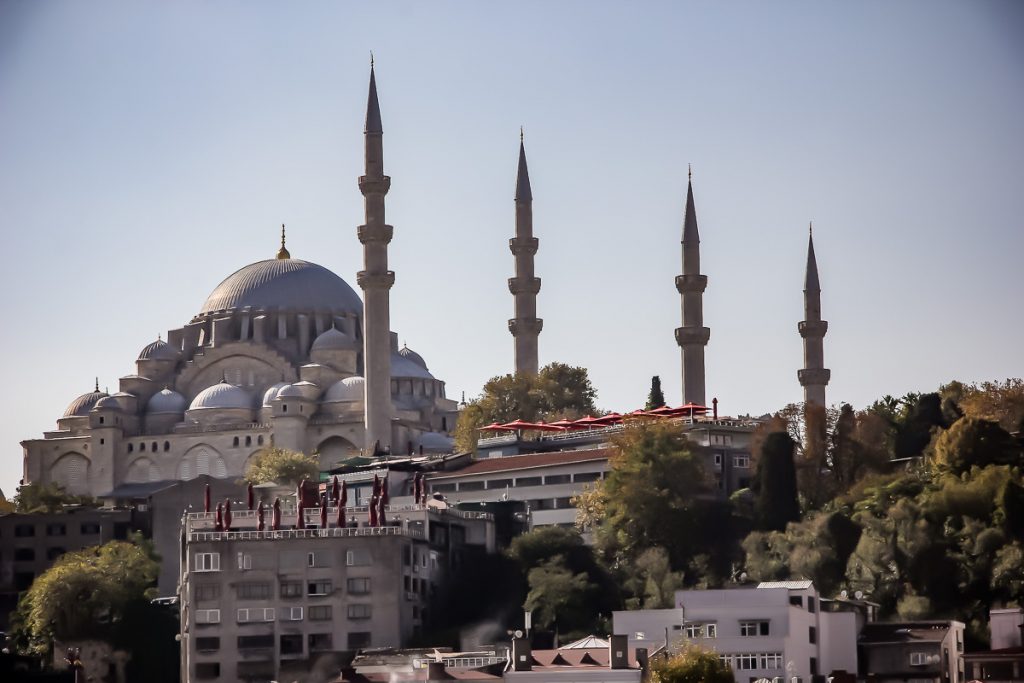 What I like is the big number of terraces overlooking the sea these people opened in any building they could. Most waiters invite you in from the street, explaining that you have "terrace view". (Here I took pictures of a couple terraces that had views both towards the water and the Magnificent Suleyman's Mosque).
I searched the net for recommendations for good places where to eat, but we also went randomly into restaurants and I can say that we ate very well in all of them! Even in a sort of pub where we got by mistake and we were too embarrassed to get out immediately, the food was good!
You can easily find seafood. Without a doubt, fresh! You can either take it to go, on the streets full of terraces that sell them in casseroles, or you can eat them in the restaurant.
I'm a pork meat fan, the pork is my good friend J, but in Istanbul I didn't really miss it. They had many other animals you could ask for: chicken, turkey, beef, mutton, so it was impossible not to find something to your liking. And needless to say fish and sea food ruled.
I don't know how, but it turned out that I started my culinary journey with a food called Dana! Ha-ha-ha. "Testi Kebap Dana". Beef, tomatoes, red and green peppers, garlic, eggplant and onion (but I took it without onion…), plus I have no idea what spices, all cooked in a clay pot.
The food was one thing, but the ritual of serving deserved all the money: the waiter began to beat in a pot and yell, while the other waiters in the restaurant would gather around the table and would respond. It was a kind of "concert for a pot and a choir in F (Food) major"…
In three and a half days I tested all kinds of dishes and I can say that I found all of them interesting! Some were even delicious!
And the balloon-bread was a sensation!
(Some time ago, when I discovered this bread for the first time and before I got to taste it, I thought I could play some baseball with it J)
After they understood that we were not Russian, the waiters in the restaurants would ask us where we came from. After we said "Romania", they would invariably shout enthusiastically: "Hagi, Hagi!".
That's it, we were already friends of the all the waiters, but also of the salesmen, the policemen, the taxi drivers.
A waiter tried to remember another famous Romanian here. I said: "Gica Popescu!" But he said this was not it, then cried: "Pancu! Because I'm a Beșiktaș fan!" And that's how we got the dessert for free hihi.
Speaking about dessert, you cannot take as much as they offer in restaurants, on terraces, at the street vendors stalls or in the stores.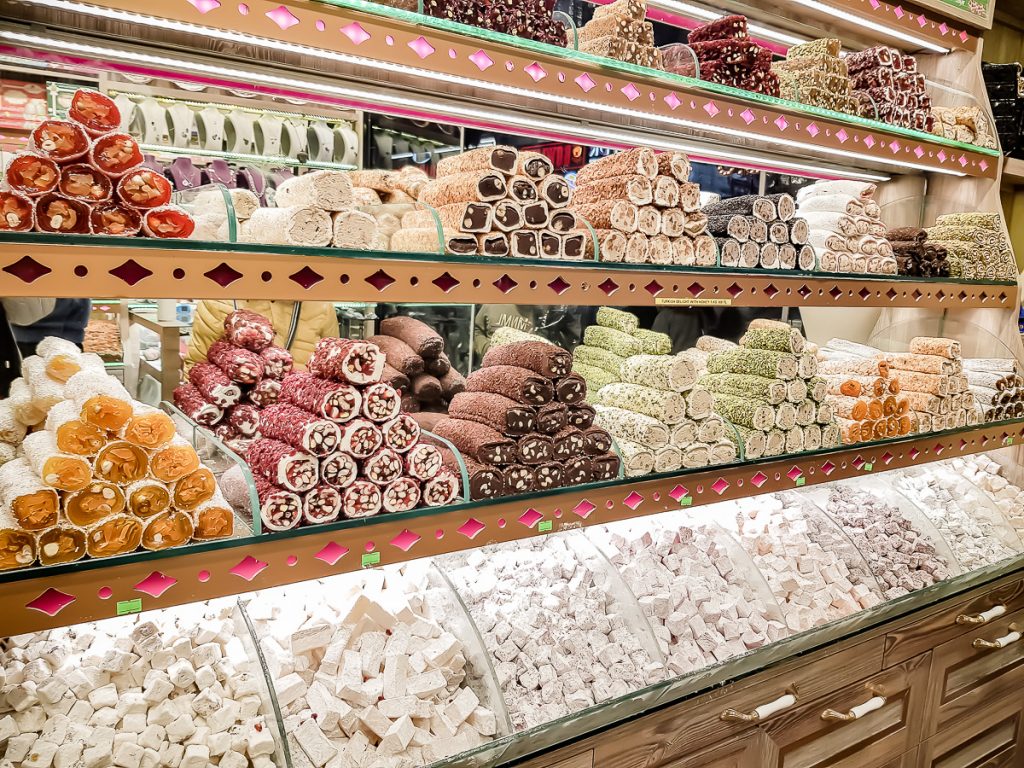 I was never a fan of the Tukish delight, maybe because it was one of the very few sweets we had access to in Ceausescu's time.
So I was never tempted to buy, not even after the Revolution.
Until now! A very persistent salesman offered me a piece of tiramisu flavored Turkish delight and I made the man happy and tasted it. My God, how good it is!!! Nothing to do with that Turkish delight we used to eat as children.
Well, that was all I needed: I tasted the peanuts Turkish delight, then the one with mixed fruit, the one with pomegranate, pistachio and so on… God, I think I need a pill for digestion!
Of course I bought some. Some boxes!
STREET FOOD
Some years ago, coming here in June, I enjoyed the slices of watermelon sold on the street. Very sweet!
Now, I have eaten boiled corn (5 Turkish liras), baked corn (4 liras) and baked chestnuts (10 liras per 100 grams = approx. 1 Euro).
Turkish lemonade rules!!! I drank it with every meal, at every stop we made. It is great!!! And, apart from it, you can find everywhere, especially at the street-food stalls, pomegranate fresh. I didn't take any chances with this one, because once I urgently needed a toilet after such a fresh…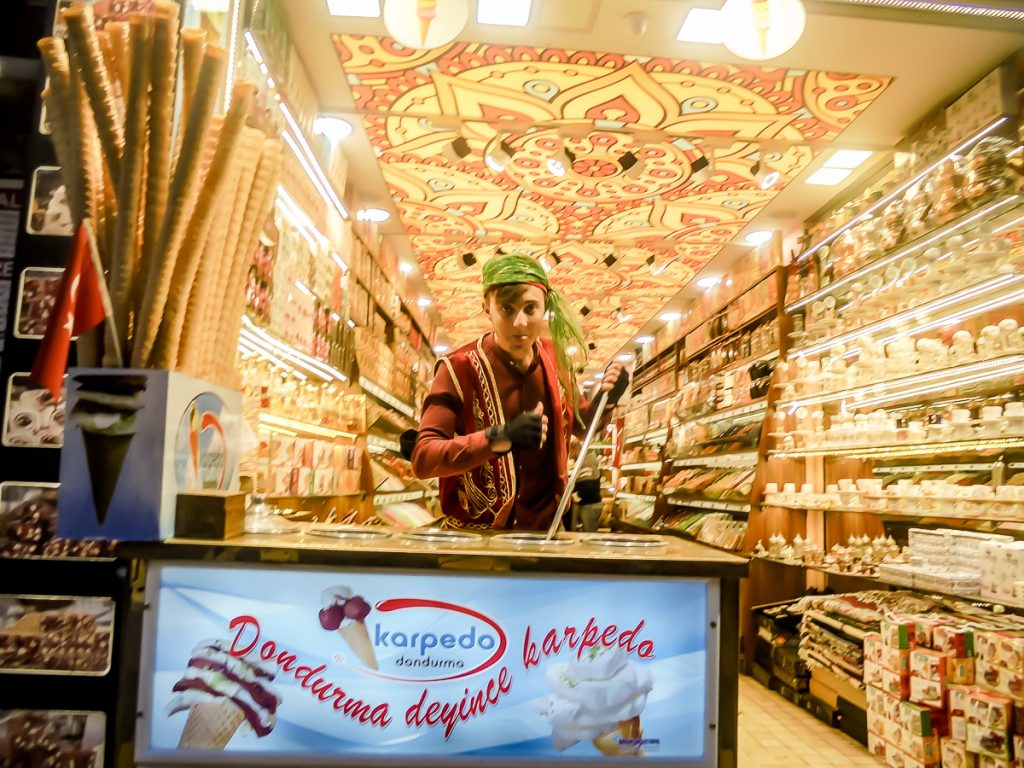 The pandemic did not stop the spectacle of ice-cream, especially since there is no reason: with that long stick, the seller keeps his social distance.
Look at the ice-cream, there's no ice-cream, wait, you missed it, no, it's here, I'll give it to you, I'll take it, hold the cone well, here I have it. A kind of trick game with Turkish ice-cream on the cone. This is always funny for the buyer, but also for the people watching.
BOAT TRIP ON THE BOSPHORUS AND THE GOLDEN HORN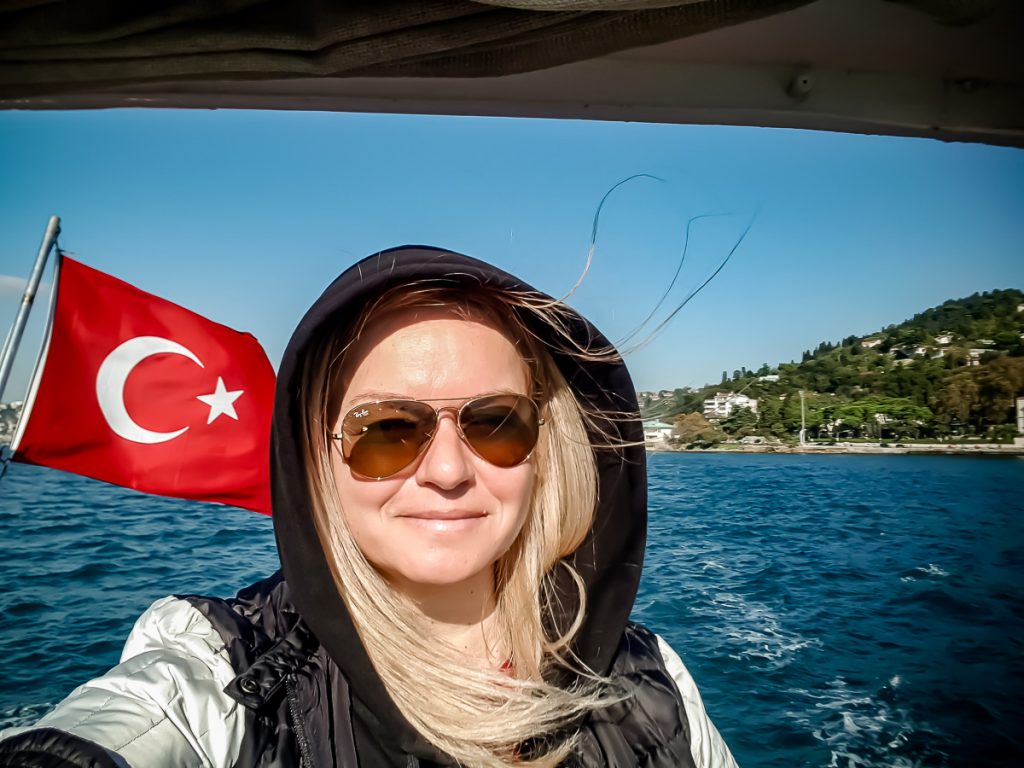 There are many options of boat rides. As the people in the hotel where we are staying are, in the most elegant way, at our disposal, they made several suggestions and we chose a long tour, taking advantage of the sunny day.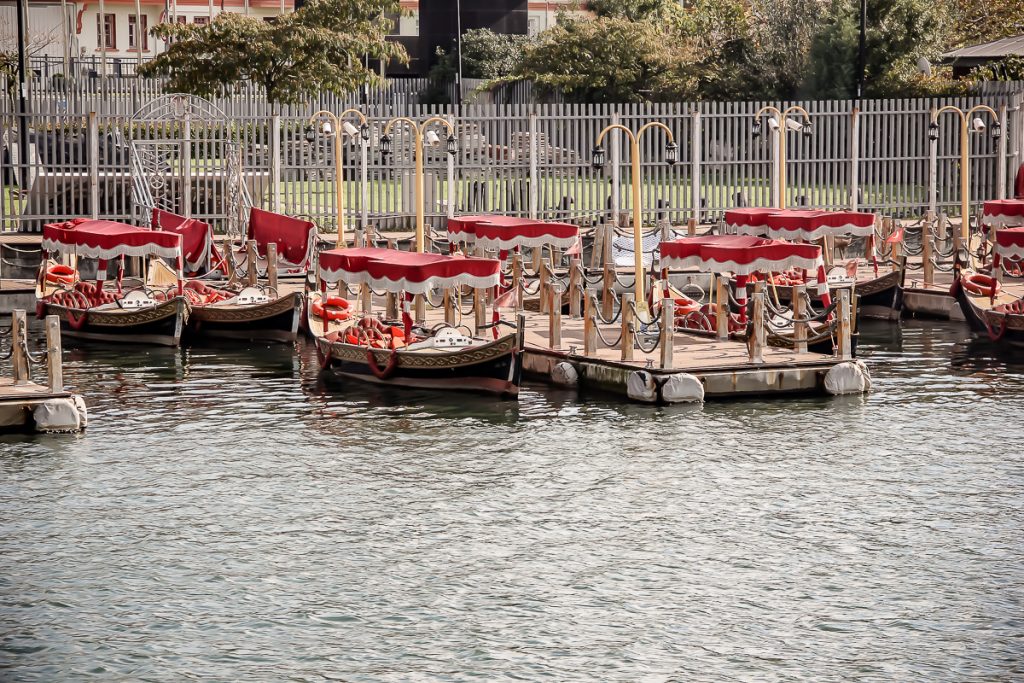 We are seated in the open side of the boat, because when you have the wind in your hair, the trip is more thrilling. Luckily that I took some paracetamol with me…
We pass along some traditional boats which cry for clients and we are through the Golden Horn – the long and narrow bay that splits into two the European side of Istanbul.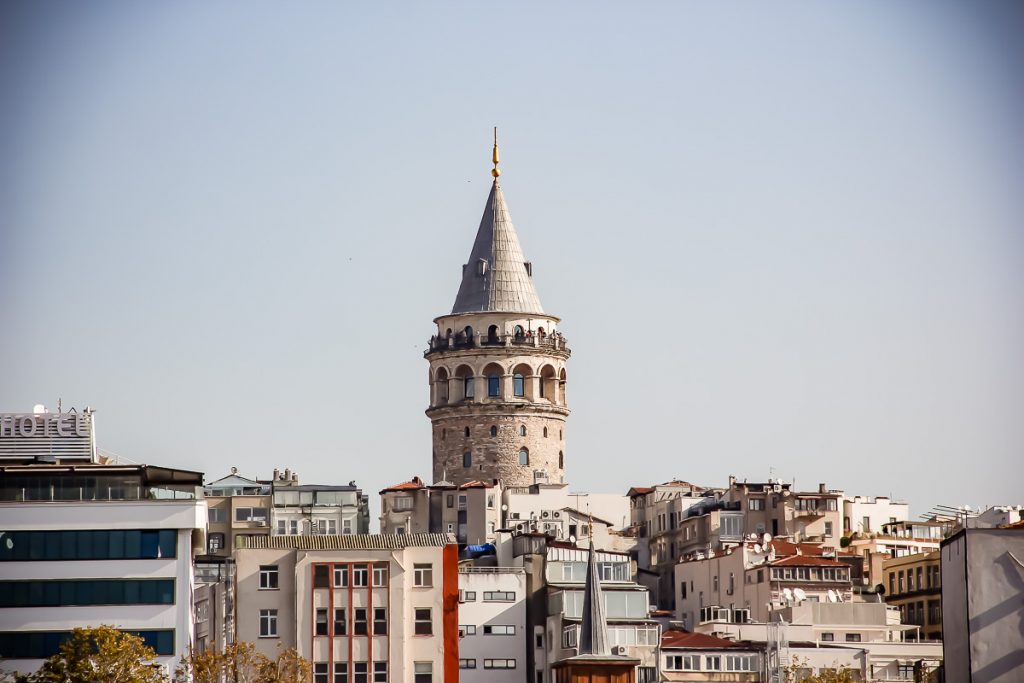 We leave to our right one of the attractions of the city: the Galata Tower, built by the Genovese in the 14th century.
I see people upstairs… Those who have no problem to climb a hill and some steps, do go for it! Galata Tower, which was once a prison, then a lighthouse, is now open to the public and offers a 360-degree view of the city.
If you cannot manage, you can take the tower home, in the form of a fridge magnet J.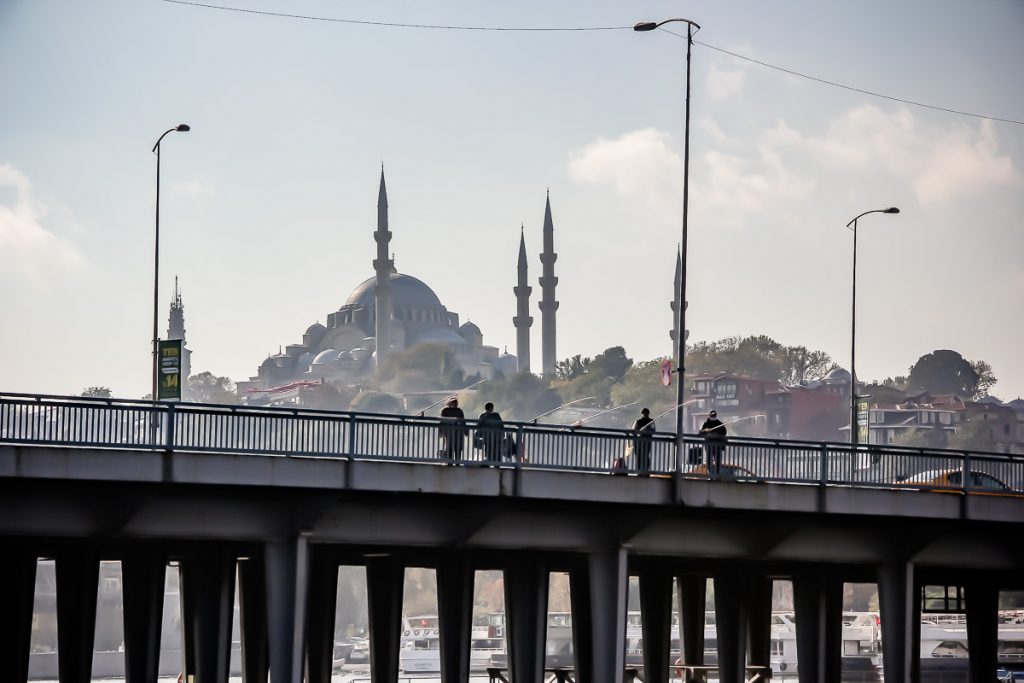 On the left is the proud Suleymaniye Mosque, built for Suleyman the Magnificent – you can't miss it, it can be seen from anywhere.
We bother the fishermen on the bridges a bit, who come here to fish at any time of the day, as I noticed.
Under the Galata bridge it is full of restaurants and I wonder if these fishermen from here take their "catch" there. It's full of fresh fish there.
I would not have the patience to fish, but I think I might catch some… jellyfish, because I marvel at the giant jellyfish I see in the water:
Then we go through the Bosphorus, that divides European Istanbul from the Asian side of it.
Now, to be honest, I do not remember much of what we learnt in school about Bosphorus. I remember learning about the two straits: Bosphorus and Dardanelles J.
So I read on the internet that this strait is basically the place where two active tectonic plates meet, that's why their earthquakes are worse than ours.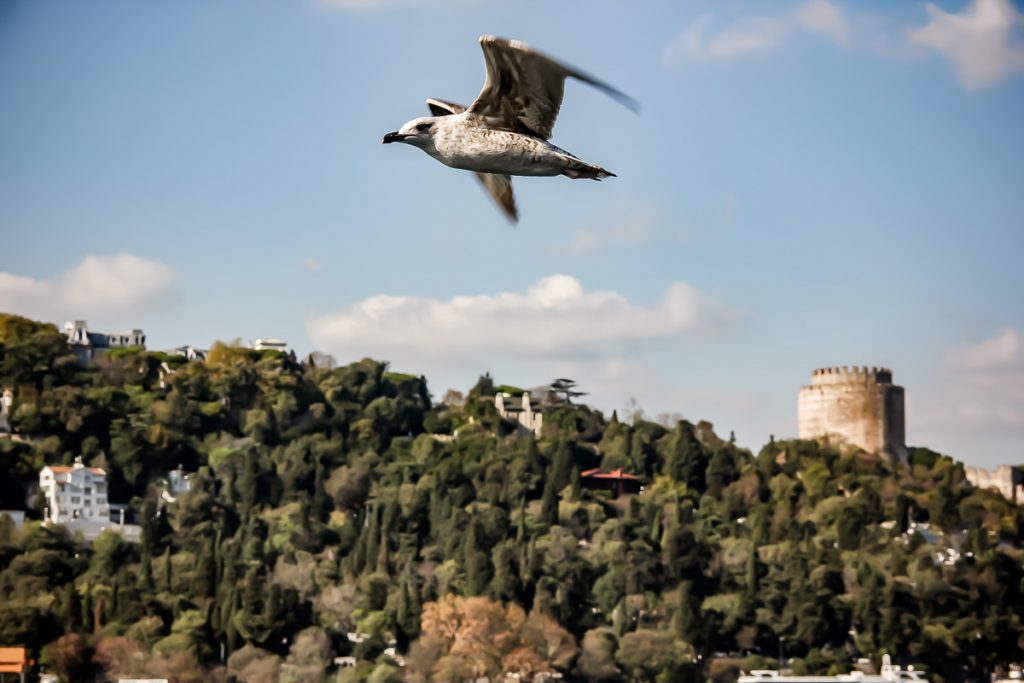 The Bosphorus, with a length of 31.7 kilometers, allows communication between the Black Sea and the Marmara Sea and, further, the Aegean Sea and the Mediterranean Sea. Right… so, if I swim in the opposite direction, I get to the Côte d'Azur, right? J
Naval traffic through the Bosphorus Strait is one of the most important in the world! The truth is that, during our trip, a lot of ships passed by us, some of them… oversized. They cannot even fit in my picture.
Somehow, I managed to take a picture of myself close to the same bridge, 7 years later. I did not really mean to… And wearing a red T-shirt. Again, I did not mean to…
It is one of the three spectacular suspension bridges that you can cross by car and pass from the European side to the Asian side of Istanbul.
The trip through the Bosphorus is relaxing, when the music on the boat is not too loud and when the "DJ" does not put some Russian songs, just to tickle the pride of Russian passengers. And yes, we are not Russians!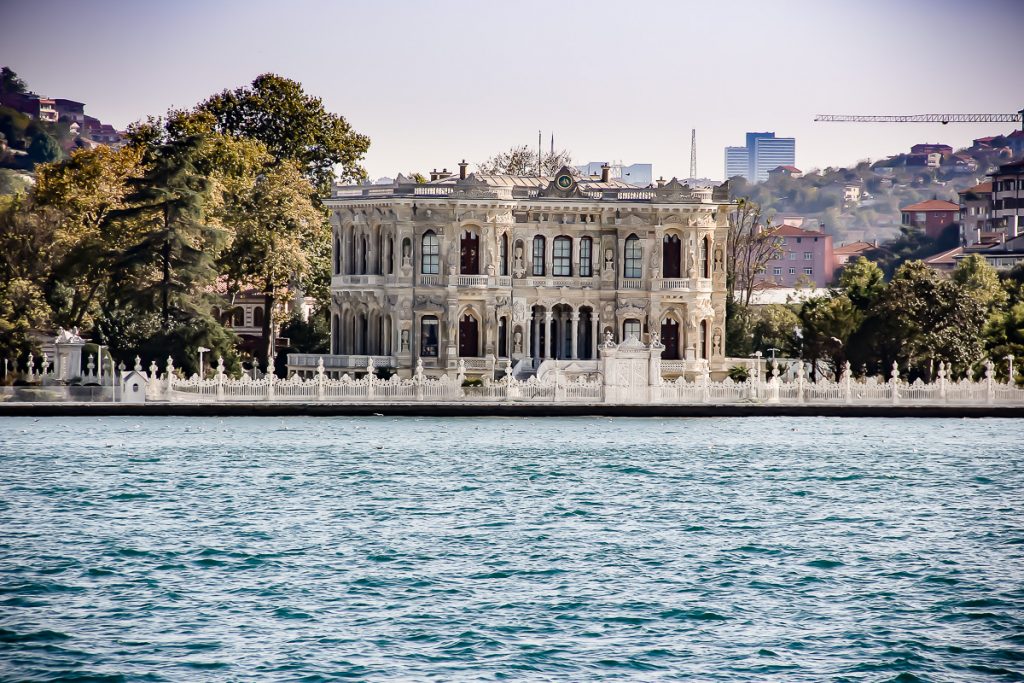 I see a lot of beautiful castles, villas and mansions on the shore. God, I set my eyes on a couple of small castles, and I feel like buying them on the spot!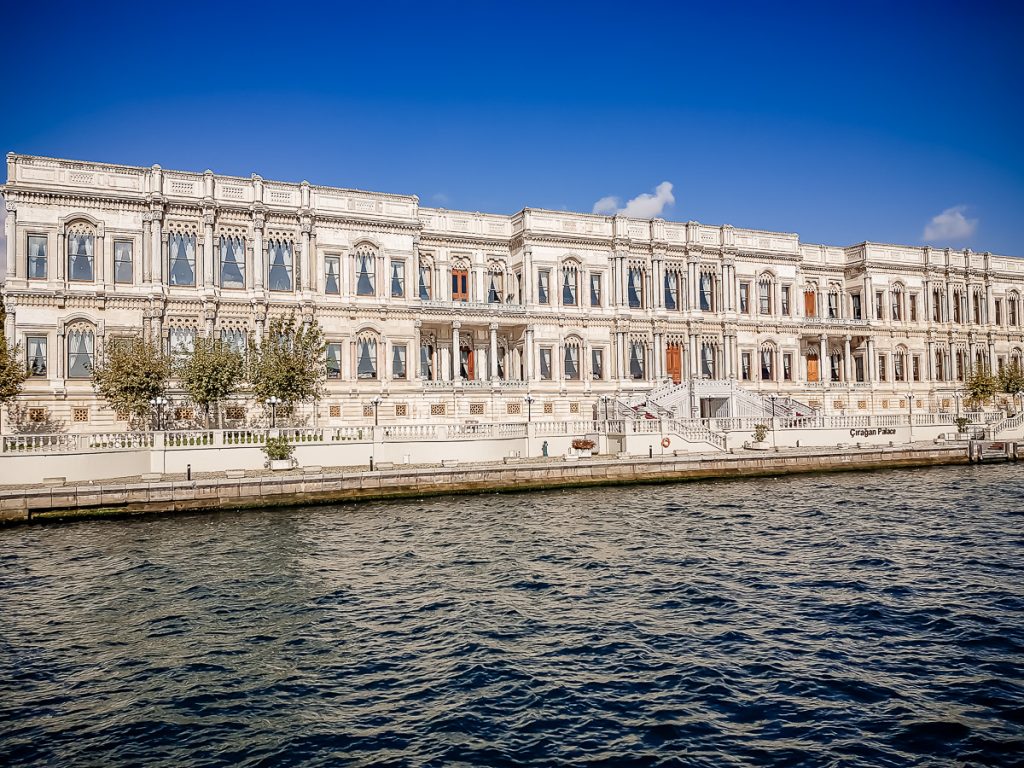 I could start with a light warm-up, and stay for one night at Çırağan Palace, where there are rooms overlooking the Bosphorus that can exceed 4,000 Euros per night! Luckily I didn't win the lottery… I don't know what I could do otherwise…
This is how the Bosphorus looks like from the Topkapi Palace garden, the palace occupying the peninsula tip between the Golden Horn and the Marmara Sea. This was on a day with cloudy skies, when we decided to visit the Palace. And the Harem too!
TOPKAPI PALACE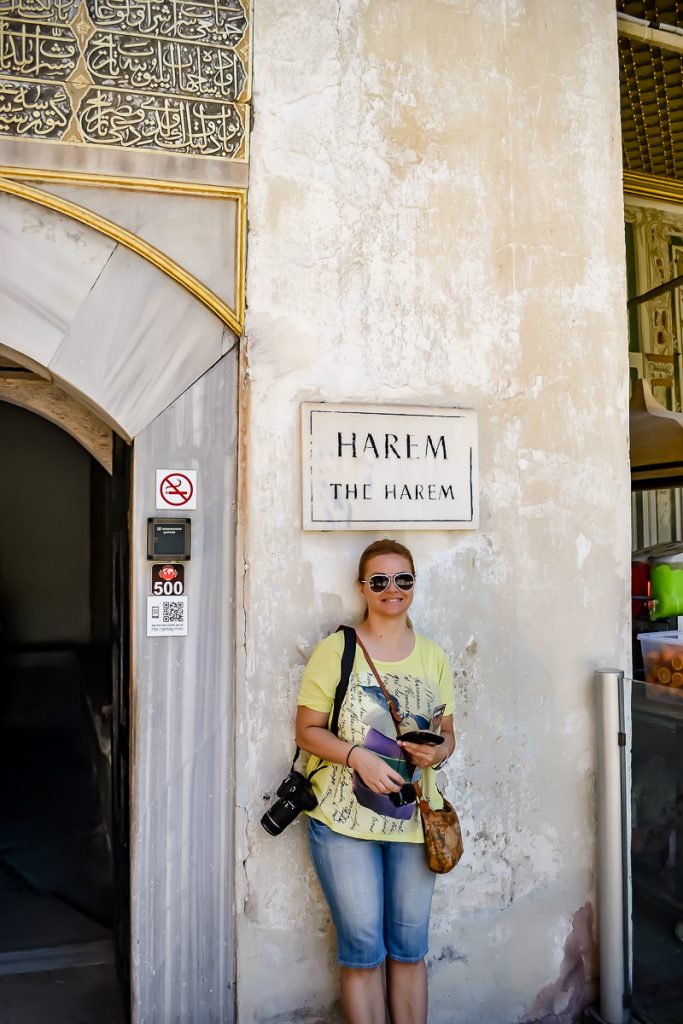 I showed up at Harem in 2013, but they didn't pick me up. They haven't taken me now either. I'll tell you, now it's because of the mask J. Damn! I'll make a complaint to Suleyman the Magnificent.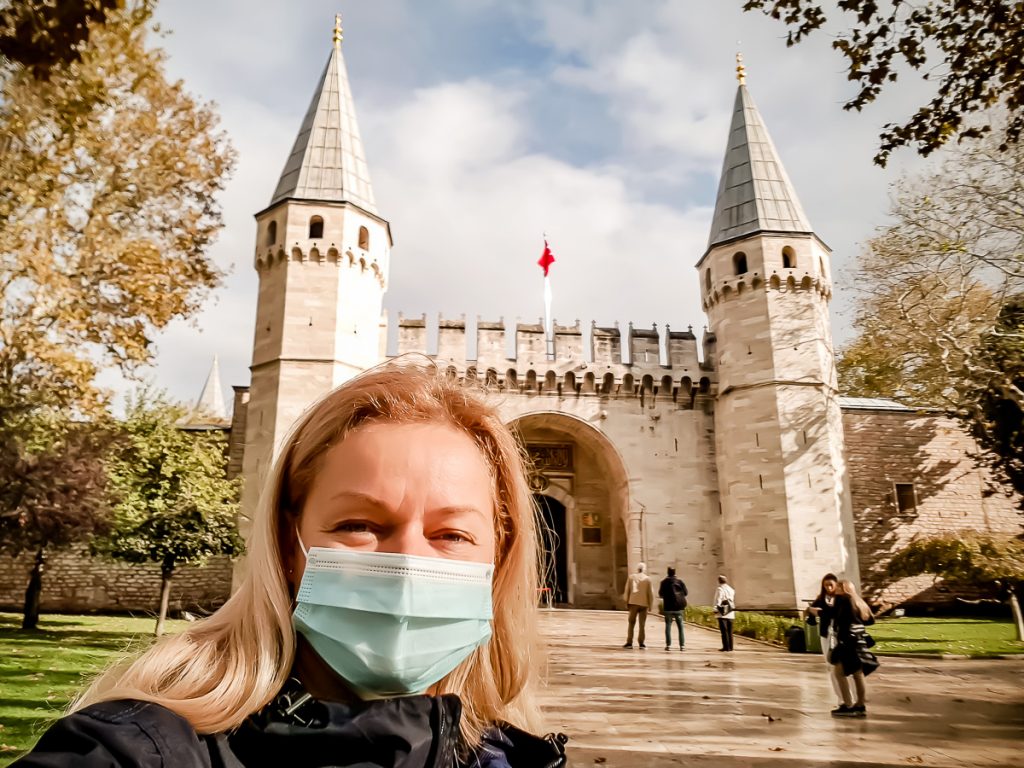 100 Liras is the entrance inside the Palace and another 70 liras if you want to see the Harem. That is a total of about 18 Euros. To be clear, it's not free of charge.
Topkapi, the residence of the Ottoman sultans for about 400 years, is not a "classical" palace, with a proper building, but rather a complex of buildings, courtyards, pavilions, gardens, not all accessible to the public. It's like a small town where about 4,000 people once lived… My God!
From the memories of last time, I made a Top 3 of places that I wouldn't have wanted to miss: the Harem, the sword of Stefan cel Mare (Stefan the Great) and the wonderful pavilions where I could move anytime!
The Harem in Topkapi sets in motion the engines of your imagination. If the walls could talk…
It's hard for me to imagine that 800 women once lived in this neighborhood for the women in the palace, an area totally forbidden to men (except for the eunuchs, the castrated men)! What would they do in times of covid? Or rather, forget the damn covid, the real question is: leaving aside the mother of Sultan and his daughters when did the sultan get the time to "use" all the other women in the harem?
I read that some of them never got to see the sultan and they became maids who solved the daily needs of the harem.
There is so much to read about the harem. Maybe when I get home, not here…
THE SWORD OF STEFAN THE GREAT
Out of insensitivity or out of patriotism, I have no idea, but I took a photo of it. It was the feeling of the person who says loudly that the forbidden object should be his…
Does it matter if I apologize publicly?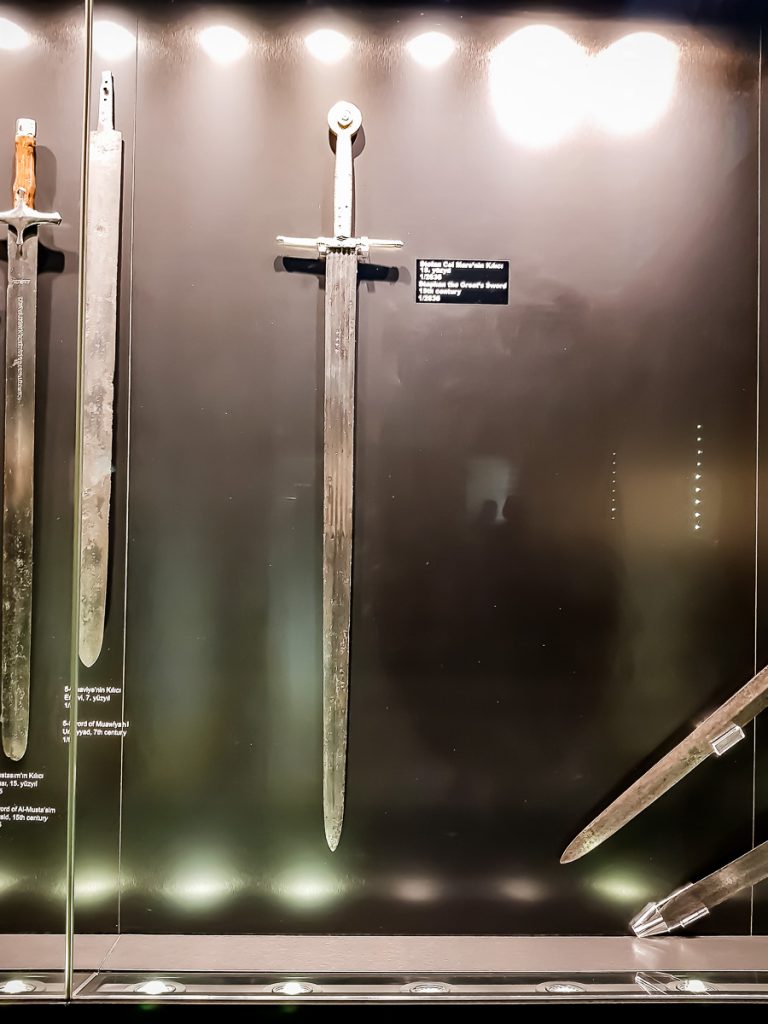 Stolen by the Turks? Given to the Turks by Stefan's son? Lost by Stefan in battle? There are different sides of the story, theories, assumptions, but who knows what the truth really is…
The sword is displayed in the weapons room, along with a lot of other weapons and armors that belonged to the sultans, to those defeated by them in battle or that were gifts for the sultans.
I got out of here and went to a place that had totally forgotten about: the room where they keep holiest relics of the Muslim world! It is a collection of objects that you can just see, you cannot take pictures of or film it. This time, I was a good girl.
I stood for a long time in front of two exhibits: the sword of prophet David, which dates from the 10th century BC, and the staff of the prophet Moses, from the 13th century BC! Wow! I really feel it is great to be able to see something like that!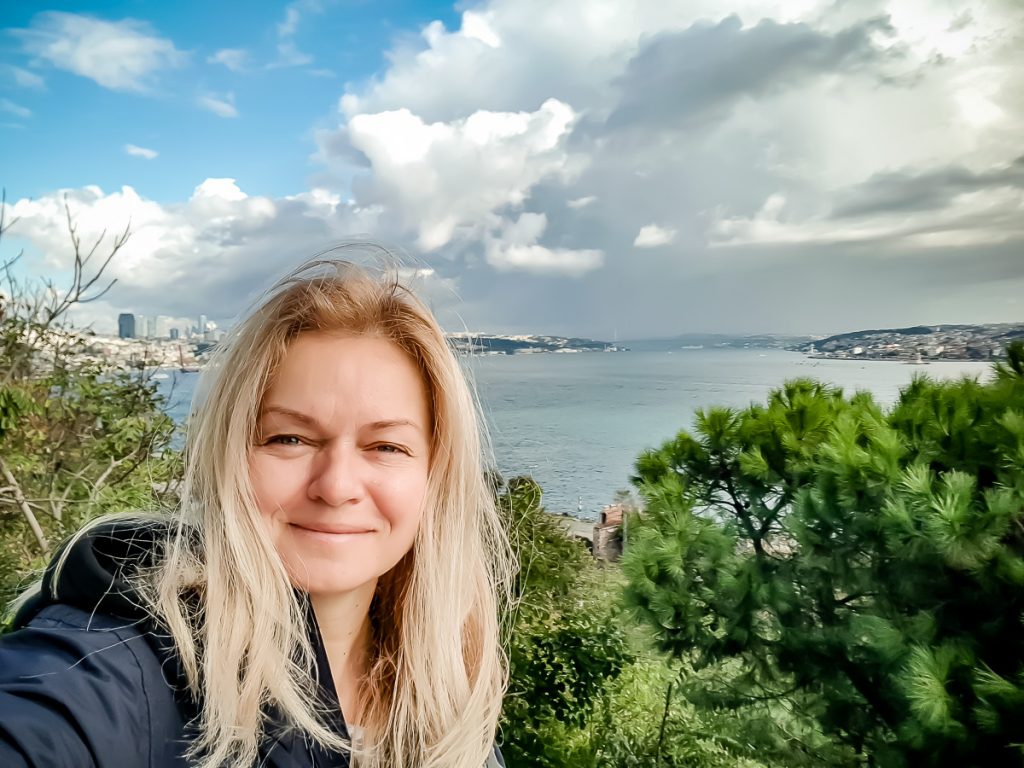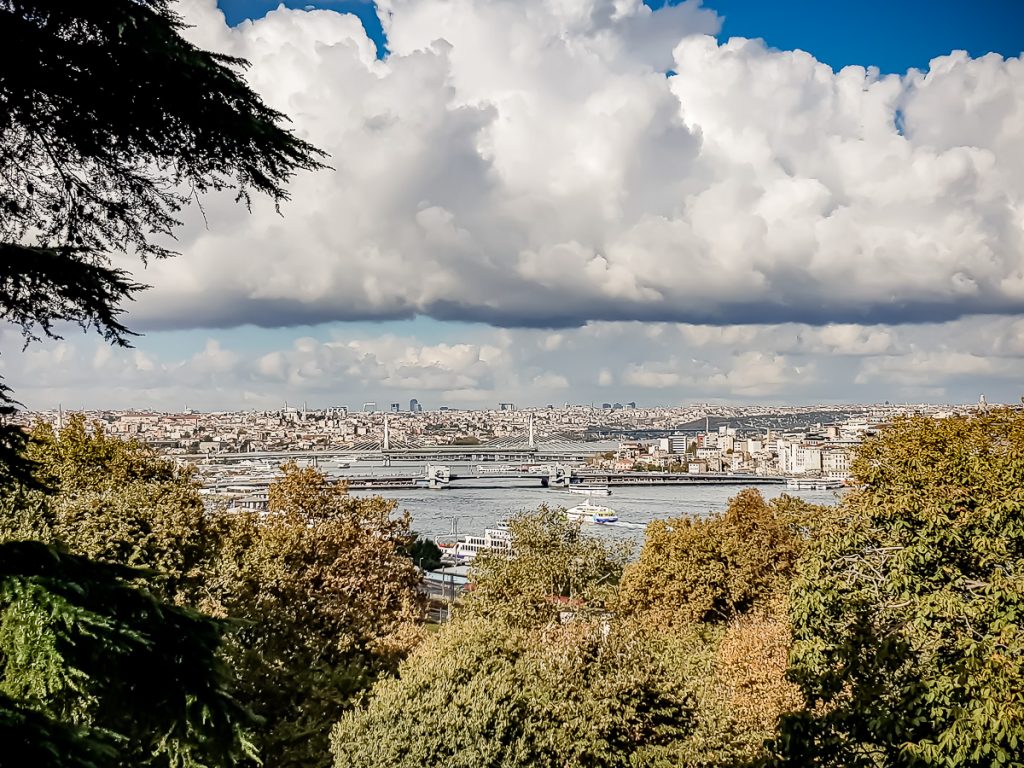 Clouds gather in the sky of Istanbul, but everything looks spectacular! The views you have from different parts of the gardens of the Topkapi Palace conquer you!
ANIMALS FROM ISTANBUL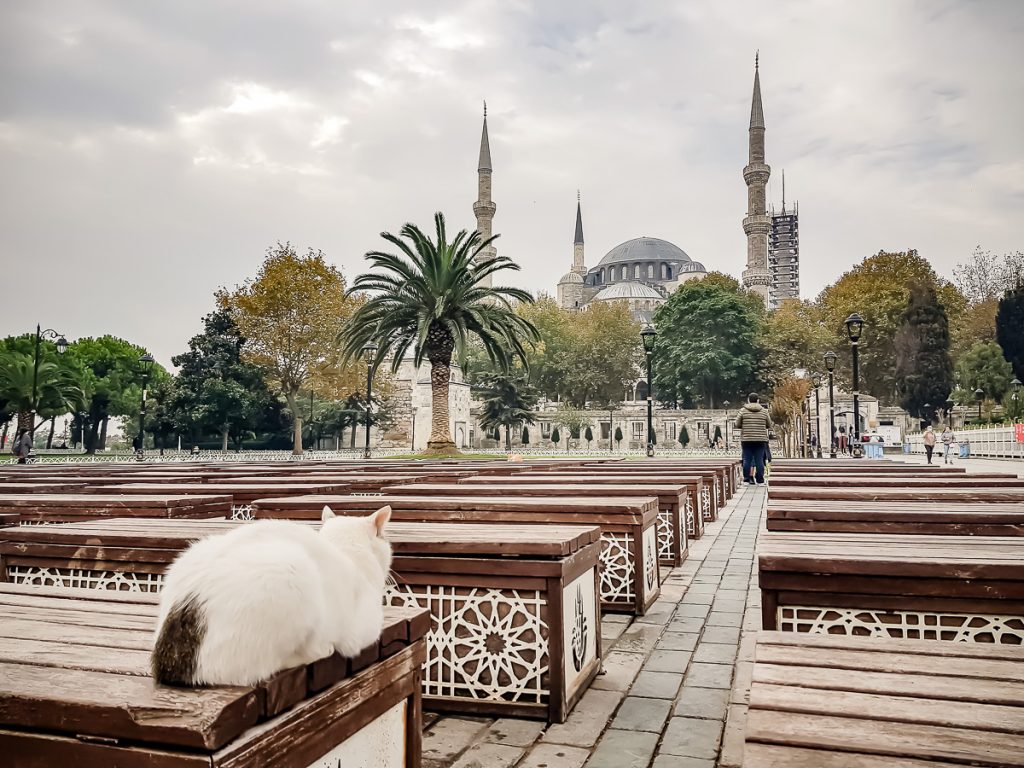 We, the Romanians, are used both with stray dogs and with the "European" cats, but honestly their community animals look different to me.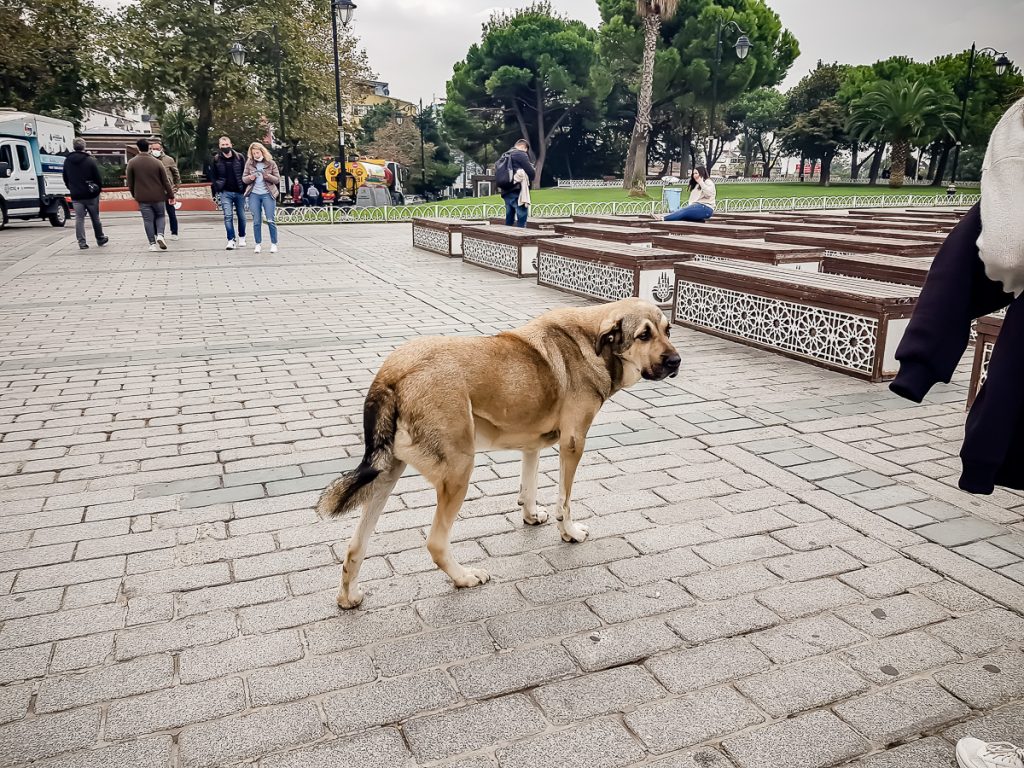 The dogs are very big! Strong, robust, I don't know how to say this. I chose to call them "Ottoman dogs" J. They walk without any problem among the tourists, I have no idea where and when they eat, because I have not seen them begging.
And since we are talking about dogs: on a previous visit to Turkey, I photographed a dog walking proudly on the most important shopping street in Istanbul…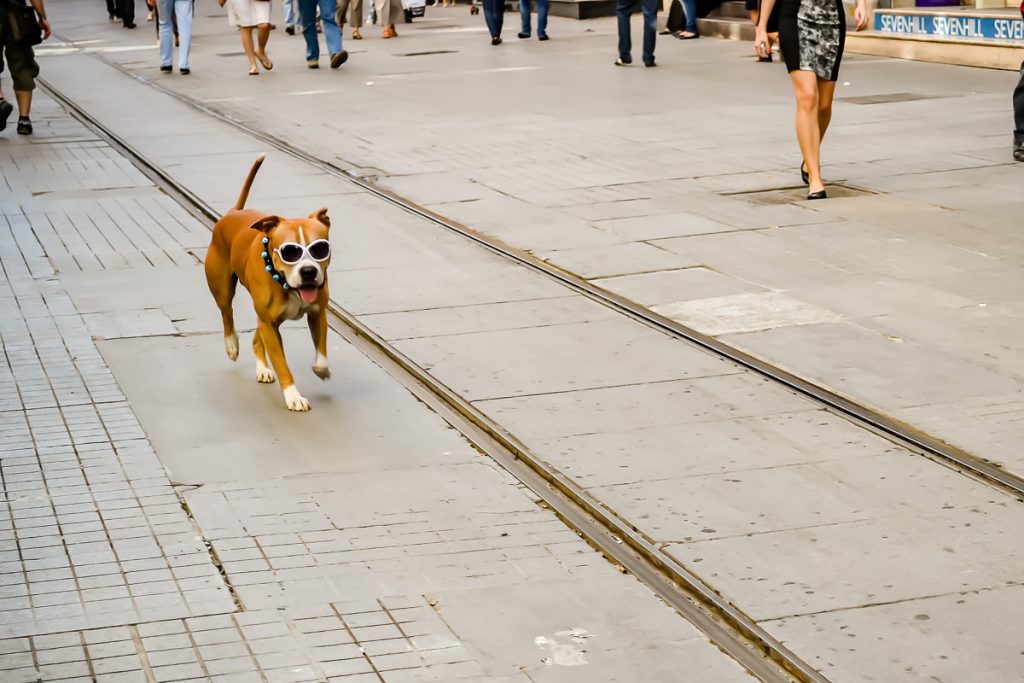 How about this, have you seen this before??? Sun-glasses and a turquoise necklace…
The stray cats here seemed different from ours – definitely Turks take care for them, because they seem healthy and have beautiful fur. They live among merchants, they sit on their displayed merchandise, they have their own plates of food on the terraces.
I think that for the tourists who come from countries where there are no stray animals in the street, the stray animals here are a real attraction.
THE CISTERN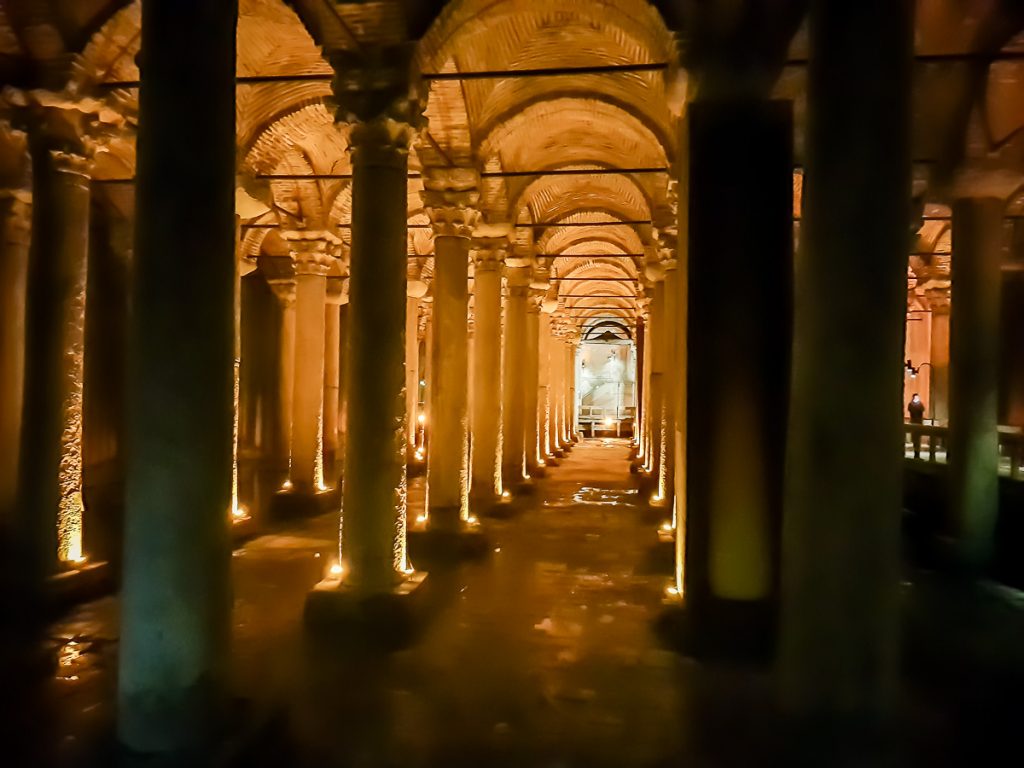 The place has always seemed fascinating to me! It is considered a wonder of the ancient Byzantine engineering. It dates from the 6th century! It is a kind of underground palace, with 336 marble columns 9 meters high.
Here was the city's water supply. This place here used to provide the water for the Grand Palace or years later, the water for the irrigation of the Topkapi gardens. The Cistern has a storage capacity of approximately 80.000 tons! (I understand that there are several such water collection basins in Istanbul!)
Apart from it being a museum, this underground place hosts many national and international events. And was also used to film several movies… One of them is James Bond – From Russia With Love (1963), another, more recent, is Inferno.
From the hundreds of columns of the Cistern, two stand out, being the stars of the place: they are based on the head of the Medusa, the mythical creature in the Greek mythology, who had snakes instead of hair.
The heads are placed one on the side and another upside down – experts say it could be a trick and that this position protects the visitors from Medusa's deadly eyes, which could turn them to stone, if they looked into them. Thank God, I am safe!
Both have been brought here after being removed from an ancient Roman temple and are meant to protect the Cistern. In ancient times, statues or paintings of Medusa were placed inside important buildings and private places to protect them from evil.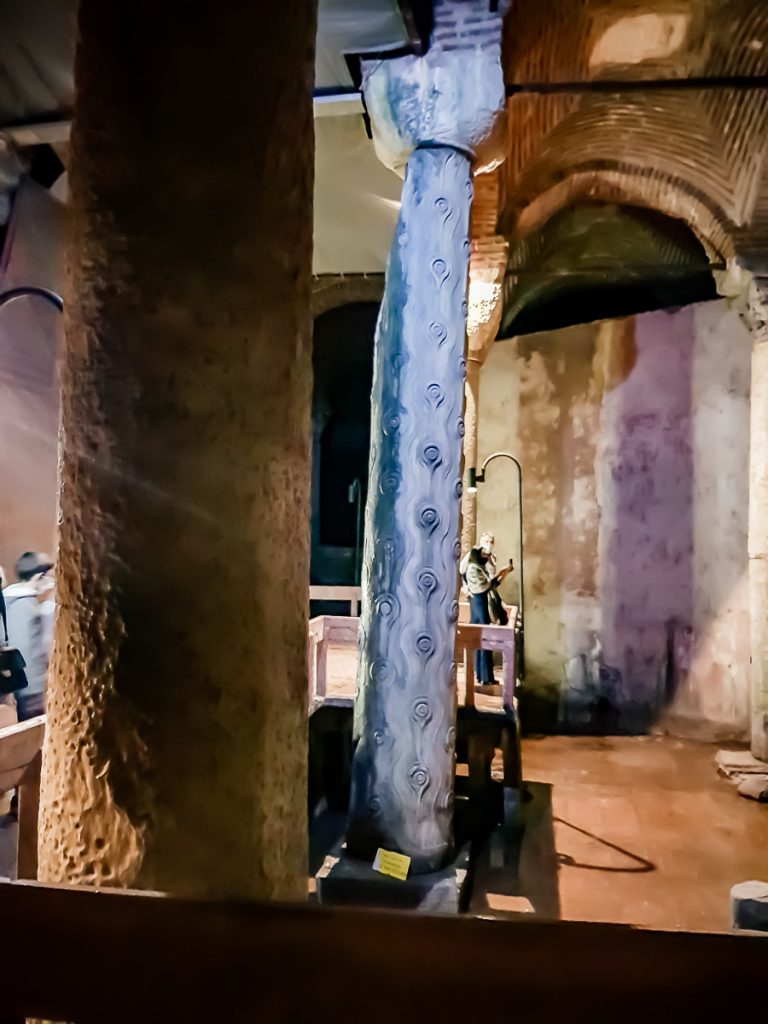 There is another point of attraction here: the Weeping Column or the Peacock Eye. The eyes on the pole seem to shed tears and this is due to the water dripping.
They say that these are the tears of the 7,000 slaves who worked on the construction of the Cistern, many of whom died during the works.
I like these stories. Like the ones about the sultans, so I can't wait to visit the Palace.
DOLMABAHÇE PALACE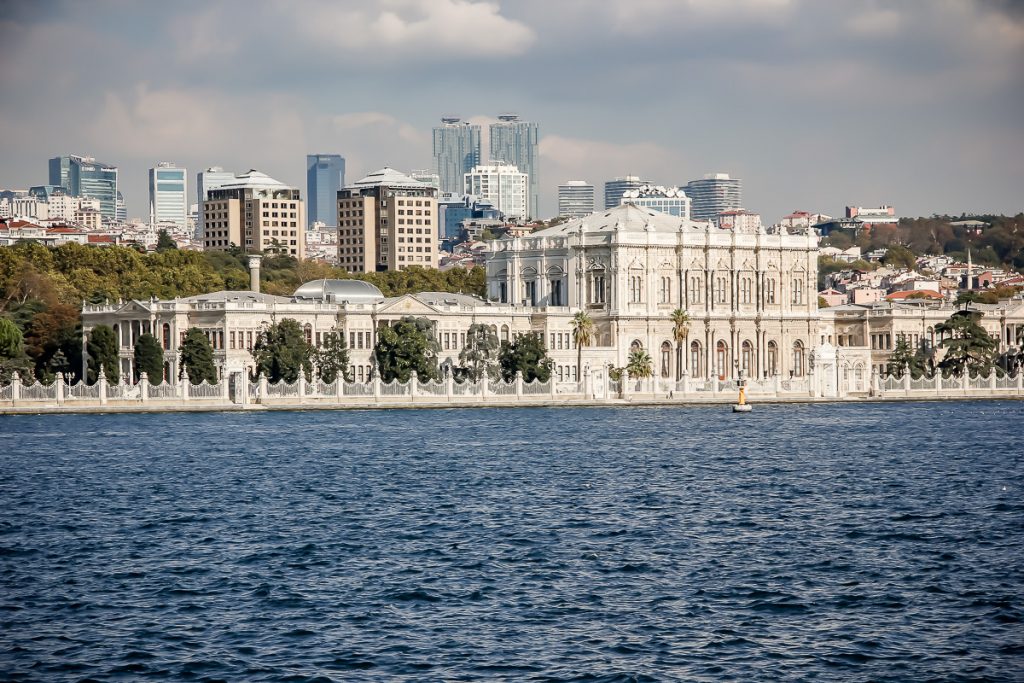 Football lovers from all countries, after enjoying a match and screaming as loud as you can on the Besiktas stadium, cross the street to see this beauty of the palace!
It is the new palace of the sultans, built in the 19th century on the European shore of the Bosphorus.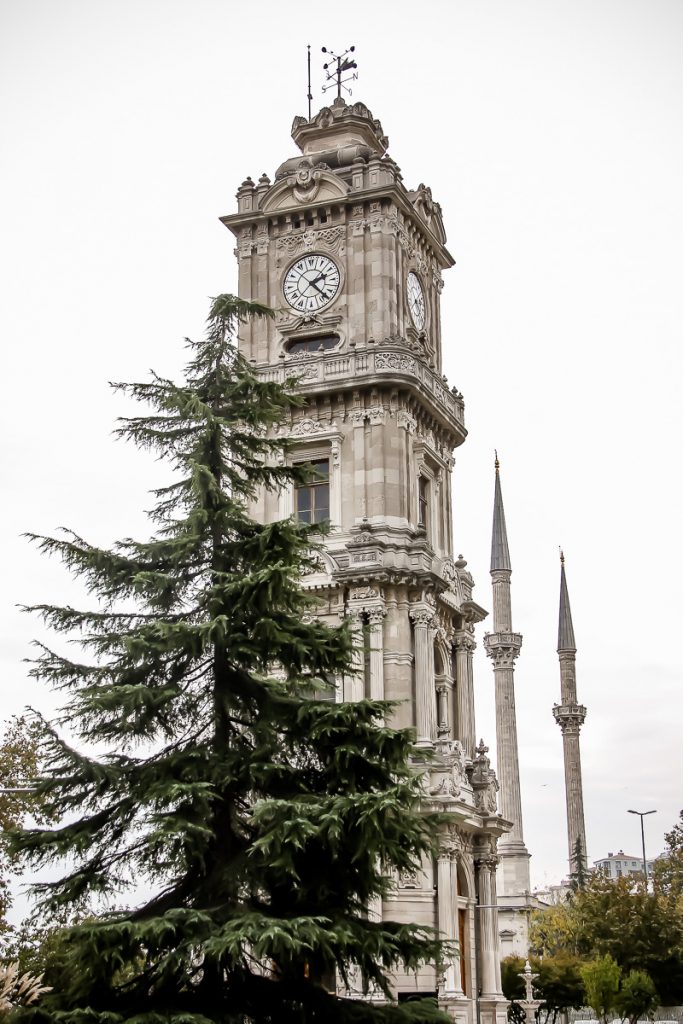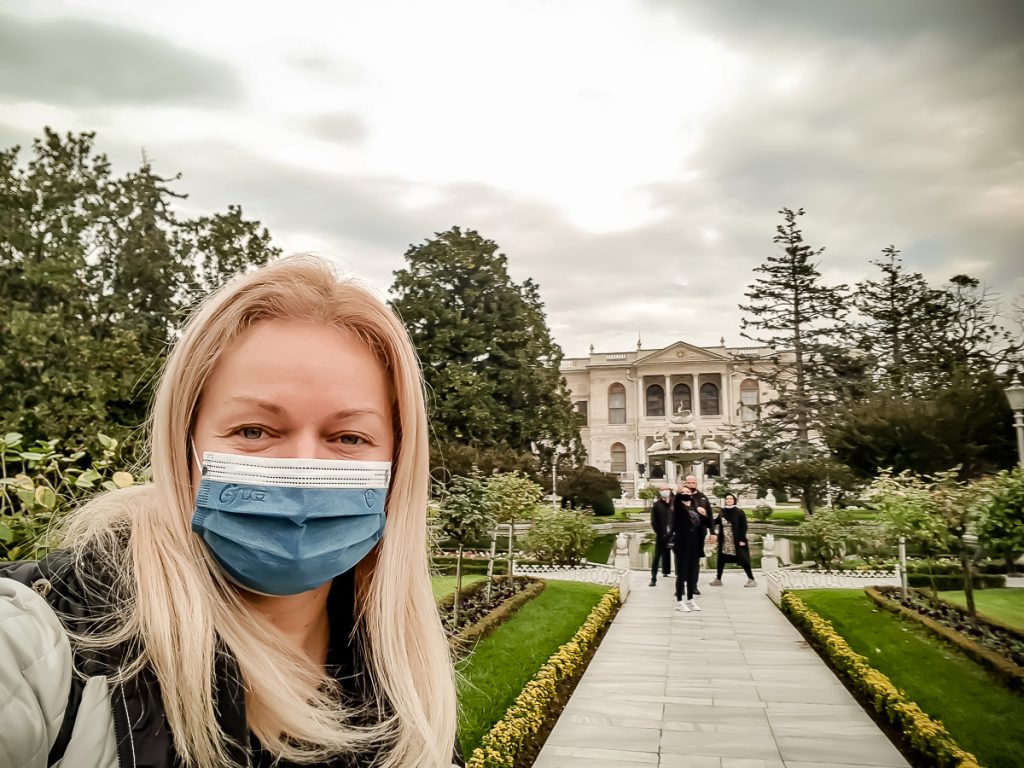 The clock tower at the entrance and the gardens give you a good first impression of Dolmabahçe. (And it's autumn-winter, so I can only imagine how beautiful the flowers in the… spring-summer collection must be).
There is a major difference between Topkapi and Dolmabahçe: the first consists of many separate buildings, each with its own purpose, while here they are all under the roof of a huge palace. Except for everything connected to the private life of the sultans.
You are not allowed to use the camera or the phone here. Damn, I had just prepared them.
I looked in my archive for a picture I took of the impressive Crystal Stairs in the Palace: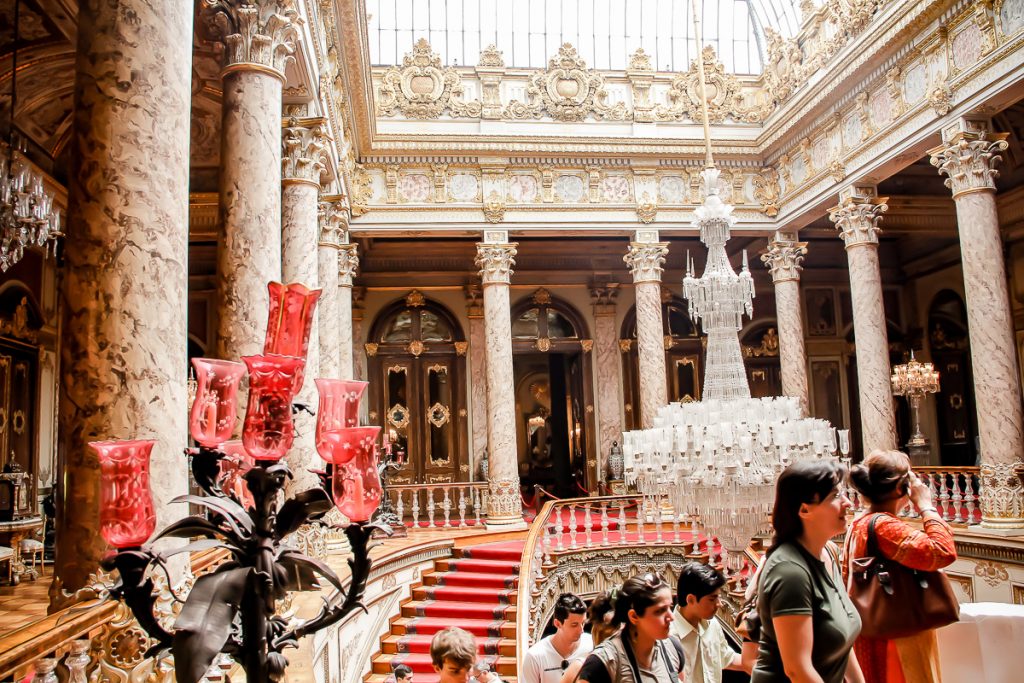 Judging by how this photo is taken, I tend to think that you were not allowed to take pictures…
Let's see the reception halls, the baths (Turkish, of course), the sultan's rooms, the harem here, and even the room where the father of modern Turkey (their first president) – Atatürk – died.
If you are tired between the Palace and the Harem, you can have a coffee, a drink or a cake on the terrace near the entrance to the Harem.
The palace is cool, especially the immense Ceremonial Hall, a place where I can only imagine all the great people of the times who came on the sea, each with a more modern model of a boat J. What parties must have been held here, my God!
Too bad we were not allowed to photograph anything here.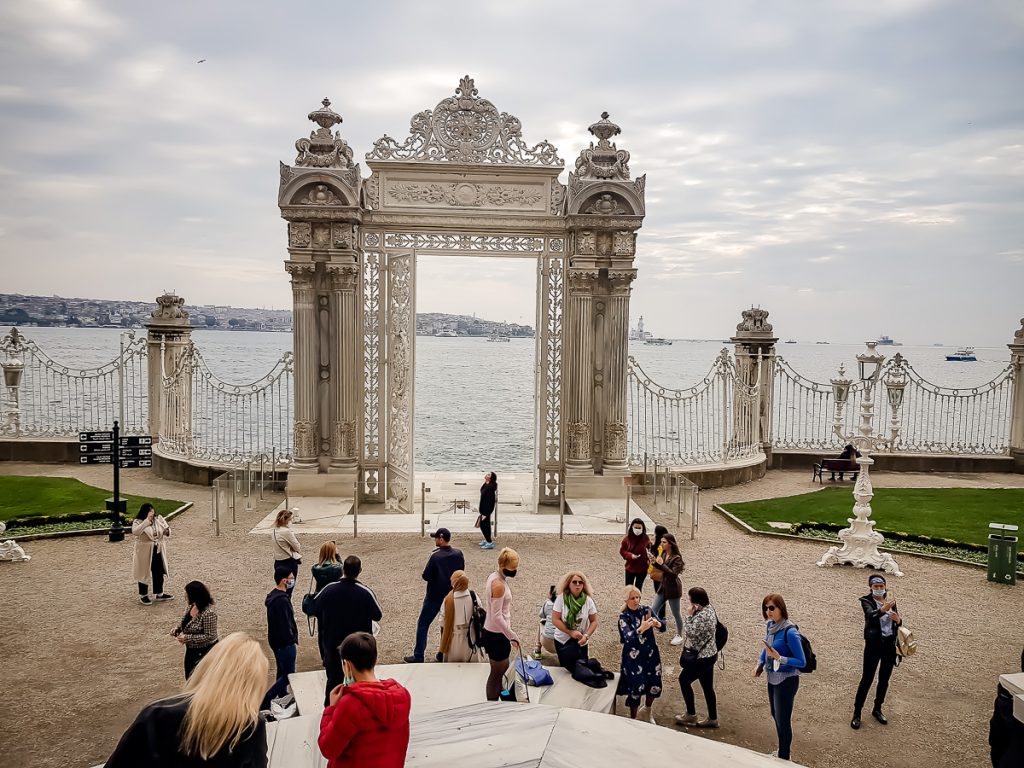 The exit to the Bosphorus is impressive, the view is wonderful, and I admired it, by the way, from many rooms of the palace. I have my eye on a room with sea view, with a high ceiling and large windows, a place where I could very nicely work all year long… It remains to be seen who I should contact for this J.
SHOPPING IN ISTANBUL
Whoever said that you can find cheap stuff here, was very right. Although I was not set on shopping, I bought a lot of souvenirs. And sweets. And dried fruit. And teas…
However, even if you have or you don't have the time to go into all the shops and buy some clothes, you cannot miss the Grand Bazaar, which is a tourist attraction in itself!
GRAND BAZAAR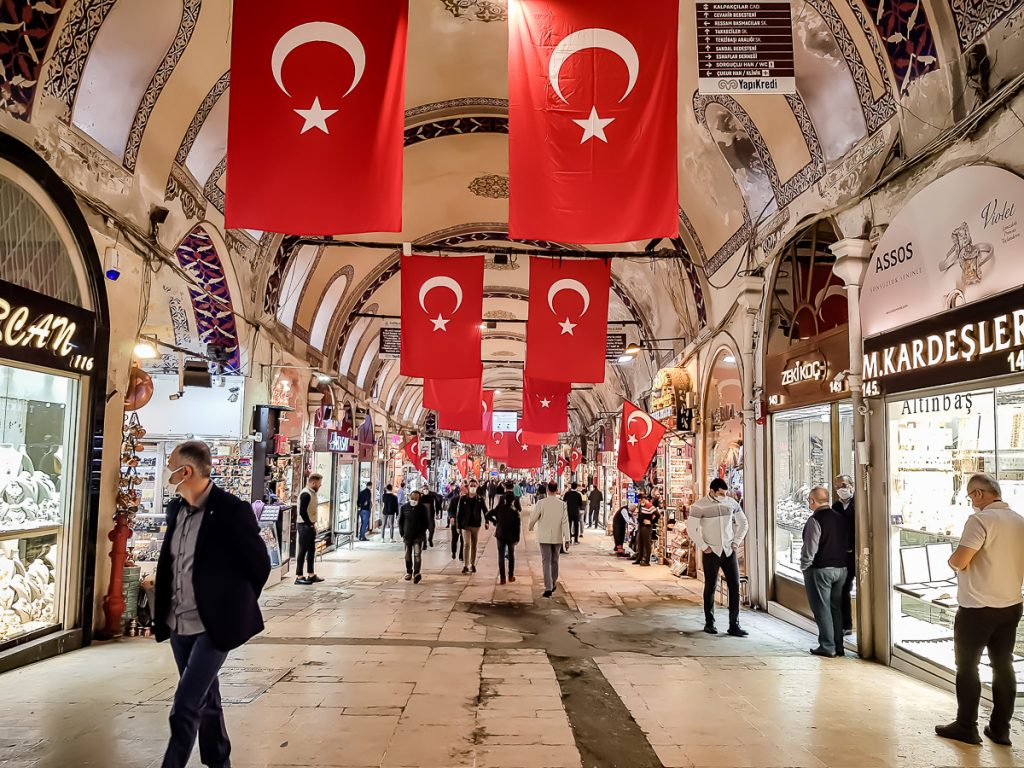 If you take it on foot from Hagia Sophia following the tram line, in about a quarter of an hour you will reach the Bazaar. Once inside, you discover the oldest covered market in the world – built in 1461!
Dozens of streets, alleys, lanes, beautifully decorated ceilings and hundreds of shops one next to the other! I would have said thousands of tourists too, but… that's not the case this year. I even noticed how relaxed the walk was.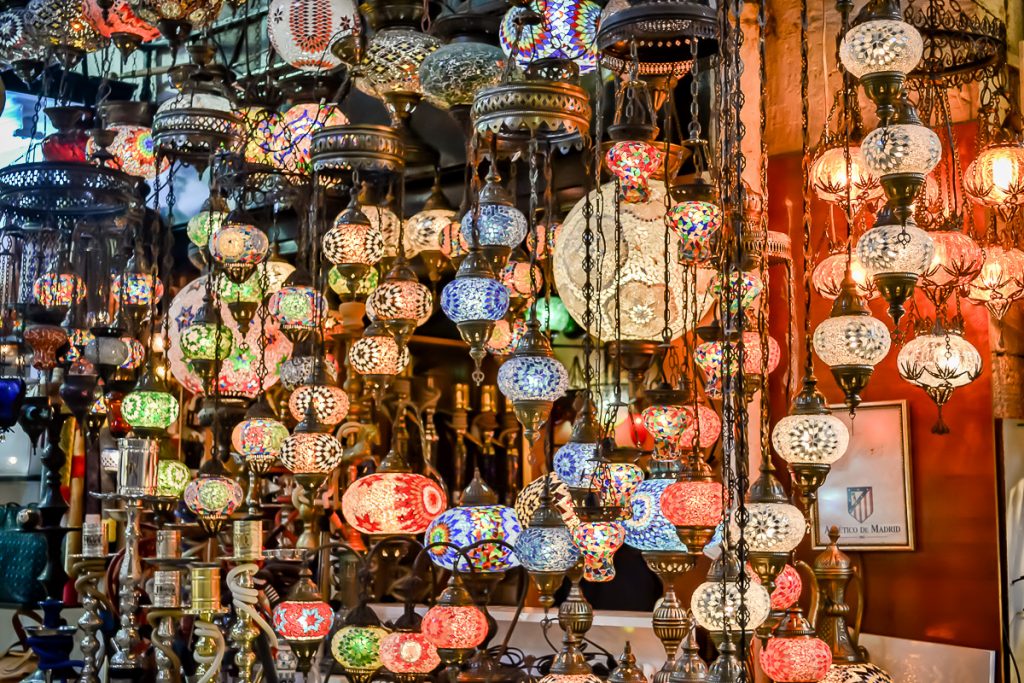 It's a good idea to come here when you're not in a hurry and when you're… zen.
On the one hand because you will get lost on the streets of this covered town. And there is no point in trying to find the way out. Somewhere, somehow, you'll manage to get out…
On the other hand, you have to show a lot of diplomacy to resist the insistence of traders who try to sell you their merchandise speaking to you in your own language – in our case, Russian hihi.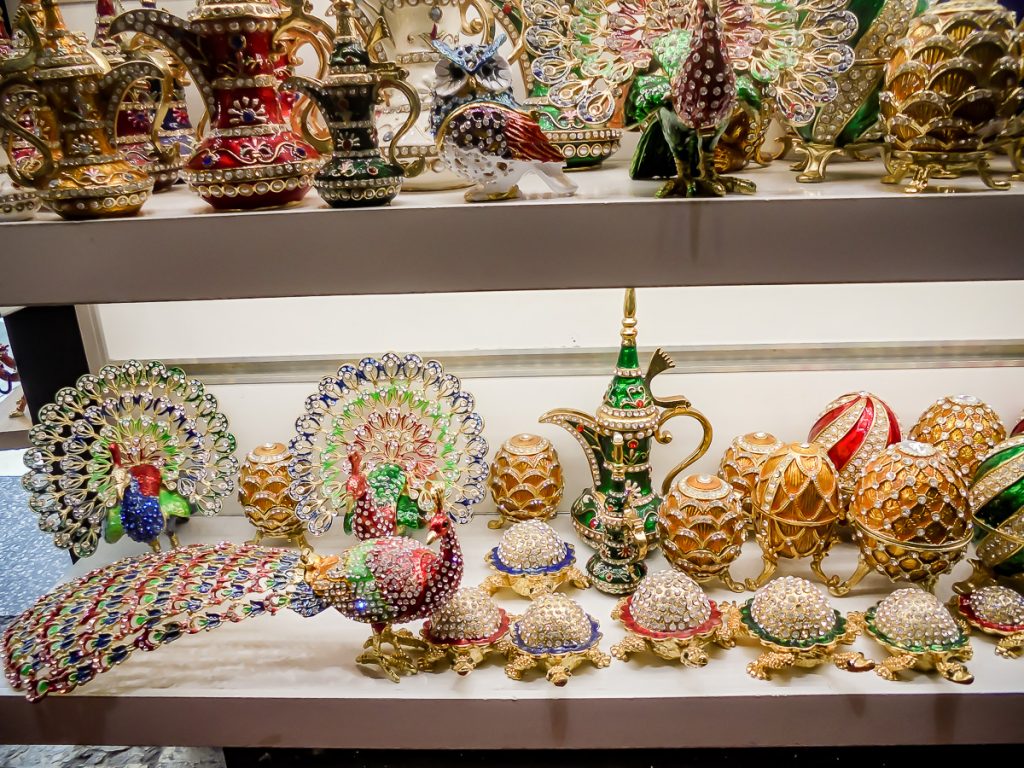 The shops are all open. You can find anything you want here, but you have to be aware that, most of the time, the prices are higher here than in other places in the city.
You can see shop windows that actually catch your eye! Because of the gold, of course…
You can see sweets of all kinds, spices and teas, fabrics, ceramics and glassware, but also…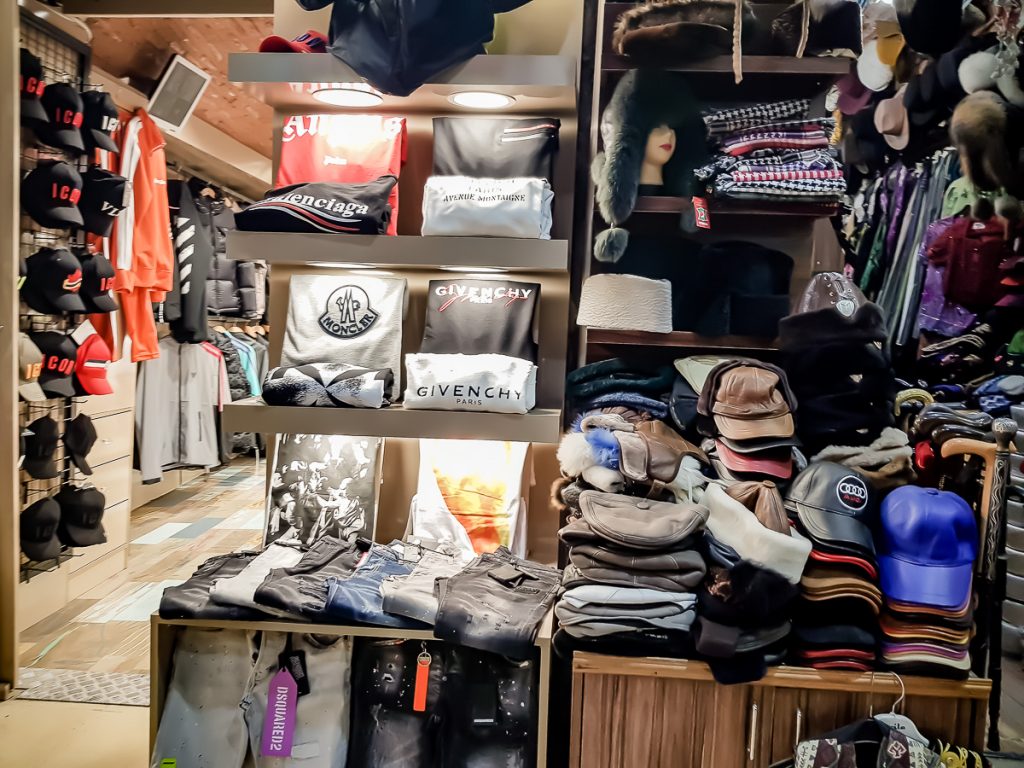 … the famous fakes of international brands: clothes, shoes, bags. Whatever your heart desires but your wallet cannot afford in the luxury stores.
I couldn't see what prices they had, but, passing by, I noticed how good some fakes like Chanel, Moncler, Prada, Gucci looked. Next time I'll come home wearing all the fakes from Istanbul…
We got out somehow as only God knows where we went into this maze… And, for the last impression to be strong, in a window close to the exit we saw some gold ingots exposed. Why bother with a chain or a ring? J
ISTIKLAL CADDESI PEDESTRIAN STREET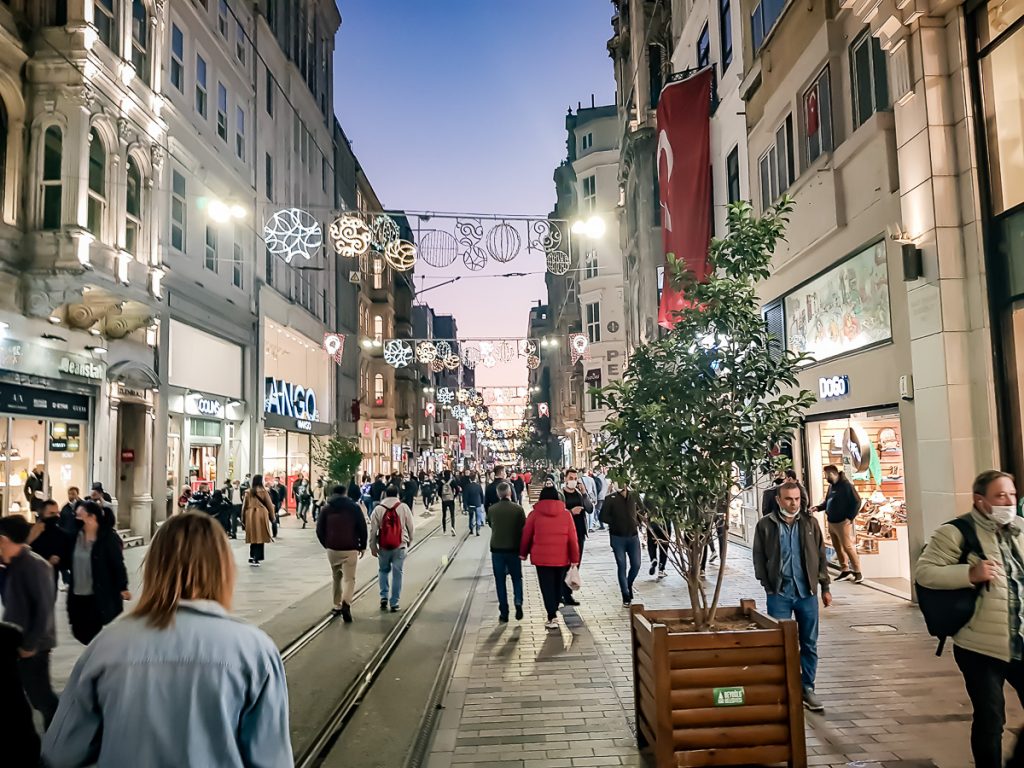 I call all these commercial streets in world "Lipscani" (a famous commercial street in Bucharest) J. So this is their Lipscani, with many shops, with many culinary temptations, with many Christmas lights now and with… crowds. Too crowded, for the times we live.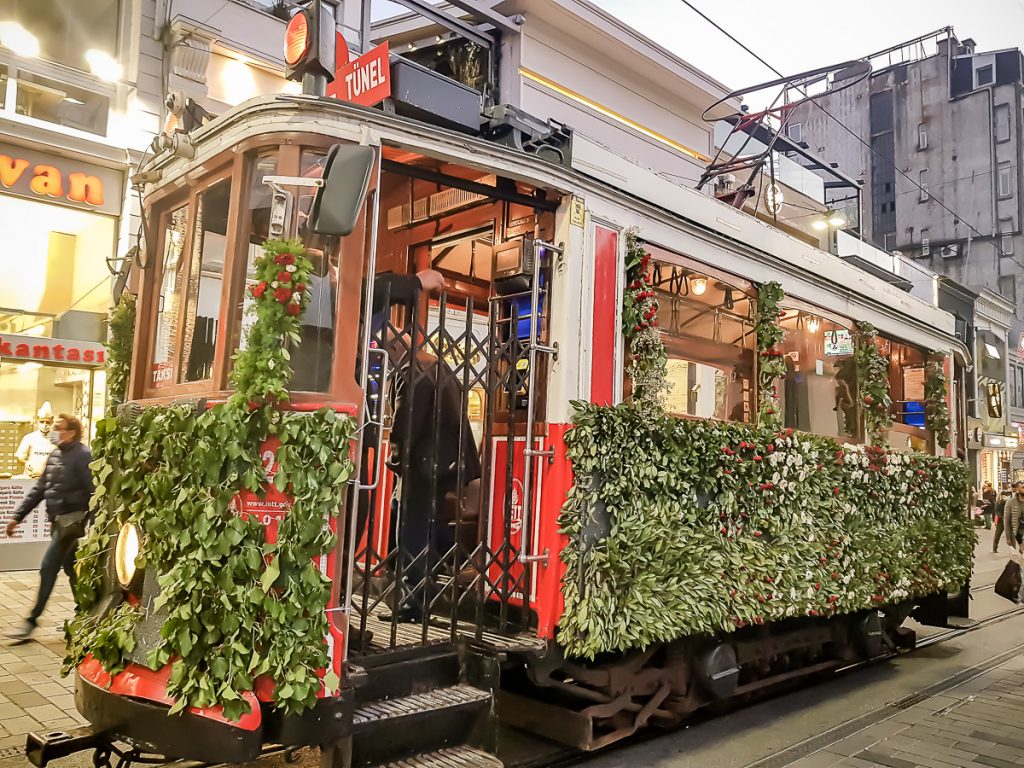 It's a long street, closed to traffic, except for the historic red tram that you can get a ride on. That's if you have patience. A lot of patience, because the tram comes once in a blue moon.
What is important is to take this street downhill, because if you take it from the other side, from Galata Tower, you take it at your own risk – I just hope you are well trained, having in view the climb!
The hillside of Istiklal Caddesi leads to the famous Taksim Square, about which I heard on the news, as here all the meetings, street fights and other breaking news events take place.
TAKSIM SQUARE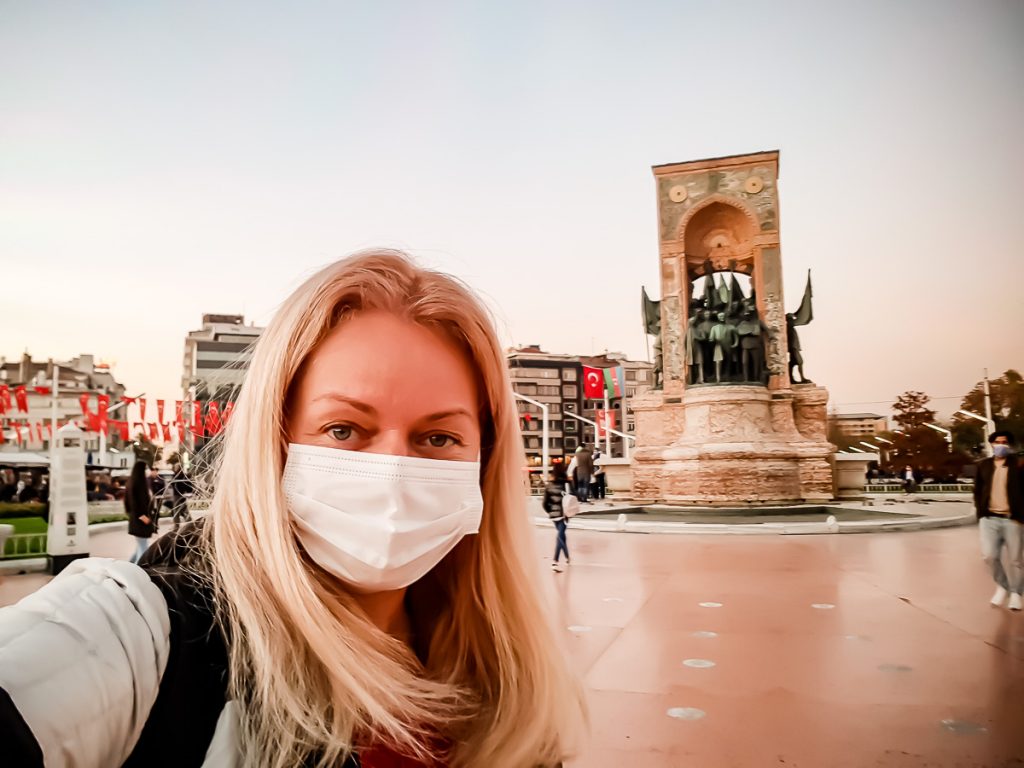 In this huge square you will find many restaurants, fast-food restaurants and cafes.
Now I notice them better, because in 2013 when I was here, I found myself in the middle of some riots!
The riots ended with some street fights, water cannons, paint on police cars and so on.
On their "Lipscani" at that time, things looked like this: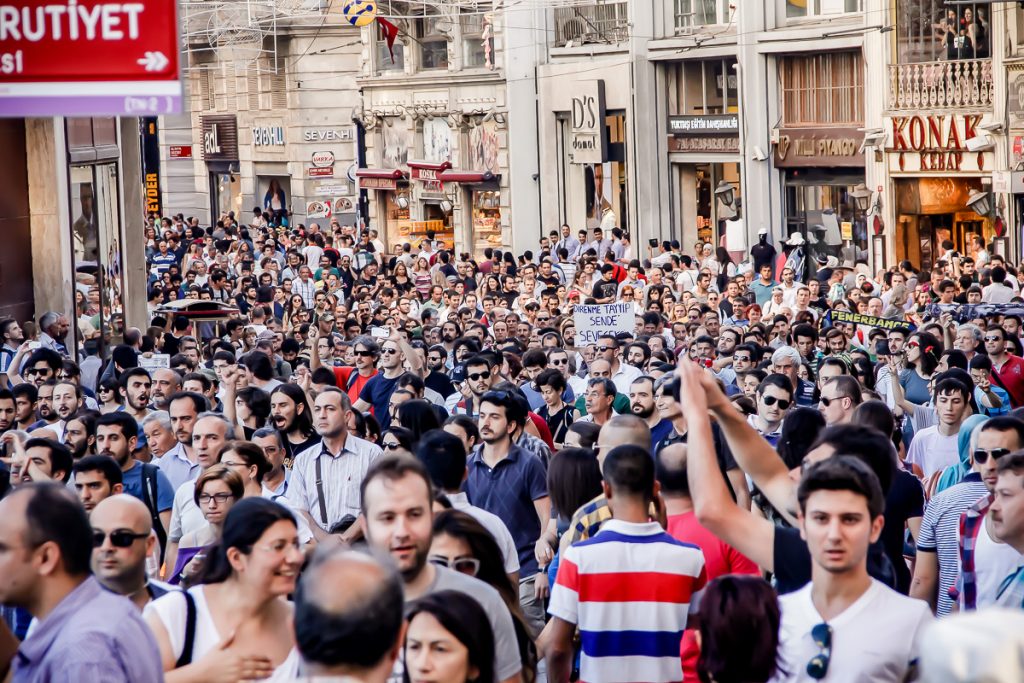 What restaurant, man, what shopping… It was important to leave the area in great haste and not get into trouble!
WHAT ELSE CAN YOU BUY IN ISTANBUL
I came across other bazaars with many shops. With no tourists inside, unfortunately.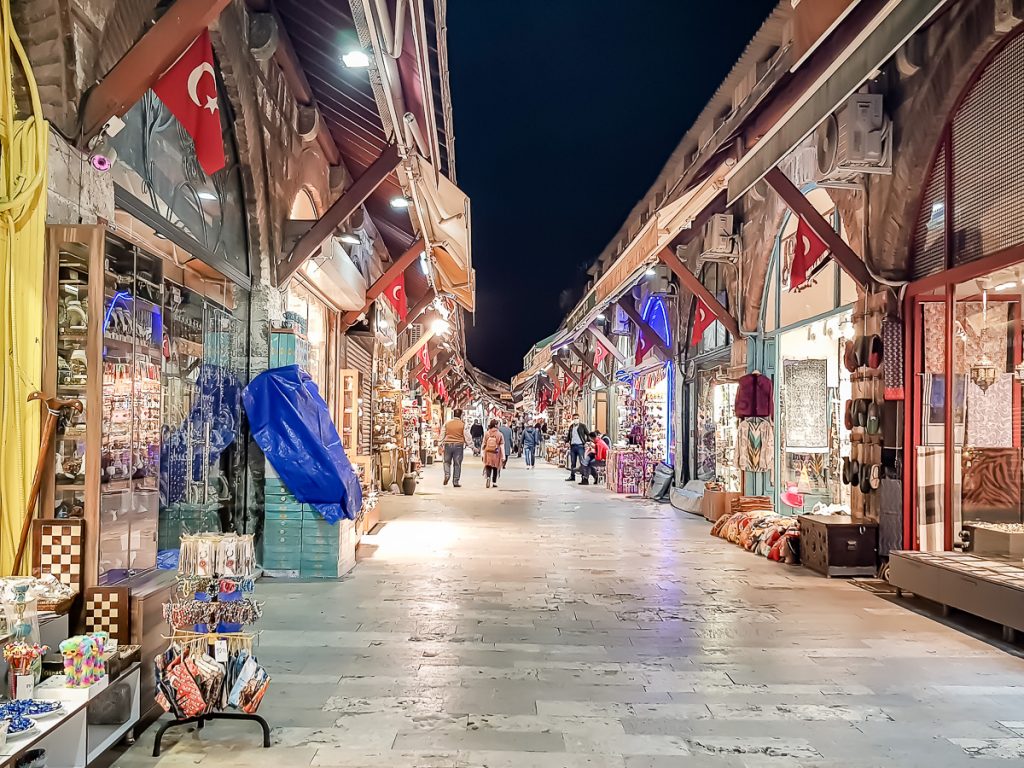 With every souvenir I bought, I felt like I was doing a good thing. Seriously, I know I cannot save these people's businesses, but I think nowadays it matters to them even if they sell a needle. (I felt this in Paris too and, of course, in Romania)
It's full of glassware and ceramics, from the famous Eye of Allah (keychain, bracelet, pendant, charm for your home)  to fine works, meticulously done, some quite spectacular, for which you need an appropriate house…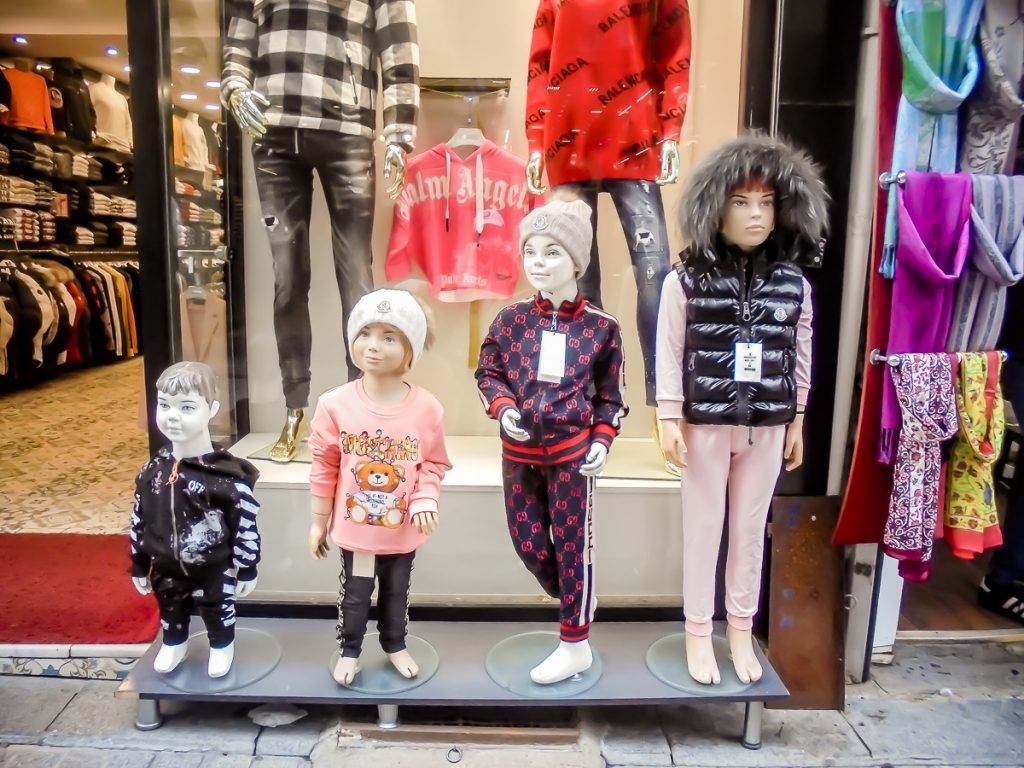 Take it, people, clothes for children of all ages!!!
I admit that I laughed seeing this line of mannequin-children, but I realized that these people are really trying to convince you to buy.
Souvenirs here are cheap compared to what you can find in Europe, some even bargains, but, even so, you are supposed to negotiate for products.
However, there are places where you cannot negotiate. You are clearly told or see a poster in the store stating this.
You can't leave Istanbul without buying pistachio, some tea, dates, Turkish delight. The offer is large and it is everywhere! Entire shelves attract you to the specialty stores!
Of course, I bought lots of things. Many merchants would like to have clients like me hihi.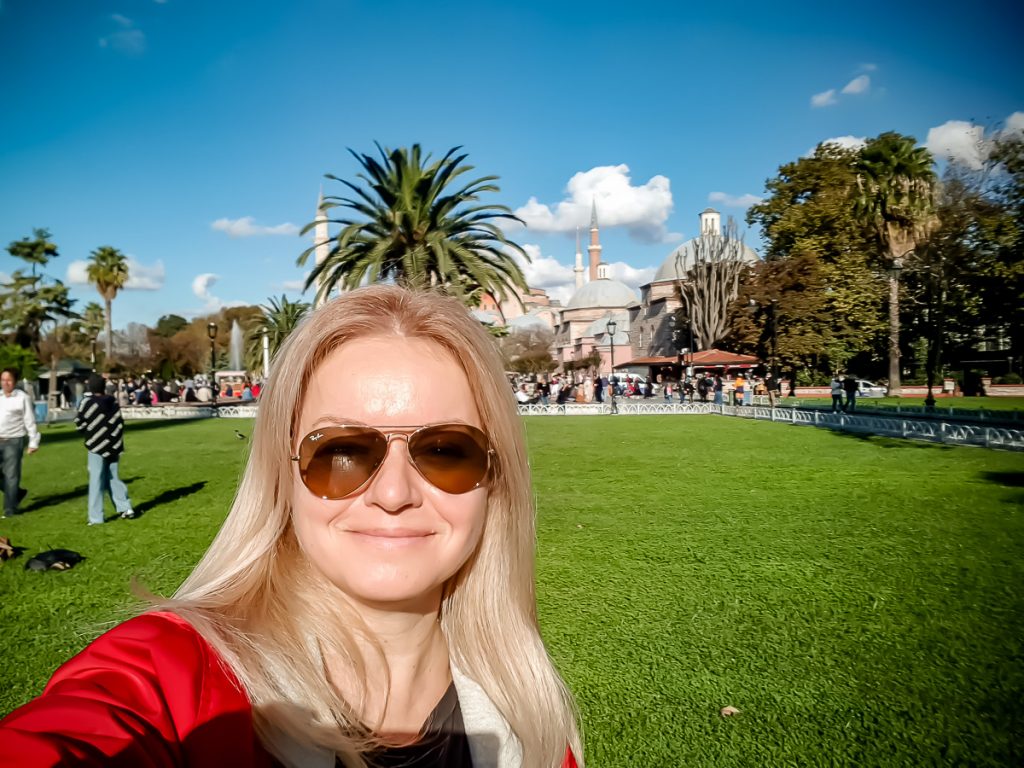 At the end of my travel, I can say that I did all that I wanted. I walked carelessly, I chatted with people, the suitcase is full of souvenirs. Now let's take a quick selfie without a mask, do not to get into trouble and end it all with a joyful song… Sorry, with a manea – popular song in Romania of Turkish inspiration, of course! J))