Stuffed cabbages? Cheese? Bacon? Pickles?
I am sure that those of you who live abroad or visit their relatives abroad have put something like this in the suitcase at least once, when traveling by plane.
Other peoples will wonder about us, but what do we care? For us it has already become a form of normality J.
I don't know about you, but I remembered my madness the other day.
The first thing that came to my mind would not be allowed now, it's clear to me.
HÄAGEN-DAZS ICE CREAM FROM MADRID
Starting in 1999, I kept going to Madrid, to Valeriu Lazarov, for work. A lot of work!
In the few hours we could run around town with my few colleagues, we tried to see as much of Madrid as possible and eat all sorts of new things.
During one of these trips, I discovered a sensational ice cream!!! I had never eaten any better than this one in Romania or elsewhere and it was… love at first tasting!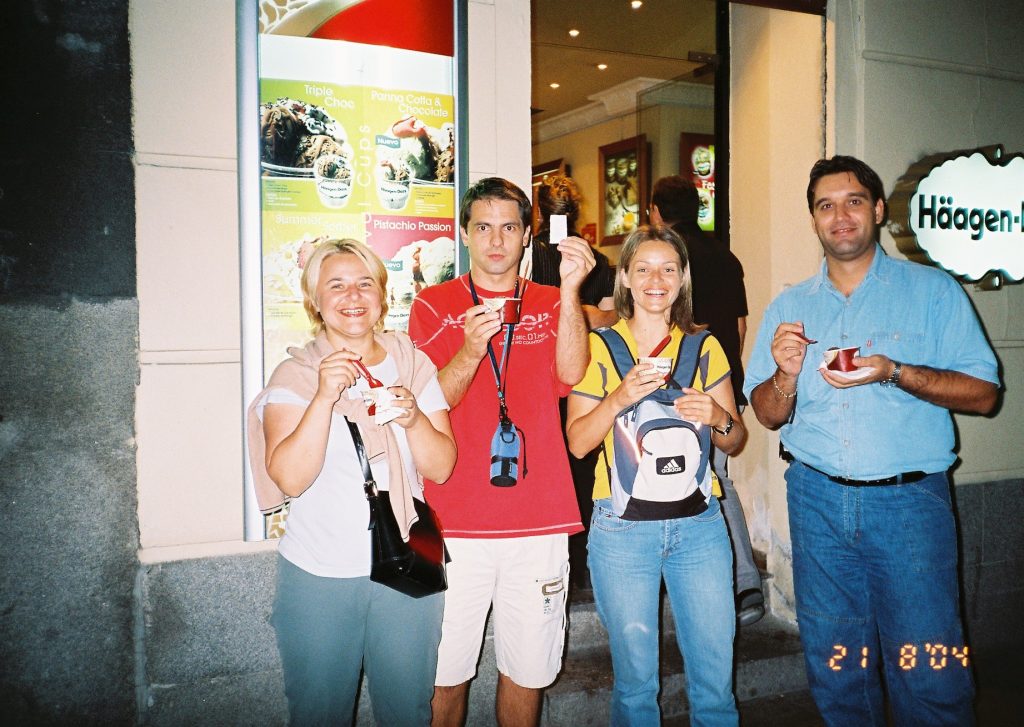 In vain I tried to describe on the phone to those in Romania what it was like, what it tasted like, how wonderful it seemed to me. I had to prove it! And… I brought it with me:
I bought two half-kilo boxes of Häagen-Dazs, put them in a bag and took them with me on the plane. I kept them down, at my feet, to make sure that, if they melt, no one sees…
God, when I arrived with them at home, like a soup as they were, it seemed to me that I had brought the aliens to Planet Earth!
OLIVE OIL FROM TUSCAN FARMS
Along with my attachment to Tuscany, came the attachment to the extra-mega-ultra-virgin olive oil, taken directly from the farmers.
In recent years, I've been filling up continuously. But, as ordering a package for Romania costs me too much, I decided to bring my own oil.
And that is why I put no more and no less than 10 liters of oil in my suitcase. What would the people from customs say, only God knows… But I know that friends enjoyed the gift a lot!
Well, carrying some oil in your suitcase isn't that spectacular. It was in metal boxes tightly wrapped in dirty T-shirts and pants. It would have been a trick to bring it in crystal glasses that I had to juggle with during the flight, right?
However, in Rome I went crazy!
PASTA FROM ROME
When I told the waiter that I wanted 2 servings of pasta to go, plus the ones I had left over from lunch, he didn't suspect that I would make them… emigrate to Romania!
What could I do? I had a fixation on them! Both carbonara and cacio e pepe.
I am a pasta fan and I admit that in Rome I went, following recommendations, to those places with delicious pasta!
So, desperate not to miss their taste, I decided to take them with me to my country…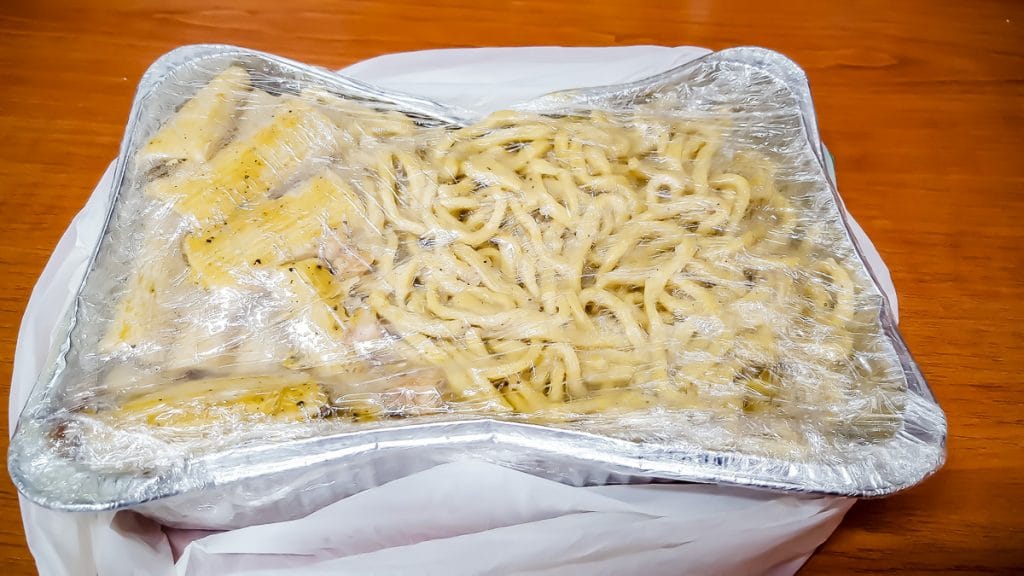 Wait, it wasn't that simple: I went to the supermarket, I bought plastic foil, aluminum foil, thermal bags, to make sure I get them home in good condition, without all the pasta running through my clothes.
At home, this seemed like the best "souvenir" ever. But they were finished the next day…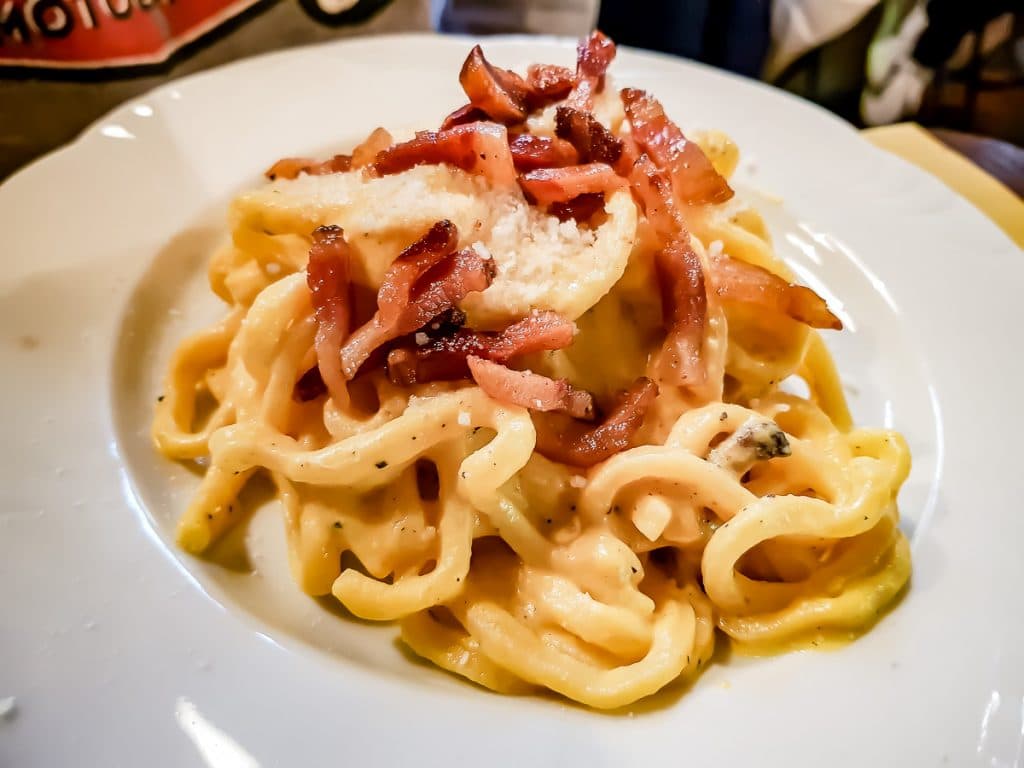 I repeated this the following years, with other carbonara pasta, from another sensational place. With the supermarket trip and all.
This time I was not selfish and I also brought some for my friends hihi.
Okay, you'll say I'm desperate with hunger J)). I am, but it is just relish, I would say.
So I'm moving on to something inedible.
PISTOL IN/FROM BARCELONA
We were filming some pranks in Barcelona. We had brought with us a lot of costumes, rented props, makeup etc. Nothing special when we left.
On the way back, however, AFTER the check-in, while we were waiting, relaxed, at the boarding gate, we got the police all over us! Oops! What did I do, bros???
The policemen asked to talk to the leader of the group and there I was taken by the police J. Unfortunately, none of us spoke Spanish (and even less Catalan…)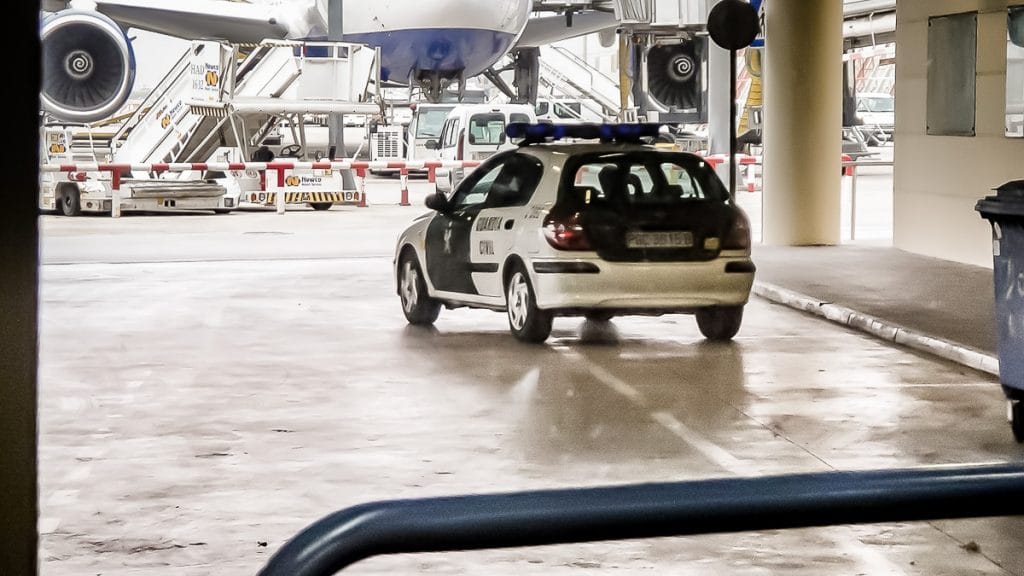 I go with the policemen, who take me in front of one of our suitcases, the suitcase from which all the costumes were spilled around and some of the props, too.
The problem? A gun!
Of course, it was part of the props. Only it was a very good copy of a real gun. Rented in Romania, by the book, from studios that deal with this. But it looked 100% authentic. That was their problem and they kept telling me about it. We had a WEAPON in our suitcase!
Well, you should have seen me explaining in perfect Spanish: "mi amor, estoy embarazada, mala mujer, cojones, paella" and in other words I knew. Whatever it seems, however it looks, it's a prop gun, used by us for filming, you know, we had some filming in Barcelona, ​​with actors, costumes, and so on and so forth.
The policeman insisted that no and no, it's a gun, why is it in your suitcase?!?
And that's why they searched all our luggage, while I explained to them that I had no problem taking it out of the country through the Romanian customs, that it's not a real one and that it's rented (I think I told them very clearly all these… with my hands J).
We managed not to be arrested, not to get a fine or whatever was meant for us, but we also left without the pistol, which was confiscated.
WHAT ELSE CAN YOU BRING IN THE SUITCASE
Really, what else can you take in the luggage?
I, for one, brought home some… ELEPHANT SHIT!
Seriously! And not just any shit, but African elephant poop. I brought it all the way from Cape Town!
But I have an excuse, that this elephant poop is a souvenir, beautifully preserved, bought from the store: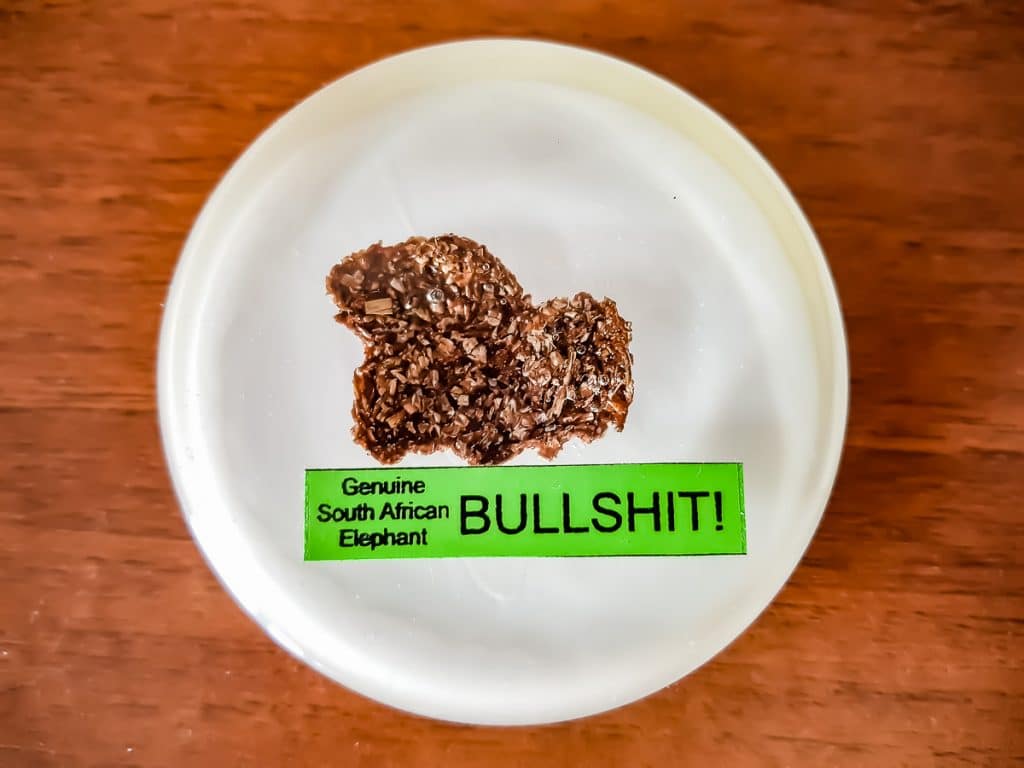 If you consider me crazy, let me tell you about others:
When I was in Greenland, I met two young people from Indonesia who really wanted to get to their country some… ice!
They took some small pieces from an iceberg, pieces that floated close to the boat we were in.
Don't ask me how they packed them, how they put them in the suitcase and carried them to their country, because I don't know. But I think it was a Celebration there when they arrived with the mini-iceberg, at the +40 degrees Celsius they have there.
As for me, I don't know what will tempt me during the next trips, but I can't wait to find out!
Any ideas?…