Maybe you forgot, Italy has been one of the most affected countries since this COVID craziness started. The country whose people we saw closed in the houses, the country where people used to sing from the balconies every night.
In recent years, I have never skipped any chance to go to Italy as a tourist. You will easily understand that 2020 has really frustrated me and my longing for Italy has increased with every day.
So, as soon as I found a legal way, I got on the plane and… all the roads led to Rome J.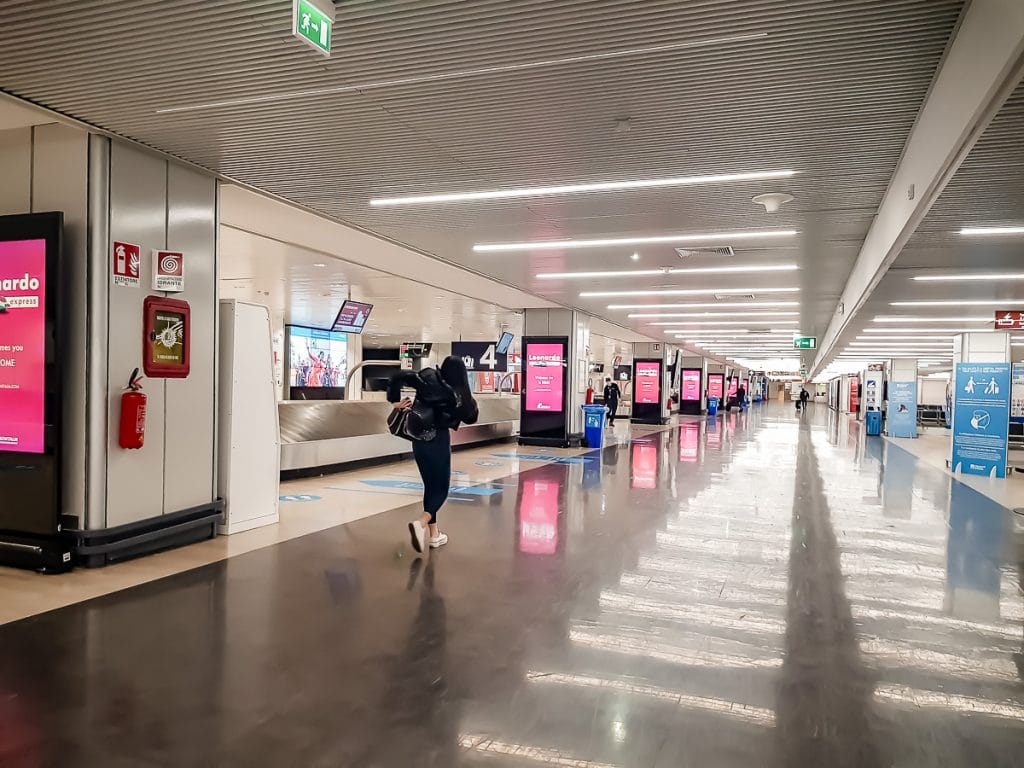 ROME DURING THE PANDEMIC
The plane was not a bargain and the reason, in my opinion, is that there are very few flights. I found only two companies, with only two flights a week.
I paid 208 euros for the ticket, but, considering that I took it from one day to the next, I'd say it's a good price!
I missed so much the famous places, the picturesque streets, the delicious food, the long walks, I missed… everything, in fact.
In addition, I really wanted to see what Rome looked like in times of pandemic.
RULES TO BE OBSERVED
I kept reading before I left, I also found out from friends who live in Italy about how things are in the city, what you can do and what not…
Note: At the end of February Rome is a "yellow zone".
Tourist attractions, museums are open from Monday to Friday. This is perfect for me!
The restaurants are open, but only until 6 p.m. After this time, they remain open only for delivery or pick-up.
The stores are open during the usual hours.
The mask is mandatory in all spaces. I didn't find out how much the fine was for not wearing it, but I didn't intend to play the brave…
After 10 p.m. you are not allowed to be out in the street. Until 6 in the morning. If they catch you, you have to pay for it.
And that's about all, more or less.
How can you start a visit to Rome, in the middle of winter?
With an ice cream J))
Okay, this winter isn't in full swing either. Today there are 17 degrees outside.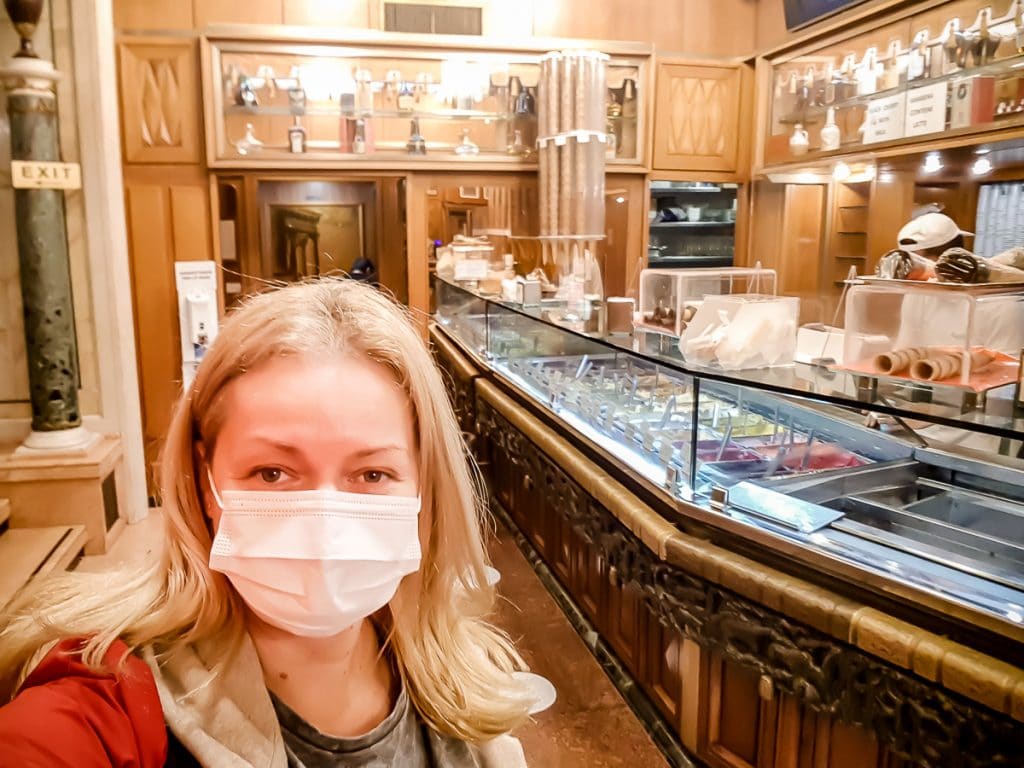 I go to Giolitti, one of the famous ice-cream parlors in the city, always a place of pilgrimage for the connoisseurs and I am shocked that I am ALONE here!
No queue I was used to, no crowd around the shop windows, that prevented you to see what ice-cream you wanted to buy, no people on the sidewalk, enjoying the various flavors of ice-cream.
In the past years, you had to decide quickly what you wanted, because you had a lot of people waiting behind you. Now… I tried for a long time to decide, I also tasted some flavors that I had not tasted before, I talked to the gentleman behind the window… God, what a luxury!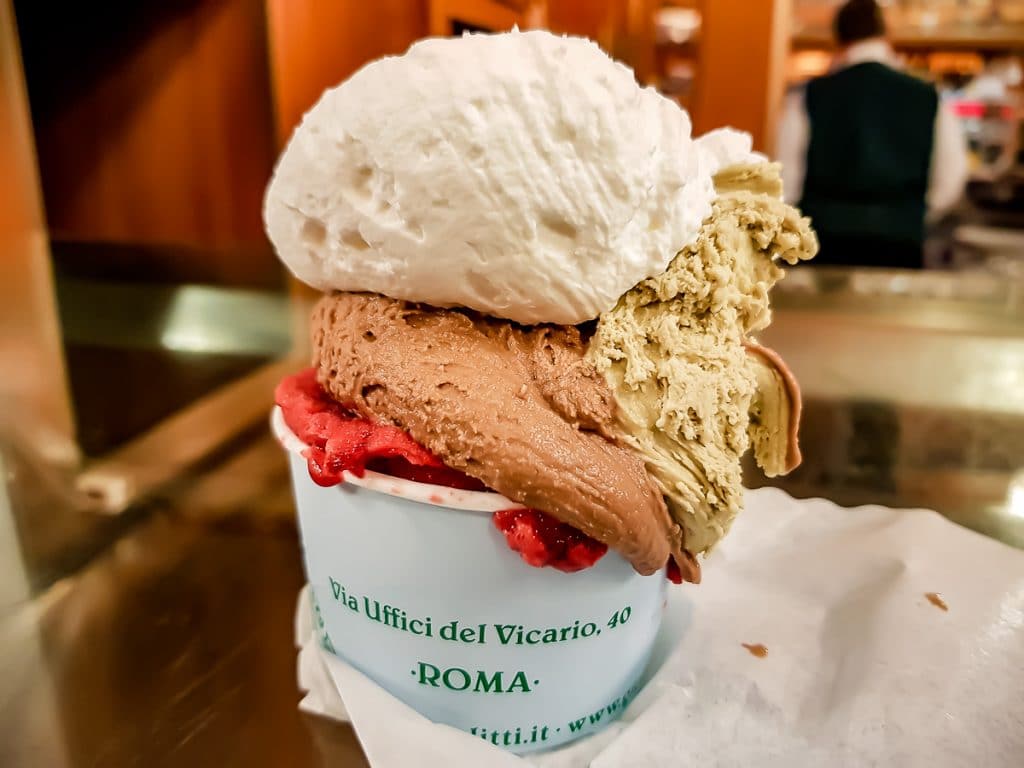 I know, it's nicer to take your ice-cream in a cone, especially when the cone itself is so good, but, believe me, licking your fingers, that used to be fun, is not really the sport I would practice in these risky times…
I take it easy on the street, enjoying the ice-cream with an immense pleasure. Only me and two young people who are kissing are without a mask. I'm sure I'm allowed to. I don't know about them J.
I am in Rome for the 14th time and, during the last years, I saw it more and more crowded, with a lot of people in all the touristic places. So, what I am discovering now is equally SHOCKING and WONDERFUL!!!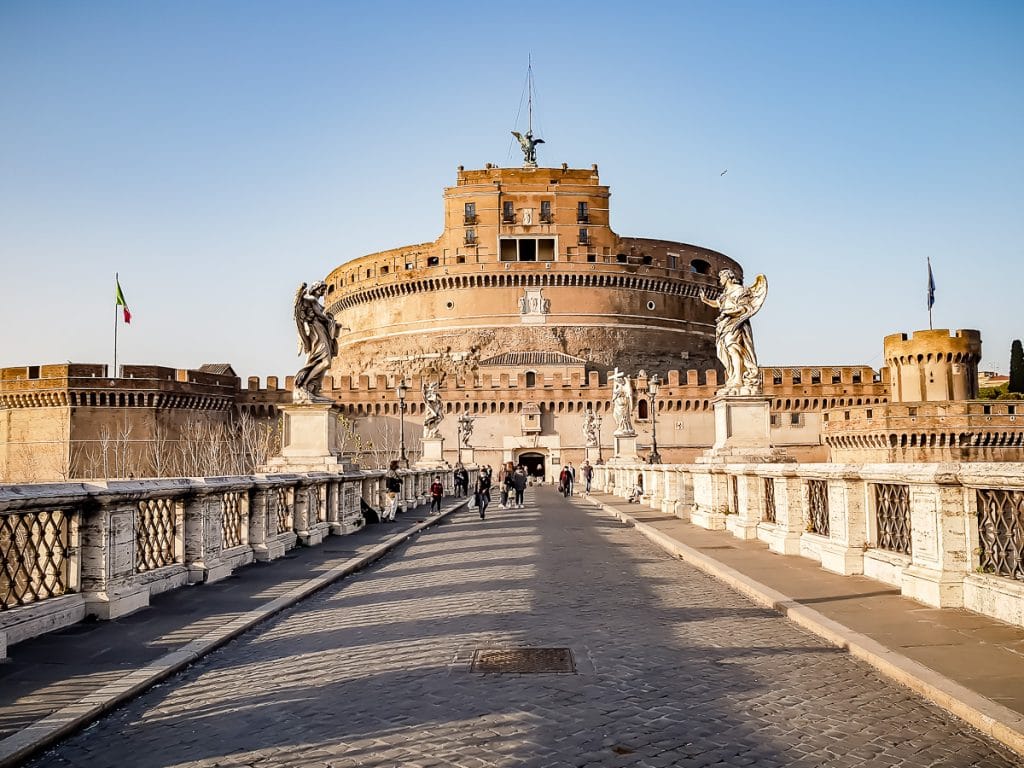 Rome is empty!!! Empty of tourists, of the multilingual noise, of the sound of the suitcase wheels on the cubic stone of the pavement, of the terraces full in the evening and, most shockingly, of the queues in the touristic places.
Believe me, there are more police officers on the streets than tourists! In cars, on motorbikes, in vans, on horses. Man, they are a lot! I was convinced of this every day I passed there (and you will this see in my pictures too).
In the emptiness of the city, animals and birds seem to regain their territories. Some with noise, others with a fierce look J.
Even the street leading to the Trevi Fountain is repopulated by mice, who run fearlessly from their holes towards the closed stalls of booksellers. (I saw them on two different evenings, so it's clear that they feel like owners of the place again, if they can afford something like that on an once extremely busy street.)
And, speaking of the evening, the time I took these pictures, don't imagine it was late at night. It was somewhere around 7 p.m. Everything seems to disappear with the closure of the restaurants. Some stores don't stay open too long either, the shutters close one after the other and people disappear too! You get scared, it's a strange feeling to see Rome being so quiet at around 7-8 in the evening.
In order not to feel that I am in a SF movie, in which the population has suddenly evaporated, I go to Corso, the street with shops. Here I feel better, when I see open shops and Italians shopping. I even hear Frenchmen – by the way, about the only foreign nation I met while I was in Rome.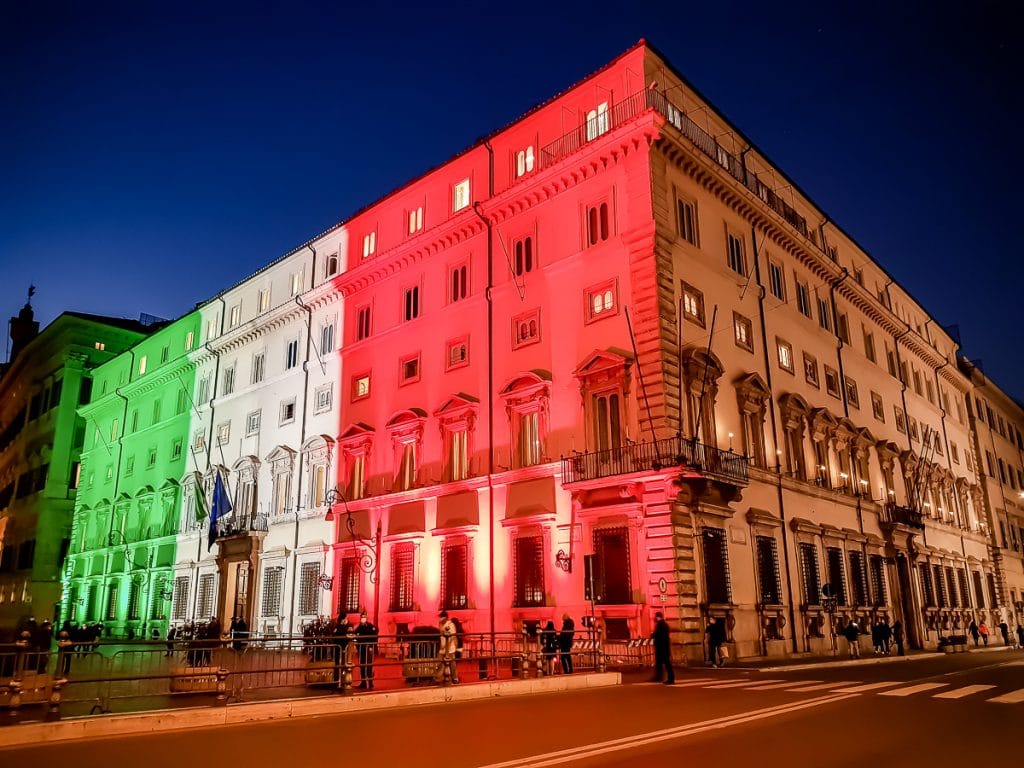 Souvenir shops are empty. I enter one and only then the saleswoman, an Asian, turns on the light at the back of the boutique.
The same souvenirs already well known to me, the same prices, not below. Maybe only the price for the fridge magnets went down, as I don't remember paying 1 euro for them.
A clothes saleswoman asks me where I am from when she sees that I don't understand everything she tells me in Italian. I answer her and she tells me that she is very happy to talk to a tourist! This is a sign that I am a rare bird around here…
In fact, in most stores where I talked to sellers, I heard "No tourists". I feel special hihi.
Everywhere, people are all wearing masks. And I think over 80% of them don't wear normal surgical masks or cloth masks, but KN95 masks. Most of them! Some even have two masks one on top of the other! There is a great fear here, after all they have endured.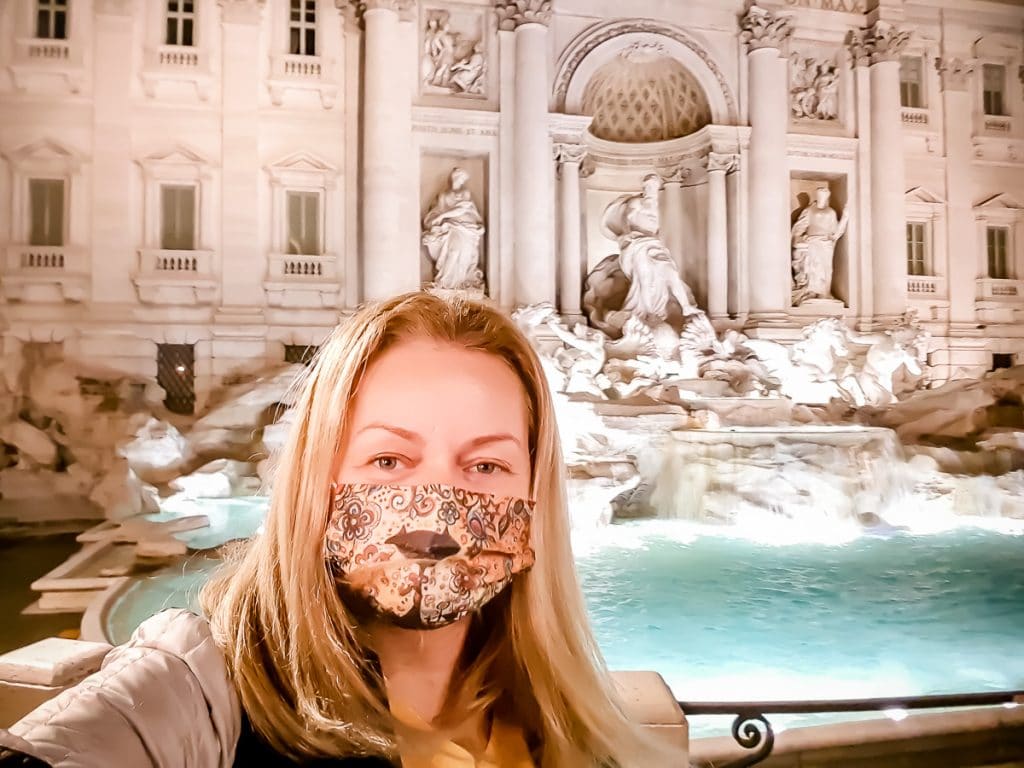 This gives me a sense of insecurity. I, who brag about having hundreds of colorful masks bought from the Chinese, say that maybe it's safer to buy such a "professional" mask.
I get inside the first pharmacy I see and I ask for the price of a mask and I find out that it is 1.95 Euros!!! For one! My God!!! Well, really, Italians wear 2 Euros masks every day??? Or maybe they received them from the Italian state? Anyway, I give up the idea and move on wearing mine, since I took them with me.
What I notice is the number of beggars, infinitely smaller than in other years. Somehow it is logical: most probably returned to their countries, as there is no "tourist" here to ensure their income. There are some lost around, not so much around the touristic places, but at the church doors.
WHERE TO STAY IN A PANDEMIC ROME
I don't remember any similar situation – to look for a hotel in Rome the night before the departure and to find dozens of available options! I was looking at the site and I couldn't believe it!
In addition, what do you know, the prices are much lower than the ones I usually paid. Specifically, I paid half the price for the same area and the same type of hotel! (I also found rooms at 50 euros per night, for 3-star hotels appreciated by travelers.)
What did I do? Since I found such good prices, I booked a room in the area where I normaly like to stay – the Pantheon – but, this time, I booked a room with Pantheon view! That was sort of an arrogance J, because I spend so little time in the hotel room! But I wanted to have mornings and evenings full of the pride of being next door to an old man of almost 2,000 years, considered a masterpiece of the Roman architecture.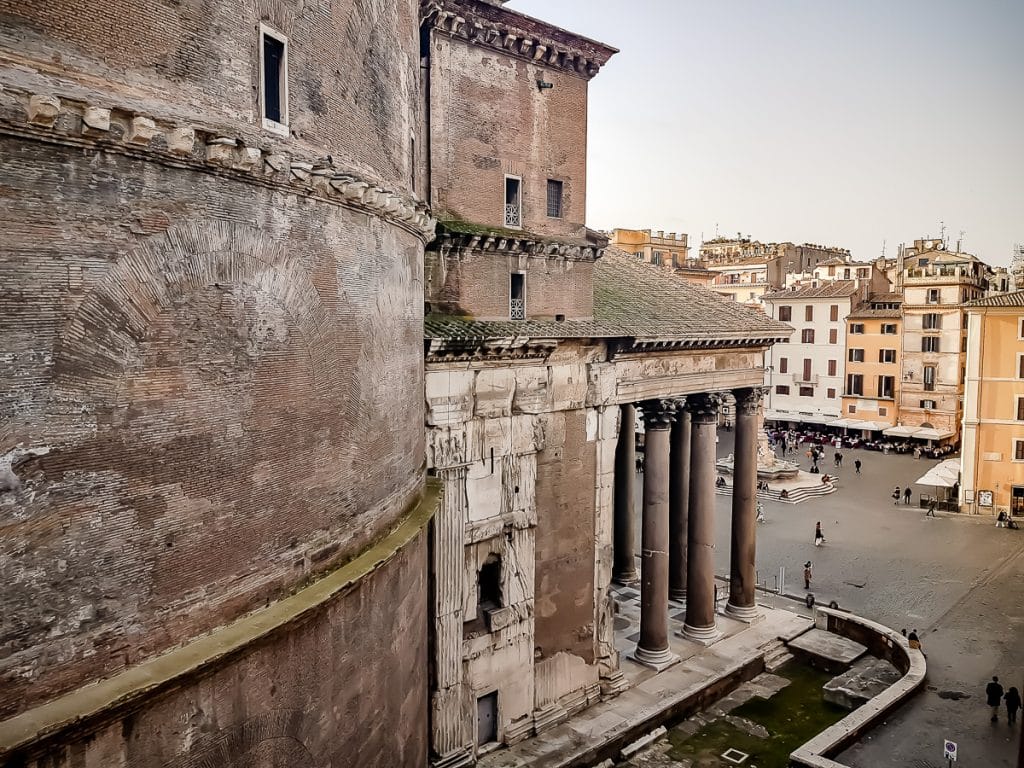 When I got to the room, I found on the table a tray with plates, glasses, cutlery, napkins, salt and pepper.
That's because people thought that, after 6 pm, I would eat in the room what I order or buy from the supermarket. And they thought I should have the necessary instruments. Cute!
Speaking about food…
WHERE TO EAT IN THE PANDEMIC ROME
As I said, the restaurants close at 18. After this hour, you either go to their door to pick up your order, or you can use applications like Glovo, Justeat etc, to get the food at the hotel.
Good, but you know, Italian restaurants (except for the mega-touristic ones) have lunch and dinner. That is, they open somewhere between 12:00 and 15:00 the latest and reopen for dinner after 19. As the current restrictions force them to close at 6 p.m., many of the ones I have tested in the past and from which I couldn't wait to get some good bites, decided to close after lunch. So you cannot order dinner.
Instead, while wasting my time in a square with many terraces, I saw the "show" of the touristic restaurants that close at 6.
Man, at 5:30 they are still inviting you to come eat at their place. At 6 o'clock sharp, they put their ads inside and they count the money. Then, they gather the tables, put the chairs on the tables, they clean and… I didn't even manage to write a postcard and, when I looked up, they already had the lock on the door. At a quarter past 6! Unbelievable! Probably they get very large fines.
If the restaurants close, this does not happen with the bars. Or whatever you can call them. Those where you can buy slices of pizza, sandwiches and other snacks until later in the evening.
And you also have the supermarkets. There you can definitely find something for your stomach.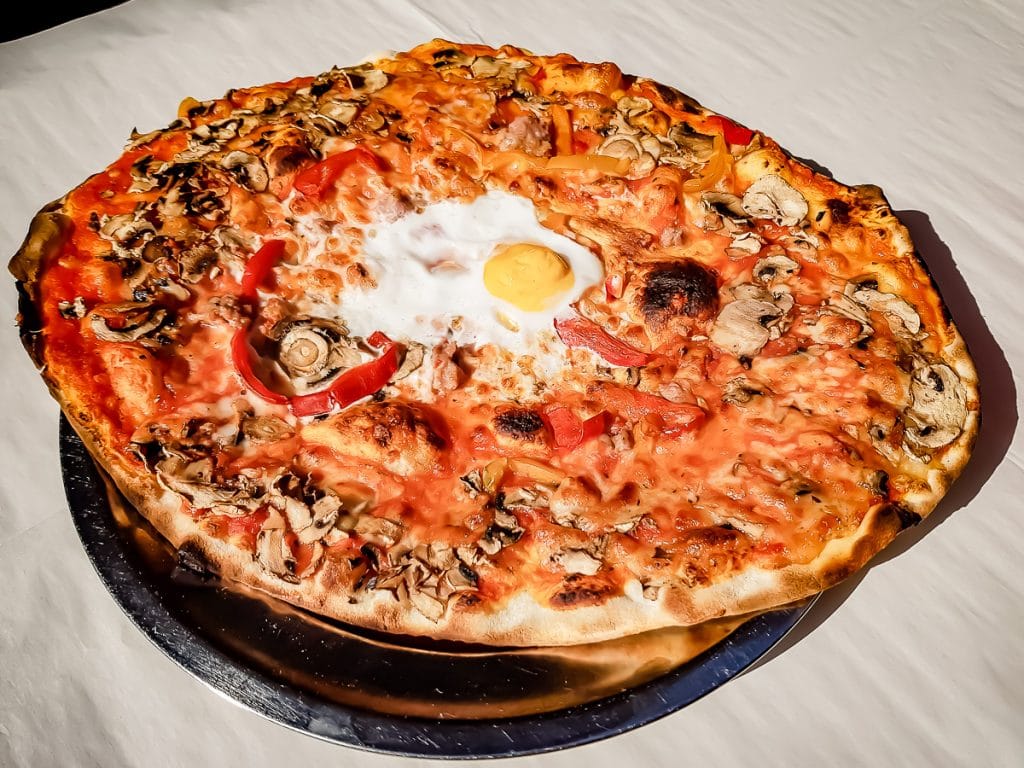 What can you eat during a pandemic? Anything. But I chose the "classic", in places already tested by me: Roman pizza, pasta of all kinds and gelato.
I ate lunch at restaurants where I could barely find a place the years before, I could barely see inside, because of the queue at the entrance! Now – I even found a table in the sun, without any problem.
The tables are placed further apart or, if they are close to each other, they have a plastic wall between them.
I went again to a small place specializing in pasta, about which I had learned from friends.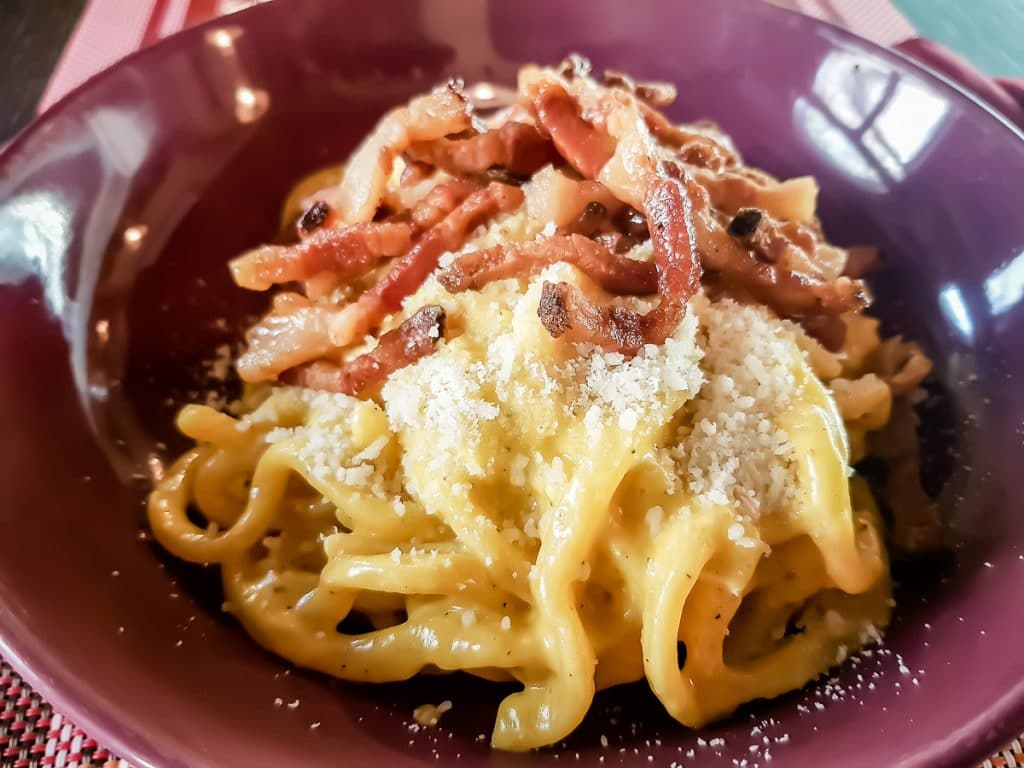 I'm the only one in the restaurant, so, while waiting for the carbonara pasta, I talk to the owner.
"I had 9 clients today" – he tells me. Wow. Unbelievable! However, he did not lose his optimism. He preferred to keep it open during all this nasty period. "To keep the spirit alive" – ​​he adds.
The first chance for these places are not the foreign tourists, he continues, but the Italians. When travel between the regions (now banned) will be allowed again, he knows that the Italians will come to visit Rome. So they will visit him too, for some good food. "Then come the English", he tells me, as if he already has a marked calendar. "That's because there is a lot of vaccination in the UK and they will have green light on their travels."
I tell him that for me, as a tourist, it is a privilege to visit Rome like this, without queues, without crowds.
"The magical effect of COVID" – he concludes and it seems to me that this is the best description of what I live!
In the evenings I ate in the room, but also on the sidewalk, in front of the Pantheon. Good food, very good!
And ice-cream was a must on any menu, be it lunch or dinner J.
WHAT TO VISIT IN THE PANDEMIC ROME
Well, let's take them one by one, I'd say… At least the ones I managed to go to in 3 and a half days in Rome. Sights that I have seen during the previous visits. But how can I miss the opportunity to see them during a pandemic?…
TREVI FOUNTAIN DURING THE PANDEMIC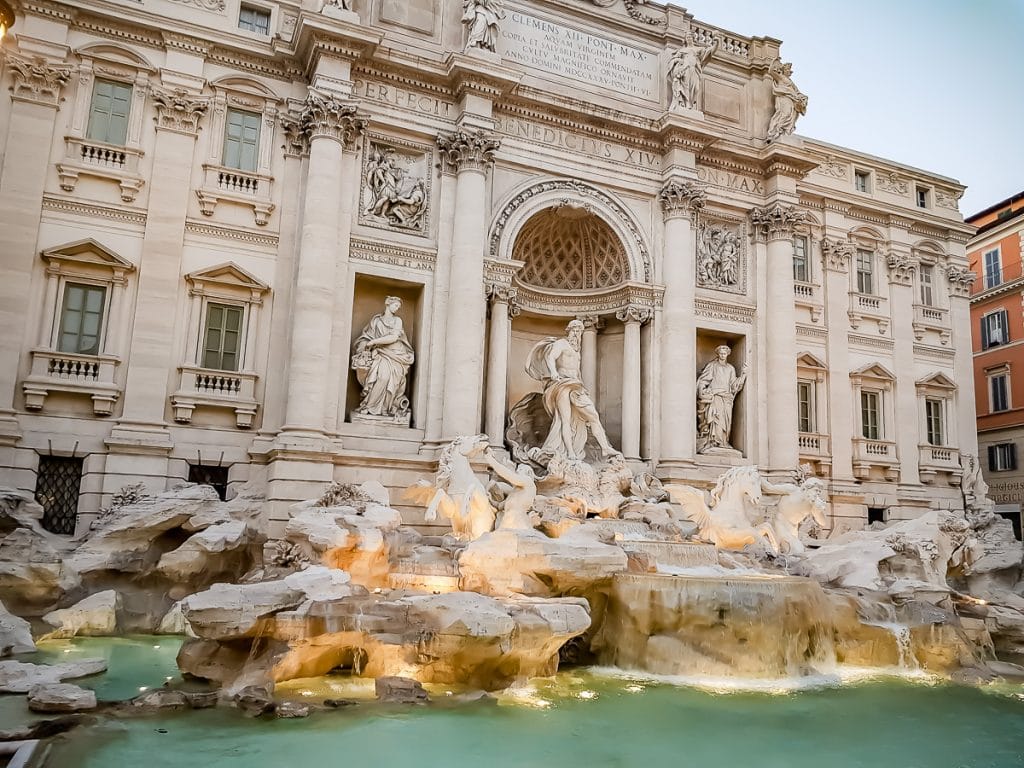 Now, I have to admit: it's the place I would go back to anytime!!! I'm fascinated by this fountain, I read about it, I sit like a fool for minutes on the bars/benches next to it, every time I get to Rome. That's after I take thousands of pictures!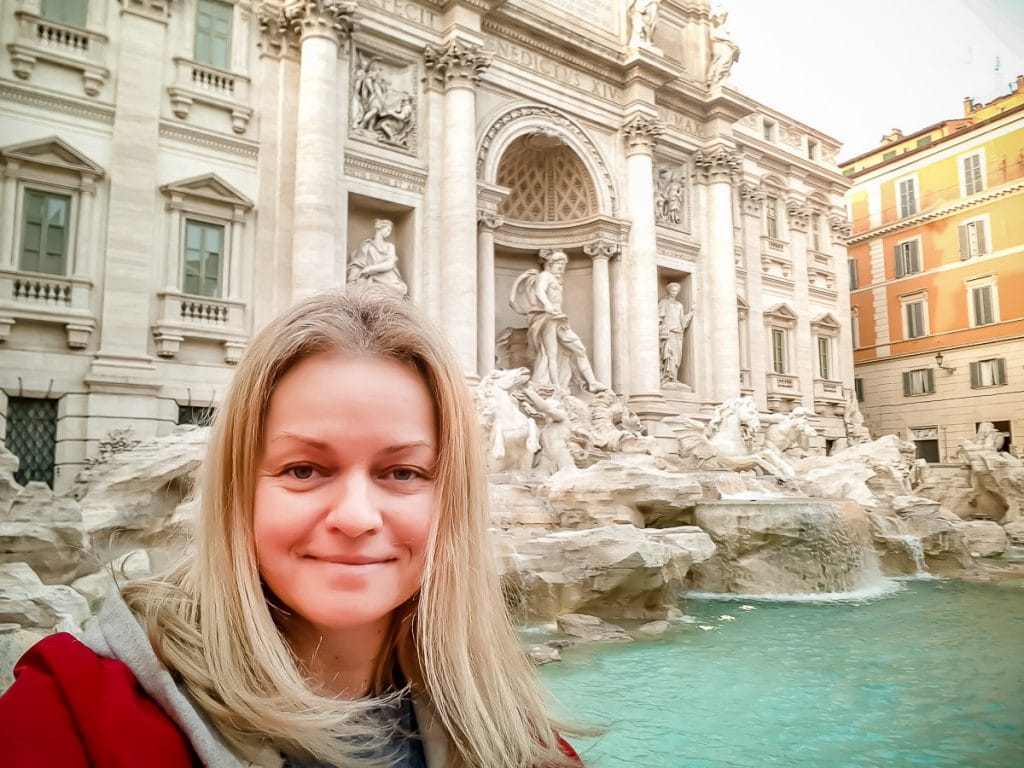 I have tons of selfies taken here, from all angles and in any season! In the sun, with an umbrella while it was raining cats and dogs, in the morning, at night, when it was being restored and had no water, thin, fat, with a boyfriend, without a boyfriend, with friends, with other friends.
A place always full of tourists! And thieves, I understand J.
A place where you have a hard time finding a corner where you can take a picture without too many people next to you, not to speak about safely throwing a coin in the water.
That, until the pandemic…
Because, since this COVID, things have changed radically.
Here's how I wake up in an ideal tourist movie, with a free, quiet Trevi Fountain, without any crowds at any time. God, I'd say I am dreaming!
The comparison with the normal times, when we could not even imagine apocalyptic scenarios, shakes me:
It's a feeling hard to describe in words. And which I had every step of the way on this trip: a frightened joy! The immense happiness of being a tourist in a Rome without tourists and… the worry of seeing a Rome without tourists.
What I noticed here, at the Trevi Fountain, was that the police – always present, did not let anyone sit on the edge of the fountain. The moment someone sat down, a whistle of a policeman would be heard.
I don't know if throwing coins was forbidden too. I saw people doing this, I threw a coin too and no one said anything. After all, it's nice to keep the tradition of throwing the coin in the fountain, to make sure you'll come back here.
COLOSSEUM DURING THE PANDEMIC
You can only get inside the touristic objectives with a ticket bought online. With a specified time on it, not anytime.
I came here the day before, to sniff around, and I saw that the access to the Colosseum starts at 10:30 and ends at 15:30. Monday to Friday only.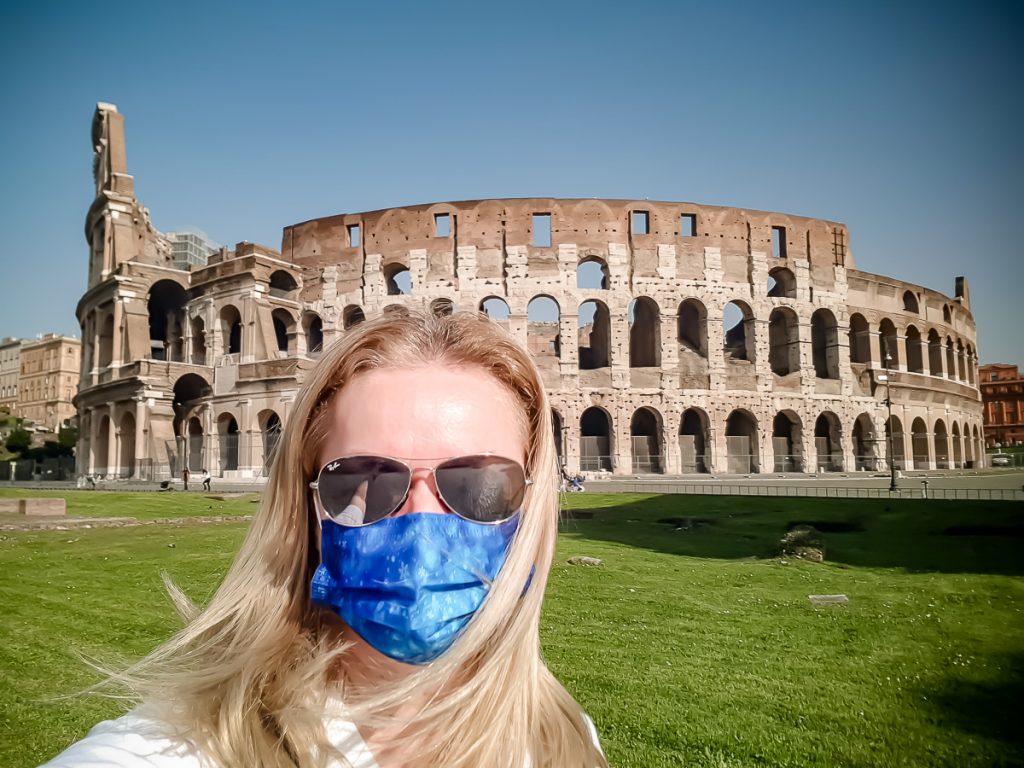 Then I went online to get my ticket and I was a little confused when I saw that you could schedule every 5 minutes! Places? A lot! I scheduled my visit at 12:10. 12 sharp would have been too perfect J.
For fear of being late, I arrived at the entrance at 11:40. I showed them the ticket on the phone, I told them I had arrived earlier and, although I only had 3 people in front of me, they wouldn't let me in, they called me ten minutes before my scheduled time.
For half an hour I took pictures around, I filled my empty bottle with mineral water from the nearby spring (I love these springs, not only because they are free of charge, but because the water is very good!), I counted the police cars, the riding police, the carabinieri, then I showed up at the entrance.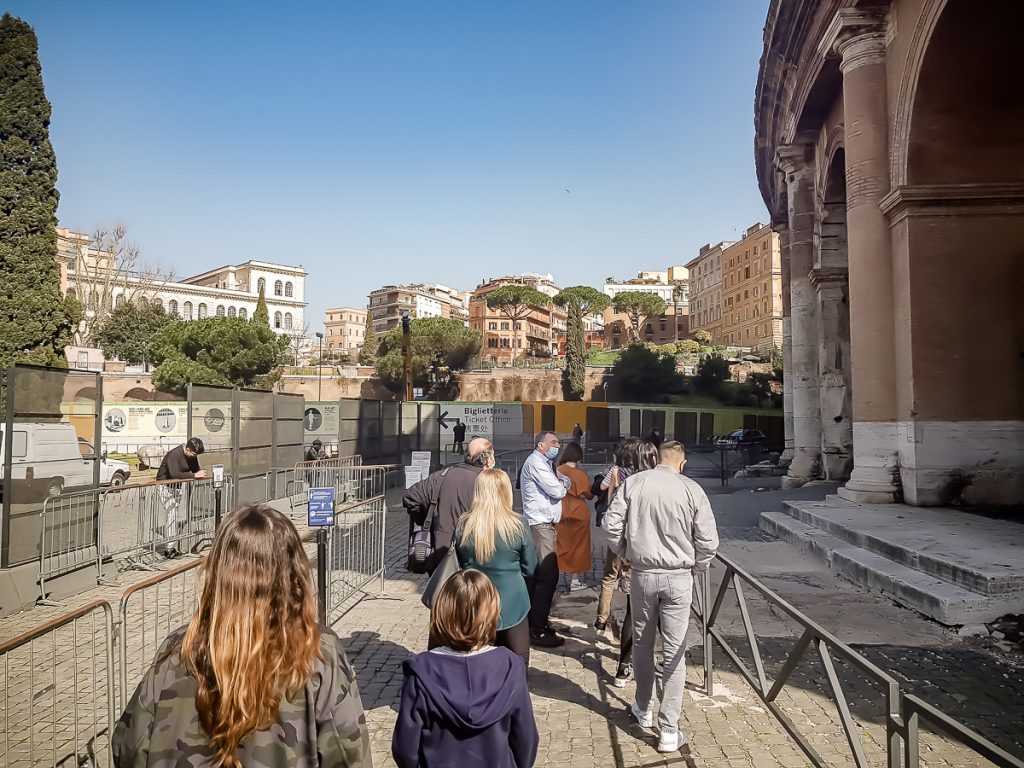 At 12:07 I was the last person in a row of… 7 people. Italians. And two Asian girls, students in Rome, who were not allowed to enter for some reason.
Even if I rented the Colosseum for a private tour, I don't think there would have been so very few people!
Shocking!!!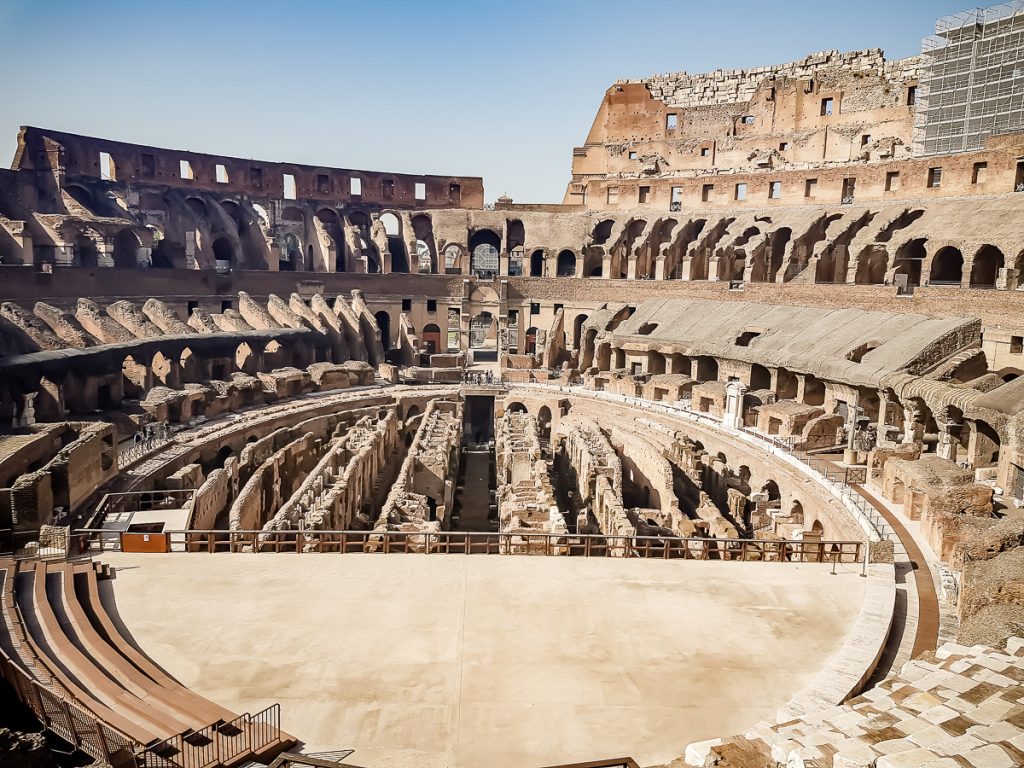 You could do some "running around the stadium", as it is so empty. That if it wasn't full of "No Access" written everywhere…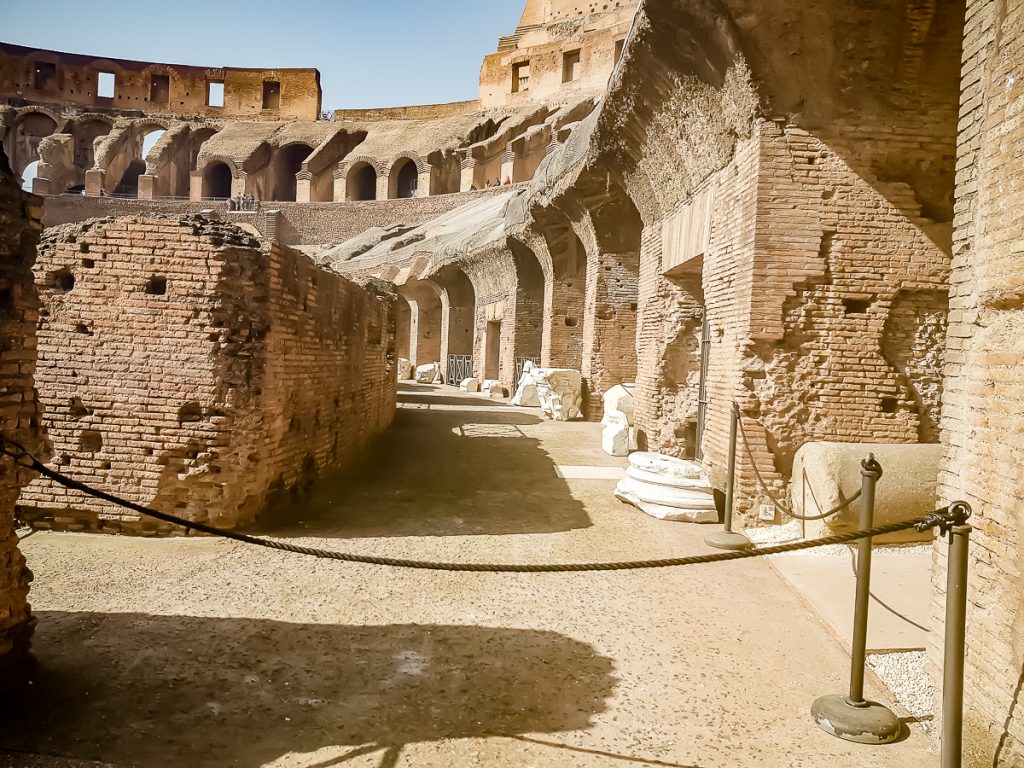 Many areas are restricted, you can no longer walk as you want left and right, you have to go on a well-marked route, you are not allowed in all the corners where I remember that I went the previous years.
It's so quiet that I hear seagulls from the area.
From time to time I meet other visitors – a family of Italians, another of French, a few Italian teens. That's it.
At the underground ruins, a young man sprinkles something. Will it be for the rats? It is definitely not for big wild beasts, as those were killed by Russell Crowe in the Gladiator J)).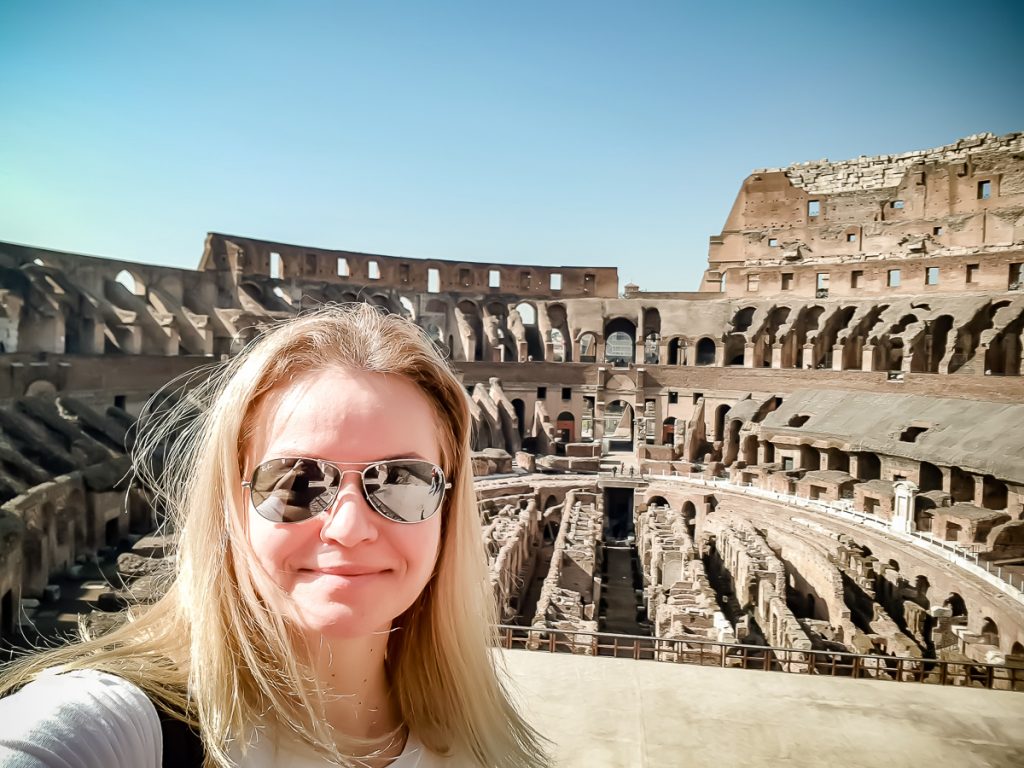 Just thinking of Russell the gladiator made me feel a pleasant warmth hihi.
Well, the truth is it's T-shirt time, with all that sun over my head. I look at the phone and it shows me there are 21 degrees Celsius. At the end of February, man!
I do the entire tour "guided" by arrows, panels and lanes delimited by ropes and then I leave.
I take the Via Sacra, once crowded with tourists, to enter the Fori Imperiali, with the same ticket I had for the Colosseum.
IMPERIAL FORUMS DURING THE PANDEMIC
I would have liked to see them with a guide, because I have seen them so many times without a guide and I wanted to find out more about them. BUT, in these times, there are no guided tours – neither here nor in the Colosseum.


There are very few people here too. This gives you the opportunity to stop wherever you want, to stay as long as you want and to stay stuck… as long as your muscles want, upset by how much you forced them today J.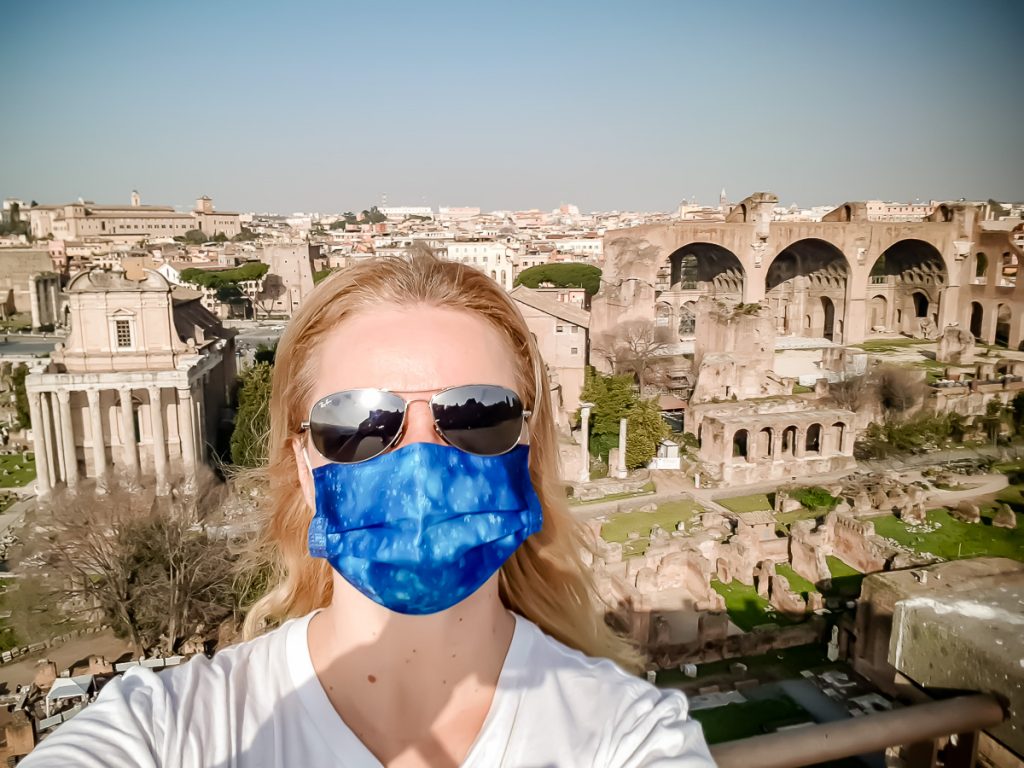 In order to keep my good habit, that of always seeing something new in a place where I return over and over again, I go to the Palatine Hill.
I have never been drawn to this place, maybe because I came here many times in the summer, when this open place heats you up badly and you leave the place… almost fried!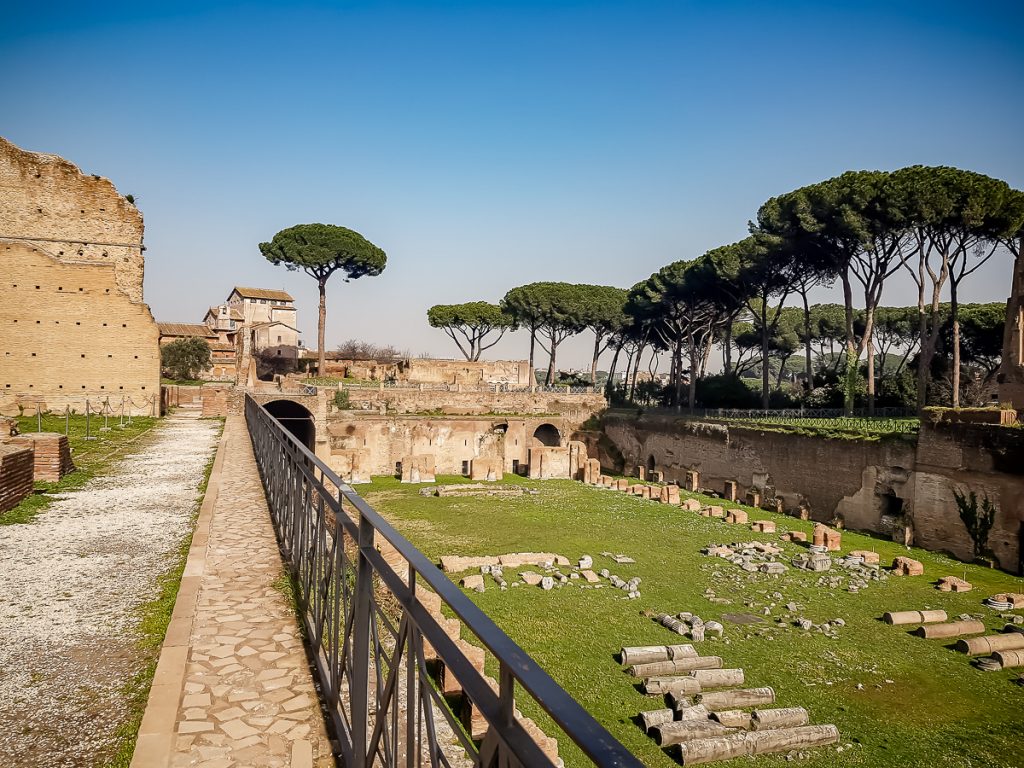 Wow! I discover a place that impresses me! And I can't wait to return to Rome in normal times, to visit this with a guide. It is the most important hill among the 7 hills of Rome and legend has it that it is the place where the she-wolf found Romulus and Remus.
I walked around like crazy for about an hour and a half, without anyone bothering me. The hill is full of ruins that make you imagine its past glory. This is where the first botanical garden in Europe or, according to some sites, in the world appeared.
It is clearly a tourist attraction where you have to come with someone who knows history well.
I took it as a walk and a first research of the area this time.
The two terraces with a beautiful view of the Forum, but also of Rome, terraces that, in the past years, I saw full of countless tourists, are now deserted.
From time to time, there is a lost person like me who comes here to take pictures or some Italian parent, with his/her child.
The fewer tourists there are in the Forum, the more workers there are. Their chatter and the noise of equipment make you feel on a construction site, not in a mega tourist place.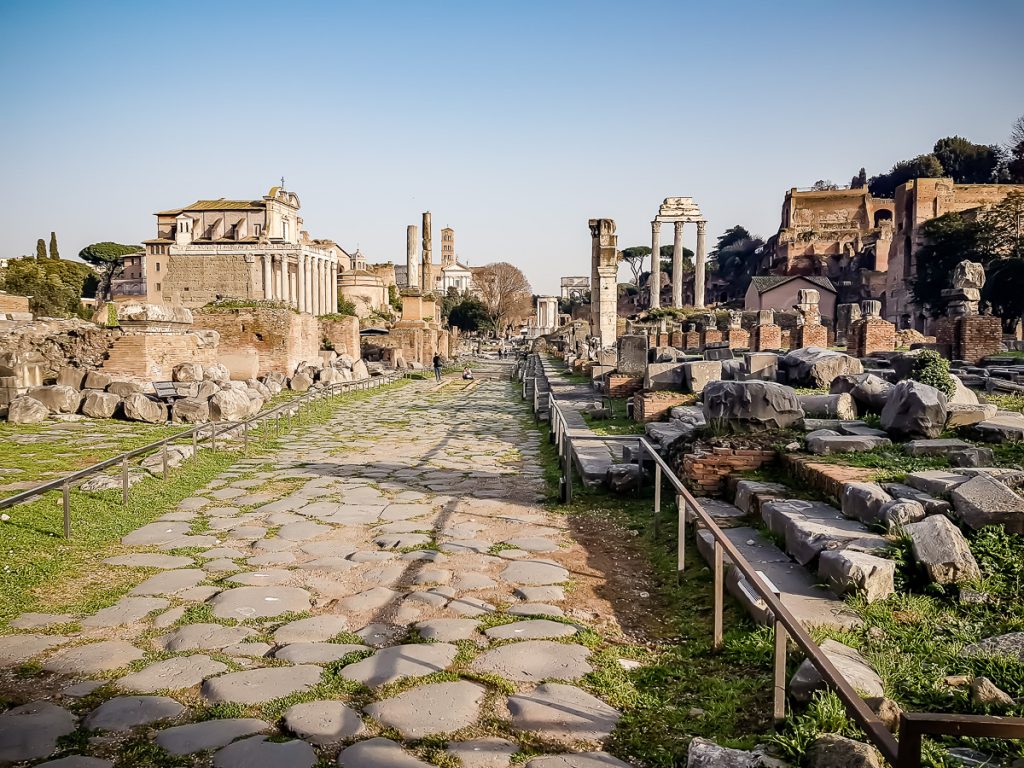 I go down the hill in the middle of the Forum and waste time on every ruin.
The route is much more restricted compared to other years and this is not due to the pandemic, but clearly for the conservation of the site.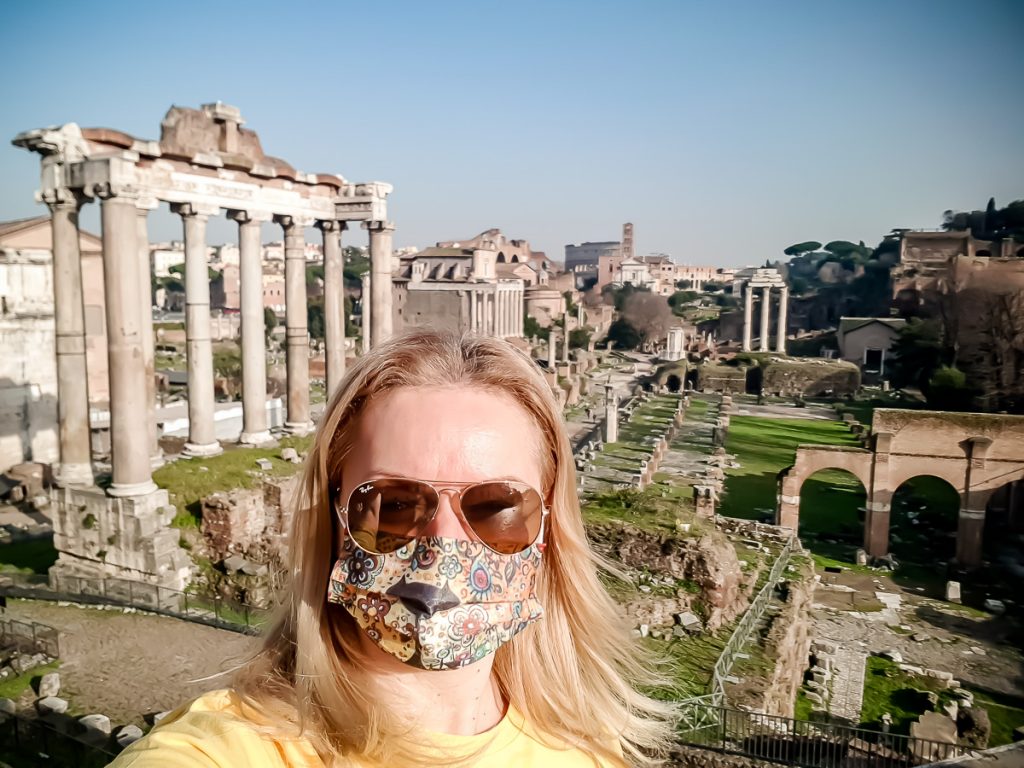 If you don't catch the Forum open, climb Capitoline Hill. It is a very beautiful angle from which you can admire the whole valley, up to the Colosseum.
PANTHEON DURING THE PANDEMIC
In the square where the Pantheon is located, you would be hit every day by the hustle and bustle of tourists, the noise of the Italians in the area, the trotting of horses harnessed to the carriage, the noise of glasses coming from the terraces and the queue at the entrance to the Pantheon. It was like this: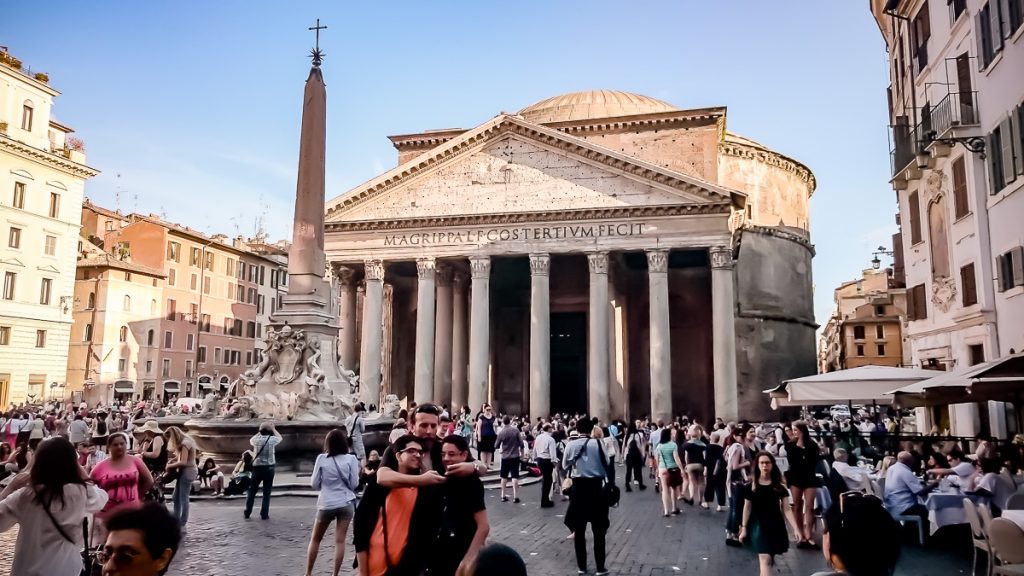 Now a silence strikes you…
And what queue at the Pantheon? We are four poor people who are waiting for our temperature to be measured, after which we enter, like privileged people, to see the architectural wonder that has stood up time for almost 2,000 years, with the famous hole in the dome and the tombs of the first kings of Italy and the famous painter Rafael.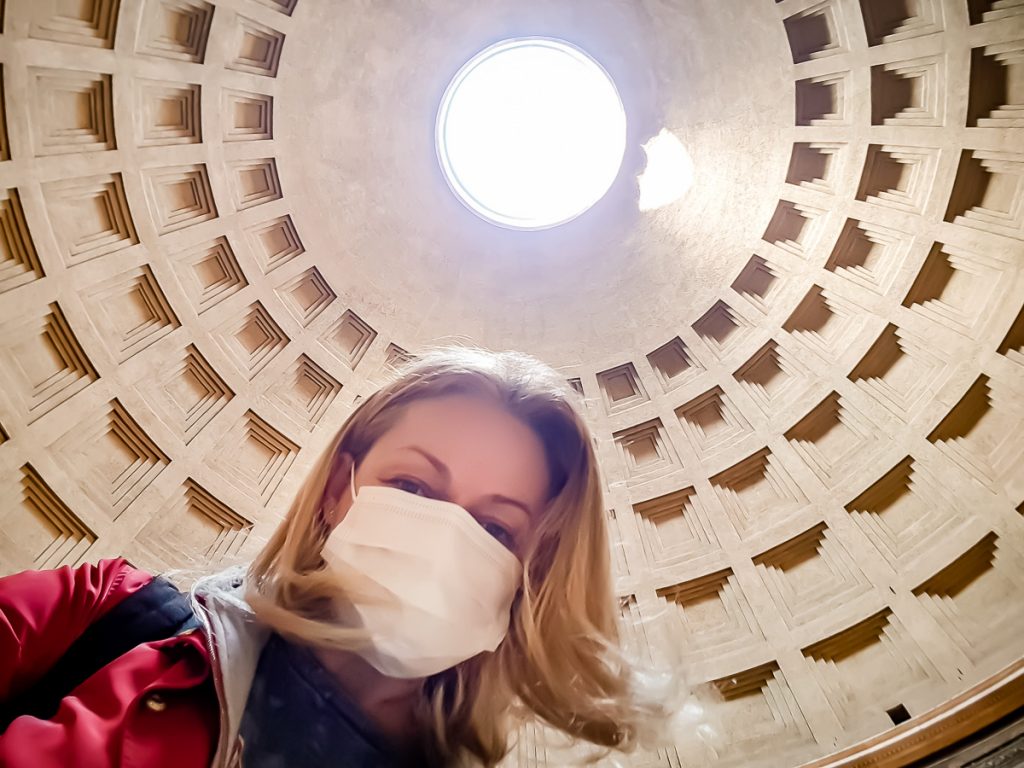 It's one of those places where I come back fascinated every time. (I remind you that I booked a room overlooking the Pantheon J). Every time I'm inside I want to be an architect, to be able to understand how cunning those who built it were…
Now you can stay here as long as you want, because we are very few!
For the first time I hear some girls speaking American English. This, after all the tourists I met in other places spoke French or Italian. We're on the right track, aren't we?
Although the image I see passing by every day tells me something else:
As I said: more police than tourists… (And there were gendarmes around the corner too.)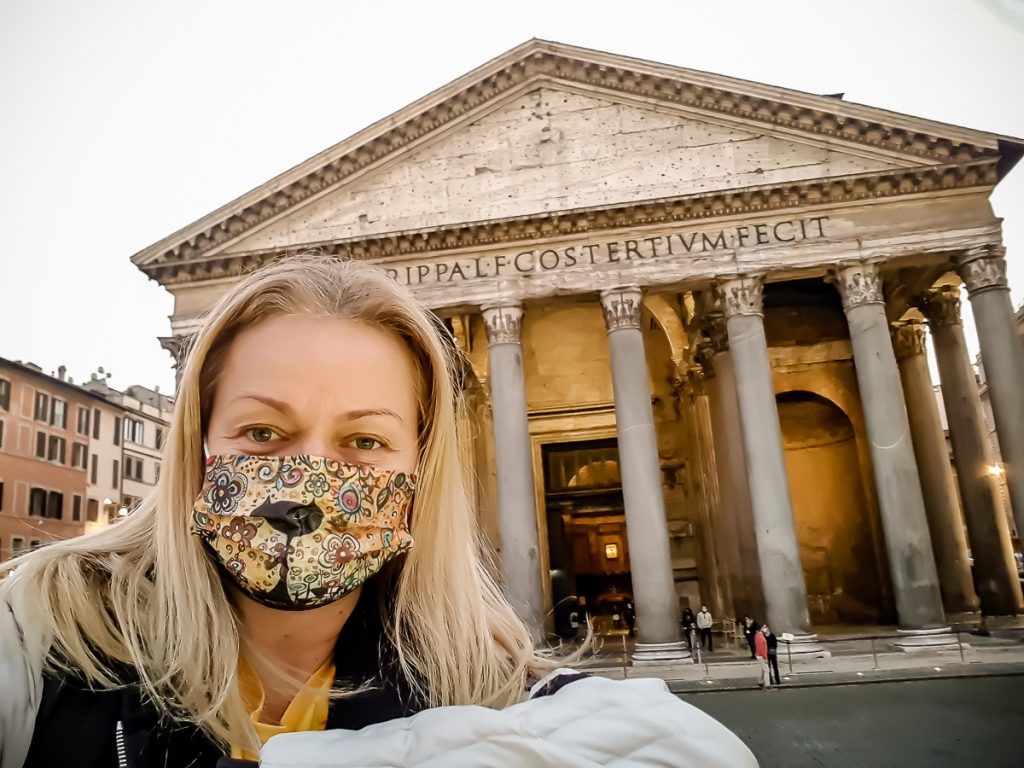 For me, the Pantheon was the "base camp." Here I spent the morning, but also the evening, I ate in front of it, I wrote some postcards, I analyzed the restaurants, the horses, the cartmen, the police. So… we are emotionally connected J.
PIAZZA DI SPAGNA AND PIAZZA NAVONA DURING THE PANDEMIC
These stairs in Piazza di Spagna, normally full of people in a permanent ascent and descent or sitting on them to take a short break, are now so sad… I look at the calendars sold at the nearby stalls, to see the stairs in all their splendor, with hundreds of flowers on the edge and tourists.
A group of cheerful Spanish girls try to sit on the steps, but the police make them stand up immediately. Aha, so you're not even allowed, it's not just that there is no one who'd come here to sit…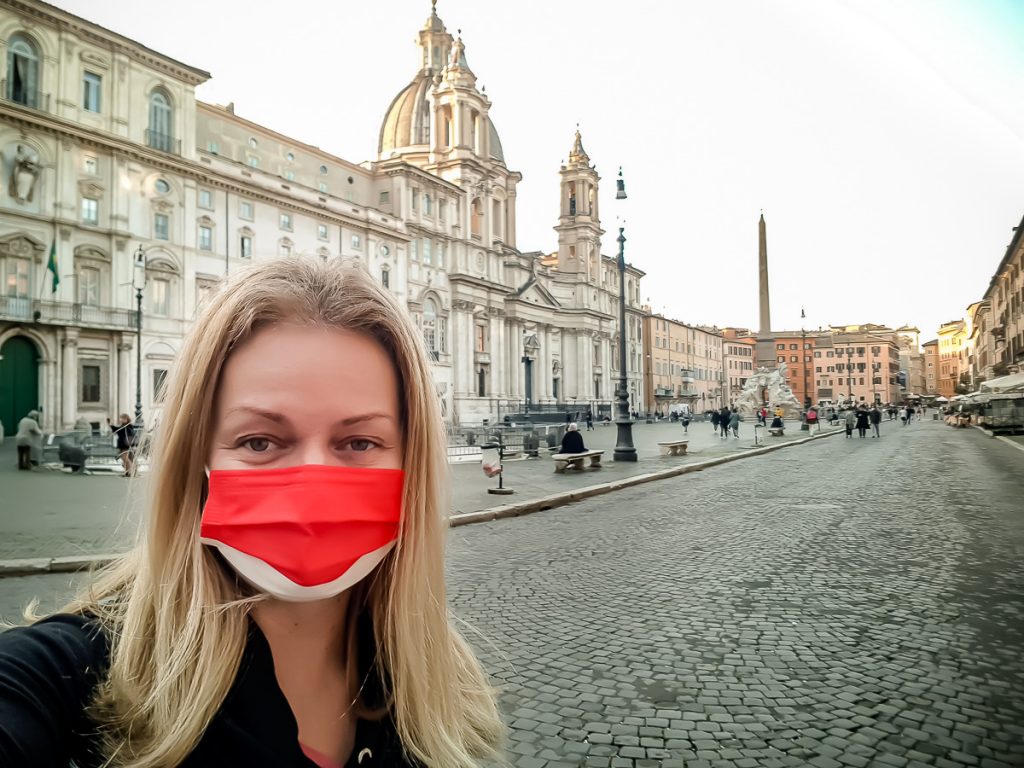 In Navona, at different hours of the day when I arrived here, I felt like that this is the image of a market in extra-extra season 20 years ago, a place where only the locals walk a dog or stop to talk to a neighbor. Painters? Not at all. Instead, I came across workers.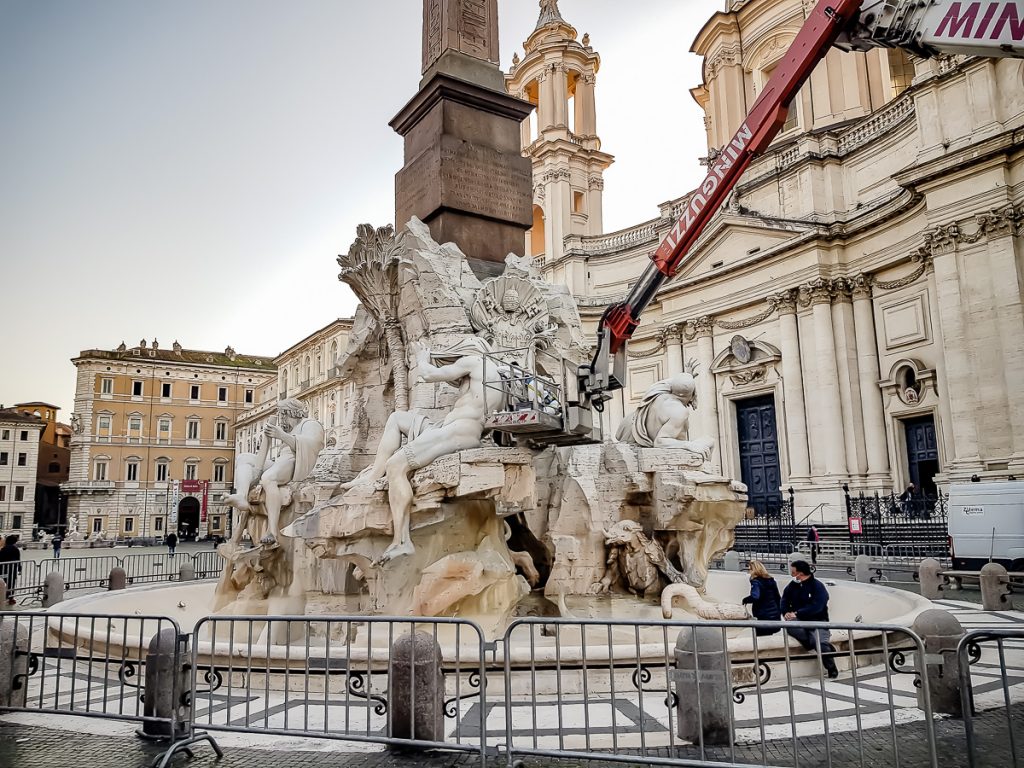 At the Fountain of the Four Rivers, water is completely missing, because restoration works are being done.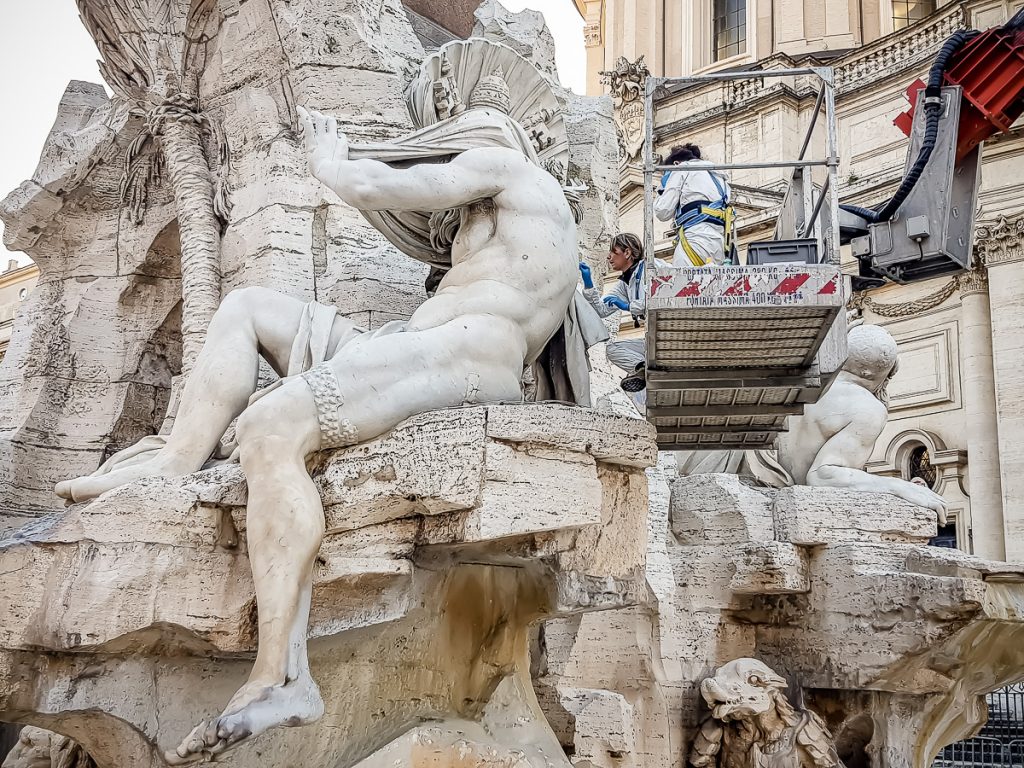 Some skilled ladies "operate" like real surgeons the affected muscles of each statue.
VATICAN DURING THE PANDEMIC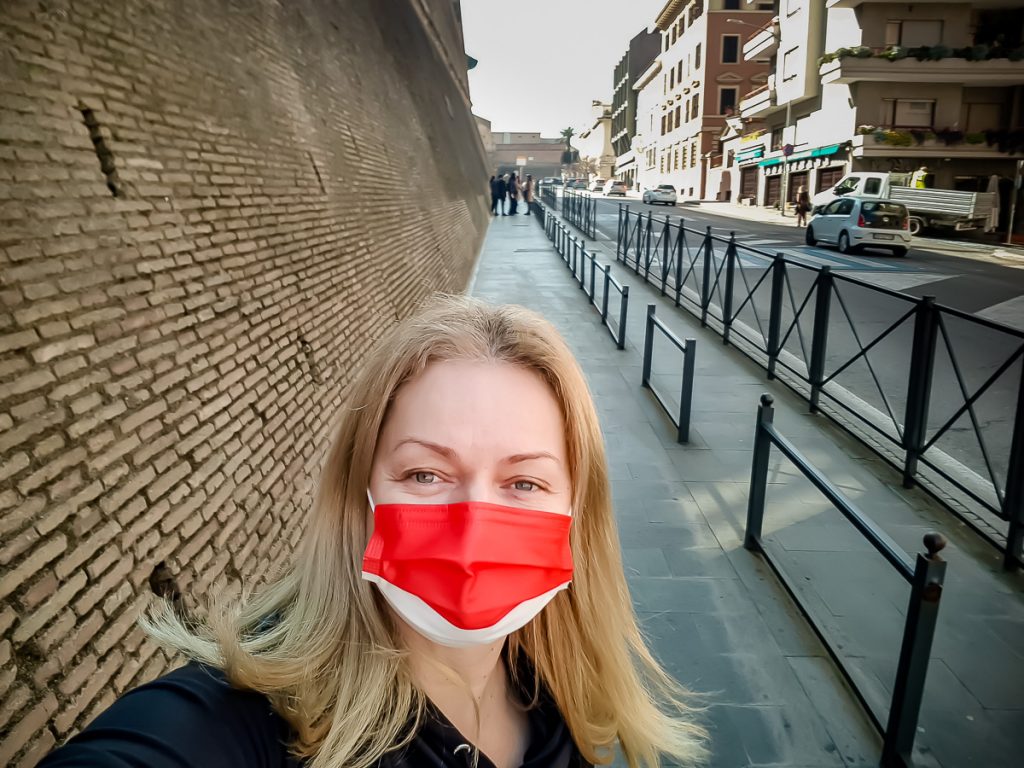 The first shock was on the alley leading to the entrance, perfectly fenced to organize the crowd of people eager to visit the Vatican Museums.
It's empty!!! Only me and a group of young people take pictures here, to have proof of the abnormal, in the normal times full of tourists that will come.
You can't enter the Vatican coming like this to buy the ticket at the entrance. You must purchase your ticket online, with a clear time to show up.
Unlike the Colosseum, here I find a guided tour (30 Euros). I take it, out of the desire to find out more or to check the things I found out during my previous visits.
I take pictures of the entrance and the main hall, with the ticket offices, 'cause I don't think I'll ever see anything like that again.
Our guided group consists of 15 people – a Colombian guy, an Italian girl, a Romanian (me) and 4 French families.
The guide informs us from the very beginning that they are no longer allowed to enter the Sistine Chapel to give explanations, so he gives them all to us from the beginning, in a small courtyard, in front of some panels with pictures from the Chapel. Then we start through the museum, in a 2-hour tour, with stops in all the essential points.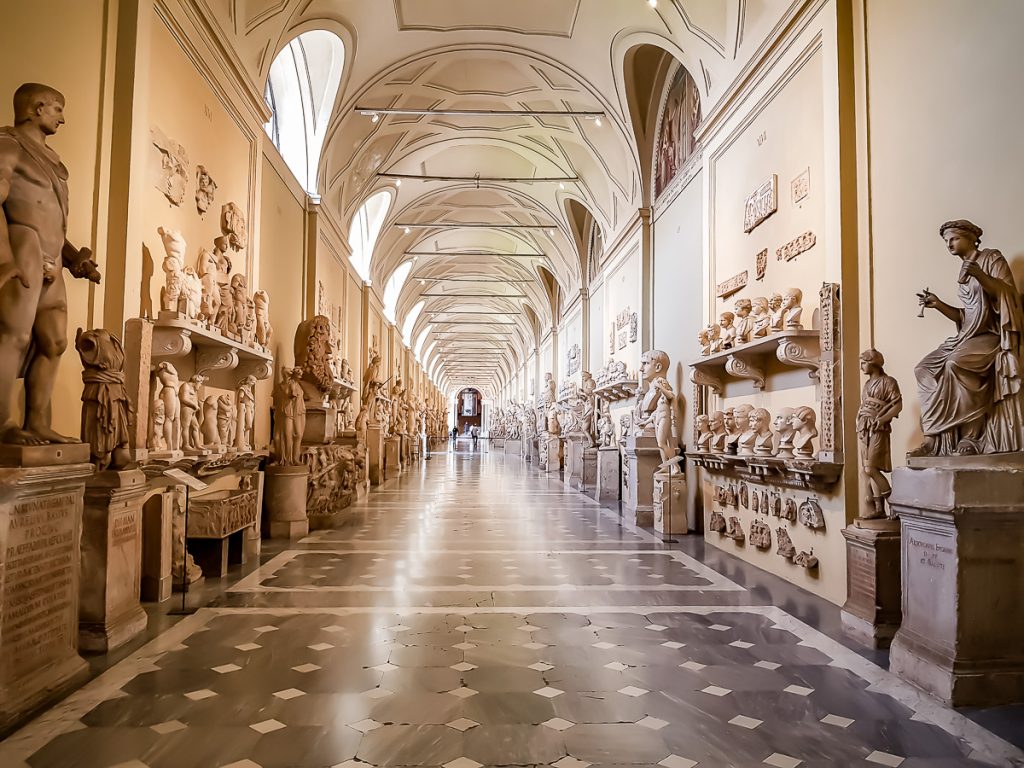 Seeing the almost empty halls and the extremely small number of visitors, I ask the guide what the situation is now, compared to a normal period.
"500 visitors a day – he answers me. Compared to 30,000/day in a summer month or 10-15 thousand/day in a winter month". My God!!!
Apart from the fact that he kills us with dozens of years and names that I forget immediately after hearing them, the man is funny, his mask keeps dropping under his nose as he speaks, he puts his hand on statues and painted walls out of his desire to convince us of what he says, and I expect him to be taken by a guard from one second to the next J.
The guides greet each other when they meet. He tells us that he has not seen them since October last year, just before the museums closed. I feel like at the "Surprise, Surprise" reunions hihi.
THE SISTINE CHAPEL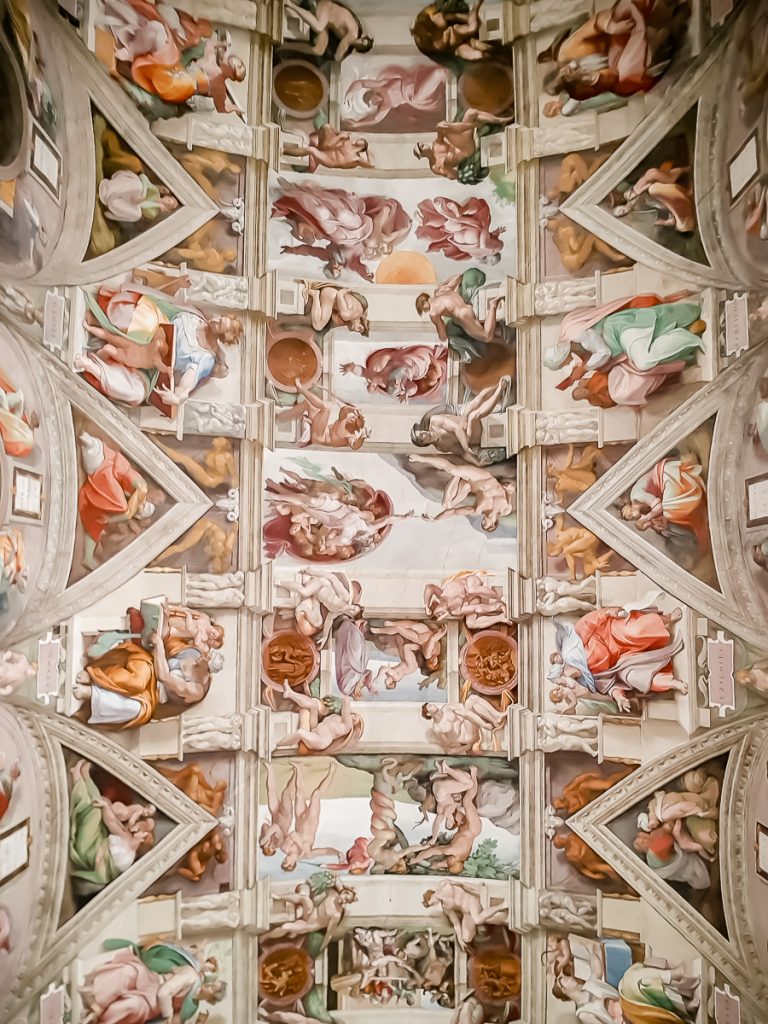 I don't know if and how many times you had the opportunity to enter the Sistine Chapel. In my 13 vacations in Rome so far, I think I've been 4 or 5 times. The other times, even if I wanted to come, I gave up, because of the huge crowds.
I have always seen the Sistine Chapel suffocated by visitors! From the first visit, many years ago to the most recent, I felt that there were more and more people per square centimeter.
And since the first visit, the rules have changed. So, at some point, photography and filming were no longer allowed. Therefore, I am a tourist who could photograph the Chapel completely legally, from all angles, but also a tourist who, out of the desire to have proof of her presence there, broke the law a bit (oh, and how many I have seen doing just like me…)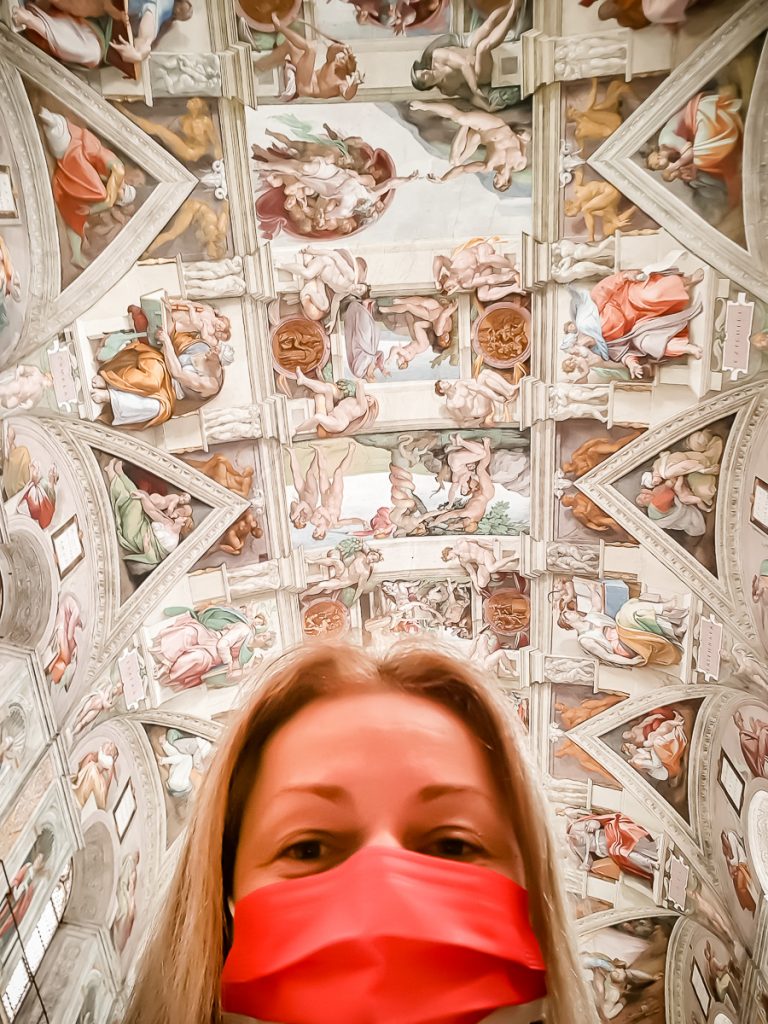 You will laugh, but now it was much harder to "steal" an image with the wonder there. When the place was crowded, it was easy, because they couldn't really see you. Now, damn, it's just you and the guard here J)).
Well, to respect the historical truth, we are exactly 32 people in the Sistine Chapel + 3 guards! Yes, yes, you read that right: 32! I counted. Two or three more go out, two or three more come in, but the average is still the same.
Forbidden, I know, not perfect at all, I know (I did it without looking at the phone), but I couldn't help but take this picture, because something like that will certainly never be seen again:
And I also went to the area once destined for the nobility, separated from the one for the clergy. This is to have the complete "picture":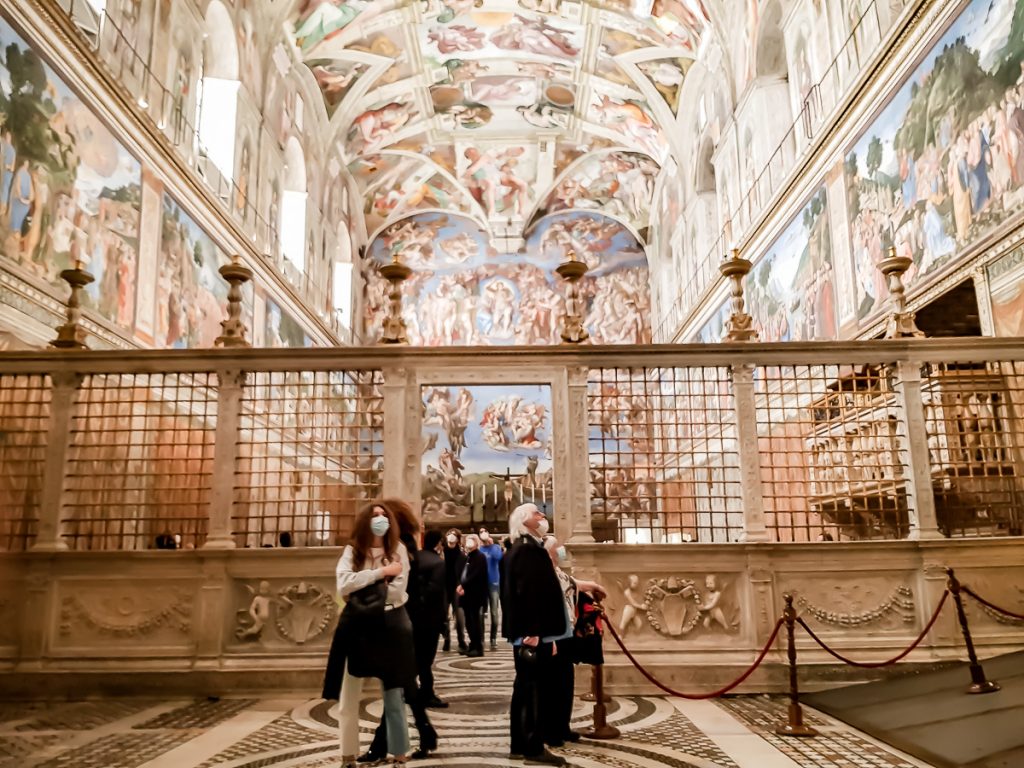 I think I stayed here for about 40 minutes. Fascinated that I can quietly look at every painted corner, that I can walk easily from side to side and back, that I can even see… the bottom part of the walls, with papal coats of arms, a part that I never saw, because of the people.
It's overwhelming! At least for me, who, a novice that I am, is fascinated by Michelangelo's work (so fascinated that I chose to see some cities in Europe just because I knew Michelangelo had some sculptures there!)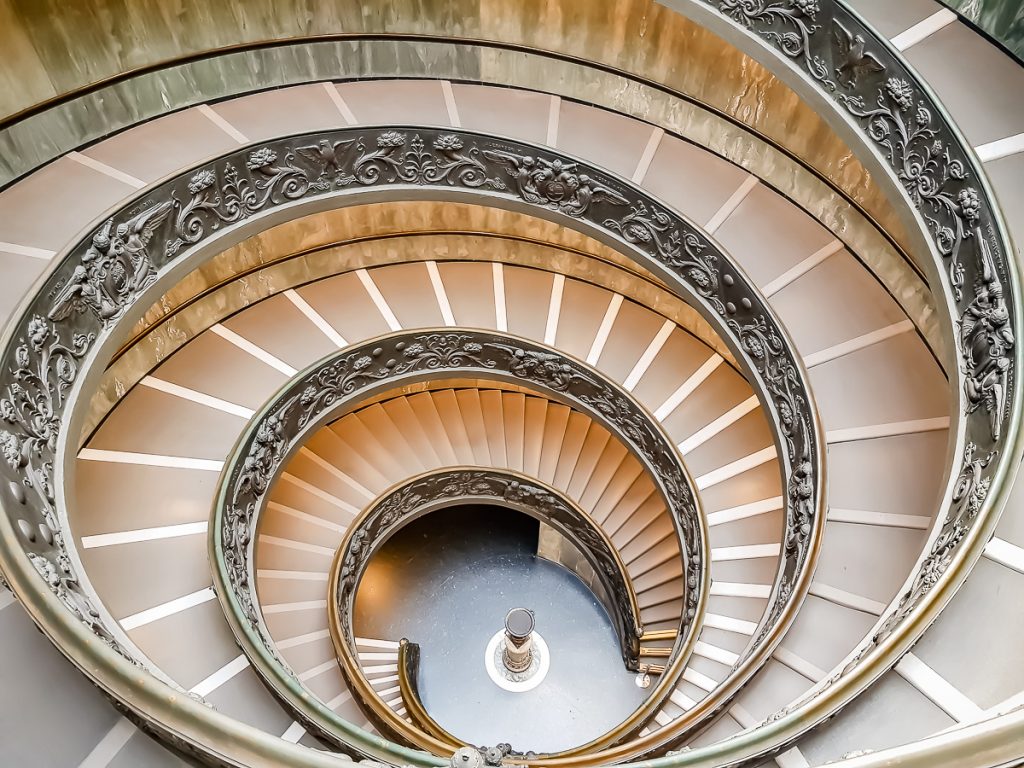 I go down this beautiful staircase that leads to the exit, thinking that if I had a sleigh, I would have gone down it, considering that I am alone here J.
I take it slowly along the Vatican wall, towards San Pietro.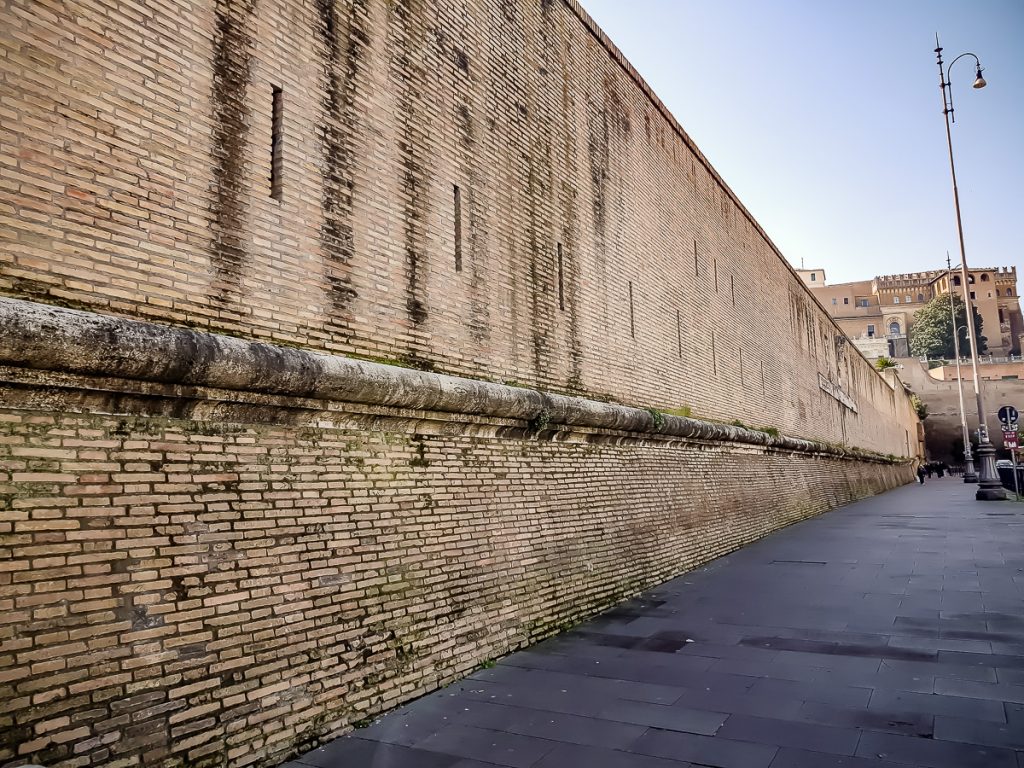 I never cease to marvel at the desolation of all these places once crowded with tourists!!!
On this very long street there was always a queue of people, stretched for hundreds of meters, up to the Vatican entrance.
And not only that, look:
… take into account that there is another similar side, full of people – the one with the museum entrance.
SAN PIETRO DURING THE PANDEMIC
Where are the old queues??…
That was the first question that came to my mind when I saw the empty square, when I saw that no one crowded the way towards the Basilica and, moreover, that of all the luggage control devices that could not cope with all the crowd in the past years, most are covered with foil and left to hibernate…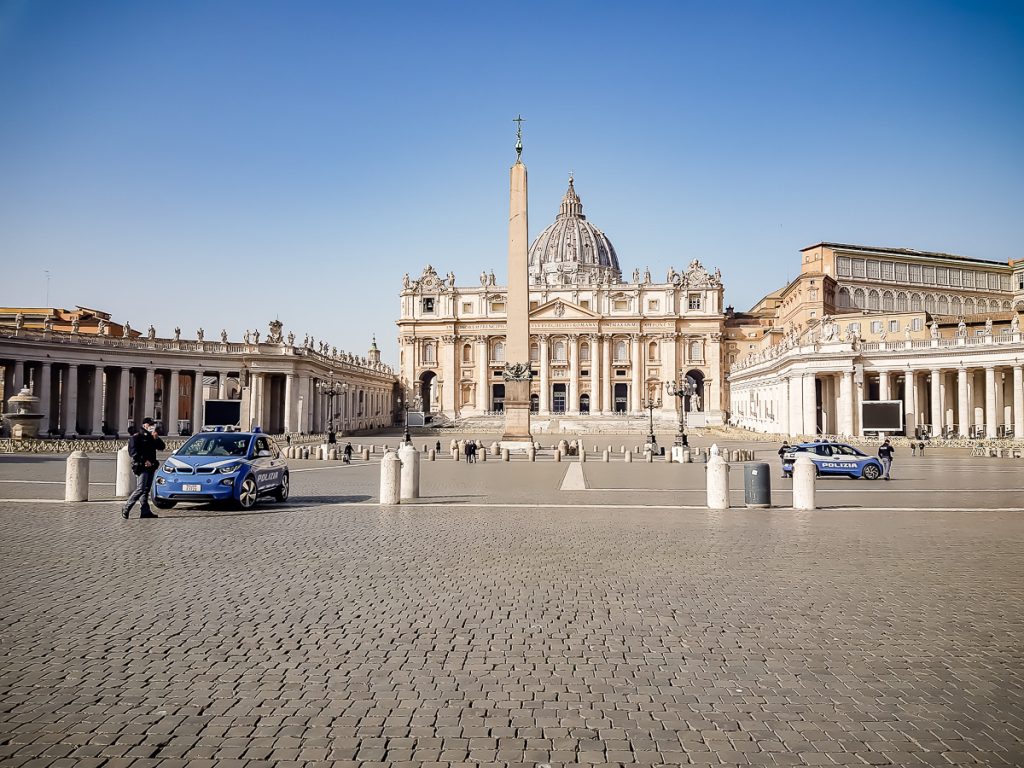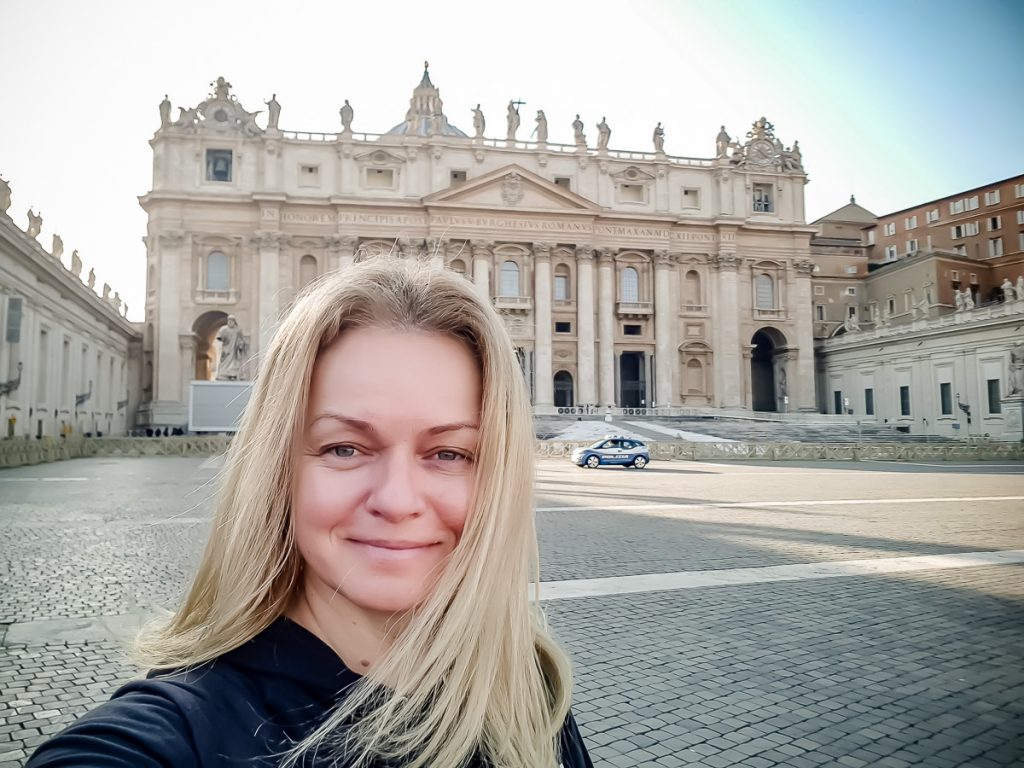 It's full of police, however. I think the police are the clearest presence in my photos of this pandemic Rome hihi.
I quickly take off my mask for a few selfies, then I put it back on, because a police car silently passed by, to make sure everything is ok in the area.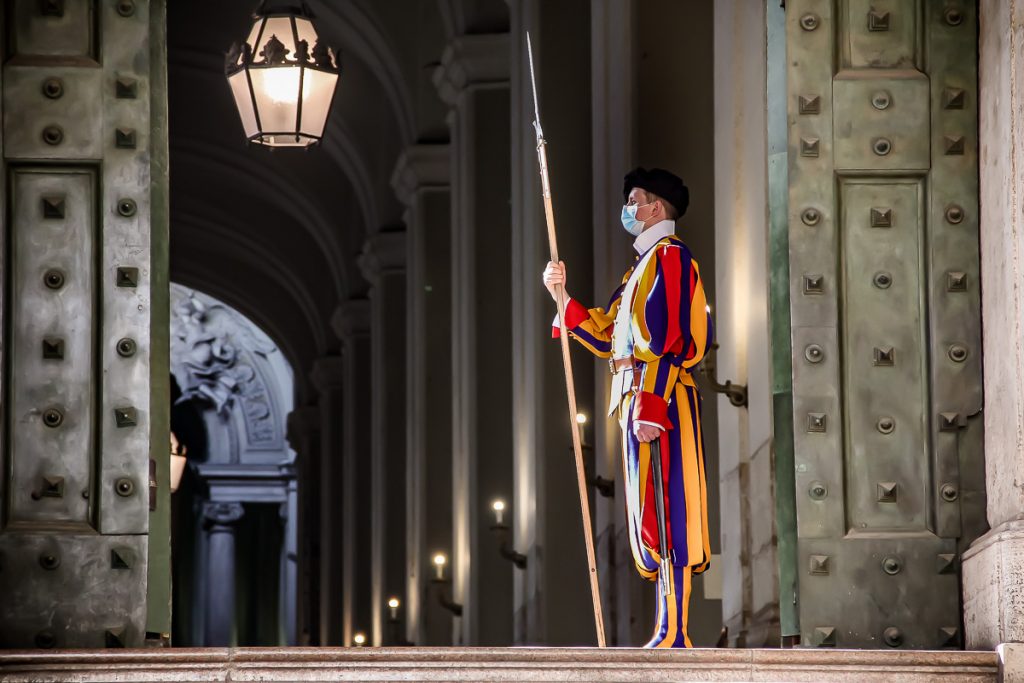 The Swiss Guard is stationed at the gates of the Vatican, as unmoved as he was in the past, only now he wears a mask. So at least he can quietly swear at us, those who disturb his peace, taking pictures of him.
In San Pietro, shock shock shock – it's so few people and so quiet, that if you drop your disinfectant, all the statues turn!
I know the place well, I have been here many times, but now I cannot stop enjoying the privilege of going through it so easily and relaxed!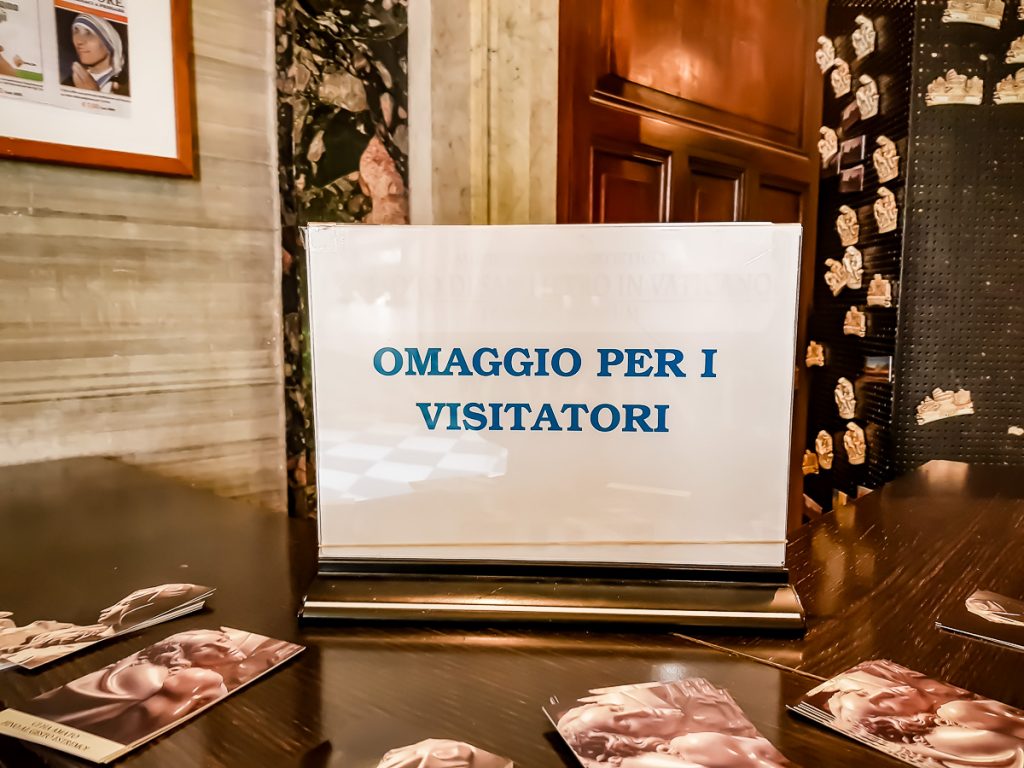 Any visitor means a lot to them – as well as to any tourist attraction around the world. I was impressed by this poster!
But the most impressive was the area with the famous Pietà, by Michelangelo. The area was always full of tourists desperate to take photos of and with it, to analyze it, to listen to its story.
Now… I'm alone. That's why I allow myself the luxury of taking a selfie with and without a mask. I could have waltzed here too!
While I'm standing next to it, a few more people enter San Pietro (the statue is right at the entrance). But, what do you know, the fact that the crowd that arouses that curiosity to see "what goes on there" is missing, does not attract people here, and they take it slowly through the Basilica. God, what a paradox!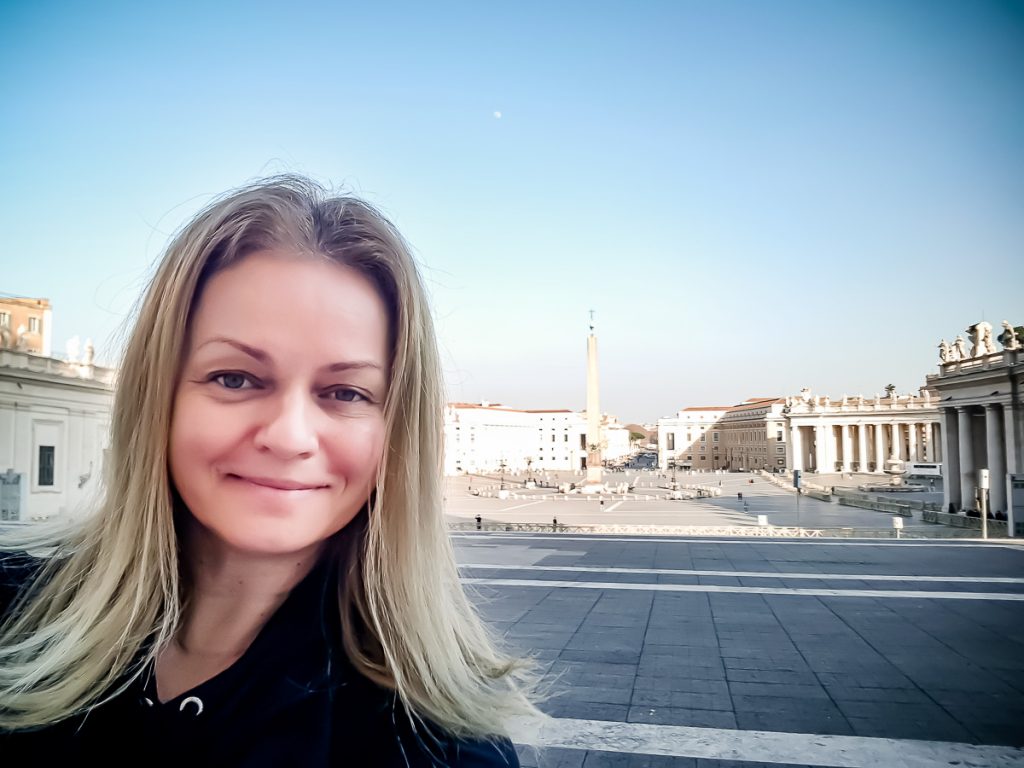 I come out feeling an emotion that is hard to describe, an arrogant happiness, that I have seen such places again, under such conditions!
The square is still empty. A few people walk their dogs, the police drive around, some young people take pictures. The bells start ringing. I would not be surprised to see the Pope go out for his afternoon walk J.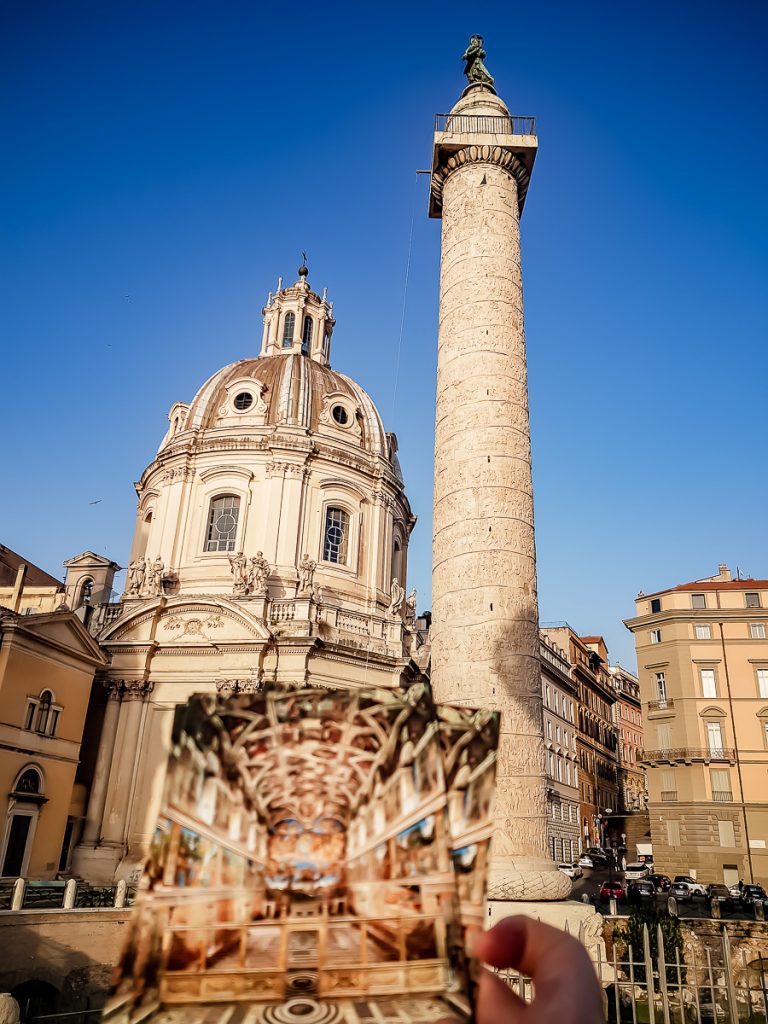 I take advantage of the last hours in Rome to eat another good ice-cream, to write some more postcards – and what better place could I have found for this than Trajan's Column…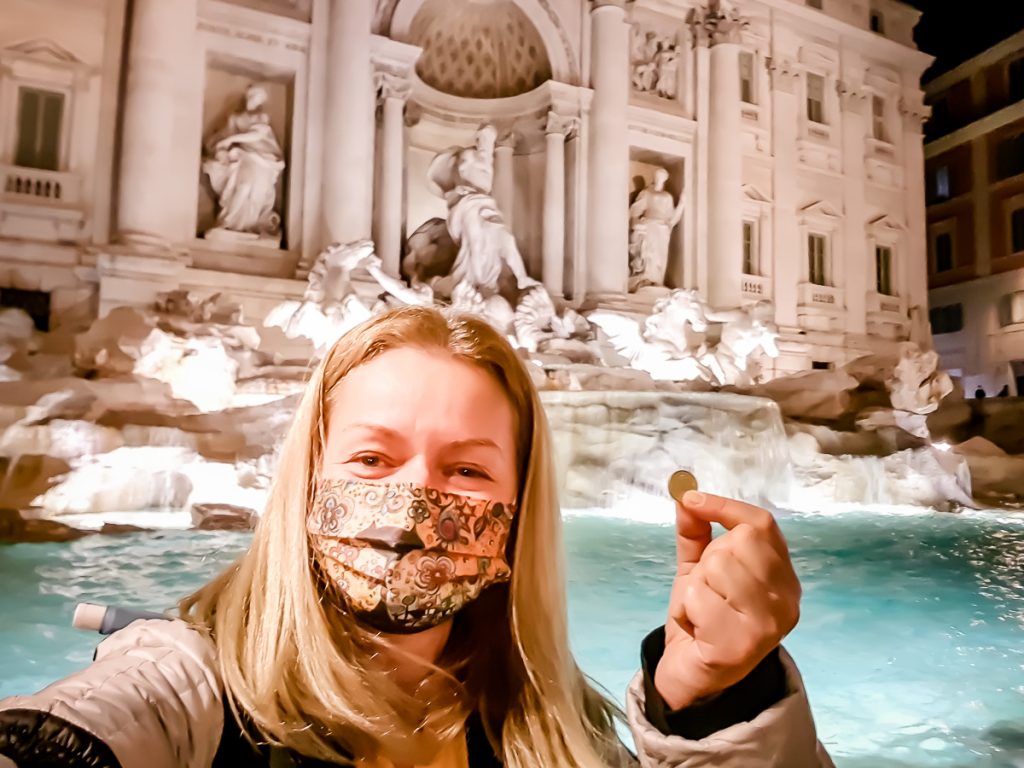 And, of course, I don't forget to throw a coin in the Trevi Fountain, to make sure I will be back in Rome. One day with or without a pandemic, who knows?…
Until then, I have proof here that I have seen an incredible Rome: