Here I am in Venice on New Year's Eve. To be clearer, the plan made together with my friends, that of spending our New Year's Eve here, failed, so I found myself in Venice, by myself. Alone in Venice! On New Year's Eve!
I told myself I should see the full part of the glass: let me compare the pandemic Venice New Year's Eve 2022 with London New Year's Eve 2019, but especially with the Paris New Year's Eve 2020, when I stood face to face with hundreds of thousands of people on the Champs-Élysées. (God, how much covid virus must have been in the crowd then?…)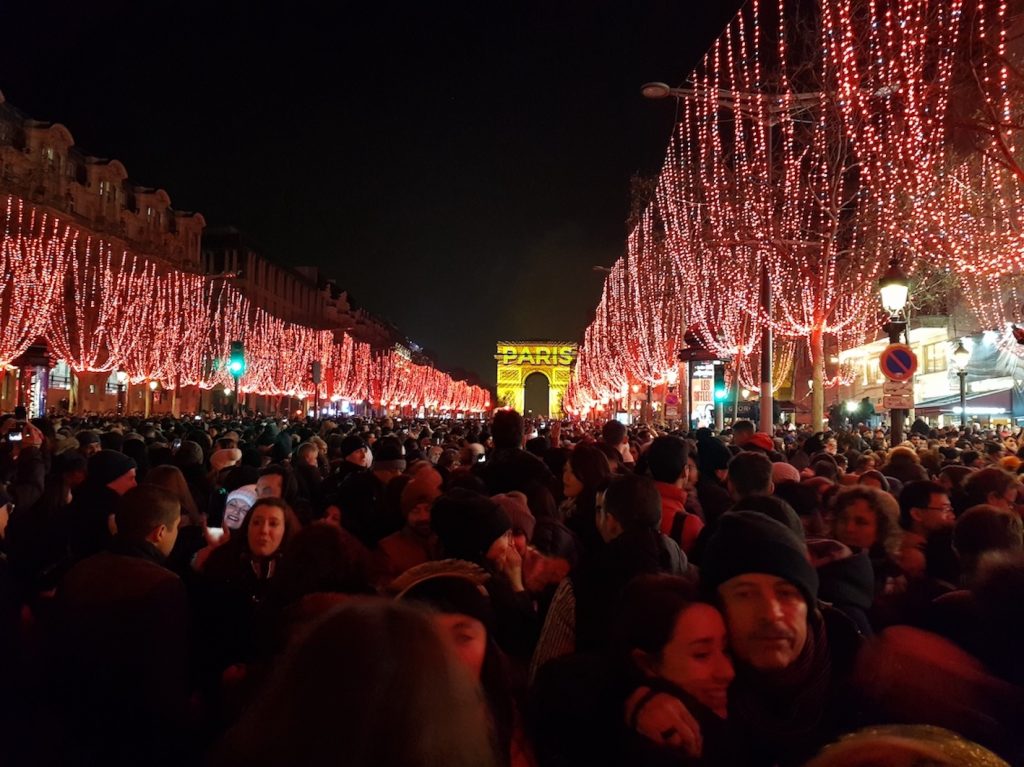 PANDEMIC NEW YEAR'S EVE
I catch a new wave of changes in travel conditions. I receive an email saying that the ffp2 mask is mandatory on the plane, you don't get on without it. So I take it in my pocket, thinking about putting it on before boarding (because I don't feel comfortable with it).
It's just that… what do you know, almost no one has a mask like this on their face, just normal masks. We are allowed to get on the plane like this, without any problem. Well, what about the new rule, man?…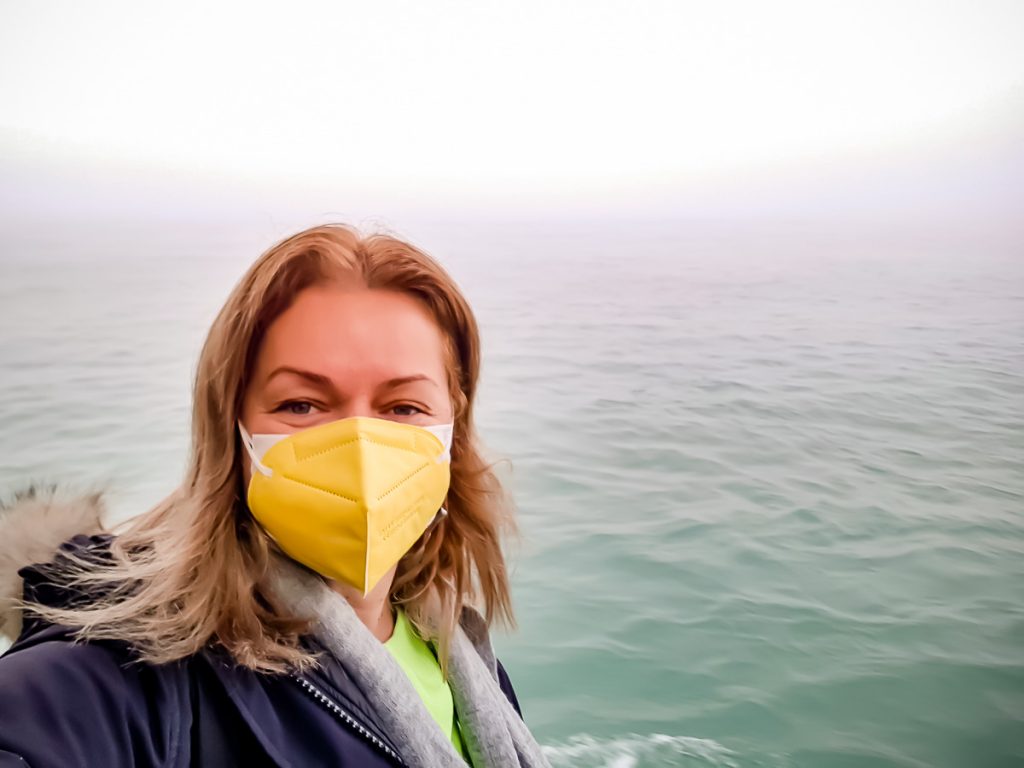 In Venice, the ffp2 mask is mandatory on public transportation, so I take it out of my pocket when I get on the vaporetto and put it on top of the normal one, because it's easier like that. Only now I really understand that others, whom I thought to be scared of covid, do the same as me: wear one mask over the other. As soon as we get off the vaporetto, we take off our ffp2 mask and keep only the normal one.
Anyway, during the few days spent here, I noticed that here too the rules are meant to be… interpreted. The ffp2 mask control on the vaporetto goes from "you are not allowed on the boat, I am sorry, go buy a ffp2 mask" to "ok, come on, go up with this non-compliant mask, but don't do it again" or to total ignorance, so I see people with normal masks circulating without problems.
I also take a selfie with a mask and without a mask, since it is a matter of interpretation… There aren't too many people in Venice, not even in Piazza San Marco, so I am not really a danger.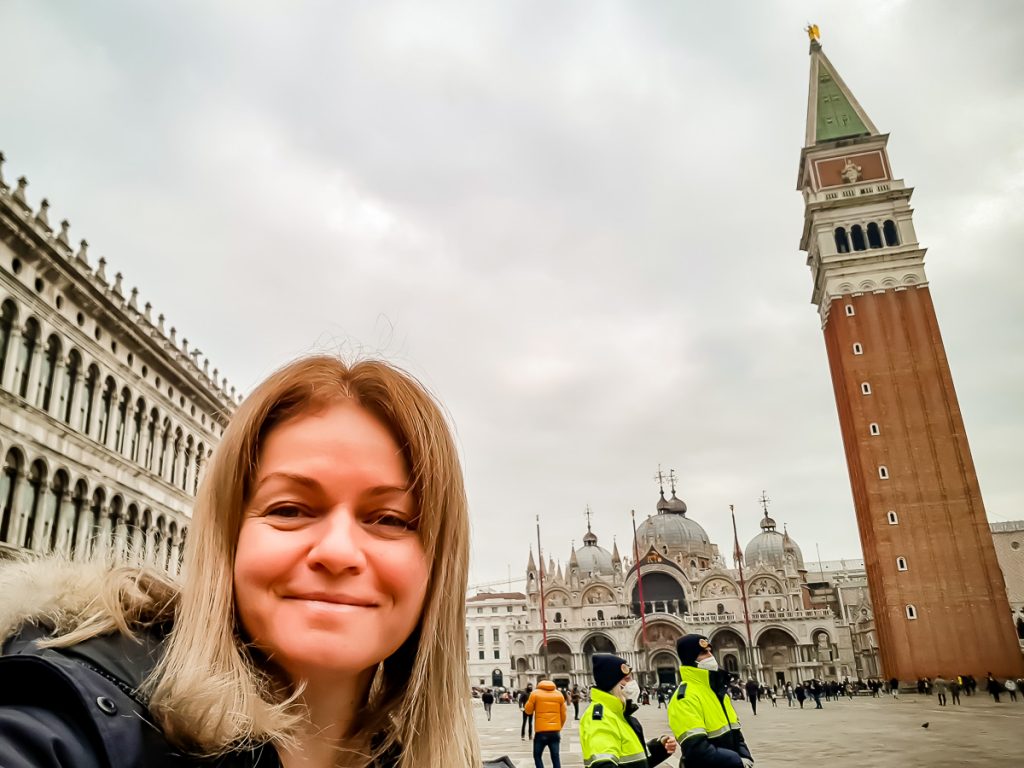 Ooops, right when I was enjoying the breathing of the cold air, the police come and pull me elegantly by the sleeve: "Madam, put on a mask if you don't want to go into the New Year a few hundred euros lighter".
I'm hunting for Christmas trees in Venice, but the hunt ends quickly: I come across the one in San Marco – where all passers-by stop to take their picture – and I discover another very nice one, at the gate of a park. It's a Christmas tree made of crocheted squares. He is so joyful that I stay there and analyze each model.
As we approach the New Year, the entire lagoon is invaded by fog. But not any kind of fog, but one so dense that you can put it on a selfie stick to eat it like cotton candy.
NEW YEAR'S EVE
I knew even before I got to Venice that all outdoor parties, fireworks, shows etc. were banned. So I knew I was not going to be part of anything grand on New Year's Eve. In fact, I was not going to be part of "anything" J. But at least I'll be in Venice when we go into the New Year!
At the hotel, complete silence.
I leave around 10 pm for Piazza San Marco, the very center of it all, at least to be there when 12 o'clock comes. The receptionist looked at me in amazement, reminding me that nothing was happening in that square. Okay, all right, so what do I do? Should I stay in my room watching TV??
I take it on foot, I know I have to walk for about half an hour to get there. That's if I don't get the wrong way…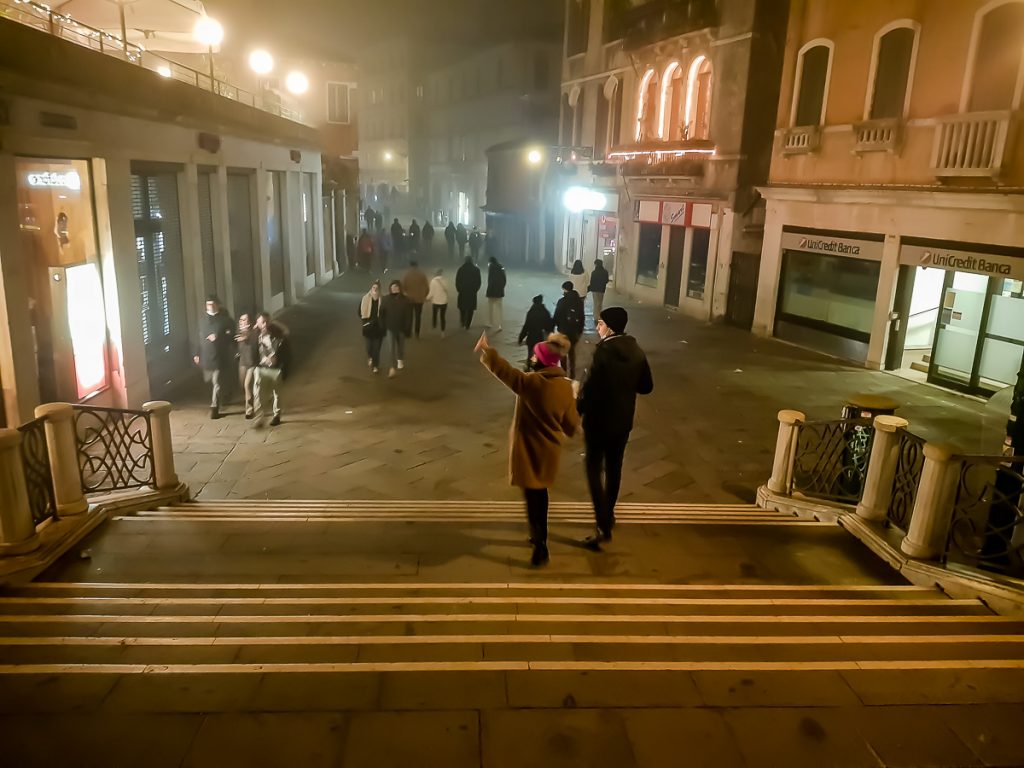 There are people on the winding streets of Venice. They are going in the same direction as me. Probably they thought the same, to get a place there, in the square, as who knows what fences have been put or what lines of police are there to stop the access.
Most restaurants are still open. I, for fear of starvation on New Year's Eve, thinking that everything would be closed with these restrictions, took some food to go, to have a small picnic in my hotel room. Only the script in my head is contradicted by the large number of restaurants full of people. People who, as far as I can see through the window, are in the middle of dinner.
Some Asians urge you from the side of the road to enter this or that place, where good food is waiting for you on New Year's Eve – like pizza or sushi, just don't think about any feast…
I walk forward, among some noisy gangs of kids, who make jokes and laugh out loud. Some guys throw a firecracker from time to time, to scare us, the people with weak hearts.
I expect the city to be crawling with police. I remember there were thousands in Paris! At every step, at every access point, there was a police car.
Here, only after about a quarter of an hour's walk, I meet the first police team plus the carabinieri. In a hurry to get somewhere, I'm not sure they are really serving and protecting me J.
Stores are still open. The ones with souvenirs. And stalls with all kinds of kitsch junk that bring joy to the tourists. Asian sellers don't care that the New Year is coming, they want to sell. But it's not a big crowd tonight.
Several already drunk citizens pass by me. And it's not even 10 and a half. Trying to get around me on the left, on the right, one holds in his hand the vessel in which the house wine is brought to the table in restaurants. The man took the whole vessel, never mind the glass…
Booom! And a firecracker exploded a short distance away from me. A couple in front of me got really scared.
Some girls have dressed-up for tonight, they even have carnival masks on their faces.
NEW YEAR'S EVE IN PIAZZA SAN MARCO
What fences? What lines of cops? Access is free!
It's almost 11 o'clock and in the huge square there are only a few lost people, just like me. Everything is foggy, literally! You take a selfie and you wonder what tourist attraction might be behind you hihi.
The police are patrolling quietly.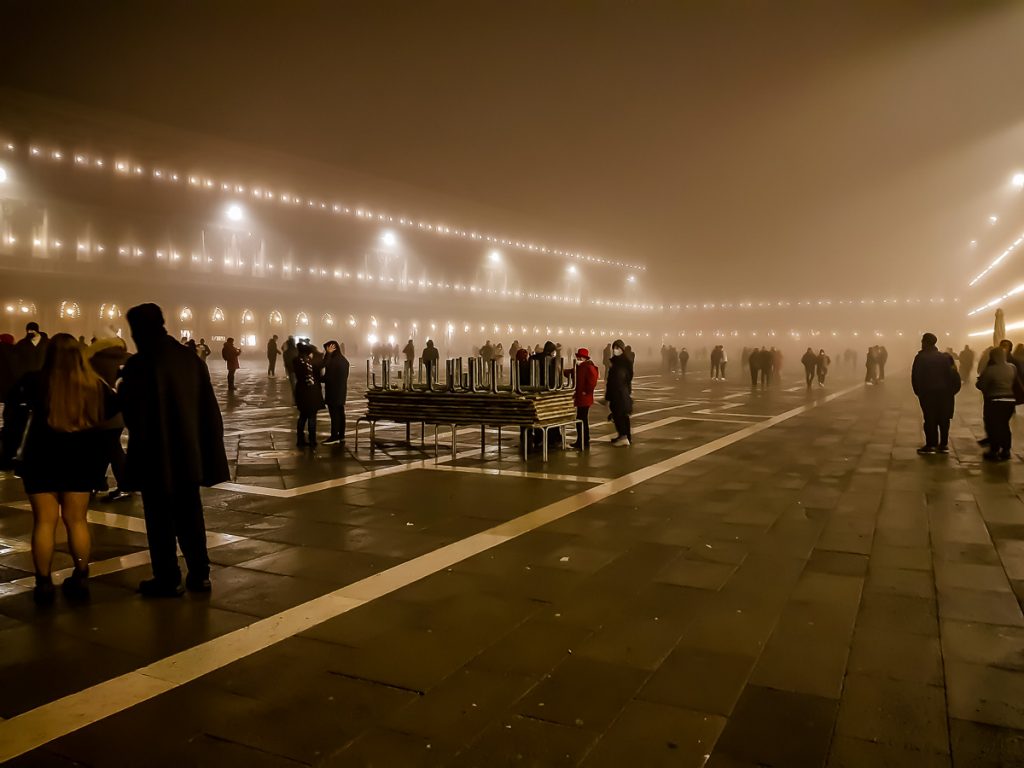 At 22.58 the bell in the Clock Tower starts ringing. It's already 11pm. How can it be? Is the time on my phone 2 minutes slow? Anyway, I start celebrating the New Year in Romania on my own.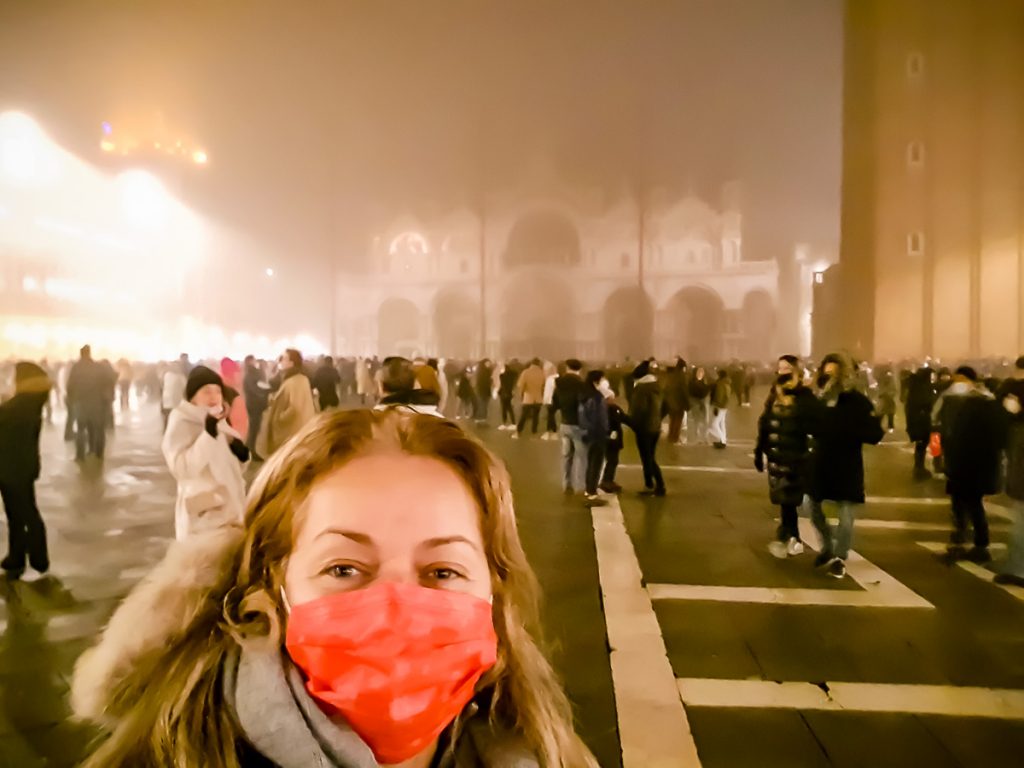 I feel like shouting in the market: "A Happy New Year!!!" I don't. When you're alone, it seems like it's not so easy to do whatever comes to mind.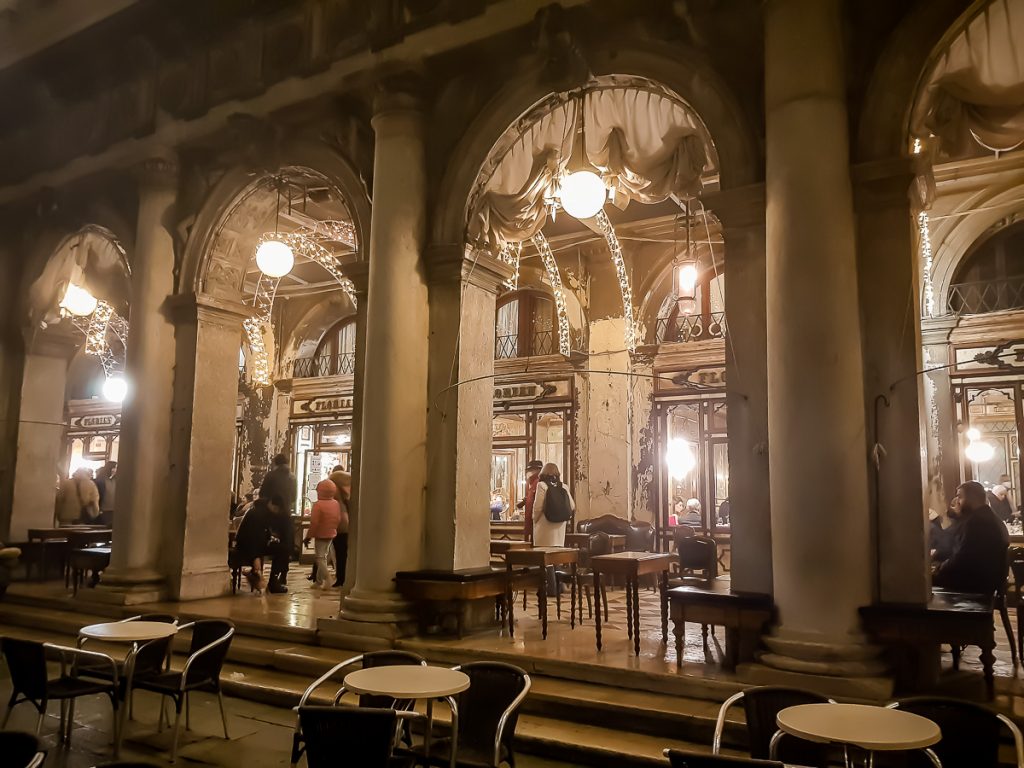 At the famous Caffè Florian,  considered to be the oldest European Cafe (1720!), there are people inside, but it is not full. I expect it to be luxurious, but no, I see people dressed casually, getting a snack, a coffee. Well, I also see two glittering young ladies, accompanied by two gentlemen, having champagne and strawberries with a certain superiority.
If I judge by the menu found on a table on the terrace, it seems that today the cafe has a special regime.
I start writing postcards in the hour between 2021 in Italy and 2022 in Romania. I sit on a sofa from the cafe, taking advantage of the fact that there is no customer outside (the truth is that it is very cold!)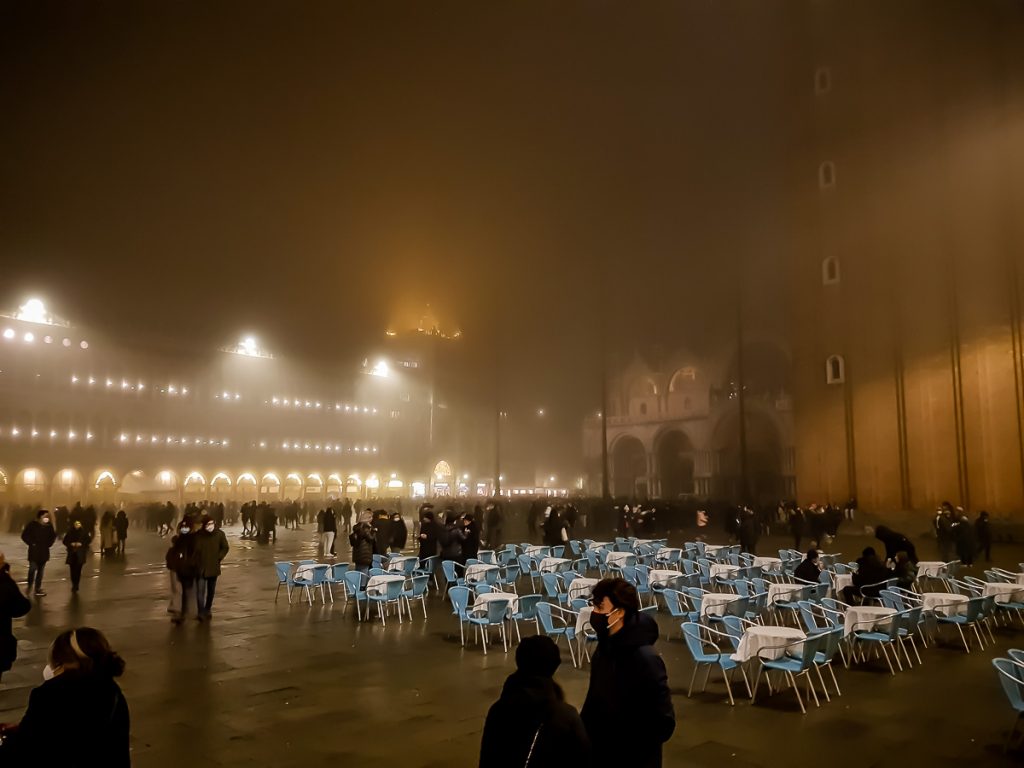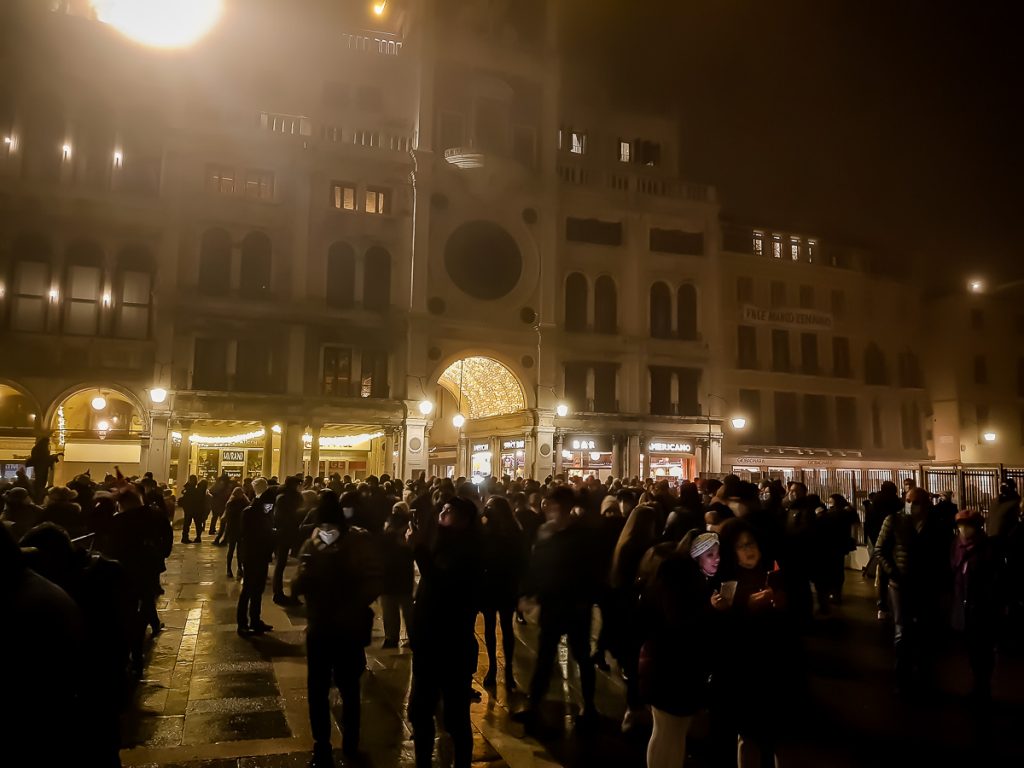 Around 11.30 pm, Piazza San Marco is already buzzing. I look up and see that people keep coming. Most of them gather near the Clock Tower in the square.
A second police crew appears, a sign that things are getting serious.
Some young ladies in high heels pass by me, wearing short skirts and almost invisible tights, so I wonder what their ovaries thing now… In the Square, today's dress code is "everything you have warm around the house".
Oh, and the mandatory accessory is… the bottle.
I don't think there is a couple or a group without at least one bottle. It doesn't matter if it's champagne, beer, Prosecco or wine. Let the drinks flow at midnight!
Wait, some people just broke a bottle. It got broken to pieces on the asphalt, making everyone look that way. The police too, who, however, do not give importance to the small incident and go on patrolling.
I remember in Paris how many streets to the Champs-Elysées were blocked and how, at the end of those who allowed you access on the boulevard, there was control for everything – bag, pockets, backpack, so that you leave there any bottle, glass, fireworks or firecrackers. You could only go with the drink in the plastic cup. That was it.
While as here… it's full of bottles! Those who managed not to open them before 12 o'clock, are waiting for the coming of the New Year.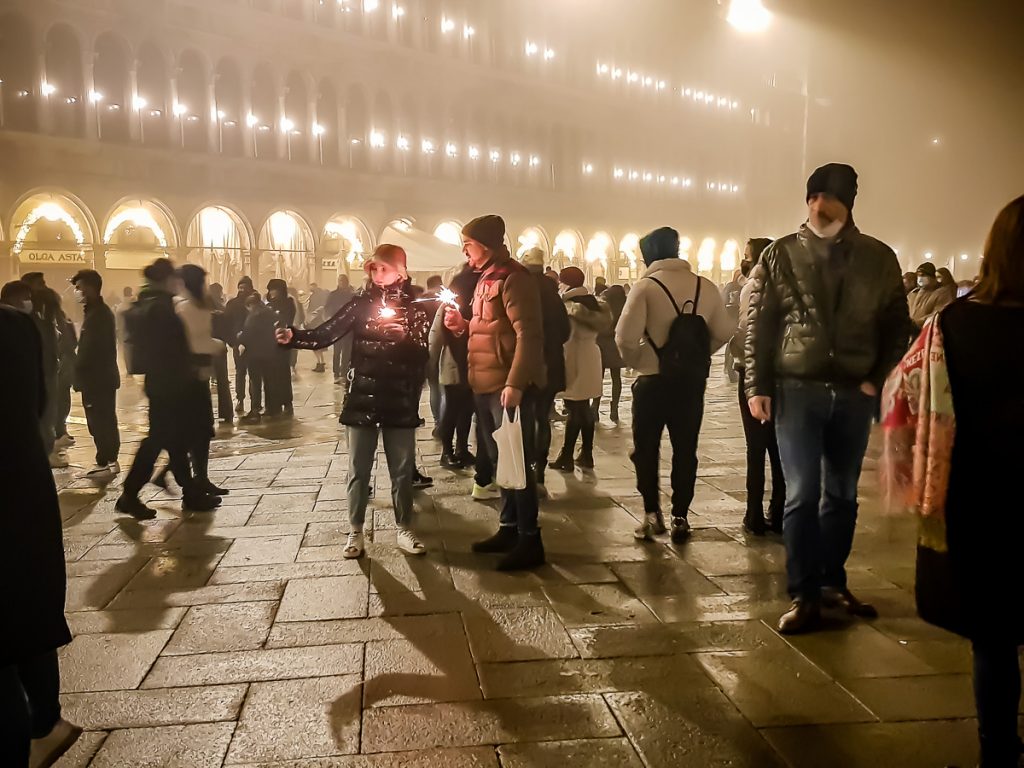 Some light hand-held fireworks, the usual Chinese ones. They quickly take a selfie, to impress the friends. Unfortunately, the Basilica, the Clock Tower and the Campanile are hardly visible due to the fog wave.
"Do you want a rose?" – an Asian asks some couples, hoping that the men will want to be gentlemen on New Year's Eve. No way…
If there's one thing we have in common here, it's that we're all on our phones hihi. We take photos, we send them, we take other photos, we film, we look on social media to see who is where tonight. Anyway, the selfie rules!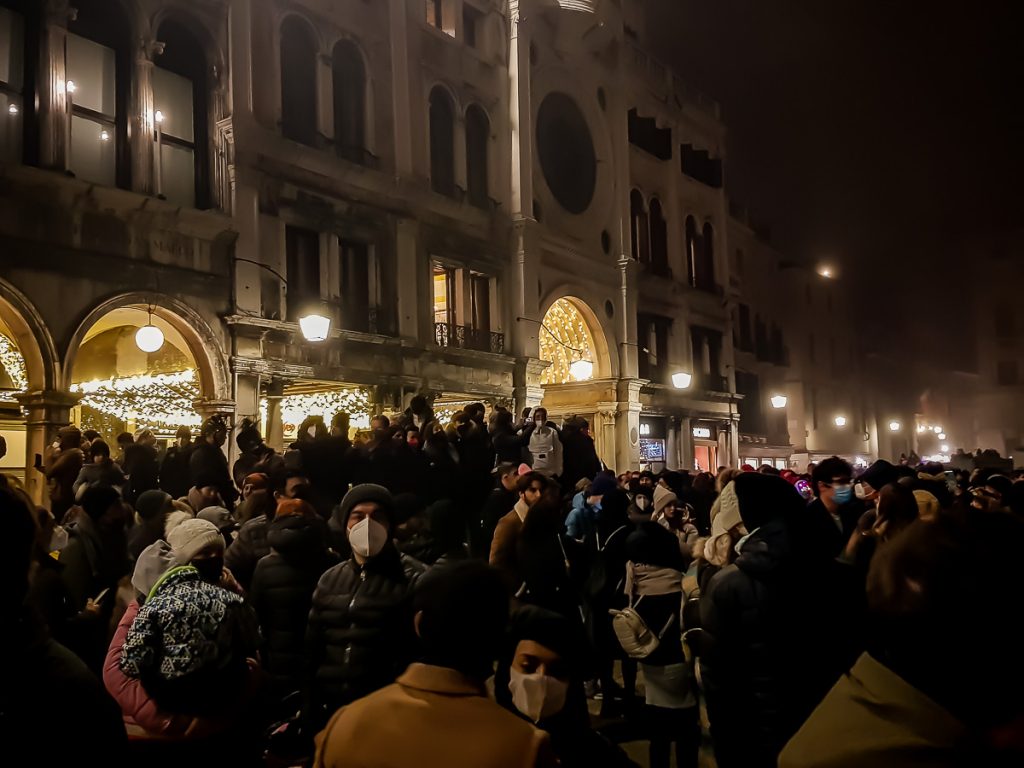 The square is already full! Lovers, friends, parents with small children, pregnant women, single people, illegal lovers, police and carabinieri.
Some cheerful Spanish people sing. And, as the singing isn't fun without drinking, they stole the start and have already taken out the drinks.
Some use carnival masks bought from street vendors. The truth is that they give a festive note. And, who knows, maybe at the February Carnival there will be God knows what Covid wave, it's safer to party now, right?…
MIDNIGHT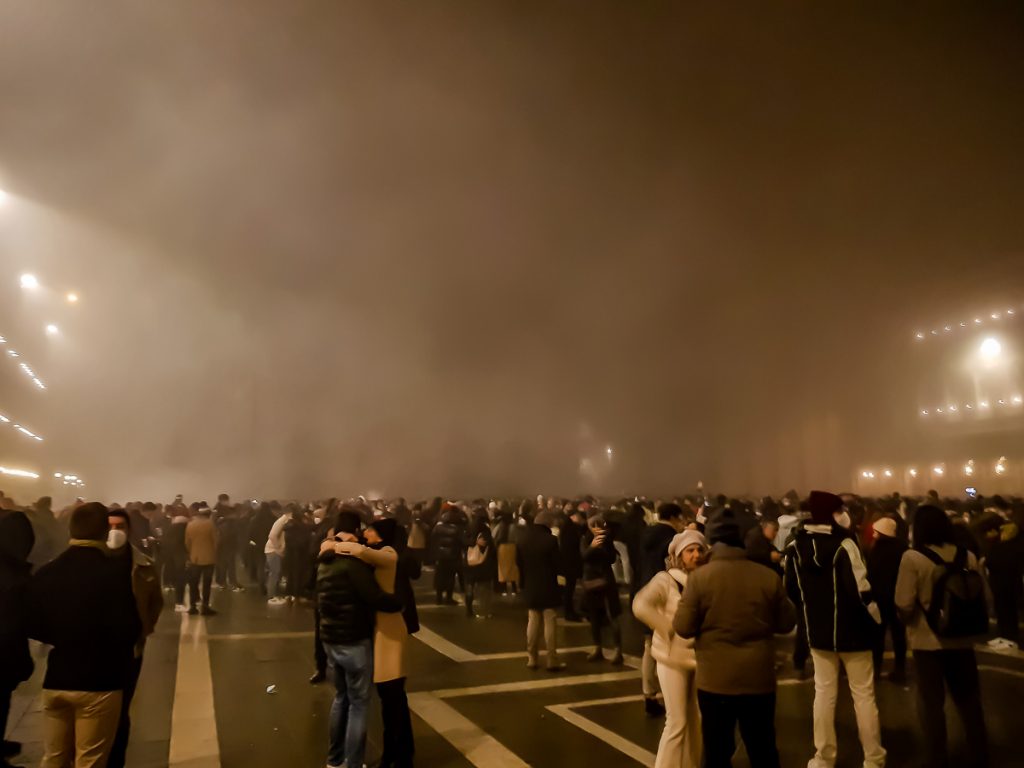 It's 45 past and the square is full. Even the lagoon area is full. The biggest crowd is still near the Clock Tower.
I walk among the people and I like to see how everyone has prepared for this moment. From masks to cake fireworks, funny hats, songs and things to eat and drink.
So as not to miss midnight, I'm filming. Through the thick fog I try to see when the time changes up in the Tower. And… there you go: it is XII.00! This is what the clock looks like. I filmed it during day, when it changes to 12 o'clock:
Like me, there are others who notice the 12 o'clock in the Tower, so a small wave of enthusiasm starts. A Happy New Year!!! 2022 has come!!! I'm filming this entering the New Year, kisses, champagne etc. But the wave goes out quickly.
I also stop recording when, right there, I hear: "Five! Four! Three!". What?!?! Well how come??? I look at the clock on the phone and see that yes, the time is barely changing and 00.00 appears. A huge wave of wishes, screams, glasses, fireworks and so on.
Really?!?! So I missed the real entry in 2022 because the Clock Tower is fast? The answer: YES!
No, I really want to file a complaint with the Venice City Hall. Does anyone know what the mayor's name is?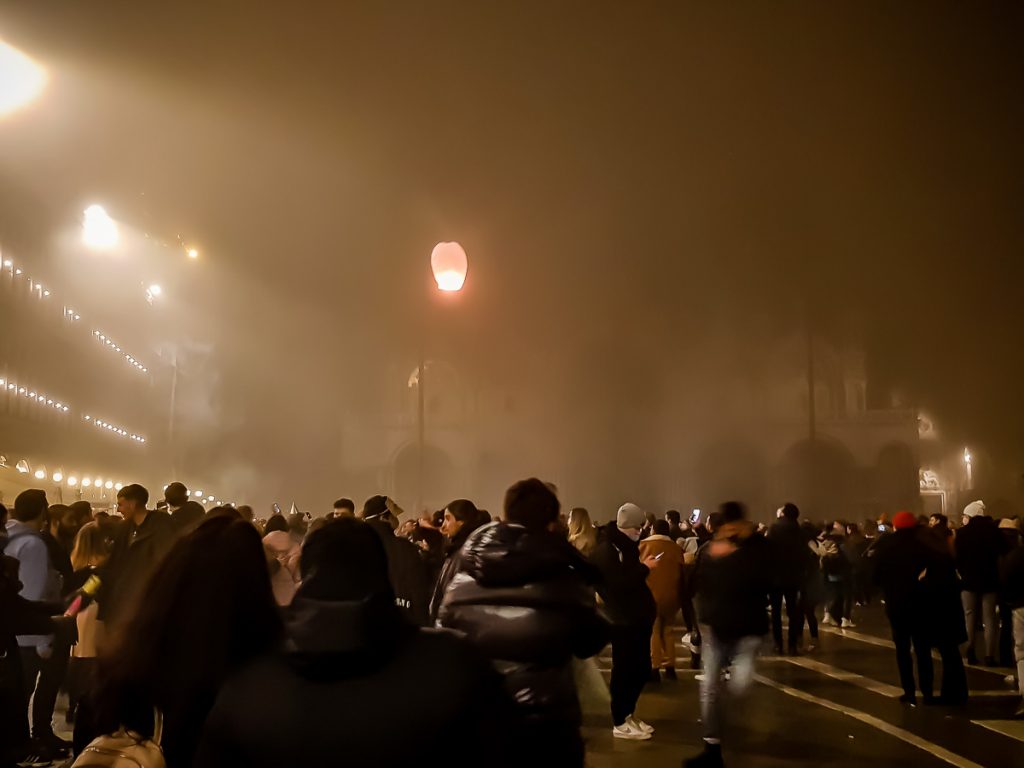 It's a very nice atmosphere, a few lanterns are launched and people support them with cheers.
If I were to tell you what really caught my eye, were the kisses of the couples – of any kind. Man, they kissed for the whole year!
Drinks flow everywhere, people sing what they each know. Many are already on video calls with relatives, friends.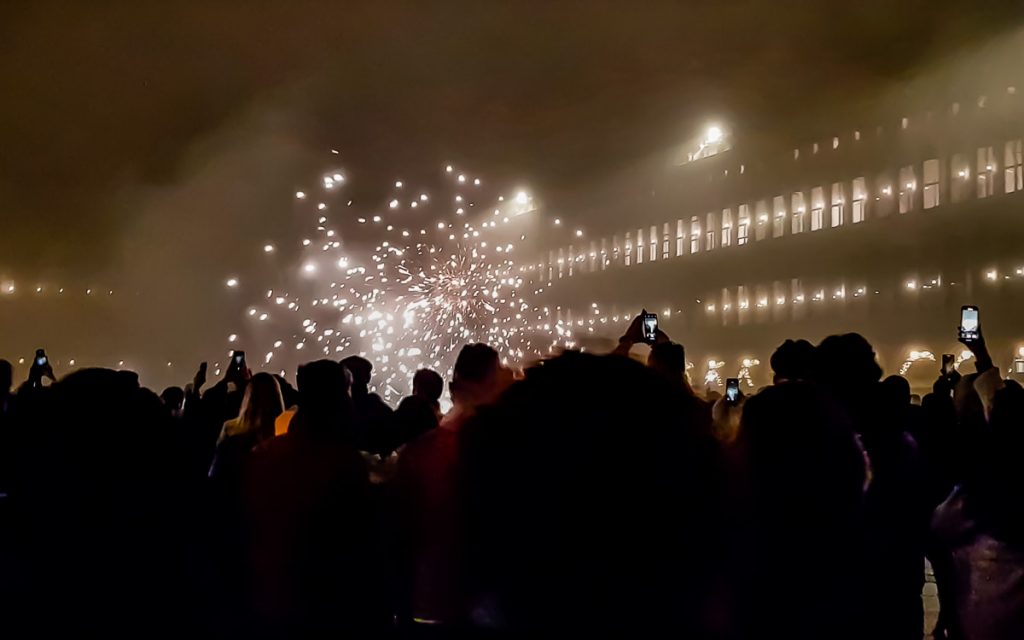 A big artifice is thrown in the middle of the square. Everyone is delirious! Police are in a hurry to catch the "criminal". Boos for the authorities are heard…
In another corner of the square, another man throws another artifice. And again delirium, and again, the police. And so the hunt for the "criminals" goes on through San Marco Square. I don't know how these guys manage to quickly circle around them so they can throw the fireworks that make people ecstatic.
Did you say anything?? It's just that I can't hear with my right ear anymore. Someone threw a firecracker near me. I hate them!!! And they are heard more and more. I don't like to stay here anymore, if I have to look left and right for fear of being hit by firecrackers.
Towards the shore, where the gondolas rest, the people move around. Many take pictures at the local Christmas tree, drink and laugh.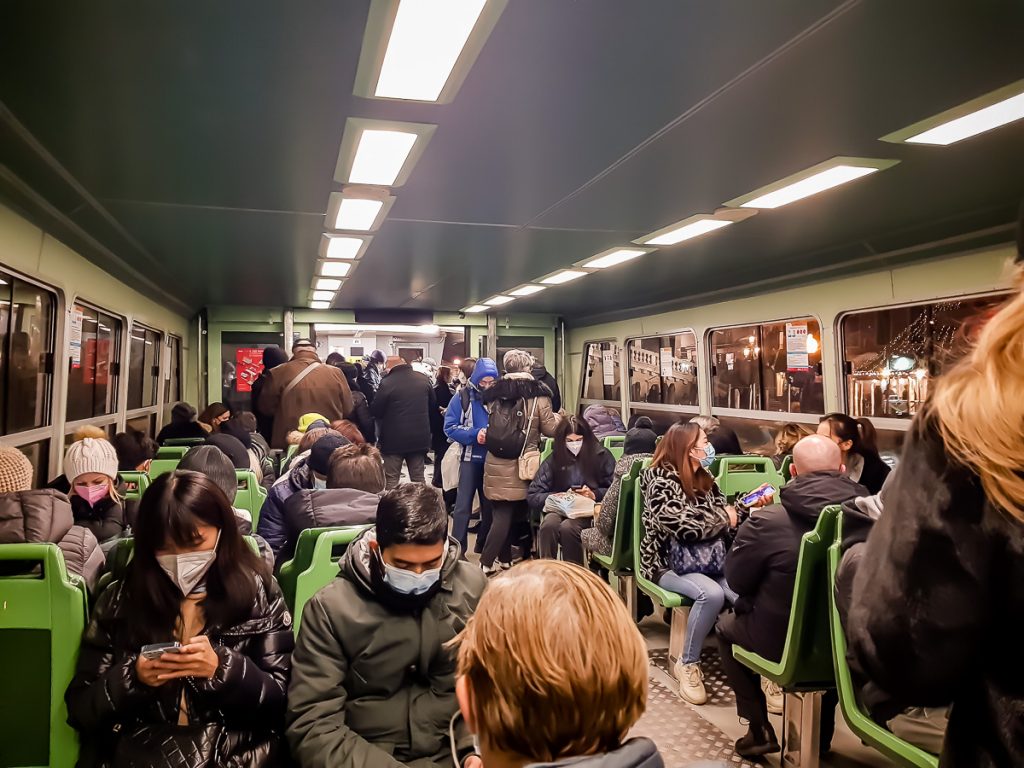 I'm taking the night vaporetto. A kind of commuting bus which stops at all stations in the non-touristic areas. I arrive at the hotel after almost an hour. A little bit more and I could catch New Year's Eve 2023!
Unlike all the people on the planet who were in Piazza San Marco today, I open my 33cl prosecco in the room, not in the Square at midnight. Anyway, now it is all right too, if I think the New Year has just come in… Iceland. Come on, a Happy New Year!!!
You can see the images captured by me tonight:
About the Parispandemic New Year's Eve, you can read here. Now, since this pandemic, it seems incredible to me what happened there!