I haven't been to London for 2 years! It's something for me, considering that I have an addiction to this place, where I have been 25 times!!!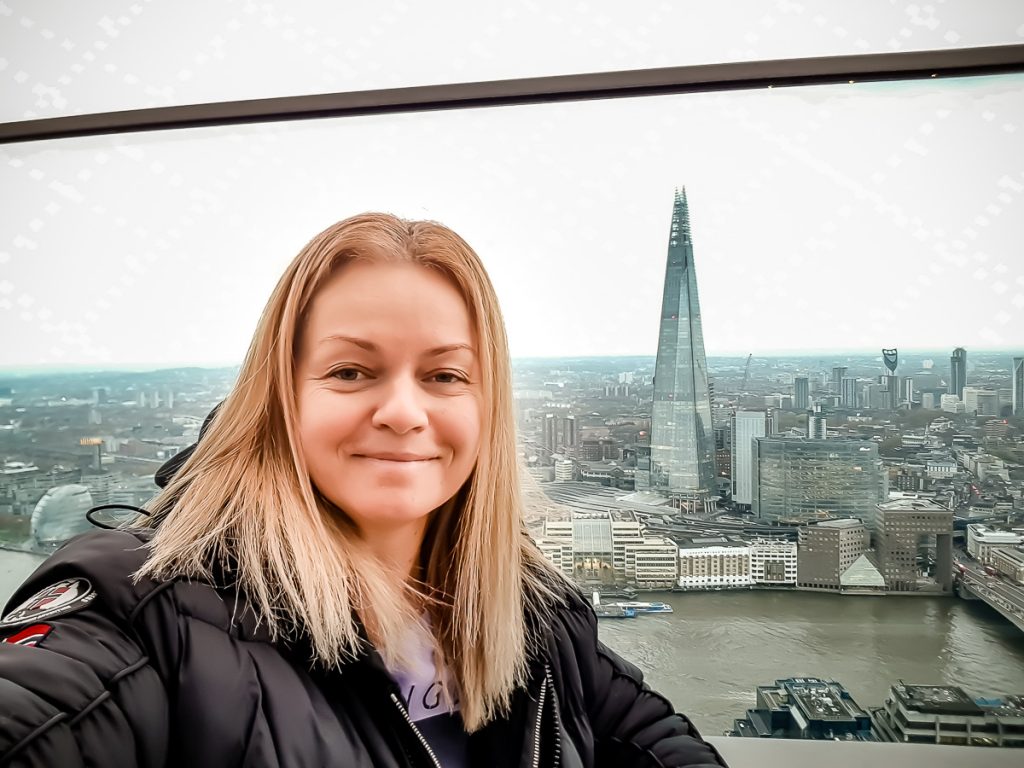 The last time I got here, in November 2019, nothing predicted what would happen on the planet and how the pandemic would change our travels…
Basically, for a year and a half, I removed London from the list of "possible destinations", firstly because access was forbidden, then because they had some horrible conditions, including quarantine for I don't know how many days, paid out of your own pocket, tests over tests… And then the Delta wave also came, which gave me chills.
Now, however, I have taken the courage! Being both recovered form COVID and vaccinated, on the one hand I felt safer, on the other hand, I assumed it was easier to enter the UK.
Yeah, right!
I did the test before leaving – luckily they started accepting antigen tests, as it cost me less than a PCR. Then I needed a reservation for a PCR test to do in England on the 2nd day of arrival – this is because I am vaccinated and Romania is in the green zone for them, otherwise things would have been much more complicated.
And, man, I had to find a place to test myself in London. On the net, dozens of clinics threw their offers at me, starting with 20 pounds for the test. Only the fun cost me… 119 pounds!!! Almost as much as the plane ticket!
But without this paid appointment from Romania, I could not have taken the next step.
This was followed by the filling of a "locator form", mandatory to get on the plane. In this document you are also asked to present the PCR test reservation in England. Man, I wrote so much in this "locator form", you'd think I was taking an exam for college! The main chapter had about 34 questions!!!
And, as there are discussions now about our new ID cards, let me show you what I found in question 16: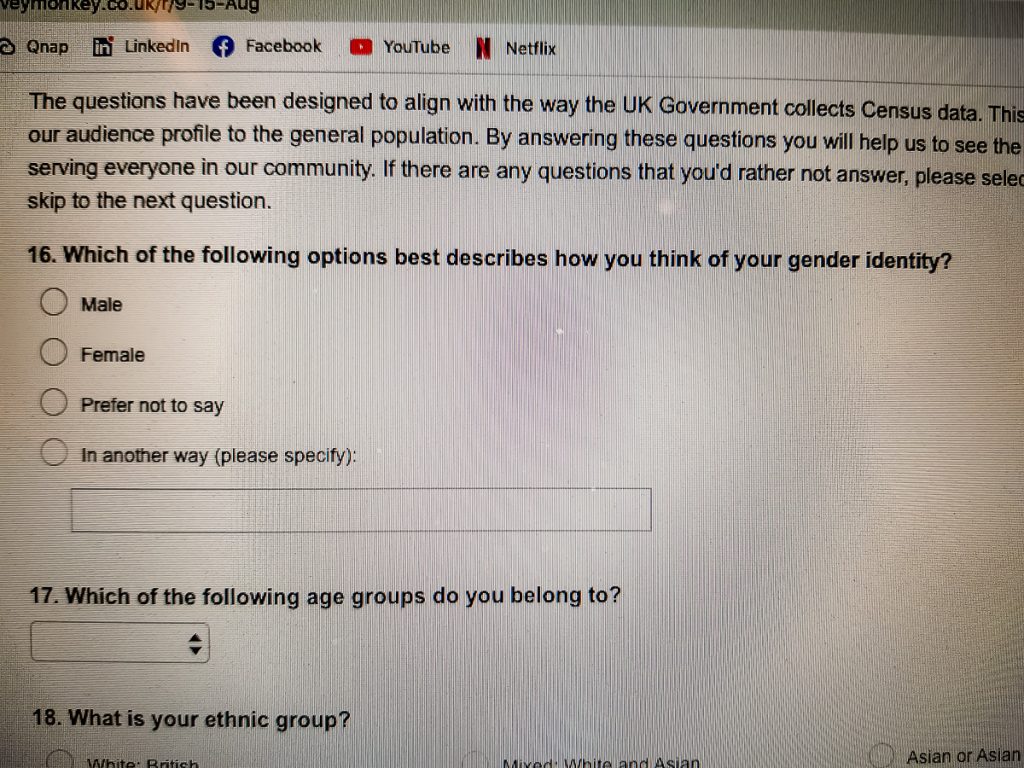 Okay, no more "grid test", I can now make my suitcase sure that I have everything in order, according to the requirements.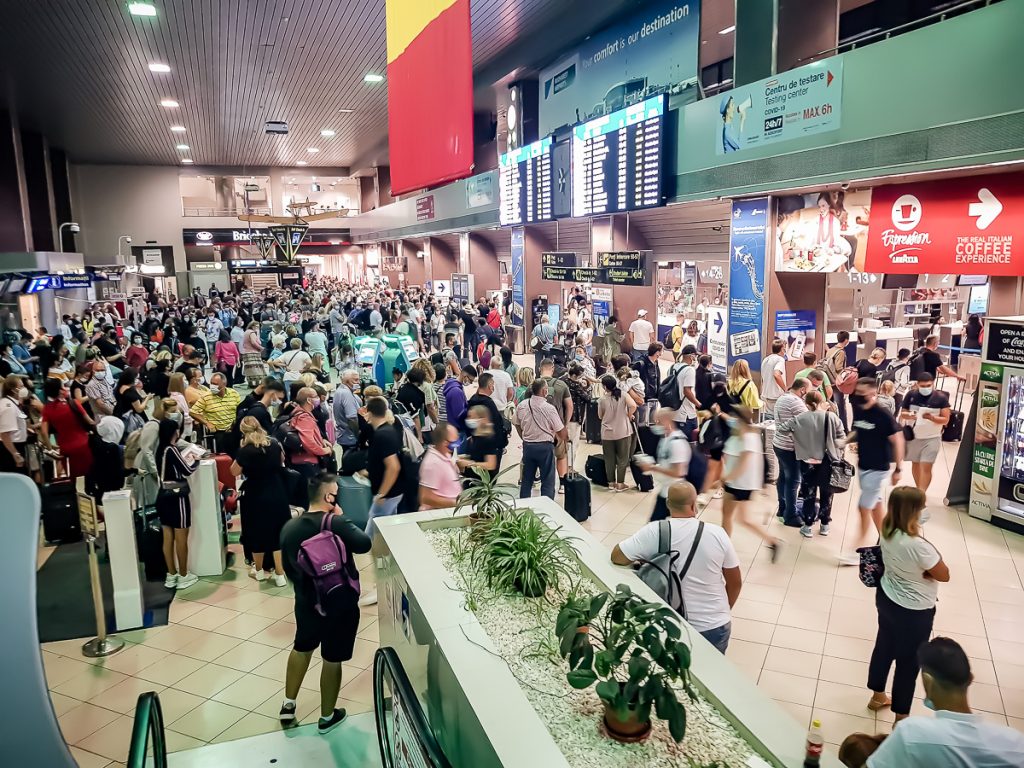 The Bucharest Airport is busier than ever! I haven't seen it like this since the good old days, before the pandemic. With check-in queues that reach the entrance of the airport!
Thousands of people go enthusiastically, on postponed vacations.
I expect not many people will fly to London, given the conditions, but what do you know, the plane is full!
It's true, I don't see much of a holiday cheer on the faces of the others, but rather the worries of some Romanians who return, with their families, to the adoptive country.
I seem the only crazy one excited that I'm going to see London again, but, especially, that I'm going to musicals, which I missed a lot!
By the way, the shows have just resumed. Some in June, others in July, and many – already known to me or premieres – start only in September.
The wave of relaxation in the UK (July 19) has eliminated the limitation on the number of people in meetings, the world who worked from home is gradually returning to work, nightclubs have reopened, social distance is no longer mandatory, theaters and cinemas return to the maximum capacity of spectators, and wearing a mask is only recommended in crowded public places, such as public transport.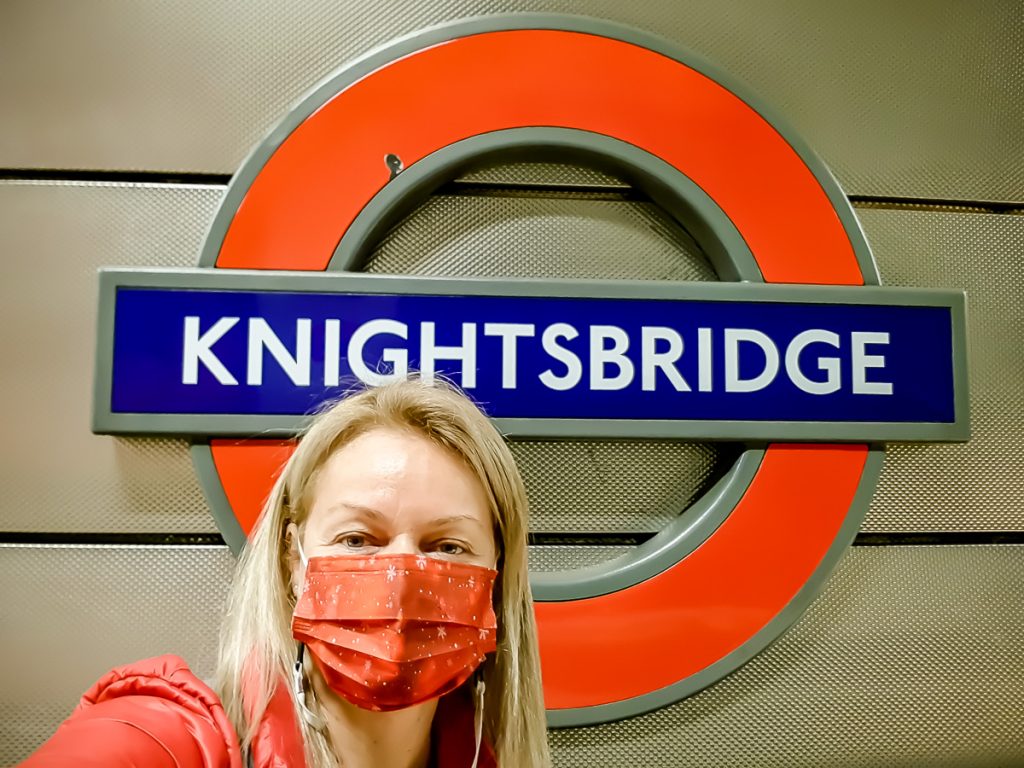 It can be seen that it is only "recommended", because in the subway I came across so many people without masks!
The endless escalators on which you normally have time to see all the ads for shows – be they musicals, plays or opera, are now full of messages related to the pandemics, masks, disinfection.
In some places you only see this, in others, the messages alternate – one musical, one mask…
LONDON IN PANDEMIC TIMES
WHAT I FOUND DIFFERENT FROM NORMAL TIMES
There are many terraces on the road. Ever since the pandemic and the restaurants closed inside, they took a piece of the street and opened a terrace, narrowing the road.
London? It's full! I haven't seen it in such a long time!!! On the one hand, it gives you hope that we return to normal, on the other hand, it scares you, sometimes, when you get into a crowd.
But what is strange is that it is not full of foreign tourists, it's full of English tourists. I heard so much British English on the streets that there was no need for confirmations, but both at the restaurant and at the hotel they told me that since it was possible to travel between cities, since the performance halls, museums etc. were opened, the British all came to London.
From time to time I still hear Spanish and Italian from some noisy families and… wow, I see a couple of Asians! It seems bizarre in this pandemic landscape.
The city is even more animated when the guys with feathered and embellished means of transportation turn the sound up on one hit or another and drive their slightly drunk and thus happy customers, on the streets J.
IT'S UP TO YOU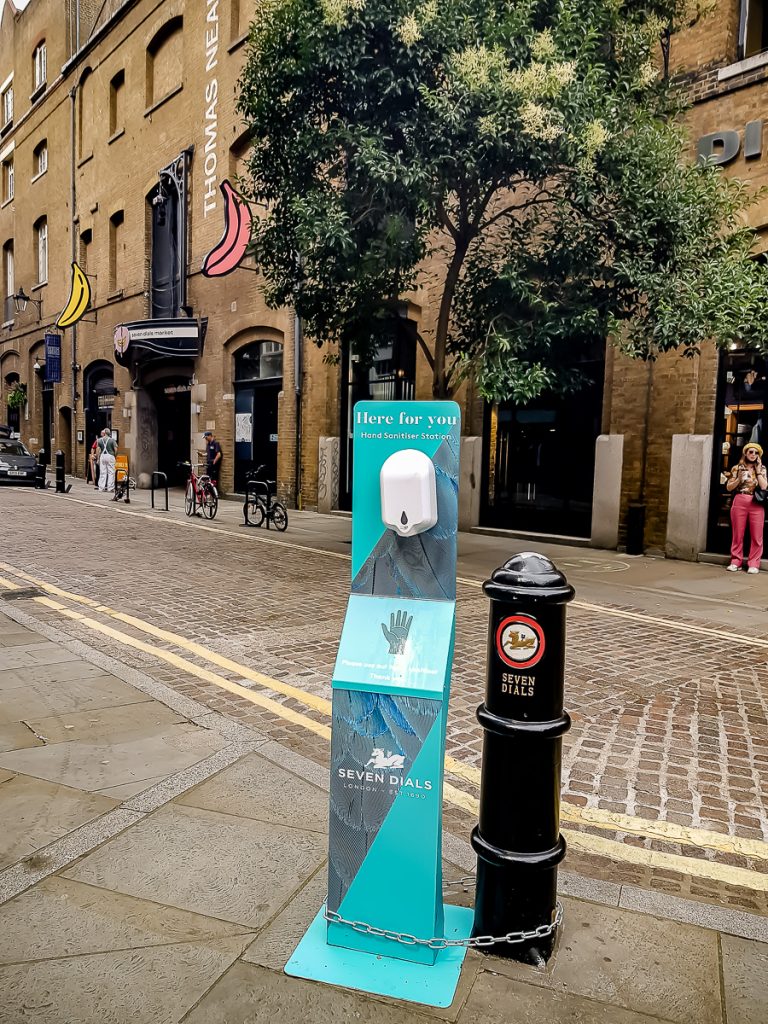 The city disinfects you, if you want, but it doesn't put a mask on your nose and mouth.
Very few people wear masks! Okay, on the outside, I understand, but even inside I didn't see people desperate to put their mask on their face.
"Wearing a face covering is now up to you" – is the message I see in almost every place, from the hotel, to the theater or restaurant.
In the shops? Here they kind of confused me.
The entrance to the stores is well marked, so that it is not related to the exit. I'm given disinfectant for my hands by the man at the door, who won't let me in otherwise. I ask him what I am supposed to do with the mask and he tells me: "it's up to you"…
That's the politics, if I were to draw a line after a few days in London. "It's up to me" whether I wear it or not. Anywhere. Even in places where a "must" appears on the masked poster.
TOURIST LONDON IN PANDEMIC TIMES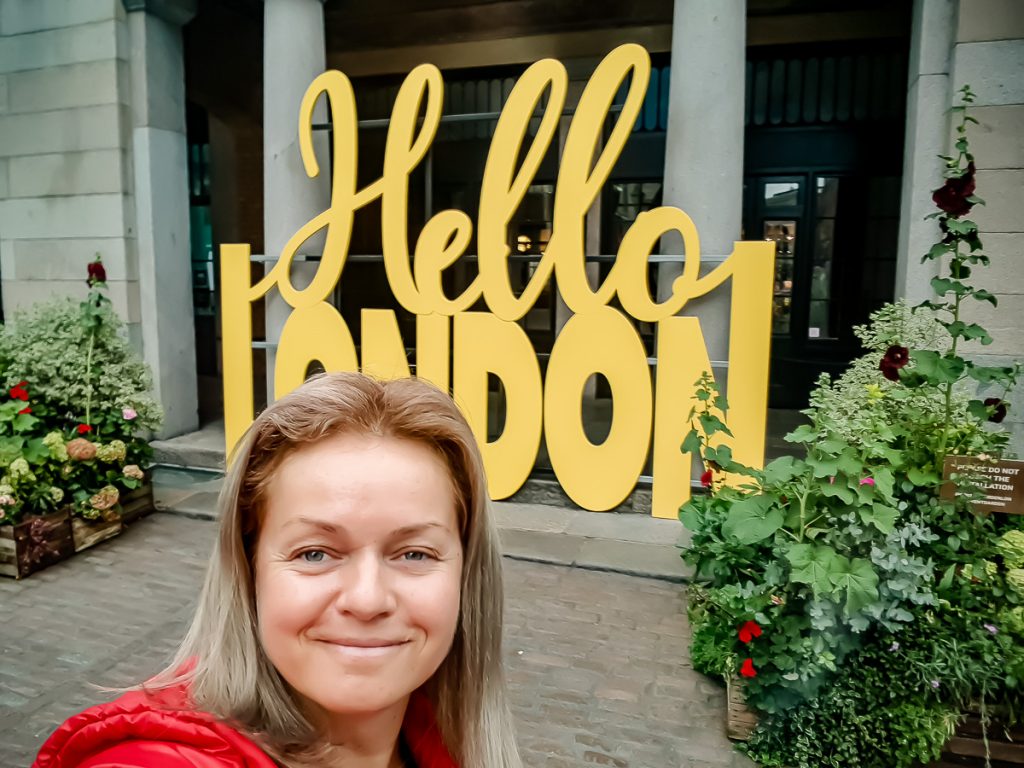 I missed London so much that I took a tour of all the tourist places I know, where I have been so many times. But I wanted to see them again, to see how they are during the pandemic…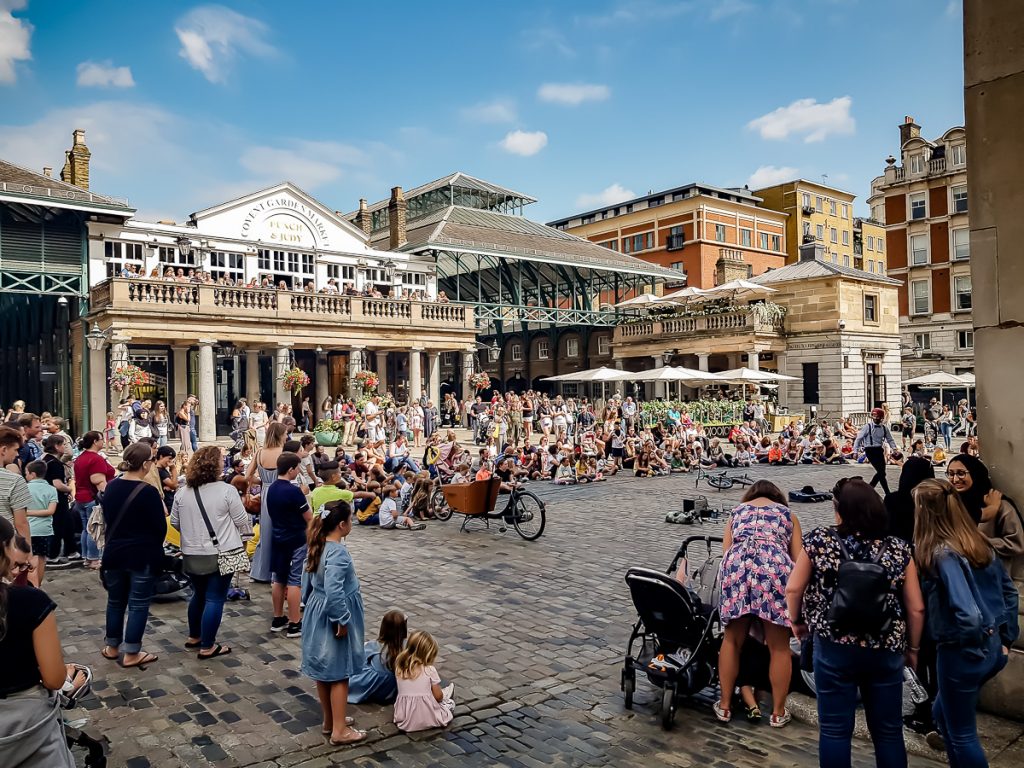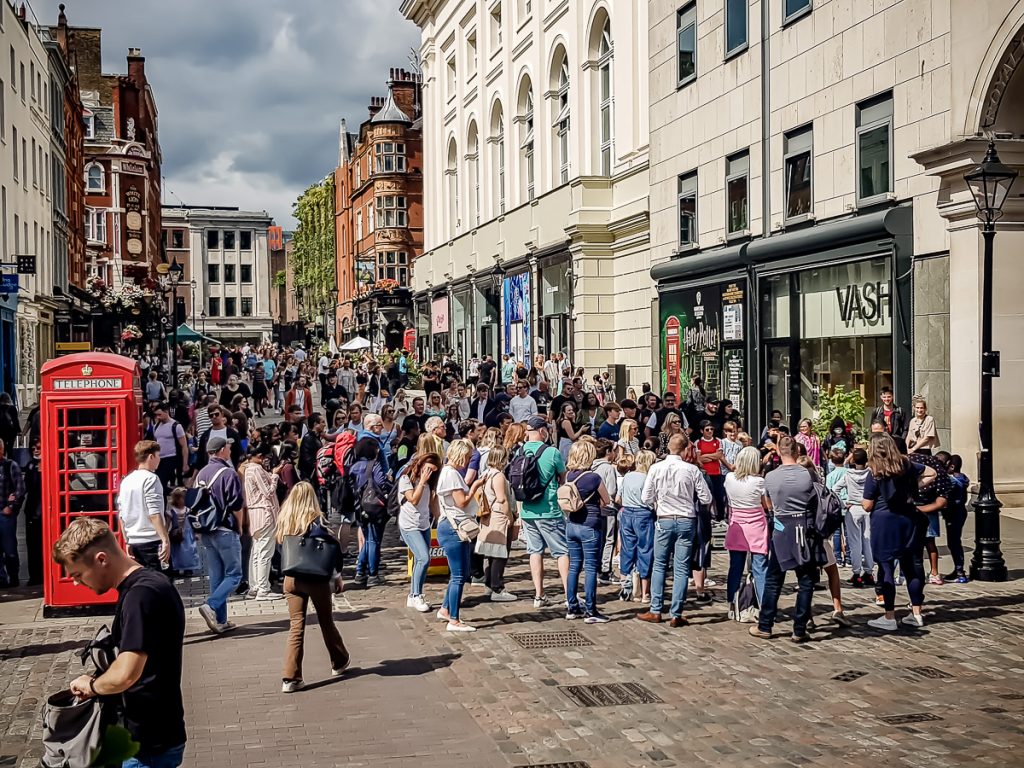 Covent Garden is full of people! Cheerful, noisy world, full terraces, street artists. It's like in the good old days, I'd say.
I walk for tens of kilometers every day, enjoying the famous places. Buckingham Palace, Tower Hill are very well, thank you, in the same places, maybe even calmer in this pandemic, which has rarefied their invaders…
I put on my mask, I take off my mask, depending on how I feel, safer or not.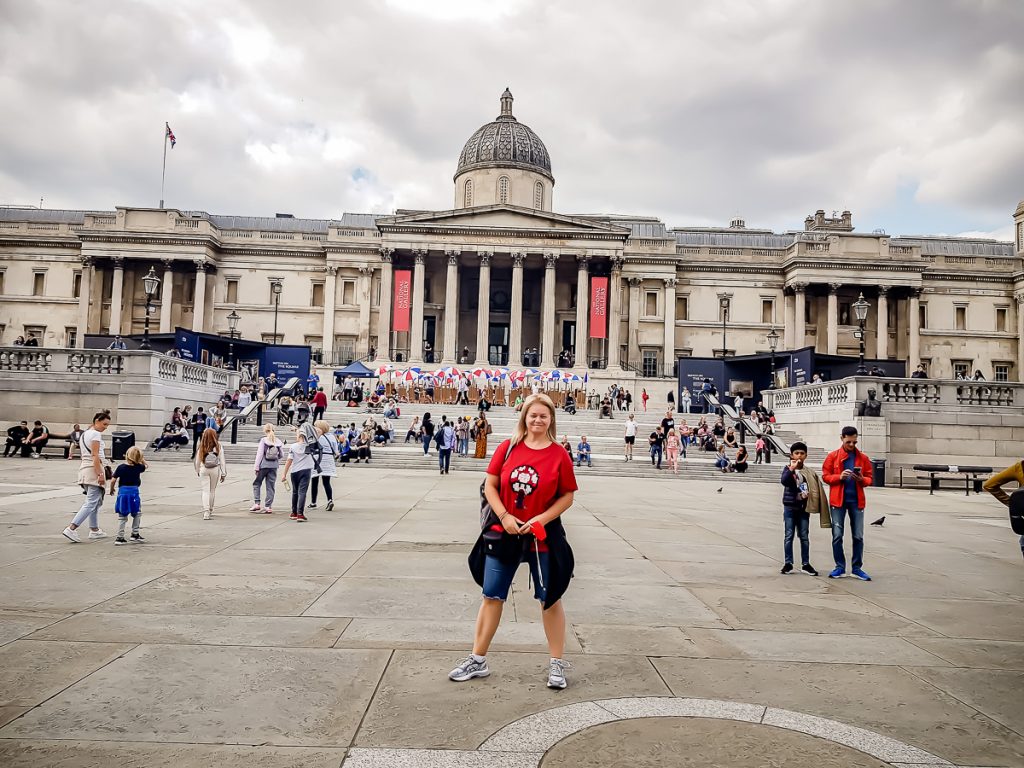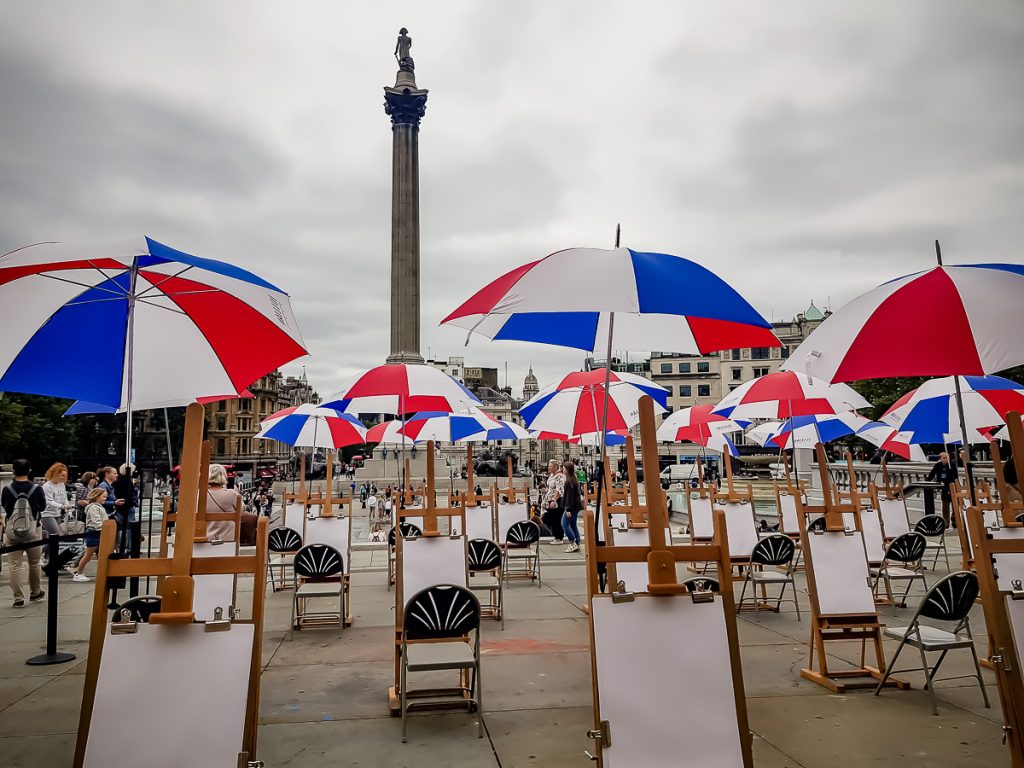 In Trafalgar Square, people came up with an idea that I think is very cool: they installed easels for those who want to show their talent in painting/drawing. Each easel also has an umbrella attached, considering the clouds in the sky.
Around 10 in the morning there is no one, but around noon the chairs are occupied and it is nice to watch both children and adults drawing what they can.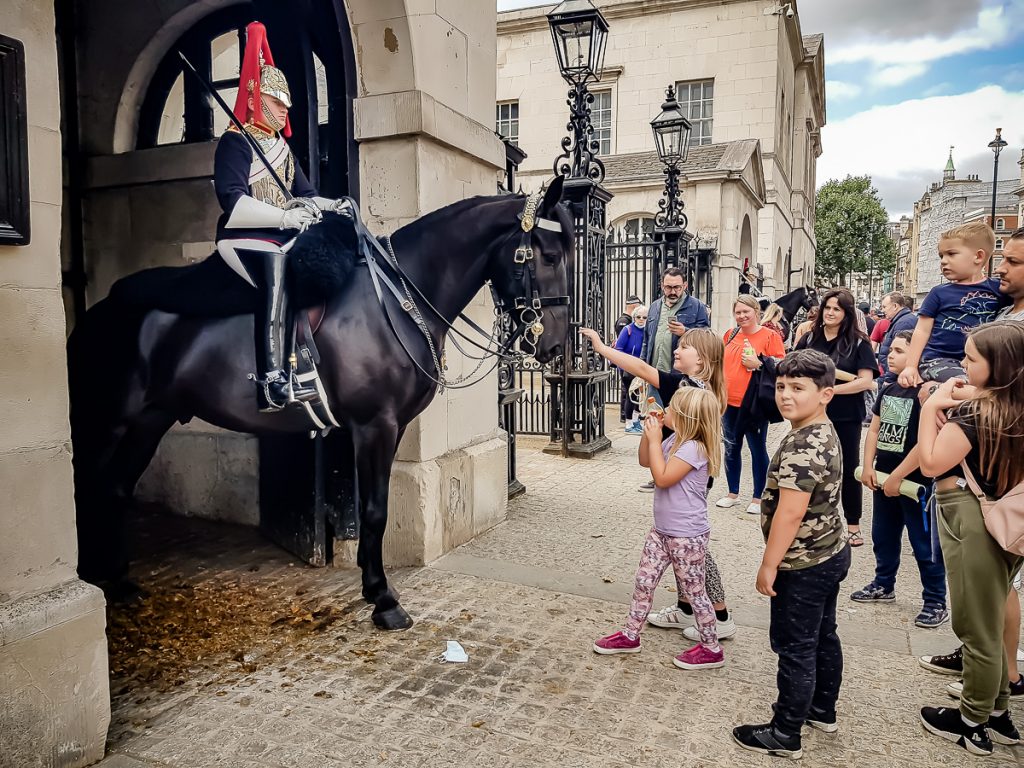 The horses of the guards relive their glory from normal times: many people, but especially children, stop in front of them and pamper them with caresses, despite the warning that you can be bitten when you expect less…
I look from the bridge at the London Eye and see that it's working. It does the 30-minute tour that I've done several times, in different years, but from what I see now, the capsules are mostly empty.
Instead, Big Ben is as covered in scaffolding as it was two years ago. It's a renovation site. The clock from the bridge side works. But the beating is no longer heard. I find out later, from a guide, that Big Ben beats the hours on some special occasions, like New Year's Day or Queen's Day.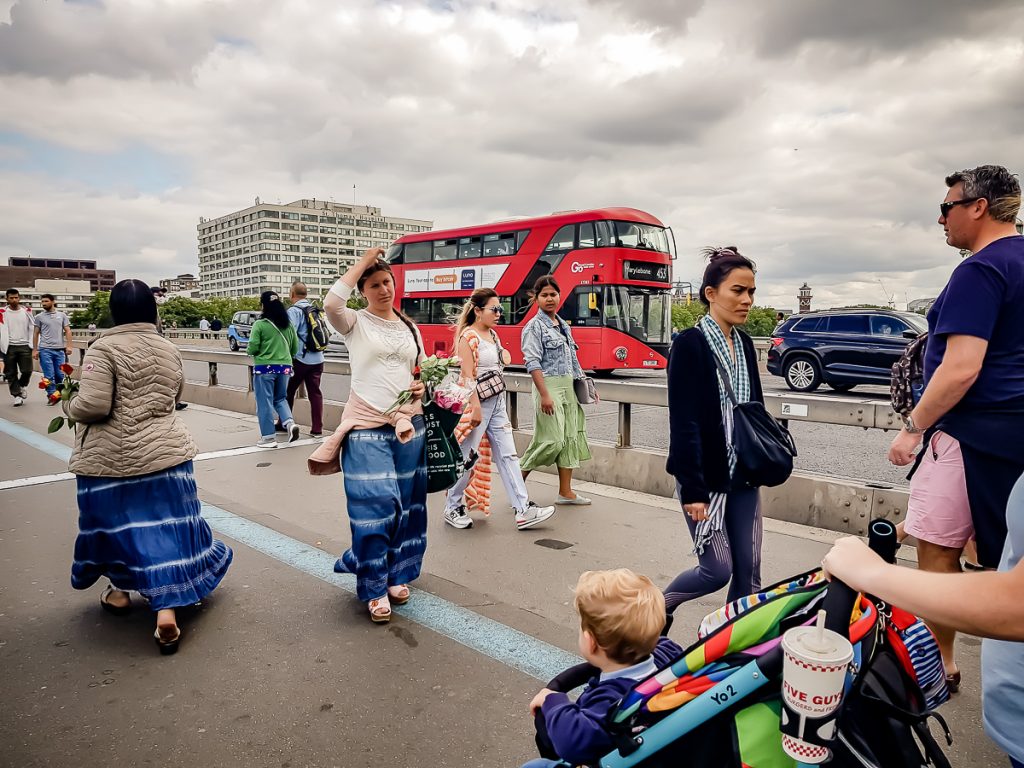 I see some of our women on the bridge. They offer roses misleading the people, because they take the rose believing it is offered to them, then they find out that they have to pay for it…
THAMES RIVER TOUR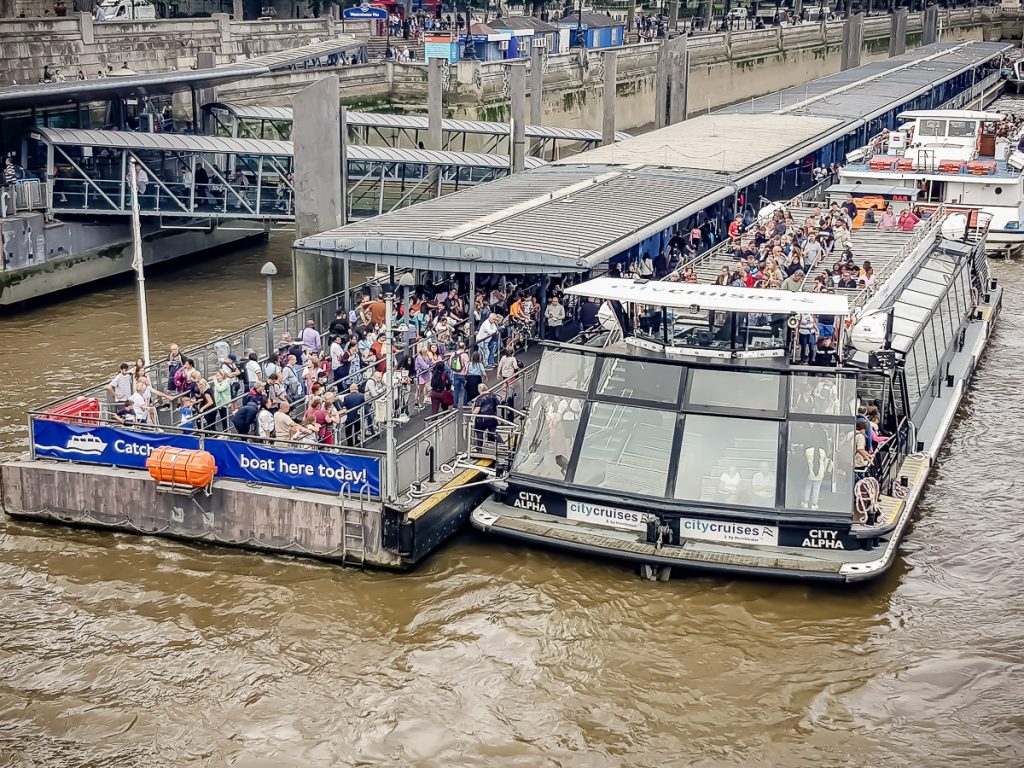 I haven't been on the Thames in a long time and I take advantage of the fact that the queue of hundreds of people goes fast, to take a tour. (I don't know if 5% of the people are wearing a mask).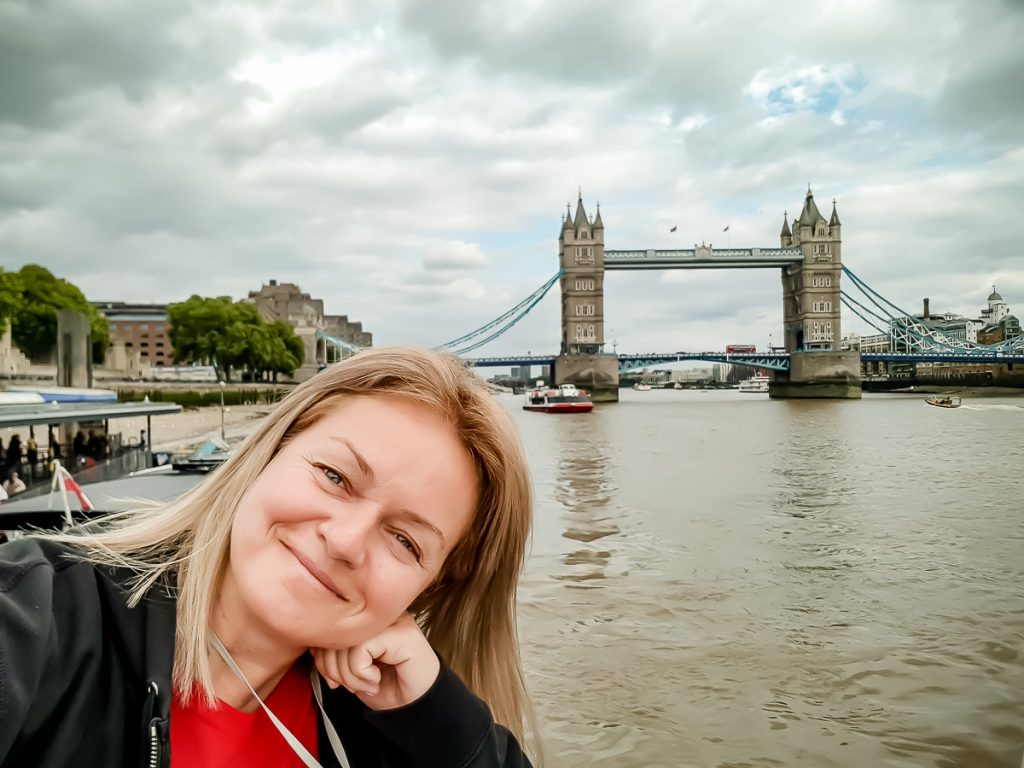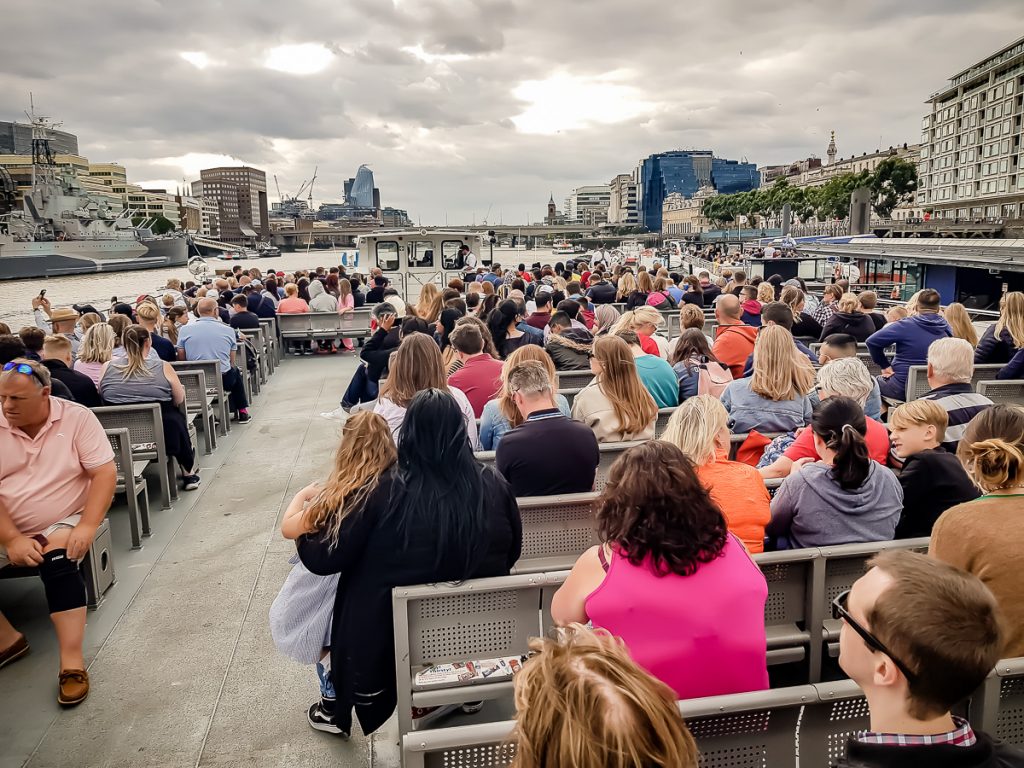 Between London Eye/Westminster and Tower Hill you take a really pleasant river tour, in which a guide tells you about everything that you can see. If the wind doesn't blow too strong, you can hear what the guide says…
PCR TEST
Wait, the day of the test has come!
God, I was so stressed not to forget about this appointment! I could see myself being taken by the police and thrown across the border…
I receive instructions from the medical center that I am not allowed to eat, drink or chew gum at least 20 minutes before the test. Otherwise, the test result will come later. Well, I don't understand much, but I go to them disciplined, after not eating, not drinking and not chewing.
Next to a very popular bar in the past years (now closed), in a small room, behind some blue curtains, a lady is waiting for me to do my test.
Here, as in Italy, when I did a PCR test, I am surprised by their way of doing it: they put the stick in my throat, then they put the SAME stick in my nose. God, it's a good thing it is not the other way around!
And that's it. Look how 119 pounds went down the drain in just a few seconds!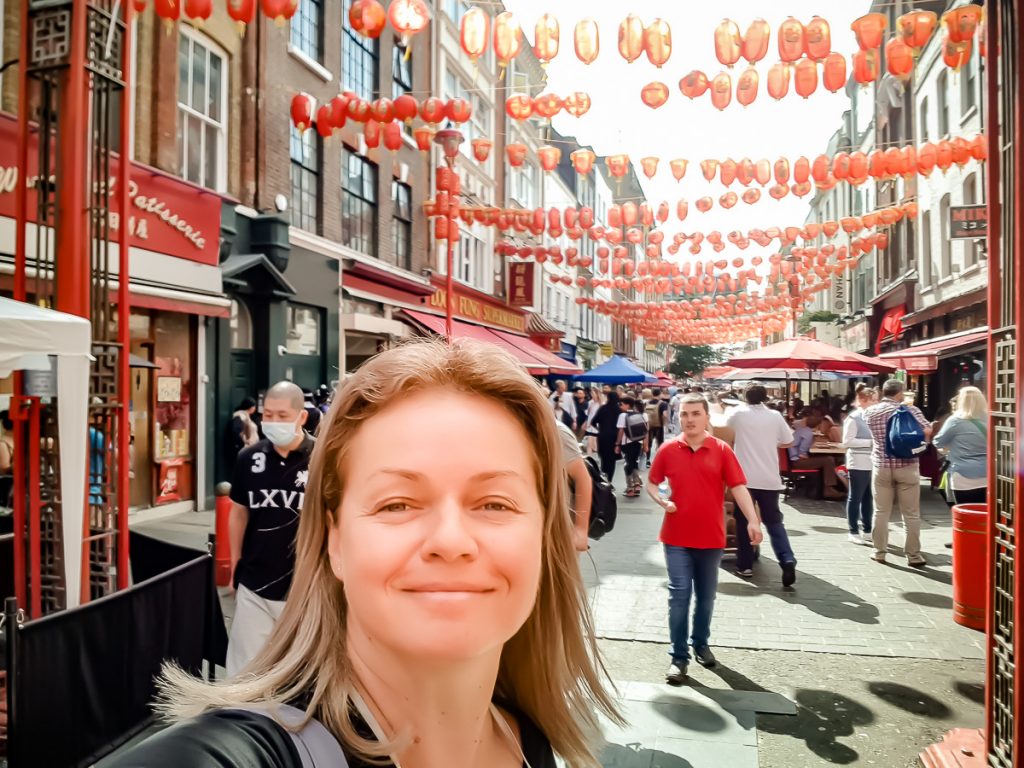 I take my hurting nose from the corkscrew to enjoy the smells in China Town, where I can't wait to stop for a duck sacrificed for the happiness of the greedy.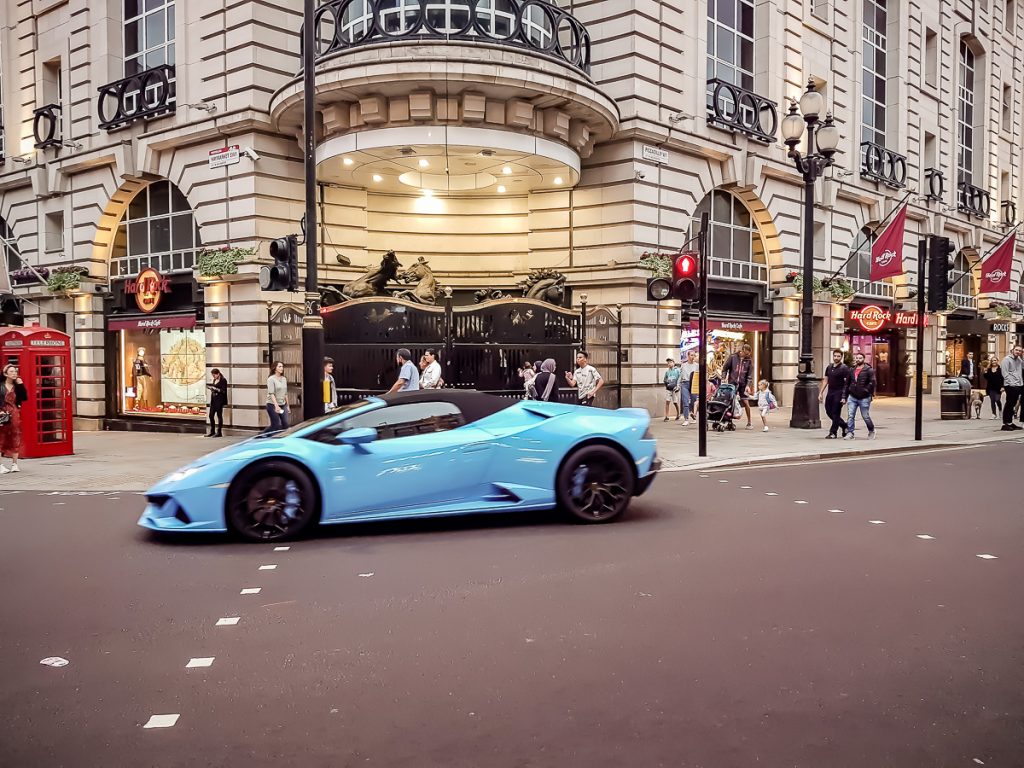 I don't have the time to say Hello to the 4 famous horses in Piccadilly Circus, now protected by an iron fence, because a few hundred horse…power, from a very expensive and noisy race, get in front of me.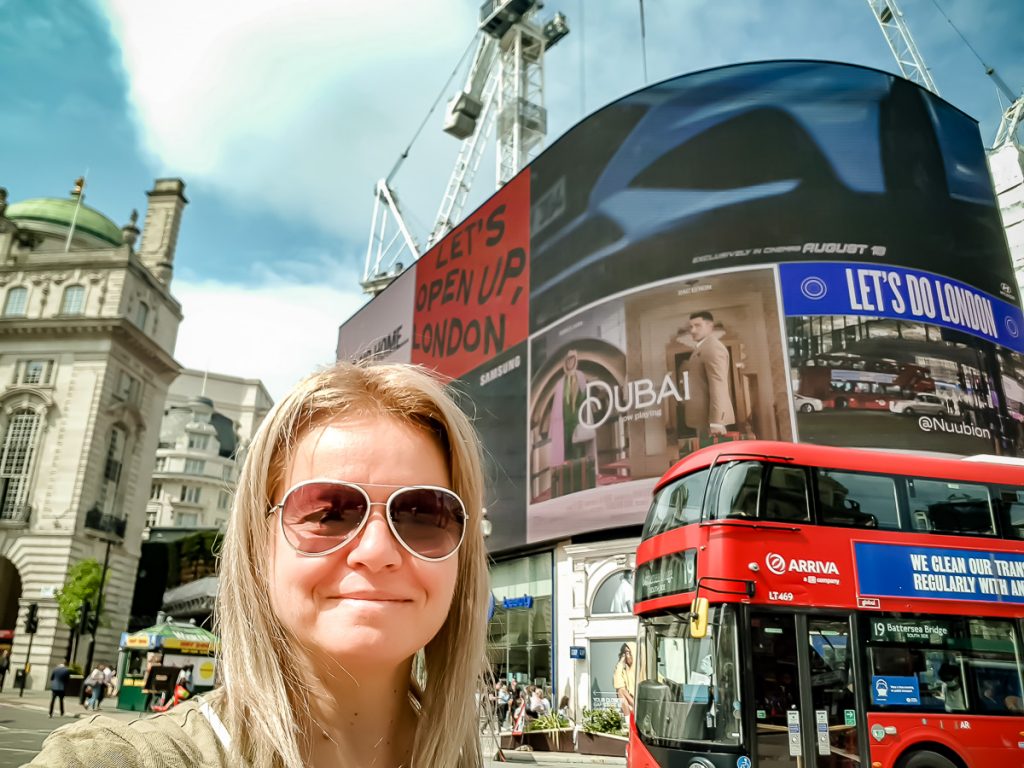 "Let's open up, London" – appears big, in an advertisement on the famous advertising wall in Piccadilly Circus. I am happy with this mobilization, because I take advantage J. And I think that if they all opened up, some shopping would do.
SHOPPING IN LONDON.  PANDEMIC LONDON.
Going to London so often, I have already learned the "map" of shops. On my usual path, I already have in my head the list of stores whose threshold I want to cross every time.
Now I'm surprised: some stores are gone! I knew clearly where certain brands were, but in 2021… fluff, they evaporated.
Abercrombie is abandoned, Top Shop, closed too – although the windows are full of discounts. Speedo is gone, Asics is gone, and I haven't found them anywhere else in the city. They just aren't there anymore. It's sad, man.
Instead, candy stores appeared by the thousands. American sweets, basically. Those you can't find anywhere.
I have always been a customer of these stores and I knew a few in the tourist areas. Now they are everywhere!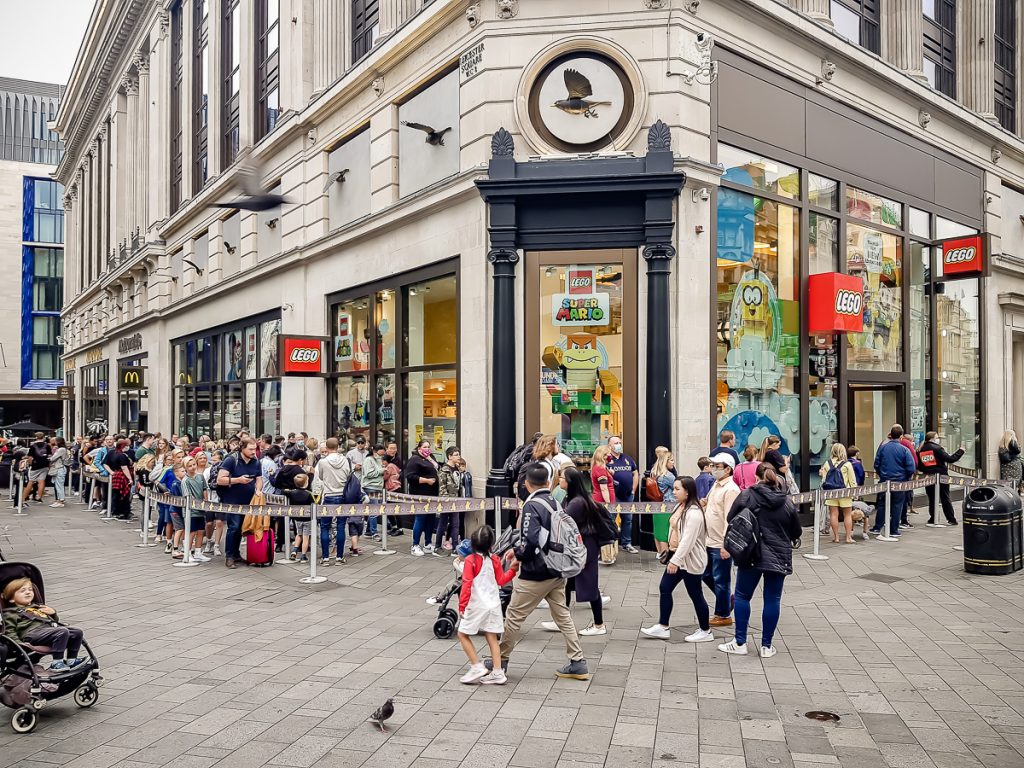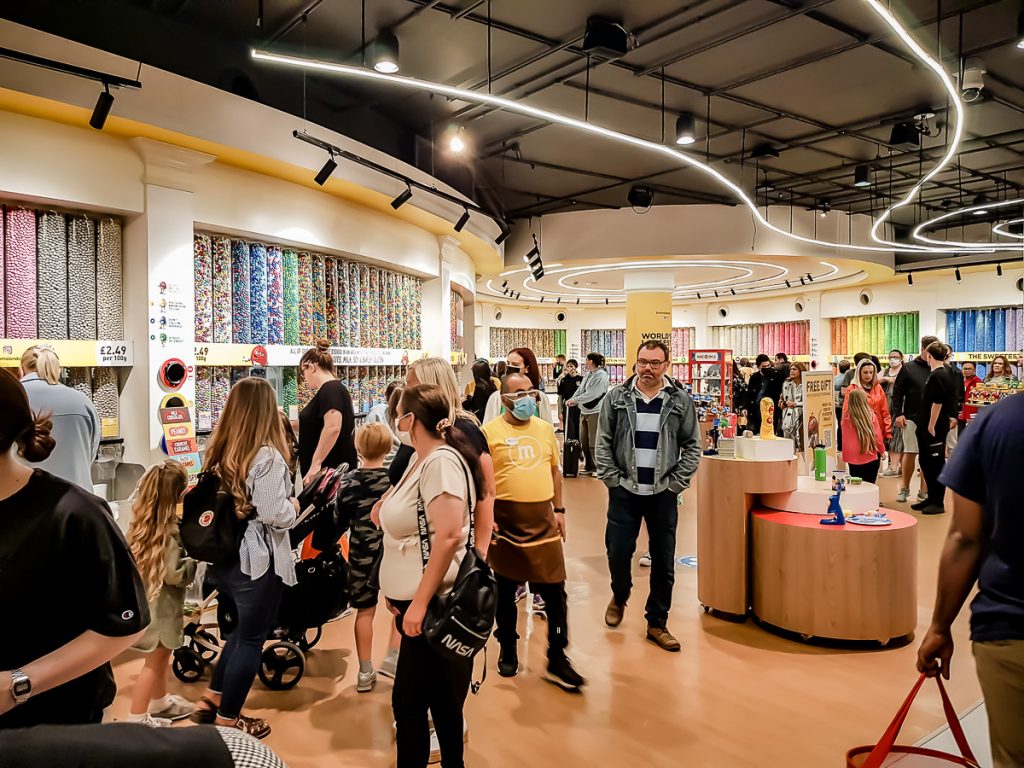 Because access is restricted, you often see huge queues at the entrance to certain stores.
Never, when I arrived in London and entered the candy paradise, at M&M, did I see a queue at the door. I only saw a bunch of people. It's a queue now. Like in front of the Lego store.
The truth is that people seem eager to shop during this period, if I am to judge by the large number of shopping bags walking around the city…
Oh, and the store schedule has been shortened, compared to what I knew before the pandemic.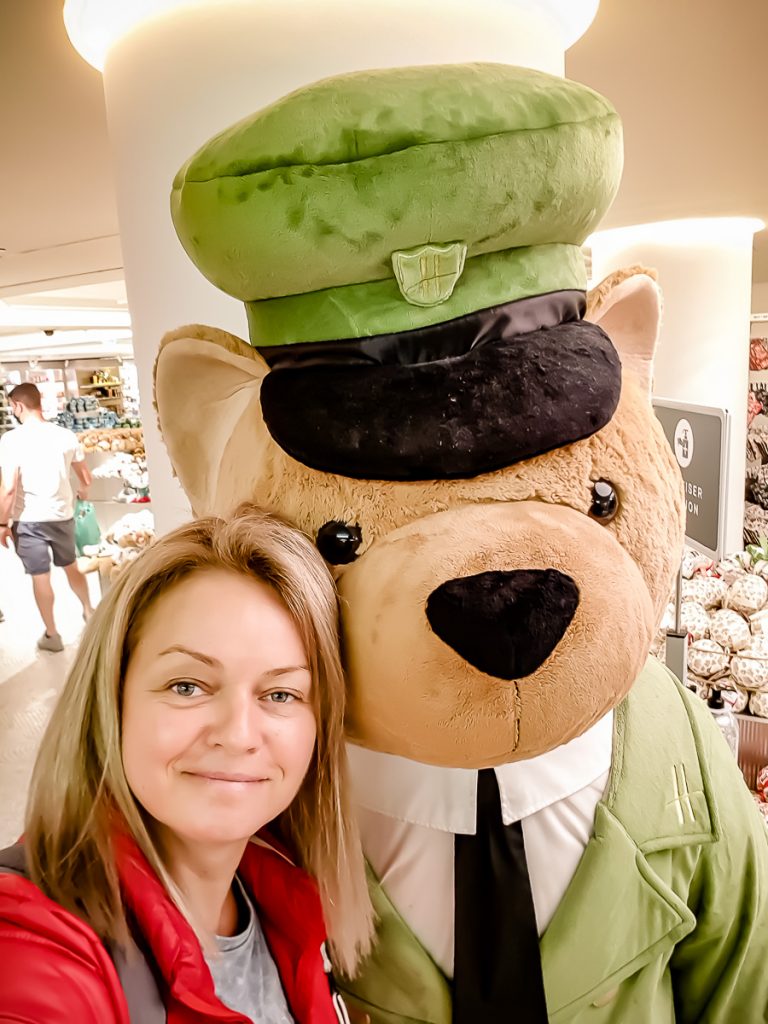 I return with love and longing to the famous Harrods store, where I always did "window shopping", considering the prices J, but where I bought toys and ate in their spectacular food court.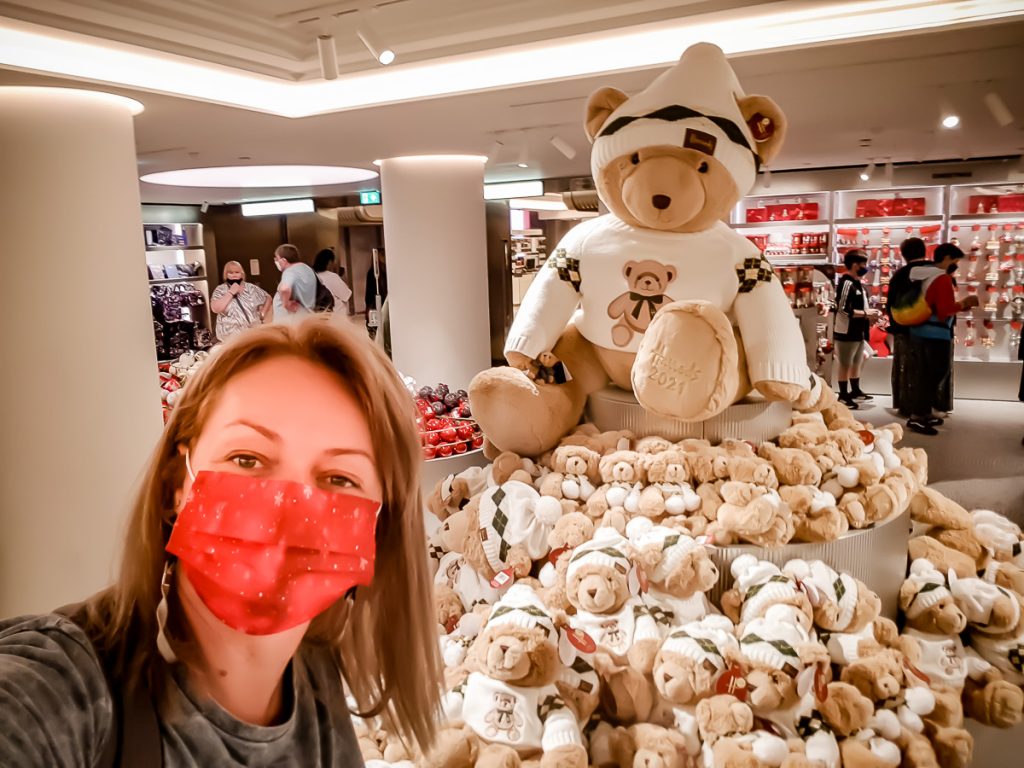 Although it's August, people have already put the annual Christmas bear up for sale, which I've been collecting since my first visit to London – in 2007. (The unique story of the Harrods bears, here.)
From the short tour through Harrods, but also analyzing the windows of other stores, I draw a conclusion: fur is in fashion.
So… Romanians, bring forward the sheep! Let us not be fools, I'd say J.
What I notice, not in one store, but in several sports brands, are the mannequins. Probably following accusations of discrimination or I don't know what else, people installed mannequins of all sizes and thus proved that they have equipment not only for the 90-60-90, but also for the fluffy… And, on the other hand, they elegantly told the fluffy ones that they have no excuse not to be sporty. I feel they speak about me too J.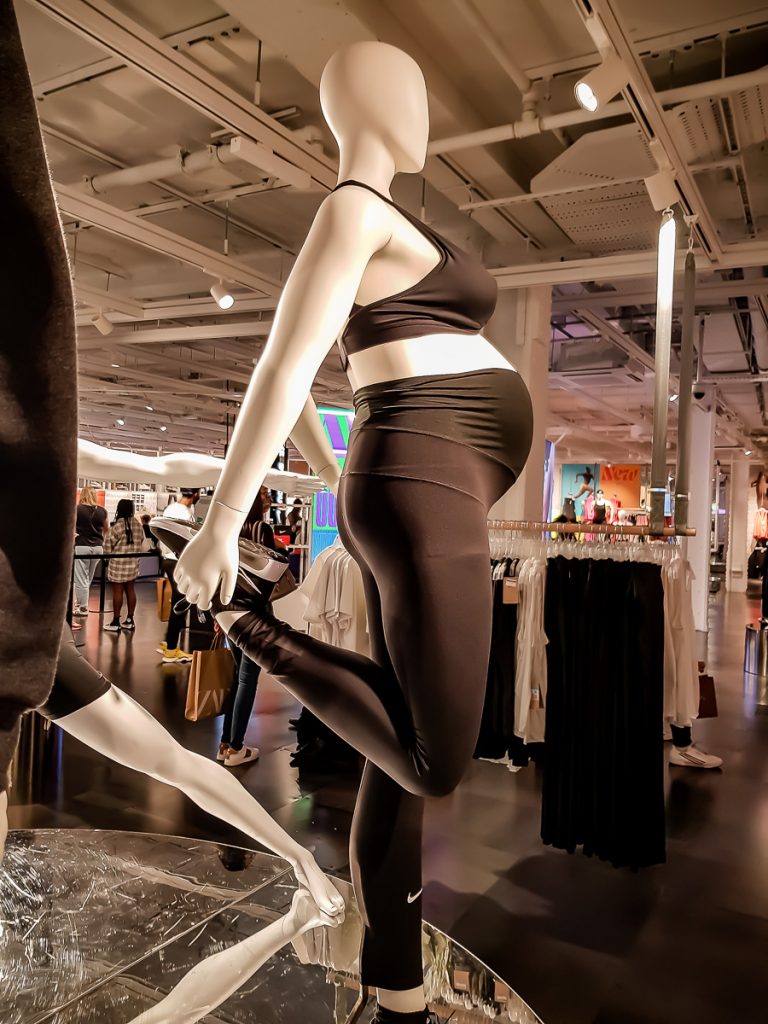 Pregnant women are not ignored either, in case they want to stay "fit" during pregnancy.
SOUVENIRS
In all the European cities I visited during the pandemic, I looked for "pandemic" souvenirs. Something small, but reminiscent of this awful period, which upset us.
I didn't find it. No pandemic magnets, no pandemic cards, nothing.
Now, in London, I have discovered the only pandemic souvenir: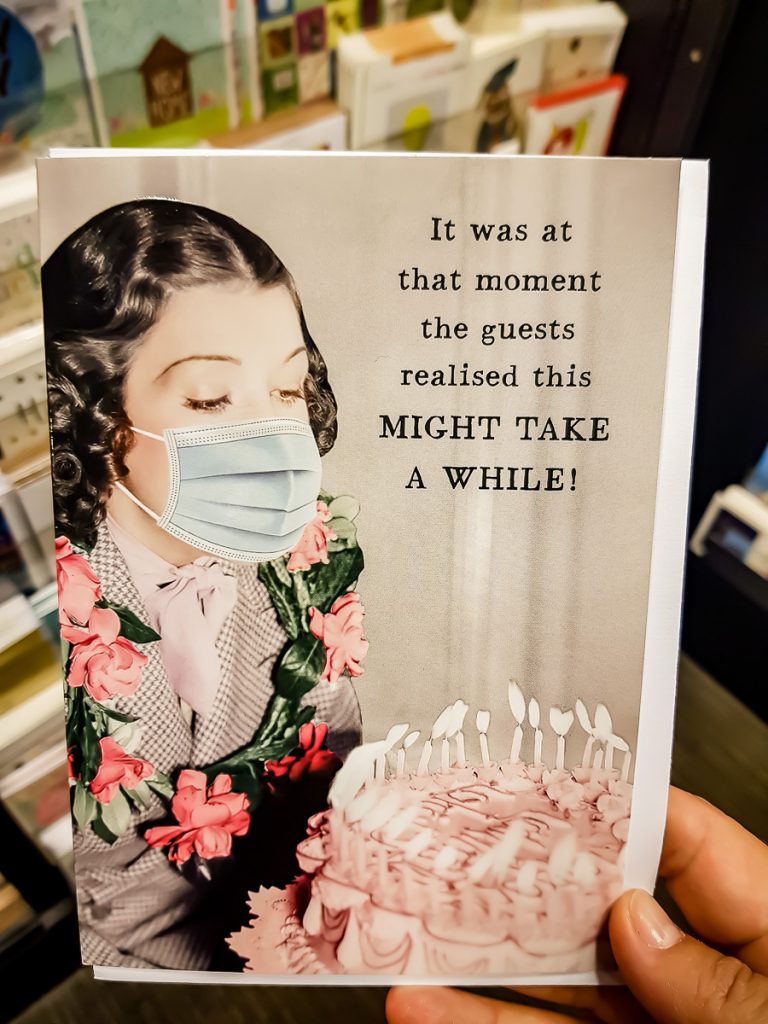 … of course I bought the card.
But I must show you the two fashionable products now: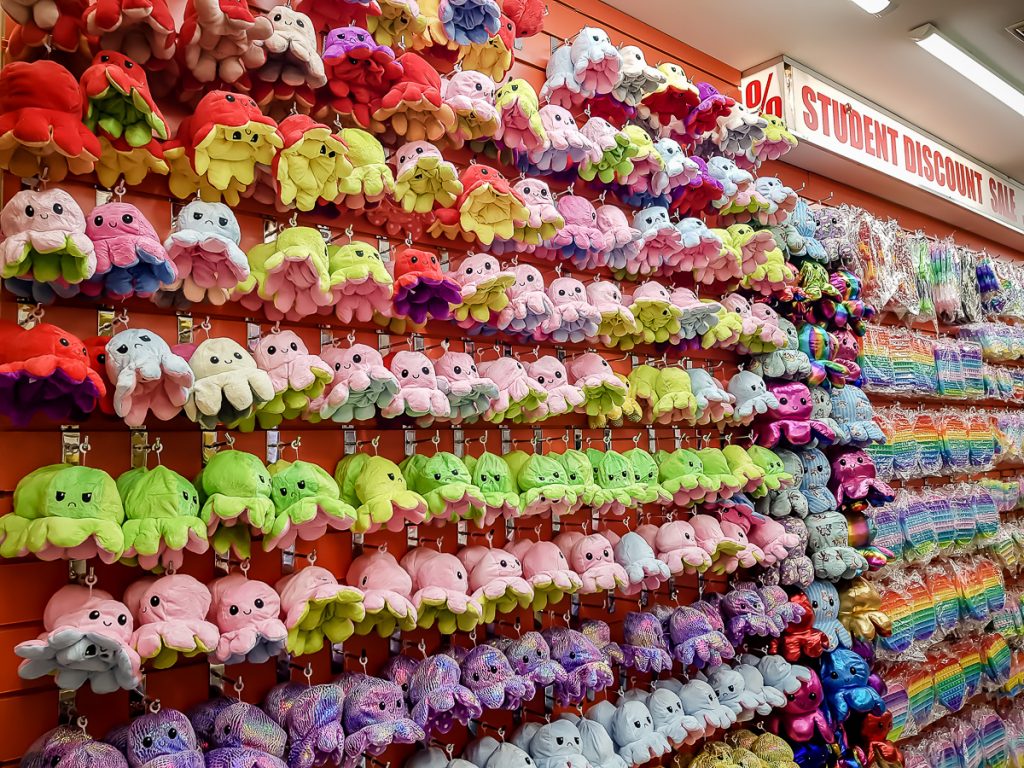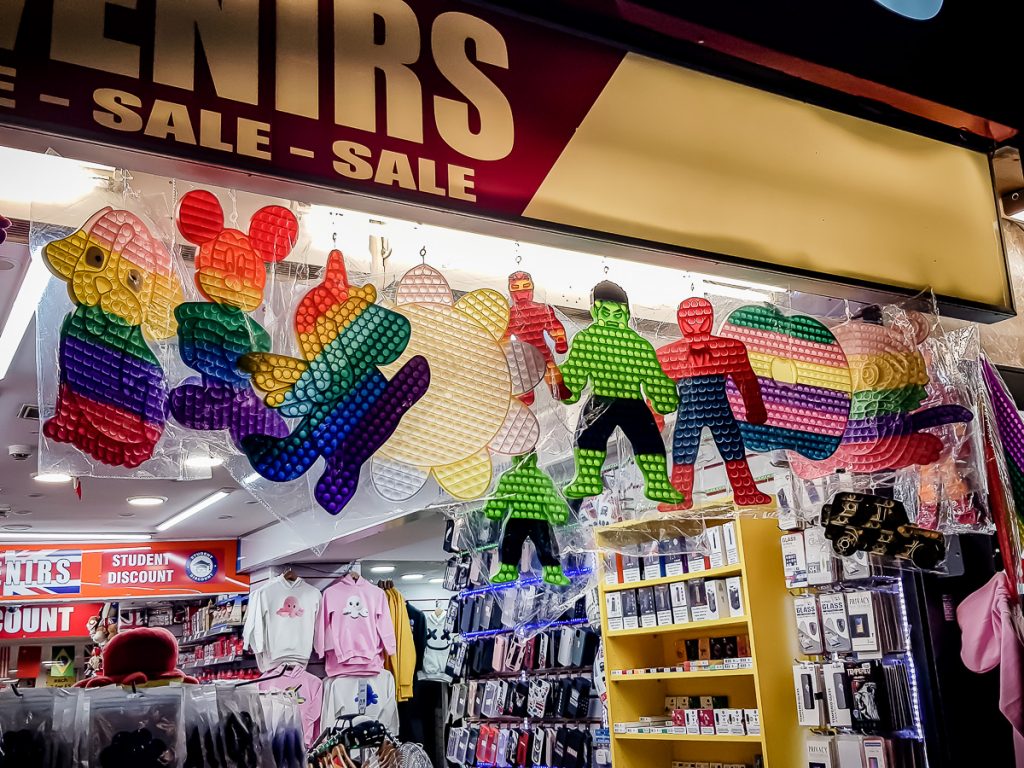 Stuffed octopuses, with a double face and "pop it" – the toy that I understand relaxes children.
God, I tripped over them everywhere! No, I didn't buy it, although I'm known for buying all the nonsense objects.
Speaking of buying: you can hardly pay in cash! They eliminated this in favor of paying by card, due to the pandemics. And maybe because of counterfeit banknotes?
Even a pound or so if I had to pay, I paid by the card.
At the theaters, in the shops, in most of the restaurants where I ate, they told me that they do not accept cash. Even supermarkets have self-service where you can only pay by card.
Only at the souvenir shops where Asians sell I paid in coins and banknotes. And in a fair, where it seems that the man had more advantages to get cash, than to wait for the money in the bank.
CAMDEN TOWN
The super popular area, which is worth visiting for its vibe, but also for its unique buildings, cheap souvenirs and street food, Camden Town is a maze where you get lost easily, but that increases its charm.
You can find kitsch here, but also vintage products or cool, unique merchandise, you can find giant robots, but also living beings after which you feel like turning your head, discreetly: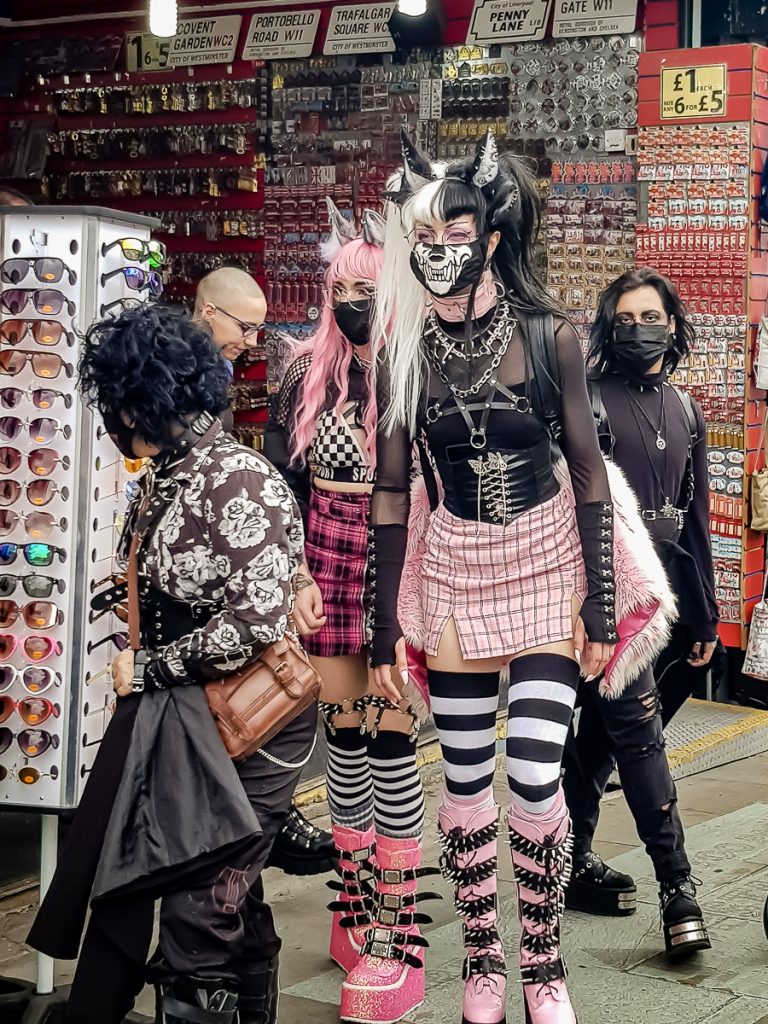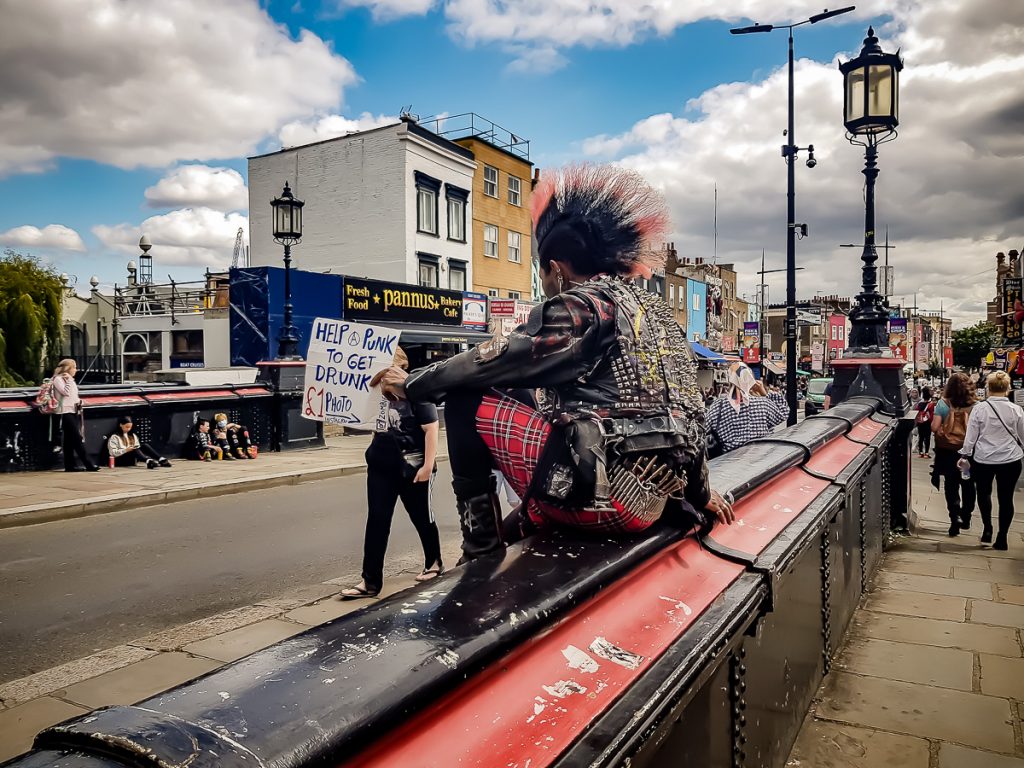 The pandemic? It doesn't really exist here. The masks are either worn as an accessory that completes the outfit (see the girls in the picture), or they do not exist at all.
In some shops I see people taking the wrinkled mask out of their pockets and putting it on. So do I…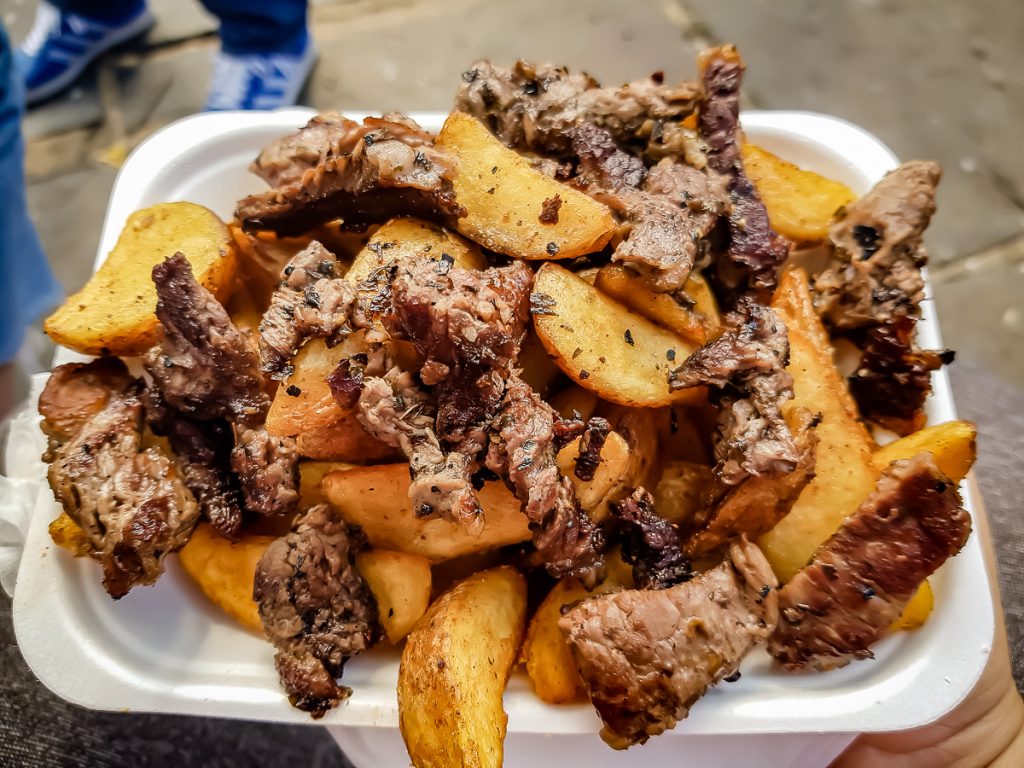 In the food area, no mask, because we all have a concern: to eat all kinds of goodies of all nations!
I chose an Argentine beef and I was not sorry. I ate it sitting on the sidewalk, along with dozens of other hungry people, mostly English. (Yes, yes, I know for sure, because even if they spoke with their mouths full, I could hear the accent J)
WHAT TO EAT IN A PANDEMIC LONDON
Since I got to food, I can say that I was relaxed during this mini vacation: everything was open. From street food to luxury restaurants. So I couldn't starve…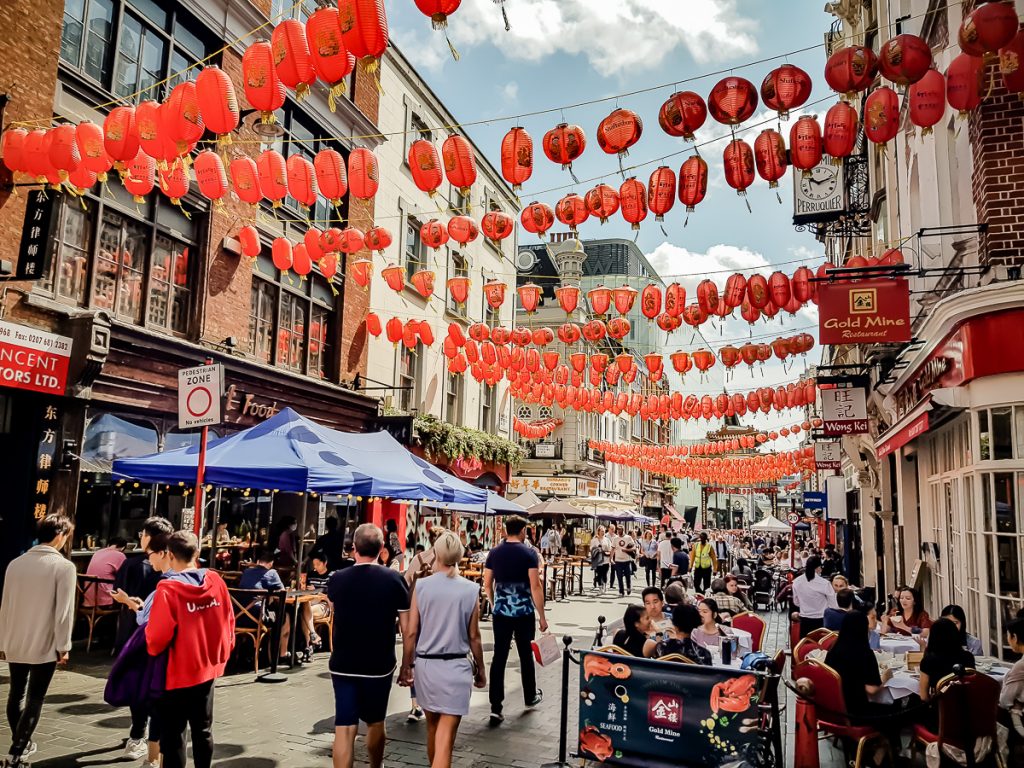 China Town seemed more crowded than I ever saw it! With terraces full of people (terraces that appeared during the pandemic), with full interiors, even with queues at the door, to wait for a table. Which I did:
But literally I couldn't help but return to my great love – crispy duck, which I eat every time I get here.
So I was patient to get a table, a small one…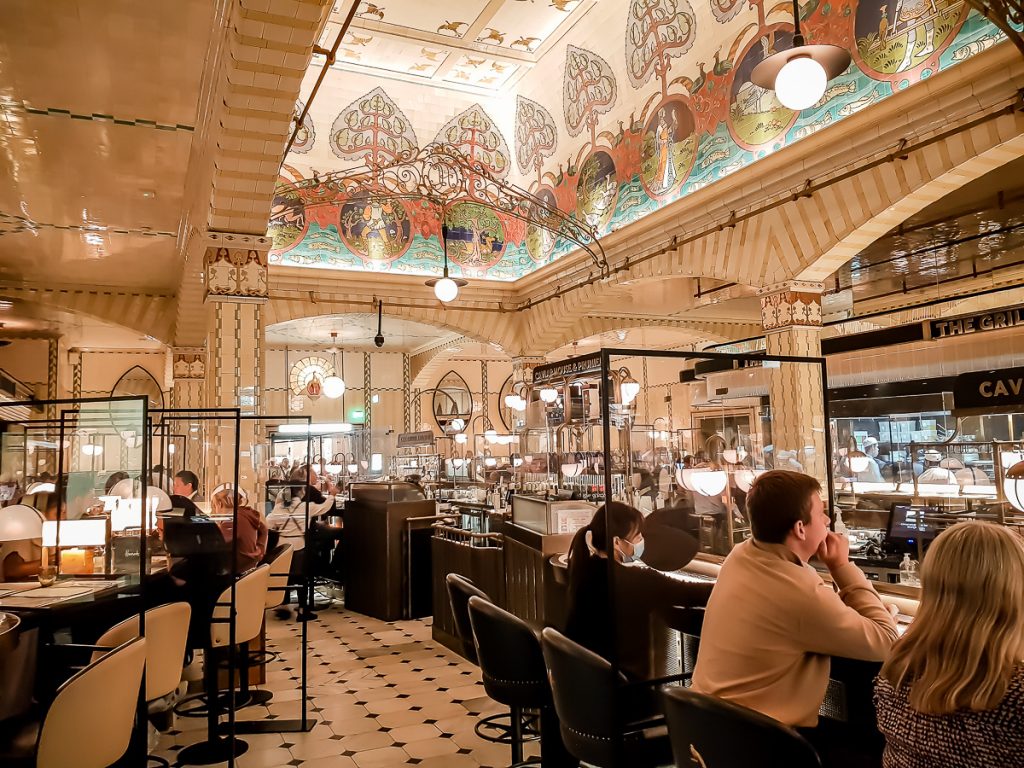 At Harrods, in their famous food court area, plexiglass dividers appeared. You feel like you're eating in phone booths, really. I saw them in other places too.
No matter where and what I ate, I tried to have my siesta… while walking, to combine the useful with the pleasant.
MUSEUMS IN LONDON
Recently reopened, London's museums are once again a magnet for tourists. It's just that there aren't that many tourists…
Taking advantage of the small queues, I decided one morning to visit the Museum of Wax Figures – Madame Tussaud's, 13 years after the first visit.
I remember that the first time it seemed nice to me, but it didn't impress me, moreover, after a few years, when I saw the one in Amsterdam, the one in London got on the 2nd place.
I like it! It is an updated museum, with celebrities from all fields, for all tastes. With well-defined areas, with interactivity, with suspense, humor and fantasy.
With famous aliens, with Shrek, King Kong or other creatures from movies that definitely attract children.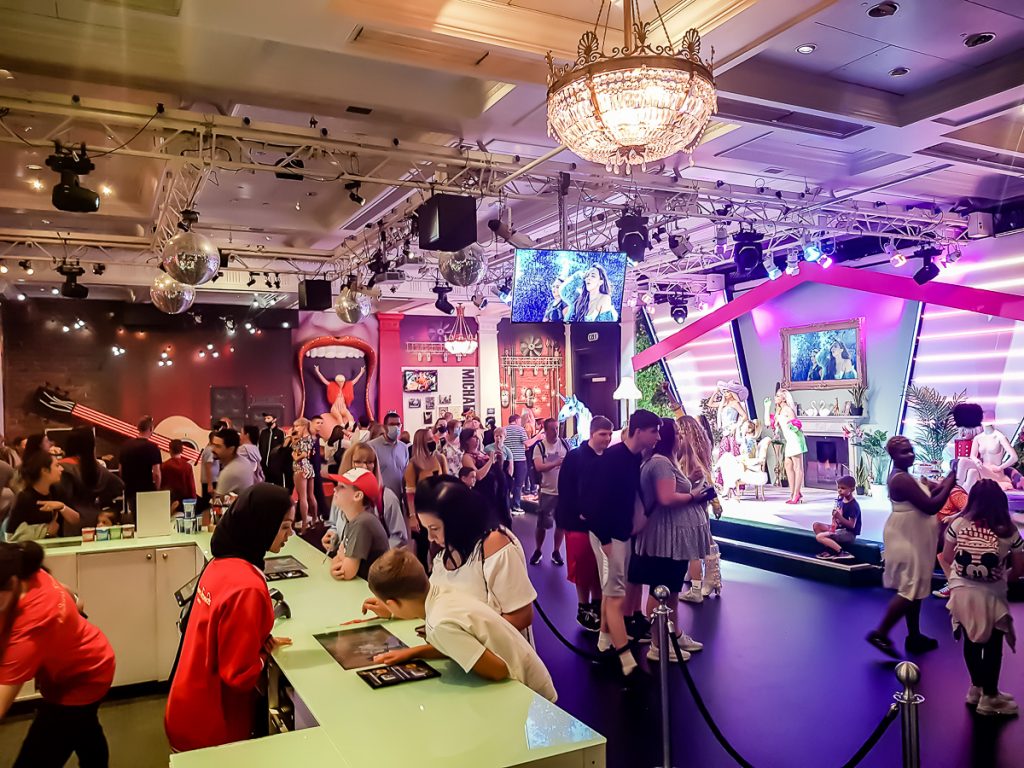 Although the access is controlled, planned at intervals, the museum still seems to me too full for the pandemic period. And the people don't really seem to care about masks or social distance. So I decide I don't care about distance when it comes to Brad Pitt J)).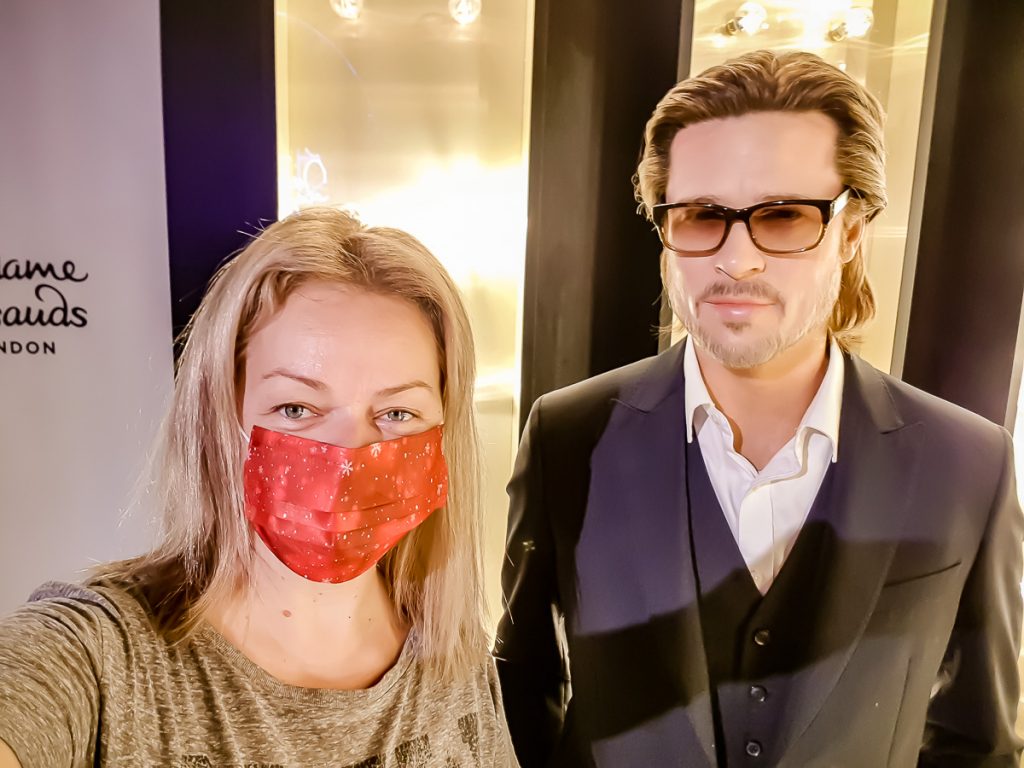 But I put on my mask. I'm afraid that as soon as he sees me, he'll come to kiss me on the mouth and who knows what COVID he had J))
You lose hours here if you stop and take pictures with all the celebrities, if you also enter the games offered by the museum, if you listen to the music of famous singers, if you dance in front of a screen with Madonna or if you wait to take a photo with the royal family.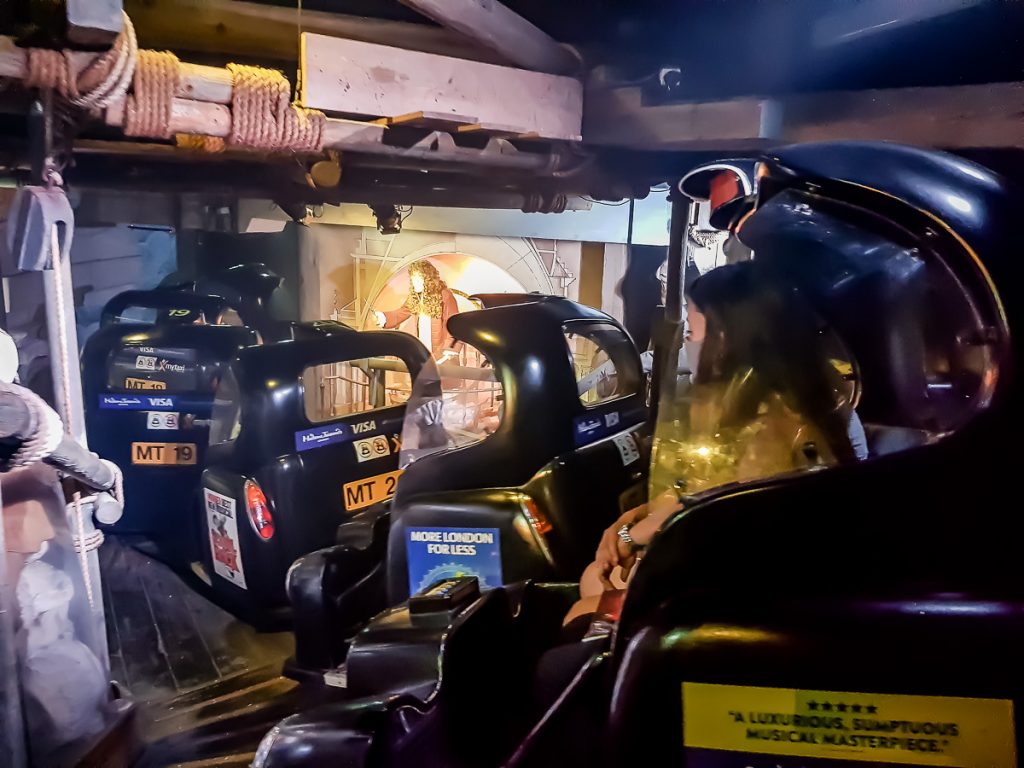 I get in the taxi that takes you through the history of England, a taxi that I remember from my first visit.
I'm also involved in Star Wars, because it looks like they need someone… heavy on board the ship.
And no more stories here, I go to the music stories, because I set out to see a musical every two days, like the insatiable that I am hihi.
LONDON MUSICALS
In November 2019, the last time I saw London before the pandemic, the preparation of the musical Frozen for 2020 was announced everywhere, in a theater undergoing rehabilitation works. Of course, in 2020 nothing was launched due to the pandemic, as a result now, in 2021, I came across a massive promotion of it, because it starts a few days after my departure from London (end of August). It's all right, it is a good reason to go back to London J. Especially since there are other musicals that will be launched and that I want to see.
As many of the shows reopened this year in June, July, when the restrictions were relaxed here, the world rushed! I went to three musicals and it was full at all three!
I'm not going into their details now – I'll update my experience with musicals that you can read here.
I just want to tell you what it's like to go to musicals during pandemics, in a place where the dizzying growth of Delta covid cases is announced.
First of all, I found great places, at great prices! God, I didn't pay 25 pounds on a very good ticket, I can't even remember in how long! In fact, I never paid this price…
At the first musical – Hairspray, you enter the theater with a mask. You don't have one, they give one to you.
I ask if it is mandatory. In the audience, yes, I'm told.
I also see on the walls of the theater posters telling us to wear a mask, "as a sign of respect for other spectators and the cast".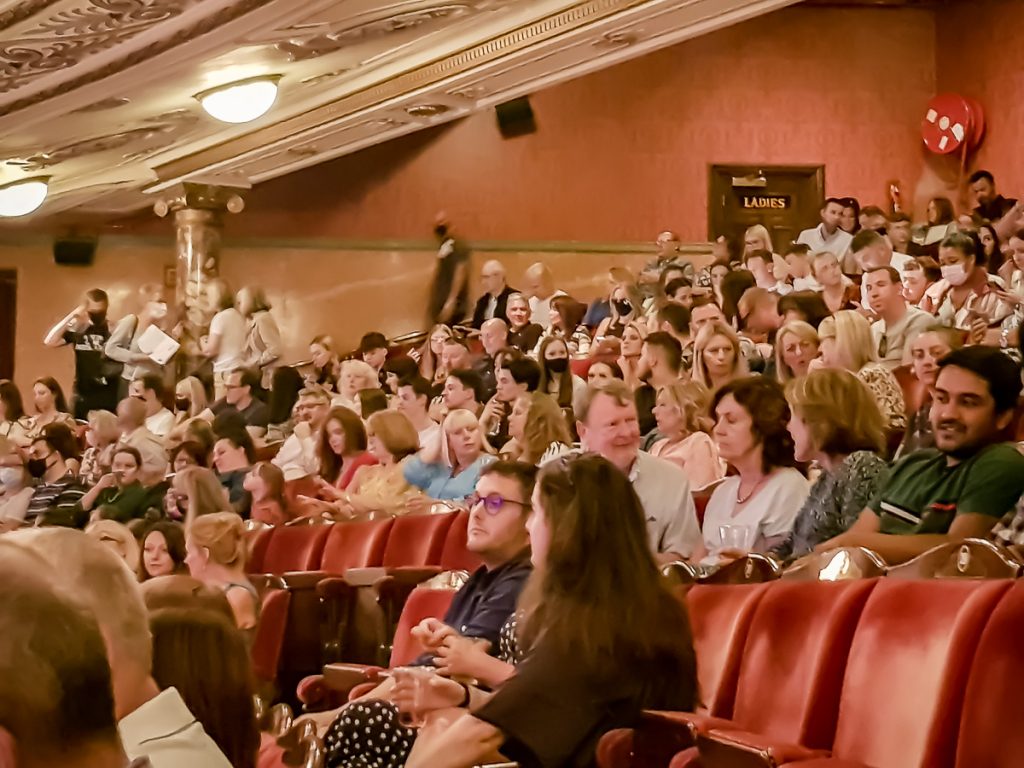 Well, hell, the other spectators are clearly not respecting me at all, because I don't see anyone with a mask. I feel so strange hihi.
Eventually I discover some with a mask. About 90% do not wear it, however. It's also hot in the hall, so I see this musical "with a mask, without a mask"…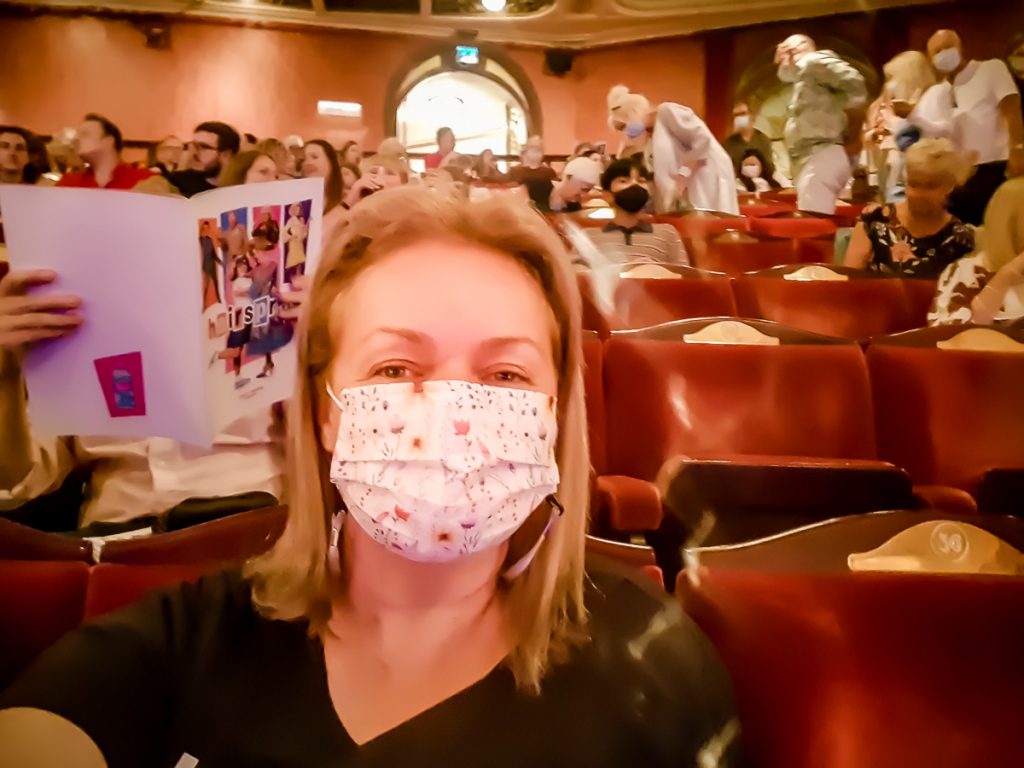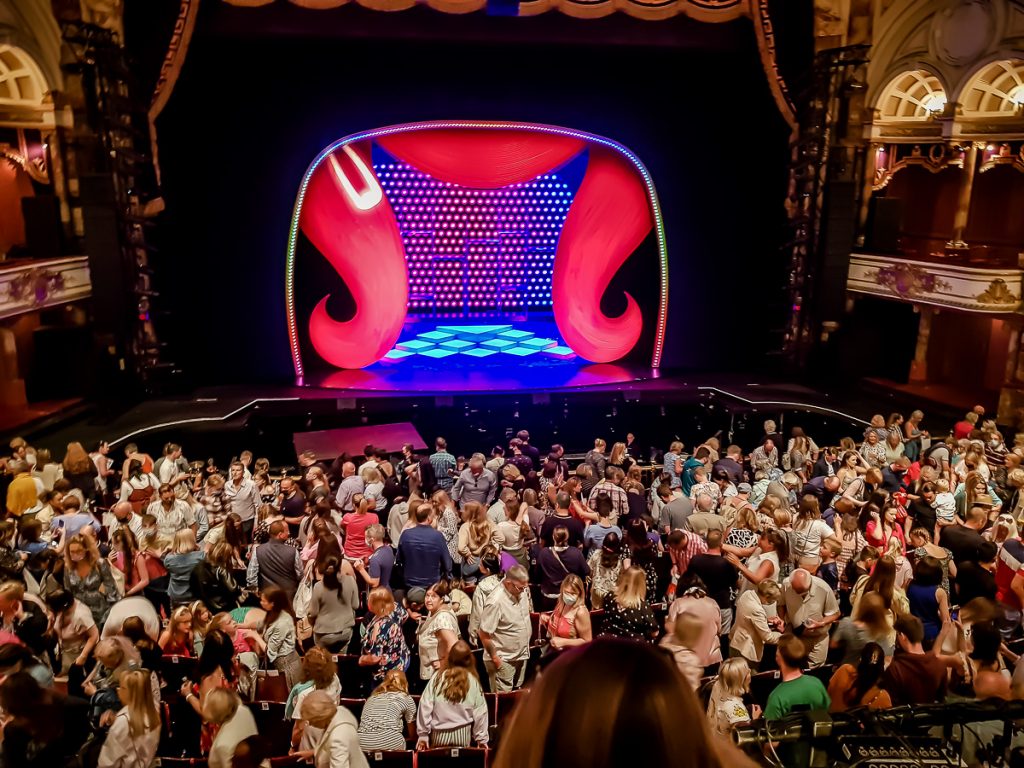 Not to mention I expected to be seated with an empty chair between us. No way. We sit side by side, the seats are completely occupied!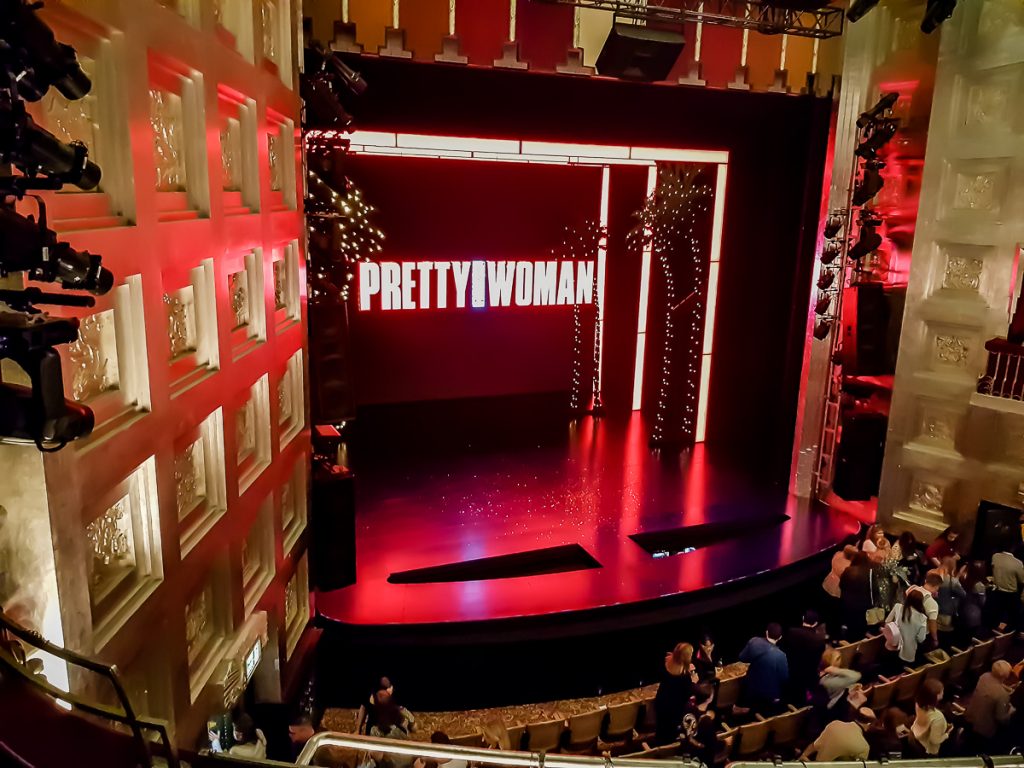 At Pretty Woman, things are already changing: I receive an email with the request to come to the musical with a document confirming that I am vaccinated with both doses, or that I have recently gone through the disease, or that I have a recent negative test. Oops, so they're not playing. They check all the spectators.
Indeed, at the control filter at the entrance I was asked for my ticket and proof of vaccination. And it was a double check!
It was the first place I felt safe in, being a theater full of checked people. So I decided to take off my mask. Especially since I risked being stung by the annoyed looks of the ladies behind me J.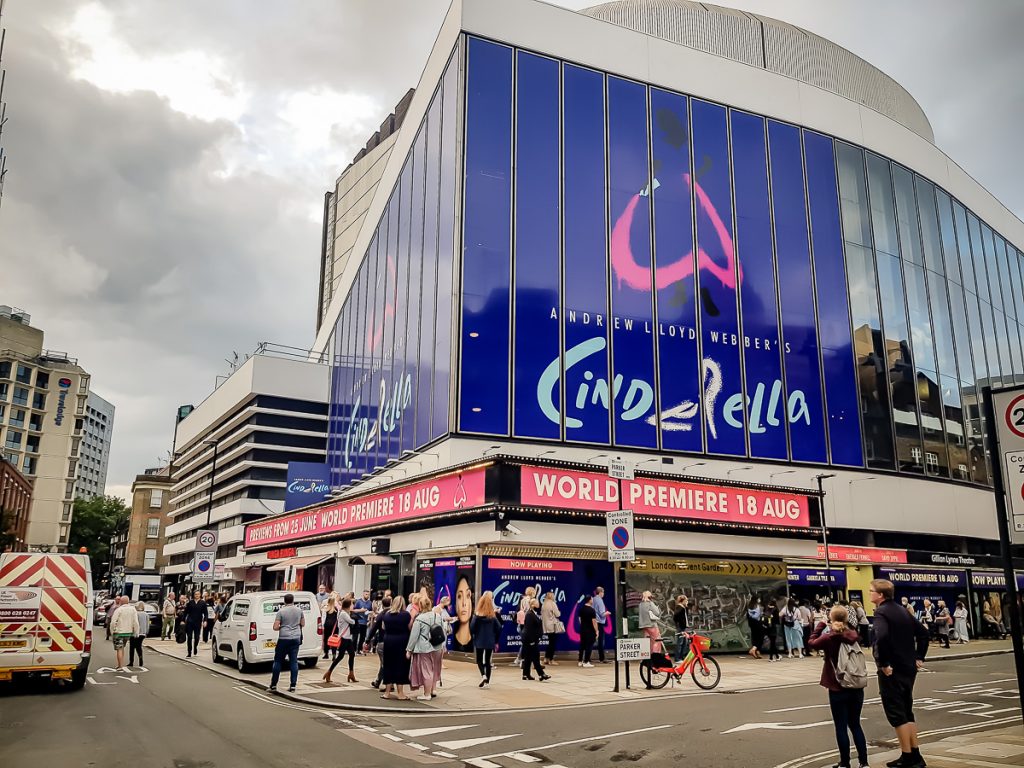 I have to tell you: I was very lucky to find a ticket (an expensive one!) for the first performance of the new musical Cinderella! It had its world premiere on August 18th, with special guests, probably, and the next day was the first show for the general public.
Already postponed for a year, due to the pandemic, then postponed again for a few months due to covid cases among the cast, it created a great expectation! Especially since the music is signed by the prolific Andrew Lloyd Weber.
He is the one who composed the music for Jesus Christ Superstar, Cats, Evita (with the famous Don't cry for me, Argentina), the Phantom of the Opera and the sequel Love never dies, Sunset Boulevard (I saw it with Glenn Close), School of Rock, part of The Wizard of Oz etc. Some 21 musicals!
The man won Oscars, Grammys, Emmys, Golden Globes and everything else…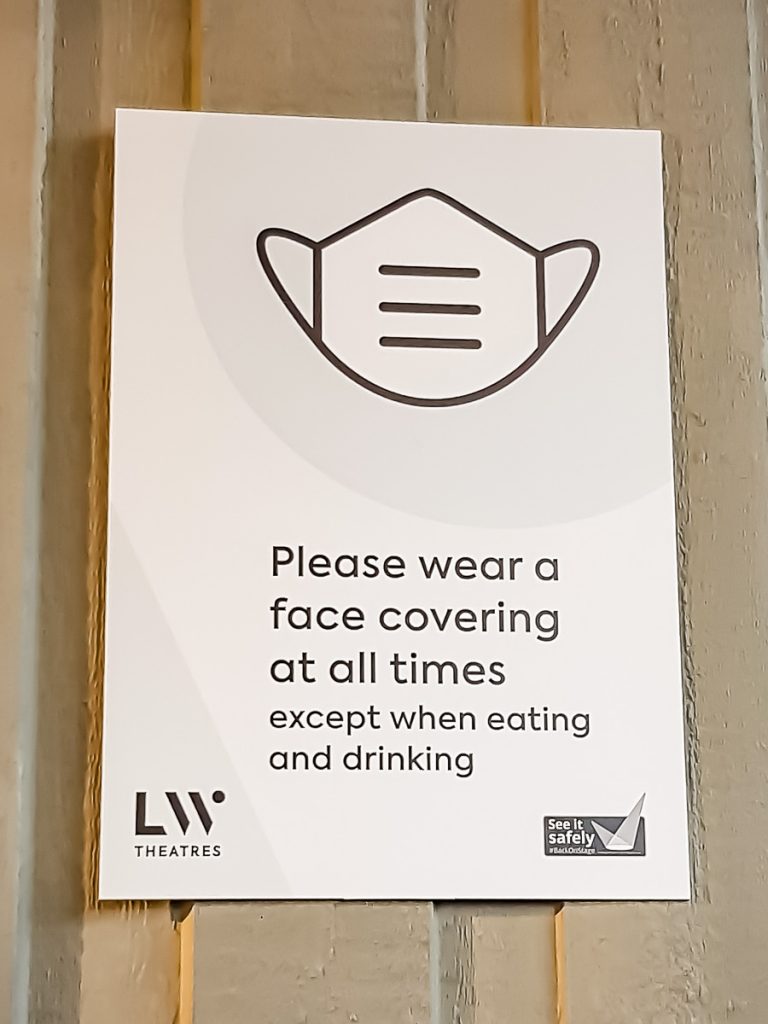 Here I didn't need documents, just a mask. Which, despite the poster, many did not wear. Who can understand these Englishmen and their broken rules? J
As for me, I kept it or not, depending on how hot it was during the show or on how much a man was coughing in my neck…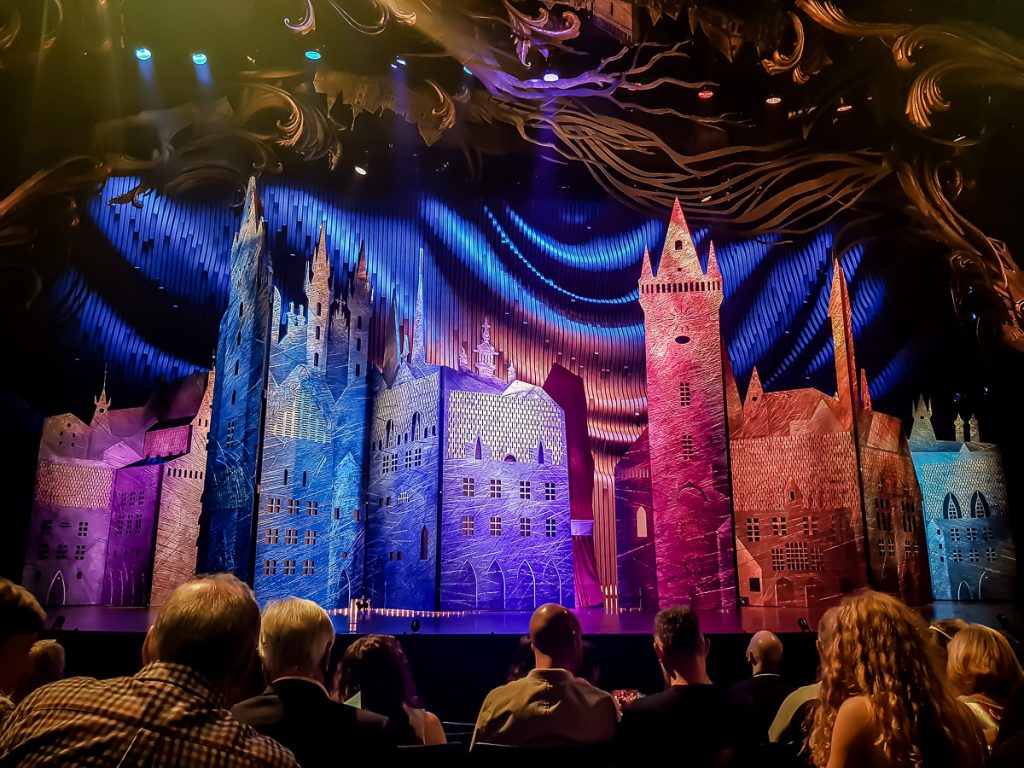 I don't know if the parents with children there came hoping to see the Cinderella Fairy Tale. I was lucky enough to catch a report on the News, the night before, and I realized that I would see a reinterpreted Cinderella.
I was surprised, I was delighted, many times it exceeded my expectations, some were upset (as I saw in their reactions) and the children… I don't know, there were many in the room and I really don't know how they liked the story, which is more for adults.
………
It's 10 o'clock in the evening, the shows in the West End are over, but the street show is just beginning. People flock out all the doors of the theaters and scatter their delight in the streets. It's an energy hard to describe! And probably the covid in the area is difficult to describe too, what can I say? J.
I'm getting ready to leave, no more off days.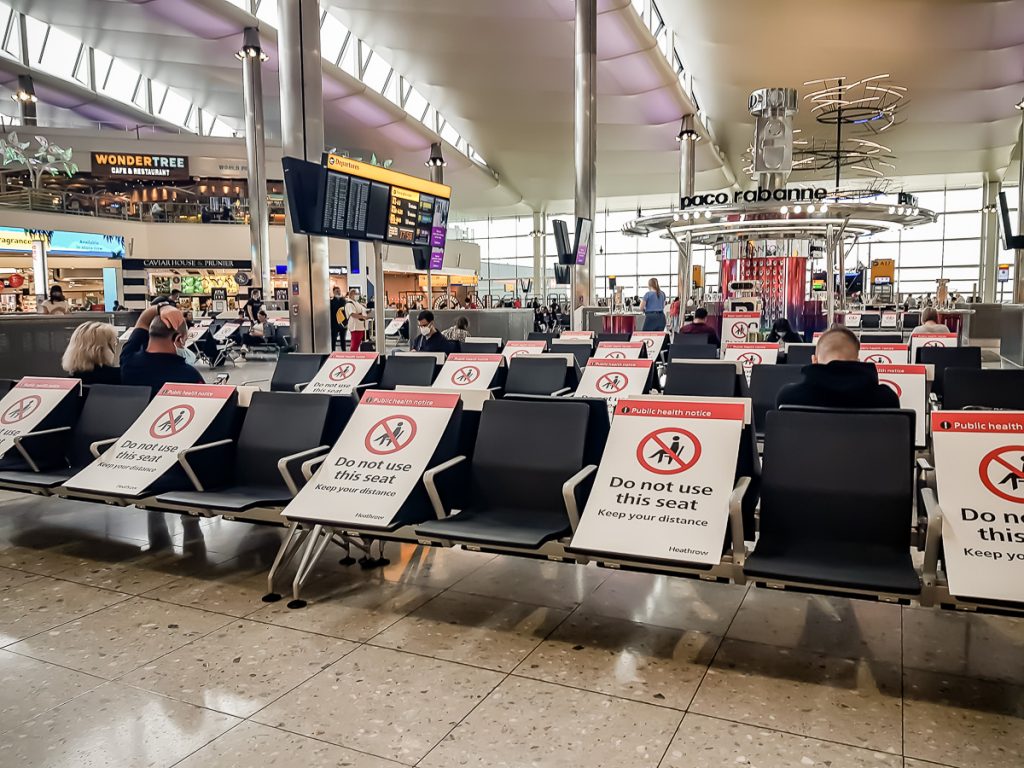 The next day, at the airport, I feel the pressure of the pandemic, the restrictions, the social distance. And I wonder when we will return to normal times…