"Let us eat a Naples pizza, where it was invented!" – I tell Alex, my nephew. We are both soaking wet from all the rain in Rome, at the end of January.
We look at the map of Italy and it is raining everywhere. Naples seems to be the only place where rain stops every now and then, unlike Florence, Milan or other places where we could get fast, by train.
All right, let us go and have a pizza in Naples! We go to the railway station, we buy the tickets for Frecciarossa, their fast train and we are on our way to Naples!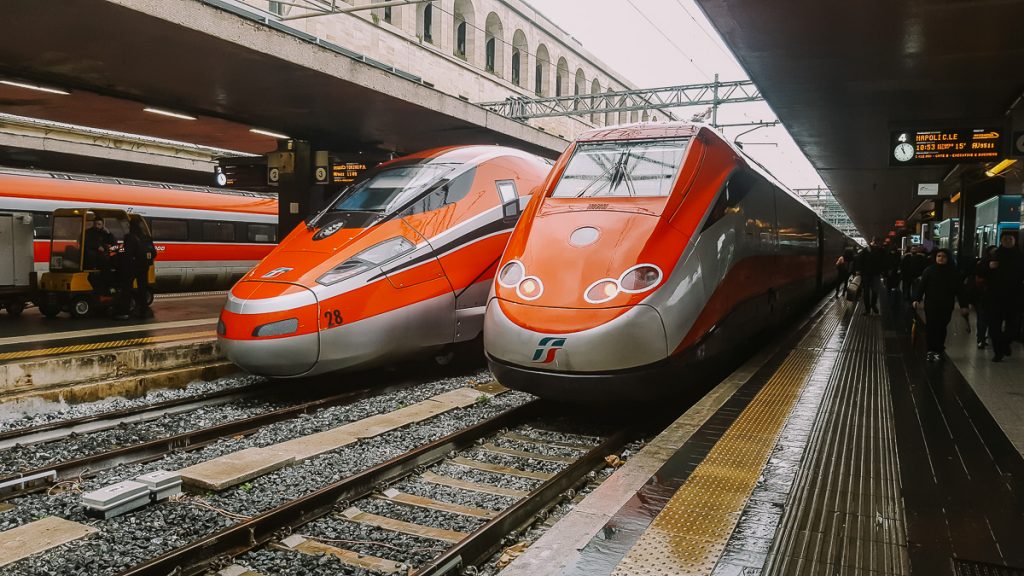 After about one hour and some 15 minutes, we are in Naples.
It is clouded but it is not raining, which is great because we start walking on the way I know only too well towards one of the most famous pizza houses in town.
L'ANTICA PIZZERIA DA MICHELE
I found out about this one a few years ago, from two young people from New Zeeland who were on a fabulous three month vacation in Europe. They knew this pizza house was one of a kind and, in a hurry, coming from Pompeii and going to the station to take the train back to Rome, we went to look for it. Only we got there right between lunch and dinner and it was closed. It would open right at the time of our train departure.
For them this was a great regret, but I went back to Naples the next year and I went directly to that pizza house (and to other famous ones…), at the right hours.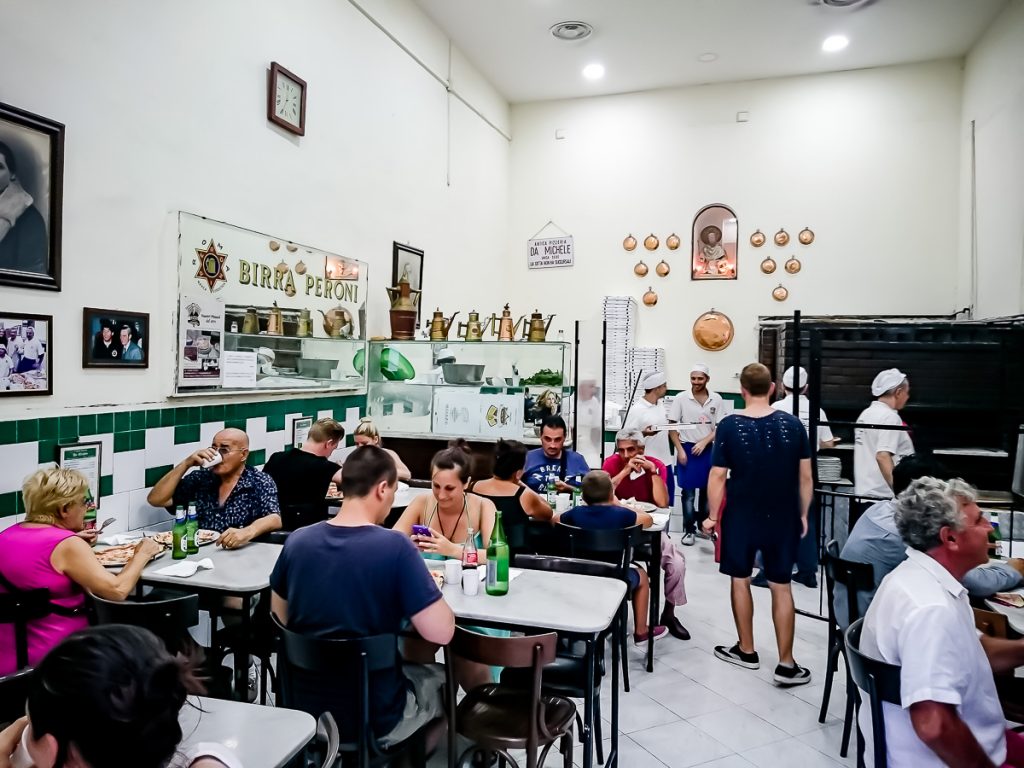 It is a pizza house opened in 1870! It has many rooms with tiles on the walls and a lot of frames pictures. And this is the only restaurant they have. They carefully inform you that they do not have any other.
While you wait for the pizza, you can study the objects, the photos and the announcements on the walls…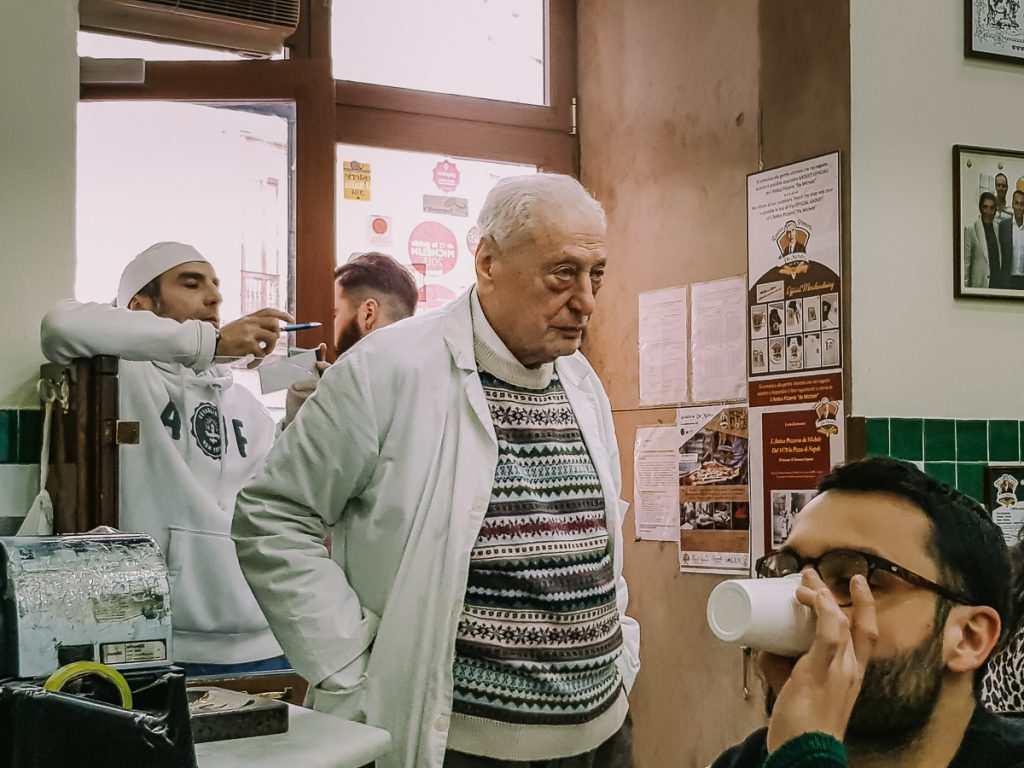 A picture shows a man. I come to the conclusion he is the owner. That is because I can see him in person, in his older version, moving around in the restaurant. He is a respectable old man who carefully inspects his turf.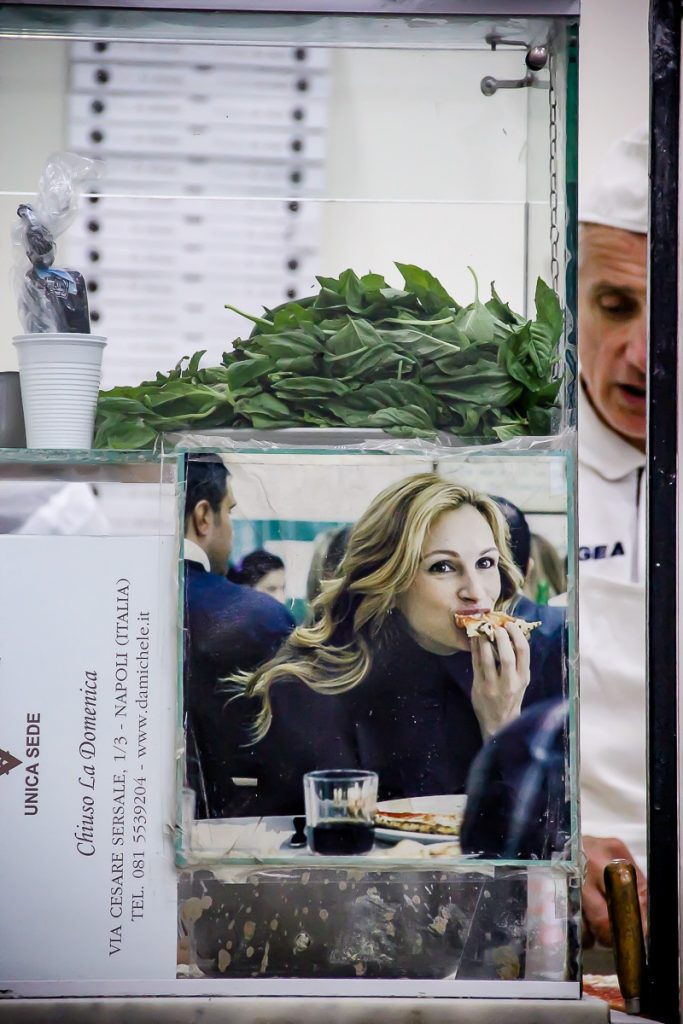 A Julia Roberts picture is in a place of honor, a Julia taking a bite of a pizza slice, an image that made your mouth water. I found out the image is from the famous film "Eat Pray Love", which I had not seen at the time of the first pizza eaten here. I saw it afterwards… And it has an entire scene filmed here, in the Da Michele Pizza Restaurant.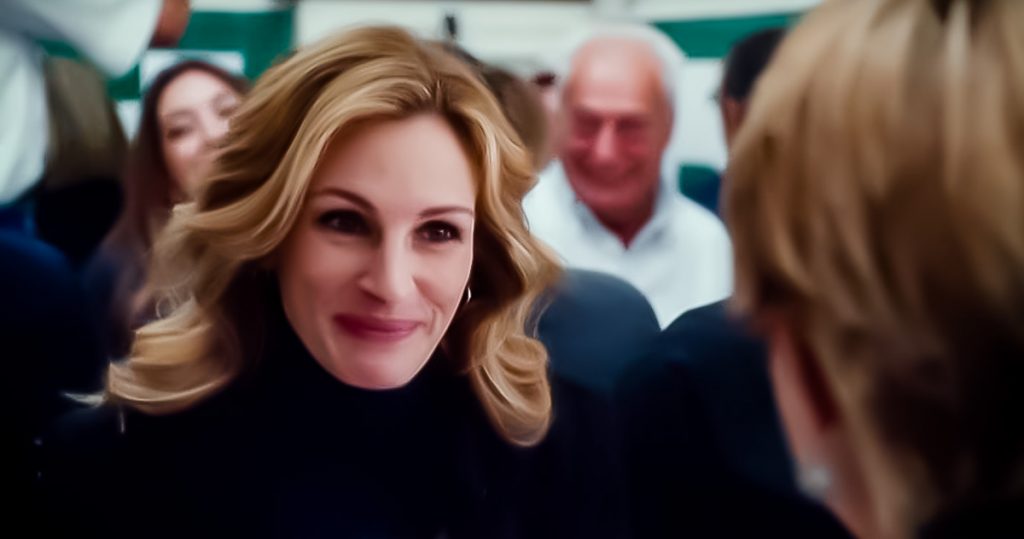 What amused me was to see the owner in the back permanently, wearing his white robe, playing the role of a client J. That was probably part of the deal. Nice!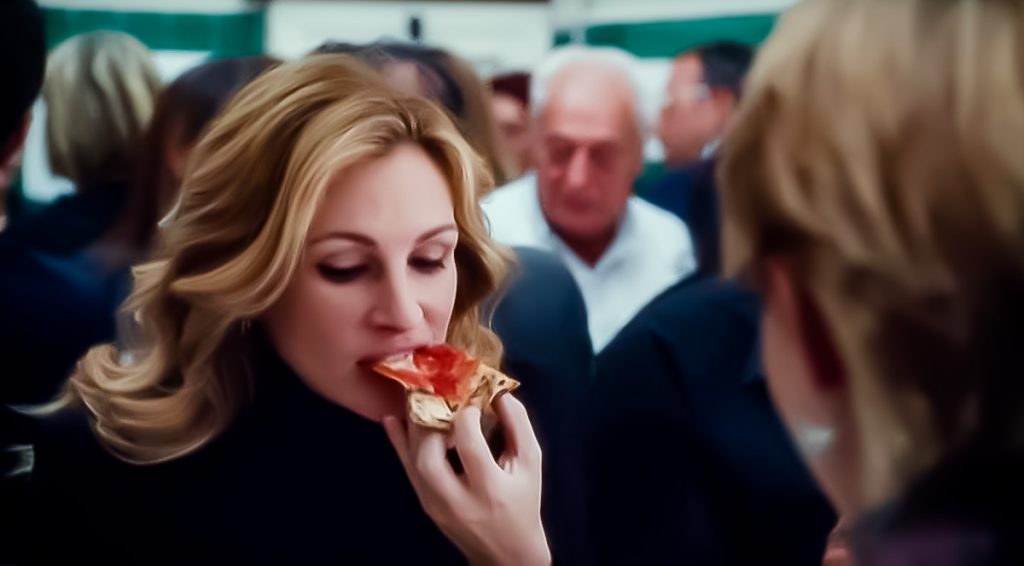 But let us go back to the current visit…
We go to the pizza restaurant at lunch and we are shocked… There is a lot of people at the entrance and on the entire street, among the dumpsters and the cars! I have never seen anything like this! Some years ago, when I came here, I went in without any problem and there was no queue to deserve a photo. Look at the difference between now and then:
But we have come here to eat an authentic Naples pizza, so we can not give up!
We go through the crowd to the door to see what is going on. A man comes out and gives us a hand-written ticket. I take one, I look at it, then I look at the man who gives us a disappointing time estimate. I realize we should go somewhere to buy some local snack or something, or else we would die of hunger until the time comes for us to get a table J. It is 12:55.
We have a dilemma: should we stay here with all these people or should we leave and come back? I wonder if these people have ever heard about our communist habit: leaving your bag to keep your place in the queue… As you cannot make a reservation… I have tried. (You can only order to take away and many people choose this, in order to avoid waiting in line. And then they eat the pizza right there on the sidewalk, in front of the pizza restaurant…)
We walk around for some time to understand if it is risky to leave. Finally, we do leave.
We walk around in Naples, we visit the Cathedral, we buy three T-shirts, 5 Euros a piece (I have always liked the Naples small prices…), then, looking at the watch, out of fear we might lose our place, we go back.
No way! The crowd is the same, people come all the time and in front of us there are still a lot of people. I feel like going inside and make the fire bake the pizza faster… Or tell the people sitting at the tables to hurry up and stop talking so much, as we are so bored waiting!
I am waiting for that man who organized us before to come out and tell me if I won the "visa" lottery. The man comes out rarely just to invite in some more clients.
We are lucky because some clients in front of us lost patience and gave up. So, all of a sudden, we advance. We get closer to the door, so that we can hear when they call us. I enviously look at the people coming out, fed up and very happy!
At 14:22 we go in!!! So one hour and 27 minutes later. They place us at a four people table, next to two other hungry people just like us. We smile at each other, as we are so close to one another, then we look at the menu on the wall to decide what we want, before the waiter comes. Well, it is not so difficult to choose, since they only have two types of pizza, the specific Naples pizzas: Margherita and Marinara.
We are so hungry, we order a LARGE Margherita.
It is only 5 Euros and that is with a double portion of mozzarella! A normal size one is 4 Euros and a medium one is 4.5 Euros. All have ordered large ones as far as I can see. Great hunger, my man hihi.
Marinara has the same price.
The drinks have good prices too. A beer or a juice in a 330 ml costs 2.5 Euros, a sparkling mineral water in a one liter bottle is 2.5 Euros too.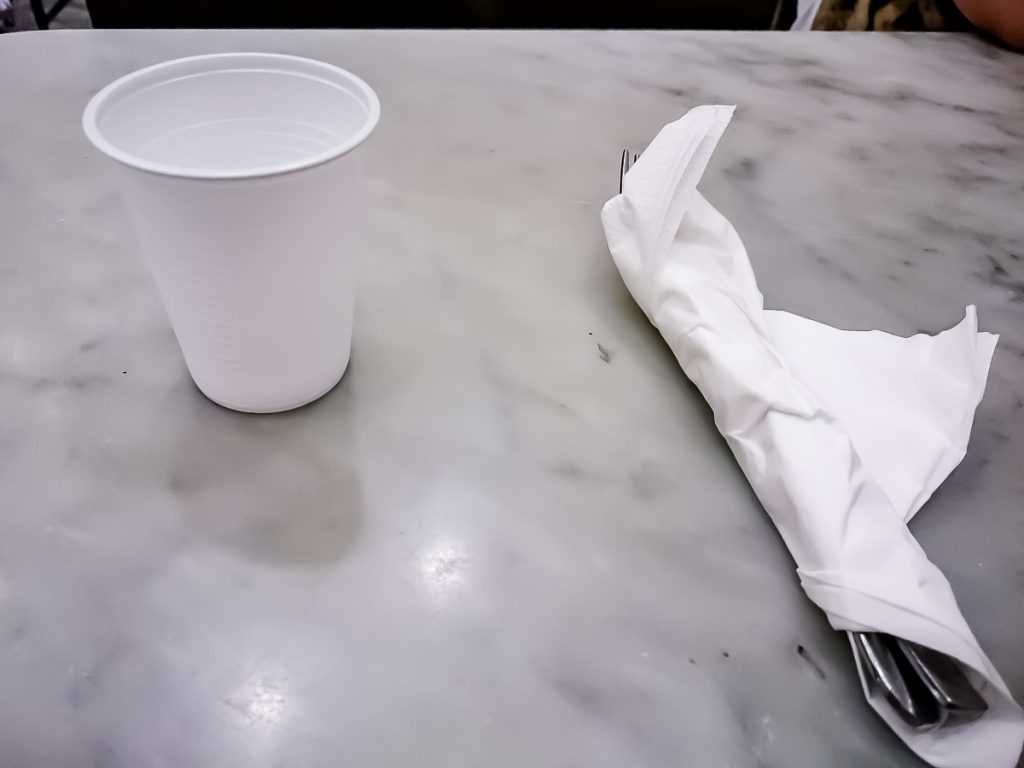 They are not very pretentious here, but nobody cares… On the contrary.
We wait long for our pizza to come. I follow every movement of the people making pizza, everything they do in front of the oven, everything that happens inside the oven, I look at the owner, at the picture on the wall, at the oven again, then at Julia Roberts' picture, then again at the oven, at the people outside and again at the oven…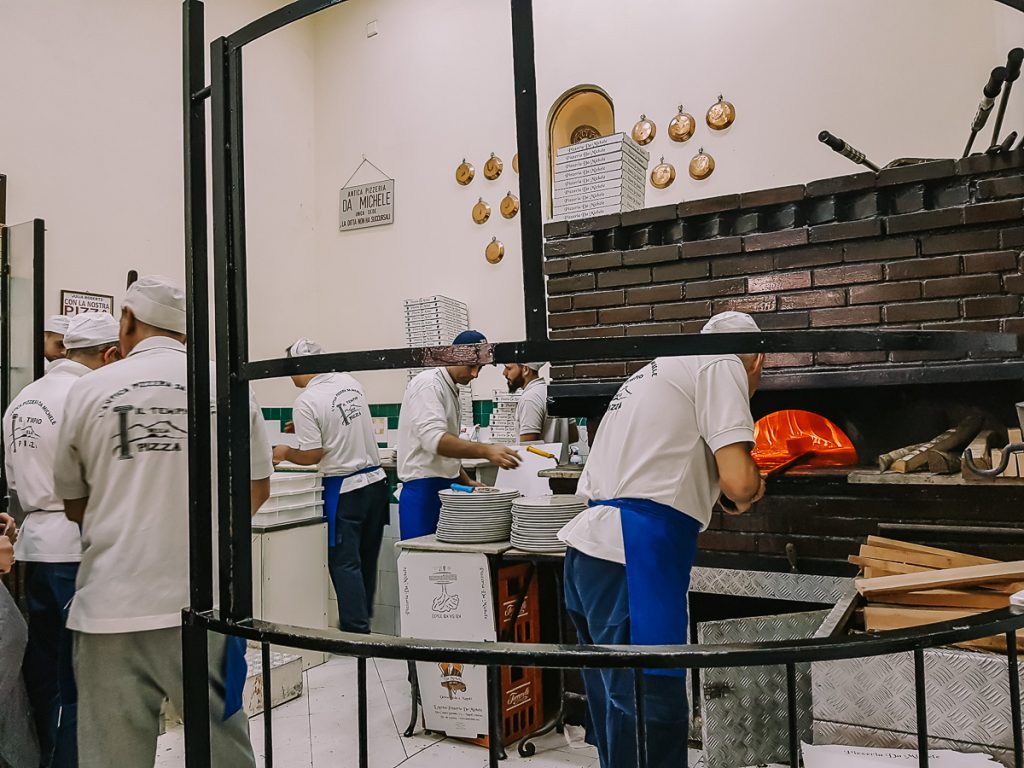 After 40 minutes, we get our pizza!!! It is very hot, of course, and you cannot eat it right away, but we still get to it J)).
We really enjoyed it!!! It was proven to me once again that this pizza is D-E-L-I-C-I-O-U-S!
It is now our turn to get out of the restaurant, looking in an arrogant way at these "poor" people waiting, with the tickets in their hands, the moment they will be able to go in…
It is getting dark. We walk around to see more beautiful places in Naples, even if it has started raining.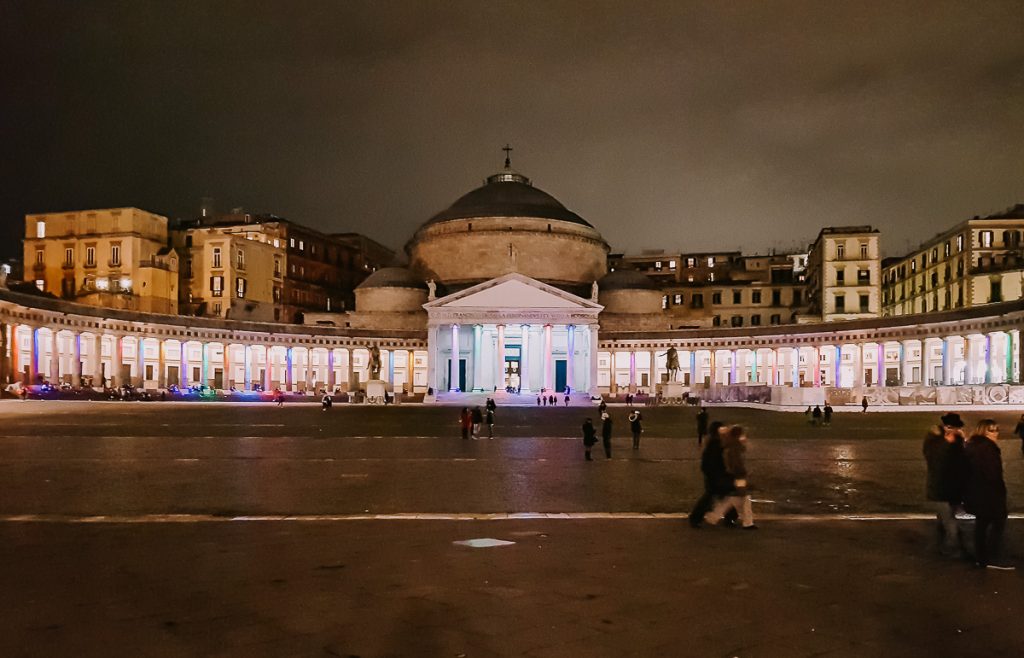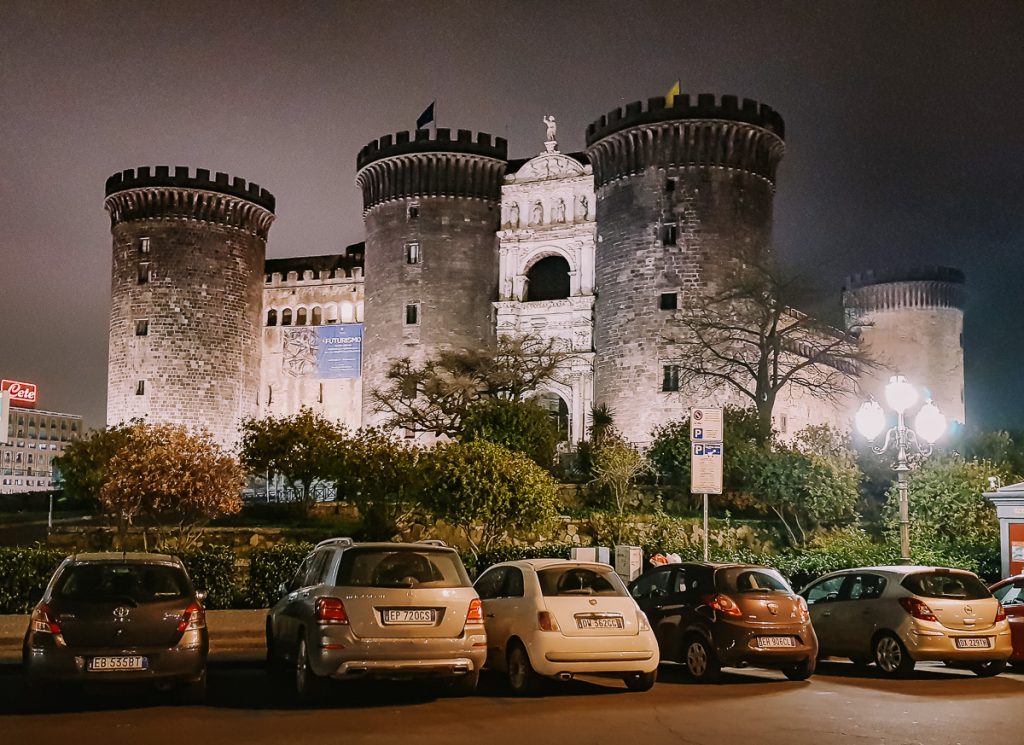 We see the Castle at night, we buy some cheap souvenirs, I rediscover some very picturesque places that I decide to write about sometime.
Then we go into the beautiful Umberto I Gallery, that reminds me of the Vittorio Emanuele II in Milan.
Here we eat the famous sfogliatelle and cannoli and then… hurry to the railway station to catch the last train back to Rome!
It takes us about 70 minutes to get to Rome. At the hotel, I do the math, counting ONLY the train and the Da Michele lunch, without the shopping. The train was 48 Euros per person one way, so 96×2 people = 192 Euros. Two pizzas and two sodas, plus the tip = 17 Euros. So, the thing with "eating a pizza in Naples" cost us… 209 Euros!!! This is a bit of an arrogance, right?…
Tomorrow we will pass from the Naples pizza to the simple Roman water… the free on, that you can drink from the pumps in the street hihihi.