During this period of staying home, the cooking fever has caught everyone, so I have to make a confession: I was not caught in this…
I still make my fast dishes, like during the times when I did not have time and I was always on the run, plus the food ordered online and a lot of chocolate, instead of any meal J.
Right now I could have proven that I can be a Chef, especially after the experience I have lived some time ago, in Italy.
COOKING CLASS
I do not have a paper to prove this, but the truth is that I went to a cooking class in Tuscany!!! For the first time in my life, which made me fear I would cut my fingers during the production process…
Nobody asked me to do this, but according to my tourist custom, if I repeatedly go to a town, I really have to see something new, to live something new. This way I got on my "Florence again!" list the wish to cook J. (I have to tell you that I am a fan, a great fan, a huge fan of the Italian cuisine!)
MENU OF THE DAY
Using my acquaintances there (Ioana, my former University colleague), I got to some people who, among other things, have these cooking classes. I met and talked to Costanza online and she gave me all the information.
Usually, they organize the classes for more people, but I was going to be the only one. Just my luck! She sent me a big list, like a book, with types of food divided into categories, asking me to choose three of each of them, according to my wishes and my taste. From my short list, she would see what we could cook, depending on the fresh ingredients she could find.
I started studying the list… God, how my mouth watered reading about each dish there J)). There are 18 appetizers, first course – 13, second course – 12, 13 side dishes and 8 desserts. I choose three from each category, according to my taste and I send her the list.
We are going to cook 5 dishes, she tells me in an e-mail – all of them recipes of the Florentine family, with ingredients from the garden and from the local producers. Mainly, organic products.
So, I will cook a whole dinner, from the appetizer to the first course, the main dish with meat and a side dish, plus a dessert. Yammy!
200 Euros – this is the price of having a private, one day, class.
In this price, the drink is included – a glass of prosecco, to warm up, then a glass of the house wine (red wine) for the steak and, for dessert, either a sweet wine or a cup of coffee. Well, if I drink all these, I will fall asleep on the door mat and I will never leave that place J)).
VILLA IL PARADISINO
The day comes… I take the regional train from Florence and, after only 10-15 minutes, I get to Sesto Fiorentino. (You can come here by taxi too. It costs some 40 Euros from the center of Florence.)
A nice man takes me by car from the station to Villa Il Paradisino, where he leaves me in the hands of the host, Costanza.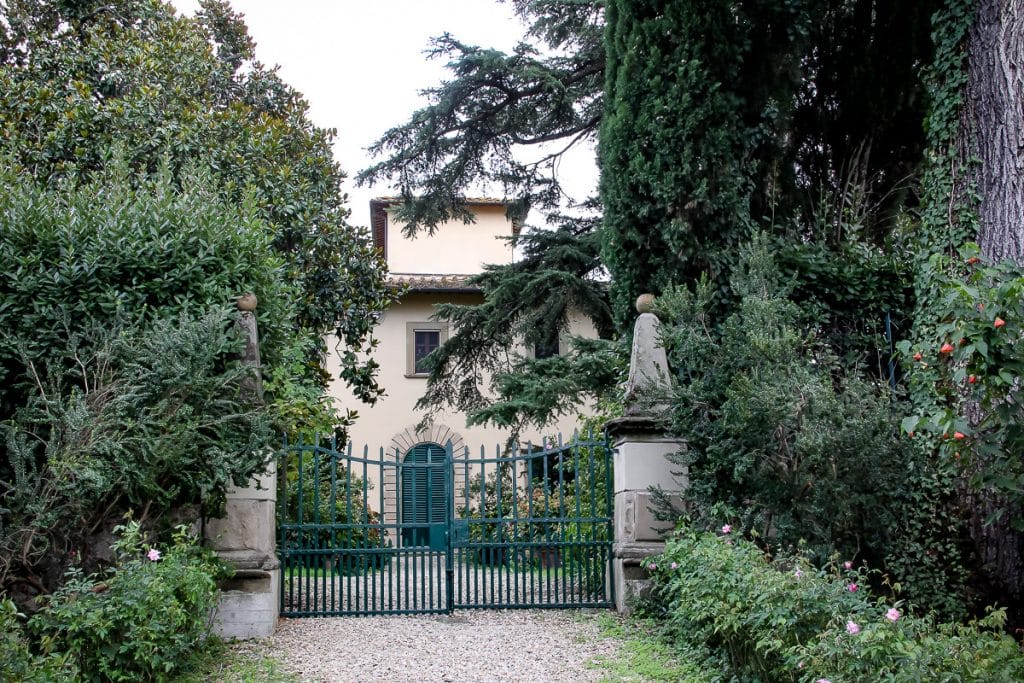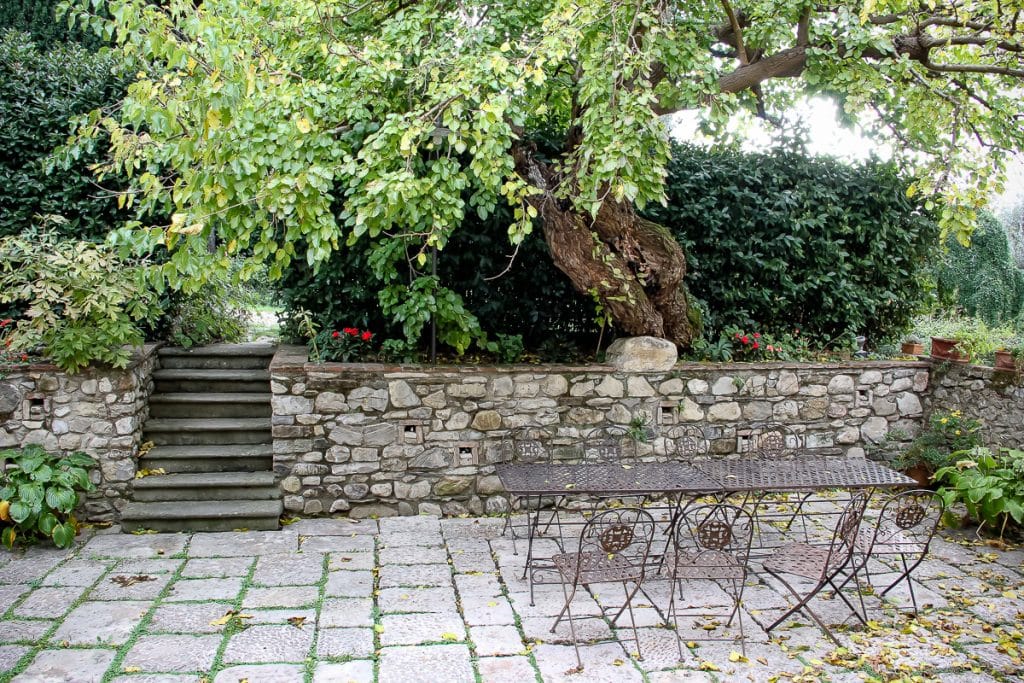 After I pass the gates, I live the amazement of the person who wants to shout: "I would move here tomorrow!" This is a place where your eyes and your nose are charmed by the flowers, the fruit, the vegetables and the herbs, by the house that has a history scent, by the stone oven where they make pizza usually and a yard hidden away. The Zen Zone, I would say, because I suddenly feel that my tourist engines stop…
Costanza, like a good host, shows me all the corners, the gardens and all the places that I did not notice from the beginning, she tells me about the history and about what we are going to do today.
Her family has had this place for six generations! The villa was built sometime in the 18 century. And, starting in 2004, they decided to… show it to the people, more specifically to host people here. I did not ask about the prices for rooms, as I am staying in a hotel in Florence, but I made a note to myself to study their site, for a possible coming back here as a tourist, not as an apprentice J.
GET TO WORK!
The cooking class starts at about 2:30-3 p.m., not in the kitchen, but in the garden! We start to gather all we need for the cooking.
We came out with a small basket and, after just a few steps, she tells me: Let's get some rosemary.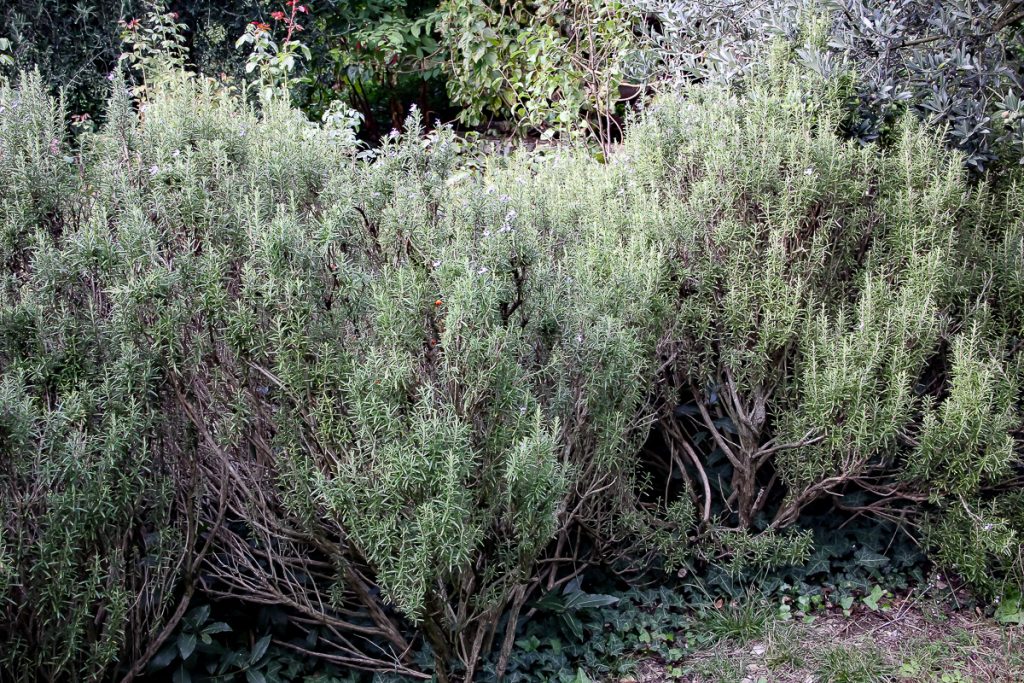 And some tomatoes… Careful, you have stepped on a… I have no idea what it is. But we do not need it now.
Damn, no matter where I look and where I step, there's a herb, a flower, a bush or a tree that has something edible J.
She takes me to another corner of the yard, to see the "carciofo" too (artichoke). I never liked this. I did not take a photo of it… I have always avoided it in pizza or in any appetizer.
Costanza almost tells me my mother's words: "How could a peasant know about this!" She is convinced I have never eaten one just as hers. But I keep my opinion…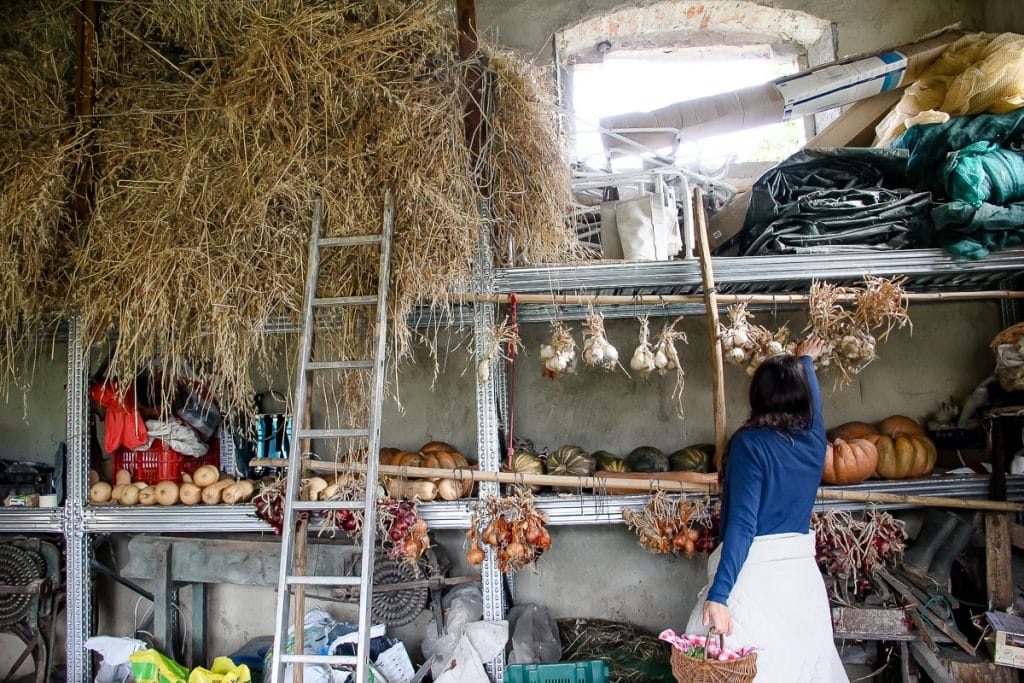 Let us go to the barn too. We need some garlic. I feel like a child, in my granny's home in the village.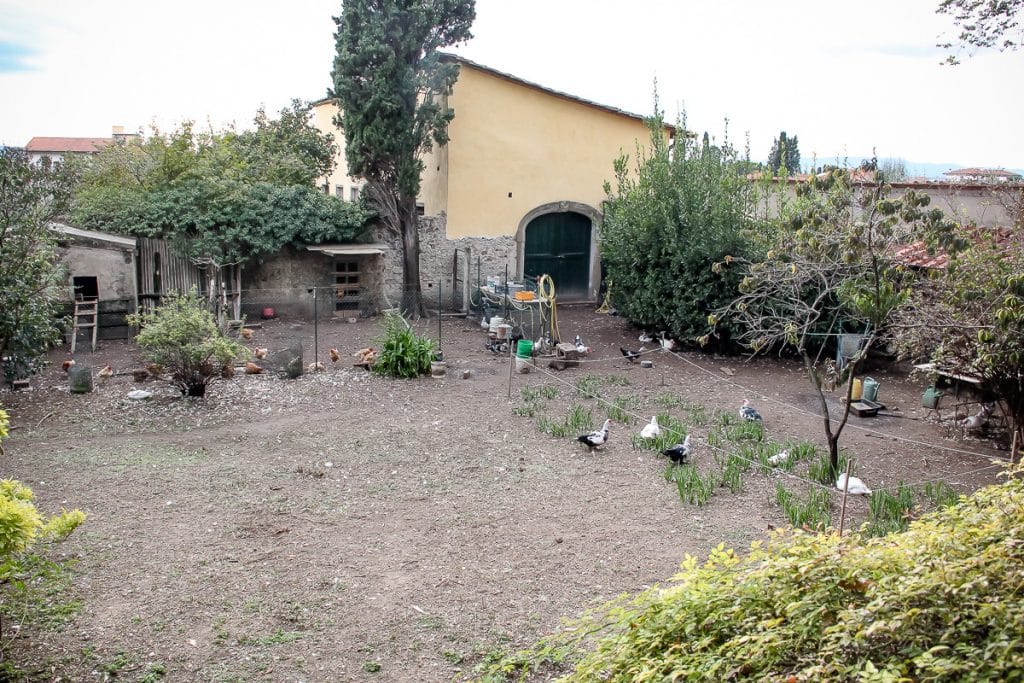 Then we say hello to the hens in the yard, who walk around freely on an area larger than my home J)).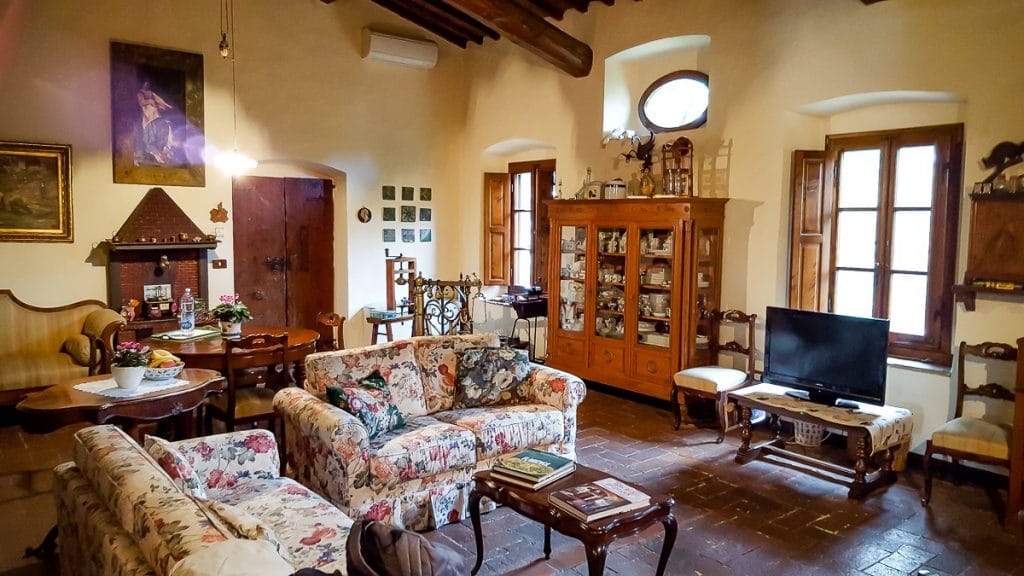 The place where we will cook is the living room of the house, which has an open kitchen as well.  It is a friendly, colorful place, with old furniture, with an old cupboard full of dishes, with a lady who will help us and a dog who goes from one to another, happy to have guests. Well, one guest…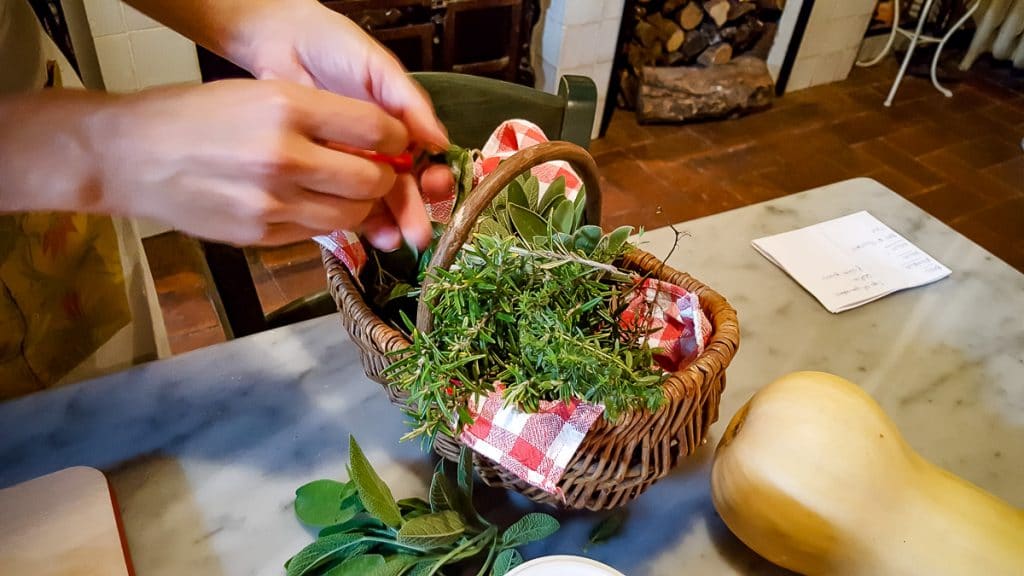 The herbs basket is put close by and then we repeat everything. We have everything, including the necessary energy and I even have some kind of enthusiasm and emotion!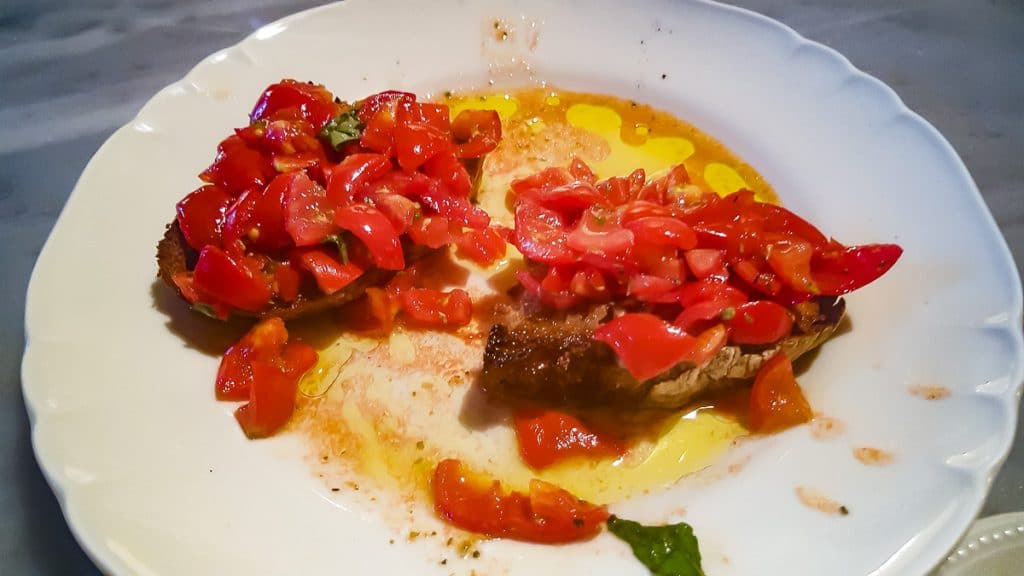 Before we start, she surprises me with a plate of tomato bruschetta. God, they are so good!!! I lick my fingers! And I remember what a guide said about the Italian food: it is simple, but with very good ingredients! Very tasty tomatoes, the right amount of garlic, fresh basil, olive oil made by them, a wonderful bread. I could have eaten 100 like those!!!
There we are… We start working. She gives me an apron, I put my hair up and… Start!
We will make: crostini con salsiccia, that is some toast bread with sausage, then frittata di patate al rosmarino, that is some sort of a potato, egg and rosemary omelette, tagliatelle alla Amatriciana, some of my favourite pasta, then involtini di vitella alla Toscana, some veal, cheese and ham rolls with green beans in a parmesan sauce and, in the end, a glorious fondente al cioccolato – no need of an explanation for this one hihi.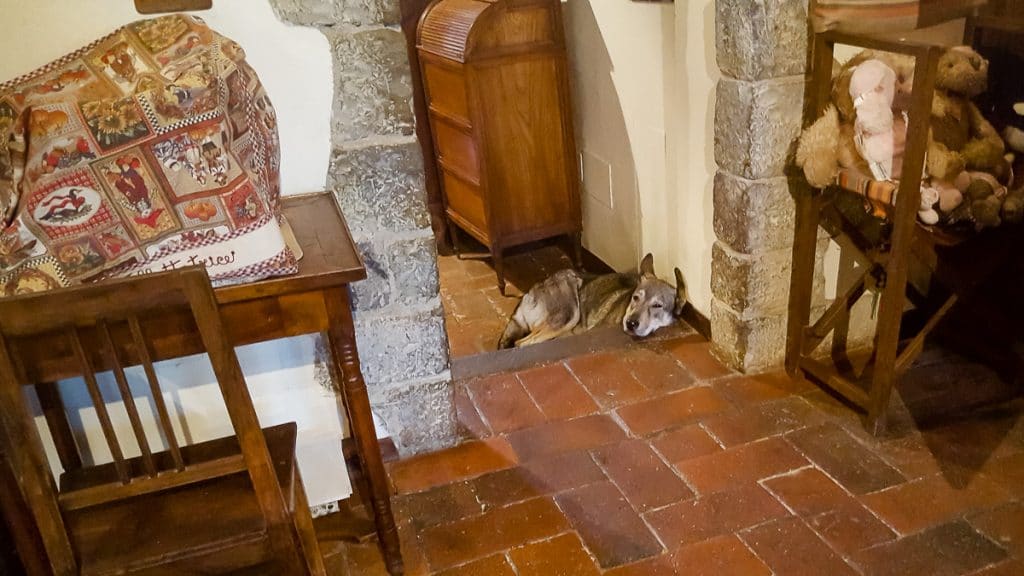 The dog of the family looks at me bored. He does not care that I am a shitty cook… He will not taste my food, because these people really love their pets J).
Well, I may be a shitty cook, but it seems that I have a flashback! And my mind and my hands suddenly remember my childhood, when I was peeling the potatoes to make French fries, when I used to beat the eggs like a Chef and artfully cut other ingredients in the kitchen. Not to tell you that I am a master when it comes to separating the yolk from the white of an egg J)).
However, sometimes, I really need instructions, as I have never seen meat cut so thinly! I am afraid not to spoil the thin slice of veal meat if I am not delicate enough…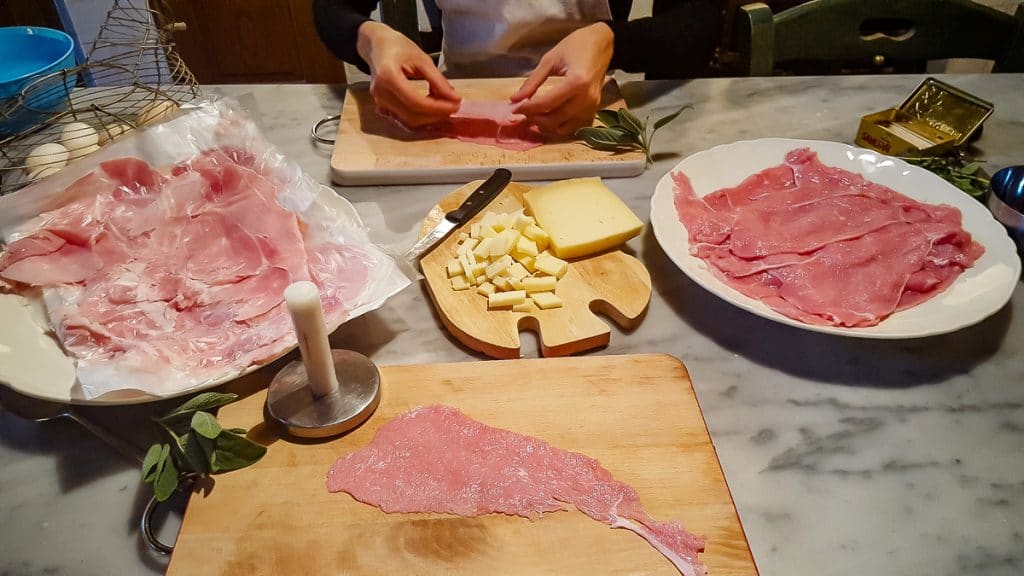 I find out that they bought the meat like that in the butcher's shop, so all I have to do is make the rolls, respecting the order of the ingredients.
While we make all the goodies, she tells me that we are cooking for some Americans who will come to dinner. What?!?! I thought we will cook, and I will then eat the food and the leftovers! But, no. In their villa some Americans are staying and what I cook (well, what I help cooking…) will be their dinner. May God protect them!…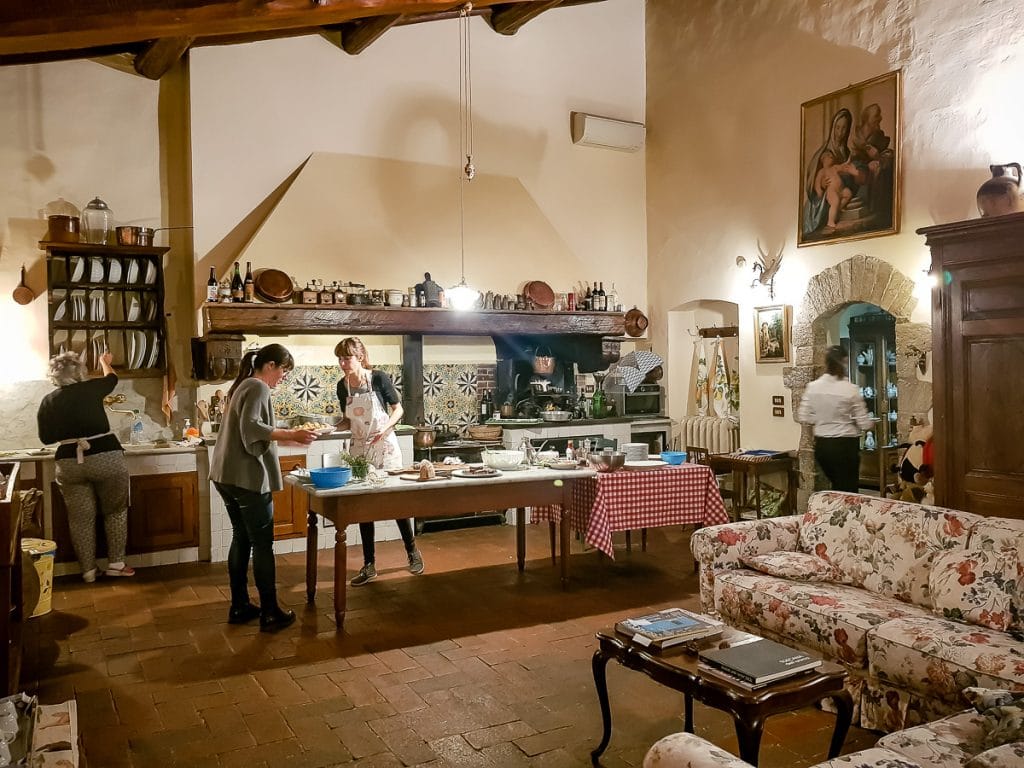 To make sure they have what to put on the table at dinner time, Costanza calls her sister too, because two is better than one (I don't really count here J)).
As the dishes are ready, I start salivating!
Between two dishes, I get the time to admire what they have in the room.
A huge spectacular scales is in one corner of the room and the old stove that I see close to the new one is still working!!! They still cook a lot of things on it!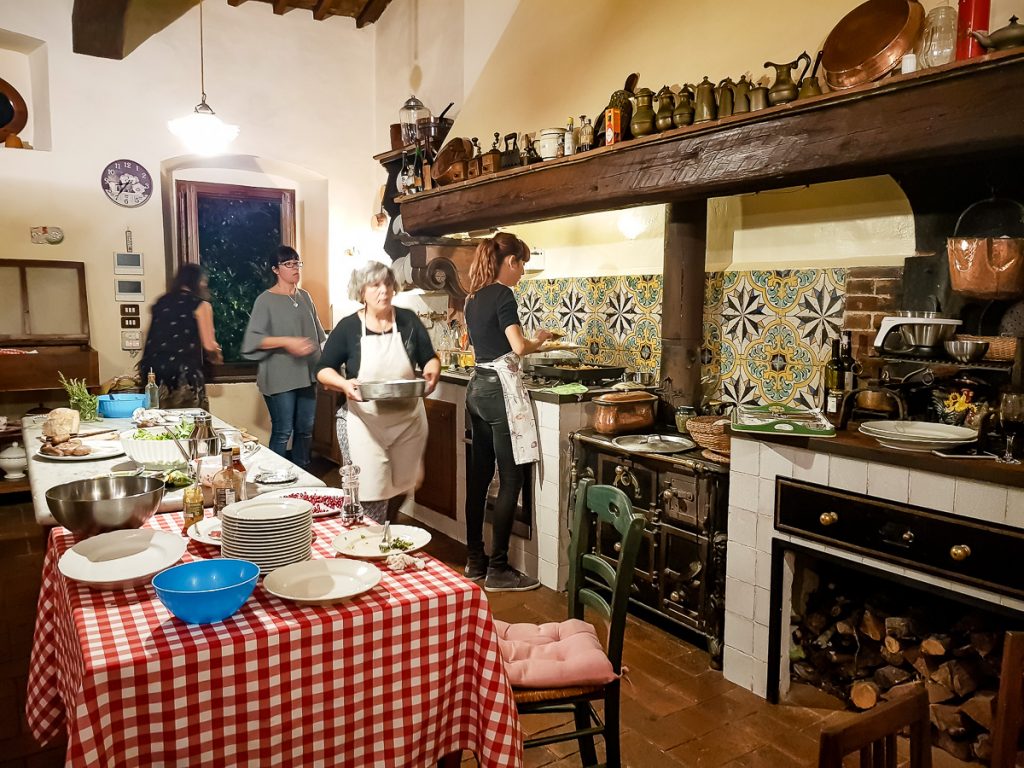 The Americans are already at the table and they enjoy the evening. Let us see if they will still enjoy it after eating hihi. We are still cooking…
As I have worked very hard J, before sitting down with the guests, I make a tour of the villa. I feel like inside a museum, I swear! And there's a reason for that, as a lot of the objects in this house are true museum pieces. There are a lot of old things, from kitchen tools, to bikes, musical instruments, toys, even an Etruscan urn, an original mask for water pipe, China vessels and paintings from the 16th century.
I am most impressed by the photo of the composer Giacomo Puccini, with a dedication written by him for a member of the family (Costanza's great-great-grandfather).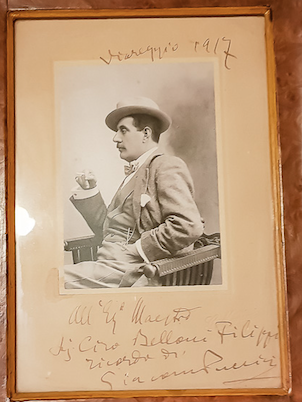 100% ITALIAN FOOD
Now, let us get real, I did not cook. I just did some work in the kitchen under Costanza's and her sister's supervision. But they introduced me to the Americans as being the Chef of the day J).
The food was delicious!!! The proof? The Americans ate everything! And if I think that, in reality, I am terrible at cooking…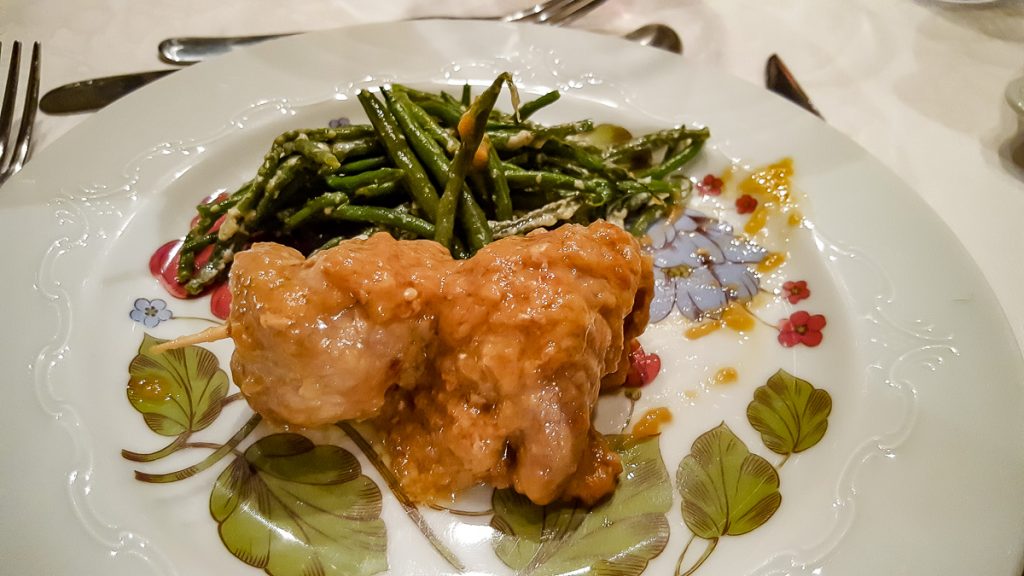 I recognized a huge roll, obviously my mistake, which got into my plate and which was devoured without any problems…
I enjoyed each dish more than usually and then I left the table before anyone felt sick J)). I had an excuse: I had to get to my hotel, in Florence.
This was a very nice experience and what seems even better is that I kept in touch with these people. I visited them when I went to Tuscany again and I hit their stash of olive oil. Once, twice, thrice… and keep counting…
End: I came home with the recipes I took from there and I wanted to make them all!
All I managed to do were the tomato bruschetta hihihi. And even those were not like the ones there… Man!