What does a person do when she manages to see Cinque Terre faster than she intended? Well, she explores the neighborhoods too!
I had read only a little about Portovenere – a maritime town built during the Roman times, on a peninsular rock. I knew it was not part of the Cinque Terre National Park, but it is just before the first village, when you come from La Spezia. And I had also found out that you can't reach it by train, only by ship or by bus.
I tried to make a reservation for a helicopter or a submarine, but I couldn't find any tickets J. So I chose the only means of transportation I could get to Portovenere on, leaving the Cinque Terre: the boat.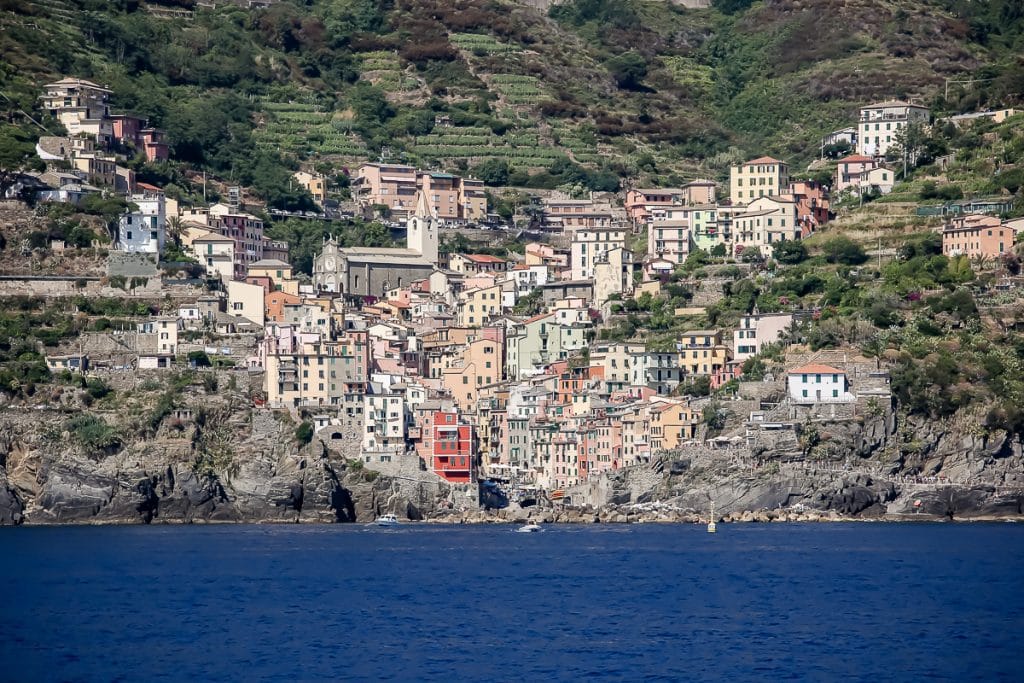 I got on the boat from Riomaggiore, where I had accommodation. And go, cabman… sorry, Captain!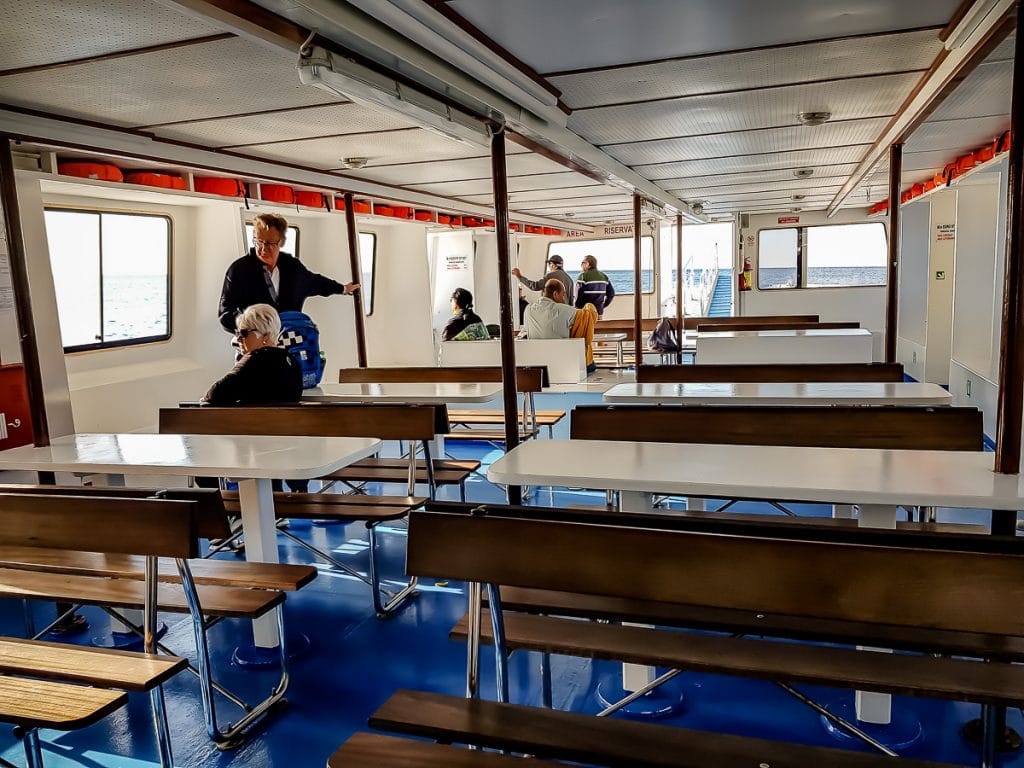 I went around the area by boat in summer and in autumn. The surprise of autumn is great! After the hustle and bustle of the summer, with an awfully full boat, autumn is a luxury, with only a few passengers on board.
When I first set off for Portovenere, "for lack of anything else", I had no expectations. Maybe that's why the surprise was so great! It was such a big surprise, that I went back to see the town on my next vacation in Liguria.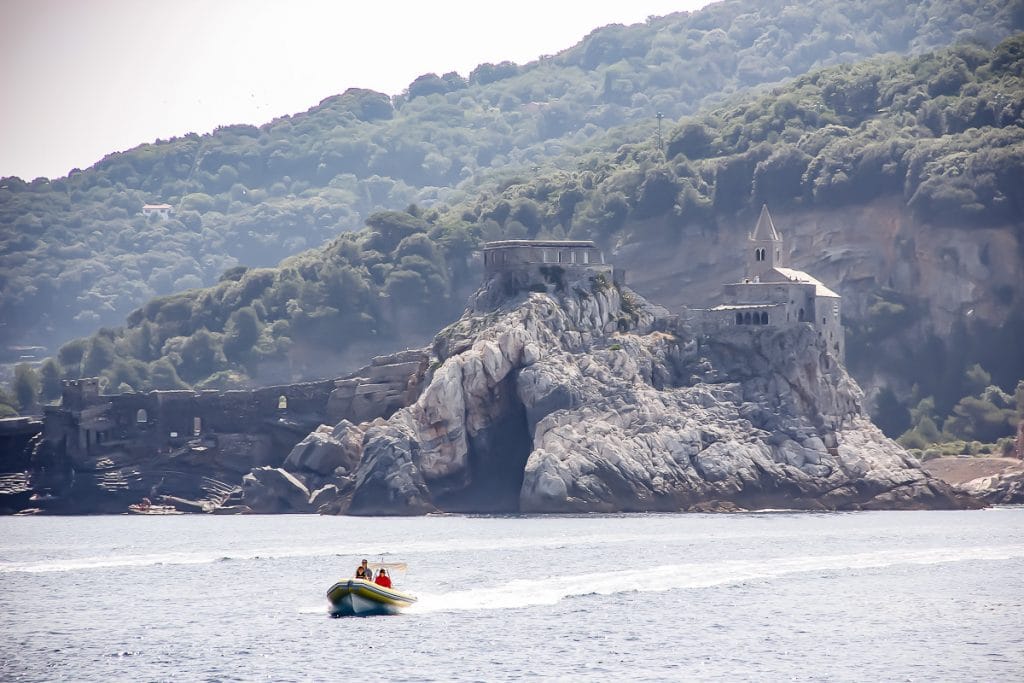 What's left of a castle, plus a brave church (considering where it's perched) – these are the first images that appear, before entering the port.
PORTOVENERE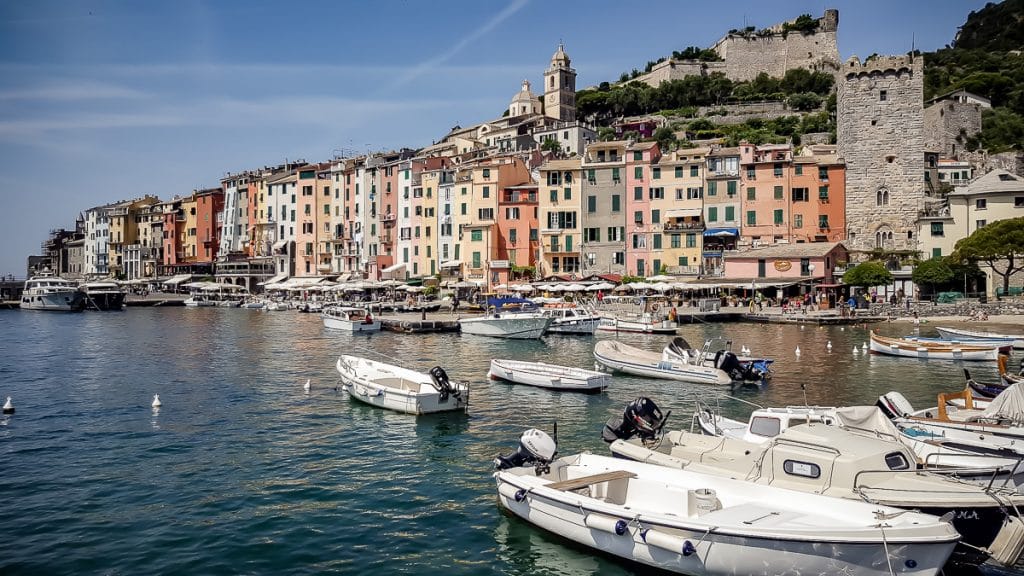 As we turned the corner (of the rock…), all the people on the boat, as if on command, made various sounds of amazement, as if we all spoke the same language: the language of those left speechless…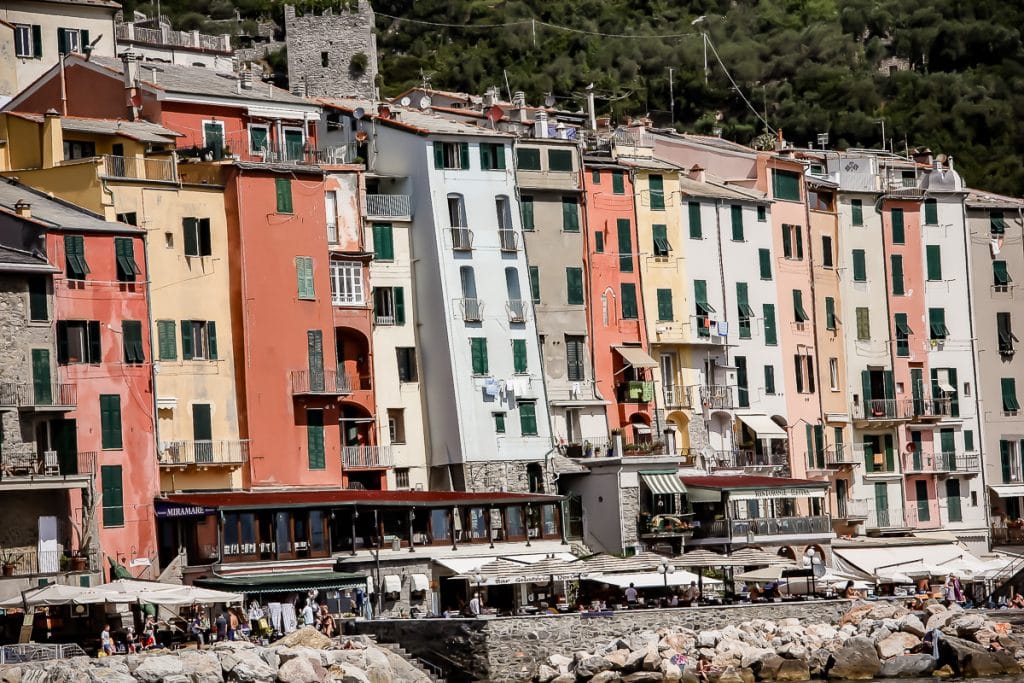 In front of us appeared a series of colorful, tall and narrow houses, piled on top of each other, as if intentionally placed incorrectly by the human hand like in a thrilling jenga game.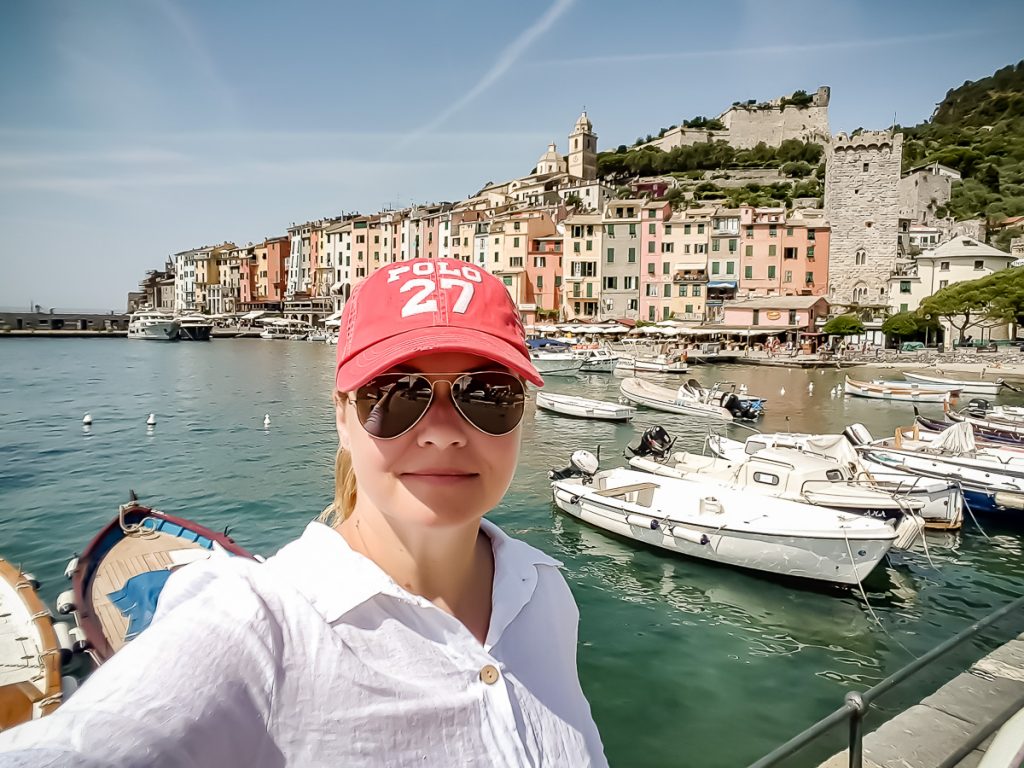 These colorful houses seem to have a magical effect. I stopped in the port and took a lot of photos, regretting that I didn't have the slightest talent for drawing, because I could have lost a few hours here, with the drawing block in my lap.
Whenever you come, in summer or during autumn, once you enter the city gates, you notice the advantage of the crowded buildings: you have good protection against strong sun or wind and I suspect that in winter you are protected against the blizzards, if they have heard of such a thing here.
The main street, called Via Capellini, a narrow and long street that takes you to the other gate of the city, is full of life, full of souvenir shops, clothes or local products, but also with restaurants, bars and grocery stores.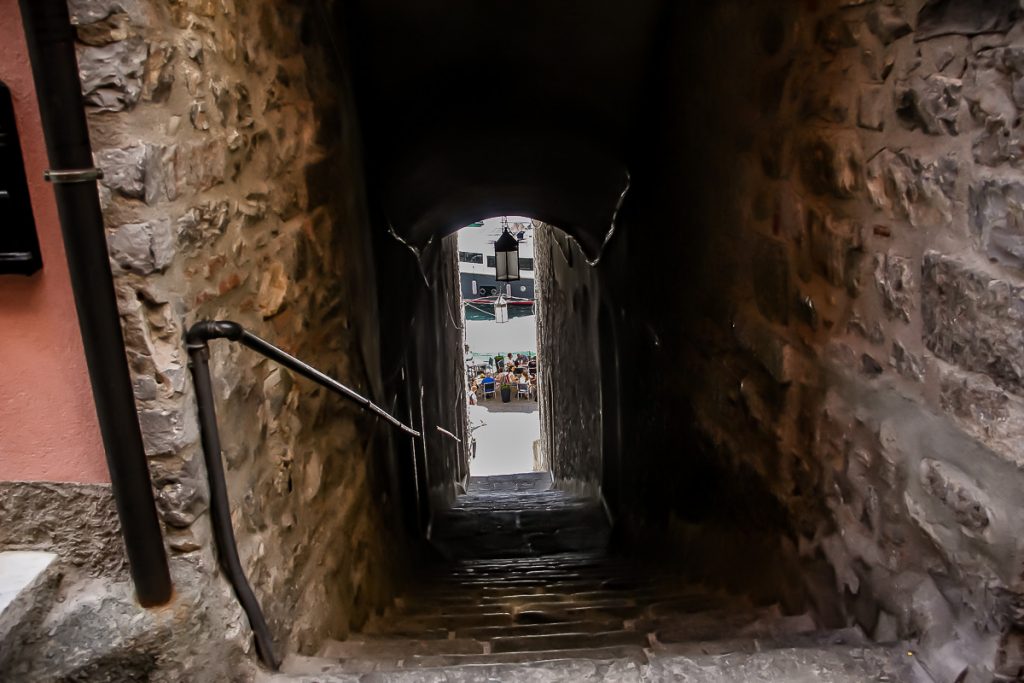 From place to place you come across narrow streets that take you to the top of the hill, but also steep stairs that take you down to the port. I think it's best to be on the stairs when you go down J.
PORTOVENERE BEACH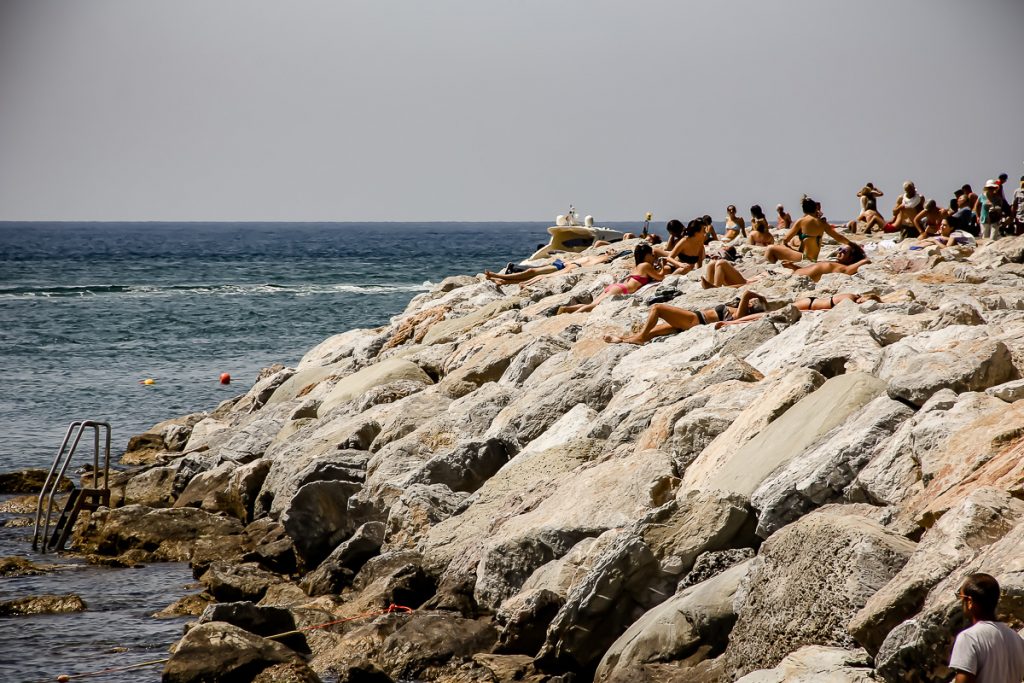 Beach? What beach? There is no beach. There are some rocks that go down to the sea, not at all user friendly, but which, what do you know, are fully occupied by people, without any problem! People spread their towels on a rock and enjoy the sun.
Now, I have no idea how many of them are tourists. I don't worry about the locals, as I'm convinced that they already are used after so many years of beach on these rocks…
In the fall, there's no bottom on these stones J. Although the weather is wonderful at the end of October! I think, however, that the locals have already taken their share of the sun, all summer.
However, I am impressed to notice a swimmer in the water. He makes pretty long laps.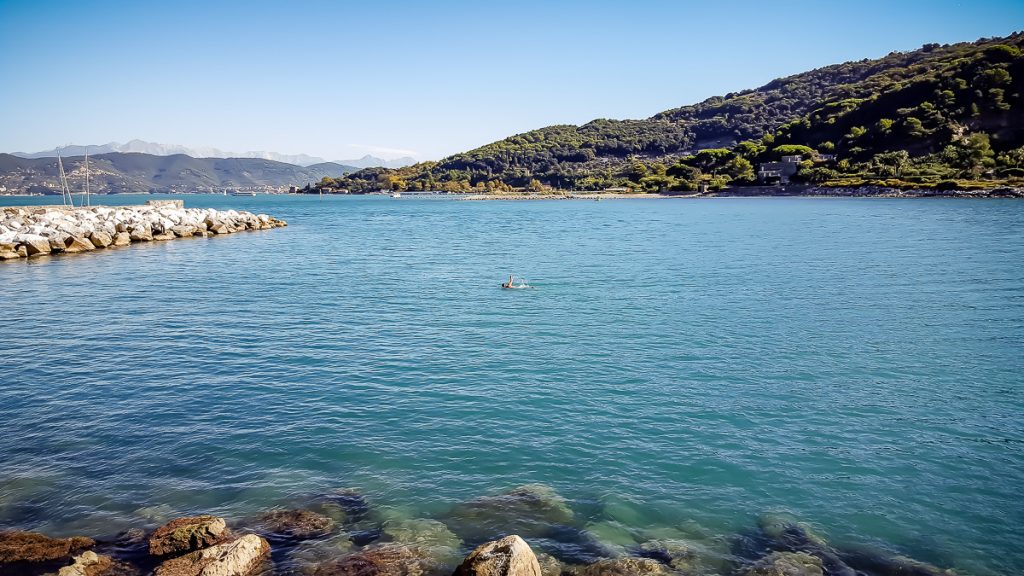 He's the seller of a store where I bought some shoes. He told me that I could leave them with him while I walked around the city, not to carry them with me, "but be aware that I close for two hours at noon. I'm going to swim in the sea".
And… here he is!
Cool, right? He told me that in recent years he has managed to swim until November, due to the friendly weather.
The truth is that it is unexpectedly hot for the end of October. So hot that an Asian uncle sells sun hats in port:
But let's go back to summer and the beach!
Beyond the strip of stones in the port, I discover a unique place very good for sunbathing. A place where you get if you have strong legs, because you take it behind the walls of the fortress and you have to go down among the boulders, on some steps carved in the rock, you have to be careful where you put your foot, while holding on to some cables. If all this goes well, you can put your towel on the stones left unoccupied. No reservation is needed J.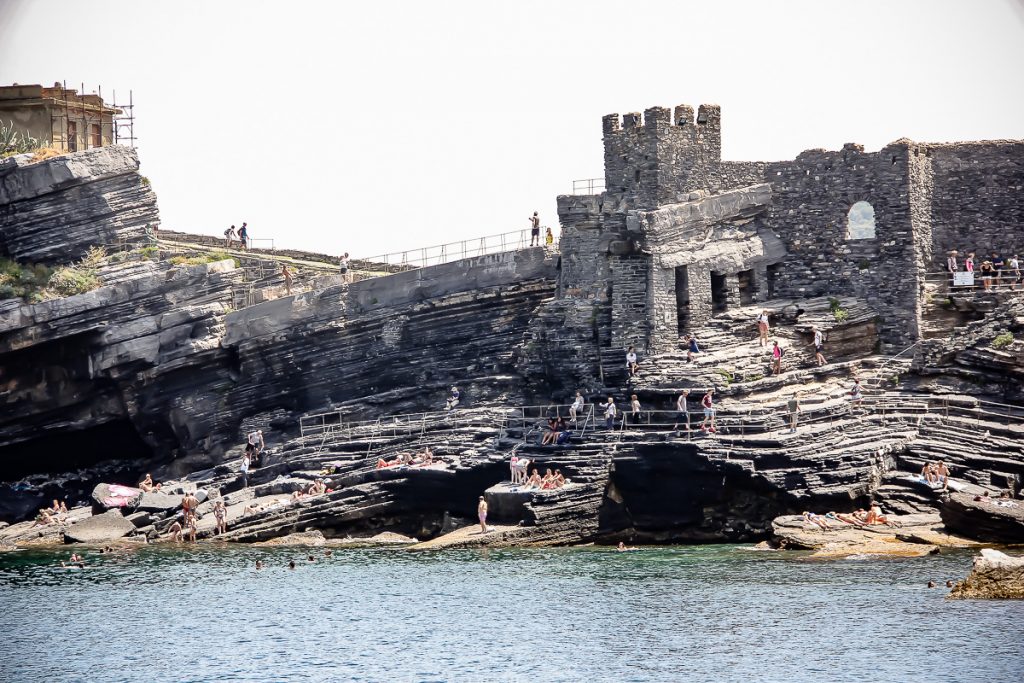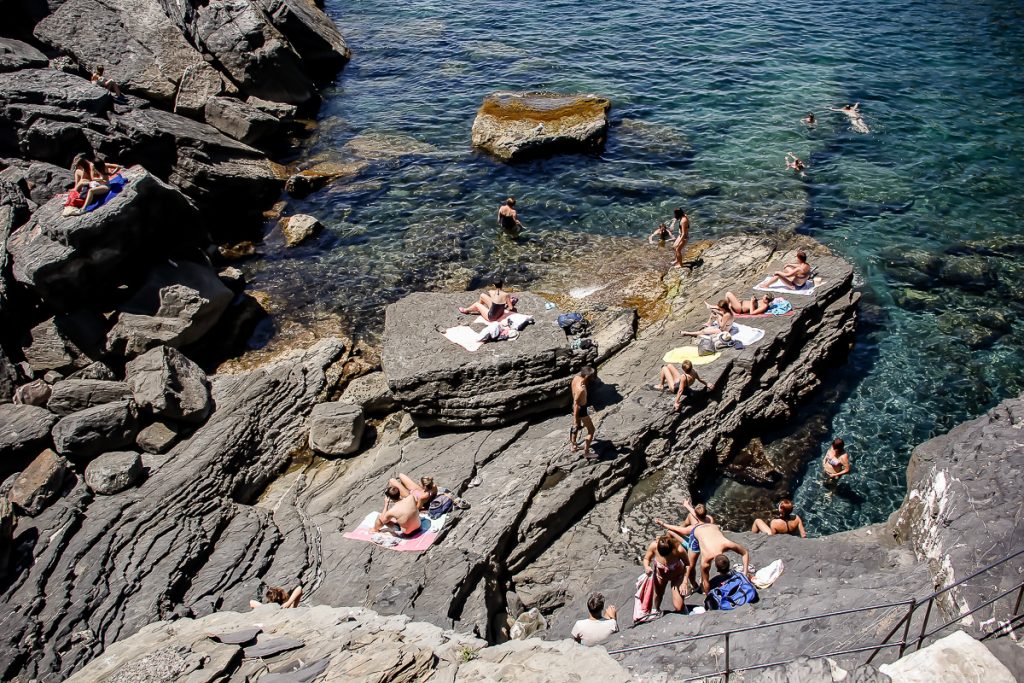 While I was taking pictures, people came constantly. It seems this is kind of a better "quality" beach. It's just that you have nowhere to stick an umbrella…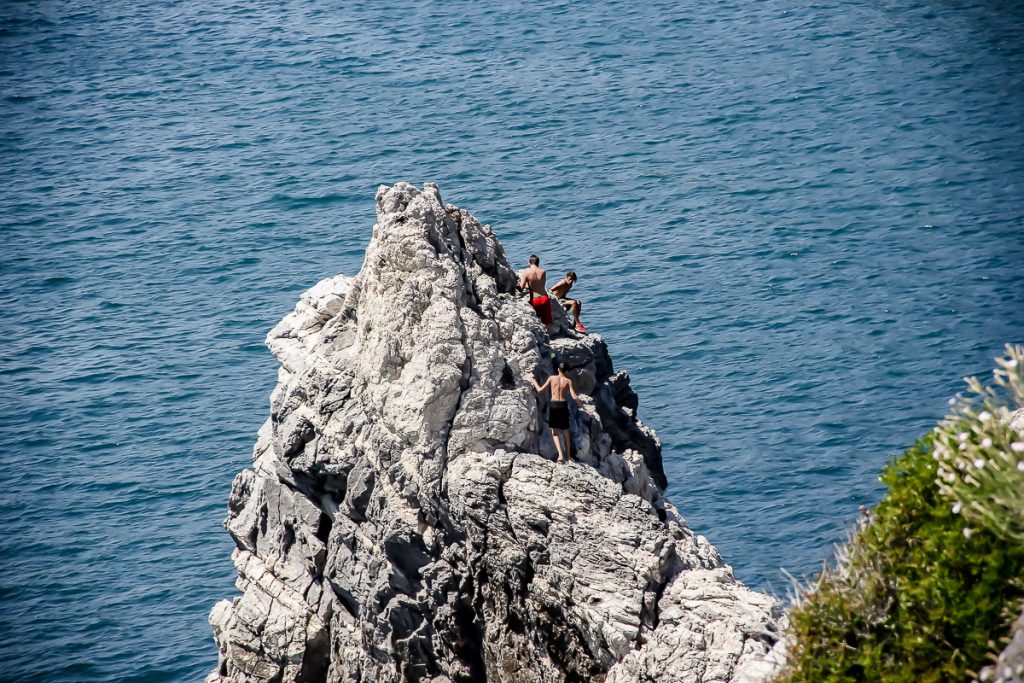 Many young people take advantage of the high and steep cliffs in the area, which they climb with an enviable dexterity and then they jump into the sea, in all imaginable positions!
Here is a good place to see Grotta Byron (visible in my selfie too), which is said to have been a place of inspiration for the English poet Byron.
The man was an excellent swimmer, he came here and lay around until he got some good ideas… In addition, he had a fantastic courage: it is said that he defied the waves of the sea by swimming from here, from Portovenere, 8 kilometres to Lerici.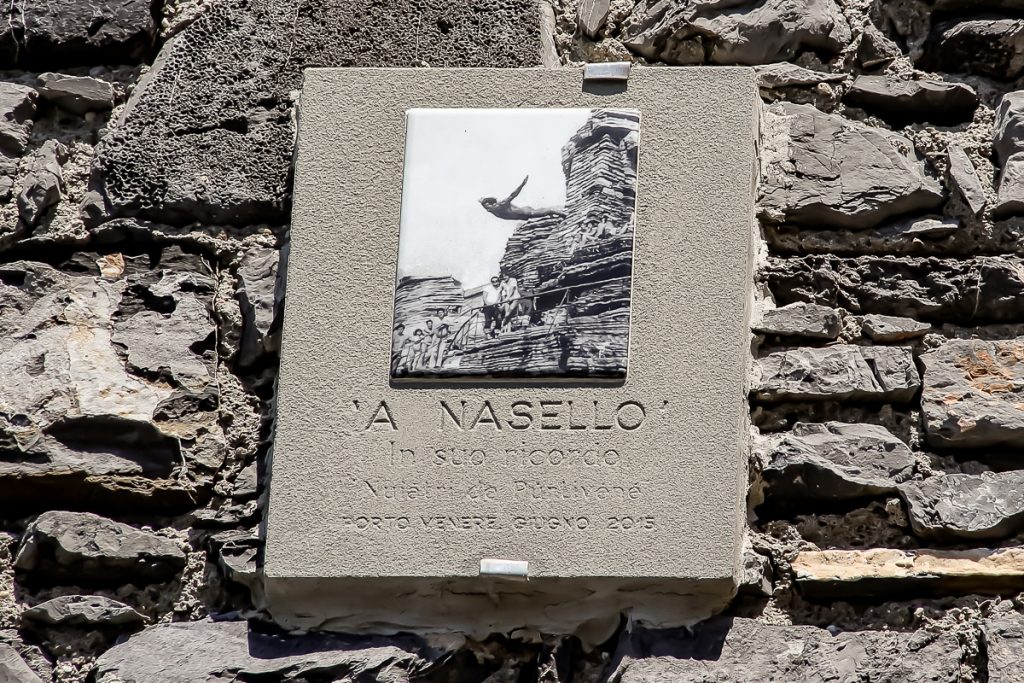 There is also another swimmer – a local star, in memory of whom the people here made a stone slab. "Nasello" jumped off these rocks into the sea without any worries. And he lived happily ever after…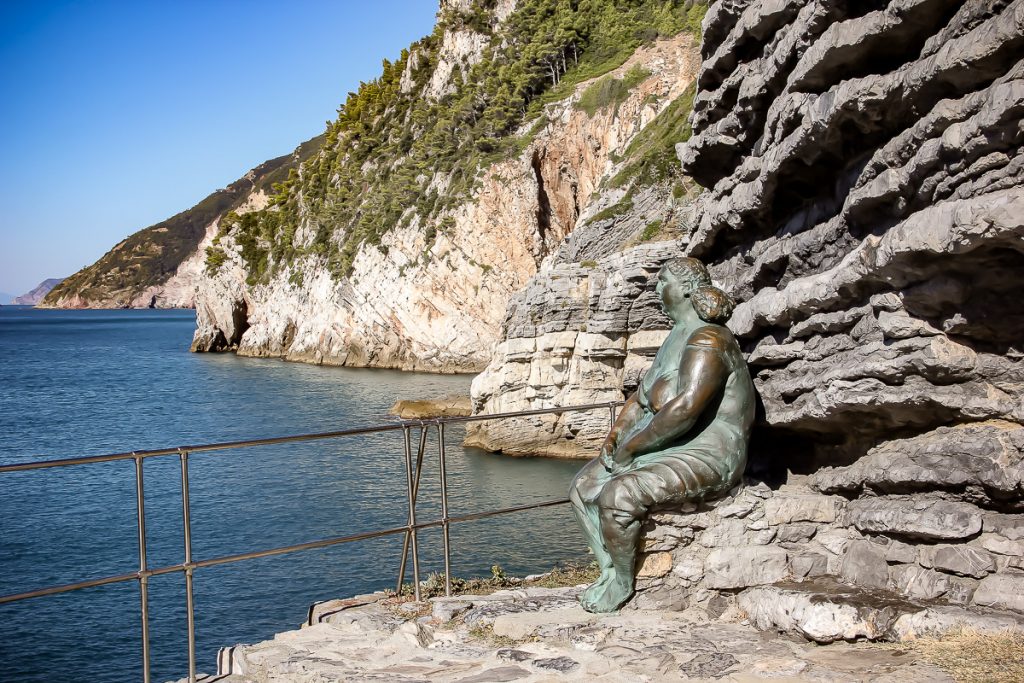 In case you didn't know how to find Mother Nature, the search is over: she's here! I came across her when I went down the rocks to the water. This woman must be envied for the most beautiful view anyone can have here!
If you don't have the time, desire or… a swimsuit to sit on the beach, go for a walk on the quays. The place is really relaxing!
Calata Promenade is full of seafood restaurants and a few souvenir shops, so you have things to do here.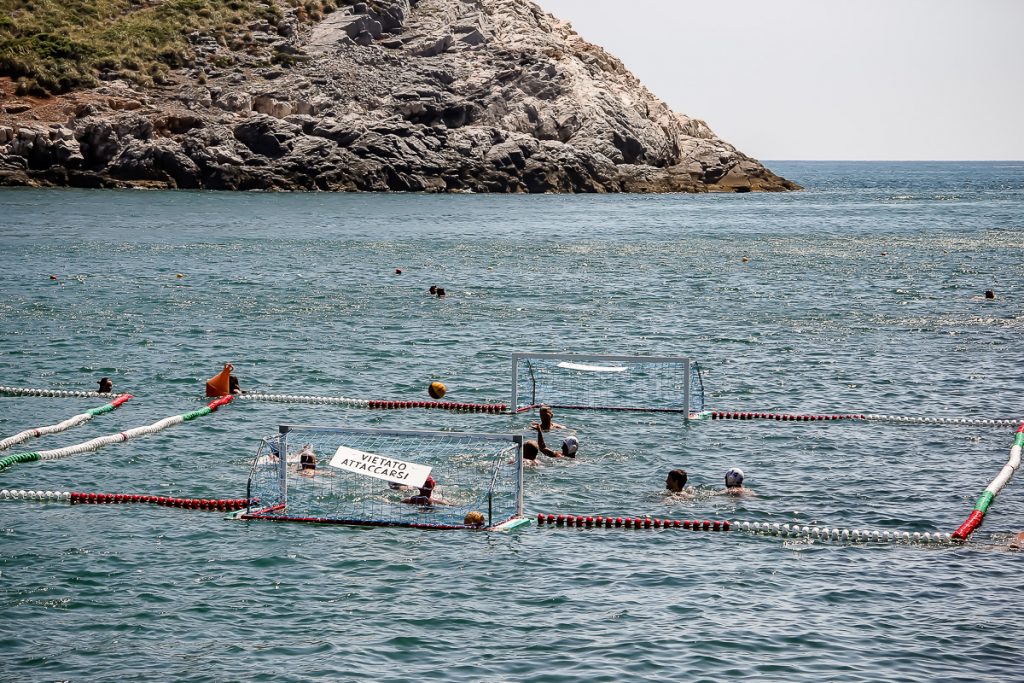 And you can admire the local polo players, who may be fighting for a crate of beer…
If you're lucky, you can see a real parade of old cars, next to which everyone takes pictures to brag in front of friends.
I'm not a big fan of cars, but believe me, I sat here a lot admiring these jewels, looking at the details, wondering what it was like to drive something like that. And, in fact, what it is like to drive something like this, because some took good care of them, to be able to drive them into the 21st century.
WHAT TO EAT IN PORTOVENERE
I didn't stop long in town, but my stomach kept screaming for some food at lunchtime…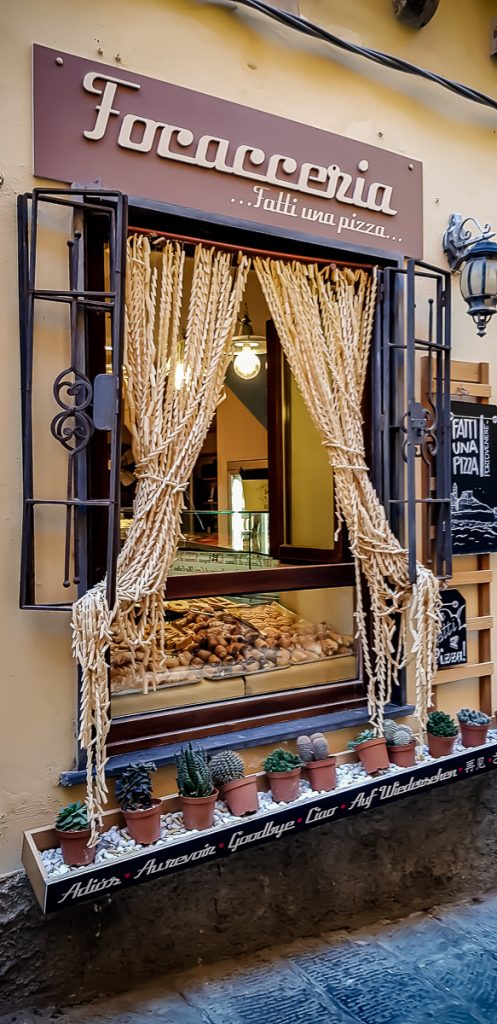 This focaccia house with curtains made of pasta is right on the main street.
Man, as soon as I went in, my mouth watered!
They have so many kinds of focaccia, with whatever you may think of, and I, unbelievably, took the simplest one possible: the one with olive oil. It is sublime!
But my plan was a good one, you know. A few houses further, I discovered the best pesto I've ever eaten! Do you know what it's like to lick your fingers? That's what I did when I tasted it.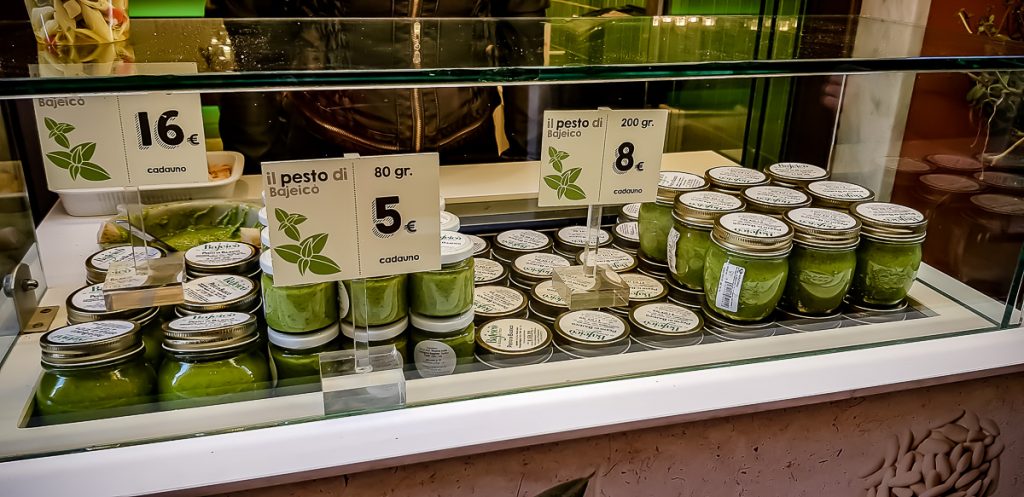 Produced by locals, sold at an affordable price, this basil sauce inspired me to make the ideal combination: focaccia with olive oil on which I poured plenty of pesto. God, a complete wonder!!!
(Believe it or not, but one of the reasons I came to Portovenere a second time was to buy a… truck of this sauce! Well, I bought 6 jars.)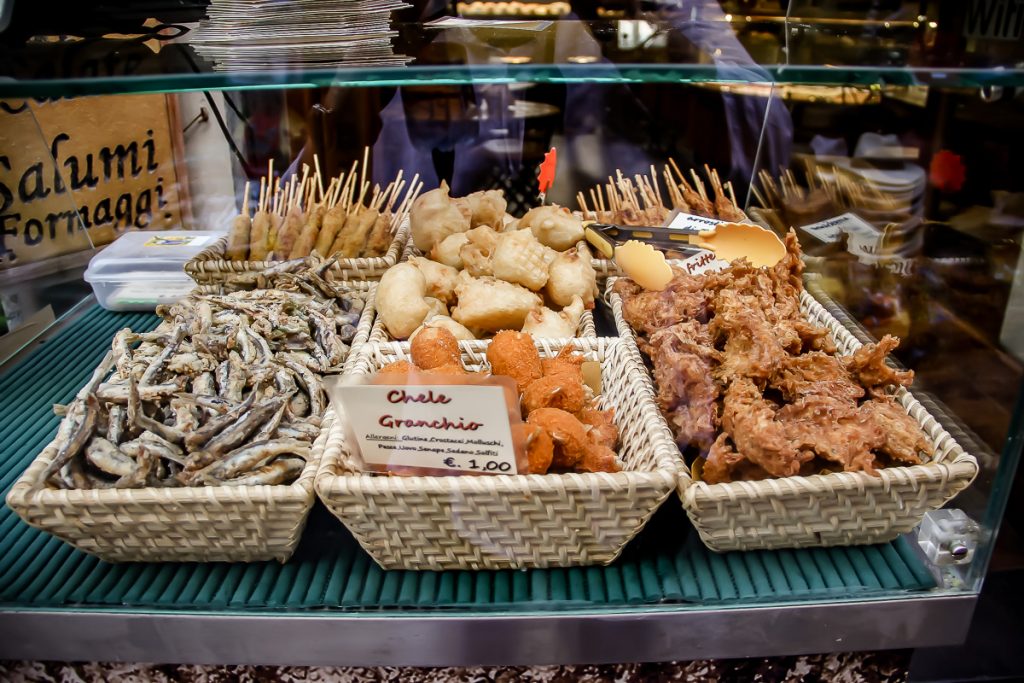 You can easily find other types of packaged street food here. Seafood is a safe commodity, given where we are.
At one of the lunches I had here, I gave up the food "to go" and I preferred to sit at a restaurant, found on the internet and rated among the most appreciated ones.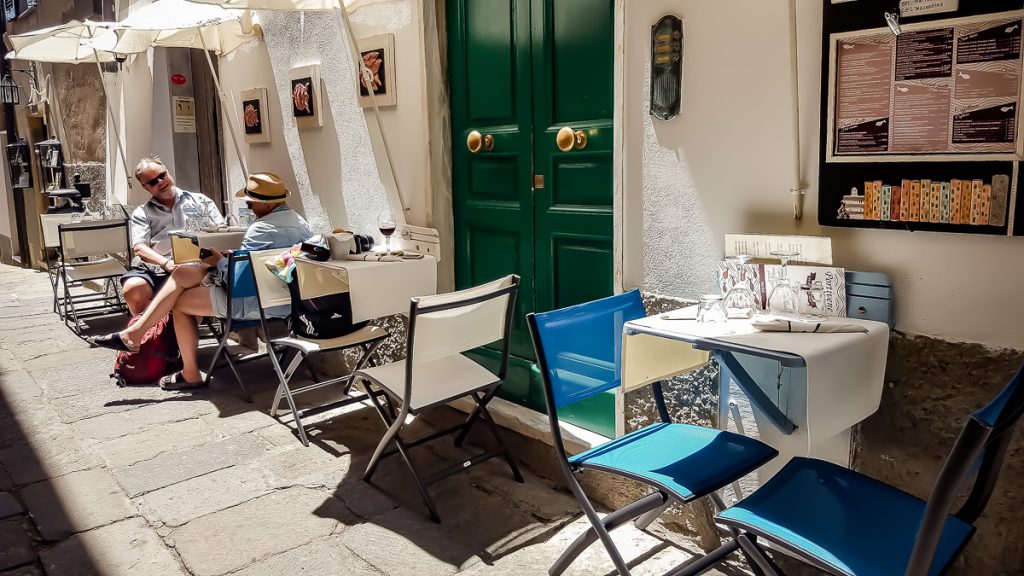 It was difficult for me to photograph the whole terrace of the Portivene un mare di sapori restaurant, because the 4 tables on the sidewalk were practically in the way of passers-by. And I was practically glued to the wall of the houses opposite J.
Not to tell you that I didn't fit in the chair. Like the other table neighbors, I spread my legs in the street…
But this is not about luxury, increased comfort and putting airs, but about the cool, holiday atmosphere and about good food!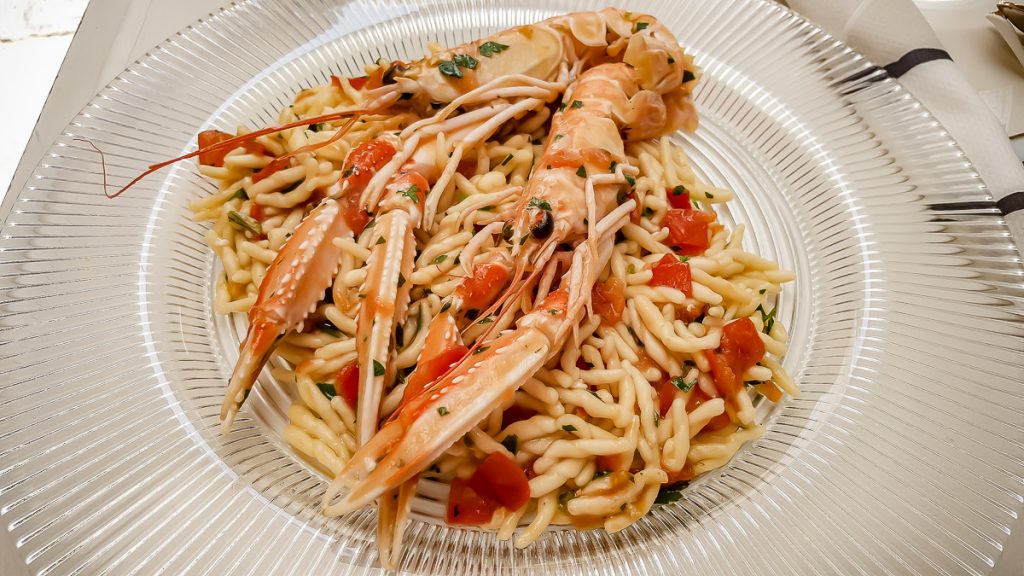 I took the catch of the day, with the local pasta and it turned out to be an excellent choice!
SAN PIETRO CHURCH PORTOVENERE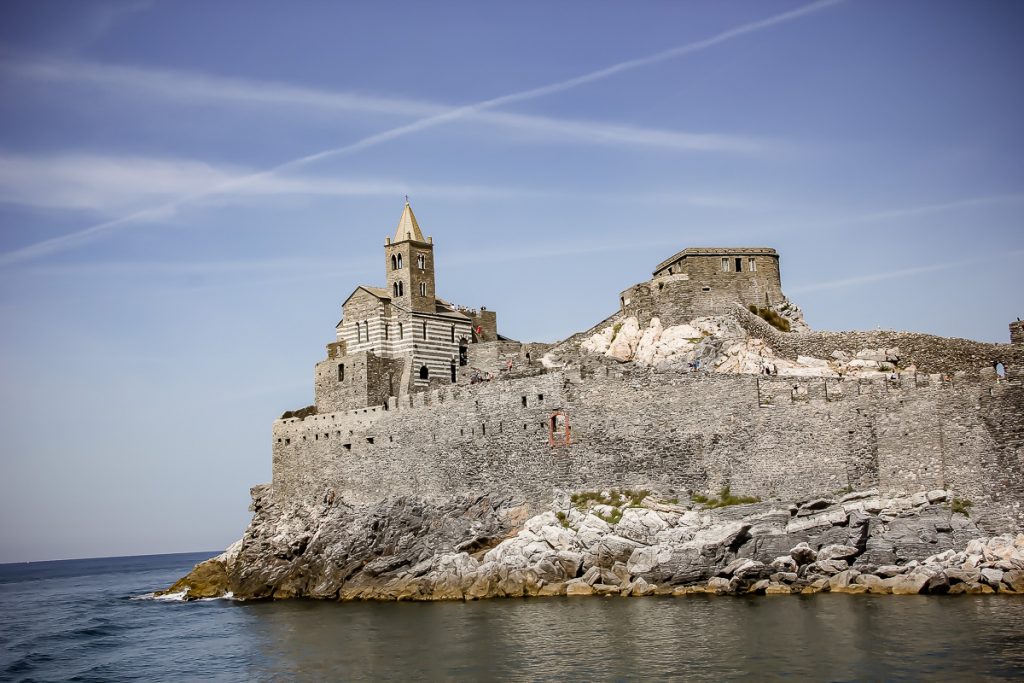 With a full stomach, instead of a nap, I go up to the church I saw from the boat, coming here.
It is the Roman Catholic church of San Pietro, built on an old pagan temple on the promontory, in 1277!
In summer, being extremely hot, any step up the hill is a damn torment! And when a lot of steps also appear in front of you, you almost want to turn away and give up…
In autumn it is more pleasant. Only the weight of your own body bothers you J.
Now, seriously, there's nothing hard on this road to church. A little climb, that's all.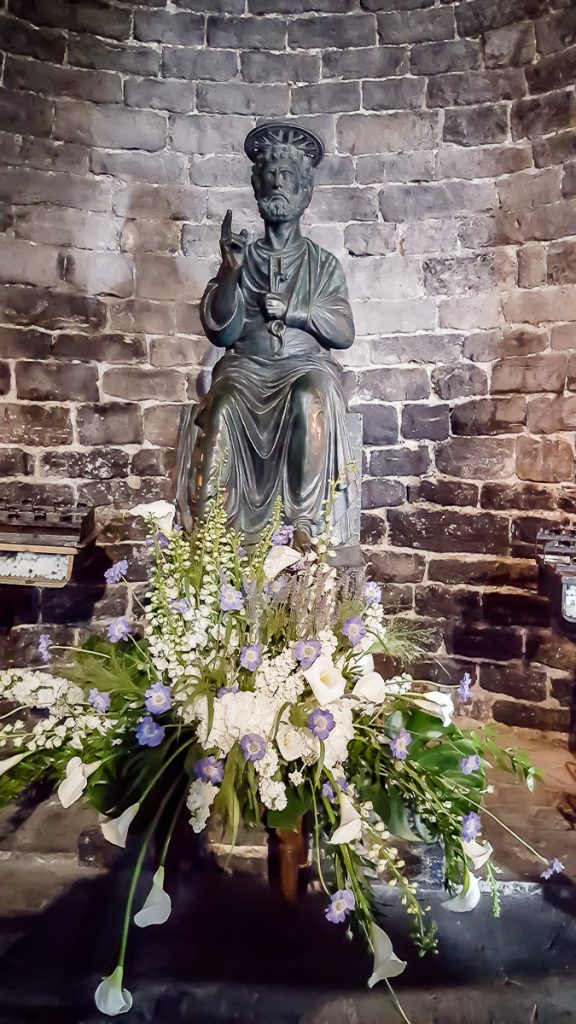 It's worth stopping by for a moment – it's cool, it's quiet, you can light a candle and you can sit alone with your thoughts.
The ascent to here is rewarded, because, once you reach the door of the church, you have a breathtaking view!
Even if in the summer you feel faint from the heat, even if you are all covered in sweat and you regret every fork of delicious food that you put in your mouth, it is worth going up a few more steps to the arched balcony of the church.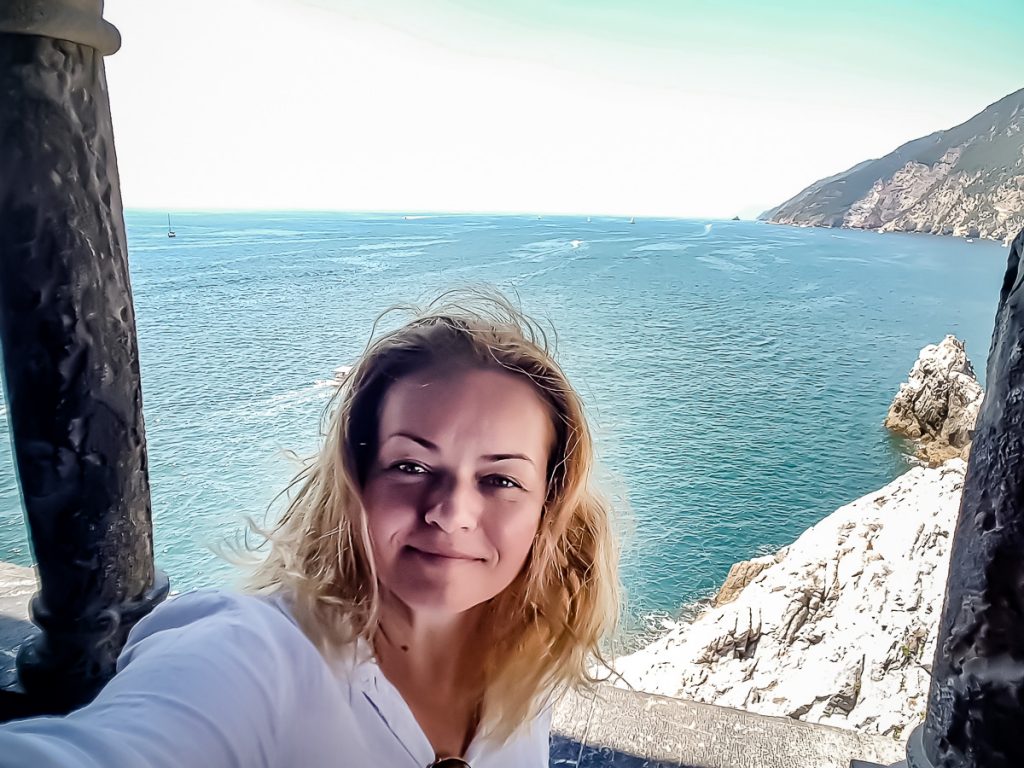 You have a completely different view, the horizon opens before your eyes and you feel like the Lord of the Sea!
I could say that it is the perfect place to throw away all your fears, sufferings and regrets over the "board". Well, I started to philosophize, but literally this place is fabulous!
I stayed here for a while, in the wind, I watched some boys jumping into the water, from the rocks, I counted the rich people who move their yachts on the sea J, then I decided to write a book of poems. Ha-ha-ha, I'm kidding, but, seriously, I can understand why this place is called the Gulf of Poets and why many writers came here to find inspiration.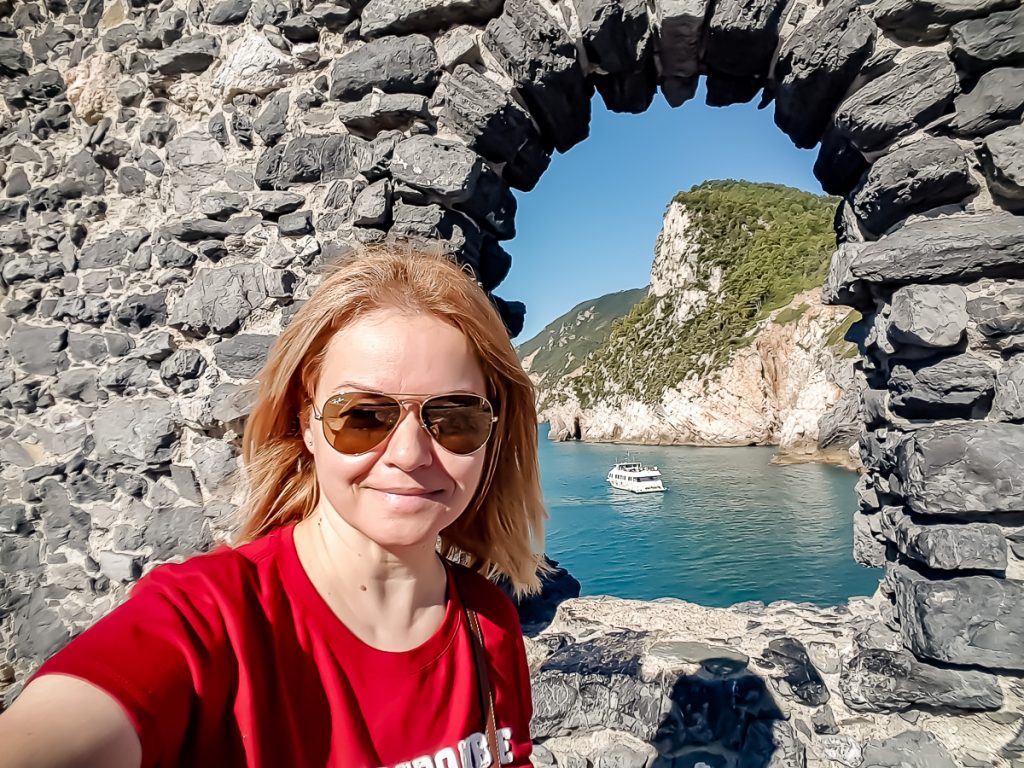 Now, really, look at the "window" I found. I only need a house built around it and I'm moving here!
It's the picture taken at the end of October, when I went up again to the church on the rock, then, encouraged by the weather, I decided to go up to the top of the hill (in summer I'd rather drop dead than go up there… )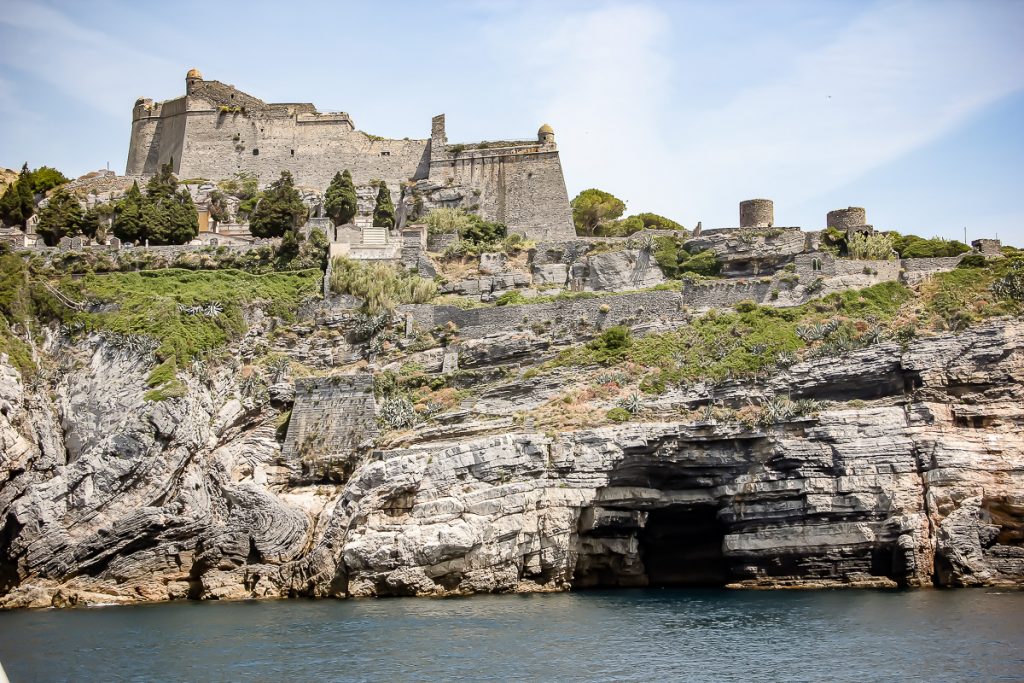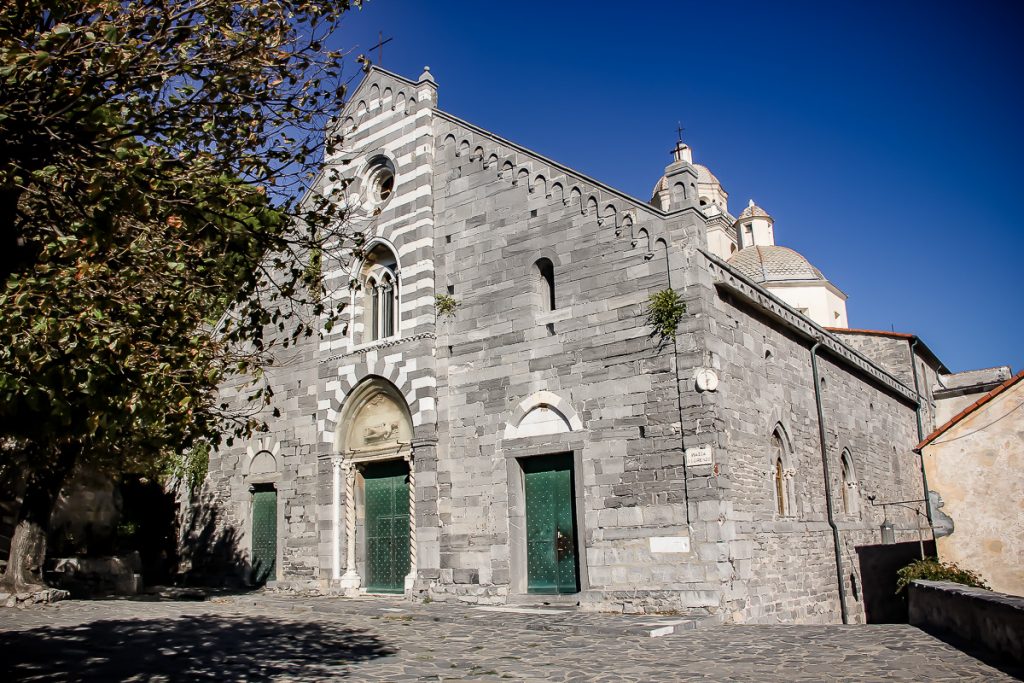 "It's hard to go up the hill with small oxen", as the Romanians say. And I don't even know what I'm going to find up there. I saw from the boat the ruins of the Doria Castle, built by the Genovese in 1161 (the picture also shows the Byron cave), but I don't know anything else.
On the way up I reach the church of San Lorenzo. It is closed. Above is the Castle, where you have to buy a ticket (5 euros) to enter. To enter where? I see I'm going in… outside! You don't have much to see – some rooms, a garden, BUT is worth all the money for the view over the bay!!!
I watch the scenery in awe, as if I were looking at an ultra-processed photo. Well, it's 100% reality. "No filter".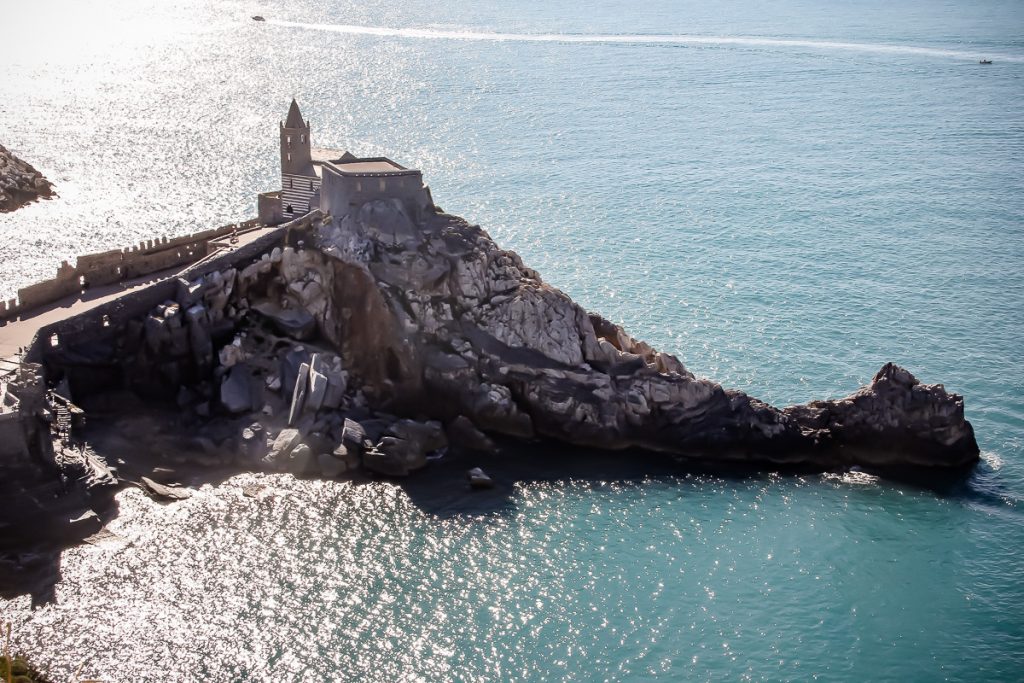 I admire the church of San Pietro from here too, I look at the island opposite and I remember that in summer I booked a tour well sold by those in the port.
TOUR OF THE 3 ISLANDS
"Giro delle 3 isole" – I see the poster on a booth selling tickets. I take 12 euros out of my pocket and board a boat, along with other tourists, for a 40-minute tour around the 3 islands near Portovenere.
We see the first one – Palmaria – at the beginning and at the end, because it is the largest and the closest to Portovenere.
It forms a protective barrier for the natural port of Portovenere. I understand that a walk on it would be really pleasant. It has a fortress, a fort and two villages. And very interesting walking paths.
I also hear about the prehistoric Pigeon Cave – inhabited in the Ice Age by cave people – discovered in 1869.
I decide that, on a future visit, when I stay here longer, I will also visit Palmaria. Especially since there are frequent crossings by boat from Portovenere.
On our way to the other two islands we pass Torre Scuola. I don't remember why they call it that… Probably because they give a boat pass around here J).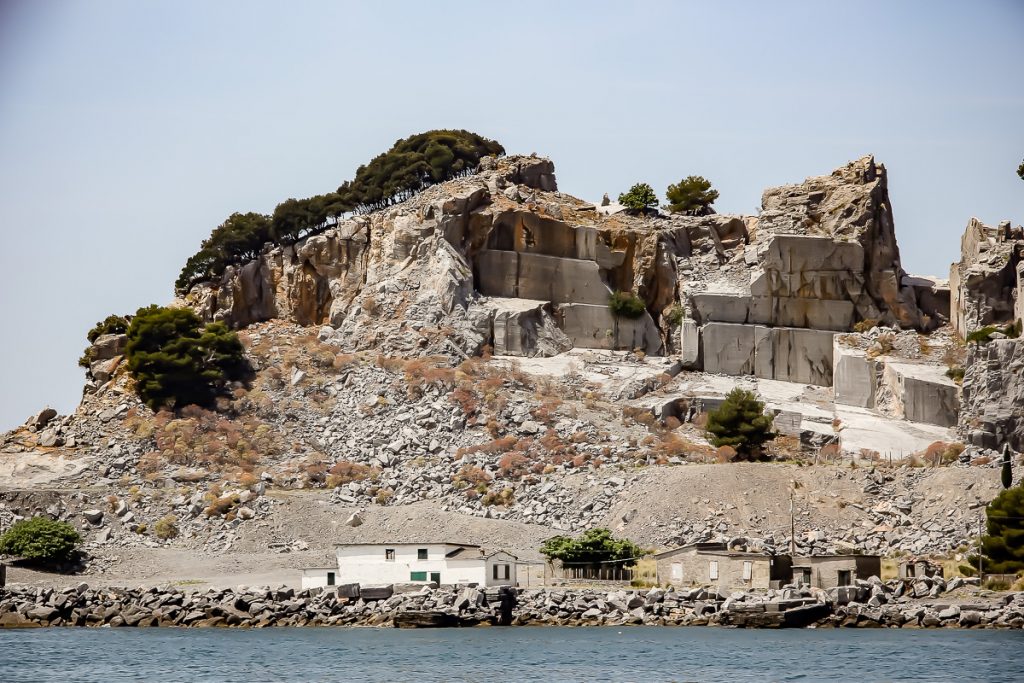 At first glance, the marble quarry on our way doesn't tell me anything. We are however lucky with the guide, from whom we learn something: this marble, black and golden, is the most expensive! Even more expensive than the famous Carrara marble!
Tino – the middle island (both in size and position) has on its northern coast the ruins of a monastery, probably built in the 11th century on the site of an old altar from the 7th century. This would be the place where Saint Venerius died – born on Palmaria and retired here as a hermit in the last years of his life.
The island, which is part of a military zone, is open only one day a year – September 13 – when the Saint is commemorated.
There are many stories we hear on the boat, but I selectively remember them.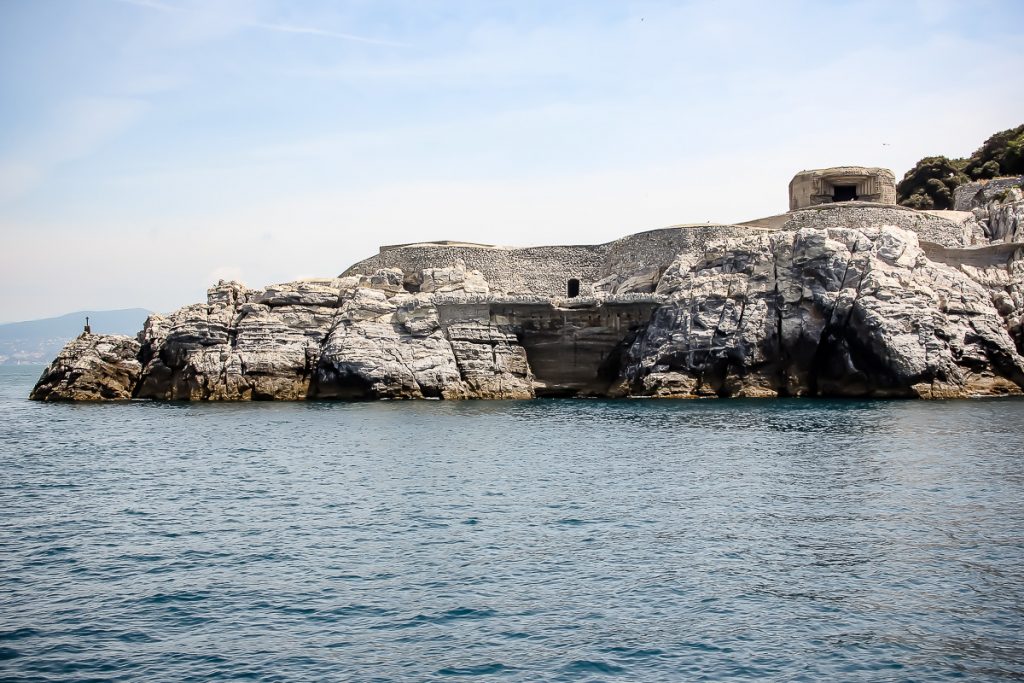 I find out, for example, that sequences from "The Guns of Navarone" were filmed on this island (1961 – the one with Gregory Peck, Anthony Quinn, Irene Papas, David Niven etc). Old people like me surely remember the movie…
We are shown the constructions that where the set for the Hollywood movie.
We pass Tino and the youngest sister, Tinetto, the information flows, but I admit that I am more interested to take photos of something in the sea.
In the middle of the water, between the islands, the appearance of the Madonna is surprising!
It's basically a statue on a buoy base and I wonder who had the idea.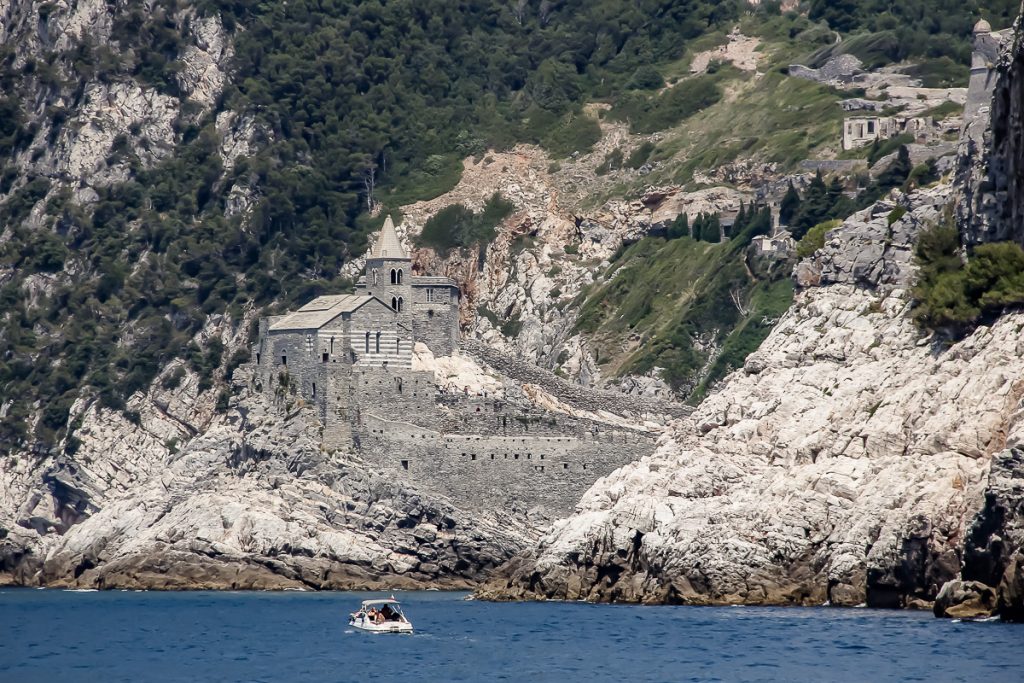 During the tour they took us inside a cave, then we went to Grotta Byron, after which we returned to Portovenere and… that's all, as I risk losing the last boat to my home – Riomaggiore.
I leave delighted that I enchanted my eyes, but also that I filled my stomach with all the goodies and I almost gave my last breath climbing to the top of the hill…
I have the feeling that I traveled in a photo album, in which all the photos are entitled "Enchanting". And I'm glad that I managed to film a little, so that you can have the image and the sound of this wonderful place, where I can't wait to return!
Let's not forget, however, Cinque Terre – love at first sight (well, I told you that this place made a poet out of me J). You can read here about Cinque Terre general information, then about each village: Riomaggiore, Manarola, Corniglia, Vernazza and Monterosso al Mare.