It seems that Vernazza is the most popular village of all or, as a local guide says, the girl in the class next to whom all the boys want to sit…
It is a village with one single street, a castle, the remains of some walls that protected the locals from the pirates and a church built on water.
It is easy to get here both by train and by boat. I arrived by both…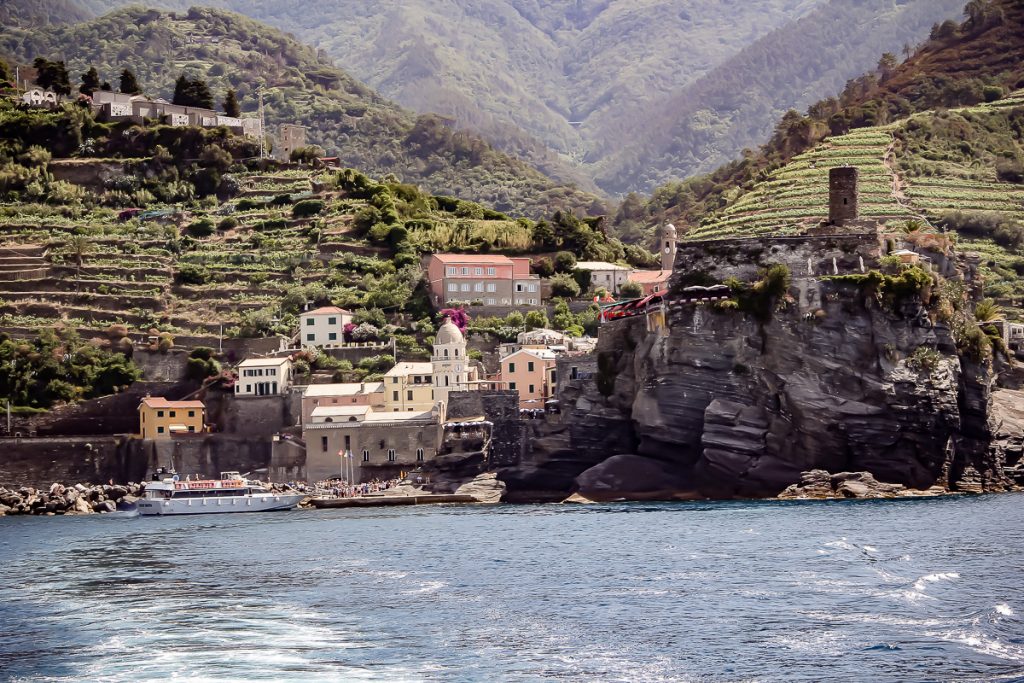 THE MAIN STREET
From the Vernazza train station, you go down some metal stairs directly into the village. There is no transit tunnel, as other villages in the Cinque Terre have. And you hit the main street… full of restaurants, shops, bars, which you keep down until you reach the sea.
The advantage here is that I can't go wrong. And, if you can resist temptation, by the time you get to the port you might still have some money in your pocket J.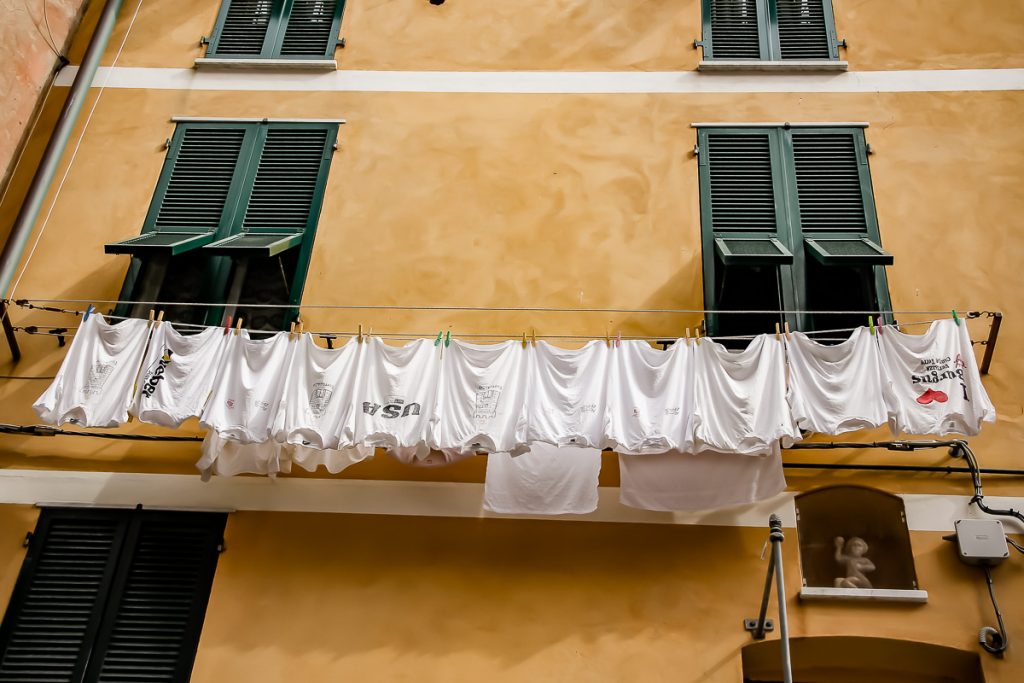 The white laundry (only white!) left out to dry proves to me that I was inspired to dress in white, in this heat.
I take pictures of the main street in all directions, after which I discover something inside a rock where there is a house parked…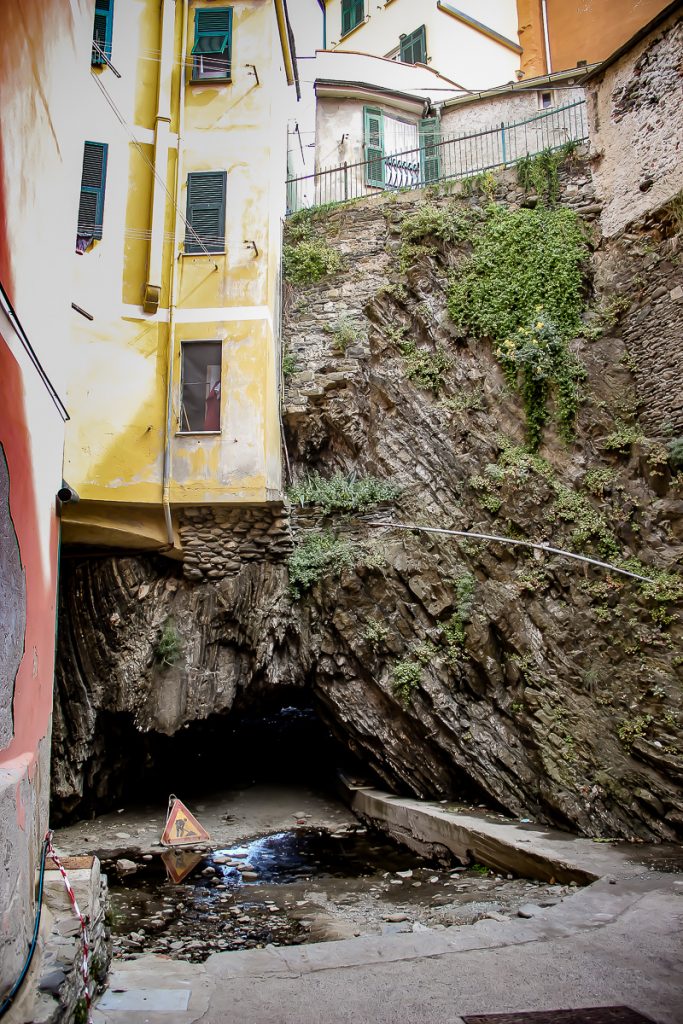 At first glance it does not seem attractive. Just a puddle and a "construction site" sign. But, if you look closely, you discover through a crack "the world beyond" J.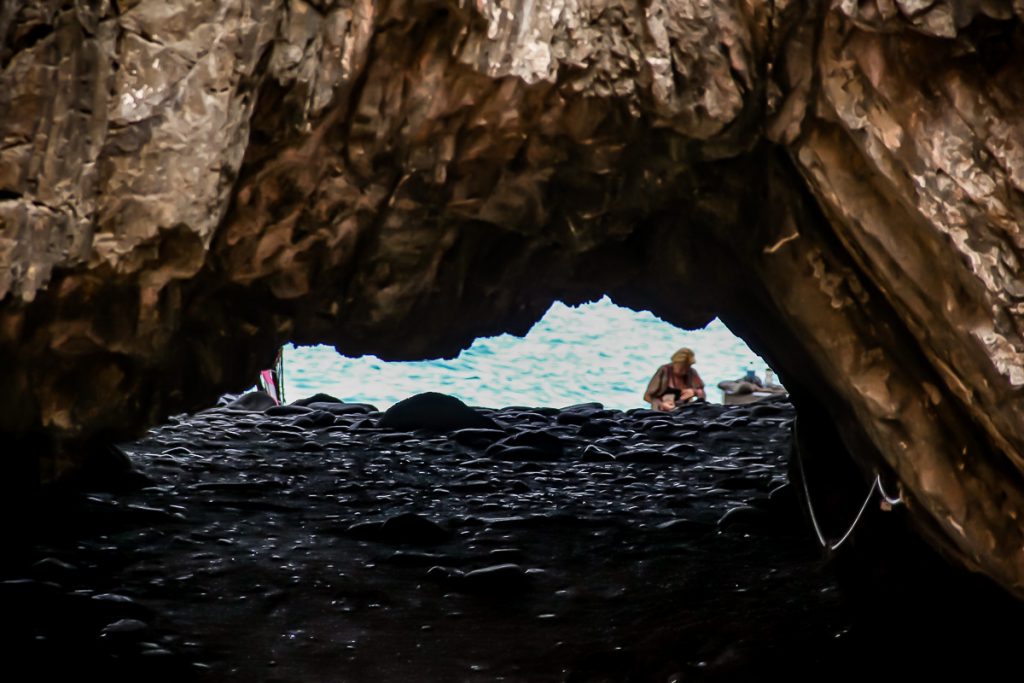 I didn't find out how to get there, I don't think you're supposed to crawl under the rock (anyway, who can fit in there?…), so this remains my mystery to be solved during the next visit to the Cinque Terre.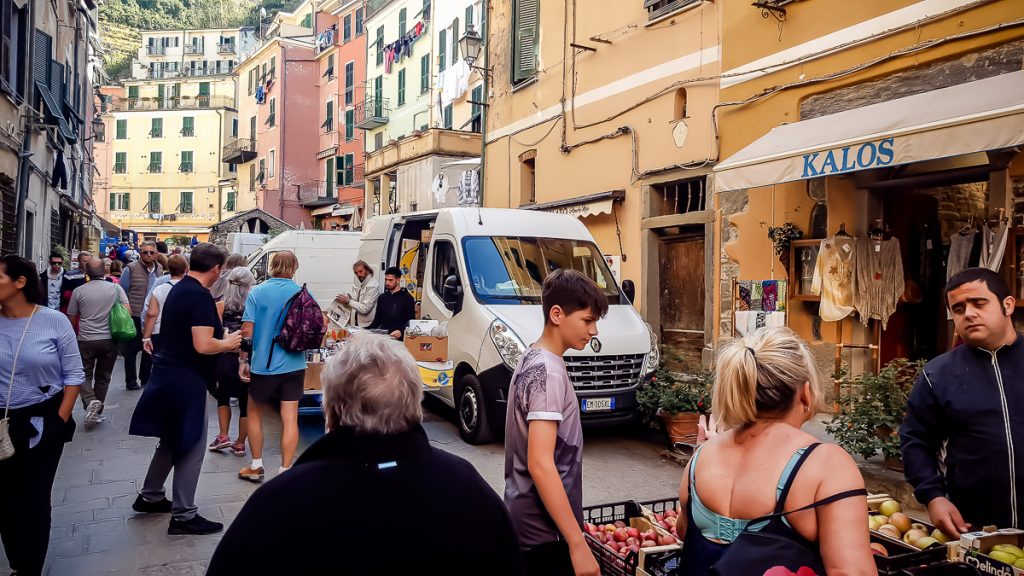 There is a fair in Vernazza. I came across it by chance on a Tuesday morning, when I came for a walk here. It is located right on the main street and you can find all kinds of products sold by local/regional producers.
CARUGI
The village is a whole network of "carugi" – narrow streets and steep stairs between houses. The truth is that I don't know how many streets really are in Vernazza, because I counted one, the main street, and… many steps among the houses so very close to one another!
If you take one of these "side streets", you practically enter a real labyrinth that goes up and down! You clearly need both tourist orientation and a good physical condition!
To come carrying a suitcase to this village is real madness! Only by simply looking at the stairs you have to climb, you'll feel sick! Not to mention that you never know what awaits you beyond the first corner. (Ok, I'll tell you: other steps going up or down…)
VERNAZZA HARBOR
It could be considered the emblem of Vernazza, given that it proudly reigns in the harbor: it is the Church of Santa Margherita di Antiochia (1318), a church that has its foundation in the sea.
Of course I go in, to see the inside.
Lots of peace, a cool view and, most importantly, a perfect temperature compared to the heat outside!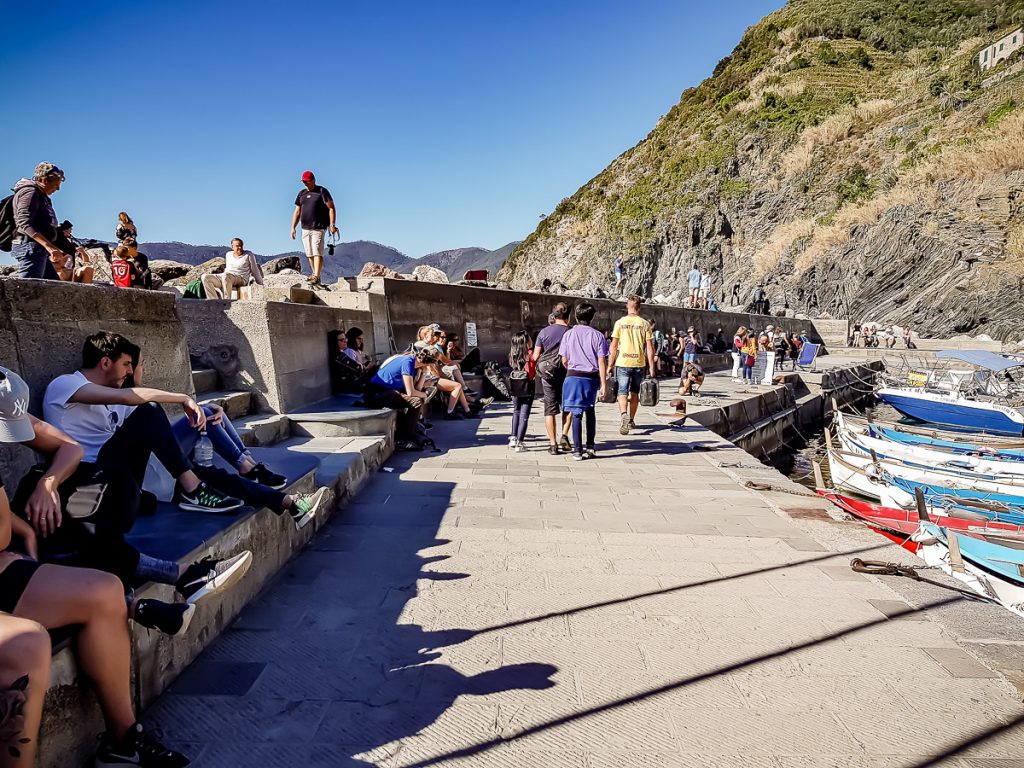 The harbor is an extremely friendly area, with a promenade on which you can walk freely, but also where you can sit in the shade of the wall, admiring the boats that leave or enter the port. Or the train hurrying from one village to another, carrying some more tourists. Or painters who find the perfect place to create yet another masterpiece.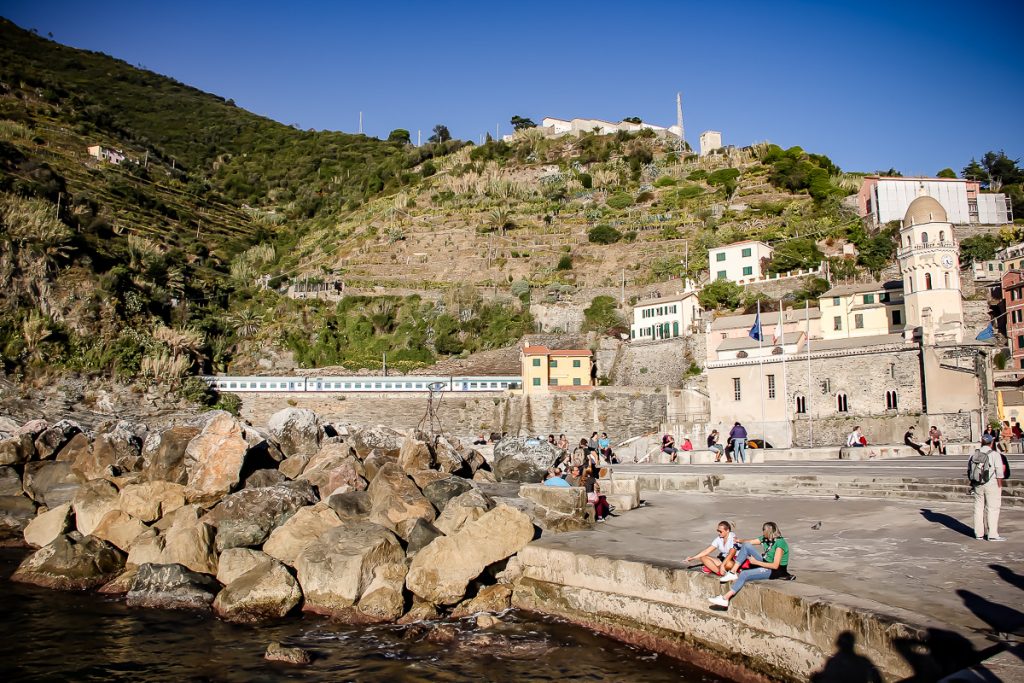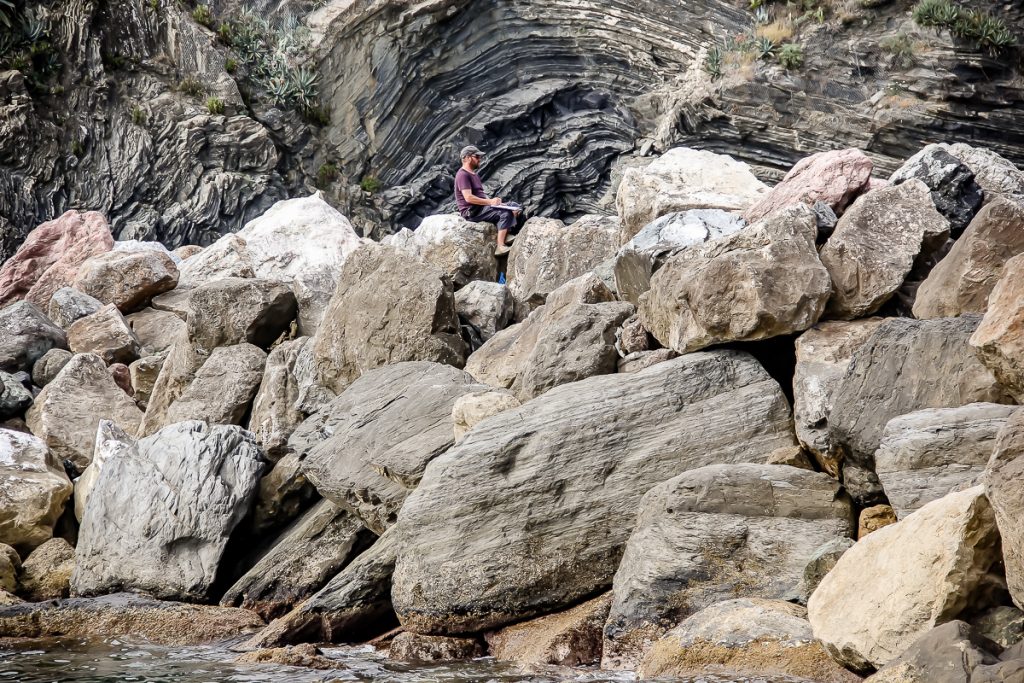 In the harbor you can find some citizens who sell you boat trips, diving and other trips that you would have never thought to pay money for…
VERNAZZA BEACH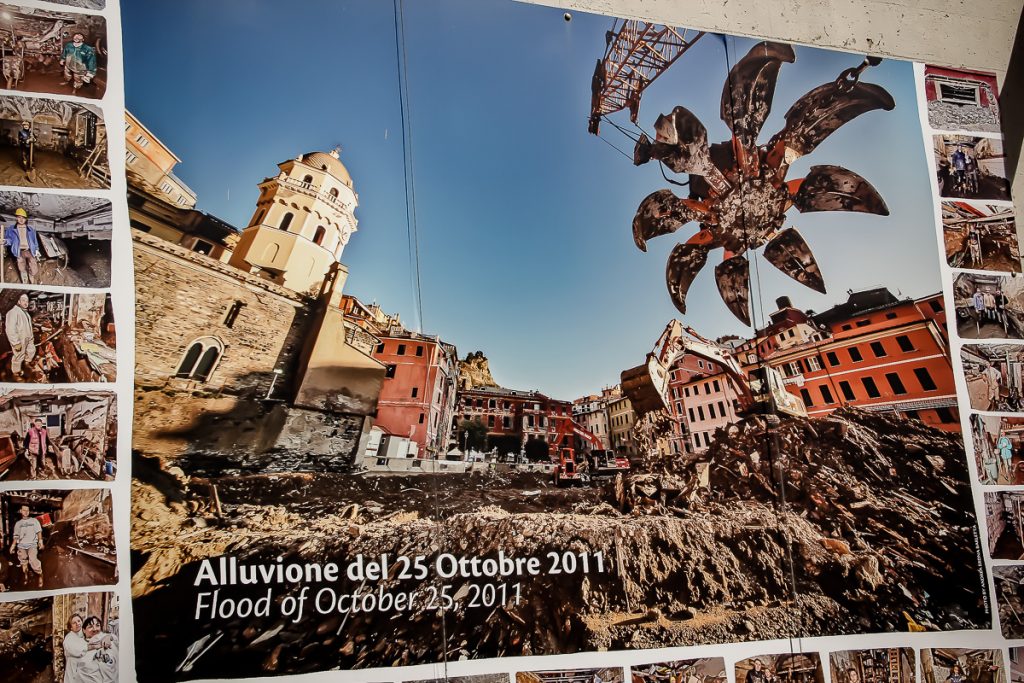 Vernazza was hit in 2011 by severe flooding and landslides. The town was badly affected! A proof of that is at the exit of the station, at the beginning of the main street, where you have photos reminiscent of that period.
The only positive thing about all the drama at the time is that a small beach has formed in the harbor.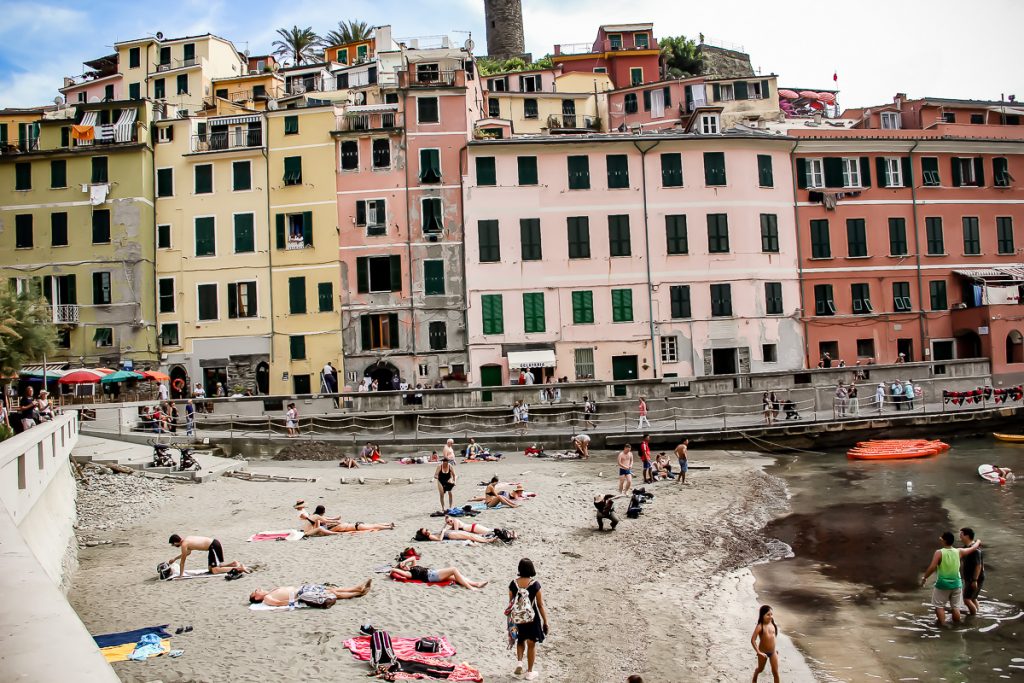 Vernazza does not have "classic" beaches, people sit on the sandy bit close to the harbor or on the rocks; there is another beach, a bit larger, on the other side of the defense tower, where you get through a tunnel dug in the rock, that starts from the main street of the village. I didn't get it. I think it has to do with… the world beyond that I saw through that crack.
SELFIE…
You can say that I am some kind of a loony bin, because every time I came to Vernazza and arrived in the harbor (in different years, in different seasons, but even during the same vacation), I took a selfie…
The conclusion after this gesture "on repeat"? I should change my hair style, man! J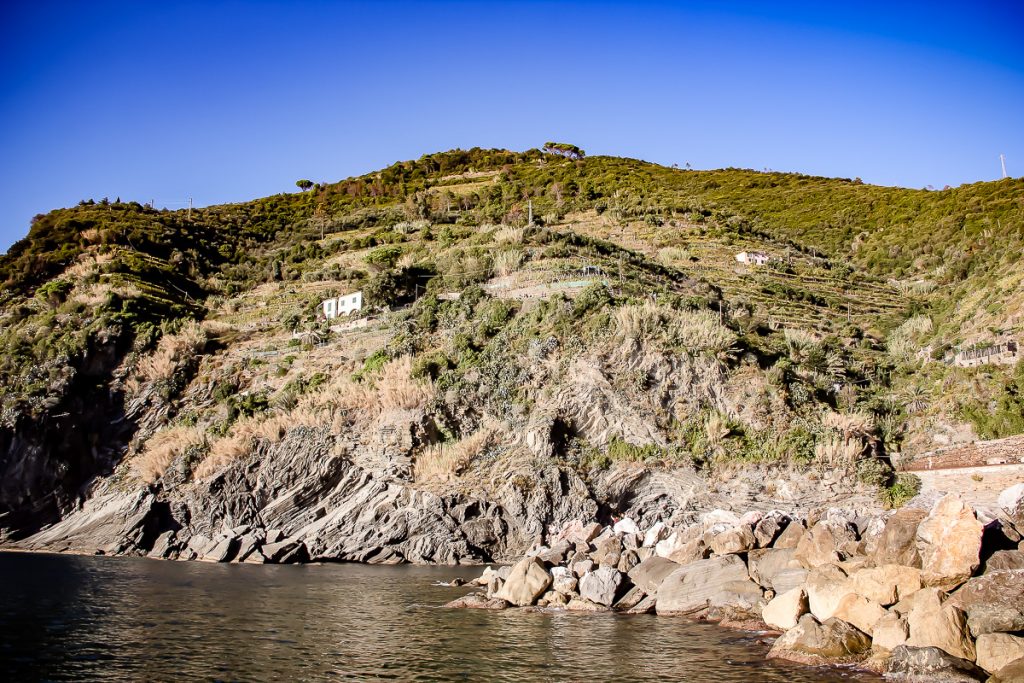 VERNAZZA PATHS
As I said in the other stories about villages of the Cinque Terre, you can go from one village to another by foot. If you can take it… "Sentiero azzuro" is the path that connects all 5 villages.
There are routes from very easy, which don't tire you, to more difficult and long routes. But, whatever you choose, it's good to have proper shoes. And a lot of water. And sunscreen, so you don't end up, when you finish hiking, looking like a boiled crab…
Oh, and ask first what has a fee and what doesn't, because there are some on which you can't go free.
Being alone (it's a better excuse than "being lazy"/"not having a good physical condition"), I didn't take any of the roads between the villages. But I decided to go up and walk a few hundred good meters on each. I wanted to see the villages from above too.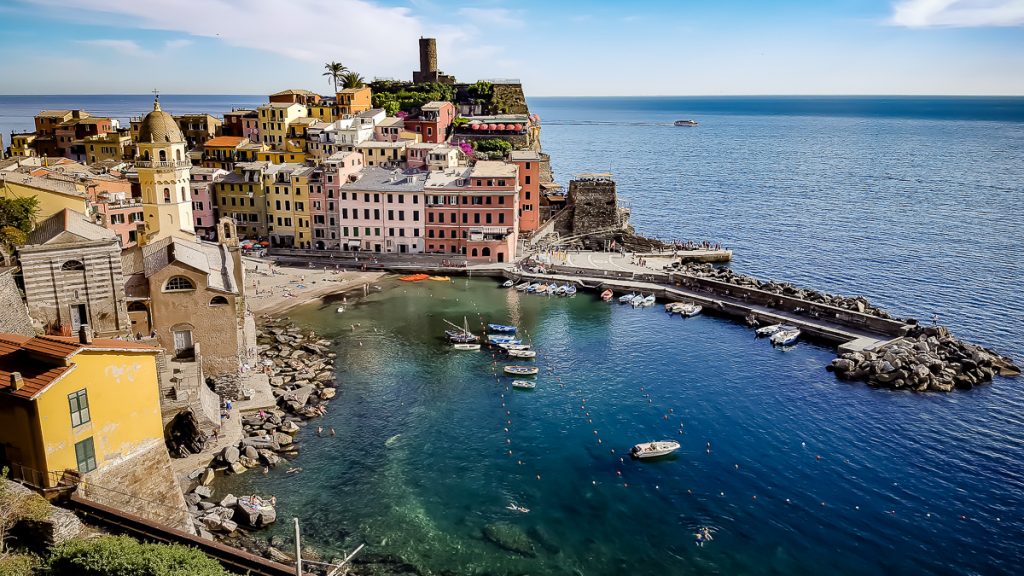 The view from above is worth all the money!!!
I'm on one of the paths that connect Vernazza with Monterosso. Some tourists coming from the last village say to me: "Good luck, it will take you about 2 hours!". No way! What, did you see me fitter? Or don't you have the good hearing to notice how I breathe after only a few dozen steps?…
I went up for pictures, I would tell them, but I let them think I'm a daredevil. Especially since I came well-equipped, wearing a special T-shirt, climacool, dri-fit, whatever. I took it with me on purpose, after a cotton T-shirt, all wet, stuck to my skin on a previous climb.
You'll say I was smart. Well, yes. That the T-shirt really helped me a lot. BUT, as I did not come here wearing it, I had to find a place to change. Hm… Being on some stairs between the houses, I quickly analyzed the people's windows, I listened like an Indian to hear if someone was coming from above or below and… go planet, undressing and dressing in 2 seconds, like in the army hihihi.
(I didn't take a picture…)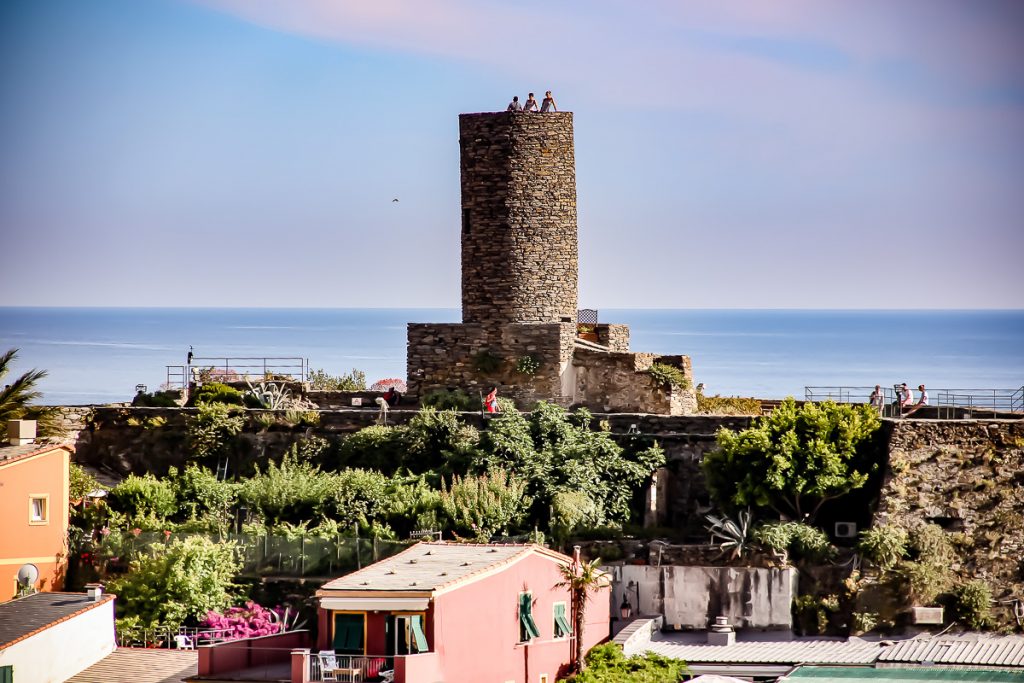 From above the village, but also from the sea, you can see the Belforte tower on a rock corner – once a strategic point of defense against pirates. You can climb into it. But as I am on the other side, on the hill, I am not very drawn to it… Maybe they could use a cable to drawn me in, if only these people had a line over the village.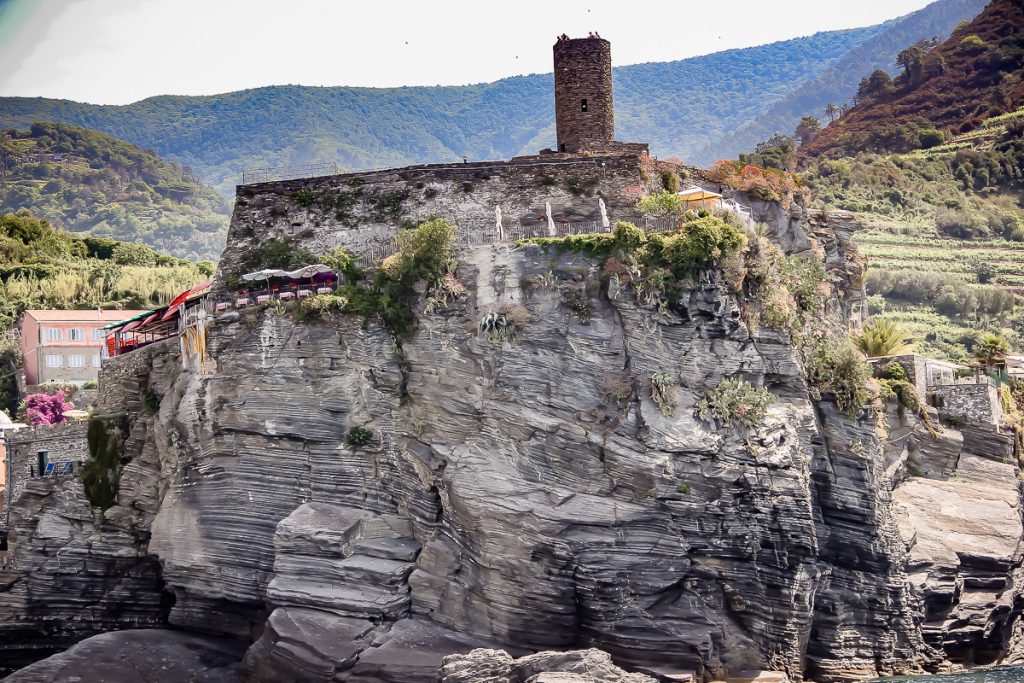 WHERE TO EAT IN VERNAZZA
Speaking about Belforte, on the rock where the tower is, there is a restaurant with a spectacular sea view! What's it called? Just Belforte.
When I came by boat to Vernazza, I saw a stone plateau on which some umbrella tables seemed to be scattered, in an unstable balance. I also imagined that there was a place for climbers – the fire test, until the food on the fire.
I noticed that these people arranged small terraces for the restaurant on each piece of stone, somewhat plane. If you're lucky, you even have a "booth" overlooking the sea.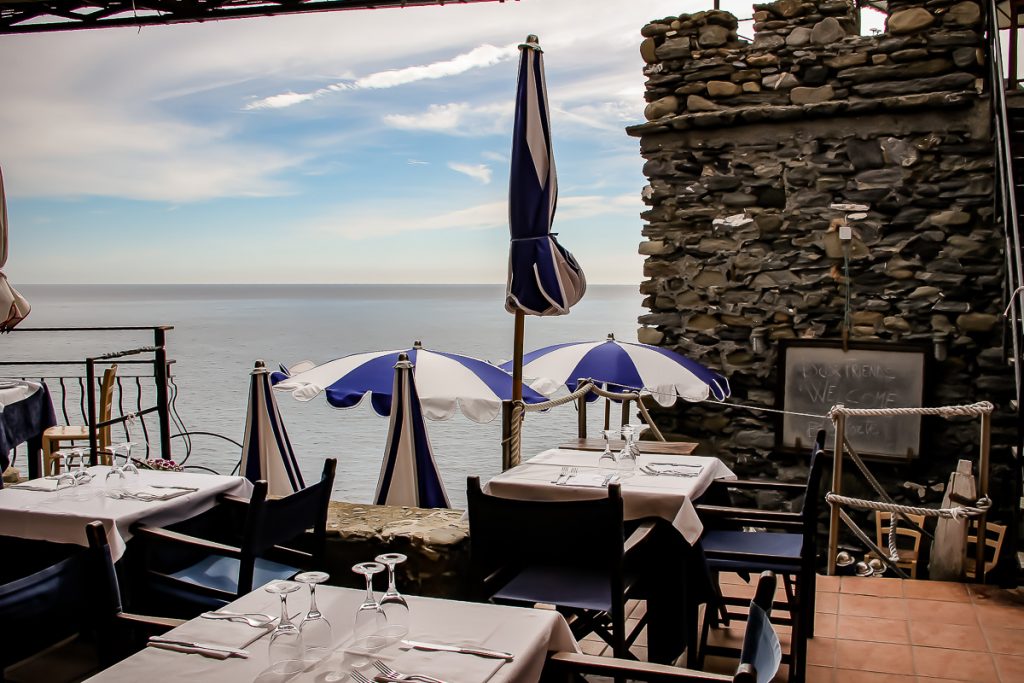 I went there as a snobbish person who finds out about a good restaurant with a great view, to eat at lunchtime. I climbed step by step, it almost killed me to climb the rock and… surprise, it's closed!!! It's Tuesday and on Tuesdays it is closed. End of story…
The second time, I found myself there between lunch and dinner, so I didn't have a dinner on the rock this time either. Because it was closed. Instead, I entered the restaurant, I went to the terrace, I saw all the corners overlooking the sea, after which I took it among the houses, discovering a whole network of narrow streets with many steps! Luckily I was going down J.
I went down to the harbor and, although I usually avoid the restaurants in the center of any town, because they are too touristy, I sat down at the table at Il Gambero Rosso. To enchant my eyes with a cool view, before filling my stomach with some cool pasta…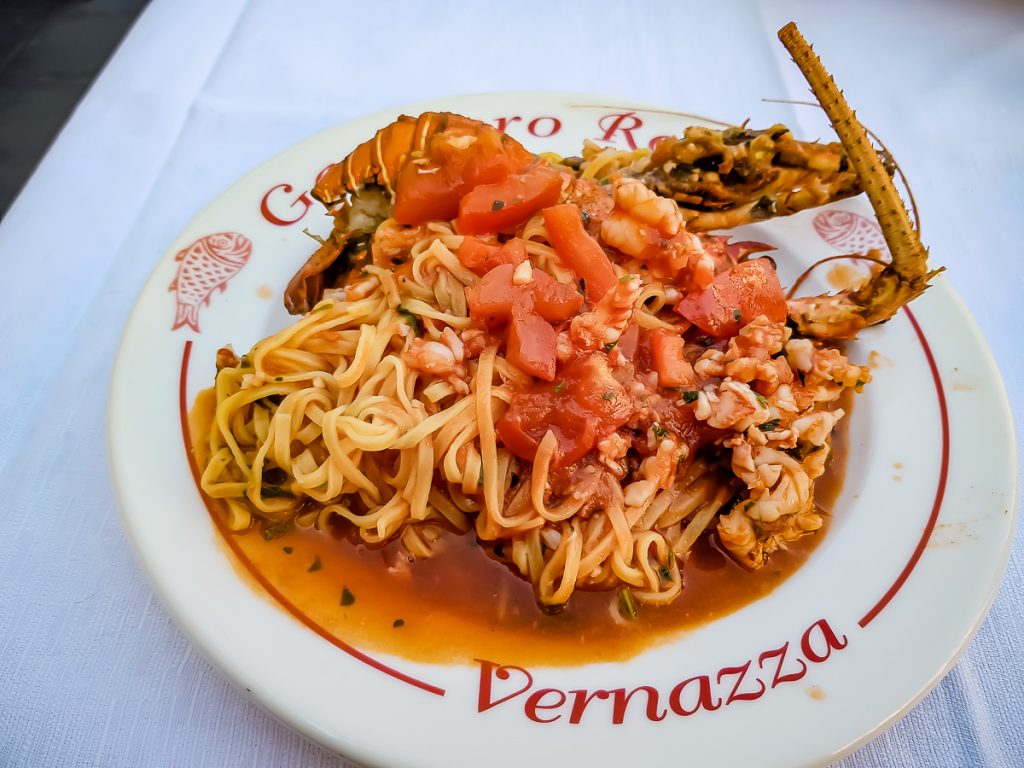 I ate lobster pasta, all bathed in a red sauce that raised the licking of the fingers to the level of art J)).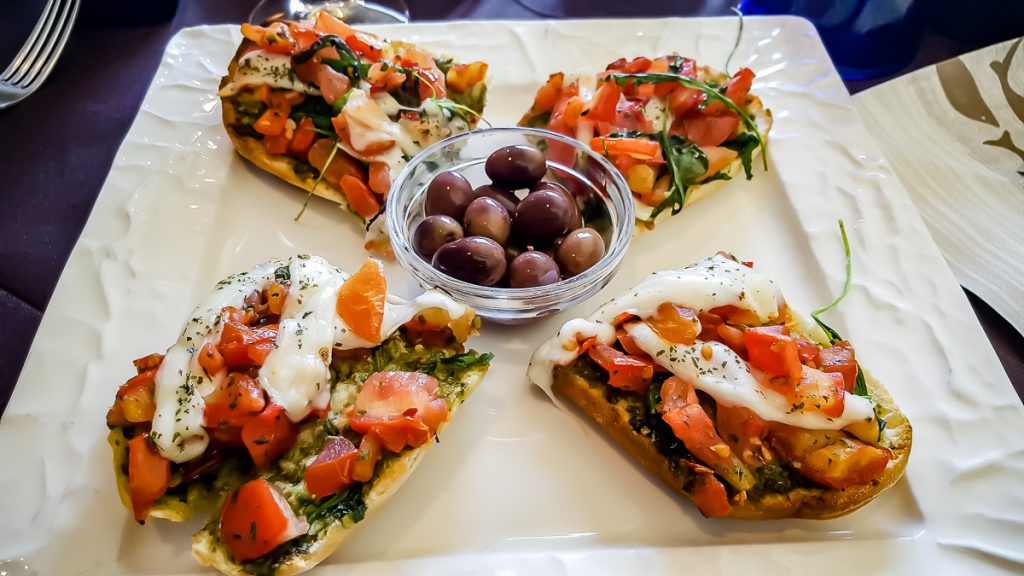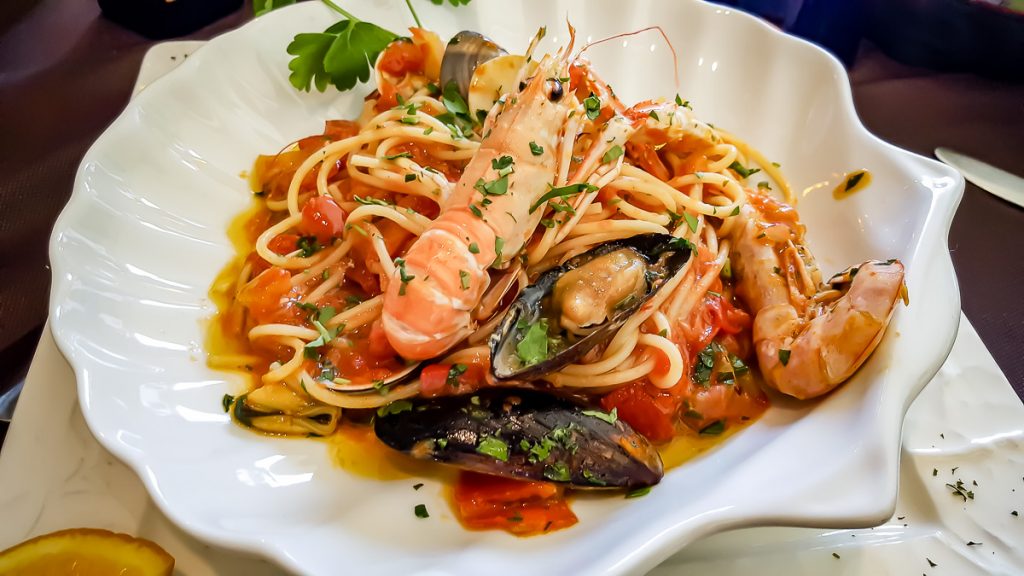 Based on recommendations I also ate at Il Pirata delle 5 Terre. A restaurant on the outskirts of Vernazza, next to the car park.
I had some interesting bruschettas, with tomatoes, mozzarella, but also pesto sauce. Then I ate seafood pasta.
You'll laugh, but I've never eaten seafood pasta. Simply because I'm not a huge fan of the seafood. I love pork, what can I do… But here it was a shame not to try them, given that they are fresh. They were delicious, and the tomato sauce – sensational! I would have licked the plate J.
I received two more restaurant recommendations in Vernazza, but I didn't get to test them: Trattoria da Sandro and Lunch Box.
Gelateria Vernazza
They have desserts in the restaurants I ate in, but I stayed true to the small confectioners on the street. I went in, my mouth watered to a lot of products, then I decided to just stop for ice cream. Good ice cream, consumed on the sidewalk, so that I can be a person of the world…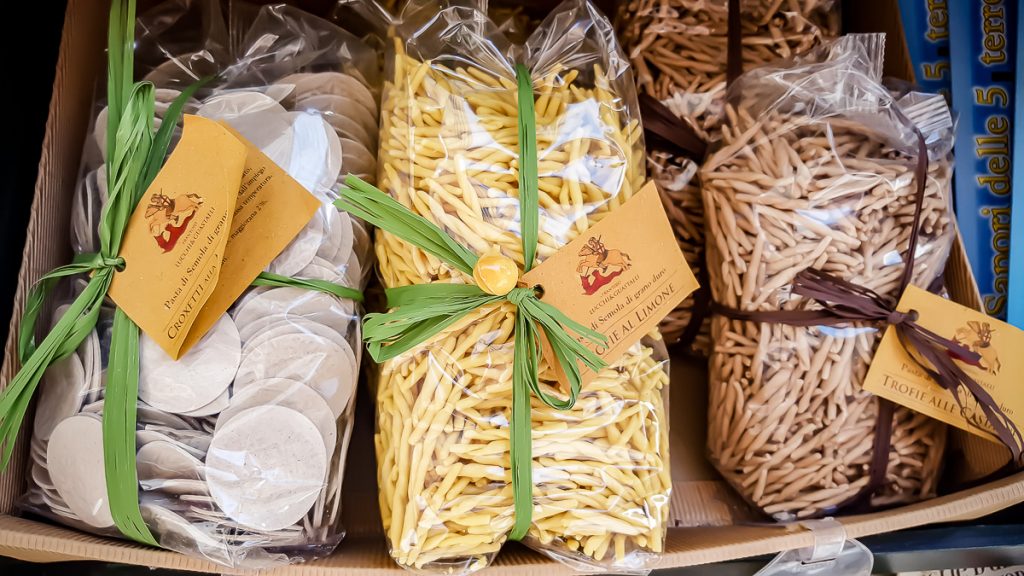 If you want local products, there are shops where you can buy some. As a pasta fan, I went directly to the pasta shelf, even though I saw some of them for the first time. For example, croxetti – a kind of white coins.
After lying in my closet for a few months, I was such a good cook that… I gave them as a present J)).
Instead, I cooked the trofie. Because I really liked them in Cinque Terre, every time I ate such a thing. But I have to admit, I cooked them with pesto in a jar…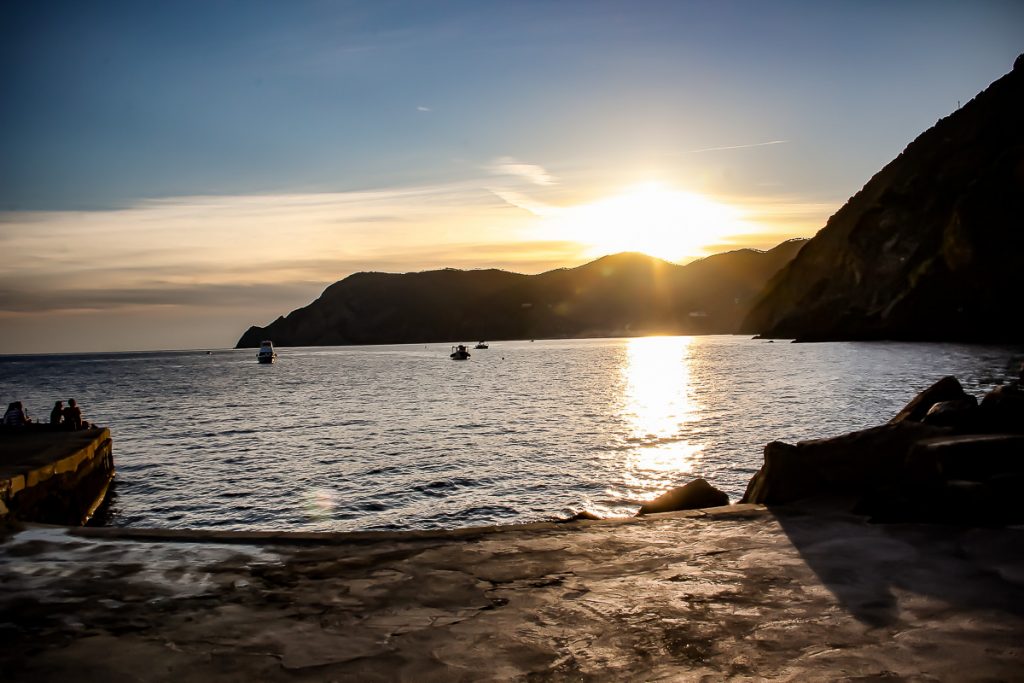 I don't know how I did it, but the sunset caught me here, in Vernazza. So as not to miss a sunset in every village…
On the way to the train station I reviewed, mentally, the images of the day. Even if I filmed badly (well, if I want to be good with the big camera in my hand…), I'm still happy to see the places I was at the beginning of summer:
And, to convince you that autumn is an excellent time to come here, here's what Vernazza looks like in October:
I have only one other village to explore – Monterosso al Mare. Otherwise, I saw them all. Whoever misses them can take them one by one. Worth the "walk"!
The first village, Riomaggiore, is here; Manarola, the second village, is here; Corniglia, the village on the hills, is here. And useful information for a trip to the Cinque Terre, here.