I felt the taste of the cities in the pandemic times and I admit that, if there weren't so many travel restrictions, I would have gone to more places than I saw!
Now, I don't want to make God angry: during this pandemic I managed to see the shocking, but at the same time, wonderful image of some cities always full of tourists: Paris, Rome, Venice, Florence, Istanbul and Milan.
I would have liked to see London too, but man, you can't touch it, with all the rules those people impose on you; and I wanted to see Amsterdam. Because, like the cities above, it's a place I've been to before (6 times so far), so I have a term for comparison, which I think is important.
AMSTERDAM DURING THE PANDEMIC
"What's up, kitten?" – I hear at the airport a customs officer asking a colleague. I notice that there are more customs officers than passengers, but, unlike the past months, now things are moving here. The proof of this is the fact that in the morning, within 40 minutes, there are 13 flights! Big thing, I would say.
But there are still closed bars and restaurants.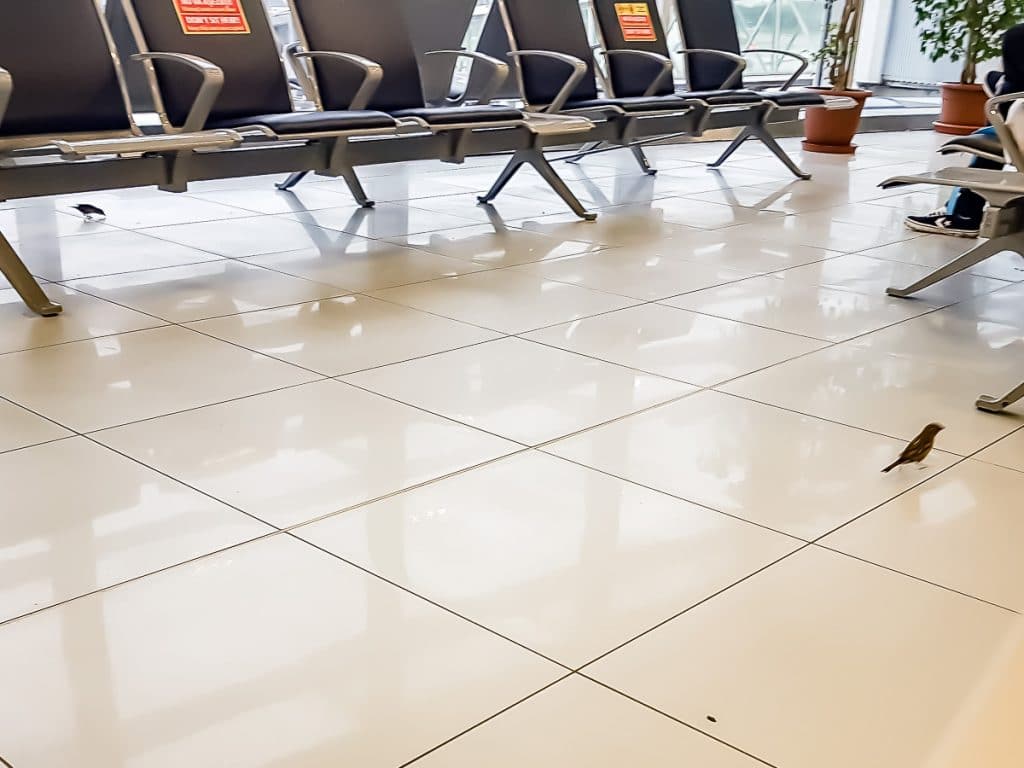 Two sparrows fly over us at the boarding gate! Then they enjoy some leftover food found under the chairs.
I land in a sunny Amsterdam, leaving a Bucharest with a lot of rain. I end up in the middle of relaxed, smiling people, who seem not to care. This gives me a very good feeling!
The mask is not worn outside, but yes, it is mandatory in any room. You don't have it, you are told to get one.
The streets are not crowded with people as in normal times, but I do not face a deserted city, as in other countries.
It's full of people on bikes on the streets. Full enough to turn around like a fool, until I realize I am on their lane J.
These people not only have asses used to riding a bike, but they also have the dexterity/talent/courage to carry on a bike… practically anything!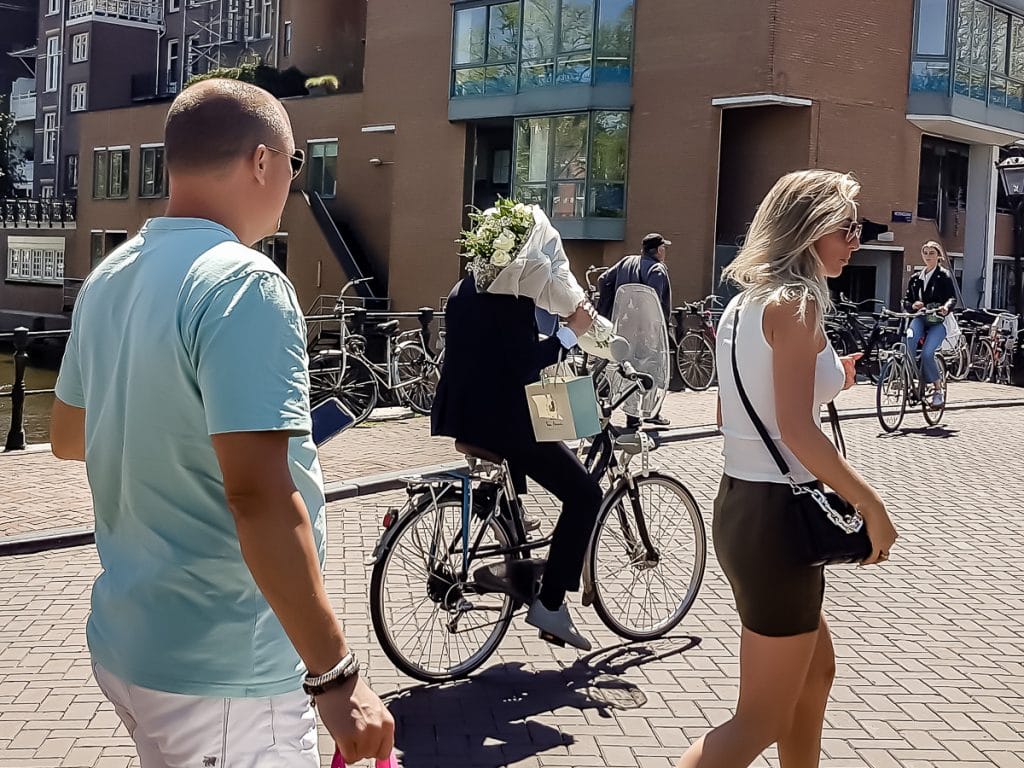 They carry gifts in one hand, they take their children in the front basket or in the back seat, they take their dogs, carry large suitcases held with one hand behind (!), picture frames, not to mention backpacks or shopping bags. I saw pregnant women, with huge bellies, pedaling without any problems.
I am fascinated by the diversity of street bikes, bikes "tuned" according to the needs of the owner or bikes transformed into street art.
There are police in the city, but not as much as to catch my attention. I see them in certain places in the center, I see them in cars, on bicycles and on foot.
Here, as in other places in Europe that I visited during the pandemic, the city is full of construction sites. Some road is being repaired, a bridge is being rehabilitated, a square is being (re)paved.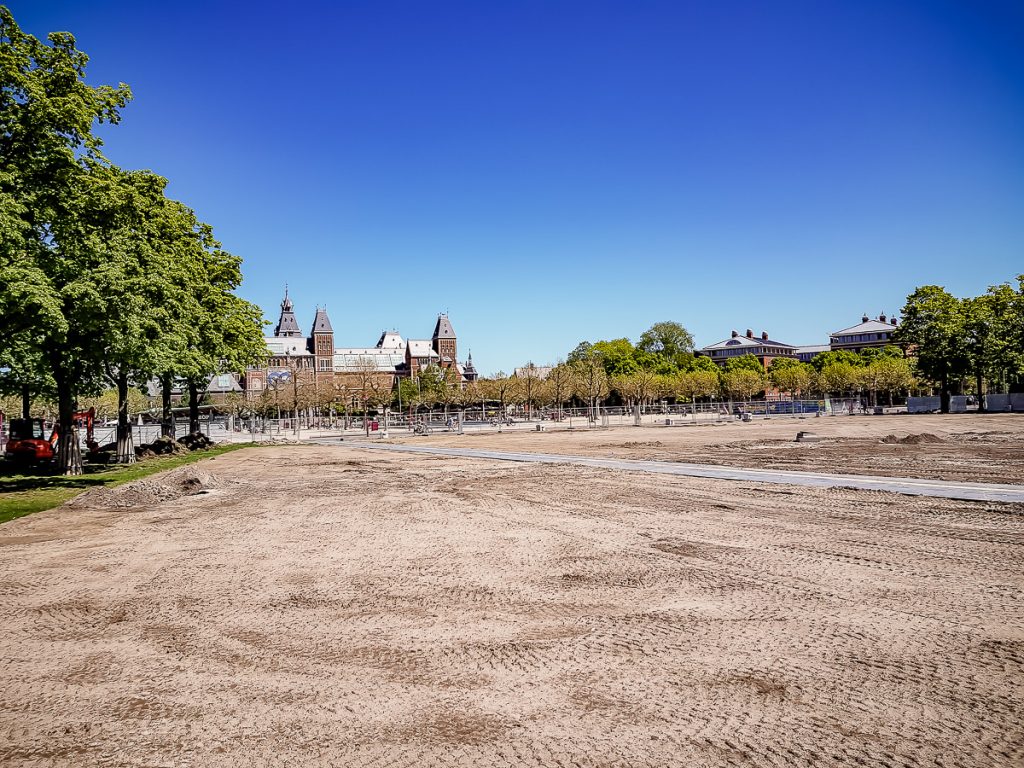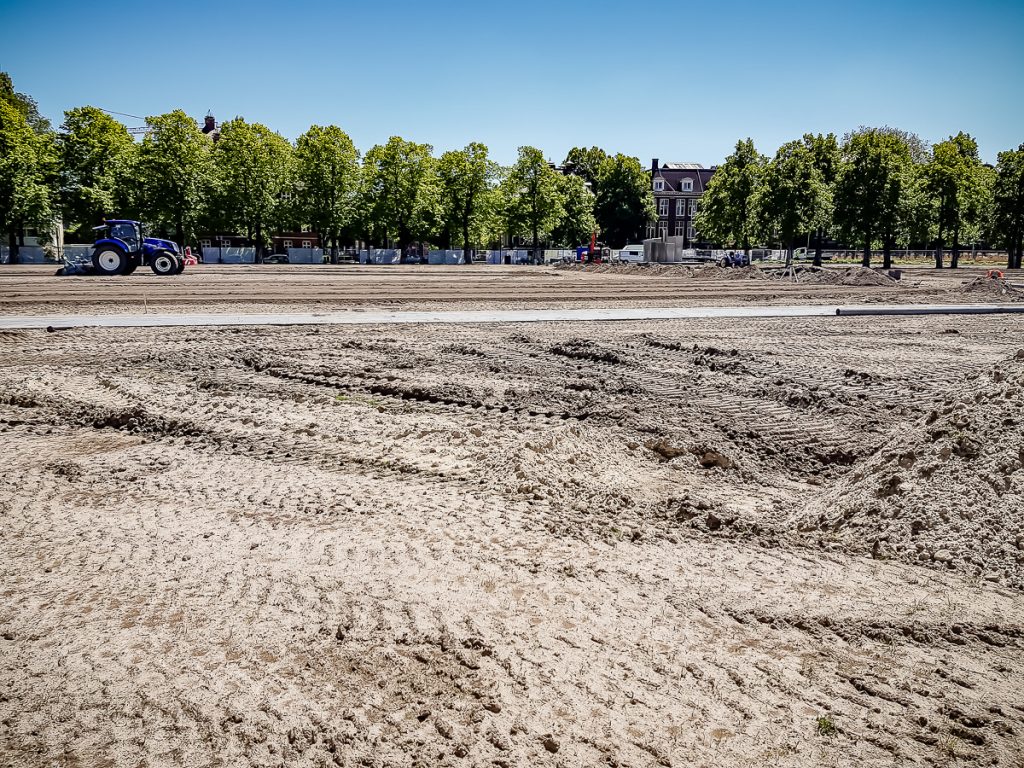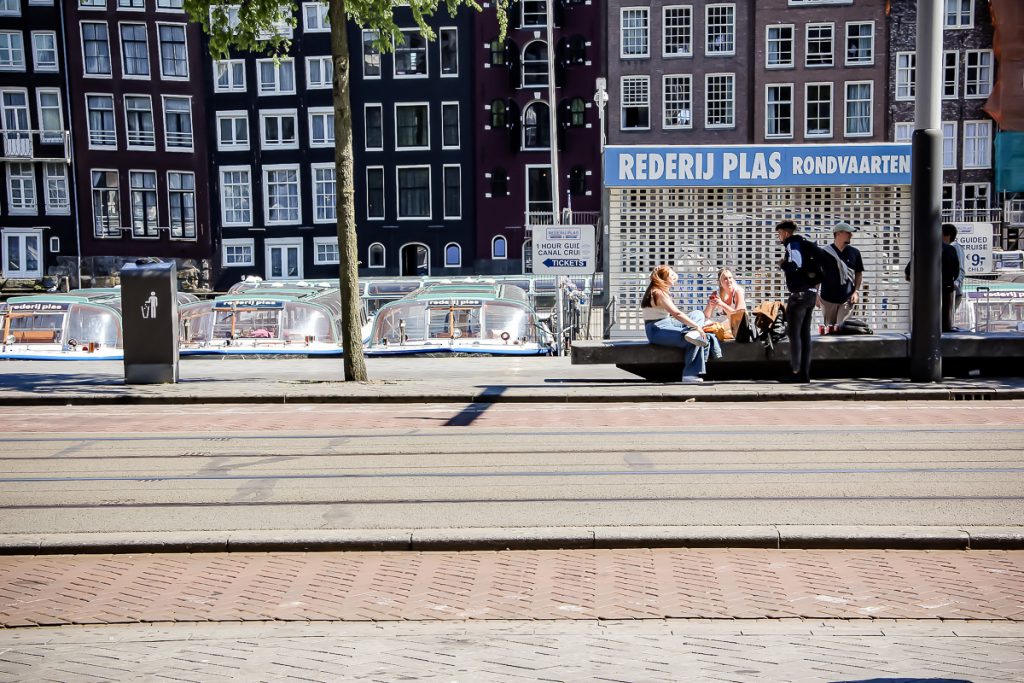 I come during a period with closed museums, tourist boats pulled ashore, with restaurants that serve clients only on the terrace. Otherwise, everything is open – shops, coffee shops, prostitutes' booths… (but, about the latter, I will write immediately, as there is a lot to tell)
On the canals, a few private boats slip where it is allowed. In some there are young dreamers, in others, young partygoers whom the alcohol in the glasses turned into brave singers…
I often hear the "corona" in dialogues and I don't know if people are speaking about the beer or the virus. Indeed, a beer would go along with a generous portion of French fries with mayonnaise – famous here. Well, I didn't get a beer, but I couldn't miss the French fries. I couldn't miss them several times, in fact!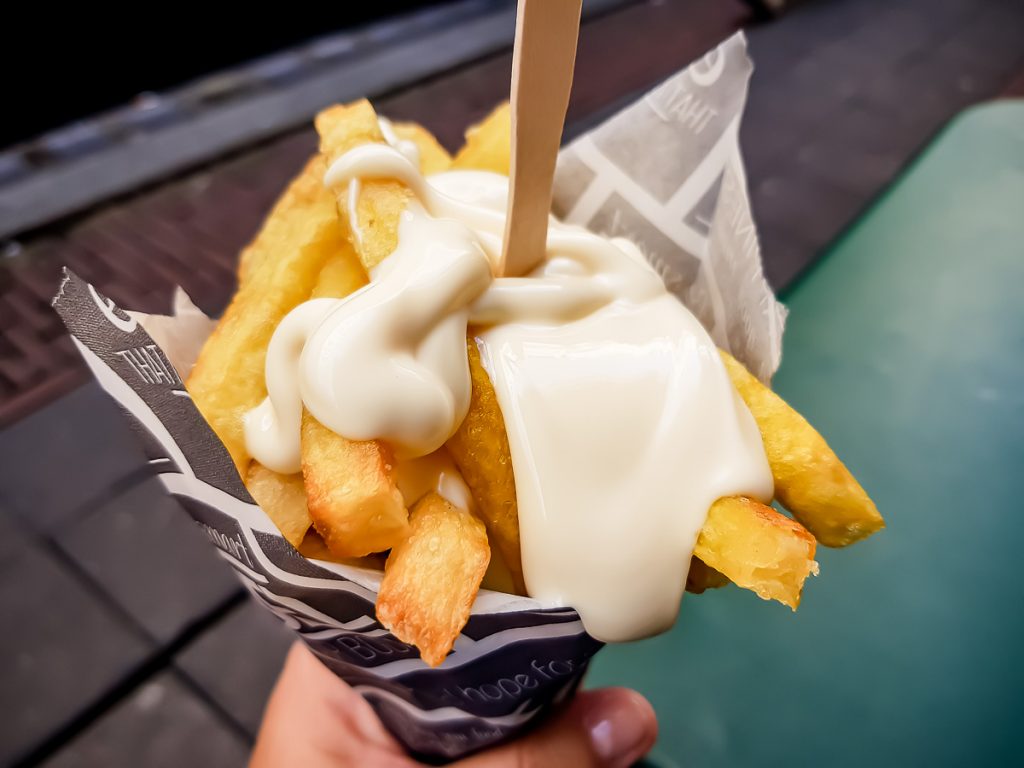 I'm going to one of the busiest French fries places in Amsterdam! Wow! There is no comparison between the normal past and the present pandemic:
God, it's good that I didn't drink beer, or I would have had problems: I discover that you have nowhere to pee in pandemic times J. As the restaurants are closed inside, either you eat something on the terrace and thus have access to the toilet, or… you find yourself looking for solutions.
For a man, it's simpler, because there are still those public toilets for males that shocked me when I saw them, a few years ago, in the Red Light District. (I will tell you about the neighborhood, as it's exciting…)
Okay, all right, but what am I to do, if you don't mind?
I clearly can't use these toilets, as for the bushes it's not worth it, because I see a big poster warning you that, if you urinate in public, you take 95 euros out of your pocket!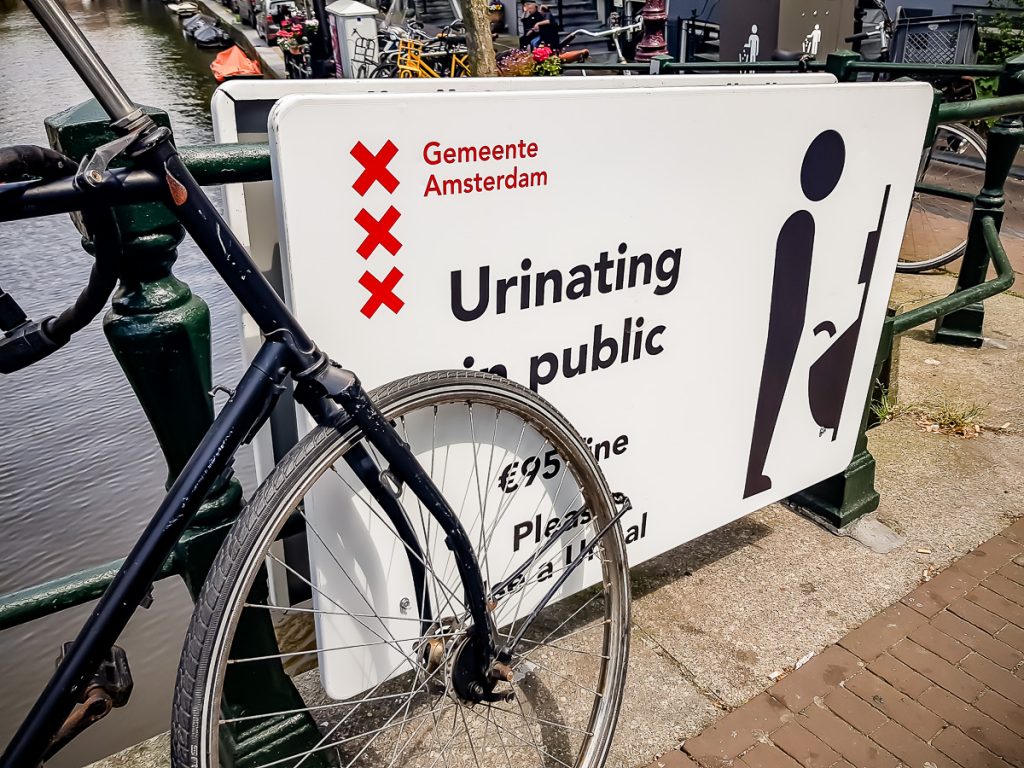 But I hold on. Actually my bladder holds on… I remember that in the big shops, those with several floors, there is also a toilet. So I run to a famous one and… surprise: there is a queue at the entrance! As I have seen in other stores too. Because access inside is limited.
So, if I have to wait in line for my turn, then enter, then find the toilet, it will be too late…
The hotel saves me, in the end.
And then I go shopping relaxed.
SHOPPING IN AMSTERDAM. PANDEMIC AMSTERDAM.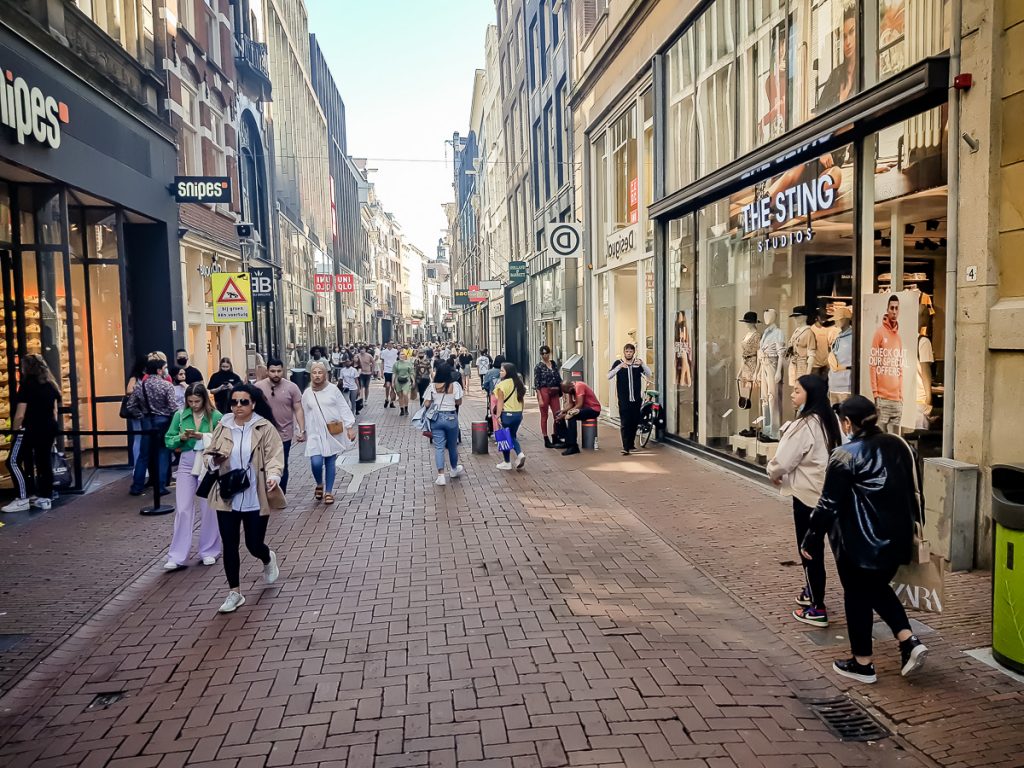 The shops are open and around them I find the largest urban agglomeration. Damn, I'm still not used to this reality, so in a reflexive gesture, I put my mask on my mouth.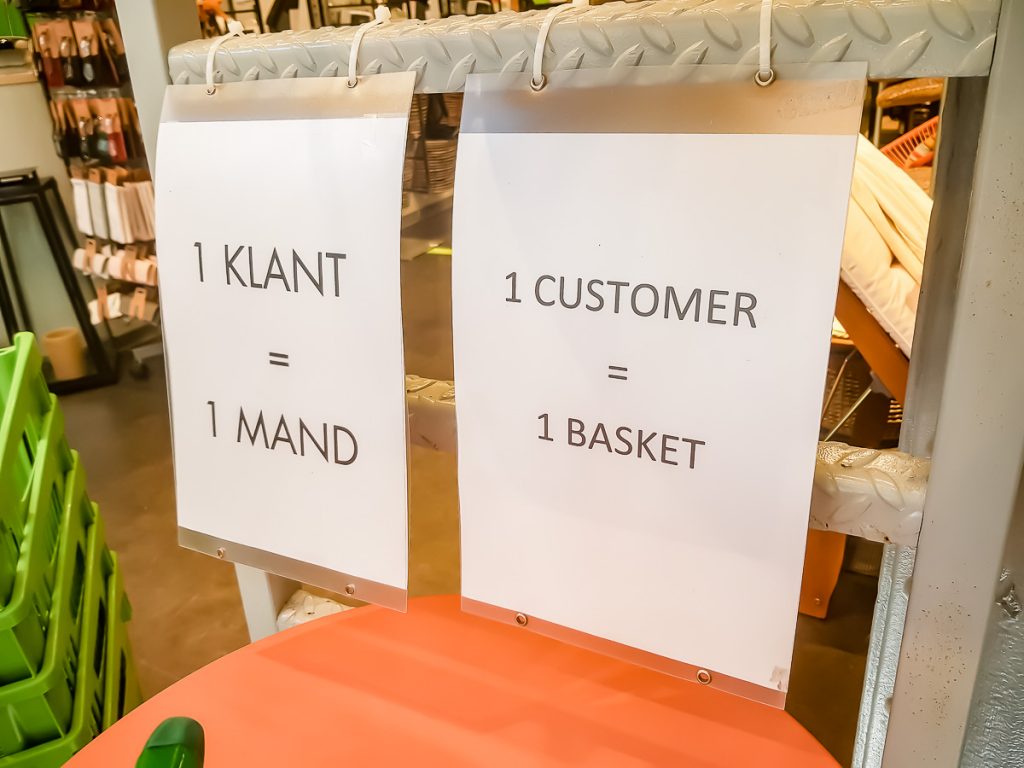 You cannot go shopping the way you want, but in an organized manner. There are queues in front of many stores, there is a bodyguard who checks you to come in with a mask, someone pours disinfectant on your hands and… you have to take a basket.
Well why? – I wonder in the first store I enter. (I go in more to watch, than to buy something specific.)
The baskets help the people from the store to make sure they do not let more people inside than the maximum number allowed. So, if each of those who enter takes a basket at the entrance, when the baskets finish, it means these people have to stop the other customers at the door. Until some come out. How simple, right?
The clients I see seem local. I hear English being spoken from time to time. A saleswoman tells me that the Spanish and the Italians have started to come back here. Basically, it's all about opening borders and reducing restrictions.
I walk into a department store and I am stopped by a girl with a tablet in her hand. She asks me if I have an appointment. What??? I don't. Do I need an appointment at the store?!? I knew that only at Chanel, Louis Vuitton or some other luxury brands you do that…
Yes, you have to make an online appointment since the pandemic. I tell her I had no idea and she kindly consults the lists on the tablet with a colleague and they both decide to let me in like this, without any appointment.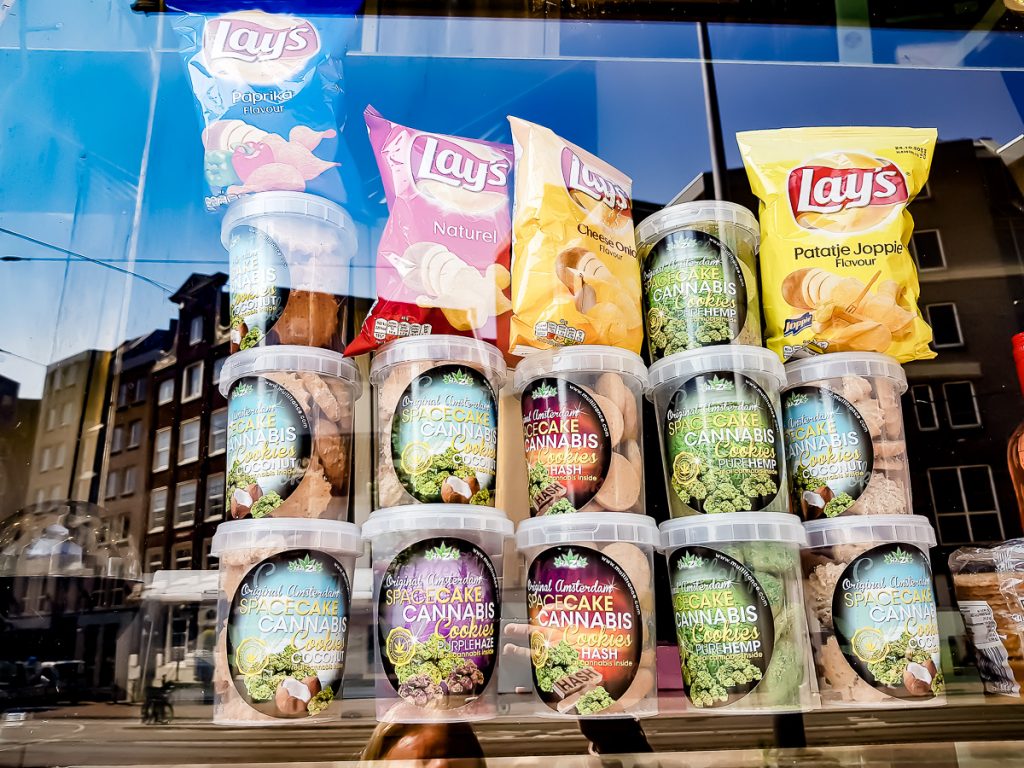 In a shop window, the chips stand in a place of honor next to the cannabis cookies J. No one can say they don't have an offer for any taste…
I choose to let myself convinced by the cheese sellers and I buy a lot from the dozens of varieties that are presented: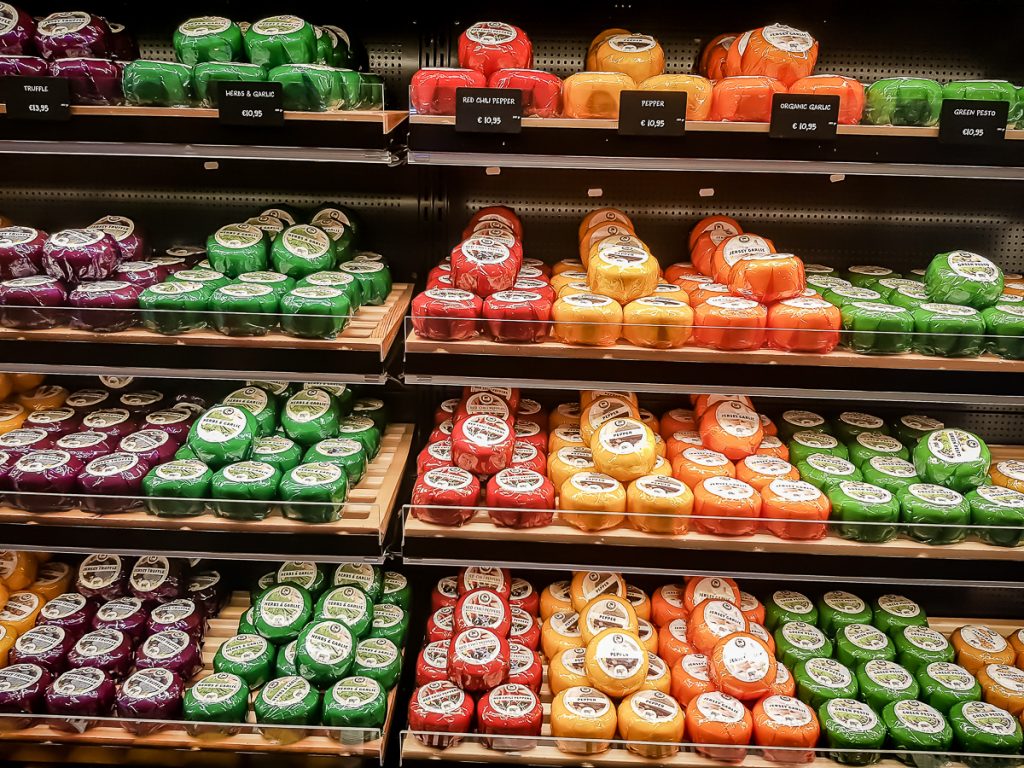 I find the most bizarre the cheese with lavender and… of course I buy it: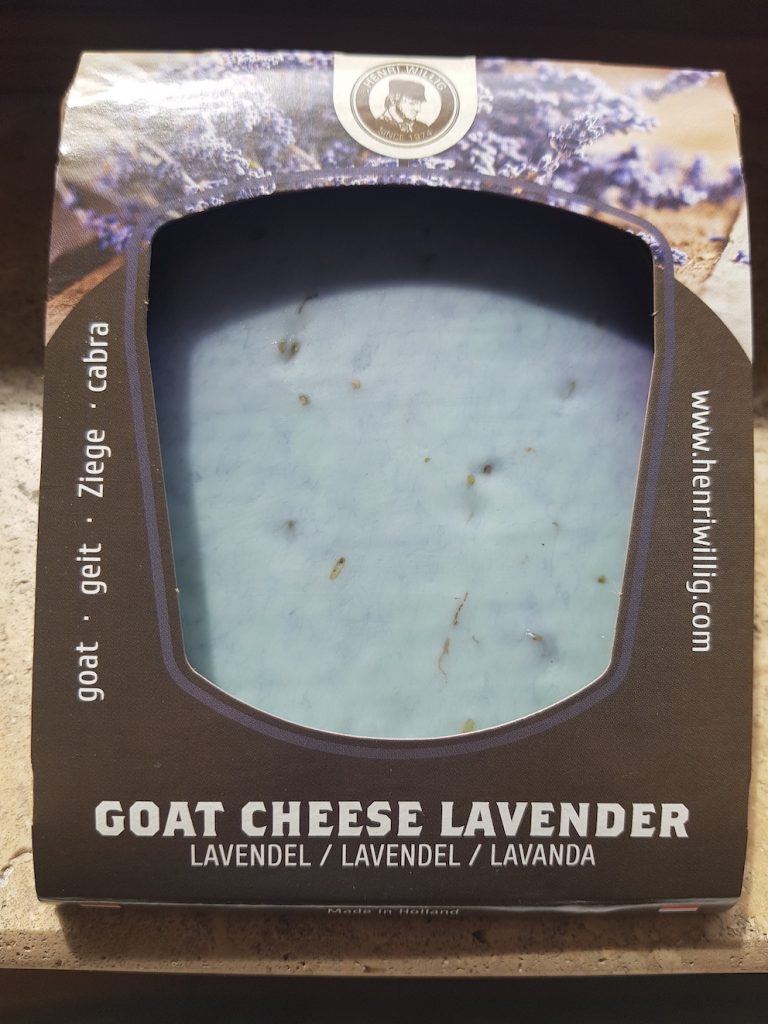 I am the happiest that the souvenir shops are open!
That I'm the only one who enters them, that's another discussion… But I'm glad I can choose all sorts of nonsense (full of dust – a sign that tourists haven't been here for a long time) and also that I can talk to the sellers.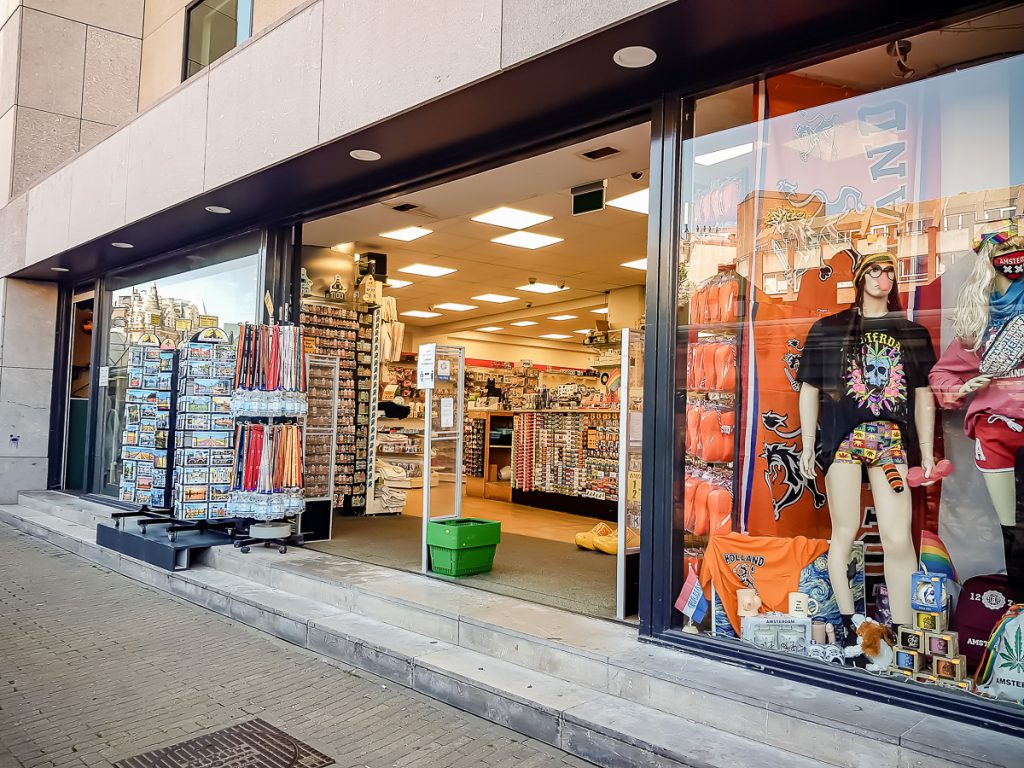 One tells me that he is not at all optimistic that tourists will return. "Let's wait for the autumn colds, the flu, let's get over them and then, in November, I can say if we're ok. Anyway, I don't think the normality of 2019 will be coming back soon."
I asked him if he missed the Asians, the Americans, suspecting that they are the customers who buy a lot.
"I relied on the Russians and the English, he contradicts me, they are the ones who came here to spend."
An Afghan salesman, when he finds out that I am from Romania, tells me that he is often considered to be a Romanian. He wants to talk, because who else can he talk to?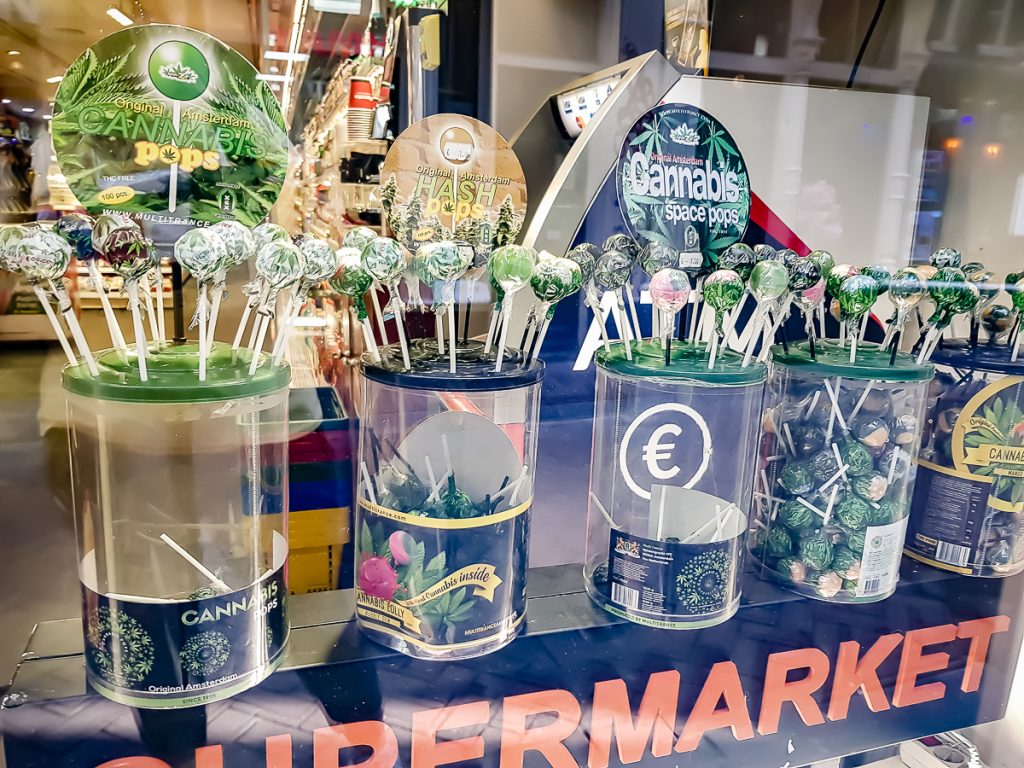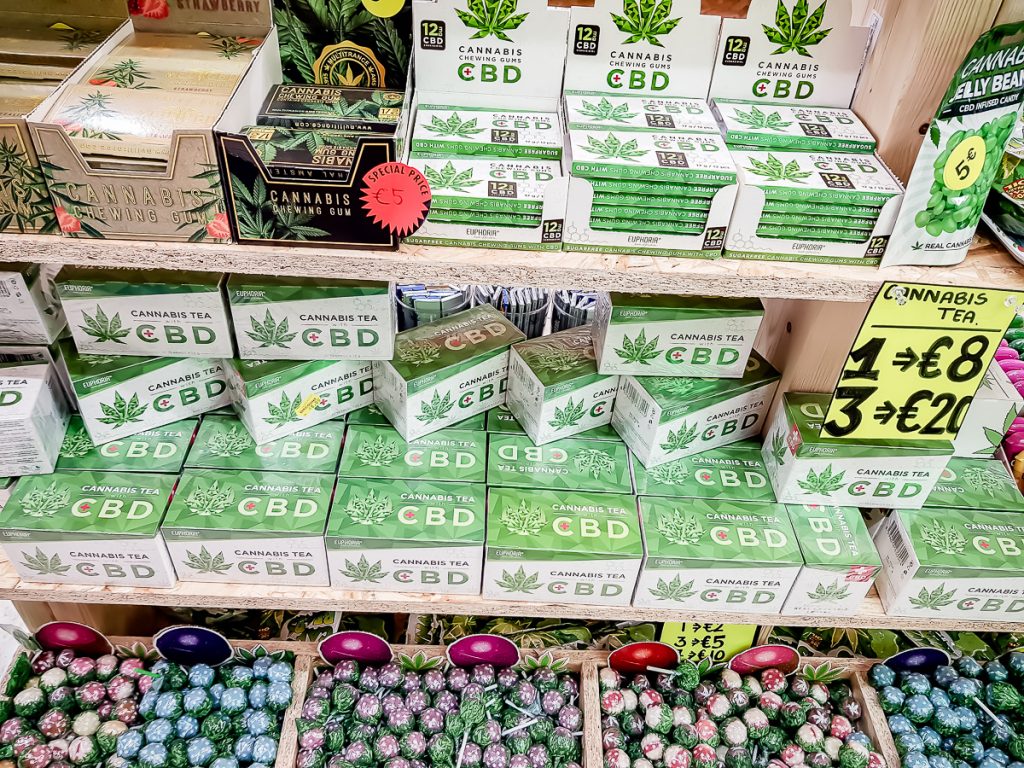 Starting from some tourist products – cannabis lollipops – I ask him a lot of things, as I don't know much about this. He tells me that stores are no longer allowed to sell certain hard drugs. On the other hand, he has clients who, with what is allowed, solve their health problems. Others buy them for fun, of course.
And that's how he tells me about cannabis, about cakes of two kinds and mushrooms, which he also confirms are horror, as I had heard. That is, they are like brandy, you don't feel anything when you drink, but when you start moving, when you walk… If you also have health problems, that's it for you!
He tells me that on the street we are on, the ambulance often comes to pick up stupid people on drugs. Stupid because they come to Amsterdam and, euphoric to try them all, drink I don't know how many beers, then they take drugs, then some mushrooms and, having certain health problems, they sometimes die.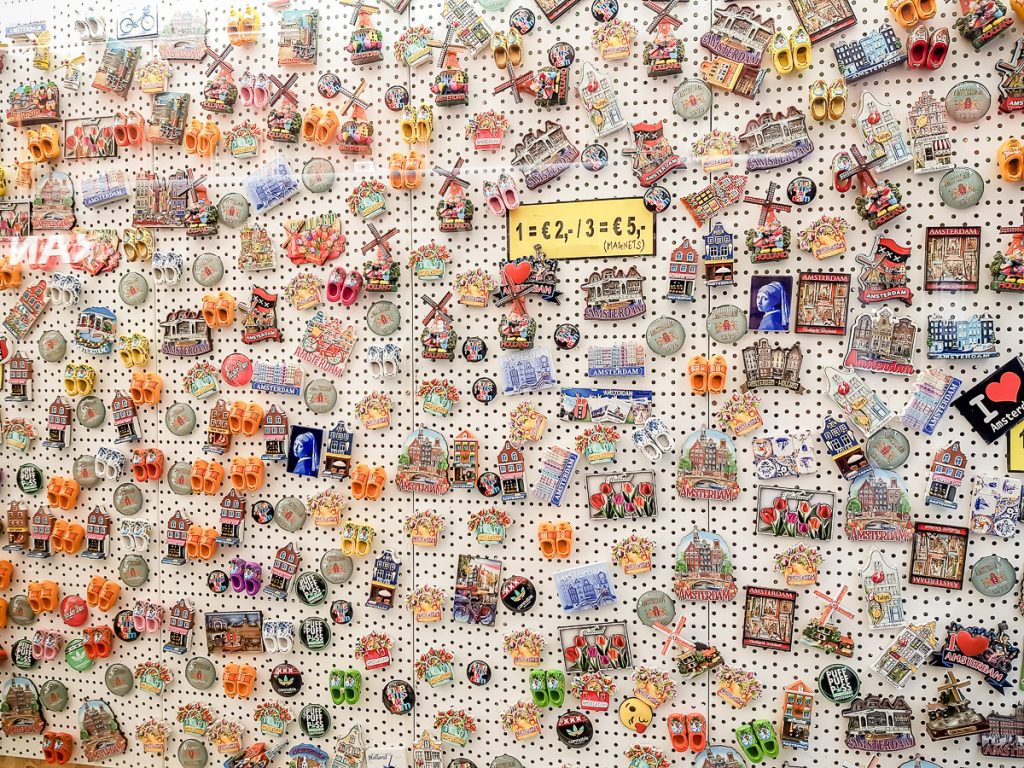 I buy some harmless products, like magnets and other kitsch objects and leave. I've learned enough from one place…
I also go inside the famous Magna Plaza Mall, once a royal post office, a beautiful, imposing building, with a respectable age (over 150 years old)
It is empty.
I count five stores that almost cry for customers, then I go up to cafes and suspect that the open ones serve the staff from the mall, because I do not see any customers.
AMSTERDAM MUSEUMS
If the shops are mostly open, the museums are completely closed – from art museums to the museum of prostitution… (But I will write about prostitution immediately).
The Madame Tussaud's Wax Museum is closed, but if you look inside the window, you see Elvis posing, even without tourists.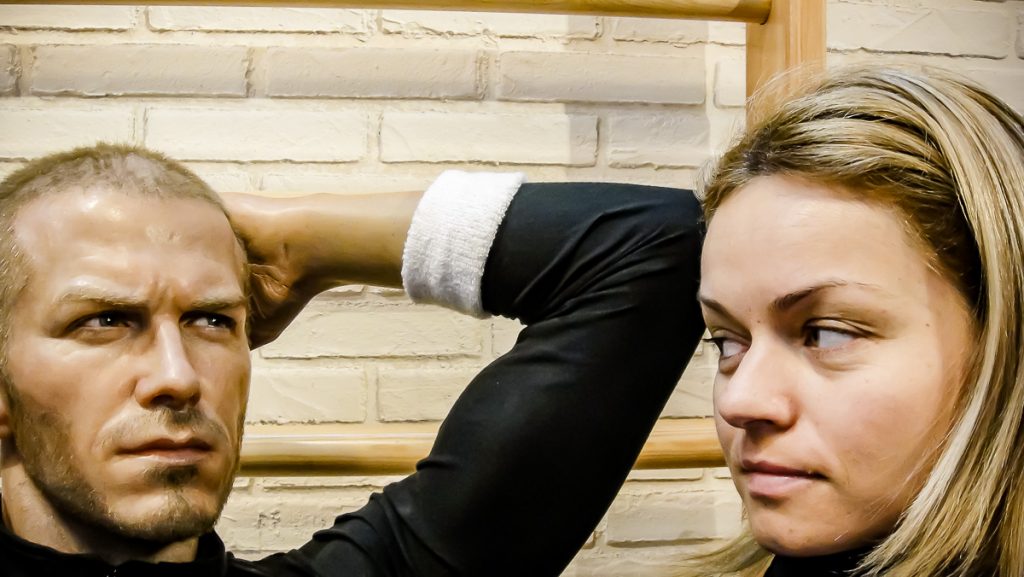 I live with the memory of a romantic dialogue I had in this museum with Beckham hihi.
You don't get to enjoy the museum, but you can enjoy the Dam Square – the ground zero of the historic center. By no means as lively as in normal times, but just as friendly.
Here, in front of the Royal Palace, I attended events, I sat down to eat, feeding the pigeons in the square, here there was always full of local people and a meeting point for tourists.
Now… the pandemic has left its mark: in the evening, the square suffers from silence.
And during the day, even if there's a regular bustle of a city where people see to their business, street artists from the past years are totally missing. And the tourists, too.
I go to the Rijksmuseum. I know it's closed, but I have something I want to photograph now, during the pandemic.
It's just that that "thing" is gone! Poof. It evaporated, as if it had never existed there.
I speak the big letters IAMSTERDAM planted in front of the museum, a real place of pilgrimage for the noisy tourists confident that they can climb there, for a unique picture.
All that is left of this selfie spot is… the base where the letters were fixed in the asphalt: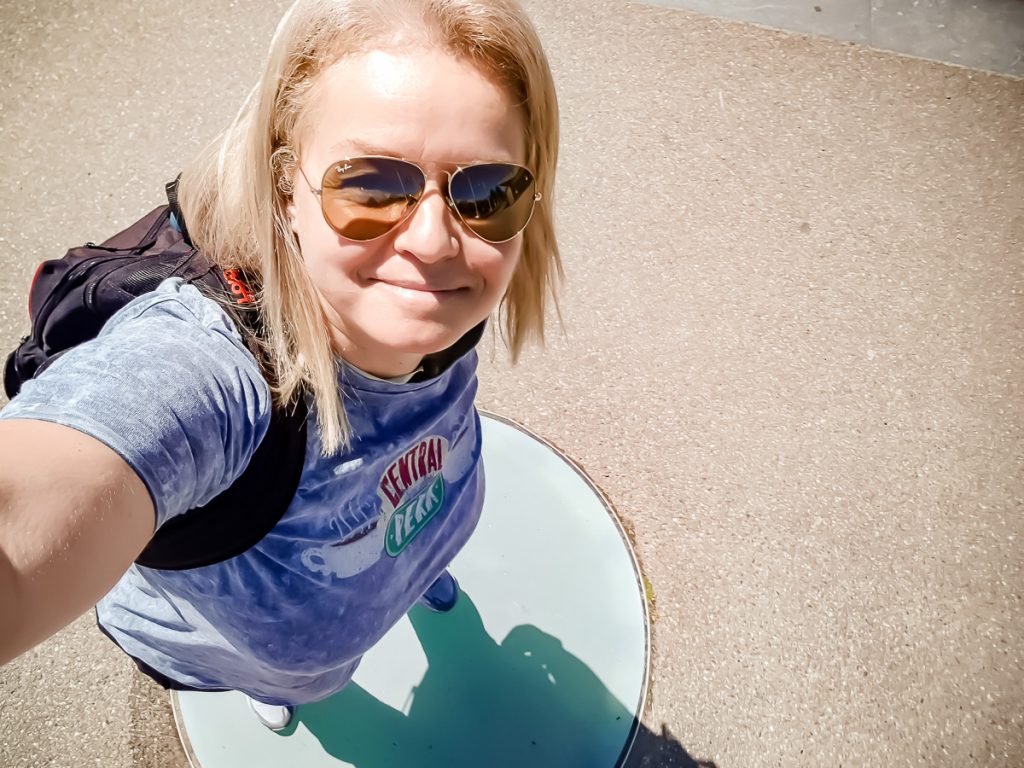 The seller from the museum store – the store is open! – says that they took them out of here because the square had become extremely crowded and that there were some accusations that they promote mass tourism.
But they have not disappeared: the local authorities walk with them through the city, around various events. Well, they were doing so, when events were possible…
BUT… there is "Iamsterdam" still in place at the airport.
Yuhuuu, let's go to the airport!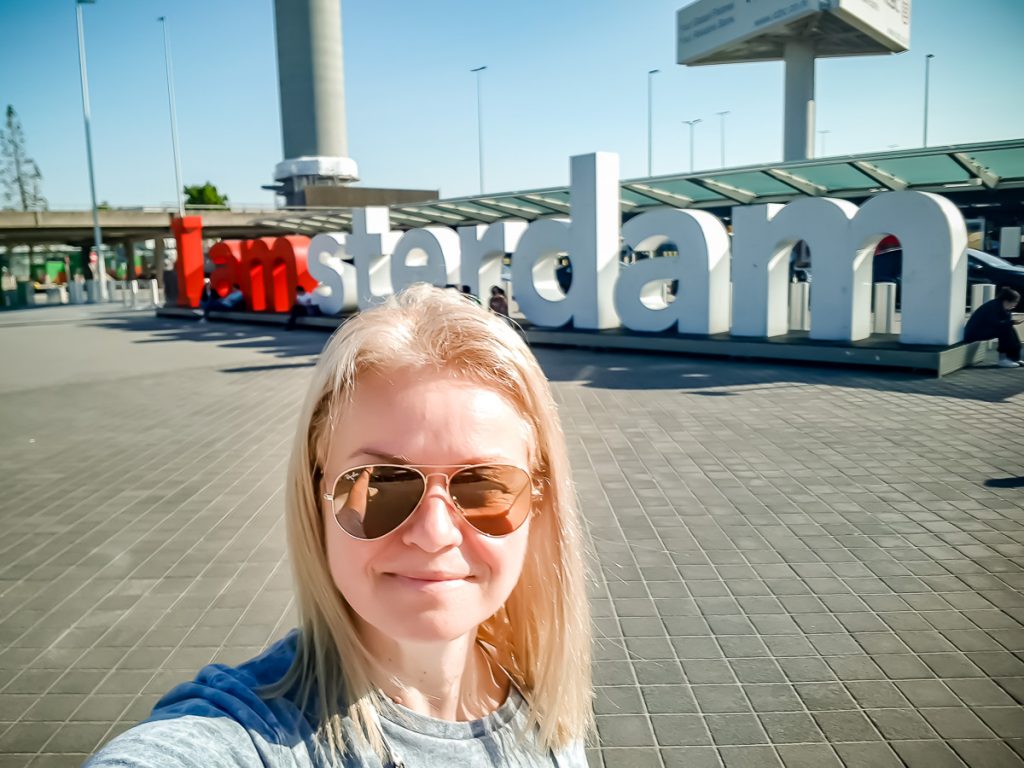 Ok, I admit, I didn't go to "Iamsterdam" especially for a selfie, but, if it happened, how can I miss this opportunity? …
FLOATING FLOWER MARKET
A place I never wanted to avoid, being curious about what it looks like now, in pandemic times.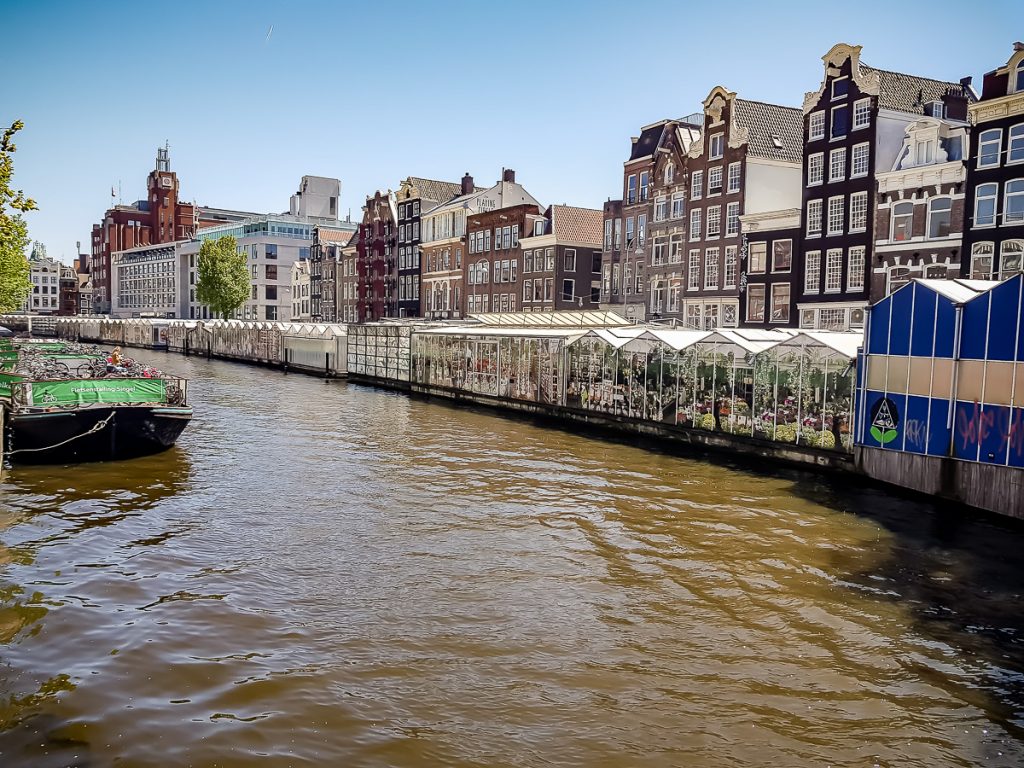 It is a market famous for being the only floating flower market in the world. The sellers have the goods on some pontoons located on one of the city's canals – Singel – very close to the center.
Every time I came here, I wasted a lot of time. First of all, you want to look at the thousands of tulips for sale. Then you marvel at the flower bulbs and you feel like buying, even if you know they cannot be planted on the balcony in a block of flats…
It's okay, there are also wooden flowers, which, if needed, can be used as white weapons hihi.
The market has, besides flowers, bulbs, roots of all kinds, seeds, cannabis etc., a lot of souvenirs. At really good prices! From magnets, wooden clogs, wooden boards with painted ceramics, to T-shirts, mugs, plates, key-chains and other goods that reach the homes of the tourists from around the world.
Now I only get to my home… Because I'm the only one who buys souvenirs. The other 2-3 clients I meet look for flowers.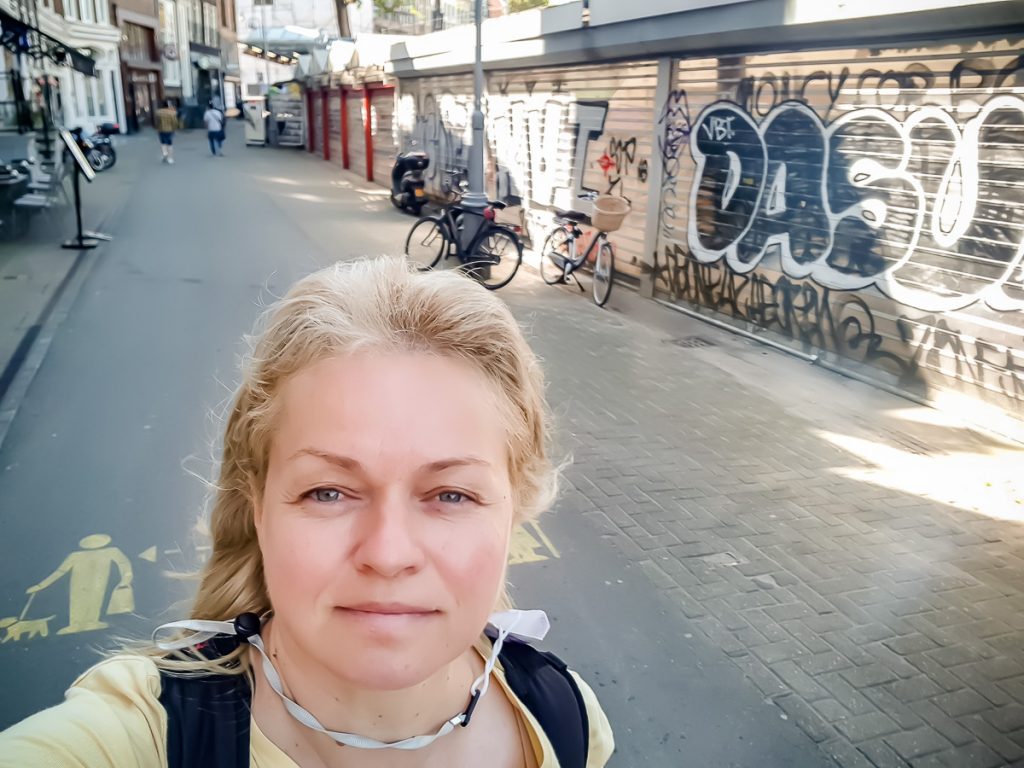 A salesman puts the dusty merchandise I chose in a bag (a sign that the tourists' hand haven't been here either) and tells me that he was left alone. Before there were 3 sellers in the store and they could not cope with the wave of customers. In addition, now they open later and close earlier, because there is no point in staying open for a long time.
They have been closed since October 2020 and were not allowed to reopen until the end of April 2021. Since then, he keeps hoping things will return to normal.
A Dutch couple buys some fresh flowers. But, you know what they say, a flower cannot bring about spring…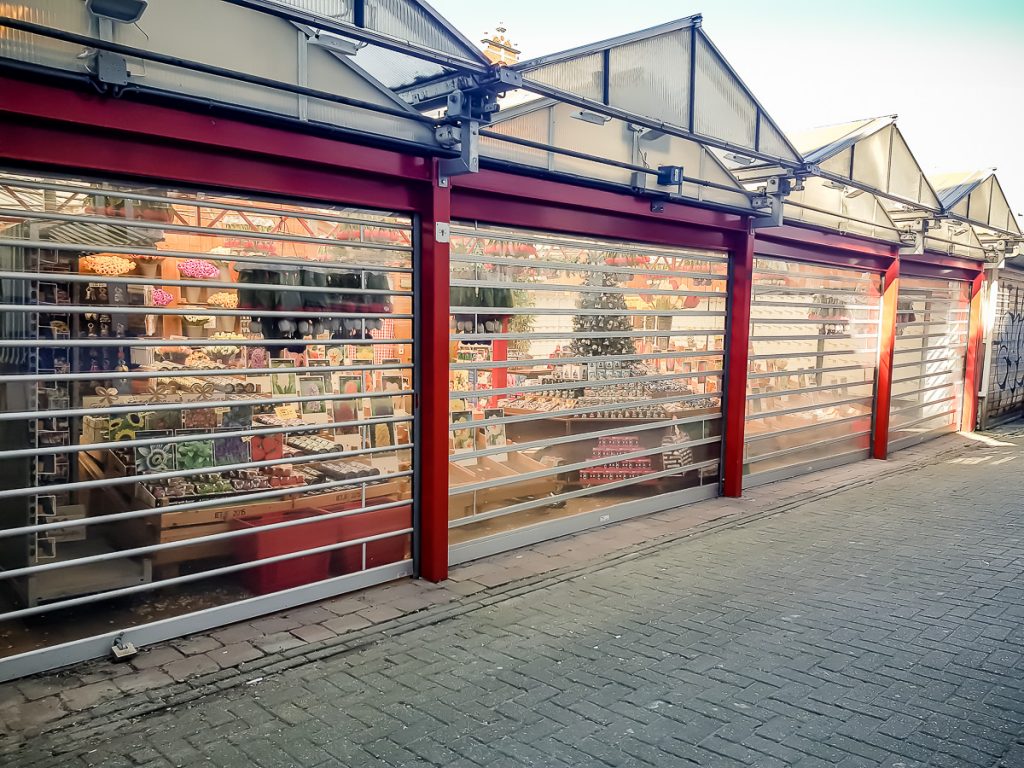 I wish the seller to get his customers back, as massively and as soon as possible, I selfishly enjoy the wilderness near the market and, if I have to choose something in the game "Flowers, girls, movies or boys" from the flower market, I can choose… the Red Light District, where there are both girls and boys. The girls behind the famous windows and the boys exploring the territory J.
RED LIGHT DISTRICT
(Note: what I'm telling you here is what I saw and heard in 3 days of walking through the neighborhood, both during the day and in the evening.)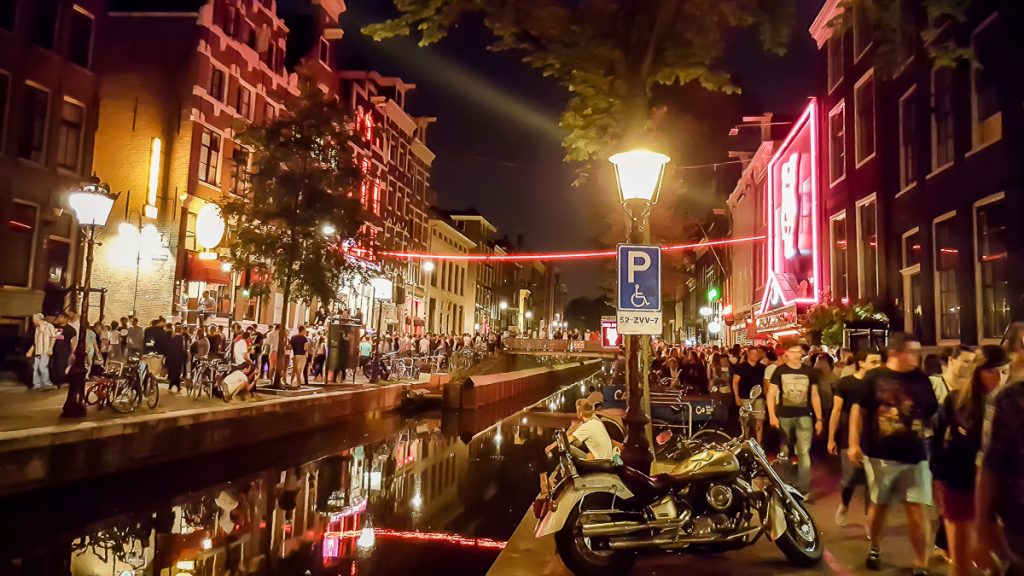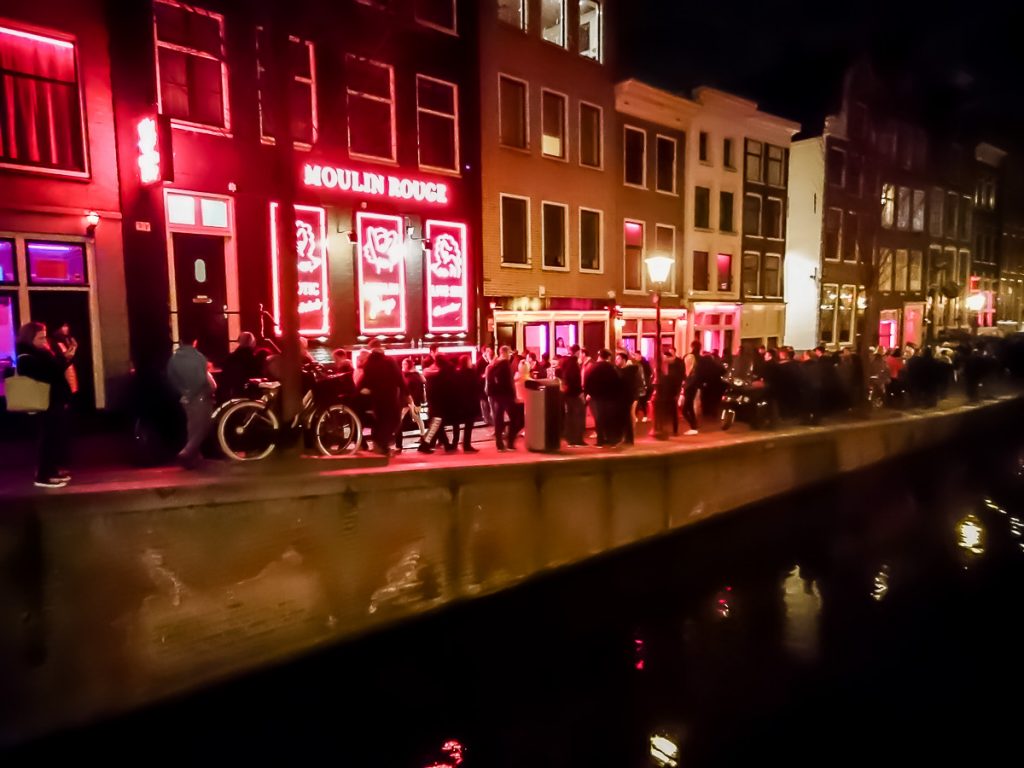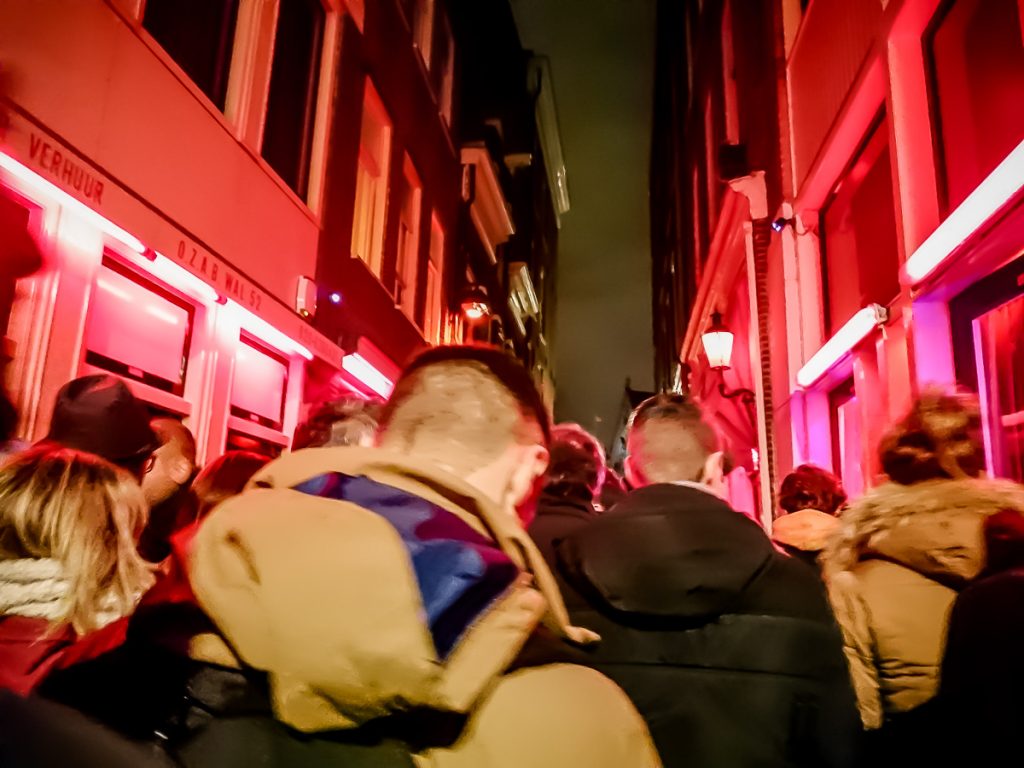 That's what the Red Light District looked like in normal times. In times when you could suffocate in the crowd! An image unrelated to the present. Neither during day nor late in the evening – when I walked around here – it was not even crowded, so no way you might suffocate anywhere!
The neighborhood has regained its peace. Green, with beautiful buildings, with narrow canals, with ducks that made their nest on the abandoned boats.
And with girls, the always present girls for those eager to have a short adventure.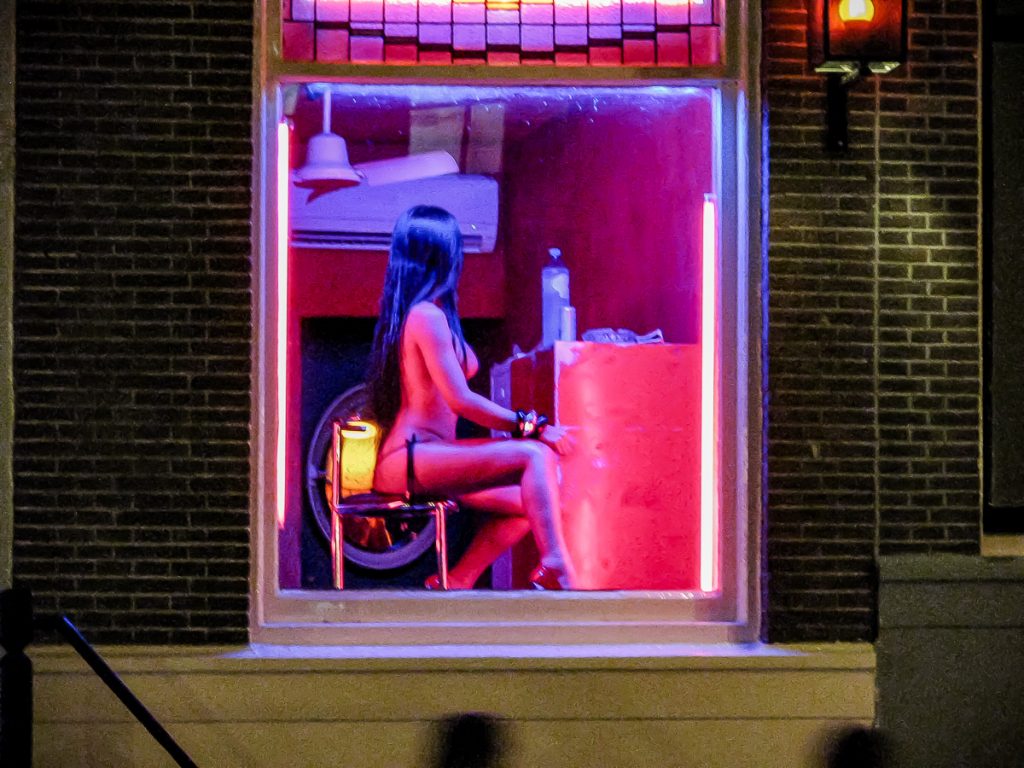 I have often heard comments that these girls are ugly. Even if I like men J, I think I can appreciate a girl with an attractive figure for a man or a sexy and tastefully dressed girl.
There are such girls in the windows of the Red Light District. Of all nations, probably.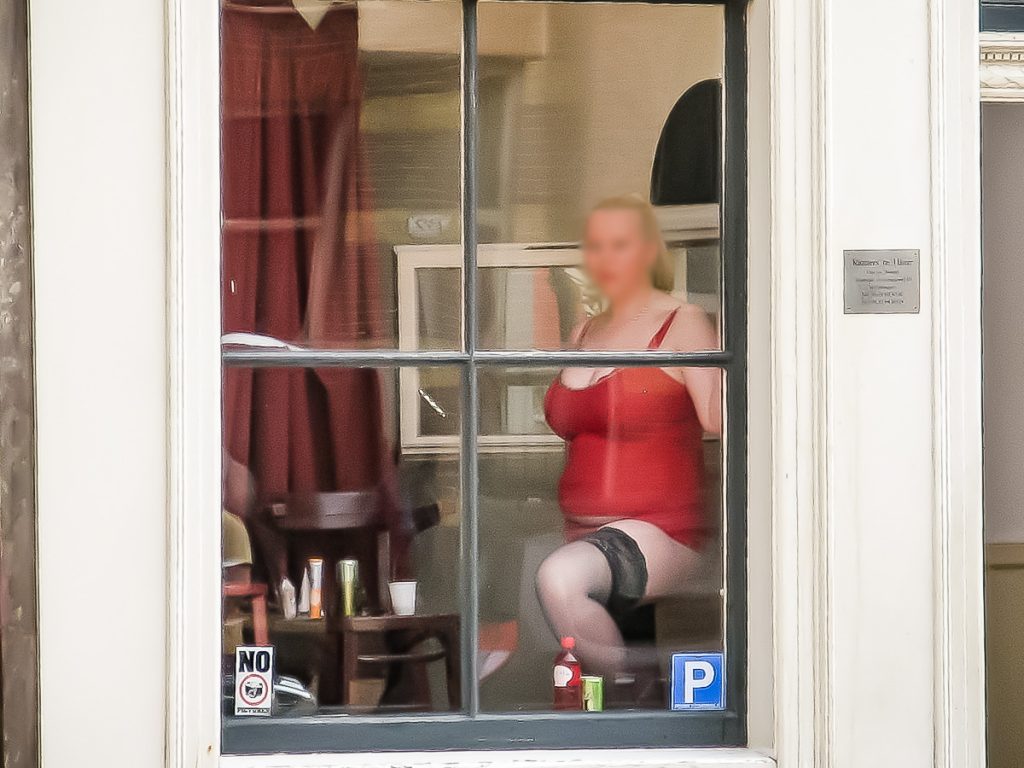 Besides them, you also see some… XXL, but there are definitely clients for such women as well.
I've seen women of color, I've seen skinny women, young or not quite so young, but the vast majority are women with big breasts, well highlighted, dressed in sexy suits and accessorized according to what they know attracts attention better: with long hair, with the hair tied like a schoolgirl, with teacher's glasses, with fishnet stockings, with normal stockings, with garter belt, in black, red or gold suits.
I'm sure every man finds a woman to his liking here. And, let us be honest, no one should take any of these women home. (Although maybe some would like to…)
The pandemic probably bankrupted many shops in the neighborhood. Not to mention that not everything is open. Because, in a period when the relaxation is not total, you certainly lose more than you gain…
Theaters with "special" performances are also closed. God, and what madness was here in the times before the pandemic!!!
What I like, however, is that they are in line with the times and transformed the drawn shutters into a way of communicating concerns and worries.
I walk around the neighborhood and, discreetly, without looking too long, I take the pulse of the area.
A girl puts on make-up, a sign that she has just started her shift. Another lives healthy, judging by the orange juice in front of her J.
One even has a book on the chair. If she has time to read, you can realize how many customers come here during this period.
Some listen to loud music, and I mean it, it is very loud. To make the time pass easier, maybe?
I see the rooms next to the big church in the neighborhood (yes, right!). They are empty. I remember the "heavy" women who filled them in the past years.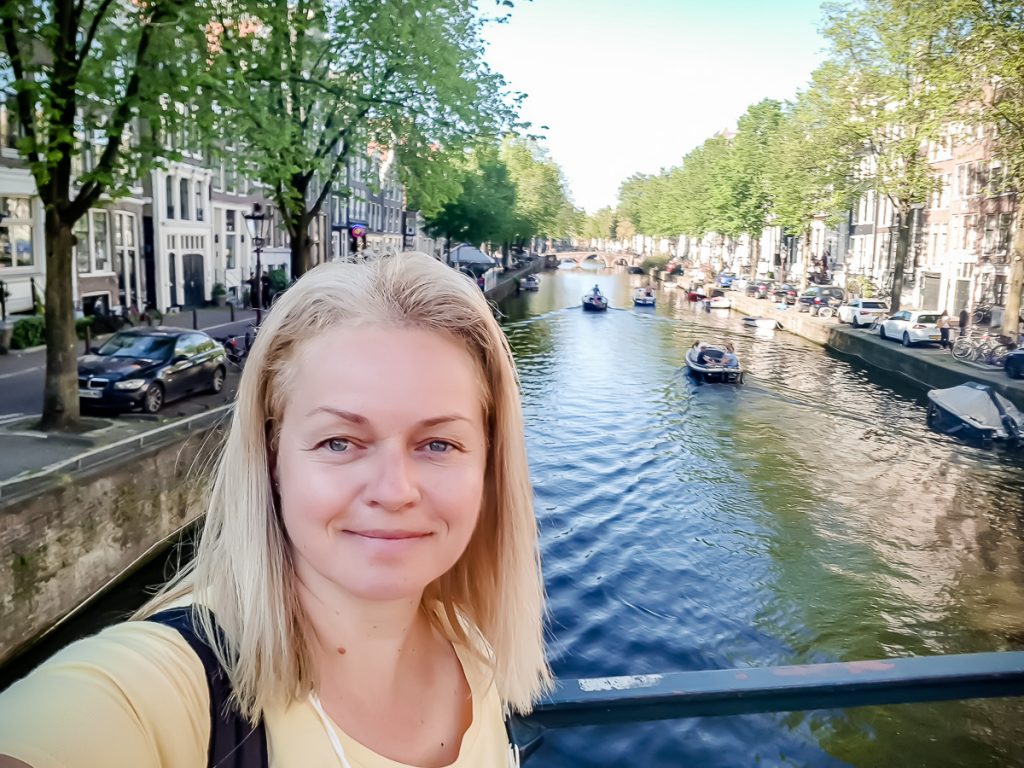 Being very hot outside, some girls sit with the doors open.
I use the opportunity and I ask one of them if she is not afraid that a client might have COVID.
She is afraid, she tells me, but she asks them in the beginning if they are vaccinated, because he knows that "most men are already vaccinated". Hm… Really?…
I wonder what it would be like to ask them for proof of vaccination or, better yet, to give them a quick test? J))
I ask her if she's vaccinated and she tells me no, her turn hasn't come yet. At the time I speak to her, in the Netherlands only those aged 40-50 have received notification to schedule a date for vaccination.
"But do you want to get vaccinated?"
"Definitely, yes!" – she answers me firmly and I believe her.
She is Bulgarian. She has just returned to work. Because everything has been closed since November, December until about 2-3 weeks ago.
She wishes me a pleasant holiday, I wish her luck with the clients J and I go on.
At another door, a man asks a girl about the price. I hear 50 euros, but don't ask me what services are provided for 50 euros, because I didn't find out…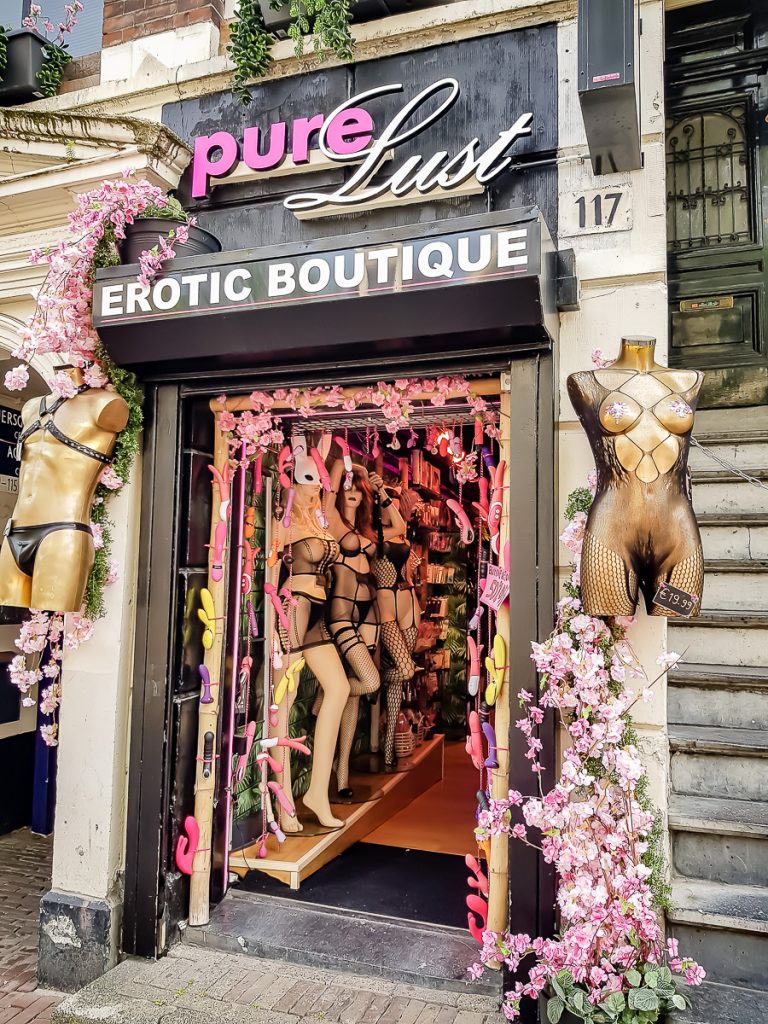 Only a few sex shops are open and clearly with a reduced schedule, considering that in the evening, unbelievable, but in the evening, when you expect to see them open, you can't even find them, they are so closed and neutral, with the shutters drawn.
A saleswoman who speaks a wonderful English that humiliates me tells me that their shop has never been closed! She points out to me that "sex is the most important thing, everyone has sex, people need sex, so we are considered…" – an essential store, I complete the sentence and she is happy with the term. I remember that in Italy, among the stores considered "essential" were those with wines, to understand the priorities of each nation hihi.
She says that last year (2020), when they closed everything, they also closed the coffee shops, but the next day they reopened them! Because they realized that they are also considered essential for many, for medical reasons.
The woman is extremely relaxed, she tells me that she does not wear a mask at all, except for the times she goes to the supermarket, where she is obliged to. The truth, in my opinion, is that people don't really come on her doorstep, for her to have something to fear about.
She contradicts me: she has kept the shop permanently open, except for Christmas and the New Year. Well, what clients can you have in times full of travel bans???
"The Dutch" – she answers me. "People who do not come to buy goods for prostitution, but for their wives, their girlfriends. Plus they need medicines from us, because they have medical problems."
She also tells me that, slowly, tourists have also appeared. The Germans and the Belgians, in particular. As the restrictions have been relaxed for some. But even before, when tourism was dead, foreigners who came to the city for diplomatic missions also came to her sex shop. And they were buying too!
I share the pavement with a huge duck and eat some Chinese food on the edge of a canal.
Two girls waiting for their clients behind their windows watch me. I seem suspect. Maybe they think I'm filming them secretly? But I'm really hungry and I think they are convinced that I'm more interested in the Chinese food box than in what they do there.
Then I walk around all the streets around. Many, a lot of "windows" are closed and they announce on the door that they are for rent. So it is clear that girls from all over the world who had a secure job here have not returned to work.
I take advantage of the fact that there are many unoccupied rooms and I try to figure out what an abandoned one looks like in the dark: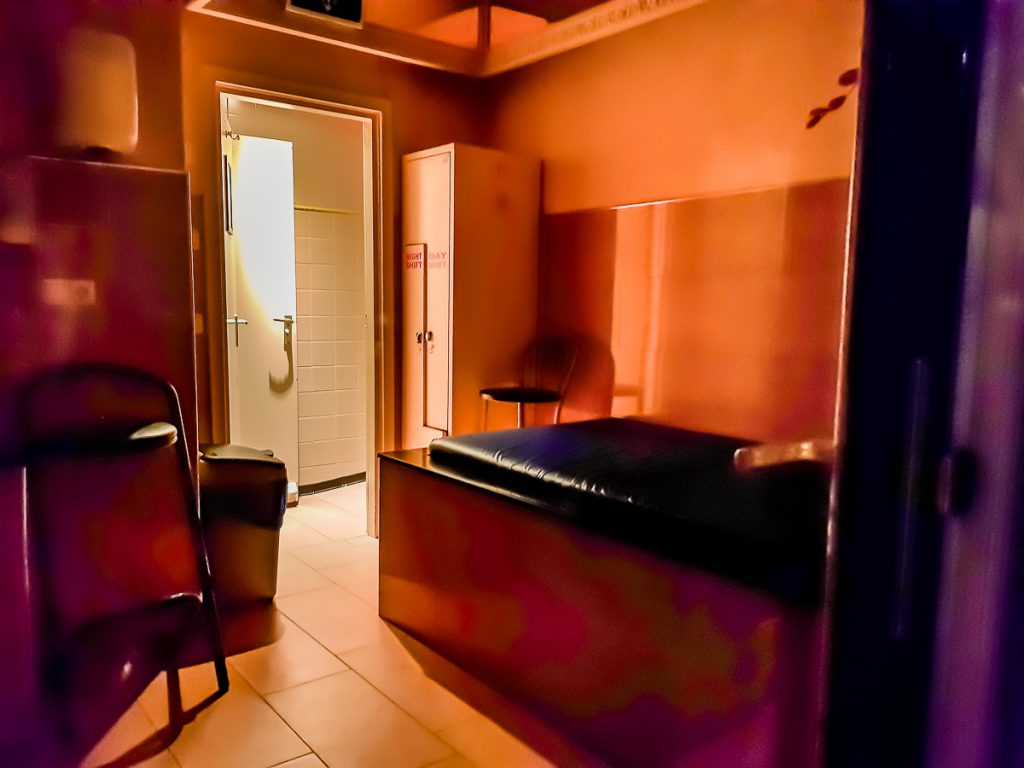 I don't linger too long, I don't want to seem interested hihi.
There are other passers-by on the streets of the neighborhood. Some with their eyes on the girls, others simple residents going for a walk.
Some men stop by the windows and study. The girls, as they see them, suddenly take their attractive position, leave the movies on the internet or the conversation on whatsapp.
But many alleys full of rooms for girls are now "black" with the pandemic fury. No "red light" is lit.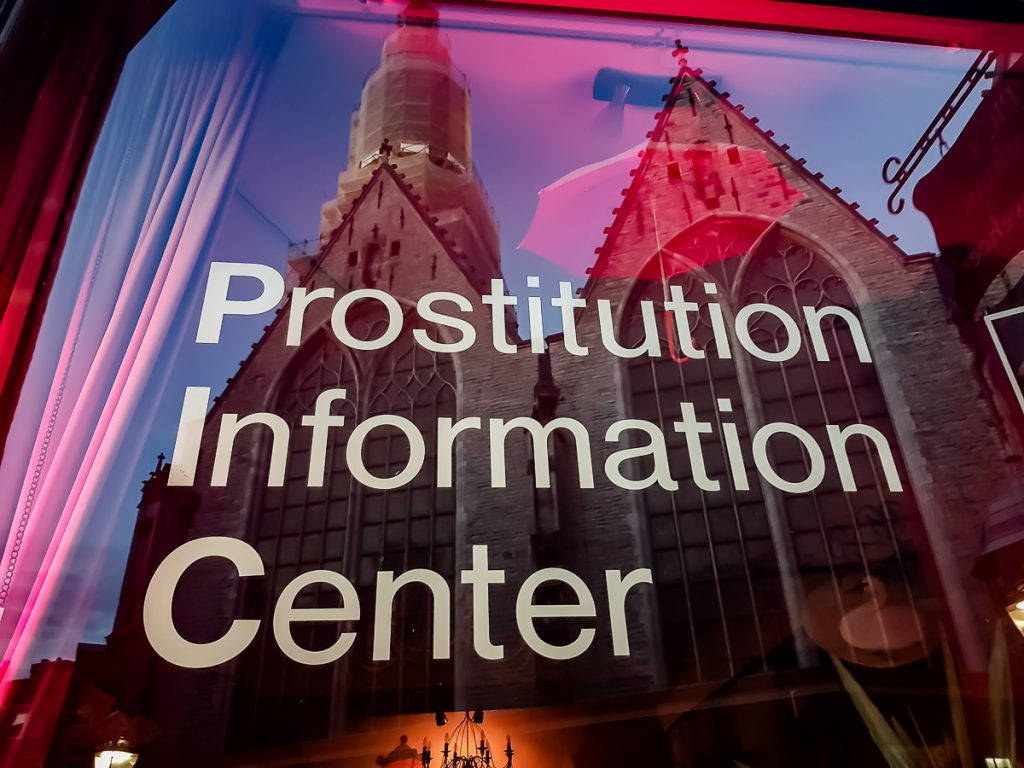 Not even the Prostitution Info Center is open. (How nice the church is seen in it, isn't it?…)
Two shy boys go around on one shore, then cross to the other shore. I study them amused. They look at each girl, then they retreat to a corner and talk about them.
Once the girl is chosen, one of them heads towards her, the door opens and… the adventure begins.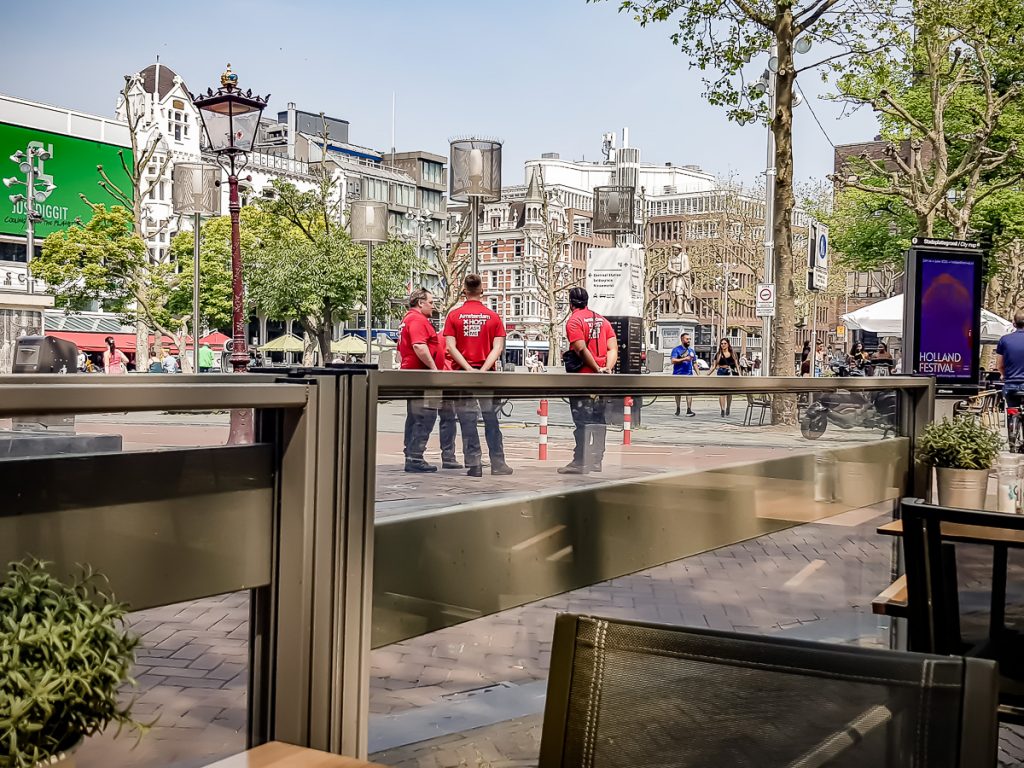 I see some people in red T-shirts, with walkie-talkies and headphones. They walk relaxed in the area. I have also seen them in a popular square in Amsterdam, but now I'm going to ask them questions, because that's what it says on their T-shirts: Amsterdam host. Ask me.
They are employed by the municipality as guides Thursdays to Saturdays, for those who have things to ask.
I have one question: are clients vaccinated to go to these girls? J))
Well, my question left them thinking. They thought that they would show me in a direction, that they would be advising me what to visit.
What they do know is that girls are not forced to get vaccinated and anyway, they are too young, it is not their turn yet. And that they started work again about 2-3 weeks ago.
I return to the Red Light District in the evening to see if the peace of the day fades with the darkness and if everything looks like in the good old days.
No, it doesn't… Only towards the weekend does it feel a bit like the number of men in the area is increasing. And probably during the weekend it grows even more, but I won't be here for the weekend.
Behind a window, a fat woman in a sexy suit tactfully wipes the window with a cloth. To be sure she has good visibility, I'd say. I smile at her greeting her, she also answers with a smile.
It's not so deserted now. Groups of cheerful boys walk around the narrow streets, full of rooms. They came up with a well-established plan for tonight.
A girl finishes her shift. Beautifully made-up, dressed in sportswear and wearing… slippers, she carries her dinner on her arm: a bag from KFC.
I'm amused, because I don't know how but I had seen her the night before, when she also was leaving her shift. If I walk around more, I can get hired to work for the HR department of the Red Light District!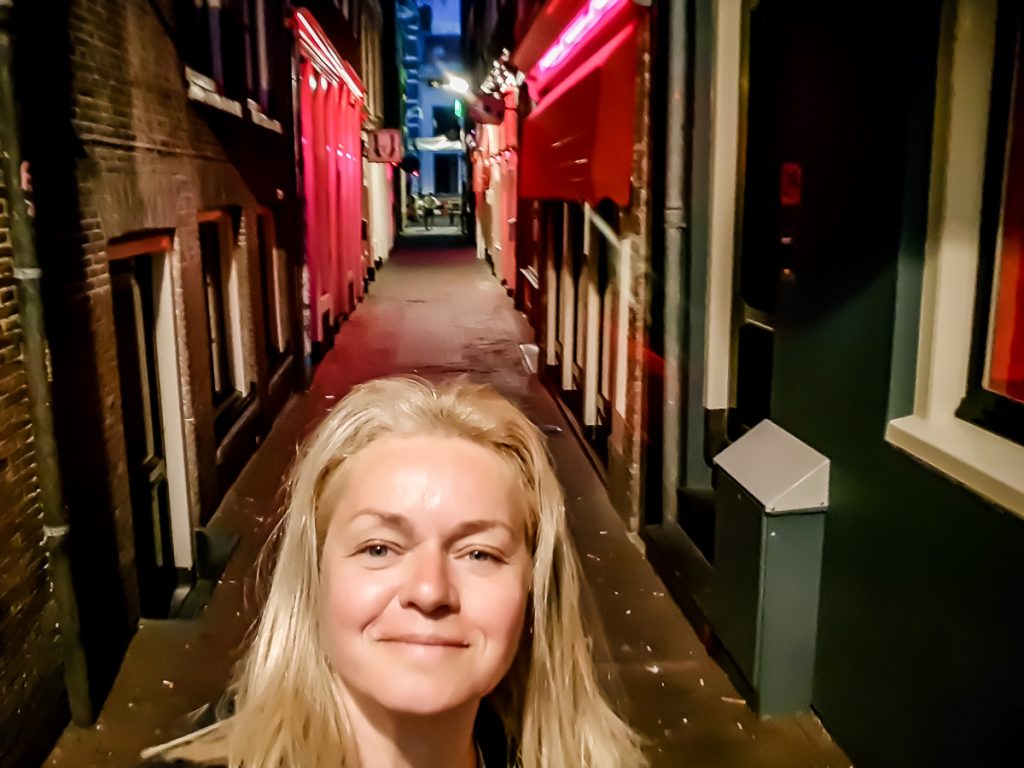 A few neighboring girls are loudly waiting for their customers.
The seller of the sex shop next to them tells me that he has no idea if measures have been taken related to COVID and if the girls are vaccinated. What can I do, I am curious… "I am just scheduled and I am 43 years old – he says – so surely they have to wait. Besides, I don't think they care". Yeah, very possible.
One of the girls tells me in a bad English that if she thinks a client is sick, she doesn't accept him. Okay, the same if he's drunk or drugged, I'd add. She continues to tell me that as much as they can, they have to worry about their safety and they refuse anything they find suspicious.
You have to understand that this neighborhood also has inhabitants, not only girls behind windows and kinky shops. That's why people let us know about this in any way they can…
A woman goes out to throw the garbage, then she passes slowly by me, with her dog. I ask her if she really lives in the area and she tells me that she has been living here for 26 years!
I am curious how it is to live in such a neighborhood where, many times, you cannot throw a needle!
"You get used to it", she replies. "But about 10 years ago it started to be so crowded, it wasn't always like that."
She tells me that they had a quiet year, but now Amsterdam is starting to return to the normality of a tourist city.
I hear that everywhere too. Starting tomorrow, when I leave for home, the inside of the restaurants, the museums, the theaters will open and the tourist boats will start touring the canals again.
Just in time, what can I say…
Anyway, I'm glad I got to see Amsterdam during a pandemic, as I did with Paris, Istanbul, once again Paris, then Rome, Venice, Florence, Milan. (All of them are on my website, with interesting stories)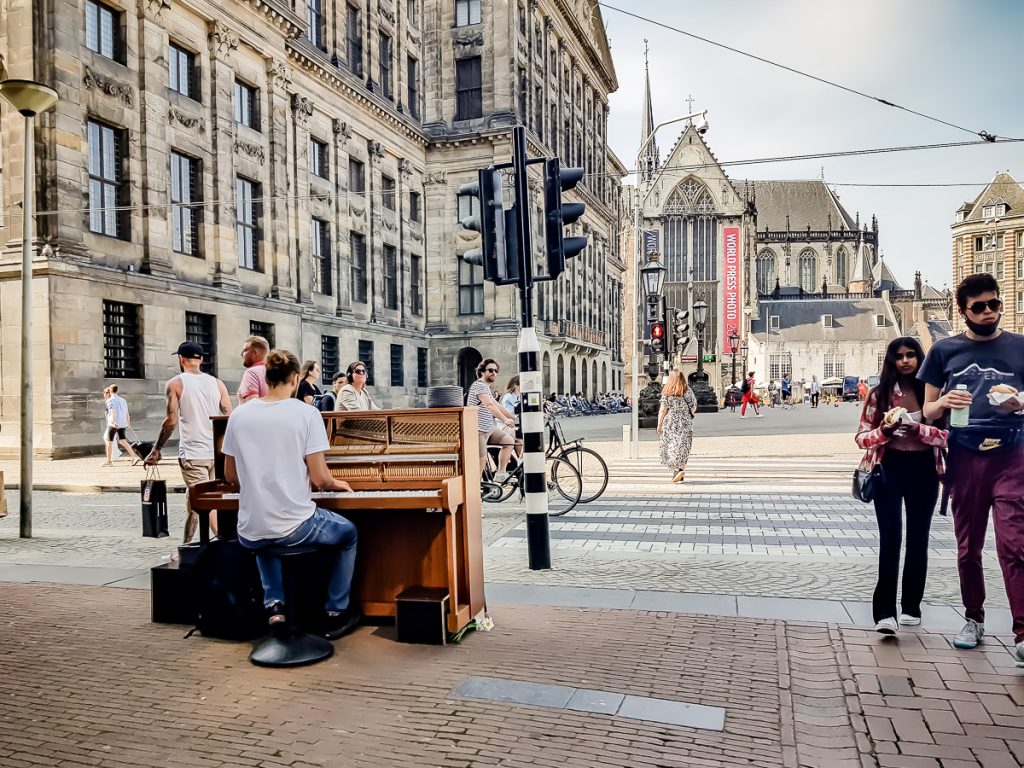 Before leaving, I still enjoy the vibe of the city and listen to a talented pianist playing in Dam Square.
Listen… I have a question: can you smoke passively when it comes to drugs too? Can you passively take drugs? J)) Because, next to me, a man lost in his thoughts, listening to the pianist, smokes a cigarette of that type. Man, such a strong smell is coming towards me from his cigarette, that I'm afraid I might start to see cows grazing in my head!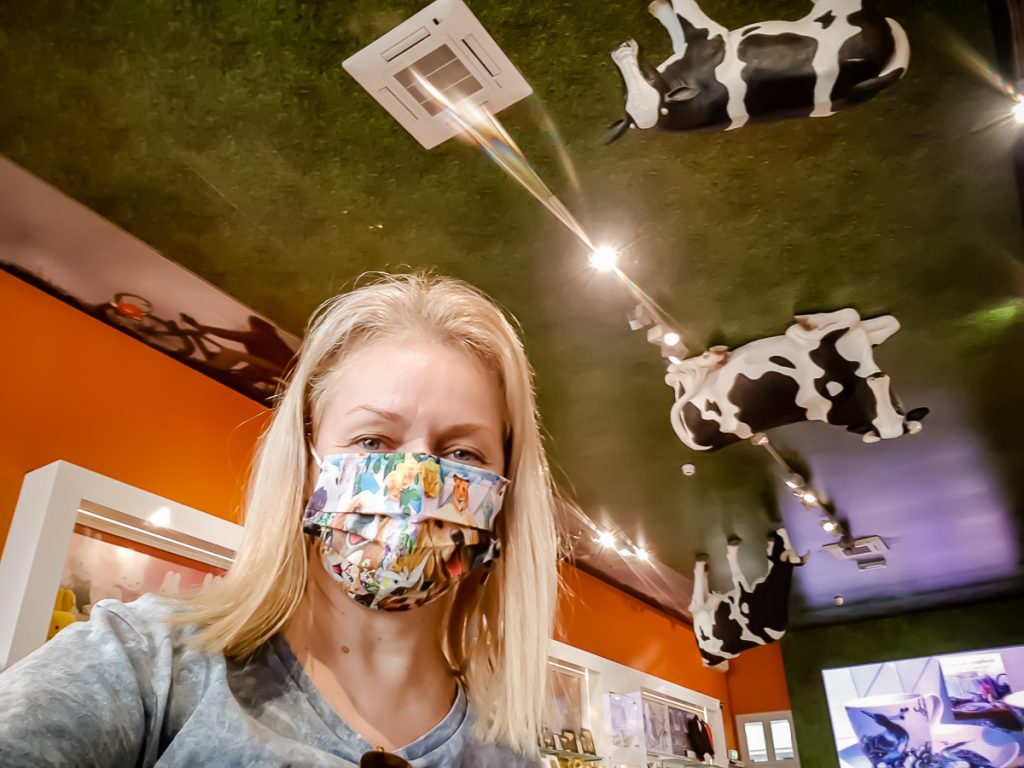 What you can see here, in less than two minutes, it's the pandemic Amsterdam, images that made me look in my archive for similar ones, took during normal times: