I run from my room down the valley, to the small port of Riomaggiore, to catch the ship. Today is a day at sea, up to Monterosso al Mare (an only 25 minutes travel, don't think I'm going on a cruise…).
It is the last village coming from Portovenere and the last one in the chronological order, because it has been found in documents only around 1400.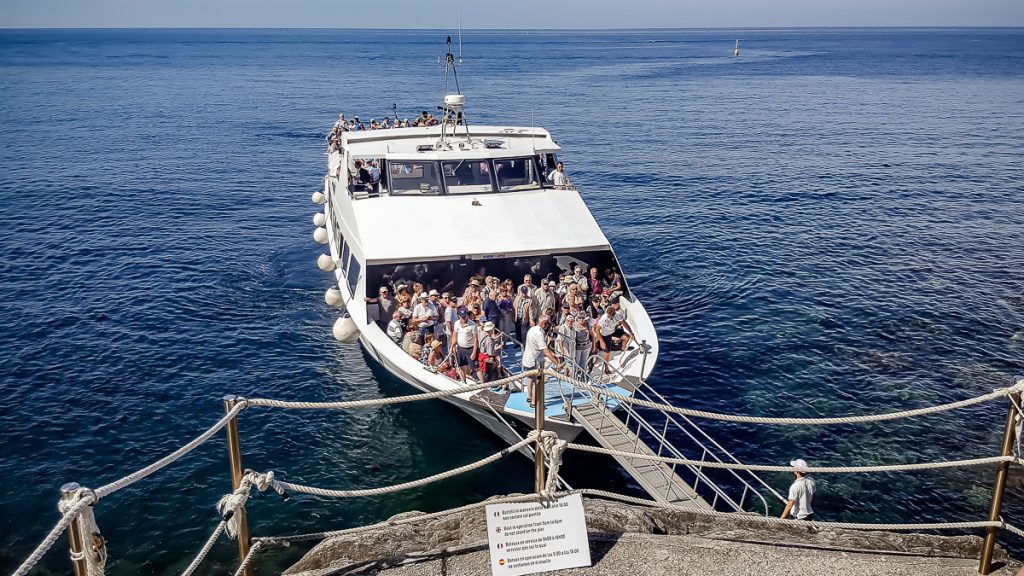 From the ship that has just arrived to pick us up, we hear an "ooooh", a sign that the tourists coming down here with luggage notice the multitude of stone steps they have to climb with their suitcases. Well, they still have no idea what awaits them…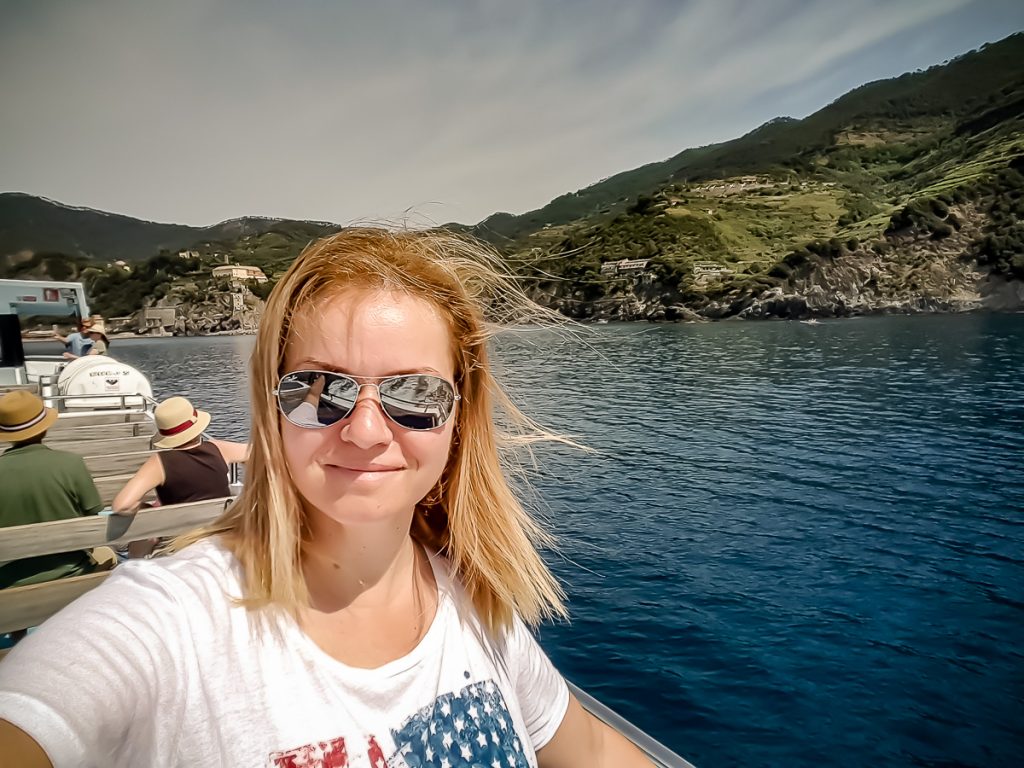 The travel by sea is beautiful, I can practically see all 5 villages from the sea. And I can also listen to some information that is given to us via the loudspeaker.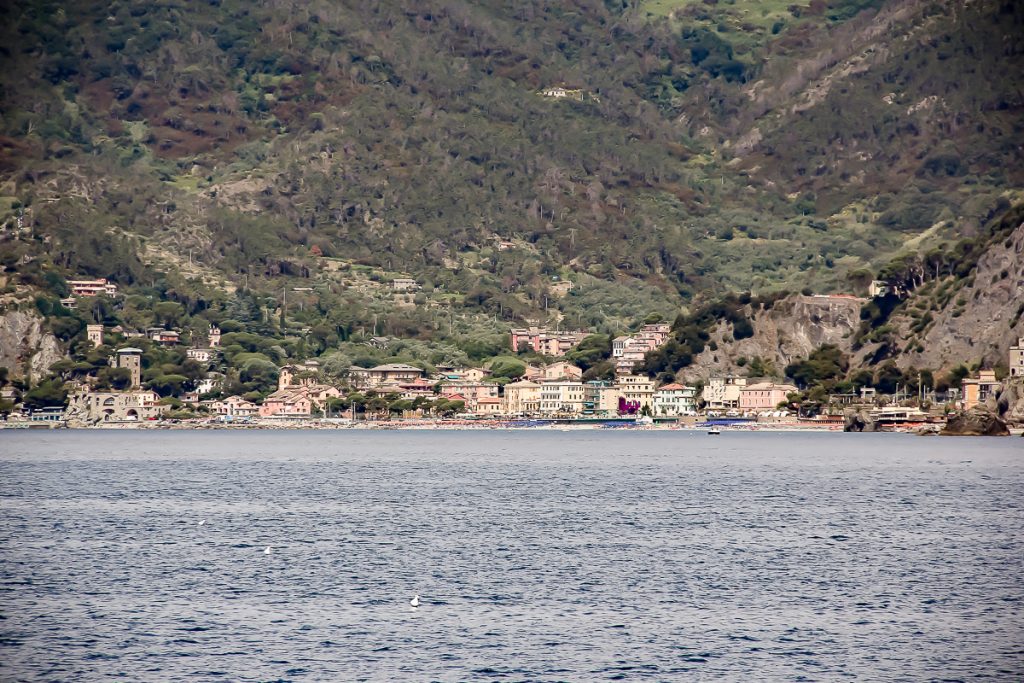 I can vaguely see Monterosso al Mare, a horizontal, plain village, different from the others, which are more vertical, perched on a hill. That's a good thing, because there's no more climbing, no more stairs! Thank God!
It is the only village in the area that has sandy beaches.
For you to better understand, I will tell you that Monterosso al Mare has two distinct parts: the old town and the beach.
If you come to Monterosso al Mare by boat, they leave you in the old town. If you come by train, get off right at the beach.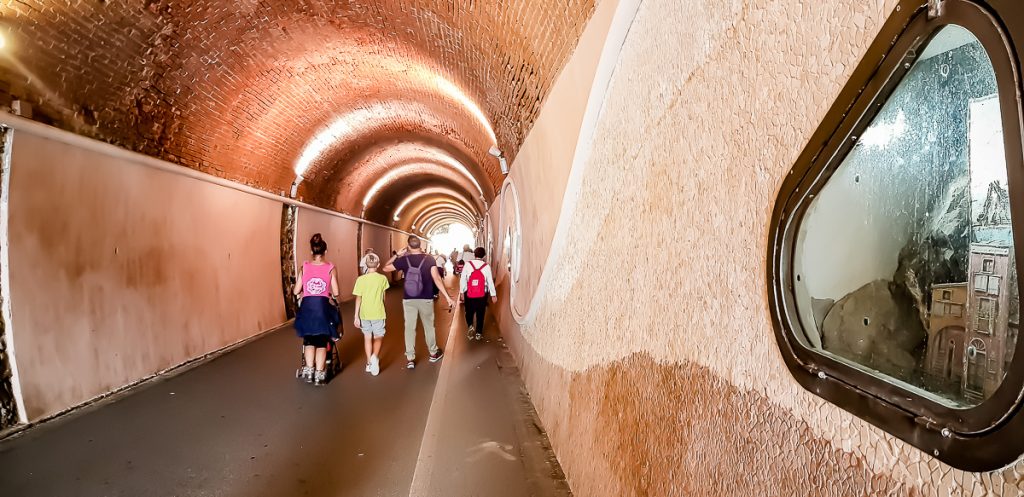 The two parts of Monterosso al Mare are connected by… what else, but a tunnel, to be in line with the other villages. A tunnel of a few hundred meters, straight, where, from time to time, there are cars passing, so your walk is sometimes on the left, sometimes on the right, sometimes in the center.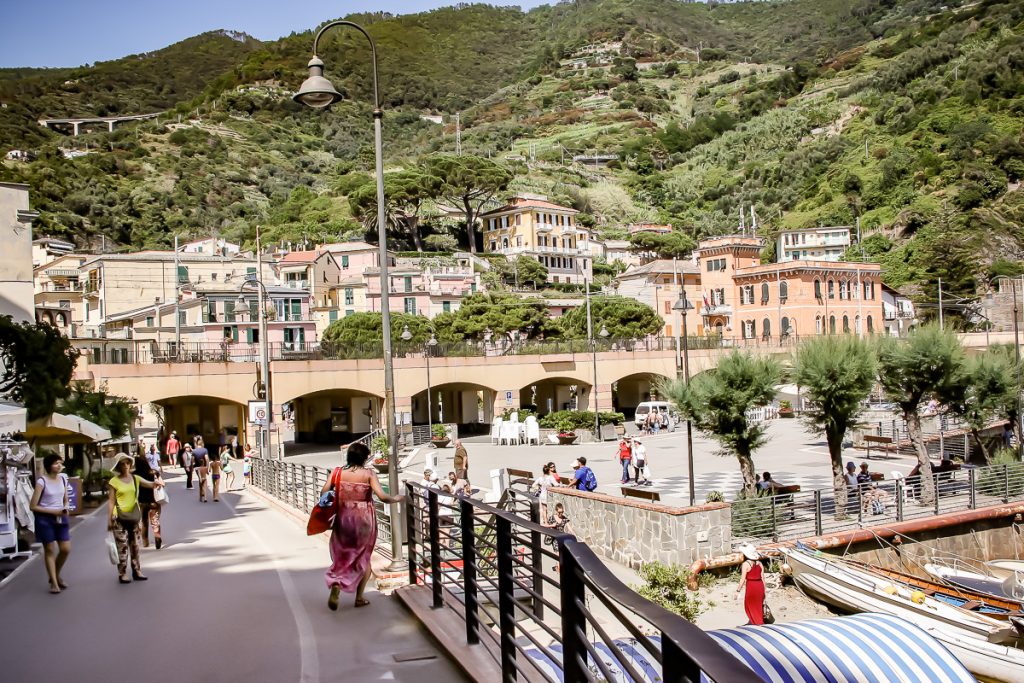 If you come here with luggage, make sure they have wheels, otherwise, from the train station to your accommodation in the old town, you break your back… You have to walk about a kilometer.
MONTEROSSO AL MARE – THE OLD TOWN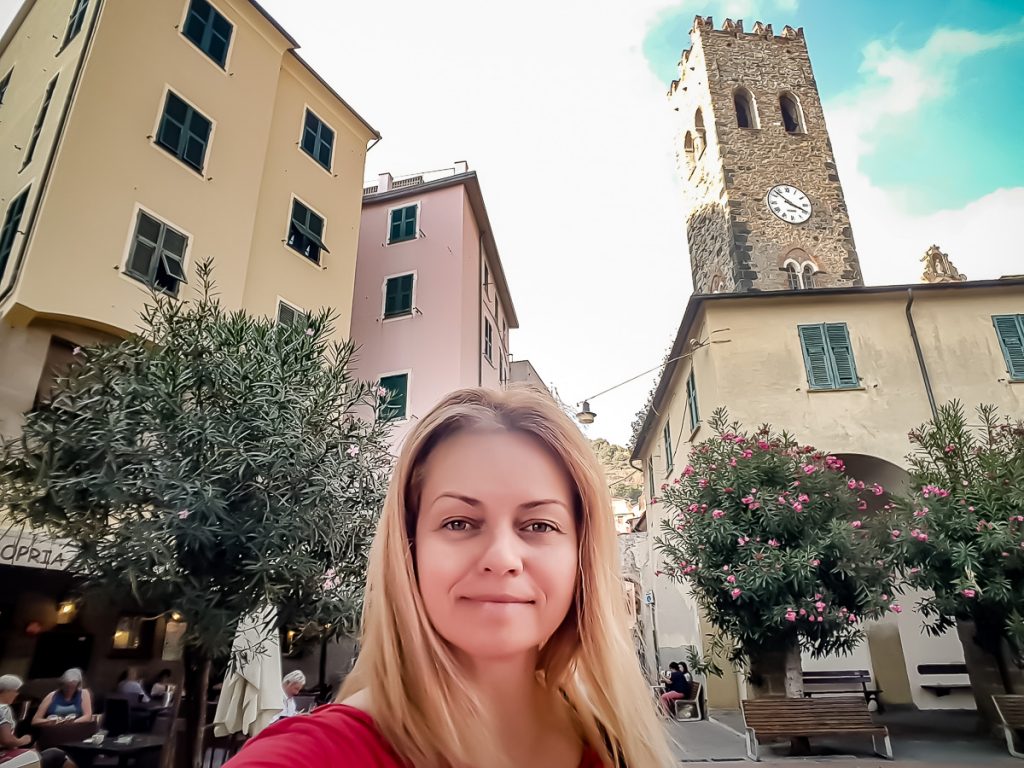 It is the area dominated by medieval buildings, defensive walls, with narrow medieval streets and colorful houses.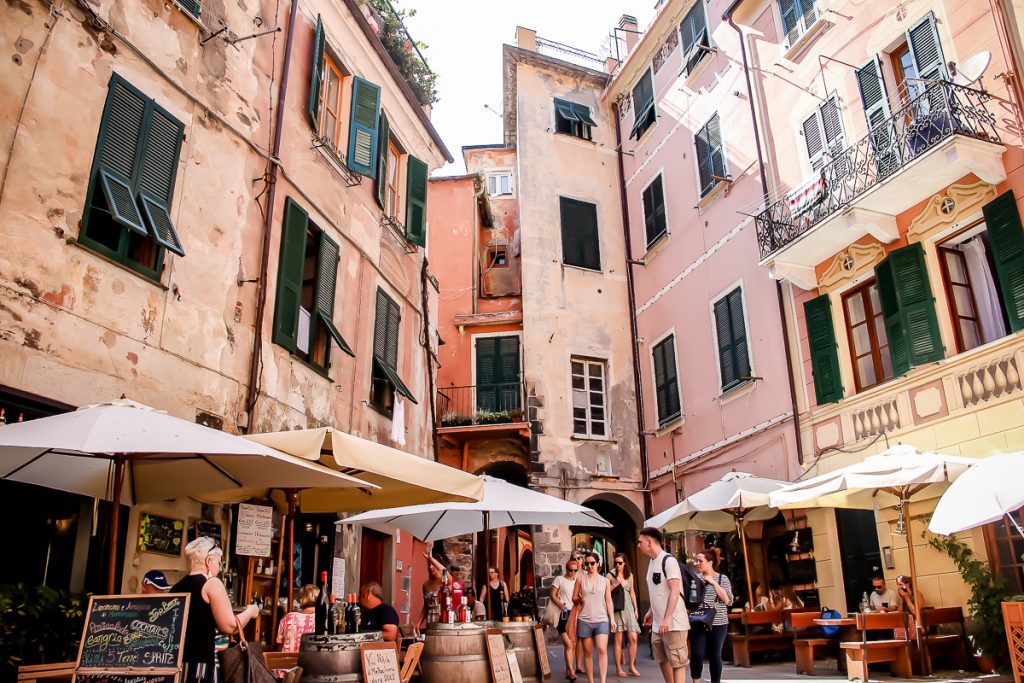 You have terraces, restaurants, bars, shops with local products or products brought from Asia… It's a nice hustle and bustle here, specific for a touristic small town.
And you can visit churches. I came across about three of them…
The Church of San Giovanni Battista, located in the main square of the old town, dates from around 1200!
There is also a monastery – the Capuchin Monastery. It is a quiet place, above the city, on the hill that divides the city in two. When I was there, I had no idea it existed, so I don't have any pictures… I understand that inside there are works by famous painters.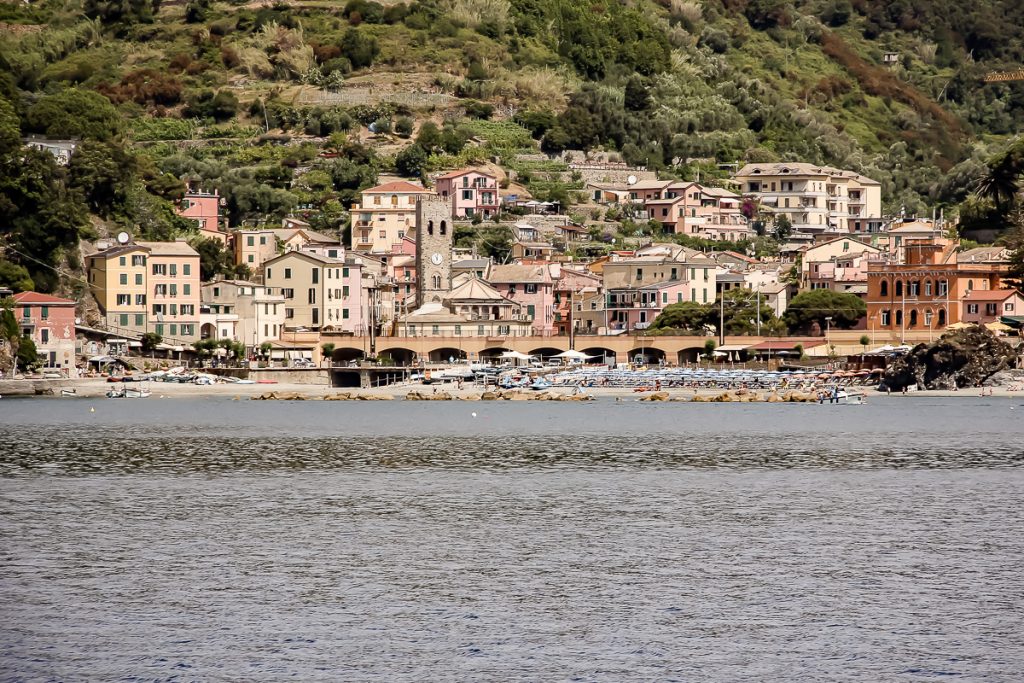 If you are too lazy to walk to the big, popular beach on the other side of town, you have a small beach here, in the area where the boats dock. Looks rather like one for the locals. Most of the tourists are drawn to the other one…
THE MONTEROSSO AL MARE BEACH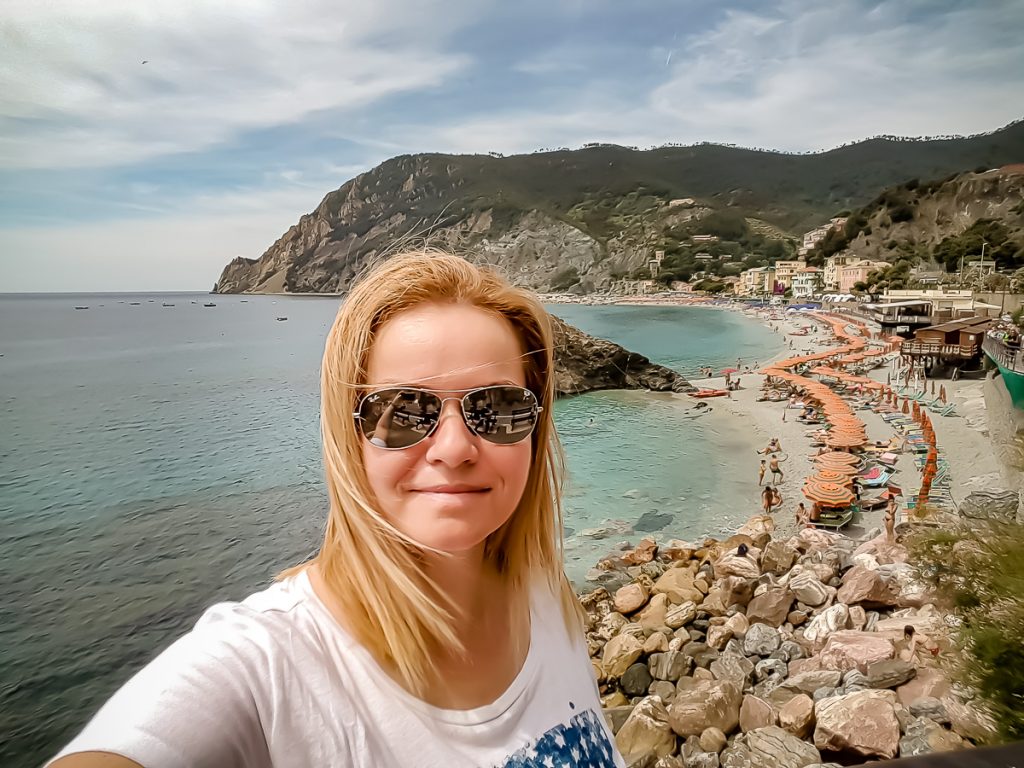 Either get off the train or come through the tunnel from the old town, the beach in Monterosso opens before you in all its splendor. Long, with fine sand, with dozens of umbrellas, sunbeds and people bathing in the sun. And a few pebbles in the water, to give it a slightly wilder note…
It looks like a small resort!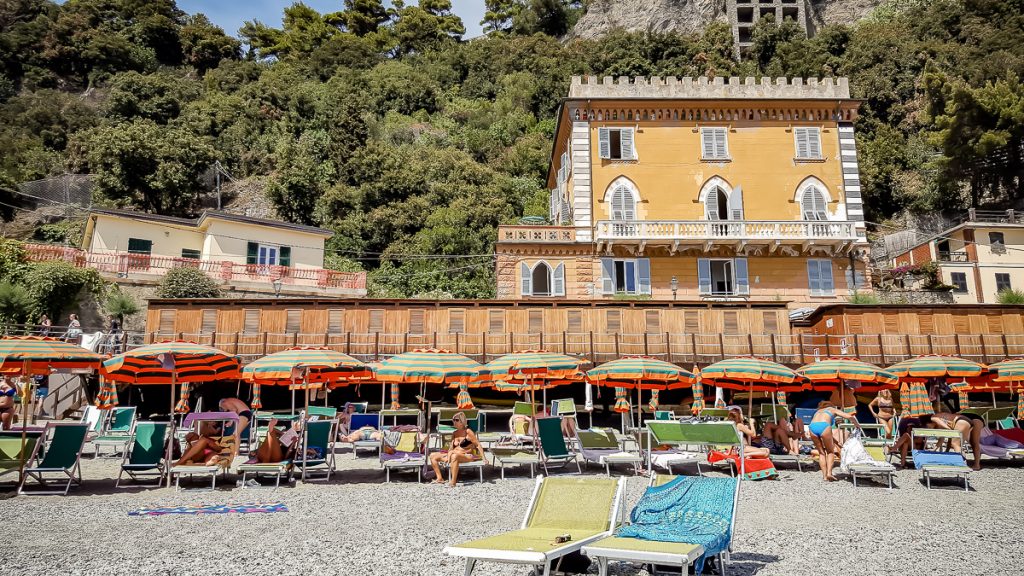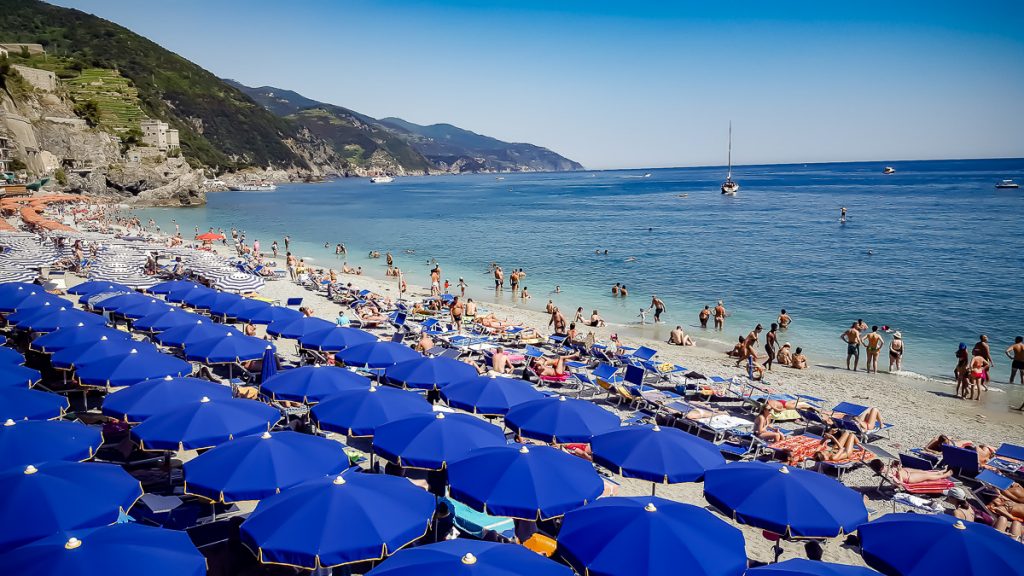 I walk on the long, beautiful, friendly promenade – you can come here with the rollers or walk your baby quietly in the stroller.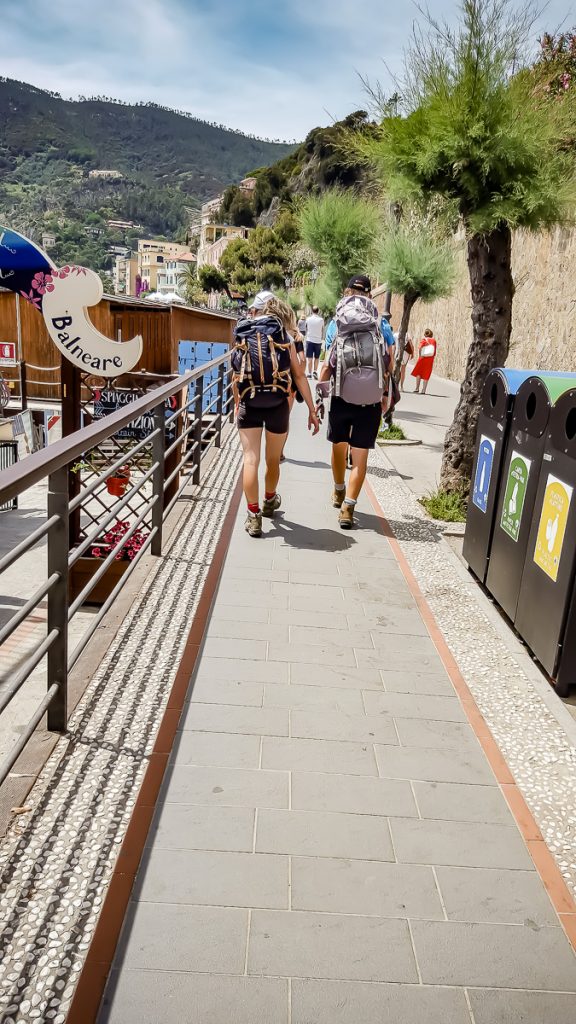 But, right now, in front of me are some young people who have clearly taken the paths between the villages on foot, if I am to judge by the shoes and the luggage… The end point for them is in Monterosso al Mare, a good opportunity for a well-deserved swim in the sea.
Even if you can find plenty of fine sand here, there's still the custom that I saw in the other villages, that of "camping" right on the rocks. You take a blanket and you can declare yours any rock you want (it is important to be comfortable for your bottom J).
I watch from the promenade the people who opted for this version of the beach and I set my eyes on a couple. And I get closer to them with my camera, and closer, a lot closer, to discover what they do…
Poker? Go-Fish? It does not matter. The luck is all that counts!
I go farther, because if I stay, I will be tempted to tell him what cards she has.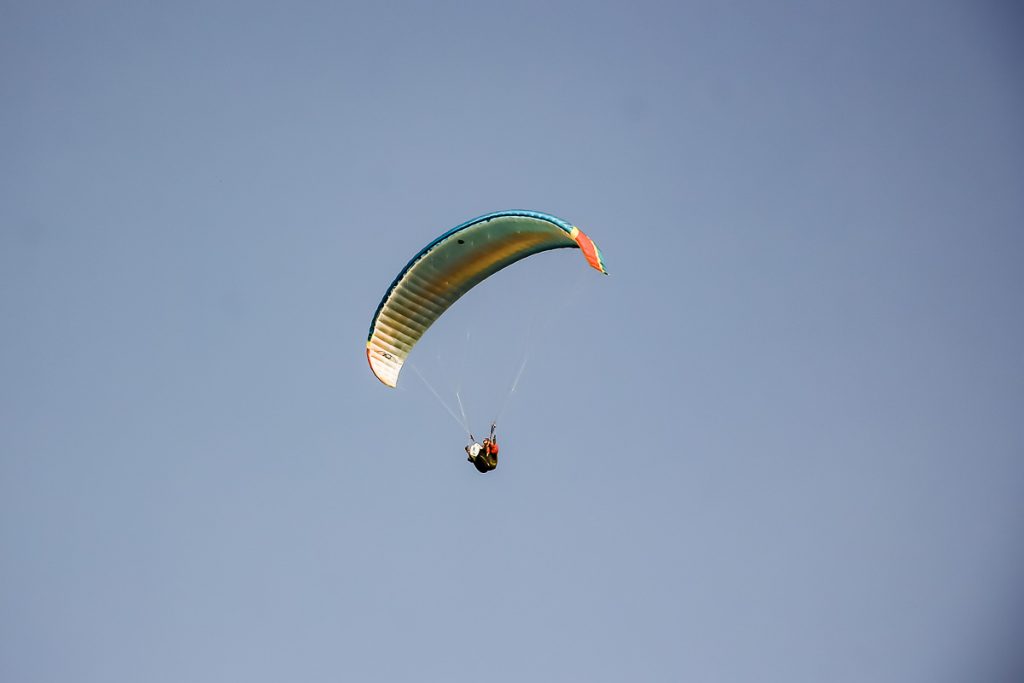 There's fun in the air too, not just at sea level… This is perfect! There's room for plenty of fun when you are on vacation!
The beautiful buildings on the beach, with the shutters drawn, make me think that the owners are gone during summer to some other place… maybe in the mountains? Anyway, I think they felt I mentioned them so often… It's just out of envy, of course, for what they have here.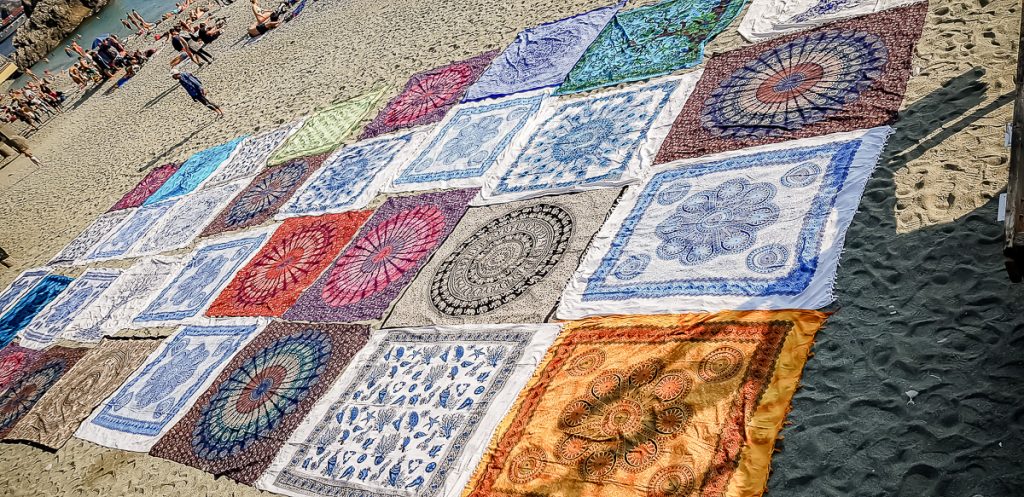 Some Afro and Pakistanis (I suppose) invite everybody to buy beach sheets from them. The sheets lay on the sand as if on their own turf…
Some I really like! But I am not convinced to buy any, because, not being a beach fan, I could only put my sheet inside the apartment and maybe eat some sunflower seeds on it…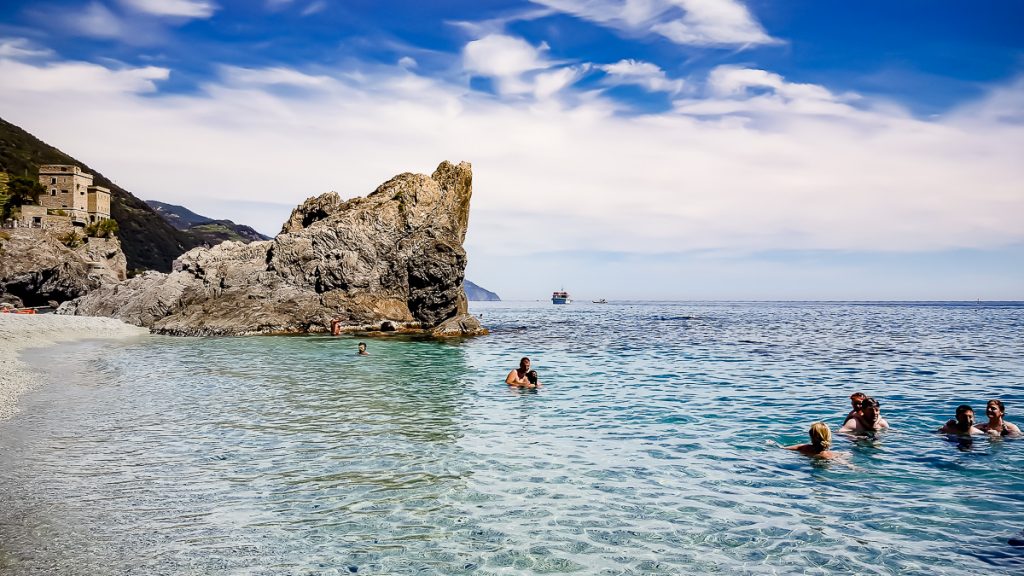 And… jump into the sea!!!
Well, it sounds adventurous, but it wasn't like that at all. It took me a quarter of an hour to get used to the water, because it was cold (we're talking about June here). And then, when I decided to swim a bit, I remembered how hard it is to swim in a big salty water, which keeps you afloat longer than it should hihihi. I accidentally took a mouthful of water, so my belly is conserved in brine!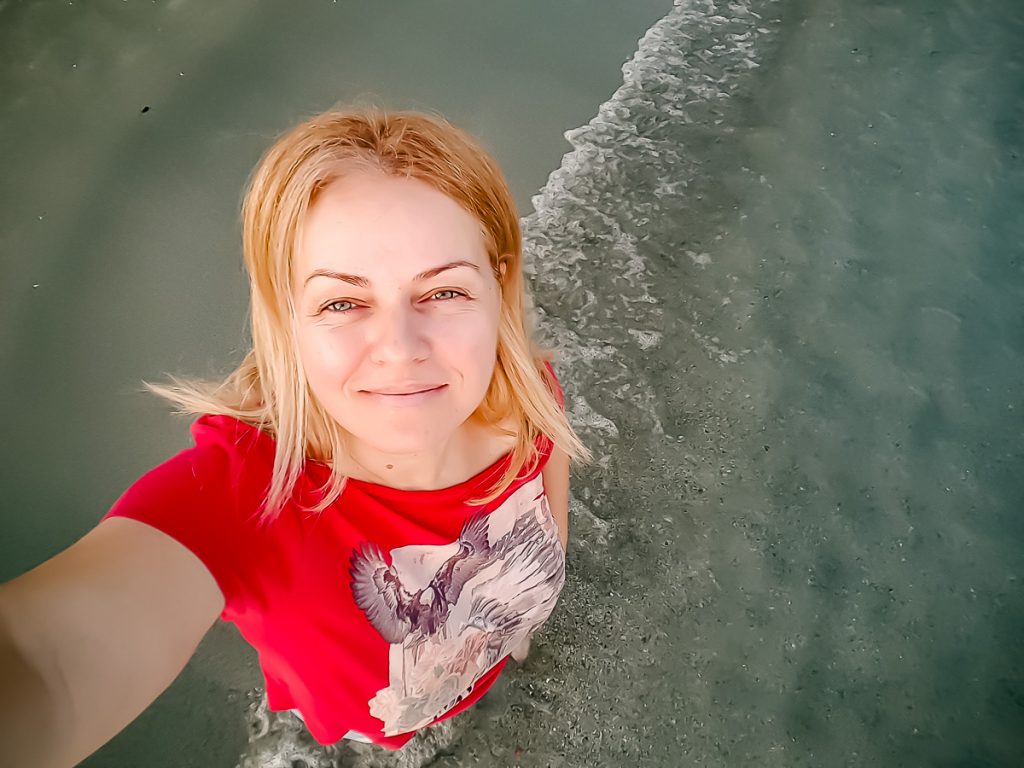 At the end of October, my jump into the sea is… as much as you can see in the picture hihi.
Oh, don't imagine that people did not swim, but I came unprepared, because I didn't think it would still be the right time to swim.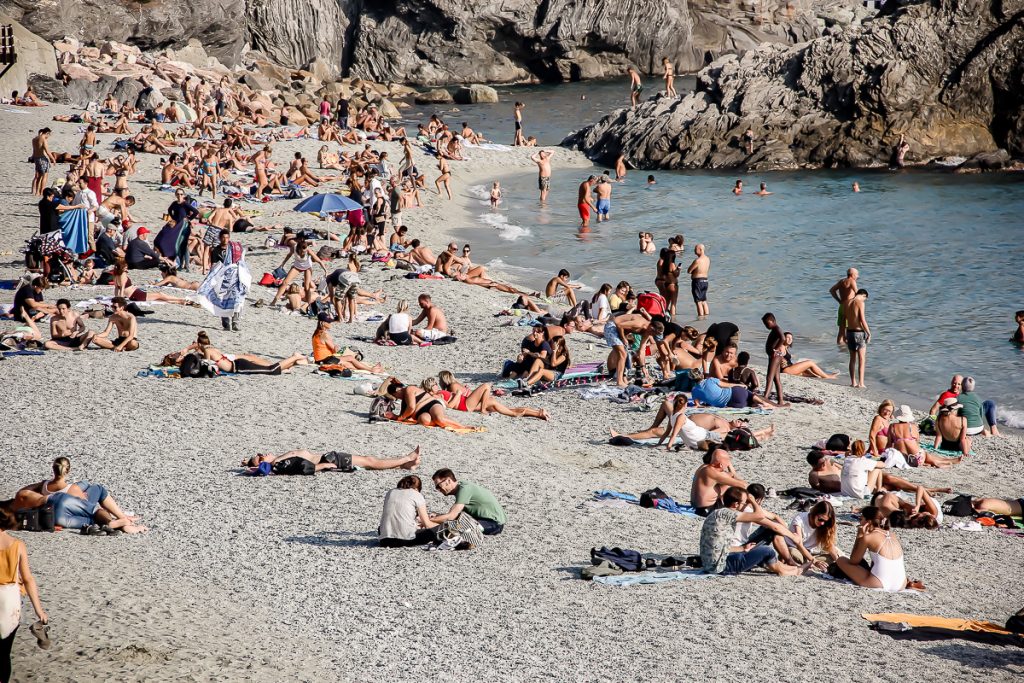 But let's go back to June… I returned to Monterosso al Mare two days after the first visit, during the weekend. My God, literally everybody was on the beach!!!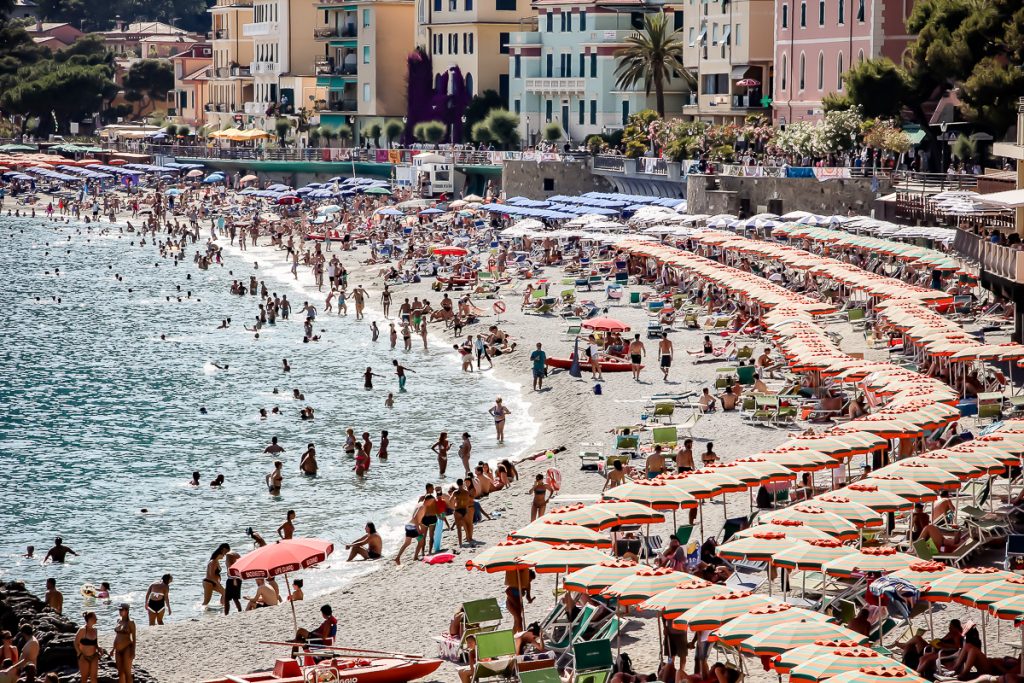 I did a bit of swimming, a little sunbathing on both sides then I left towards the end of the village, on the seafront promenade, to see what I can find there.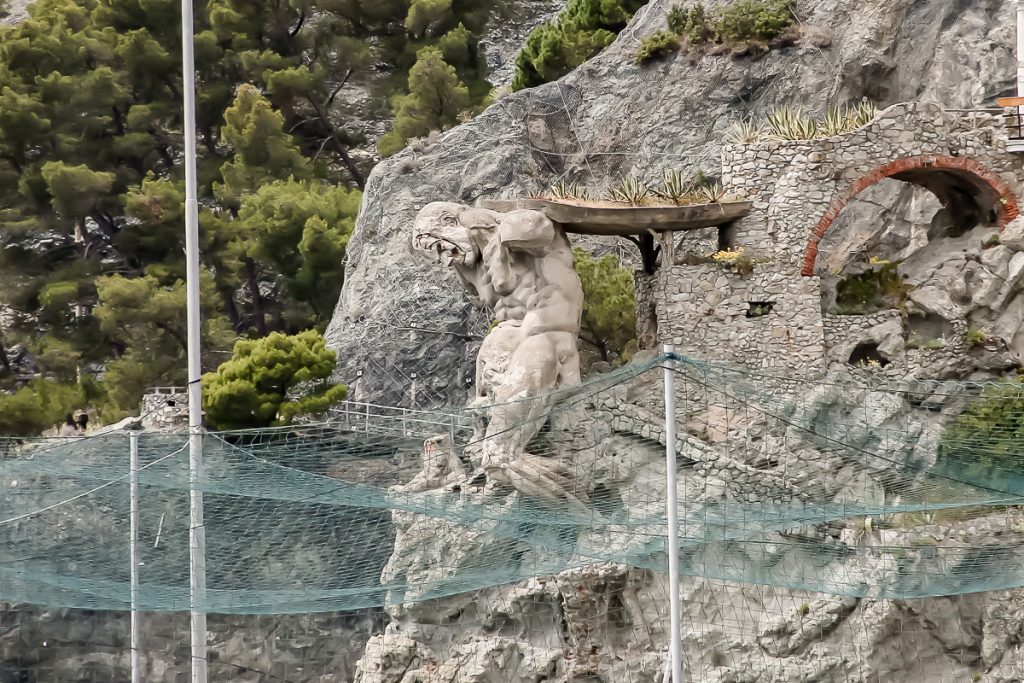 Somewhere there where the beach ends, coming out of a rock, I discover the Giant of Monterosso.
It is the impressive sculpture of Neptune (1910), with a height of 14 meters, also known as "The Giant".
On his shoulders he held a huge shell, which used to be a dance floor! Cool, right?
Dear Neptune was badly damaged in the bombings of World War II, as well as by the great storms that hit it over time. But it still remains impressive.
SUNSET IN MONTEROSSO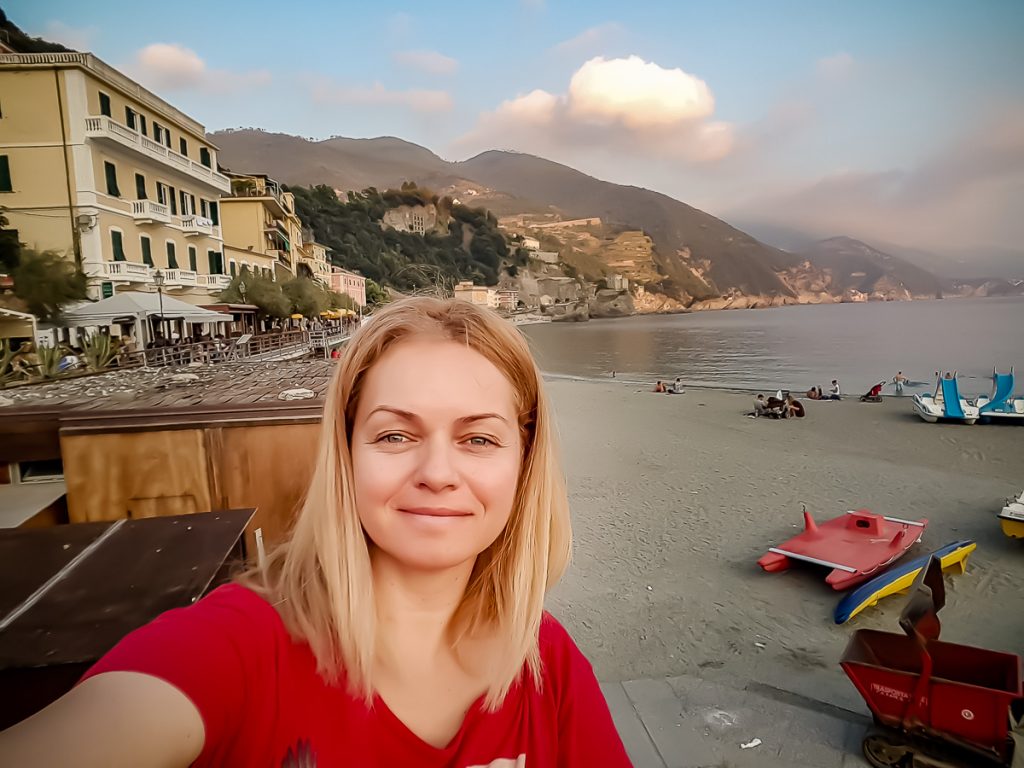 So that you understand how crazy I am: I was in another village, I saw the sun going down and I quickly took the train! Because I imagined that the most beautiful sunset is here, in Monterosso al Mare, being the last village, with a wide view from the beach.
Like hell it is!!! The sun hid quite quickly behind a rock… So, it seems to me that Manarola has the most beautiful sunset – both during summer and in autumn.
However, I thoroughly enjoyed the peace here. A quiet beginning of autumn.
WHERE TO EAT IN MONTEROSSO AL MARE
The smallest, narrowest and hidden place to have lunch, I found it hihi. Gastronomia San Martino. In fact, I have to admit, it was recommended to me.
On an alley between the houses, some people arranged 4 tables. I practically sat there stuck to the wall J. What's more: I had to stand up from my table to make room for others to be able to leave their table… If I reached out, I could take the food from my neighbors' plate J)).
But it is one of the best rated places in town, with super fresh food, between 7 and 12 euros per serving.
The truth is that I had an excellent meal! Octopus salad with potatoes, olives and olive oil. Sooo good!!! 12 euros per portion.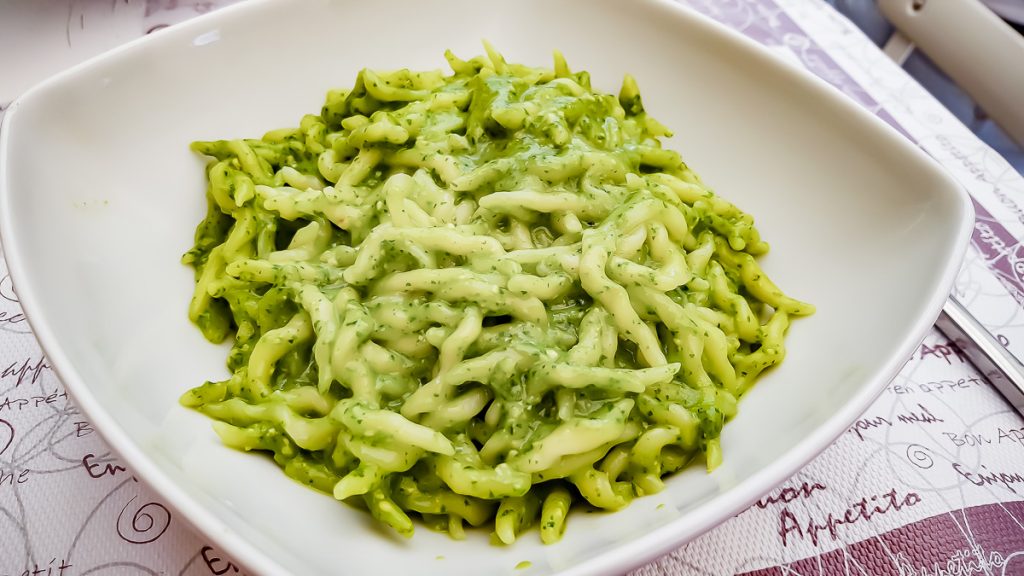 Trofie with pesto sauce. The specialty of the area. 8 euros per portion. And the pesto is sensational, just like any pesto I've eaten here.
If you don't get around this place for lunch or dinner, to find it open, don't despair. There are terraces that stay open all day. I stopped at one of them one day and ate very well!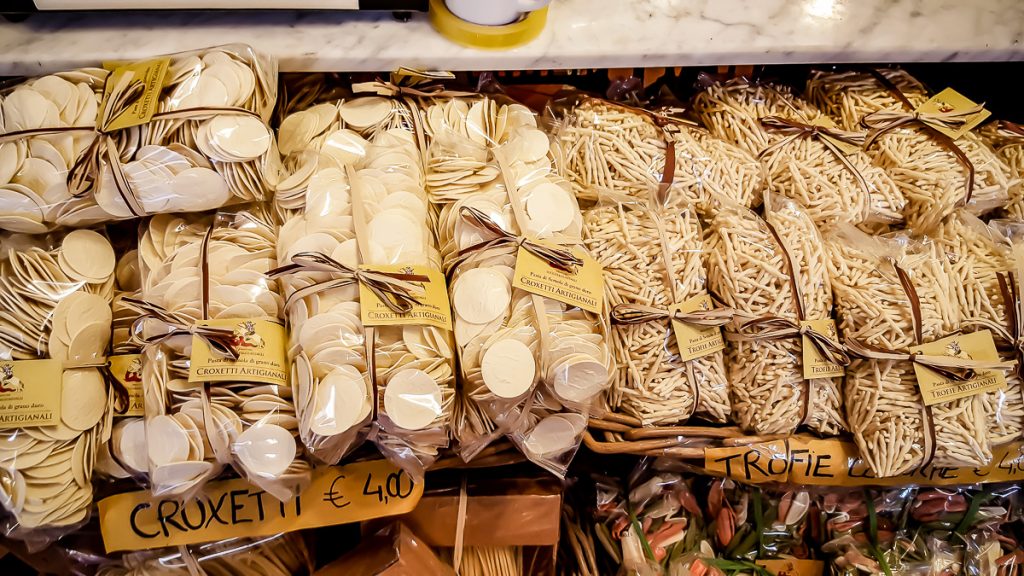 … and, for those who still have room in their luggage, there is also some packaged food, at least some traditional pasta, to be cooked at home, by each on according to his or her ability.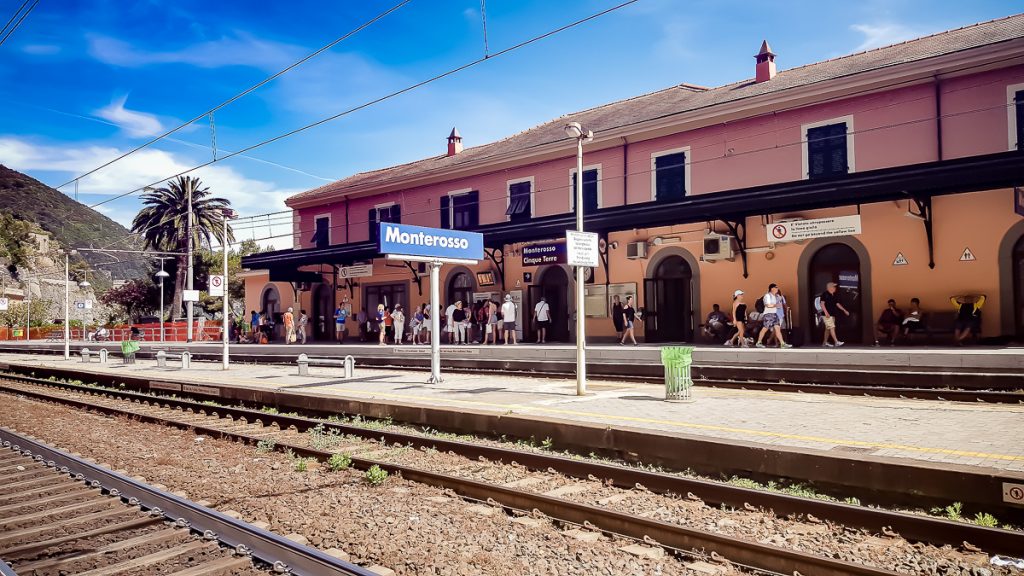 Bene, bene, mi scusi now, but I have to run to catch the last train. Otherwise, I'll have to swim back to Riomaggiore…
During summer, the last trains are crazy crowded. People sit on the beach as long as possible, then they crowd at the train station.
I didn't take a picture with the full train station, but I don't think I could possibly take my phone out of my pocket, as we were like sardines in a can on the platform J.
So, if you come here, it is best to get to the station at the latest for the penultimate train. So that you can avoid the surprises. The huge delays due to congestion can keep you stuck for tens of minutes! (It happened to me once). Oh, well, if you stay, you can see some shots from Monterosso. Raw, unprocessed, real!
CINQUE TERRE
That's it, I've been to all 5 villages! And not just once…
I would come back anytime! Because it's a place that gives me energy! And gets me into a good mood! And offers me good food J)).
If you choose to trust me, go at least once to the Cinque Terre. About the first village, Riomaggiore, I wrote here; about Manarola, the second village, here; about Corniglia, the village on the hill, here. About Vernazza, here. And useful information for a trip to the Cinque Terre is here.