The coolest experience is to see Venice a few months apart, showing you two faces that are totally different: Venice with maximum restrictions (March) and Venice which has come to life, even without the cohorts of tourists which used to be common (October).
I knew Venice, considering I'd been here 5 times before. I'm not telling you about the shocking Venice under the red code, because you can read about it here, but I want to show you the islands, discovered by me in 2010 and which I saw again this year, twice, in completely different pandemic times.
THE ISLANDS OF VENICE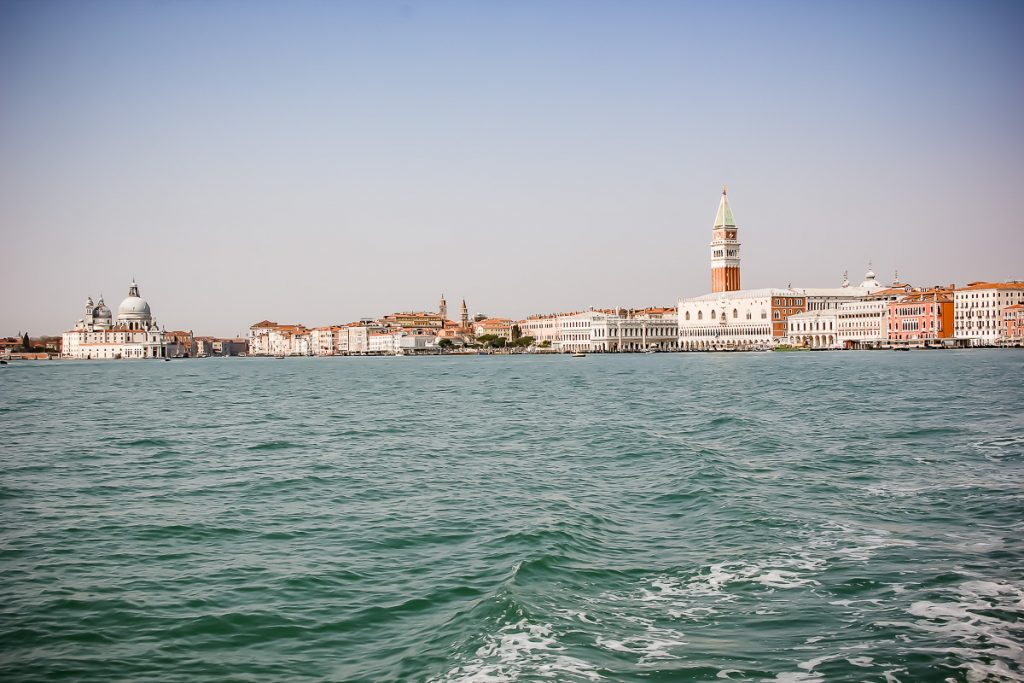 From Venice you can easily reach the nearby touristic islands – Lido, then Murano, Burano and Torcello.
In 2010 I bought a tour. We got on a boat that took us to Murano, Burano and Torcello, with a very strict schedule and a not at all friendly weather, because the August rain started to fall over the lagoon.
This year I was convinced myself that it was not worth buying a tour, as long as I had several vaporetto (public transportation) options to get to each island.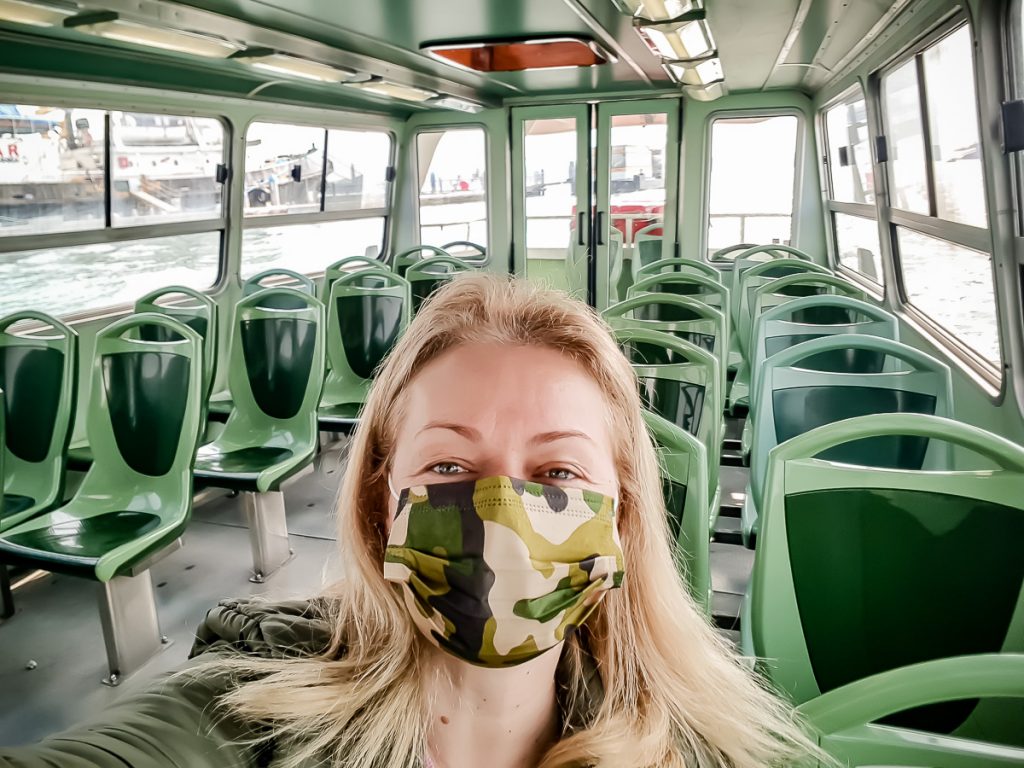 In March 2021, Italy was in a fully red code! And I was, it seems, the only tourist in Venice… Eager for walks, while the police stopped anyone who slowed down to see the touristic spots.
I bought a pass for the vaporetto for 3 days and I took advantage of it to travel to the 4 islands in a relaxed way, without a watch, without a group, sometimes getting lost among the locals who were leaving or coming to work, some other times being the only passenger on the boat, as in a private tour…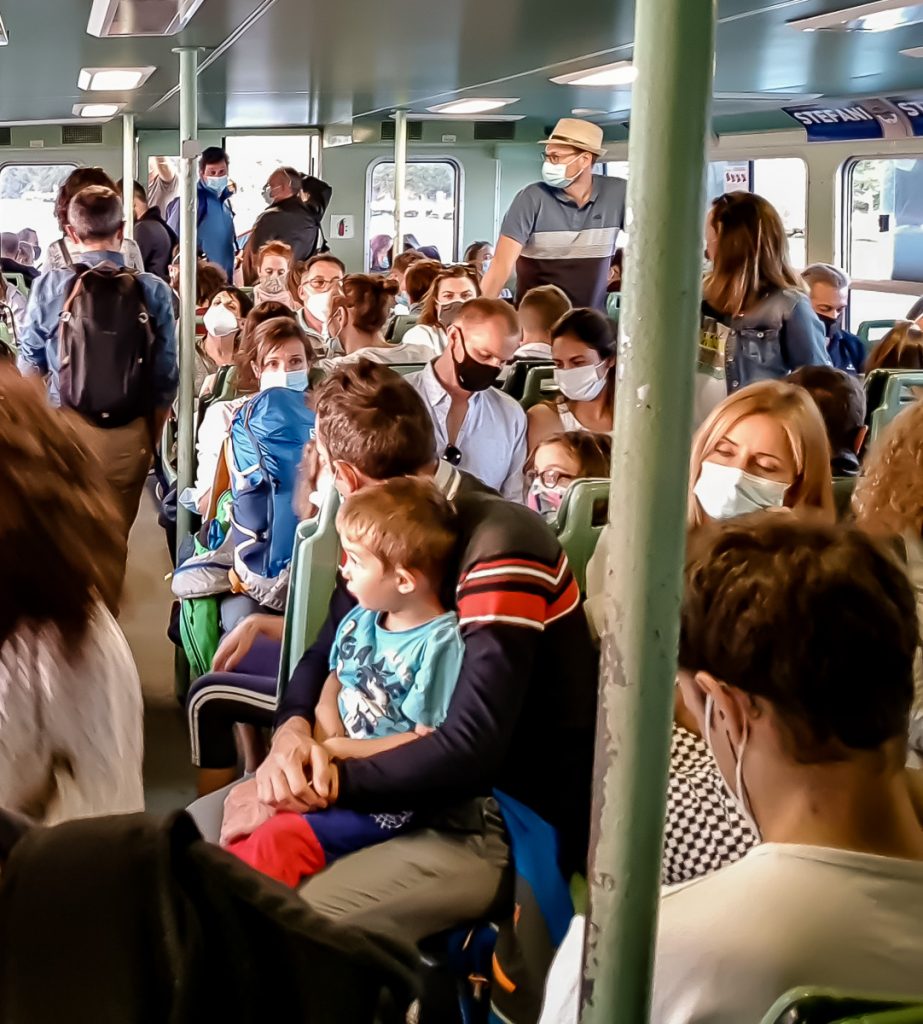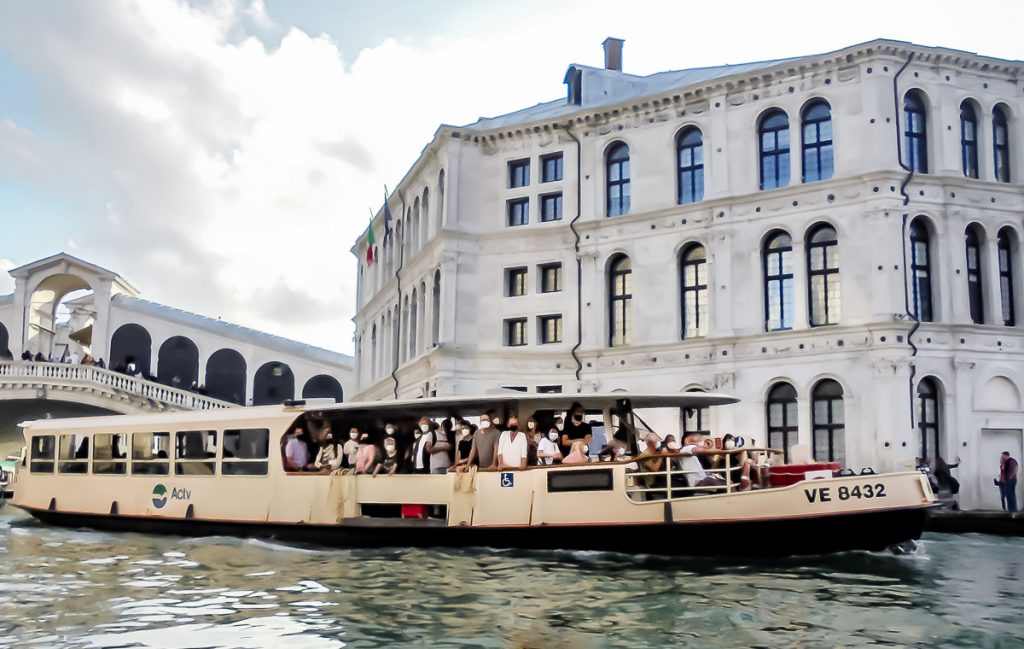 In October 2021, things changed. The relaxation of the restrictions has made the same roads towards the islands now crowded. And the islands to be, again, populated not only by locals, but also by tourists!
Well, let's take them one by one, to tell you what I saw, what I discovered, but also what I read about these places. It is worth considering them in a future vacation!
Let's start with the Murano-Burano-Torcello "trio".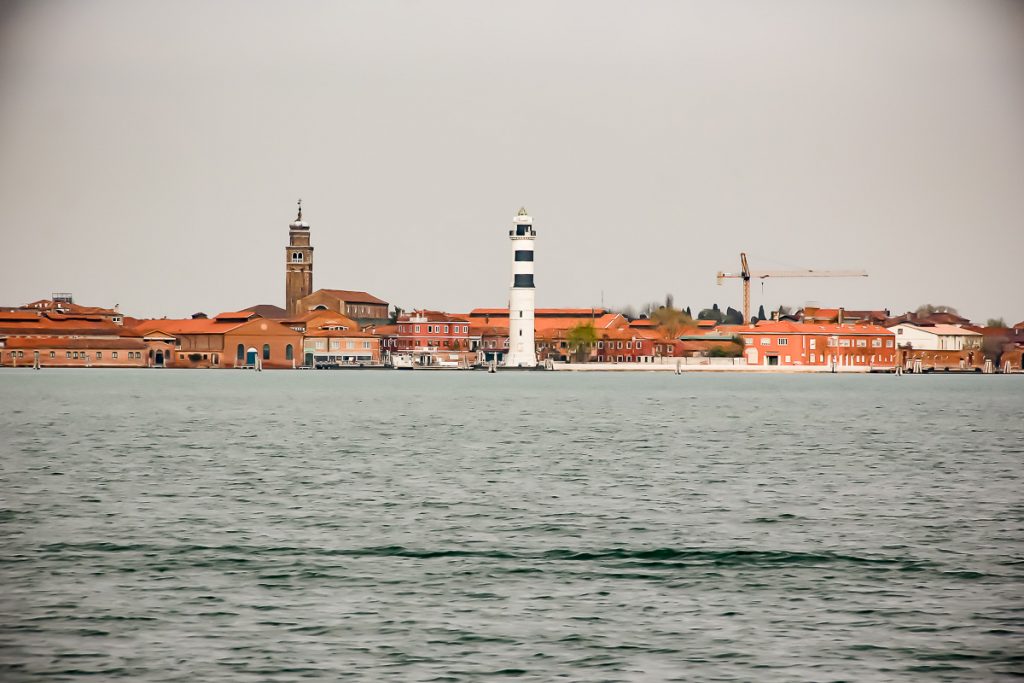 MURANO
The only island I'd heard of before I got to Venice was Murano. This is thanks to the famous glass products (the "Murano glass") that I had already found in several places in Italy, on TV or on the Internet.
Despite its brand, Murano is considered the least beautiful of the islands. But what does it care, as long as it thrives on this glass business… The island is full of foundries, workshops, museums and, of course, shops, where the creations of glassmakers on the island are exhibited.
It is the closest to Venice. You need about 30 minutes by vaporetto to get there, depending on the station you get on.
Murano developed enormously when, in the 13th-14th centuries, Venetian glass kilns were moved here as a precautionary measure against fires.
In 2010, when I took a tour, we visited a factory on the island where we saw a demonstration of how to make… practically anything out of glass. We got a horse. Very nicely done, in the smallest detail!
I found it fascinating, I admit, but if I were to spend money on all the spectacular glass products I saw, I would have paid for them even today…
The tour didn't allow me to see much of the island, but I got my revenge this year. Twice!
The first contact with Murano, in March 2021, was shocking!
An island that was simply deserted, that's what it looked like when I got off the vaporetto. All the canals, all the alleys – in a late hibernation, all the shutters closed, all the boats anchored. Only the vaporetto was running, according to a clear schedule, on the main canal.
If I hadn't seen a local with shopping bags here and there, I would have said that all the people on the planet Murano have disappeared because of the asteroid Covid.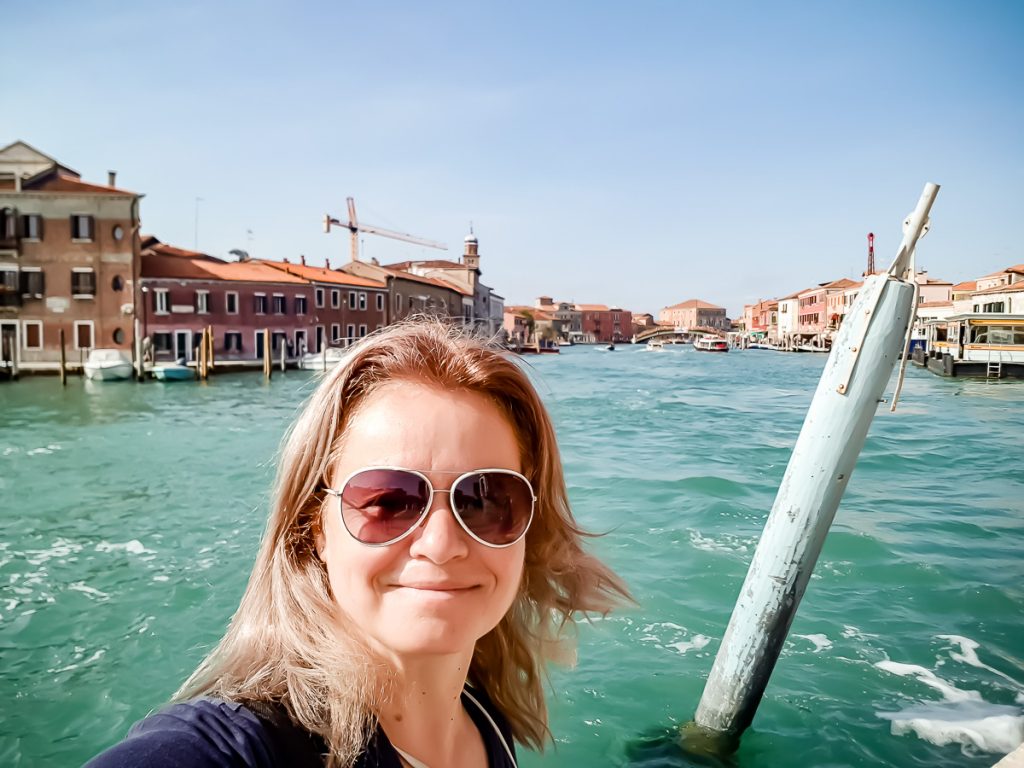 I take a lot of selfies, as no one pulls me aside for him or her to take pictures, no one pushes me everywhere. (It never occurs to me that, in just a few months, I will return here and take a picture of myself in the same place J.)
It's deserted, and I walk wherever I want.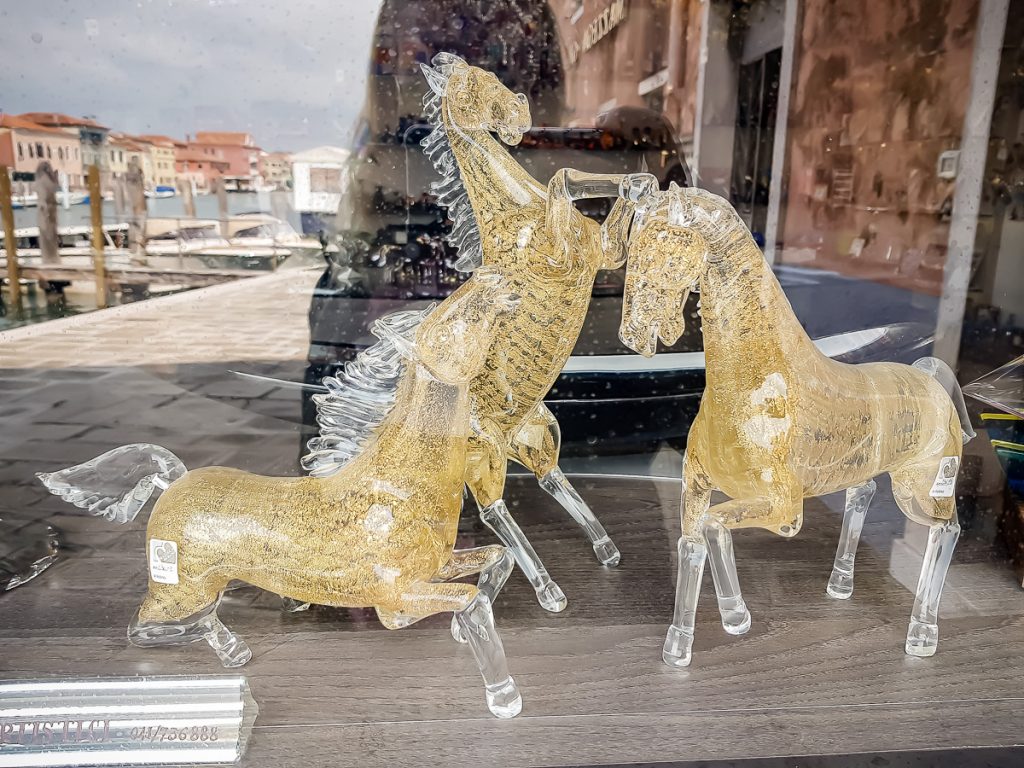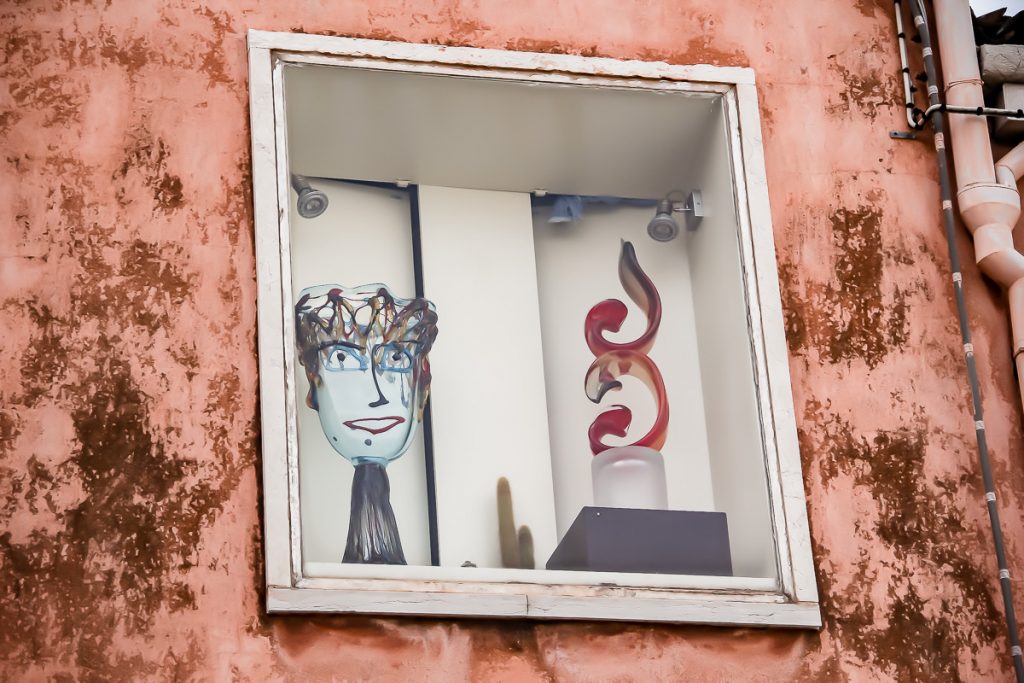 The glass creations sit in the shop windows of the closed shops, without having the privilege of being admired by tourists or even purchased by them and taken to other parts of the world.
I do some "window shopping" and I am glad that no matter what I like, no matter how expensive it is, I cannot buy it, as there is no one to sell it to me J.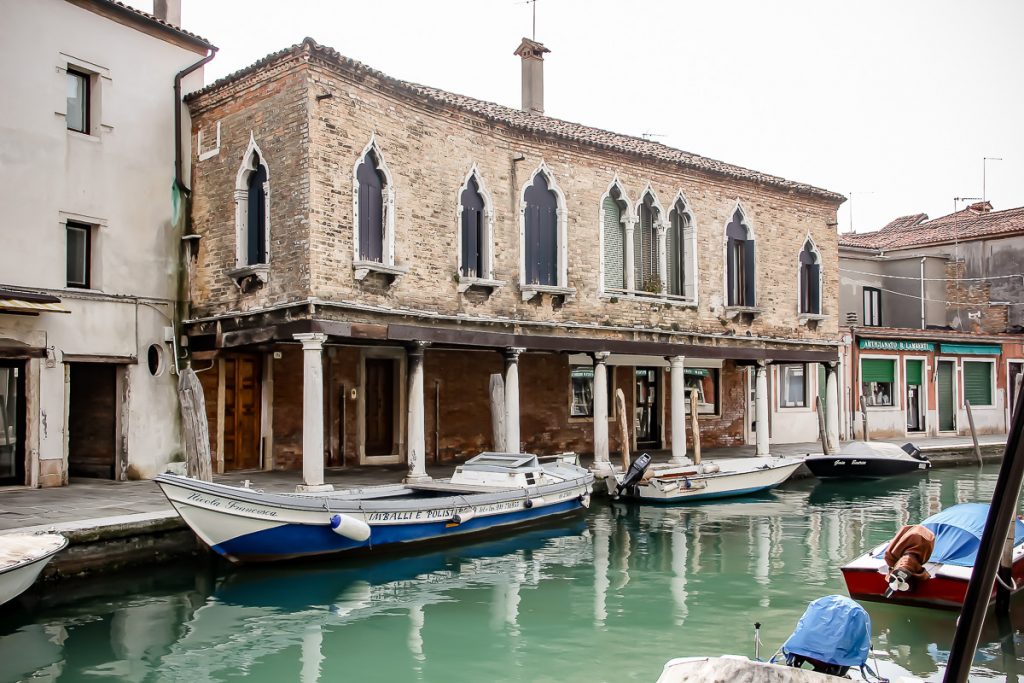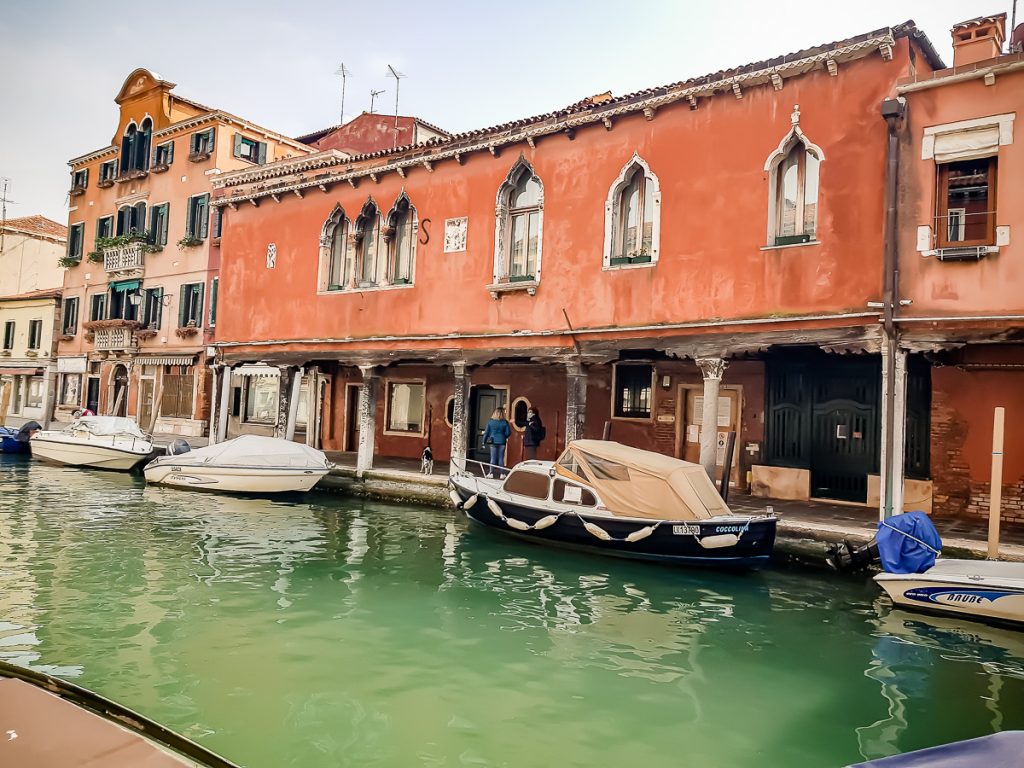 It's lunchtime and I see people greeting a few food merchants, who only sell to go.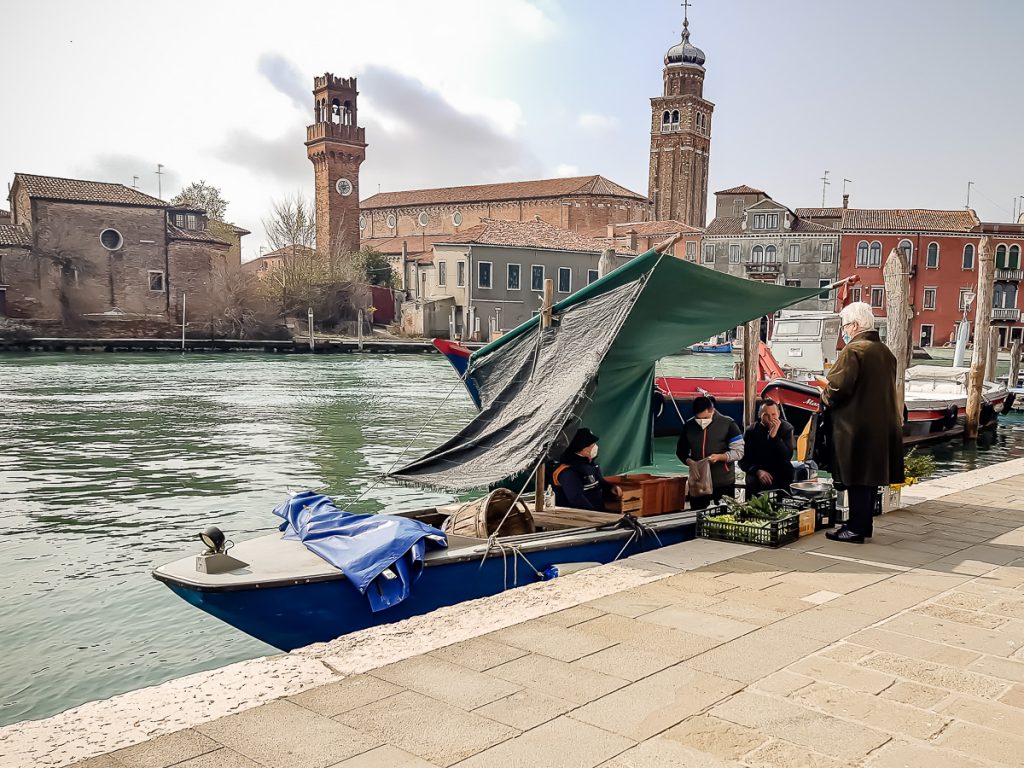 I also come across a grocery on the water, which I really like! It is clear that people sell fresh products, because I see more locals who come to fill their bags with vegetables.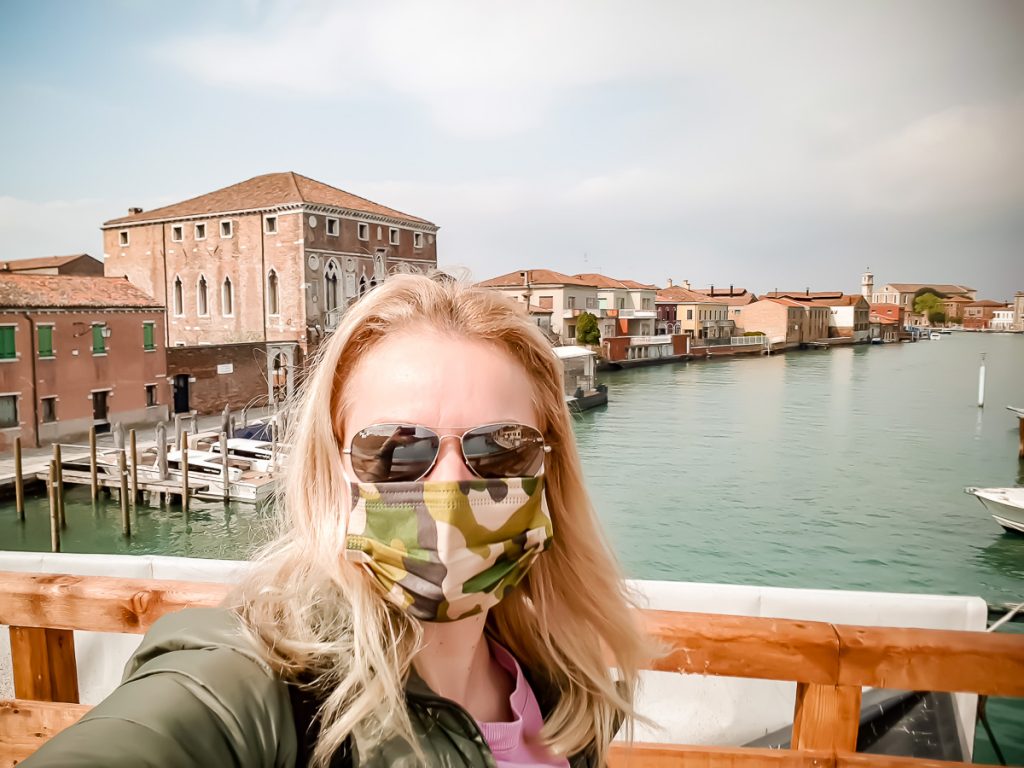 Rarely, very rarely do I meet with someone and then I am very careful to put on my mask, so as not to have discussions at the trial…
The Murano stop is over. A few laps along the canals are enough. Seriously, such a wasteland kinda scares me.
Returning here after a few months, when Italy is already "open", I am amazed to see the difference!
Murano is alive again, it's a bustle that gives you such a good mood!
With the easing of the restrictions, all shops, restaurants, bars and factories reopened. I found a lively island, even though the language most often heard is Italian, a sign that tourists from all over the world have not yet invaded.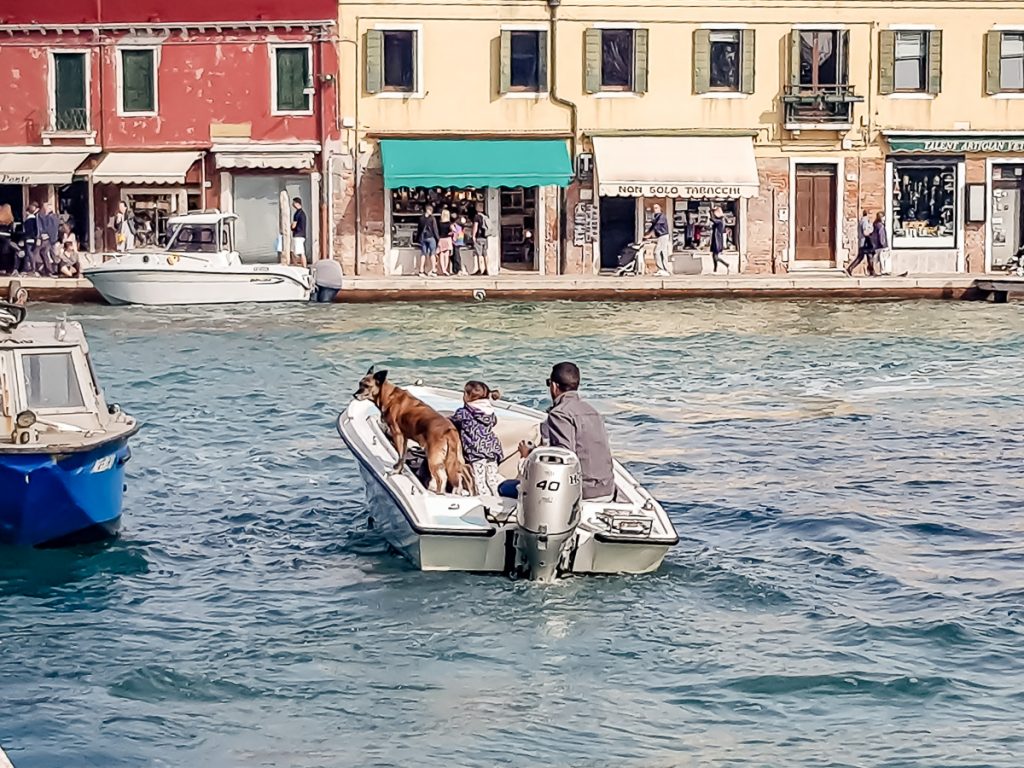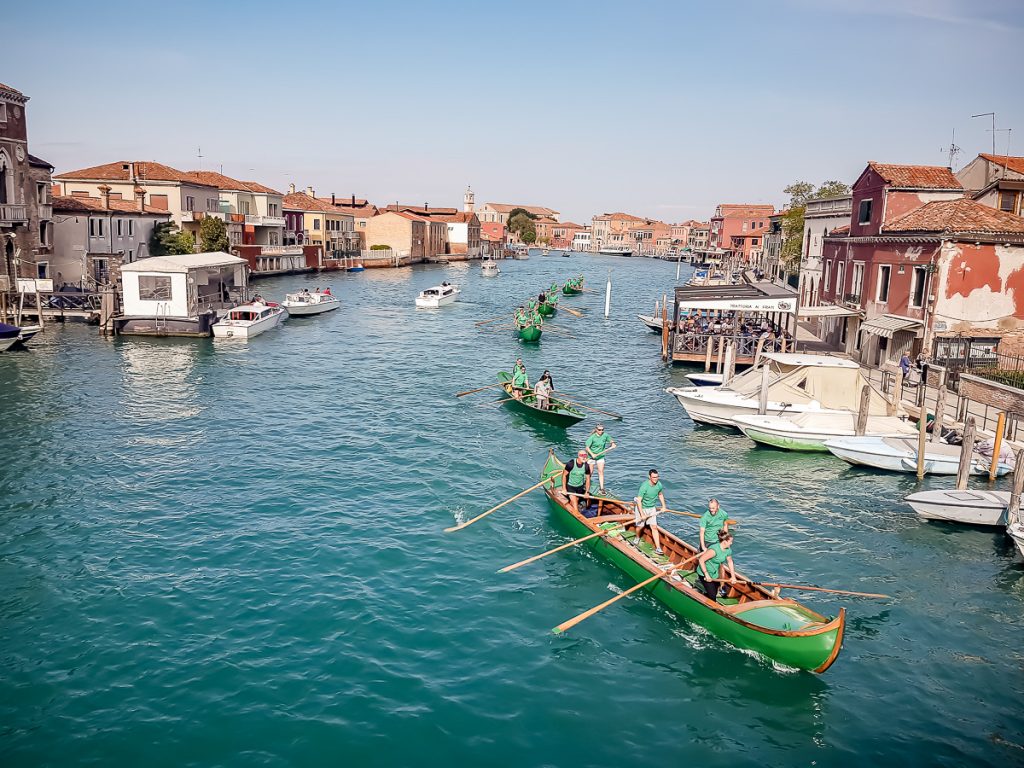 The canals are crossed not only by the vaporetto, but also by private boats and boats that are there, it seems, for training.
The squares and sidewalks are filled with terraces, because the species called "tourist" reappeared. I'm starting to think things are back to normal, step by step. I hear a little French, Spanish, English around me. I still don't see Asians like in the good old days, but there are a few.
Open stores display thousands of glass products, from tiny ones that I swear I don't know how anyone could create, to giant products that fit a palace rather than an apartment in a suburb.
You can find whatever your heart desires: animals, photo frames, glass balloons, chess, famous characters, trees, flowers, pots, Murano glass food… anything! Even a life-size Murano glass corset, a curvy woman's model J.
For some, you need glasses to see them, for others you have to have humor to accept them, and for most – a lot of money.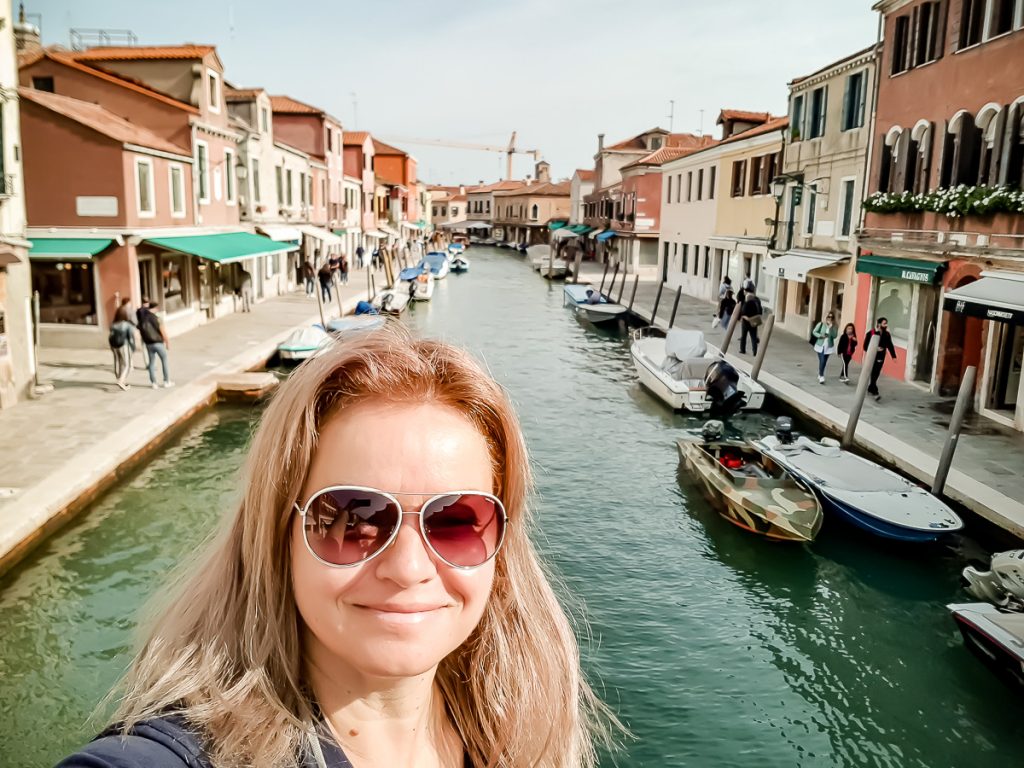 I admire the products mainly from the street. Not necessarily because of the prices, but because of the fear of not breaking something and having to go to jail. (A Murano glass prison, I suppose J))).
Every time I walk into a store, I feel like an elephant in a china shop.
If there was one thing I found open even when Italy was a red area, it was the church. In Murano I came across two, interesting to visit.
Santi Maria e Donato, built in the 7th century, then rebuilt in the 12th century, is proud of several things, but I noticed the mosaic floor with birds and all sorts of creatures.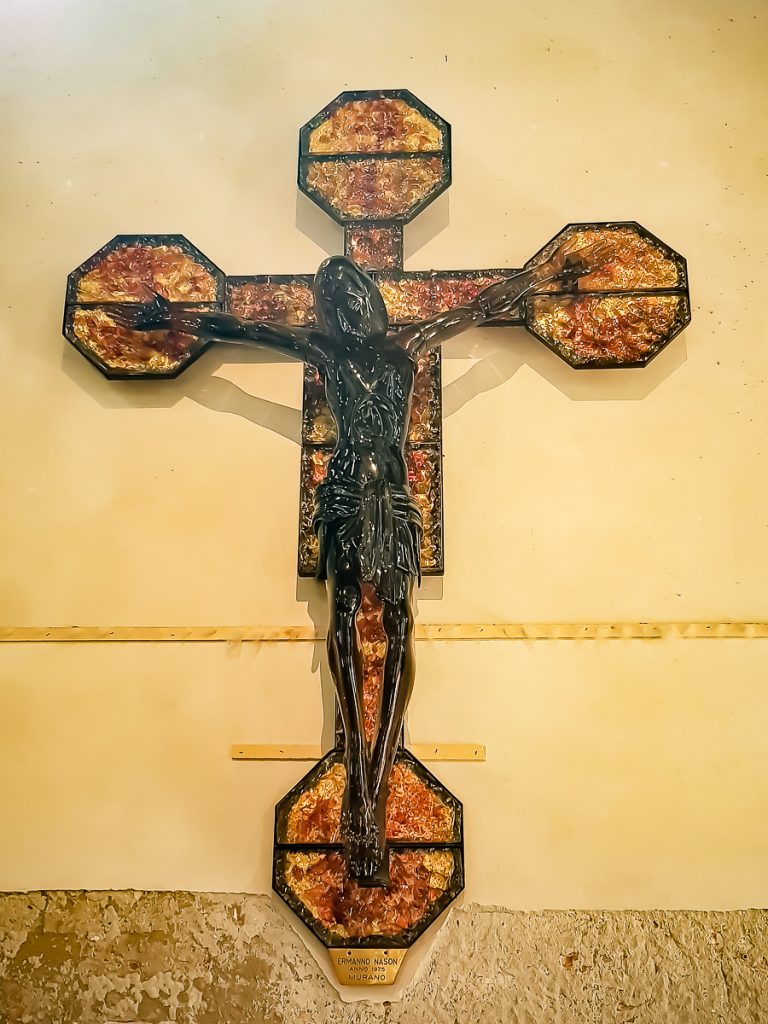 I also discovered a large crucifix, made entirely of Murano glass.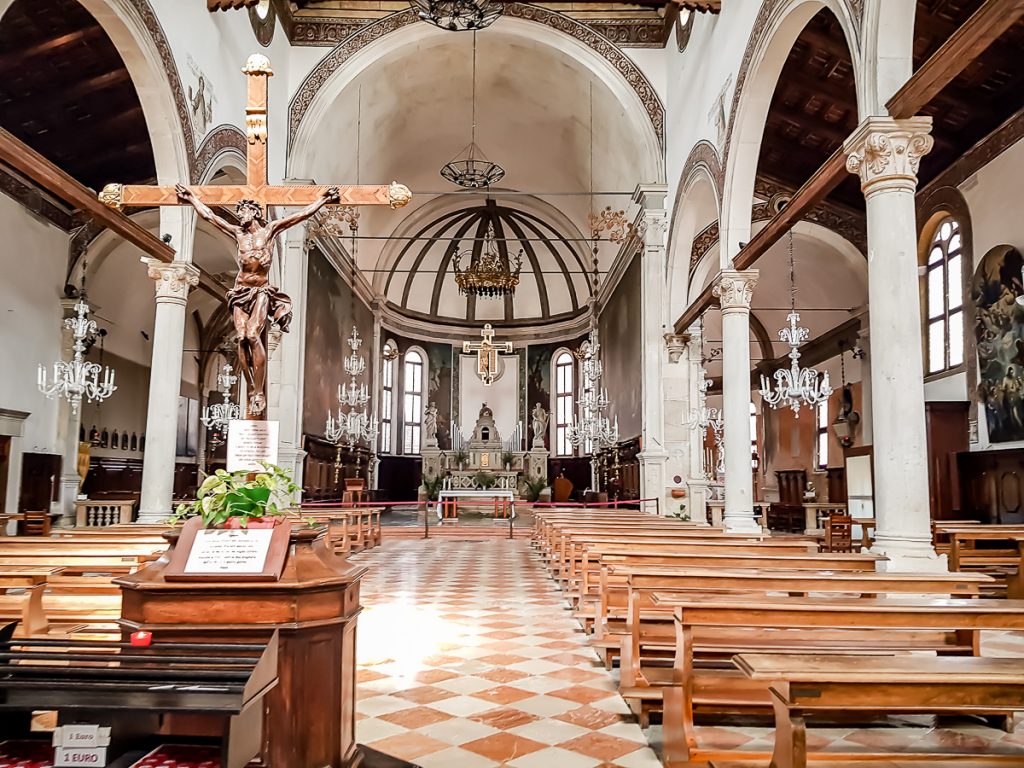 In San Pietro Martire, in the difficult times when I took this photo, there was no believer inside.
I read about it, about the art works inside, but I admit that what I remember is that all her chandeliers are made of Murano glass. What could I do, it was the easiest thing to remember.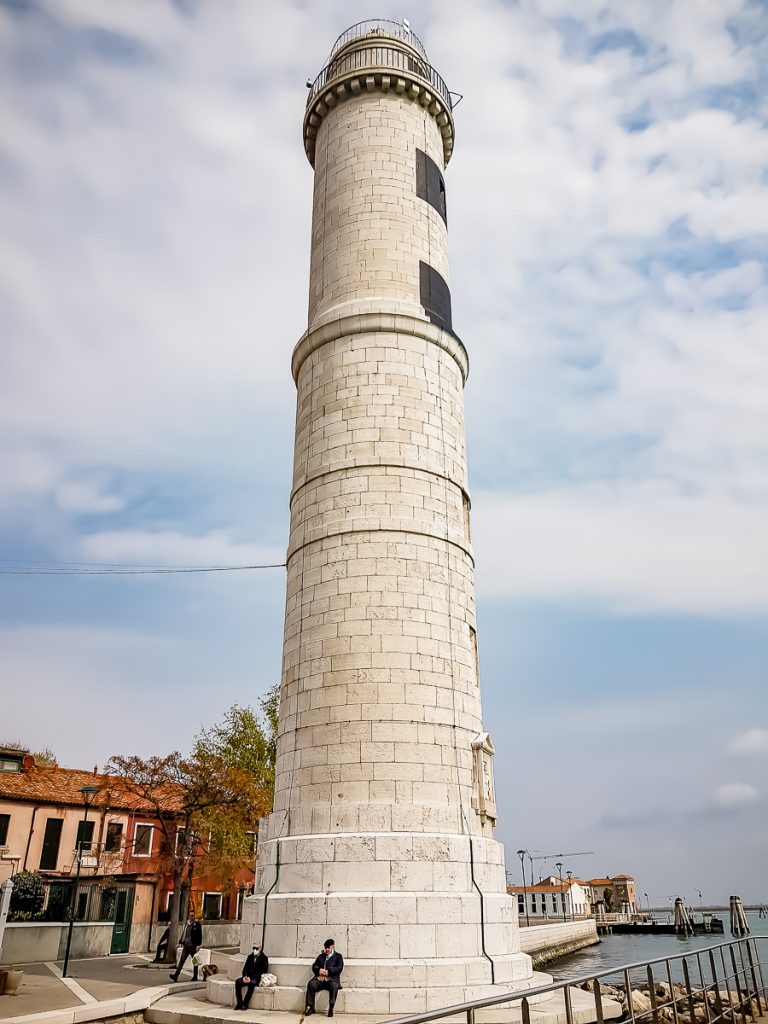 I've already learned the station where I have to board the boat for the next island, Burano. At the Lighthouse.
In March, here were only two locals and myself – they were waiting for the boat for Venice, I was walking around the station, then past the lighthouse, then at the bottom on the pontoon, because the frequency of the transportation boats was low.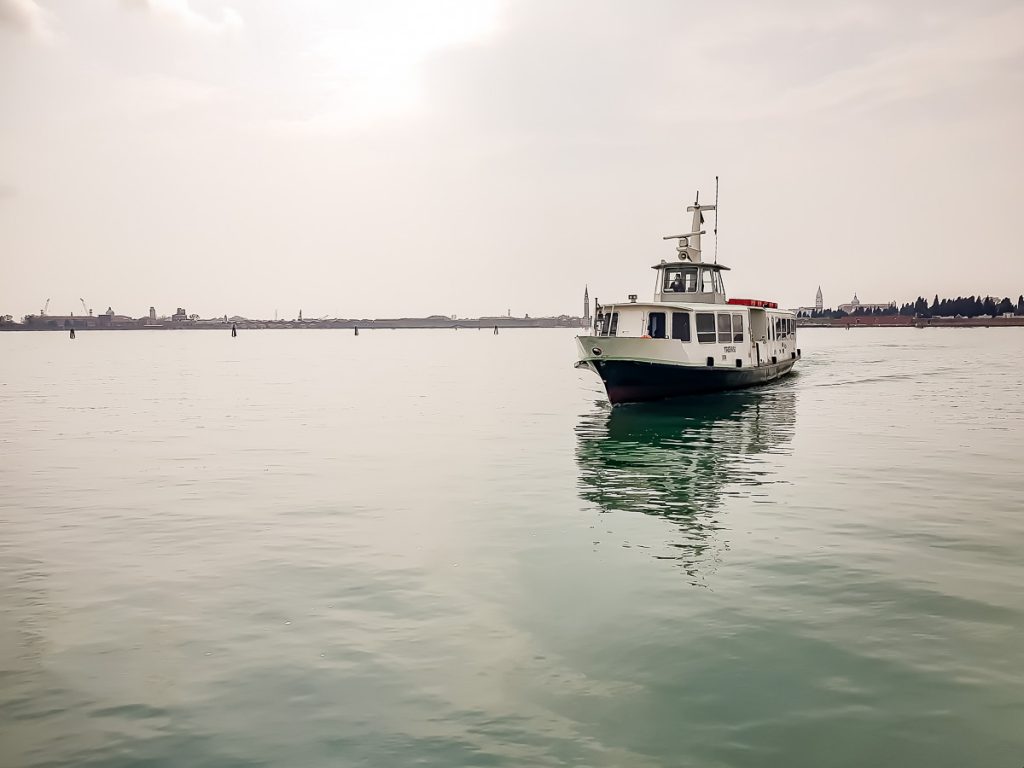 After only a few months, man, do you think I could sit on the pontoon? Well, who do you think could have reached the pontoon?! I couldn't even walk around the lighthouse!
A queue of hundreds of people hit me when I got near the station: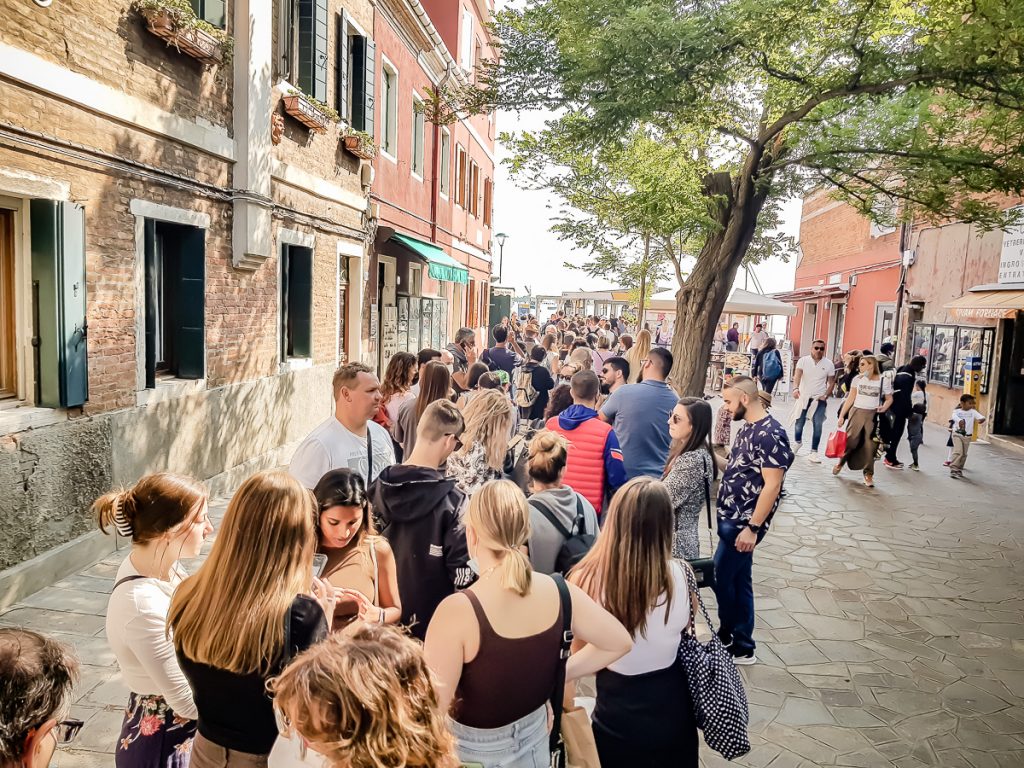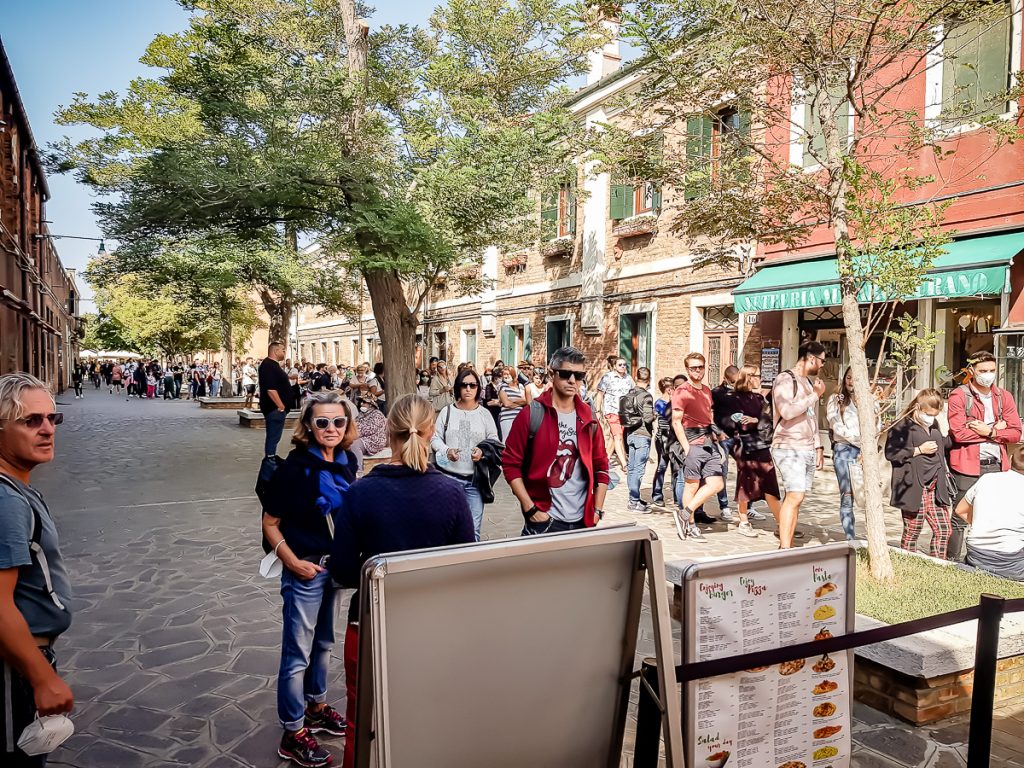 In this queue, during the about 45 minutes while I waited, I was convinced that, indeed, the tourists started coming back to Venice. And, like any self-respecting inventive Romanian, I looked for solutions to avoid the queue J.
I didn't find… I mean nothing to keep me in the common sense area, so I gave up quickly. And I waited and waited…
BURANO
My God, how I loved Burano as soon as I first stepped on the island, 11 years ago!!!
Then, in a hurried tour, in the rain, the colorful houses of the island raised my level of joy and happiness!
I only saw a piece of Burano in 2010, because a guide kept pushing us from behind, with his eyes on the clock and walking us around a crochet demo. Because the island is famous not only for its colorful houses, but also for its extremely fine lace, which has been made here since the 15th century!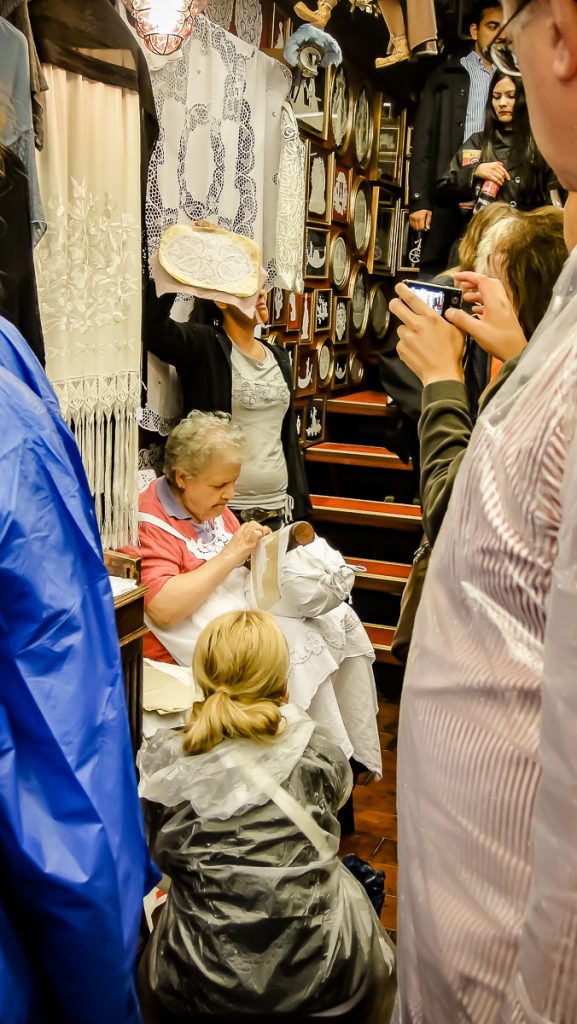 Well, some guides and some guide books warn you, the tourist, that most of the lace sold in the shops on the island is now imported. So don't be fooled…
There are only a few old women who make the famous "point in the air" (punta in aria), for which Burano is famous. These laces are becoming rarer and I would say that they have even become museum pieces, given that there is a Lace Museum on the island.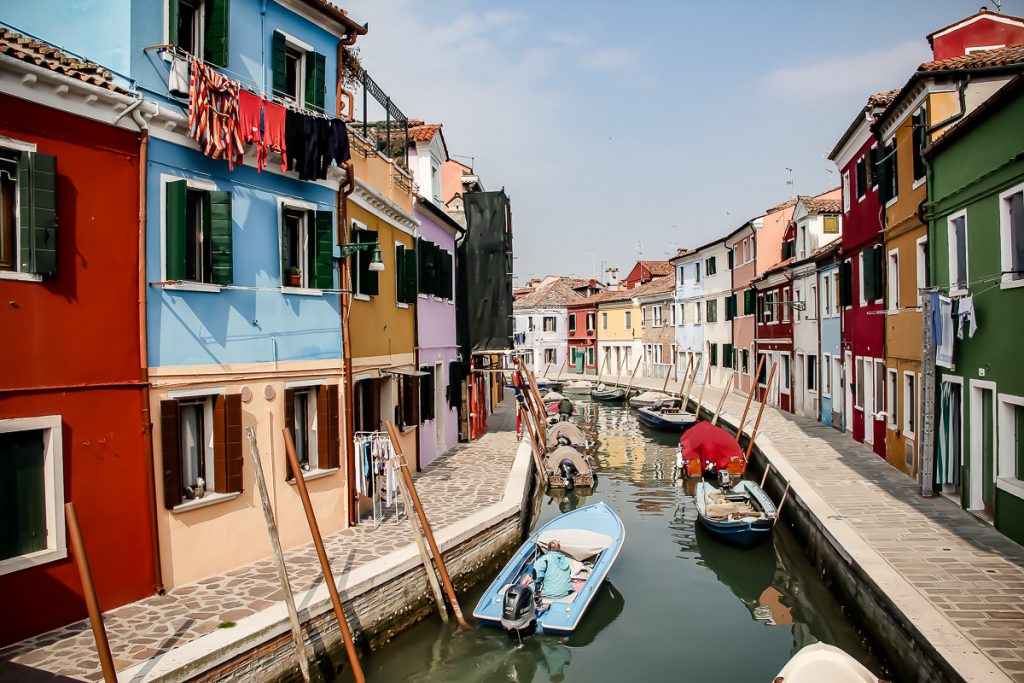 It's the spring of 2021, it's code red – a deeper red than that of any red house on Burano…
Disembarked from the vaporetto together with some locals, I walk on the island without a map, without knowing the directions. I don't remember almost anything from the tourist chase I had 11 years ago. But the delight with which I walk along each canal, towards every corner, is the best guide.
I realize that I am taking pictures non-stop and I try to calm down, so that I can enjoy and see the places with my own eyes. What can I do if everything is so… magnetic!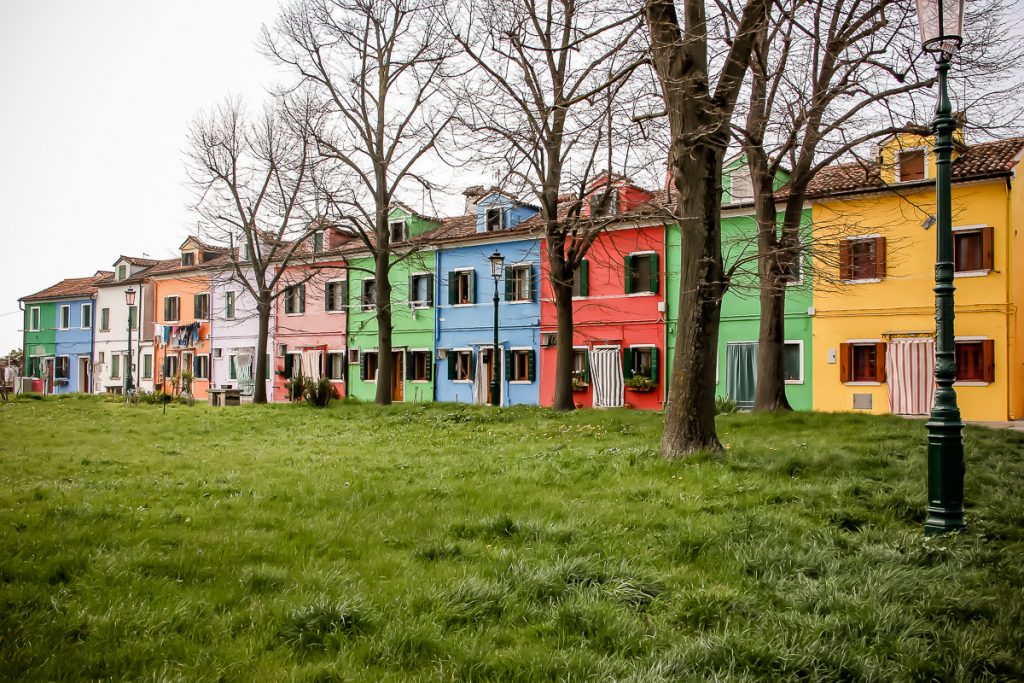 If you need a little bit of color in your life, this is the perfect place! Wherever you turn your head, you come across colorful houses, never two similar colors one next to the other.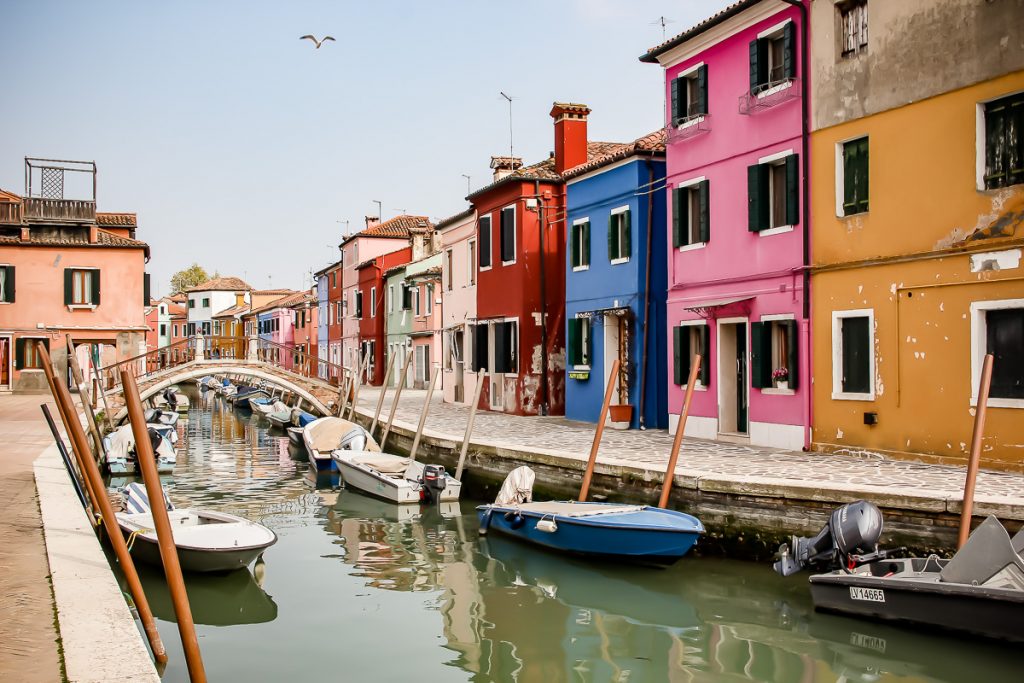 I am also looking, like any curious person, to find out from where this habit of painting houses in bright colors came.
The origin of the colorful houses has very old roots. In the Middle Ages, during the many plague epidemics, white lime was used to disinfect contaminated houses, while houses without cases were painted in rainbow colors.
From another source, I understand that the habit of painting houses arose out of necessity: the fishermen from Burano, who went by boat to the sea, could more easily identify their houses from afar upon their return, when the lagoon was shrouded in fog.
Just so you know, I believe both stories…
There is a house on Burano that stands out in particular: Bepi's house.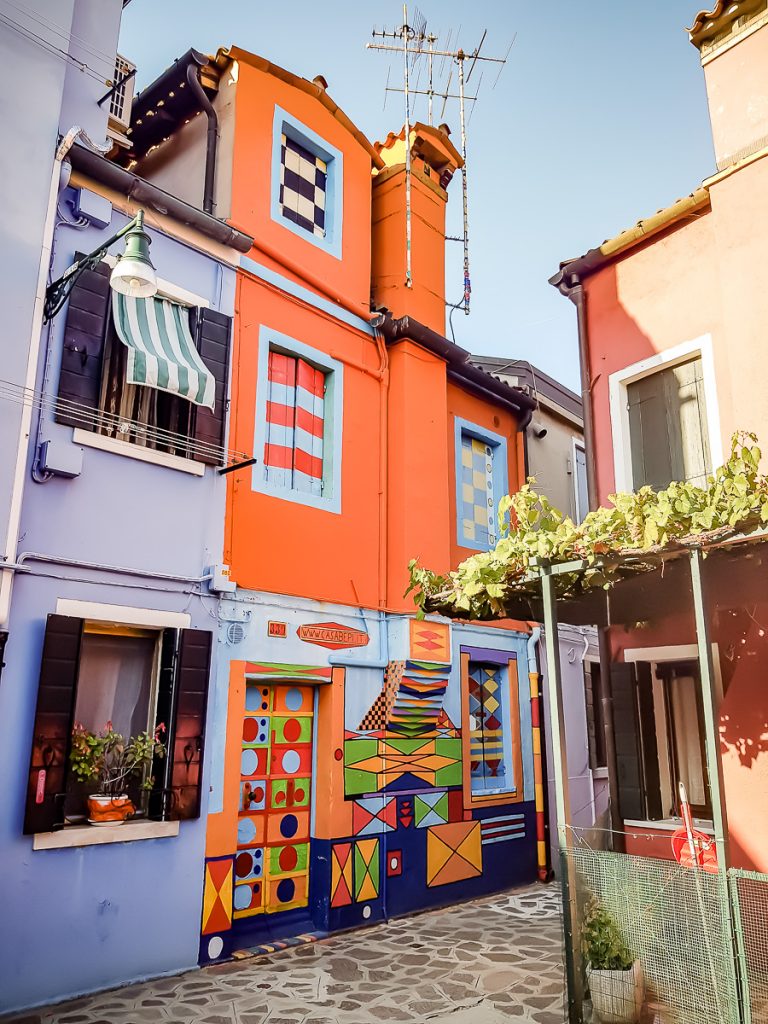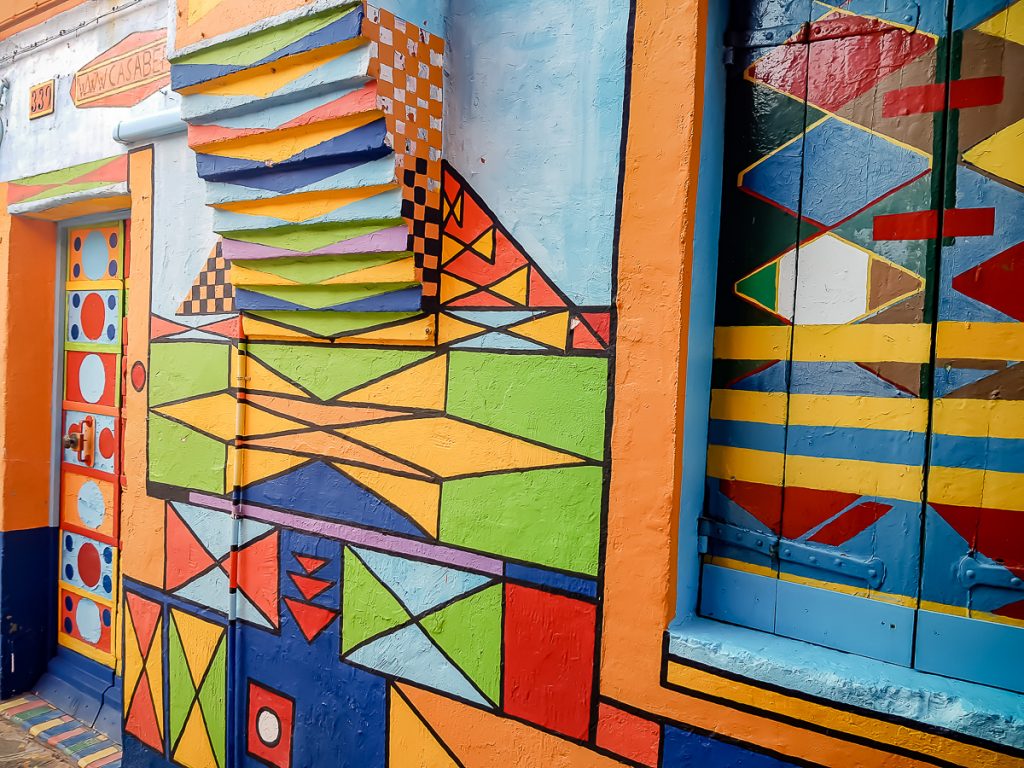 Hidden on an alley facing the main street of the city – Via Galuppi, the building has a very nicely painted facade, all in bright colors, which makes it unique!
(I'd be curious to see the inside as well. I bet it's not very much chromatically speaking.)
The house belonged to Giuseppe Toselli, known to the islanders as Bepi Suà. Born in Burano in 1920, Bepi was a candy seller. My kind of people, of course hihi.
The man was a big movie lover, maybe because he had worked in the 1940s as an operator at Cinema Favin. When it closed, Bepi inherited the old crank projector. And what do you think he was doing during the summer evenings? In the small courtyard in front of his multicolored house he projected the films of the past glorious times. The villagers came, young and old, sat on chairs and enjoyed Bepi's projection at will. Free of any charge.
Bepi had another passion: painting. Every now and then, he would repaint the outside of his house and then he would start over. Thus, the house has undergone many changes, depending on the creative drive of the owner!
Upon his death in 2002, the house was completely restored by the new owner, who used the same technique used by Bepi to refresh and bring to life the unique colors of the house. (I didn't see the new owner, everything was closed when I arrived.)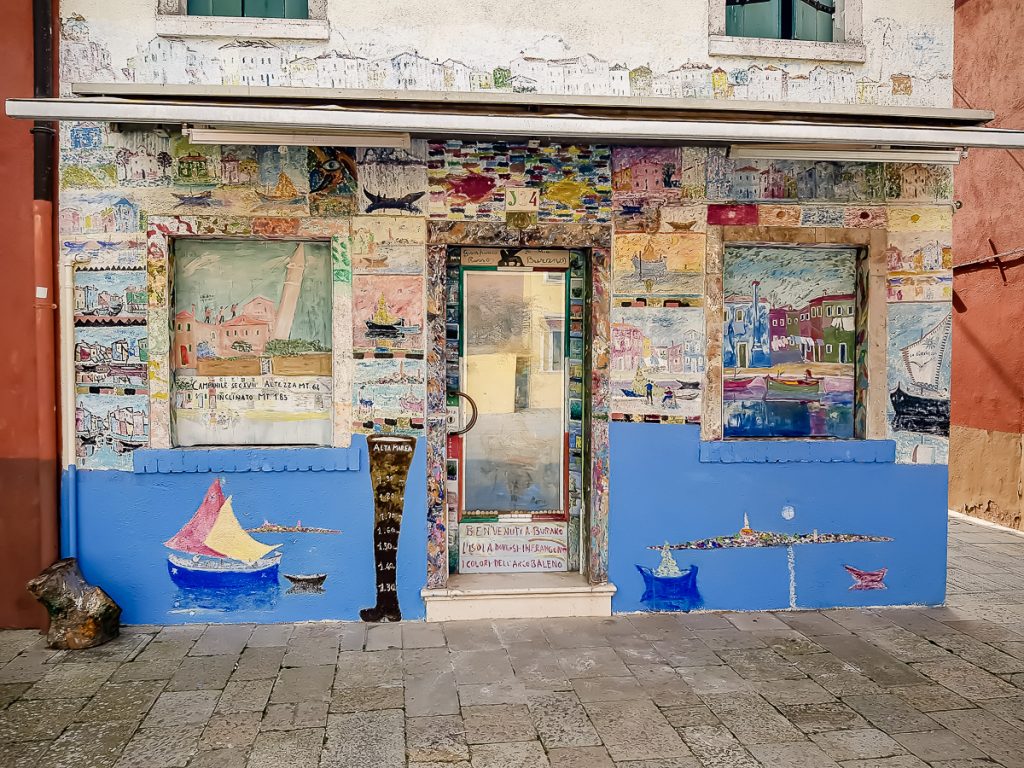 I also found a unique house, very much painted. I still haven't found out what's its story, whose it is, who and why made it like this. But I find it nice!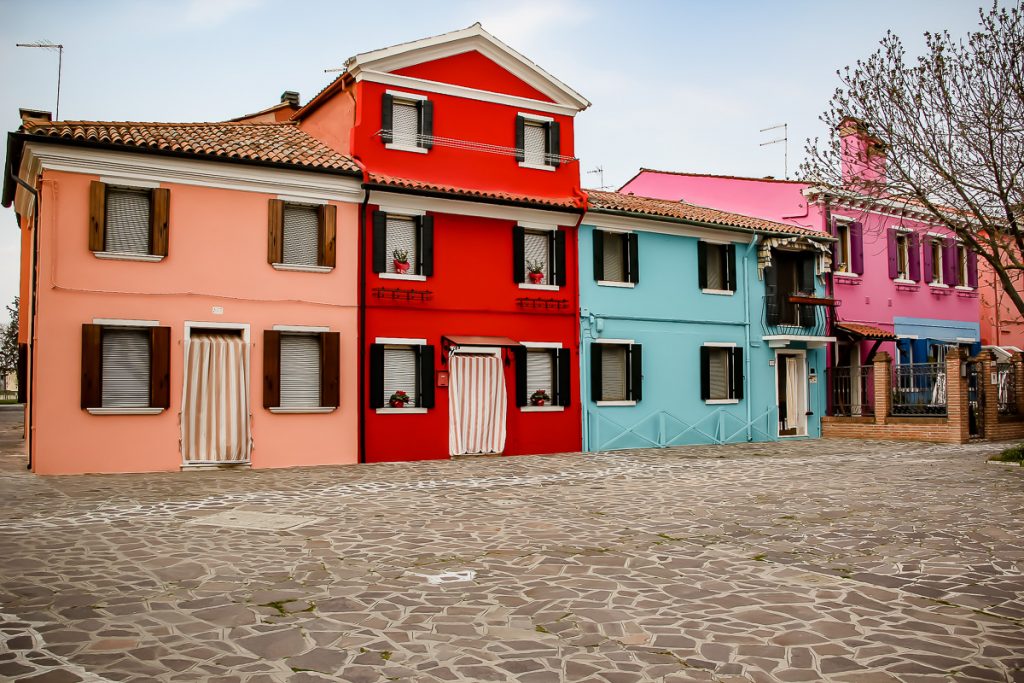 I noticed something in most houses: the doors are covered with a colorful, striped cloth. I asked a landlord why in God's name they put them like this and he explained to me that this is how they protect the wooden doors. From the strong sun.
I saw some without cloth, left in the sun, in the wind, and they were bad, indeed. But most houses have such a rag over the door. Striped. I think that the stripes also make the seagulls dizzy, so that they don't come to steal food J. Do they work on bears too? So that we can adopt the solution too…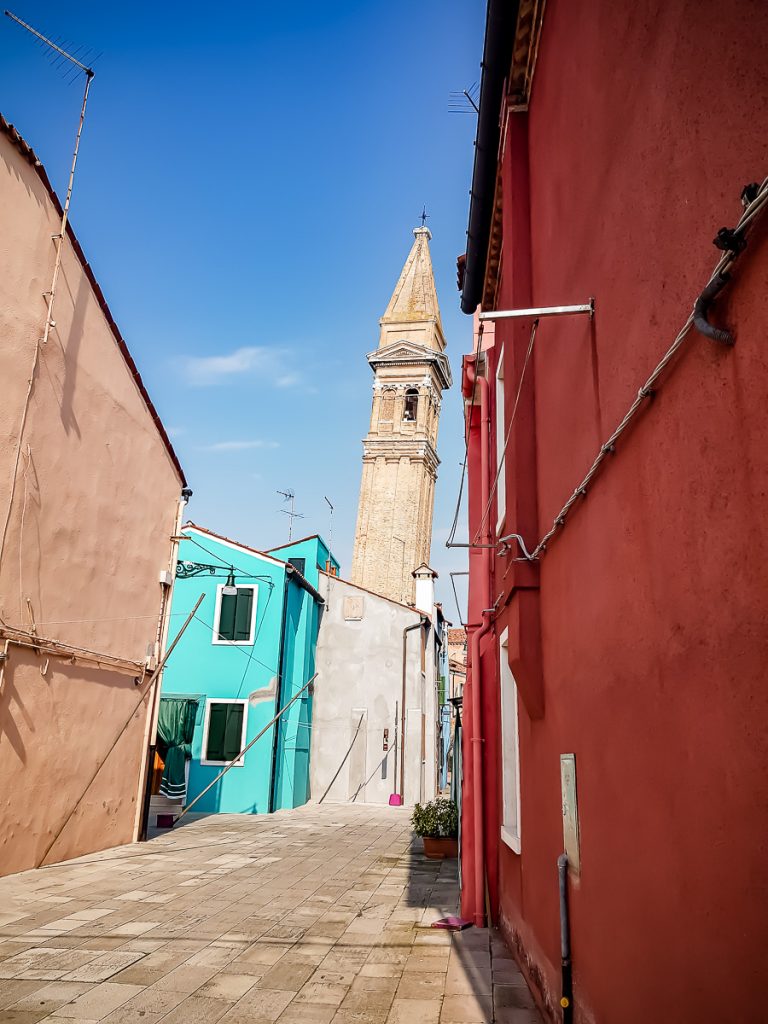 I got dizzy from the sloping bell tower, and it is very much so! The bell tower that can be seen from afar, when you come on the water.
I took photos of it I don't know how many times and it seems that, most of the times, I always had the tendency to make it straight in the picture hihi. In this photo I found a point of support and I concluded that I am balanced, that it is its fault, not mine. At least this time…
WHAT TO EAT IN BURANO
Burano is a fishing community and this is revealed not only by the boats anchored on the canals, but also by the fresh fish that you can eat in the restaurants on the island. Well, when Italy is not under the red code and everything is closed, evaporated, emigrated etc., as I found it at the end of March 2021: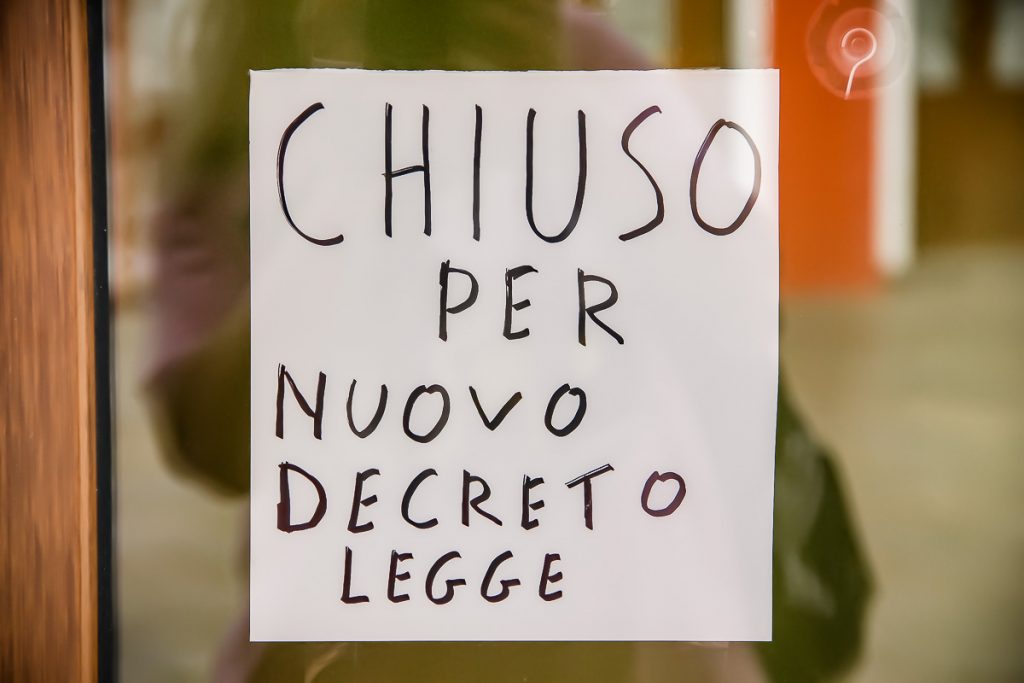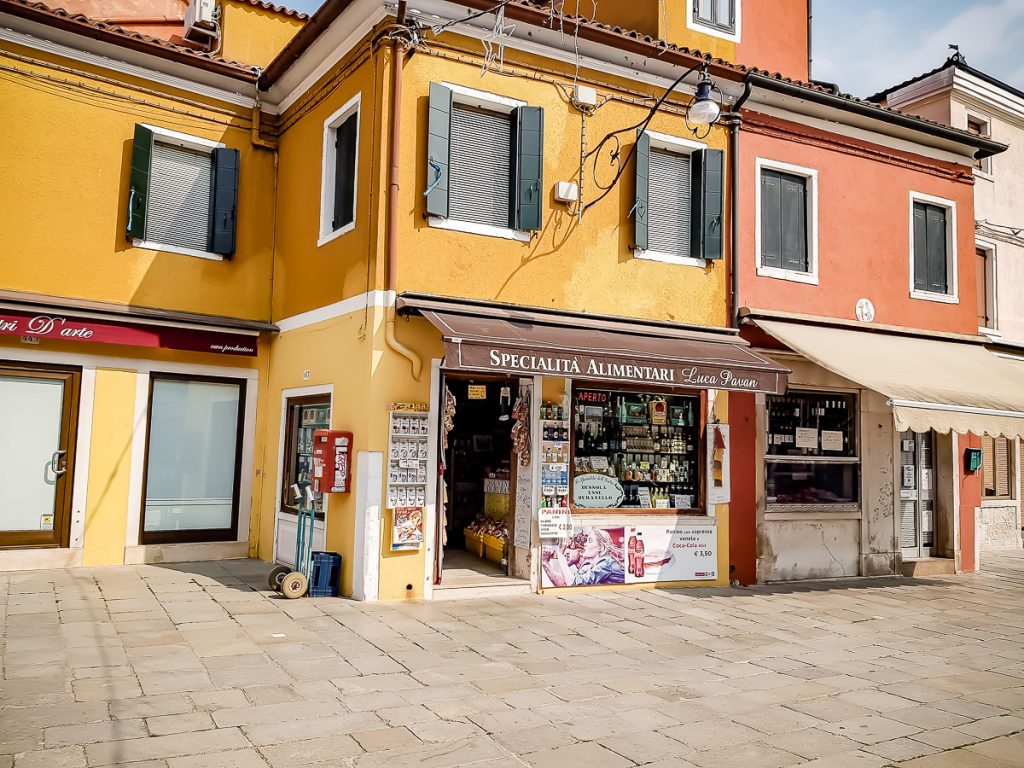 The only ones open – an "essential" store (to use a fashionable term) and a tobacco shop. There I found small souvenirs to buy. But food, where do I get food, where???
My God, how hungry I was on Burano in the middle of the pandemic, after many hours of wandering through Murano and here! Not to mention that I badly needed a toilet… And, what do you know, the public toilet on the island was closed because of the covid!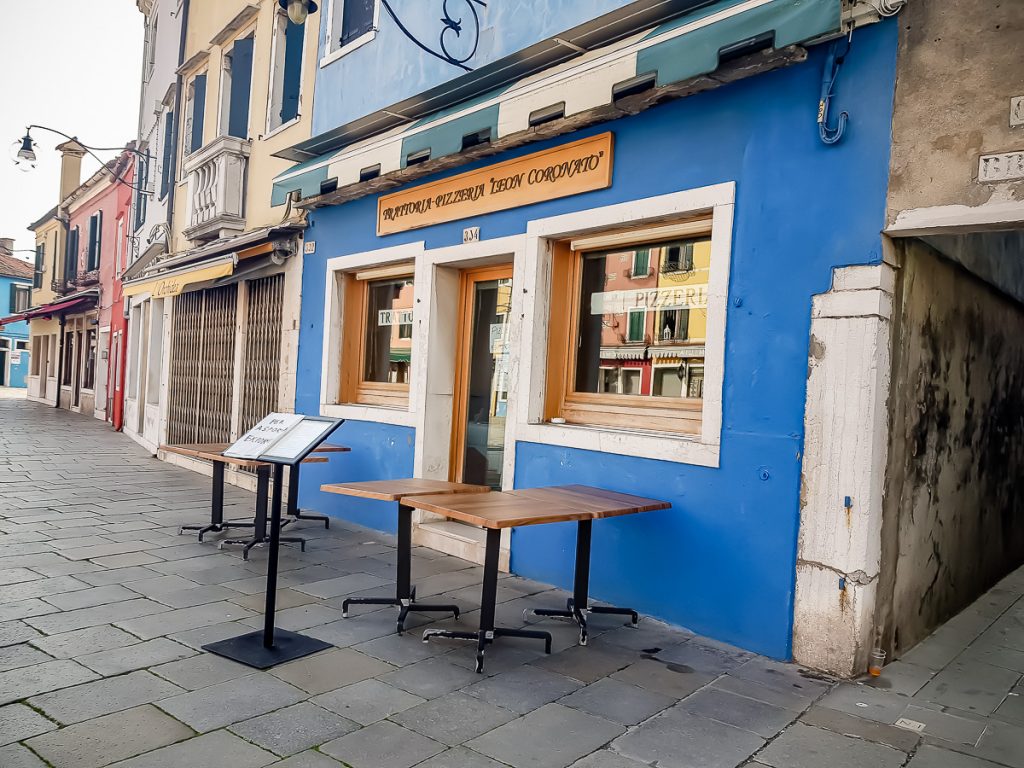 I saw some tables in front of a restaurant and I went there like a thirsty person looking for a glass of water in the Sahara! I could kill two rabbits in one shot: toilet + food.
It was a pizzeria and, although there was no movement, the fact that they had the menu outside gave me hope.
I entered. Three employees were just lounging about there. I ordered a pizza. What kind? Any kind, as long as it is a pizza. I also used their toilet, as I had ordered and I had rights J.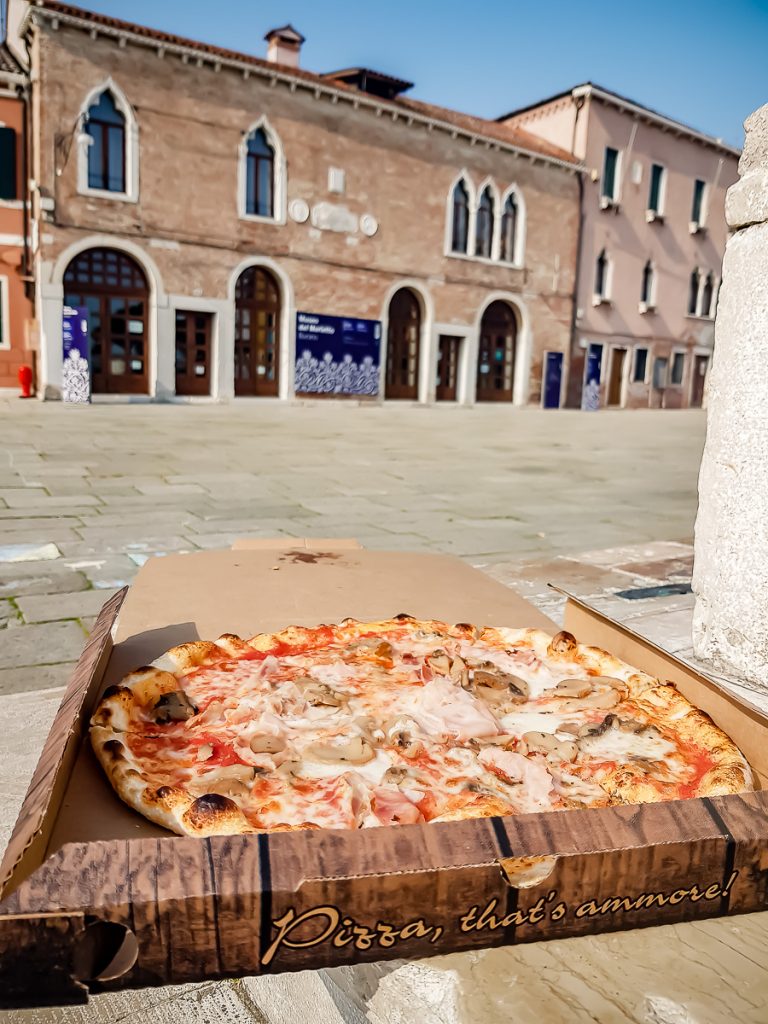 I stopped with the pizza in the biggest square in Burano, where there were only about 5 pigeons and myself. I sat down next to the statue of a local hero and began to eat.
Of course, I shared the food with the pigeons, as they seemed to be quite hungry. Imagine, no trace of tourist, no trace of food in the area.
After several months, in a cluster of people, I become curious about the looks of the pizzeria that saved my life…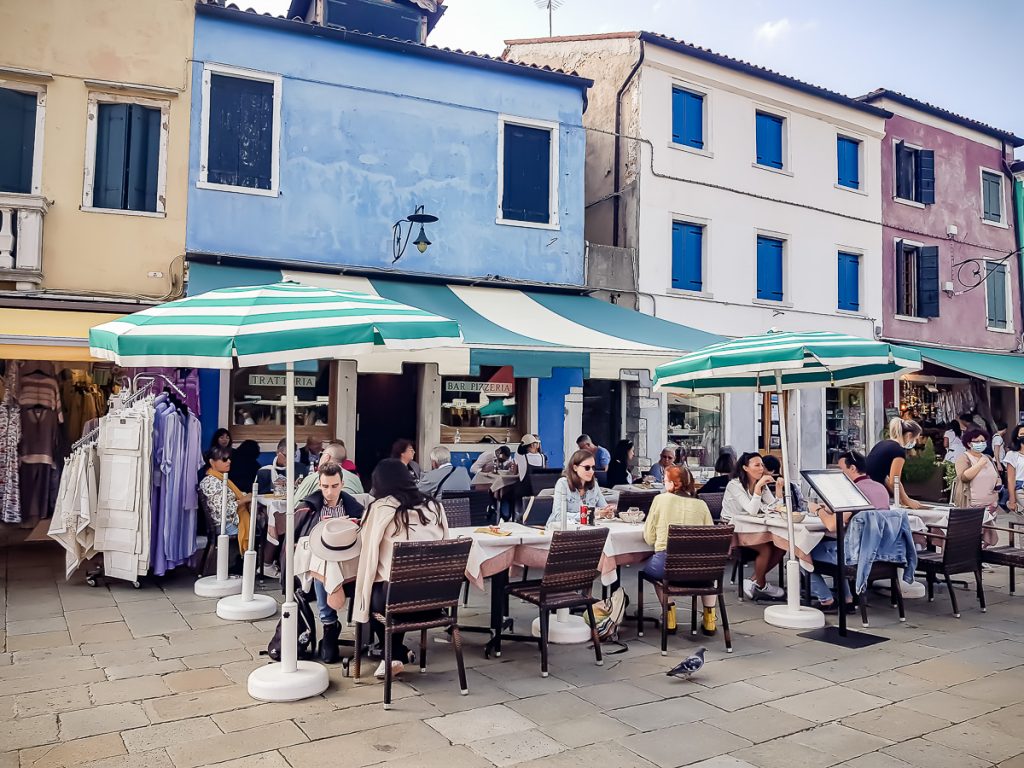 It's full, which makes me happy!
You'd expect me to go eat there now, as a token of gratitude, wouldn't you? Well, I didn't, I admit. Because, taking advantage of the fact that they were all open, I wanted to eat fresh fish caught by the locals.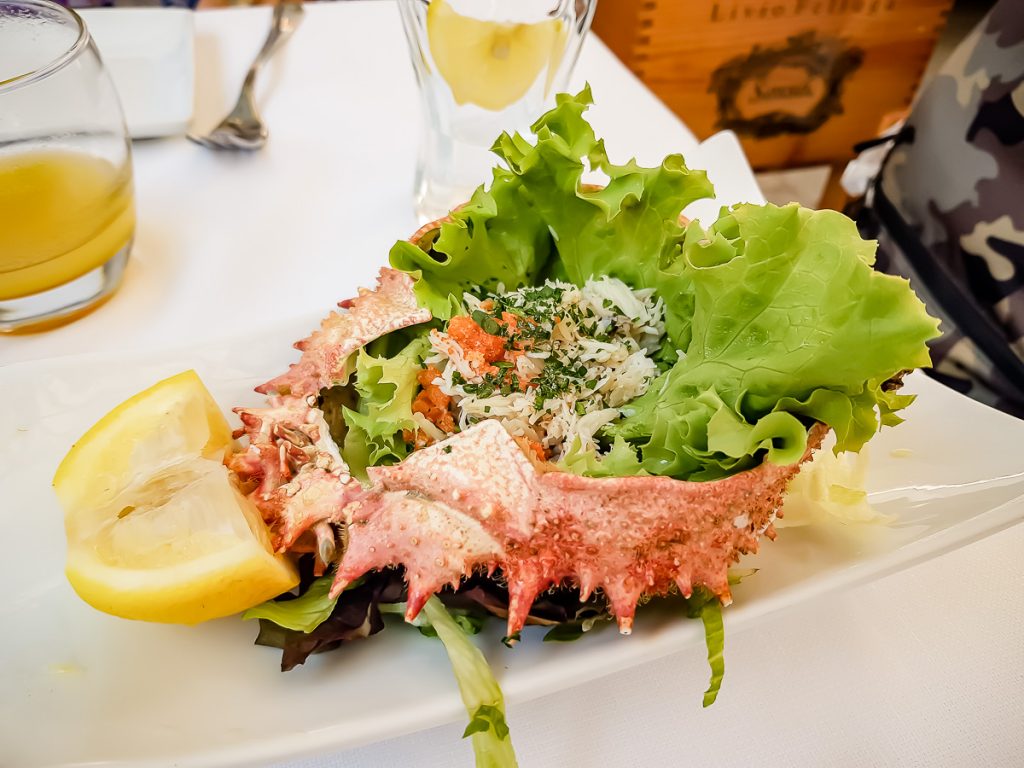 I tried "spider crab". And I thought it was nice when the woman who brought it told me that this crab, which was rarer and harder to find than normal crabs, was fished by her father that very morning. She had other catches of the day, especially fish.
BURANO DURING THE PANDEMIC / VS / TOURISTIC BURANO
I don't know what Burano is like when all the borders are open, when there is no pandemic, when all the nations are on vacation, but I can say that, in half a year, I saw the island to extremes: deserted, then full of life.
I did not cease to marvel at every step I took on an island that seemed deserted, as I did not cease to marvel at how the places were animated, in an attempt to return to normalcy.
This pandemic made us see the world not only different, but also with differently….
As I have admitted on other occasions, the enormous joy of seeing famous places not suffocated by tourists was in the balance with the fear that it was over with all the travels…
SHOPPING IN BURANO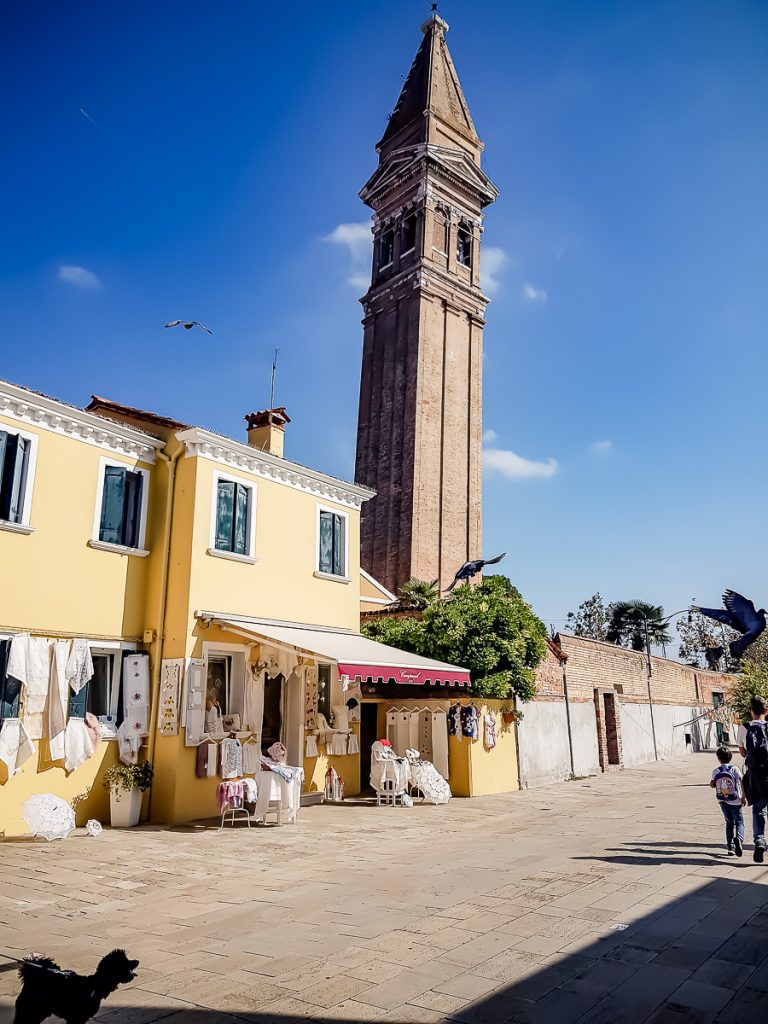 God, you can't imagine how frustrating it is to want to get a magnet or any other perfectly unuseful thing you might think of… and have no place where to shop. That was the case here in March. I was lucky to find the tabacco shop, which sold postcards and a few magnets.
In October? Miracle! Everything at my disposal (and at that of others like me). How the houses were a few months ago and how they are now – "wallpapered" with goods! On windows, on doors, stands, tables, chairs, on shelves or on boxes placed in front of stores, even directly on the asphalt. What can I say, you only need money!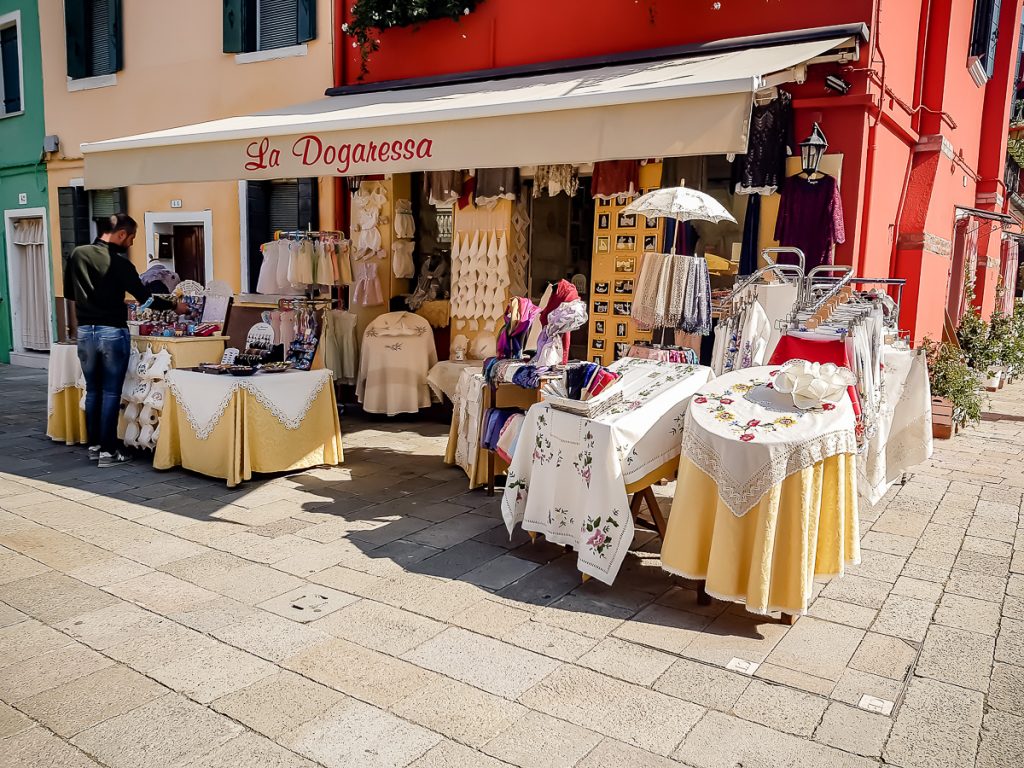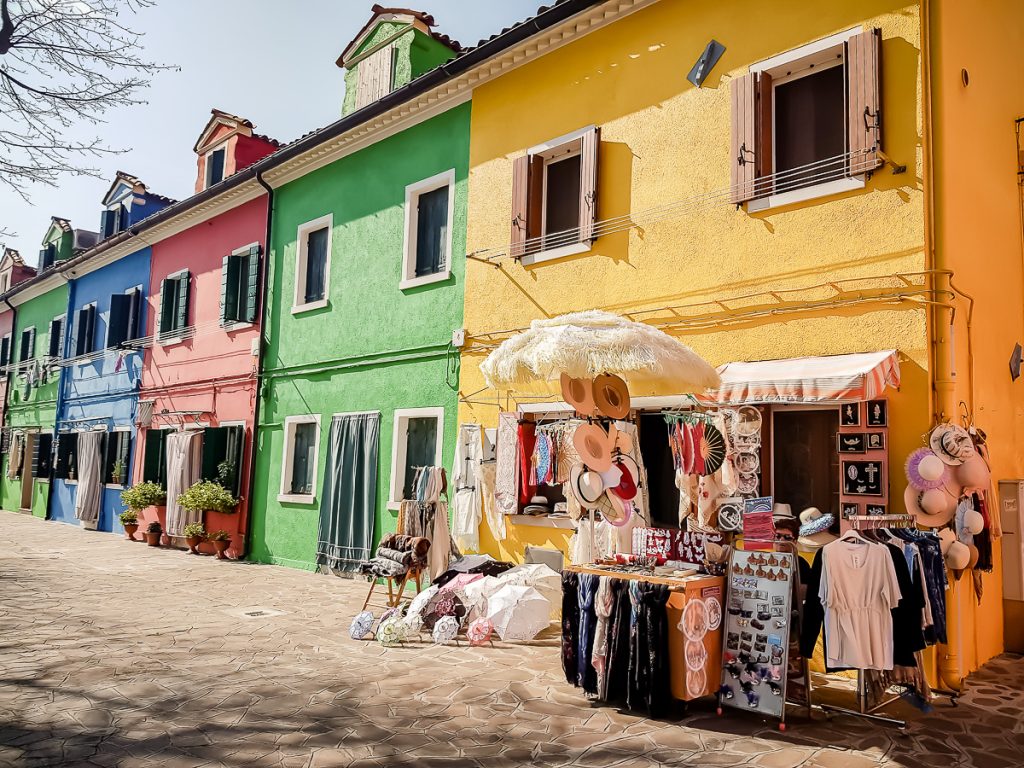 Yes, I did a "shopping session". What does it matter that I don't need any of the merchandize? The delight matters and, especially, that feeling of "We won, comrades!", we can buy souvenirs again hihihi.
When I got here in March, I almost wake the lady at the vaporetto ticket counter. Me and a gentleman with a document folder were the only ones disturbing the peace of the island at noon.
The October lunch is already something else – people coming, people leaving, local people quietly walking their children in strollers, women talking at the crossroads. Normalcy, for sure.
What I was going to see, however, around 6 pm, shocked me:
Bro, so many people, a queue that almost gets to the center of the island… Cheerful, noisy people, loaded with all the most beautiful things in Burano and now waiting in line to embark for Venice!
Here is exactly the same street, photographed in March: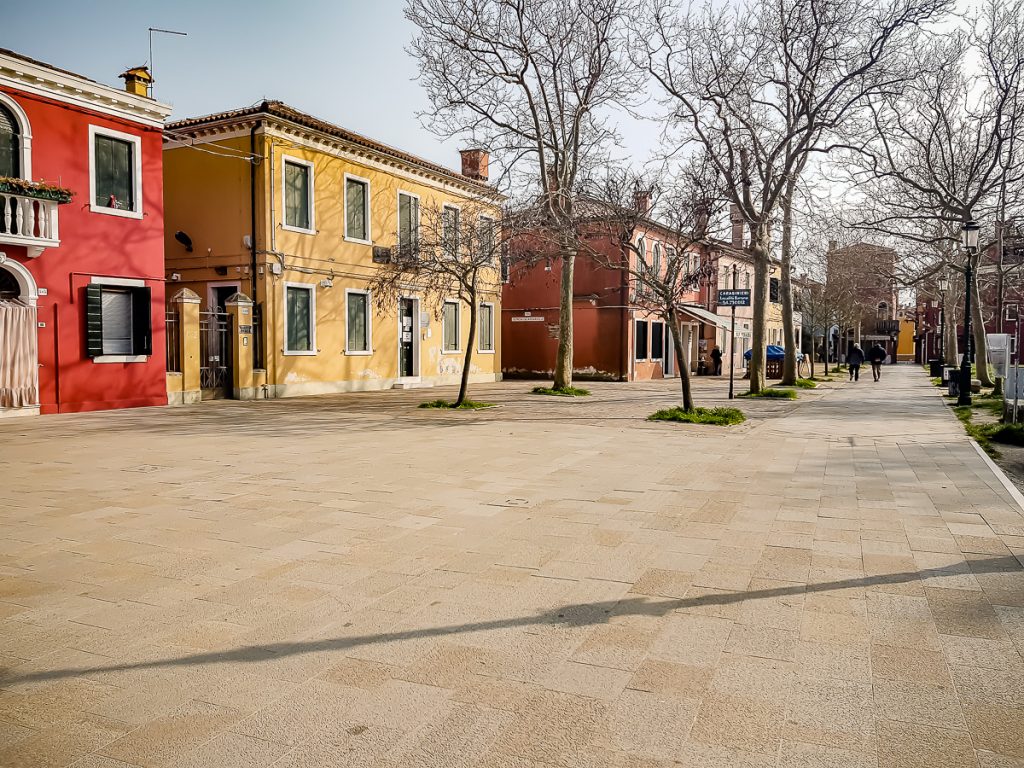 I turn left, avoiding the huge queue, because I am not going to Venice, but I have to finish the tour of the 3 islands. I have one more.
TORCELLO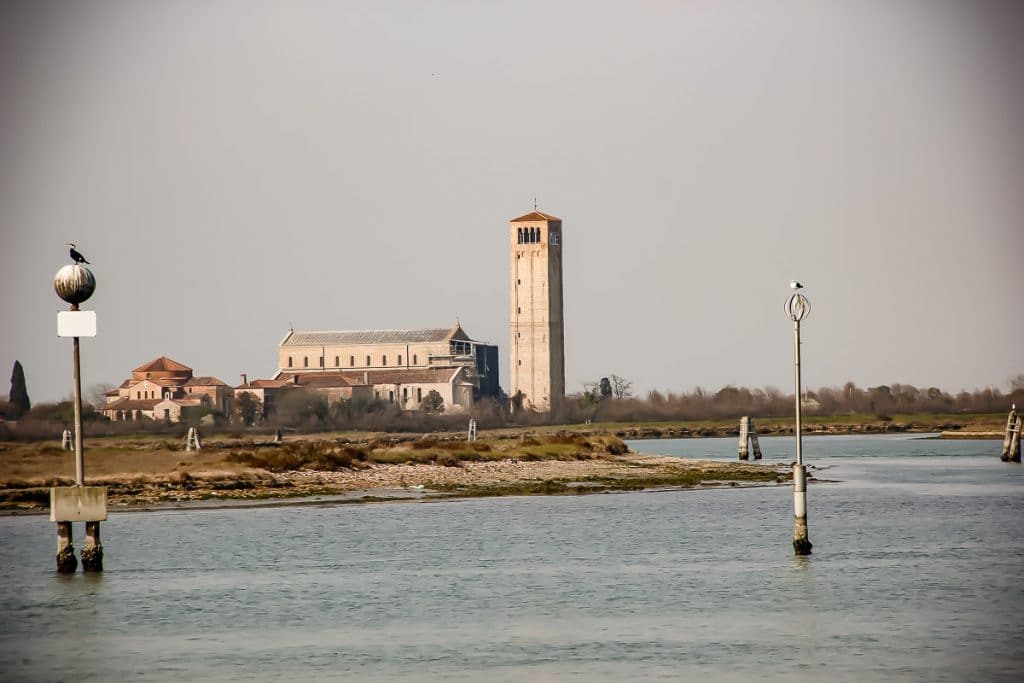 Torcello is a jewel!
Just a 5-minute boat ride from Burano, it is considered one of the most beautiful places in Venice.
It was love at first sight for me because, in the hot summer of 2010, when I arrived here from Venice, I thought I got into the fridge! It was the perfect weather! Cool, shady, quiet.
Then I discovered it for the first time and I was glad that, in 2021, I had the opportunity to come here again – once under the red pandemic code, then under the green code.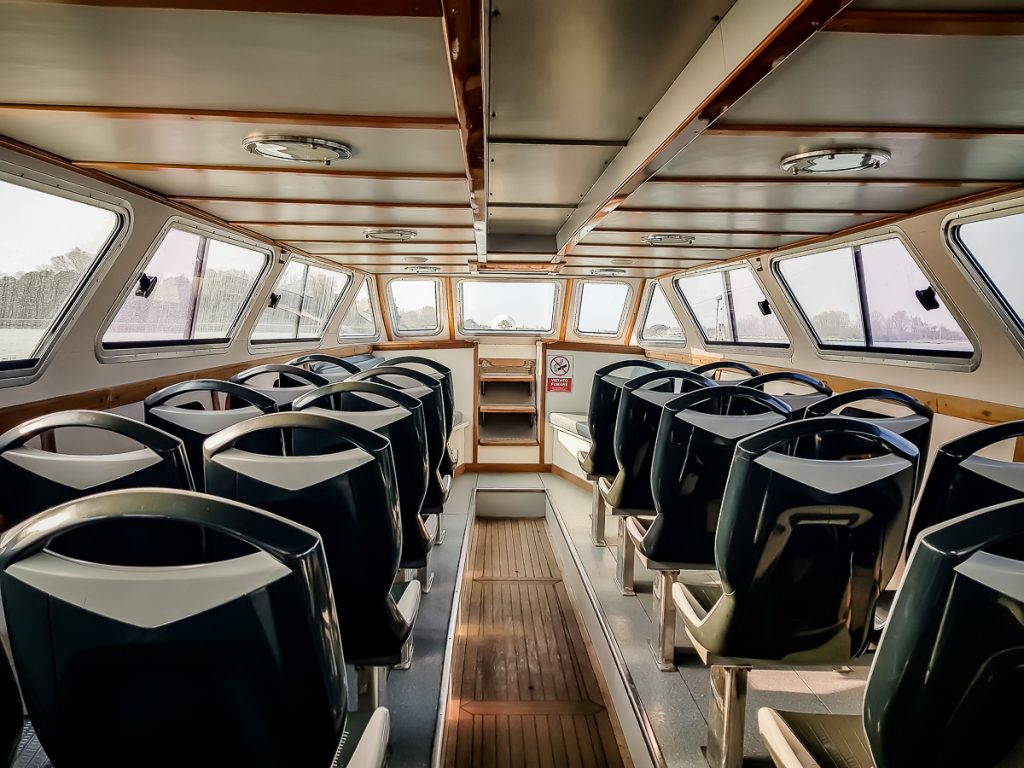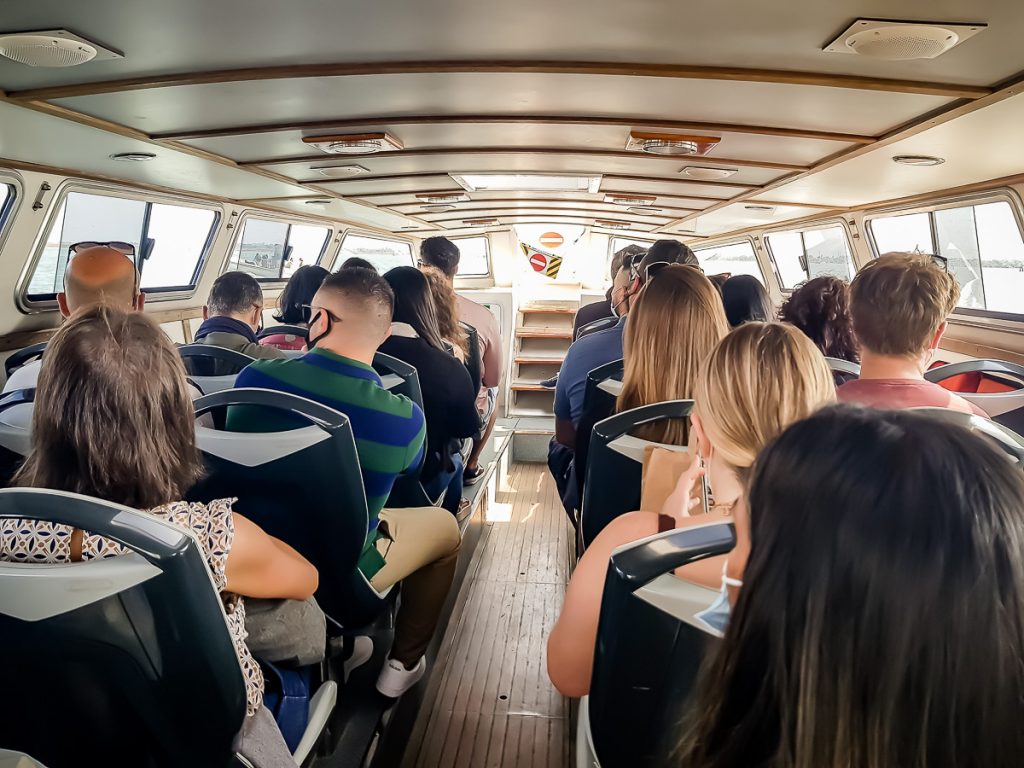 I had no idea that Torcello Island is considered the birthplace of Venice. It was, it seems, the first part of the lagoon where people settled and this happened in the 5th century. Many came from the mainland to take refuge here, fleeing from the Huns.
By the 12th century, the island collapsed, because the alluvium blocked the canals and, even more, the malaria appeared, which spread through the population.
Nowadays, the island is almost uninhabited, but believe me, this is exactly what its charm is! I said I would move here anytime, for a brainwashing treatment!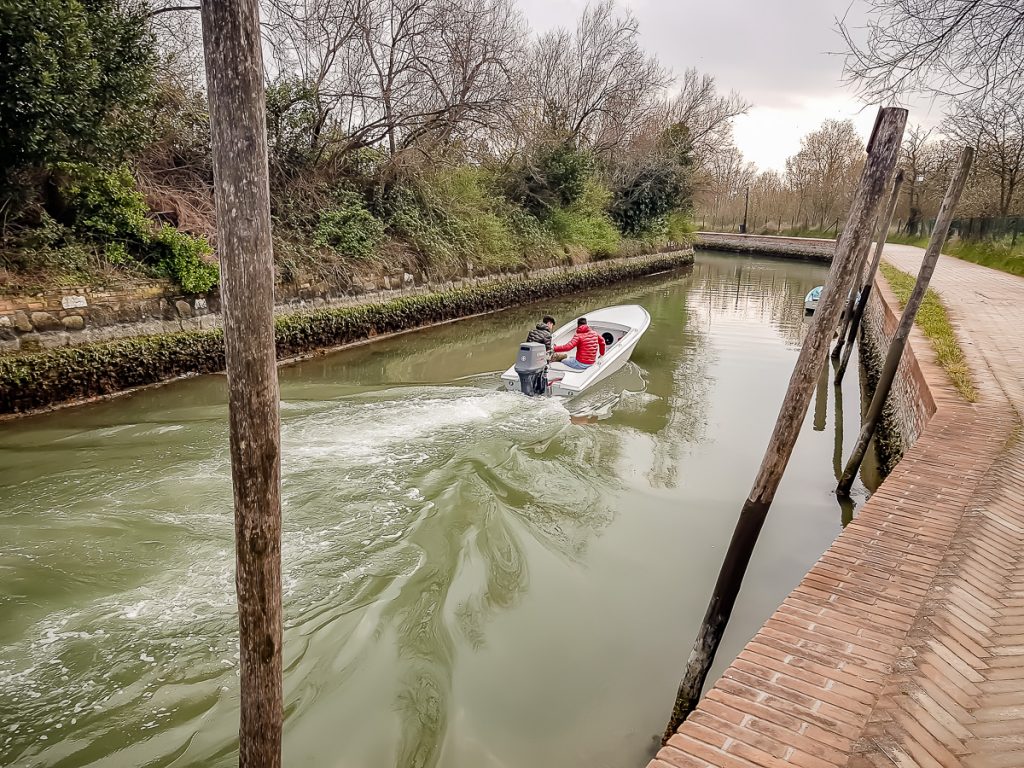 There are only a few families of fishermen and gardeners left, whom I sincerely envy.
Anyway, on an almost deserted island it is strange to see some kids playing football or going on a boat, maybe to meet some sweet girls…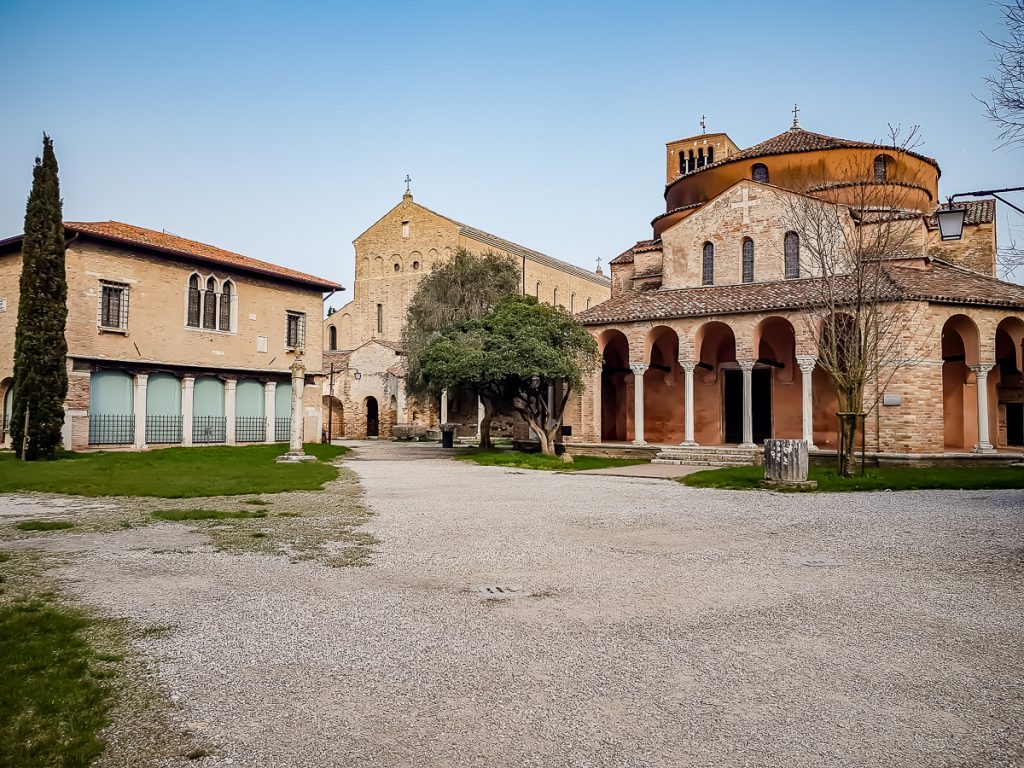 You don't need a map for this island. You get off the boat and keep it straight, only straight, because you have no choice… Walk along the canal to the end, passing by 1-2 terraces, 1-2 guesthouses, some orchards… Then you come across a small museum about the history of the the lagoon, you come across a Byzantine church – Santa Fosca (11th century) and, at the end of it, the attraction point no. 1 of the island: Santa Maria Assunta, perhaps the most beautiful church in Venice – say some people who are smarter than me.
Founded in 639 (the oldest building in the lagoon!), the church is praised for its beautiful interior, from the wooden ceiling to the marble floor and the mosaics that are considered among the most beautiful in the world. Although it underwent major restructuring in 1008, there are still original parts.
From its bell tower, on clear days, the lagoon is very beautiful and you can even see the mountains!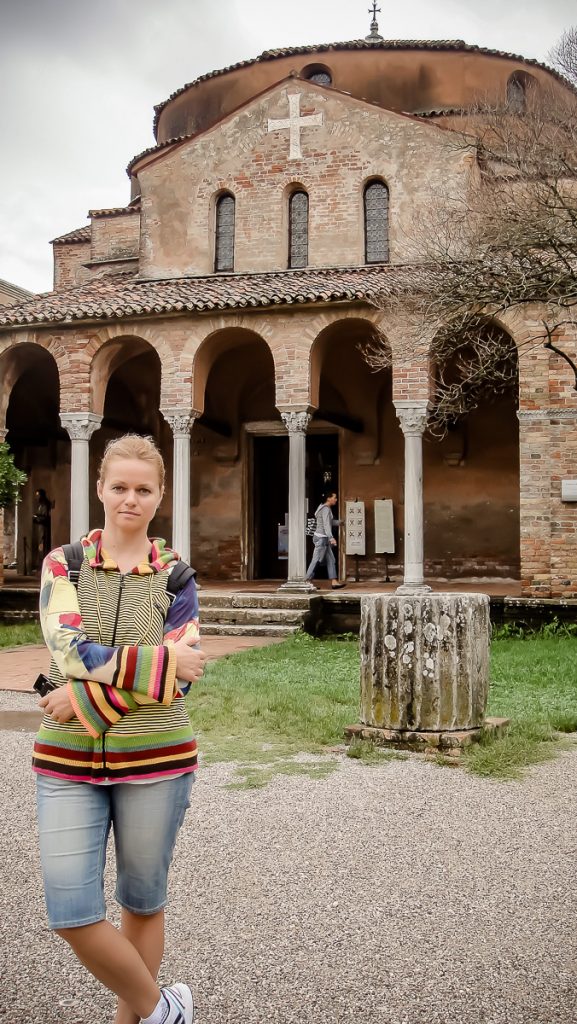 11 years ago I got inside them all, because this year I didn't succeed:
Under the red code everything was closed, and when there was no code, it was… too late. I landed on the island at the end of the day, when they were all locked on the door.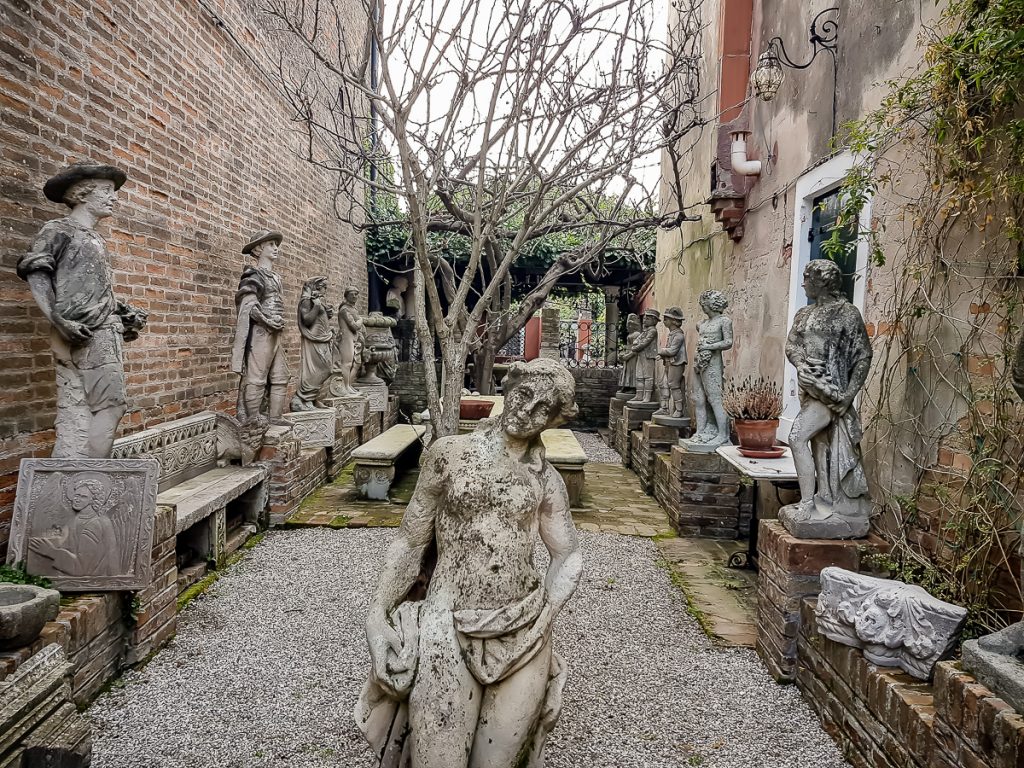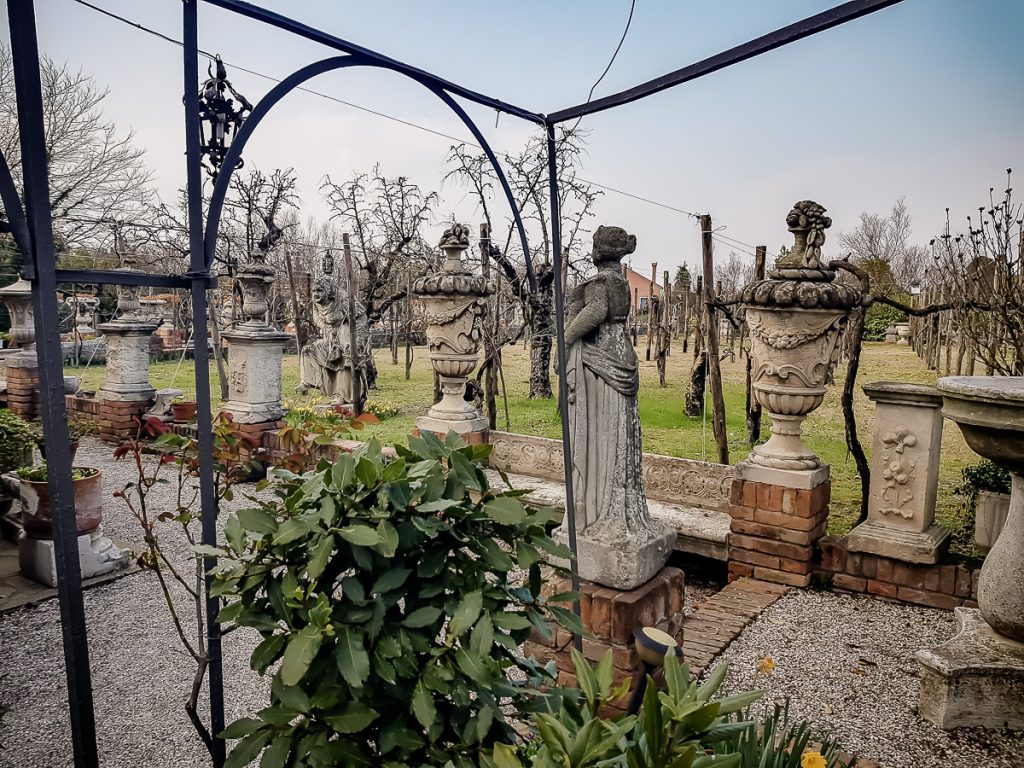 The orchard with sculptures – as I call it – located in the same small perimeter, remains for me another point of interest every time I get here.
And, more recently, I am fascinated by the history of the inn on the road – Locanda Cipriani.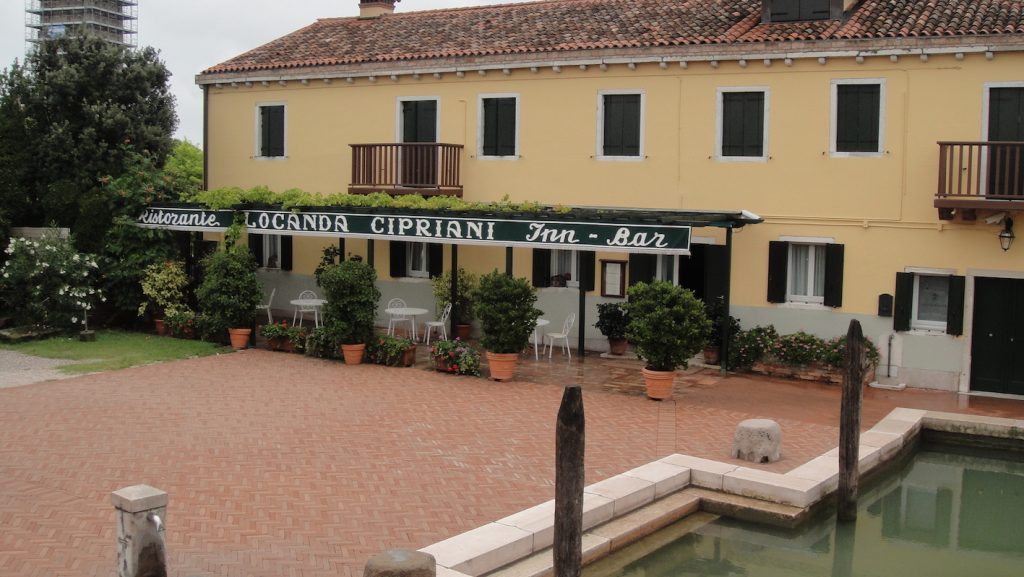 A few years ago I heard the name of the Cipriani family – business with restaurants, hotels, products etc. all over the world. I also knew of the famous Harry's Bar in Venice, where Ernest Hemingway used to sit, but where dozens of other personalities came. That's why when I saw the inn on the island, I wanted to know more.
Wow, how many celebrities have crossed the threshold! Some lived here – like Ernest Hemingway, others ate here, others came here for certain important events of the time, and some drank no more than a coffee, while sketching something on a piece of paper – paper that got the value of a museum object.
Royal families (even the Queen of England), Maria Callas, Winston Churchill, Charlie Chaplin, Marc Chagall….
Greta Garbo and Ingrid Bergman sat here at the same table. Kirk Douglas came here to eat, as well as Henry Fonda, Liz Taylor, Anthony Quinn, Audrey Hepburn, Bette Davis, Tom Cruise, Liza Minelli, Gerard Depardieu, Jack Nicholson, Al Pacino, famous directors, famous singers including Rod Stewart, Mick Jagger, Elton John and… I won't catch the last boat if I go on with the list.
After losing my breath running to the station – because I knew from March that the last one leaves early – I find out that now, in normal times, I even have two transport options, which makes me take the position "at rest".
The people, as few as they are the ones who came to the island at this hour, is enough to fill the whole boat that pulled ashore. Ehh, let me show you the luxury a few months ago:
Private transportation, I could say, considering that the driver came and picked me up from the shore, only me…
Torcello ends the tour of the 3 islands. I'm going for a swim in the sea, on the island that offers a perfect beach, with fine sand and water that… was never warm when I came here hihi.
LIDO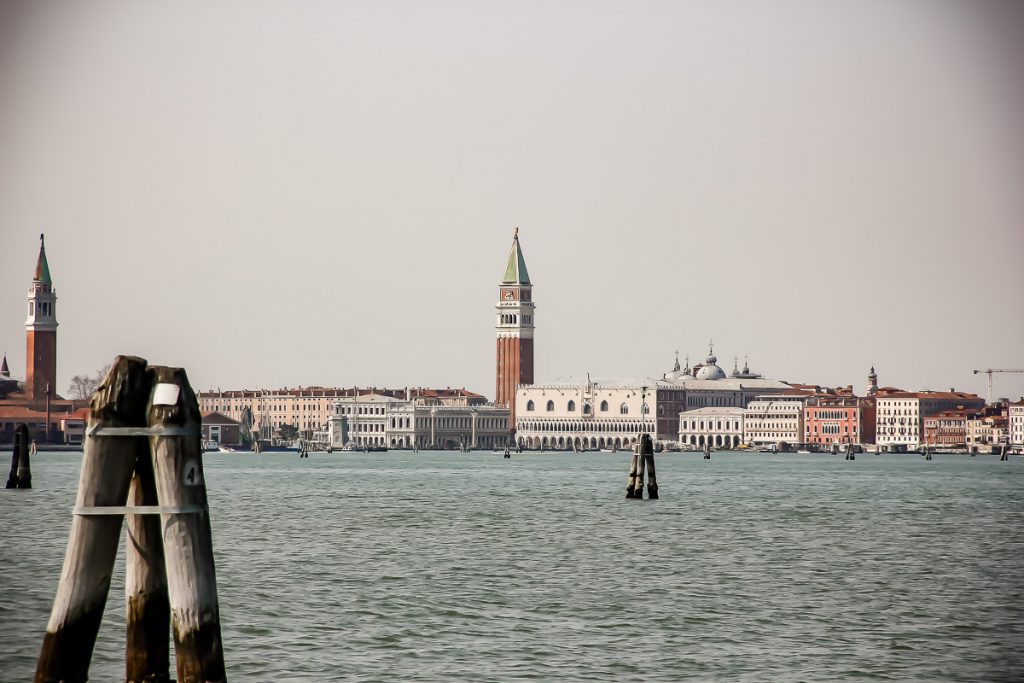 Lido is just a stone's throw from Venice, if you take the right vaporetto. A simple crossing of 10 minutes and you're done, you're on the island.
It was the most important seaside resort in Europe at the beginning of the 20th century! Cool, right?
In the 21st century, when I discovered it, I thought it was a chic resort, with absolutely splendid villas, spectacular hotels and extremely relaxed local people! And I mean it, extremely relaxed.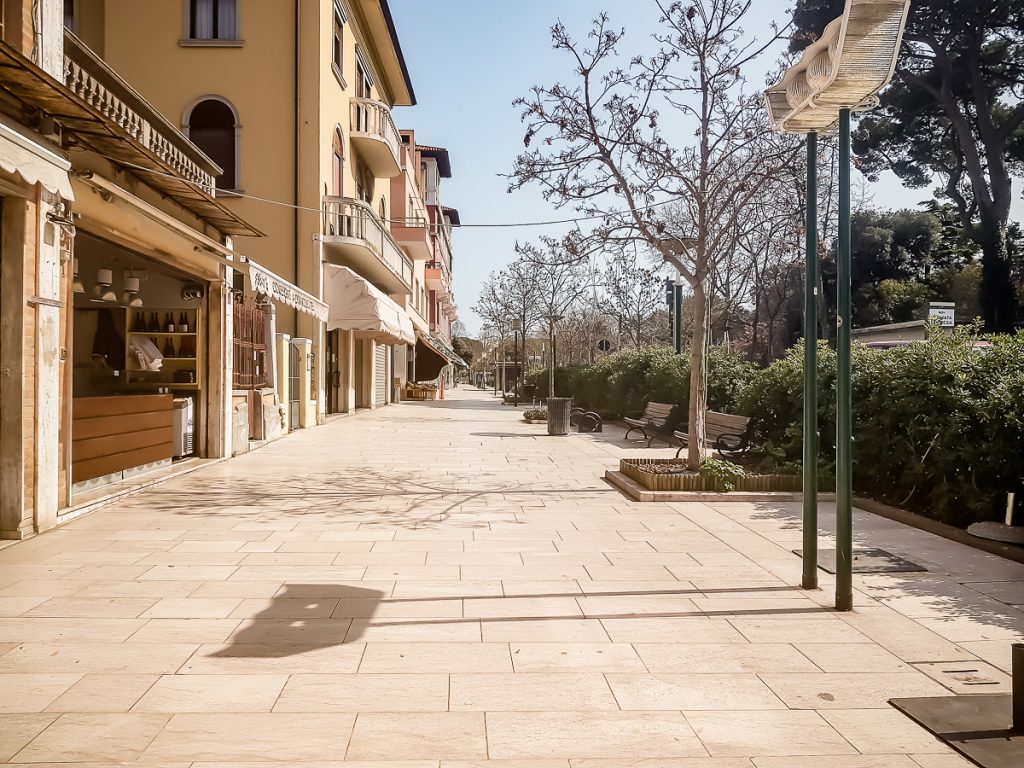 In March 2021, in full red code, I was walking slowly towards the beach, on the main deserted street, and I didn't know how to hide from the police patrol. I felt like I came from the moon and I was afraid that they will jump me on the street and take me for experiments.
I've been to the island 3 times, at different times, and if I think about it, I've never caught it crowded, which I considered a privilege!
With a long beach, an extremely fine sand, with parts full of shells that can make your suitcase stink J, with a sea (at least apparently) friendly, Lido can be an excellent seaside option. I repeat, a stone's throw from Venice.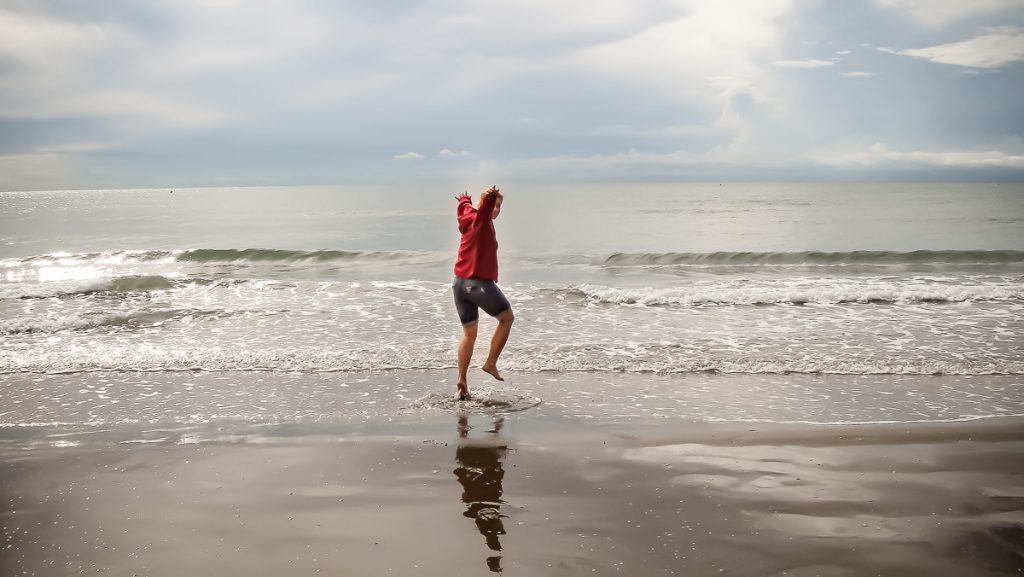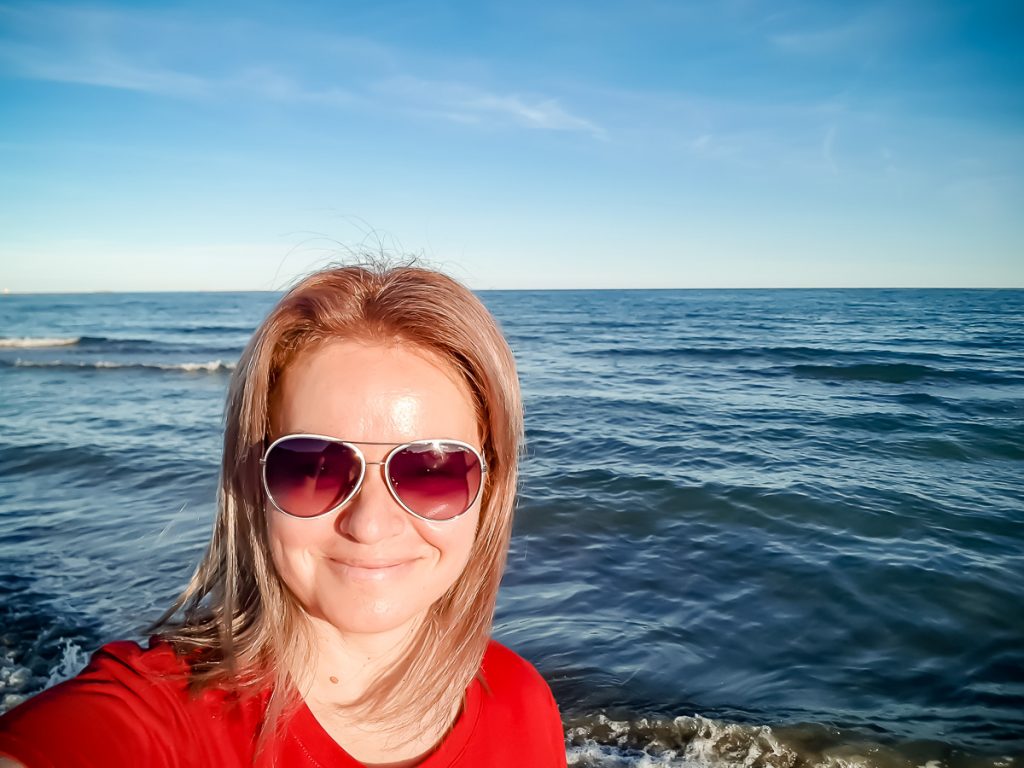 In August 2010 I went into the sea (no, not dressed), but in March and October 2021 I passed it. The water. Cause it was too cold… Cold for me, because I saw daredevils who ventured out to sea even in October.
GRAND HOTEL DES BAINS
Sitting on the beach in Lido, you can't miss the imposing building. When I first saw it, I felt like it was breathing from a past glory. And so it was!
It is the Grand Hotel des Bains, a former luxury hotel. Abandoned…
It was built in 1900! It was like a magnet for rich tourists. During many editions of the Venice Film Festival, a lot of celebrities have been accommodated here.
Thomas Mann stayed here in 1911, being inspired for his novel Death in Venice. In fact, Visconti made the film after Mann's book here in 1971.
Not to mention that the hotel "played the role" of the Shepheard's Hotel in Cairo, in the movie The English Patient.
In 2010, when I got there, the hotel was undergoing a complete makeover – it was closed to be transformed into a luxury apartment complex. I was a little surprised when, returning to Lido after 11 years, I found the hotel in the same pathetic state… I don't know why. Too bad.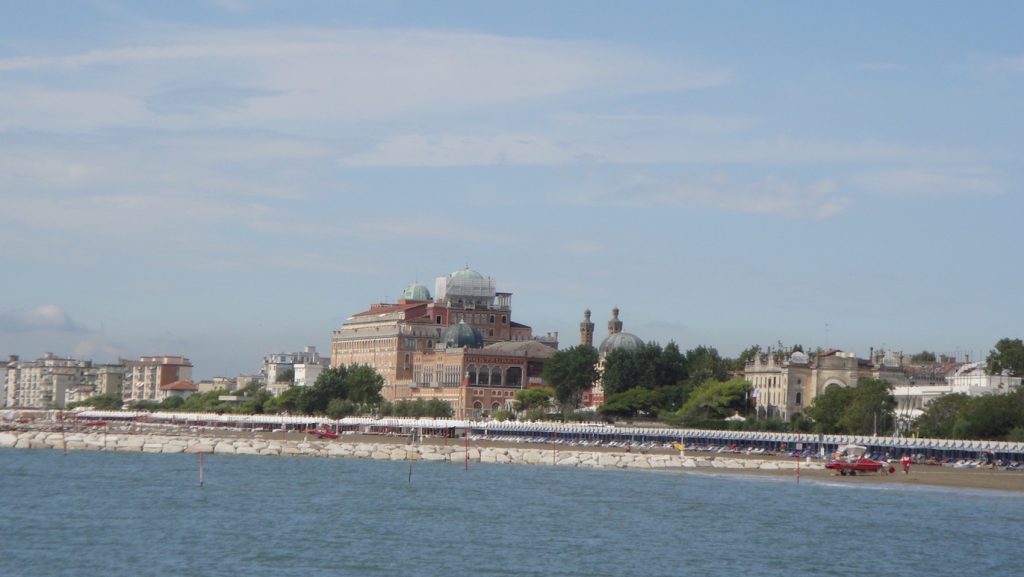 But, another historic hotel remained standing and I understand that it is the big landmark of the place, many celebrities coming here – Hotel Excelsior, a 5 star hotel, built in 1907. You do realize, right? When we used to deal with riots…
I never got to it, because, taking Lido on foot, I panicked not because I had a long way to go, but because I won't catch any vaporetto on the way back and I will have to stay on the island and I had to take a room at the luxury hotel hihi.
Instead, I admired it from a distance, like a shore. It's huge! Oh, wait, I didn't tell you something very cool: at the beginning of the 20th century, it was the biggest hotel in the world!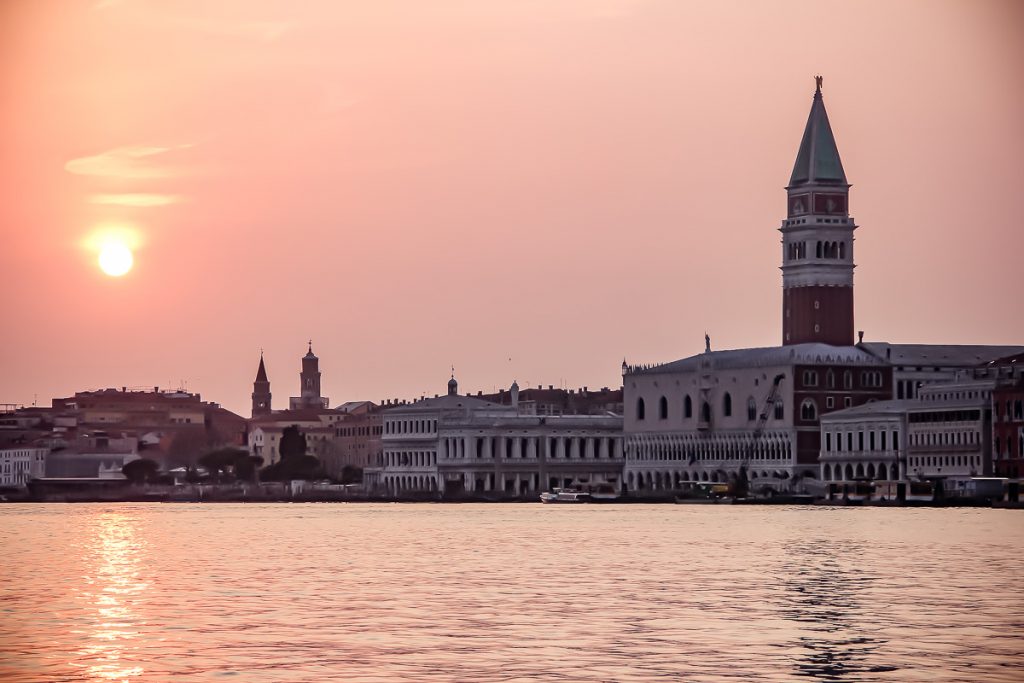 Man, I had no idea that on Lido you can see one of the most beautiful sunsets ever!!!
I was on my way to the vaporetto to return to Venice… when I saw the world crowded on the water's edge. Pairs of lovers and photographers with cool cameras, cyclists stopped on their way, locals on pontoons and… me, very curious – all amazed in front of a huge circle of fire, which is going down into the sea. I don't know when I have ever seen the sun so big!
I couldn't do anything with my phone in front of this impressive sunset, so I enjoyed just looking at it.
Then I crossed back to Venice, quickly reading in a book about other islands worth seeing after you're done with the touristic ones.
Speaking of touristic places, I arrived in San Marco Square. It's full of people! Venice is recovering post-covid, I tell myself… and I realize that as I saw it in March, I will never see it again!